Jason and I flew to London on yet another screaming deal from IcelandAir. The plan was to arrive hungry, ready to hit the Borough Market, but on our flight, Jason broke down and ordered the admittedly delicious-looking pizza and hummus as a snack. And while I know that jokes about the quality of airline food had their time in 1991, what the flight attendant delivered to his seat in the name of each of those foods is, if not a violation of the Geneva Convention, at the very least, a crime against humanity's tastebuds. The hummus was dry and crumbly and I refuse to call to that odd, sweaty cheese tart "pizza". The pizza in the photograph and the congealed food item that arrived look like they were made on different planets. It's like it was made by someone who had only ever read about pizza in an illustrationless book but was intrigued by the concept.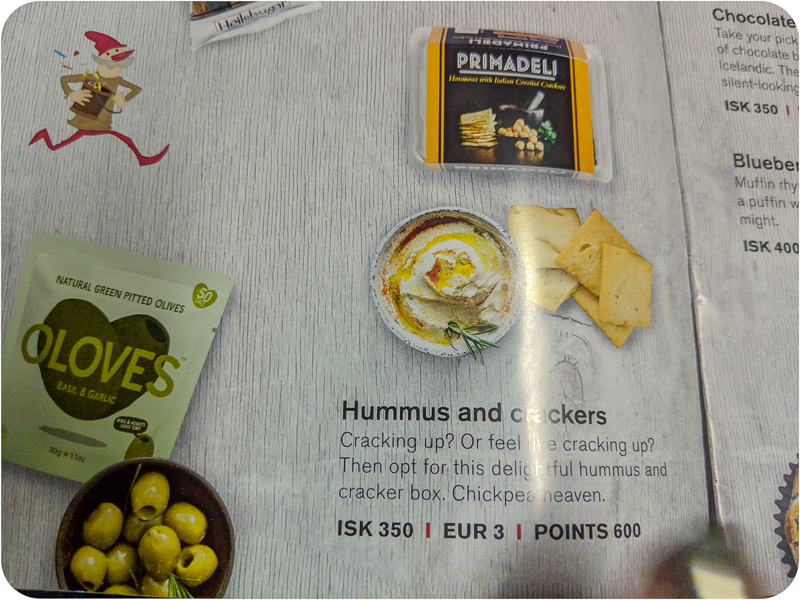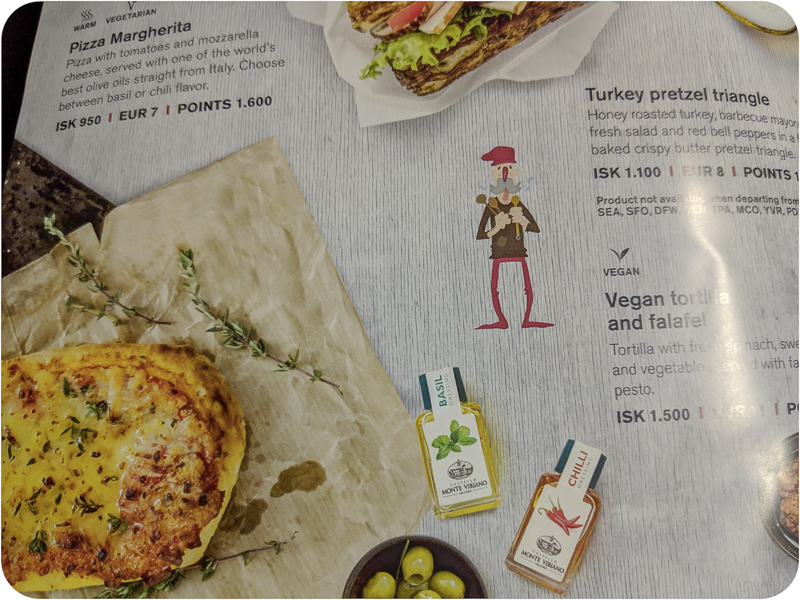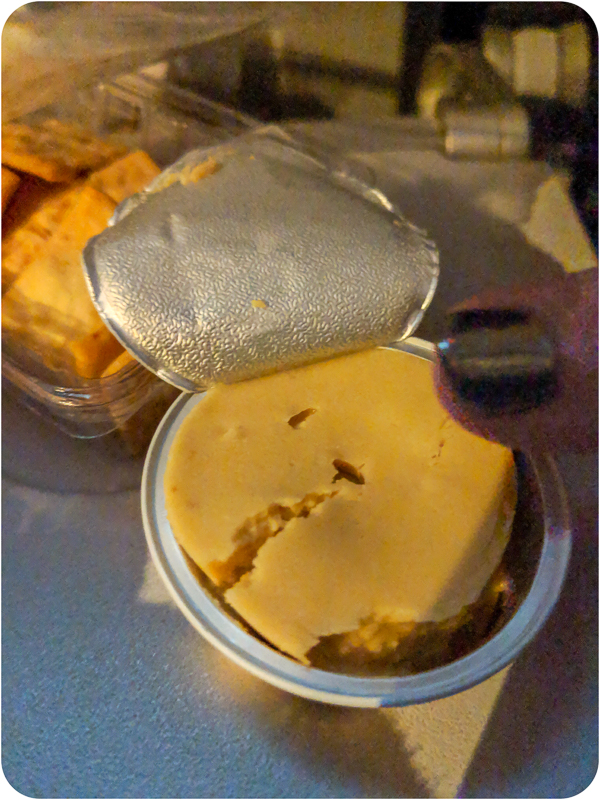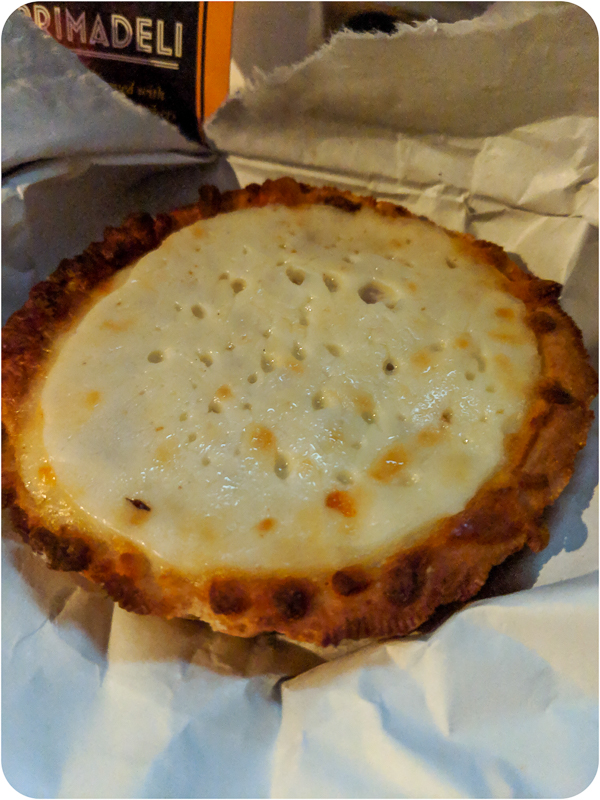 Jason still ate some of it, though. And later, when we were waiting in line at Heathrow customs to see one of the two customs agents who had bothered to show up for work that day, and I was getting hungrier and hungrier…did you think I was going to say I wished I had eaten some, too? Hell no! I thought back on that hockey puck of crust and coagulated dairy patty and added IcelandAir to the list of entities who have deeply betrayed me.
We were spending the night at The Morton Hotel in Bloomsbury, just across Russell Square from The British Museum. The Russell Square tube station exit involves cramming oneself onto an elevator with a lot of other people and a staircase with a stern sign at its base. "This staircase has 175 steps (equivalent to 15 floors) Do not use except in an emergency". Well, my emergency that day was that I didn't want to ride in an elevator with an entire tube carriage's worth of people, and I started heaving myself up the stairs. I made it, but paid for it with the deep, racking cough of the consummate non-runner and someone who definitely hasn't climbed fifteen continuous flights of stairs in a good long while. That cough continued through check-in at the hotel, and I can only assume that they thought I was bringing a new plague to their doorstep but were polite enough to wait to talk about it until I was out of earshot.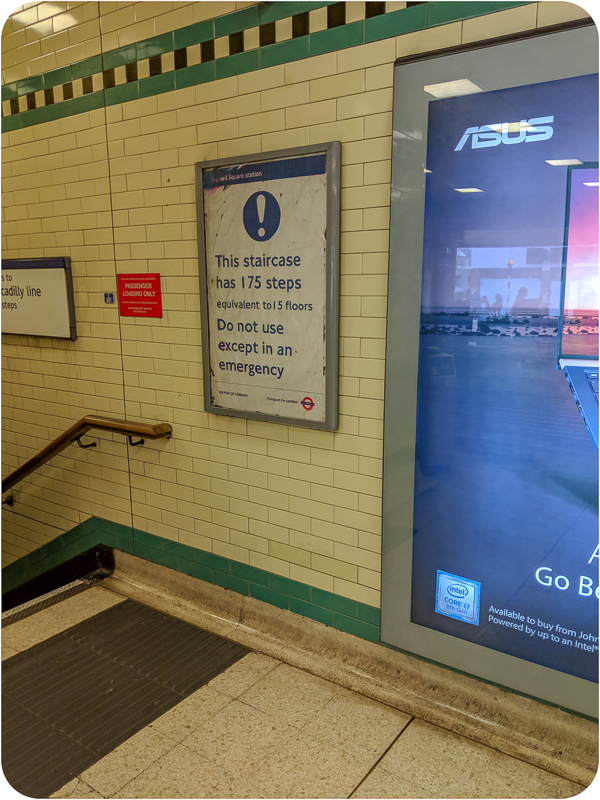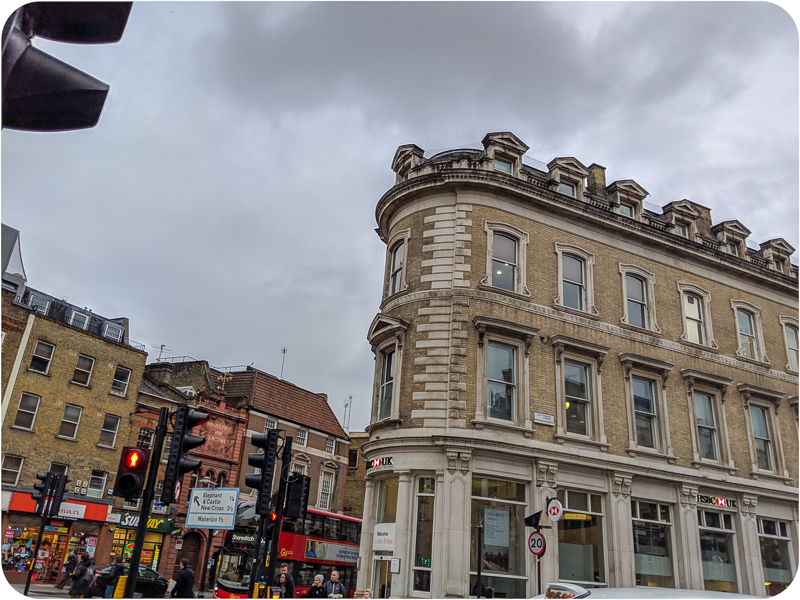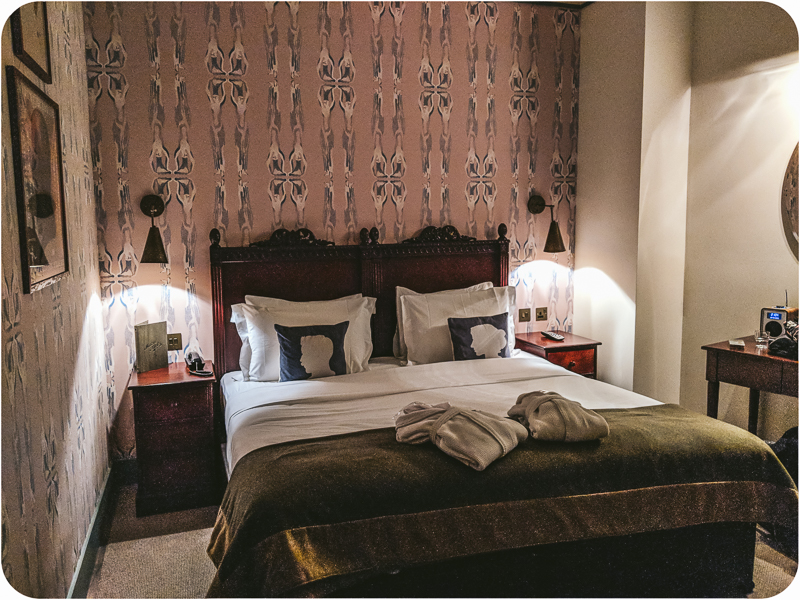 As this was a backpacking trip, I was glad of the opportunity to stop at the hotel and strip out all unnecessary items from my bag to lighten the load. In addition to my camera, I'd managed to fit everything I needed to keep myself clean and presentable-ish for a week in my travel backpack with a little room to spare, but even travel sized everything and the bare minimum of clothes and paper took on what felt like a mighty mass when carried on my shoulders, especially when said carriage involves fifteen flights of stairs for some reason. But I didn't need spare underwear or the noise-canceling headphones I'm too spoiled to travel without for the rest of the day's activities: the aforementioned sandwich-eating and Winter Wonderland at Hyde Park.
My sandwich at Roast Hog was perfect (again), greasy, crunchy, chewy and absolutely restorative. Here's the photo from last time, I was too busy eating to take another.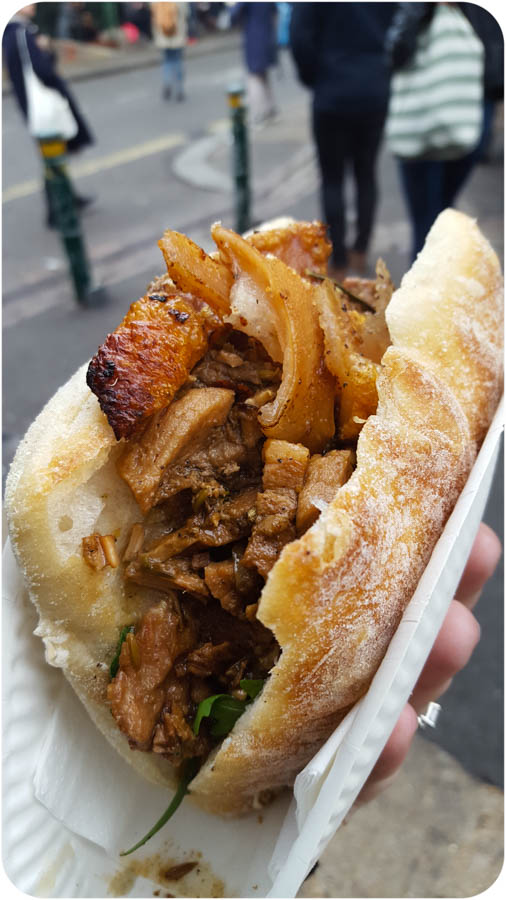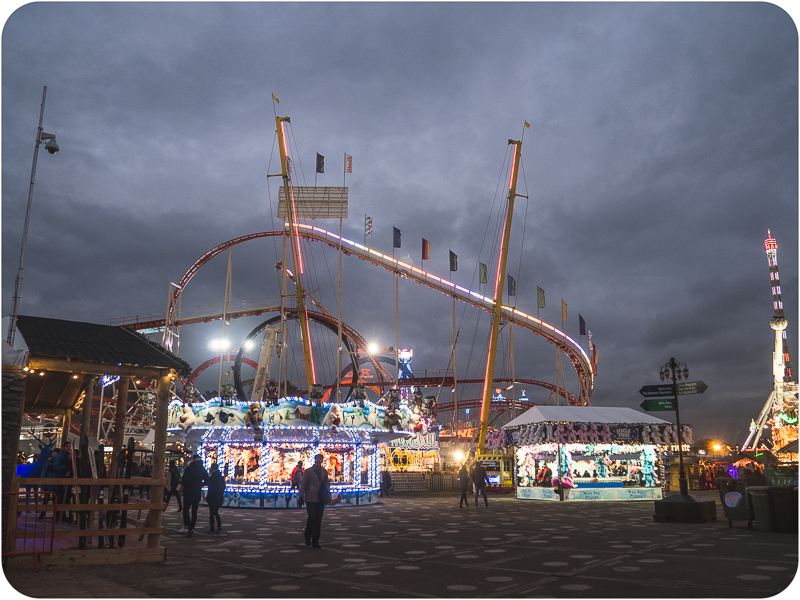 Afterward we rode the tube to the vicinity of Hyde Park and its spectacular Winter Wonderland, host to 2.5 million visitors annually, and based on the number of prominent warning signs throughout the grounds, a fair portion of those visitors are in good standing with the Pickpockets' Guild.
We were there primarily to meet some friends at the ice bar but since we were going to be there, I prebooked tickets for us at the Magical Ice Kingdom presents: The Secret Forest.  We were supposed to arrive 10 minutes prior to our appointed time, which was rapidly approaching, so after we got through the security line, we hustled back through nearly the entirety of the grounds so as not to be late and forfeit our sole opportunity to experience to this hotly-anticipated attraction. Their website really emphasized the importance of prebooking tickets, and particularly when I'm planning an international trip, I take website recommendations very seriously. Very seriously. So I created an account, I bought those tickets, and when I say "we hustled back" I mean that I walked so fast that I could've set a small fire between my thighs and Jason had no choice but to keep up.  And when I arrived, ashen-faced and distraught and two minutes late, hoping they'd still admit us, I realized the Winter Wonderland website may have oversold the public's keen desire to view ice sculptures. And while purchasing tickets in advance may indeed be necessary during the high periods, on a Monday at 4pm, not so much. In wintry terms, the crowd was more "scattered snowflakes" than "snowpocalypse". However, that may just be the genius of a perfectly timed ticketing system working precisely as it should. 
One enters The Secret Forest through a door underneath a sign clearly marked "Secret Forest" so…the secret's out. The snow and ice sculptures contained therein were in turns realistic and whimsical, and they had some fun photo opportunities, including the ability to photograph yourself as half ice-faun or half ice-centaur and on a throne of ice surrounded by icy battle unicorns. The ice throne was obviously my favorite, and it's the kind of thing where I'd be tempted to show up with a costume if not for being 4700 miles from home and constrained by what I could fit in a backpack. Speaking of the backpack, I learned that one does not slide particularly well down an ice slide while wearing one. It was day one, and my resentment against this backpack was already growing.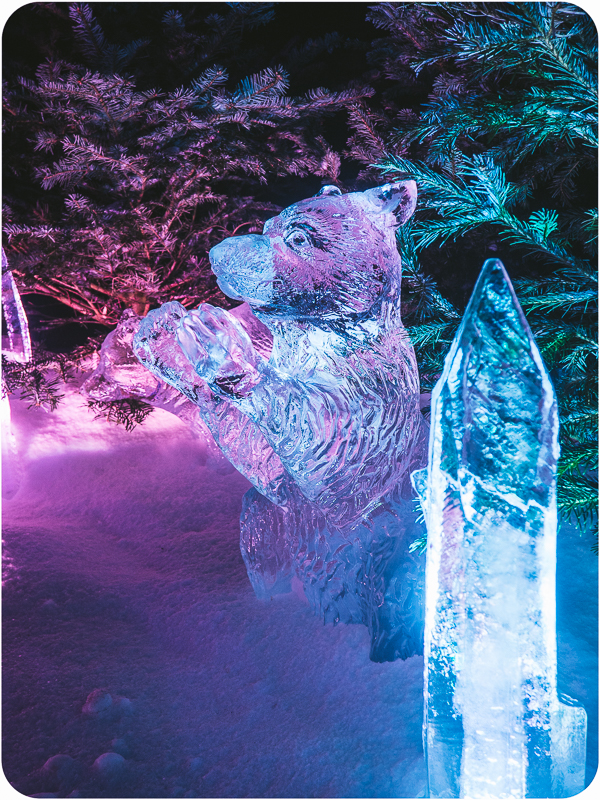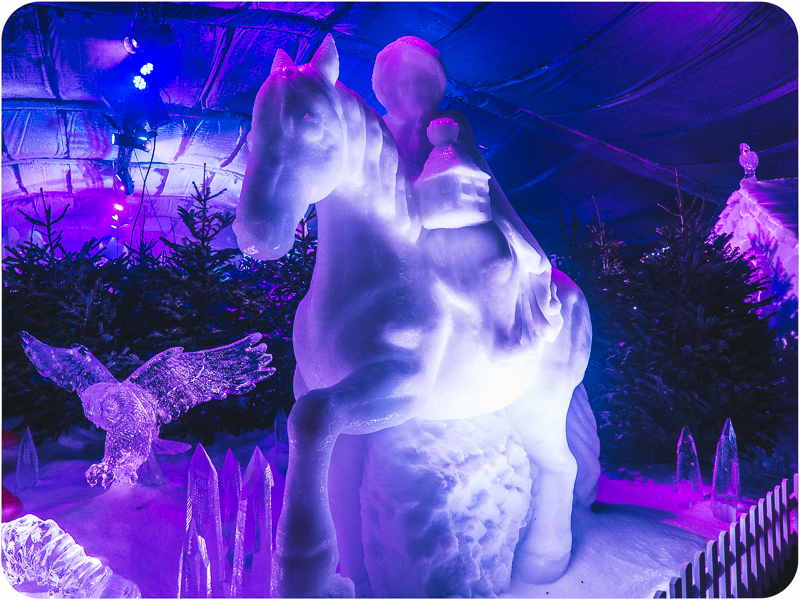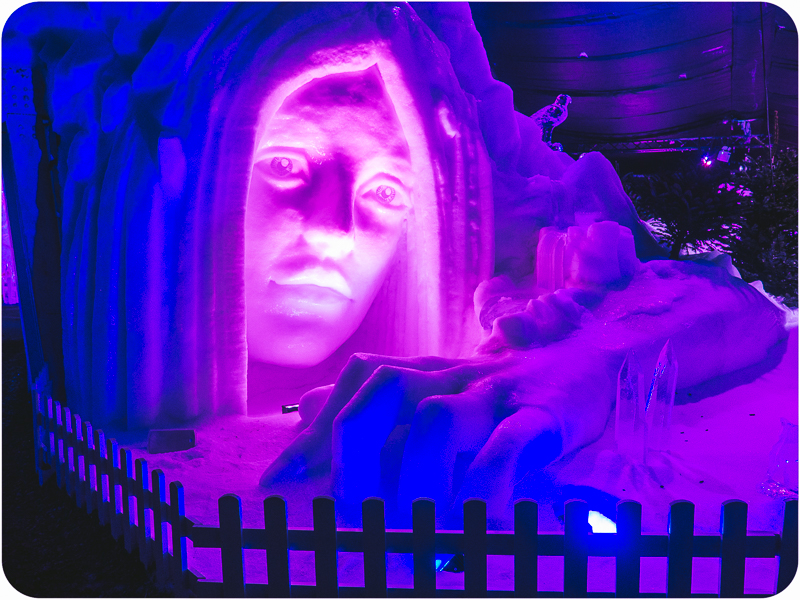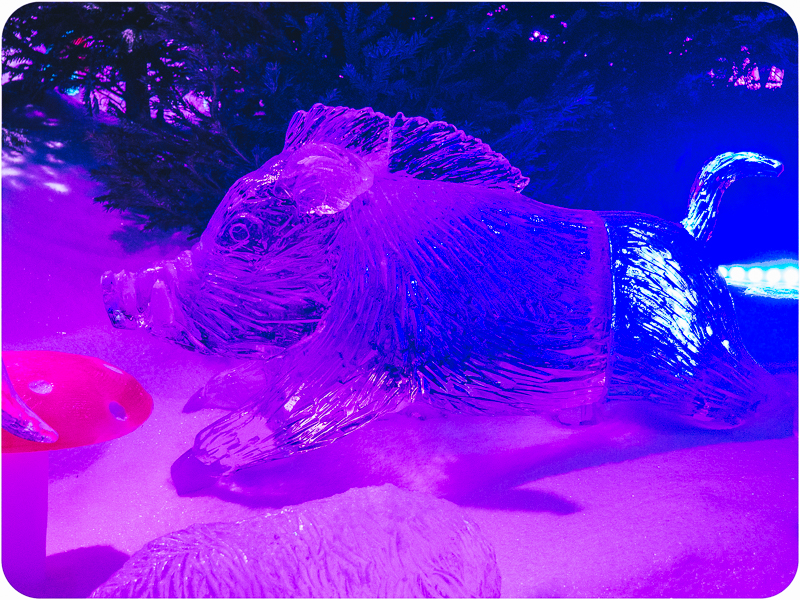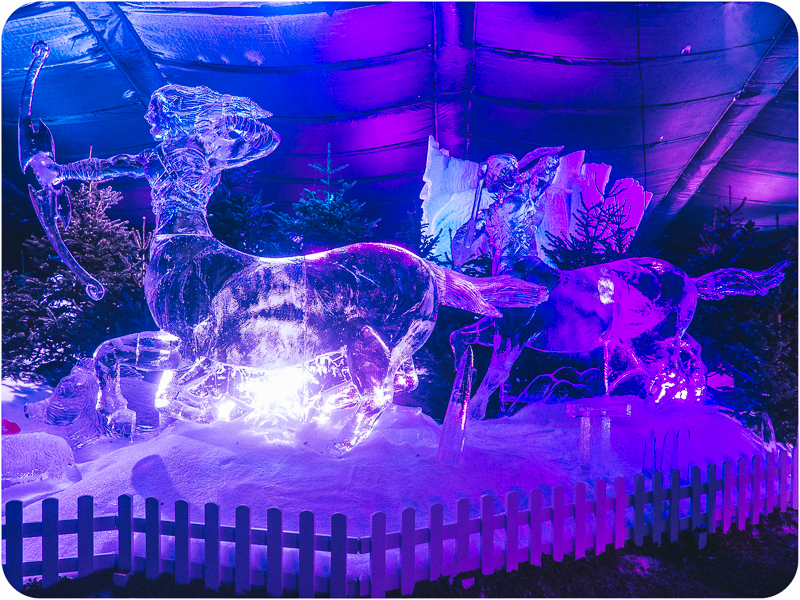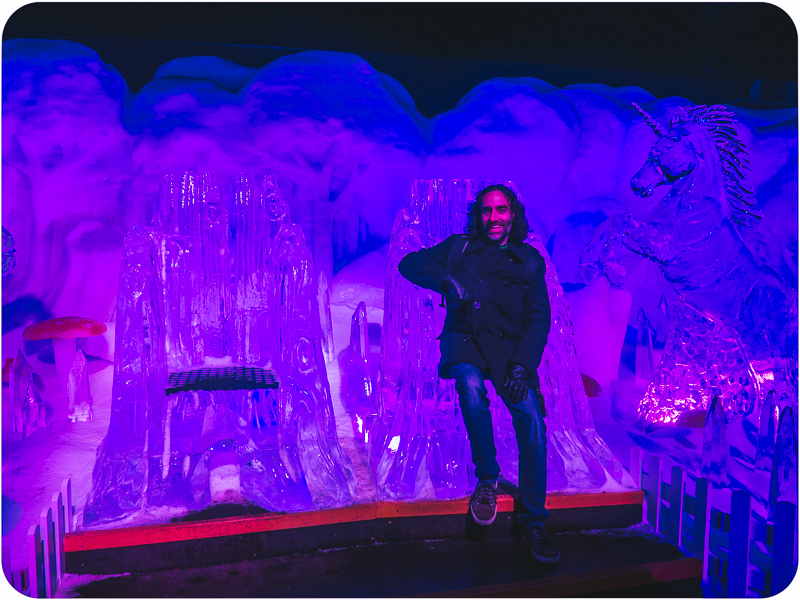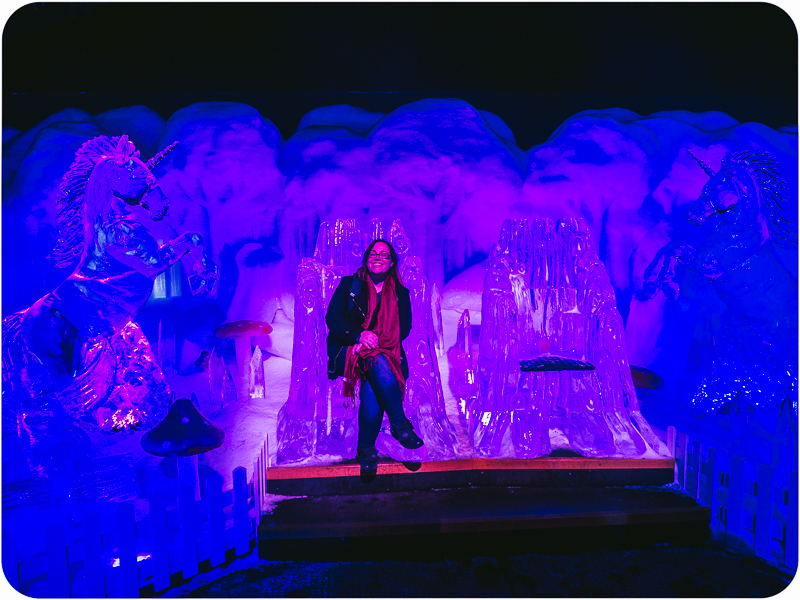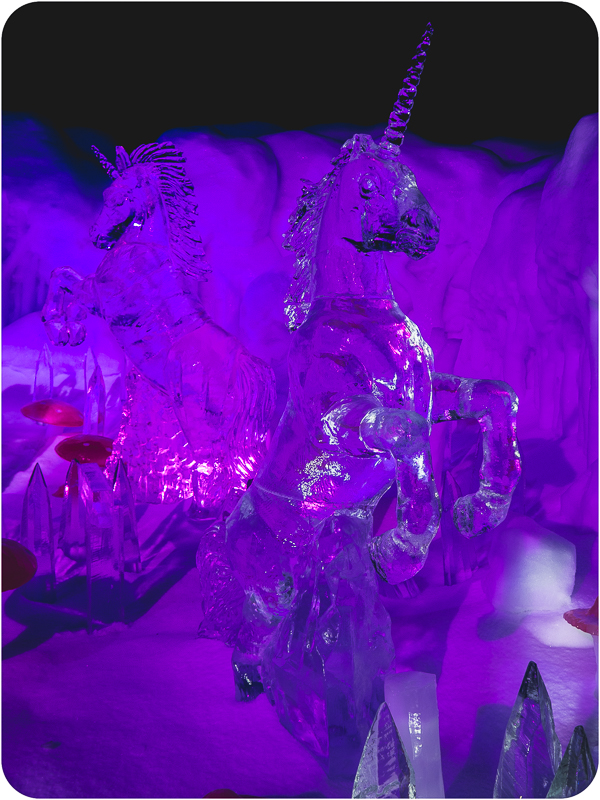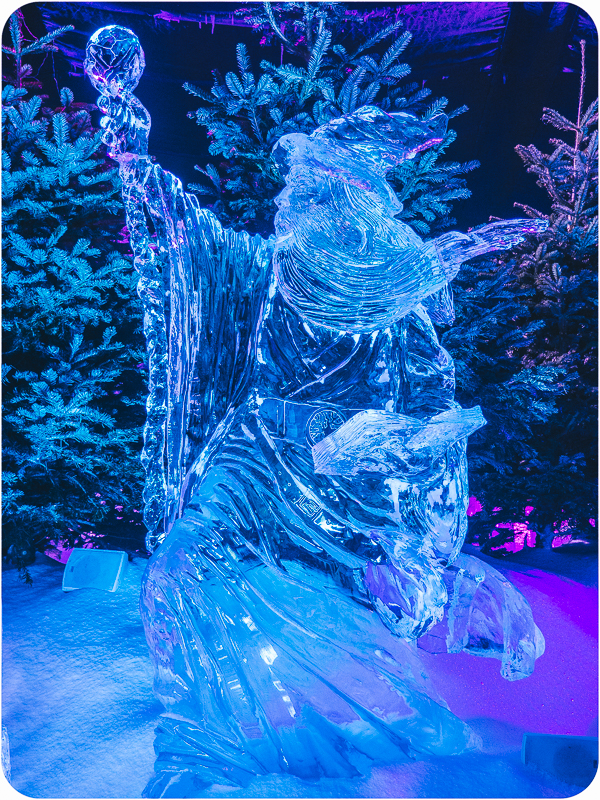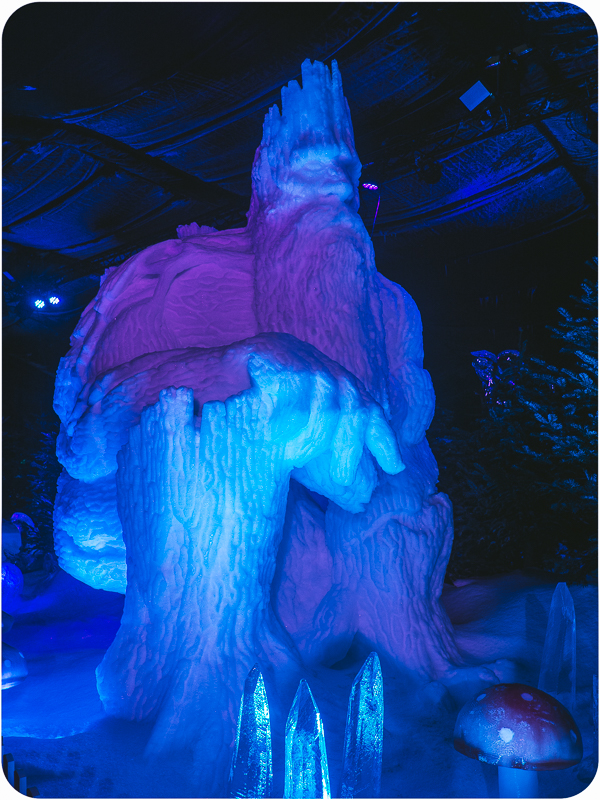 After hanging out in a refrigerated warehouse for a while, then scooting down a ramp of ice like a dog across carpet in front of some British teenagers offering suggestions about my technique, I was more than ready to be somewhere warm with a similarly warm beverage. We settled on the Arctic Lodge Bar, an open rectangle with a bar, a series of benches, and roaring woodfires. My wish for a warm place to drink a warm drink was granted; I thought the condition of "breathable air that doesn't leave you with the start of a fine smoke ring" was implied, but alas. The smoke would have driven me out eventually but the only seats in the house were directly across from a couple engaged in some vigorous displays of public affection and the layout of the seats were such that there was nowhere to look to as to avoid knowing the finger points of a stranger's kissing technique, so that got me out first because I am evidently a prudish American. 
Also because there was plenty of stuff I wanted to see before we went to the ice bar, and I am referring in particular to the giant man looming over the Bavarian village that I had noted from a distance. I spent some time watching this enormous puppet do its thing, and finally concluded that it was the dirty, independently-moving fingers that were the creepiest, and not the the little shudder of flesh under its chin when it spoke, but it was a close thing.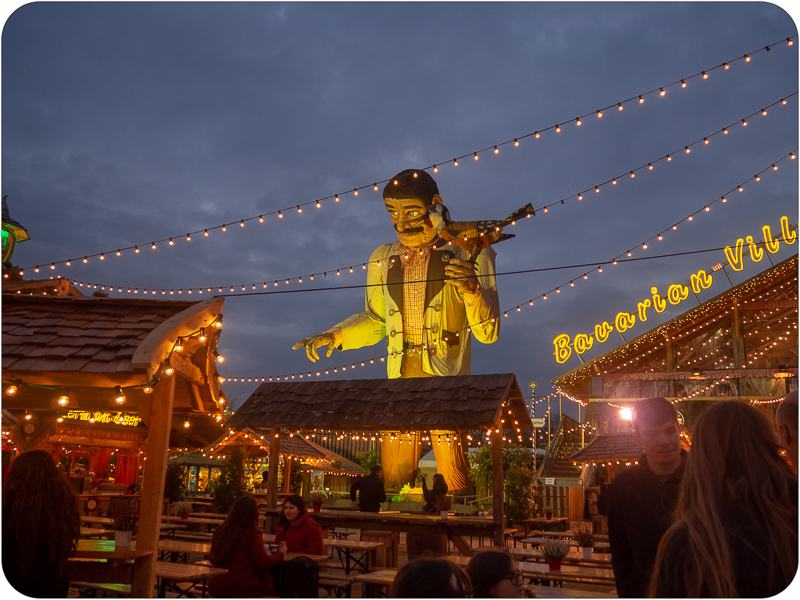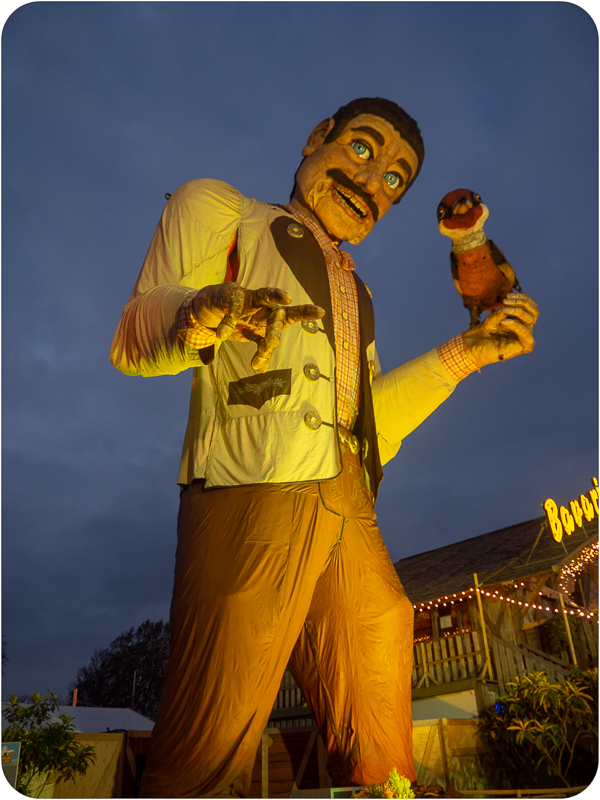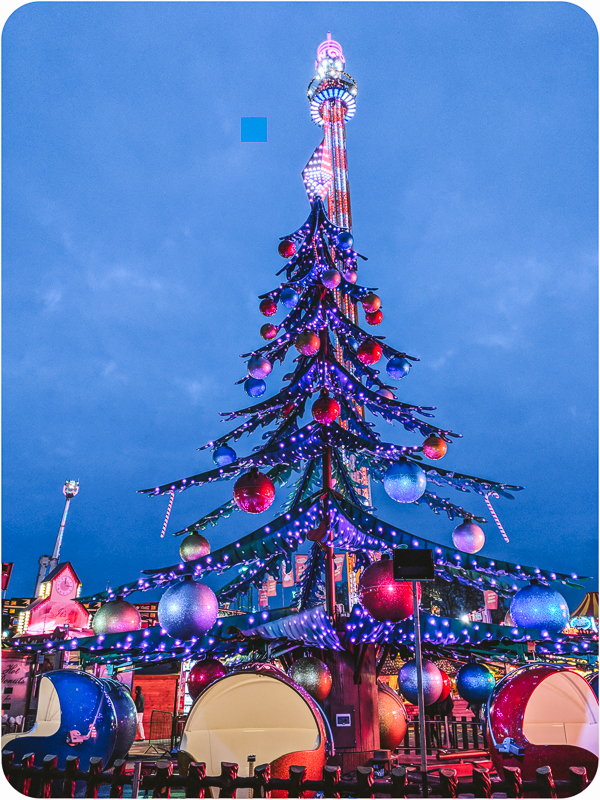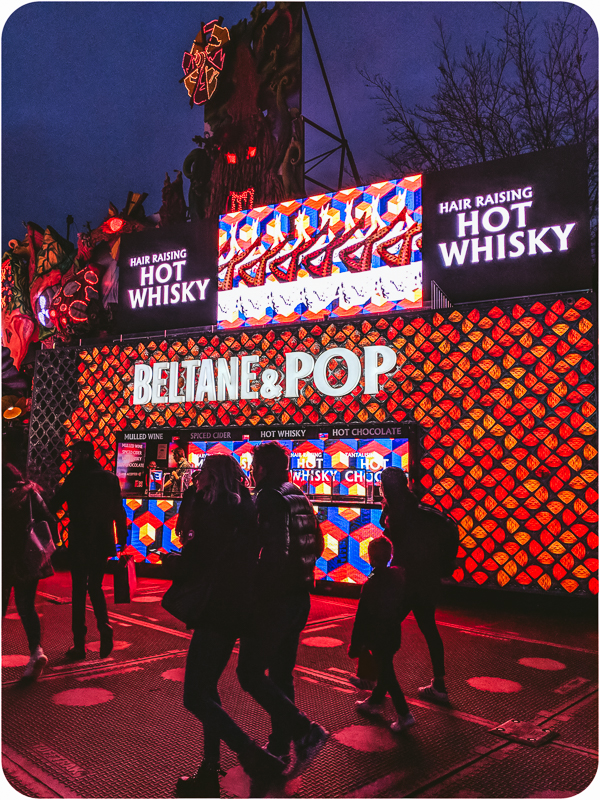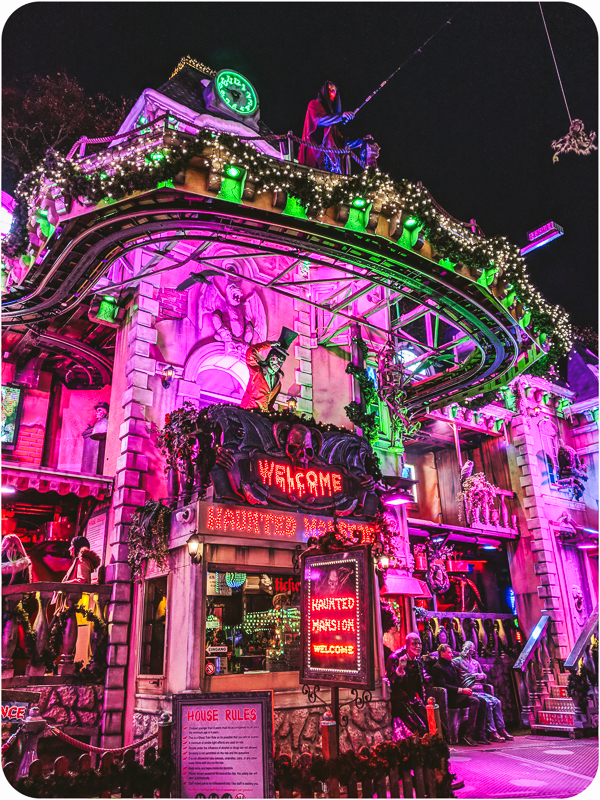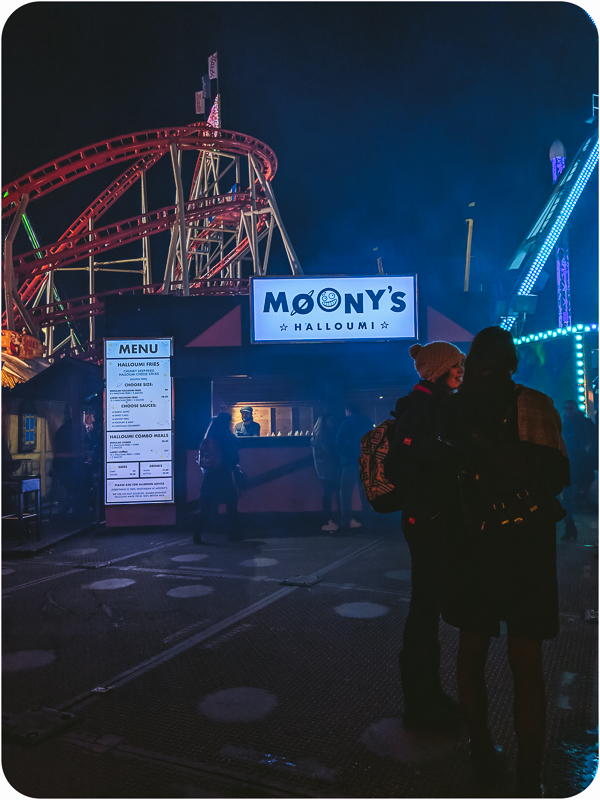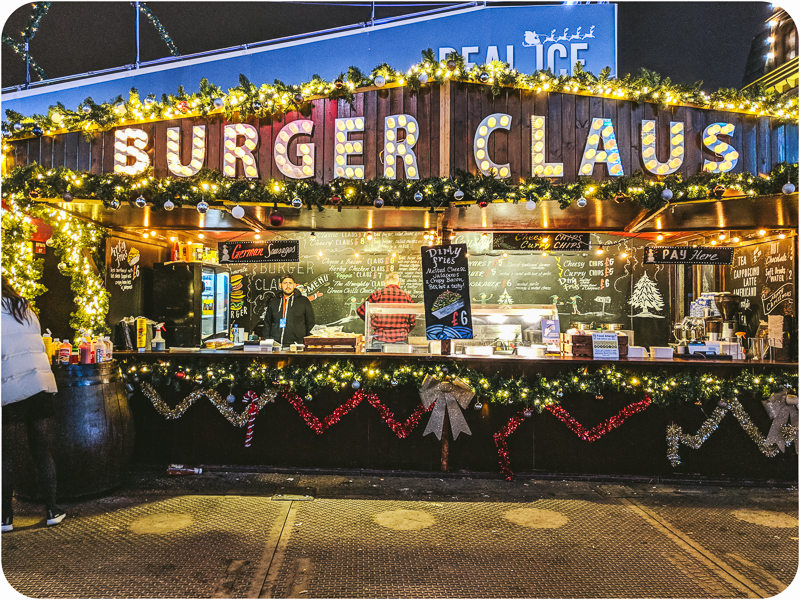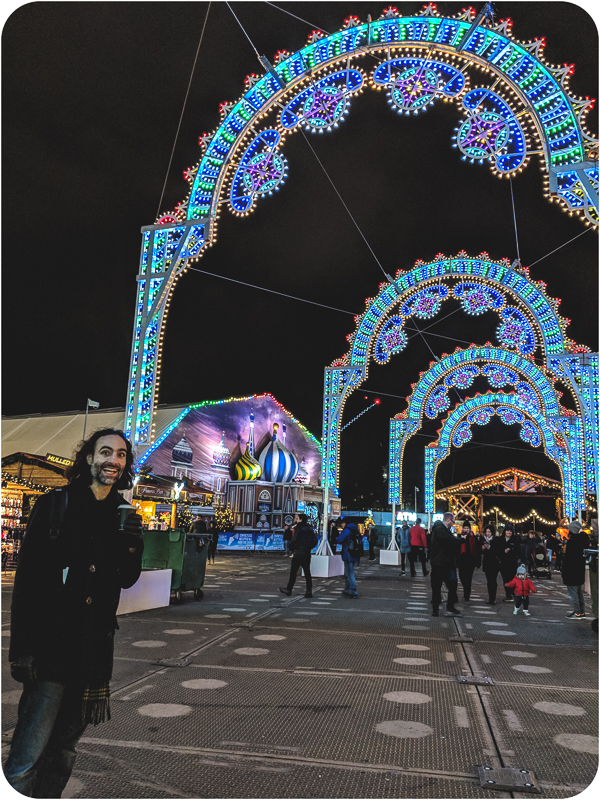 This was Jason's third hot chocolate or thereabouts and the glee is starting to kick in.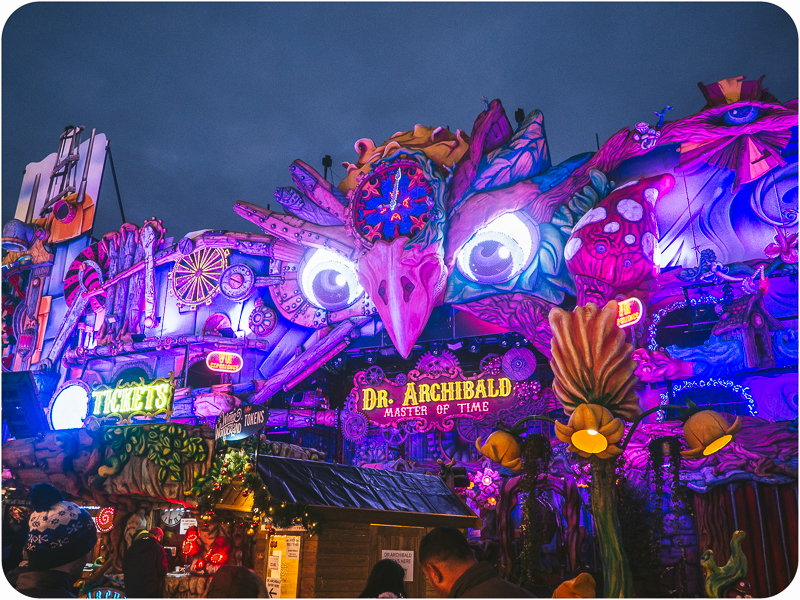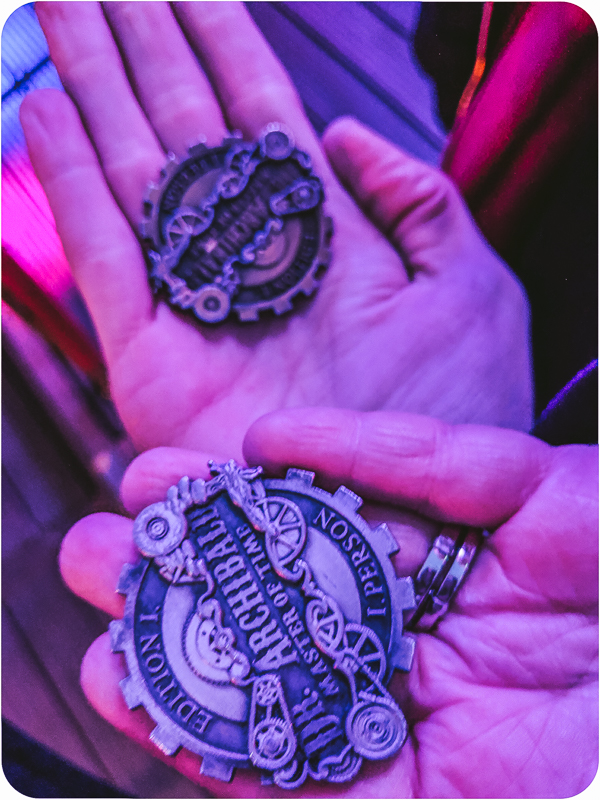 Jason and I were both drawn to Dr. Archibald, Master of Time, and his vaguely threatening steampunk owl looming over the midway. It was a combination physical and virtual reality ride, and either one of us would independently admit to this day that we would have rather kept the admittance token as a souvenir. The ride itself is fine (it's not my favorite thing to put VR headsets over my glasses, and I like having a ride attendant jam one over them far less) but that token is spectacular and handing it back after a few steps felt wrong.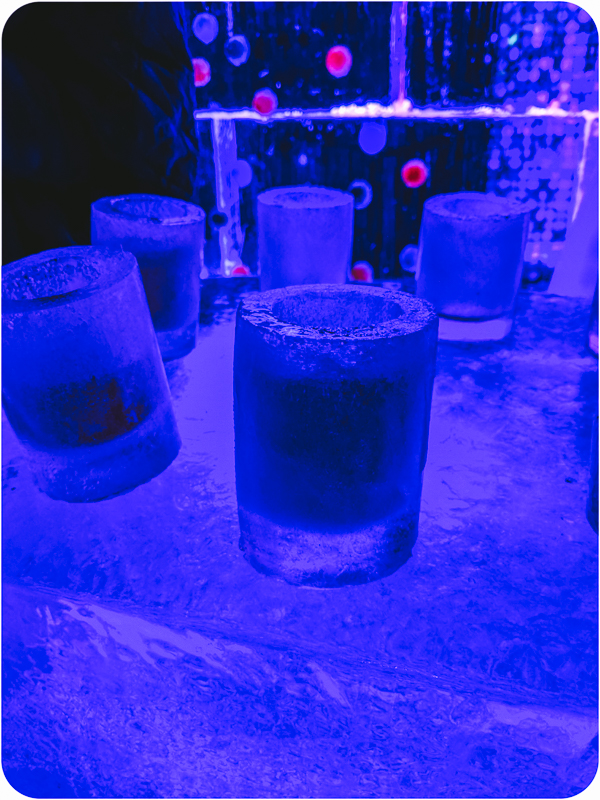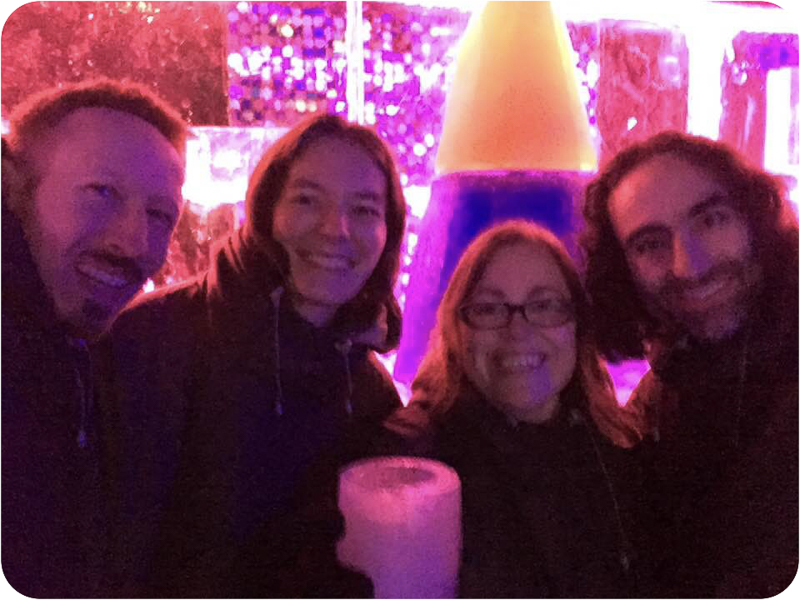 We met our friends Sean and Colleen outside the ice bar, where we were issued parkas and (damp) gloves. This "sub zero" ice bar sounds on the edge of perilous until I remember that -10°C is equivalent to 14°F, or vastly warmer than most winter mornings I spent waiting for the school bus in a hooded sweatshirt in Wisconsin. The gimmick of the ice bar is fun for a bit but after you've sat on an ice chair and drink from your awkwardly thick ice cup, you've fairly well plumbed its depths. I did have a wonderful time catching up with them both and hearing about their adventures over the past few months, like hiking Hadrian's Wall–the kind of action-adventure travel that probably doesn't begin with someone hacking their lungs out after climbing fifteen flights of stairs.