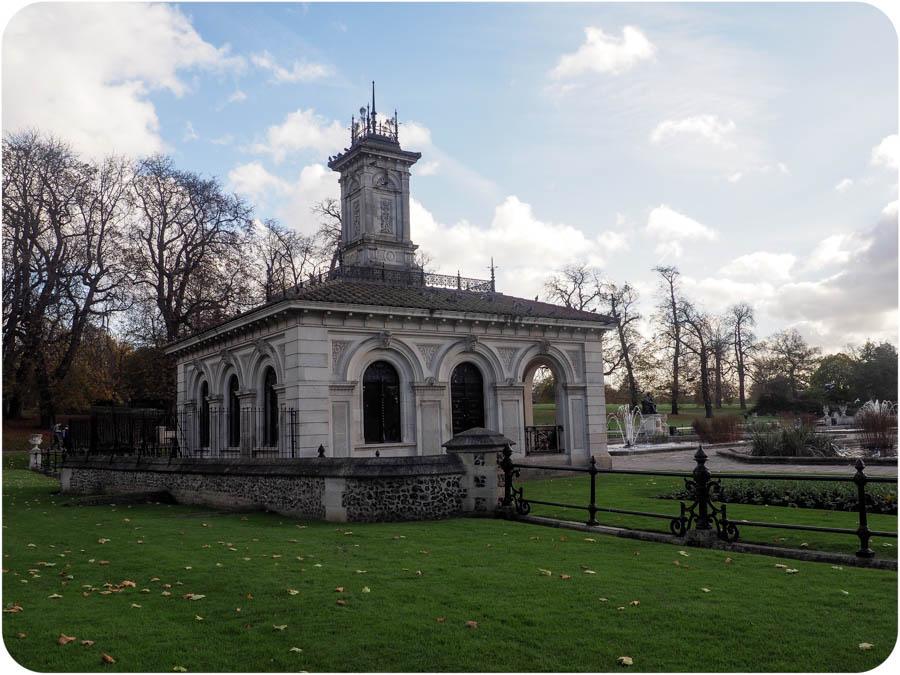 From our rental flat, we wound our way through Hyde Park, the largest of its Royal Parks, encompassing Kensington Palace and an artificial lake known as The Serpentine, which coils about a grove of trees like an overenthusiastic comma. Coming from Paddington, we entered the park directly adjacent to the Italian Gardens, a gift from Prince Albert, avid gardener, to Queen Victoria which is the sort of thing you can do when you're a royal and don't have to be fussed about getting out there once a week to clip the lawn.
And yes, this is a proper British lawn–the swaths of perfectly trimmed grasses that were a mark of British aristocracy and the current obsession of many a suburban American homeowner. I myself reached for a piece of this monarchist's dream this year, which involved digging up some 800 square feet of cabbage-y weeds with a pickaxe, spreading yards of fresh topsoil, tenderly nurturing grass seed, and plucking out new tiny weeds by hand. I'm currently in the process of watching it all fall apart thanks to an industrious mole who has discovered how much easier it is to dig in the new topsoil and has decided to move in and have an army of industrious mole babies. (I can only assume, it's hard for me to believe that the utter devastation currently occurring in my front yard is the work of just one mole, no matter how industrious.)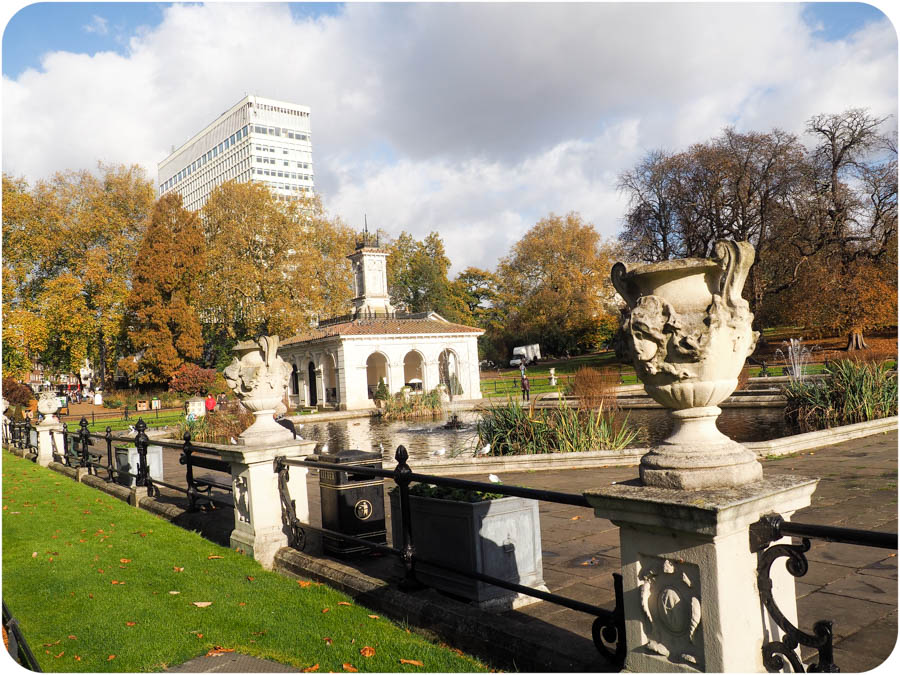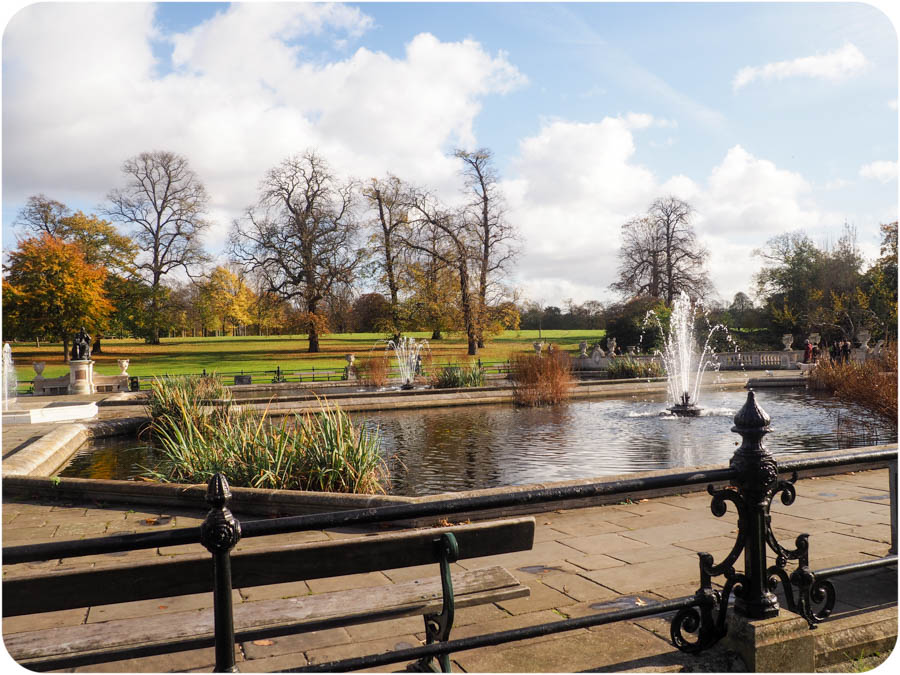 Studded with lime and maple trees, Hyde Park also acts as a bird sanctuary, providing ample nesting grounds and places to hide from predators. No doubt, it's spaces like these which allowed their population of feral parakeets to thrive since the mid 19th century. There were certainly a lot of them flitting about the park, a splash of lime against the sky or chattering from a branch.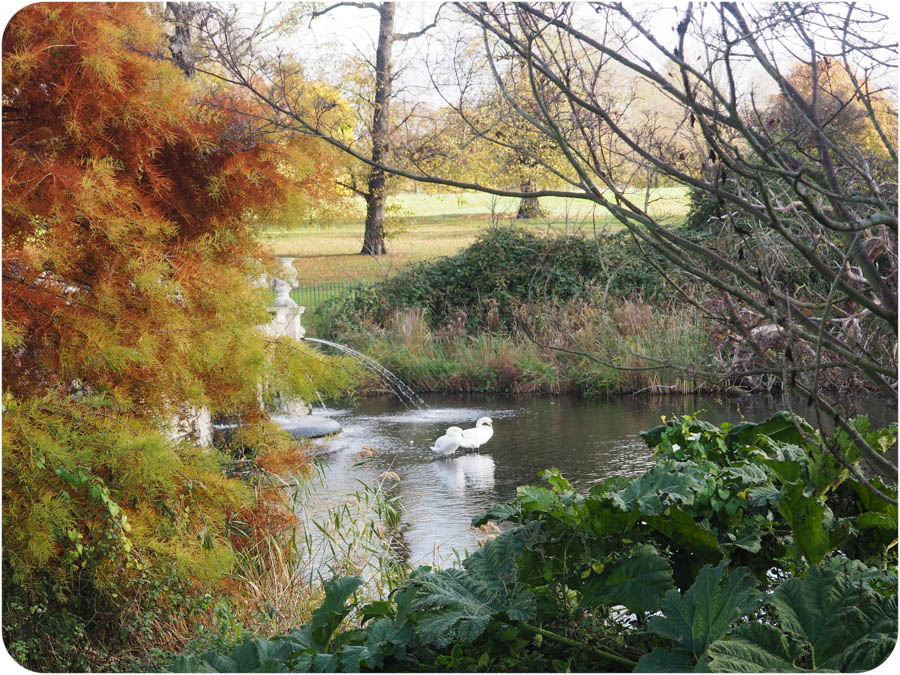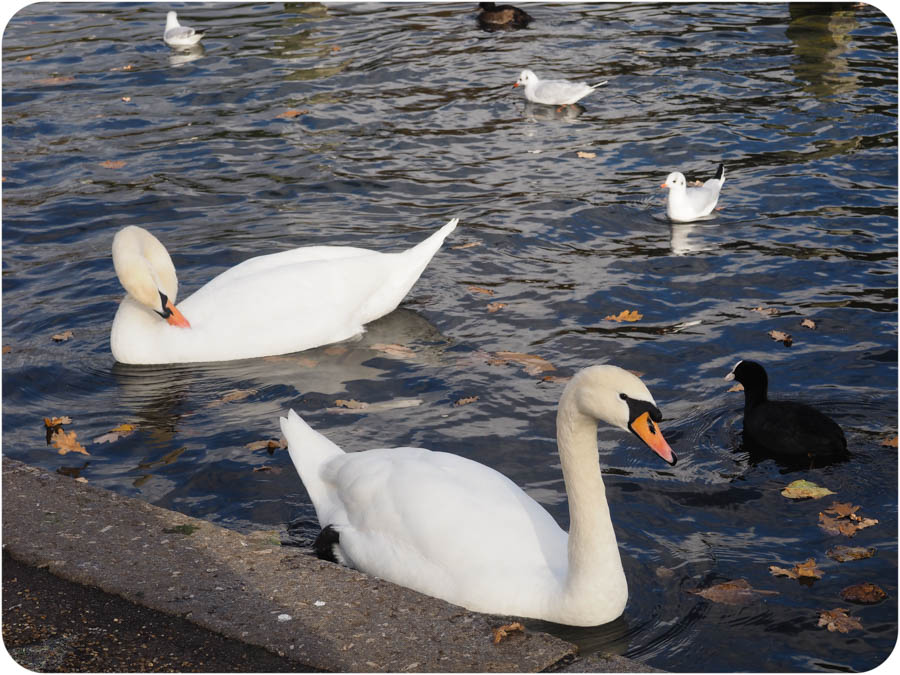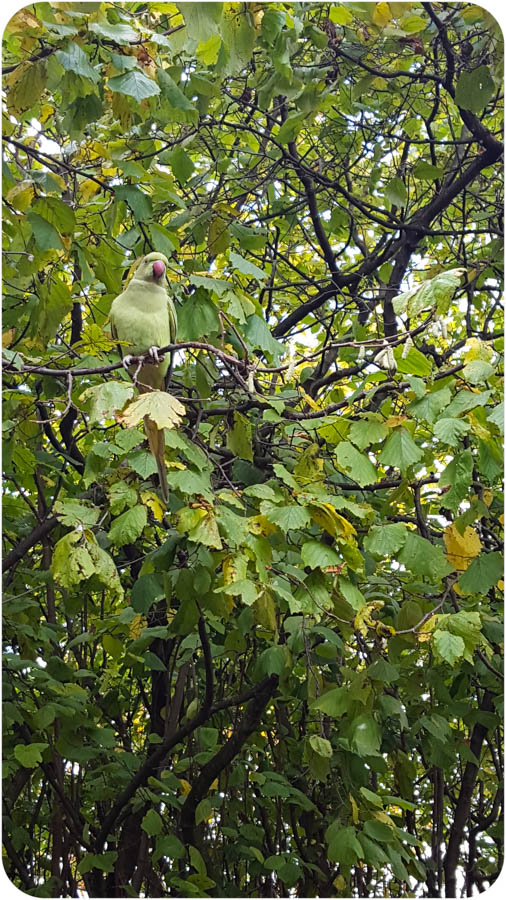 We walked the length of The Serpentine and then backtracked a bit to head in the direction of the Science Museum. There's still so much of Hyde Park I haven't seen–it's so large, I didn't even get a peep at Kensington Palace or Speaker's Corner, where open-air public speaking, debates, and protests take place. Angela Merkel referred to Speaker's Corner in 2014 as "the very symbol of free speech".  I'm glad that this symbol of free speech and respectful debate exists, particularly as a corner of the same park where gentlemen used to duel one another with swords to the death over insults. It feels like progress for humanity. 
At London's Science Museum, our foremost stop was at the cafeteria as usual, because it's like we can't face the prospect of learning without powering up with a 400 calorie dessert bar. But learn I did, about antibiotics and the history of mathematics and Morse code. If I'm honest, though, by this point in the trip I was a husk of myself from the lack of quality sleep and therefore not the most receptive to new ideas despite the amount of sugar firing my neurons and jittering up my blood. Thus, I spent a lot of my time in the Science Museum pretending I was a bitcoin trillionaire making a wish list for my birthday party on the moon.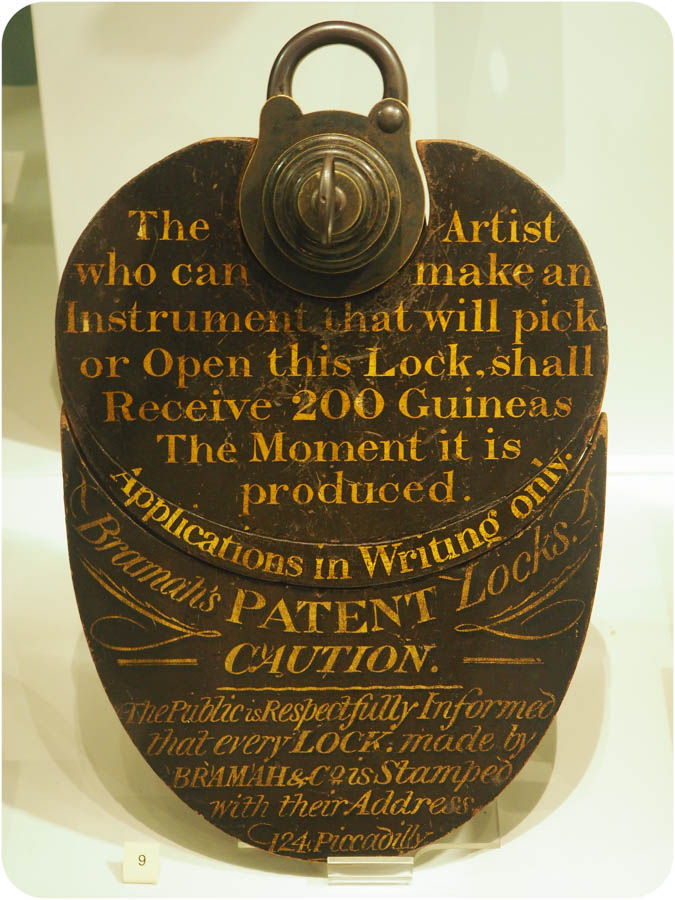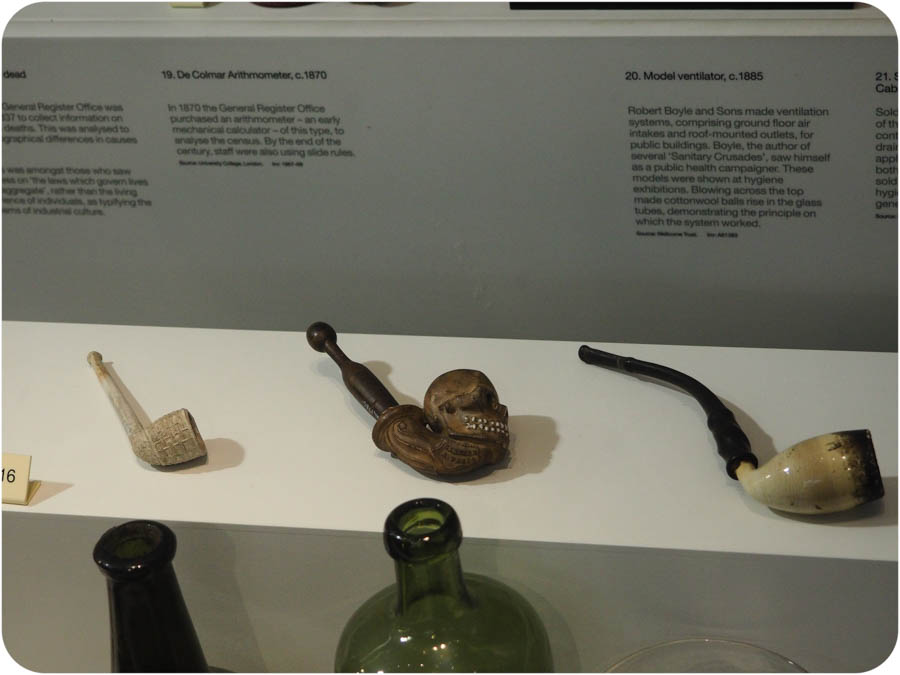 I want one of these skull pipes.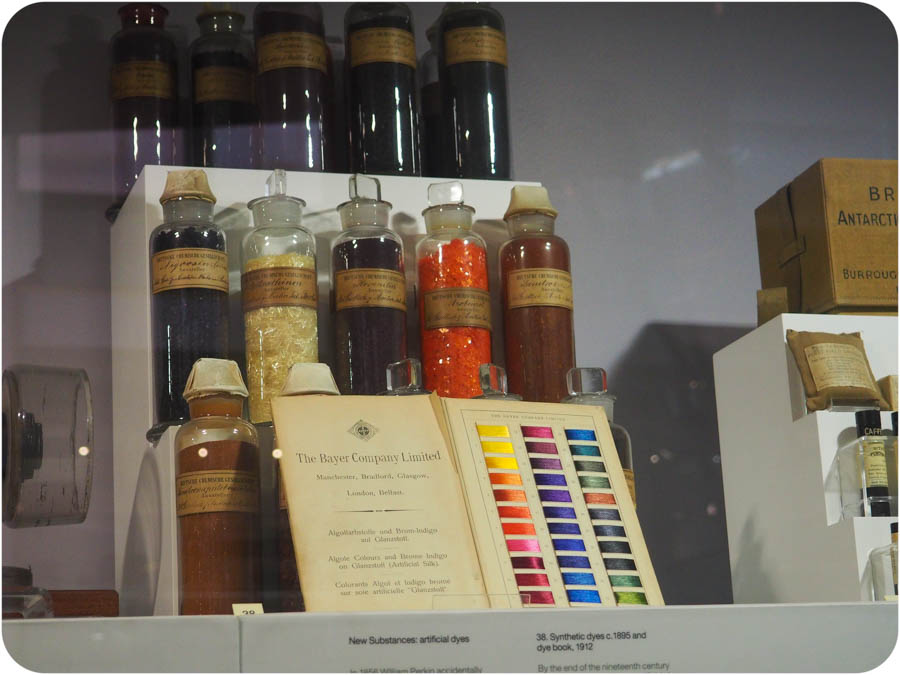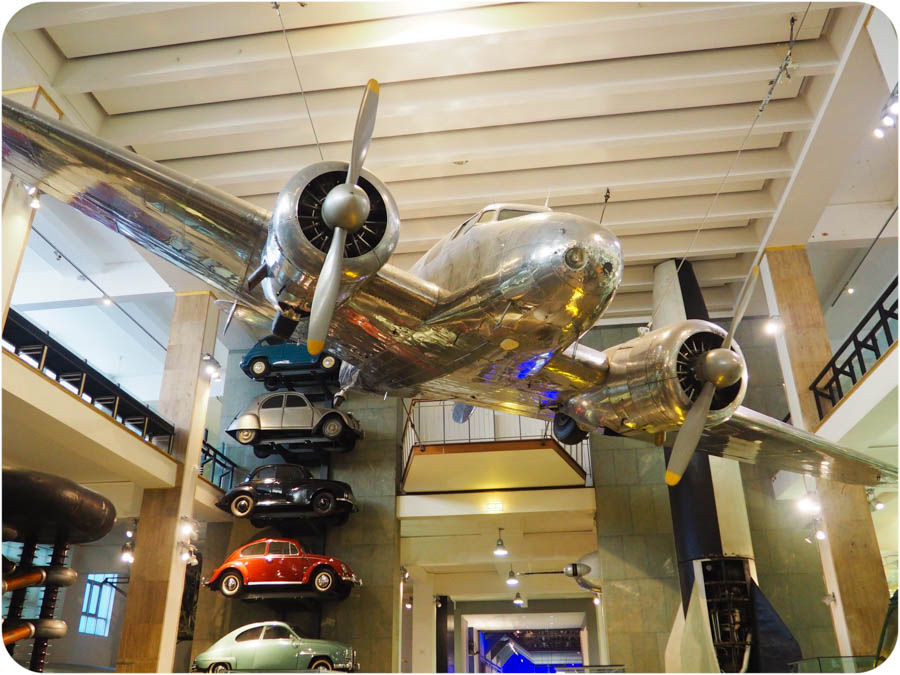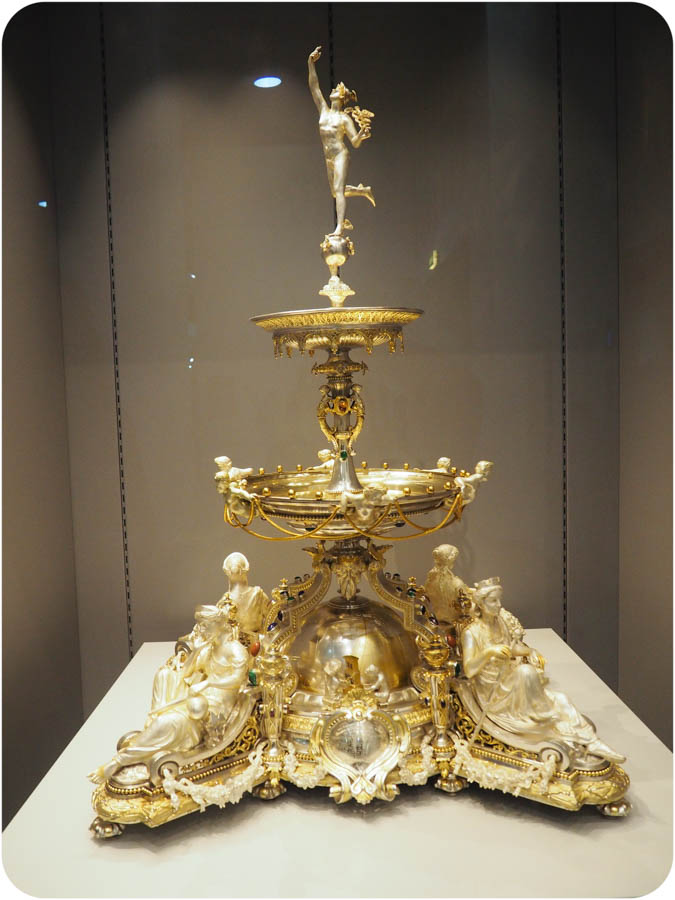 I also want this silver fountain, which I would use to serve fondue. I would presumably also eat fondue a lot more often. When I got bored with it and/or fondue, I would use it as a cat's water bowl.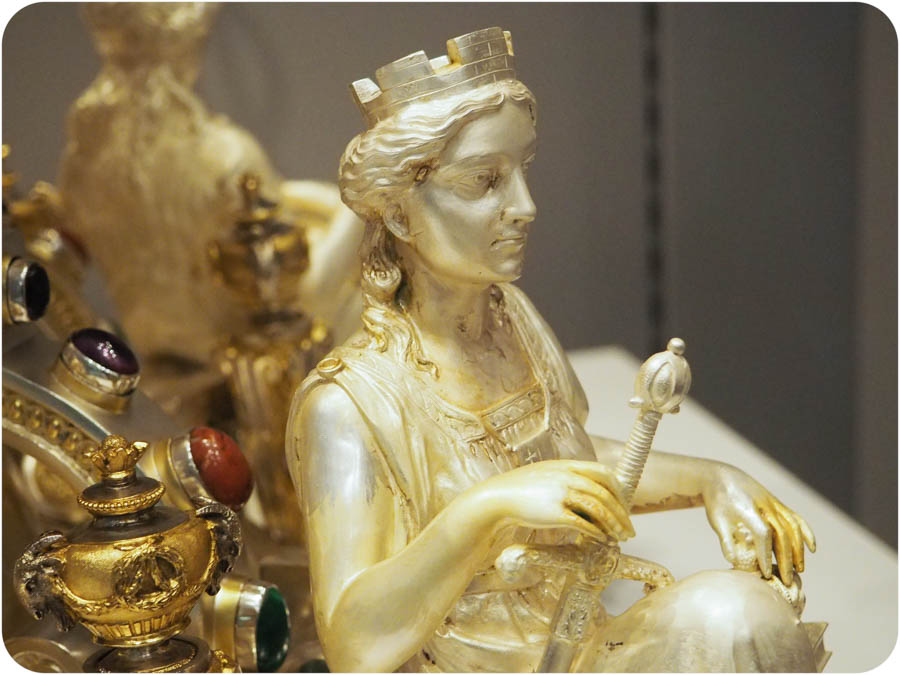 An entire room of the museum was dedicated to an exhibit about the information age–the 200 years of progress to instantaneous communication. Among them was a Morse code machine hooked up to a monitor that taught visitors how to use it, and I immediately dove in and crafted a message for the ages with my dazzling vocabulary: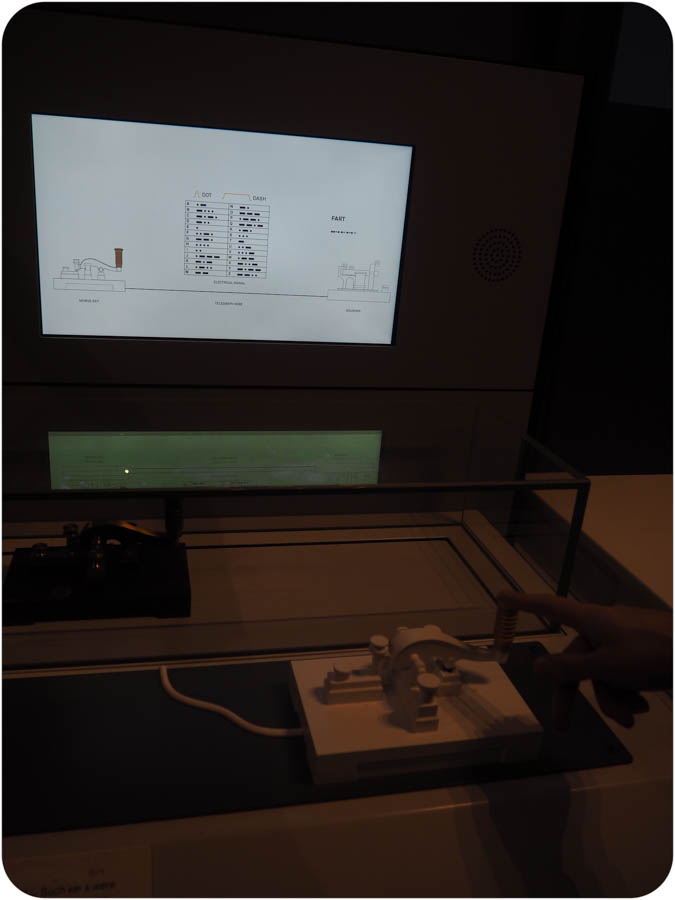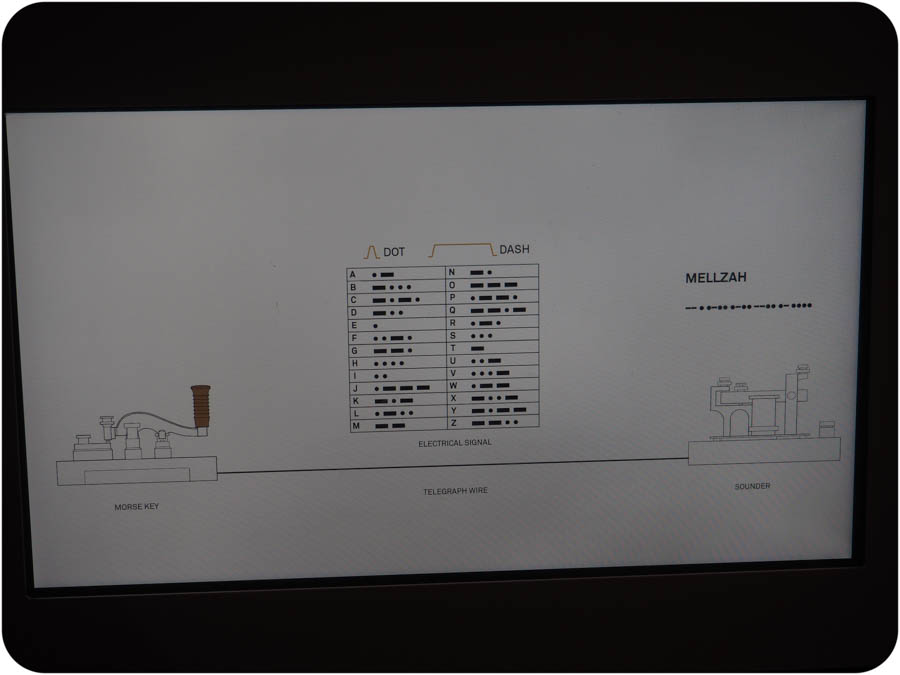 Next up was the mathematics room, exploring and celebrating 400 years of mathematical achievement. I have historically struggled with math as I moved into the more advanced subjects: I vividly remember my dad griping while he helped me with my homework that he'd hoped at least one of his kids would've had his talent with numbers. One of my math teachers looked at me perplexedly during a tutoring session, saying that she'd seen my IQ test scores and that she didn't understand why I didn't grasp the concept. Yet another of my math teachers instructed me to put a rubber band around my wrist and snap it whenever I made a mistake–I went home that day with my wrist striped with angry red welts. I used a college math final to test my psychic abilities because at that point, it was the only way I was going to pass as I'd been hopelessly lost since day one. (Verdict: I have no psychic abilities.) But it was one of my high school teachers who, bless his heart, tried so hard to reach me. I had no business in an advanced placement math class but this poor man did everything he could to usher me along anyway. He held tutoring sessions after school. He allowed me to re-take tests and I would still score miserably. At the end of the year, he awarded me with a certificate for "maximum effort", which, delivered with the wrong tone could feel like a real slap in the face, but I knew he meant it sincerely. I didn't keep much of anything from high school, but I still have that certificate because I appreciate how hard he tried and that he could see I was trying instead of just failing to achieve. What I'm saying is, Science Museum, I'd be open to donating my certificate to your exhibit to round out your collection.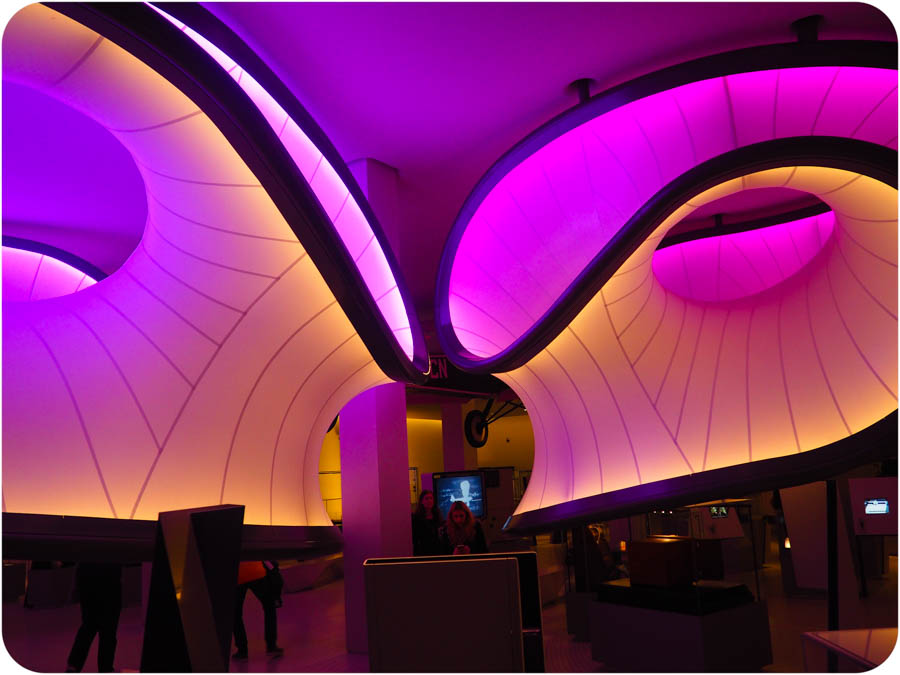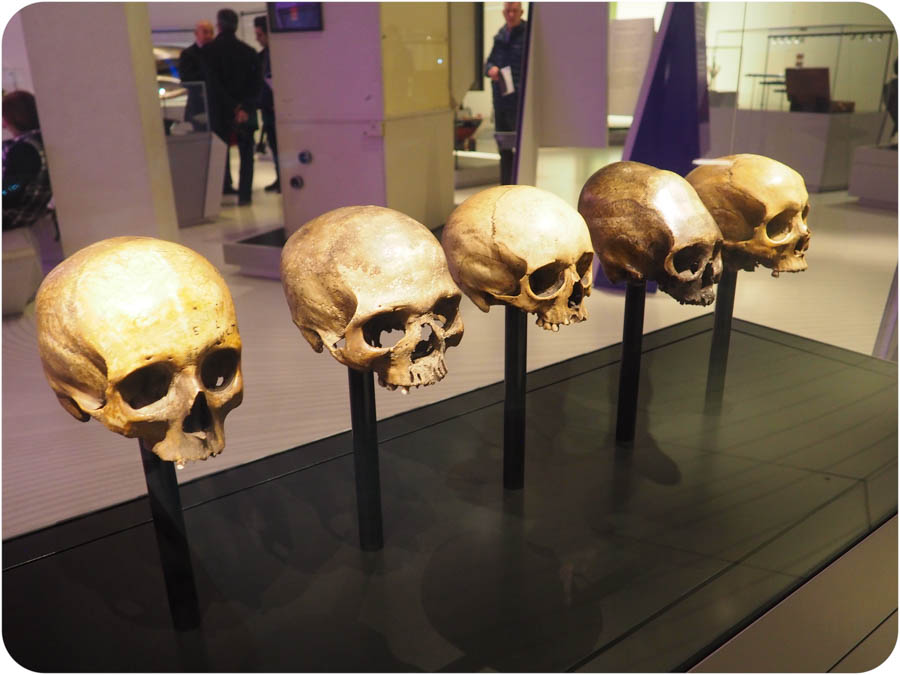 math skulls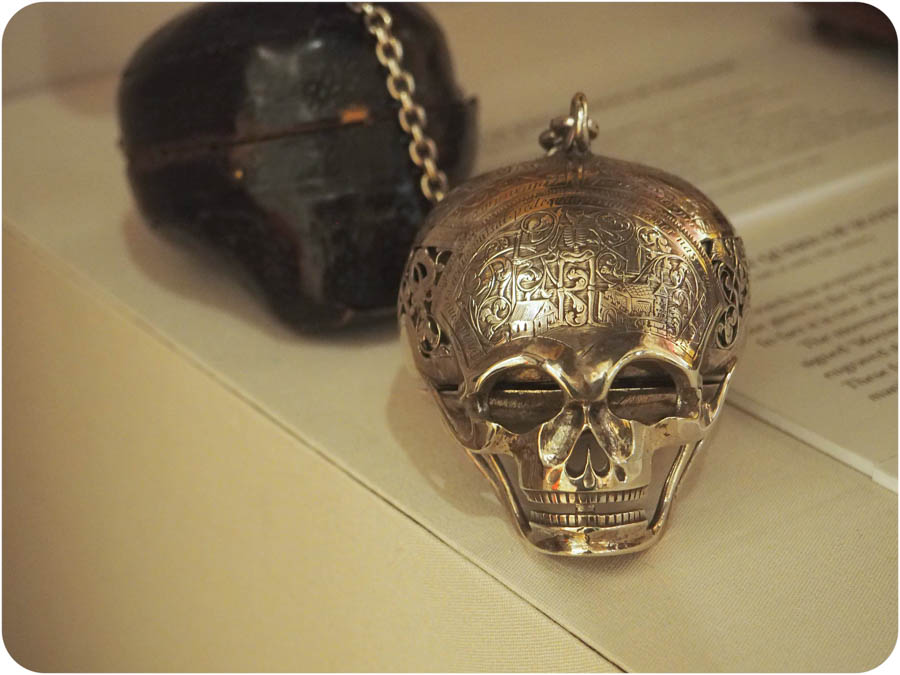 I would like one of these skull watch fobs, please. And another of vibranium with gold vermeil for when I'm feeling fancy.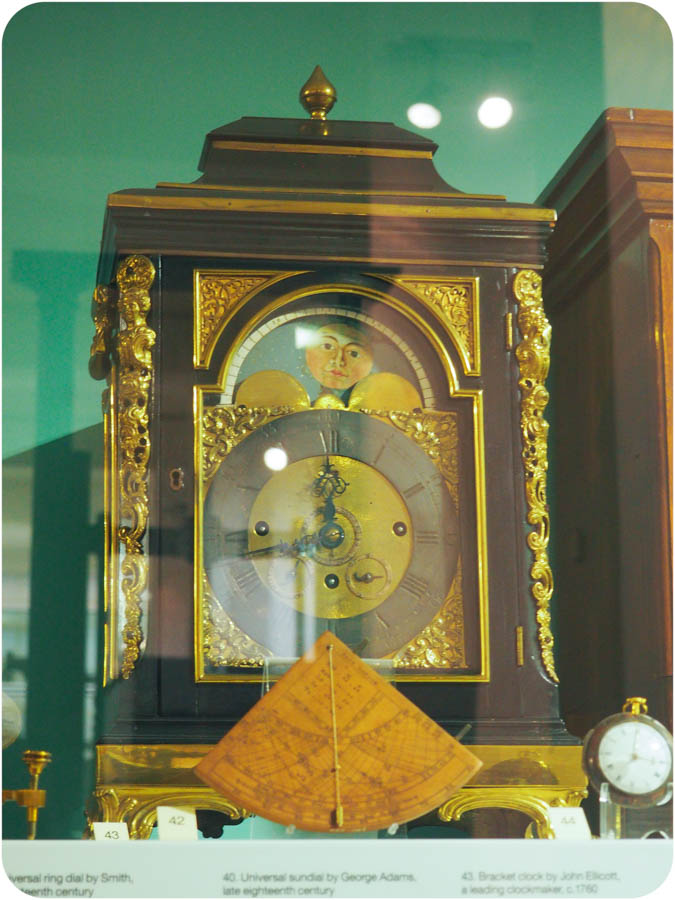 And also one of these.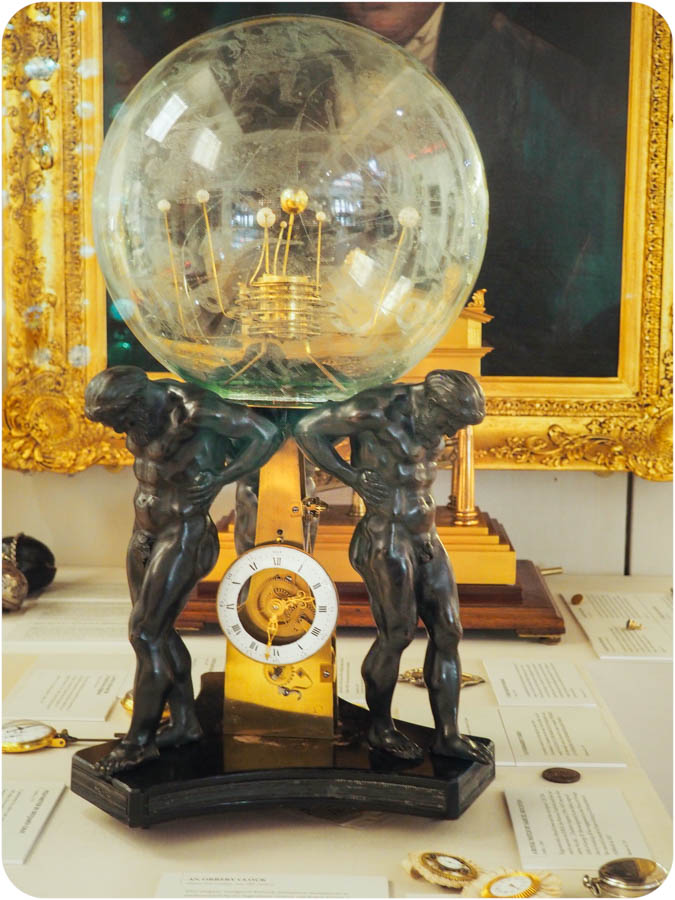 And also one of these but with, like, either better dong or a tasteful thong over the dongs. Right now it looks like he's wondering where it went.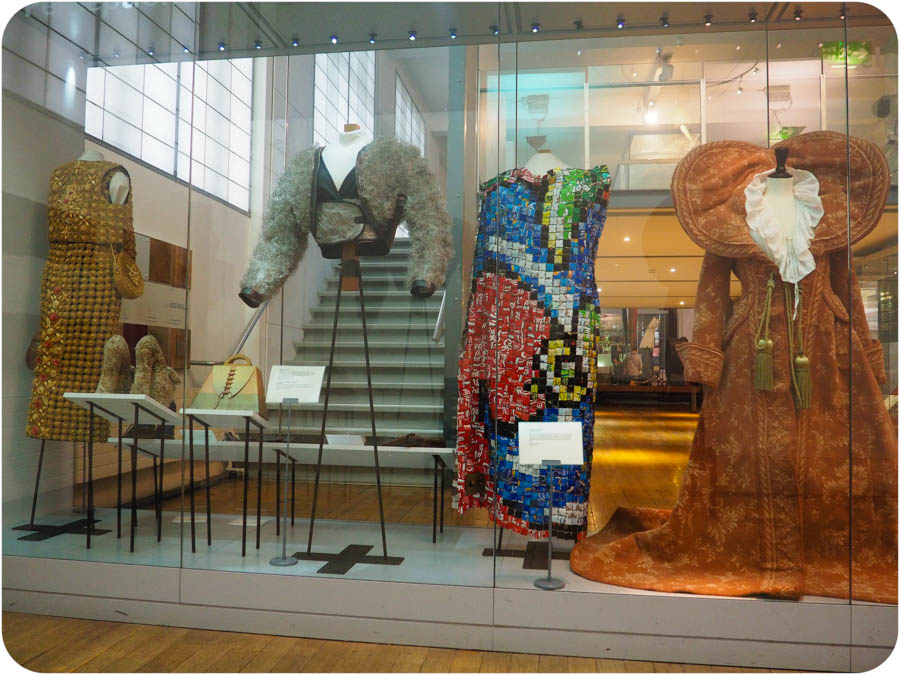 And then we found ourselves on a bench seated opposite a display of clothing made using recycled materials. I was curious about what materials they were made of but was too tired to heave myself over there, so I did the laziest thing I've ever done: zoom in on the sign with my camera, take a photo, and examine the photo from the relative comfort of the bench. It was as I suspected: the bomber jacket is made out of stainless steel, so it's going to be a 2057 must-have to camouflage ourselves from the murder robots. We spent some time on the bench dinking around on our phones, ostensibly looking for somewhere to eat in the area, but we couldn't decide on anything so we decided to do a whirlwind one hour tour of the Natural History Museum next door before it closed for the evening.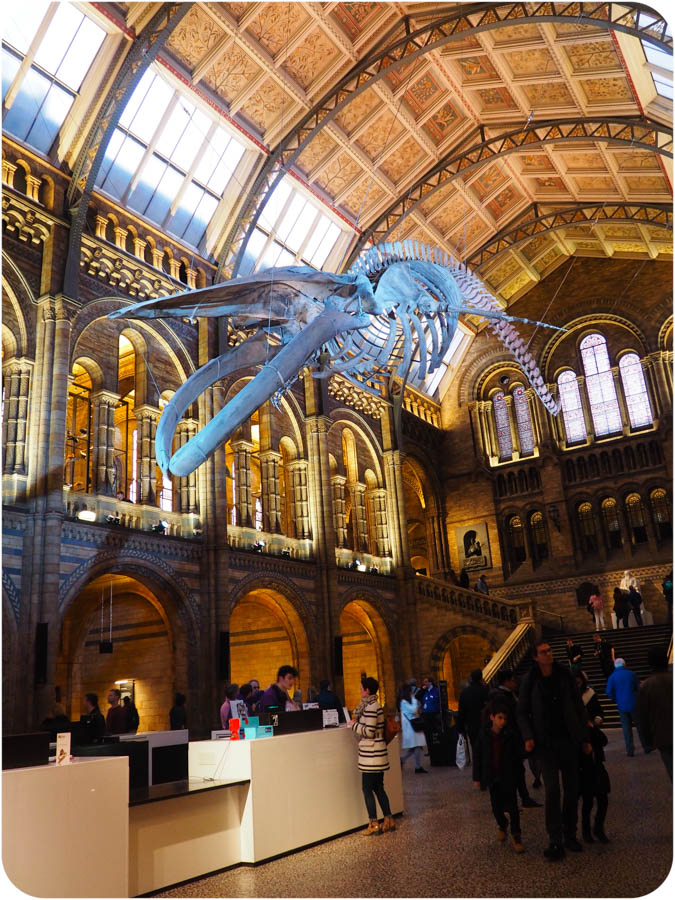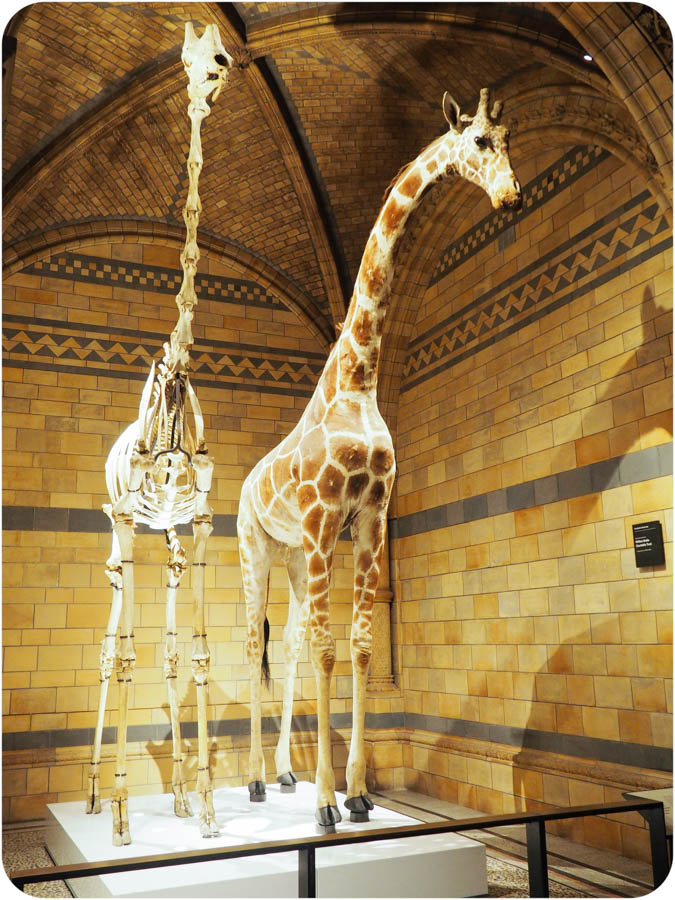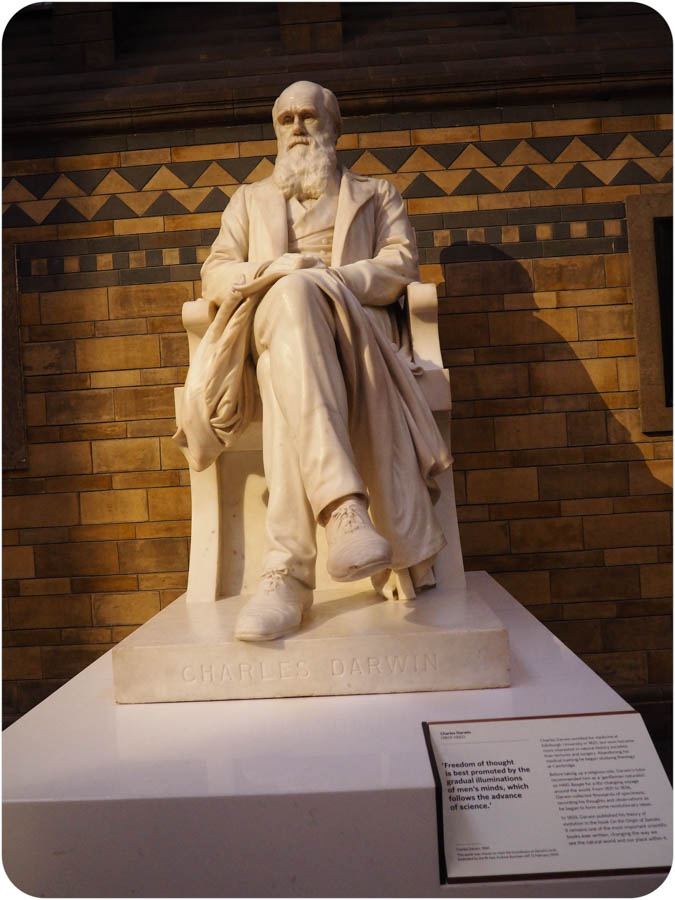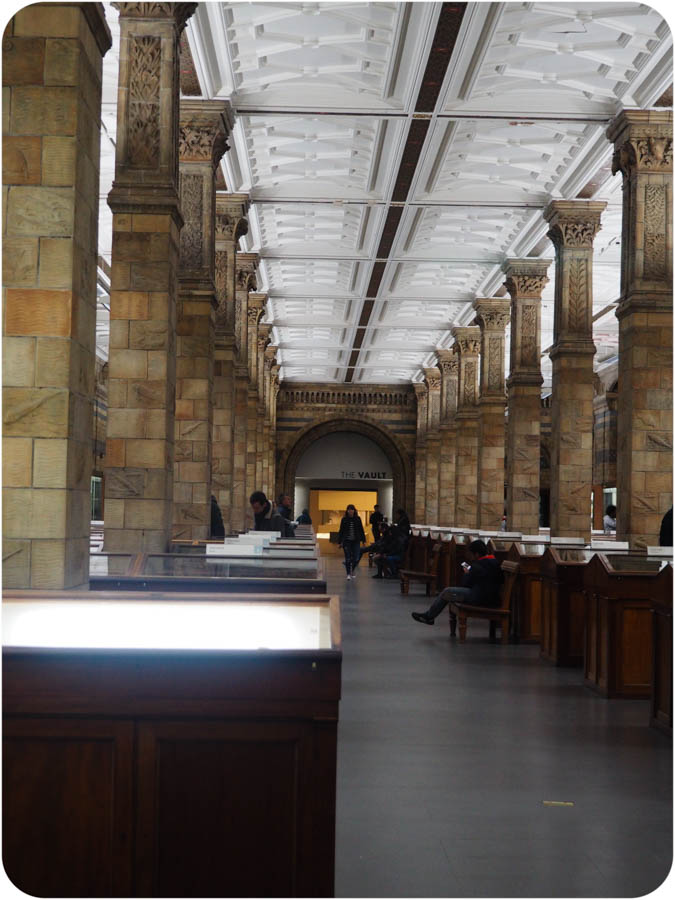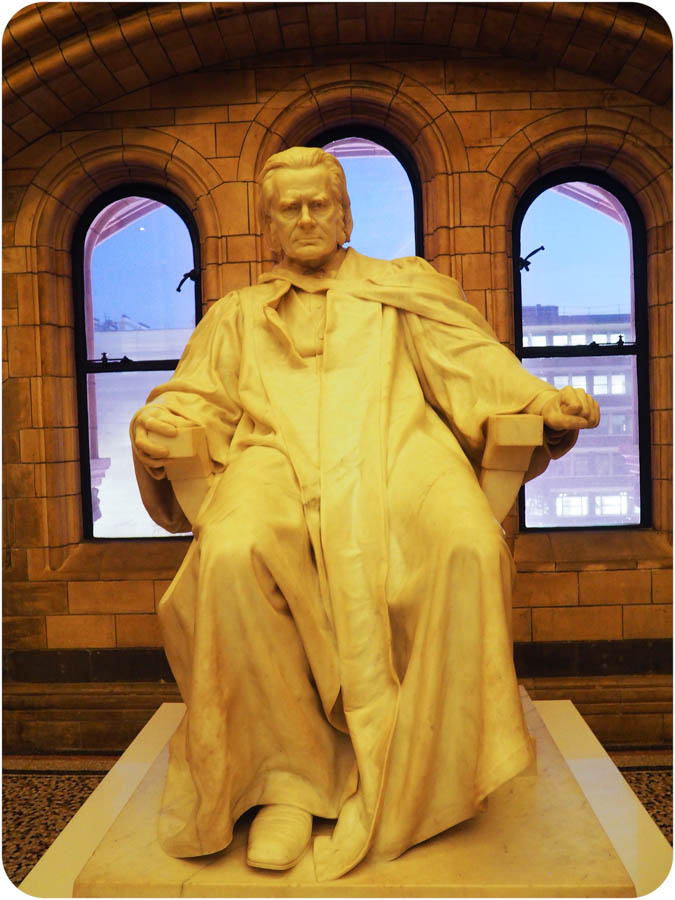 A placard identified this as Thomas Henry Huxley, "Darwin's Bulldog" for his ardent belief in Charles Darwin's theory of evolution. Huxley was a self-educated man who believed science should be for everyone–call me Huxley's Bulldog.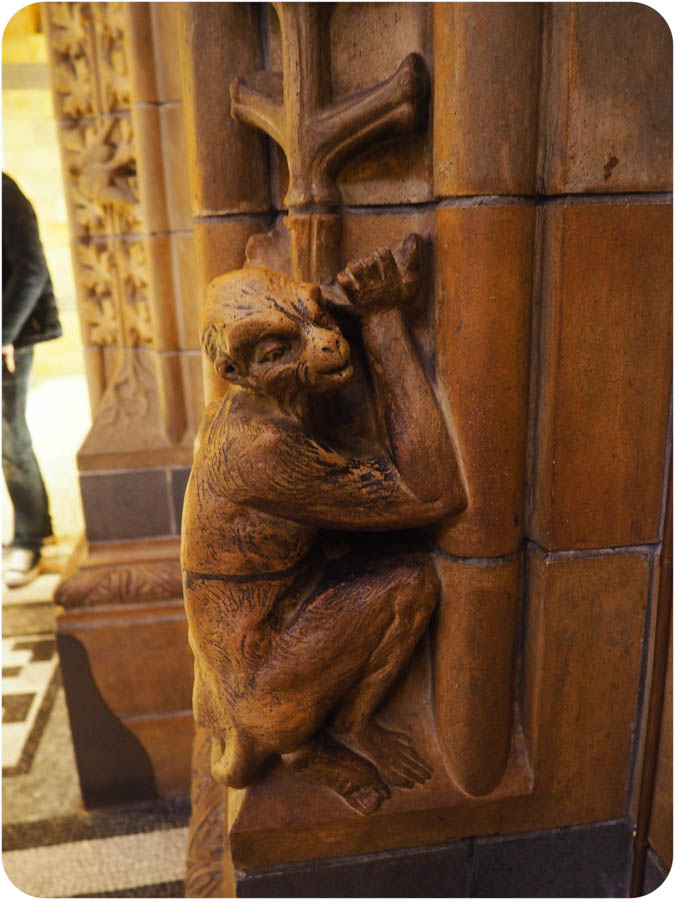 There were fanciful wall carvings of various animals throughout the museum, making it the most ornate museum I've ever visited by a long shot.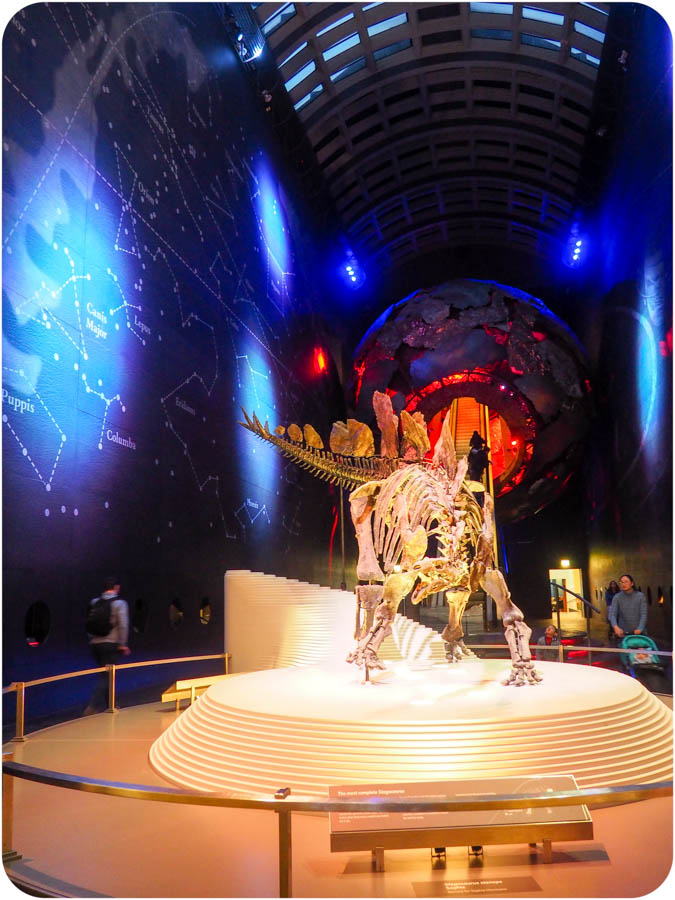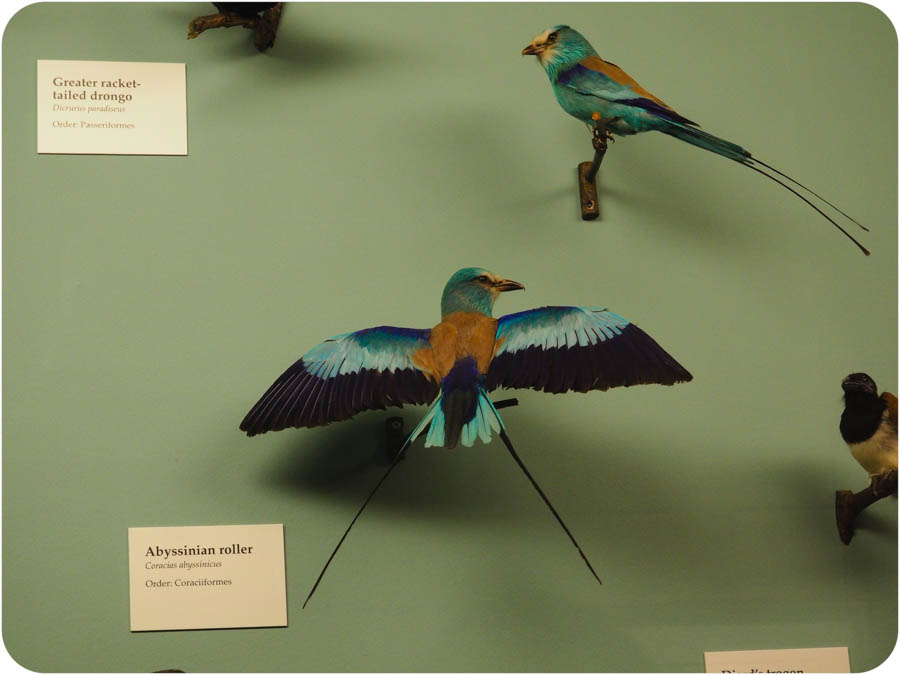 Rollers are such cool looking birds. My favorite is the lilac breasted roller, which in addition to these striking blue and green feathers, has a hot pink chest and looks like it's going to the fanciest garden party. Also, its hips don't lie. I hope to someday see one in the wild so I guess I'm officially a bird person because I don't think you can have a bird bucket list and not be one.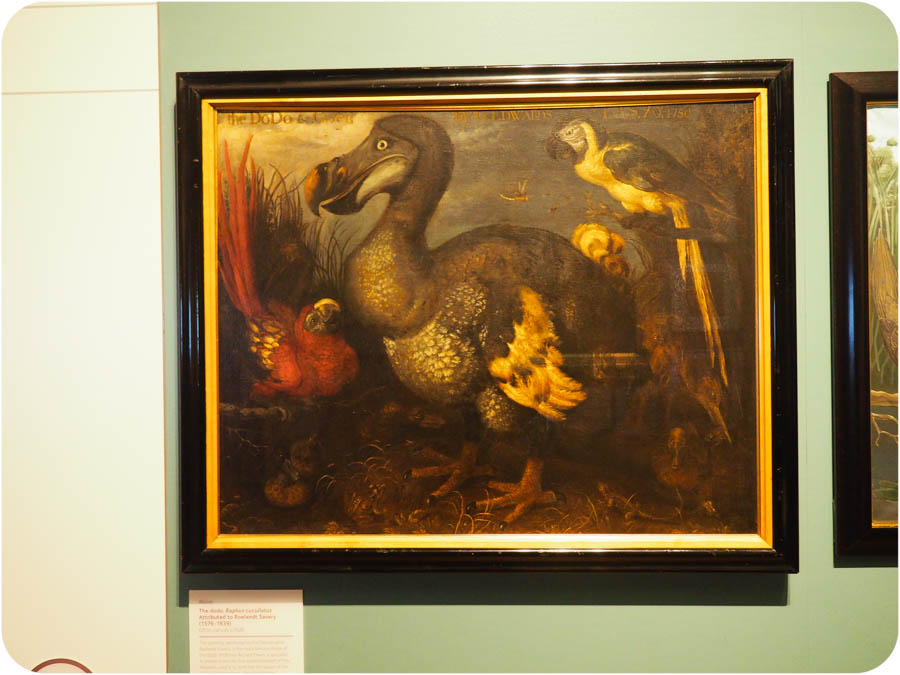 We made the absolute most of that hour, beelining toward Treasures in the Cadogan Gallery, featuring 22 objects of scientific significance, including original images from Audobon's Birds of America book, and The Vault, containing glittering gemstones including the ostro stone and a cursed amethyst "stained with the blood and dishonour of everyone who has ever owned it." Presumably the museum is only entrusted with it so as to avoid the blood curse. I tried to snap a few photos of some gemstones but they all turned out terribly. Perhaps the amethyst's curse is in effect for beholders of the stone as well, albeit more mildly. 
I can say without a doubt that I absolutely walked past all of the displays in the Natural History Museum, but I can't really say I saw them all. Or even most of them. It is a stunning museum and deserves more time for contemplation but I found it's also absolutely worthy in a quick visit, an out of focus haze, fleeting impressions of a celebration of the world as it was and is and our place in it. 
As the museum closed, everyone was ushered out onto the streets. The air had grown sharp since our earlier walk though the park, and I shivered into my coat though inside I'd been roasting. Outside the museum hung scores of glittering strands of lights and, on the lawn, a seasonal ice skating rink. Wafts of heated cinnamon air informed us there was a street vendor peddling roasted spiced nuts nearby. We still hadn't had a proper meal, so we bought a packet and parked our weary butts on a cement blockade to have a warm snack and watch people wobble and triumph on the ice.
We took the tube back.