After a night filled with dreams about car crashes (thanks, brain), I awoke to discover that my sore throat was not, in fact, the result of having yelled too much at deer about making poor life choices but was instead the onset of a brutal cold.  It may be worth considering that I'm spending too much time locked in my home away from the world's germs if every time I spend more than a few days away, I end up succumbing to illness, and that maybe I'd be a little more robustly healthy if I spent just a little more time around other people. Or, I could stay home and play just as much World of Warcraft if I just asked the UPS guy to cough on me every time he delivers something I ordered via Amazon Prime. That'd work, too.
At that point, it was just a bad sore throat, so while Emily and Rachel finished breakfast and packed up their belongings, I struck out across the street in search of throat lozenges and found these totally adorable murals painted on the gas station and grocery store.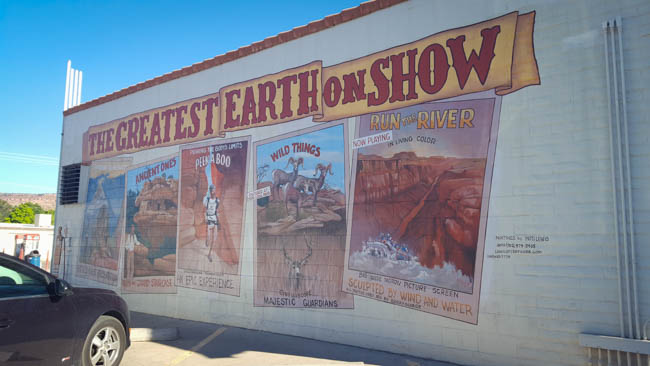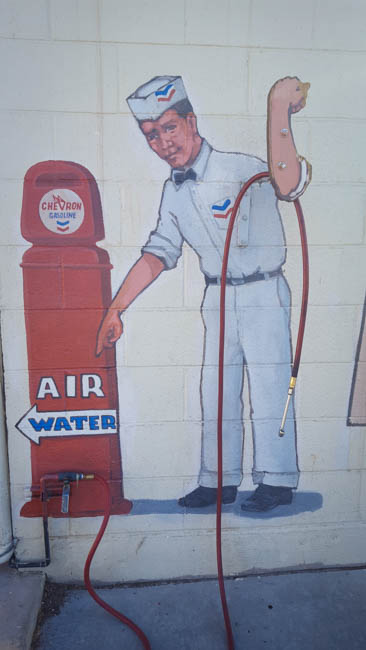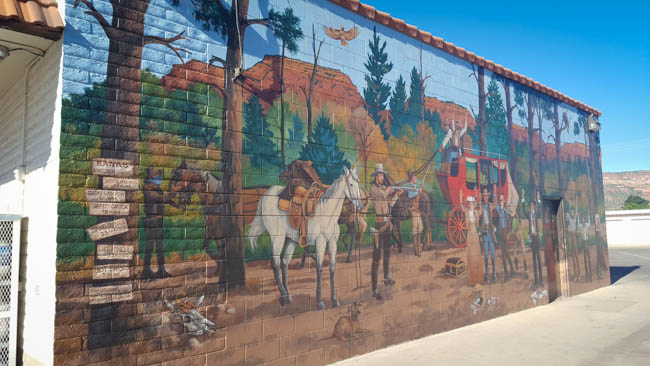 Before we left town, I wanted to swing by and see the "giant shopping cart" at Honey's Marketplace that I saw listed on Roadside America. Because a lot of their content is user-submitted, sometimes I'm rewarded with something truly awesome, and sometimes, well…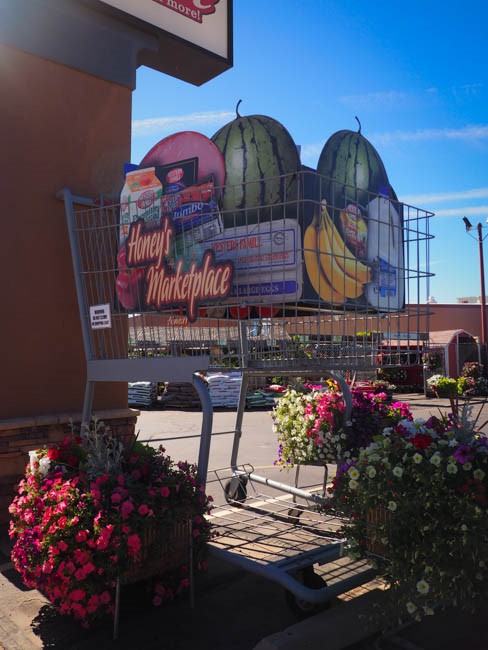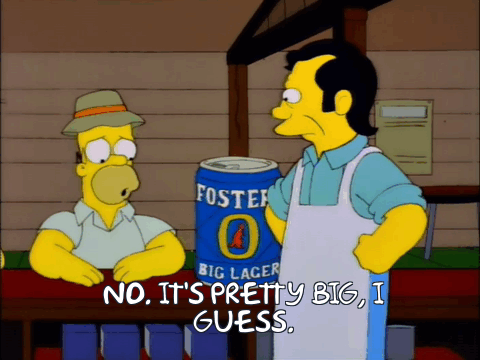 My opinion on the shopping cart would have changed a lot if I was able to go sit up in the basket like an oversized toddler, but Honey's Marketplace evidently doesn't give a fig about my opinion. What they did have was yet another vehicle from the movie "Cars", marking the third "Cars" vehicle we've seen in Utah. And this one talked.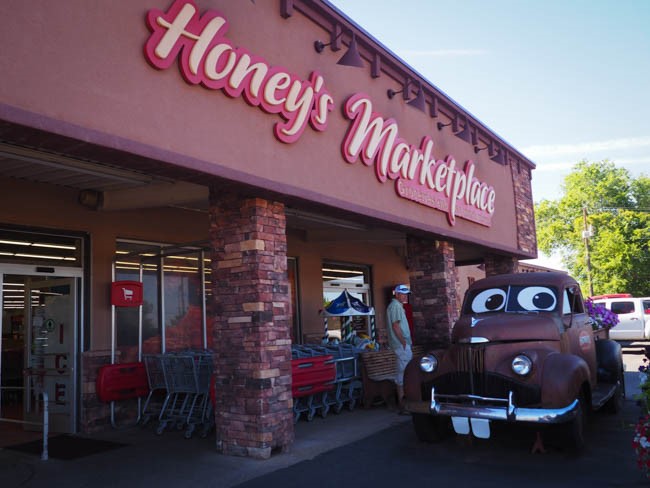 He also talked about their fine selection of french bread…ooh-la-la, managing to be both funny and creepy at the same time. I'm just jealous that there is no talking anything outside of my local grocery store. 
Kanab is the filming location of over 100 movies and a number of tv series, and I'd tentatively put a stop at Little Hollywood Land on the itinerary, but given that our scheduled endpoint for the day was Boise, Idaho, I didn't feel as inclined to spend a lot of time in Kanab before we left, knowing that would definitely make for another very late hotel arrival and gas station dinner, and I was still feeling a little bitter about the previous day's late arrival and gas station dinner. All I wanted was a steak the size of a wagon wheel, Kanab! From a sit down restaurant where I could also get a gin and tonic to help me forget about the terrors of the night cows! Or barring that, some goddamned fries and a frosty! We did pull off shortly to take some photos of the scenery, and when I stopped being struck by the view, I realized that there was an entire group of people behind us firing guns into an embankment, protecting us all from some encroaching dirt or something. 'Murrica!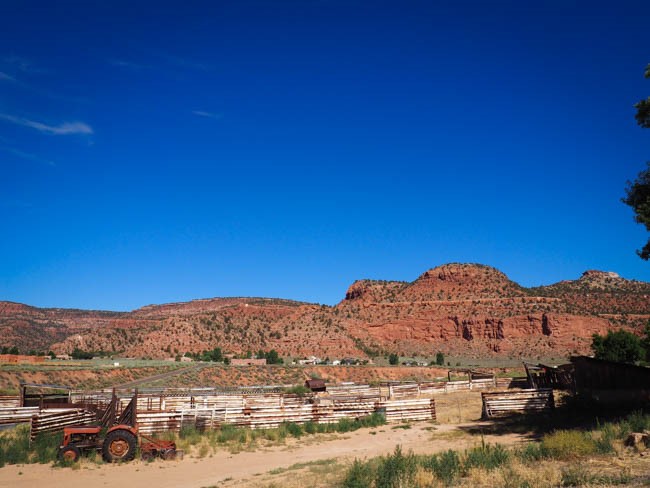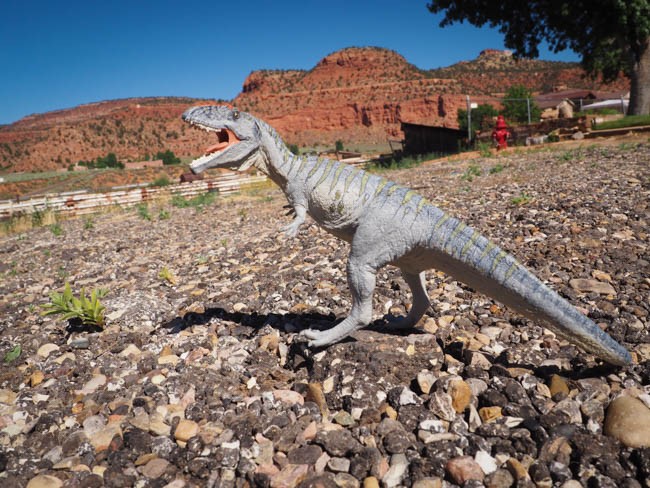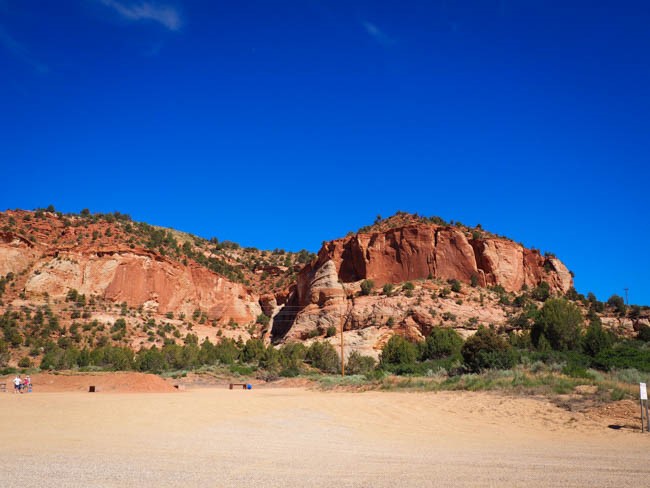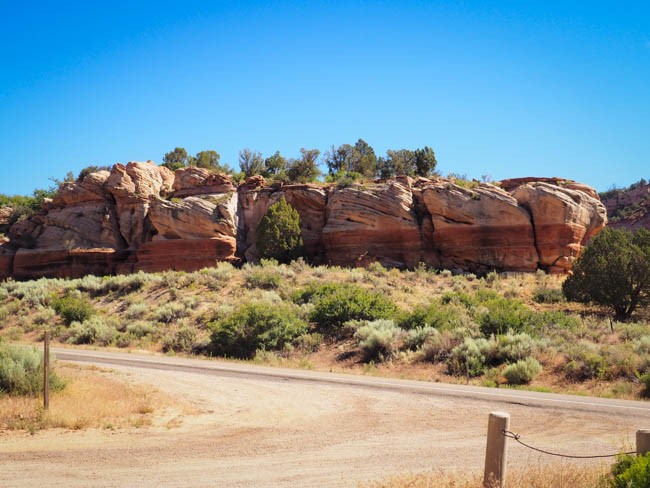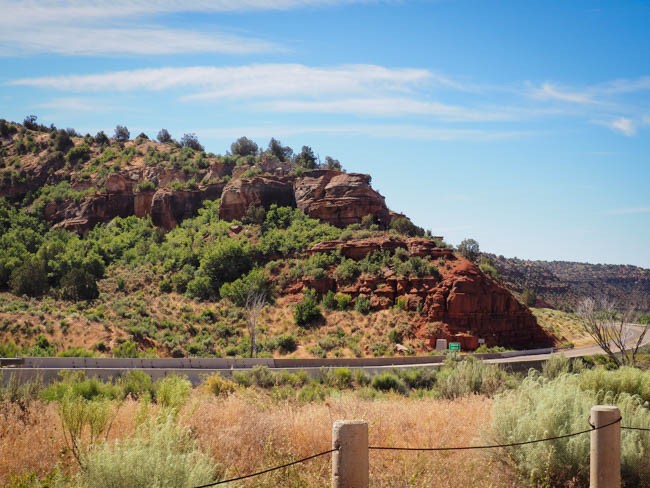 I also found it deeply important that we stop at this place with ho-made pie, because I'm the sort of immature person who will always laugh at a sign like this. No one wanted to take a picture with me under a sign indicating that they were a woman both of the evening and of the kitchen for some reason that I can't begin to fathom.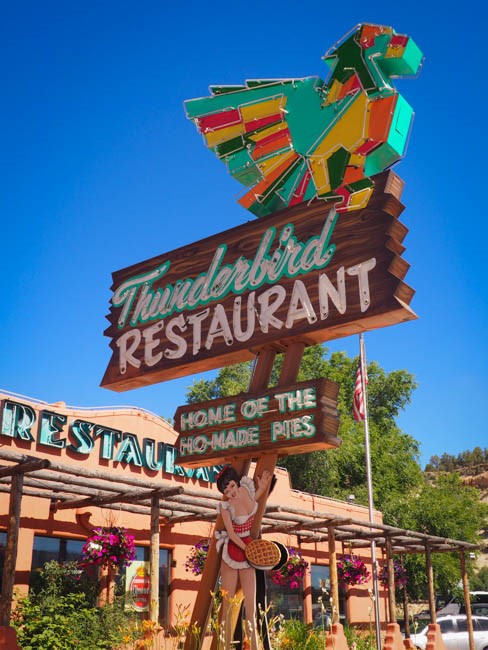 Then I tied a bandana over my face* and passed out in the backseat for a while.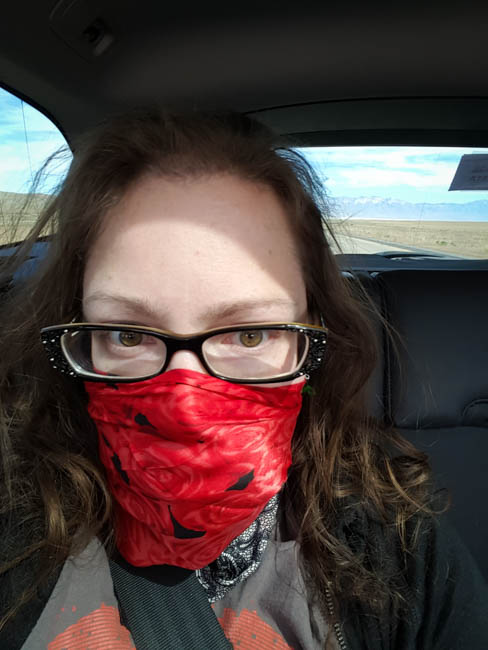 When I awoke, we had stopped at a gas station in Beaver, Utah, and I'm glad that I woke up, because it's possible that nothing will ever make me laugh harder than a sign for fresh beaver tacos. Because, again, I am immature.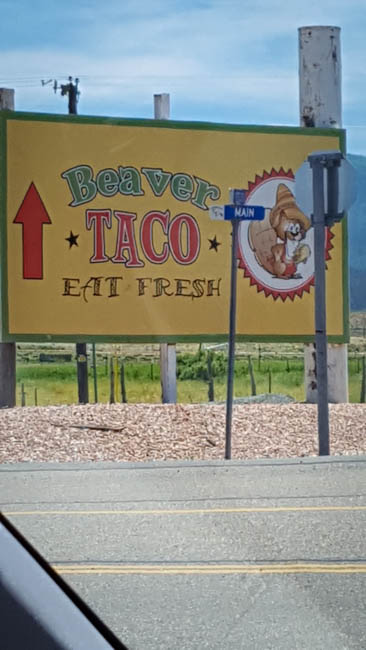 An hour or more outside the Bonneville Salt Flats, the landscape already was looking seriously salty. As in, the ground looks like it's covered with snow but it's actually salt. There were piles of salt so enormous that it was hard to fathom their size, piles of salt so huge they absolutely dwarfed trains and construction equipment. And here I am, paying a couple of bucks for a cannister of salt like a sucker, when I could have brought a bucket with me and filled up a lifetime's worth of salt for free. Plus the cost of the trip. But that doesn't count, right?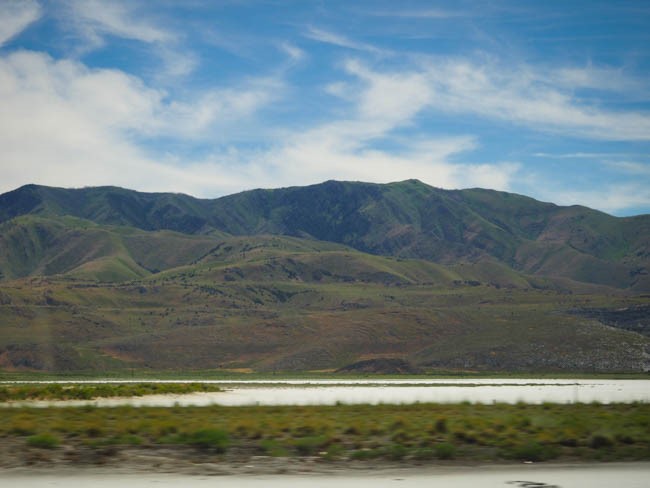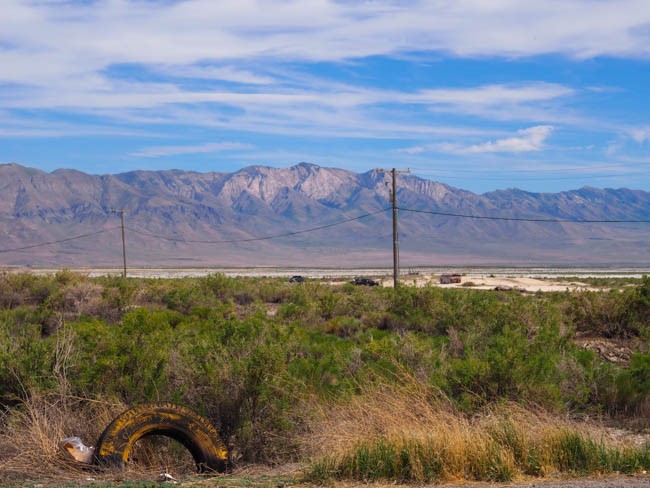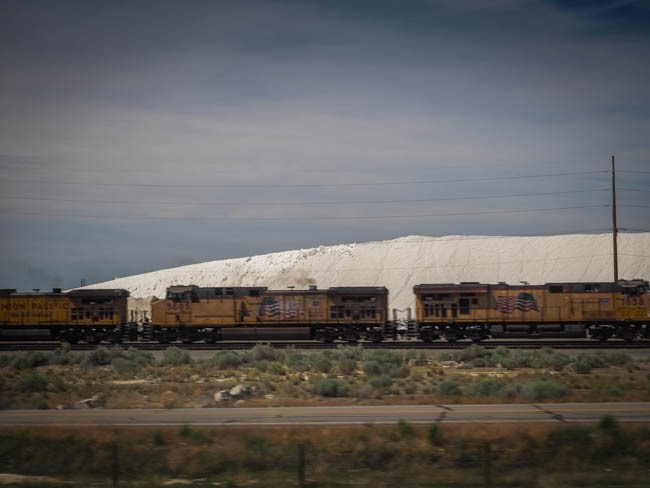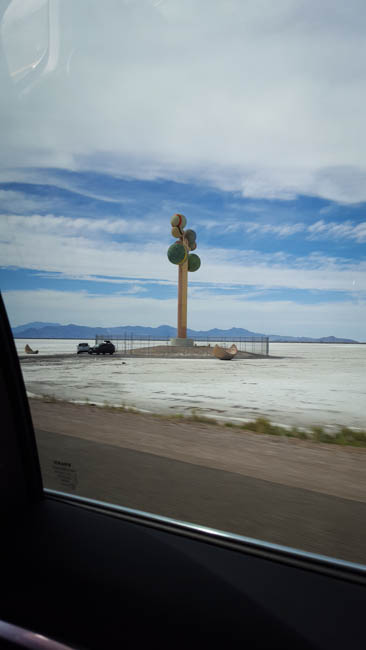 And then there's this thing, a erect pole with salty balls.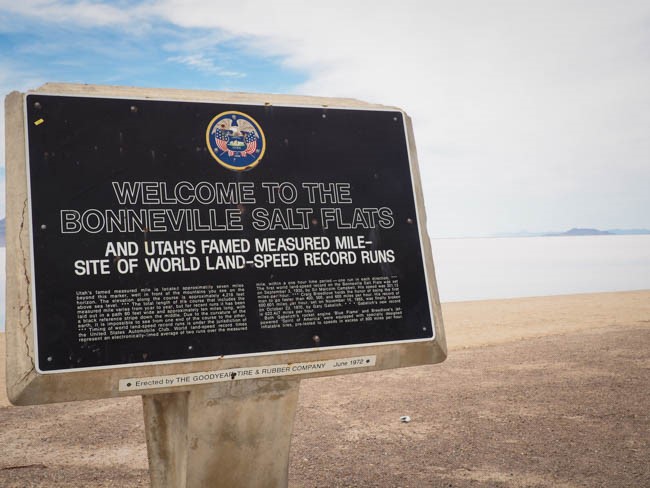 And finally, we were there–the Bonneville Salt Flats, home of some land speed record runs or something. I was much more interested in taking off my bandana for a little while, breathing in some salty air, and checking out the scenery.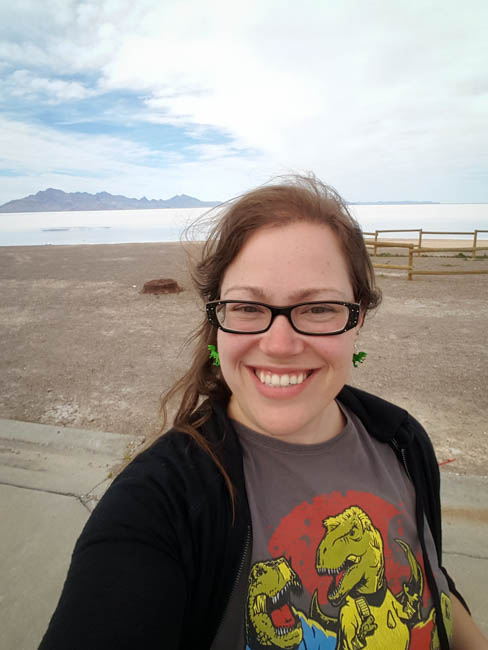 But first, I checked out the flying penis monster on the Bonneville Salt Flats garbage can. Because flying penis monster, obviously that's where my eyes would go first. It's like you don't even know me.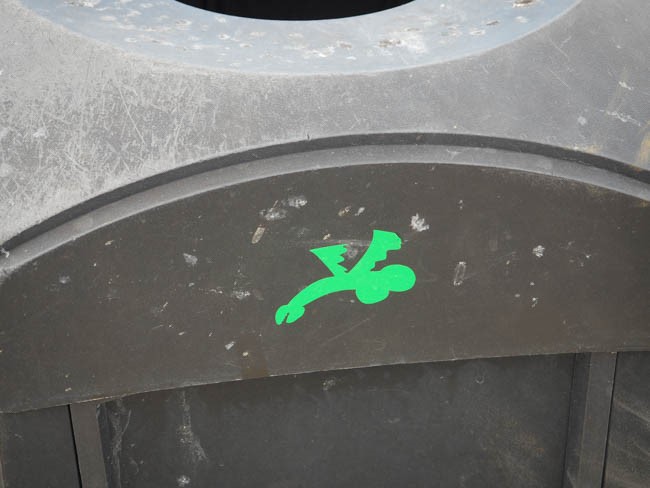 The Bonneville Salt flats are 30,000 acres of nothing but salt and water. Or sometimes just salt I would imagine, since it's hard to set land speed records in calf deep water. No insects, no plants, one dead tree. They were, in Rachel's words, "vast and salty".  And once we'd heard it described that way, it was difficult to find any other words to describe it. Large and salt-filled? Grand and, uh, high salinity? So vast and salty it was and is. Rachel was the only one of us who ventured into the water, and once again using her lyrical magic, described it as "warm and gross".  So, vast and salty and warm and gross. That's about the long and short of it. I was surprised at how many families were out playing in the water in swimsuits, and how many dogs they brought up to the edge even with numerous signs prohibiting it. I also briefly considered scooping some up and gargling with it to see if it would benefit my sore throat, but then almost immediately reconsidered it, because every once in a while, I can make a good decision. Not often, not consistently, but every once in a while.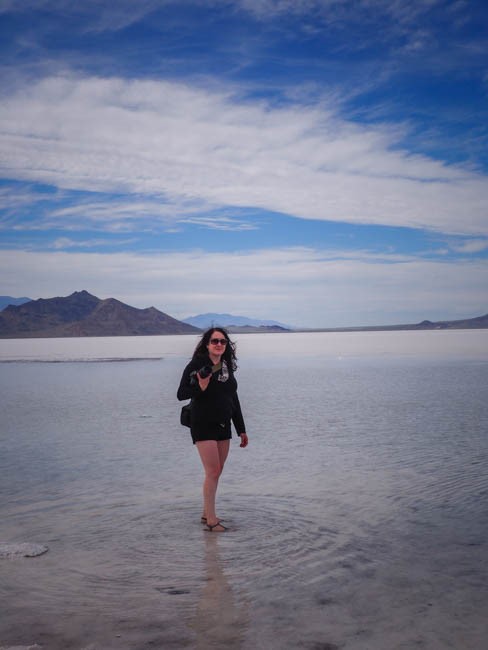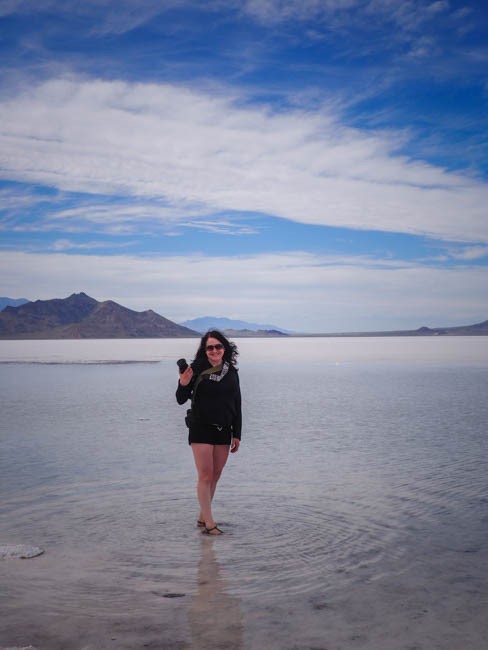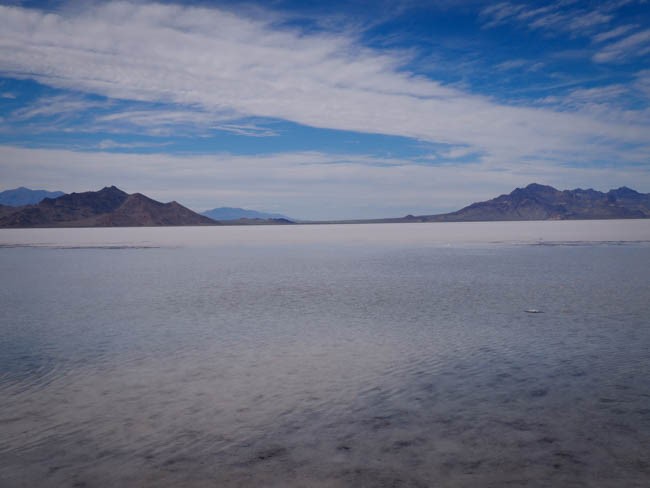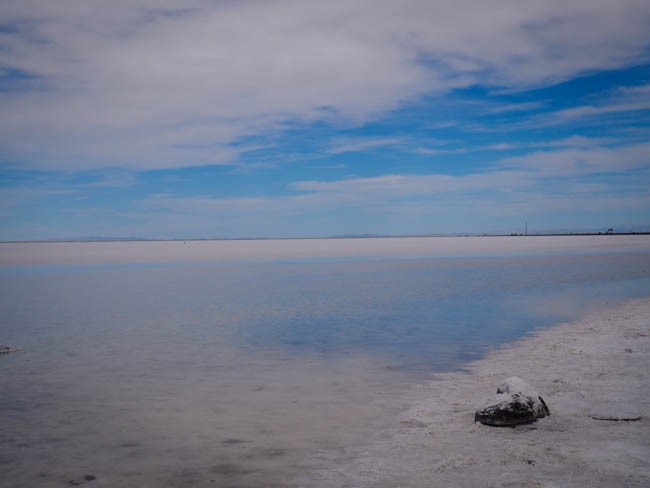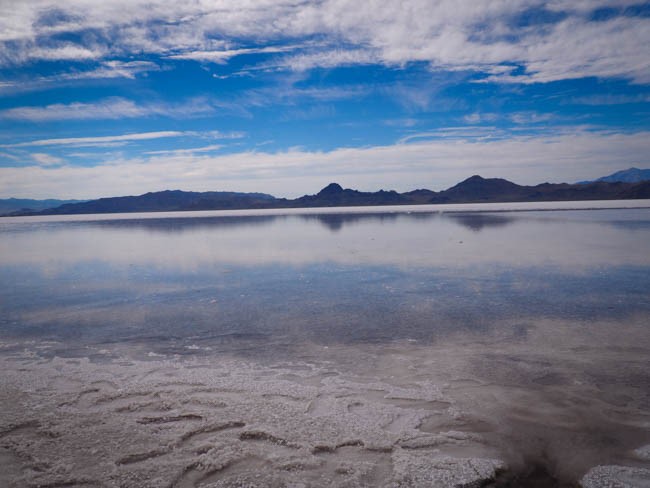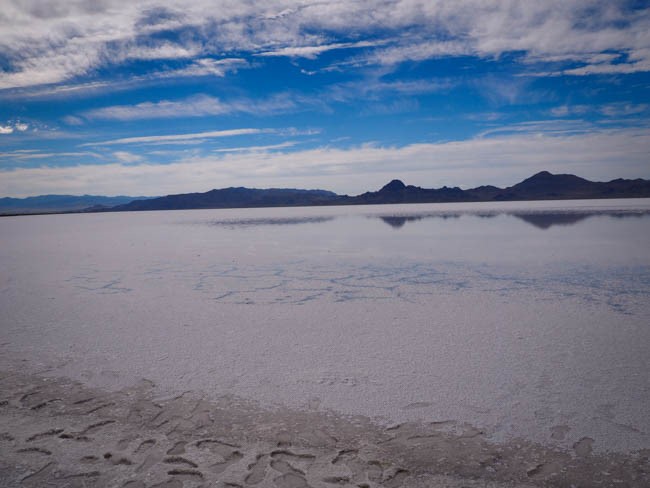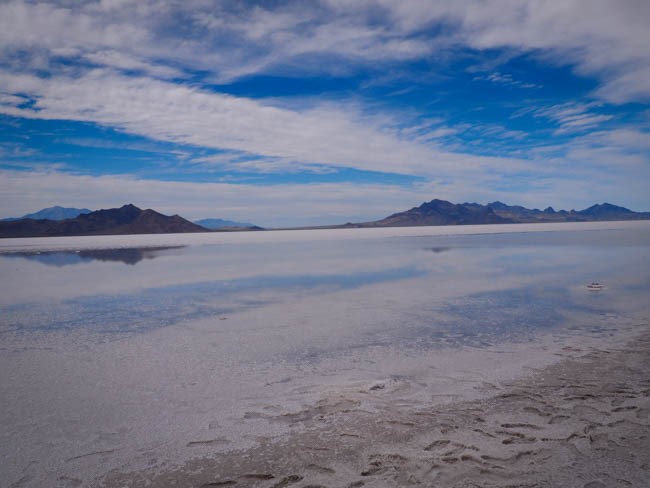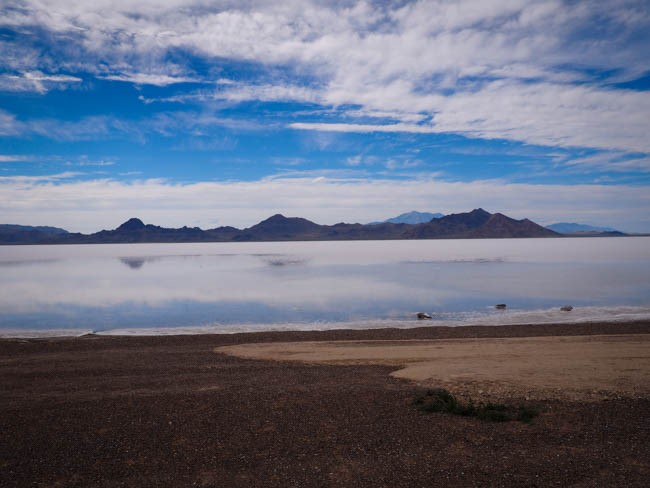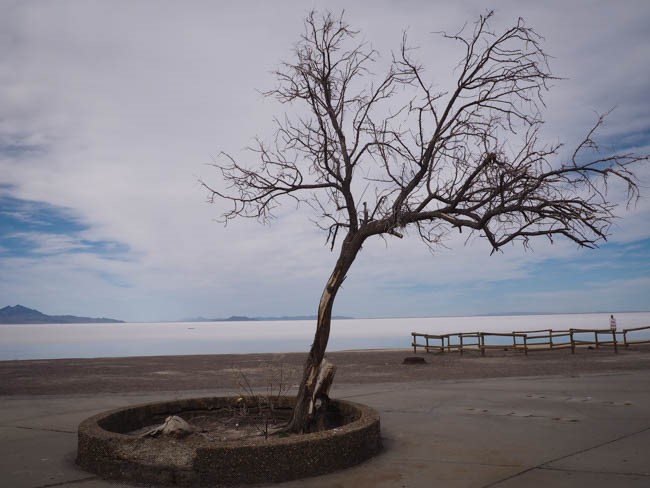 After we'd gandered enough at the vast saltiness, I was feeling well enough to take a shift behind the wheel, and I drove us from the salt flats the rest of the way to Boise, taking us through a corner of the last new state we'd visit on the trip, Nevada. This route took us on a number of two lane roads, which meant I got to recreate some of my favorite scenes from Fury Road and shout "WITNESS ME, I AM AWAITED IN VALHALLA" while passing Sunday drivers on their way to and from spending their pension at the casinos.
We drove into Boise just as the sun was setting, and since we were going west, that meant driving straight into the blinding sun. Straight into the blinding sun as wind shears were grabbing the car. Emily was looking up options for places to go for dinner and telling us about them, and it was right at that moment that my sickness fully set in. In case you've never experienced a special moment like this, I'll do my best to explain. It's the point where I go from "I think I'm getting sick" to "Oh fuck, I'm sick. I am so sick". My ears close up, my eyesight goes to tunnel vision, there's an overwhelming stuffy sensation of being a balloon headed monster in a world that hates balloons. So, to reiterate, I was driving directly into the blinding sun, wind was grabbing and shaking the car, my hearing went from fine to being able to hear very little but the underwater whooshing sound of my blood gravy rushing to my face in a hot sweat and my world has collapsed to that blinding tunnel in front of me. Oh, and for some reason, I also had simultaneous searing gas pain, the kind of fart that rips through your intestines with razor blades, only we'd just had a conversation in the car where I learned that Emily's husband isn't even allowed to fart in a room that's not the bathroom so there was no way I was letting that motherfucker go. My anus was Alcatraz. And my poker face is so goddamn good that I'm pretty certain no one in the car had any idea that any of this was going on, inside of me and outside of me, all at once.  At least until the point where we reached our exit and I snapped that the directions were going to have to be given a lot more loudly because I couldn't hear anything (and also because I was still holding in The Devil's Fart and he was angry about his imprisonment). I remember very little from the rest of that night. There wasn't much to remember for me: as soon as we checked in, I went straight to bed.
*Why the bandana? They say hunting humans is the most dangerous game. I would like to posit that the most dangerous game is trying not to get sick when trapped in a car with a sick person and recirculated air conditioning for fourteen hour days. Considering there were two other people in the car who needed to get back to work and school and not take still more time off for illness, I wanted to do everything I could to keep from infecting anyone else. The bandana was my best option for making sure the worst of my germ goblins stayed with or on my person, even if (when) I fell alseep and wouldn't be in control of coughs and sneezes. Basically the car version of how I treat Jason when he's sick. AND IT WORKED.
Save
Save
Save
Save