When I take a trip somewhere, if I don't do a day-by-day recounting, there's usually a bunch of tidbits left over that I either couldn't write more than a few sentences about or don't have any photos for or would drag out the series far beyond what any human could be expected to tolerate.  All combined, however, they make for something a little more substantial, so here's yet another one, this time about Texas.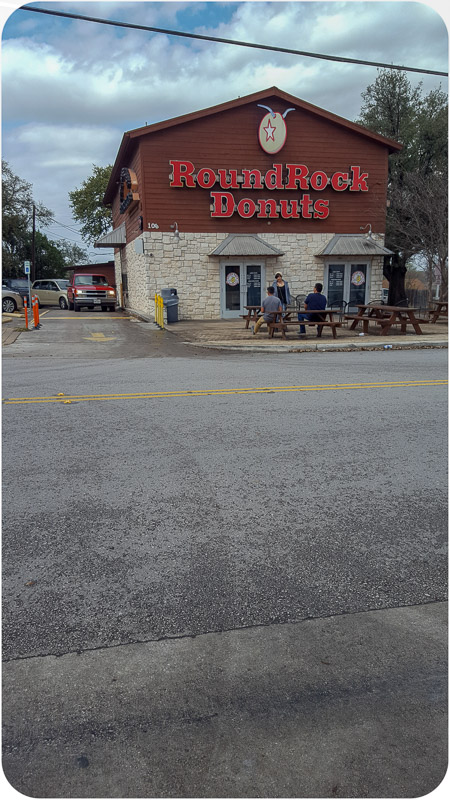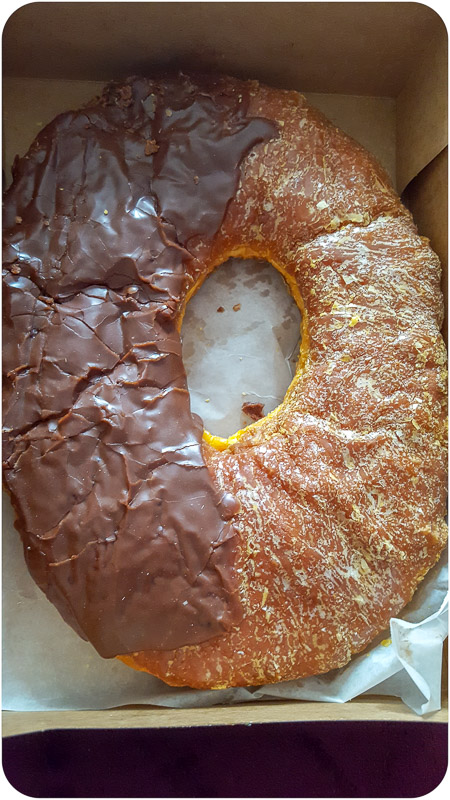 There's a donut shop in Round Rock that'll sell you a donut the size of Texas for just under eight bucks. This behemoth, weighing in at around two pounds, is the equivalent of twelve regular donuts, and it absolutely dwarfs the largest donut I'd had prior, at Universal Studios. I may, in fact, never eat a larger donut in my life…but one can hope. Round Rock Donuts sells 'em glazed, chocolate frosted, and for the indecisive like myself, a split donut. Both sides had their charms, but ultimately I preferred the glazed half as the chocolate frosting can overwhelm the flavor of the donut itself, and it's a donut worth tasting, tinted yellow from all the golden yolks of the farm-fresh eggs they use in their yeasted raised dough recipe. But y'know, maybe share it with a friend. I was particularly delighted to know that the donut could support its own weight when being picked up to do a size comparison selfie with, say, one's own head.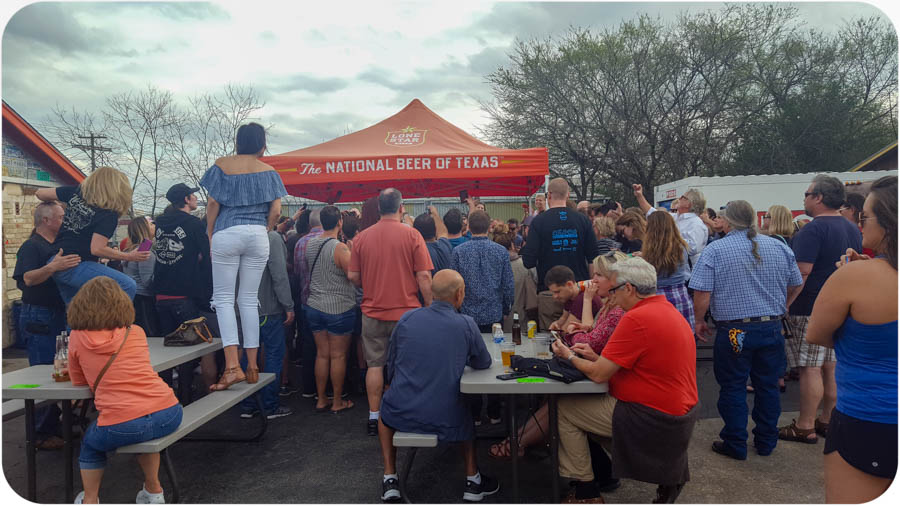 I was so excited to go to Chicken Shit Bingo at the Little Longhorn Saloon, which they do every Sunday between 4 and 8pm, in four rounds. There's a live band, and an array of picnic tables around a central tent, providing shade and protection for a large chicken wire cage, lined with a board with 54 numbered spaces and littered with feed to encourage movement(s). The band announced a table number, and it was from that table that the first round of tickets were sold. Excuse me, "exchanged for a donation". Tickets are sold exchanged first to kids under 13, then adults over 92 (with ID), and then they're exchanged with whoever hustled over to the line fast enough, one per person. I saw a man straight vault over a table and determined that the only way for me to win was not to participate. When the chicken finally came out, people crowded around the cage six deep, shouting at the chicken and cheering. Between them and the whole camera crew in there, I could not see anything and I didn't feel like elbowing a bunch of people to try and see a chicken take a shit, so I left.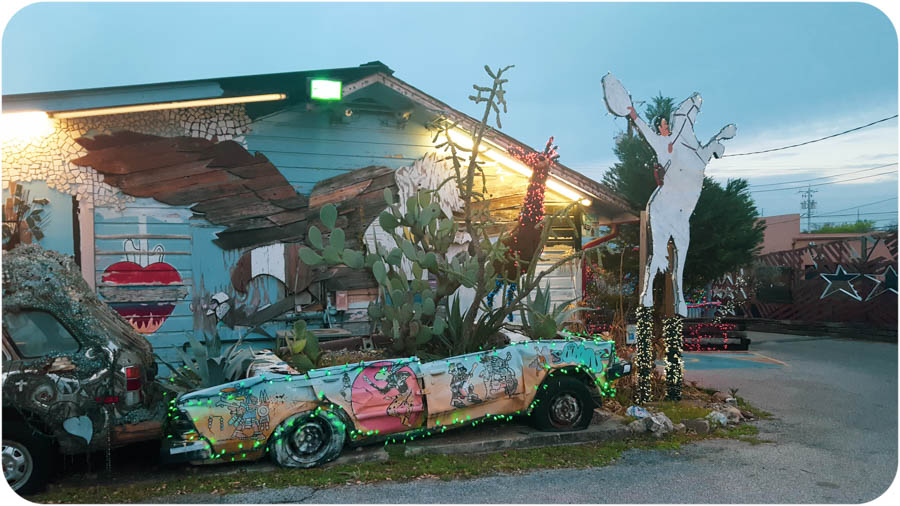 I wandered by this place while waiting to get into my movie at the nearby Alamo Drafthouse. Or so I thought. You see, the nearby Alamo Drafthouse, on S Lamar, was busy with SXSW screenings, and the ticket I had purchased was actually for a movie showing at an Alamo Drafthouse in Fort Worth, which is also on S Lamar, just a mere three and a half hour drive away. 
In general, I really really liked Alamo Drafthouse and I'm pretty devastated that there aren't any locations nearby. The food is delicious, the service is unobtrusive, and they're serious about ensuring your good experience which includes none of the ubiquitous modern commercial advertising before the start of the movie, choosing instead to take you on a nostalgic tour through tv clips, movie clips, and old timey cartoons and ads for toys and candy, curated from what must be an extensive collection by someone who has love for media. And I cannot confirm this, but I think they may have invented the endless popcorn bowl, because I happily munched on herbed parmesan popcorn all throughout Annihilation and when the movie ended, I still had 70% of it left. Some of the volume left may have had to do with my drive to eat as quietly as possible so as not to disturb the other moviegoers with my excessive crunching.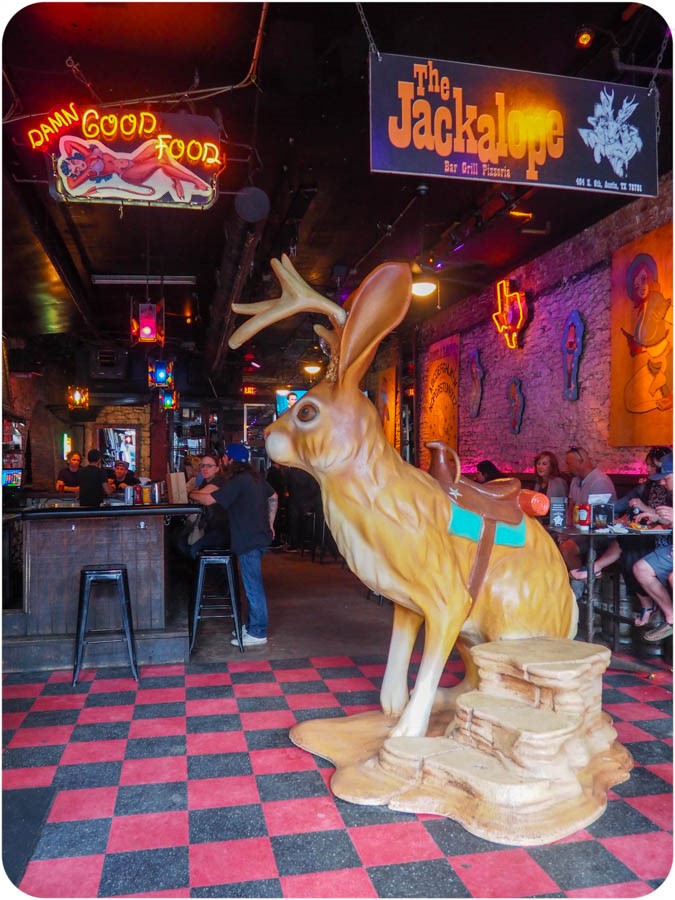 The Jackalope was…a bar. With a Jackalope. That I tragically had no one to take my photo riding.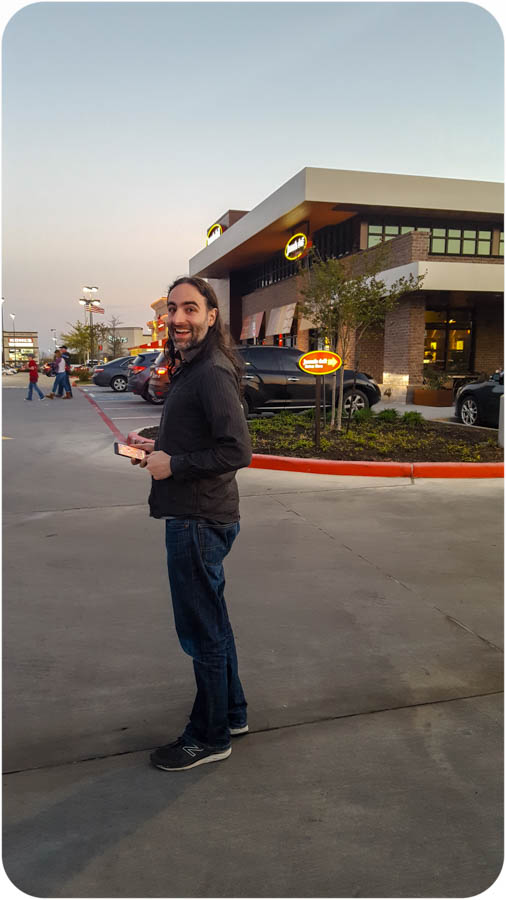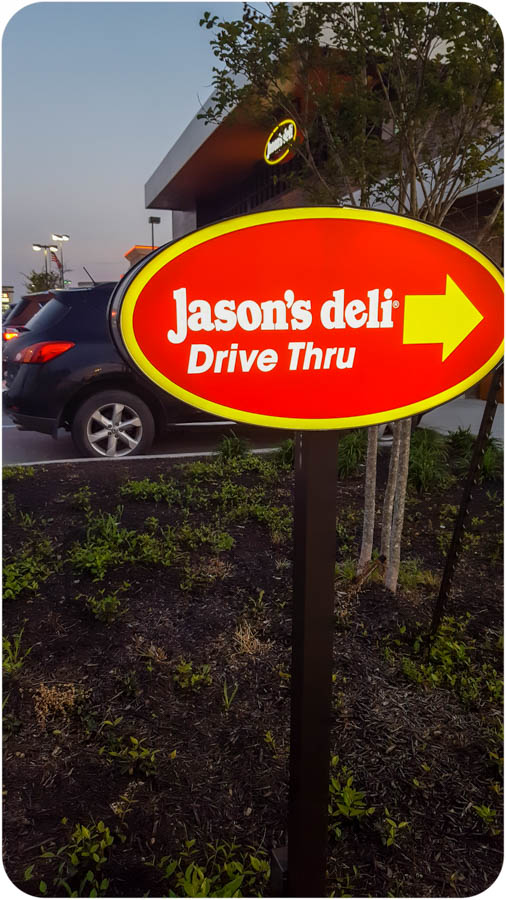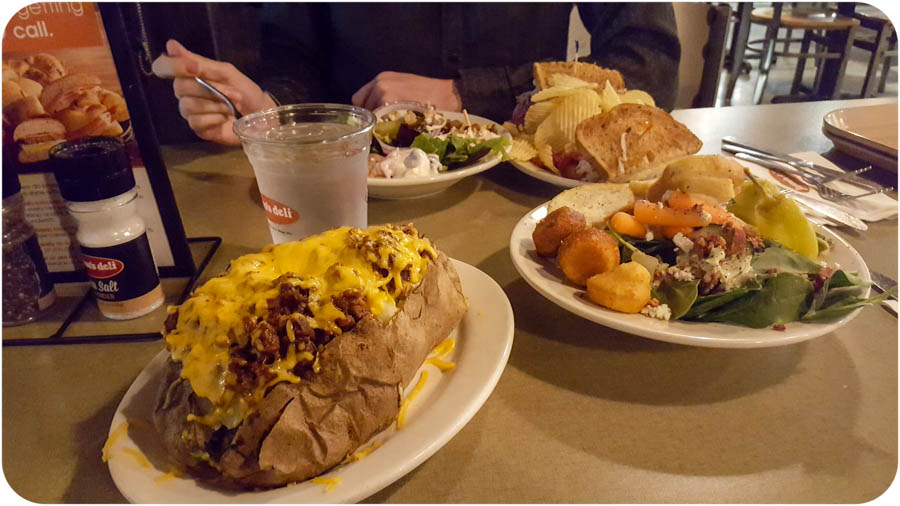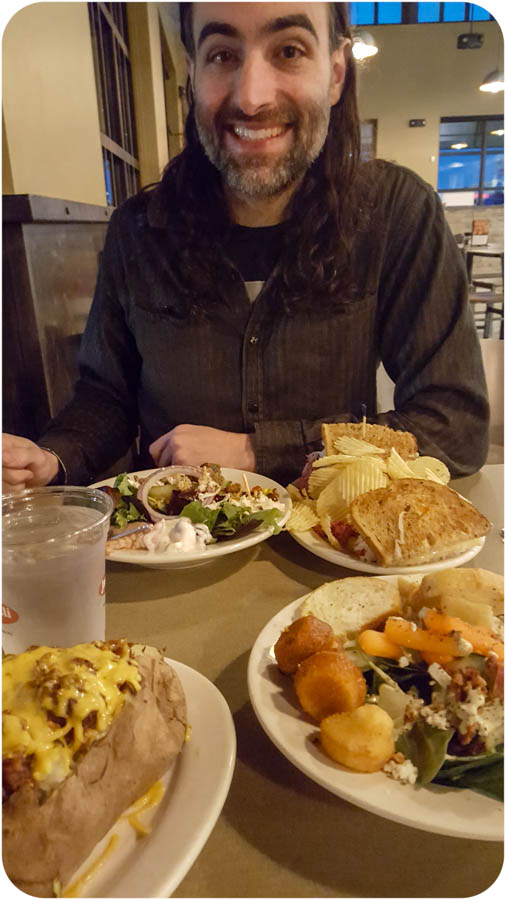 Looking for dinner one night, neither Jason nor I could resist the allure of "Jason's Deli" for obvious reasons. It was, sad to say, kind of mediocre. My baked potato was almost unfathomably big–it was like they crossed a potato with a loaf of bread and planted it in radioactive soil. But it was bland and the chili was unpleasantly sweet and I was glad I'd paid the extra whatever to have access to the salad bar.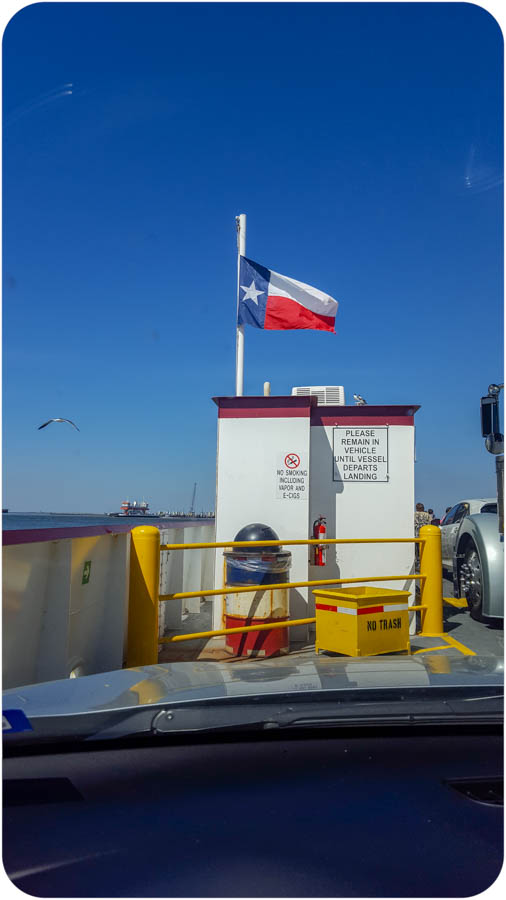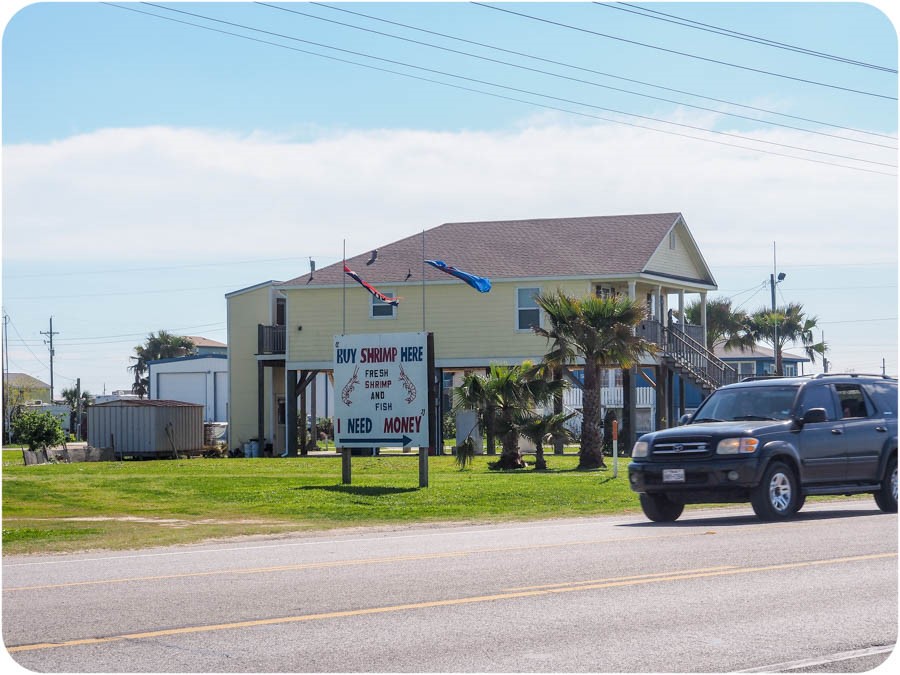 We took a ferry from Galveston to Crystal Beach and regretted it almost immediately. Jason got some freezer burned ice cream, I used the bathroom, we laughed at the "BUY SHRIMP I NEED MONEY" sign, I witnessed a wholly brown wave crash onto the "crystal" trash-littered beach and turned around and headed back to the ferry.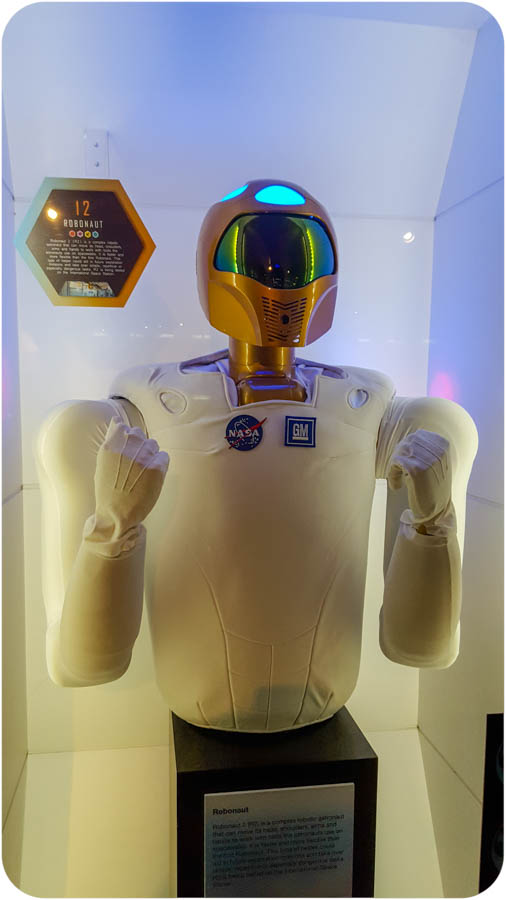 I wrote one word in my travel notebook for the Houston Space Center: "Yeesh."  It's almost like a chaotic evil engineer designed it so that the high pitched shrieks of children reverberate endlessly.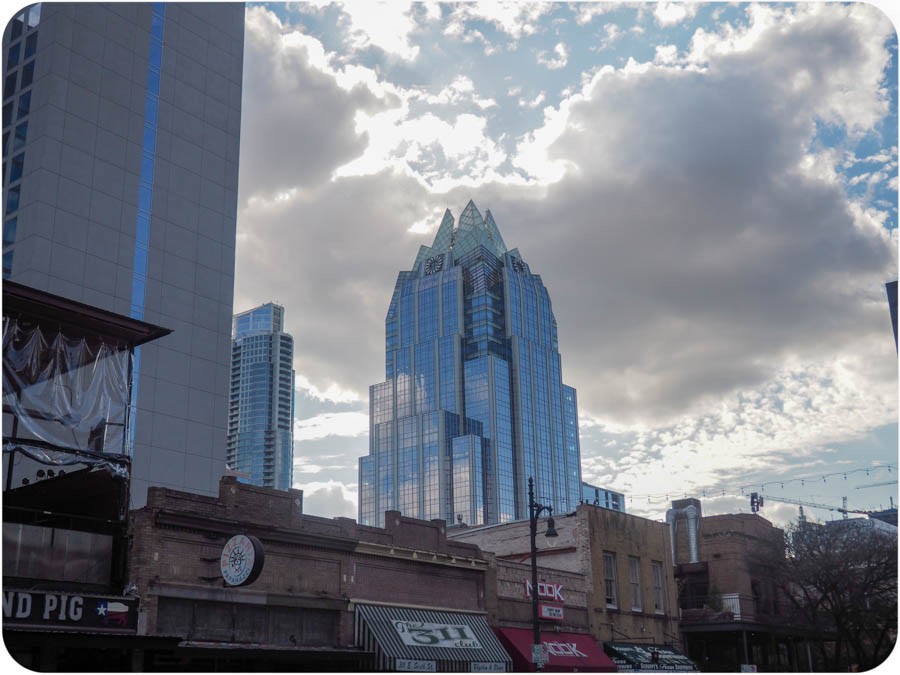 I like that this building looks like a cockatoo.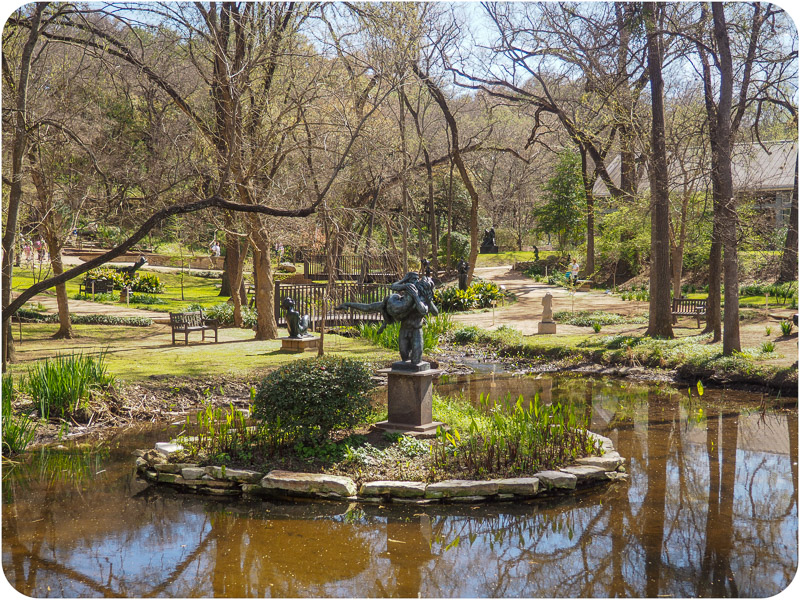 Umlach Sculpture Garden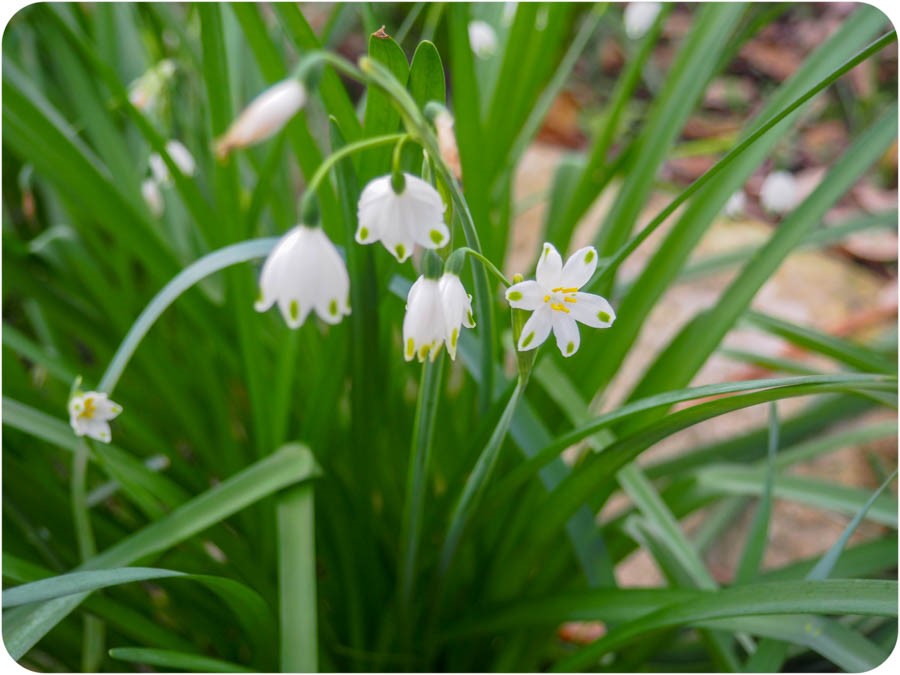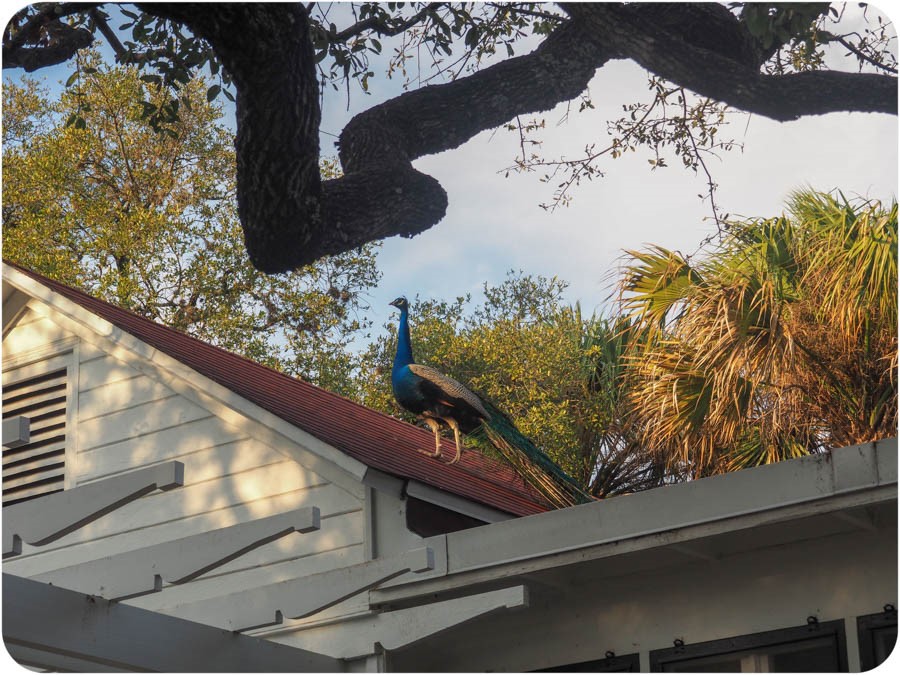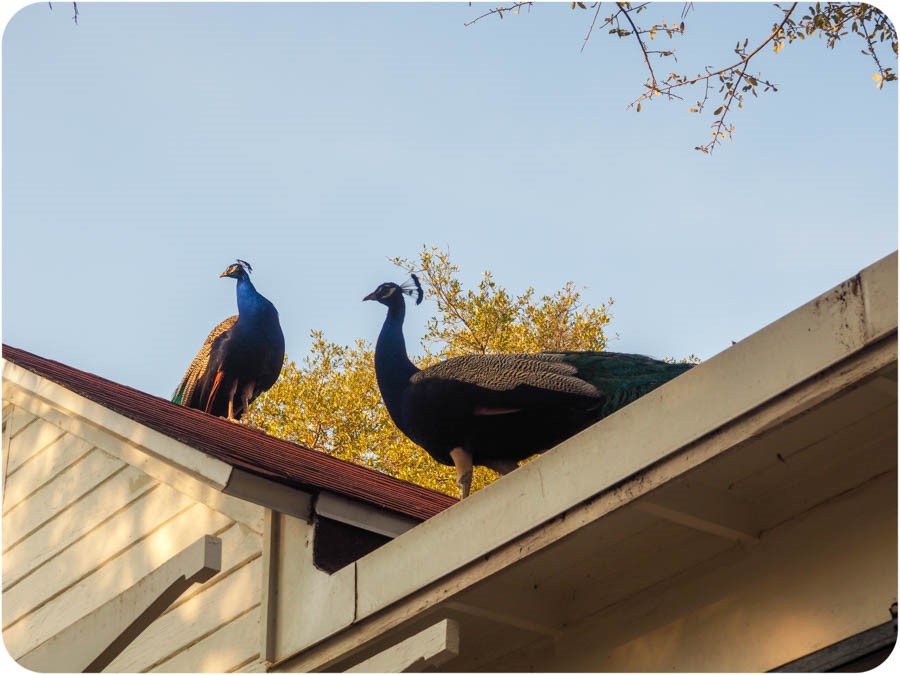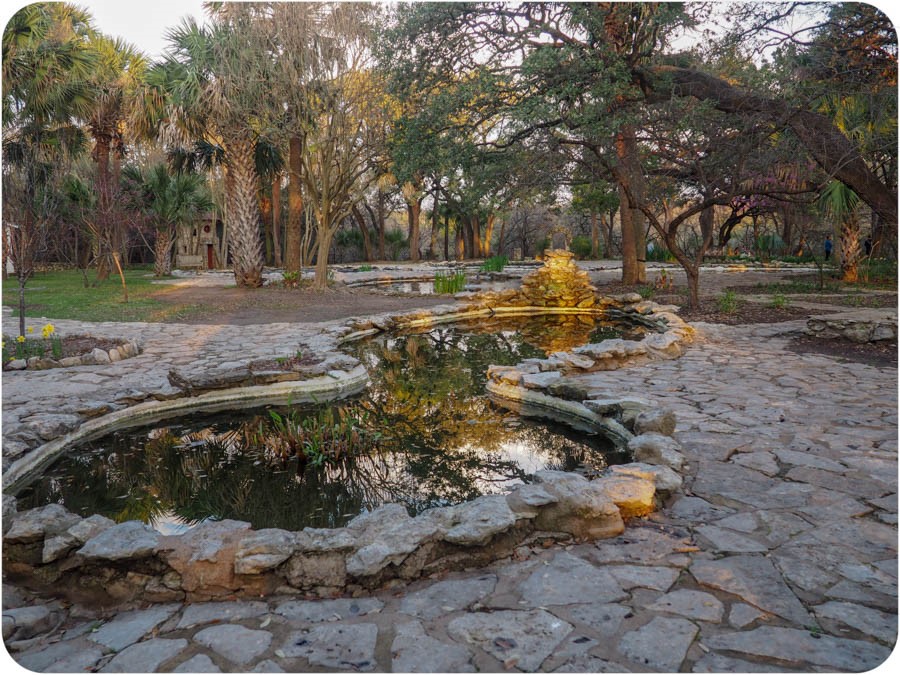 I saw lots of couples taking engagement and wedding photos in Mayfield park. It's also a lovely place for a stroll or to sit and read a book, punctuated with the haunting, mournful screams of the two dozen peacocks and hens who have the run of the place.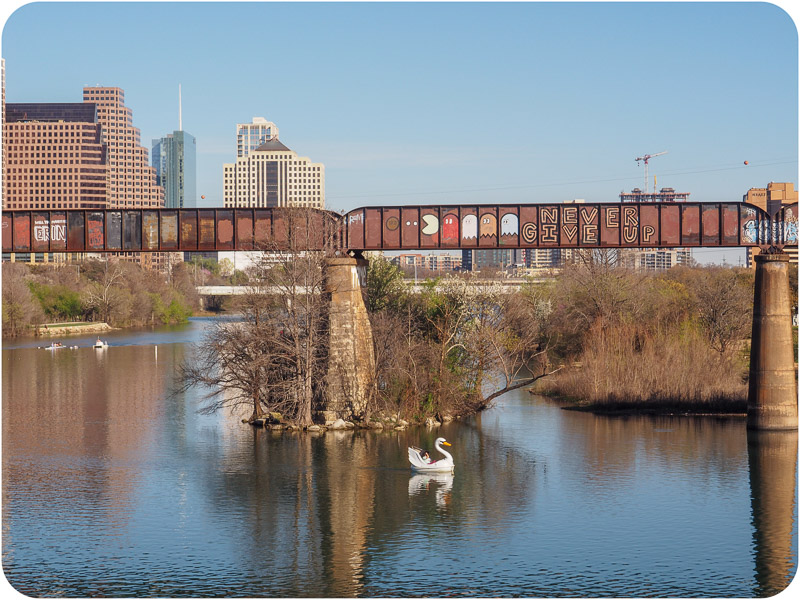 \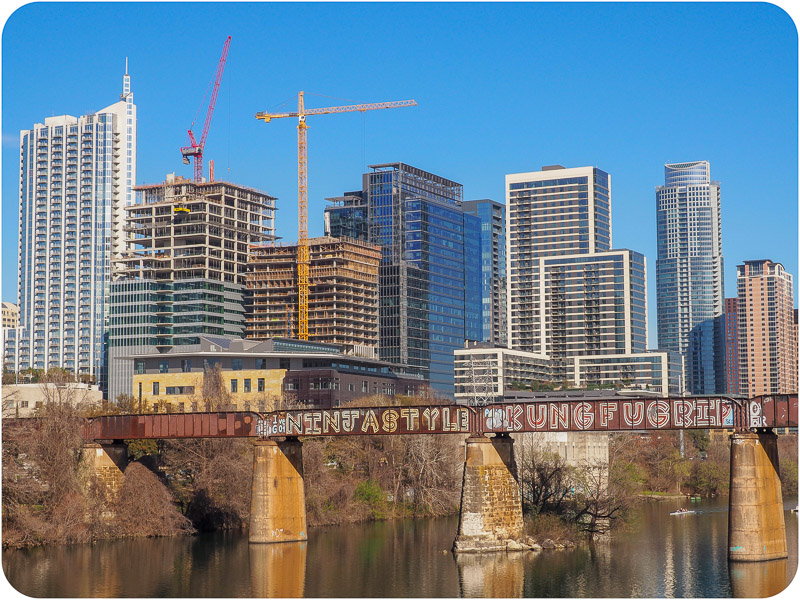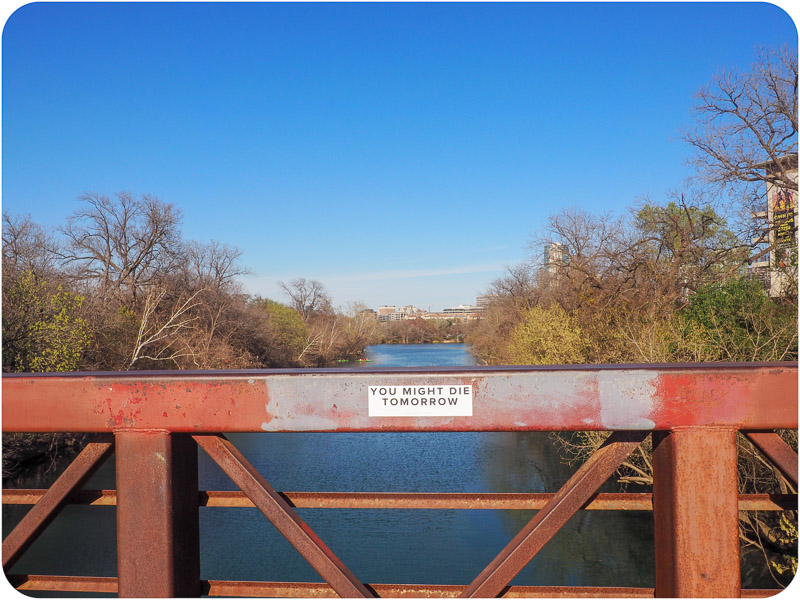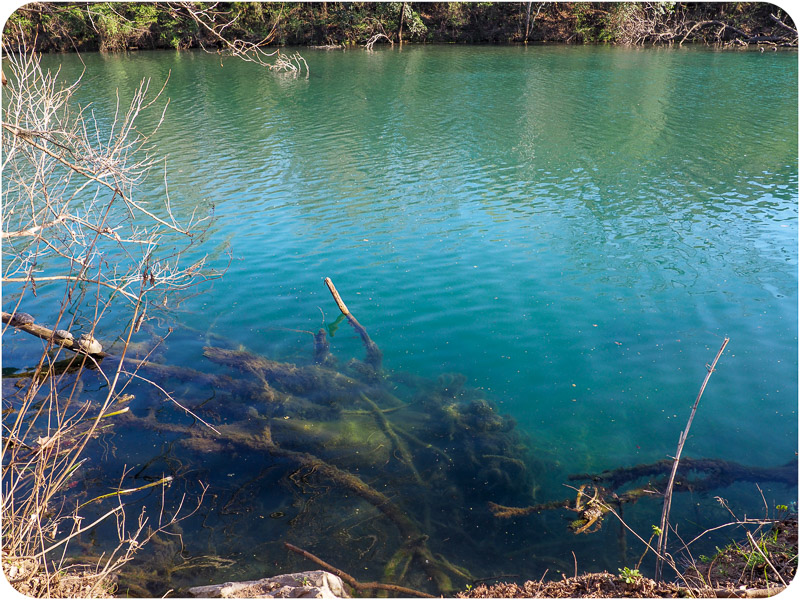 Colorado River
And that's it for Texas! Anything I didn't talk about really didn't deserve its own post.