Attention citizens: there is now a group of masked superheroes fighting crime in Seattle.
If 'masked' includes ski masks and 'fighting crime' includes taking golf clubs away from raving homeless men and then not being able to file a complaint because they don't want to reveal their secret identities counts as acts of heroism, that is. They have their girlfriend drive their godmother's Kia Fate around, looking for evildoers. One can only imagine that they meet back for cheetos, cocoa, and some wicked-tough rounds of Mario Kart at the Rain City Superhero Movement's headquarters, aka, grandma's basement. The names of these heroes? Thorn, Buster Doe, Green Reaper, Gemini, No Name, Catastrophe, Thunder 88, Penelope and Phoenix Jones the Guardian of Seattle.
However, what have we learned from movies, television, and comic books? Superheroes can't just fight regular homeless-man-based crime. They need supervillains. I hereby proclaim myself one of those supervillains: Sassmachine, evildoer extraordinaire! My evil powers include aggressive driving and making inappropriate jokes that make everyone laugh and feel bad for doing so immediately afterward. I embody anti-Seattle. I won't let you merge! I won't wave you through a four way stop! If you're an Ave rat taking your sweet time sauntering across the street when you KNOW I'm waiting to turn, I'll mow your hipster ass down and snap you like a goddamned twig with my Ford Taurus assault vehicle! To demonstrate my total disregard for the rules of the road, I have been driving with one burned-out headlight for MONTHS and I will continue to do so–take that, heroes!
My partner in crime will be Waste Stream, a domestic eco-terrorist. He will perform his evil by scattering tracts hailing our evil deeds and talking smack about the superheroes, printed on virgin paper that has been laminated so it will never biodegrade, accompanied by the occasional half-eaten food product or lead-filled piece of broken electronics.
At this time, we also retain one executive villain assistant, who shouts obscenities at passers-by, points and laughs at the attempts of the heroes, and makes us coffee.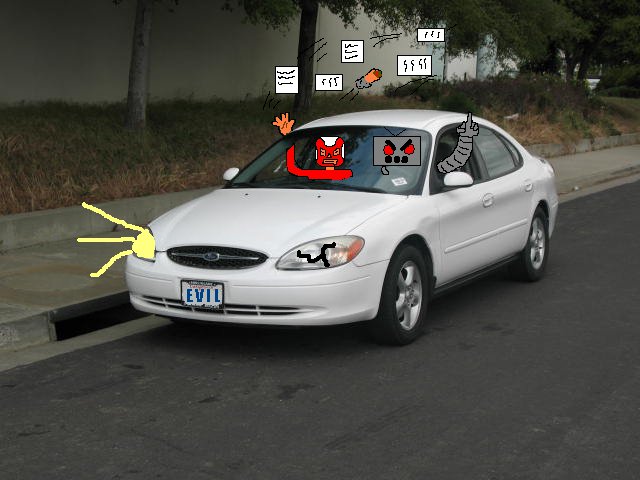 Pure. Evil.
We are accepting further applications for our League of Petty Evil, so if you would like to join, please let us know your name and a little bit about you to make sure your type of evil really meshes with the group. A picture would also help us further determine if you are League of Petty Evil material. As you can see, we have a pretty sweet lair going already.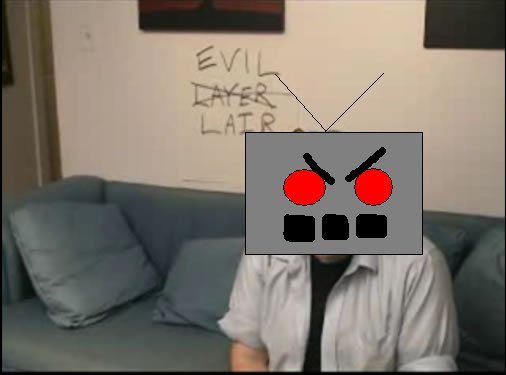 Coming soon: mini-fridge. Of evil.
To further demonstrate my qualifications as an evildoer, here I am on a chart among other known evildoers: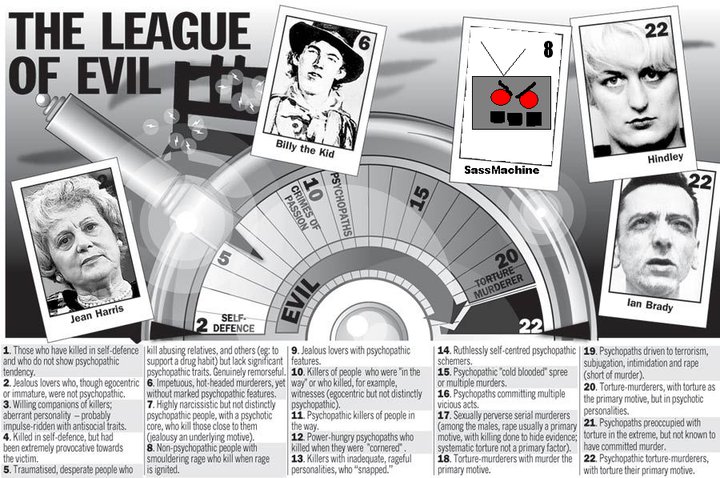 Once you're on a chart, you know you've made the big leagues.
My first evil task was to set up a facebook page announcing my evil presence, and 'liking' the Rain City Superhero Movement. I'm sure it will only be a matter of time before I am both hated and feared.