Category
So Terrible It's Amazing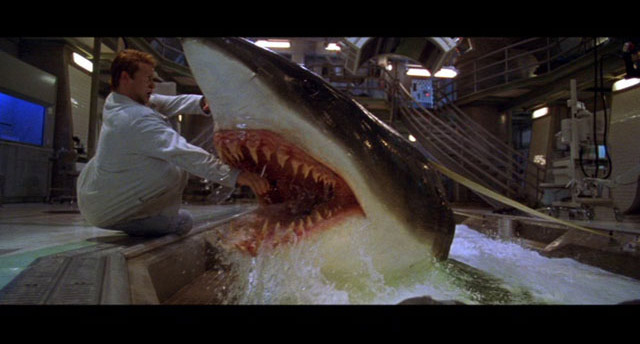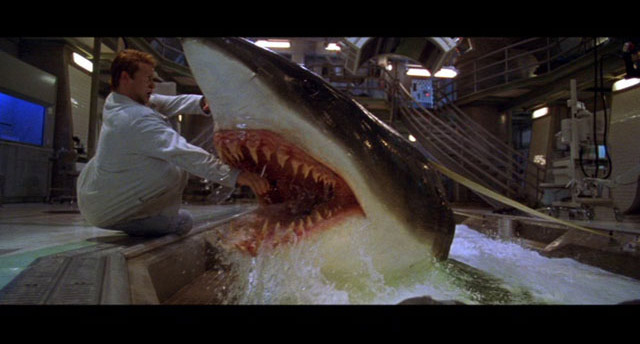 Oh my god, Deep Blue Sea is on TV tonight. To imagine my level of surprised delight, it's pretty much equivalent to telling a five year old that Santa is making an extra-special stop at their house, just because.
I love that it has sharks the size of a room and yet they can swim in about a foot of water. I love that it's basically set at Alcatraz for sharks. I love that the scientists that are working with the sharks "FOR SCIENCE!!!" are consistently surprised that sharks behave like sharks, and that the suuuuuper smart sharks they engineered do super-smart things.
Just watch this and you'll see why it's pretty much one of the greatest schlocky movies ever:
The only reason I've never purchased this cinematic masterpiece is that I'm afraid its glory might be diminished with repeated watchings. And believe me, it is glorious.
*edit* LOL, due to the tv edits, the characters are swearing using the phrase 'gal-darn'.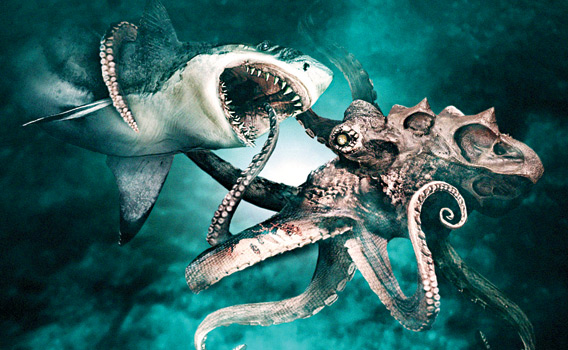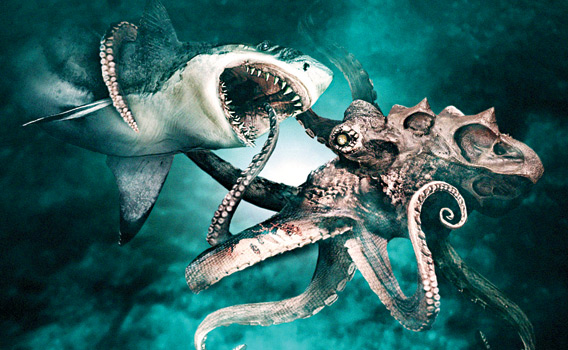 Every week, Amy peruses the list of new DVD releases for things to add to her Netflix list. Last week, she called out to me as I was getting ready for work. "Melissa? I think I found a movie for you–Mega Shark Vs Giant Octopus."
My response? "HOLY SHIT WRITE THAT DOWN I WILL BE THERE IN A SECOND"
This is the sort of movie that I tend to have high expectations for and ultimately walk away disappointed. It didn't help that it starred both Debbie Gibson and Lorenzo Lamas, which assisted in cementing my 'this will be a glorious trainwreck' mindset.
Now, I have to admit that actually WATCHING the movie, a lot of the time I was bored. In these sorts of creature features, there is never enough creature, and alltogether too much time is devoted to watching characters you don't give a flip about overact as if their very lives depended on it. It was mildly amusing to watch them do SCIENCE! by pouring colored water into various test tubes and beakers and make either happy faces or overly sad "I am the worst scientist who has ever done science" faces. Did you know that pheremones glow bright green? That's how Super Scientist Debbie Gibson knew she had done her job properly, and everyone gave her smooches on the cheek to let her know what a good scientist she was.
At one point, they cut away to a scene of a plane struggling in a storm. I rolled my eyes and thought how special it was that they were including plane footage in a movie where the antagonists are all in the motherfucking ocean. Then this, the most amazing scene in the history of cinema, happened.
This is better than when the shark rears up and bites the Golden Gate Bridge in half. This is better than the octopus smacking a low-flying fighter jet out of the sky with one tentacled blow. This is better than Lorenzo Lamas pretending he's a good actor. THIS IS A MOTHERFUCKING SHARK EATING A MOTHERFUCKING PLANE AT 30,000 FEET.
I laughed so hard, I fell off of my chair. I laughed so hard, Napoleon had a fit. I laughed so hard, Amy came to investigate. I sent gleeful text messages about the quality of the film. I took a shaky cell-phone video of the scene in case it wasn't already on youtube. I watched it about SIX MORE TIMES.
You've already seen the best part of the movie, so I can't in good conscience recommend it. Scenes where we should have seen the Japanese battling the octopus were cut and substituted with one Japanese dude on a video screen saying "I hope you fared better with the shark than we did with the octopus. It was horrible. Horrible." What could have been awesome destruction/fight footage was always cut with "We don't need to see the end of this. Let's get out of here." The end battle is lackluster as hell–you could probably imagine a battle between a shark and an octopus that's more entertaining. Perhaps between rubber bathtub toys, because that's what these looked like. Scale goes wonky–at one point, the shark is large enough to bite the golden gate bridge in half, but can't seem to manage to chew through a submarine. These are HUGE animals when they're crunching through other things, but when they're together, there's never anything in the scene for size reference, so they look like 3d stock footage. It's pretty clear that the directors didn't know how to handle size, so they changed things as it suited their purpose.
Oh yeah: Also, this is a movie with a message. Global warming releases giant sea monsters as comeuppance for our environmental irresponsibility. You'd bettah believe it!