We had but a scant half day in London before we had to catch the Eurostar to Paris, and we elected to spend it at the British Museum, mostly browsing the Sir Joseph Hotung Gallery of China and Southeast Asia. The last time I visited, security did a very cursory glance into my purse. This time, the guard very nearly unpacked the whole of my backpack; if you haven't had the joy of having a stranger paw through your clean and dirty underwear on a table in front of spectators, just know that it's a really special experience.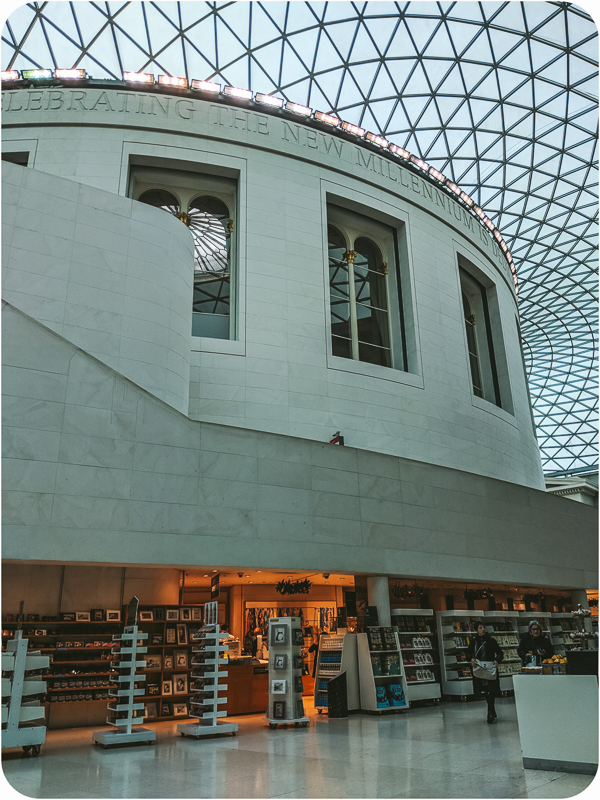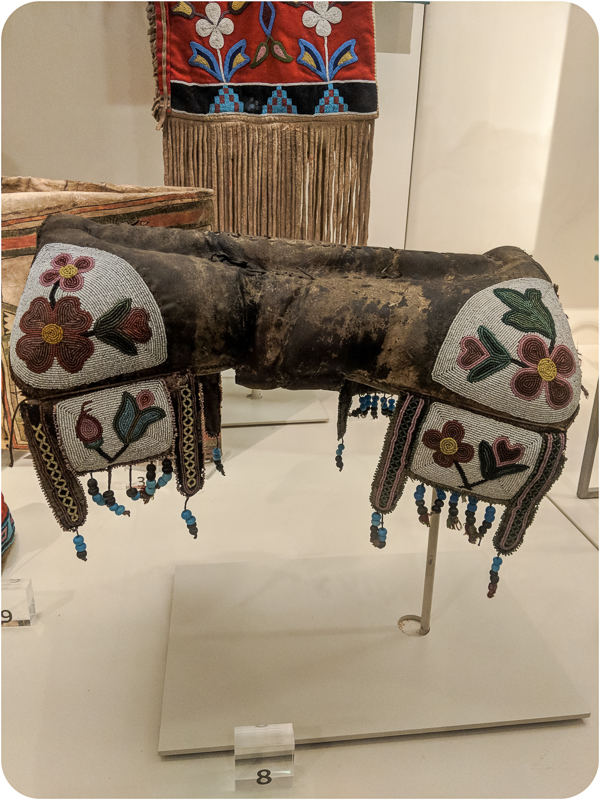 This is a Native American saddle pad design from the mid to late 1800s; with it, their horses had much greater endurance, able to travel twenty miles more per day owing to the relief of direct contact on the spine from bareback riding, while still allowing for close contact between leg and flank. Cree, Ojibwa, Plains Peoples.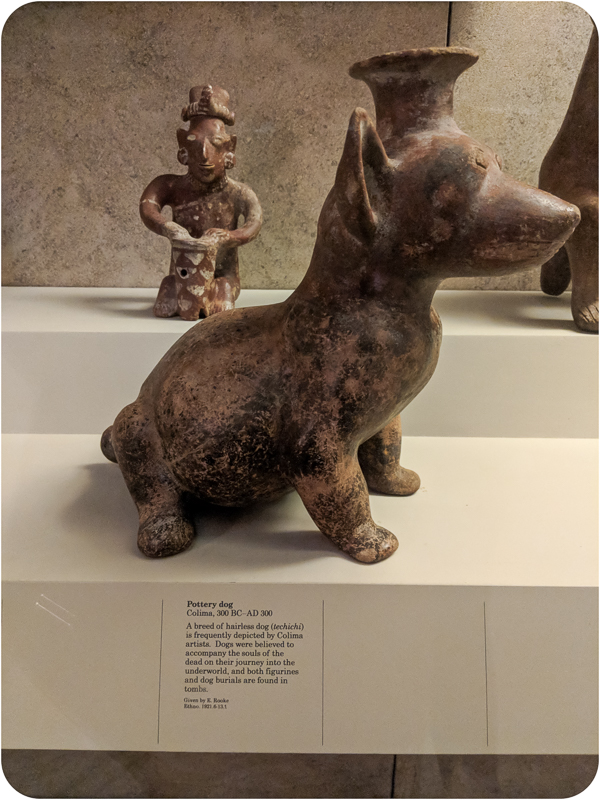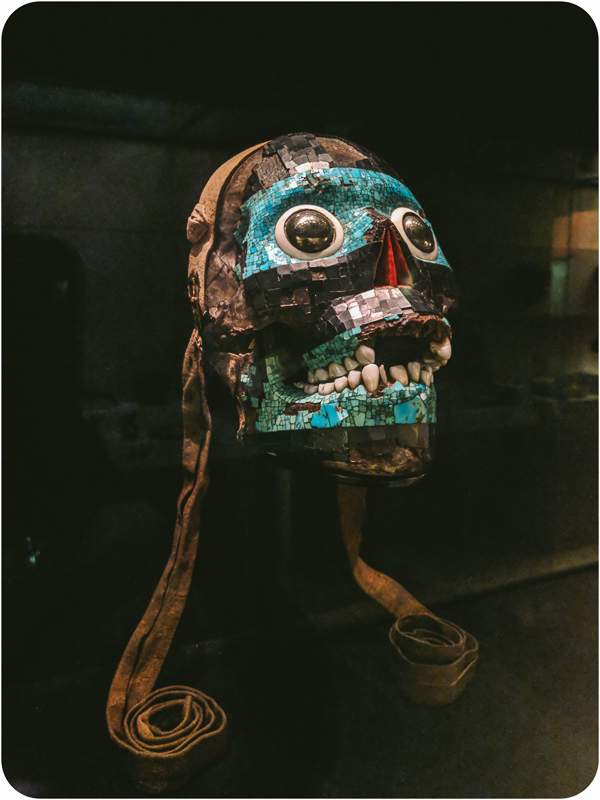 Mosaic mask of Tezcatlopoca: Human skull mask inset with turquoise, iron pyrite, white conch, and thorny oyster. Aztec, believed to have been worn for ritualistic purposes. Extremely dilated from the optometrist.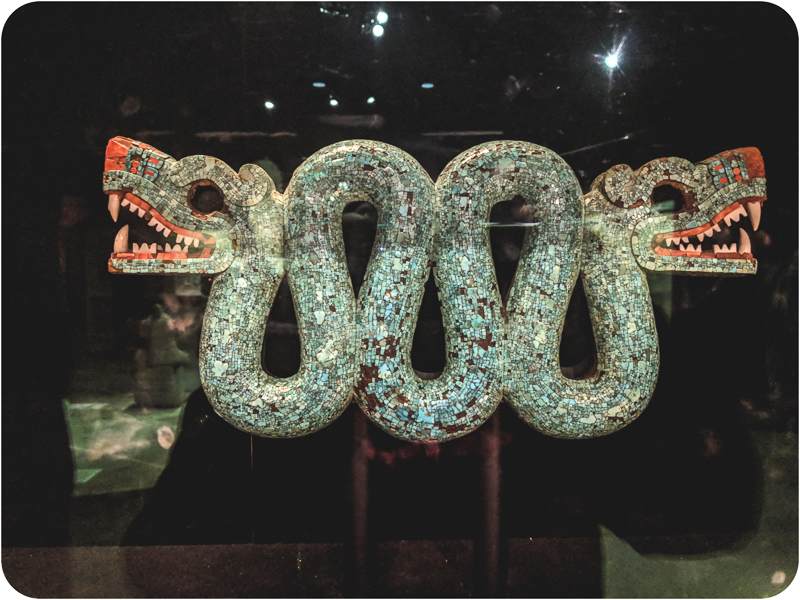 Double-headed serpent turquoise mosaic: turquoise, hematite, and shells inlaid into cedar.         Aztec, 15-16th century.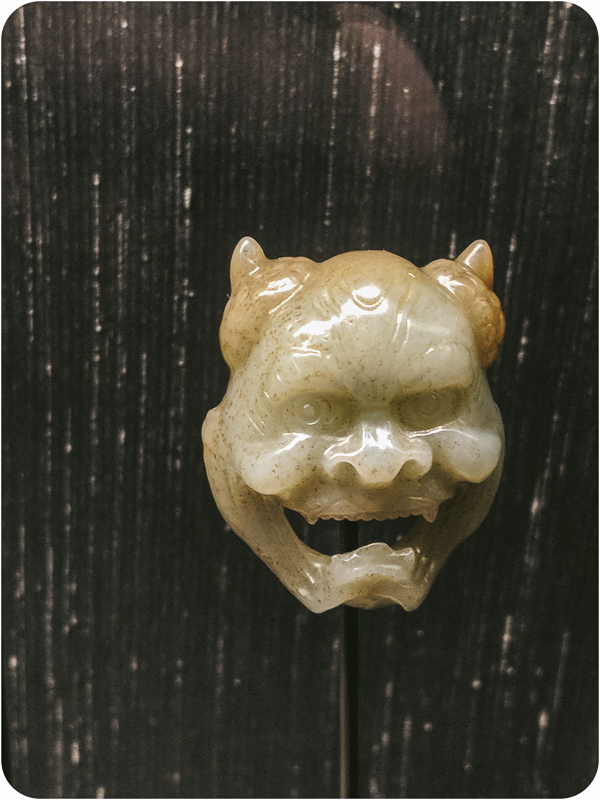 My face whenever I hear something juicy; jade, Tang dynasty AD 600-1000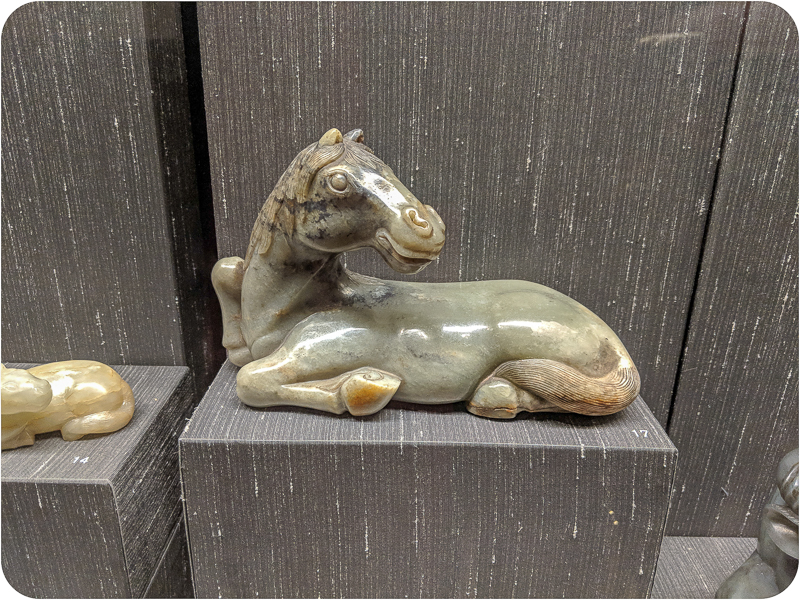 This jade horse sculpture was HUGE compared to most of the other jade in the exhibit. An absolute unit.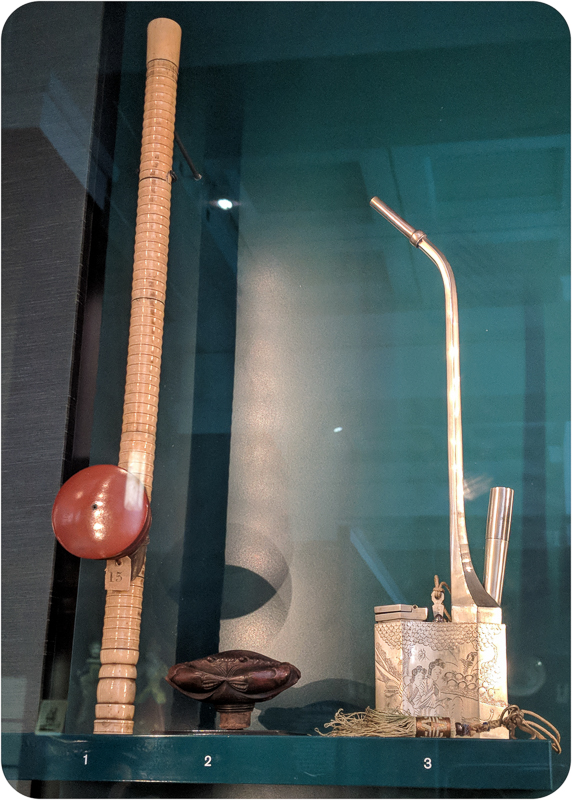 Number three is a silver bong, pissing off parents in China since the 1800s when they find one in their kids' sock drawer.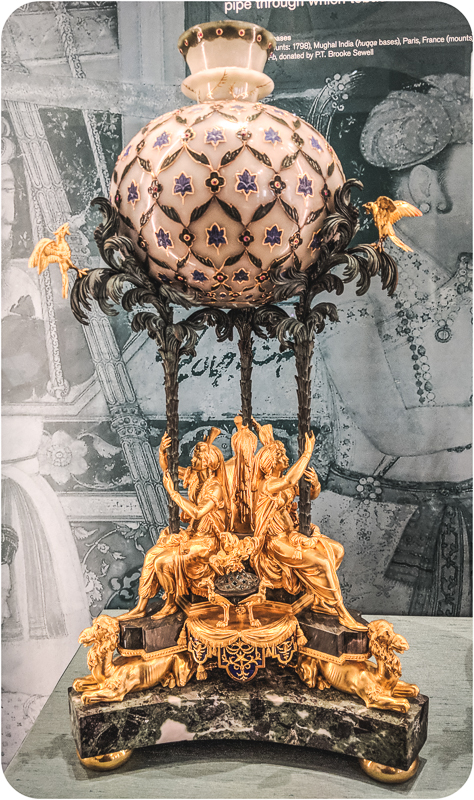 Jade, marble, and ormulu (an alloy of metals, gold-colored, often gilded) base for a hookah pipe, London, 1700.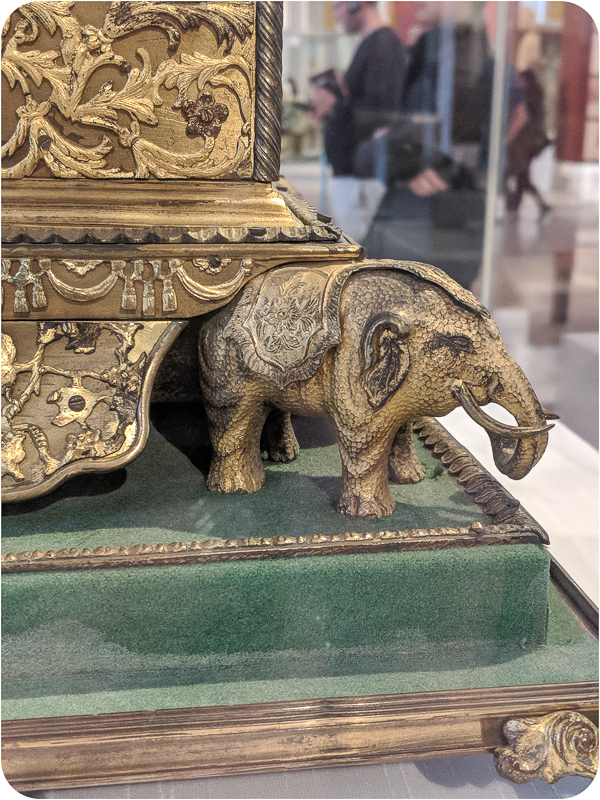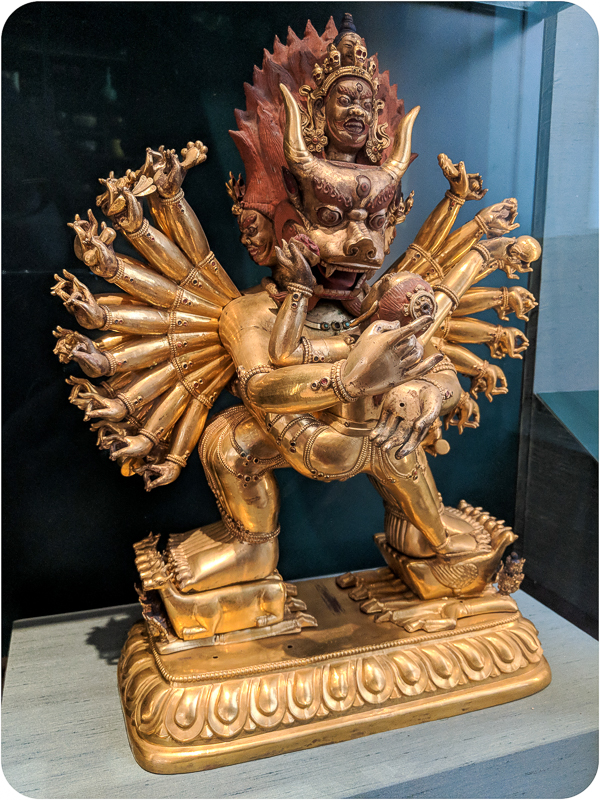 My mind boggles when I think about how many uppercuts this guy could do all at once.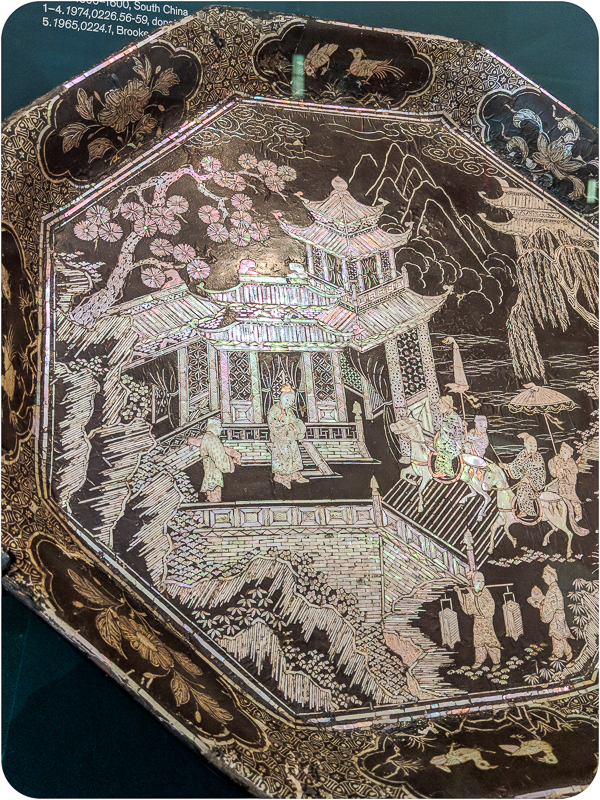 The mother of pearl inlay is just stunning. This platter is alive with iridescence.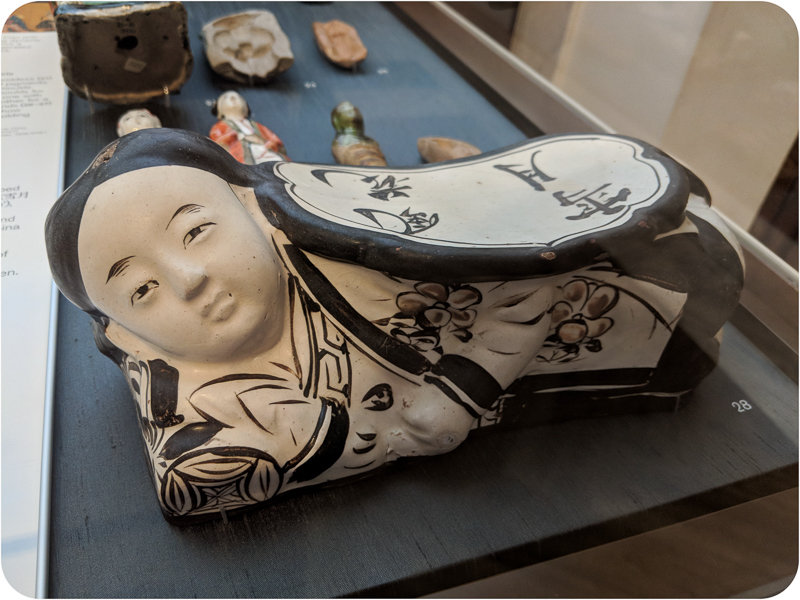 Ceramic pillow, China, Jin dynasty (AD 265–420). The inscription reads "The wind rustles flowers under a snow white moon." There are many of these uncomfortable looking pillows in existence, some plainer and some far more elaborate, but no one really knows for certain their purpose. Because they were a woman's possession, it's believed they were a reminder to women of their matrimonial duties. "It's hard and uncomfortable–like your life! Now start rustling your flowers."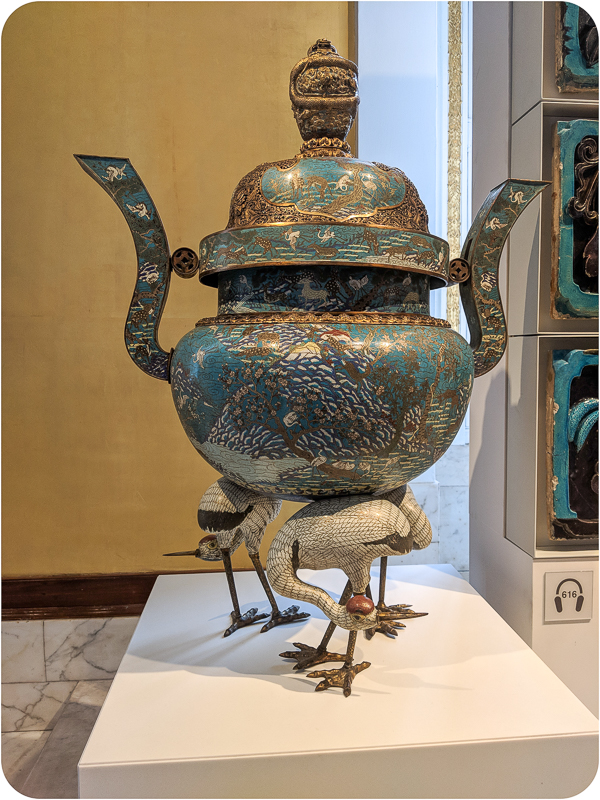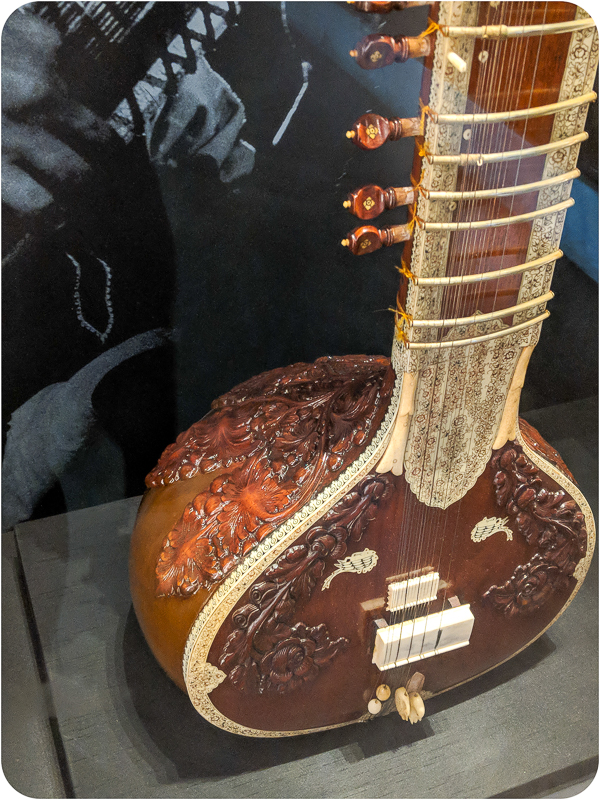 Ravi Shankar's sitar. Gourds, teak, bone.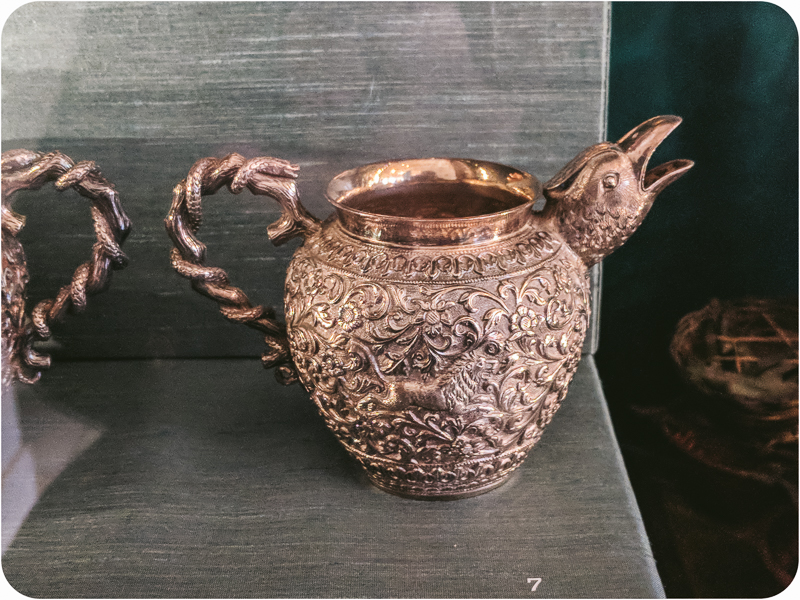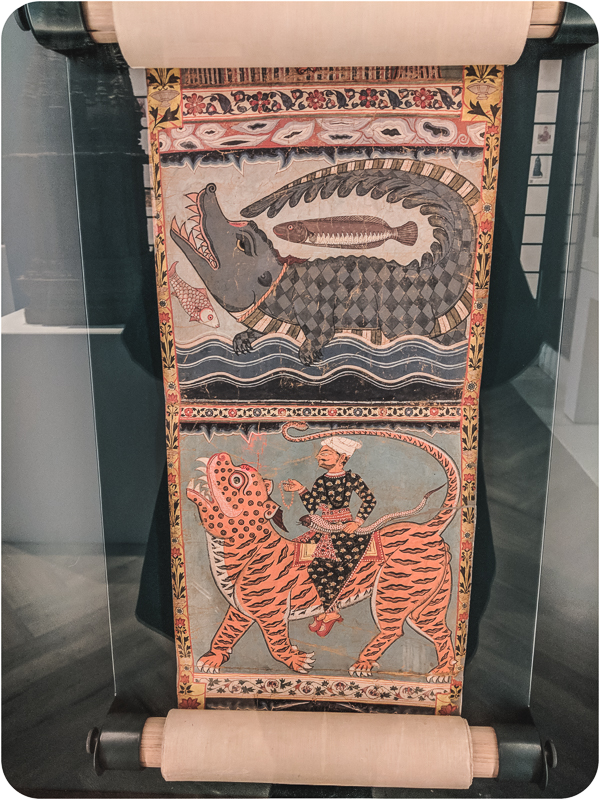 Ladies and gentlemen: the world's most fabulous crocodile.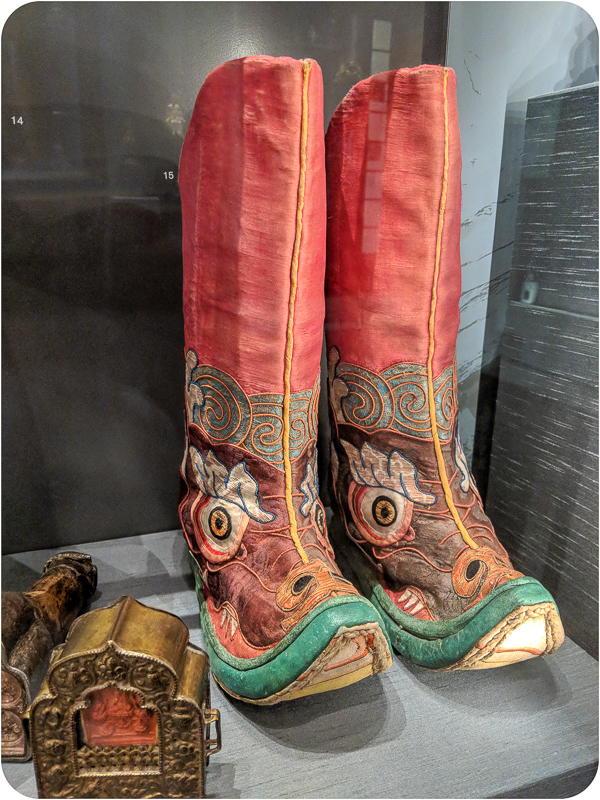 Tsam-Tanz boots, Tibetan.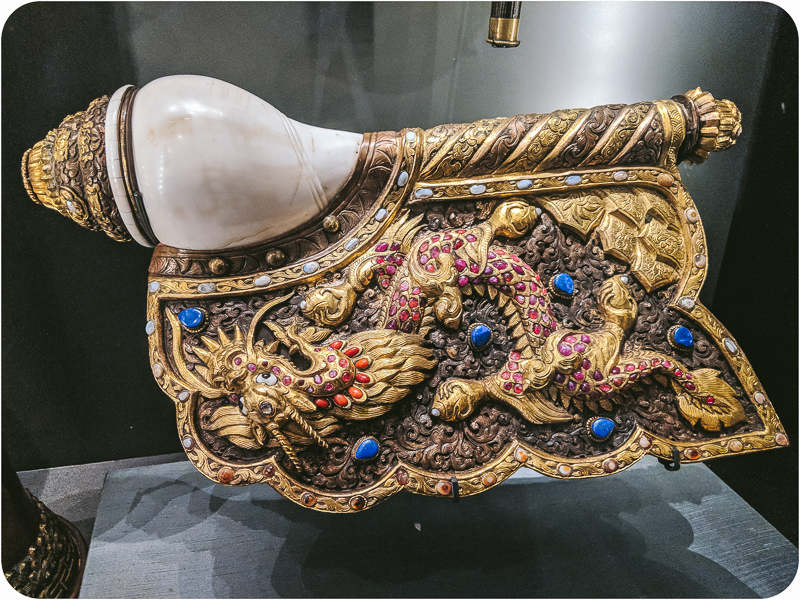 Conch shell trumpet, used in Tibet and China in Buddhist temples to call monks to prayer. 1700-1899. I know in my soul that this one in particular summons an oceanic dragon when it's sounded but they keep it behind glass because the dragon makes a mess.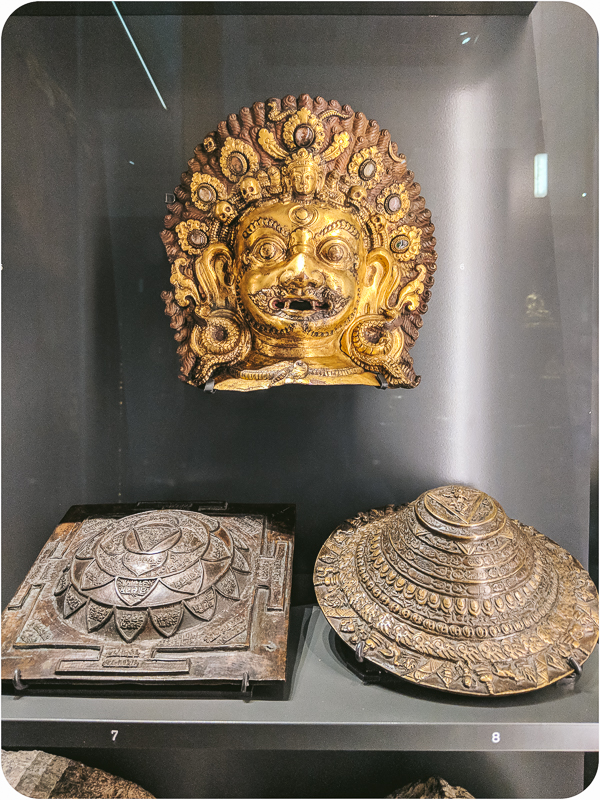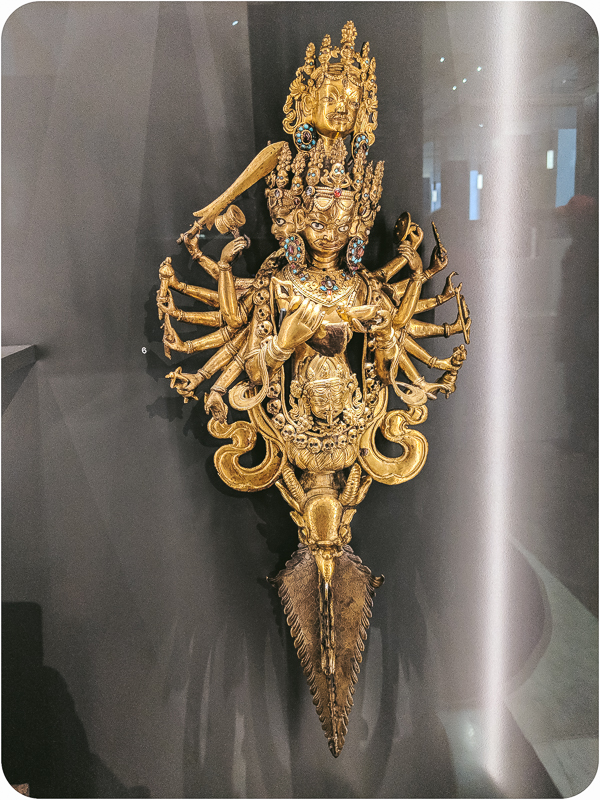 Ritual dagger or kīla, 1800s, used in Nepal for religious and magical purposes. They derive their power from their connection to the deity represented on the handle.  Not traditionally used for stabbing, but there is no classier way to be stabbed than with this baby.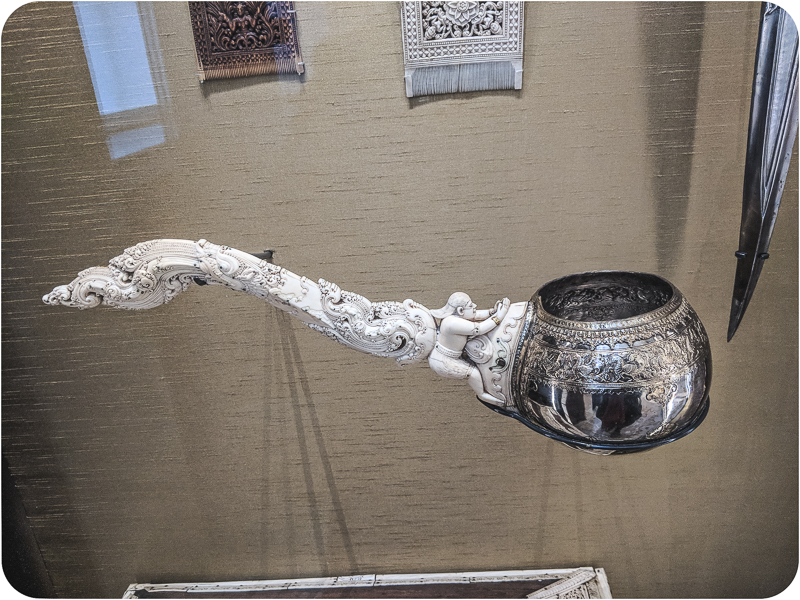 If this is your ladle, your soup had better be damn good.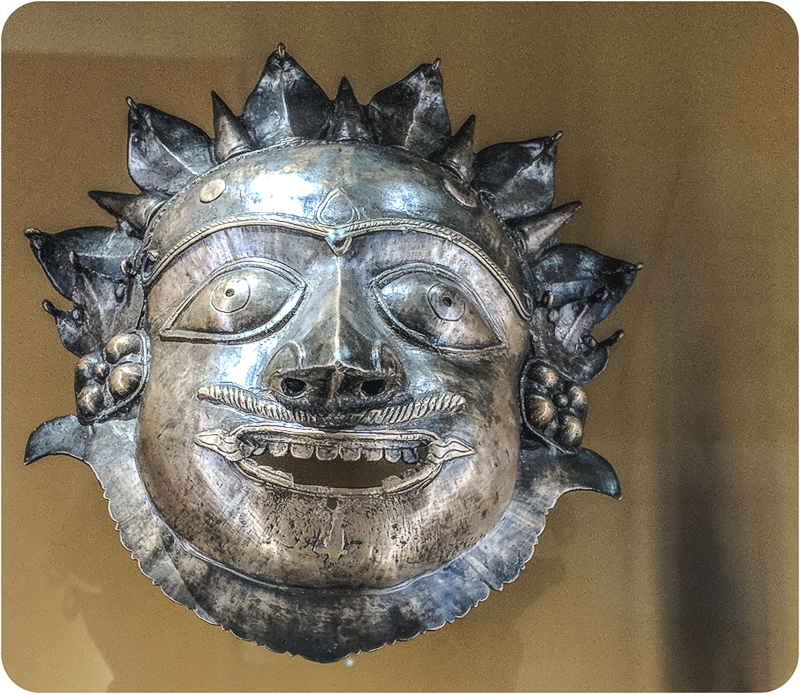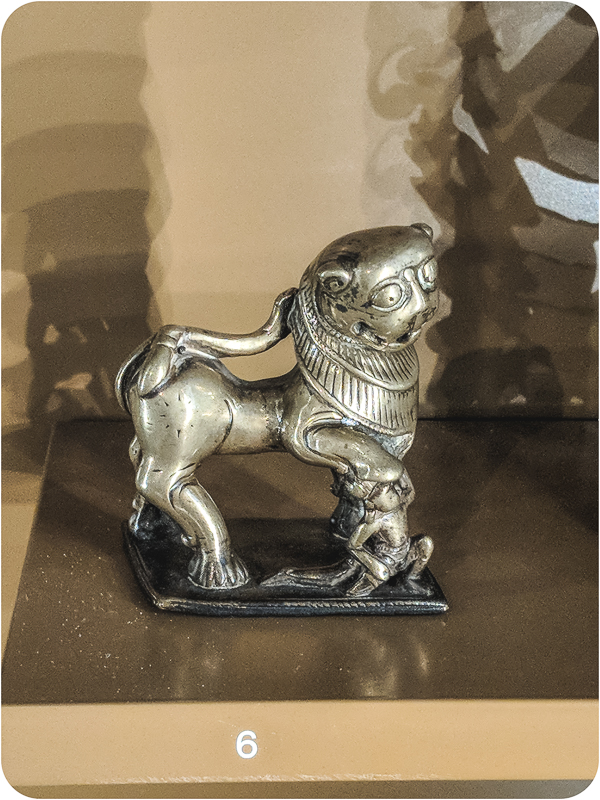 So many pieces in this wing referenced human dominance over animals, most often with their foot planted on its back or head. I liked this reversal of fortunes.
All too soon, it was time to make our way to St. Pancras. Years of mostly traveling in US airports have conditioned me to expect security lines to be long and painful, but this one was breezy and involved no tumbling of my underwear into public view so it was a vast step up from the morning. The train ride itself was uneventful but my chill kind of evaporated in Gare du Nord where I officially became the sole sort-of French speaker between the two of us and did not feel all that confident about it, despite the Duolingo owl stalking me day and night to practice for a year and a half. No doubt part of my insecurity lay with the fact that I'd never spoken French with another person, only into a microphone at my computer, and I suspected that in my efforts to pronounce words properly, I sounded more like someone putting on a bad French accent than a regular everyday French speaker.
The train systems in Paris and further into France are complicated enough that I wanted to handle as much as I could in advance, figuring out exactly what trains we needed to take, where to board, and booking tickets in advance if I could.  It's not a trip planning method that leaves a ton of room for spontaneity but when it comes to transportation, I'd rather have a plan than feel like a free spirit.  I'd booked our first night at the Hotel Eiffel Seine, not due to its visibility of the Eiffel Tower* OR the Seine but due to its proximity to the RER-C train which we'd be taking to Versailles early the following morning. I knew what trains to take and where to transfer to get from Gare du Nord to Champ de Mars – Tour Eiffel…on paper. Gare du Nord in person was sensory overload, huge and loud with so many trains and a sea of fast, purposefully moving people and an unforgiving subway ticketing system that only vaguely indicates what you're buying and if you make a mistake, you need to start the purchase process completely over which isn't frustrating at all. After I finally figured out the machine I was at was broken, I waited in line for another one, had to start and restart my purchase three times but finally had subway tickets. Finding the correct train was another struggle but once that was figured out…boom, there's the Eiffel Tower.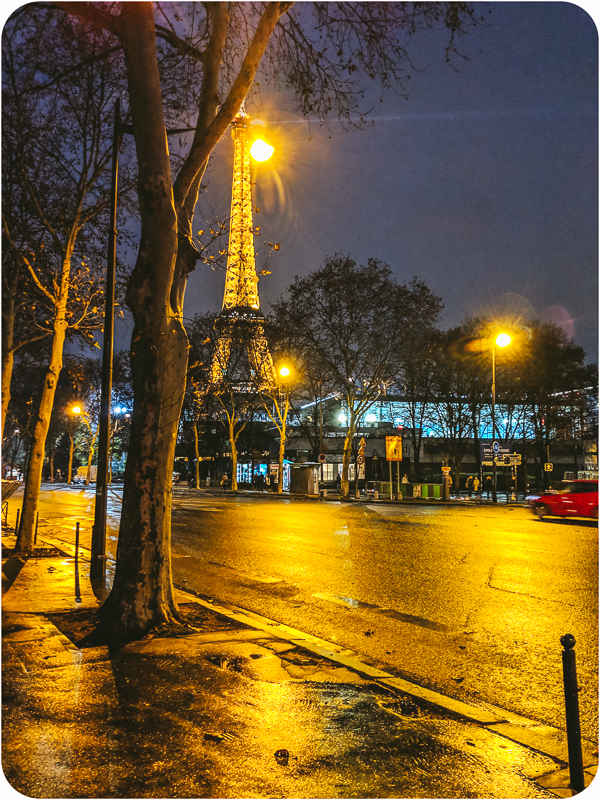 We made our way to the hotel and the moment came: I was going to have to speak French. As I opened my mouth, I realized I didn't know the words for "reservation" or "check in" and it was just like when I got into my first car accident: I was blinded by the morning sun in the direction that I needed to turn, I couldn't see if a car was coming, there was pressure behind me from other cars in the neighborhood and so I decided to just go for it, pulling out in front of a white van perfectly camouflaged by the sun, totalling both vehicles. "I'll never drive again," I cried on the phone to my father. "You're driving again TODAY." he replied.  So here I am, in the lobby of this hotel, I know I've got to say something, but I don't know the right words, and pressure real or imagined made me decide to just go for it, so I opened my mouth and a car crash in French with my name came out. The receptionist replied immediately in English. I felt simultaneously better about my chances of surviving the week and disappointed in the Duolingo owl for preparing me to inform someone that a bear has pants but not this. Still, I wasn't going to let this stop me from continuing to attempt to conduct business in French; I didn't want to assume everyone speaks English and I also felt as though it would be rude to not at least try to communicate in the language of the land. And also because I didn't spend a year and a half mangling a language into a microphone to get shy about mangling it now.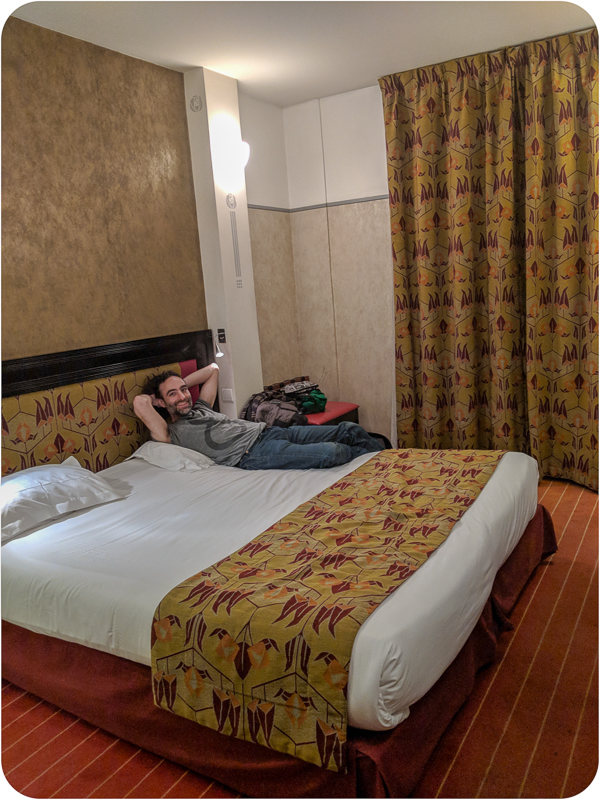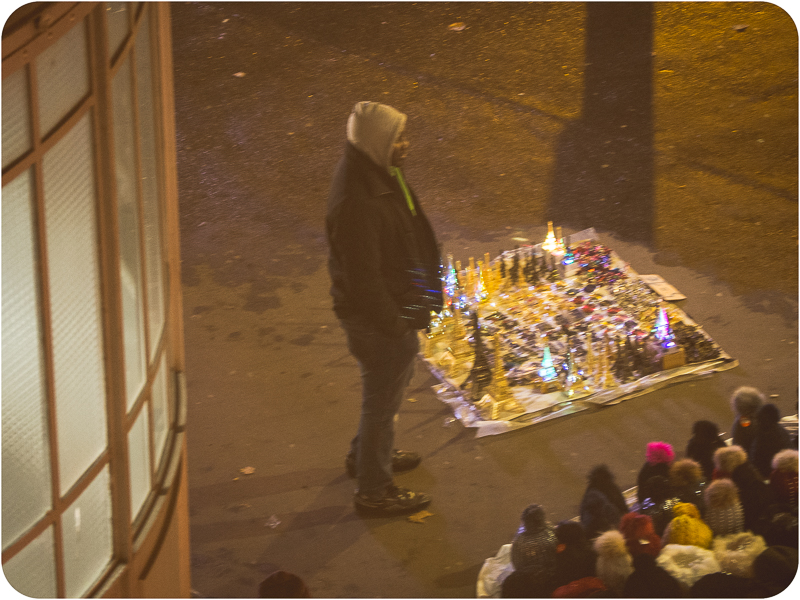 Our room was oriented to get a peep at the Seine but somehow we still ended up with a view of the Eiffel Tower(s).
After we checked in, we dumped our bags and walked to get a closer view of the Eiffel before it began its hourly disco party. I don't know if we could have gotten closer to the tower than we did, but not far up the block from us were soldiers carrying what appeared to be automatic rifles and my reaction was to find some pressing business in the opposite direction. I know that they are a continuing presence on the streets of France ever since the the January 2015 Île-de-France attacks but generally I don't see a person with a huge gun and think "Hurrah! My personal safety level has increased!" No, I'm more invested in the idea of not having to try to explain myself in French to someone with a huge gun who wants to know why I'm trespassing after visiting hours.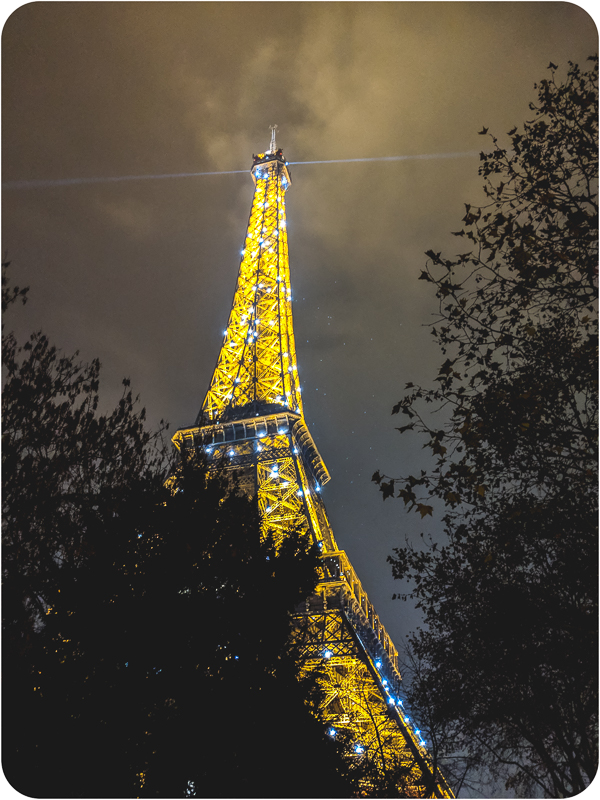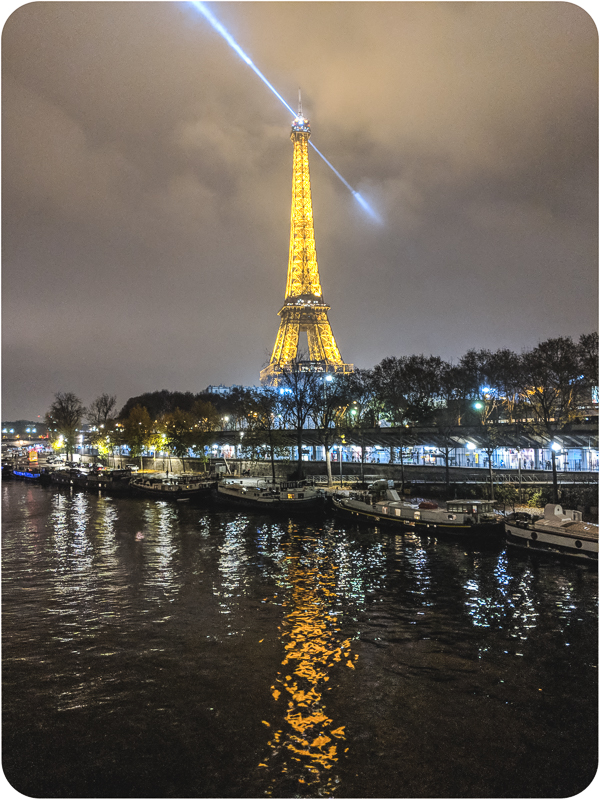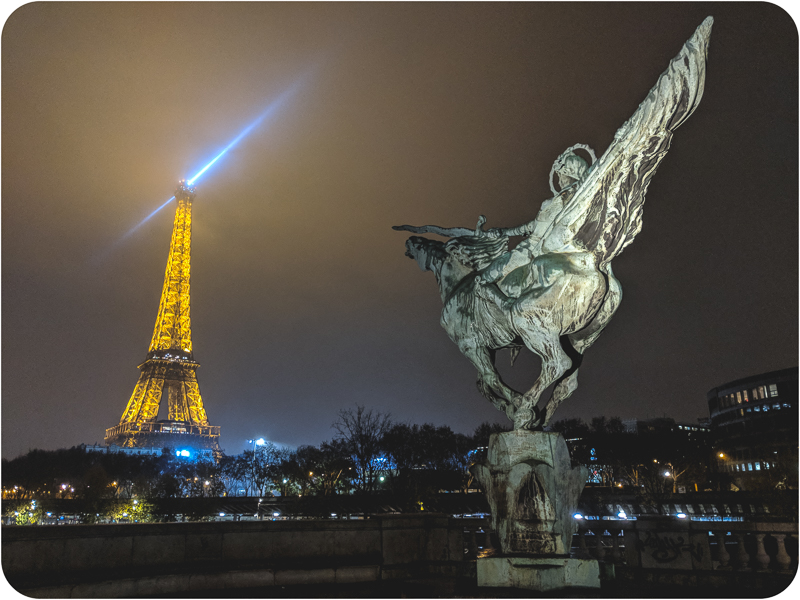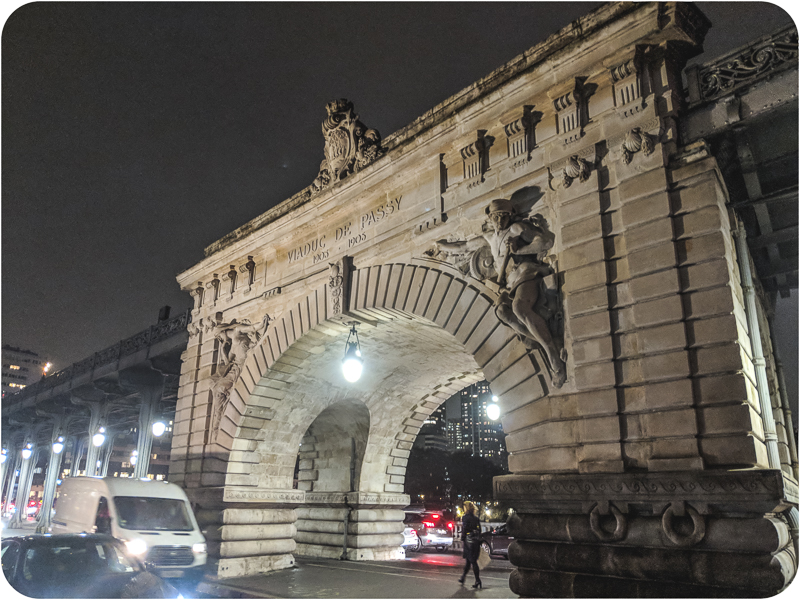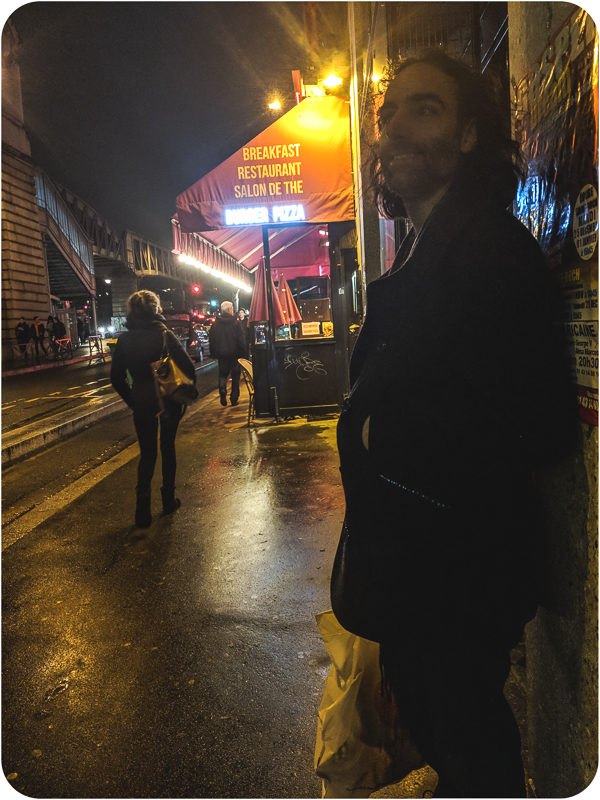 BURGER PIZZA
We spent the drizzly evening walking around, taking in the sights and trying to figure out where we wanted to eat. Neither one of us was really in the mood for a full restaurant meal so we went to Poilâne where I conducted a transaction for bread in French pretty easily (hurrah!) and they gave us each a small, buttery cookie. Afterward, we walked to Franprix and bought some cheese and fruit and other goodies and had a hotel room picnic.
*It is my understanding that the Eiffel Tower is visible from any part of Paris which is why any movie or TV show that cuts to Paris always has the Eiffel Tower in the shot. Look at how many times it appeared in this post alone!