There was a delight around every corner in Nantes. A tram hums outside a castle. Gothic revival churches peek over rooftops. A dragon stalks through a playground, its tongue of flame a slide. An elephant patrols the former shipyard. I was charmed immediately.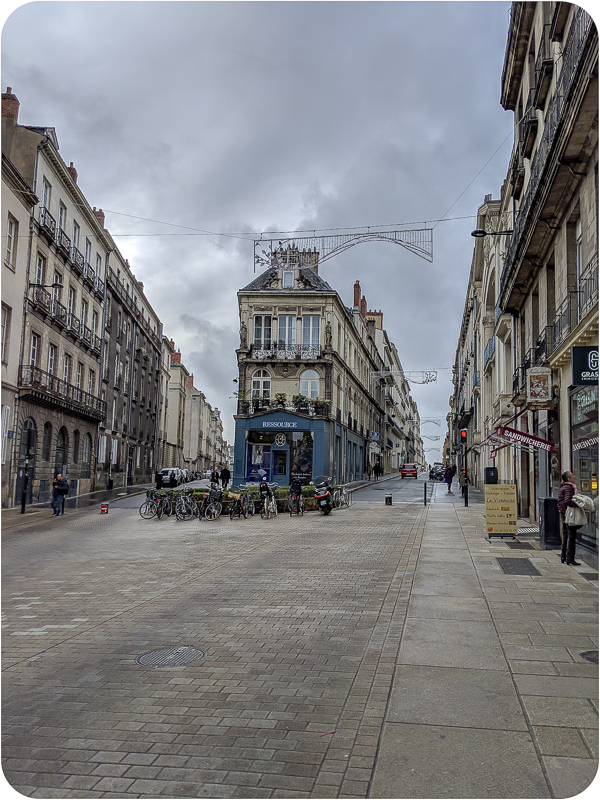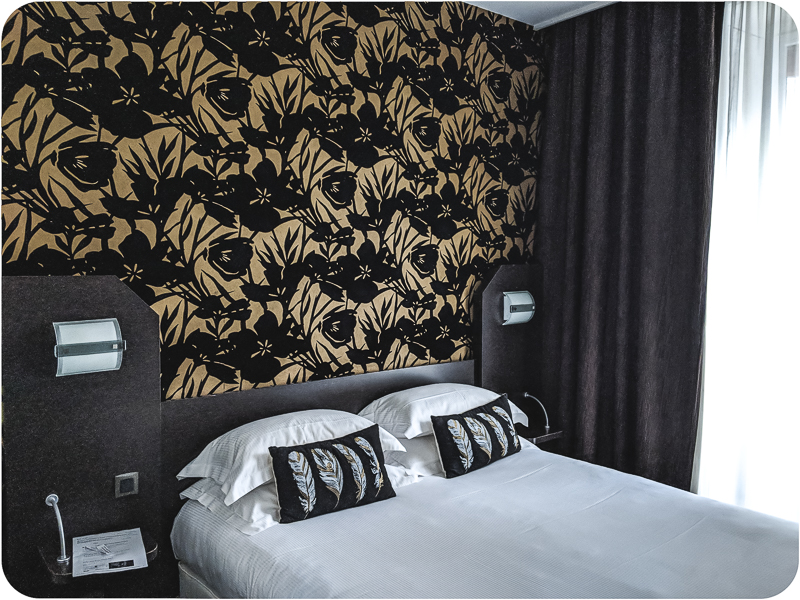 We stayed at the Hôtel Voltaire Opéra in Nantes' Graslin district, the district named after 18th century financier Jean-Jacques Graslin. It was fitting that after checking in, our first priority was finding an ATM, and our second priority was finding another one after the first's minimum withdrawal was a thousand euros, which was a good nine hundred euros more than I'd planned on withdrawing or was interested in fumbling with in public or even had to withdraw, let's be honest.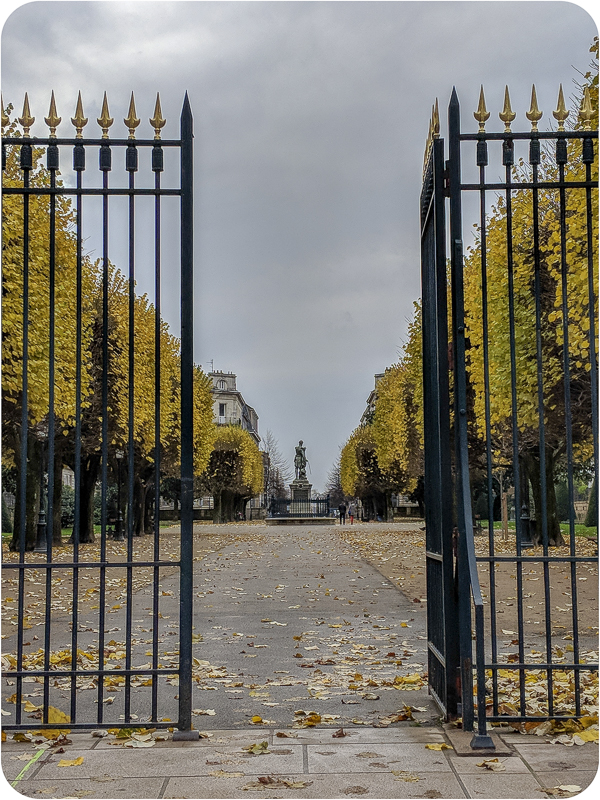 Cours Cambronne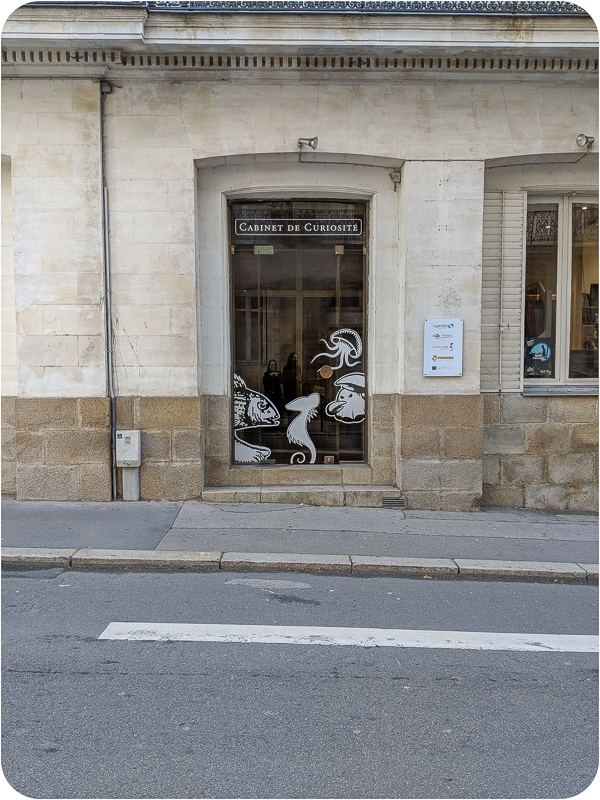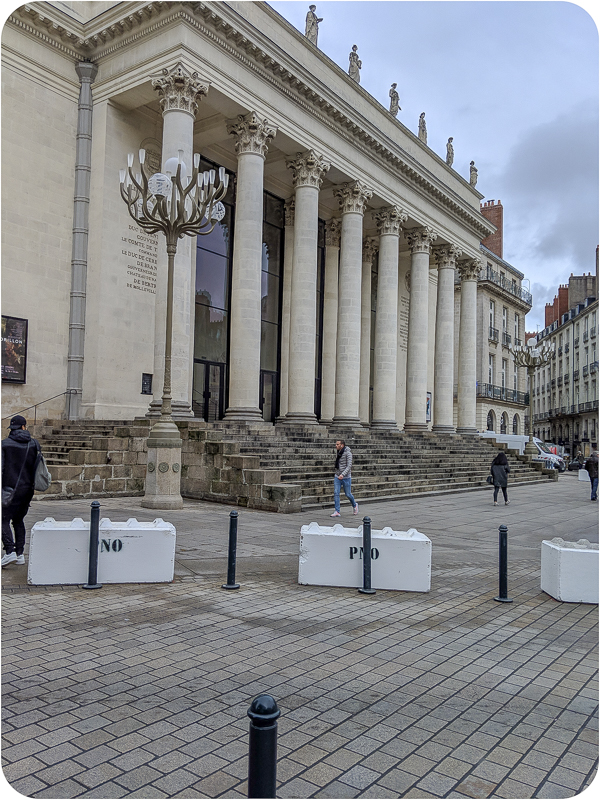 Théâtre Graslin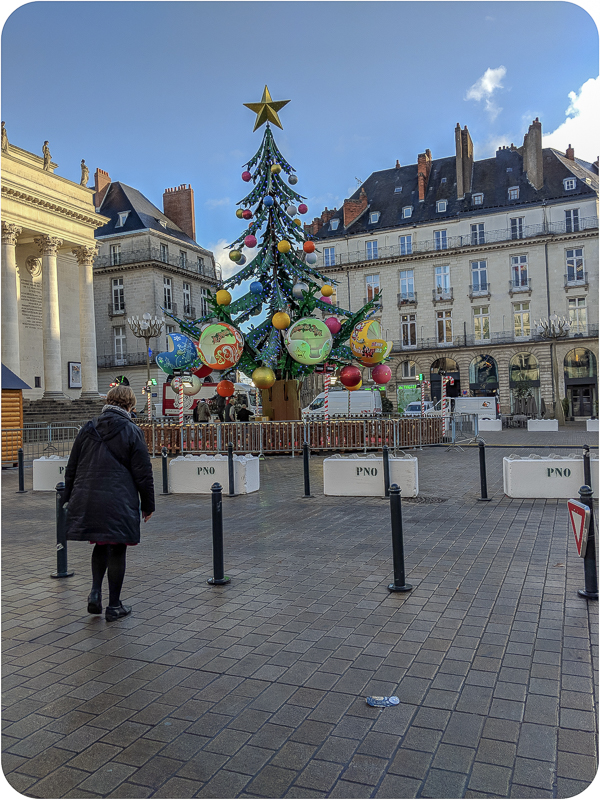 These black posts in Graslin Place can lower into the ground so vehicles can pass through, creating a sense of absolute power in the driver. THE STREETS RESHAPE THEMSELVES TO MY WILL. Ahem.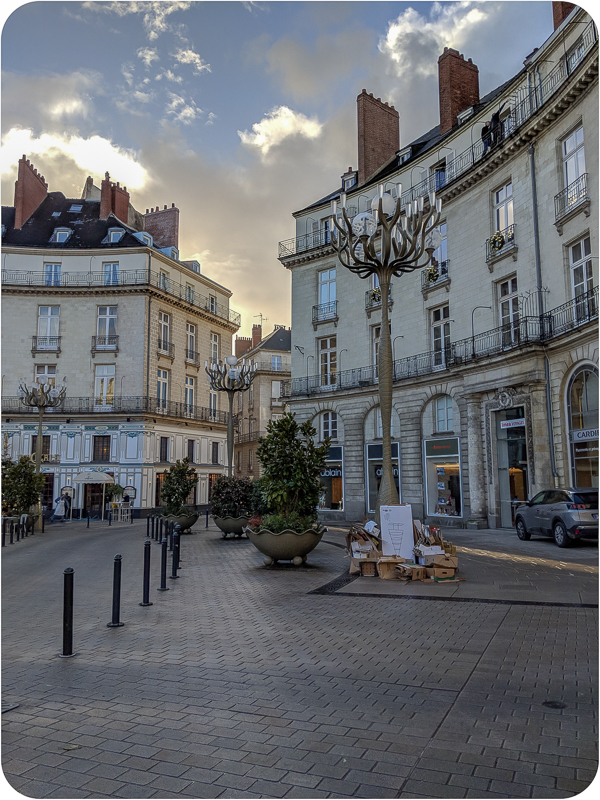 The awning on the left belongs to La Cigale, a brasserie full of art nouveau goodness and a historic monument since 1964 that we were totally going to get hot chocolate at but ran out of time.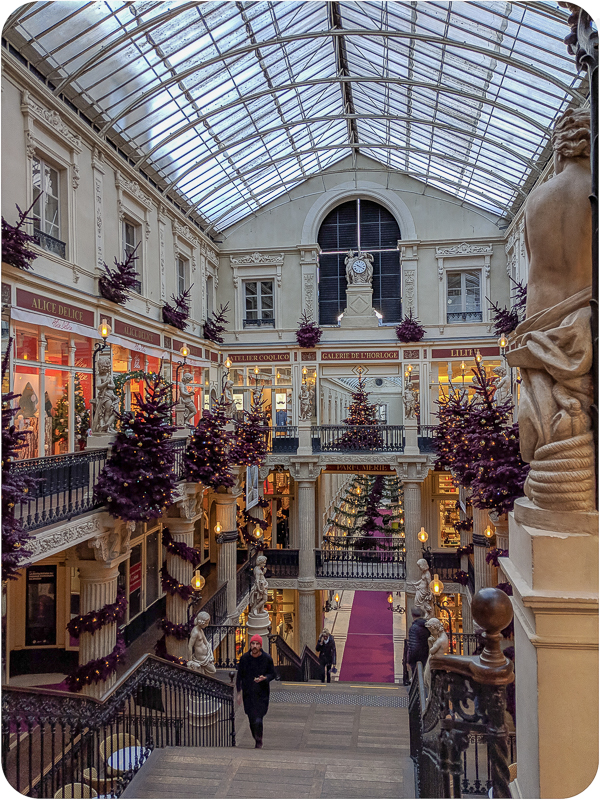 Passage Pommeraye, an 1840s shopping mall.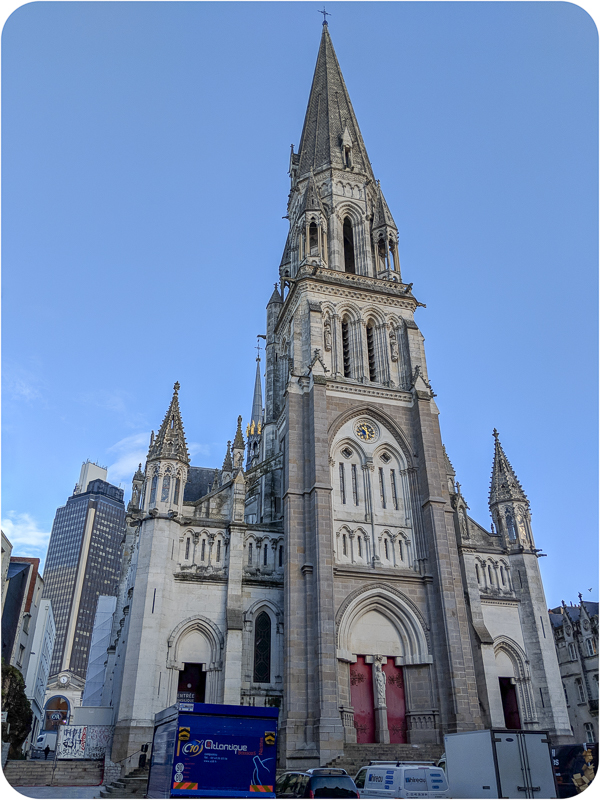 Basilique Saint-Nicolas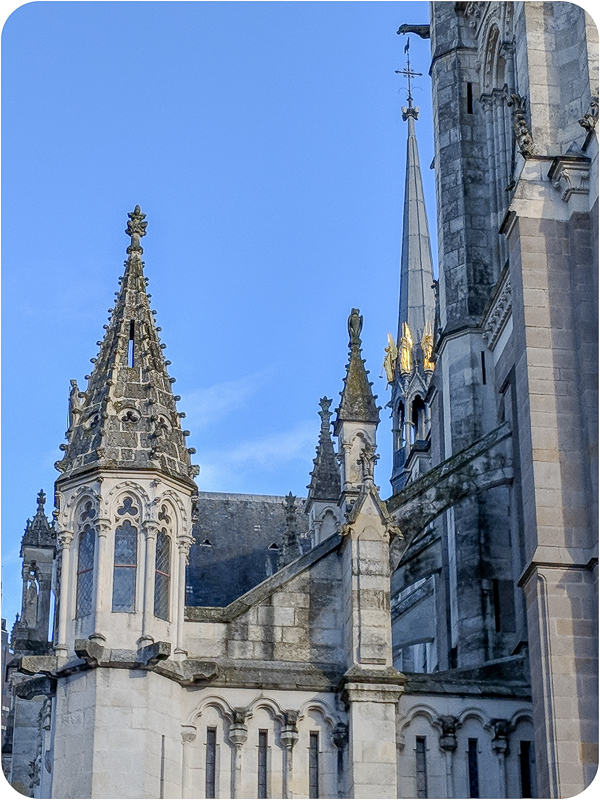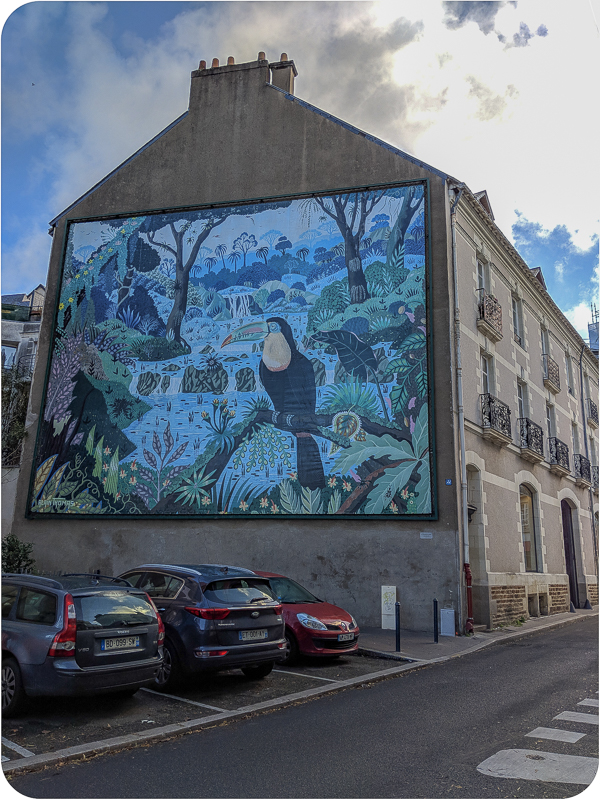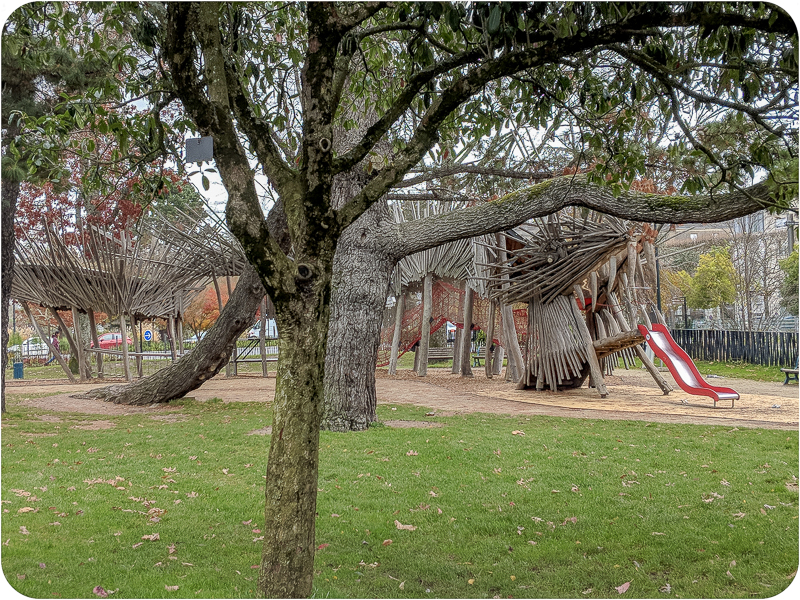 Aire de Jeux de Kinya Maruyama, a playground by Japanese architect Kinya Maruyama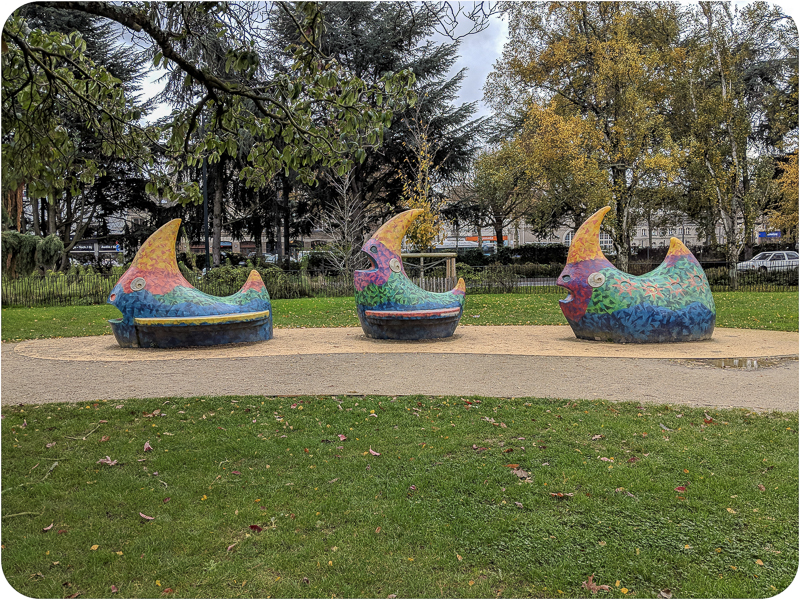 Nantes was originally settled in the Bronze Age. Conquered by the Romans in the first century BC, Nantes remained allied with the empire until its demise in the fifth century. Shortly thereafter, it was taken by the Visigoths, then the Franks, then the Bretons, and Brittany began its integration into France with the marriage of Anne of Brittany to the King of France, Charles VIII. 
Like many little fantasy nerds, I grew up with an acute case of Castle Fever™, and so I'm always stoked to see a castle, whether it's for royalty or made of sand or contains an inordinate amount of cheese or something in between. I was definitely interested in crossing the moat to see the inside of the Castle of the Dukes of Brittany (Château des ducs de Bretagne). The original structure was built in the 13th century and was demolished in the 15th century to make way for this building, a beauty with brilliant white tufa façades, jutting gargoyles, and golden accents.  After Brittany was integrated into France, this castle became the residence of the king (100 years before Versailles even dreamed of being a hunting lodge) when he was in town.  During WWII, it was occupied by Germany. Today, it houses the Nantes history museum.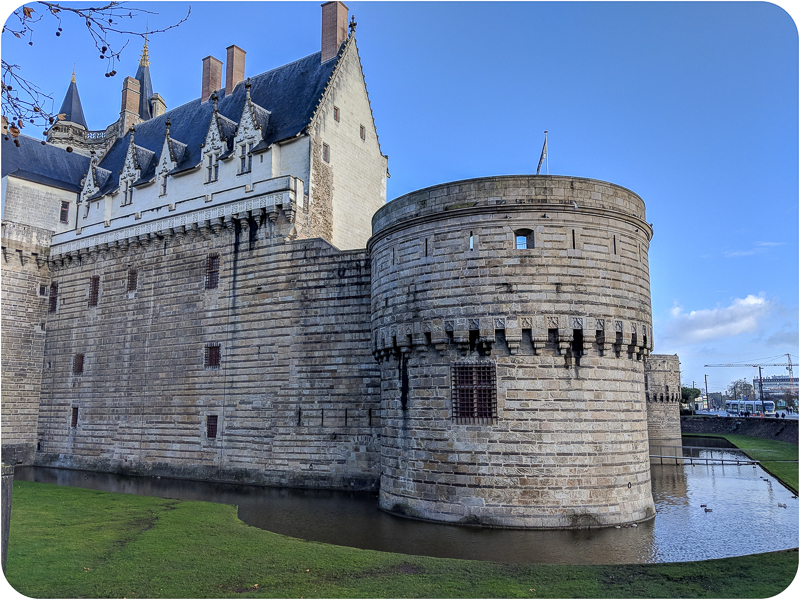 Château des ducs de Bretagne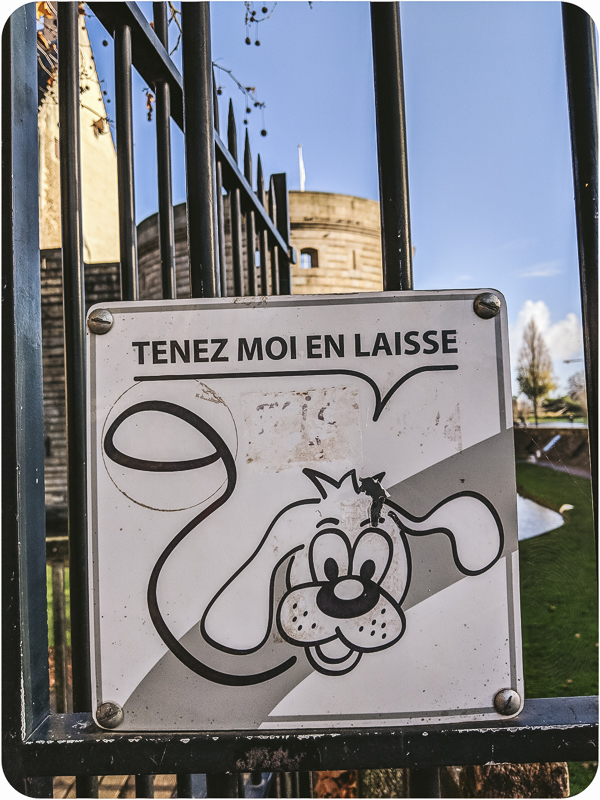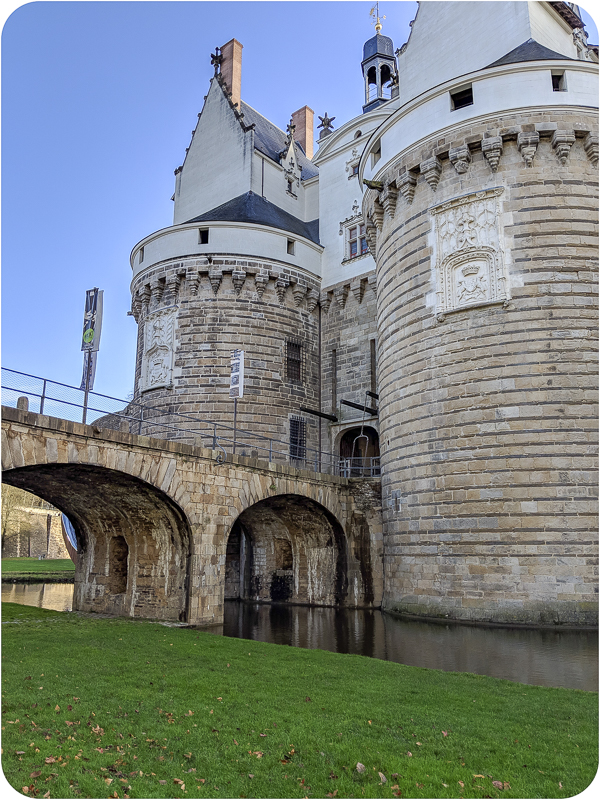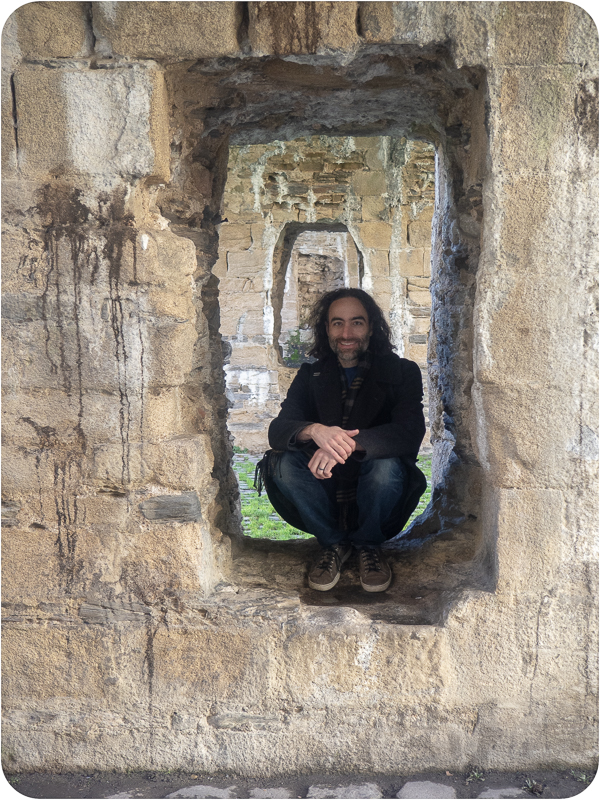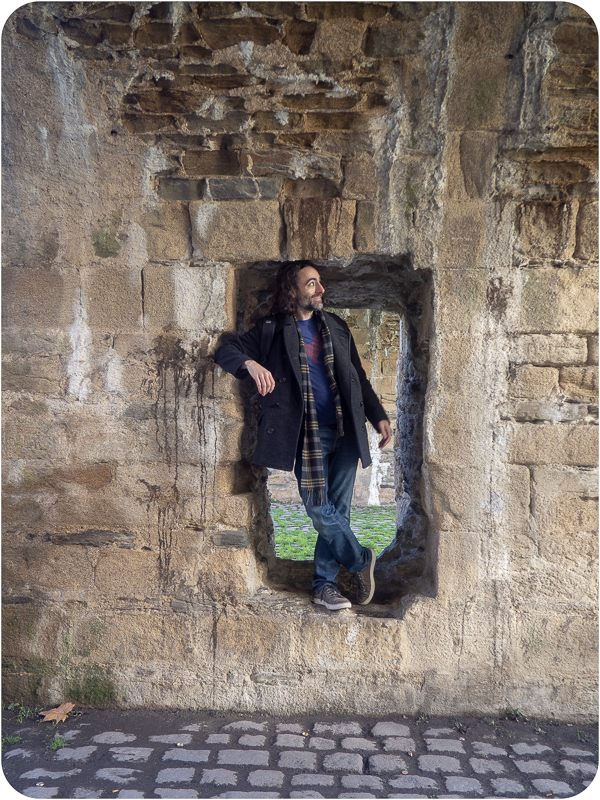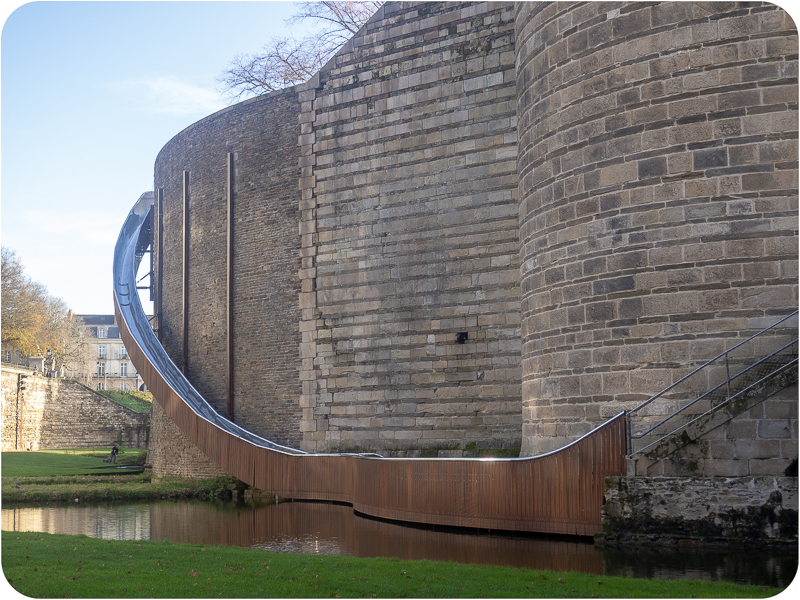 No doubt this is a historical ducal waterslide.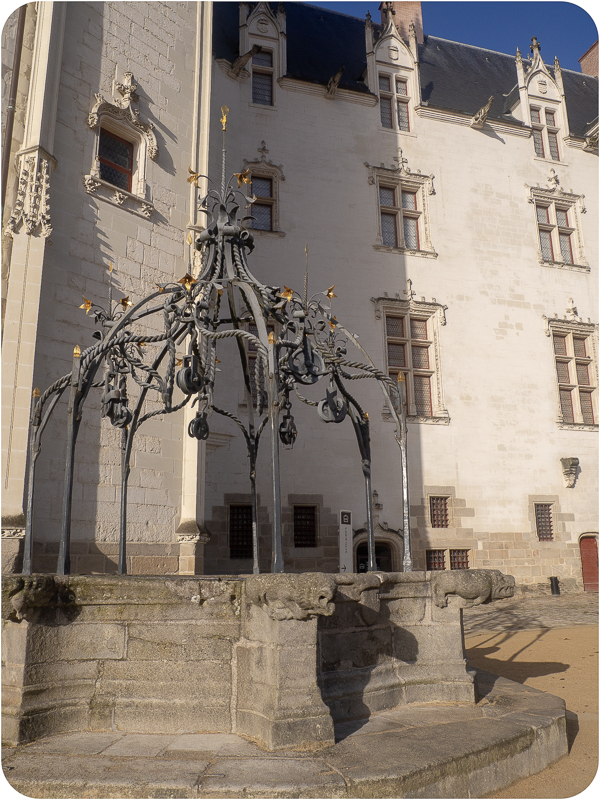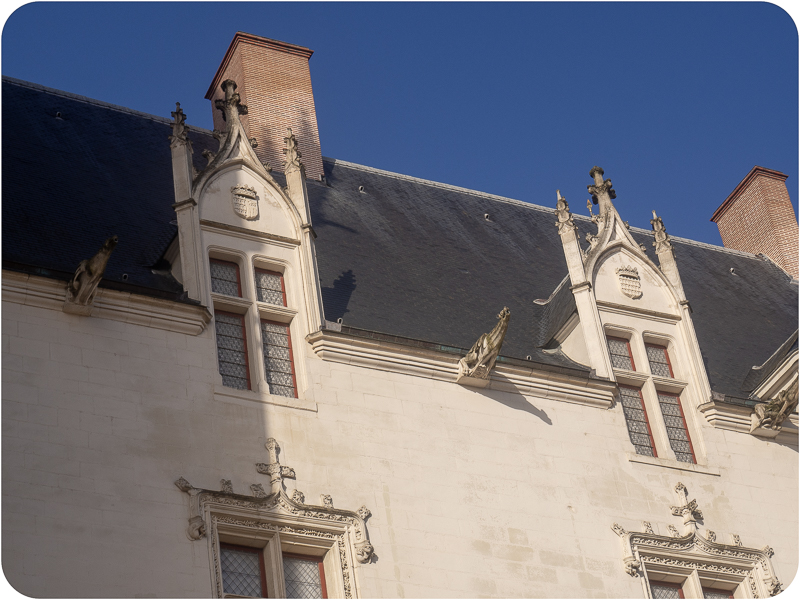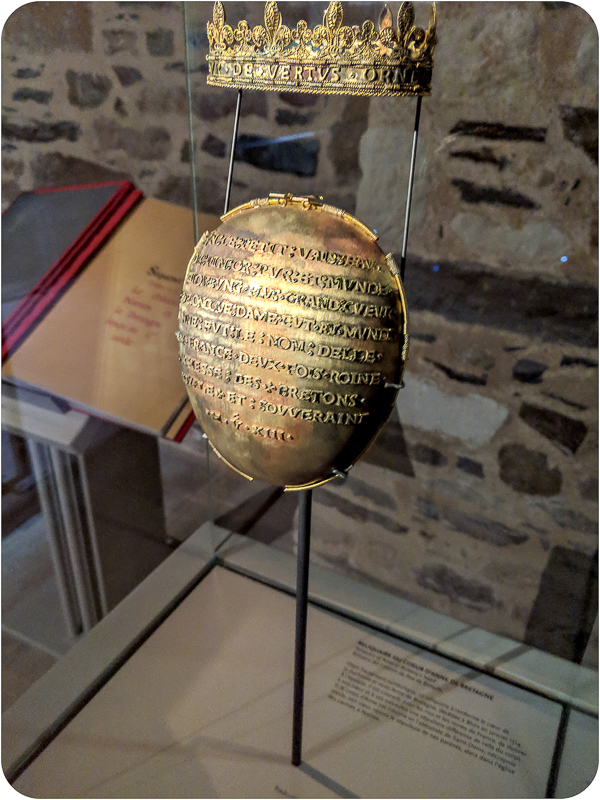 Reliquary containing the heart of Anne of Brittany, Duchess of Brittany and  two time Queen Consort of France in the late 15th and early 16th centuries. Fact: Her second royal husband, Louis XII, was so eager to divorce his wife for Anne that he claimed he had never been able to consummate the marriage due to being "inhibited by witchcraft" because I guess that was the best lie he could come up with.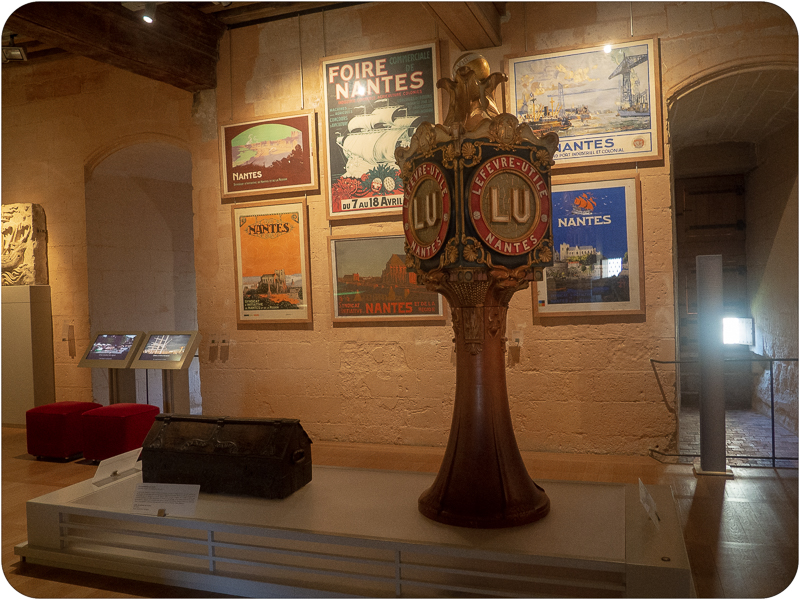 Nantes' economic history was as a shipping port involved in what was known as "triangular trade". Nantais goods were shipped to Africa and exchanged for slaves, who were transported to the Americas, and those ships' hulls returned full of goods valuable to Europeans: sugar, tobacco, coffee, chocolate. The slave trade via Nantes persisted until 1793 when there was a decree for the abolition of slavery. Nine years later, Napoléon Bonaparte re-established it for another fifteen years. All told, they are responsible for more than half a million slaves, some two hundred thousand more people than the current population of Nantes. The wealth of Nantes was built through slavery, turning textiles into men into sugar, and then processing and selling that sugar directly and in the form of manufactured biscuits. Nantes' business was so brisk that they needed to open additional textile factories to keep pace with the ships.
Half a million slaves.
A book I read about John Bartholemew "Black Bart" Roberts opened with a description of life aboard a (British) slave ship in the 18th century working the same circuit. Conditions were, to put it mildly, horrific. Water and food were both in short supply (they cut into profits and storage space, so, more profits), with a ship's surgeon describing a sailor rising at dawn to lick the dew from the roof of the chicken coop. Slaves were tortured into eating, their teeth broken in order to force food down the throats of those unwilling to eat. Those they could not brutalize into drawing breath the length of the trip were mutilated after death, desecrating their bodies to horrify the living who believed that only a whole body could return home. Later studies showed that as many as one in eight slaves died en route. Some sixty-two thousand. A stadium of people, dead from the torments of being dragged from their home across the ocean to put money in someone else's pocket, sweetness in someone else's mouth. 
Along the Loire, glass tiles are scattered into the sidewalks, representing each of the slave ships that made the journey, to acknowledge that this city was built on the backs of slaves, that even today we build our wealth and live our lives comfortably walking on the backs of slaves. Slavery may be outlawed in the United States, but slavery is not a relic of the past.  Slaves peel shrimp in 'ghost ships' that are integral to the worldwide supply chain. Child slaves climb trees with machetes to pick the cacao seeds that make the vast majority of the world's chocolate. Slaves make fast fashion. Slavery makes manufacturing cell phones possible. Slaves are involved at the root of many mining, harvesting, and manufacturing supply chains. And it's not just something that happens in other countries: Labor by trafficked individuals in nail salons in NYC was recently uncovered. 
Also part of this memorial along the quai is a concrete area with glass walls with article 4 of the Universal Declaration of Human Rights translated into many languages. "No one shall be held in slavery or servitude; slavery and the slave trade shall be prohibited in all their forms." When we passed by, two British tourists were sitting inside, drinking bottles of beer and loudly debating what it was and whether or not they could take a piss there.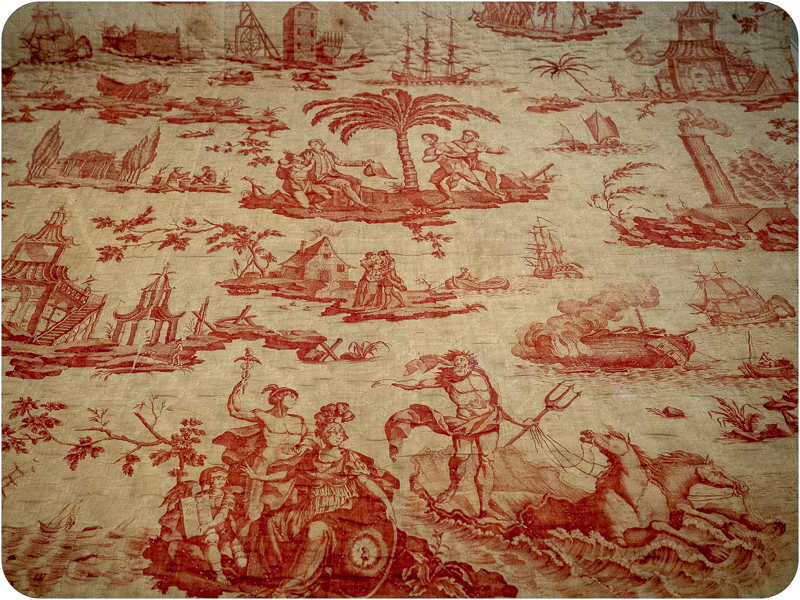 Textile manufactured in Nantes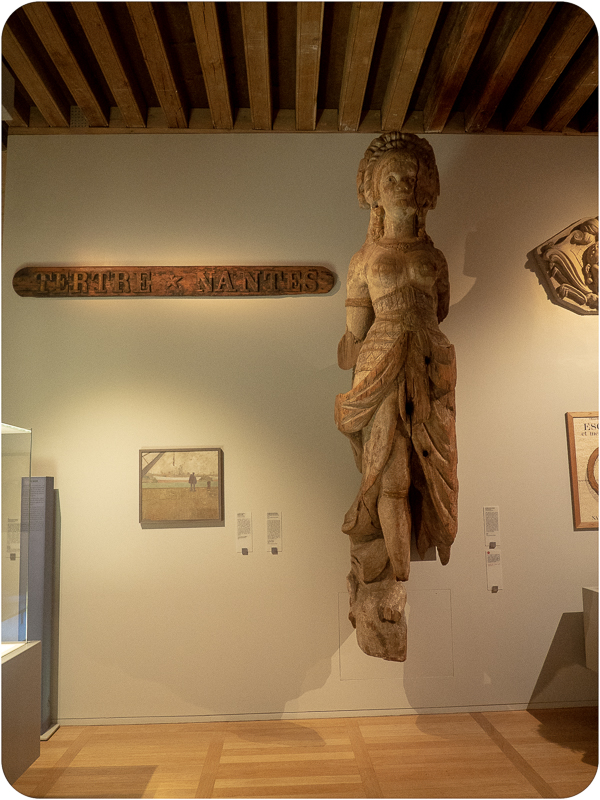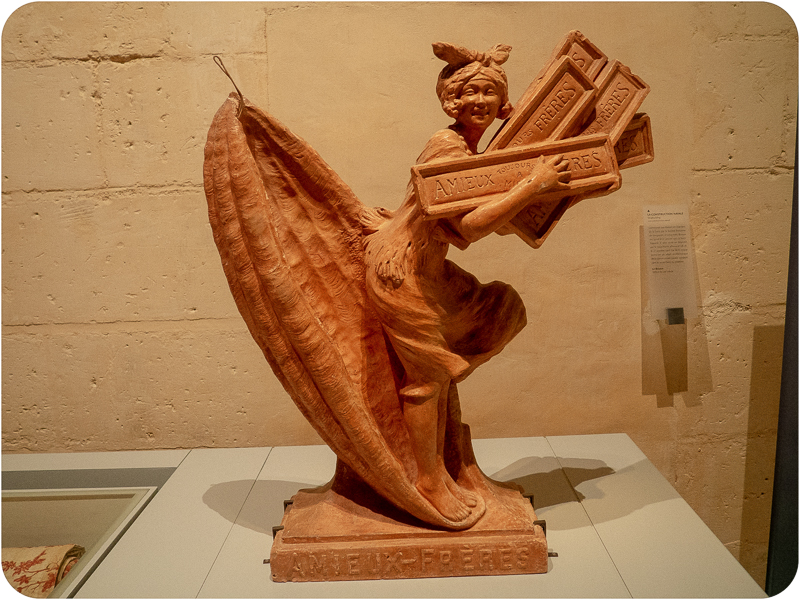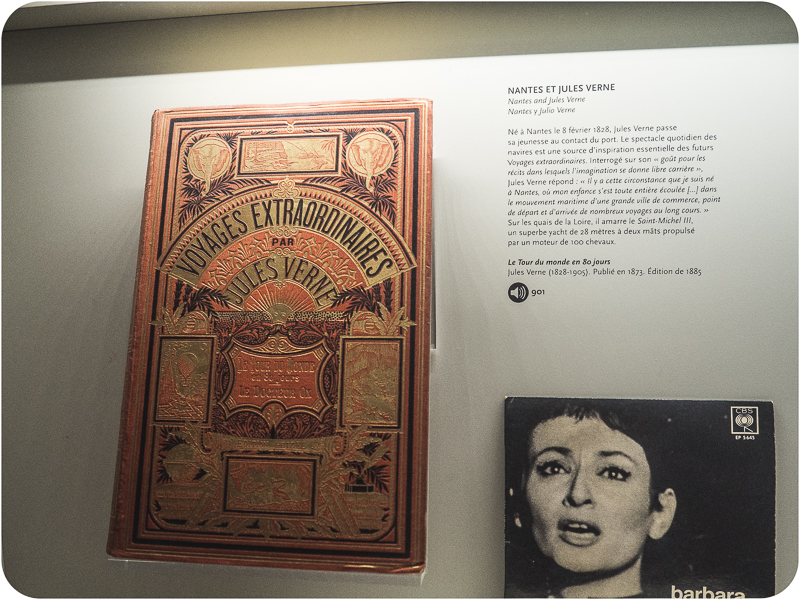 Jules Verne was born in Nantes; singing sensation Barbara released a song titled after the city.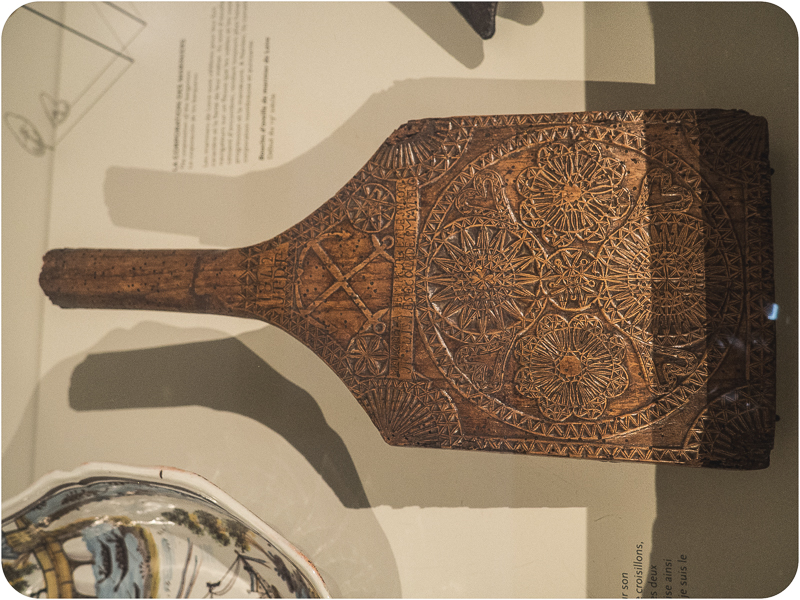 I don't even know what this is but I like looking at it.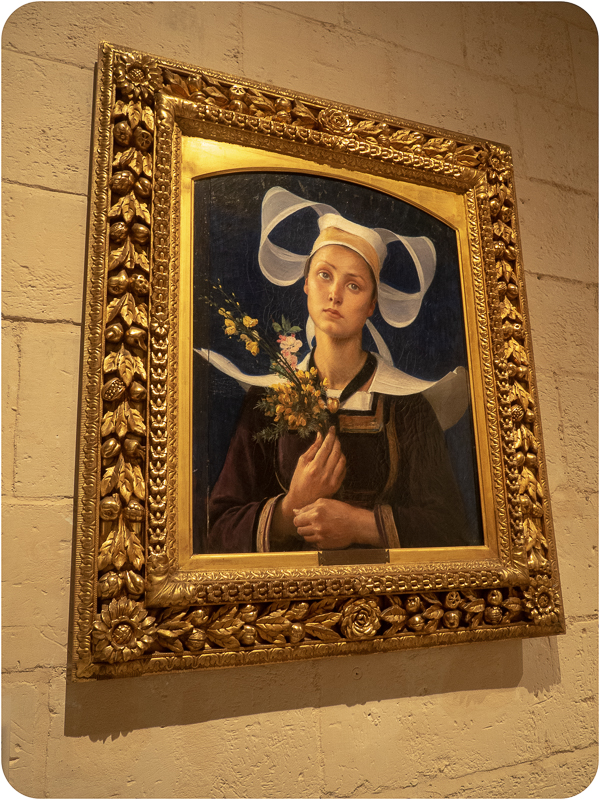 Elle porte en ses doigts pieux
La gerbe du printemps celtique
Et toute la race mystérieuse
Fleurit, suave, dans ses yeux
Anatole Le Braz, Breton poet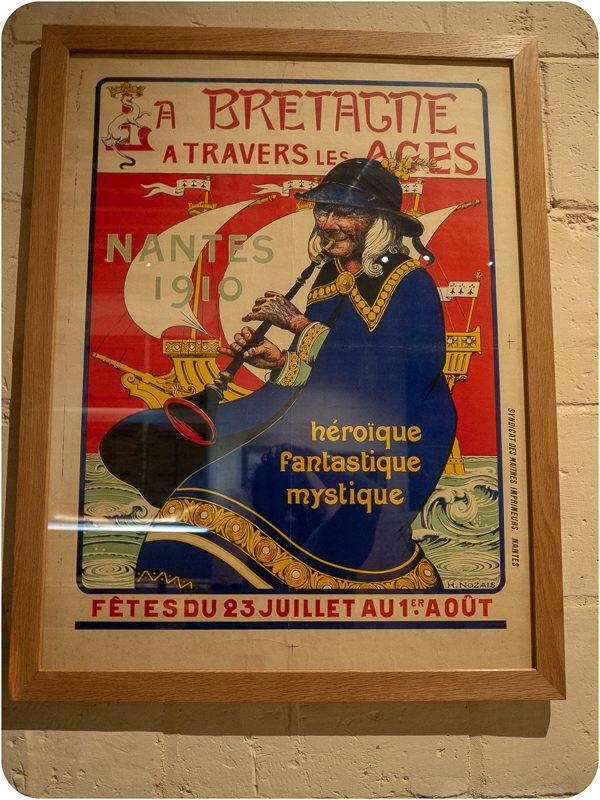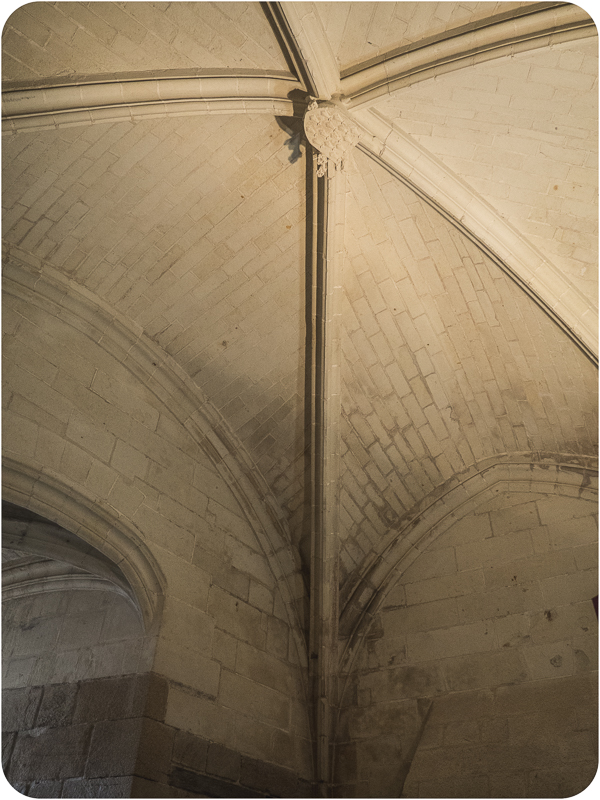 There was a school field trip in progress when we visited the castle and we were the distraction of choice whenever we landed in their collective field of vision, so for once, I thought of the children and made my way to the sentry walkway for views of the castle and of the surrounding city.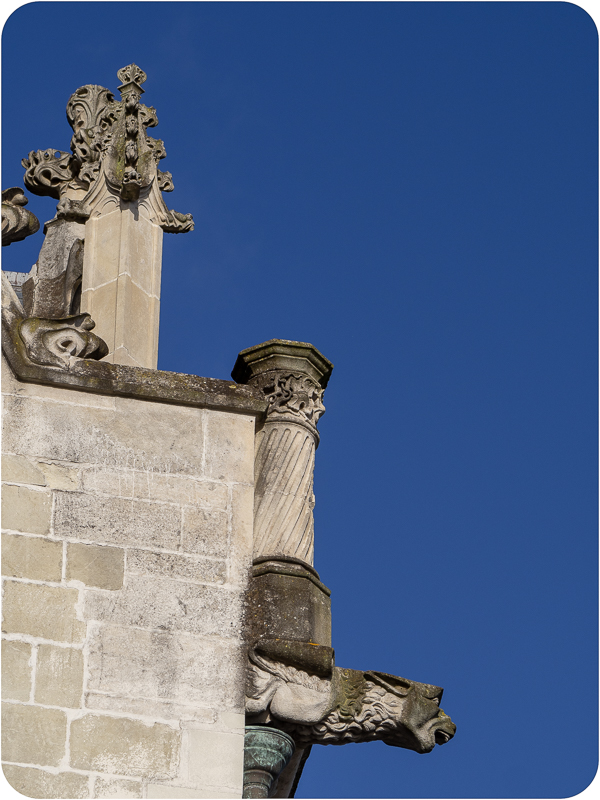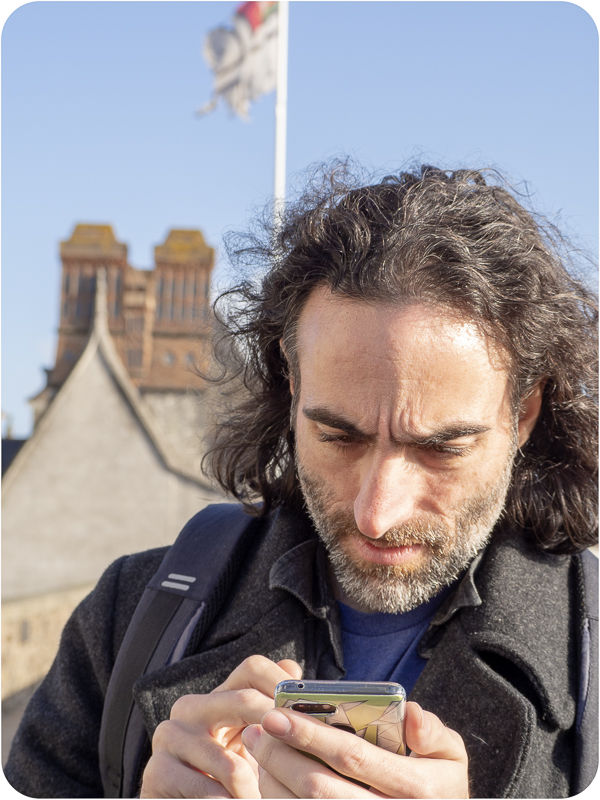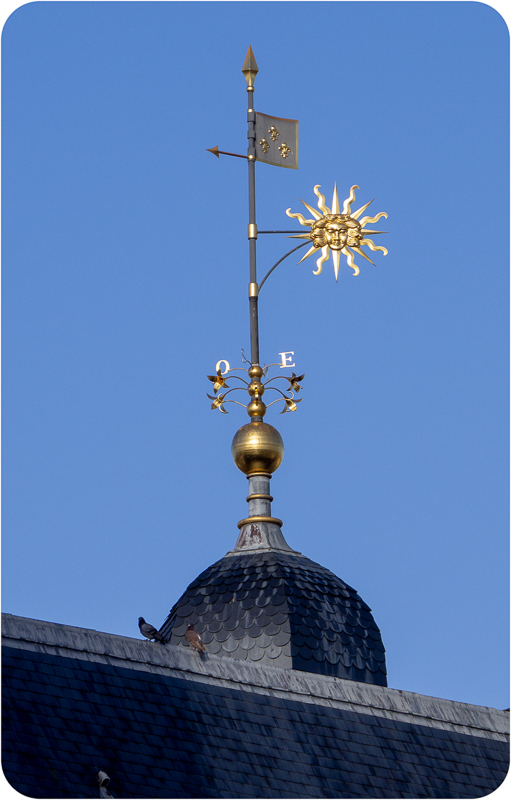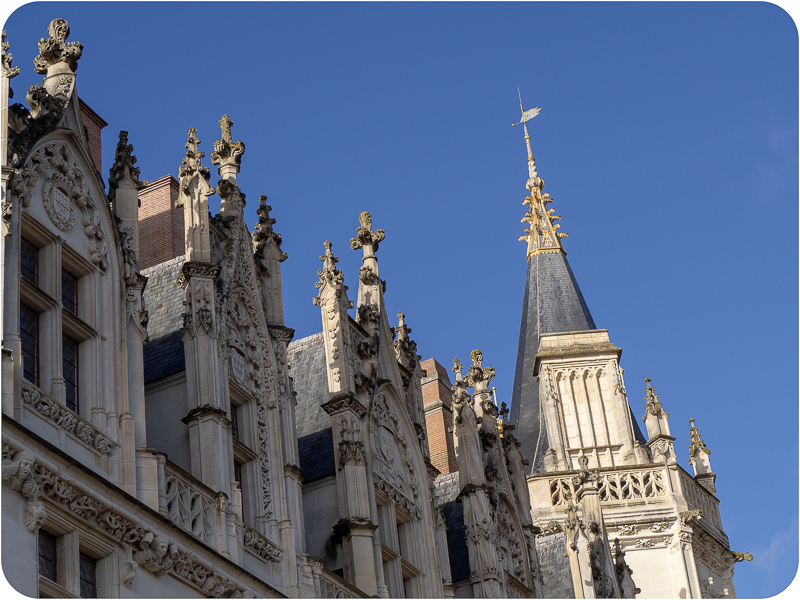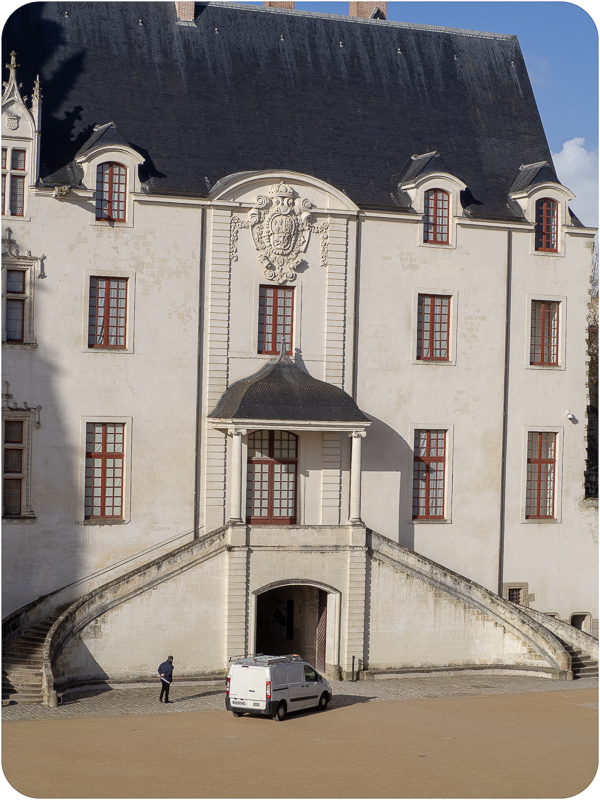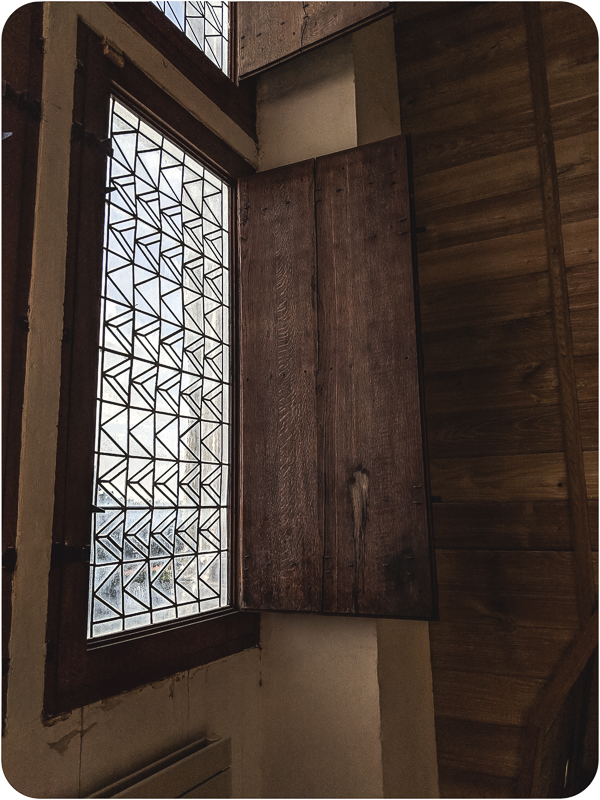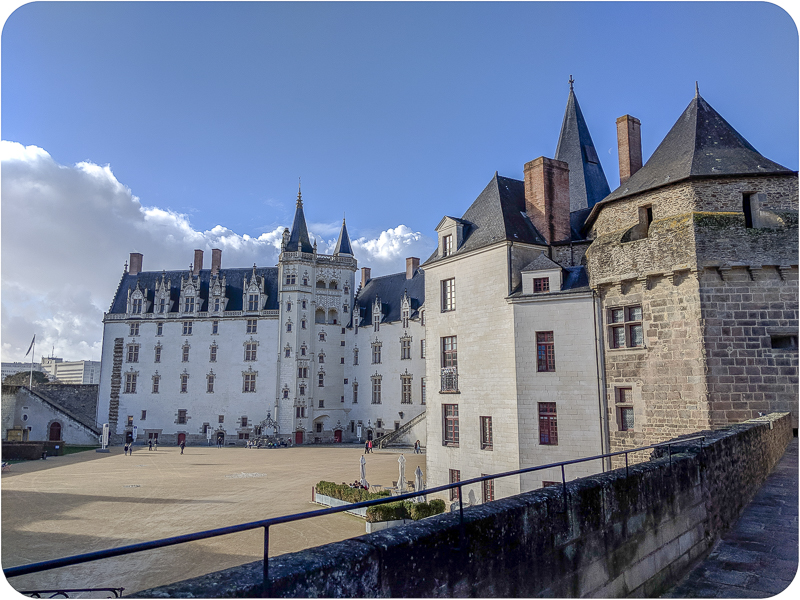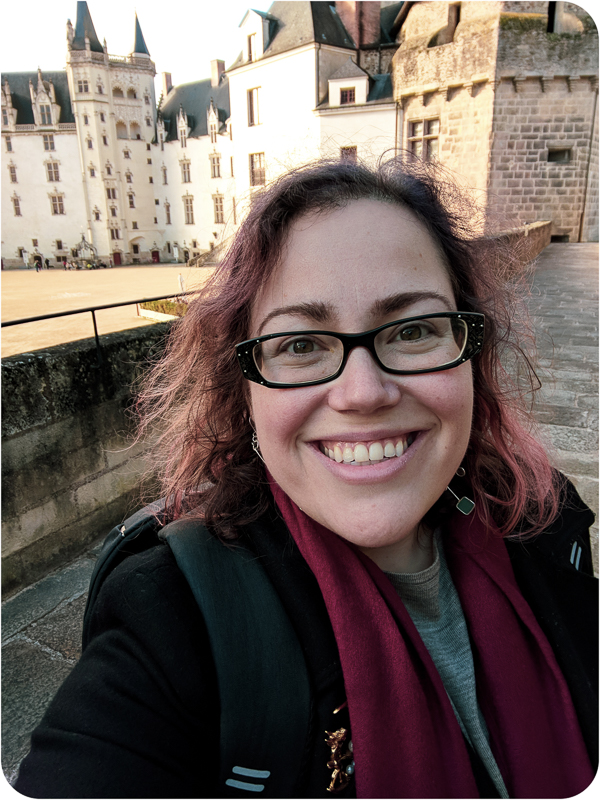 Mandatory castle selfie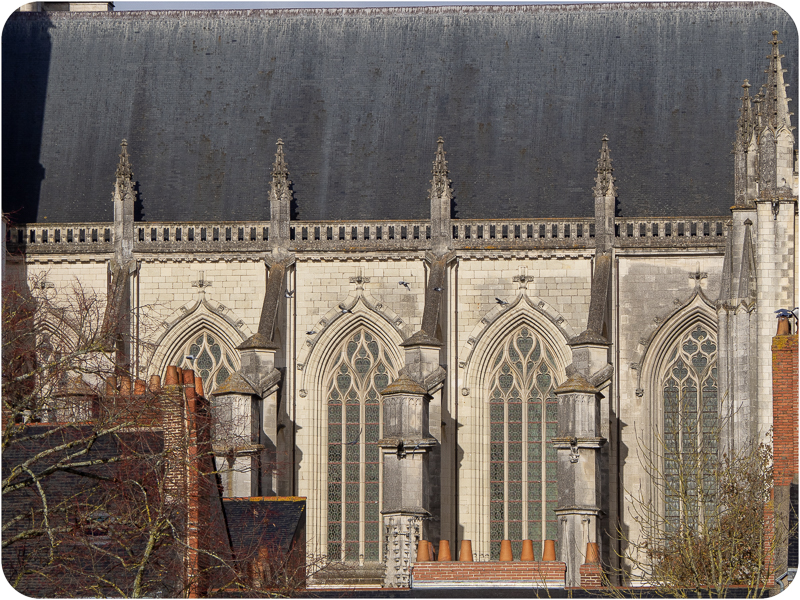 Cathédrale Saint-Pierre-et-Saint-Paul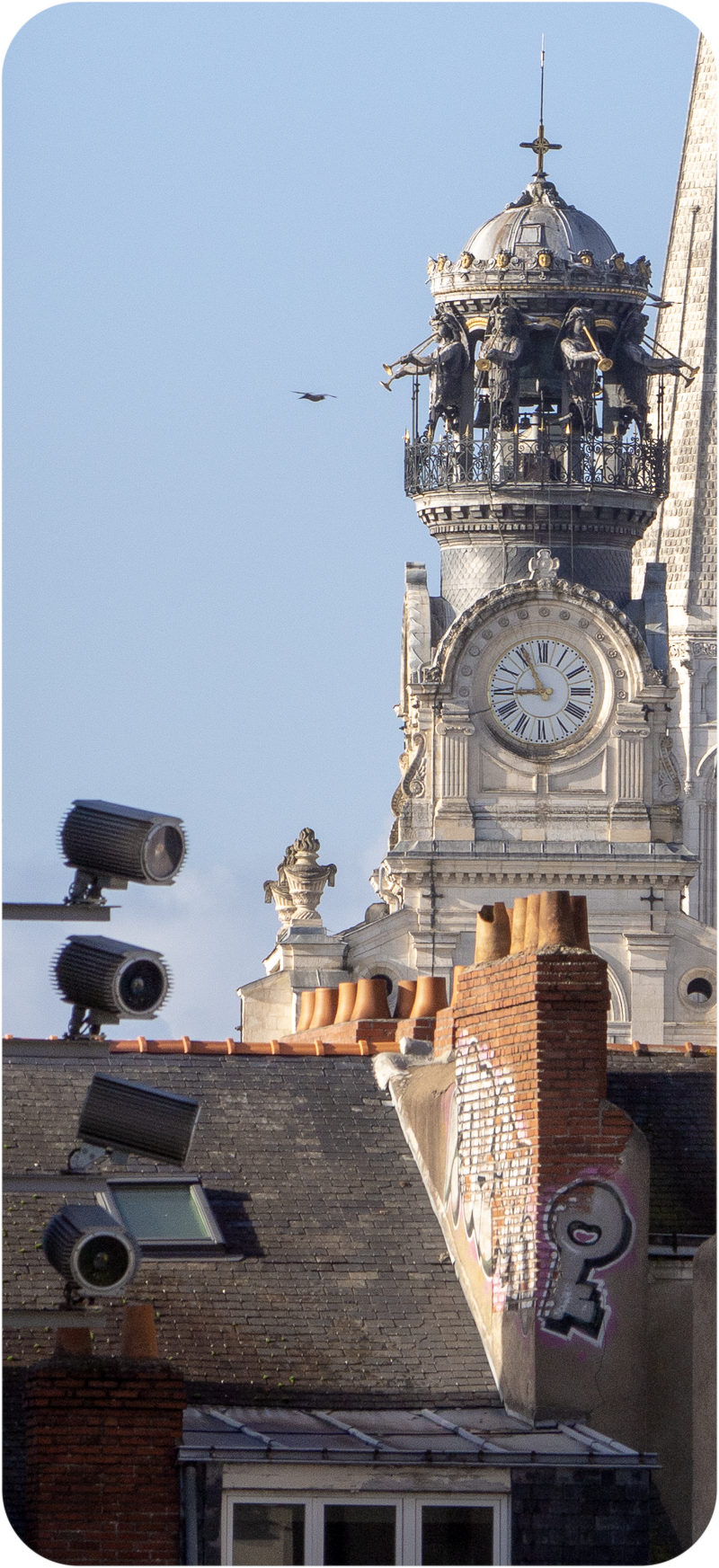 Église Sainte-Croix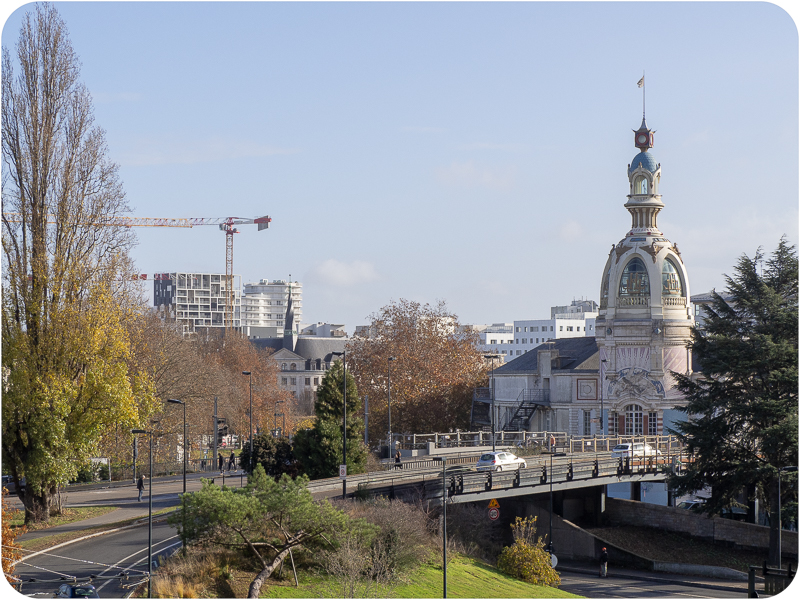 La Tour LU
We ate lunch at L'Octopus, where our server was the most challenging type of person with whom to interact in a foreign language, the kind who insists he doesn't speak your language while you are speaking his. This person in particular was so horrified at the idea of dealing with non-native French speakers that he couldn't even figure out what it meant when I pointed at something on the menu, like my thick American finger indicated too Englishly. He literally clutched his pad to his chest with both hands, his eyes rolling back helplessly, head turning side to side to look for someone, anyone else to assist us. I am certain this man was not having a seizure, it was levels of Can't Even so intense that he lost the ability to read. I feel sorry for the guy, if dealing with me is enough to cause this kind of a meltdown, every day must be an unceasing struggle. With the help of a different server who had familiarity with American pointing, Jason ordered a burger that he enjoyed, and I ordered a salad that I very much did not, but since I nearly killed a man placing my first order, I decided to suck it up and not to gamble with any more lives.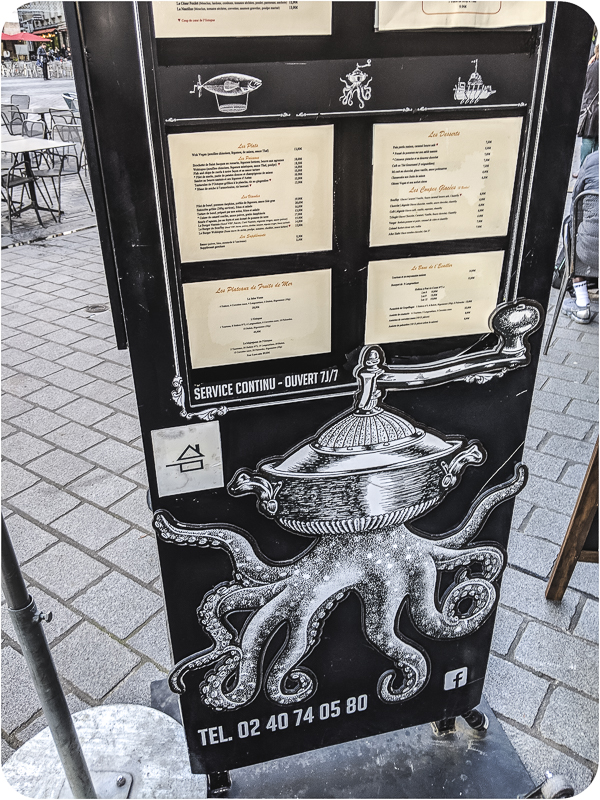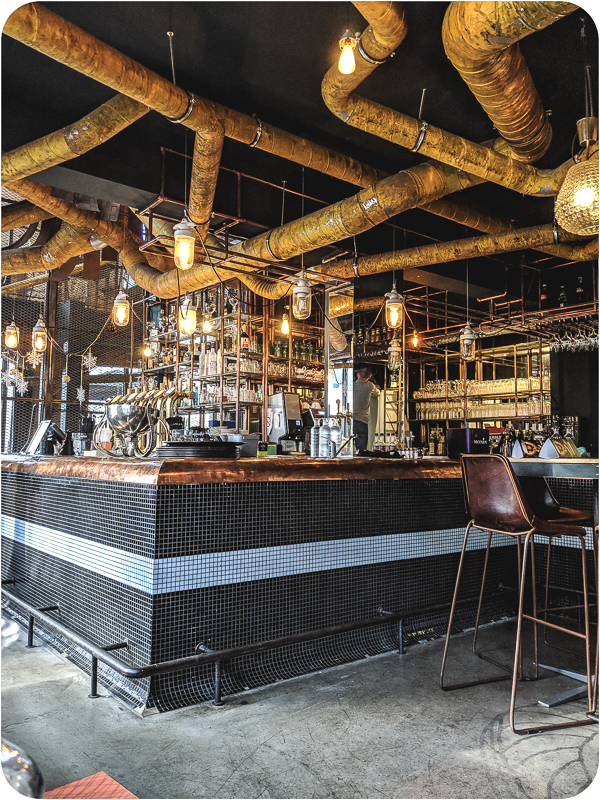 L'Octopus interior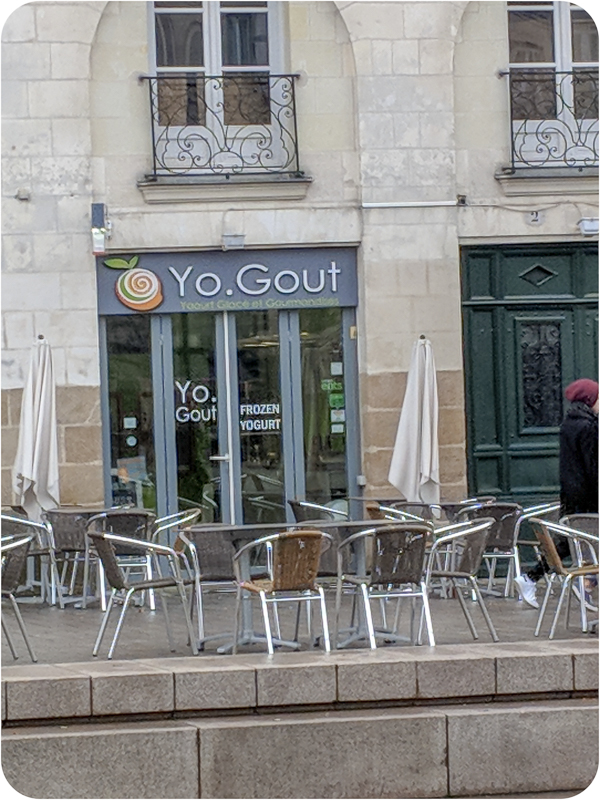 Gout appreciates the direct recognition, I'm sure, especially after being shunned socially for causing the death of Louis XII.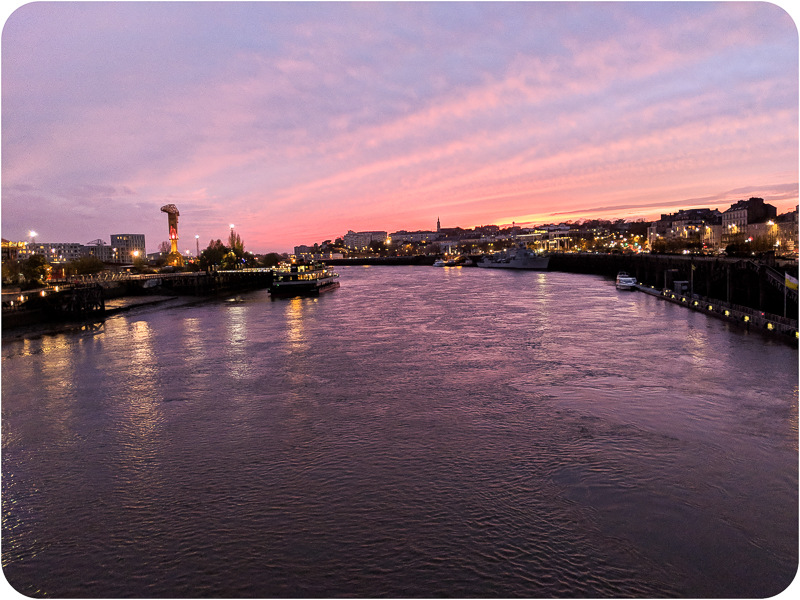 La Loire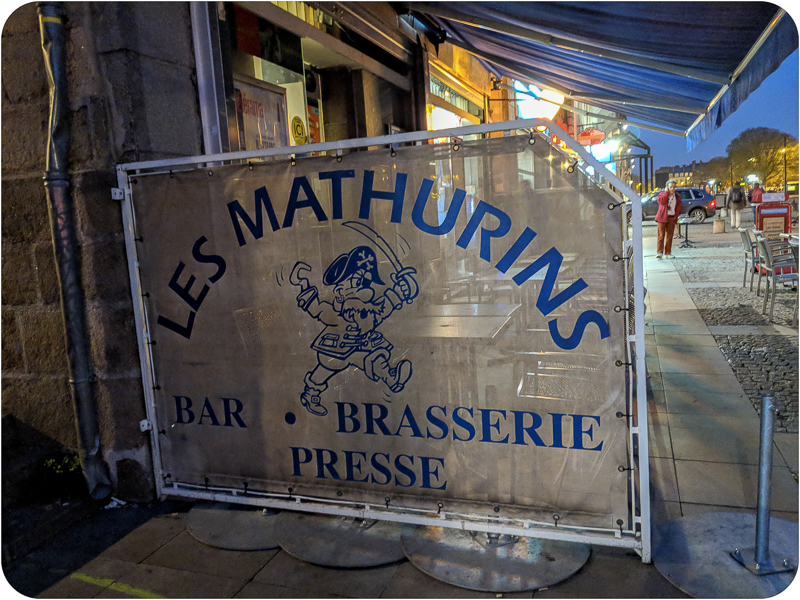 Nantes was the capital of Brittany but is no longer considered part of the Brittany region of France in a way that I don't fully understand, but I am a fan of Breton pastry, and it was in search of such that I went to Ô Pétrin Divin. There, I greeted and ordered in French, so of course in polar opposition to lunch, the woman working there huffed indignantly and said "I speak English." How was I to know?!  What I do know is that they sell a gorgeously caramelized and layered kougin amann, yeasty with a hint of saltiness in a way that is characteristic of the region's desserts. 
We ate dinner at Imagine, a restaurant whose menu changes weekly, the commitment to quality ingredients of chef Anne-Lise Genouel inspiring her to make as much as possible in-house. The meal we had at Imagine was exceptional, the pièces de résistance definitely the five house-made sorbets and ice creams, the flavors of which were beautiful, each a surprise.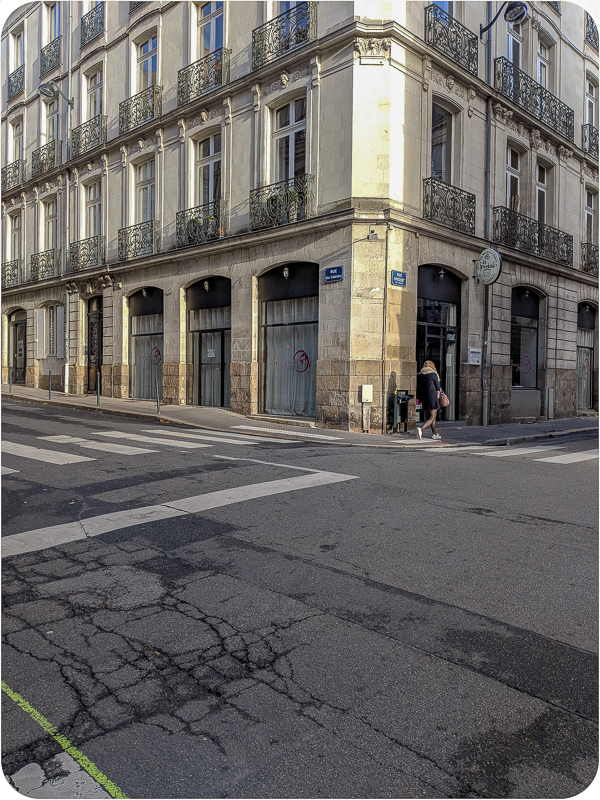 Imagine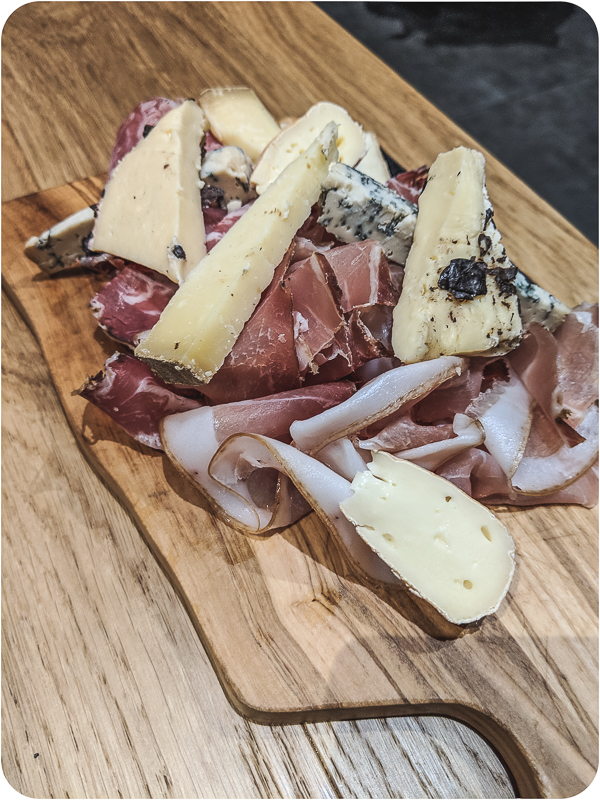 planche mixt charcuteries & fromages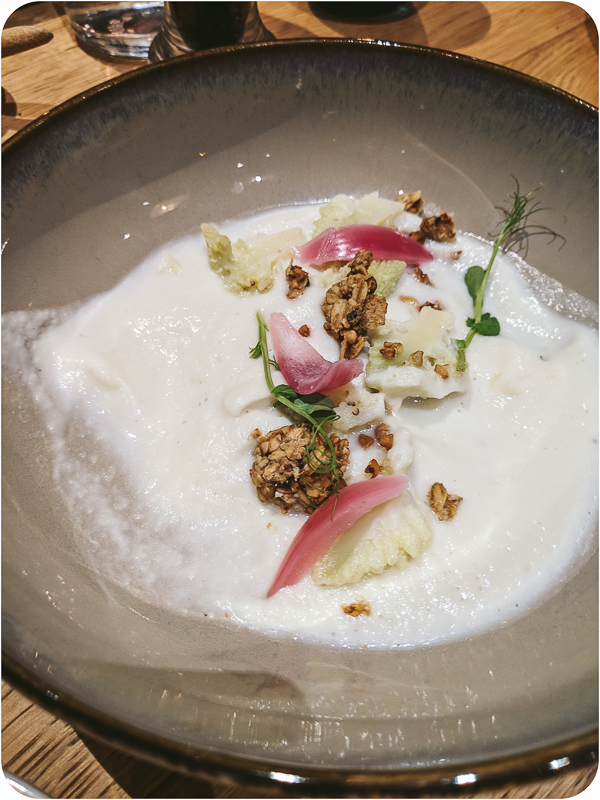 velouté du moment, cauliflower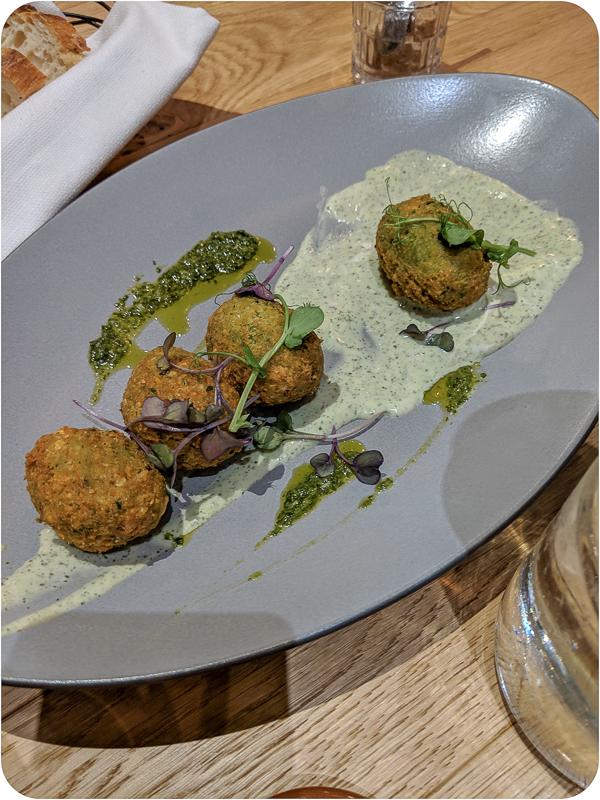 falafel, créme oignon doux & menthe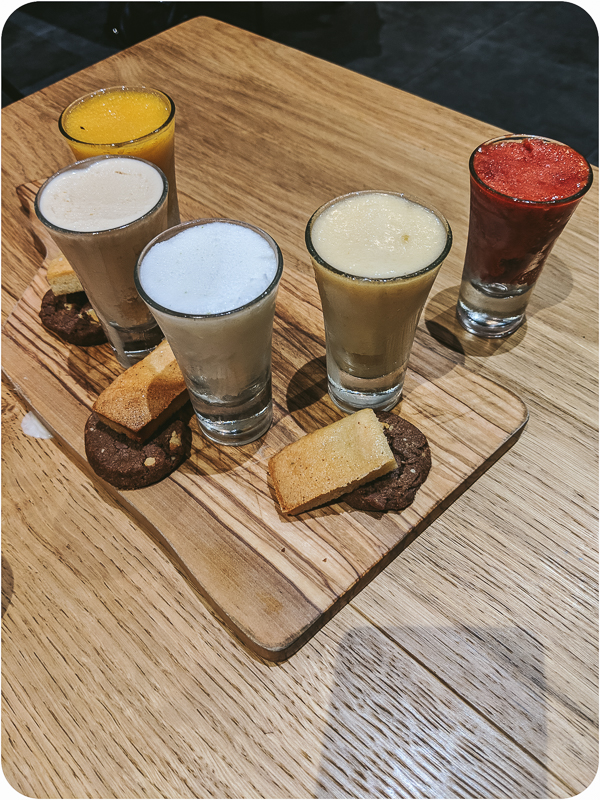 découvertes de 5 glaces & sorbets maisons & pâtisseries
Jason had started limping and complaining about his shoes as far back as the castle and this complaining reached critical mass on Rue Crébillon. It probably doesn't speak well about my character that my reaction to this was annoyance, but hear me out: I do all the planning for these trips. I make all the reservations. I figure out how to get to and from the airport. I'm the one who researches tipping culture and wall outlet format and orders the adapters and the backpacks you can plug your phone into directly.  I learn the language(ish) and do all the translation. Jason is responsible for packing the things that he will need, which he usually does with a list from me. That's it. And in fact, we had gone out together several months earlier to pick out new comfortable walking shoes for the specific purpose of breaking in and bringing on this trip and these were left in the closet at home in favor of the pair that were currently rotting off of his feet in a painful manner. So yes, I was annoyed, but according to my opinion poll of one, this annoyance was wholly justified. My annoyance was two-fold: the obvious, that my input and efforts toward smoothing our path were utterly disregarded, and borrowed annoyance* at how much harder breaking in a new pair of shoes would make a trip that I knew would involve another solid week of walking. Having to spend time engaged in one of my least favorite activities, clothes shopping, was simply a bonus.
Thankfully, there was a shoe store nearby and while I stayed outside grumpily catching Pokémon, Jason managed to find a pair that not only treated him right for the duration of the trip but also come with the side benefit of being able to smugly say "Oh, I got these in France" whenever someone compliments them. 
One of the delights of our overnights in Nantes was the Christmas market, the largest in western France. Each night, the stalls would come alive, selling hot mulled wine out of giant hammered copper pots, spiced breads, sugared Liège waffles, stacks of nougat and wheels of cheese and paper cones of hot blackened roast chestnuts and churros the size of a human femur. It's one of the many times in France I cursed my lack of stomach space and carrying capacity. But I did order a hot ham sandwich (sandwich à la chiffonnade) which just basically means "shredded meat sandwich", but it was cooked in this enormous burbling pan of cream (?) and onions (?).  It was hot and rich and juicy with the right amount of tear to the bread and we devoured it, dripping onto the stones underfoot. I've since contacted the Nantes Christmas market head office to inquire after this sandwich and its vendor, and they were happy to provide me with the proper name but declined to provide me with any further information. The closest thing I can find online is this recipe for Corsican chiffonnade, which is definitely in the same vein.  Délicieux!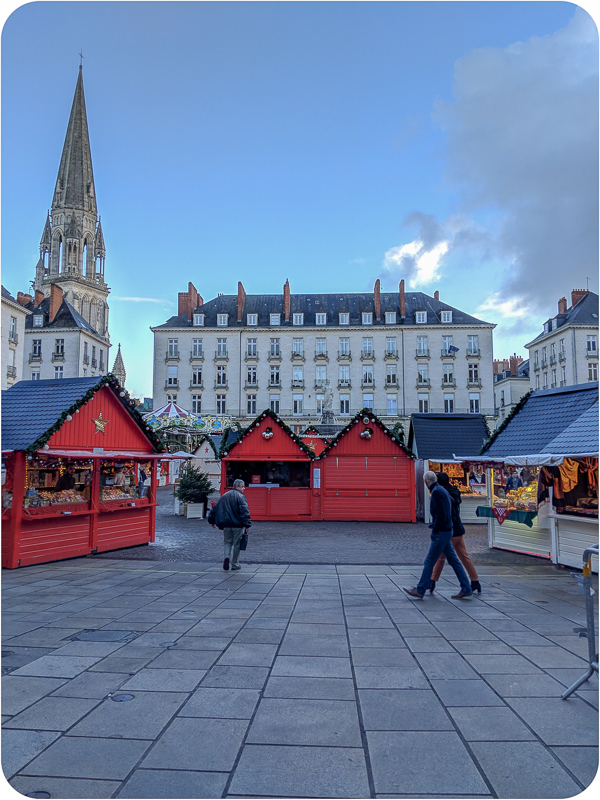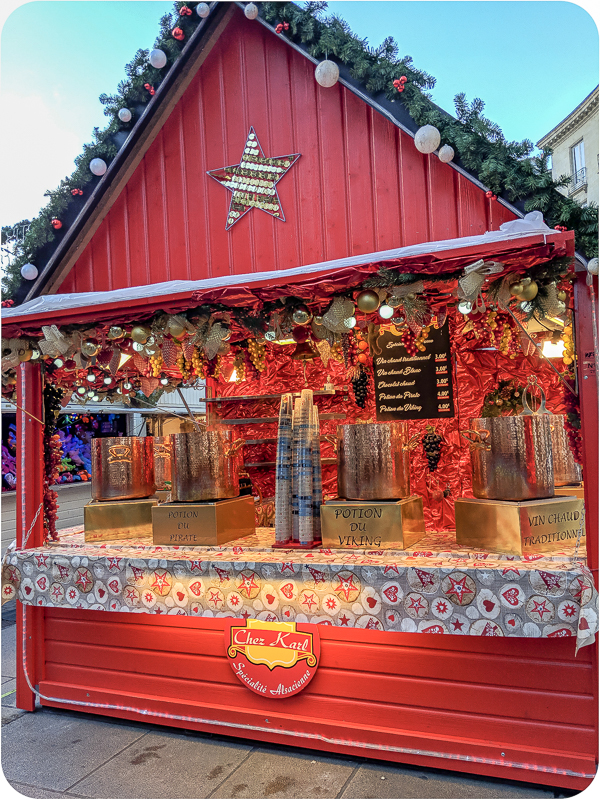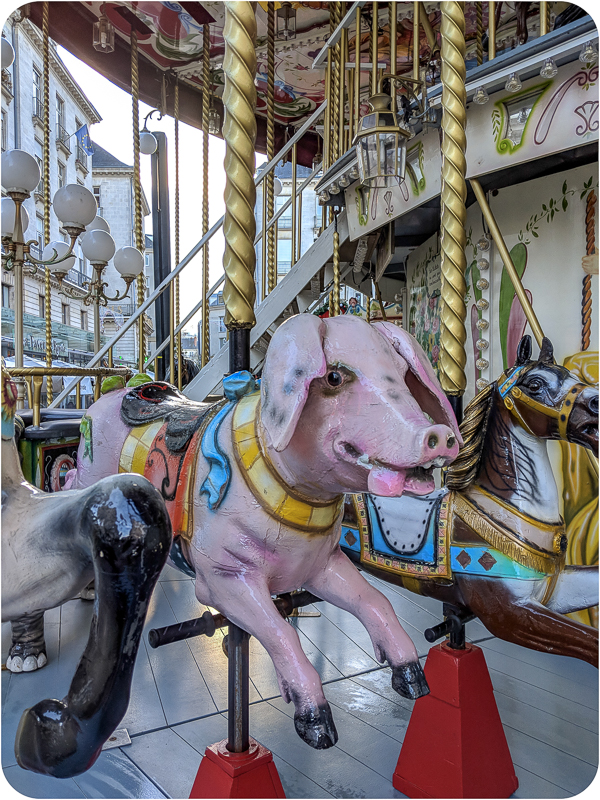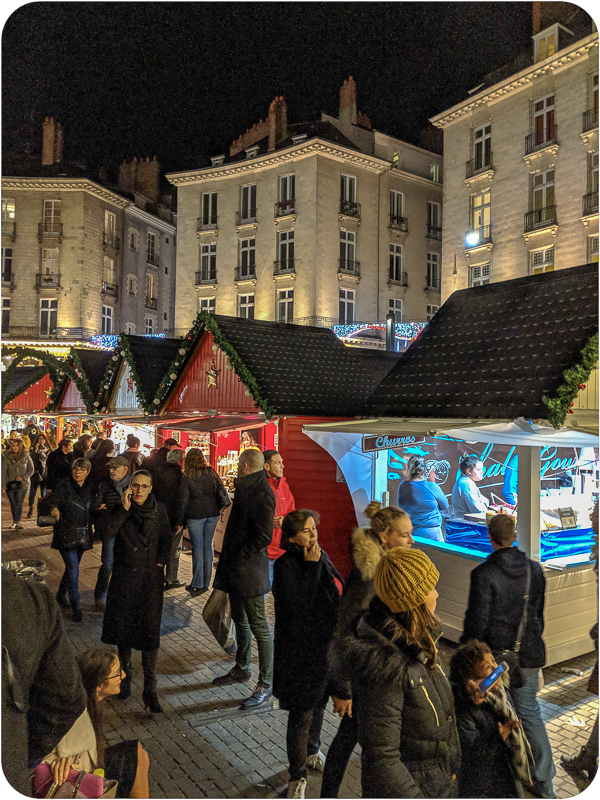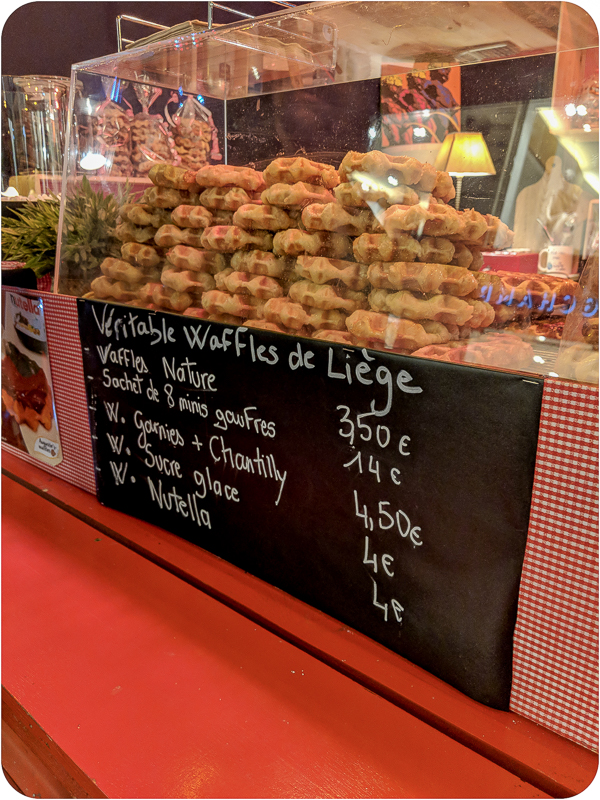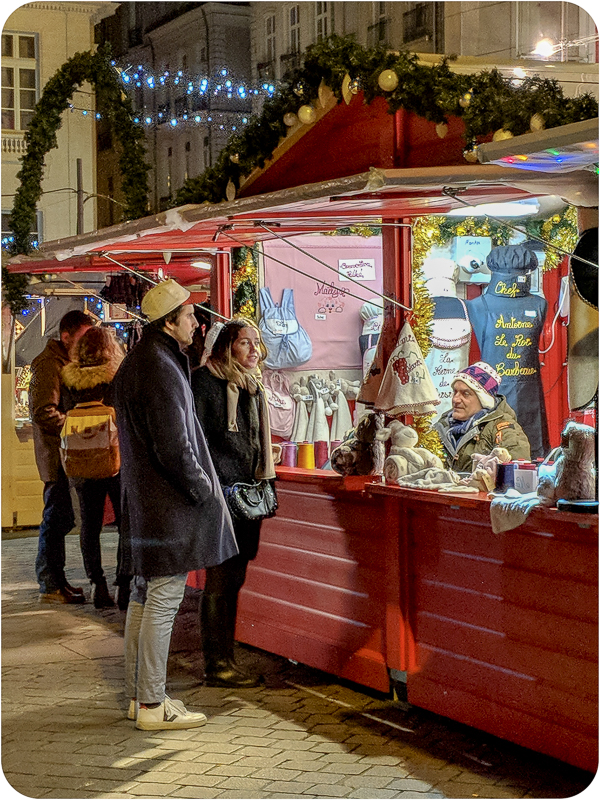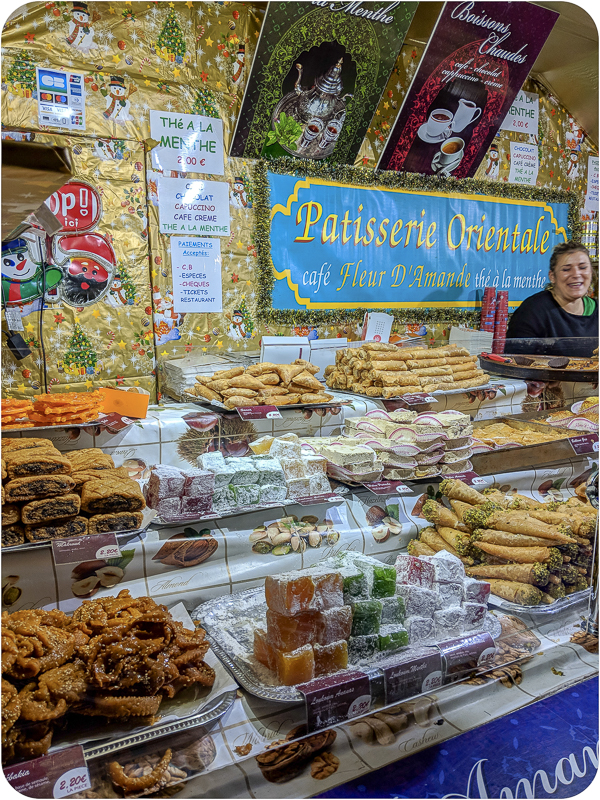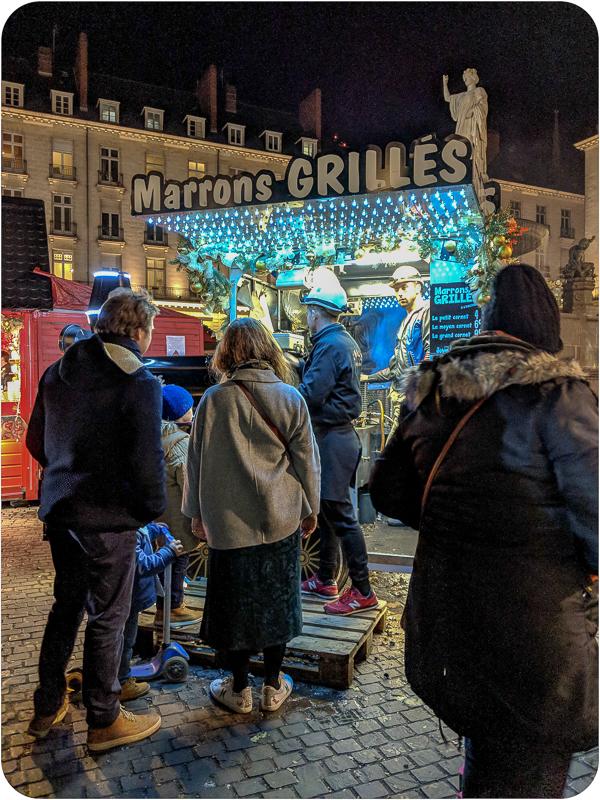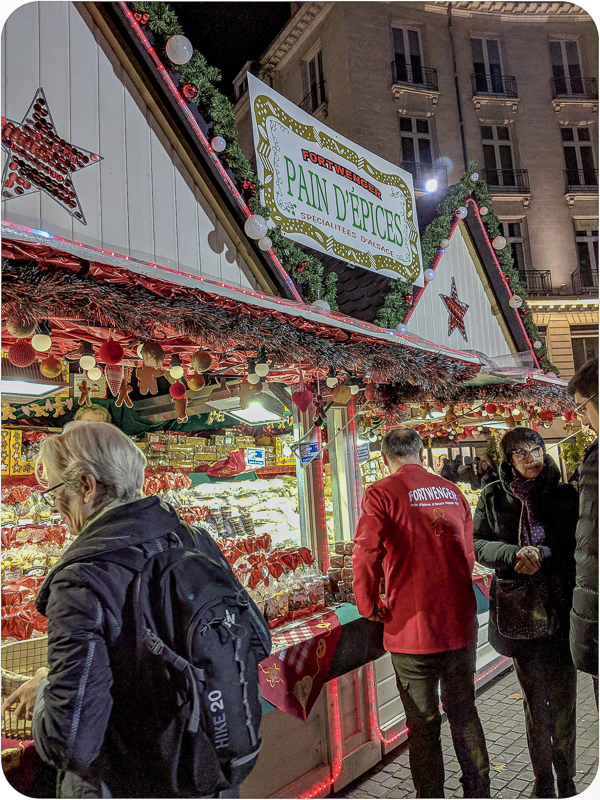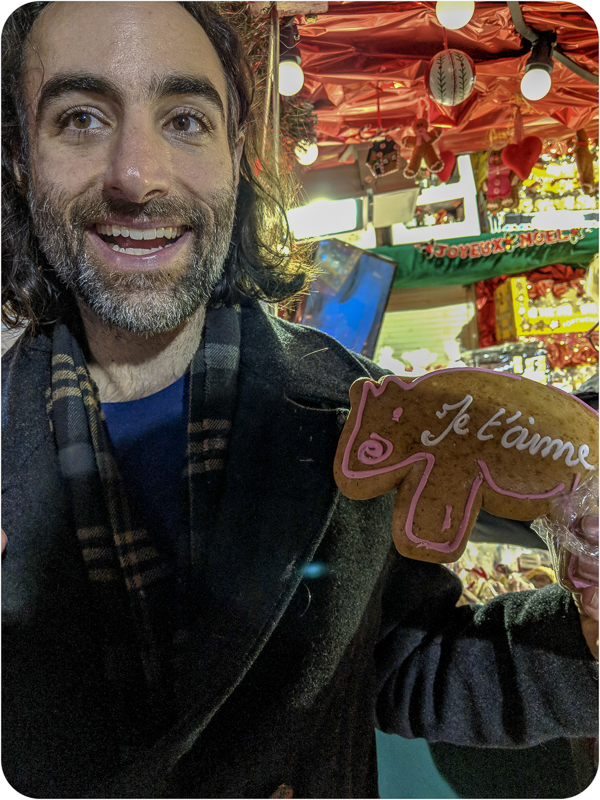 Je connais.
*You can borrow annoyance at your finer credit establishments at a rate of 10.69% additional acid indigestion per annum.