So much of this day was just off. It was pouring for our walk to the train station in Nantes and I remained slightly soggy for hours until I was able to change at the hotel in the afternoon. Our ride to Montmarte didn't improve my opinion of the Paris metro. The air not filled with other bodies was stuffy with body odors, and after wandering under the earth for what felt like three and three quarters miles in the seemingly endless white tiled exit tunnel, I finally emerged into an open-air market of sorts where one can purchase items that were liberated from the trash or nearby homes. This is not the Barbes/Rochechouart market but one nearby where you can buy, for instance, a remote control for a TV that is nowhere to be seen.
We stayed at Montmarte Mon Amour, a kitschy boutique hotel near the Basilique du Sacré-Cœur with a window that refused to close and where we were warned to avoid the Arc de Triomphe due to the yellow vest protests: noted.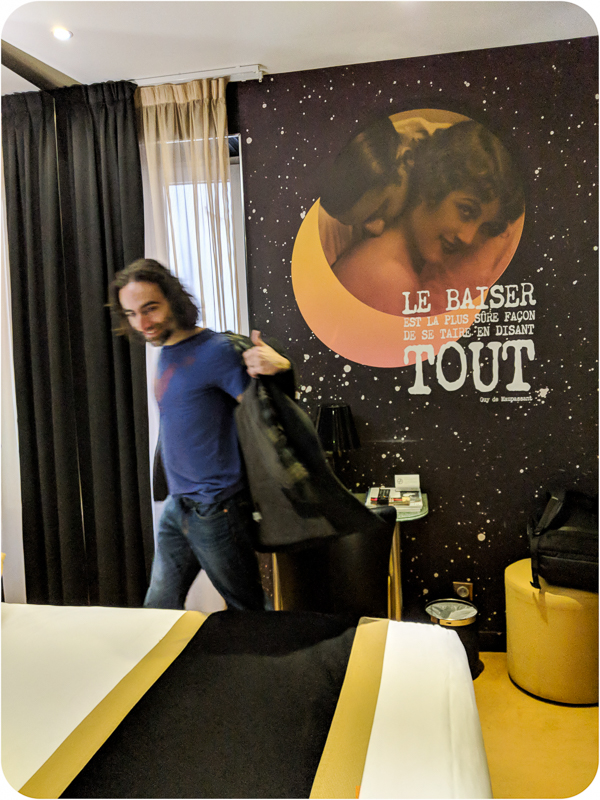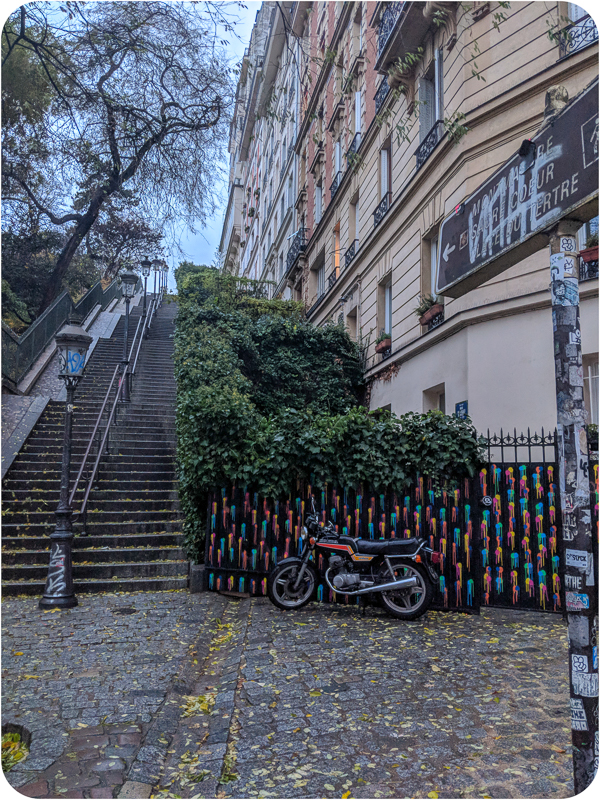 Instead, we contemplated the number of stairs to Sacré-Cœur, the highest point in Paris, and elected to take the back road up the hill of rue du Chevalier de la Barre.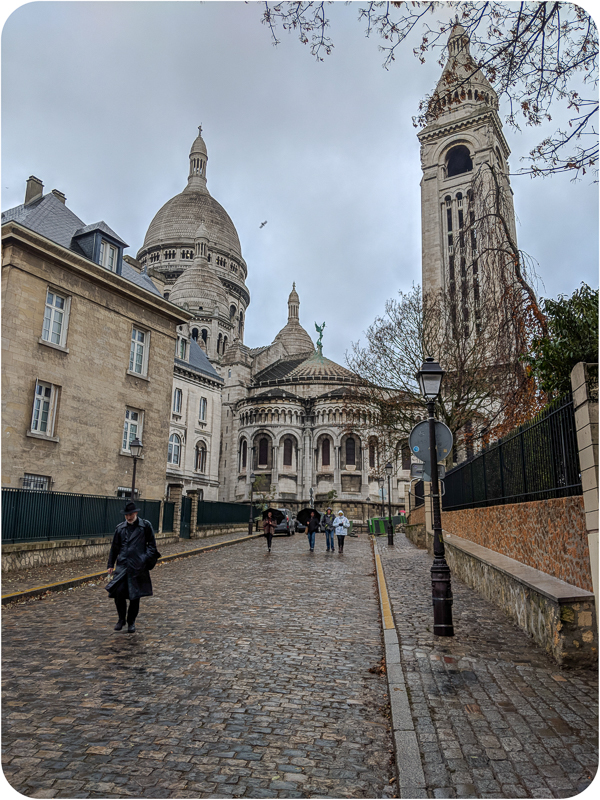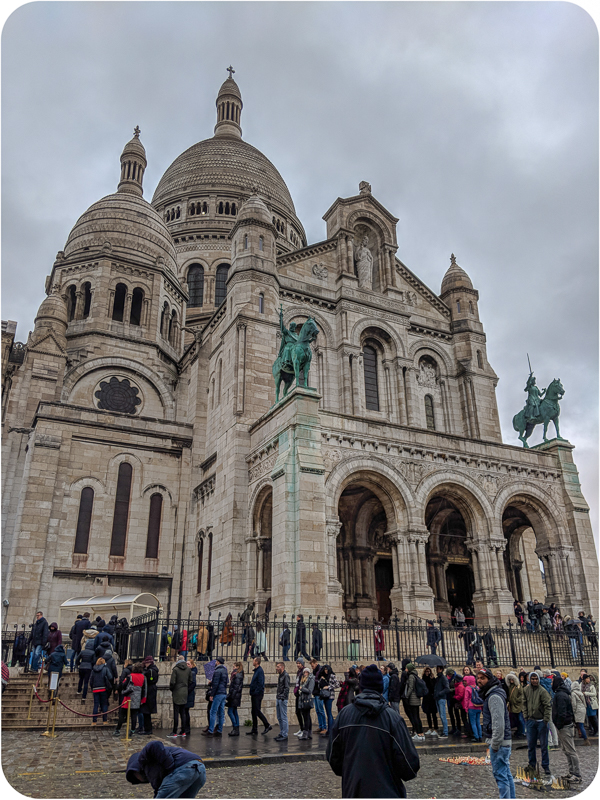 Basilique du Sacré-Cœur
I didn't particularly care for my visit to Sacré-Cœur. It probably has a lot to do with my midwestern Protestant upbringing– indoctrinating a child with Sunday school every week plus mandatory weekly Wednesday evening confirmation class for three years plus two summers in a row of bible camp tends to make the lessons linger. It bothers me to see churches stuffed with riches while people are sleeping in those howling metro tunnels. It bothers me to see churches that charge you to light a candle or that have vending machines of medallions with the pope's face on them (what is a graven image if not that?)  even though I do recognize that having a constant stream of visitors flowing through your church is a different sort of business from being a non-famous church.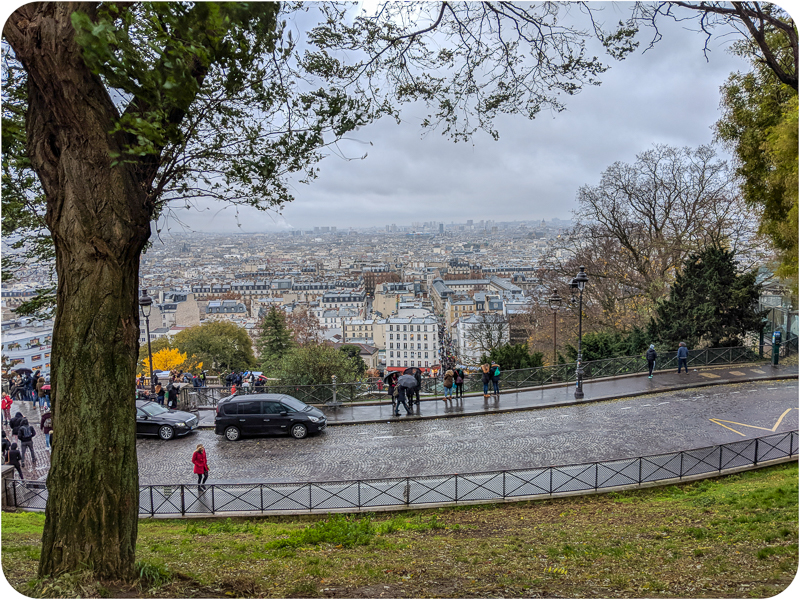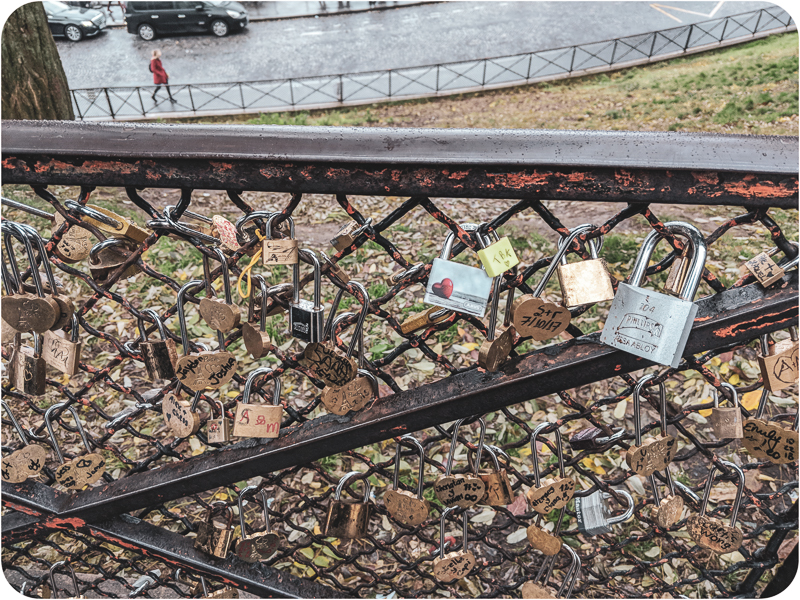 Around Sacré-Cœur were many aggressive street vendors selling light up Eiffel Towers and locks for a new fence for tourists to menace. We had a snack at nearby La Galette des Moulins and learned that while our train chugged out of the station in Nantes, protesters blocked the runway of the Nantes airport and tollooths throughout France. We learned about the vandalization of the Arc de Triomphe, the burning of an entire street of cars three miles away.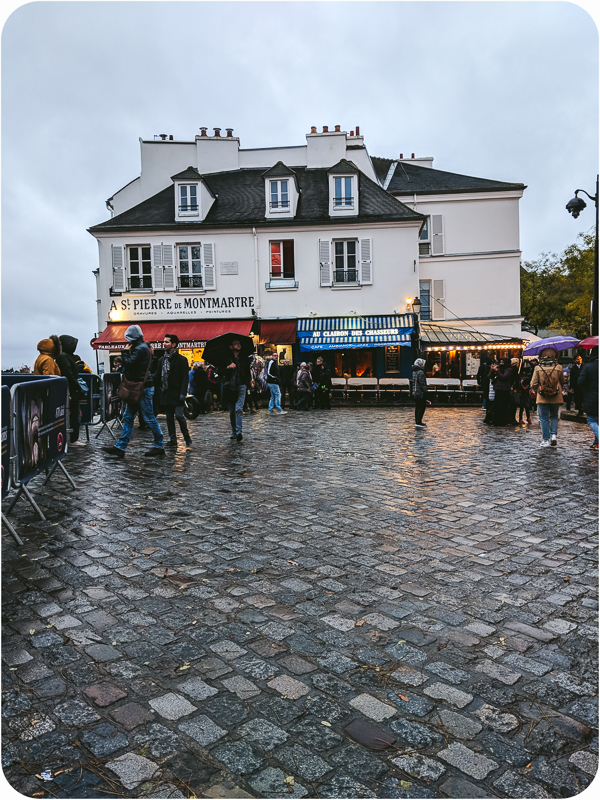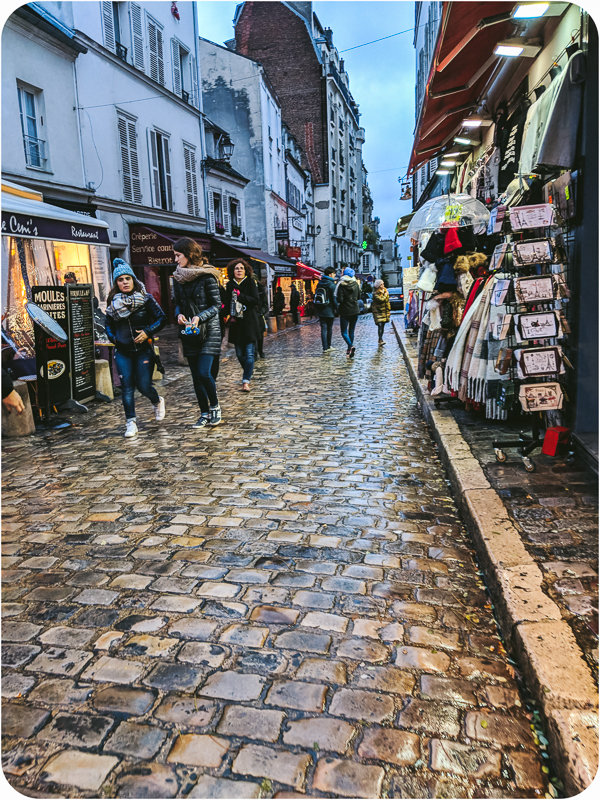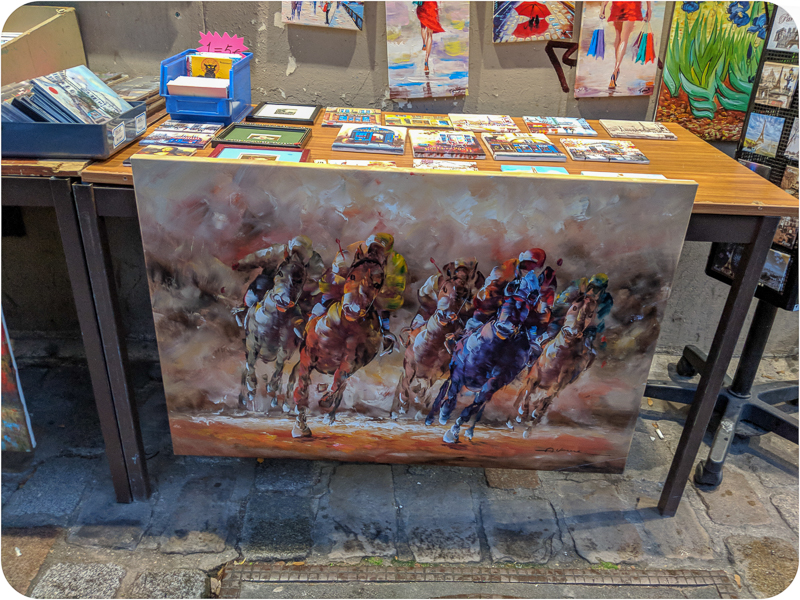 They look like they're all blopping.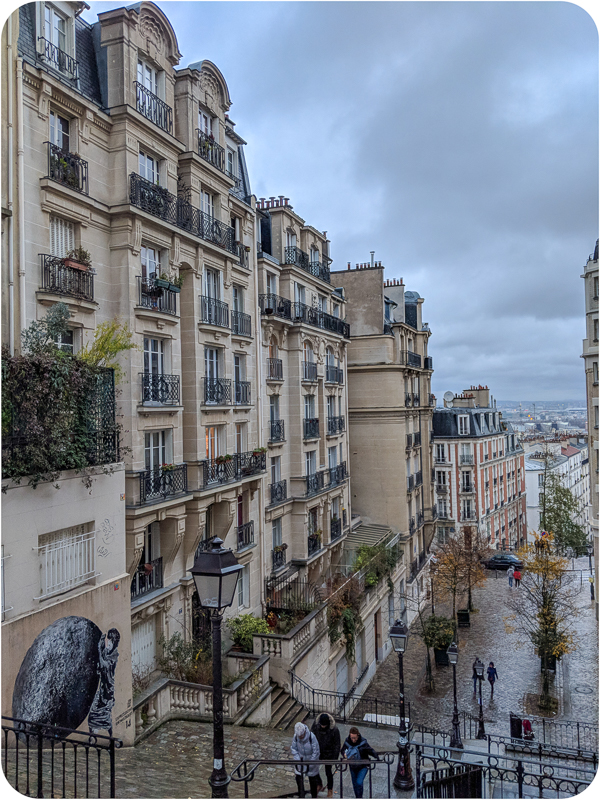 Rue du Mont Cenis Stairs
We had dinner at Pink Flamingo, where Jason promptly spilled nearly his entire beer and we shared one of the worst pizzas I've ever eaten. I feel like it had to have been an off pie; people consistently rave about this place online but the pizza I had was overwhelmed by thick, underbaked, slippery cheese.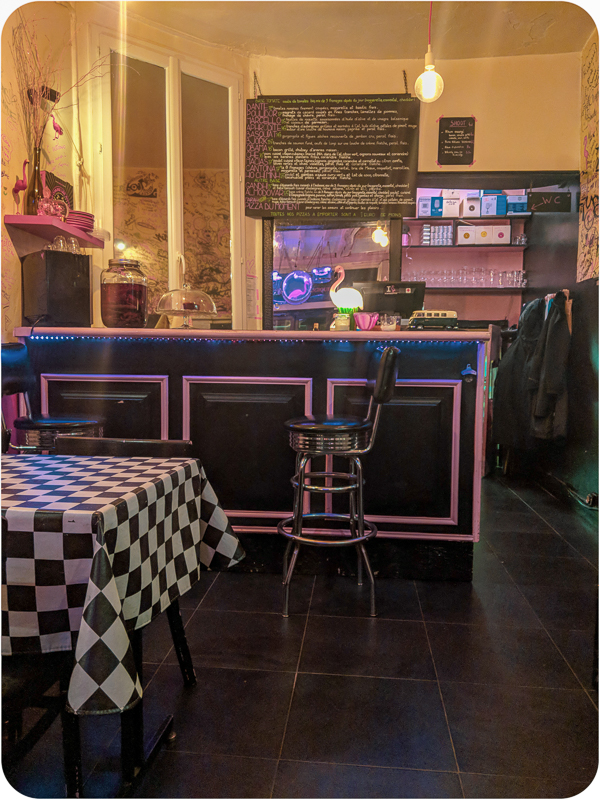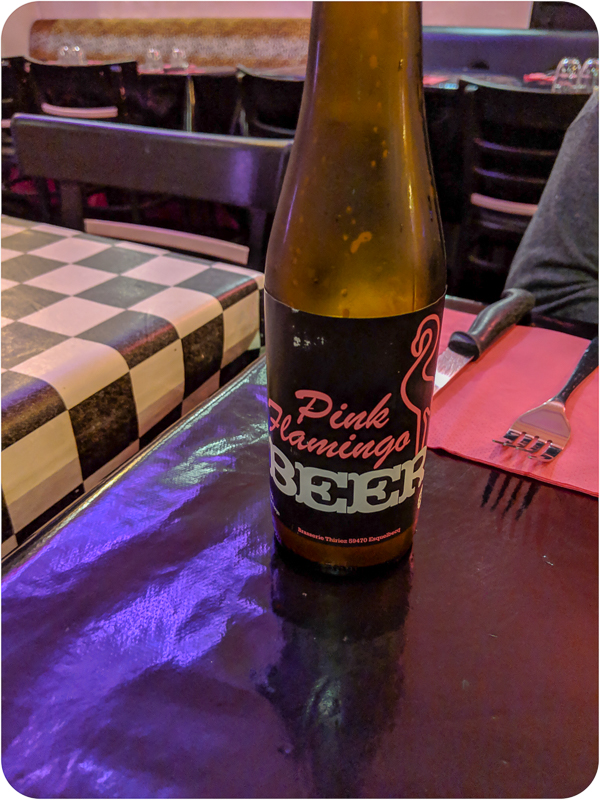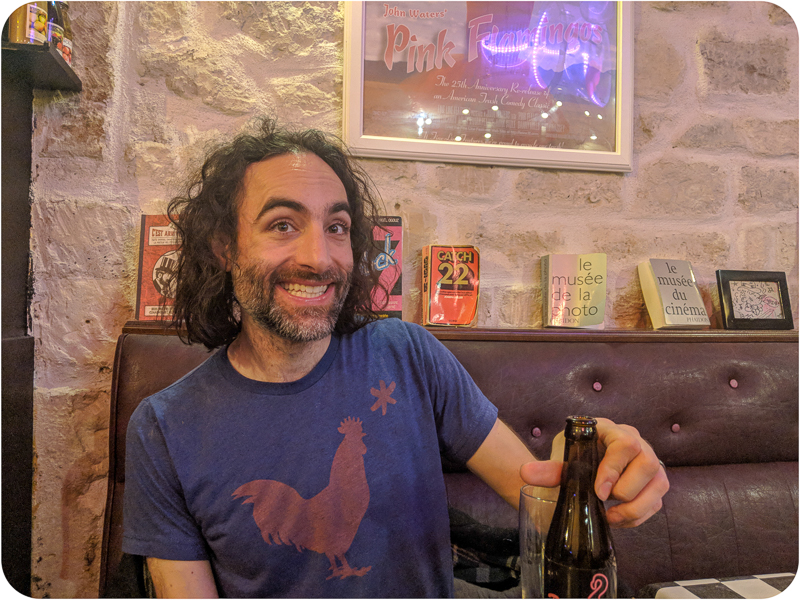 It was one of those days where if I was at home, I would just call it a mediocre day and have it over with but since I was IN PARIS it feels like I have to pretend that the mediocrity was somehow meaningful, that I need to display gratitude because another in my place may have enjoyed it.  But the only thing I was grateful for that day was the knowledge that the next morning, we'd be moving on to somewhere else.