On Thursday, I didn't go to House on the Rock and the Forevertron, because Nicki had decided to accompany me to the House that Spite Built on Friday instead. She left me her car to tool around, and I decided to drive down to Kenosha and drop in on my grandparents. My first stop was the legendary MARS CHEESE CASTLE.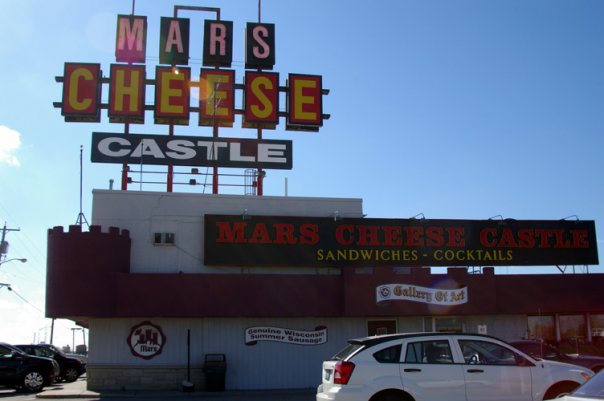 Although the castle is somewhat lacking in battlements and, in fact, is neither made of cheese nor is on the planet mars, it contains many meaty, cheesy delights inside, along with a bunch of ridiculous tourist crap, like Brett Favre action figures. In this House o' Cheese near Bong Recreation Area (hee hee!), I purchased some chudge (a questionable portmanteau of "chocolate cheese fudge", creamy and delicious), a piece of cheddar shaped like Wisconsin, a cheese kringle for breakfasting, and some butterscotch root beer. During this time, I was hit on by a skeezy man with about three teeth who looked me up and down and said that everything in the store looked 'deee-licious'. You can't see it, but I'm shuddering.
After my cheese purchase, I saw a sign indicating that the Jelly Belly factory in Pleasant Prairie gives tours, and I was all over that like a fat kid on a…jelly belly. Things I learned:
Jelly Belly's national prominence is due to Ronald Reagan, who was quite a fan of the beans while legislating.
The blueberry bean was invented for Reagan's presidential inauguration, so that the company could give out red, white, and blue packs.
Reagan's favorite flavor was licorice. *liquid jelly bean mixture is called 'slurry', made from 100% recycled animals.
The jelly-bean making process takes a couple of weeks and a hell of a lot of equipment.
The location I was in stores 2.5 billion jelly beans, and they ship out over a million jelly beans a day.
They take suggestions for flavors, and even as much as I like pickles, I am a little appalled that someone suggested pickle-flavored jelly beans. WHYYYY?
The company makes other candies, like taffy–you know taffy that comes with tiny pictures inside? That started as a 100 pound roll of taffy and they make something like 10,000 pieces from that one roll.
After I left Jelly Belly, I swung by China House in Pershing Plaza, where I used to have lunch once a week when I worked at Music Center on Green Bay Road–so many of us were regulars there that we could call in an order and they'd deliver to us, even though they don't DO delivery. 10 years later and I recognized most of the people working there, which blows my mind a little because I'm such a job-hopper.