My hometown has one of the best Renaissance faires in the country, and I was so excited when Dee suggested going there for one of the days Dianne and I were going to be in town. YES. YES. It's so great. I remembered it being really good but it had been fifteen years since my last visit and many of the details had faded, no doubt dulled in my mind and muddled by my feelings that nothing that great had ever come from my hometown*, myself included. I had even blogged about my 2004 visit but that post got 'lost' in a digital purge because pretty much nothing about how I portrayed myself from that era of my life was a good look for me or anyone around me. Regardless, the Bristol Renaissance Faire is not merely really good, it's great.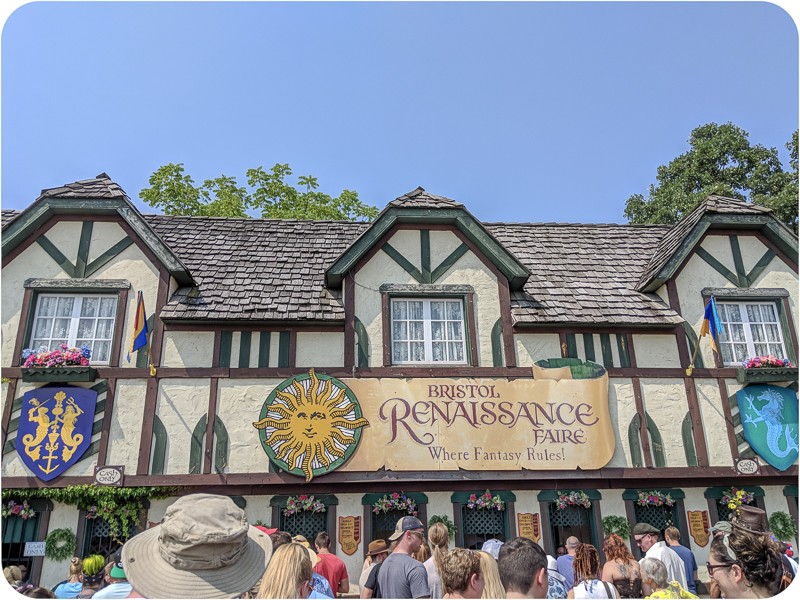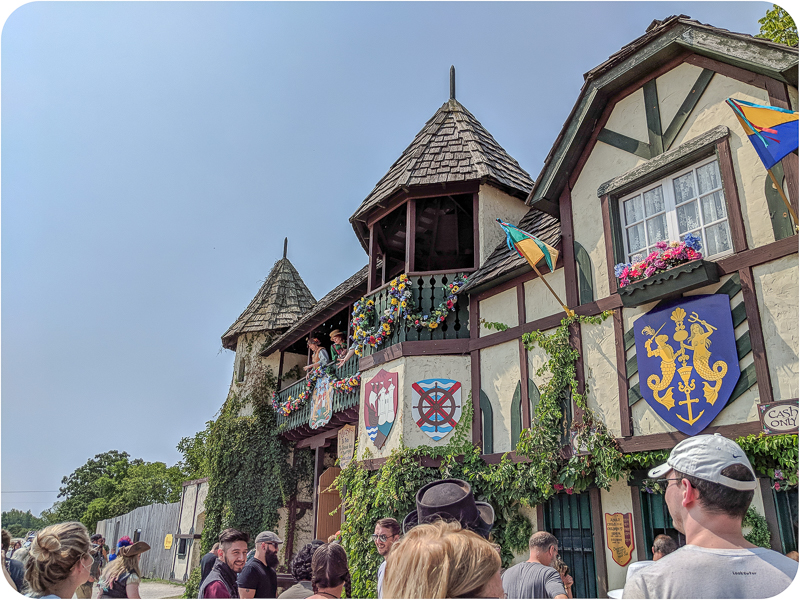 But I'm getting ahead of myself. After we parked in one of the fields that serves as their lot, I strapped on my (mandatory) jingly bellydancer's coin sash to jangle my way around medieval-adjacent times. Not only does wearing one make me feel like I'm throwing a parade for my ass,  it also makes me a lot easier to find in a crowd, as without it I can just disappear, like any short person. It's one of our powers. Stringing myself with noisy metallic coins that crashed about at the slightest movement was really the only responsible thing to do, so as to aid the people who didn't know me well to be able to track me and simultaneously deny they know me if I start to sound too much like Santa Claus at a bell convention.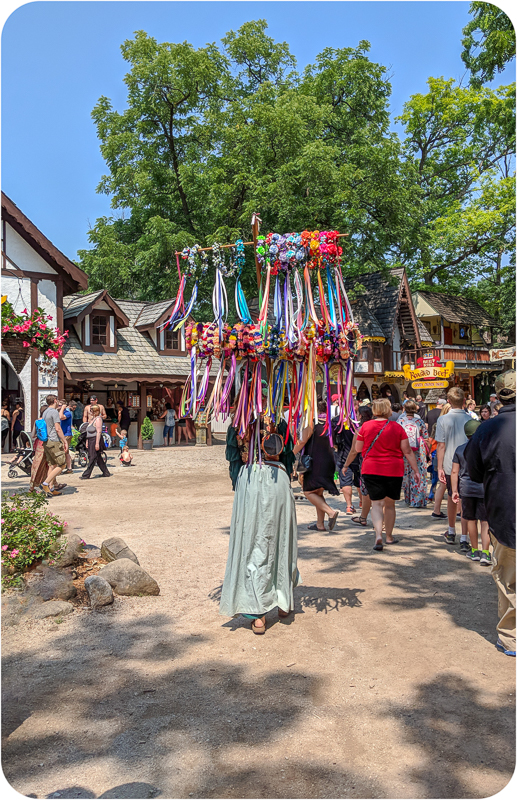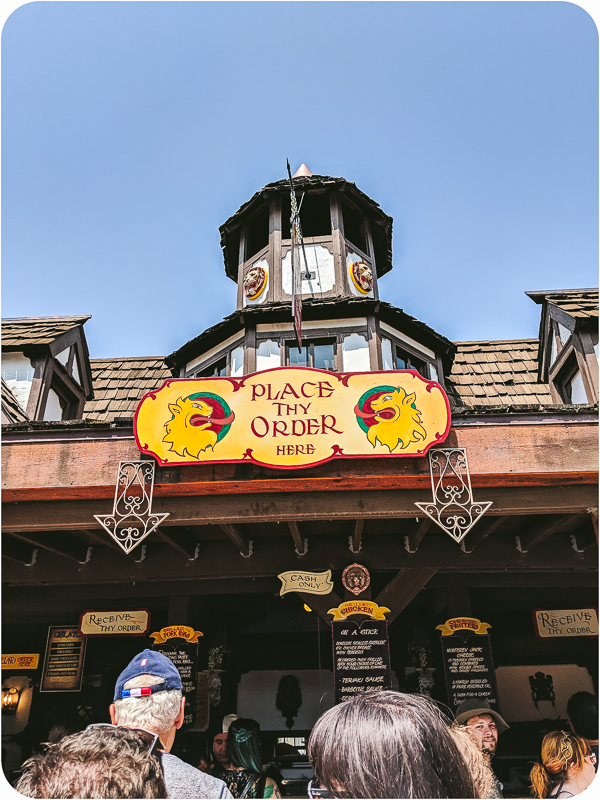 As the renaissance faire exists so that we might feast like kings, shop like lords, and befoul ourselves like…most everyone, we immediately set to feasting upon entry. Dianne and I got some some surprisingly good iced coffee ("surprisingly good", my Seattle is showing) and Dee beelined directly to these amazing deep fried cheese fritters which she shared and I gladly partook. They were crispy, dark brown, stuffed with gooey monterey jack, and came with honey mustard and barbeque sauce for dipping on the side. You go to Wisconsin, you eat fried cheese. It's what you do. Fried cheese is the Eiffel Tower of America's Dairyland. 
There wasn't any cheese eating on at least one of my previous Bristol faire visits with my family.  I was about twelve or thirteen, and my mom had us all on the cabbage soup diet.  If your family never participated in group disordered eating, the cabbage soup diet is basically a week of starving yourself with as much bland, horrible cabbage soup as you care to eat with extremely rigid rules about supplementary eating. Day two is the hardest day, when your food for the day is cabbage soup, raw or cooked vegetables, plain, with an emphasis on leafy greens, and, in the evening, one medium baked potato with a tablespoon of butter or oil. That sad potato was the high point of the day, the rest of it being spent alternatively peeing gallons from all of the extremely low calorie soup you're eating, trying to generate enough saliva to swallow dry leafy greens, and wishing you could eat something that would actually stop the gnaw in your stomach so you could forget you were on a diet for even five minutes. And of course it's all for nothing because you're mostly just shifting water around and the weight you lost comes right back on when you start eating normally again.
This is the diet the whole family is in the trenches of in the middle of this renaissance faire. Everyone was hungry and crabby, and our misery was compounded by all of the awesome smells wafting on the wind, reminding us of all the things we couldn't have. It was day four: banana day, the day that with your soup, you can eat unlimited bananas and drink unlimited skim milk, both of which were verboten every other day. That morning post-soup banana was almost heady, intoxicating, after days of it literally being forbidden fruit, but it couldn't hold a candle to funnel cake. I don't remember precisely how it went down, but I remember my younger brother and I inhaling funnel cake while my parents made disappointed noises about not finishing the things we start and willpower, like the cabbage soup diet was something we wanted to do instead of something in which we had no choice but to participate, like somehow any one of us was going to peel off enough weight over the course of this week to make a difference, to make this utter misery worthwhile, to ruin an otherwise grand day out. We went home shortly thereafter, missing the final joust that I'd very much wanted to see. My parents were too hungry to stay any longer.
Also absent from that trip with my parents was any activity that cost an additional fee above and beyond the cost of admission, because it was understood in my household that those things were for suckers and no self-respecting person would spend money on them. As a person who lacks self respect and understands that additional fees tend to be opportunities to try something novel, I jingled straight up to the first knife throwing booth I saw, even if it was luring me down the path of financial ruin, five dollars at a time. Those of us participating were given a basic rundown on how to fling a knife with deadly force and accuracy and then we were set loose. We didn't get to choose our targets; mine was an innocent merperson. I fired a good seven warning shots and never delivered a killing blow but I did manage to stick a knife to the target which was significantly better than I did axe throwing at the 2018 Washington Midsummer Renaissance Faire when I accidentally hurled an axe into a field.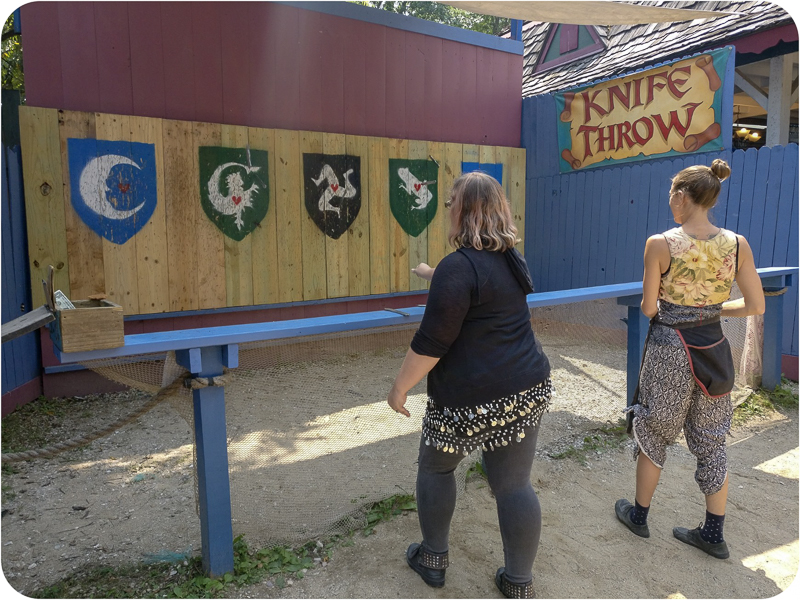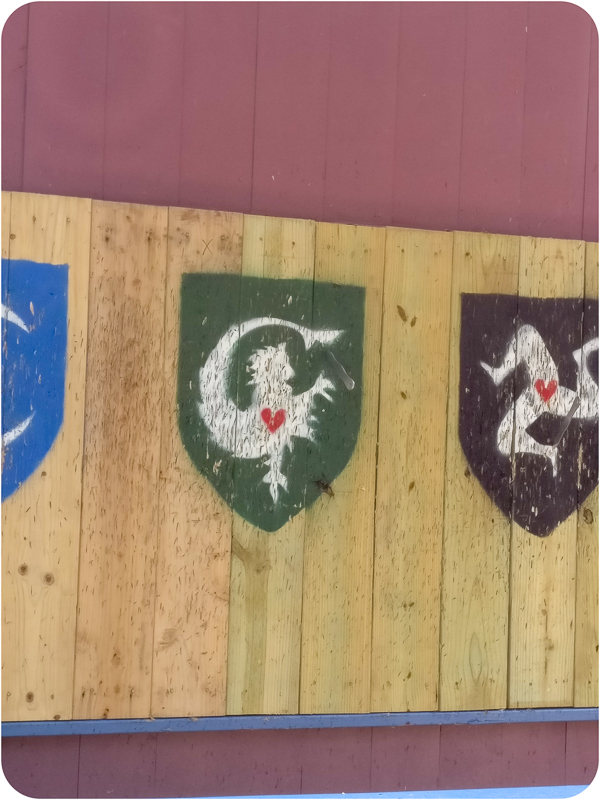 I've spent more than a little time thinking about the three-legged roving crotch target in the middle, what it could represent, and ultimately decided that when rotated and viewed from another angle, it probably looked like this** (not NSFW but at first glance it could register as somewhat obscene, but what did you expect from a crotch monster?) keeping with the mostly water creature vibe they had going on.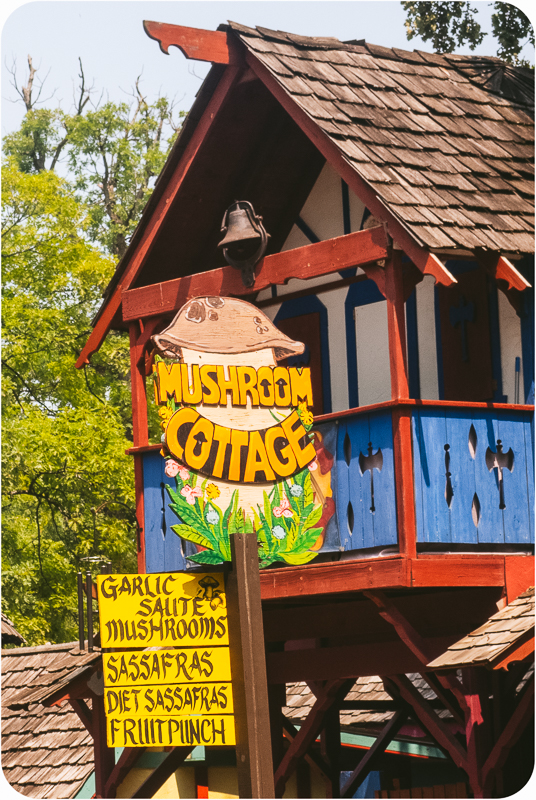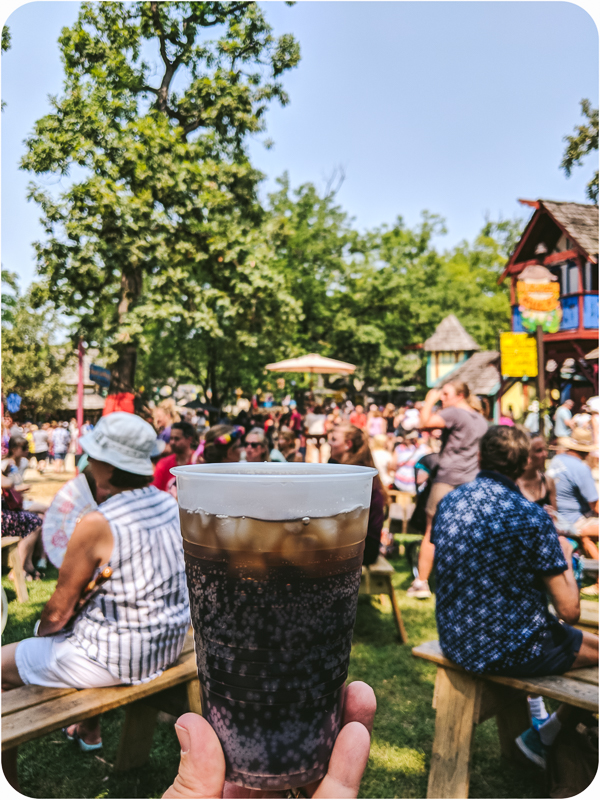 Sassafras, one of many beverages I genuinely enjoy for about three sips.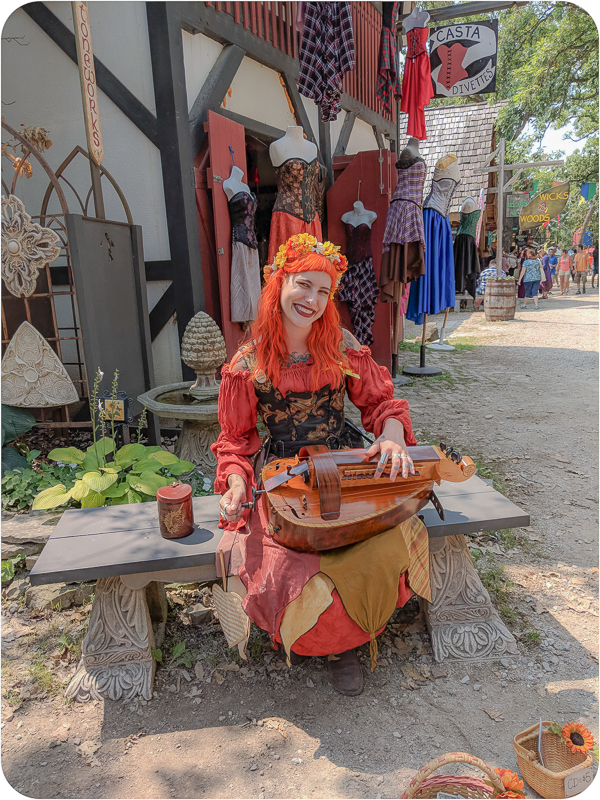 This instrument is a hurdy gurdy and I want one.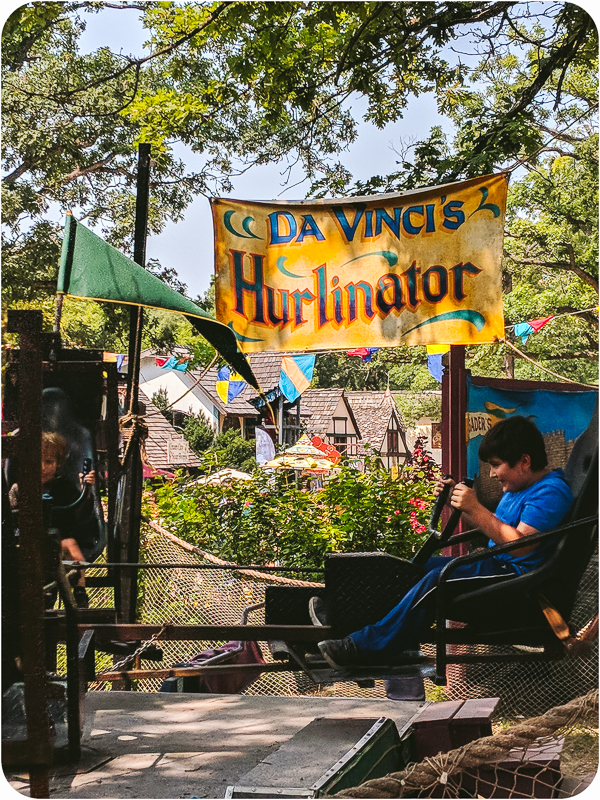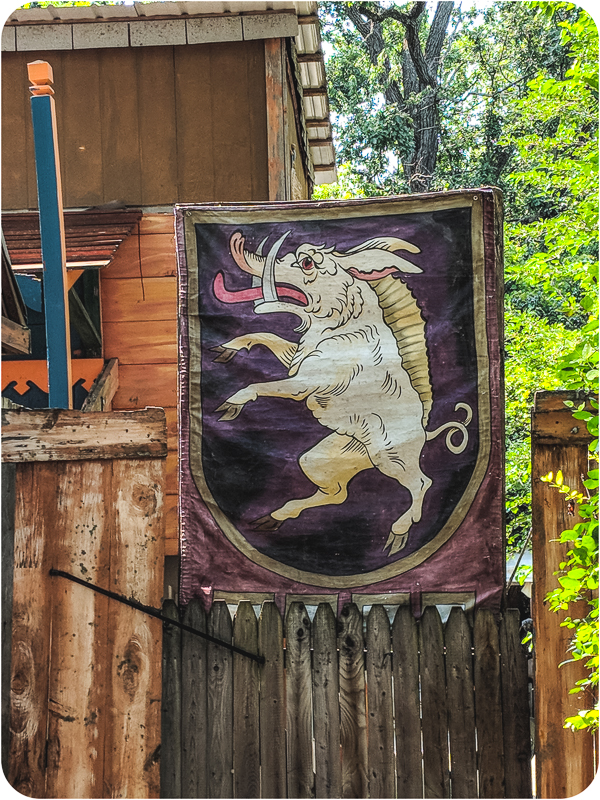 We made sure to get decent seats for the joust, which made us a captive audience for a variety of vendors. The first was the flag seller, a foppish red leather crown on his head, his deeply low cut medieval toppe baring his chest, which also glistened red in the sun. He beseeched us for five dollars for a flag to support the knight of our section, Sir Maxmillian, by telling us that the funds raised would go toward the feed and care of the horses, and that after the show, Six Maxx would autograph them. And another five dollars I crept toward financial ruin.
After him came the meat wench, a box of three flavors of beef jerky strapped to her waist as she walked through the crowd bellowing "MEAT." "MEAAAAAAAAAAAAAAT."
After her came the pretezel vendor, bearing a wooden pole, crossbraces strung with salted pretzels, and a satchel filled with individual portions of liquid cheese for dipping (Wisconsin), and after her, the flower crown vendor with a similar setup minus the cheese (I think), and in the distance "ᴹᴱᴱᴱᴱᴬᴬᵀ".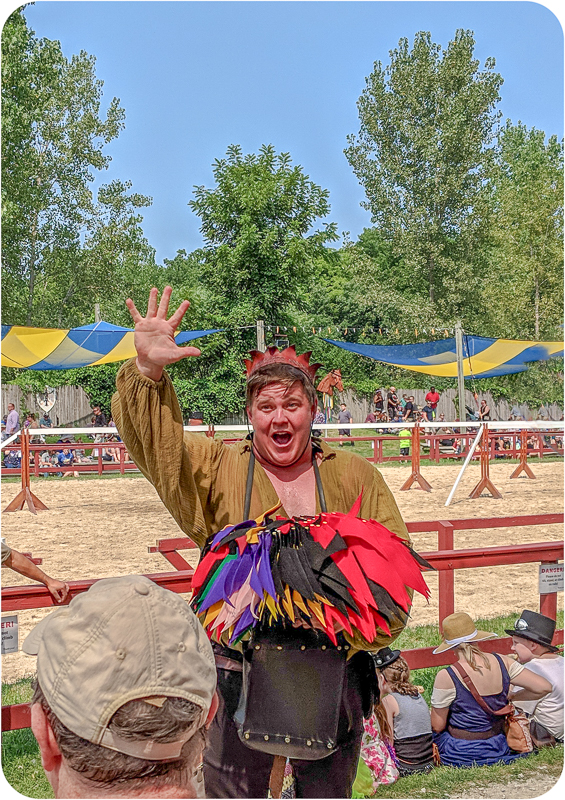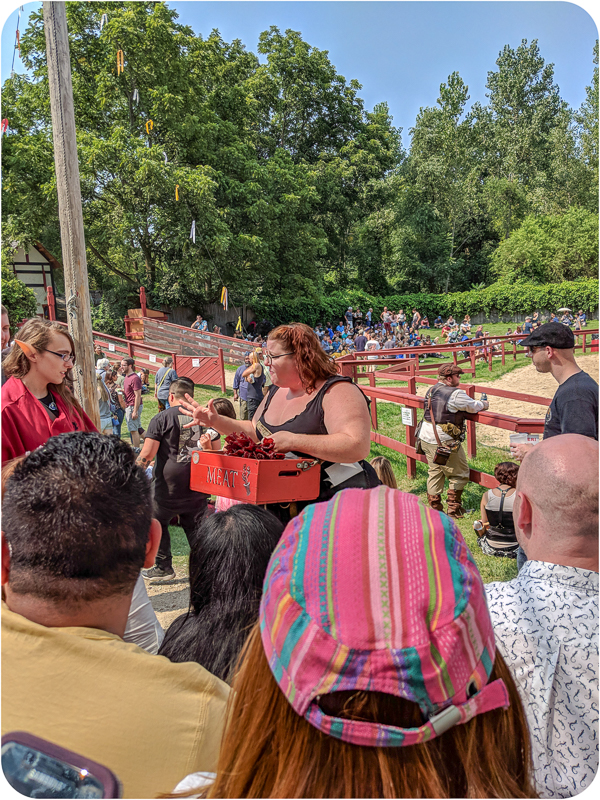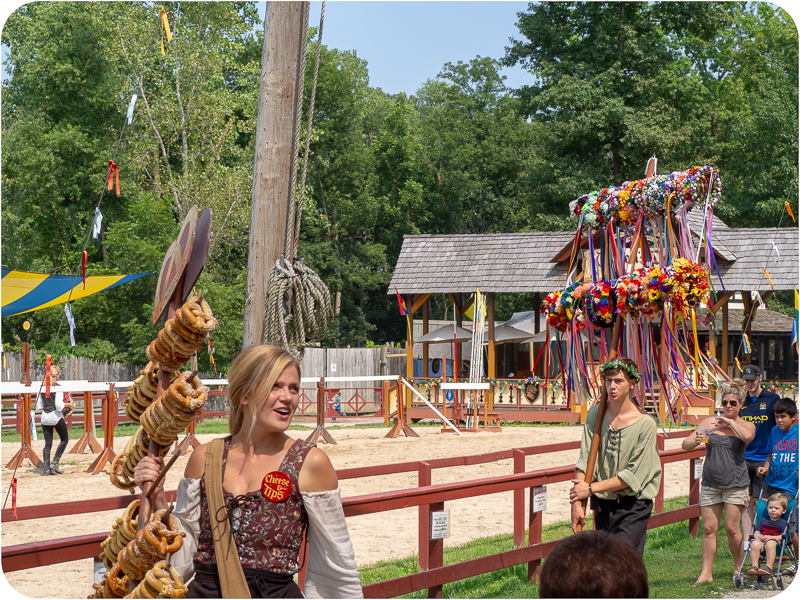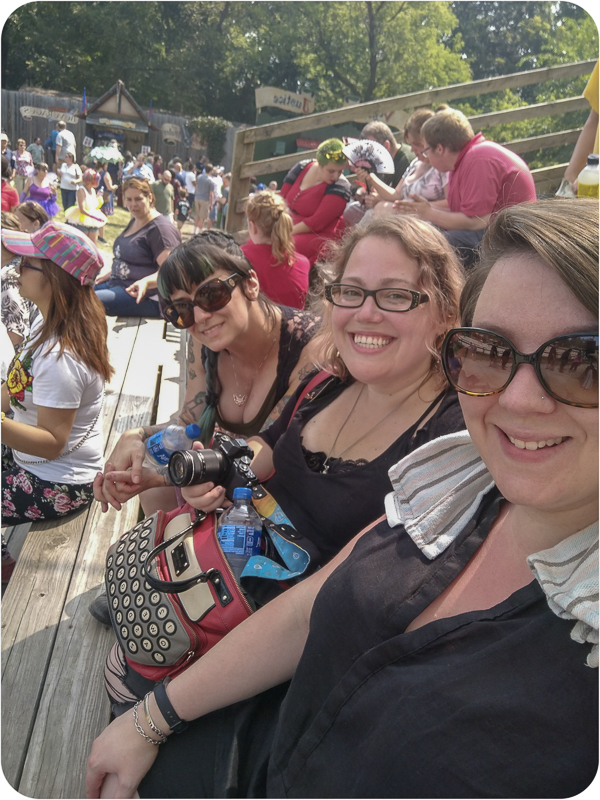 The joust was full of pageantry and fanfare and feats of athleticism and at least two very cool people seated directly behind me who made certain to audibly mock me every single time I led our section in cheering for our knight. And the real kicker is, why am I the one who feels shame when I was contributing positively for the enjoyment of all, including the turd golems behind me and all those guys contributed to was my desire to turn clear and just skulk about for the rest of my days cosplaying as a ghost? But I'm the one that's gonna go read a self help book about it while those walking chaw stains are just gonna continue to inflict themselves on people by existing. Regardless, our team's knight won and I didn't stop cheering him despite knowing I was going to get jeered and that seems like two kinds of victories.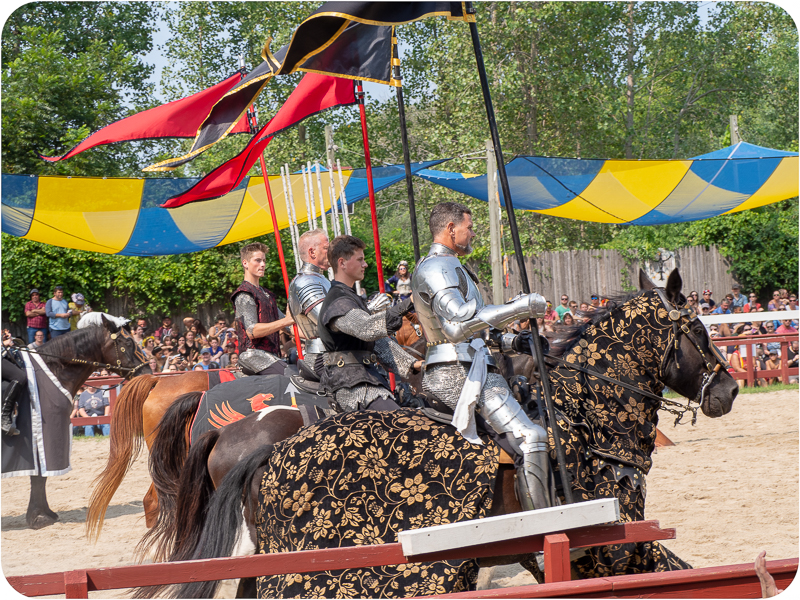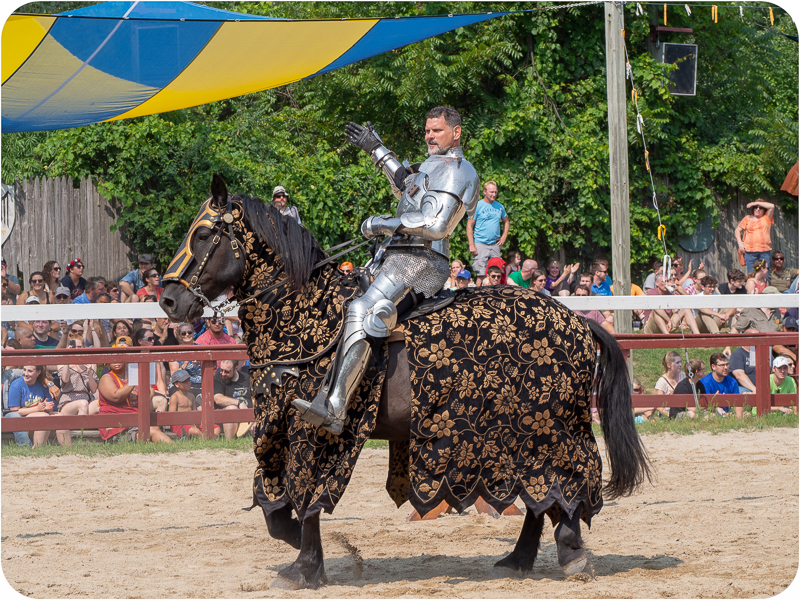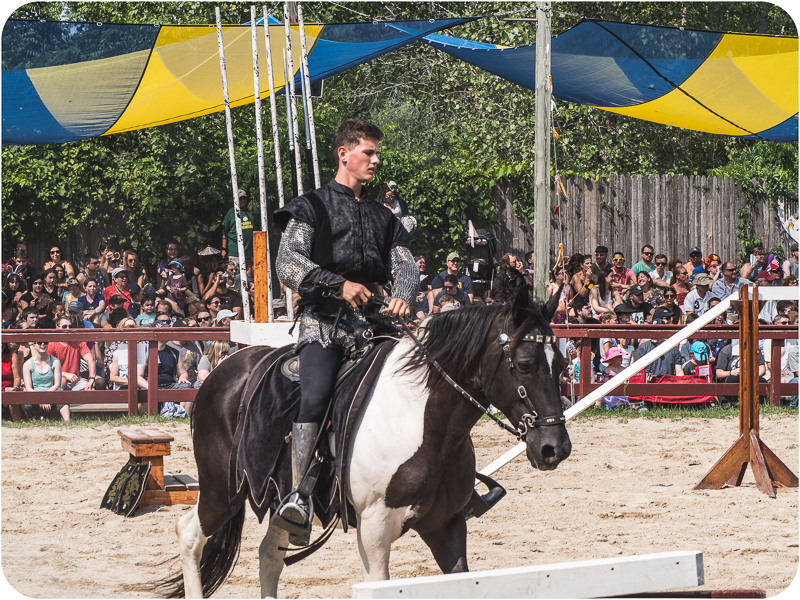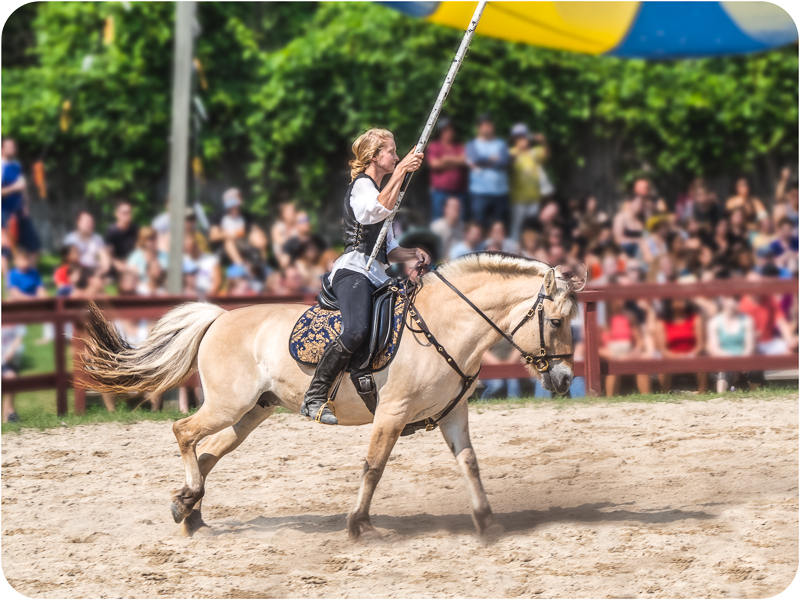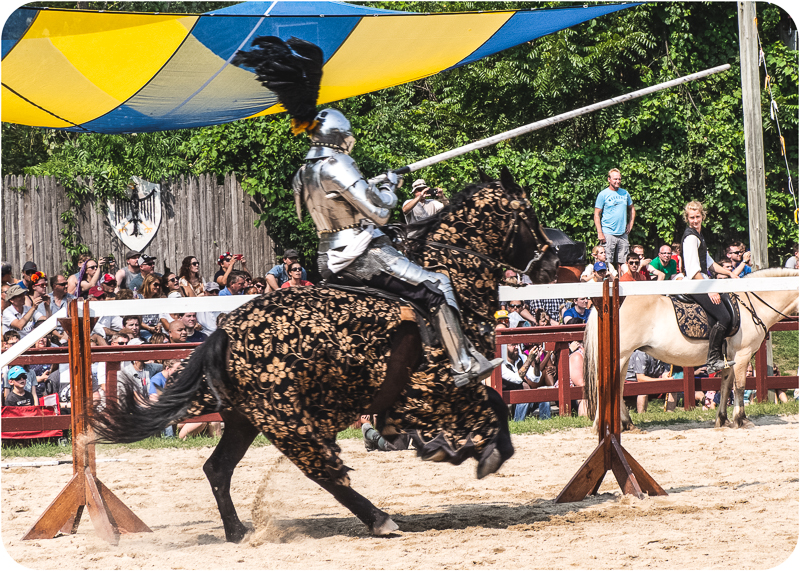 After the joust, we did wait in line to meet Sir Maxmillian. I told him that I wanted to get into his line of work (true!) and about the horse I was potentially looking at to buy. (Dragon at the time.) He gave me a business card and told me to drop him a line, which I have yet to do but have a feeling I'll get around to soon. The stick for the flag that he signed was too long to fit in my carry on, so I got to cheer him with my flag waving all through the airport.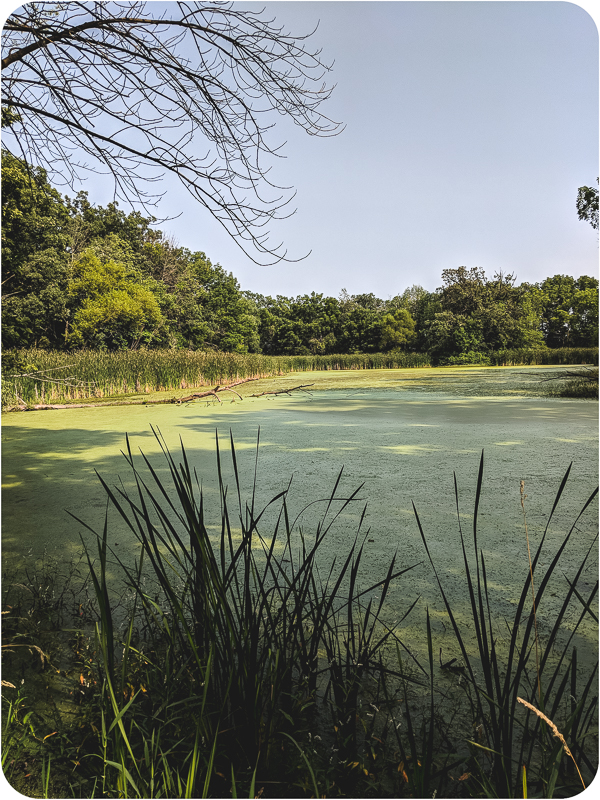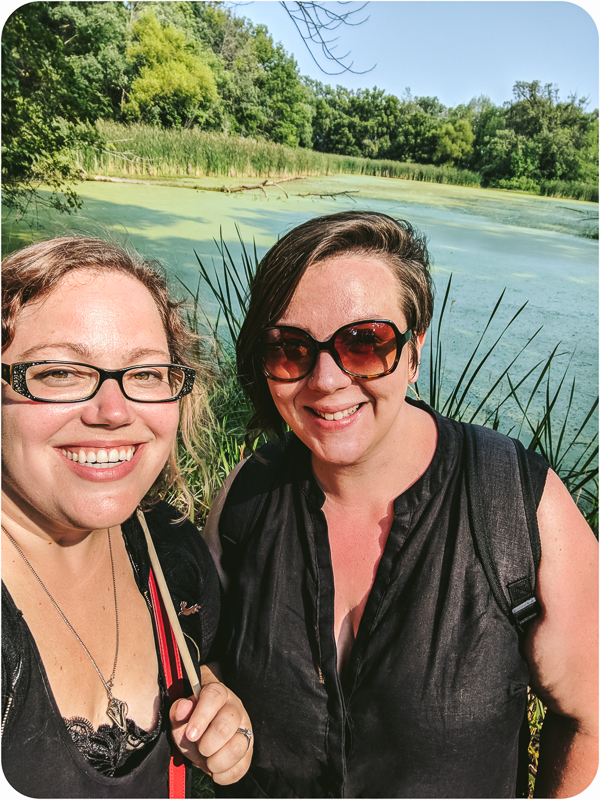 Goddamn we looked sultry in this swamp. I'm not dripping buckets of sweat, MY SKIN IS DEWY.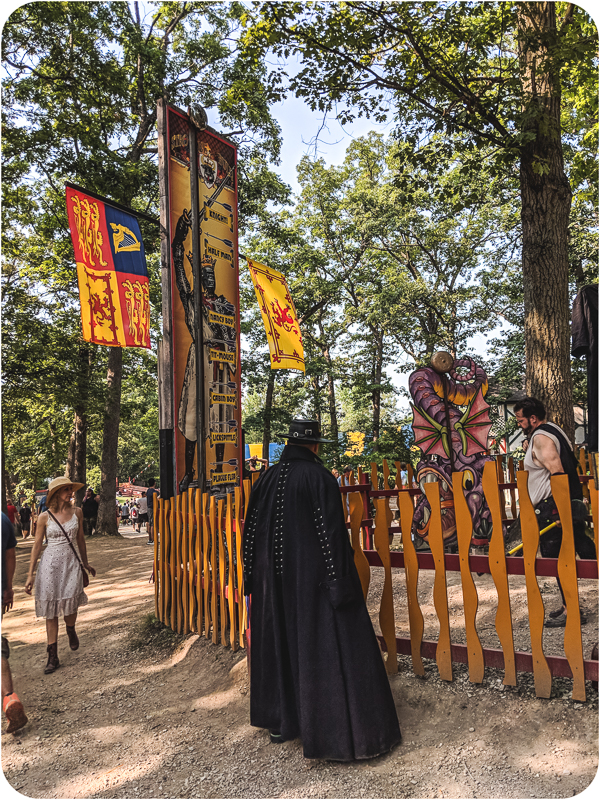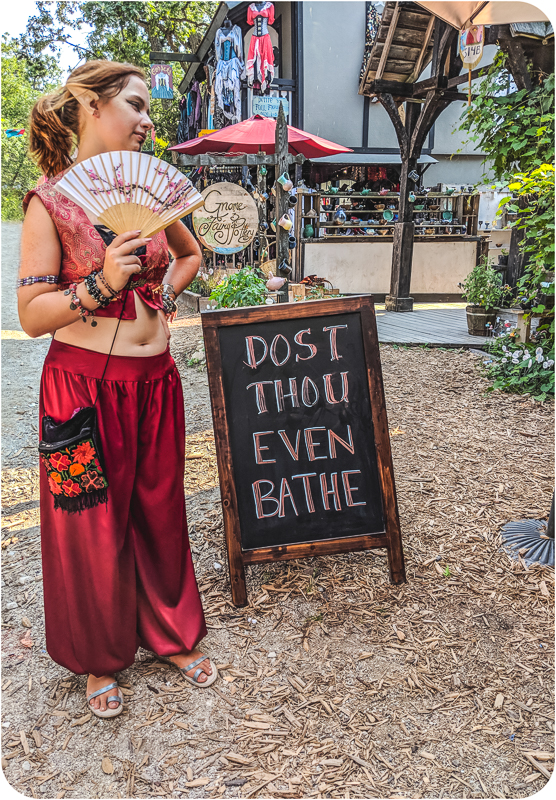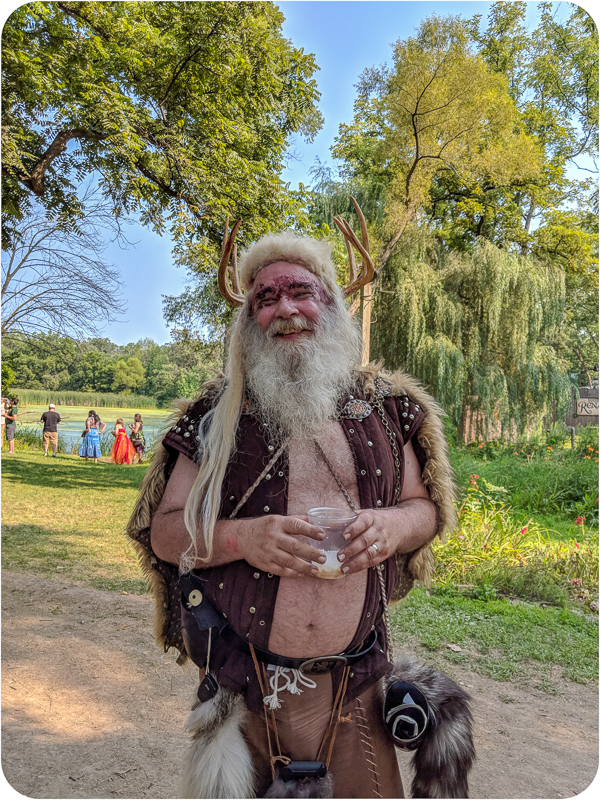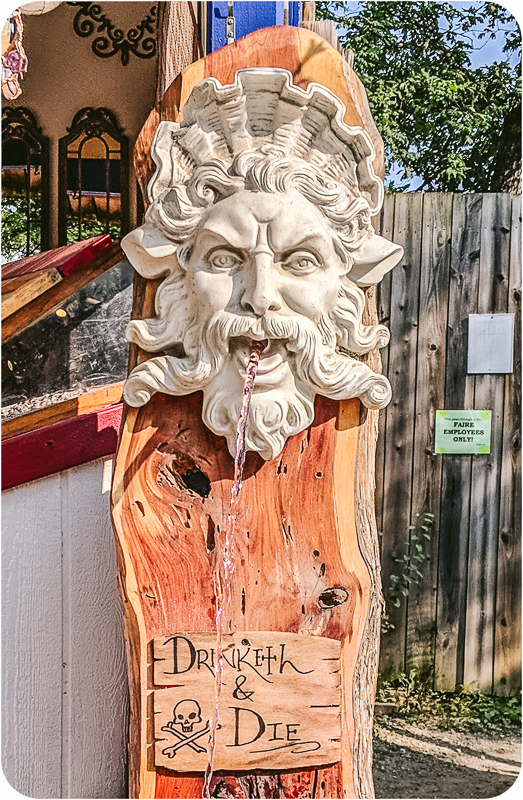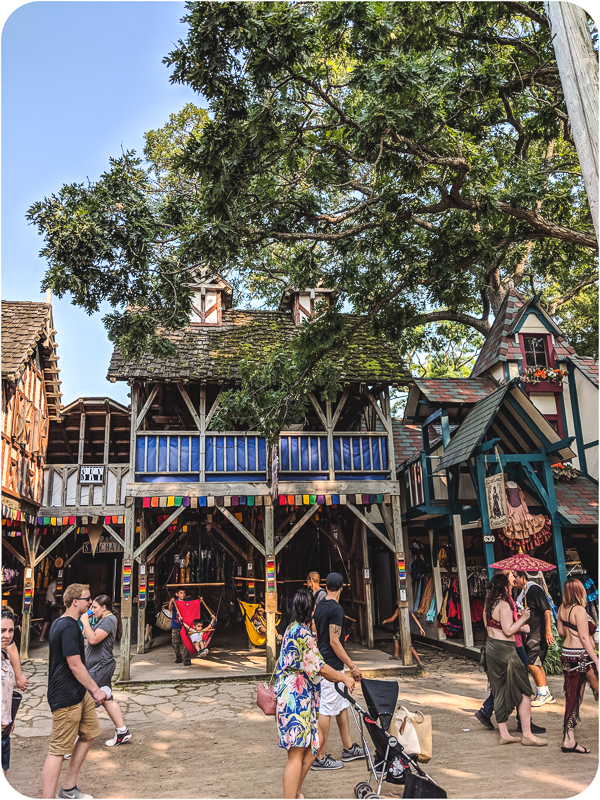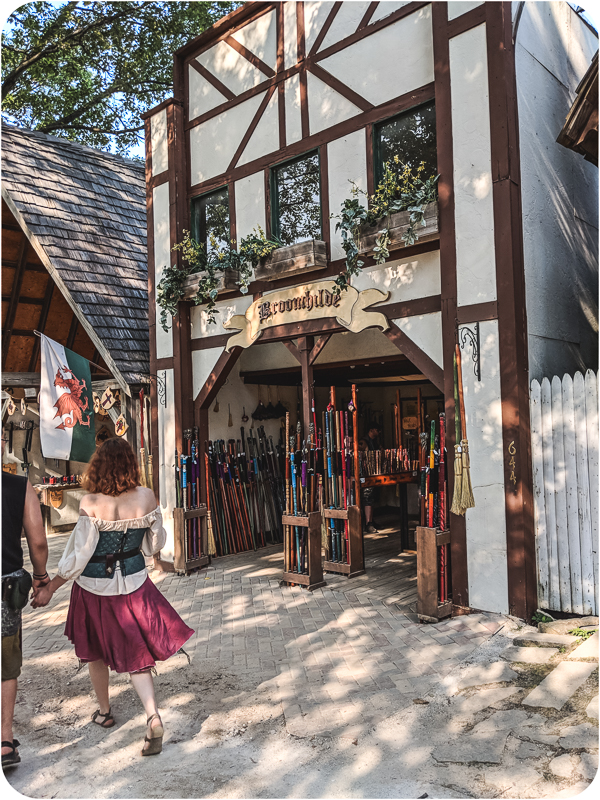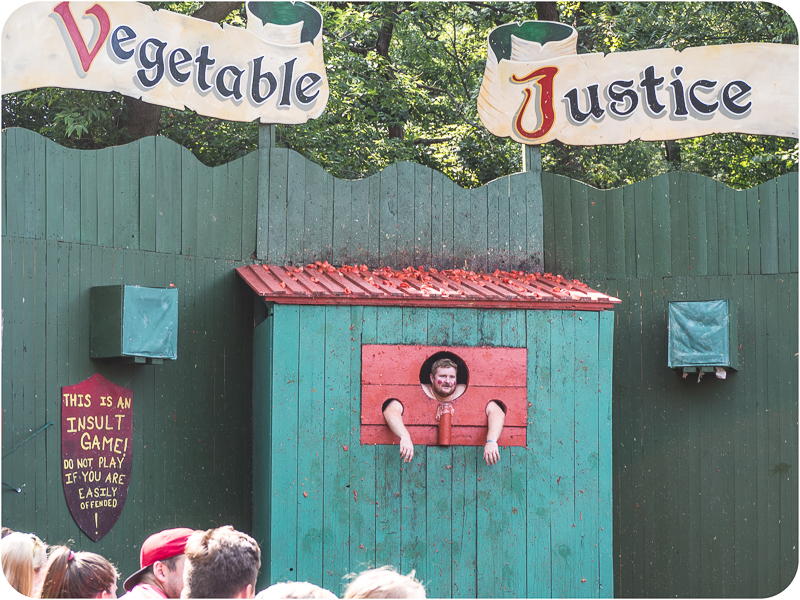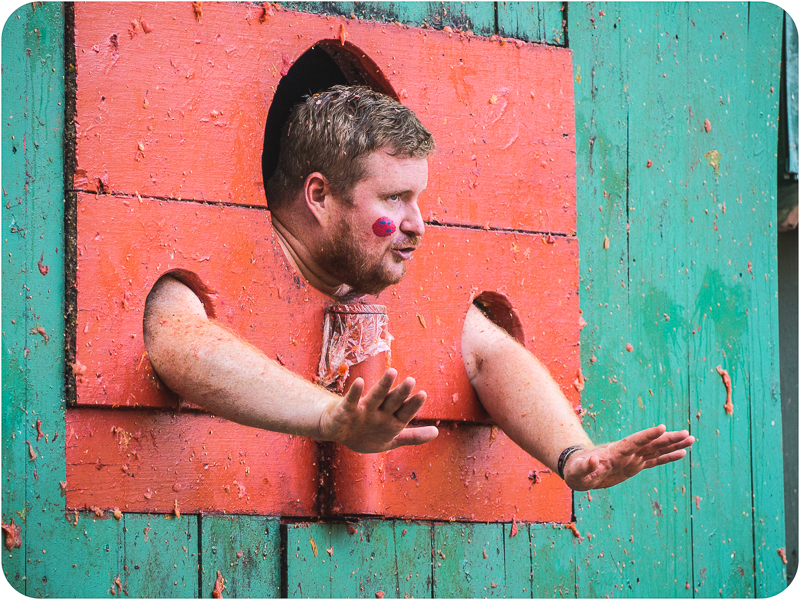 On our way out, we stopped to see part of a fire-whip-cracking show that looked quite promising–there was actually a lot on their entertainment schedule that I didn't get an opportunity to see. The only thing for it is to come back! And no one had better be on a diet. 
*And then I looked it up and it turns out all these very cool people came from my hometown, like Orson Welles, Mark Ruffalo, and both the inventors of the answering machine AND the QWERTY keyboard! And a whole bunch more but you could just look at the Wikipedia page yourself.
**You have no idea how much I regret attempting to draw in those insect mandibles. No idea.