Ever since the first AOL disc was inserted into my dad's work laptop, I have lived on the internet. Back then, the closest thing we had to social media was email message boards, where people of a common interest would sign up to be part of a group and then you'd get a digest email of messages from group members. It was like the comments section came to you, daily, and all those commenters had your email address, but you were excited about it instead of horrified. My special interest/obsession at that point in my life was The Smashing Pumpkins, and one of the things I did after I first fumbled onto the internet was join a Smashing Pumpkins email group. I was thrilled to have all of these strangers' opinions of albums and songs and band member rankings delivered to me daily, but the overall group size was a bit overwhelming, and eventually I broke off with a smaller group onto a different Smashing Pumpkins-but-not-exclusively list, and these people transformed from strangers into friends I'd never met. We haven't all kept in touch over the past twenty years, but some of us have. So when the Smashing Pumpkins announced a reunion tour and one of these friends floated a suggestion that we meet in Chicago to see their hometown show and make a weekend of it, I immediately agreed, because I feel like if someone is planning to abduct and murder a person, gaining their trust at 16 is a good move but twenty years is too long a time to lie in wait, so I could probably risk it. 
Our party was three: Me, Dianne, and Dee, a fellow Pumpkins fan and someone Dianne had met through their mutual interest in Sphynx cats. Dee lived in the city and wouldn't be able to join us on the first day because of work, so we decided to hit up some tourist spots and see where the day took us. First, we walked to the riverwalk to buy tickets for a riverboat architecture tour–the next available time was in a couple of hours, which was more time than we wanted to spend just dinking around the waterfront but not really enough to do much of anything else.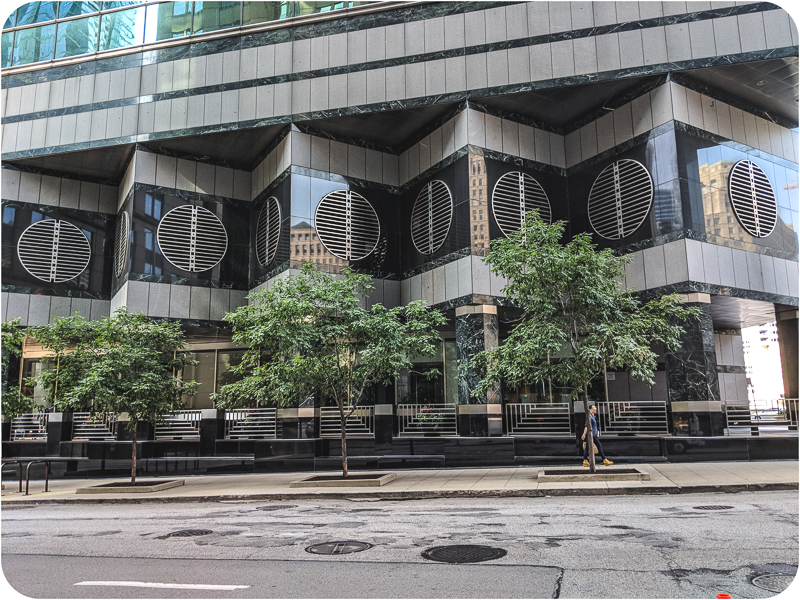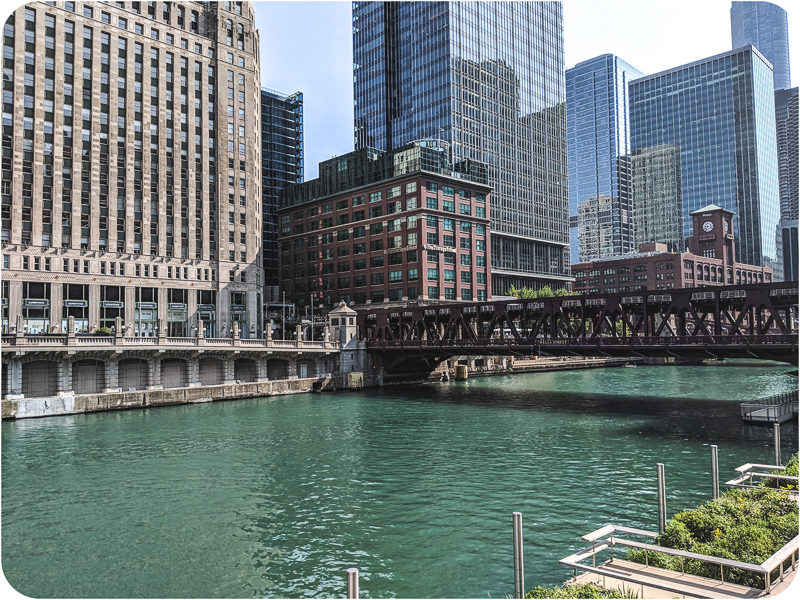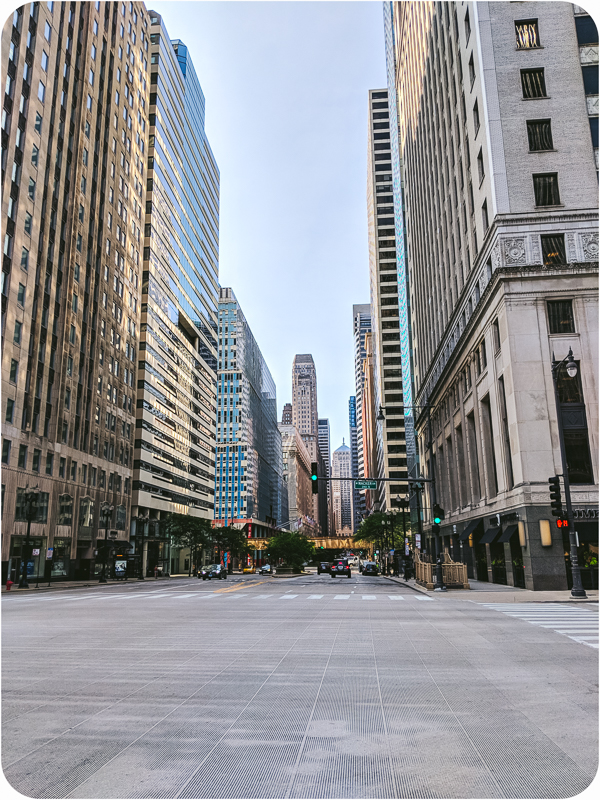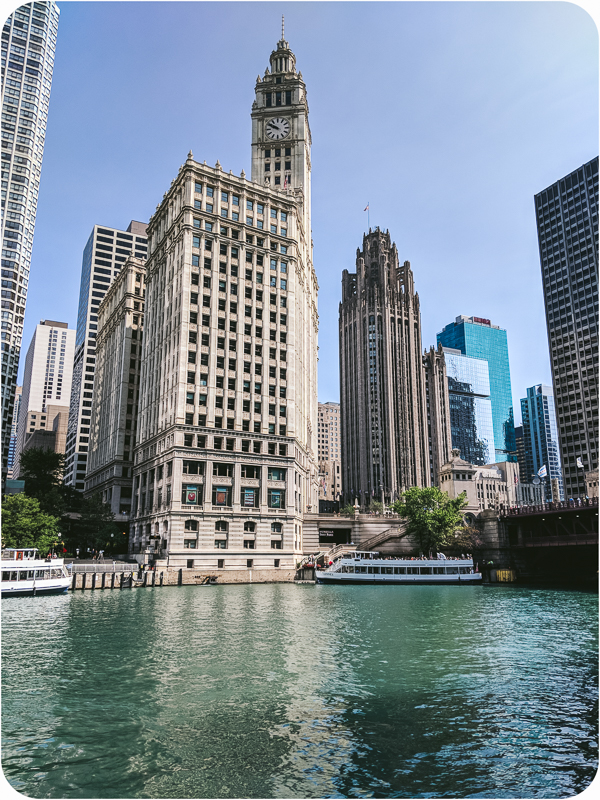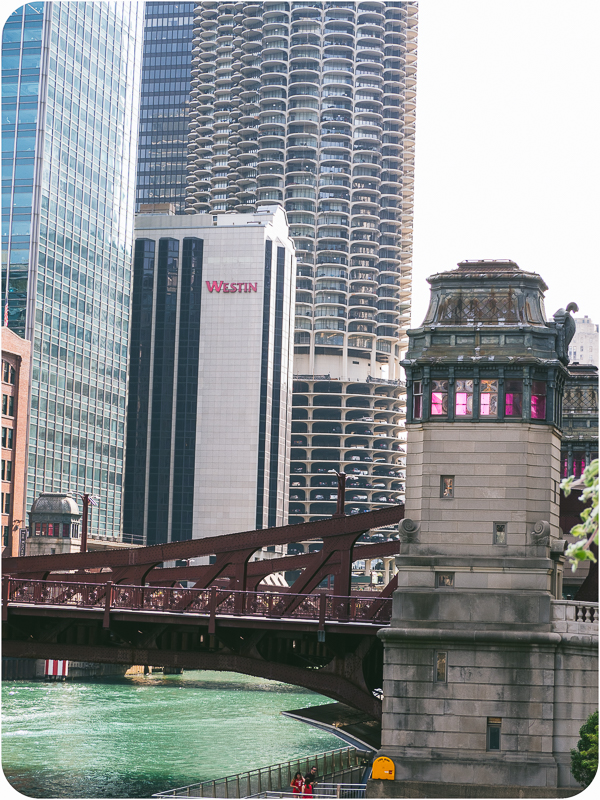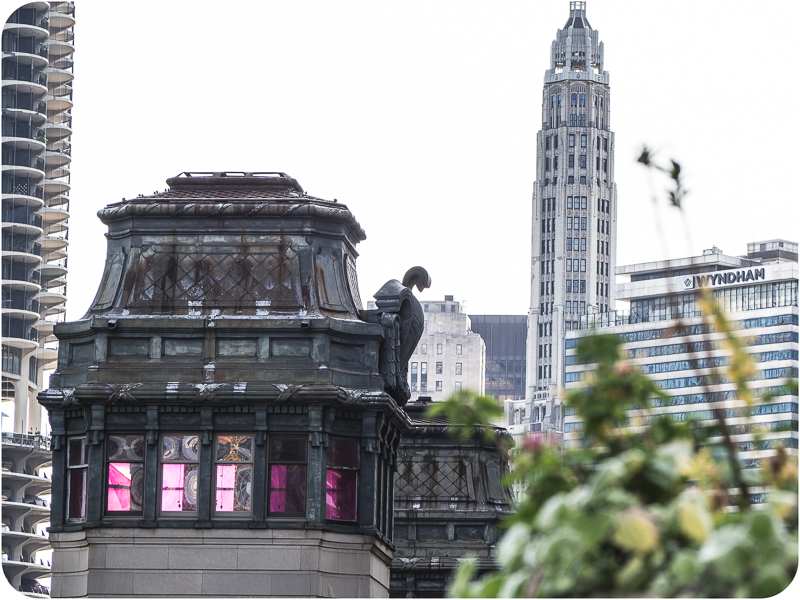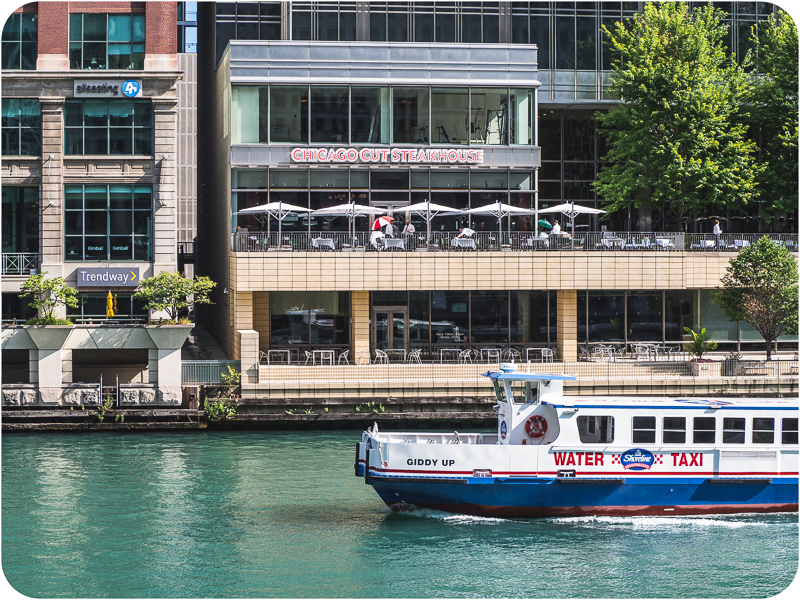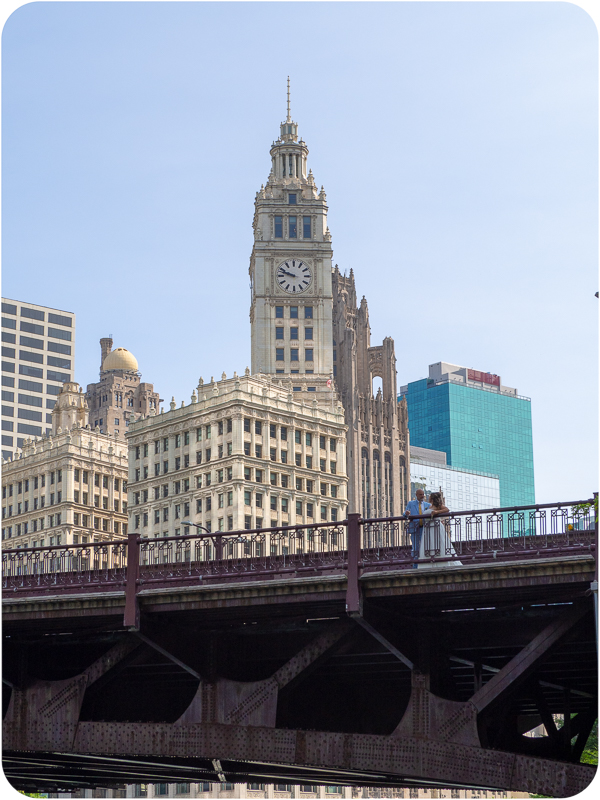 So we walked south to Millenium Park and spent a little time there. Its most well-known feature is Cloud Gate, otherwise referred to as "the bean". Cloud Gate was designed by artist Sir Anish Kapoor and officially unveiled to the public in its final polished state in 2006. When I looked up that date to confirm it, a little bell went off as I know I had seen it before then, in 2004–it turns out, I had seen it during the brief window it was unveiled to the public before its seams were polished off.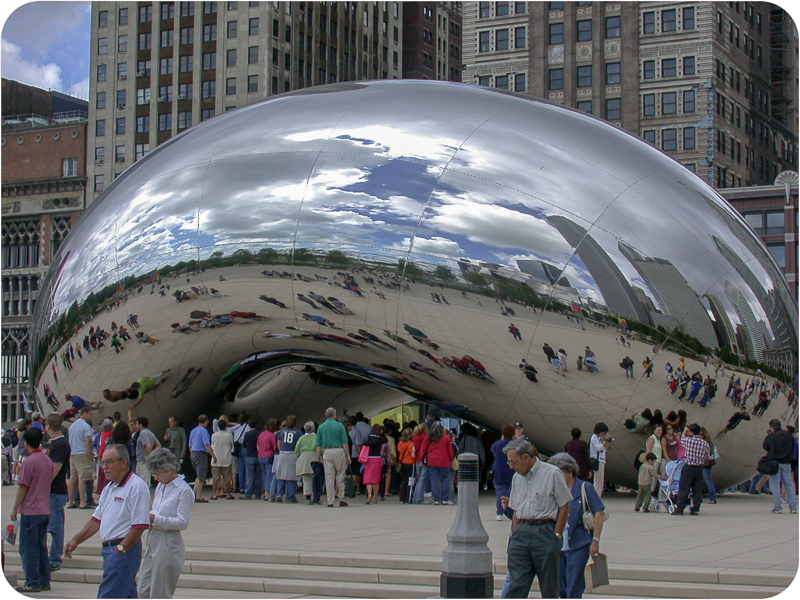 2004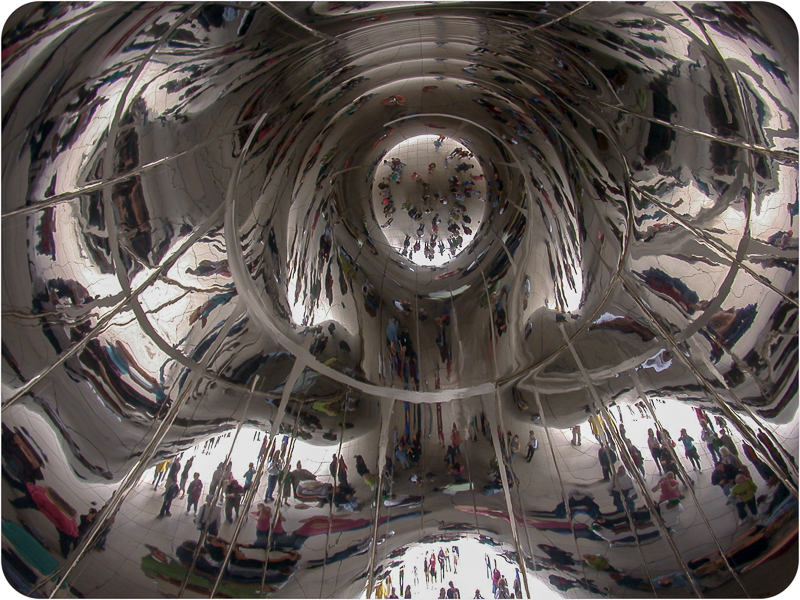 It took me a minute to find me but then I couldn't stop seeing myself everywhere.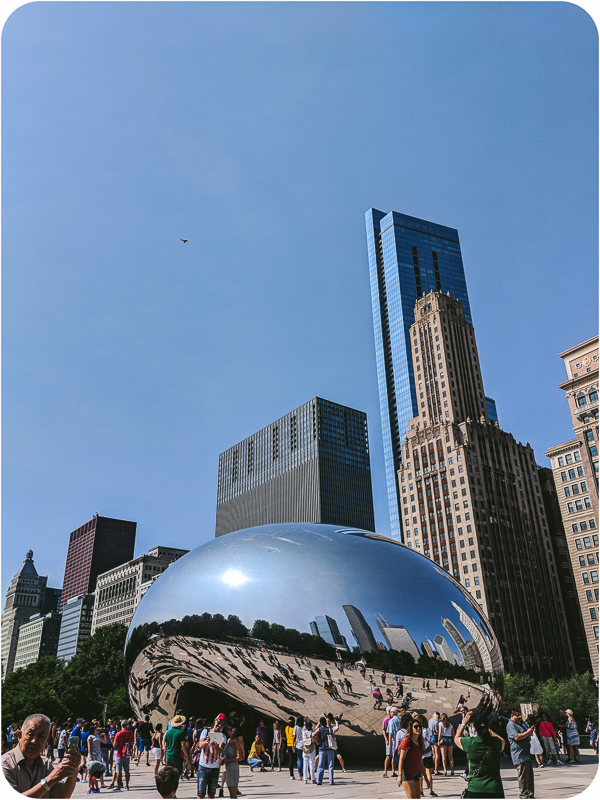 August 2018
People were zumbaing across the great lawn as we walked to the Lurie garden. I grew up in a town about an hour drive north of Chicago and had an almost visceral reaction to the garden, as no smell is as immediately familiar as the smell of the sun warming the plants and dirts of your childhood, the years when you spent the most time out in among those plants and that dirt, skinning your knees, picking cattails and growing up. My nose took me back decades in an instant.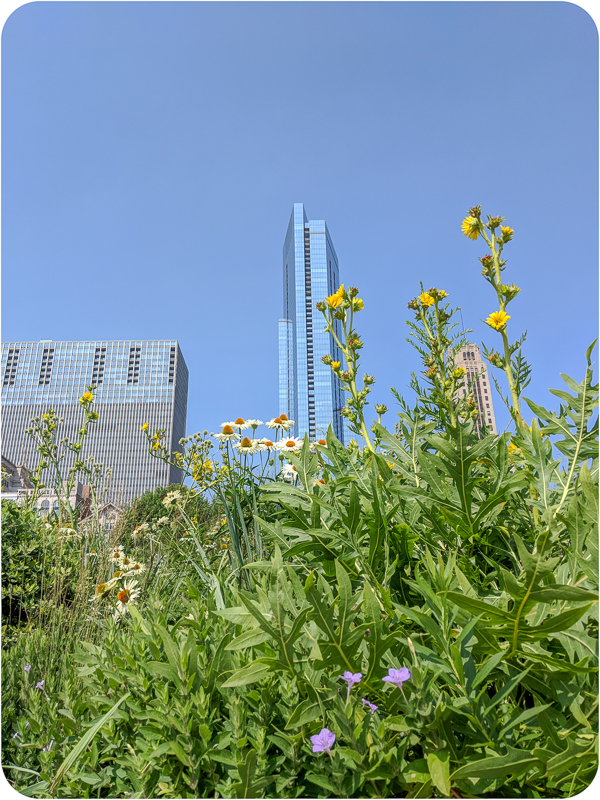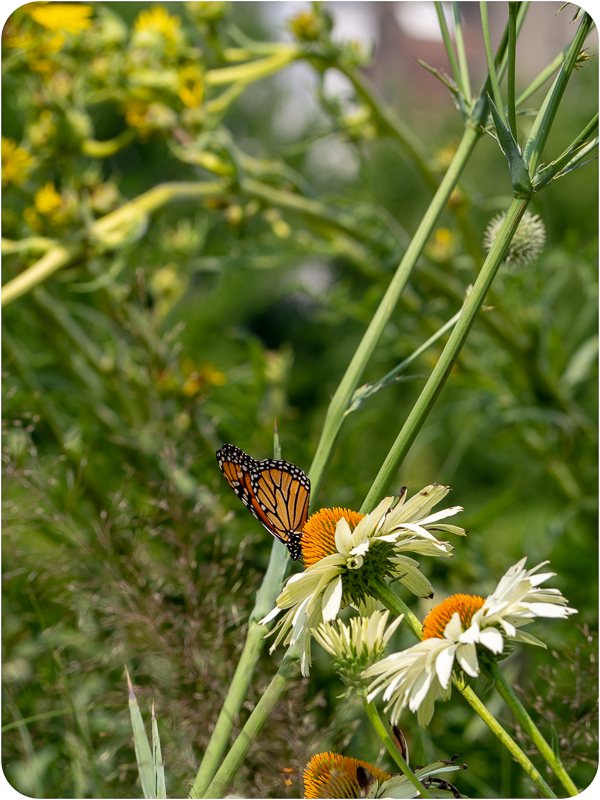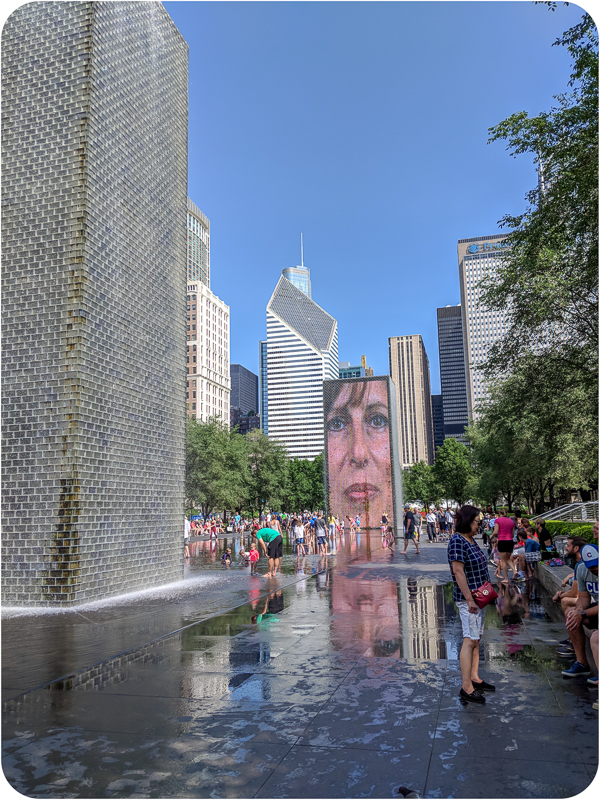 Before the architecture tour, we decided to grab a quick beverage and a snack somewhere, and settled on Le Pain Quotidien, where they defy the very laws of nature and existence itself with how long it takes them to whip some dragon fruit into a smoothie.  Parties came and went and I drank my entire turmeric latte and Dianne ate her meal and still my gloppy snack had yet to arrive. I tried to cancel the order but they took another ten minutes to pack it for me to go and carry it on my lap in the hot sun on a boat for an hour and a half and threw away afterward because for some reason a long slow warm-up in the sun doesn't do much for an amalgamation of coconut yogurt, key lime, avocado, and cashew butter.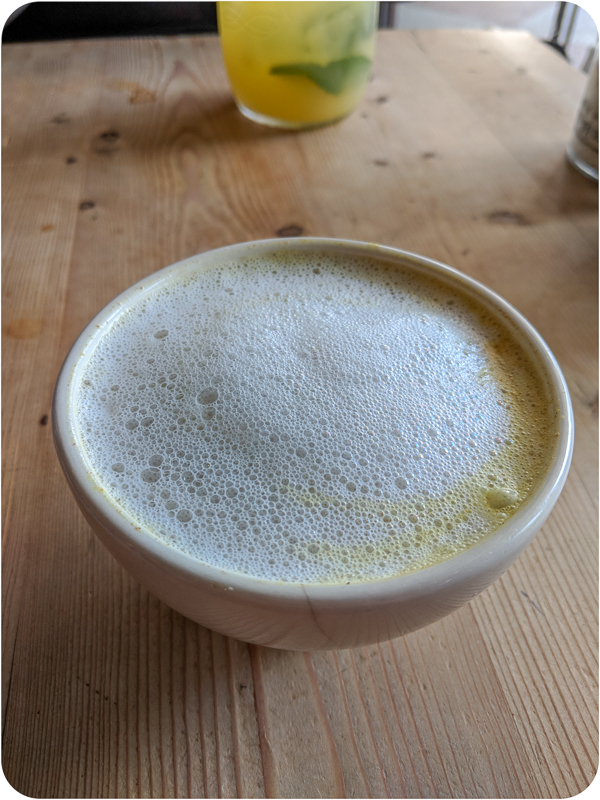 We made it back to the boat with mere minutes to spare before boarding…and still we were not the last in line.  When the queue got to our turn, we sat front and center on the boat, as most of the seats to the back and either side had been claimed already, which was fine by me as it meant no one's head was ever blocking my view. I bought myself a beer for the tour, which sweated into my hand and onto the bag that held the aforementioned Warm Yogurty Mistake, I got a mild stripey sunburn thanks in part to the fancy shoulder cutouts on my shirt but mostly to my perpetual failure to ever apply enough sunscreen everywhere, and friends, I could not tell you really anything that I learned on this tour which means that I would be happy to go back and do it again anytime and see if it sticks.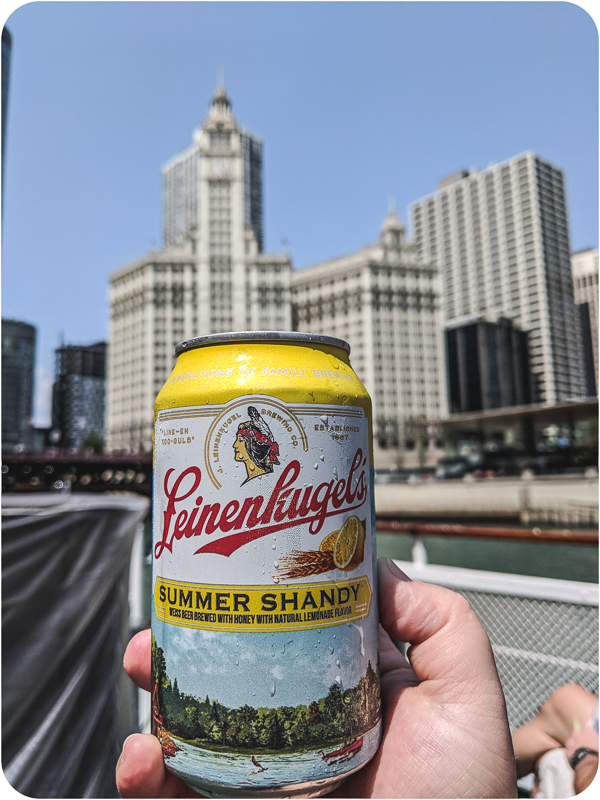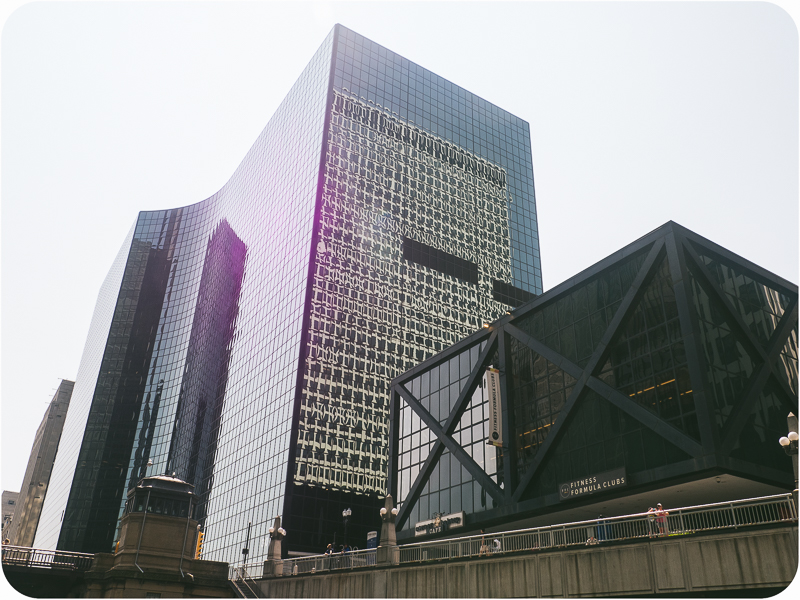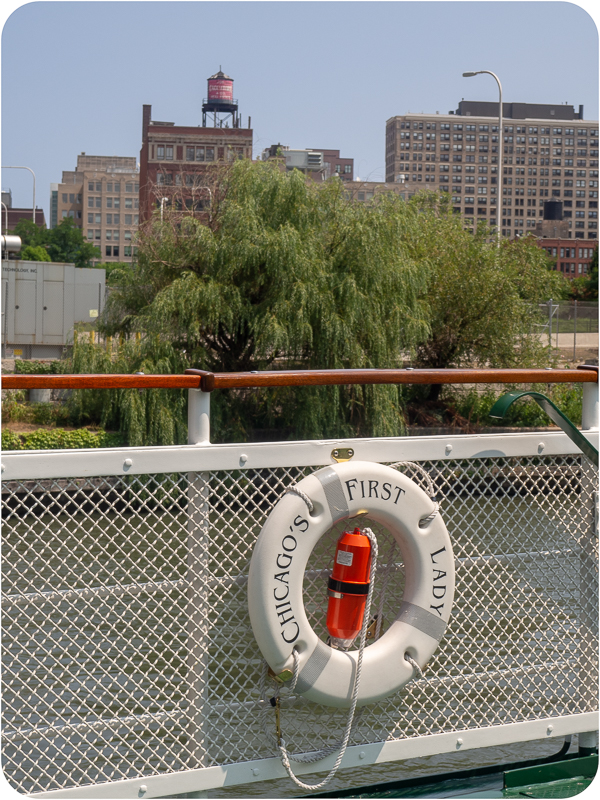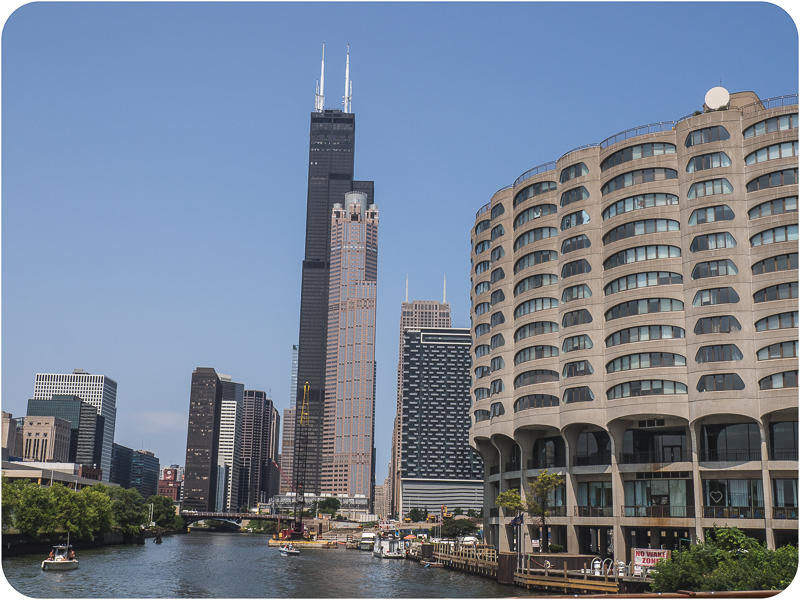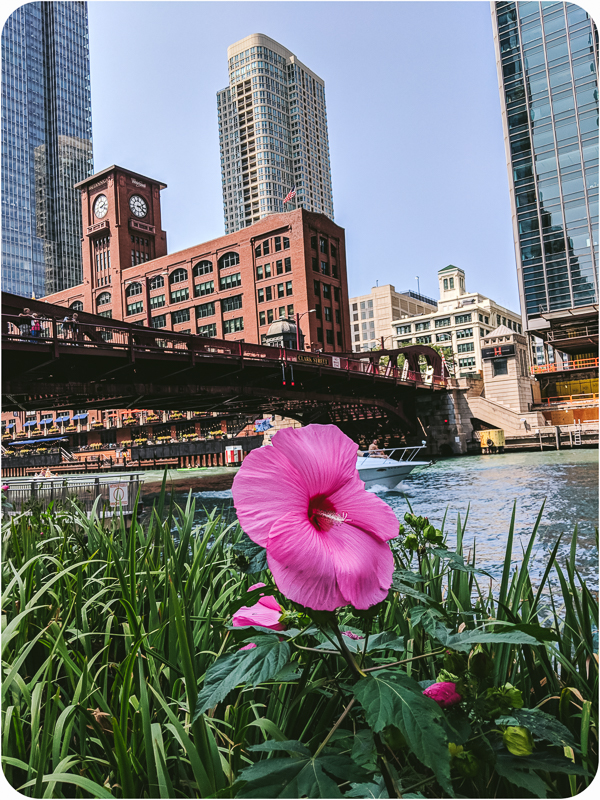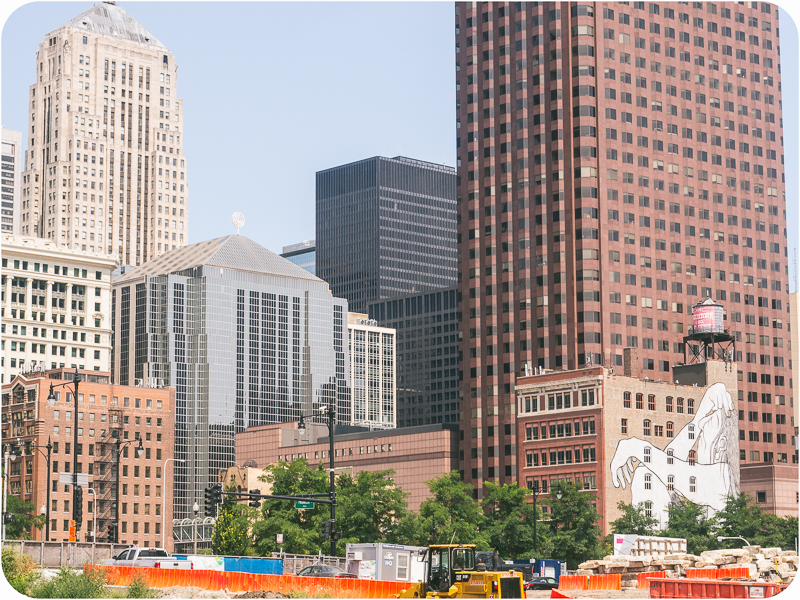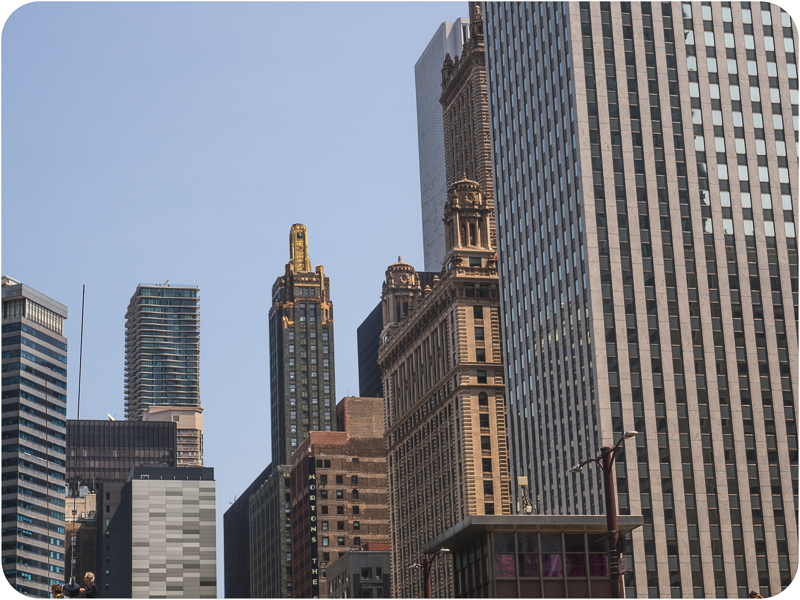 We ended up going back to the hotel to freshen up and take a bit of a rest, and the struck out again with intentions to go to Girl & the Goat, a Chicago fine dining restaurant with plenty of vegetarian options which could not be said of the highly-lauded Au Cheval, which is literally across the street and where I wanted to go to all the more because it turned out Girl & the Goat was closed for a private event that evening. Never fear, just down the block was Little Goat Diner, serving diner fare with the same top quality ingredients and care they use at Girl & the Goat. 
Their menu is enormous but I went nearly as goaty as possible, with a little goat latte, a lil caesar salad, and a sloppy goat sandwich on brioche topped with coleslaw. …I may have gone a bit too goaty overall. I think the goat milk from the latte and the goat from the sandwich came from goats who clearly knew and hated one another and decided to continue to butt heads in my guts. It doesn't look like they have the sloppy goat on the menu at present, but when I had it, I didn't love it–it was too big, too rich, too soft, the goat flavor a little strong. But I also think that's what a sloppy joe should be, and thus I can't fault them for serving me what I ordered. I think I was just bad at picking what I wanted that day.