Situated at the corner of W Belmont and N Francisco in Chicago, the original Kuma's Corner has been dishing up gourmet burgers with heavy metal flair for fourteen years, and I swear I've been hearing about it from my local friends for just about that long. At least one of those friends even made a special trip for their Bleeping Blagojevich burger in "honor" of former Illinois governor Rod Blagojevich, who was removed from office and is currently serving fourteen years in prison for corruption for what basically amounts to trying to auction off former President Barack Obama's open Senate seat to the highest bidder–that burger was topped with a thick slice of salty balogna, had grilled cheese sandwiches as the bun, and was served with a dollar symbol emblazoned in mustard on top. Just like the cost of that Senate seat, the price of the Bleeping Blagojevich was negotiable, but not available for free.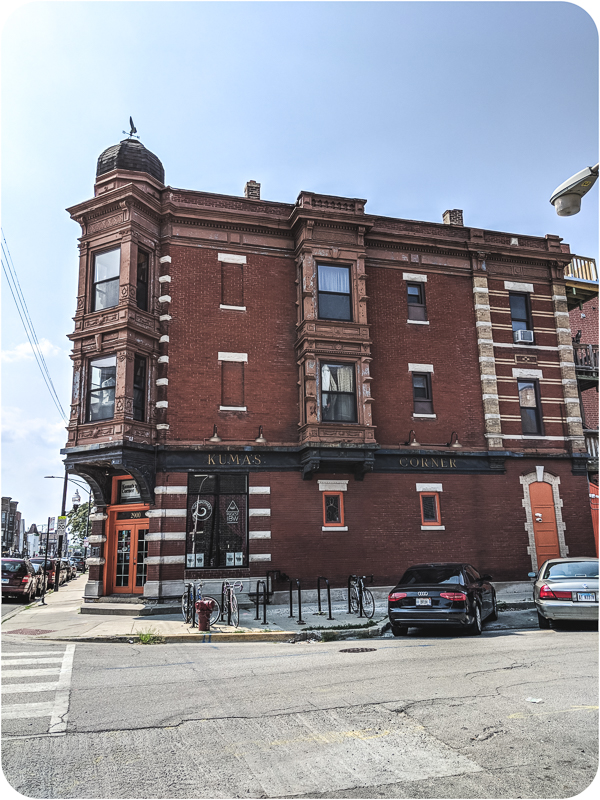 Kuma's Corner stopped serving that particular burger a while back, because you can't rest on your laurels and also because no one remembers a political scandal longer than a week anymore. Our group had tried to get in a couple of evenings previous at their West Loop location (also on a corner) but it was so full that we ended up at another nearby restaurant whose name I have forgotten which is for the best because I couldn't say anything nice about it even by accident, how do you cut up a sausage for a slider and not notice that it isn't cooked through?  …ahem.
We found it much easier to pop into the original Kuma's for lunch on a Monday, metal blasting from the speakers, movies playing on their screens instead of sports. Their walls are painted crimson, their ceilings and fixtures black. On the wall behind the bar, a disheveled bear reaches with arms outstretched to wrap them around the beholder, its mouth and chest covered in blood as it proclaims its desire for MEAT. Adjacent is the chalkboard that informs patrons which charity they're helping if they order the monthly draft special. 
Kuma's also stocks Jeppson's Malört, Chicago's most infamous liquor. Originally advertised as a "challenge to the braggart who claims he can drink anything", Malort is flavored with wormwood (not gasoline, as is rumored). It doesn't appear that any bar or restaurant outside of Illinois serves Malort, so I decided to seize the opportunity, ordering a shot along with the recommended beer to wash it down. Malort tastes like bitter dirt that is on fire somehow, and that fire infuses your tissues from your tongue all the way down. Malort's flavor is so aggressive that its own creator concedes that "The first shot is hard to swallow!" but ominously adds "Make it past two 'shock-glasses' and with the third you could be ours…forever" which sounds like exactly the kind of devil's bargain that goes down in a metal burger bar on a Monday afternoon.
I kept up my goat streak and ordered the Goatsnake: a thick, medium rare patty of their proprietary ground beef blend, topped with a hockey puck of herbed goat cheese, poblano sweet corn relish, a Cholula lemon vinaigrette, and buttermilk breaded deep fried red onions on a pretzel bun. The resulting burger is THICK, hard to pick up, hard to eat, but harder to put down because it was so delicious. It's the kind of burger that you need to smash down a little and then hold on for dear life. I loved the flavors at play here–it brings a lot of tang to the table between the goat cheese, the lemon vinaigrette, and the buttermilk breading which pairs so beautifully with the richness of the beef. I love a mountain of fried onion so this was going to be a delight to me regardless, but that hearty pile was exactly the right amount of crunch to balance all that soft cheese.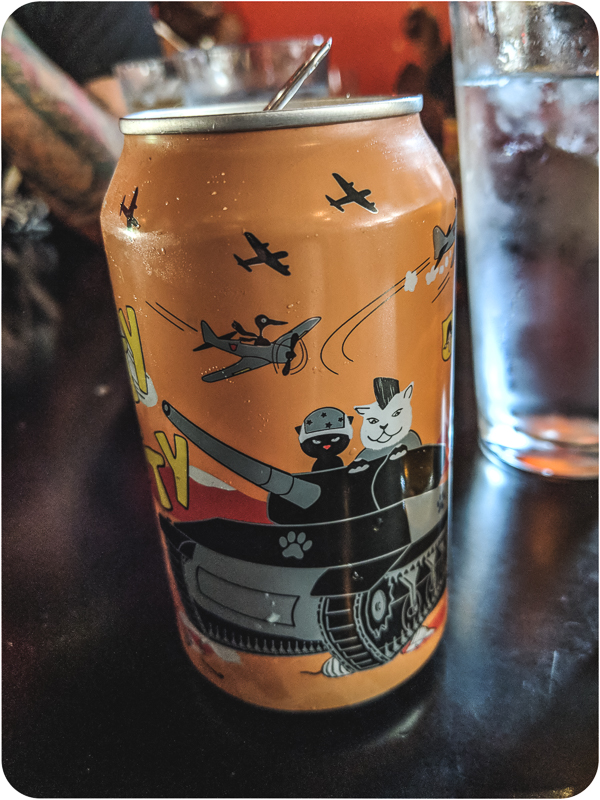 Hell Kitty Kitty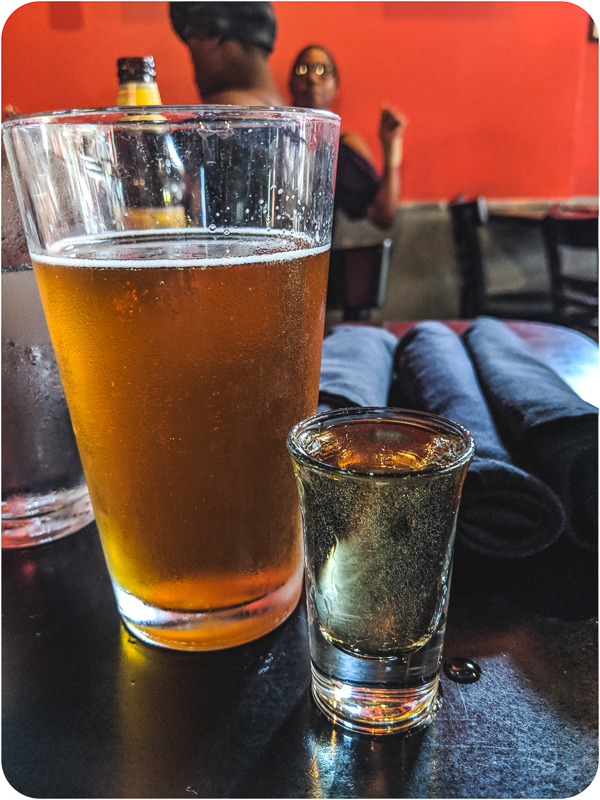 The same beer from above plus a shot of Malort.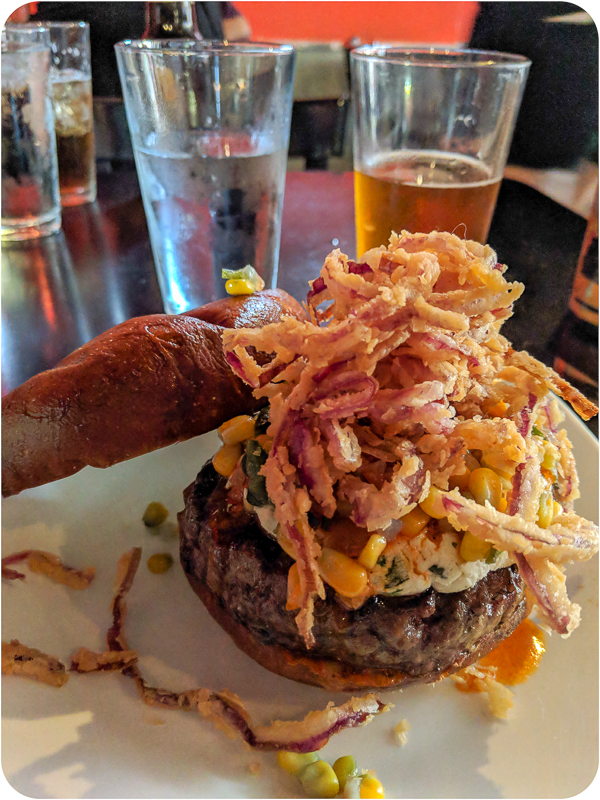 The beer from above minus the Malort plus the Goatsnake and its fried onion mountain.
After lunch, we walked to nearby Bucket O'Blood Books & Records, a resale shop with a curated collection: sci fi, fantasy, horror, speculative fiction, metal, punk…you get the drift. I have some thoughts on why "romance novels" were specifically called out as an entire genre that they do not accept even though, for example, books like Kushiel's Dart have fantasy and blood to spare, but instead of getting into it, I'll just say that I think it boils down to a pervasive problem that rhymes with "schizogeny", even if it's unconscious schizogeny.  We browsed for a while; I didn't end up leaving with anything* as I was saving my limited carry on room potential for our next stop, Rotofugi. 
Rotofugi is the other kind of adult toy store, the kind with limited edition art toys and a gallery of original work by current and emerging artists and two full aisles of blind box toys. If you're not familiar with the concept, blind box toys are an assortment of toys sold in identical boxes but you don't know what you're getting until after you open it. It's like gambling except instead of winning money, you end up with a bunch of the same toy you didn't want, because the odds of getting the really rare toy you do want are approximately the same as you being crushed by the toy factory falling from the sky. Trading cards but non-biodegradable. They can be fun if the concept is unique or you're not overly invested in what you get–I bought a Stink Box featuring art by Jason Limon and any plastic kitty pooping in that box would be just as funny as any other. I also bought a blind box of tiny glow-in-the-dark realistic looking magnetic mushrooms that now cling to the side of my fridge. But generally I feel that blind boxes are just ways for manufacturers to hide what they're selling to you so they can (1) get you to spend more money and (2) sell out the edition so retailers don't end up with a stock of less-popular figures/poses that they can't move. The art toy world does lay claim to starting the blind box trend but I honestly can't help but think of the utter wave of trash this trend has created and will continue to create when people get tired of having fifty dusty reminders of a TV show they used to watch. Or of a plastic kitty infinitely squatting in a cardboard litter box.
I really enjoyed browsing their art gallery, and I seriously debated buying a Jason Limon original, Cinq. It's a 2013 piece and especially interesting to me as I didn't know sculpture was in his body of work and yet his style translates to it clearly. I didn't bring it home but I still think about it sometimes and I feel like it belongs in a room next to a plant in a macrame hanger.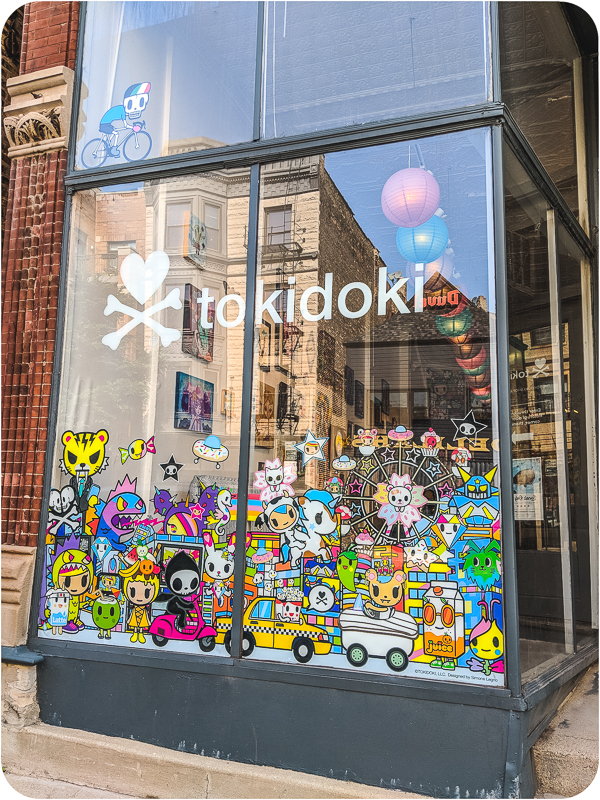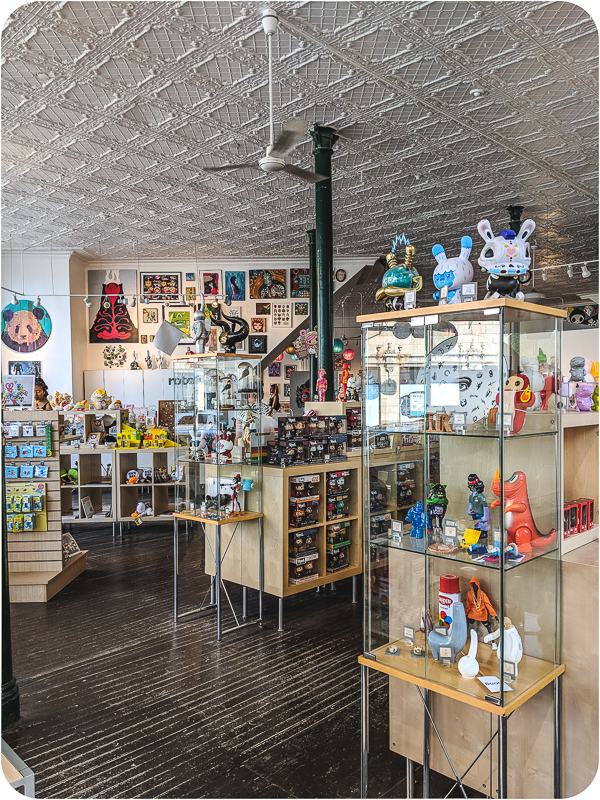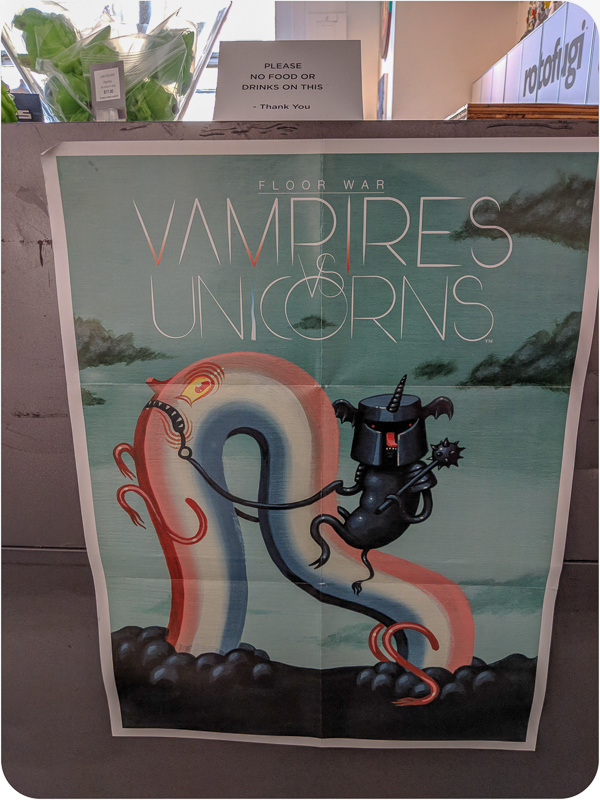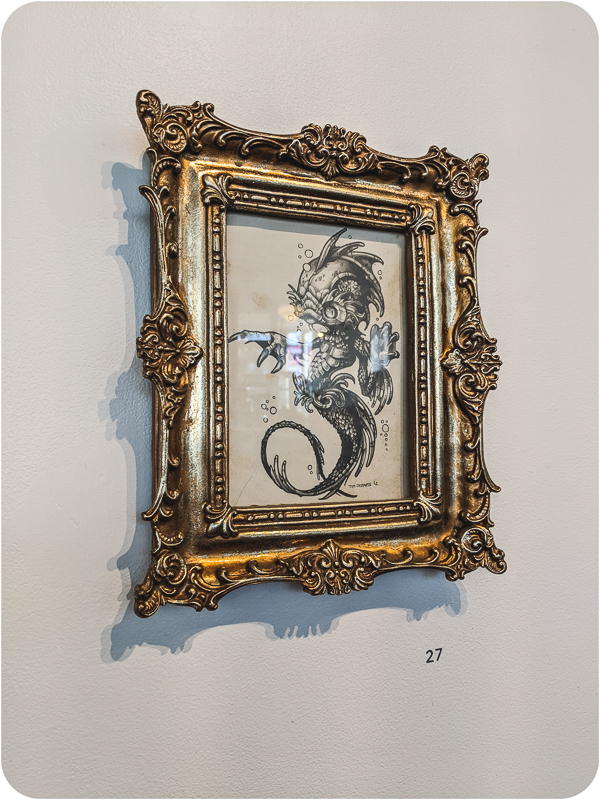 Sea Horse Tim Shumate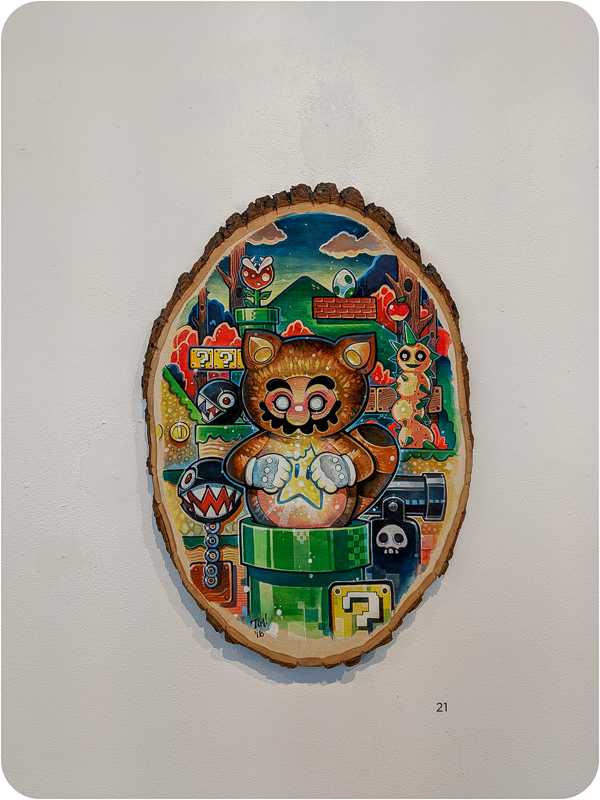 A Star in the Darkness Tim Shumate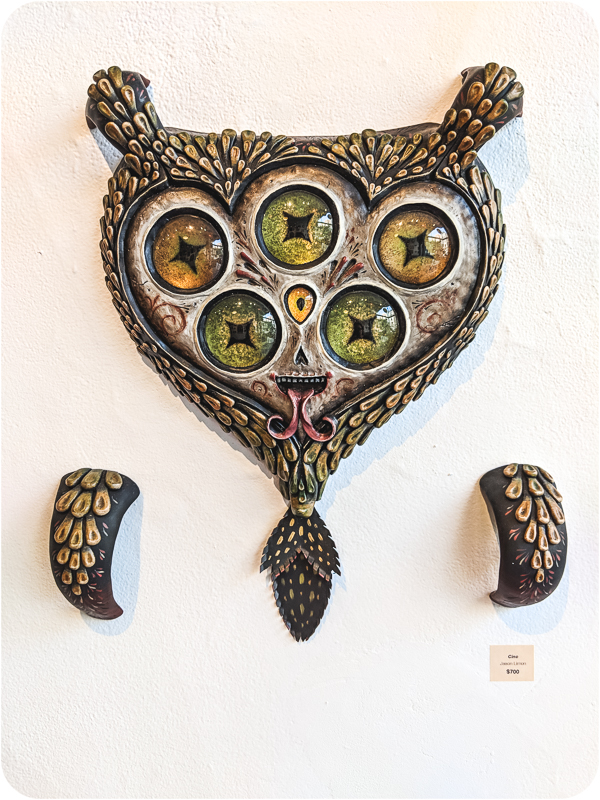 Cinq Jason Limon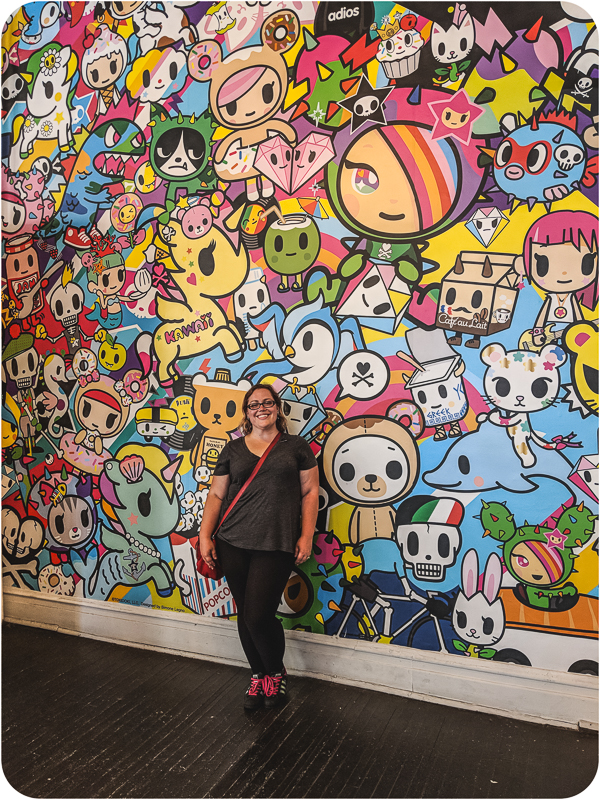 *I know it's basically a Crime Against Books to admit this but really old paperbacks that don't belong to me gross me out, especially when they turn that awful yellow-brown and they get that extra soft texture on the page that kind of lingers on your fingers along with that musty book smell. I get that some people really dig the smell of old books but I cannot ride that ride with you. I bought a book from 1943 online for a friend for her birthday about a goat who goes around causing mischief, and when it arrived, I intended to read it (so we could later discuss goat mischief) but I could not read more than a few pages at a time because the experience of handling it was just too awful. And then, to top it off, I ran into the passage where Billy Whiskers gets racist because why not ruin an otherwise charming story about a whimsical goat with some casual racism? So of course I couldn't even send it to her because it's not going to be Auntie Melissa's fault her kids learn old timey racial epithets. NO.