When I was thirteen years old, I stood at the sink, washing dishes, wearing a Smashing Pumpkins t-shirt, and informed my father, who was drying, how lame it is that bands go on "we still hate each other but we ran out of money" reunion tours and how lame the middle aged people are who go to them, trying to recapture their lost youth. We had a lot of discussions like that, many centered around the center of my life, The Smashing Pumpkins. 
And I was obsessed. Obsessed in the way that an awkward, often-lonely person can be when they feel understood for the first time in their lives. I channeled that obsession into spending my time on the internet discussing the band on Listessa. I scoured the at-the-time brand new website eBay for memorabilia, rare cd singles, a print of their first album before it was slightly remastered and reissued under the parent label, fan-made merch…anything I could get my hands on and my babysitting budget would allow. I had a closet full of Smashing Pumpkins t-shirts and when I saw them live (my first concert, Summerfest '98, opening bands were Blonde Redhead and Hum), I bought four more. I got in trouble with my parents for using too much printer ink printing photos of the band I'd found online. I bought that hundred dollar (or more?) black and white hard shelled mini suitcase of singles and b-sides. I committed to memory track names, song order, lyrics. I started taking guitar lessons and bought Smashing Pumpkins tablature books so I could know the music. I lip-synced in the mirror. I drew fan art. I waited in line for nine hours to meet the band on their Machina signing tour. I would evangelize the band to anyone who would listen. If they were willing, they could also listen to the music on the portable cd player I carried during the only years of my life when I had pants with pockets generously sized enough to accommodate a portable CD player. (They were so generous I probably could have wedged a smaller boom box in there.)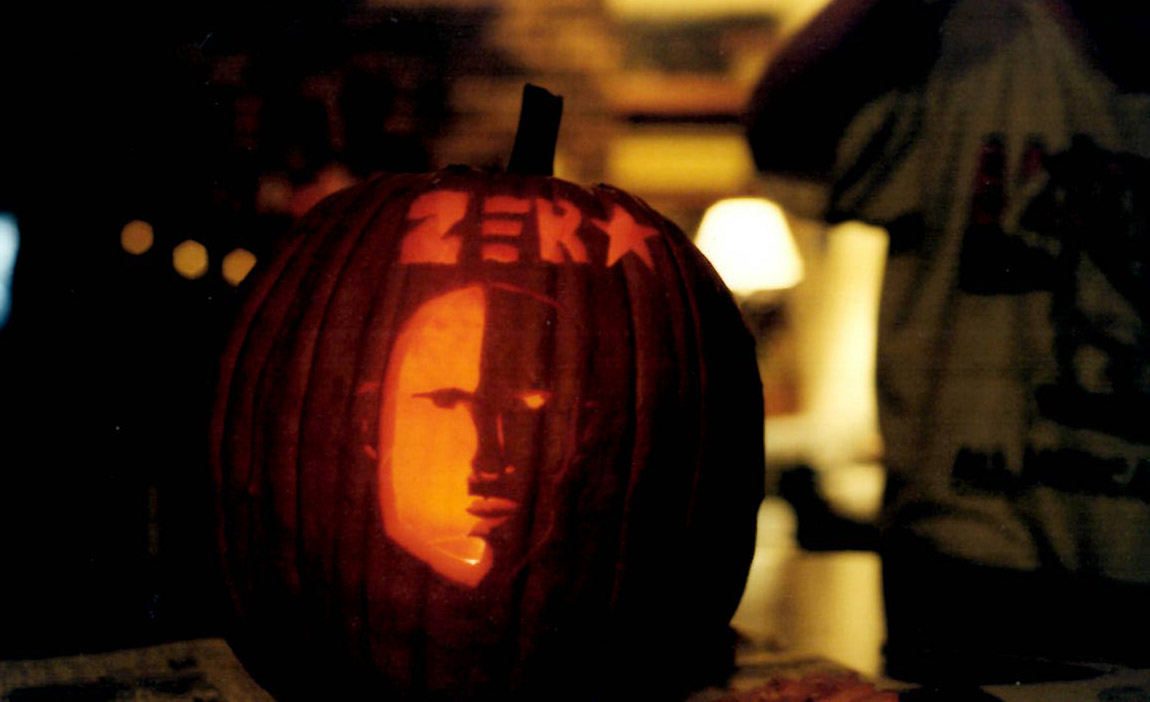 I was soundly mocked by my family for announcing that I wanted to change my name to Starla because of my love of the band, and endured another round of mockery when we watched the episode of The Simpsons where perpetual loser Kirk Van Houten introduces his new hard-living special lady friend, Starla, who almost immediately proceeds to steal his car.  I will admit now that name would probably not be my first choice; I think at the time I was just tired of being the least popular of the six Melissas in my school, and it was another way for me to be able to demonstrate my dedication to the band.  Somehow, only one of my two stupid tattoos is even incidentally Smashing Pumpkins related–how I got out of the 90's without the SP heart tattooed on my ankle remains a mystery and a miracle.
That was the band. But only one member wrote the lyrics that spoke to my soul, the music that was the soundtrack to my teenage disenchantment: Billy Corgan. I idolized him for it. There's no other word for it. In the early days of the internet, I even ran a fairly popular fan site* that was solely dedicated to tongue-in-cheek "worship" of Billy Corgan and definitely portrayed him as a messianic figure, and though I did not worship him as a literal god, I gave his words and thoughts and actions such power that I may as well have. When I got my first real job at a family run music shop, I bought myself an American-made Fender Stratocaster in Inca silver (the kind Billy had) and I replaced the pickups with lace sensors (the kind Billy used, in the same configuration–it turns out that the tone of my original pickups wasn't what was holding me back, it was my lack of talent). I'd use my mouth to speak his opinions. When he sang "believe in me", I believed him. When the band broke up and he said "There's nothing wrong inside the band. But the way the culture is and stuff, it's hard to keep trying to fight the good fight against the Britneys." as though the teen pop star and her ilk were somehow responsible for the band's decline and the lessening popularity of alternative rock, you'd best believe that for a while, I blamed Britney, too.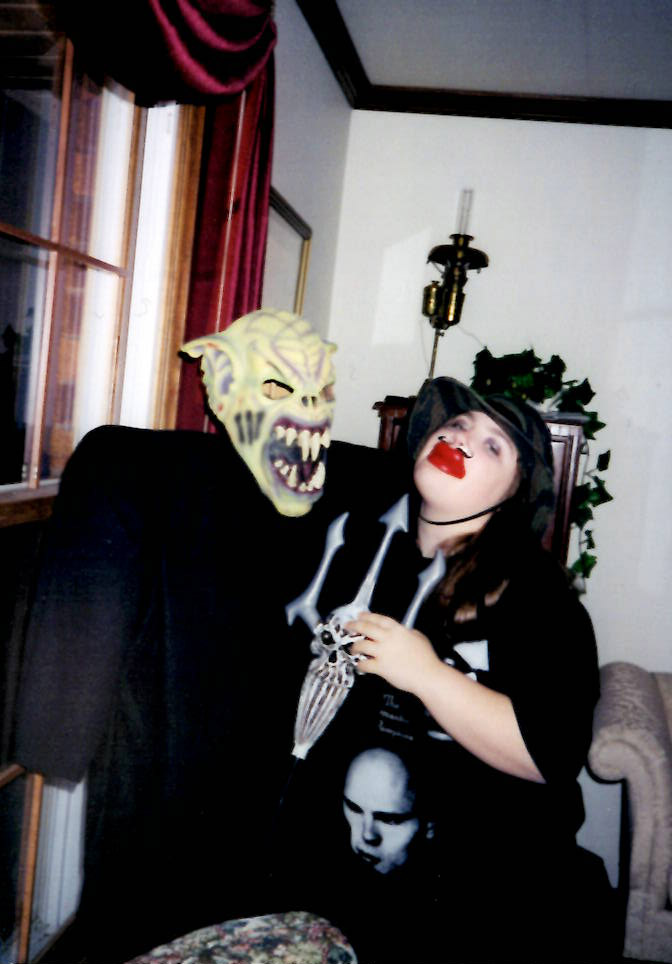 This was taken in '98 or '99. Although there's a lot going on here, note the Pumpkins shirt. As a side note, if you ever see someone who looks like me but aren't certain: if the photo is flattering, it's not me.
When I was thirty-six years old, I flew to Chicago for the express purpose of seeing the Smashing Pumpkins' reunion tour. I hadn't listened to the band heavily in many years, and it had even been several since I'd listened to my favorite of their albums. I downloaded them all to my phone so I could refresh myself on the plane ride over. I don't remember the track order as viscerally as I used to, anticipating the first note of the next song, but all the lyrics, every vocal inflection, every drum fill, every feedback squeal and hopeless wail…they're all inside me. I could hear them in my head as clearly as I could hear them through the headphones. I don't think I could forget them even if I tried.
It's been not quite twenty years since I abandoned that fan site, and in the intervening period, as I've grown up a lot and cast off the obsession and the idolization that came with it, I've come to see Billy Corgan as a person. A disappointing, petty, vindictive, bewildering person. From the aggressive way he reacts to a fan's criticism, to his multiple appearances on Infowars (the unhinged, far-right American conspiracy theory program hosted by Alex Jones), to offering himself up for a charity lunch where the high bidder is also responsible for the lunch bill, to dating Jessica Simpson after indirectly blaming her for breaking up his band, to releasing five different versions of the same album to really stick it to his fans in a misguided attempt to game the Billboard charts, to kinda-sorta trying to start his own religion, to wielding his power in a petty fashion, to whatever this is.  The public beefs and self-aggrandizement lost its allure to me, especially after a "reunion" tour  ten years ago where Billy was the only original member of the band after Jimmy had enough and fucked back off to his own band, The Jimmy Chamberlain Complex. I'd reached my ridiculous behavior to life-altering music ratio lifetime limit. I couldn't reconcile that the person who had written the songs that made my heart thrill, that gave me comfort and an outlet in a world that hurt too much, hates people like me now. It's like preeminent Pumpkins writer Ian Cohen of Pitchfork muses on this excellent podcast if you've ever loved the band, "It's just incredible that we actually got records like that out of this guy." But I was still going to this reunion concert (now with most of the original lineup!). I was going to meet my friend, I was going for me, and I was also going to make little know-it-all thirteen year old Melissa a hypocrite. 
____________________________________
Dianne, Dee and I started our evening at the Revolution Brewpub, which we slipped into after being followed down the street by a man who proceeded to pace outside the front of the restaurant and peer through the windows, looking for us, and where I goddamn well should have ordered the Yukon potato, spring pea & cheese curd pierogi that I wanted instead of that bullshit salad I ordered so there were two reasons to be sad and scared. I know why I ordered that sad salad, because I'm recently middle-aged and I was afraid that eating a plate of carbs wrapped in carbs would make me fall asleep in my expensive concert seat before midnight. It was a responsible, flavorless choice. Or perhaps the sense of taste was driven from my mouth by the man still staring through the window, head scanning, which I could see from my seat on the balcony. Thankfully, he was not still waiting by the window when we finished our meal, nor was he waiting beside Dee's car, which he had seen us exit and could reasonably expect that we'd return to at some point.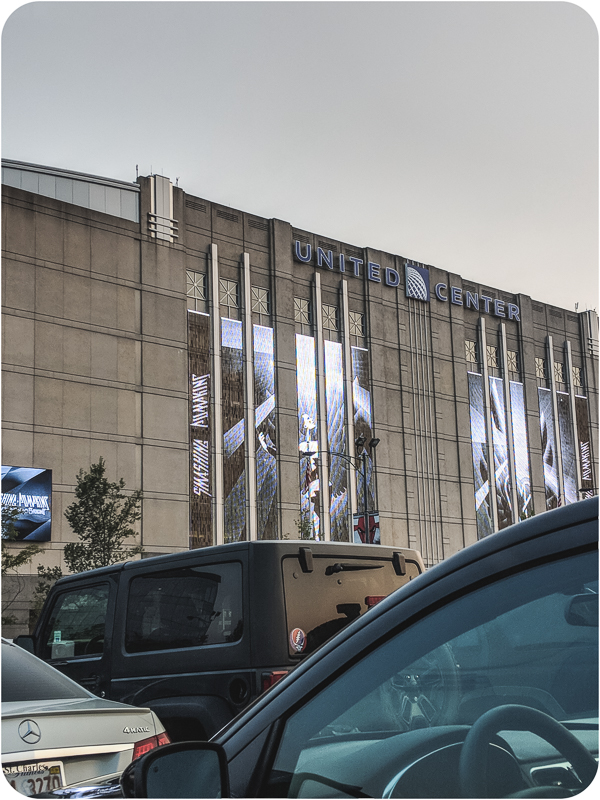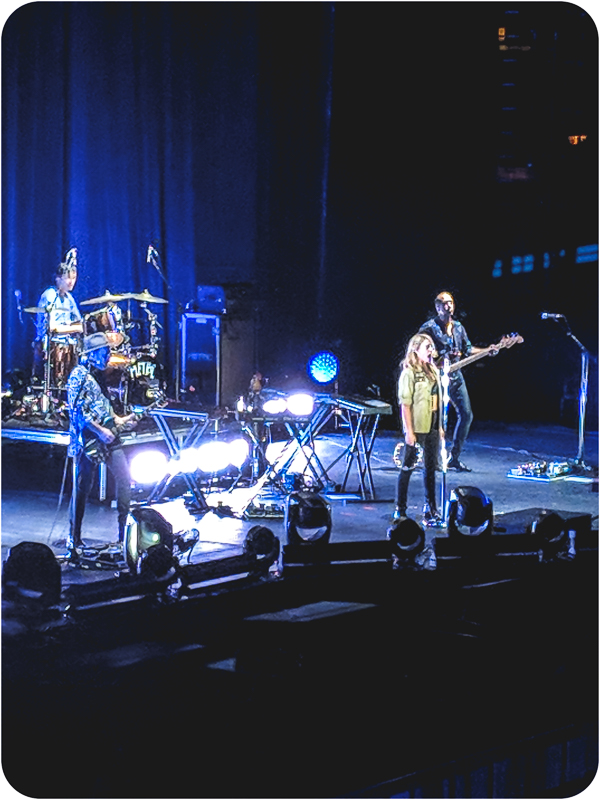 Metric
My emotions quickly took a huge swing in a different direction when we arrived at United Center. In addition to music, I also listened to some Ted talks on the flight to Chicago, one of which was a talk by Ingrid Fetell Lee about finding and embracing joy in our lives, and I realized as the bass thudded through my body from opening band Metric's performance as we walked the hallways of the event center to our seats that I was experiencing joy, there in that moment, and in anticipation of the near future. We looked at the merch booth and it was the usual: t-shirts, hoodies, and vinyl. Dianne and I joked that they'd be more likely to appeal to our demographic if they had a nice silk scarf with the Mellon Collie art on it, or perhaps a flowy dolman-sleeve top. A line of scented candles–Appels + Oranjes seems like an obvious first choice, but I can easily imagine an entire range of song and album inspired scents and at least one band member belittling a frazzled nose that the "Kaleidyscope" blend doesn't contain enough essence of mechanical child ghosts OR vetiver and that he'd just do the whole thing himself or burn down this candle factory trying. One guess as to which band member I'm picturing.
When we got to our seats, we were all surprised to learn that we actually skewed young for this audience, which was full of ill-fitting jeans and "I would like to speak to your manager" haircuts and no actual young people to speak of anywhere. When the band came out, the audience didn't surge to its feet so much as shuffle, including the human bowl cut seated in front of me, and this low-energy feeling persisted throughout the show. Some of that has to do with the music–it's not super danceable or headbangable and the songs that are usually change gears a few times so people just kind of stand around and nod their heads. It also didn't help that the stadium seemed half full.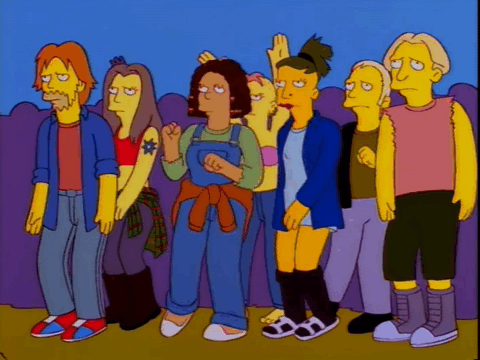 The Smashing Pumpkins' set started with Mellon Collie played over a video referencing a lot of their album and liner art, and next was a solo acoustic performance of Disarm, which made it pretty clear that while the audience had paid to see The Smashing Pumpkins, they were at The Billy Corgan Show. It wasn't until the rest of the band joined in on Rocket, Siva, Rhinoceros that I realized the video playing behind the band, cuts of music videos and new material, had been edited in such a way as to make it appear that former bassist and founding member D'arcy Wretzky never existed and that is when my joy died and I started to cry. I couldn't stifle them, they were the kind of furious and bitterly disappointed grief tears that just punch their way out of the duct. It wasn't enough to have invited D'arcy onto the tour and then renege. It wasn't enough to disrespect her by playing all of her parts on two albums. It wasn't enough to hound her so much during the recording of another album that she had a miscarriage from the stress,  nor was it enough to disparage her contributions after she quit the band. No, every bit of her contribution had to be obliterated, replaced. How could he do this to her, how could he be so cruel? She was in the band before Jimmy! This is her life's work, too. I knew beforehand that she wasn't going to be on this tour, but I didn't know that it would be so hostile to her. This atop of all of the other messages Corgan has sent through the years about women musicians and their value, abilities and interchangeability proved to be too much. It took my breath away when I realized what a disservice I had done to myself by elevating this petty man's opinions above my own for even a little while.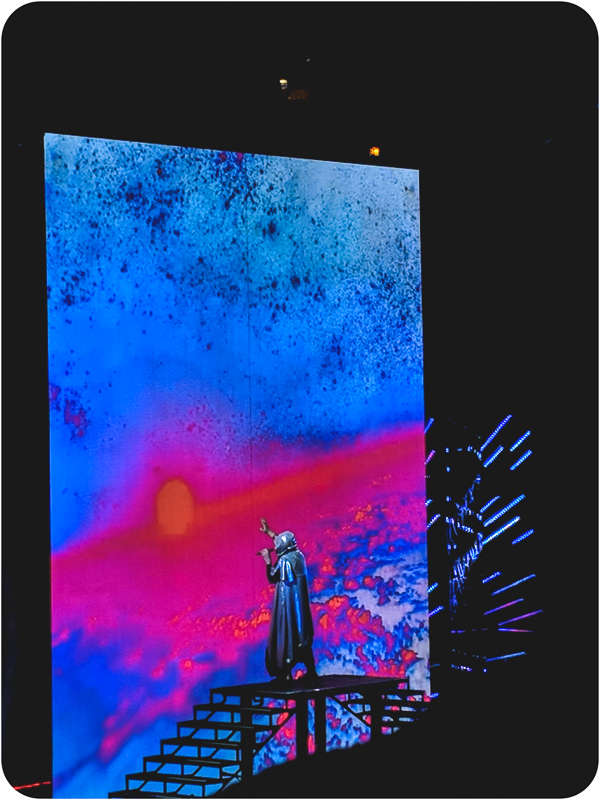 Who else but an utterly self-indulgent megalomaniac would have a double sided staircase wheeled onto the stage solely so he can ascend dramatically in an awful hooded silver lamé cape while performing the most tortured, overwrought cover of Space Oddity since William Shatner touched it?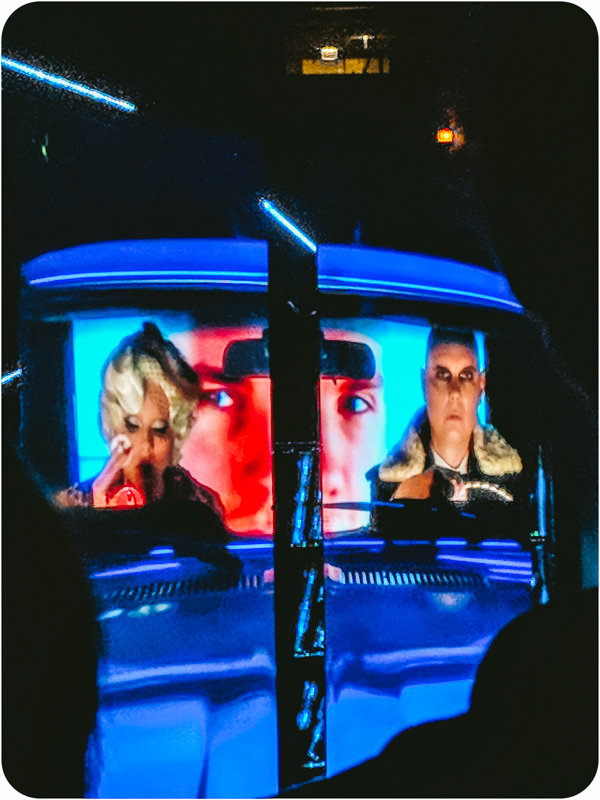 Who else but a rampant narcissist would see a video of himself driving a car and think, "Do you know what this needs? Another, larger me looming in the backseat!" I bet if we flipped to a side view, his spinning face would be on the hubcaps.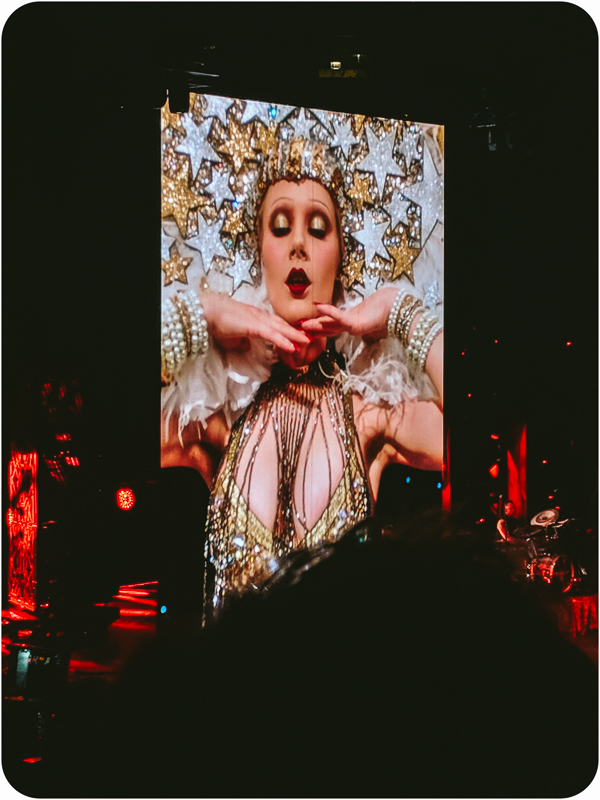 I don't mean to imply that the show was bad. It wasn't bad, but the thing about this being The Billy Corgan Show means that how I felt about The Smashing Pumpkins in that moment was intrinsically tied to how I felt about Billy Corgan, and how I felt about Billy Corgan in that moment had taken a steep dive from mere minutes earlier which was already way down from its all time peak in 1996. And that's the problem with the band, and the problem with the concept of a reunion tour for this band, when one man has made it so clear over the course of his career that he's done everything himself and that everyone else is replaceable. I am convinced that The Smashing Pumpkins would be Billy Corgan and three+ mini Corgans grown in a vat if he only could figure out the technology. Billy Corgan and his Corgestra.
The band played a lot of hits and a few deeper cuts, powering through three hours and fulfilling the role of a reunion tour by finally embracing their back catalog as they've been historically loathe to do. In the background were more videos of widely varying technical skill and artistic merit featuring Billy Corgan in religious, magical and prophetic iconography, along with more Mark McGrath of Sugar Ray notoriety in a vaudeville outfit than anyone ever asked for. Corgan dedicates a song to his mother, the one where the official music video is about a homeless pregnant couple with addiction issues and behind him on the blazing screens a glimmering starlet nods out, her eyes shimmering with tears. In the audience, Dianne and I turned to each other in that moment and exchanged a very meaningful look. Out on the arena floor, an electric virgin Mary was slowly wheeled around the audience; from where I was seated I was unable to ascertain whether or not she cradled an infant Billy but I can only assume she did. 
The setlist covered a wide segment of their career but did stick to albums released before their initial breakup, with the exception of a new song written by this lineup, Solara. If I could have made changes, I would have eliminated the covers (all of them, even Landslide) in favor of a few less likely candidates from my favorite era of the band: Set The Ray To Jerry, Obscured, Jellybelly, Bodies. I can't complain because the last time I saw them, the only song they played from Mellon Collie that wasn't a single happened to be my favorite, Thru The Eyes of Ruby, and it was so unexpected that I felt like the luckiest person alive on the happiest day of her life. I was glad this time to get a live Porcelina and Muzzle. The scope and the vaudeville and the iconography of this glittering stage show was exactly the right amount of bombast for this band.
There wasn't a lot of stage banter at the Chicago show, nor at the nearly-identical Seattle show which was broadcast online, and in that latter, it felt so…typical that he'd use his short time talking with the audience, his time introducing the last song pre-encore, to get after "the people who left early to go home and do heroin". Typical to focus on the empty seats instead of the packed ones.  Typical to be so small, to snatch an insult from a few people leaving when literally thousands of people spent the last three hours listening to what he wanted them to hear and looking at what he wanted them to see. Typical to take this opportunity to introduce himself to a whole new worldwide audience and punch himself in the face with just three songs to go. He immediately followed it with "That was a joke, come on. It's ok. We have heroin in Chicago." and while his lack of empathy for people outside himself (including, clearly, Jimmy and his struggles with the drug) is Billy Corgan canon, I think it's more telling that in reviews of other dates I've read, he has made a point several times in several other shows of calling out people who left early in a joking-not-joking fashion, and that speaks to a larger problem of someone who still thinks he's not getting something he deserves at the worldwide arena tour dedicated to his ego where people are screaming for him. 
I think I will always love the music that spoke to me when I needed it. It would sure be easier to call myself a fan, however, if Billy Corgan would adopt some measure of generosity of spirit, grace, forgiveness, and gratefulness in his life in addition to singing about it. But D'arcy is probably right.
*An archived version of that page still exists online, to my complete surprise. I looked at it for the first time in since I abandoned it and while it's not a good website, and it's very of its time, it starts off fairly sensible (entertainment only, don't stalk him, be cool). I expected a full-body cringe so intense that my guts could produce diamonds and I didn't get one…until I landed on the page where I attempted to define the cardinal sins in music and I expect to pop out the Koh-i-Noor sometime tomorrow. Yikes. Good thing I'm not doing anything embarrassing on the internet anymore!