Even before I bought Navani, I knew that I wanted to get into playing mounted games, and having had some practice at and aptitude for archery, it felt like an ideal place to start. I signed up for a two day intensive clinic with Heart Horse Industries in southern Washington, and resolved to become a good enough rider by the time it rolled around. 
June came so, so fast.
In the intervening 8 month period between signing up for the clinic and driving to the clinic, I had come to learn that owning a horse and riding your horse are two distinct hobbies. I also fell off Navani in late December (my first fall since returning to riding) which did a number on my body and my confidence. It was hard to practice riding when I felt anxious about falling and hurting myself again and being anxious on the back of a horse is essentially asking to fall or be tossed off, as they are a half ton of empathetic nerve endings waiting to fire. A horse takes its cues from its rider, and if you're afraid, they will also be afraid, and if they're afraid, you're going to have a bad ride which isn't going to help your confidence any. It's a feedback loop of fear and inadequacy*. So I've had to do a lot of mental and emotional work since then to deal with my anxiety and build my bond with Navani to help me get my confidence back. Unfortunately, that meant that I hadn't made nearly as much riding progress as I had anticipated, and I was concerned that I wouldn't even be allowed to take part in the riding portion of the clinic when my inexperience came to light. As there was nothing I could do about that, I determined my best course of action was to go in as confident as possible, and to that end, I borrowed the mare on which I'd learned to ride and rode her easy trot hands-free up and down the arena, turning my torso left and right and pantomiming drawing a bow. It must have helped, because I had a couple of good rides on Navani after that, and managed to stay aboard when she was startled on our most recent ride by that noted danger to horses and public menace, a butterfly.
It's a three hour drive from my neighborhood to Brush Prairie, give or take, and so I elected to spend the weekend in nearby Vancouver at an Airbnb in the Hough neighborhood in order to be fresh for class and fresh for the drive both ways. The drive from my accommodations to the clinic wound past all manner of homes–mansions with great lawns situated across the road from run down trailer parks surrounded by debris. Several homes in a row had signs advertising the potency of their CBD oil ("with 0% THC!"), one behind a chainlink fence with a pointy Doberman stalking the yard. Almost everywhere had horses grazing nearby.
Our group of learners was small: four women. We took some time to discuss our riding and archery backgrounds and how we came to be interested in this fusion of two highly specialized sports, and it all essentially boiled down to wanting to be horseback riding warrior women, to claim power and space for ourselves. "I'm just tired of women being diminished," said the woman seated next to me, and that is how I came to know and admire Kim, because I feel very inch of that sentiment. My other classmates were Kristi and Magalyn, two fierce women whom I also came to admire over the course of the weekend.
Introductions made, we were each issued a hip quiver, the side effects of which include at least 50% additional swagger in one's step, and a heightened sense of both competence and coolness. We were introduced to the principles of loading, drawing, pulling, and releasing on the bows, and I learned that the technique is very different from the recurve three-finger archery I learned at Next Step Archery. In mounted archery, the arrow goes to the outside of the bow, you twist your draw arm to stabilize the arrow, you thumb release, and the arrow rides over the thumb of the bow hand. I also learned firsthand that you can crack your arm with the bow string if you hyper-extend the elbow in either form of the discipline.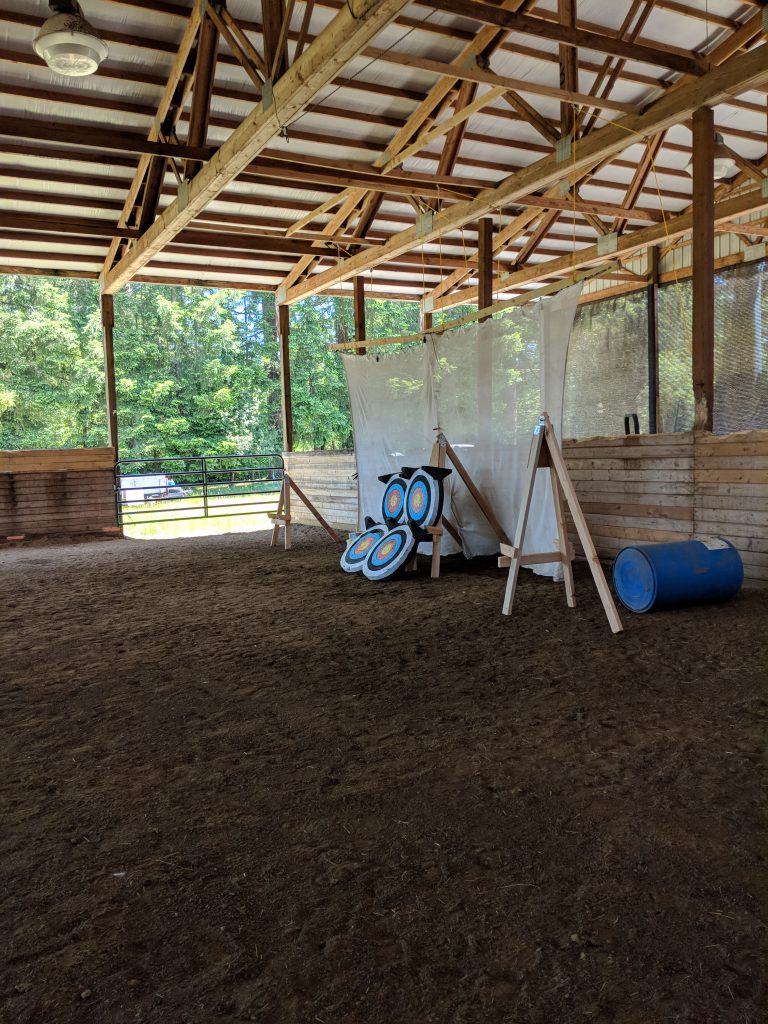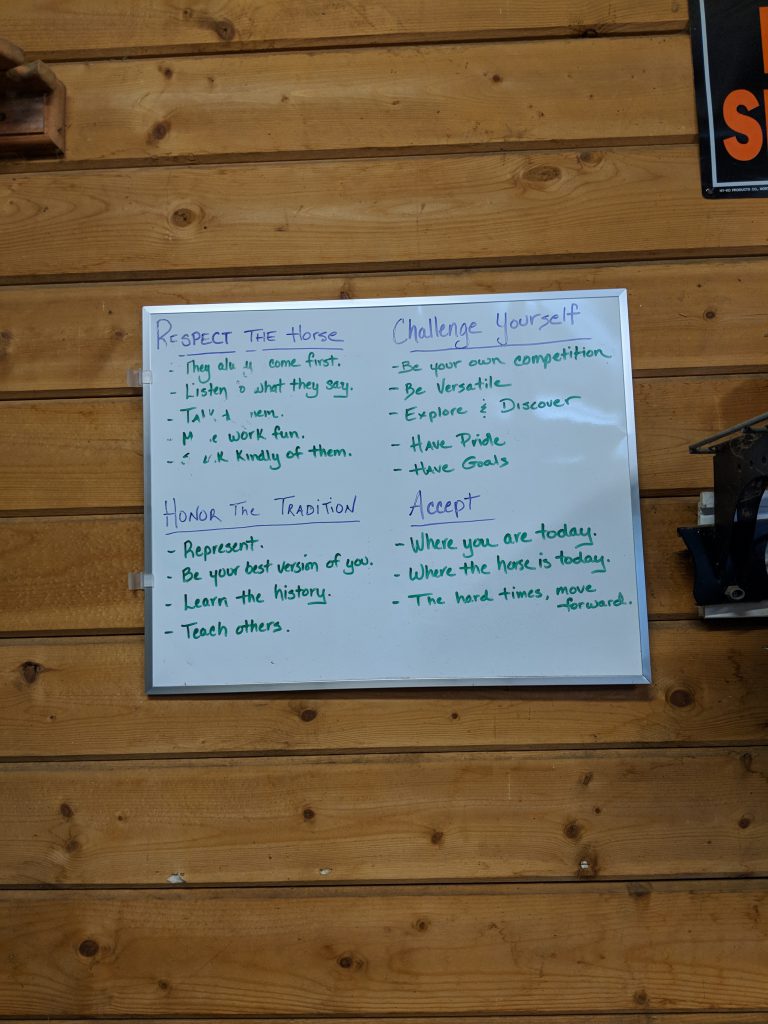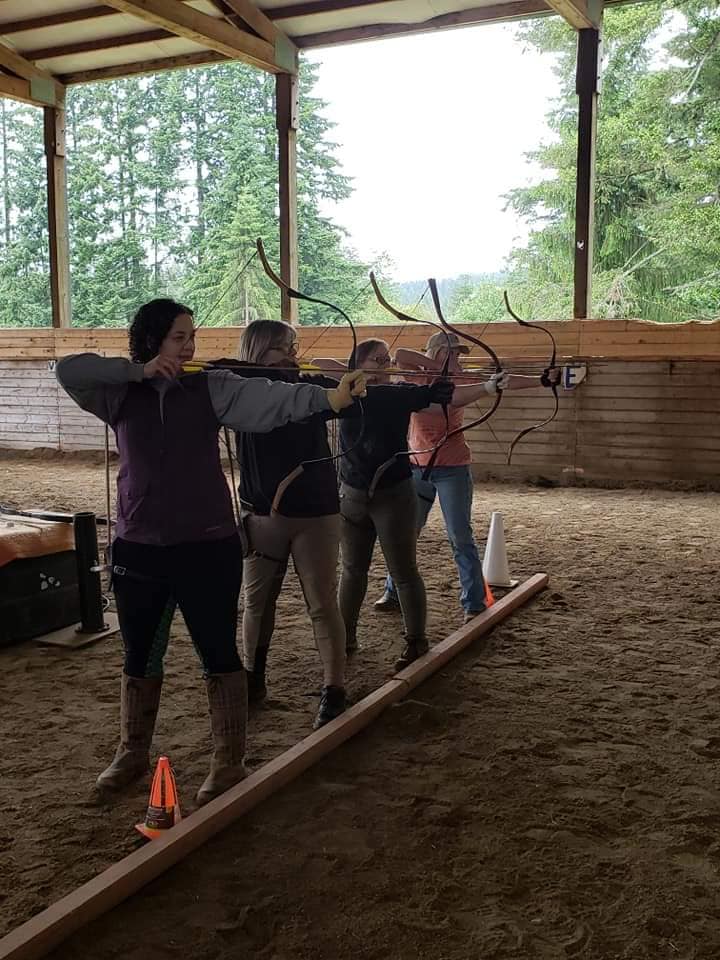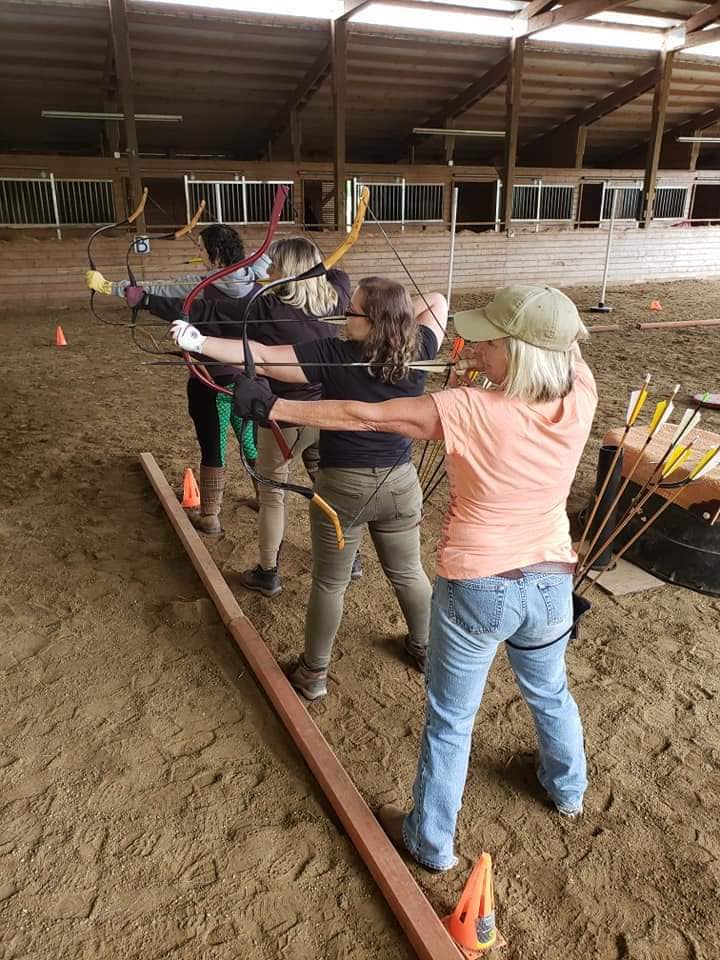 After we learned the basics, we started playing shooting games, like walking at a consistent pace on a track around a beam on the ground, loading your arrows without looking at them (because your eyes should always be seeking targets), and shooting at the targets as you walk by. We also practiced shooting at moving targets (rounds of duct-taped sound board rolled across the arena). After we broke for lunch, it was time to mount up. Magalyn and Kristi rode Ronan and Columbia, both Lipizzaners, and Kim and I rode Tuffy and Tommy, both American Quarter Horses. Our position in the lineup also reflects our horse's status within the herd: nobody likes Tommy. Maybe, and I'm just spitballing here, it's because Tommy is kind of an old curmudgeonly jerk, and I mean that in the most loving way possible. When we would wait in lineups, Tommy would constantly be trying to fidget with Tuffy, rubbing his face on Tuffy's hindquarters, wanting to just groom and be in Tuffy's space. On our way into the outdoor track, Tommy tried to take a bite out of Columbia's butt, and on the second day when Ronan was watching from the sidelines, he made it clear that he would love nothing more than to take a chunk out of Tommy. Tommy was also the only horse who necessitated the wearing and use of spurs, something I have never worn or done before. With those spurs jingling on the back of my boots and the hip quiver combined, my swagger became almost unbearable, because every time I walked, I felt like I was off for a showdown at the O.K. corral. 
Tommy knew I was bluffing, however. He could feel my reticence to use those spurs and took full advantage of it, attempting to cut through the track and crack my knee into walls and other objects and this continued until I finally did bump him with the spurs on the second day, because I had tried and tried and tried to ask him with a strong leg and no spur and treat him like a fragile egg and he told me again and again that he wouldn't unless I got more assertive.
I also had some struggles with the saddle on the first day–the stirrups had been adjusted as short as they could go, and still my left foot kept sliding out which makes it difficult to impossible to be in the 2-point position, where you're standing in the stirrups, because with one foot out, it's more of a wobbly 1-point-I'm-gonna-fall-off-this-horse-in-front-of-everyone-and-either-I'll-die-or-I'll-wish-I-had position. I'm sure it was also challenging for me because I've not yet learned to post the trot, which is the thing that I think marks me most as a very beginner rider. Posting involves rising from a seated position into a 2-point and settling back down in time with the horse's gait to compensate for the bounciness of the trot. Going from not having that piece of the puzzle at all to having to learn to do it in front of an audience while clapping my hands overhead and/or juggling a heavy ball hand to hand, combined with my need to be immediately good at something despite never having done it before was almost too much for me. It was one of those times where I manufactured pressure for myself, and that self-generated pressure was making it harder for me to be successful. Another negative feedback loop. Thankfully I recognized it and self-corrected.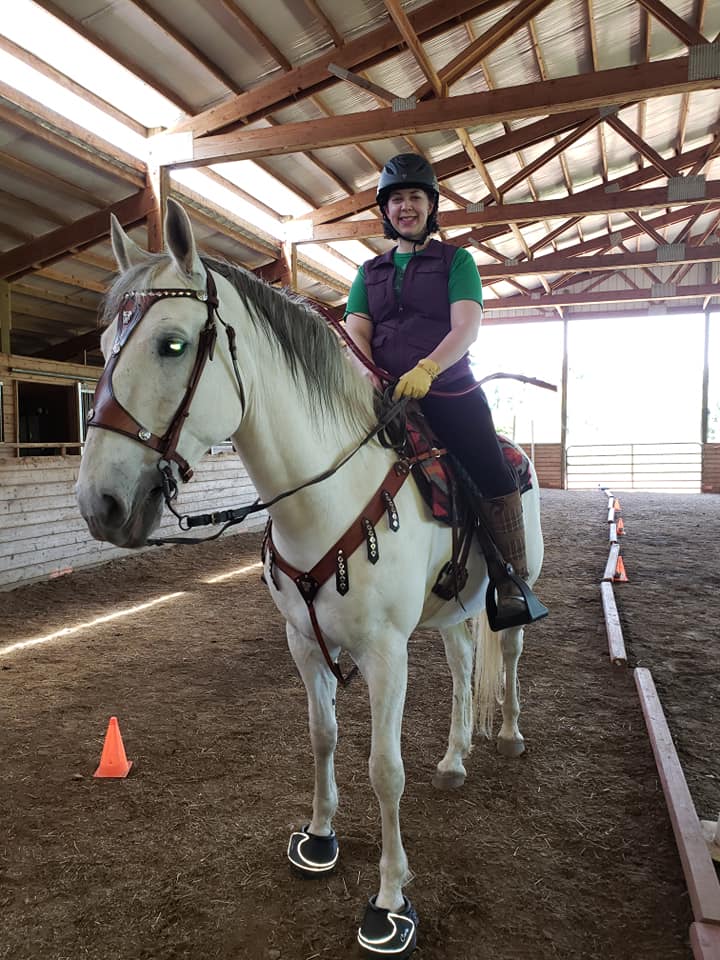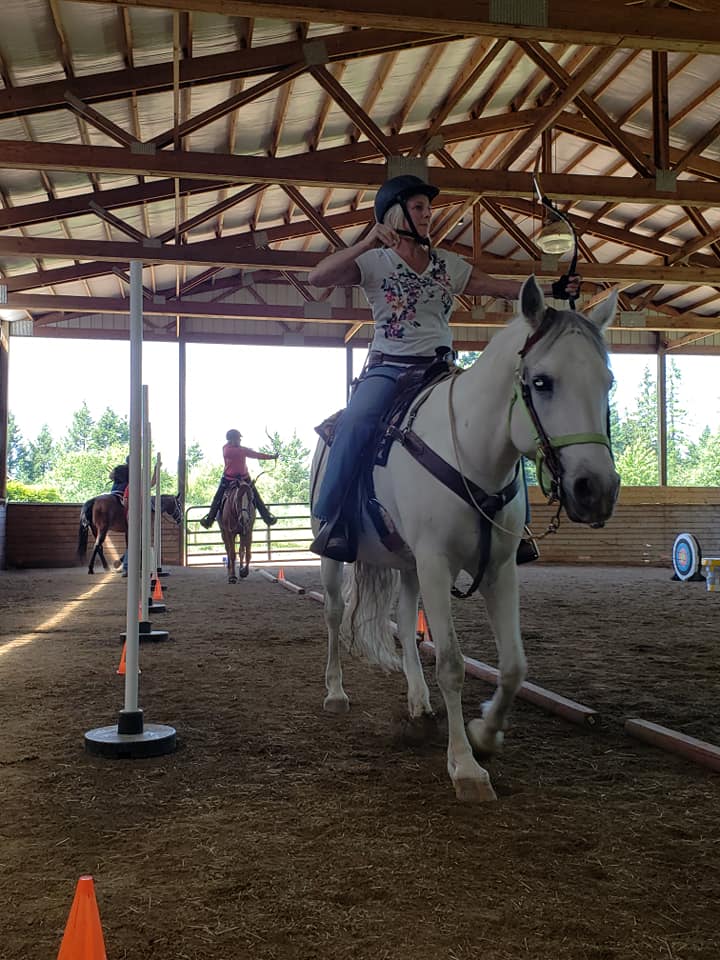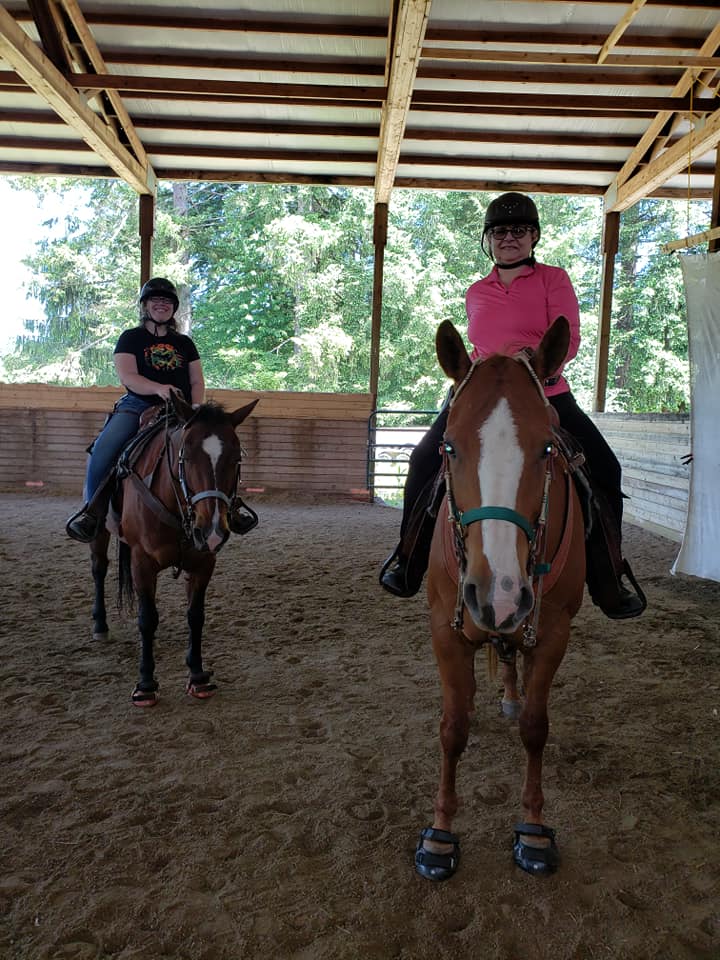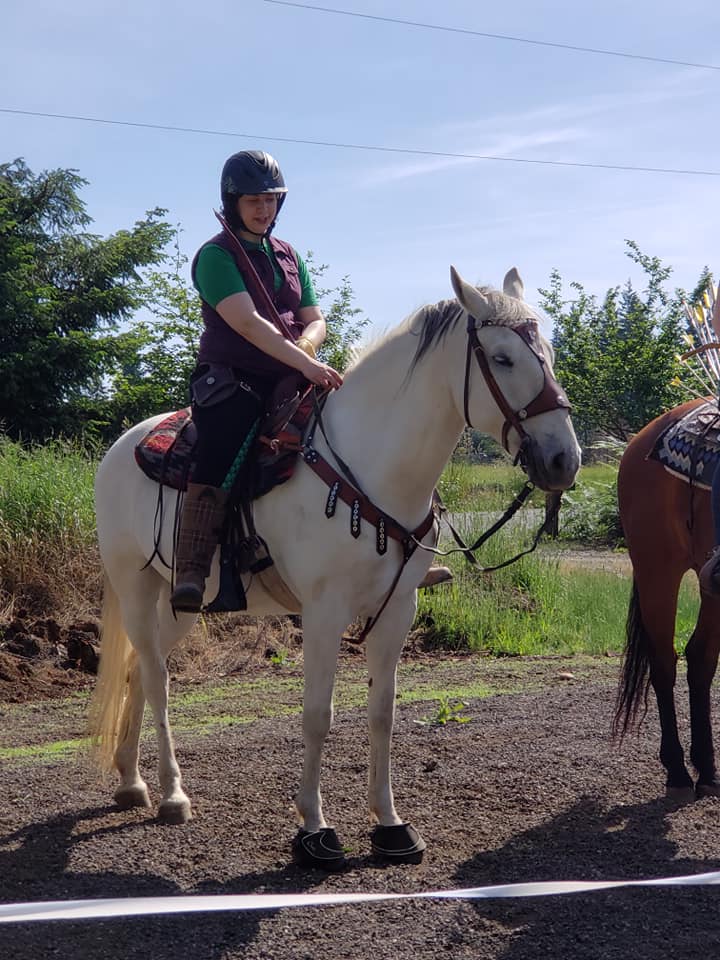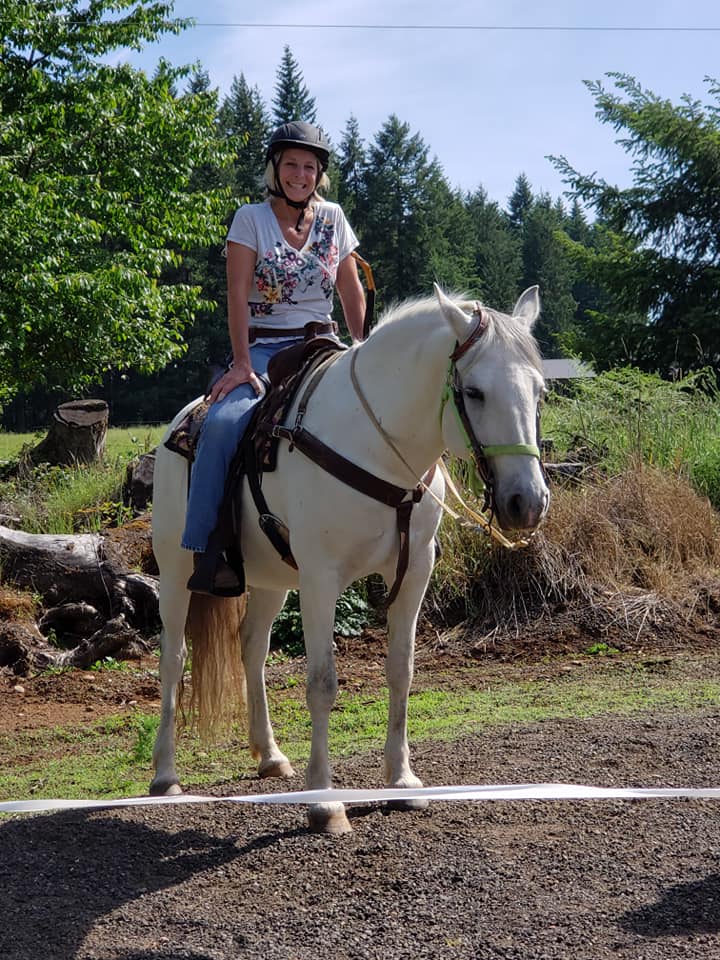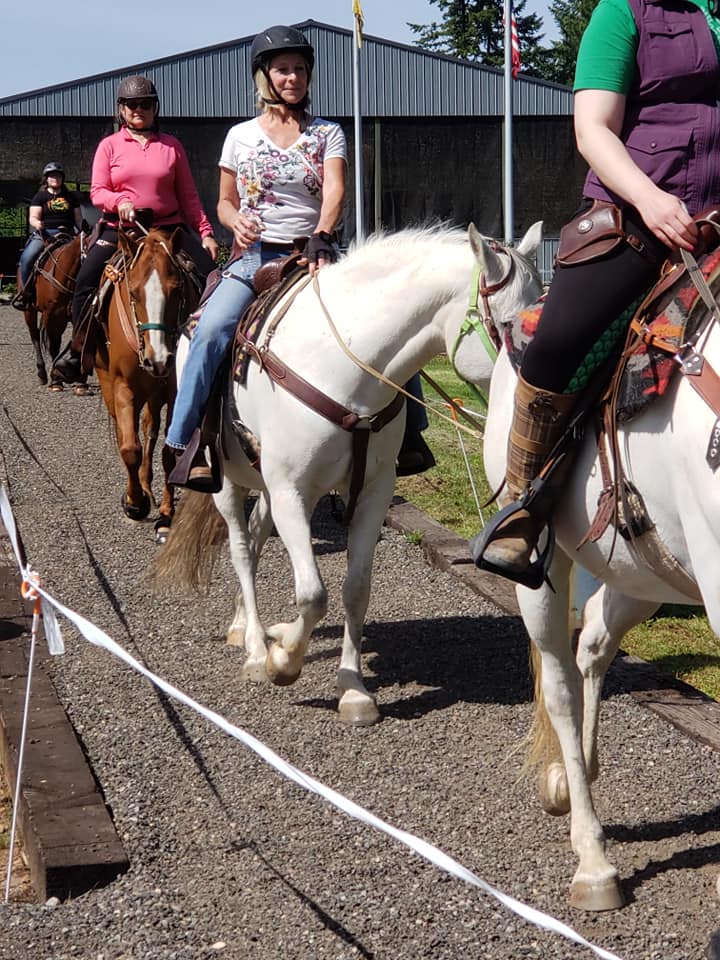 At the end of day one, I was exhausted from four hours of drawing a 25lb bow and three hours of riding with strong leg cues while also drawing a 25lb bow. Exhausted. It was 5pm, and I drove back to my Airbnb, walked to the nearby Vancouver Pizza Co where I guzzled ice water on their patio and devoured half of a calzone stuffed with mozzarella, spicy Italian sausage, goat cheese, and cashews, served with a creamy garlic sauce, and I maintain that this meal had just barely enough fat and protein in it to keep me alive as all I'd eaten that day was a croissant. The other half of the calzone I saved for my lunch on day two, and I decided that a successful day of riding a horse I didn't know hands-free while juggling a ball at a trot deserved some ice cream, so I walked down the street to Ice Cream Renaissance. It was a hot day and they were jammin'. I ordered a scoop of lemon raspberry cheesecake in a waffle cone and brought it outside to enjoy, but ultimately ended up discarding it after two bites, the second bite to confirm that it was oddly gritty-icy-crumbly and not worth the effort it would take to eat it. That is how tired I was. After binning the ice cream, I walked back to my Airbnb, took a cool shower, and immediately went to bed.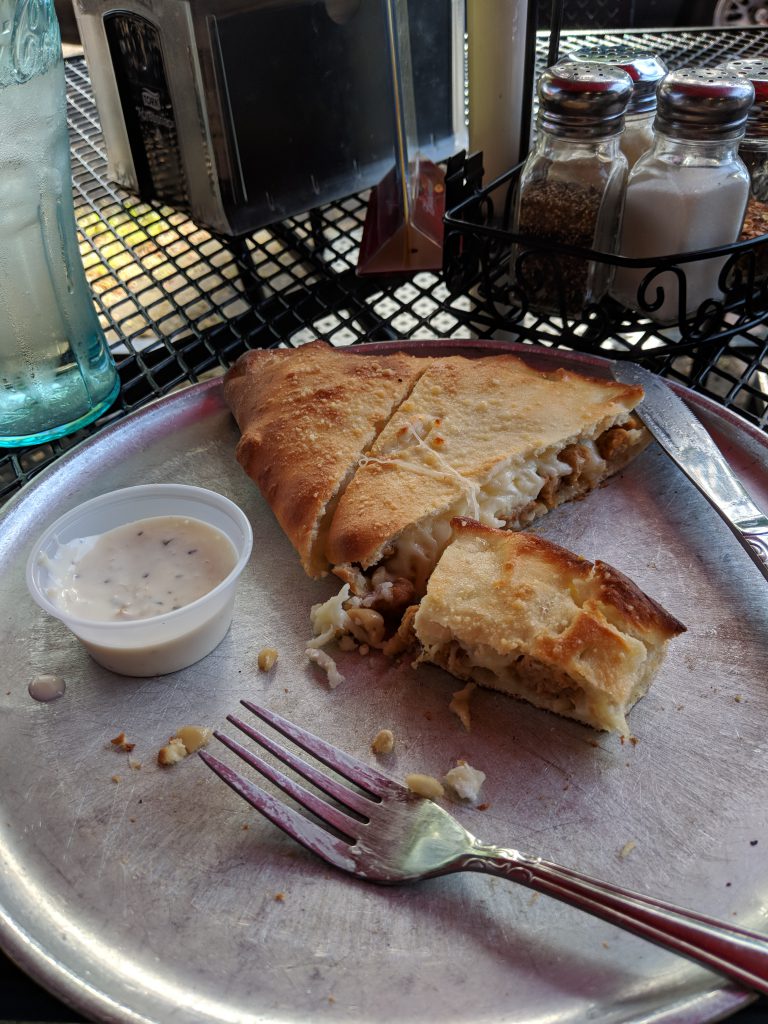 I was surprisingly not sore when I awoke the following morning. Not very sore, anyway. Aside from the sunburn I'd gotten and the hand-sized bruise blooming on my forearm, I mean. 
We started off the morning again with stretches and a series of archery games and exercises, my favorites being launching arrows 50 meters downfield at a Hungarian target which required you to use every inch of draw, and a supremely fun game called "Battle Bows" wherein two people stand inside of a hula hoop across from one another at a distance, you're armed with arrows with big soft foam heads, and you shoot at one another's knees.  You can't leave the hoop but you are otherwise allowed to dodge. If you strike your opponent, you win. If they catch your arrow out of the air, you lose. If they touch the arrow but fail to catch it, you win. Any arrow that lands within reach of the hoop can be reused. This game ramps up your adrenaline in a major way and really forces you to keep your eyes on target–you can't risk looking at your arrow to nock it, because that lapse in attention could make you an easier target for your opponent. I struck two hits on Kim and managed to escape Battle Bows unscathed…this time.
Magalyn departed at lunch to attend a Portland Thorns FC game, and the rest of us were put into a friendly competition with one another. Of course, all it takes is the word "competition" for me to get in my head and start biffing things, and the teacher, Lisa, came over and spoke with us about her technique of dealing with pressure by treating it as a wave: something that can pass over you and beyond instead of carrying you away. Breathe, allow it to pass, and move on. She also encouraged me to engage with more intensity, ferocity, aggression and that's an entirely different way of being for me but it feels freeing. We had several rounds of competitive shooting on the ground, and then we mounted up. As Magalyn was gone, I got to use her saddle instead, and found it much easier to sit properly and keep my feet seated in the stirrups.
We did a couple of laps around the outdoor track shooting at a walk, then we practiced shooting at the trot (a first for everyone), and finally we had a few rounds of free-for-all shooting at myriad targets including styrofoam heads and a half buried small green target worth fifty points. You could shoot at any target you liked, but the points only counted if you were trotting. You could enter the track with your first arrow loaded, and it was wise to do so as that fifty pointer was on the first stretch and you don't want to be fumbling with an arrow instead of drawing on it. Immediately after the entrance was a larger yellow twenty-five pointer, and I committed to shooting at them both on every lap. This meant that the arrow I had loaded upon entering the track was dedicated to the twenty five point target, and I had about a third of the track to draw, load, aim, and fire on the fifty pointer, at a trot. I didn't hit either one of them on any of my attempts, but my misses were close, and hearing Lisa compliment my gutsiness for going for those targets was all the reward I needed. Plus I nailed a couple of bullseyes off of the back of a moving horse when just a day earlier I wasn't sure I was ready for that kind of riding.  Kristi brought home the championship golden arrow keychain, and I brought home a confidence boost to end all confidence boosts.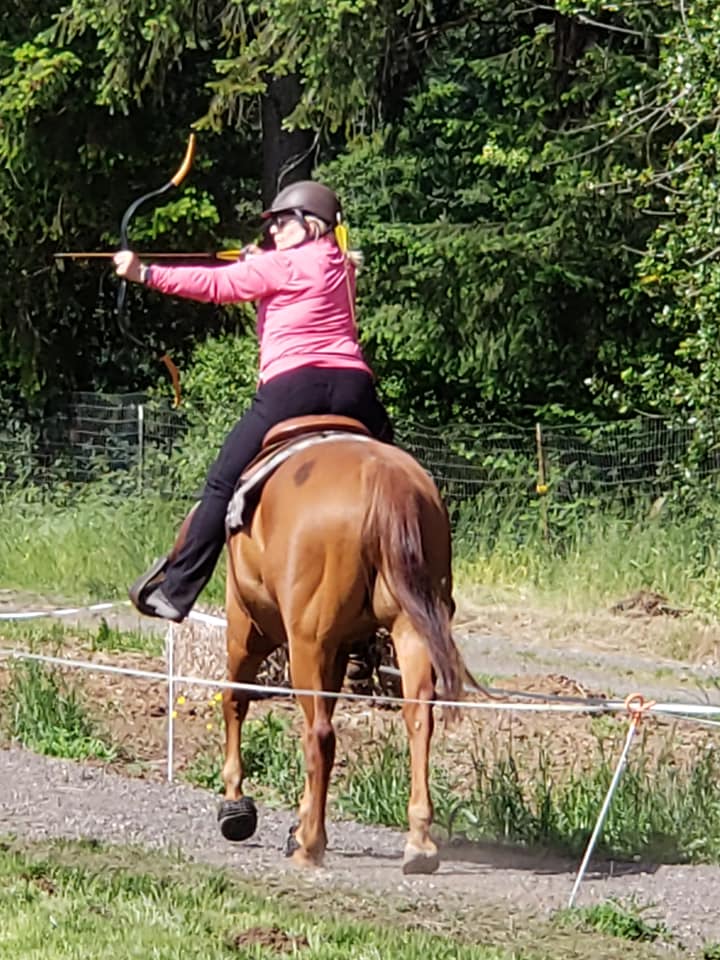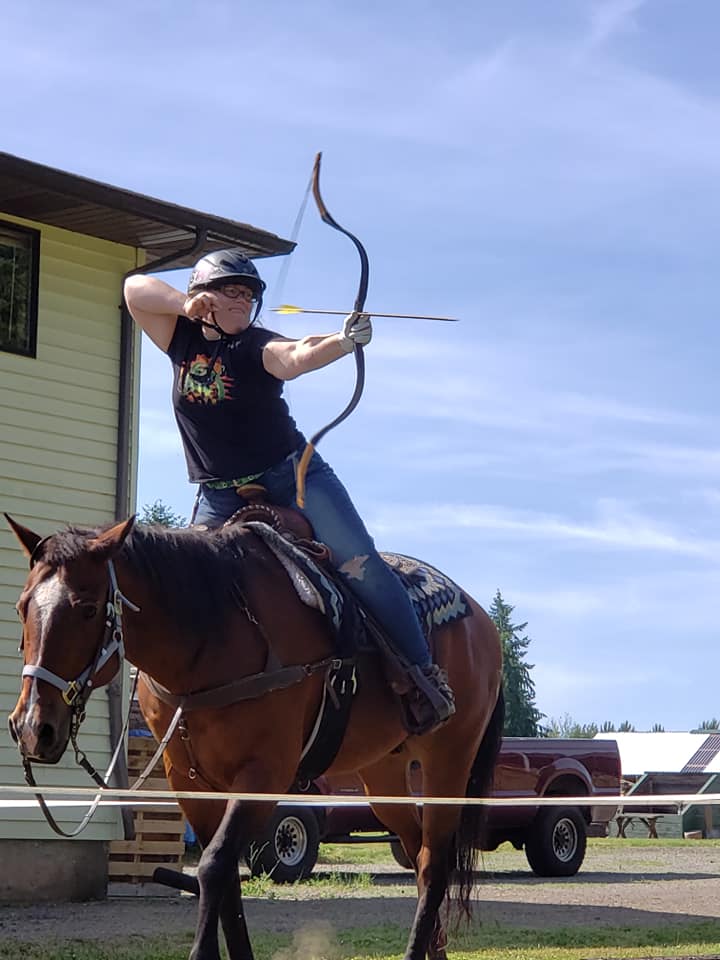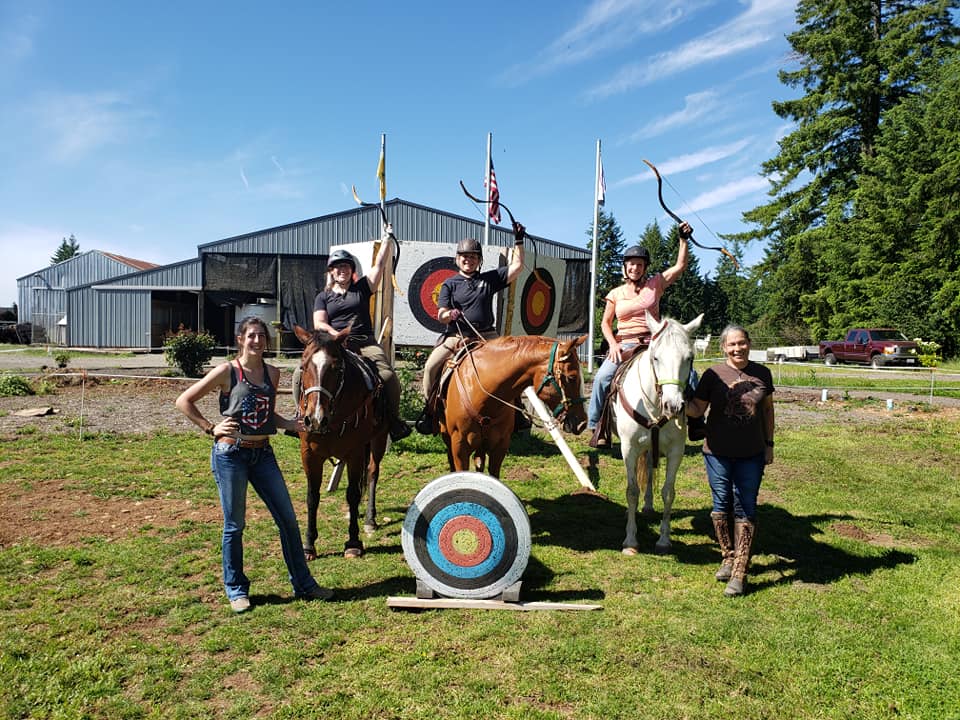 *Feedback Loop of Fear and Inadequacy would make an excellent title for my memoirs.