It was our last day in Chicago as a triad, and we started it at the International Museum of Surgical Science. I haven't often considered the great debt I owe to history's physicians, and I take the relative ease with which many formerly deadly ailments can be healed for granted. Which, when I really think about it, is wild. It was just 100 years ago that a broken femur meant an 80% mortality rate. An 80% chance of dying from a broken bone! The Thomas splint, introduced in 1916 by Hugh Owen Thomas, the father of orthopedic surgery in Britain, reduced the mortality rate from 80% to 20%.
About 200 years ago, doctors started to believe in germs, but there were holdouts into the mid-late 1800s who staunchly refused to accept or understand their role in transmitting disease from patient to patient.  Before the germ theory of disease was accepted (the idea that microorganisms invade the bodies of humans and animals and it is their growth and reproduction that cause disease), doctors would go from patient to patient or from an autopsy to a birthing without washing their hands or changing their clothes despite their being "most thoroughly imbued with effluvia". Disease was thought to be caused by an "imbalance of humours" or by walking through bad air.
Anesthesia was developed around the same time, with the first successful anesthetized procedure occurring in 1846, and while many doctors were excited about its surgical possibilities, there were, again, some holdouts who considered its use wrong and even immoral. "I think anesthesia is of the devil and I cannot give my sanction to any Satanic influence which deprives a man of the capacity to recognize law! I wish there was no such thing as anesthesia! I do not think men should be prevented from passing through what God intended them to endure!" remarked William Henry Atkinson, physician and first president of the American Dental Association, which makes me wonder what I'm intended to endure when I purchase a toothbrush or paste endorsed by the ADA. 
Still, even doctors who embraced anesthesia for its ability to allow more invasive procedures often found that their successes ended in the death of the patient, and this is the direct result of antiseptic measures not yet being in place due to the idea of germs being rather newfangled. Thanks to the work of individuals like Louis Pasteur and Joseph Lister (who promoted the sterilization of operating rooms and equipment in the 1870s), the risk of contracting an infection after surgery has been dramatically reduced. And so, on the few occasions I've been under the knife, I haven't had to gnaw on a belt, conscious, while a doctor rooted around in my insides who may or may not have washed his hands beforehand. Modern surgical science has given us all that.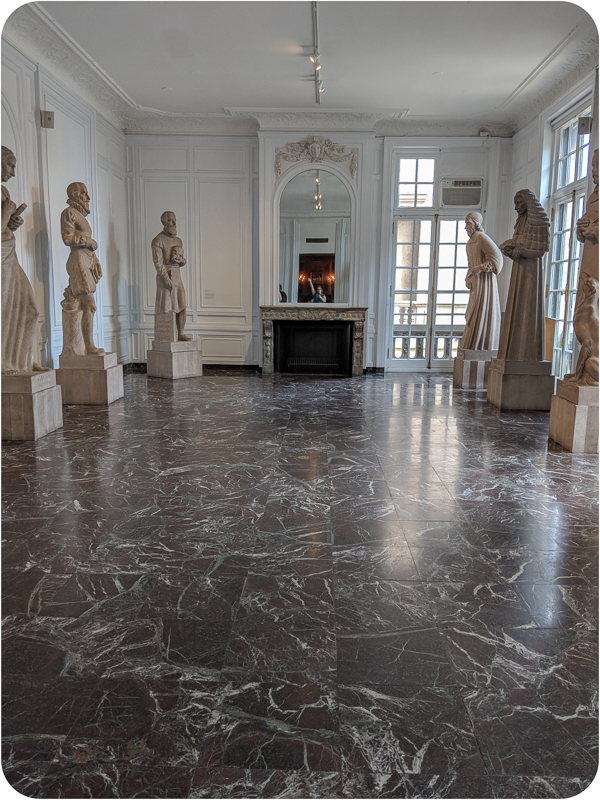 The Hall of Immortals, sculptures by Louis Linck and Edouard Chassaing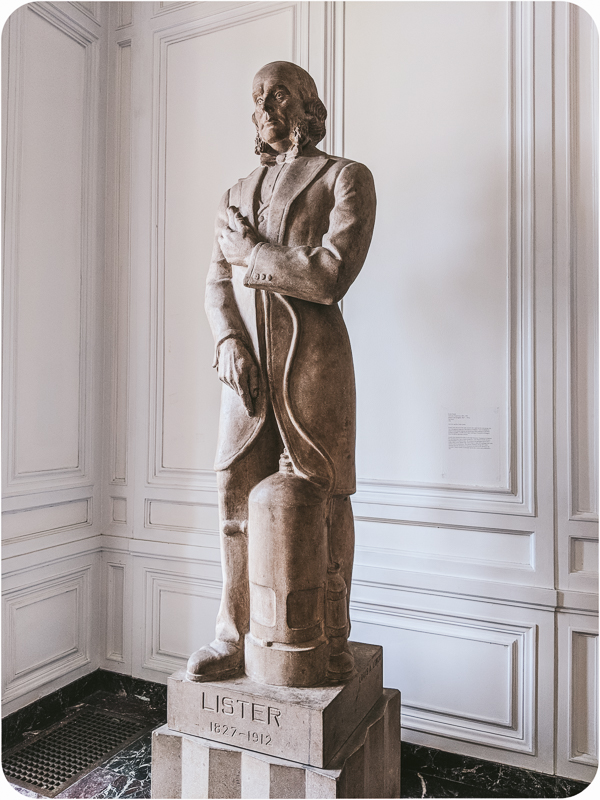 The Right Honorable Sir Joseph Lister, surgeon, pioneer of antiseptic surgery, and for whom both Listerine and Listeria are named.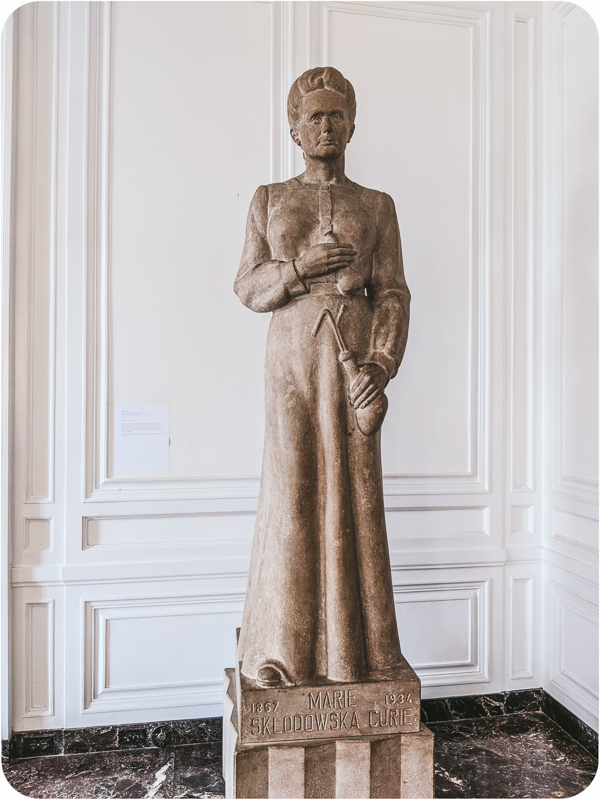 Marie Curie, physicist and chemist, who conducted pioneering research on radioactivity.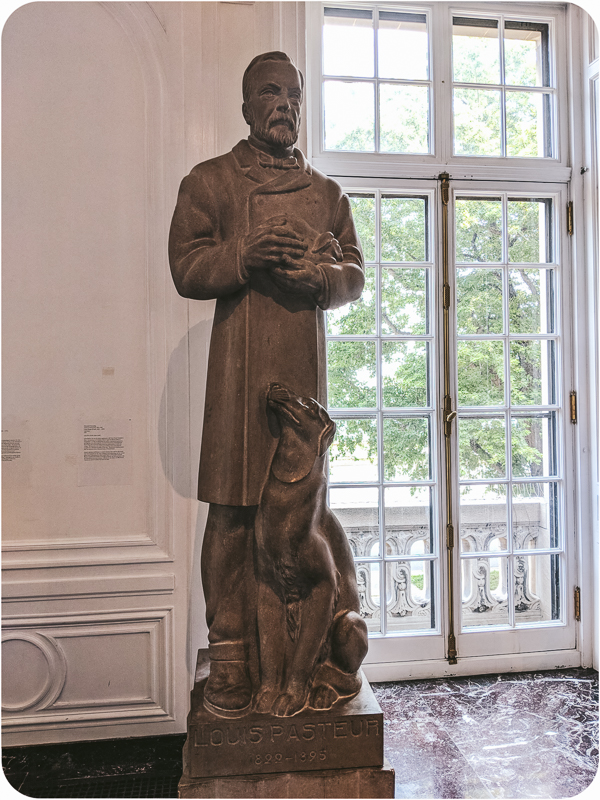 Louis Pasteur, biologist, microbiologist, chemist, discoverer of the principles of vaccination, microbial fermentation, and pasteurization.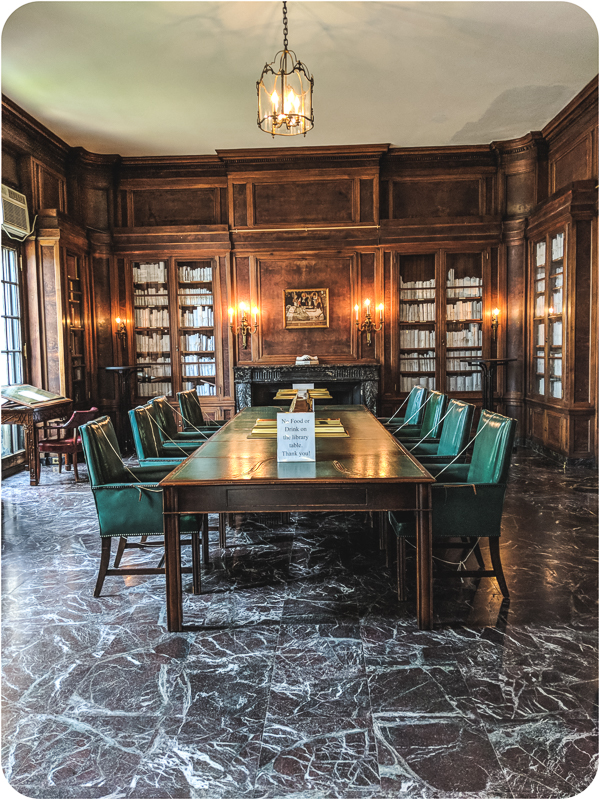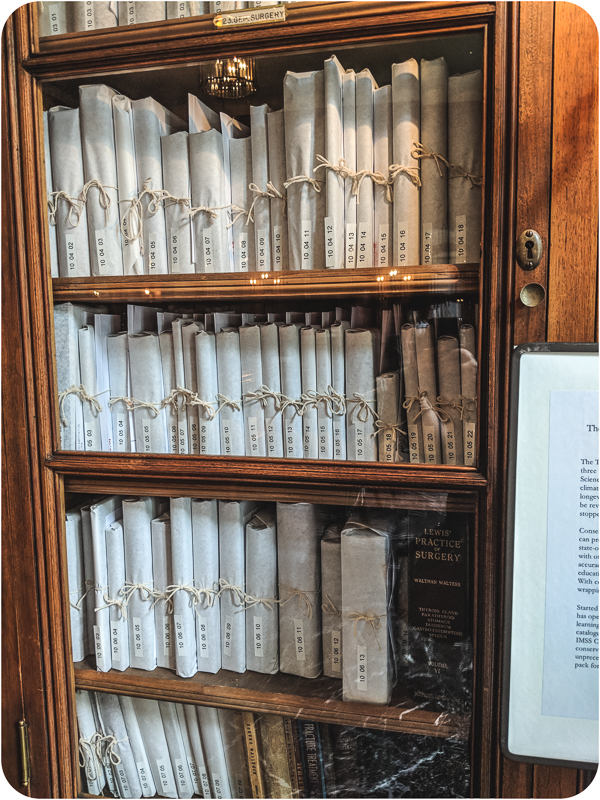 The books at the International Museum of Surgical Science are soft packed in tissue paper as a means of preservation.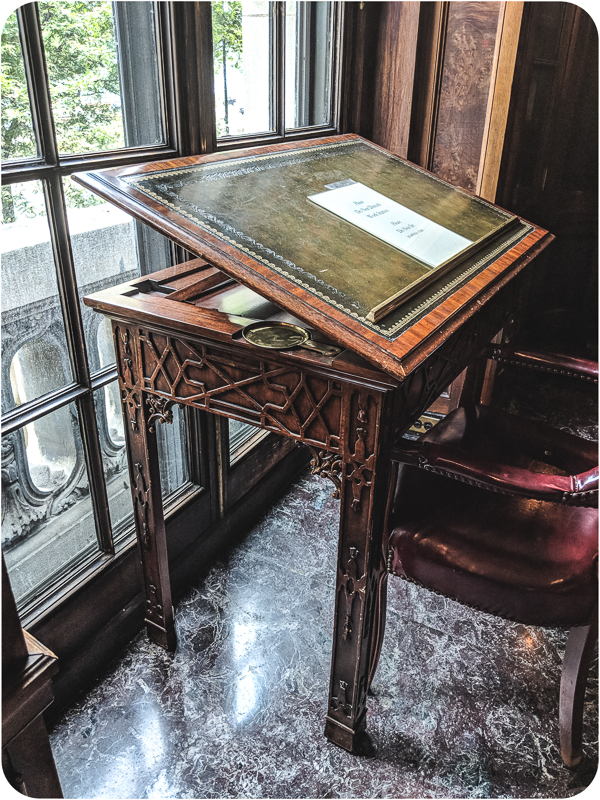 With all the natural sunlight spilling into the room, I would not be surprised if the top of the desk is discolored around and thus ironically damaged by the sign they placed to protect it.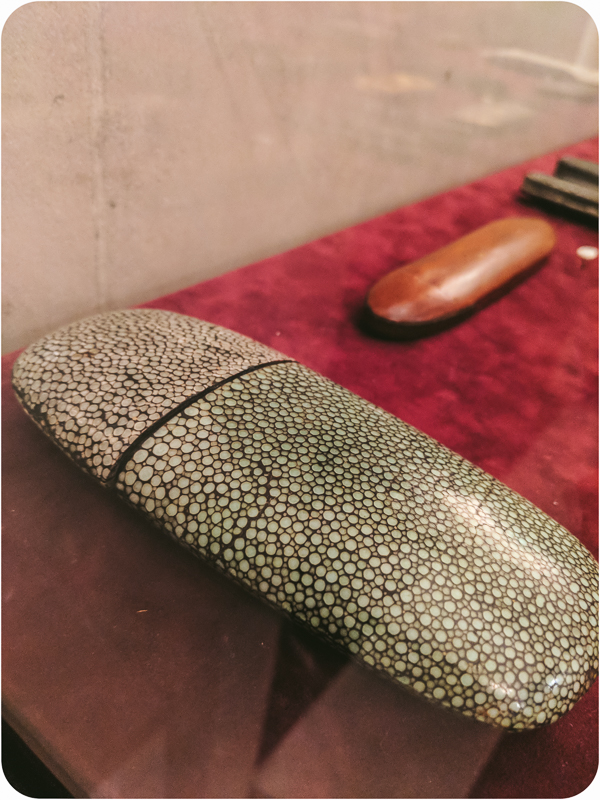 Antique glasses case made of shagreen, a rough-textured leather that is traditionally from a shark, ray, or horse and dyed a pale green.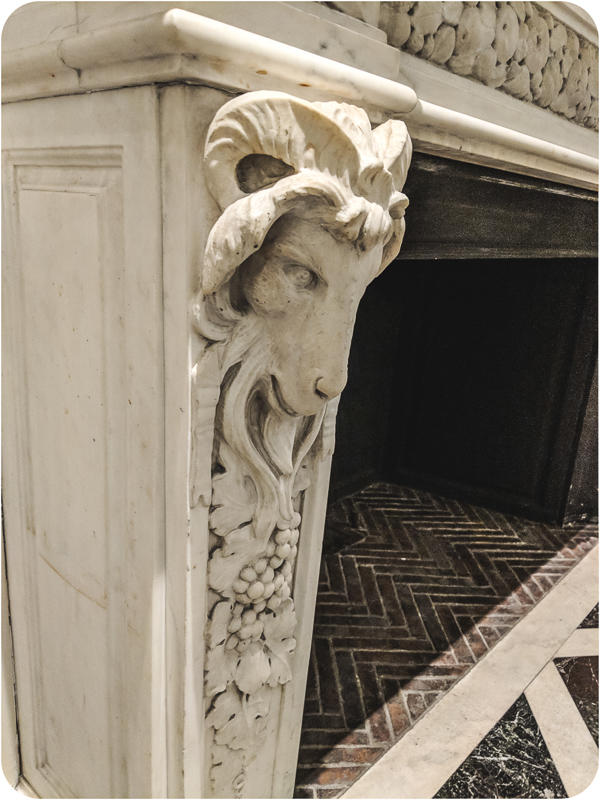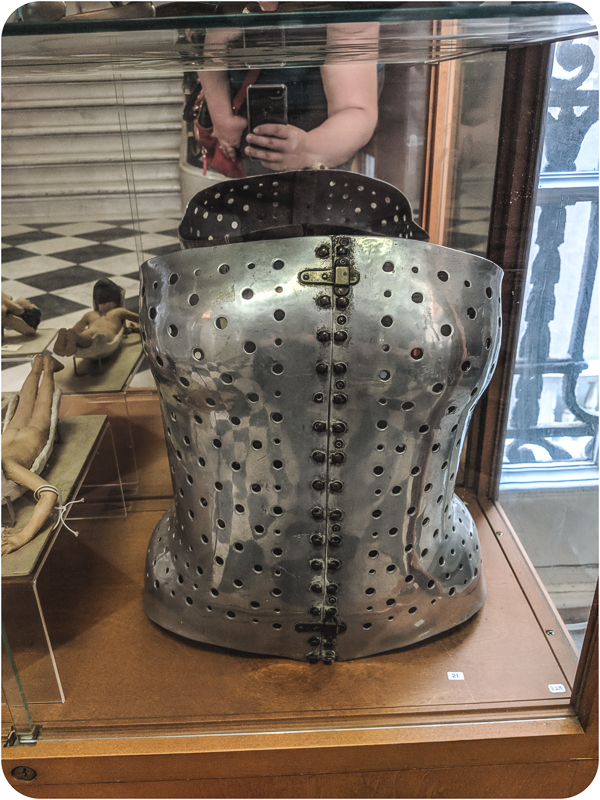 Medical device or chill piece of fashion?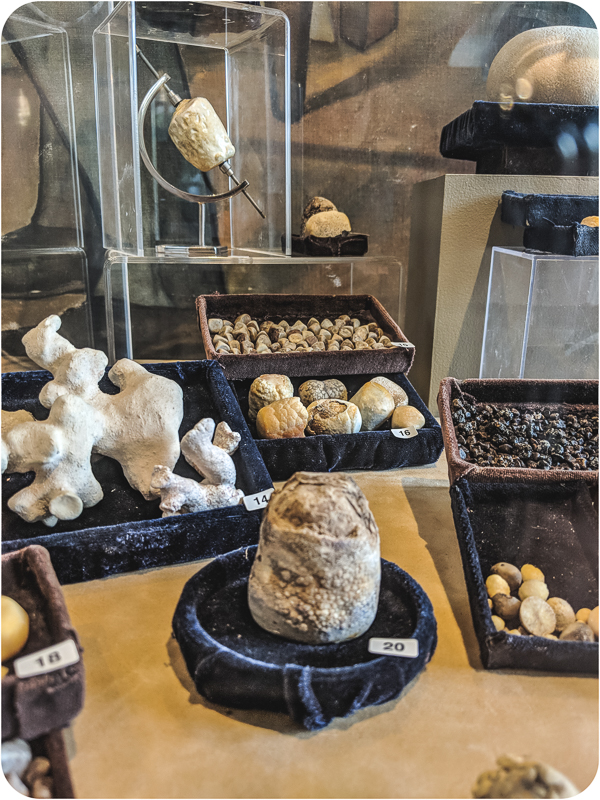 Things that came out of people. And maybe animals? For sure people.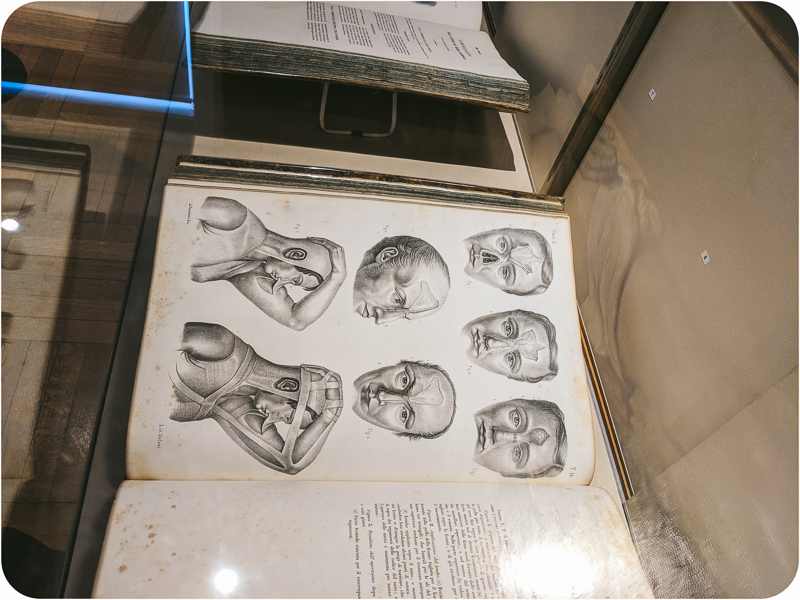 A fascinating series of illustrations demonstrating pioneering techniques for nasal reconstruction by using adjacent flaps of skin. Making your armpit the first thing you have to sniff with your new nose is the medical profession's way of keeping you humble about your new nose.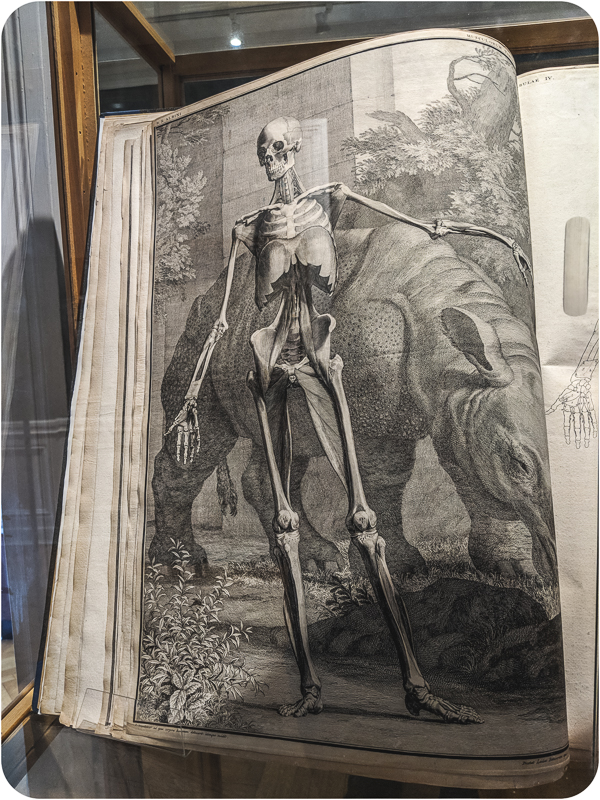 It's going the extra mile in your medical illustration to not only finely render your subject but add a whole rhino in the background.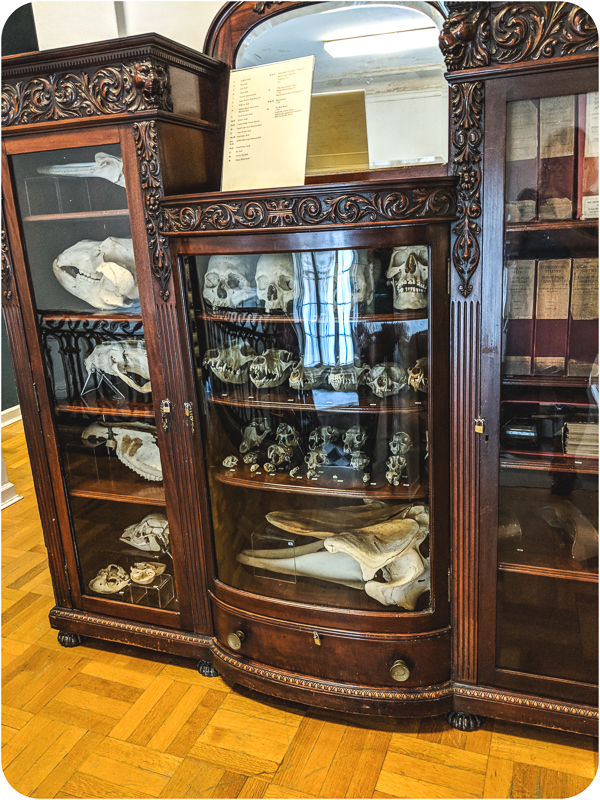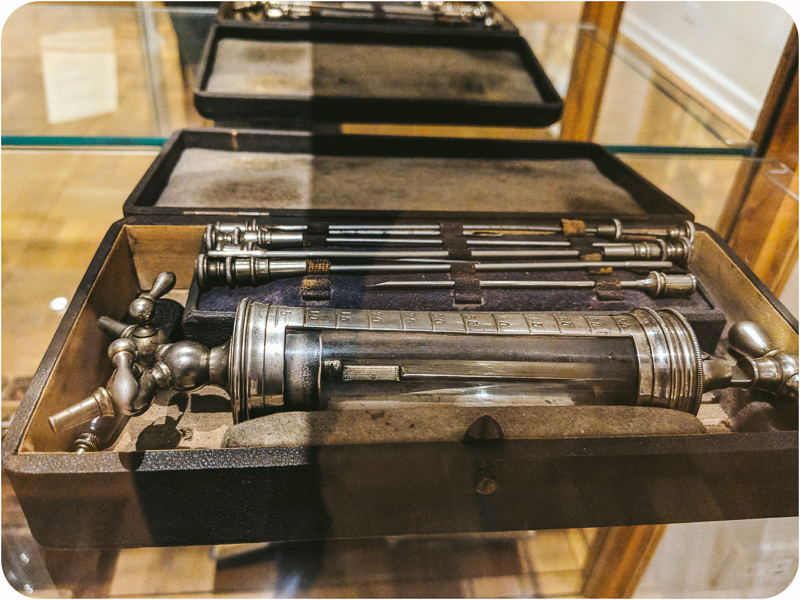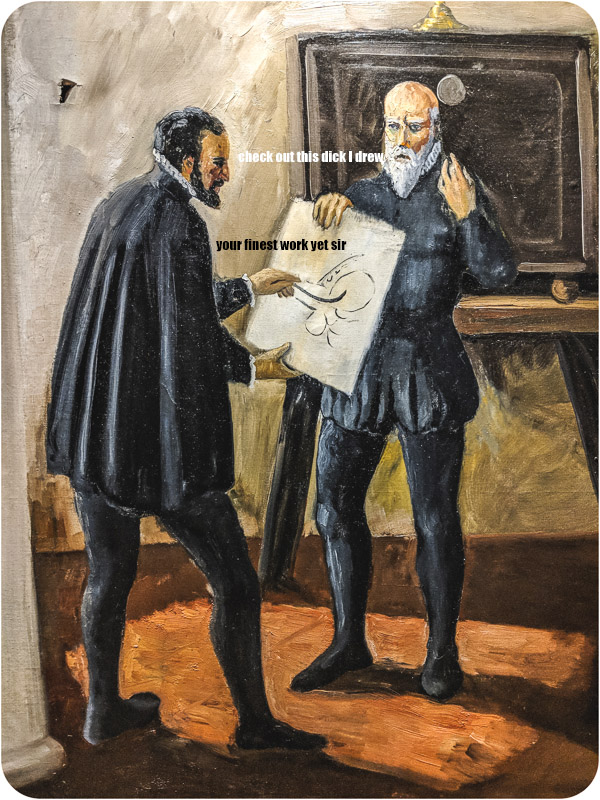 All that talk and video of invasive surgery gave me the kind of renewed zeal for life that it takes to eat a slice of deep dish pizza at Giordano's or any place that deals it Chicago style. I used to be defensive about whether Chicago style was "real" pizza or not (it is!) , but I will now begrudgingly admit that it is not the style that springs to mind when the word "pizza" is uttered within earshot. Chicago style is pizza but it's pizza that's being extra by basically being a pizza stacked on top of a pizza.  A pizza casserole,  stuffed with more mozzarella than I'm comfortable contemplating when I'm not eating it. When I'm eating it, I'm more than fine with the amount of cheese in there.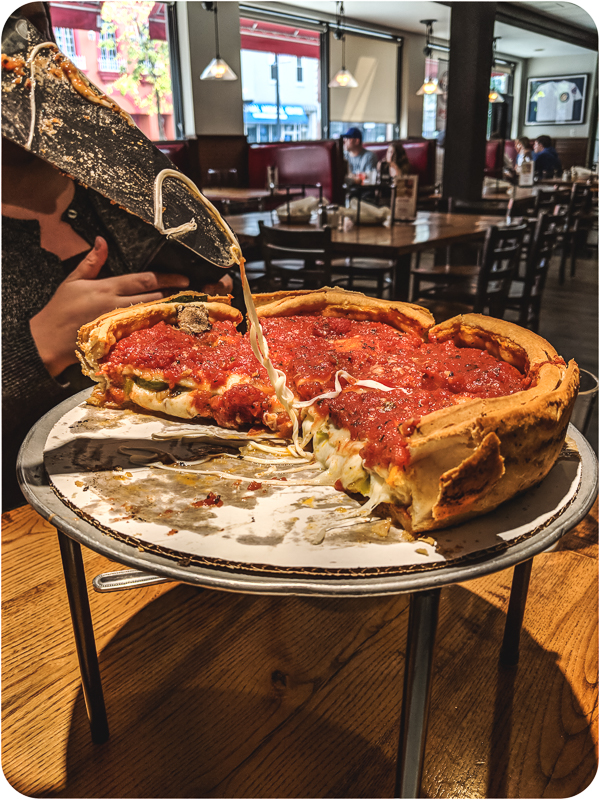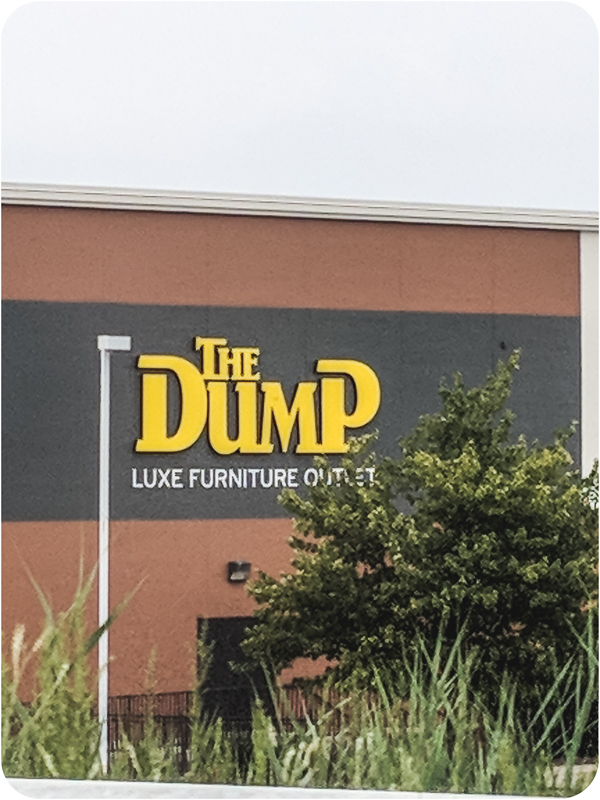 We drove past this place on our way to the Chicago Botanic Garden and I just…why would you name your outlet for luxe furniture The Dump? What on earth do you think is appealing about that name? Would you name a fancy ice cream shop The Squirts?
It was sweltering when we visited the Chicago Botanic Garden, hot and humid. The kind of heat where you don't know if you're sweating or the moisture in the air is condensing into droplets and rivulets on your skin or large amounts of both. The two pounds of mozzarella rolling around in my stomach probably didn't help matters. It was so steamy that my glasses started to fog up even as my eyelashes spritzed the lenses with sweat for what amounted to a constant blurry filth filter on the world.
We sweatily unfolded the map and determined that the one place on the entire 385 acres we definitely didn't want to visit was  "Spider Island" so of course we found ourselves on Spider Island almost immediately. It's the same kind of magnetism that draws a cat over to fawn on a visitor who isn't particularly fond of cats. The spider hivemind on Spider Island sensed that Dianne and Dee were both vehemently uncomfortable with their kind and by the powers granted to them by Newton's Third Law they thus reoriented the earth so that they might love us, placing our feet on the bridge even though we were trying to get to the sensory garden.  At least once they had lured us near, the spiders deigned to reveal themselves. Repelled by our sweatiness, they preferred to just peer at us from above. And behind. And below. And just next to the nape of your neck.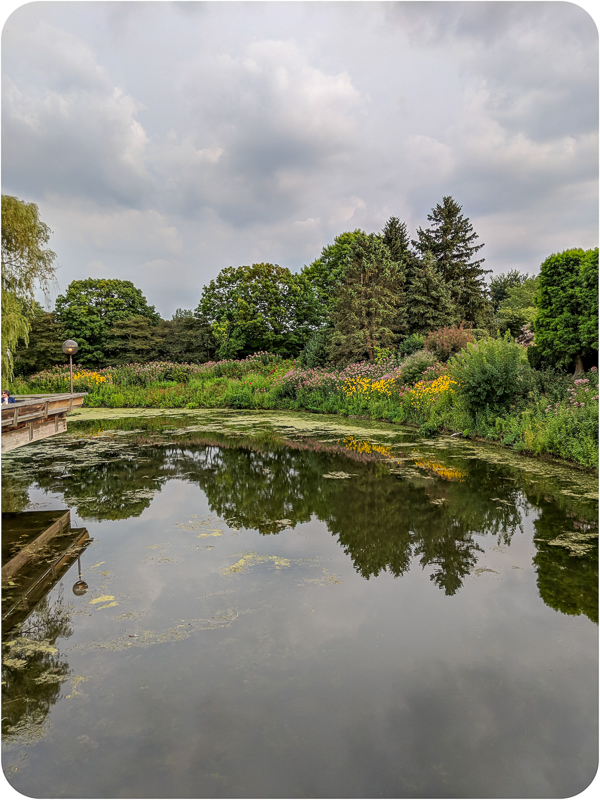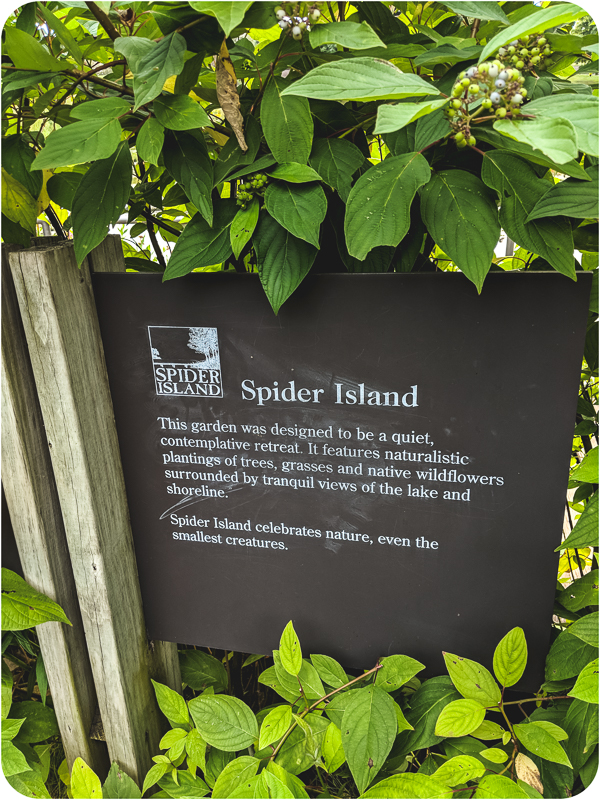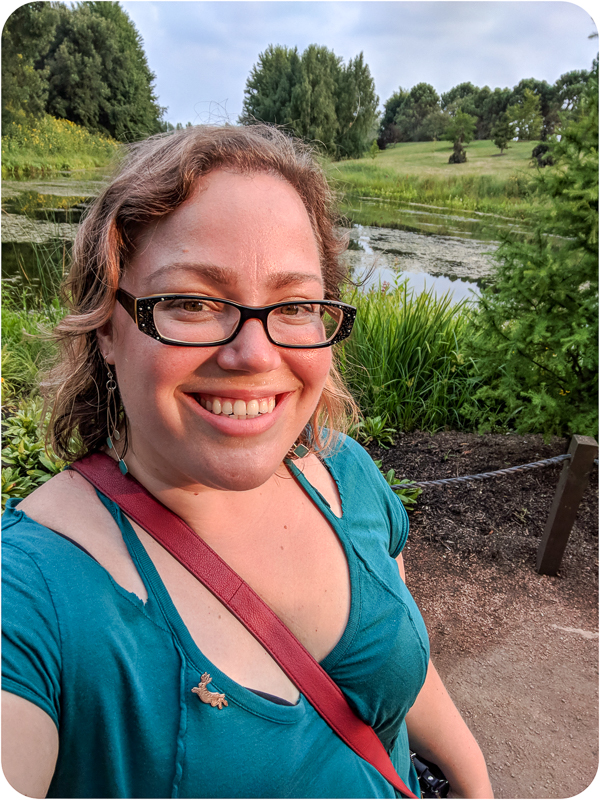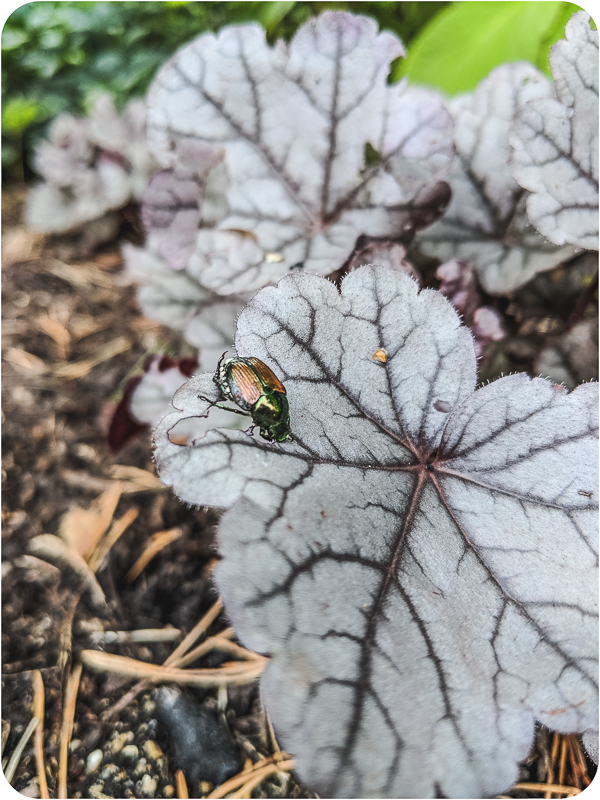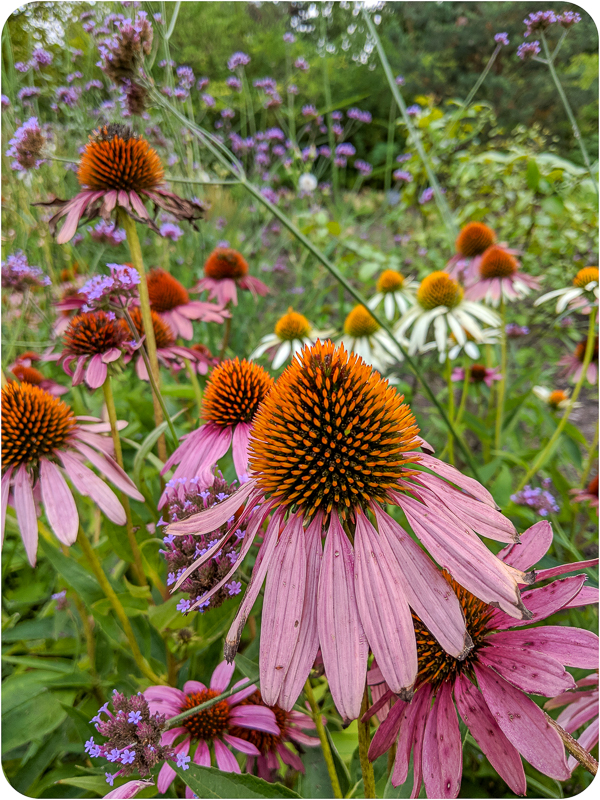 Echinacea purpurea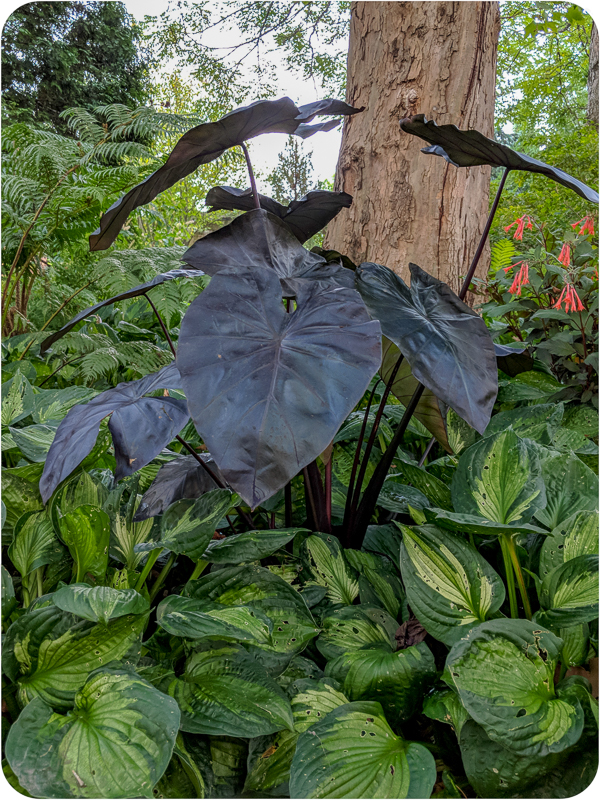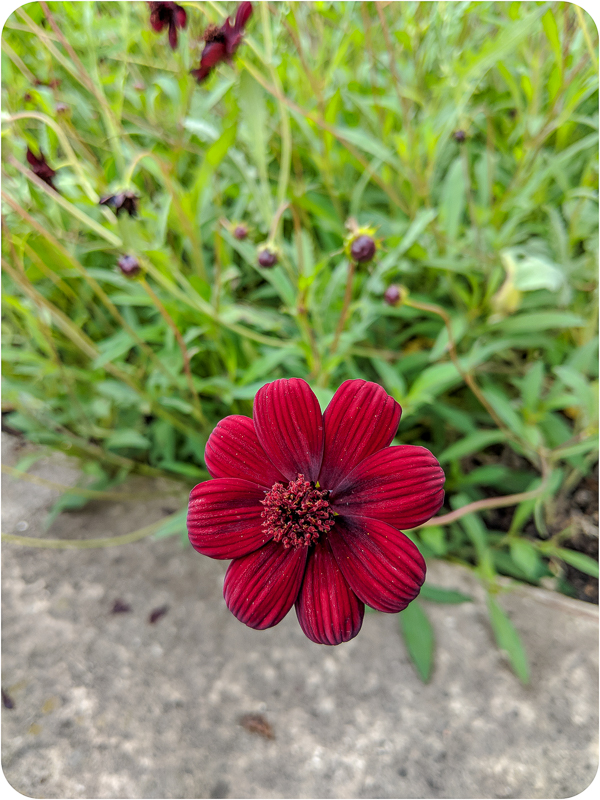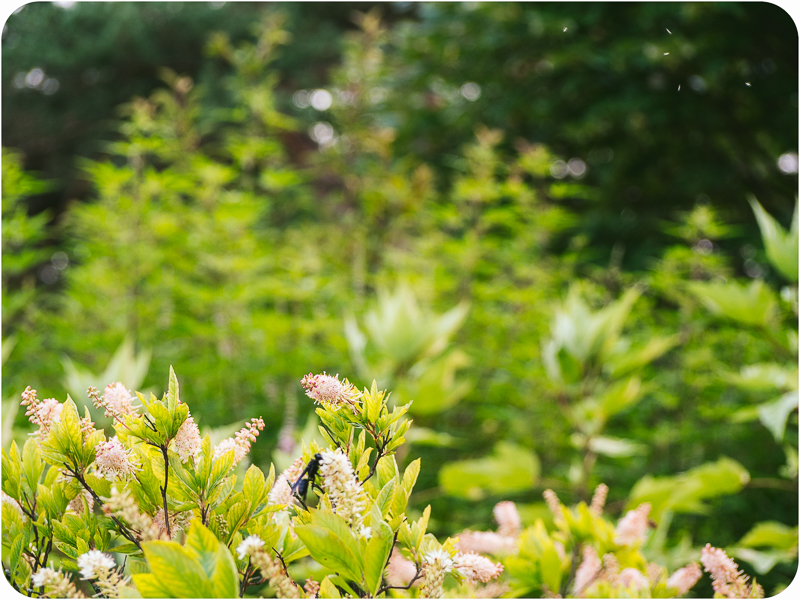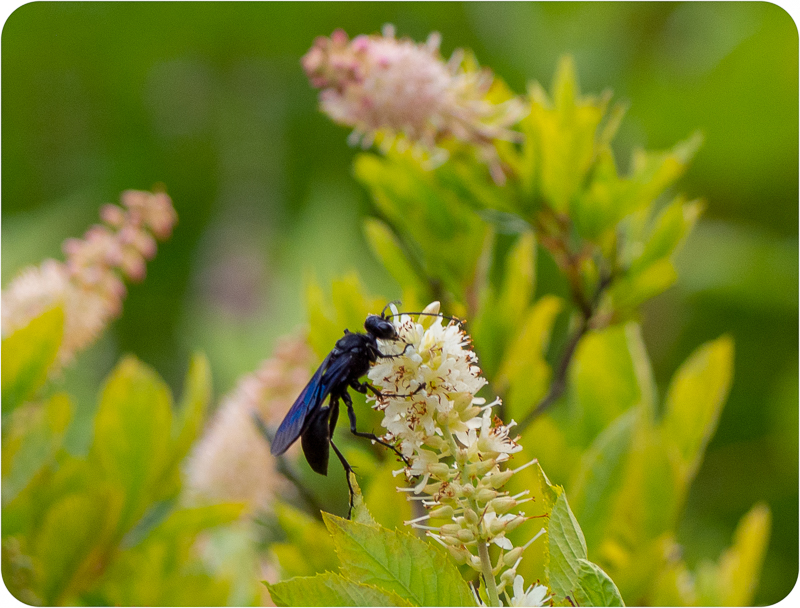 Sphex pensylvanicus, the great black wasp. The gothest of the wasps.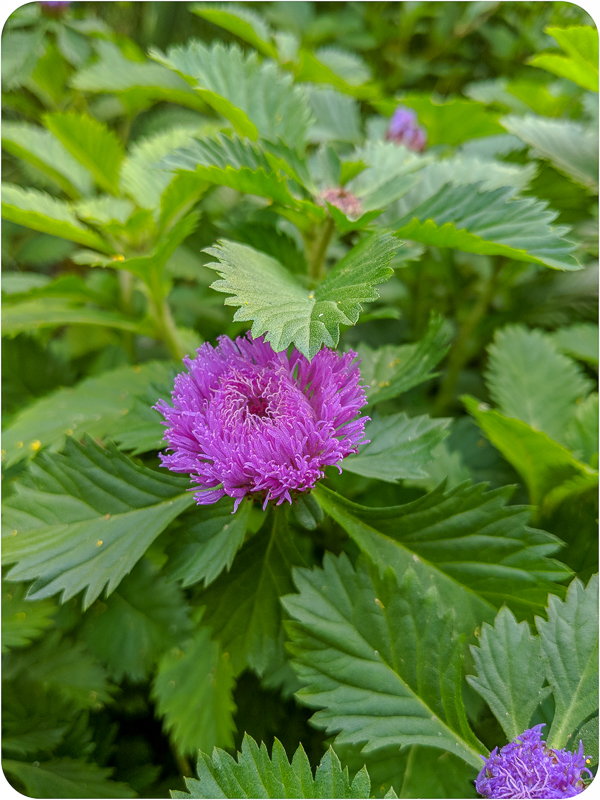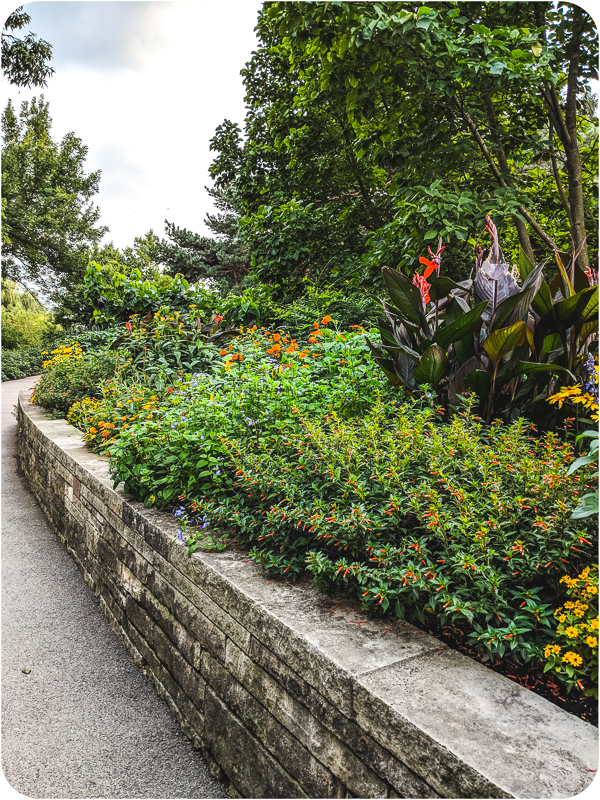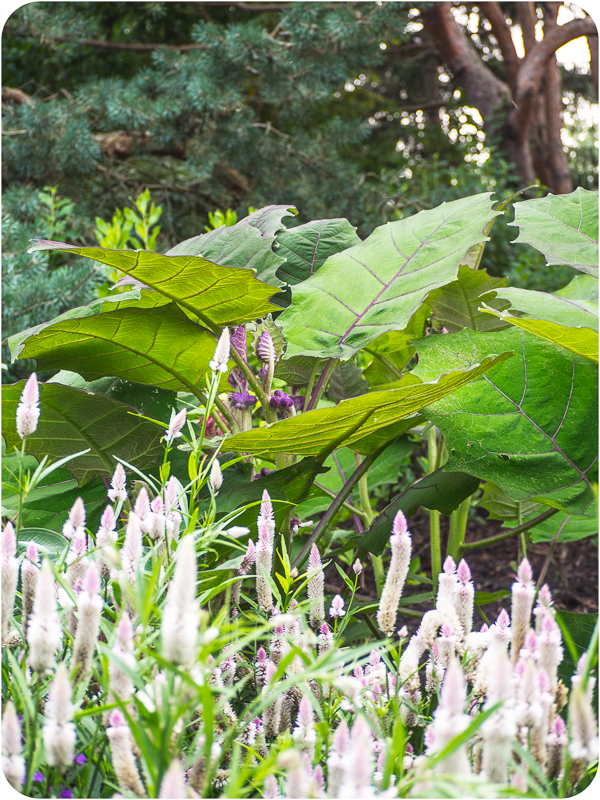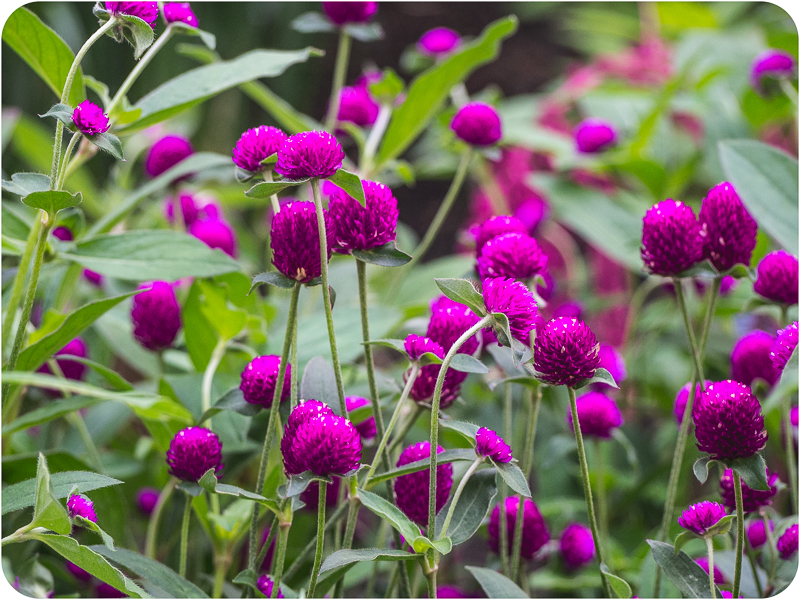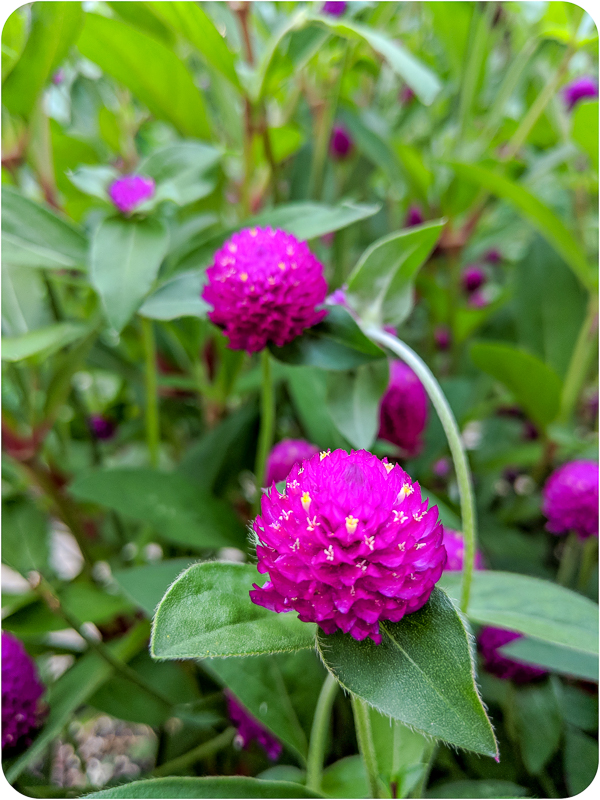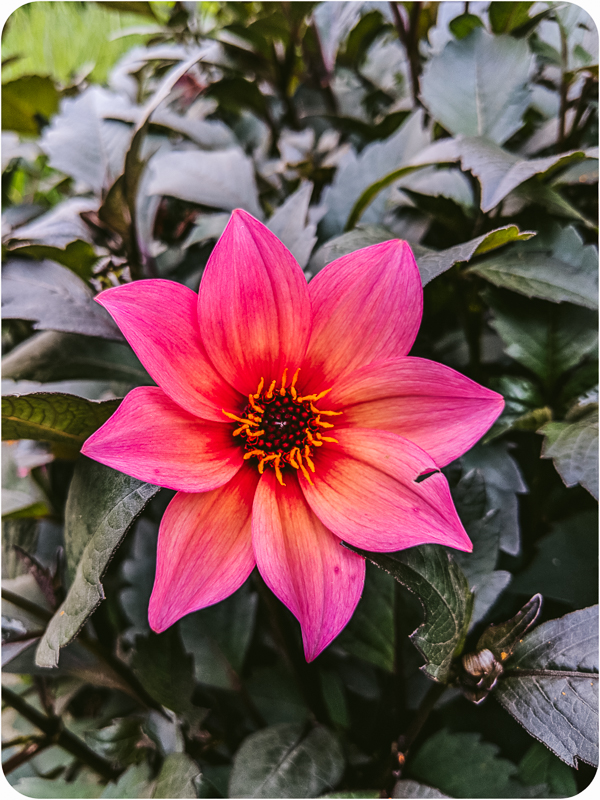 Dahlia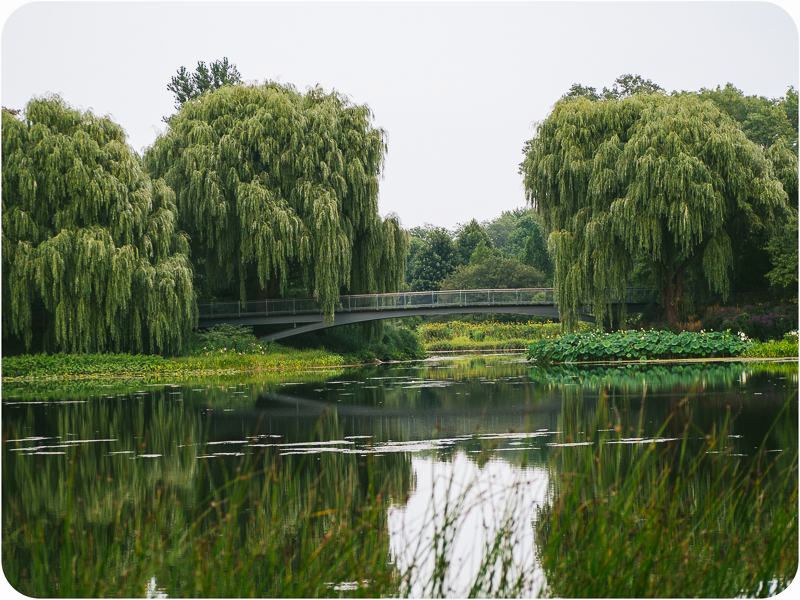 I love a willow draping dramatically over anything.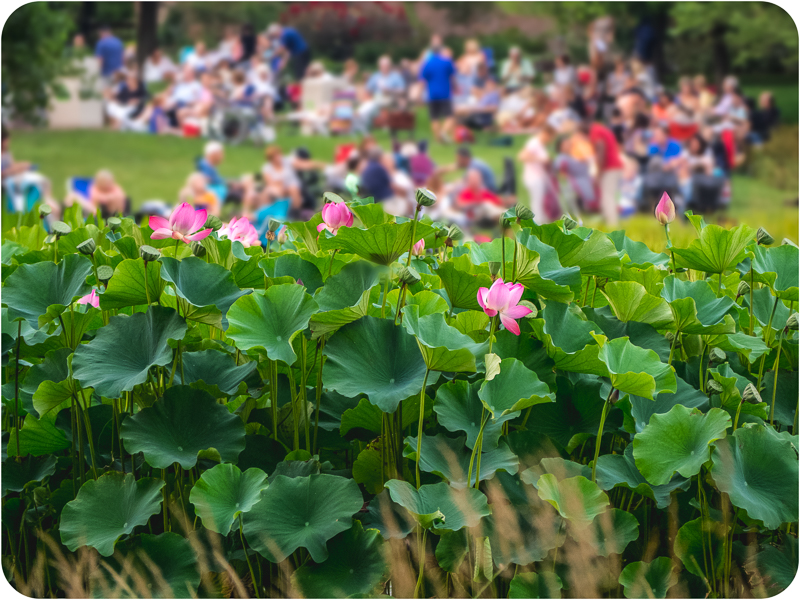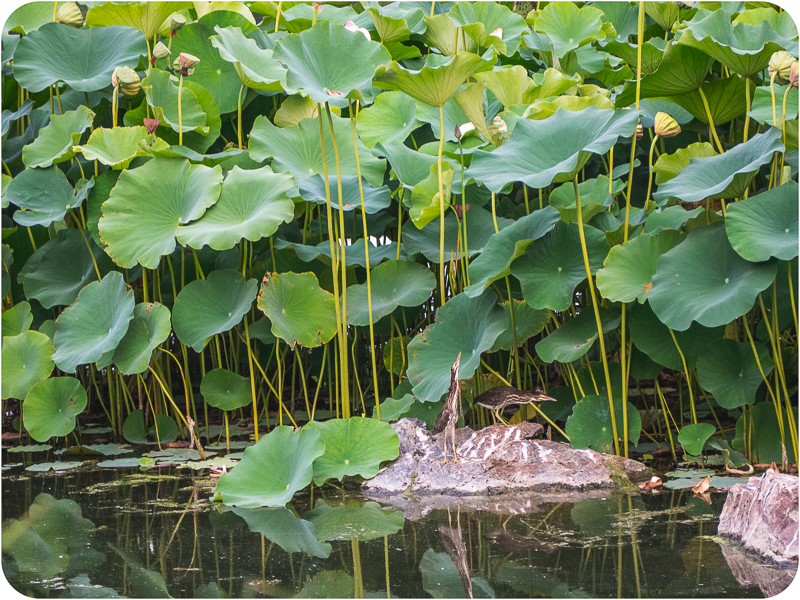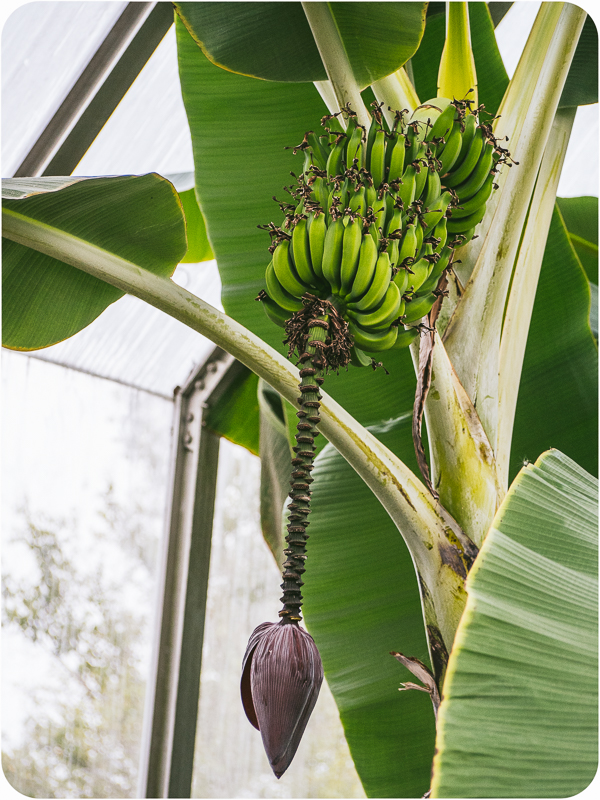 I feel like I will never have truly lived if I don't see a martial arts movie where someone uses this kind of banana as a flail.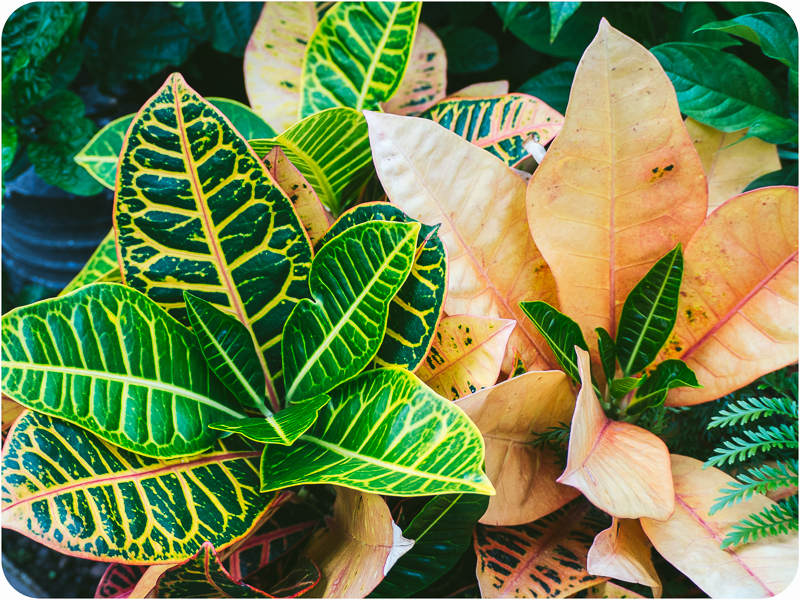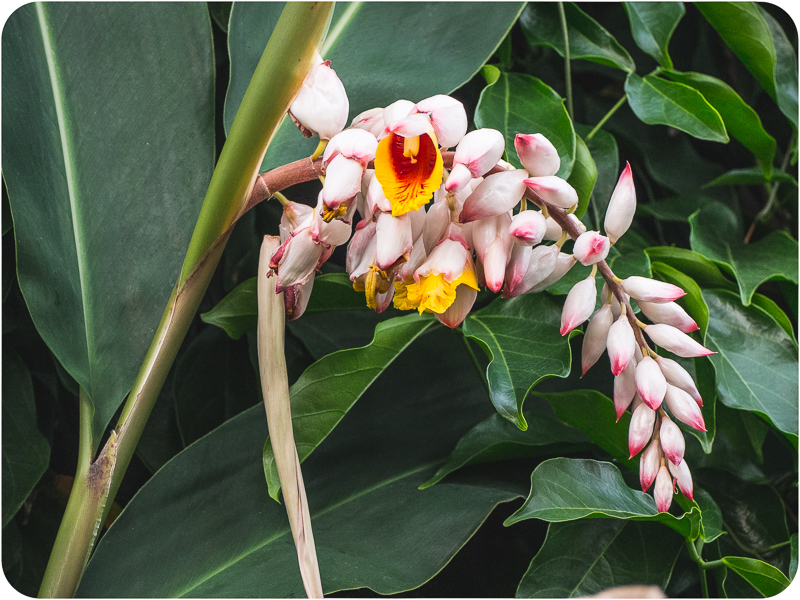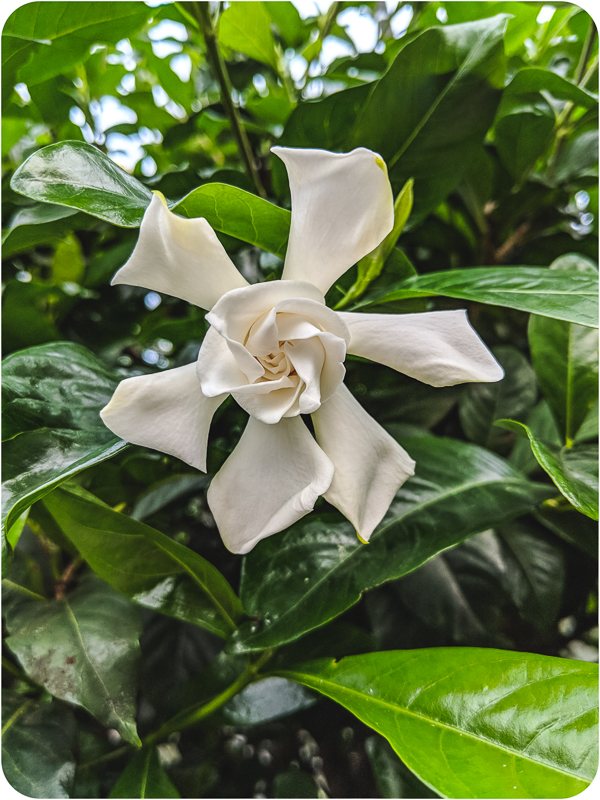 Gardenia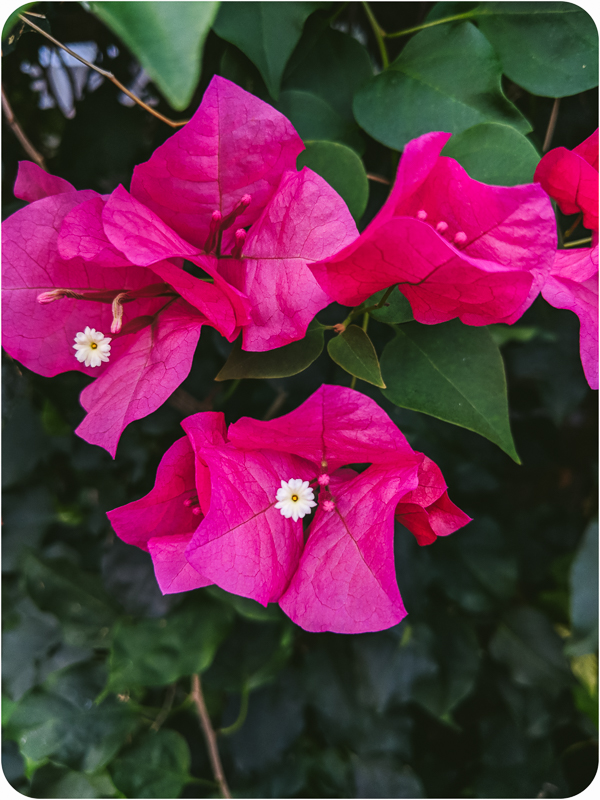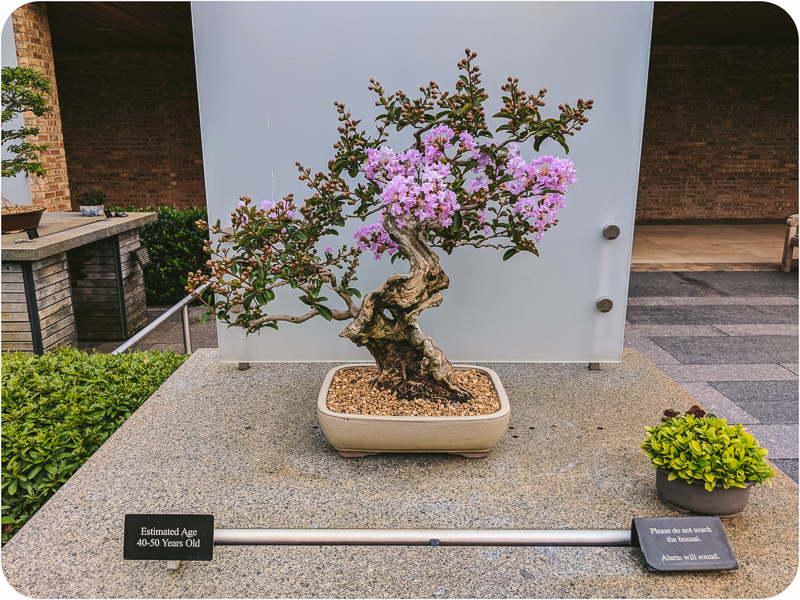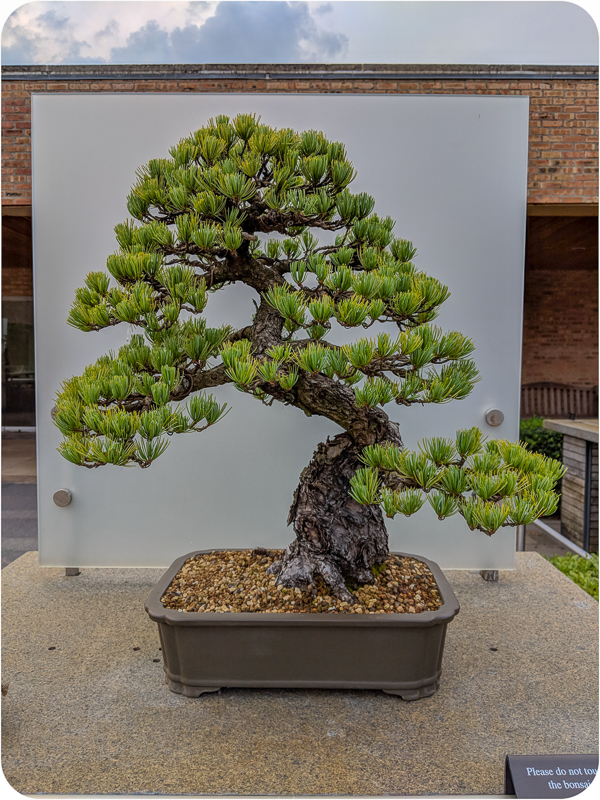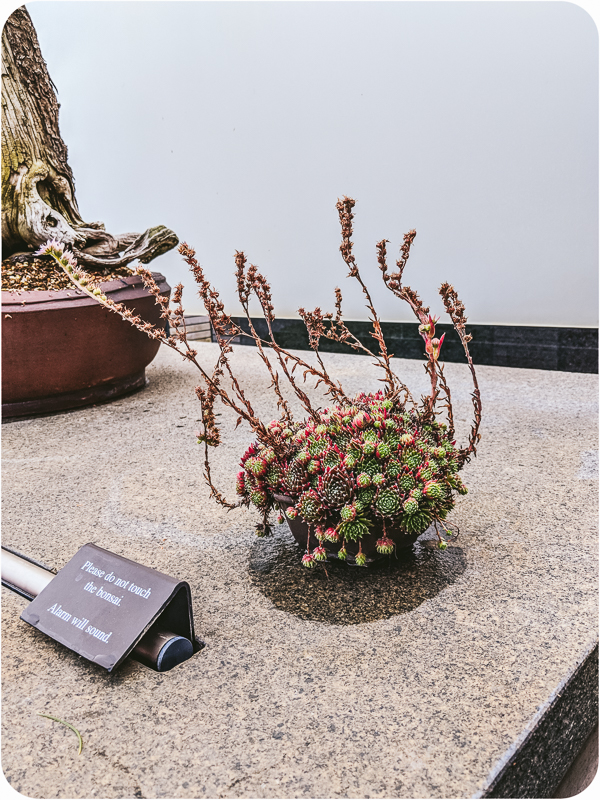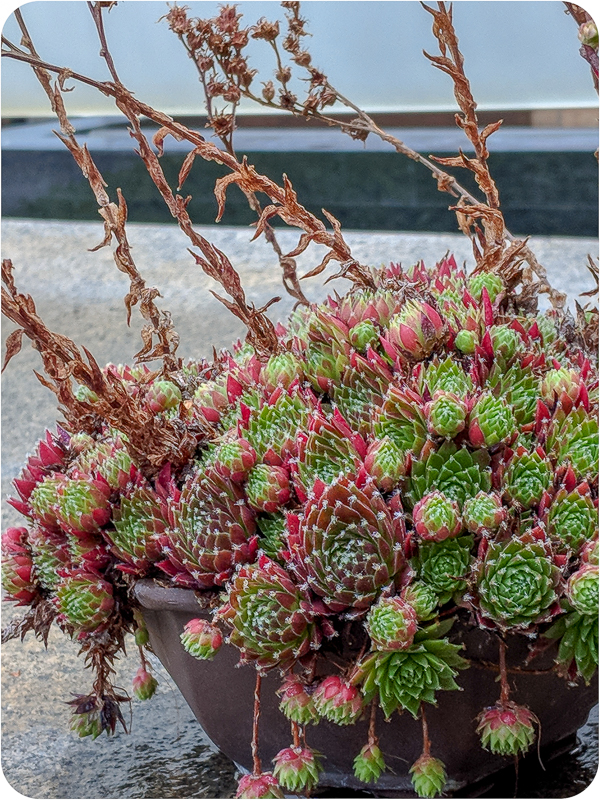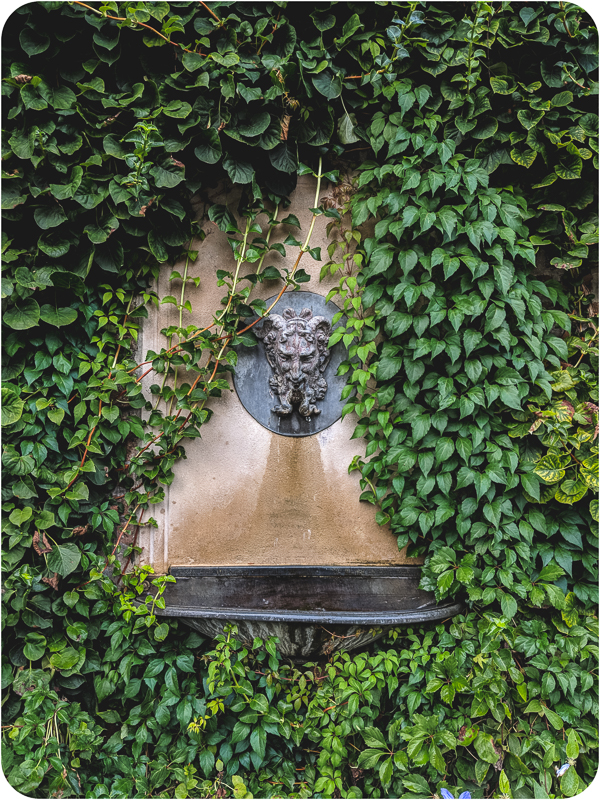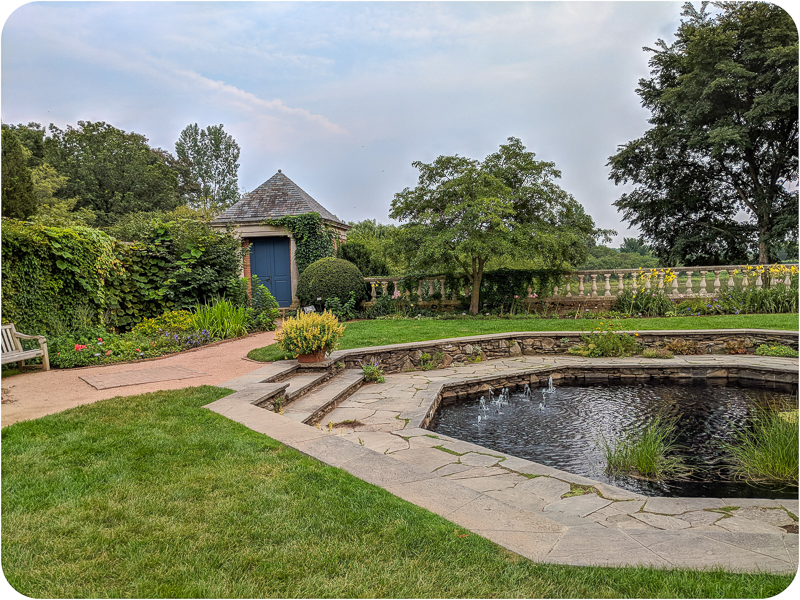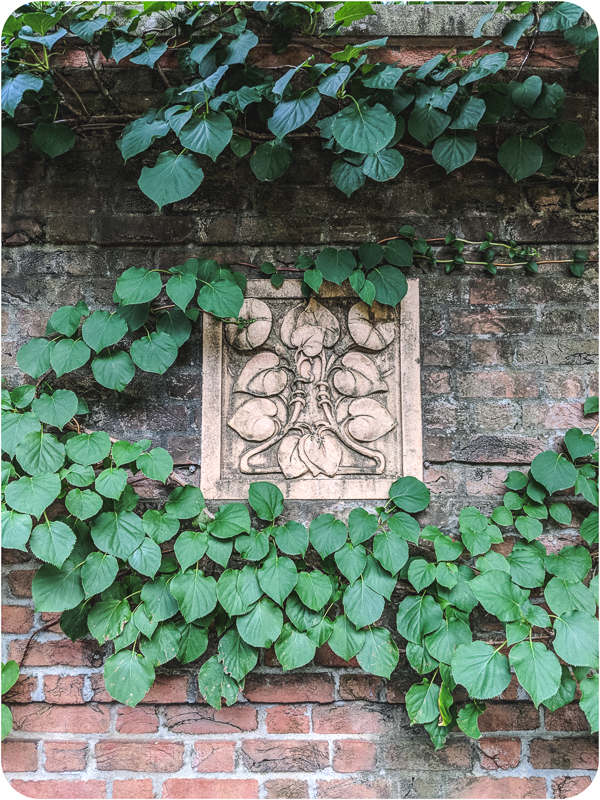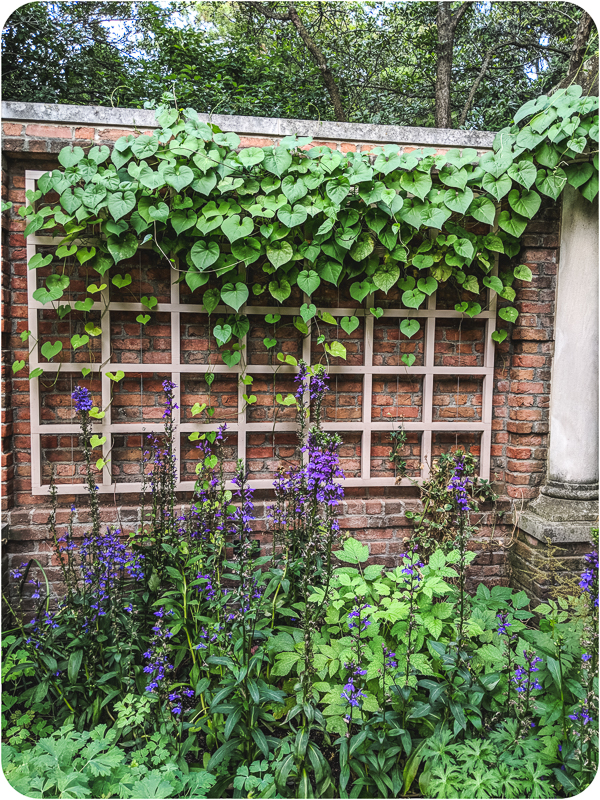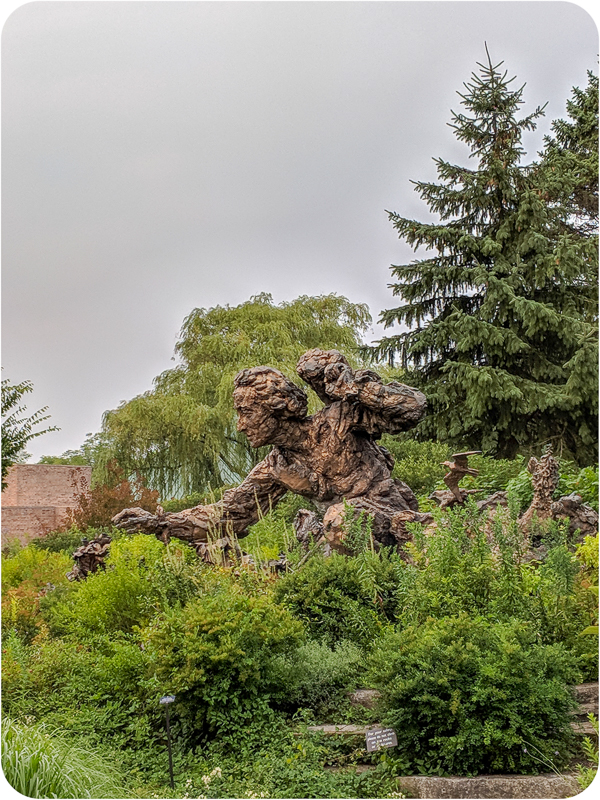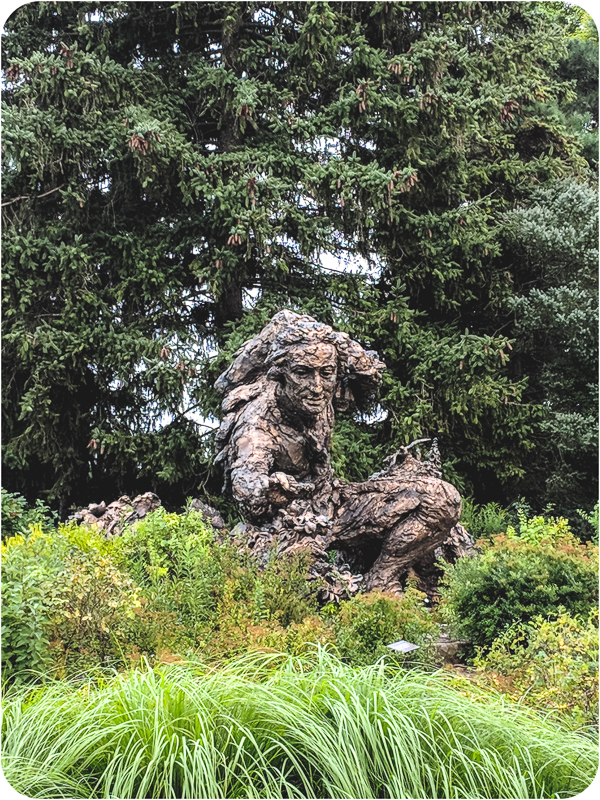 There were plenty of other visitors, but most had gathered on the lawn for the music event, so we mostly had the grounds to ourselves. And the spiders, of course.