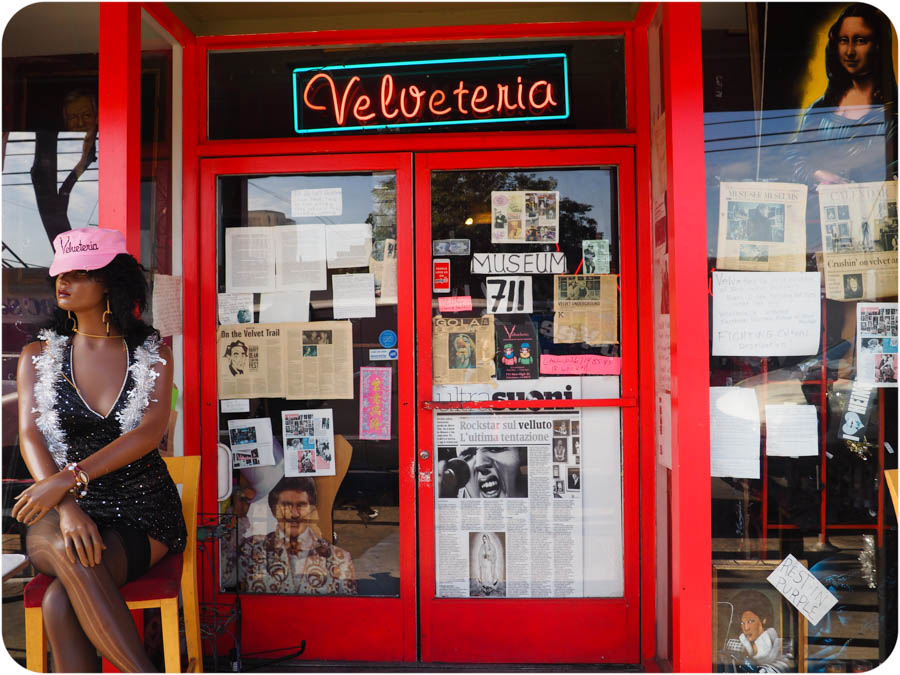 Welcome to Velveteria. Formally, the Velveteria Epicenter of Art Fighting Cultural Deprivation, but just plain Velveteria is fine. Though there's nothing plain about this place, as is evident immediately. 
I was able to ascertain that a tour was in progress when I arrived, so I settled in the lobby and had a look around. "Welcome, come in for a life changing experience without walking on hot coals." read a hand-written sign. "Admission $10." Another, located on a tray of souvenir lapel buttons reads "Flair. $2. Choose responsibly." I did, selecting a tiny button featuring a teacup chihuahua relaxing inside a teacup with its elbow resting jauntily on the edge, a golden halo around its head. 
The lobby's walls were filled floor to ceiling with paintings of varied technical ability and subject matter. There's the larger version of that teacup dog. Danny Trejo brandishes a machete that has three tacos carefully balanced atop. Dame Edna in a "The Scream" themed dress, her pose mimicking that of the screamer(s). Beneath them all is a worn light pink velvet couch, strewn with personal items: a tablet, sunglasses, mail, and a "Velveteria" branded pink ball cap. On one wall hung an obscuring bright pink crushed velvet curtain, behind which the museum officially began. 
Eventually, Velveteria owner Carl Baldwin joined me in the lobby to take my money and teach me the finer points of velvet artistry and show me the highlights of his collection. After swiping my card, Carl's eyes narrowed and he looked at me quizically. "Have we met before?" Sadly, no, I just have one of those generic, vaguely familiar, distinctly Midwestern faces. He treated me like a friend regardless, led me through the velvet curtain, and gave me the grand tour.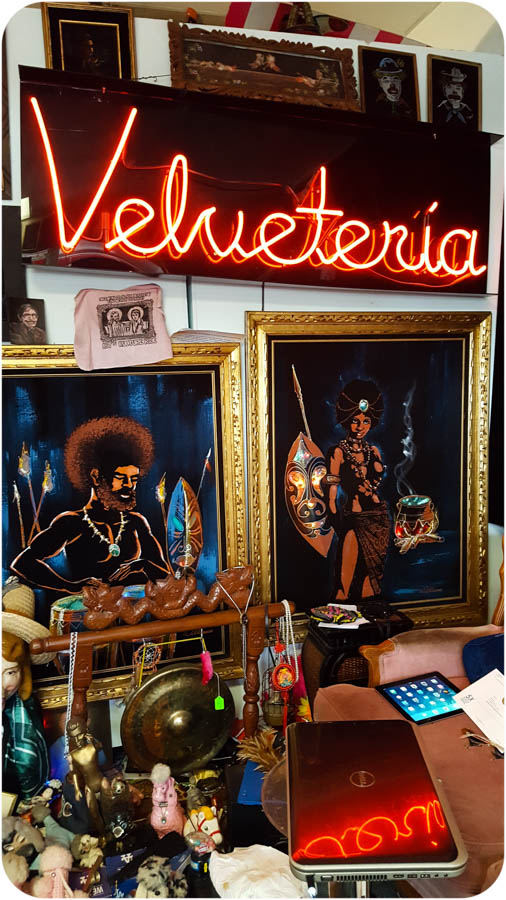 When you hear the term "velvet painting", no doubt your mind immediately turns to images of sad clowns and Elvises (Elvii?). And undoubtedly, a lot of those exist. Elvis even has his own tiny wing of Velveteria, crooning and pouting around an Elvis tiki statue. Although that style of velvet painting became popularized in the United States in the 1950s, primarily via tourism to Mexico, painting on black velvet has a recorded practice as long ago as the late 1200s, when Marco Polo reported having seen black velvet paintings in India–but surely the practice is older, as it likely didn't burst into existence for the Marco Polo tourism market. Many countries have a history of including plush fabric in their art, notably, Japan, where artists would shave down the pile to give their paintings a three dimensional quality. Carl proudly showed me one such piece in his collection. The detail is painstaking.
The quality of the art behind the curtain also varies in technical ability, but some appear to have been nigh-equally painstakingly executed. Black velvet tricks the eye: because it's so pure black, it absorbs the light that strikes it. Paint on it with pure white, and you have a full dynamic range in between to play with. A little dry brush action and suddenly there's a range of greys. In black velvet painting, you paint on the light and as a result, the subjects can appear luminous, whether they're Yoda, Batboy, or especially Marilyn Monroe, Elvis, and James Dean, racing across the sky on a trio of matched flying unicorns.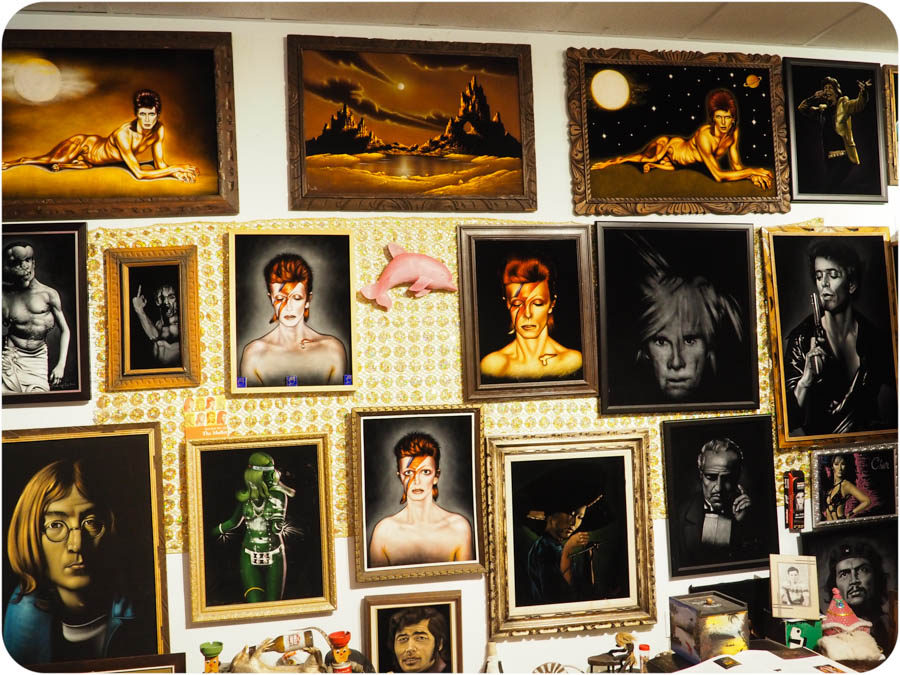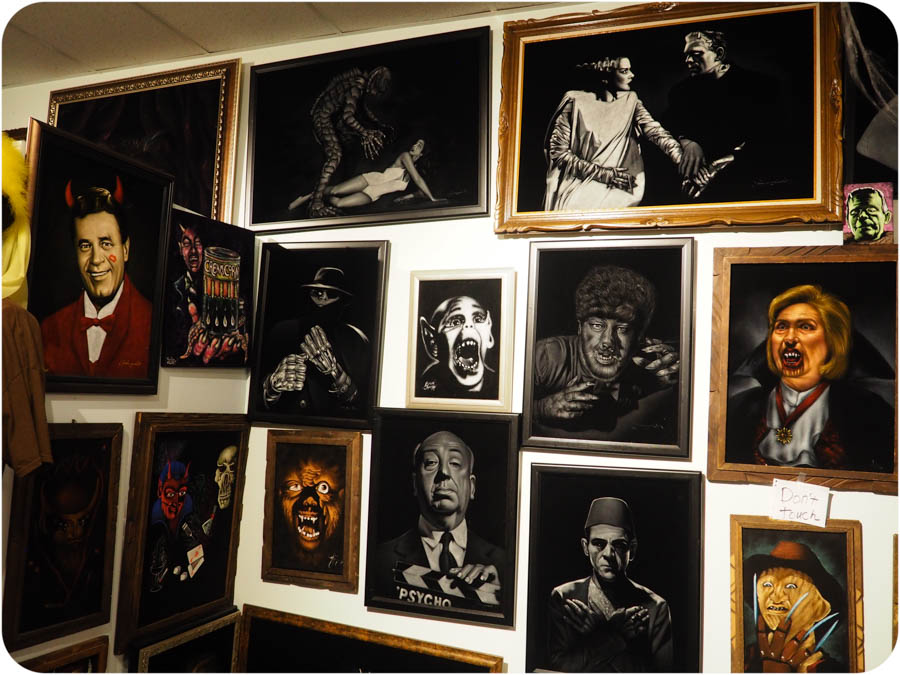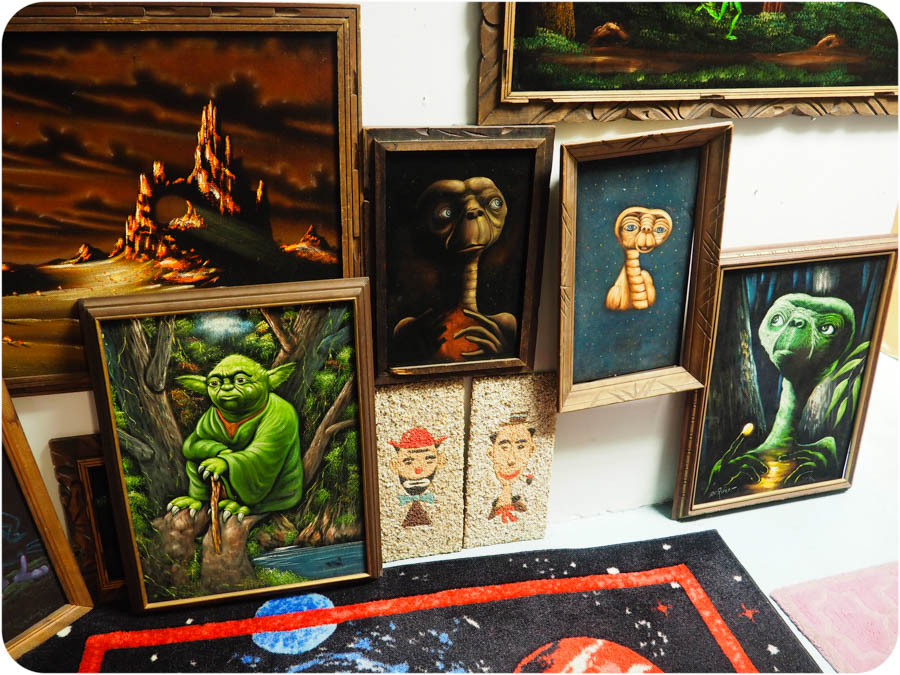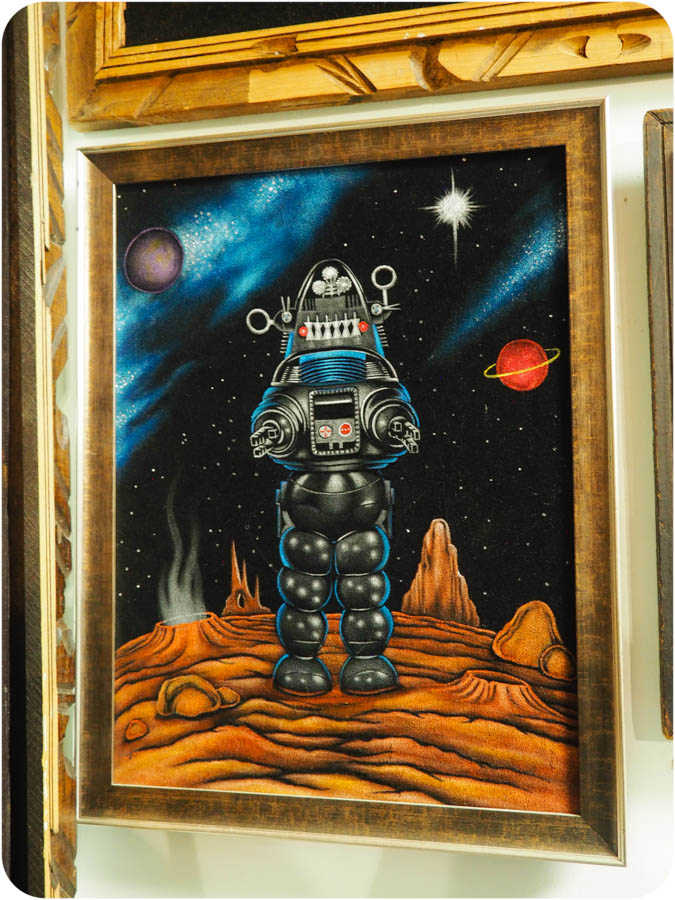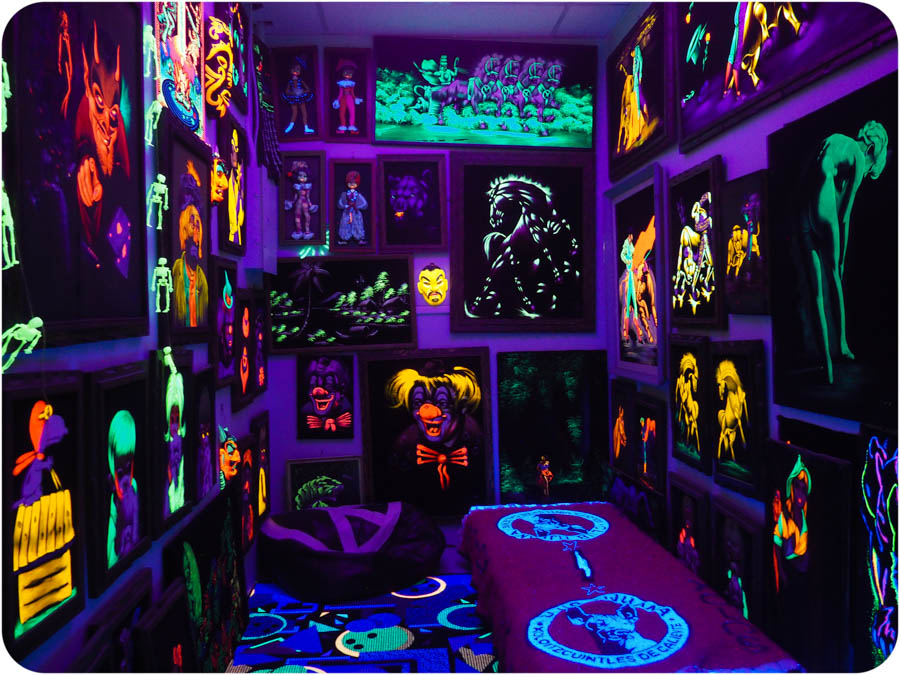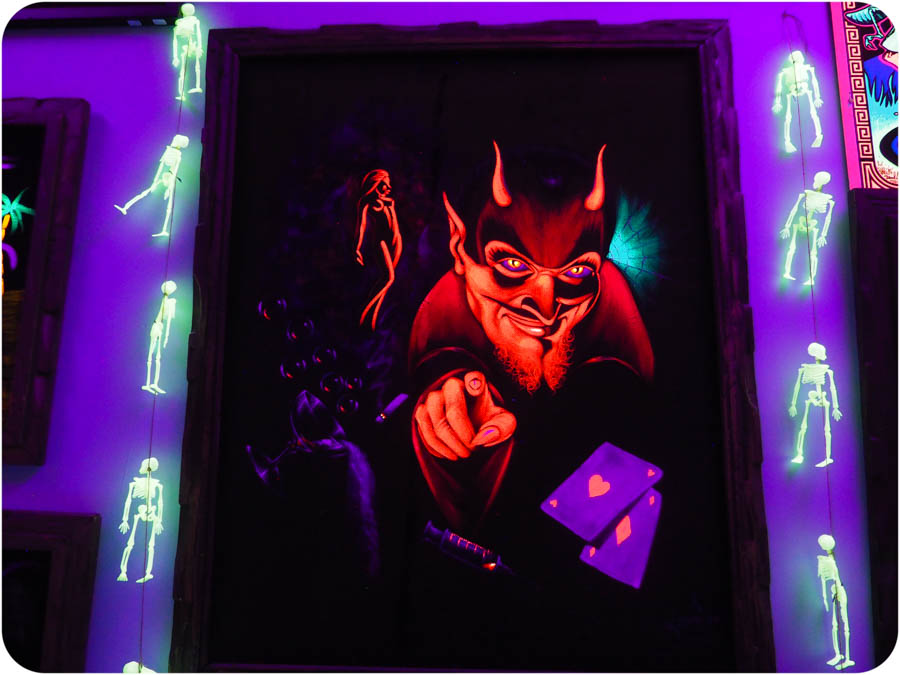 Velveteria has around 450 paintings on display from a collection greater than 3,000, and many of these paintings have a story. There are vintage works, there are commissioned works, there are pieces left behind from the black velvet painting classes at the shop. Many are for sale, but not all: the true rarities remain part of Velveteria's permanent collection, such as the paintings that incorporate cutouts that are lit from behind with lamp bulbs. As in the lobby, every inch of wall real estate is accounted for, floor to ceiling, including the hallways and the restroom, where a devilish Anthony Bourdain smokes a cigarette and perches on the porcelain throne, while Oprah looms overhead with a sign proclaiming this room "Oprah's Think Tank". Another room is dedicated to black light paintings. Yet another is wholly cheesecake velvet, tantalizing behind a gauzy curtain which acts as a filmy négligée for the subjects within. 
You've likely heard more than a few jokes about velvet art being the lowest art form–if you're in LA, swing by the Velveteria and challenge that notion.