It was about a year ago that I dove back into the horse world. I started learning with my friend Marita's horse Poppy in late October 2017, and it really helped me deal with some of the grief I was feeling over the loss of Napoleon. Even though I don't really think Poppy liked me all that much (good lord that horse tried to bite me so many times, for offenses including "attempted to brush my dirty belly", "made me walk somewhere",  and "stood within range"), working with her gave me something I didn't know I was missing. Something more than just being around horses and smelling their horsey smell, it was being outside and having to move and work my body in order to properly work the horse…it has tethered me to the physical world in a way that I needed, pulling me out of my own head where I tend to otherwise live.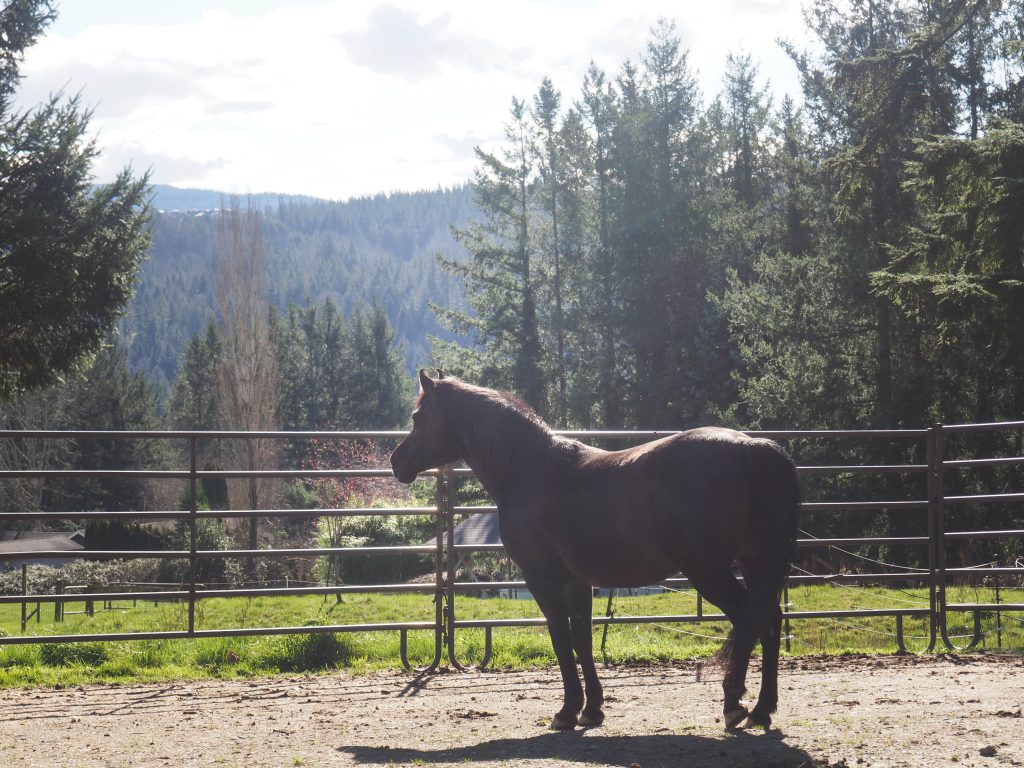 Poppy
Still, by the time Poppy moved to her new home in February, she had threatened to bite me enough times that I'd started to become a little afraid of horses, which is something Marita noticed when Poppy turned her head toward me curiously one day and I damn near jumped to the moon, expecting bared teeth approaching my person. It was then that Marita decided that I should start working with Africa, a half-blind Arabian mare being stabled at the same barn. Fresh off the Poppy fear and nervous about Africa's blindness and what it might mean for her predictability, it didn't help matters at all that Africa was extremely herd bound and so when I led her away from the other horses into her stall, she backed me into a corner and started screaming at full volume. I didn't know that she was just upset about wanting to be with the other horses and was pretty convinced that she was going to rear up and knock my head off in the stall that day…and yet I STILL kept coming back to the barn so clearly, afraid or not, I had the bug.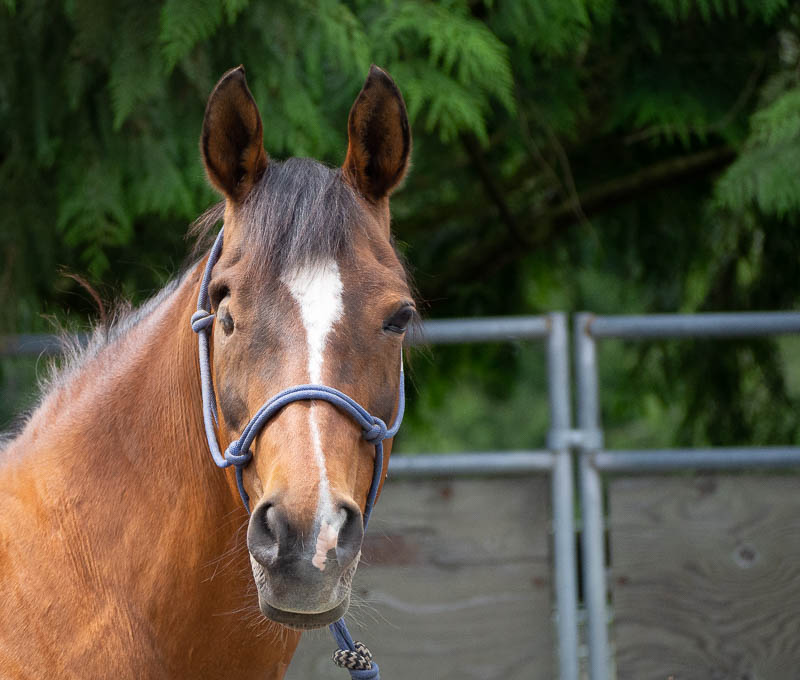 Africa
Over time, Africa and I became really good pals. At first she'd call and call and call for the other horses after I'd catch her and bring her in, careless if whether she was yelling at full volume directly into my ear (she was). After  a while and a number of disapproving looks, she settled on a hilarious compromise where she'd decide she wanted to yell, would look at me first, open her mouth wide and then issue this tiny whispery ⁿᵉᶦᵍʰ that no one heard or responded to. The best days were when she wouldn't call for other horses at all, content to be with me and do whatever.  And we did a lot! I started learning to ride properly on her, I gave her her first all-over bath (her coat got this amazing metallic sheen), and we got to know one another through some games and liberty work. But I was getting a little anxious for more–Africa is not my horse, and I was not allowed to handle her when Marita was not present. That's perfectly reasonable but I was itching to get some unsupervised/more horse time, and that's when I started looking at leasing a horse.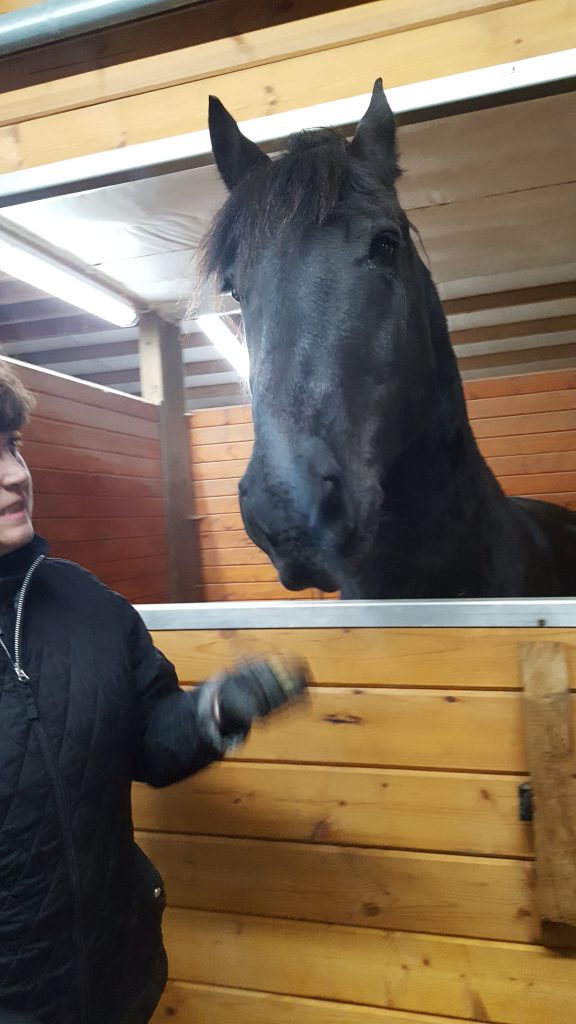 Tiede Z, a Friesian gelding I looked at leasing 
…I stopped looking at leasing a horse shortly thereafter, because nothing felt like a good match, training philosophy wise or riding style or personality. Likewise with a co-op barn where people pay a monthly fee and get to hang out and work with their horses–I tracked them down, filled out an application, went for a three hour tour, and ultimately didn't sign up because it still wasn't what I wanted. None of these places or people or horses were bad, it was still just another situation where I would get to be with a horse but it wouldn't be my horse. 
In the meanwhile, I had struck a deal with Africa's owner–that I could take Africa off property on trail rides so long as I was accompanied by the barn owner, and the barn owner would haul us off to those trails if I helped her bring in and feed the horses once a week. You mean I get to pay for something I love with something else I love? SIGN. ME. UP. I got to go on a lot of fun trail rides this summer, and I got to pay for those rides by leveling up my horse handling skills, learning to lead two at a time through gates, deal with rearers and rope biters and one gal who was so tall I had to stand on my tippy toes to get her halter on (while she snapped at the rope). Unfortunately, the barn owner broke her ankle in the most horse person way possible, by falling down a few stairs while looking at a picture of a horse, and that was the end of our trail riding. I had already been doing some horse shopping, but this got me looking in earnest, because while I enjoyed my lessons in the arena, I had gotten a taste of the outdoors on horseback and I was loathe to give it up.
But when I started horse shopping, I was very picky because I wanted a fancy horse, a dream horse (and brother, I've had a lot of years in which to dream about this horse), on a medium-to-low fancy budget. A discount dream horse, because a dream horse requires a dream house modest apartment reasonable stall and dream tack and a dreamy vitamin intake and a dreamy massage regiment plus a pedicure every six weeks and no wonder my parents told me Santa had a prohibition against live animals on his sleigh!
If I'm going to be completely honest, while I was open to a lot of breeds and coats–I was looking at Halflingers and Fjord Horses and native ponies, what I wanted was a Friesian or a Friesian-Andalusian/Warlander. I adore the Friesian breed, especially the heavier, more baroque build. They're almost always black, they have big, thick fairytale manes and tails, heavy graceful necks, a gorgeous floating trot and they're known for their sweet puppydog in-your-pocket personalities. The whole package. Combined with the Andalusian, the horses tend to be that more baroque build, with beautiful movement and strong bone. A destrier-type, nimble and strong. But unless I won one or Santa changed his rules about live animals, my chances of owning a thirty to seventy five thousand dollar horse seem about as likely as my chances of being struck by lighting while riding the loch ness monster.
Free horses aside, although my heart would flutter for all those gorgeous Friesians for sale I'd see online, they tended to all be bred to be taller animals, maturing above 16h. This means that the top of their shoulder is 5'3″ from the ground. I'm 5'2″(barely, at the top of my head, not at the shoulder) and while I have the use of a mounting block when I first get on if I'm at the barn, if I have to get off at any point during a trail ride, getting back on can be a big issue. Plus, as a short person, I have short legs, and as such, my stirrups are short and thus hang higher above the ground. I don't honestly know if I could ever be fit enough to be able to launch myself upward from the ground and onto a horse after somehow getting my toes into a stirrup that was dangling at face height. Like, at that point, I think you just have to be Superman and float yourself up while pretending you only used your insane core strength and buns of man-of-steel.
So my dream horse was fancy bred or the appearance of fancy bred, on the short side, heavier build, with strong bone, young but not green to middle aged, ideally dark coated, able to easily carry me and the additional burden of armor, brave, forward, friendly, a good awake mind, but on a budget. I can't believe I didn't add my childhood "wish upon a star" horse qualities of "doesn't need to eat or pee or poop so it can live in my bedroom" for as exacting and needle-in-a-haystack as my wishes were.
The first horse I was really interested in was Shadowfax, a Morgan gelding. He'd already started training with mounted archery (which is a goal I am actively working toward), he was of a medium height (I can't remember exactly, around 15 hands high) and what appeared to be a fit, heavier build. Unfortunately, I found him three days before I was set to leave for Atlanta and he was located in southern Oregon and I didn't want to make a 13 hour there-and-back high pressure road trip snap decision. But that turned out to be my only chance to meet him, as he was sold by the time I got home.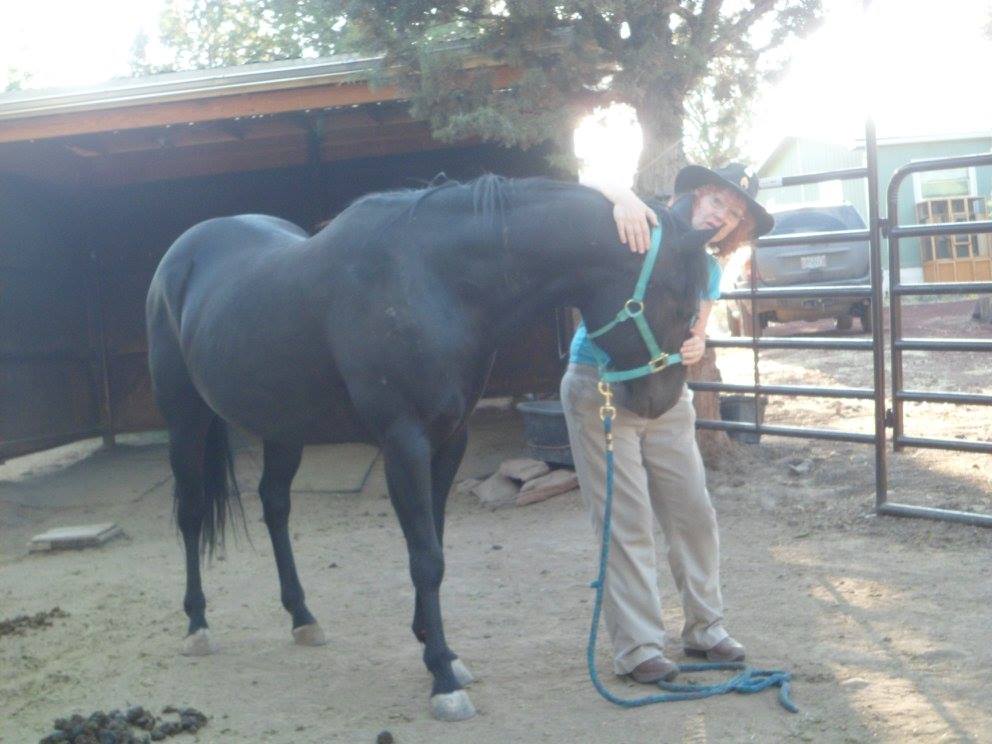 Shadowfax
The next horse I looked at was Dragon, a 7 year old Percheron/Fell Pony gelding, 13.2 hands ("if he's feeling himself that day"), built like a war horse in miniature, an absolute tank in pony form. I messaged the owner less than thirty minutes after the craigslist ad went up (my friend at Gnomeland Farm has an alert set to email her if any native pony breeds are listed), because I was head over heels about Dragon immediately.  This was just days before my trip to Chicago, and I told the owner that I'd be willing to pay earnest money for them to hold Dragon until I was home and able to drive to Portland to meet him. They were not willing to do that, but through luck in timing, I was still able to be the first to meet him.
He was charming and personable from the first moment, investigating my pants and playing with their fake motorcycle ribbing with his lip. He did OK in the crossties–he got impatient pretty quickly and started pawing at the ground but that's not a dealbreaker. In the saddle, however, I could barely get him to walk around their indoor arena. "Kick him! Kick him! Kick him harder!" the owner called to me…but man, I don't want a horse I have to wale on to move. That doesn't feel like partnership. I don't know if he got soured as a kids' riding horse or what, and it's possible that with time and training, his sensitivity would return, but it was a gamble I wasn't ready to take. I didn't ride him for very long to know that it wasn't right, and when I got off so soon, the owner's demeanor completely changed from nicey-nice to barely concealed hostility. I get that when you ride a horse you're either training him or untraining him and getting off of him while he was being purposefully pokey (which is what he wanted) didn't teach him anything good, but I also think it's also not my responsibility to kick your horse into submission.
We hustled so fast outta there we ran out of gas, and I shopped my feelings away by buying a 13.2h stack of books at Powell's.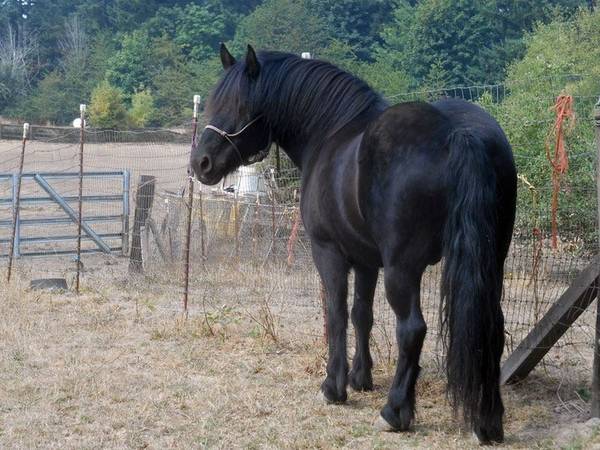 Dragon
Things got really serious with Dante, a 7 year old 15.2 Andalusian/Friesian/Percheron stallion located about an hour north of me in Washington. His owner had bought him at auction after he'd been seized from his previous owners, but then she just let him sit for a few years aside from lungeing. I didn't know a lot about him, and she didn't know a lot about him. She knew he had been bred a few times and had gotten kicked in the jaw once which resulted in a cracked tooth, and that her vet was managing it with floats. Since he hadn't been ridden for years I didn't want to be the first to pop on his back, so I evaluated him from the ground. I liked him. When I worked him on the line, he was responsive and respectful. He loaded into a trailer easily, he picked up his feet willingly. His eyes were soft and sweet, and I felt quite certain that I wanted to buy him–here was the discount dream horse I was looking for! A horse fancy-bred for athleticism and looks that just needed someone to see his potential and get his brain and body working again! Hallmark Movie The Horse!
I started to make plans for Dante: he'd need to be gelded and recovered from the gelding before I could move him into my barn, and then I thought I might send him to Oregon to be retrained under saddle with other new geldings so he could learn to transition to a life of being with other horses rather than the solitary life he was living as a stallion. First, however, he'd need a pre-purchase examination, which was conducted at the big fancy equine veterinary hospital nearby, Pilchuck. Dante's owner trailered him there from Edison, and I watched as the vet and his assistant put Dante through his paces, check his eyes, heart, lungs, and overall soundness. They asked me if I wanted to add the dental exam, and truth be told, I almost said no because so far the vet had found nothing out of the ordinary from what I expected–he was a bit underweight and undermuscled but he also hadn't been working.
But the dental exam was such a reasonable additional fee and there was the aforementioned cracked tooth to consider. They anesthetized him a bit so he wouldn't be stressed by the dental contraption that ratchets the horse's mouth open, and he was a very good boy as he stood there and was inspected. Within two minutes the dental specialist vet told me that Dante's cracked tooth had not been managed, had in fact broken and rotted in his head, almost penetrating the sinus cavity, causing several other teeth to turn and grow out of whack, which would require two to three dental surgeries at two thousand dollars apiece, all of which are extremely complicated as they have to go through the side of the horse's face and since there were issues on both sides, they would have to be split up into separate surgeries. He needed the dental work immediately as he couldn't chew properly: this is why he was losing weight and didn't have a ton of interest in food. It probably also explained the empty-stomach-jouncing-up-and-down sound when he'd trot. The infection in his body meant that any of the surgeries had the potential to kill him and the vet emphasized that he would struggle for months in recovery if he ever recovered. With these dental issues unknown, he could have succumbed from being gelded.
Dante's owner and I were left reeling, as this was obviously terrible news for us both. And poor Dante! At home, I cried myself sick over this horse who was a Very Good Boy despite all the pain he must have been feeling and what was likely to happen to him, how he'd been bred with hopes and went unnoticed until he was ruined. I thought on him and tried to justify "saving" him and cried some more. Ultimately, I did what I could and set his owner up with a few different horse rescue organizations that could potentially help with vet bills, including one with ties to my barn, but then I had to back off because he's not mine and I'm not buying him and I'm just an overinvolved stranger. I hope that he got the treatment that he needed, but I don't know and I don't want to know. I think about him still. I hope a rescue helped with the bills and he's alive and thriving.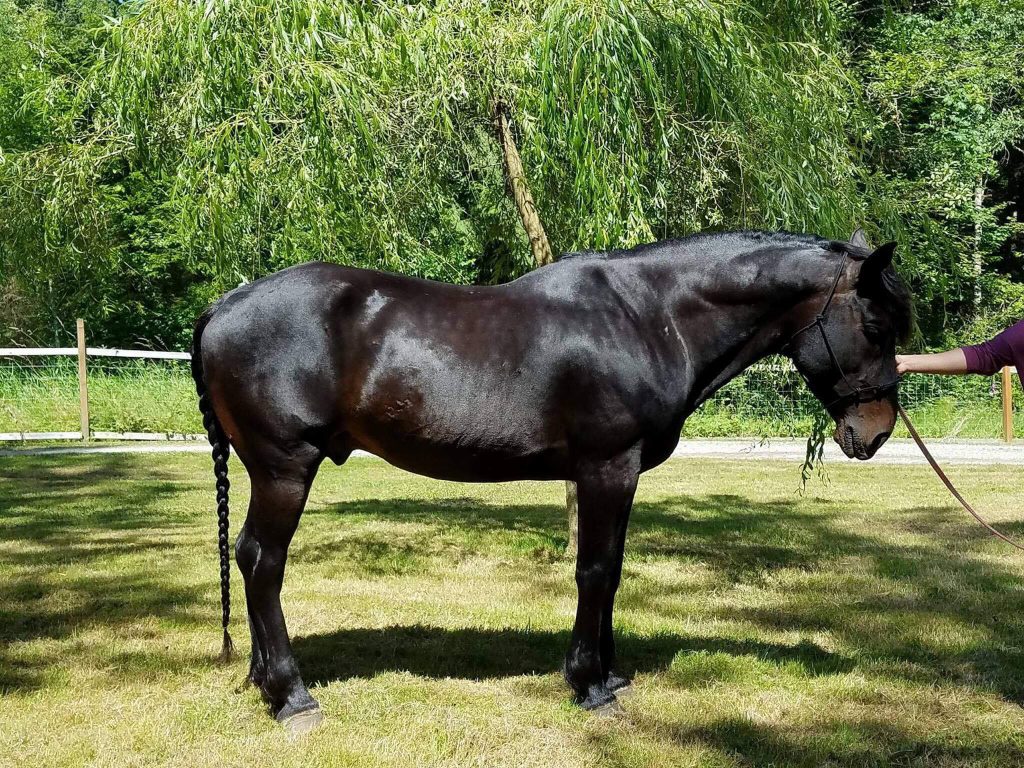 Dante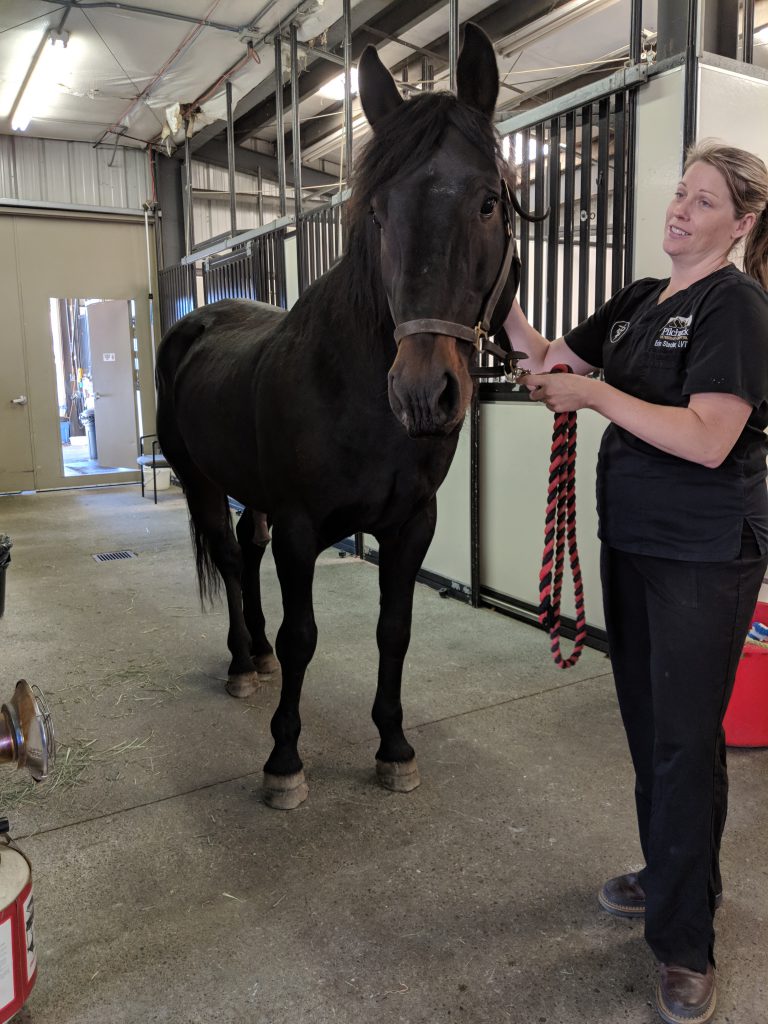 Dante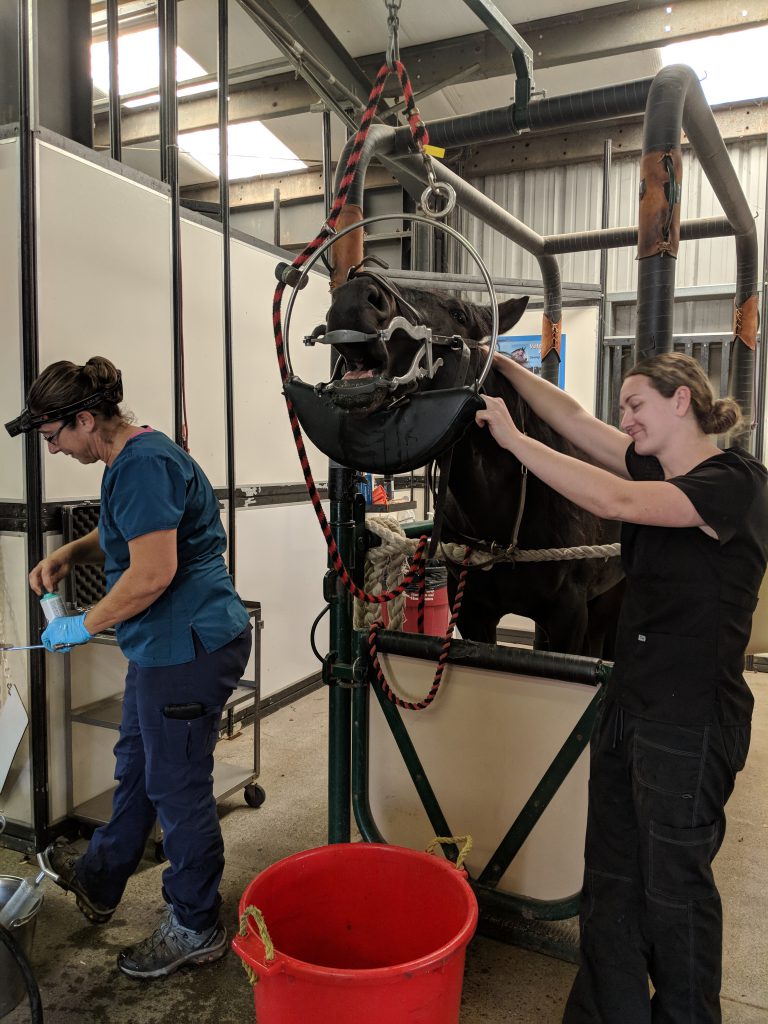 Dante
Over the summer, I entered a raffle for a 3 year old Friesian Saddlebred cross mare, Ultra Heir, located in North Carolina. Raffle tickets were $65 apiece, with 100 tickets sold and the raffle taking place once the last ticket was sold, and numbers assigned in the order they were sold. I bought one ticket and strongly considered buying two but ultimately was too cheap, preferring the idea of "my $65 dream horse" to "my $130 dream horse" as though she wouldn't have been an outstanding bargain at either price.
In late September the raffle board finally filled. My raffle number was 48. #49 won.
Realistically a 3 year old would have been too much horse for me to handle in addition to being on the tall to really too tall side for me but if I won her I would've considered using her as a broodmare for a perfectly baroque baby. After I figured out how to get her home from North Carolina.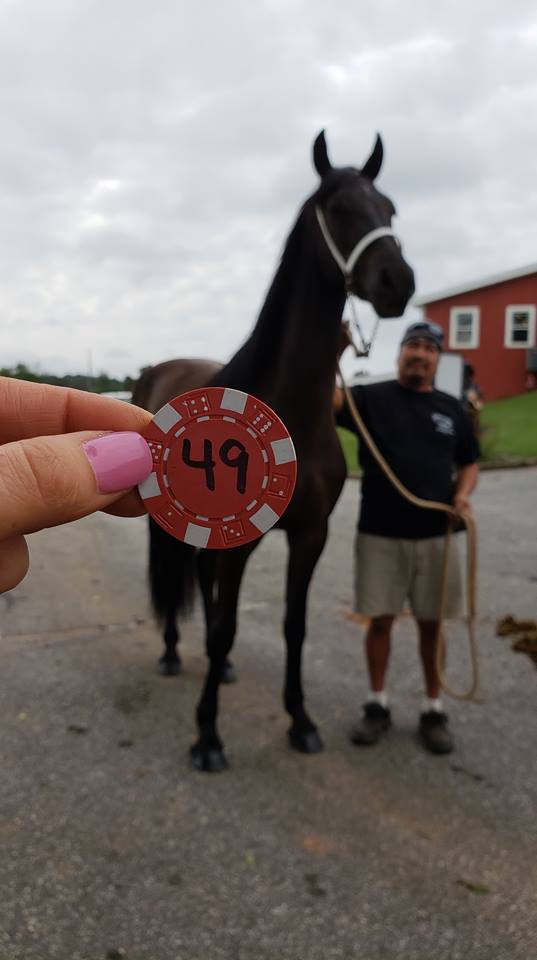 Ultra Heir

After Dante, I had decided to pause looking for a horse for a while–I didn't know how well I'd deal with another close disappointment, but my friends kept putting horses in my path, and ultimately I decided that I'd better shop for myself if I didn't want other people to shop for me. I placed a couple of ads in northwest horse sale groups looking for "A heckin' chonker or above" and got no bites that appealed–people pushing their unbroken, green, and in one memorable instance, the ugliest horse I've ever, ever seen at me. He looked like if Homer Simpson was an obese, flabby horse.
Continuing my search, I did a deep dive on Dreamhorse, dialing in my exacting parameters, and got so far back in the listings that the main photos expired and I could see was the thumbnail. But there was one that caught my eye. A 14.2 hand Friesian Sporthorse mare, 13 years old, located in Florence, Oregon. She was described as a talented, tractable, sweet mare with a great work ethic and lovely movement, with dressage movements built in such as collection/extension, leg yields at walk and trot, shoulder in/haunches in at walk, and pirouette at walk and trot. They also said she has a willing and engaged temperament and is eager to please, playful with just a hint of diva pizzazz, that she LOVES to jump, could be suited to the hunter ring, has no vices and that she loads easily and trailers quietly, is a lady for the farrier, ties, clips, bathes, and that she's smart, athletic, and willing; a bargain at her asking price. My needle in the haystack.
I responded to the Dreamhorse message, but I didn't know if the messages would actually go through since the ad had expired. The ad mentioned that I could find photos and video at the trainer's personal facebook page,  and so I looked her up and dug through her photos until I found one that she'd posted publicly that looked like the mare in the ad so I could comment on it, asking if she still had her and if she could tell me any more about her. The trainer said that she no longer had the horse and that she'd gone back to her owners in Eugene and tagged the owner into the conversation. I messaged the owner AND commented to let her know that I'd messaged her and to check her filtered messages if she didn't see it, because I was going to take no chance that this beauty was going to slip through my fingers.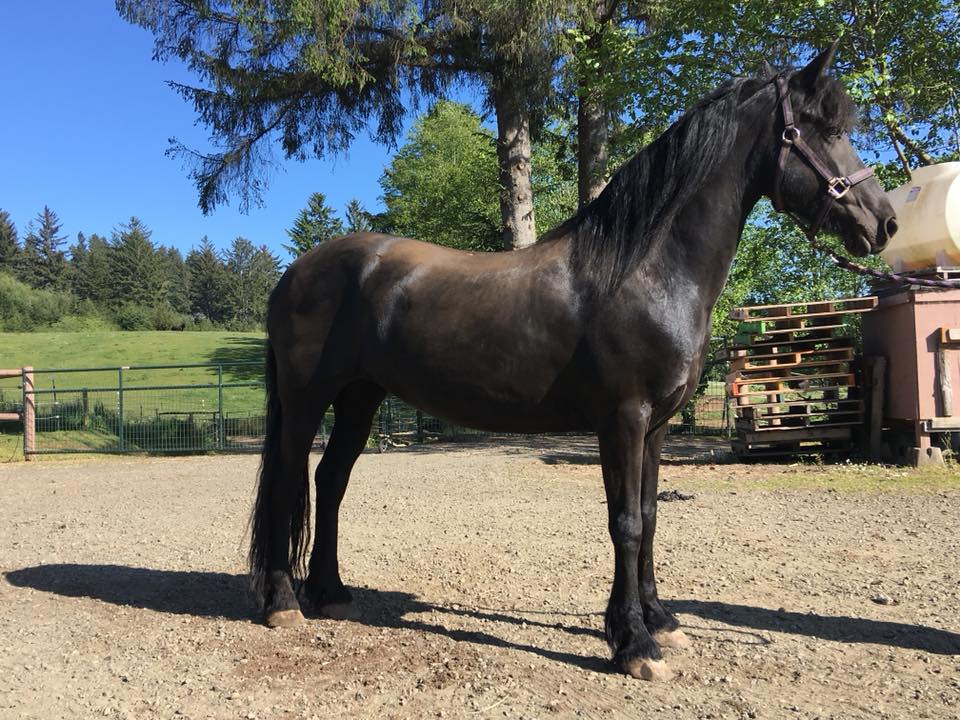 Navani
I drove to Eugene to meet her shortly thereafter. On the lead line she danced and called to the other horses. They lunged her briefly, and then their trainer showed up to ride her for me to demonstrate her movements and abilities, as she's had significantly more dressage training than I have.  I climbed aboard and we did not communicate very well–she was used to being ridden with a lot more contact on the bit than I like to have, and at one point she broke into a trot and together we barreled down on the entire family who were seated and couldn't easily flee, and my only option for not running over a person was running over my purse with my phone and camera inside that I thoughtlessly left on the ground near the mounting block. I hoped I remembered the way back to the highway in case my phone got smashed and did everything I could to turn her toward my purse.  After we managed to come to a stop and not kill anyone or break anything, I decided to buy her. I liked her gentle and interested energy, I liked that even though she didn't understand what I was asking her, she kept trying. I felt confident that I could teach her an easier way of going and that we could be great partners. 
We set a date to come pick her up on November 3rd. Before that, I had a vet come out, check her teeth, and do a coggins test, which she needed in order to cross state lines. In the early dark hours of the morning, Marita, Jason and I rumbled away from her house with her truck and trailer attached and headed to Oregon to get my girl and bring her home. We made excellent time there. We made excellent time home. The three hours it took to load her on the trailer, on the other hand…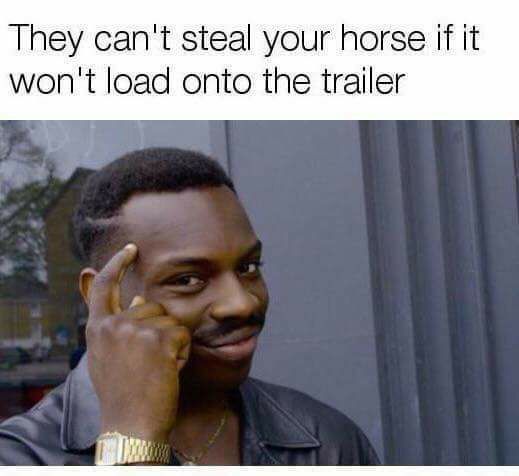 So that's going to be something I work on with her over this winter so she'll be ready to load up and go when it's time to take her to some shows this summer. Or renaissance faires in the future. Or to rides on the beach. I'm excited to see the places we'll go together, just us two chunky childfree middle aged goth ladies. I've renamed her Navani and she is wonderful. She's taken to riding in a bitless side-pull really quickly, she sidepasses like a dream, and I know that once I get her focus and her trust, we are going to be great partners. I feel it in my bones. My dream horse.