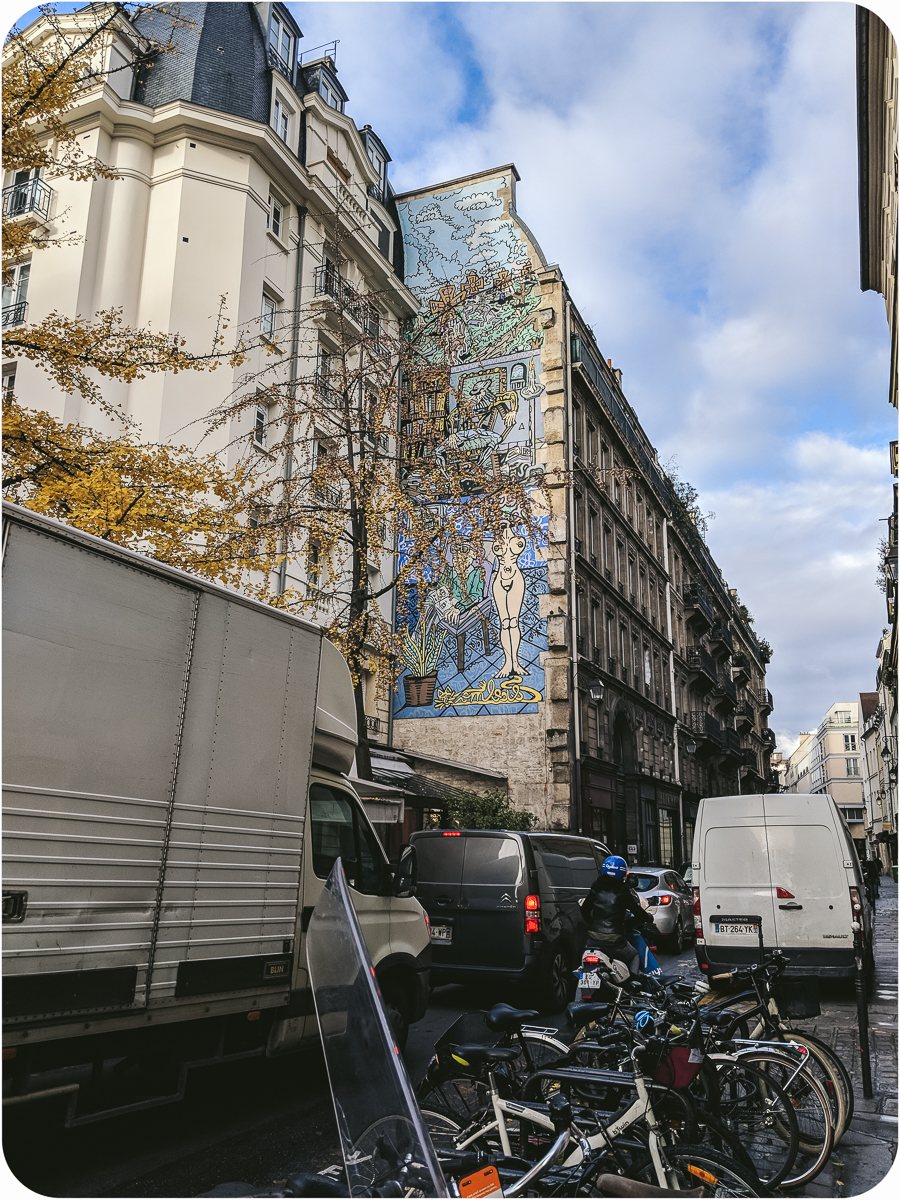 We started our morning in the Latin quarter, drawn in by a boulangerie, Solques Bruno, whose window featured enormous frosted fly agaric mushrooms and fanciful ceramic cottages and animal masks among the platters of rustic breads. Inside, Jason bought a gingerbread owl and a pastry. I don't know what the proper name of said pastry is, but I do know that it was warm, crusty with toasted coconut and tender from butter with occasional bits of melting chocolate. Like a macaroon but less densely coconutty. It was divine. This was Jason's favorite pastry in France.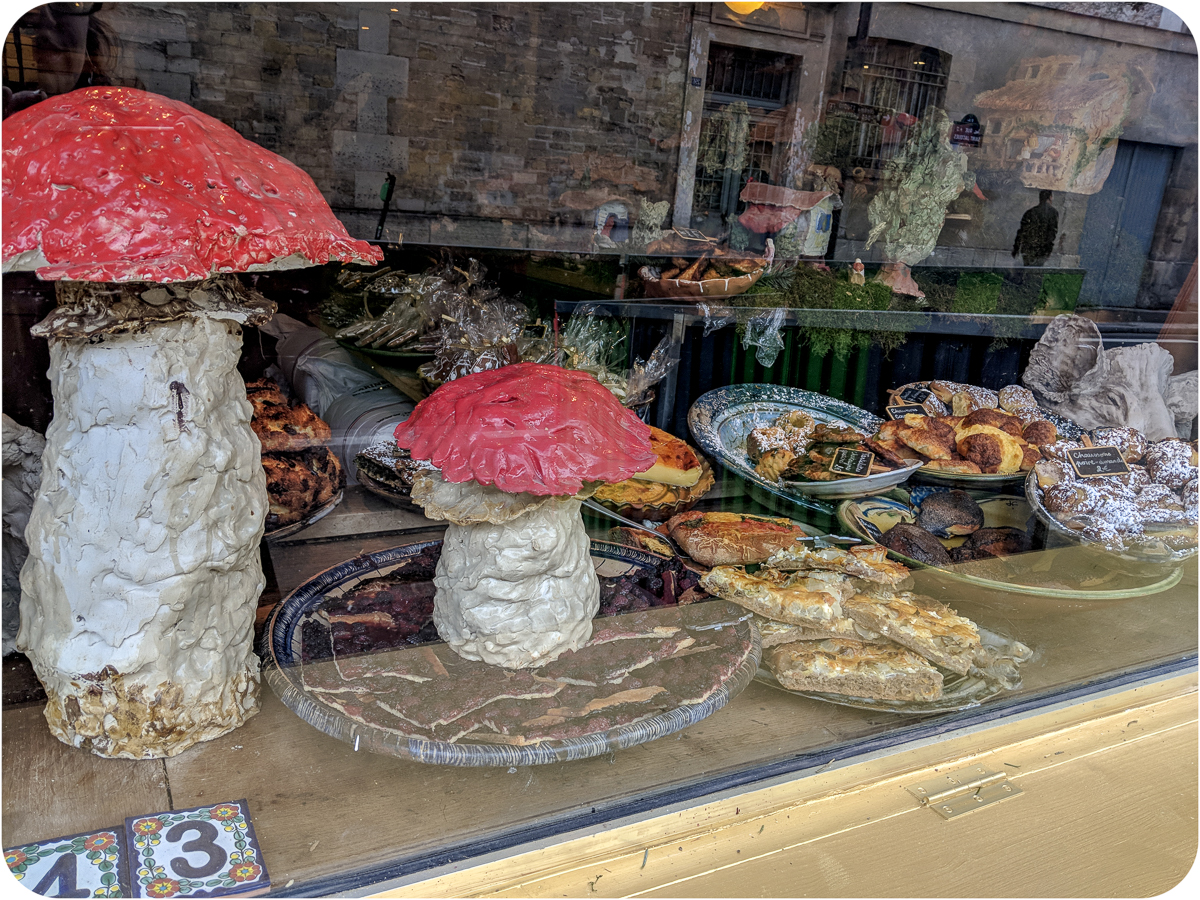 Solques Bruno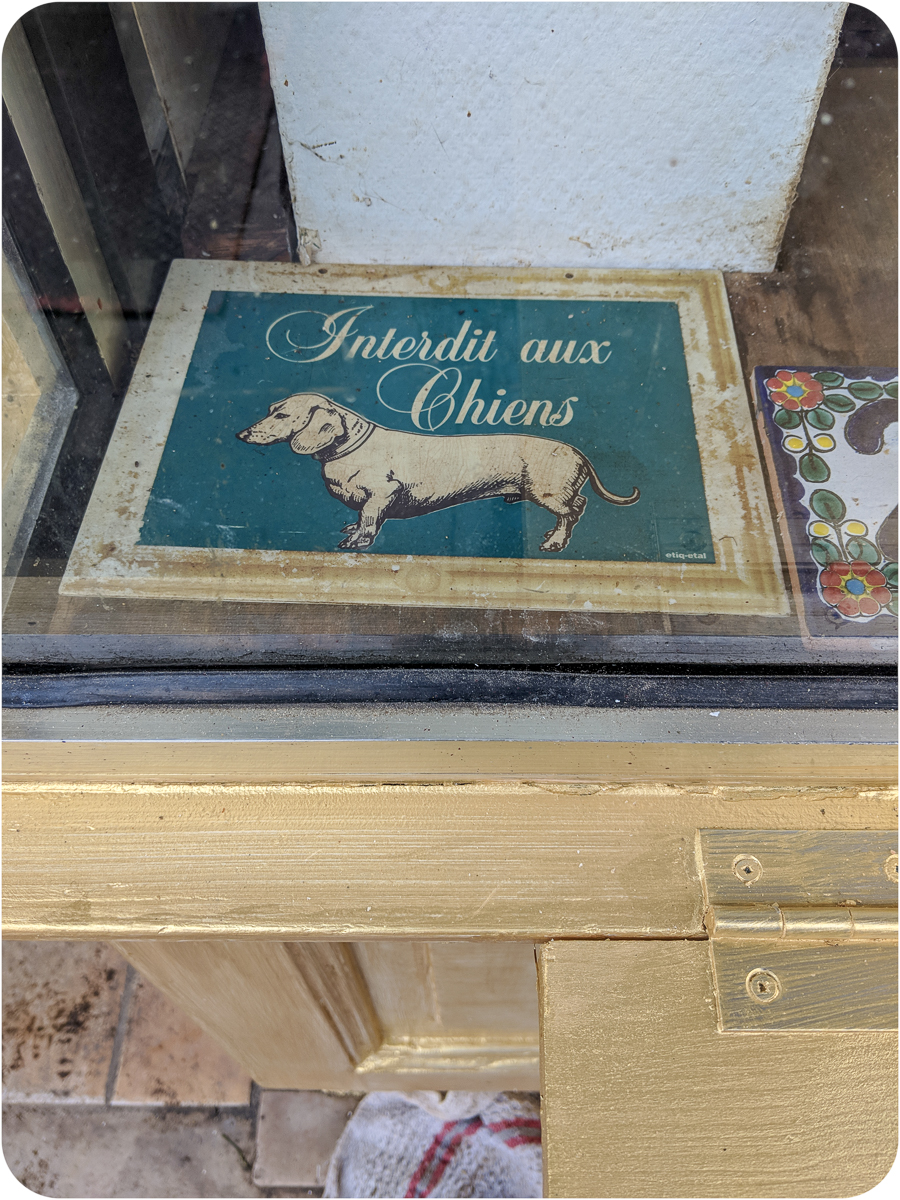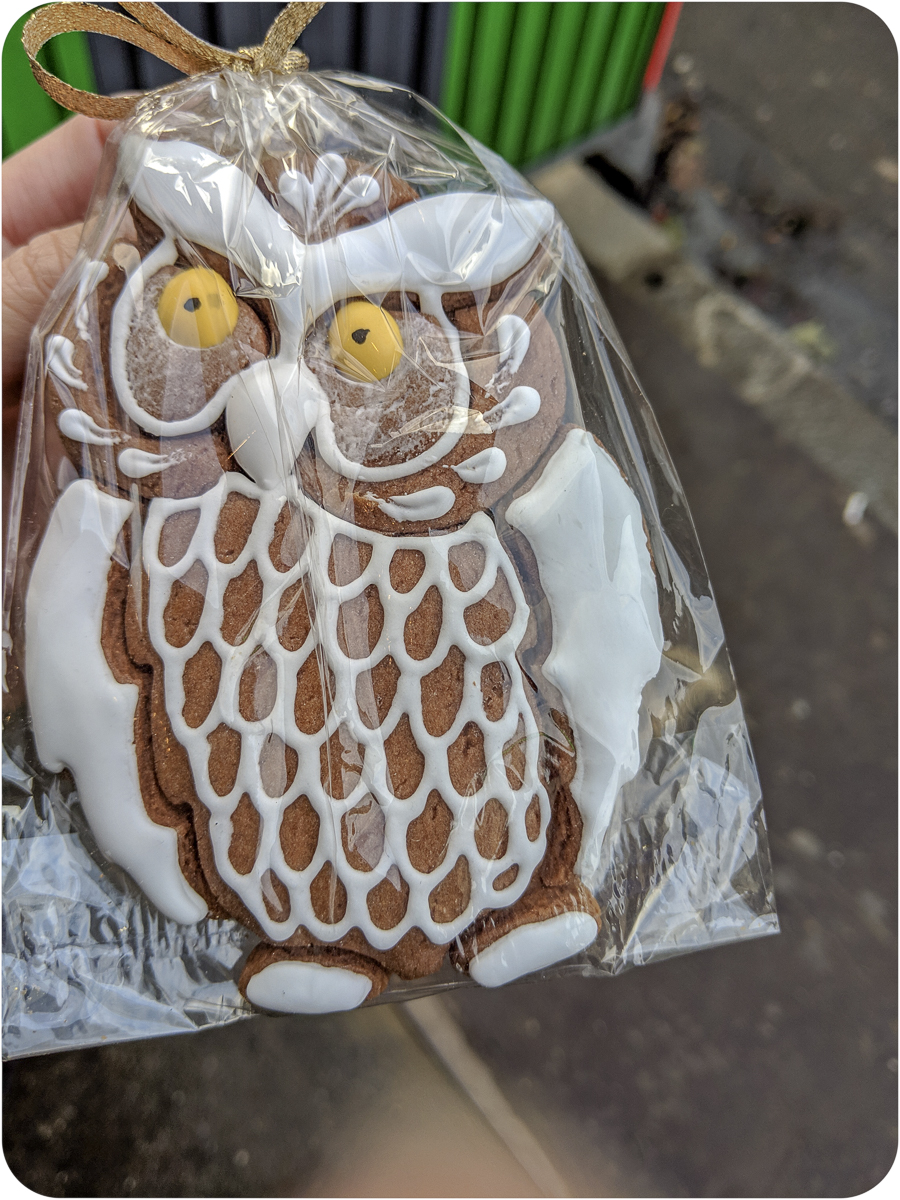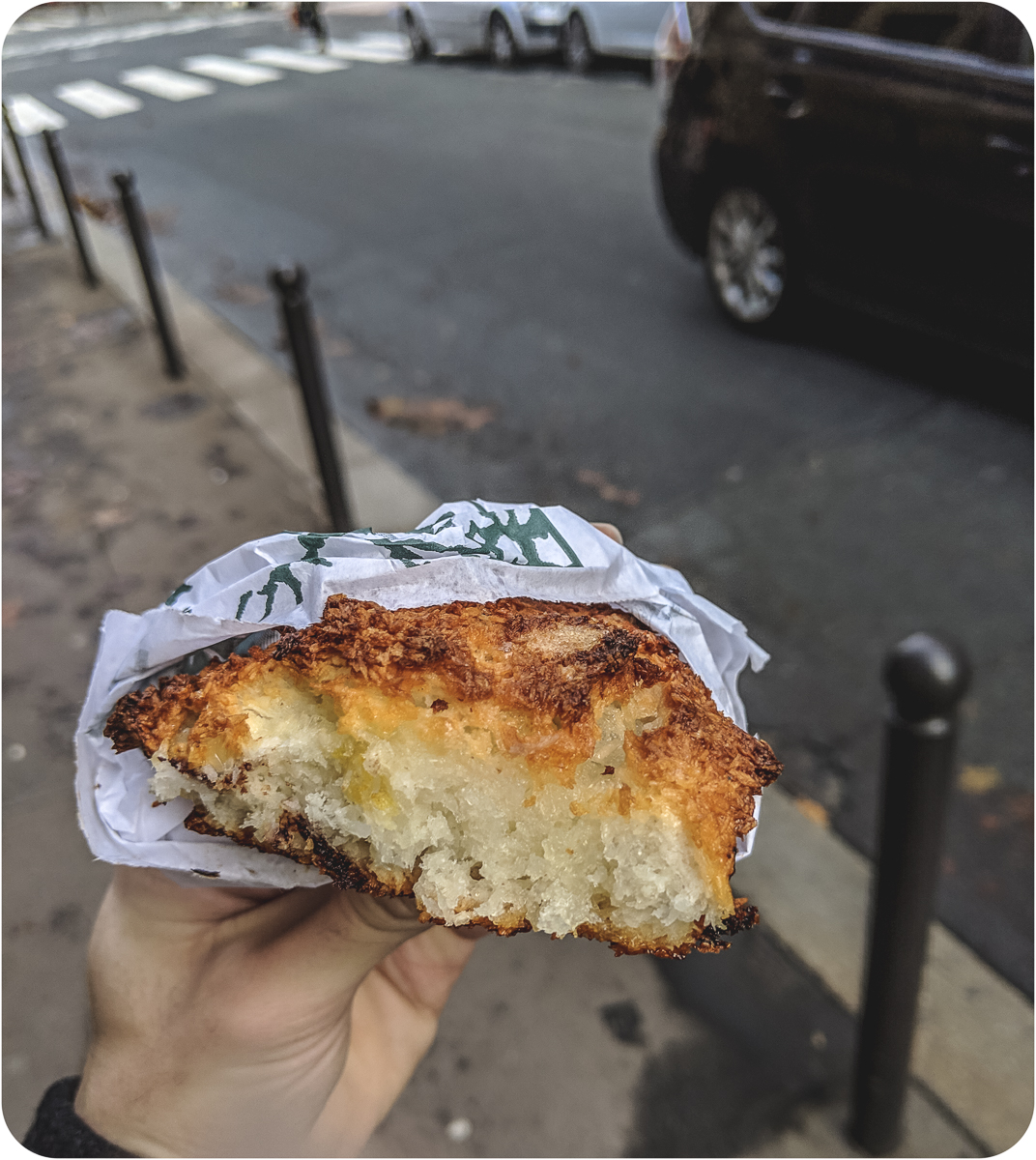 The aforementioned warm coconutty masterpiece.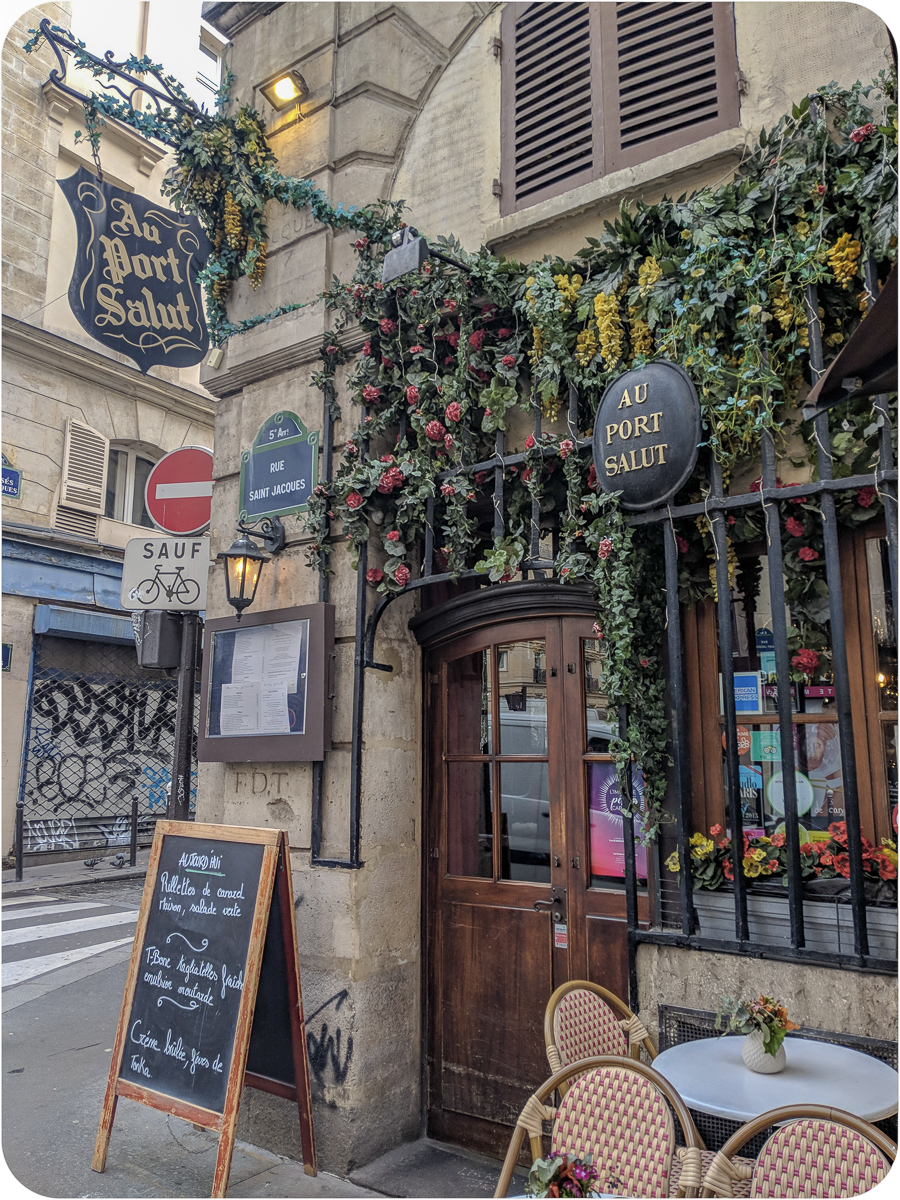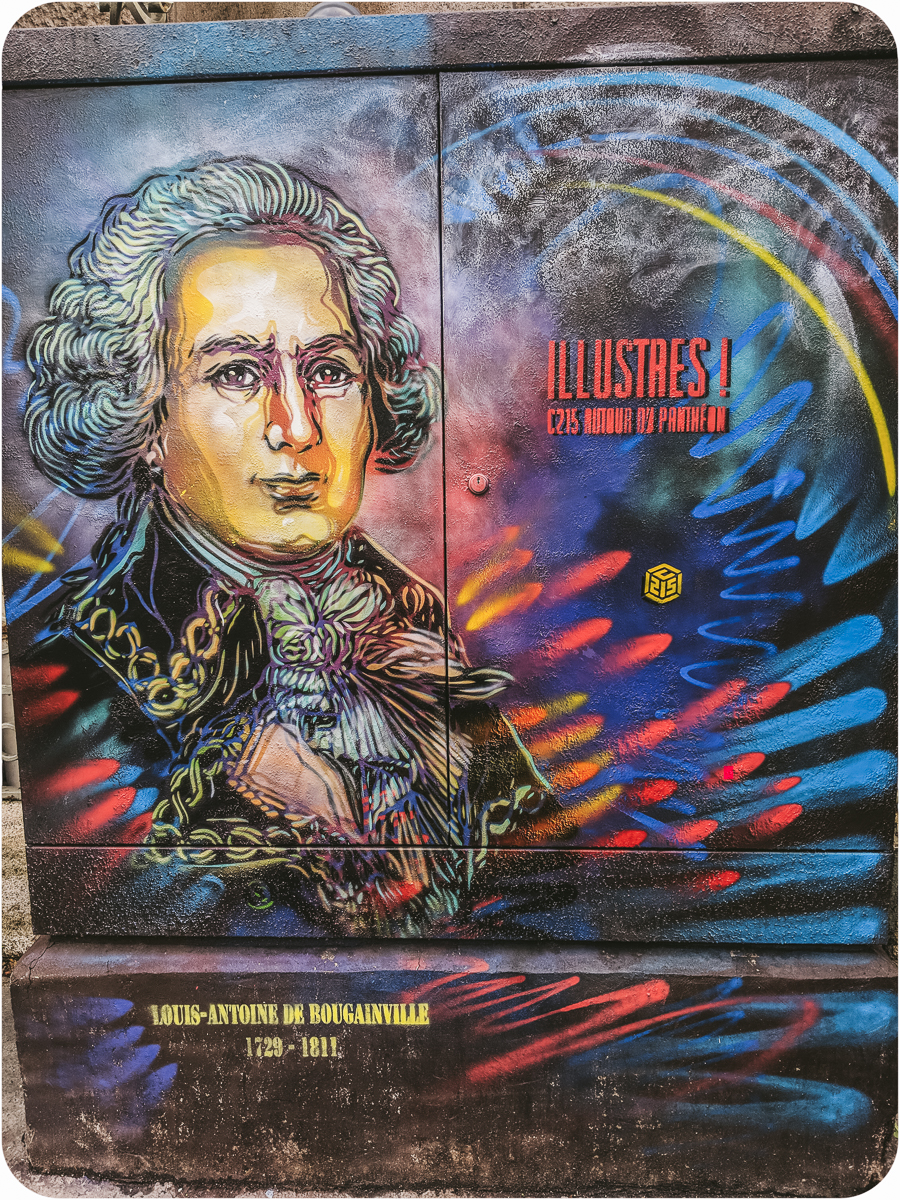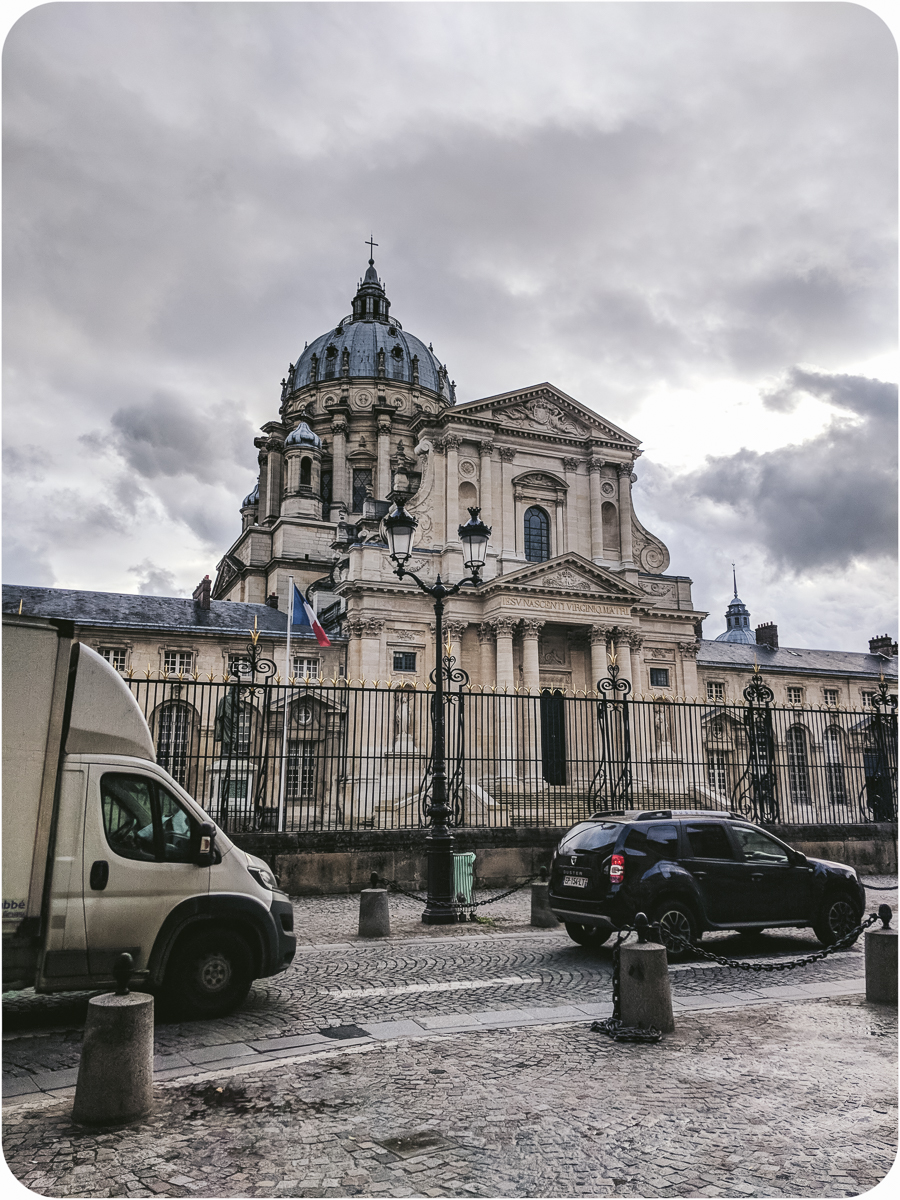 Église du Val-de-Grâce
As someone who has spent a copious amount of time in goth clubs, wearing an inordinate amount of black velvet and writing bad poetry about death, and lately more time in the brightly lit Halloween aisle with 100% fewer clove cigarettes, the catacombs of Paris fits neatly in my Venn diagram of interests. Mine, and every other tourist in Paris at the time, as we stood in a queue that stretched down the block, whiling away the time playing Pokemon Go.
Atop the entrance to the catacombs a message is inscribed. Arrete: c'est ici l'empire de la mort. Stop: this is the empire of death. With six million permanent residents and the transient living population capped at two hundred, truly this is the realm of the dead. The bones in this labyrinth are stacked from the floor to nearly the ceiling, having made the move from Paris' overstuffed cemeteries in the 18th century. Literally overstuffed: sometimes bodies became uncovered and once, horrifyingly, a strong rain caused a retaining wall to collapse and spill corpses into a neighboring property which is kind of a health hazard and probably not the most thrilling smell to ever accompany crêpes suzette to the table. Now interred into the former limestone quarries that yielded the stone for the city above, this ossuary is just a portion of more than 200 miles of tunnels under the city. And a smaller portion of that is what is displayed to tourists, with serious barriers in place to prevent anyone from wandering off and becoming lost, which does occasionally happen to people who enter from manhole covers. 
An entire class of urban explorer is devoted to these subterranean passages. Known as cataphiles, theirs and others' illicit entry into the tunnels in turn created a new form of French police, the E.R.I.C., who patrol the tunnels, remove trespassers, and seal entrances. (Imagine attempting to exit where you'd entered only to find it blocked off from the other side.)  Given the zeal of others to get in there, I expected to feel something in the catacombs. A sense of unease or some body horror or at least like a Belmont on a vampire hunt minus the whip. But there, in that vaguely industrial lighting…nothing. I have no doubt I'd feel differently alone among the dead with only the light of my phone and its rapidly depleting battery to guide me.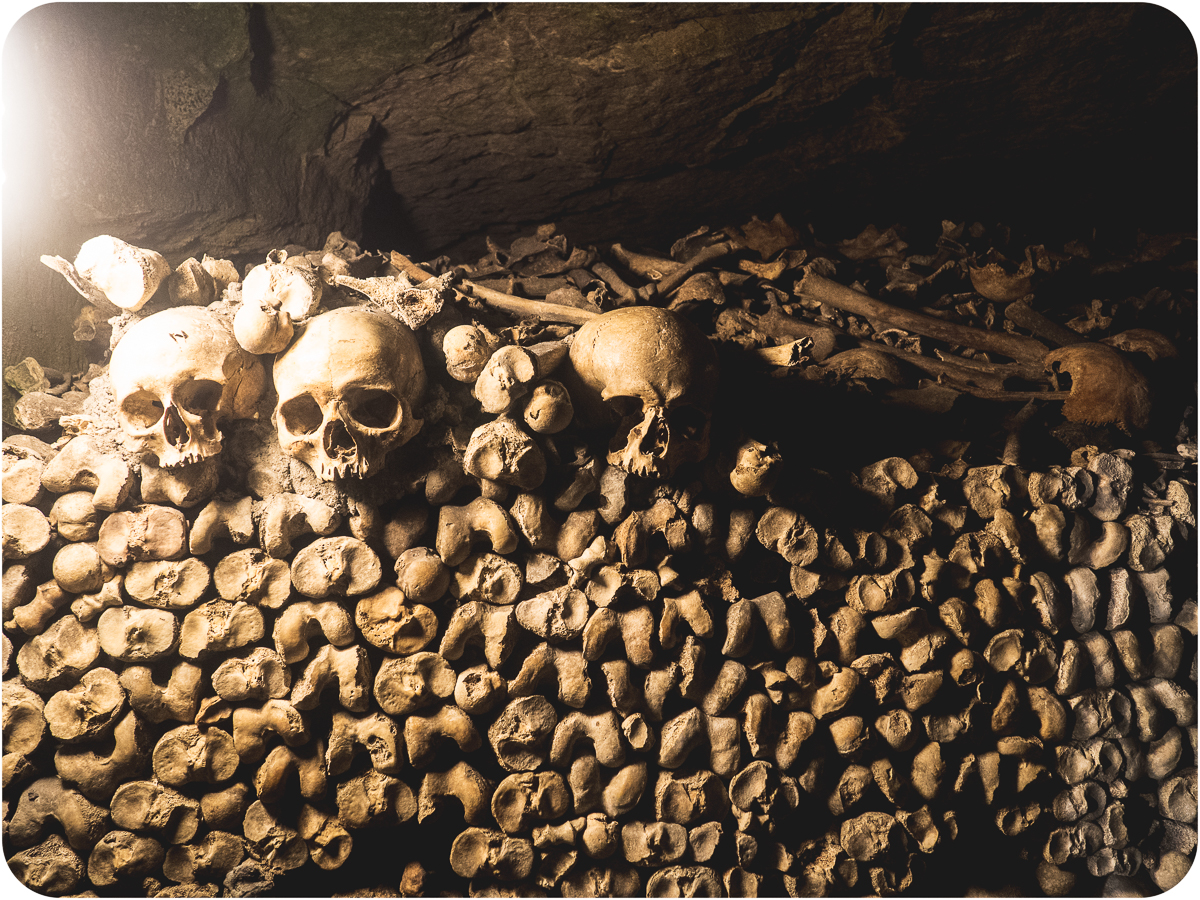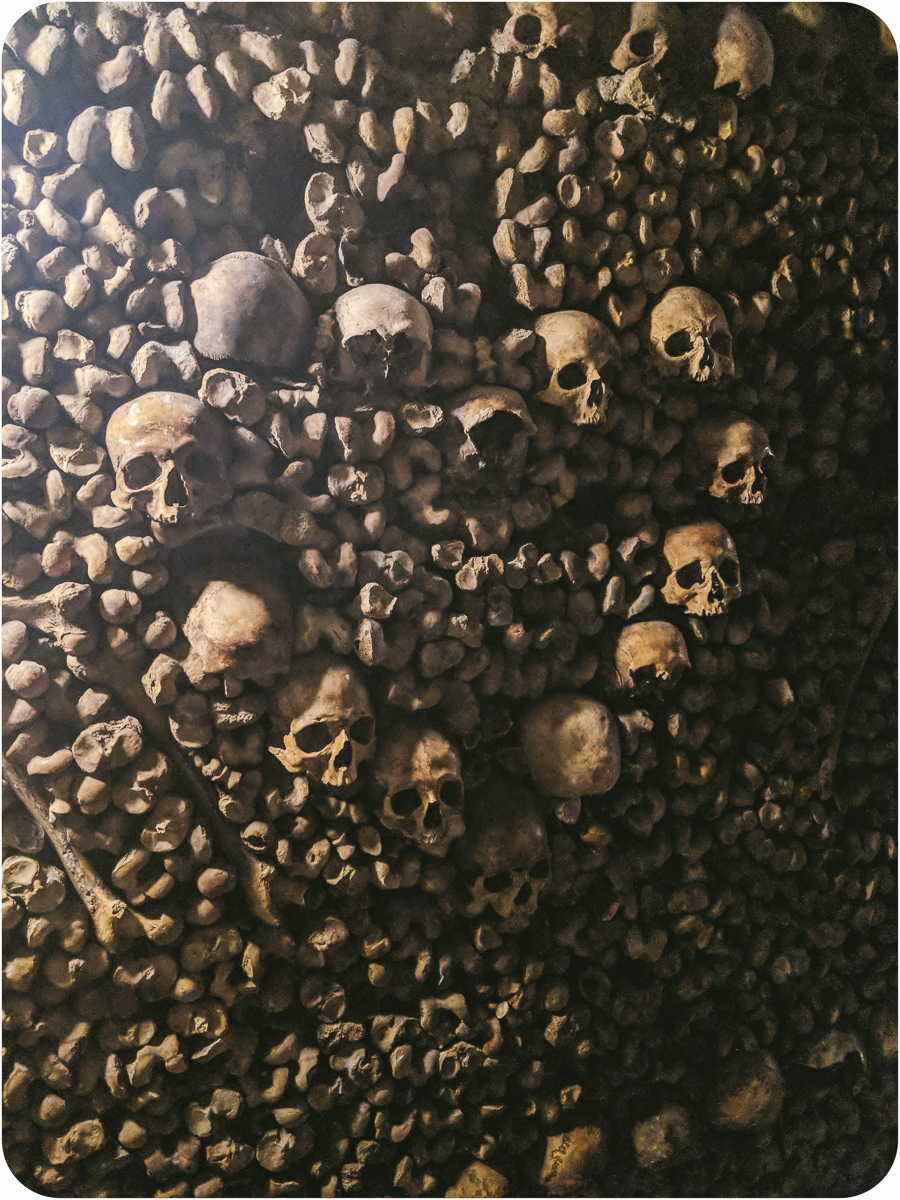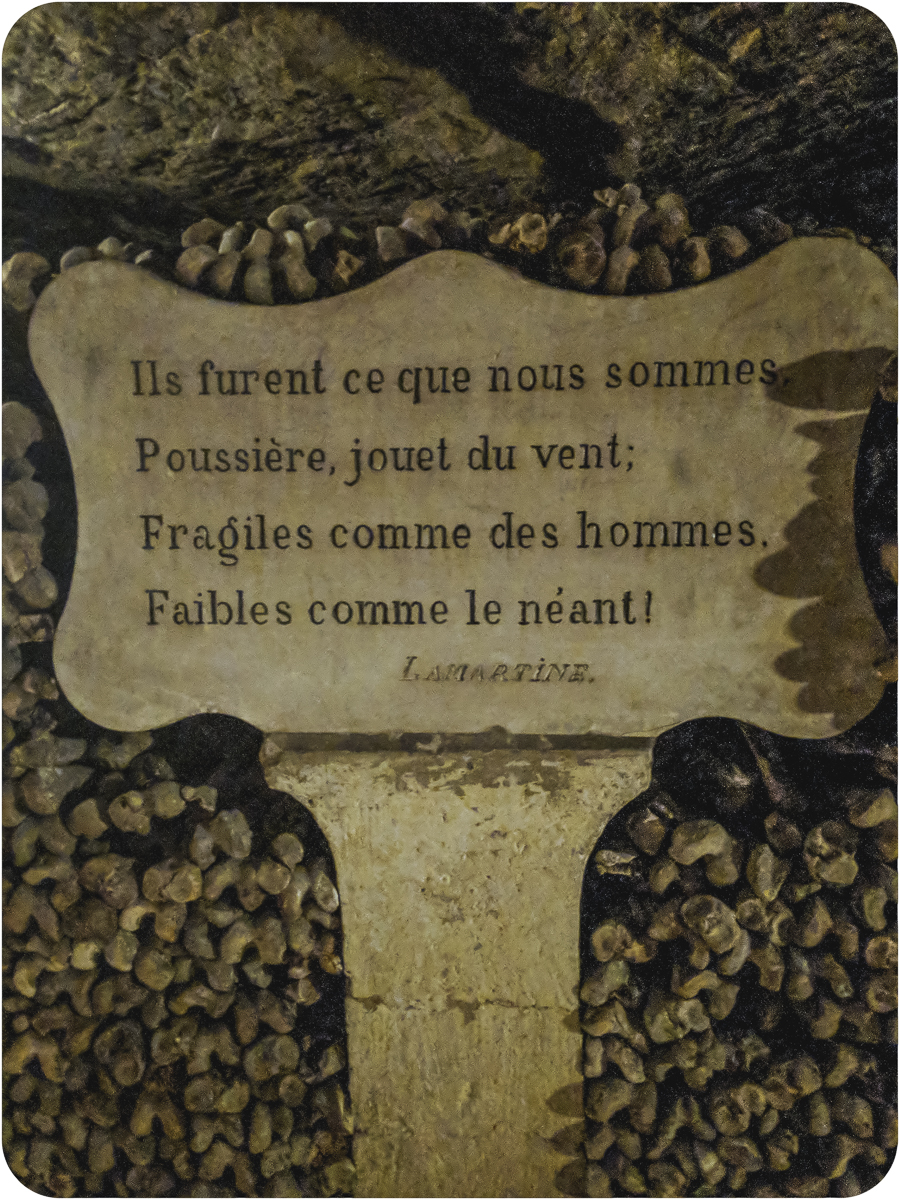 They were what we are, Dust, toy of the wind; Fragile like men, Weak as the nether!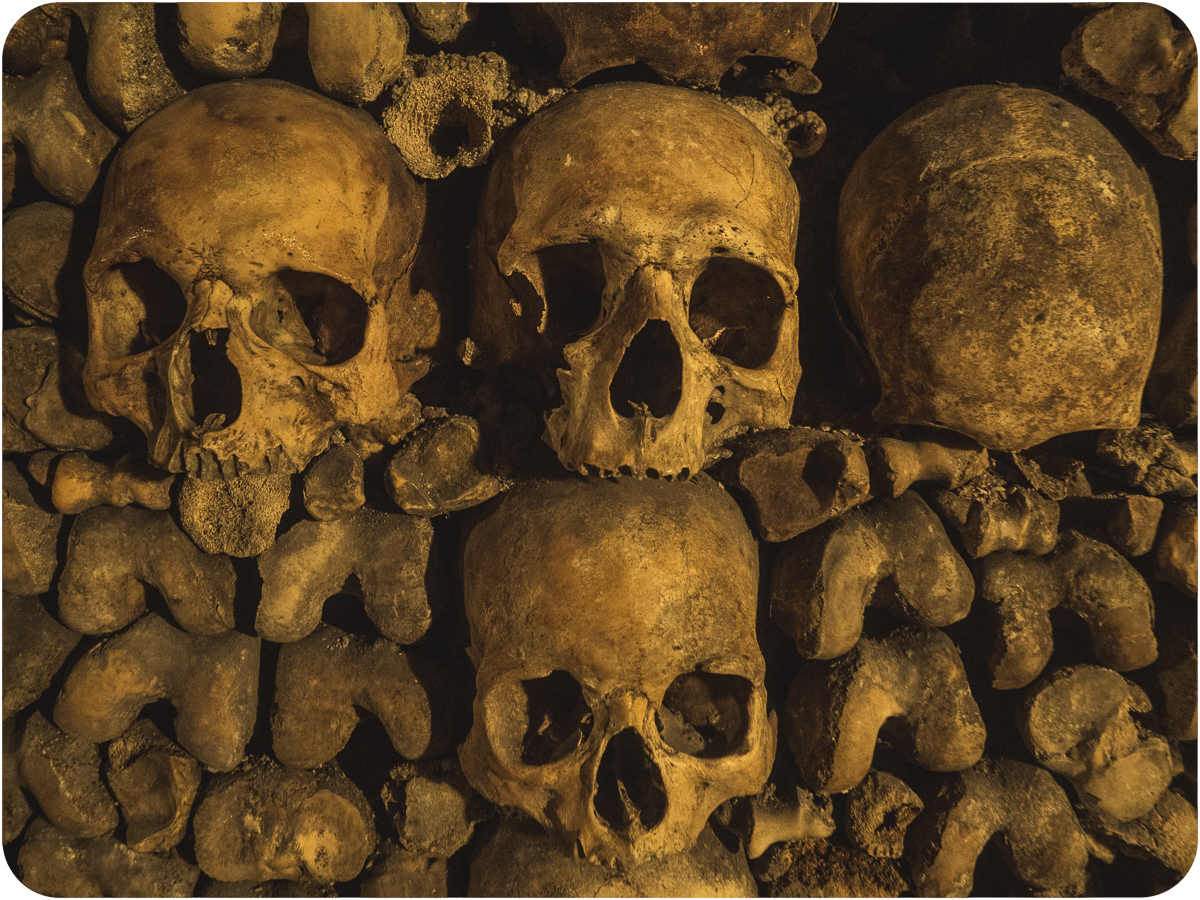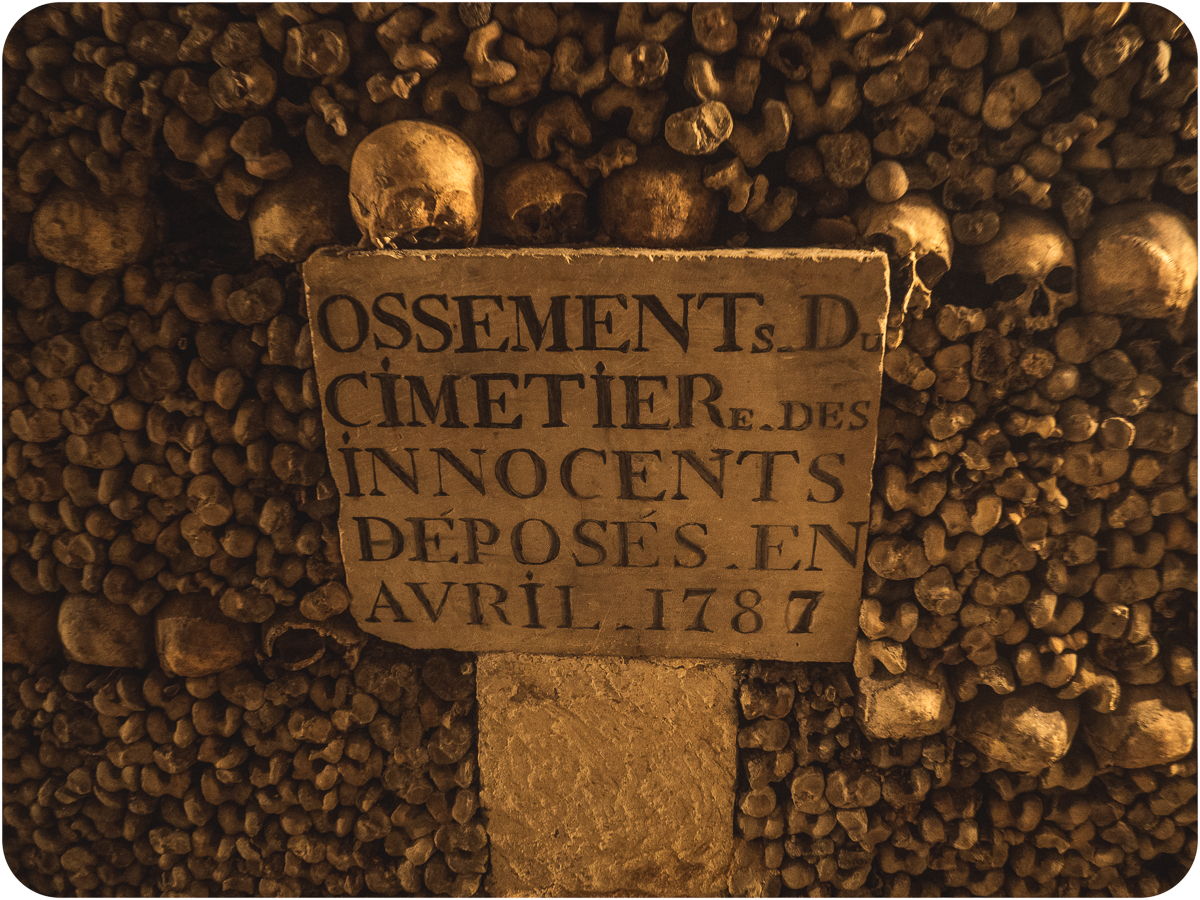 These remains came from the cemetery of innocents, the cemetery with the aforementioned corpse-spilling problem.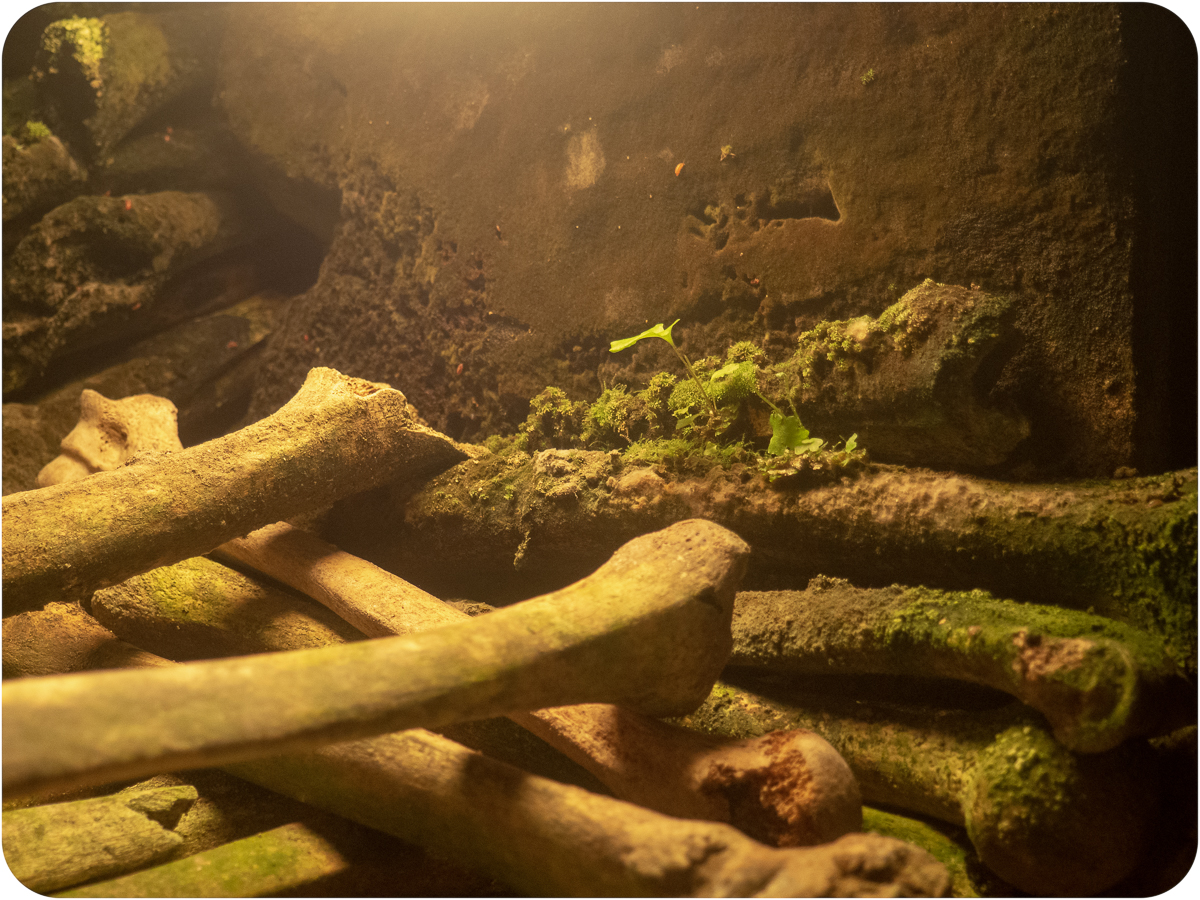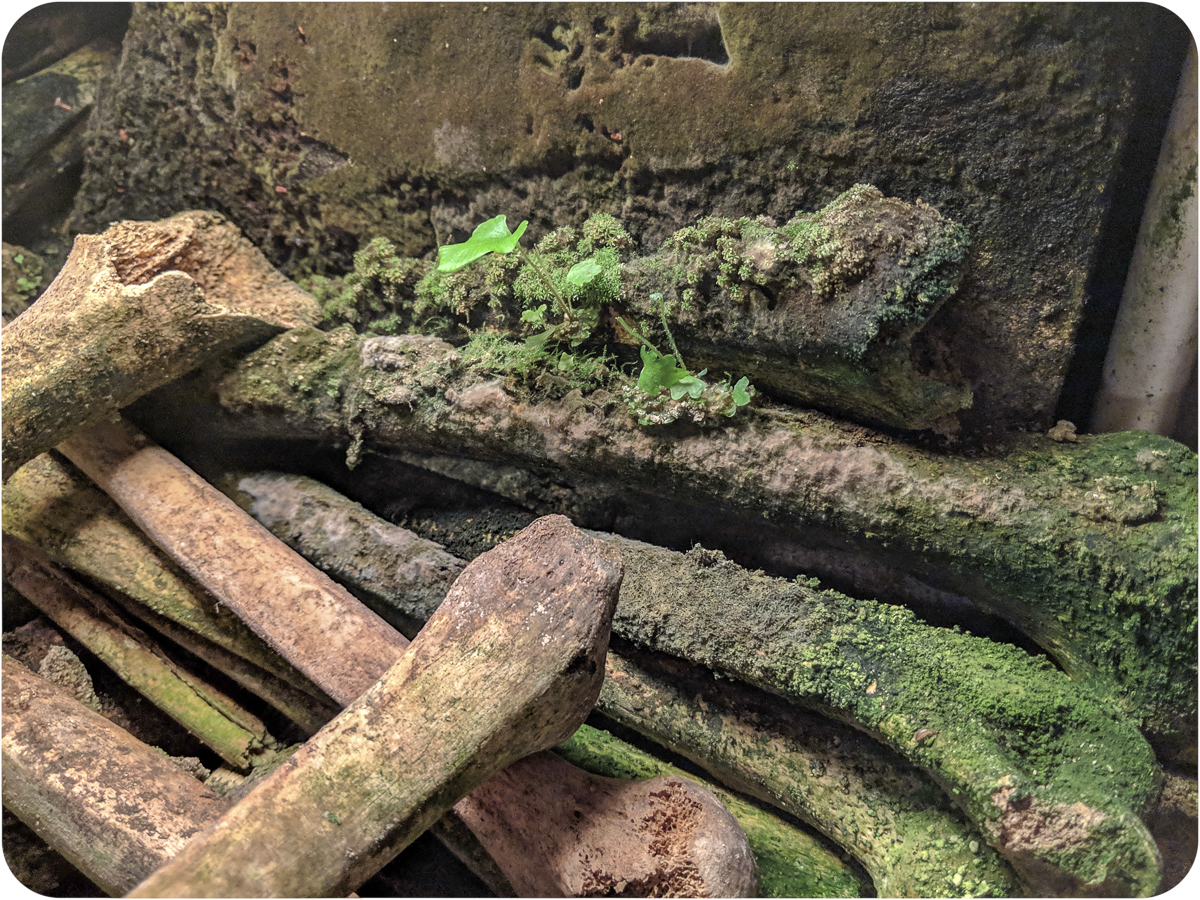 Ah, color correction.
Nothing works up an appetite more than hanging around six million dead people and after climbing the seemingly-endless spiral staircase up to street level we were especially vulnerable to a beacon of ease, convenience, and rapidity. Motherfucking McDonalds. Those golden arches gleamed and we looked at one another and mutually decided we were not done rubbing shoulders with death for the day and went inside. Circumstances conspired to save us from ourselves as neither of us had enough cash on hand and our cards were rejected by the electronic ordering station because there was no way for us to sign for the charge, so we went royale-with-cheeseless.  
Still, the desire for food that we could eat snappily and be on our way was paramount, so we ended up in our second boulangerie of the day, Moisan. I kept to my oath to order a kouign amann every time I saw one, and theirs had a crackling crustiness to it that practically begged for an accompanying café au lait.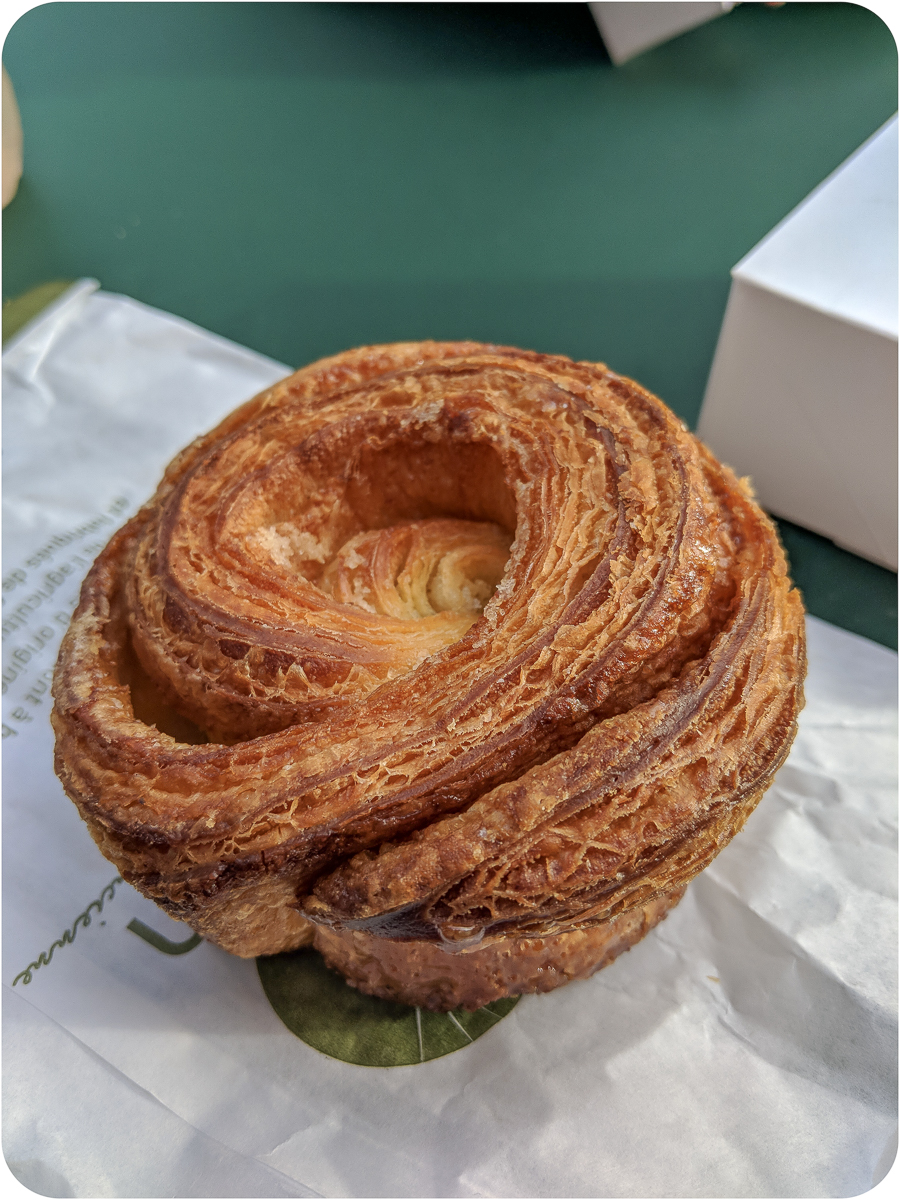 Kouign amann at Moisan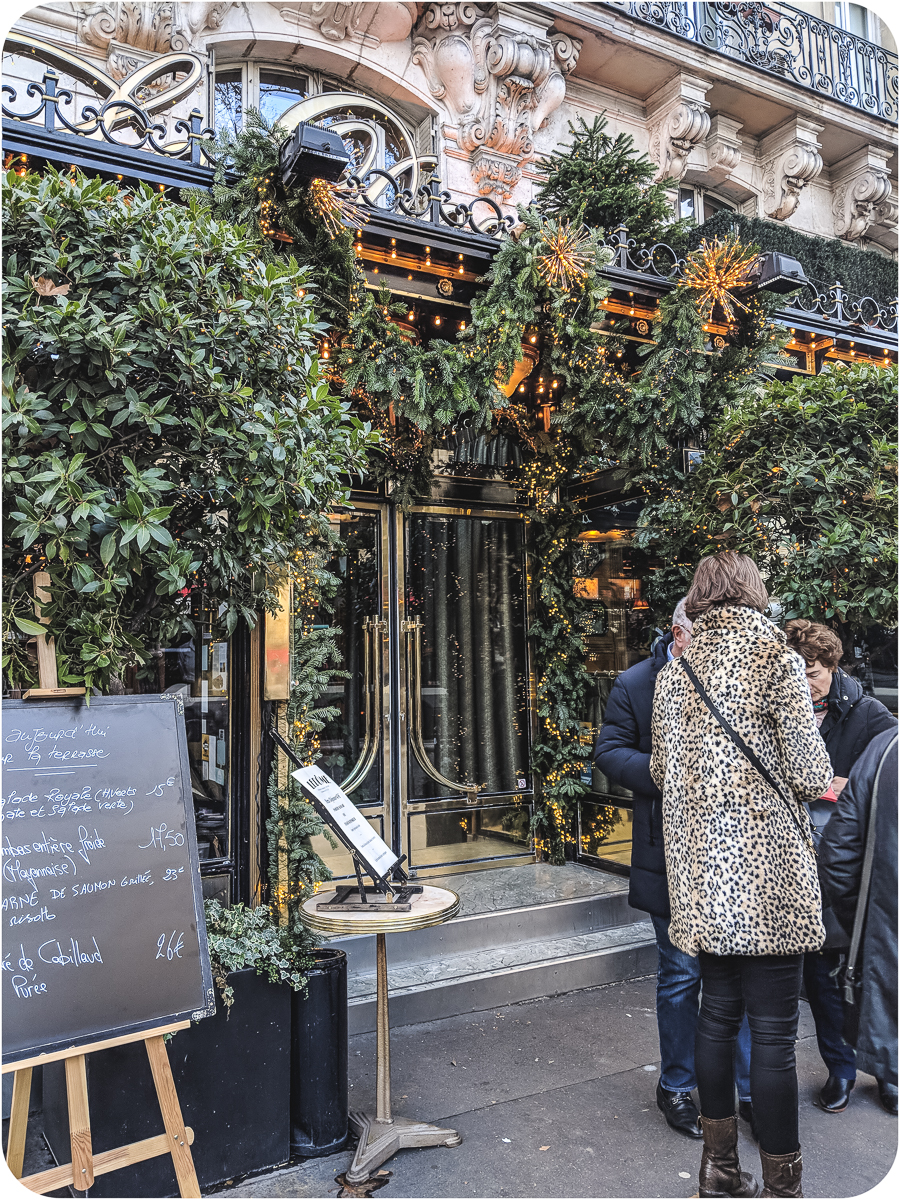 After finishing our pastries, we walked through Luxembourg Gardens. Commissioned by Queen of France Marie de' Medici*,  who grew weary of life in the Louvre, the palace and gardens were designed to remind her of her childhood in Florence, Italy. Statuary and benches are distributed down winding walking paths along with tennis courts, chess sets, and an apiary.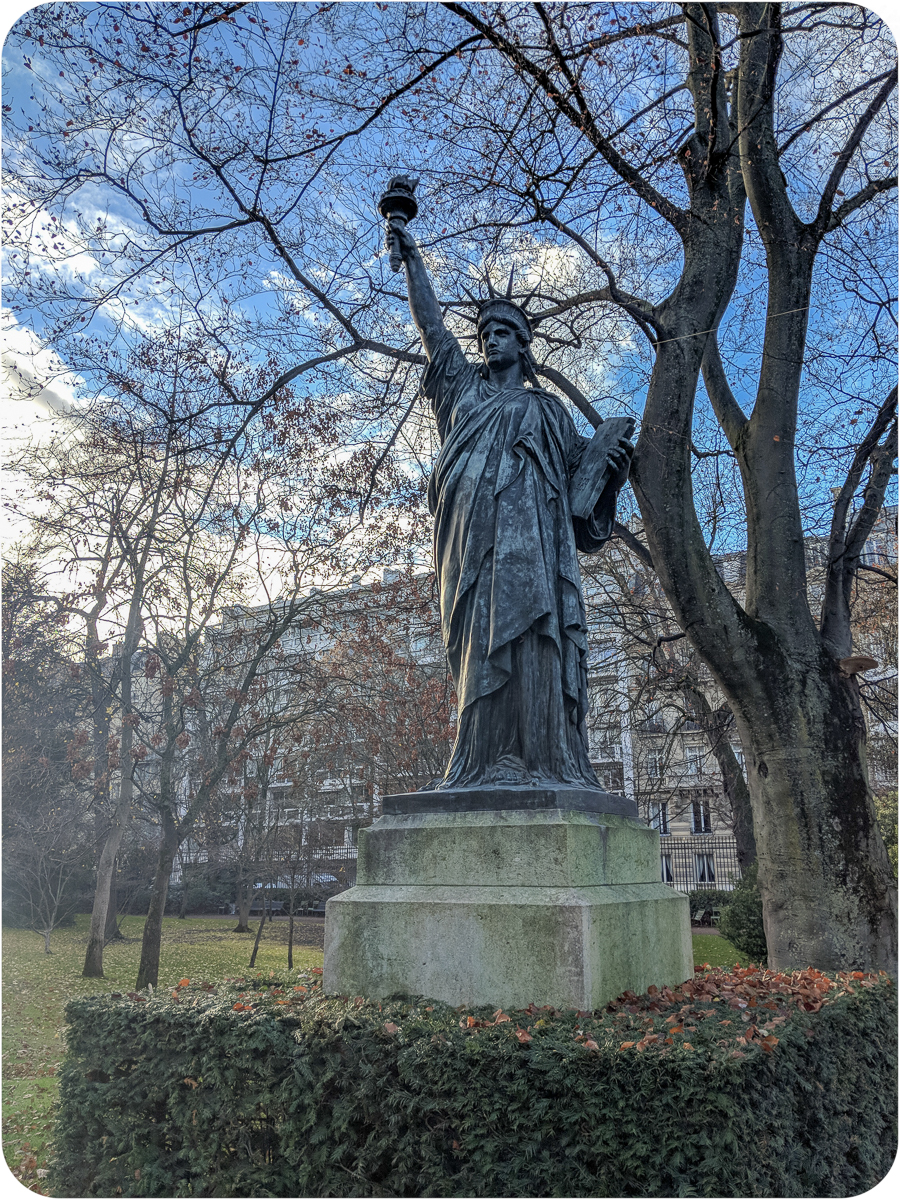 In this palatial garden, a little bit of 'murrica.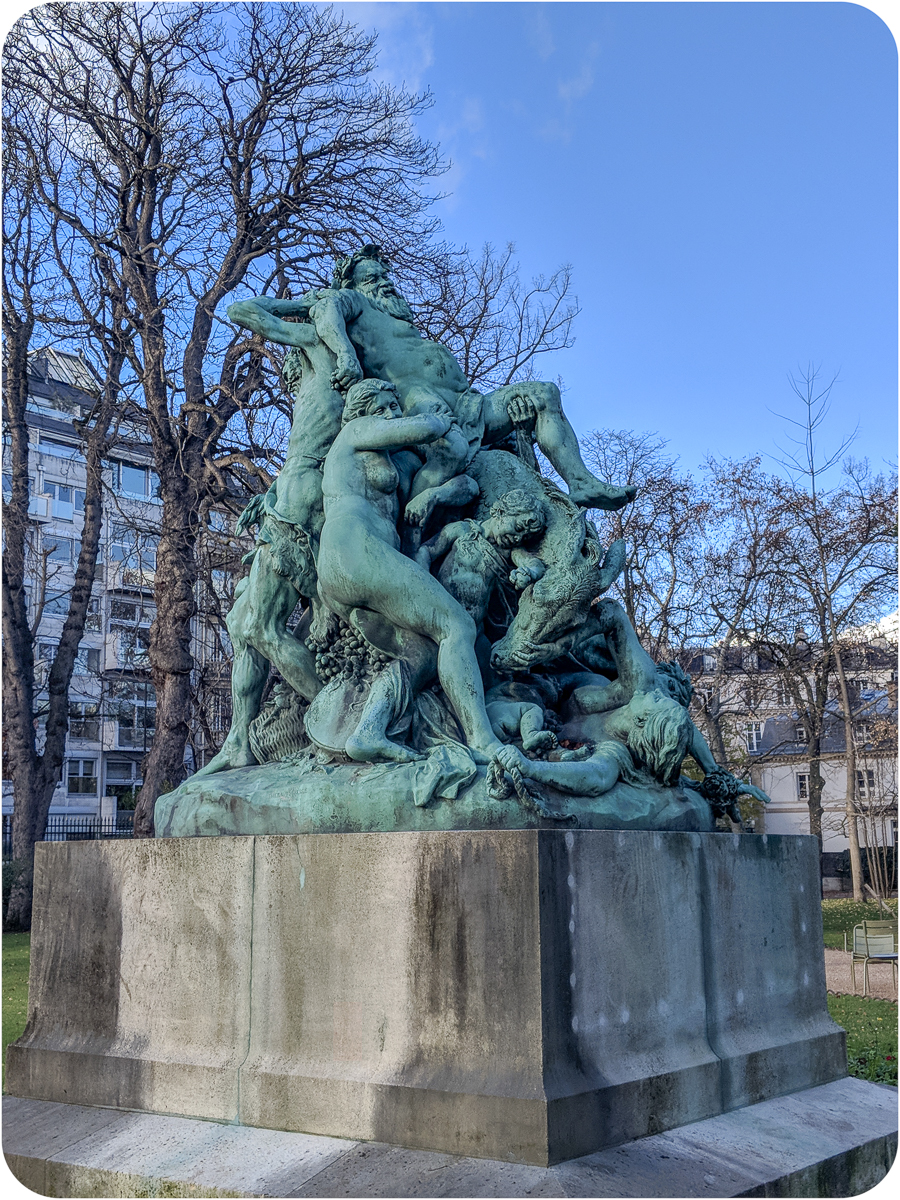 Le Triomphe de Silene, Aime Jules Dalou, 1885; Silenus is a companion of Dionysus, the Greek god of wine, and his most notable trait is being constantly drunk.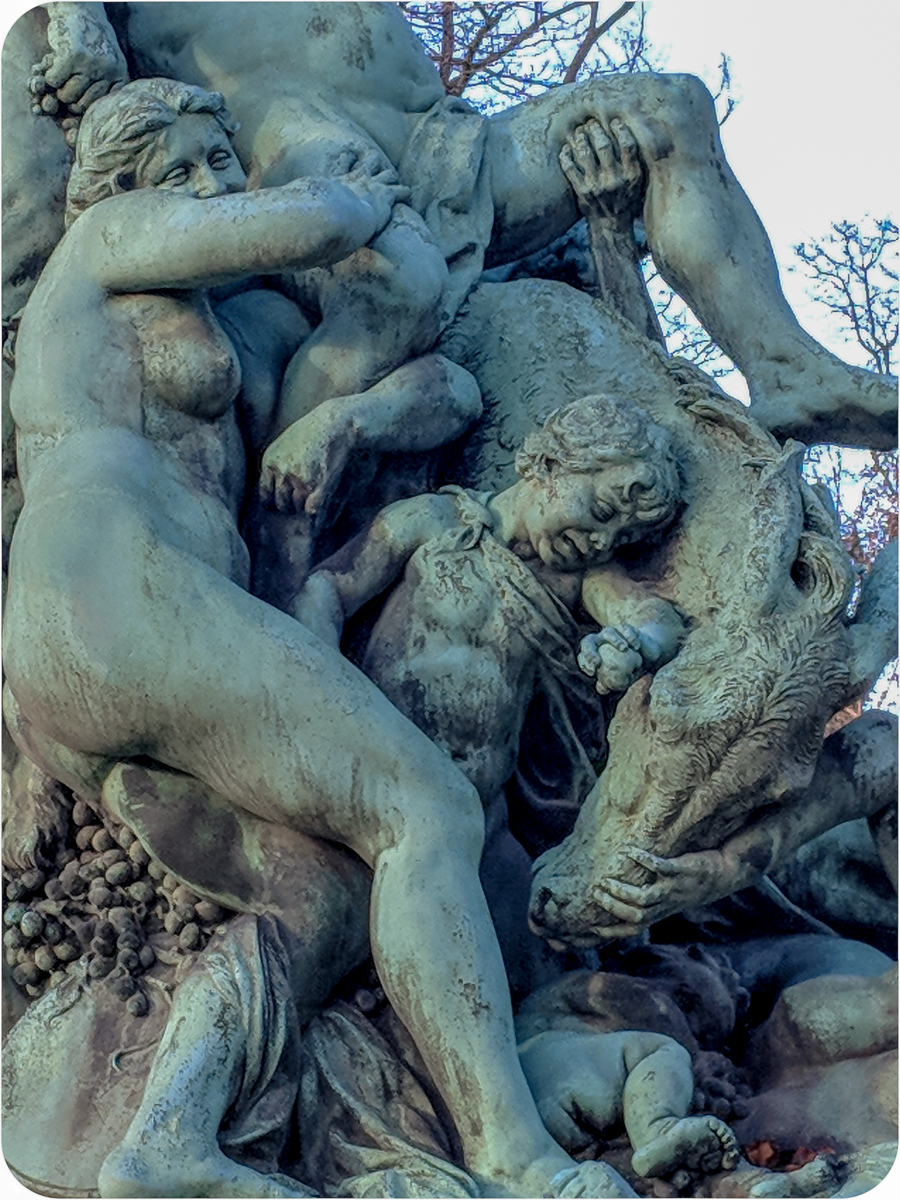 The kid doesn't seem to be having a great time, and that baby on the ground, even less so.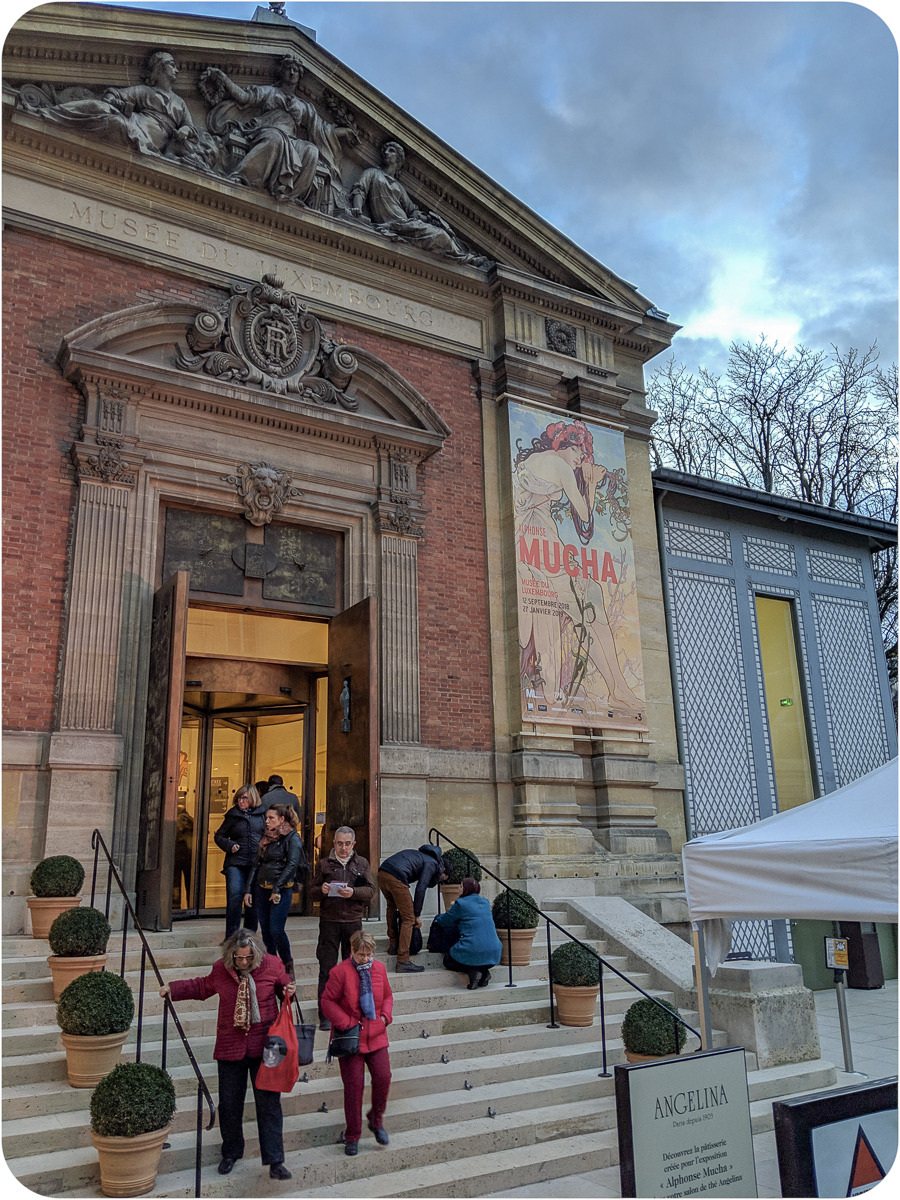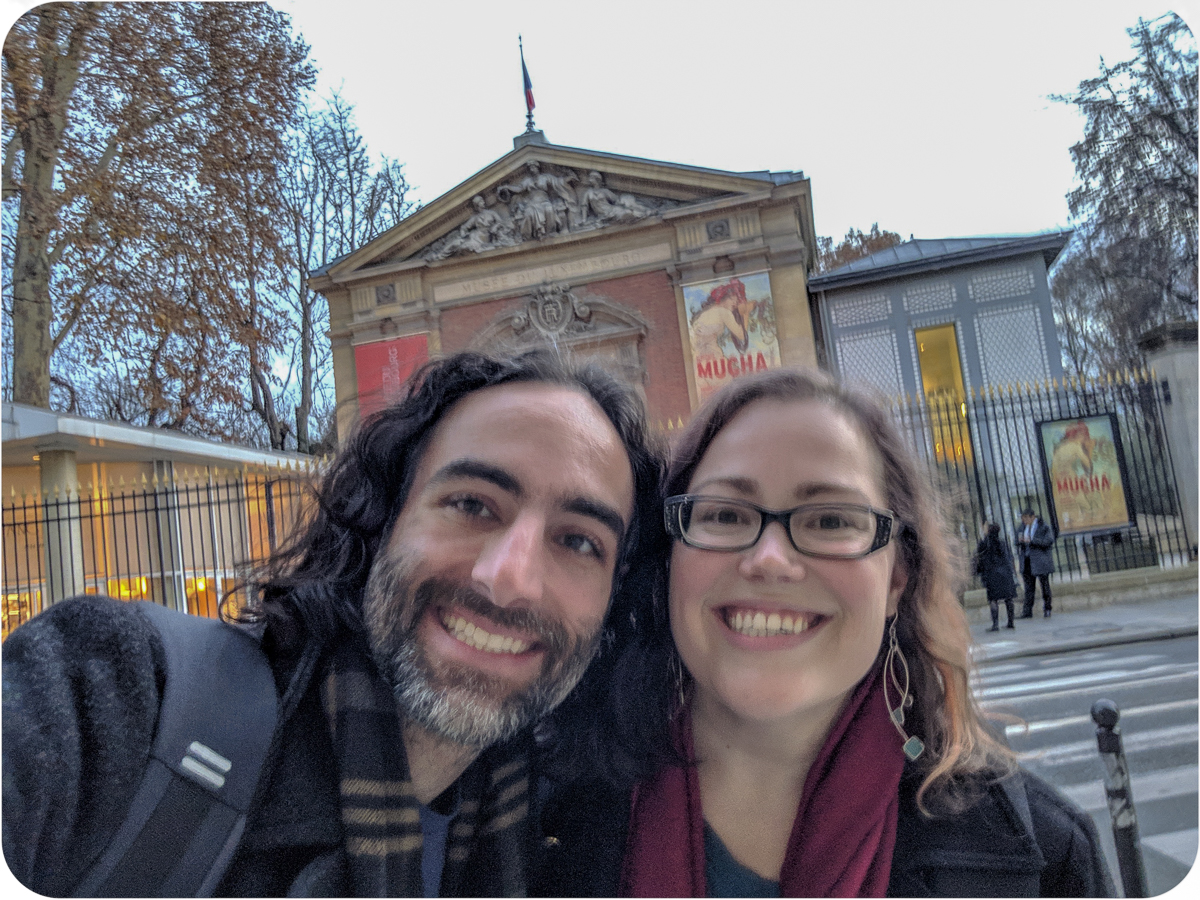 I was set on reaching the Musee de Luxembourg, where they were hosting a special exhibit on Alphonse Mucha, a Czech artist who lived and worked in Paris in the Latin quarter for twenty years, the entirety of the period during which art nouveau was popular (1890-1910).  Art nouveau utilizes sinuous, asymmetrical forms and draws inspiration from nature. Mucha, though leery of the art nouveau label (how can one movement of art be labeled "new" when by its very nature art continually changes?) blended the line between fine art and commercialism, first becoming famous for his posters of the French stage actress with the golden voice, Sarah Bernhardt. He was a prolific artist, and his work was seen everywhere from champagne advertisements to calendars to cookie packages. That style became synonymous with his name, though in his later years he grew to despise its commercial nature, and returned to his homeland to work on The Slav Epic, a twenty painting series he considered to be his most important work.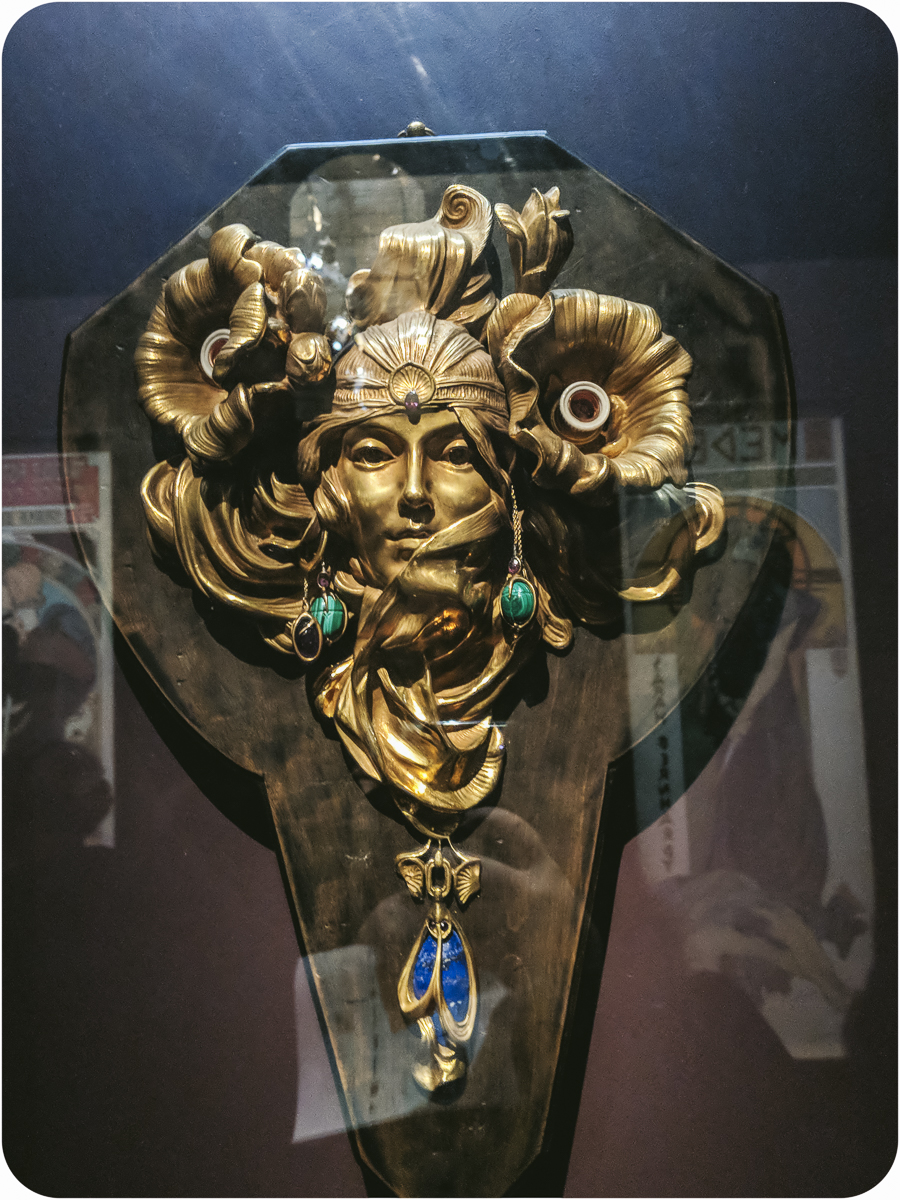 La Princesse Lointaine, 1900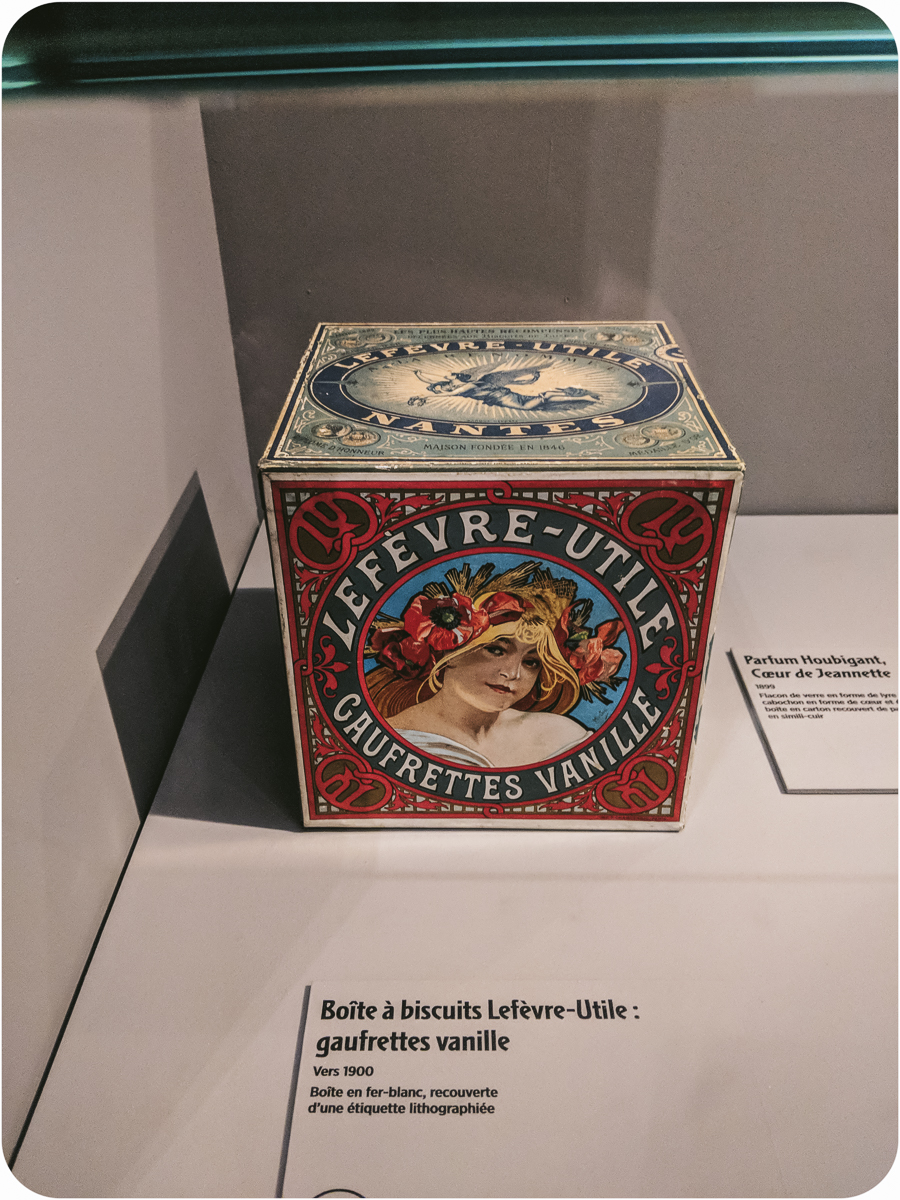 A cookie box for cookies made in Nantes.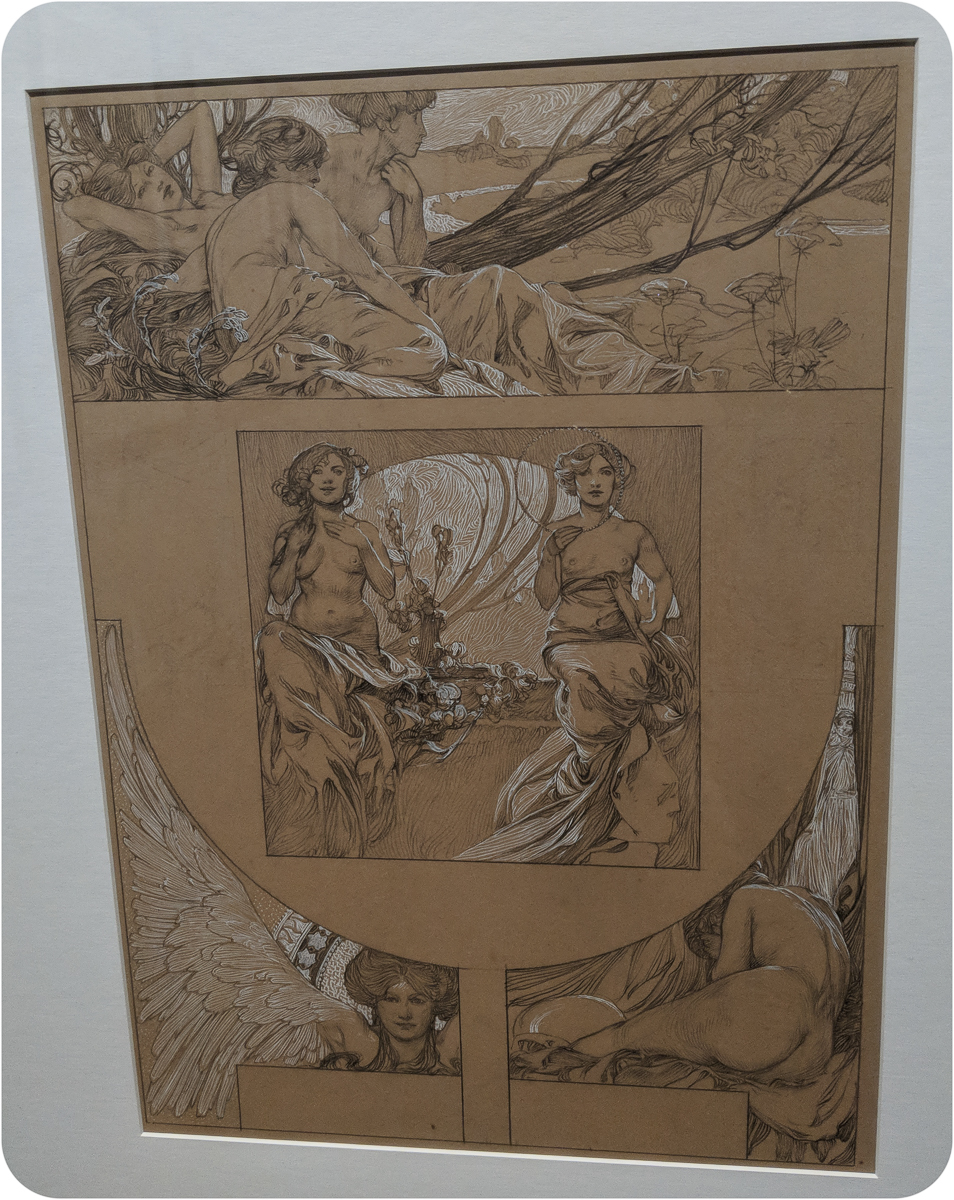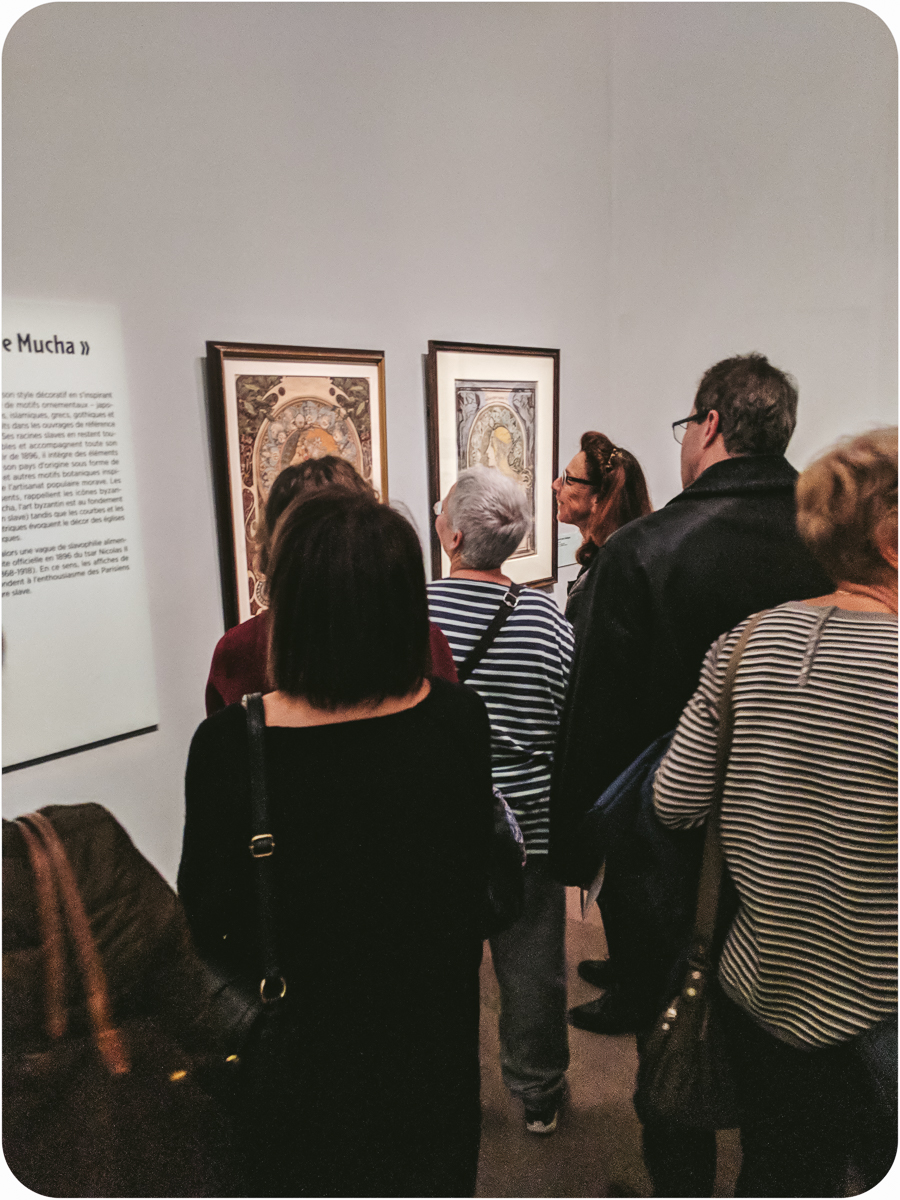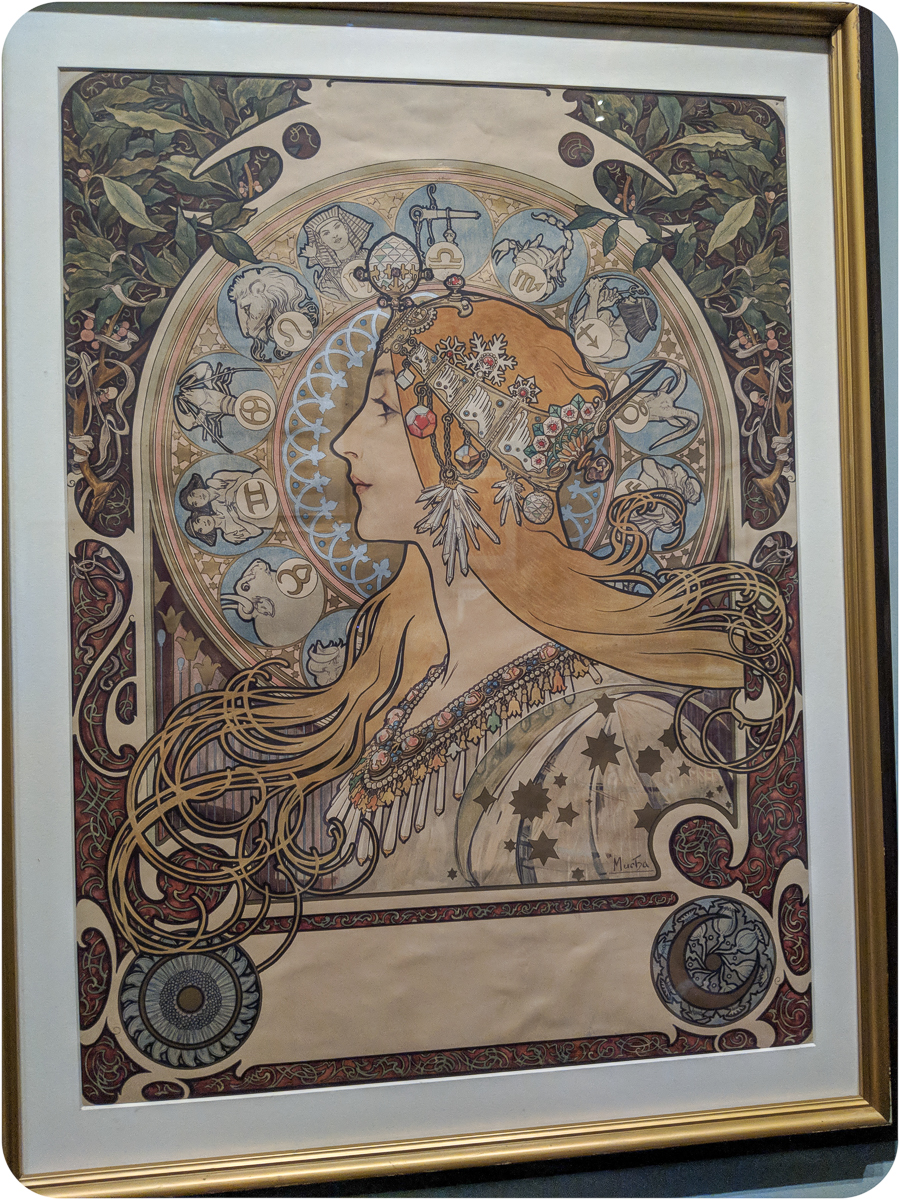 Zodiac, 1892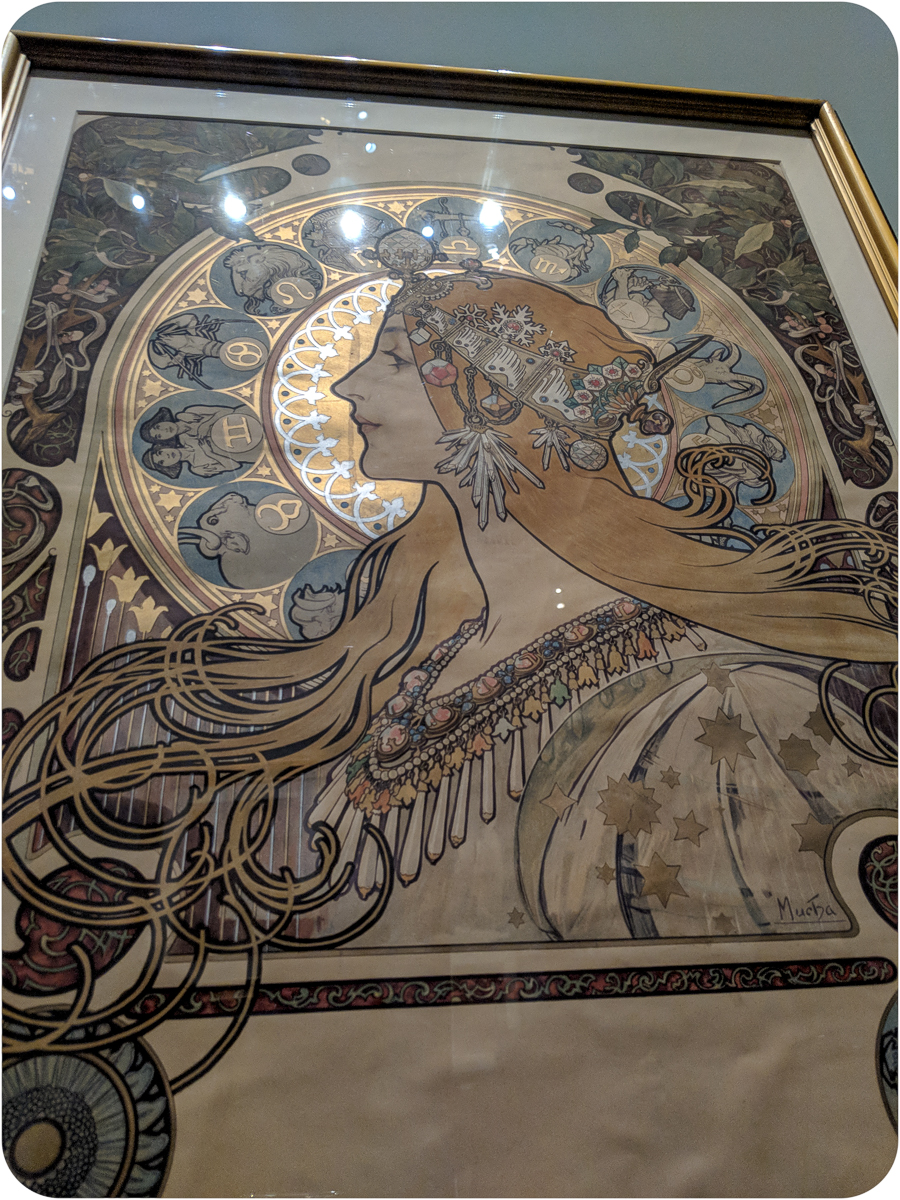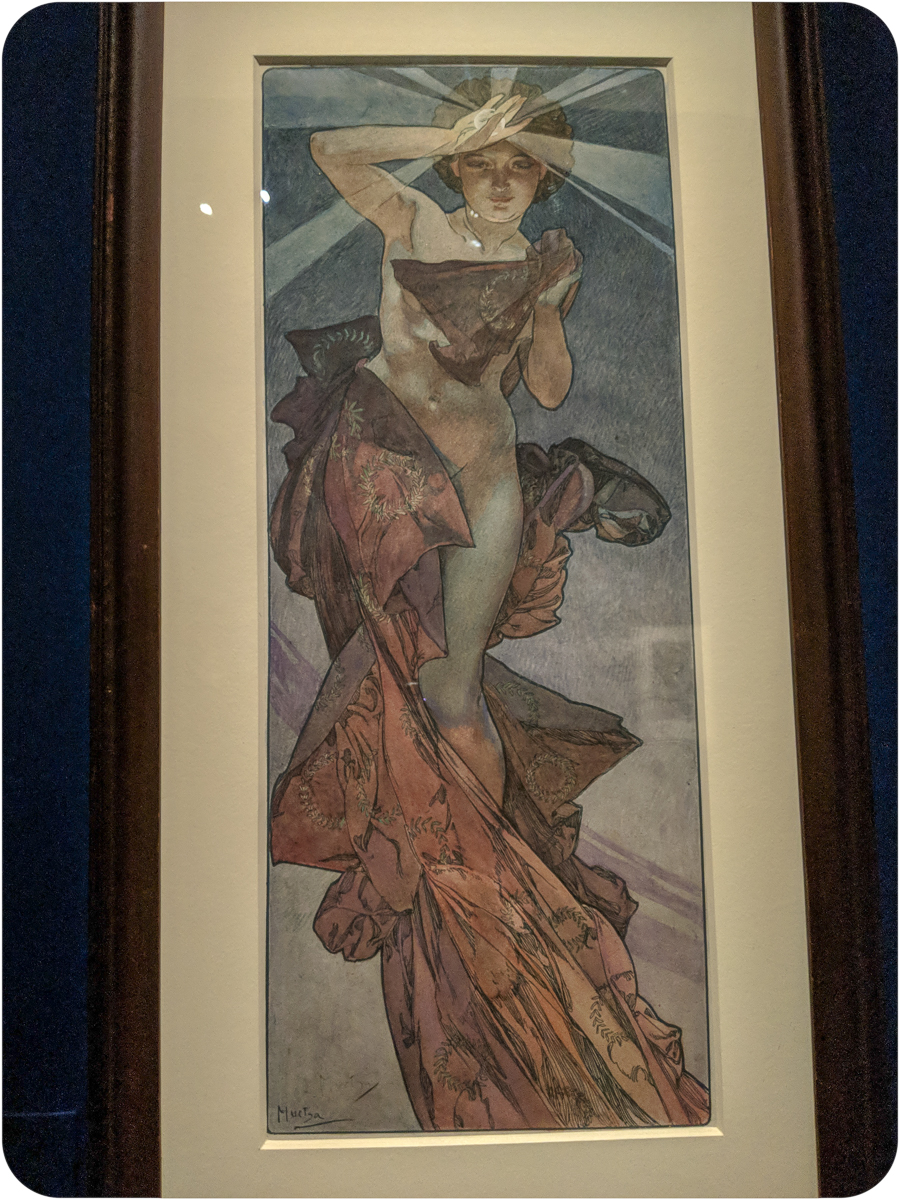 The Moon and the Stars: The Morning Star, 1902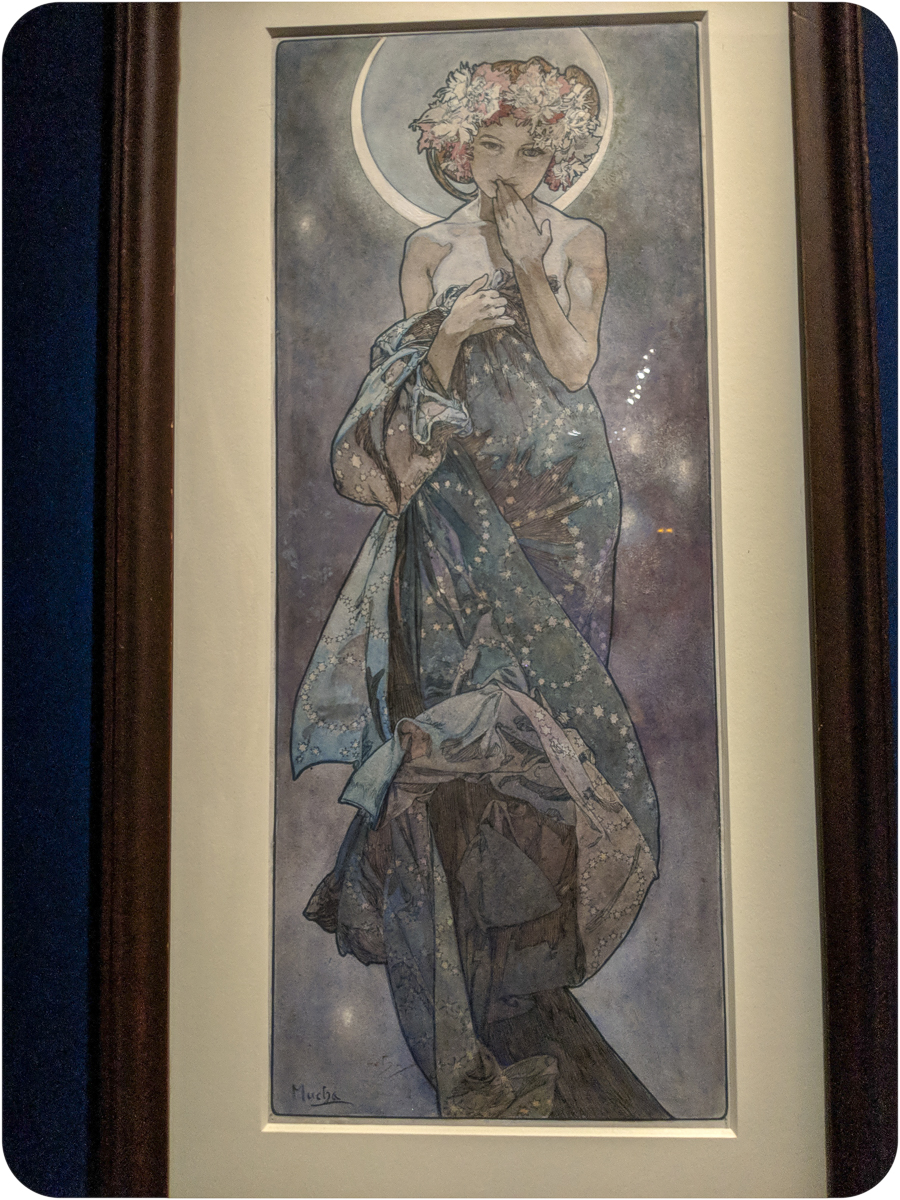 The Moon and the Stars: The Moon, 1902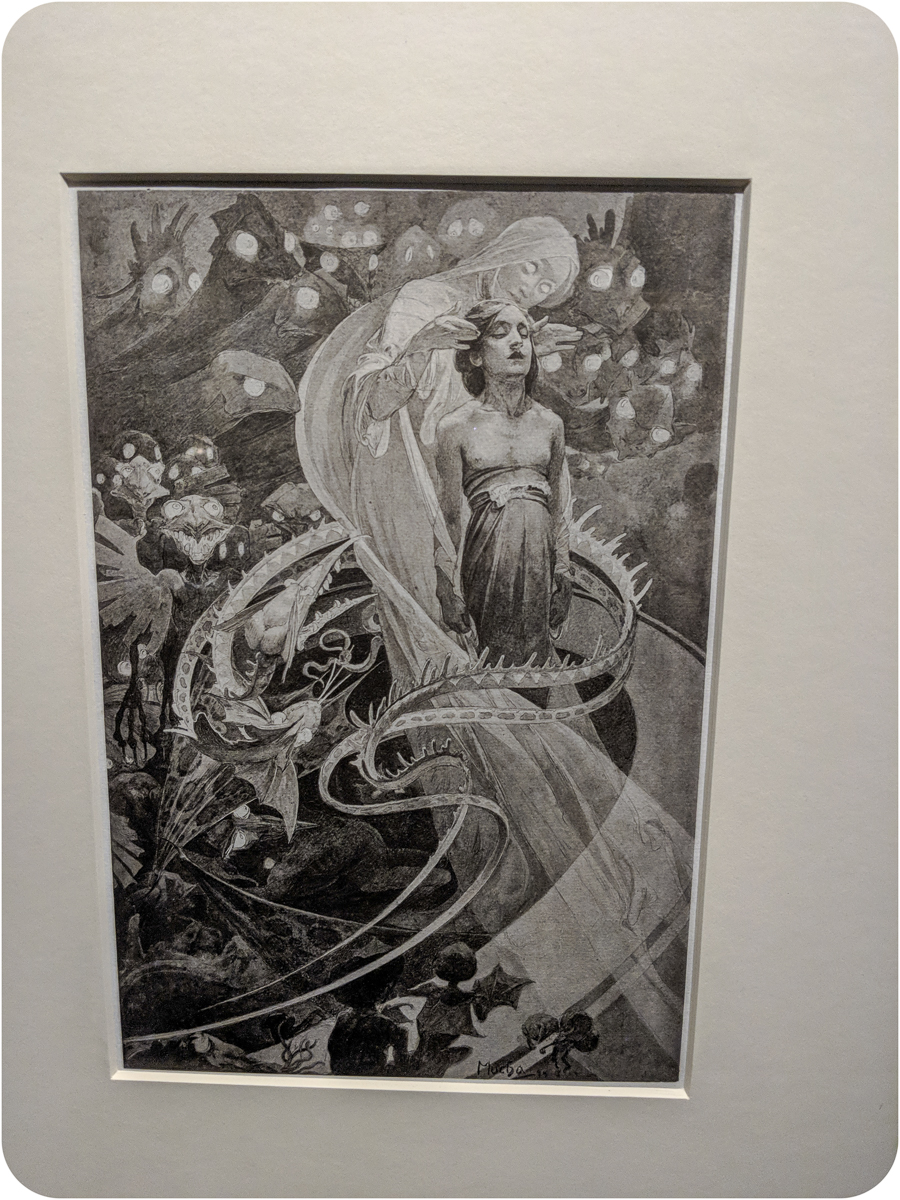 From Le Pater, an extremely rare symbolist work and illustration of The Lord's Prayer that Mucha described to a reporter as "the thing I have put my soul into" and of which only 510 copies were originally printed, after which the plates were destroyed as Mucha feared they would be stolen piecemeal for advertising purposes against his will due to his popularity.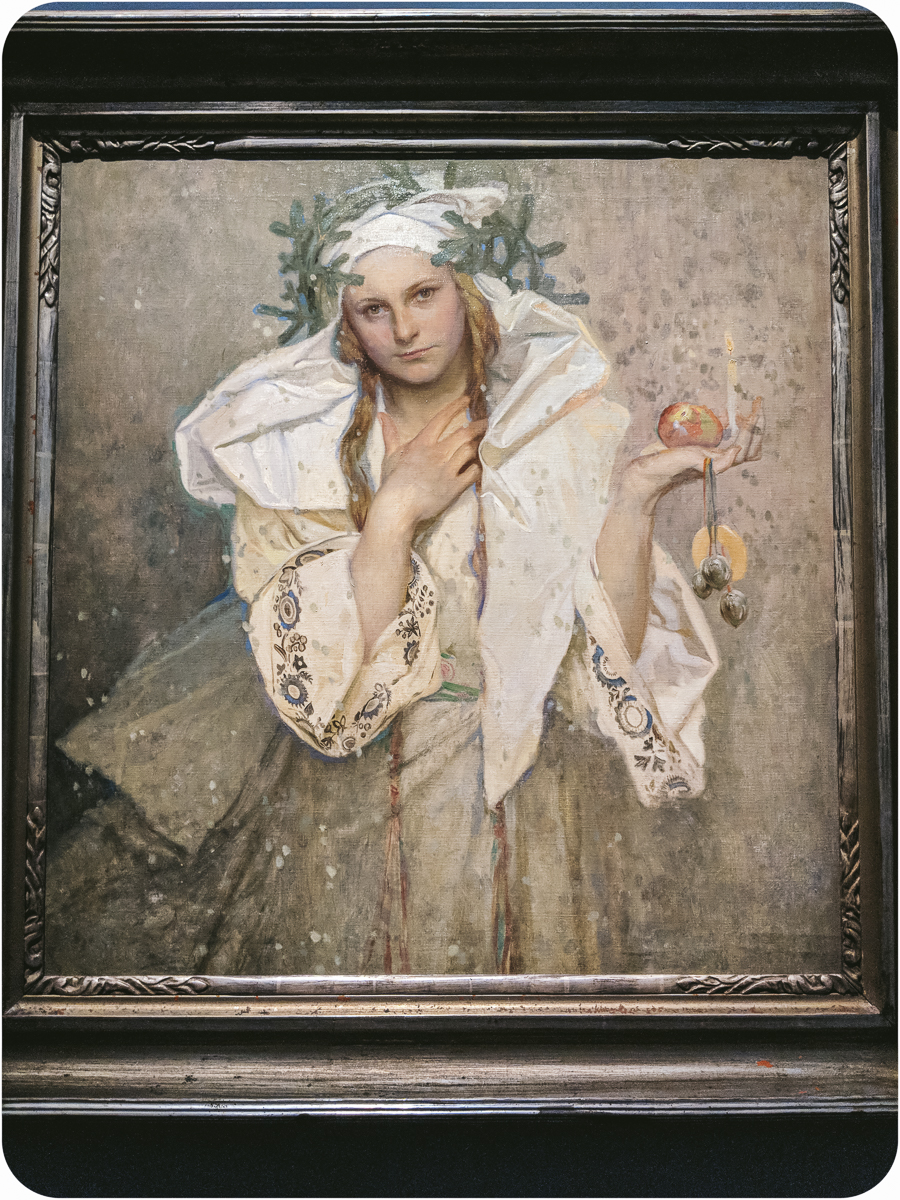 Christmas in America, 1919
The museum was packed, and while I did especially appreciate seeing the gilding illuminated on Zodiac, by the time we'd finished browsing, I was ready to be done with that crush of people and also for another snack, and Angelina Paris was there for me with a delightful pastry inspired by a Mucha painting that tasted like late spring and a hot pot of tea.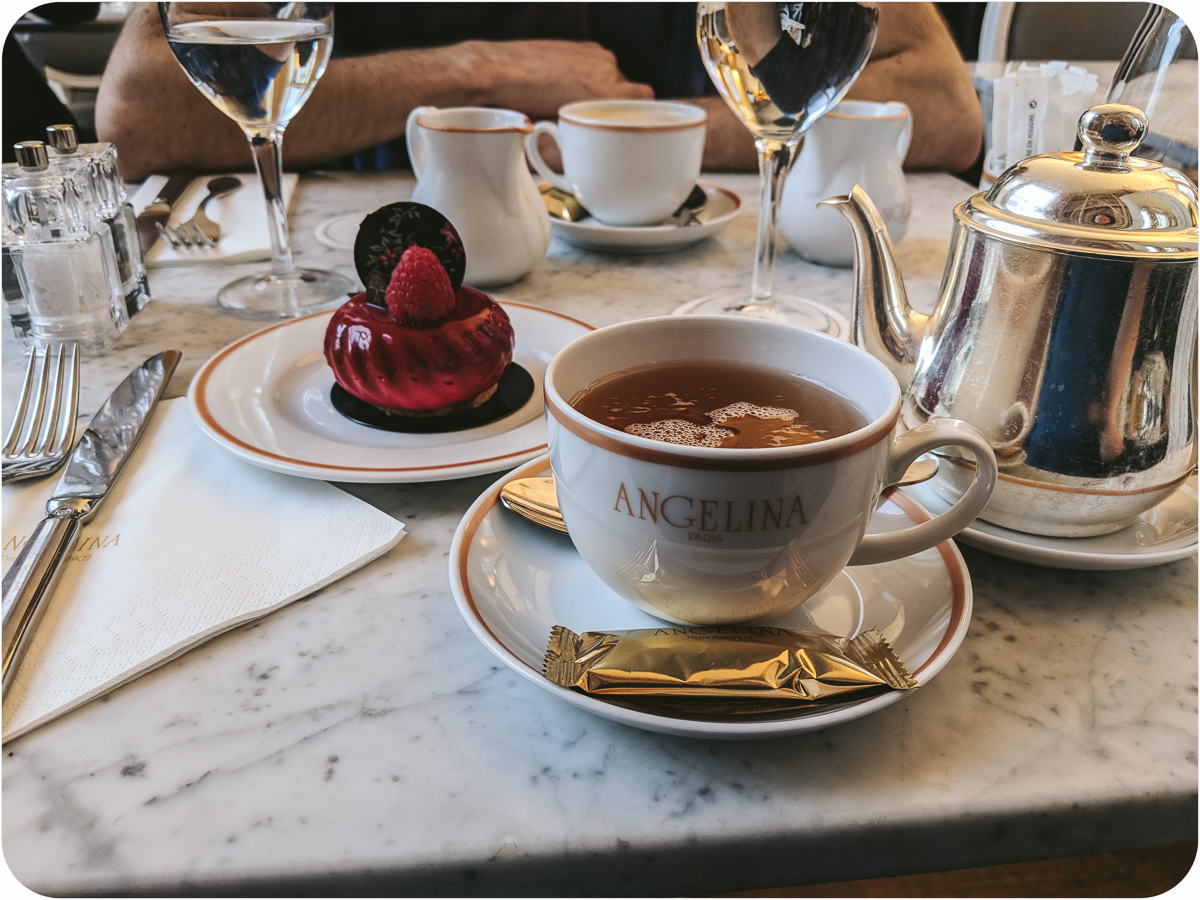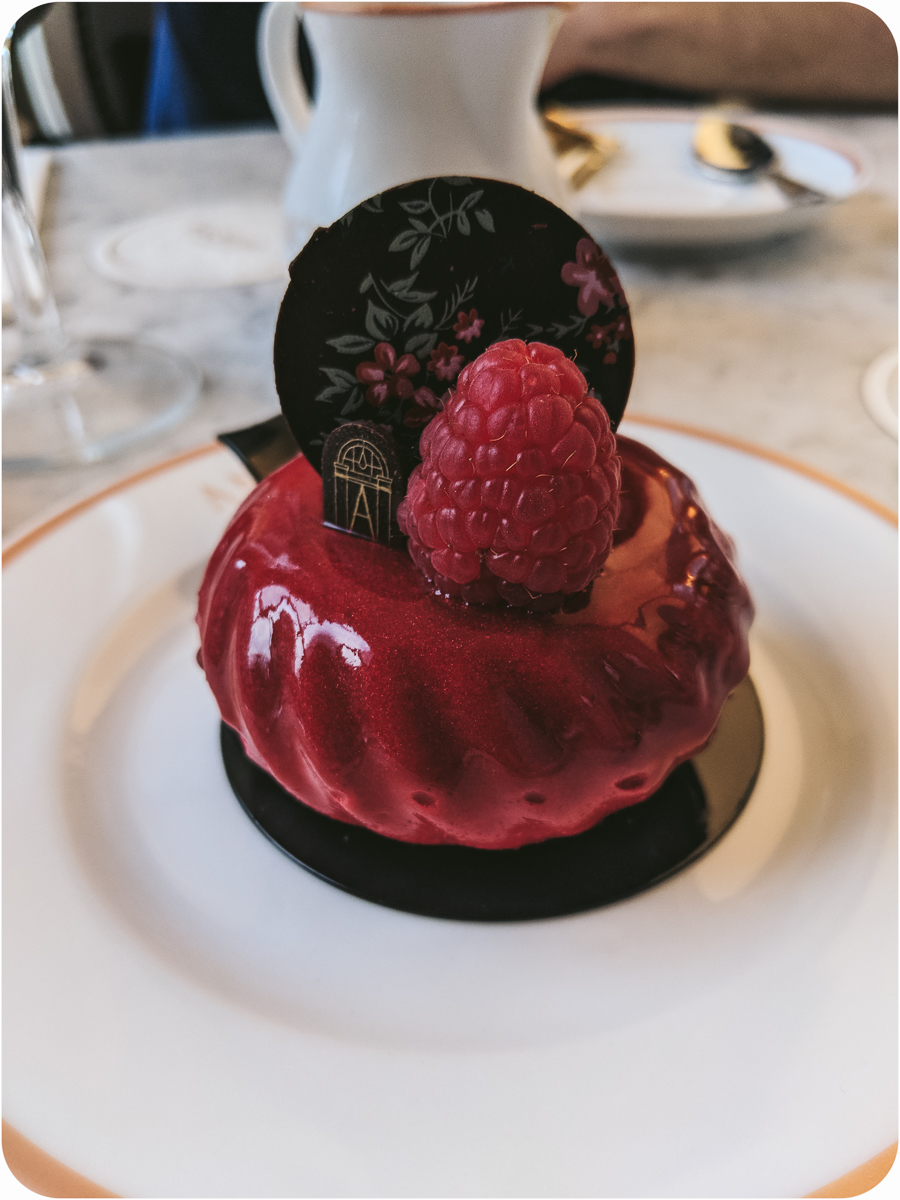 Rêverie: raspberry and strawberry enrobing a light rose-flavored mousse with a deep red raspberry heart on a shortbread crust, topped with a wafer of fine dark chocolate and two load-bearing ripe red raspberries.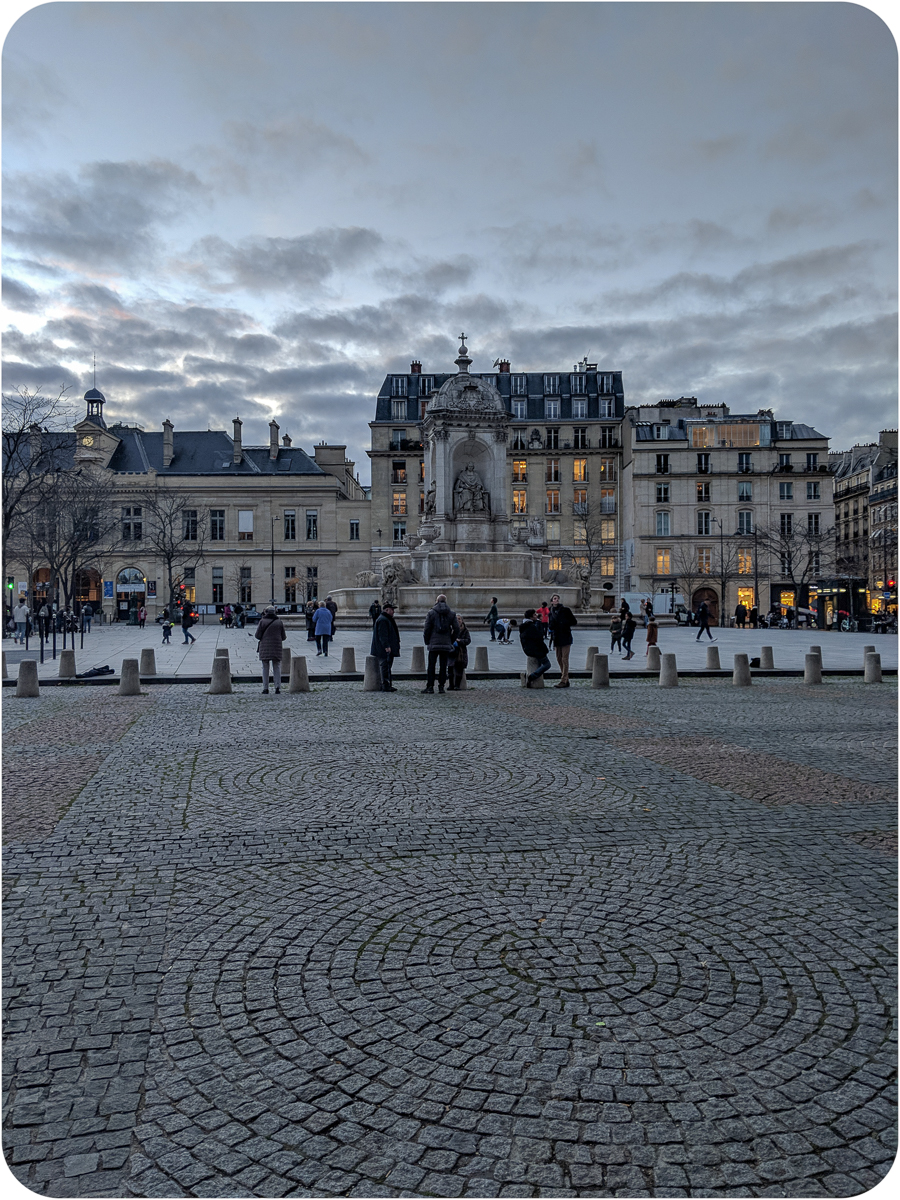 Fontaine Saint-Sulpice, fountain of the sacred orators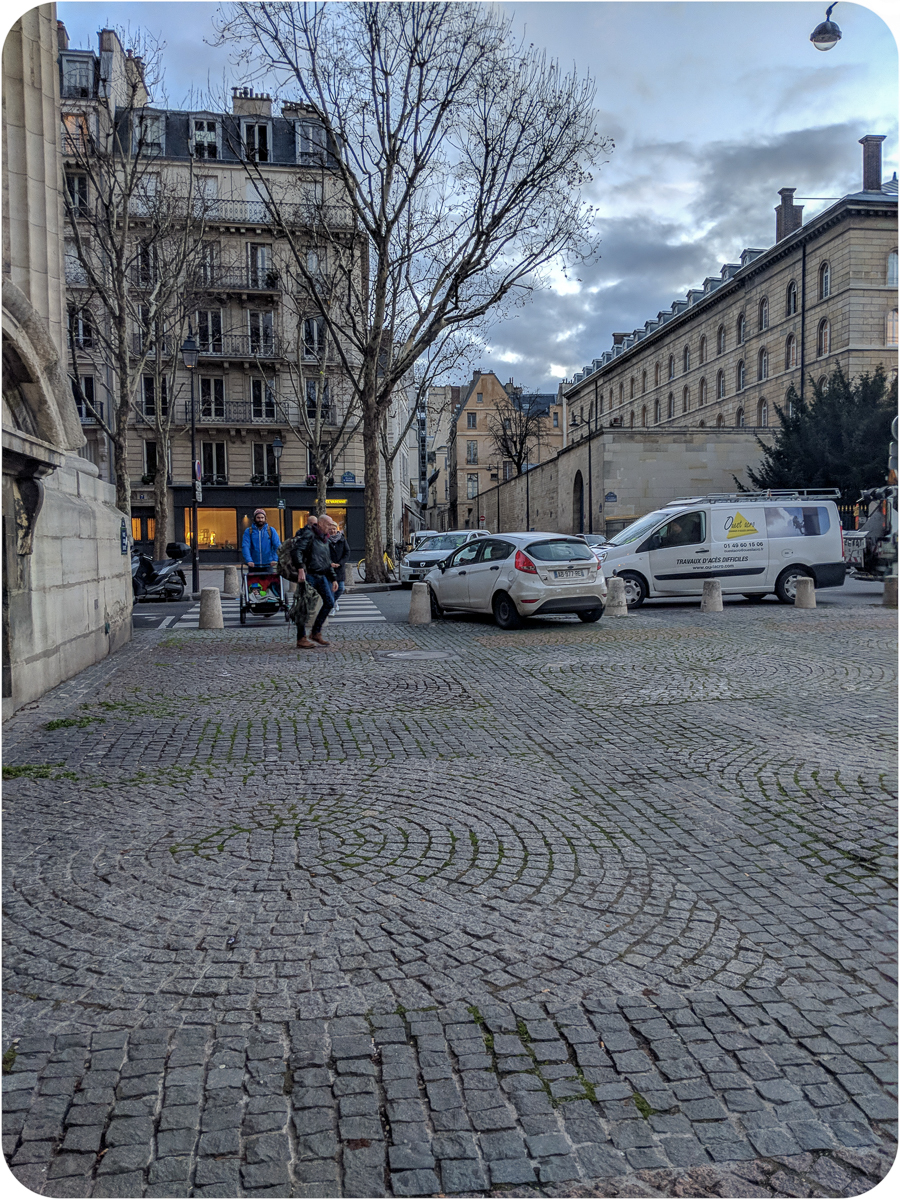 I thought, given the cement pillars and the nature of the ground and the fact that it's in the plaza with the fountain meant that this was a pedestrian area but the car driving through here disabused me of that notion.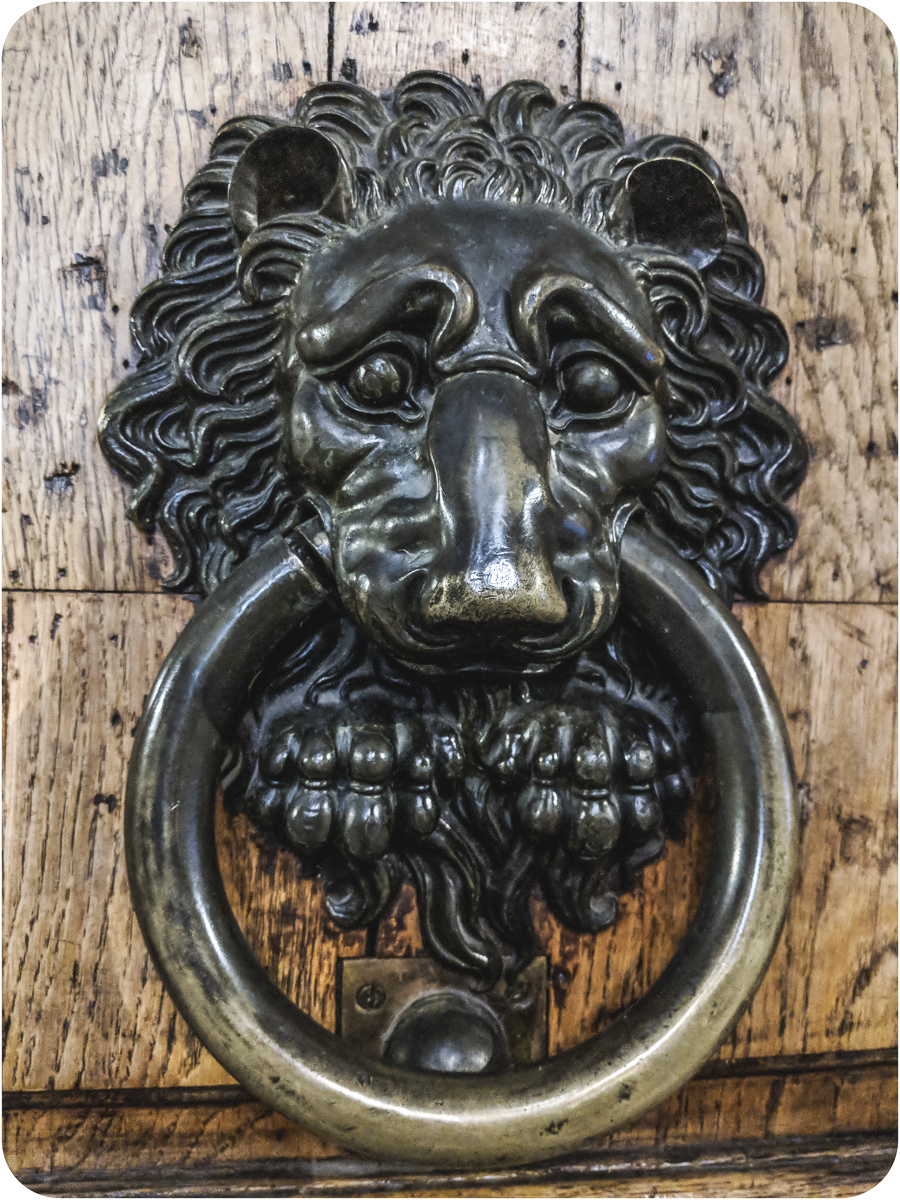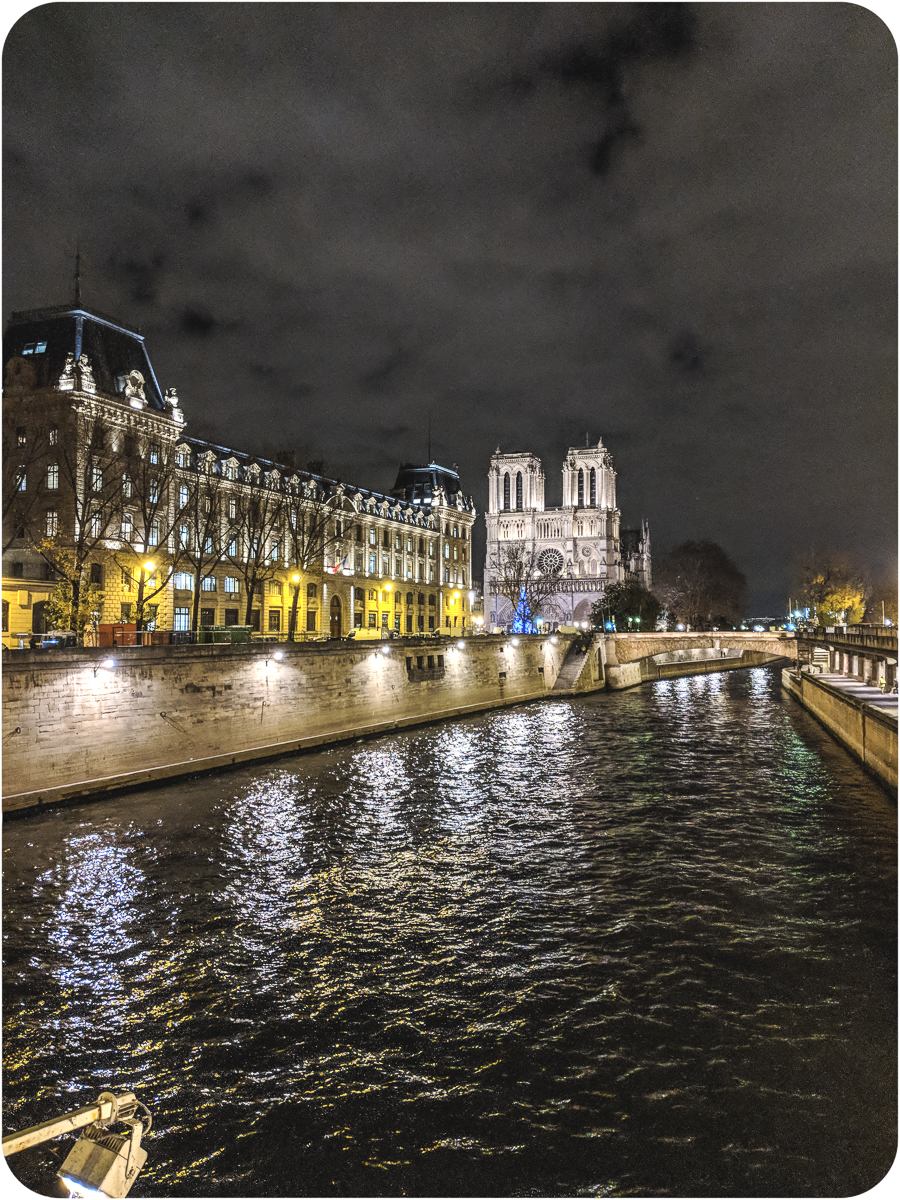 Notre Dame and the glittering Seine at night.
Fueled by sugar, we wandered the streets into the evening. It's Paris: that's what you do. Eat pastries and walk your ass off.
*Her grandson, Louis XIV, was no doubt inspired by his grandmother's example when he, too, grew tired of the Louvre and commissioned Versailles.