Situated on the edge of Sylvie Pond, the Domaine de Chantilly appears to float upon the water, like something out of a fairy tale. This château was constructed in the early 1800s; the original 12th century building and home to the Condés was destroyed during the French Revolution. So while this is the historical home of Louis II de Bourbon, this is not his house.
The reconstruction and embellishment of this home was the single grand vision of Henri d'Orléans, Duke of Aumale, who needed somewhere to display his vast art collection. As his would-be heirs predeceased him, Henri deeded it to the Institut de France along with the Great Stables, provided that they not be altered, and that none of the art should ever leave, on loan or otherwise. It now houses the Musee Condé, displaying all the intact treasure of a 19th century prince.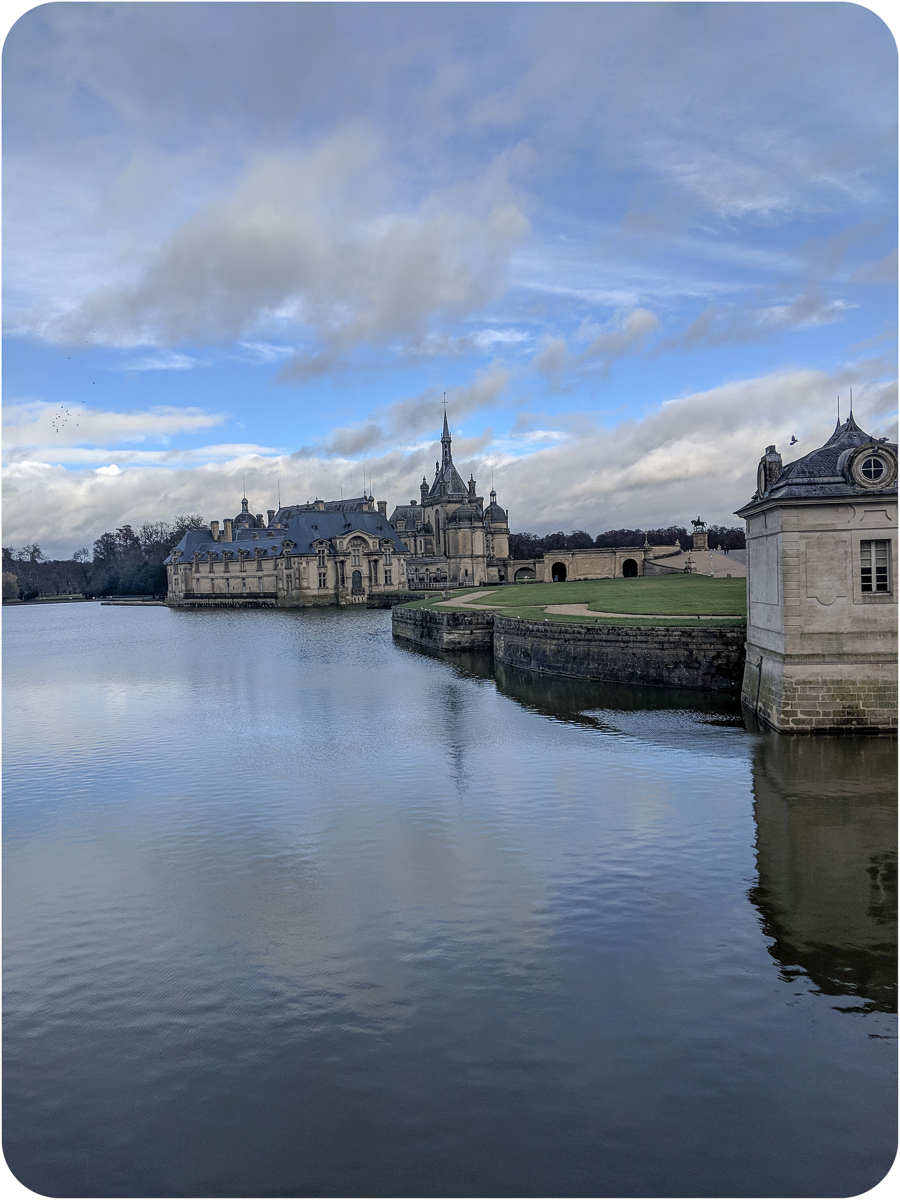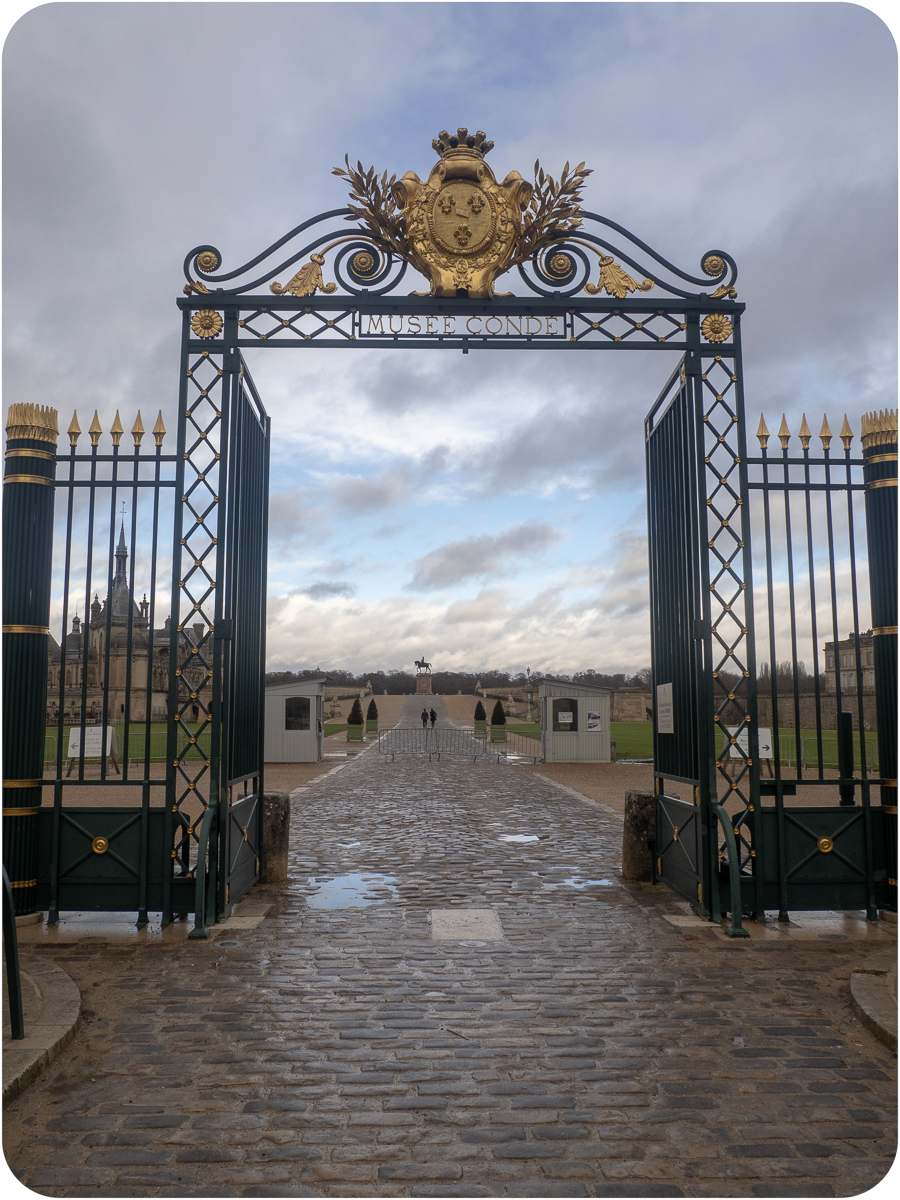 (click for the full panorama and to play a game of "Where's Melissa?")
The grounds at Chantilly are extensive; motorized carts and horses are available to rent so that visitors can more easily traverse the 115 hectares (just over 284 acres), a large portion of which remains wooded with accents here and there. A temple dedicated to Venus. A life size game of snakes and ladders. In the center of the grounds is a more structured French 17th century style garden with symmetrical reflecting pools and manicured greenery embracing them, fountains and bright white statuary.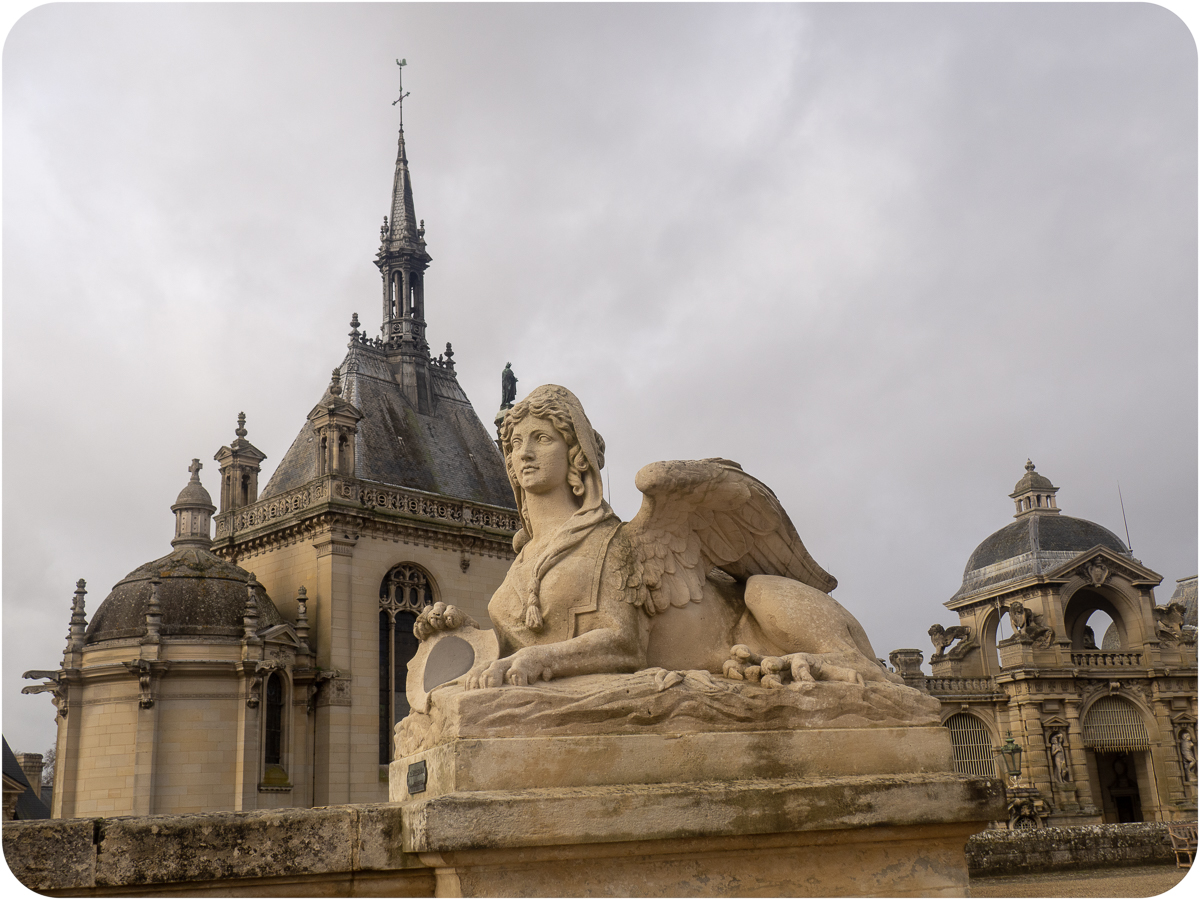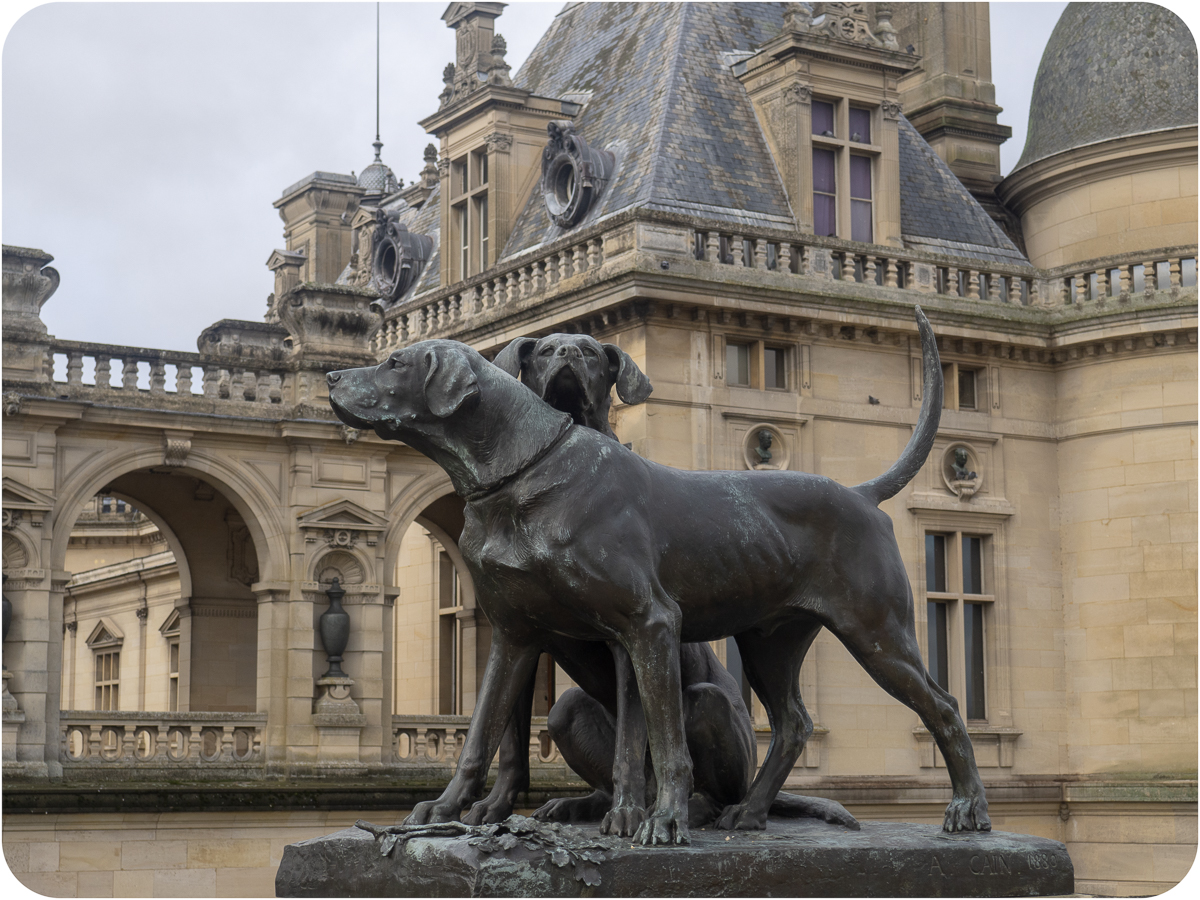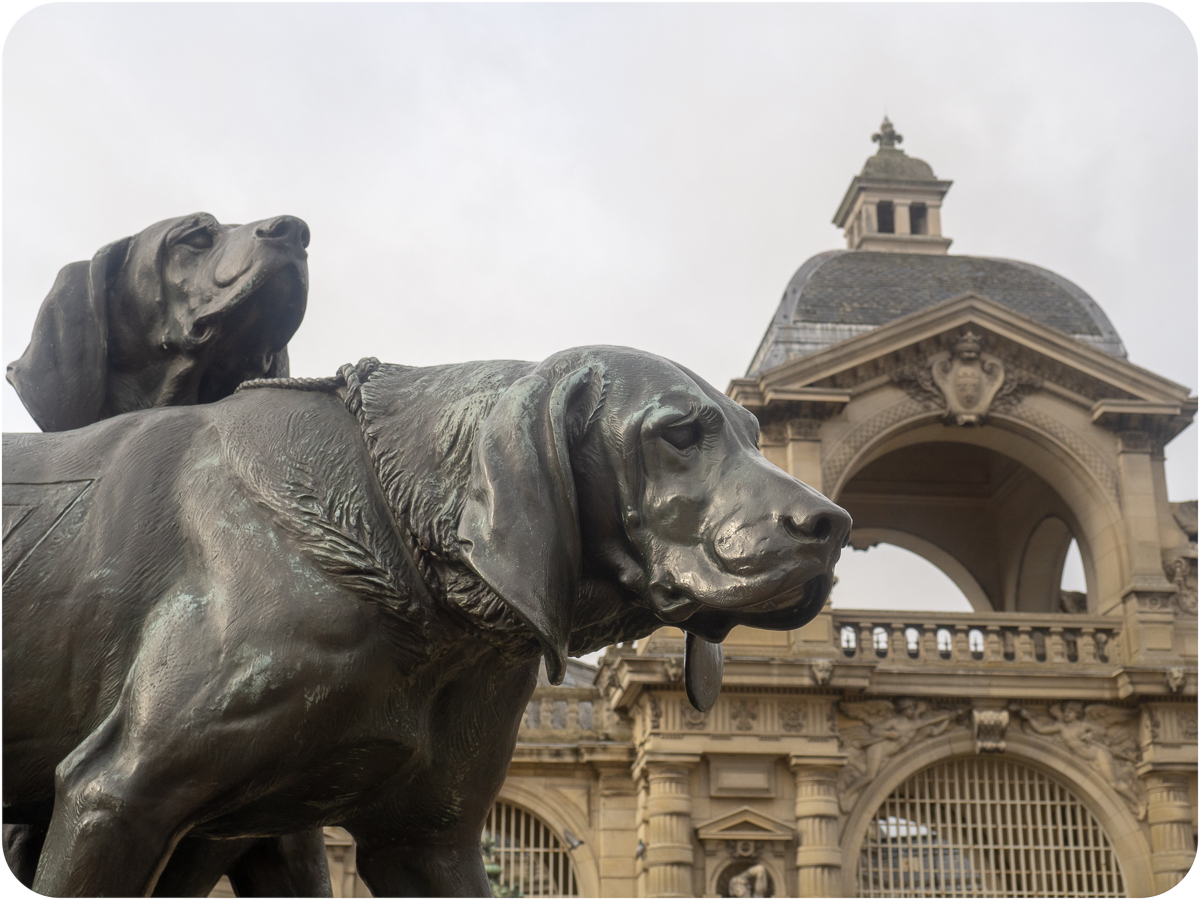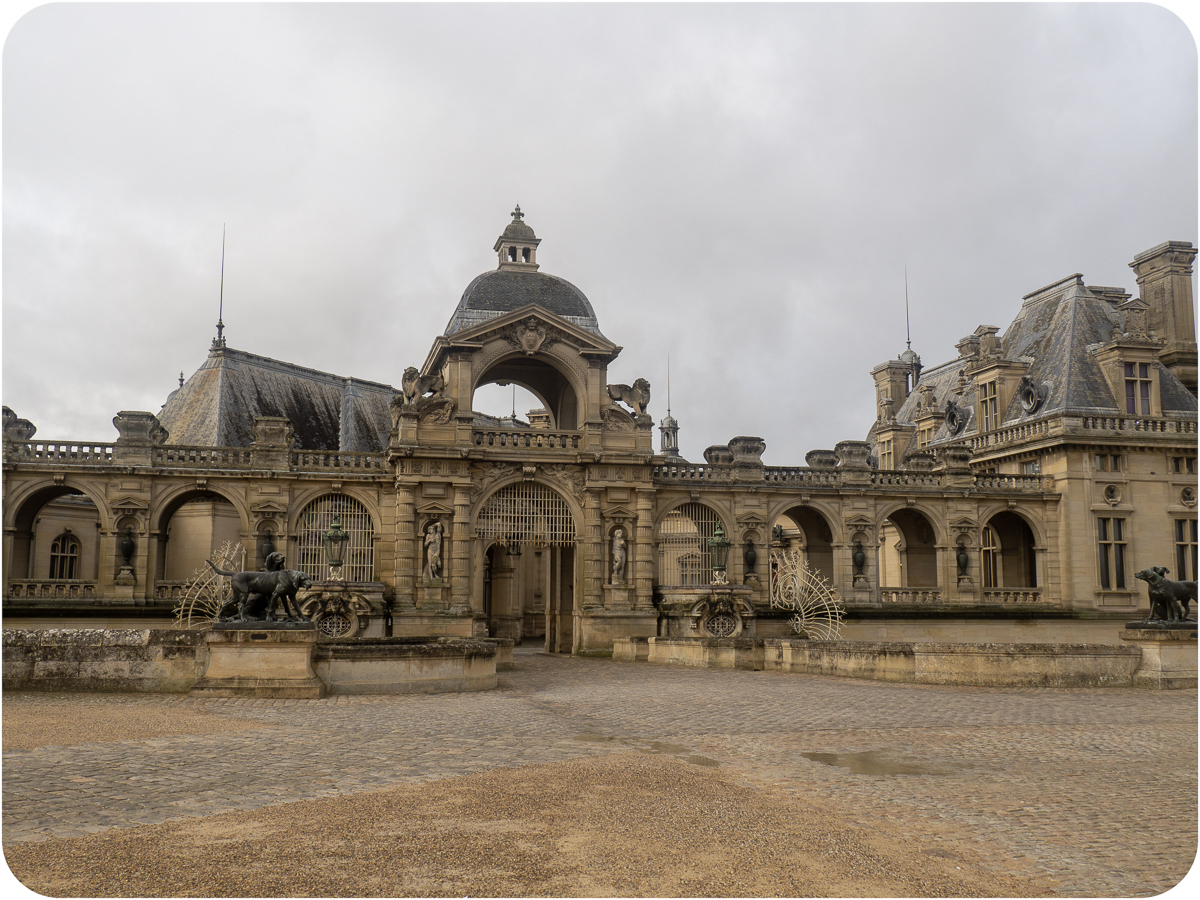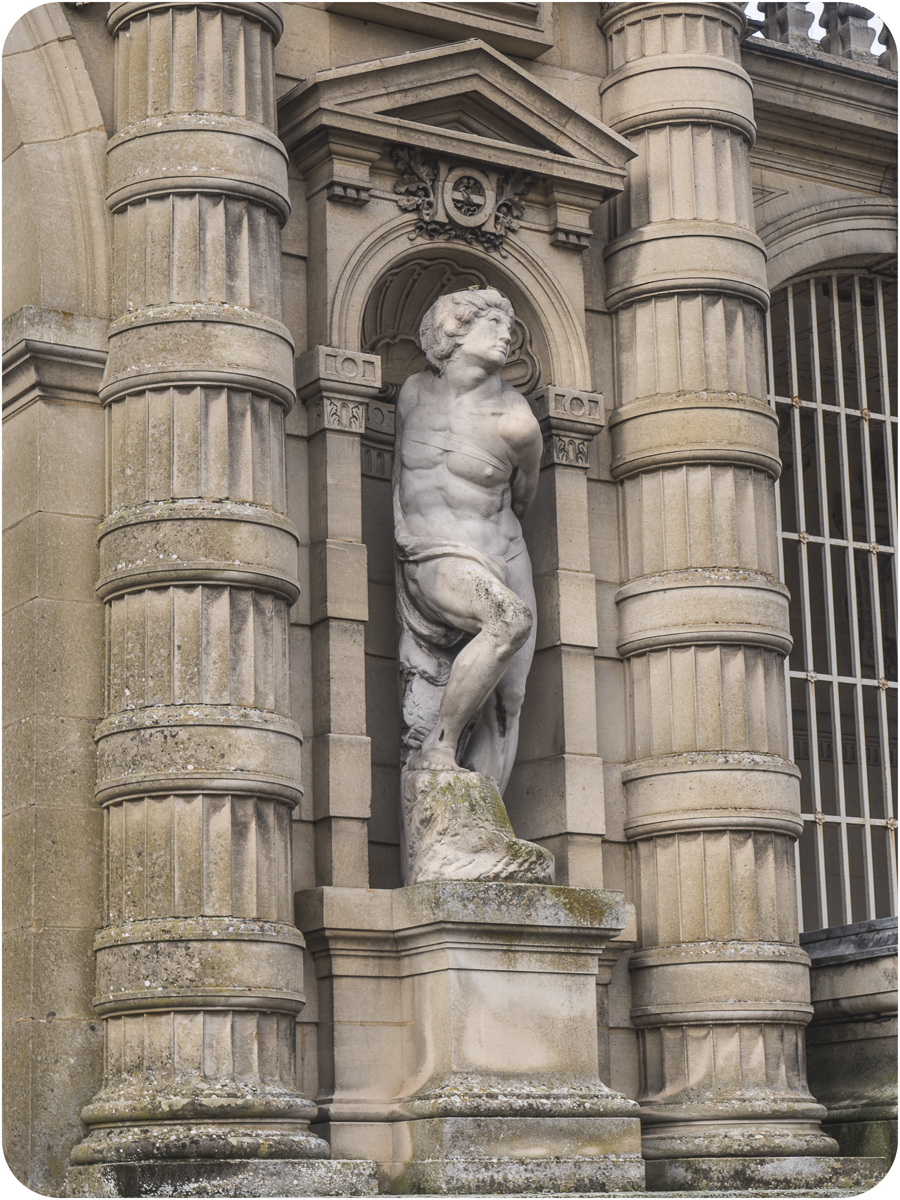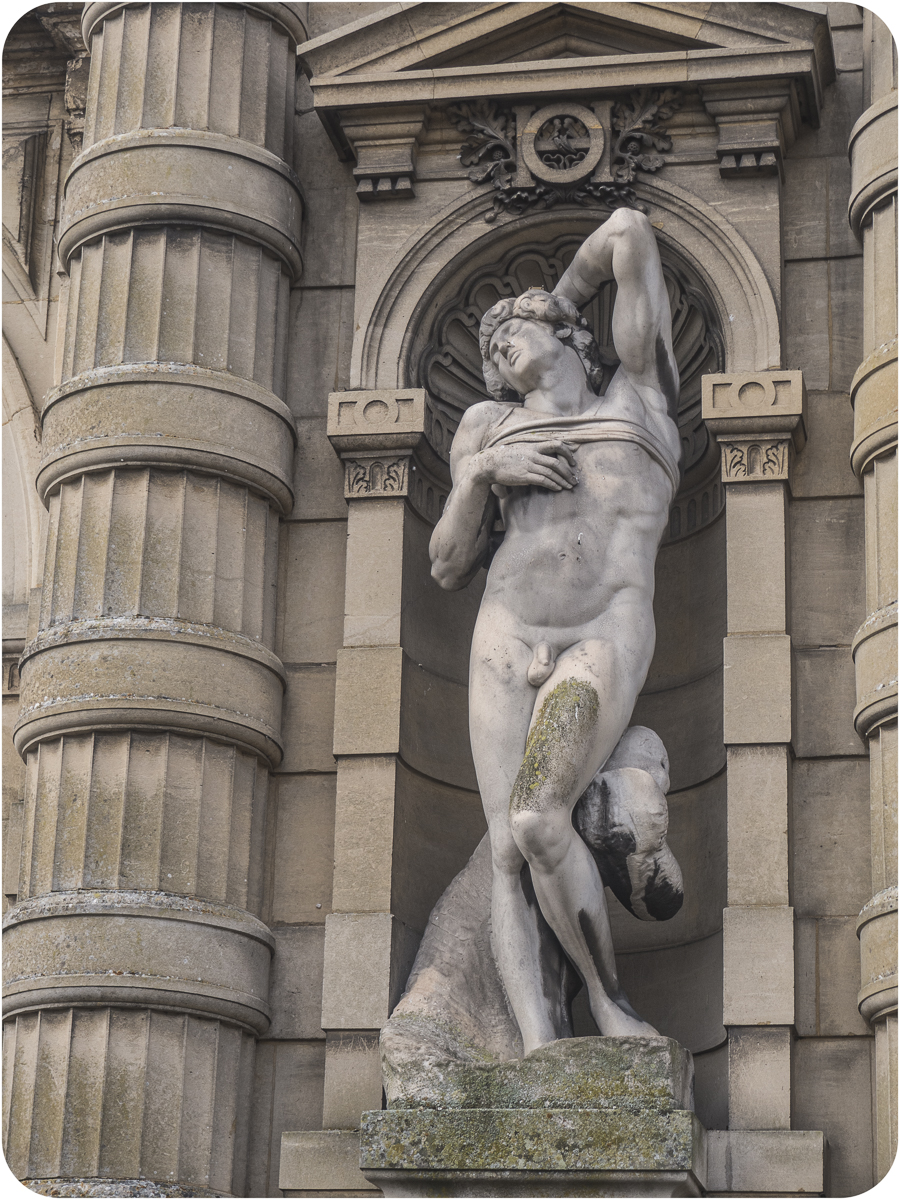 It took me entirely too long to realize that wasn't a tank top.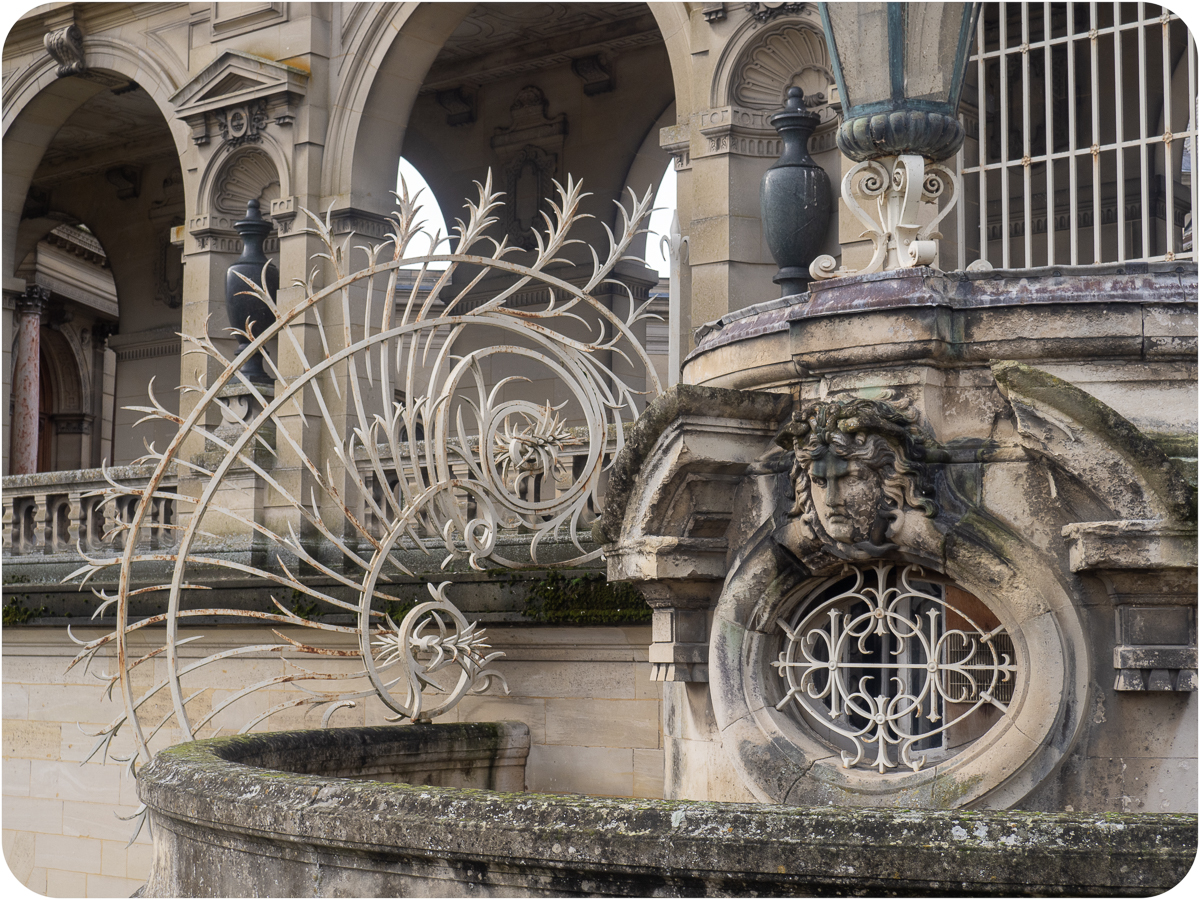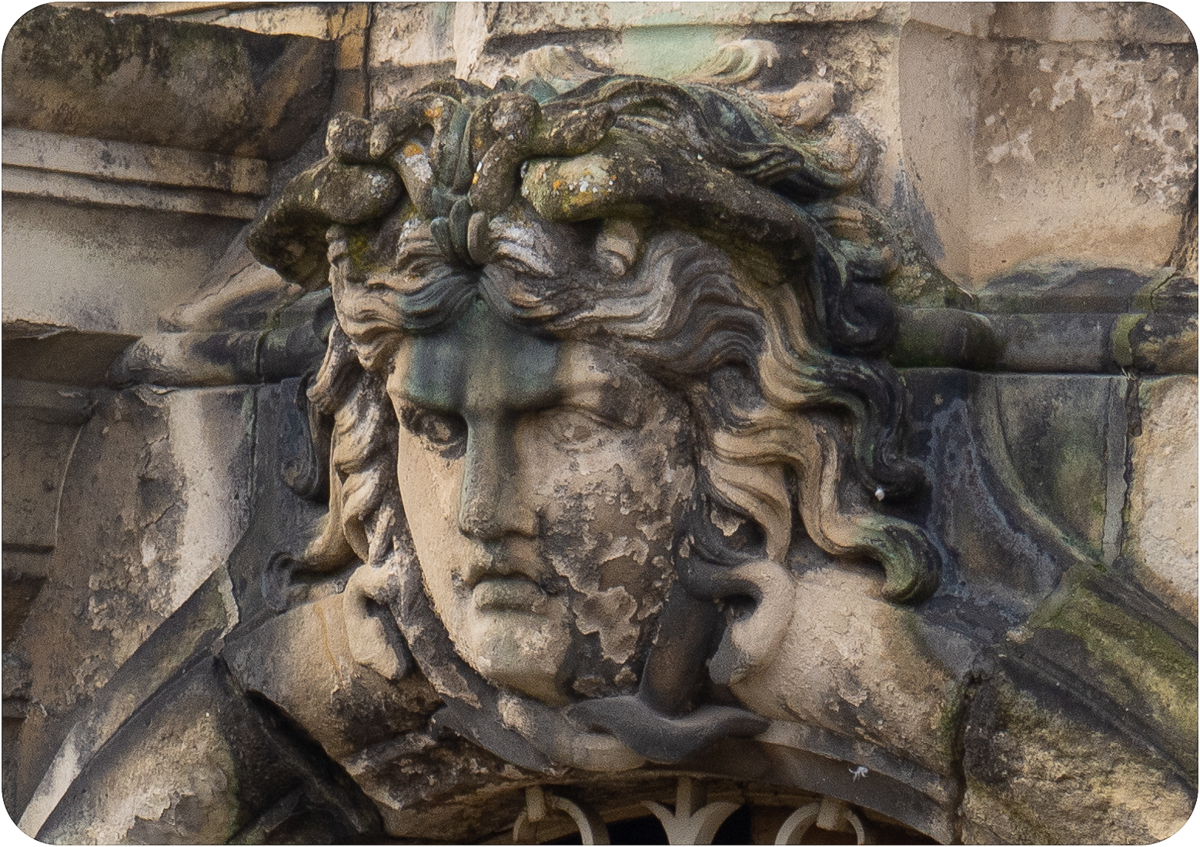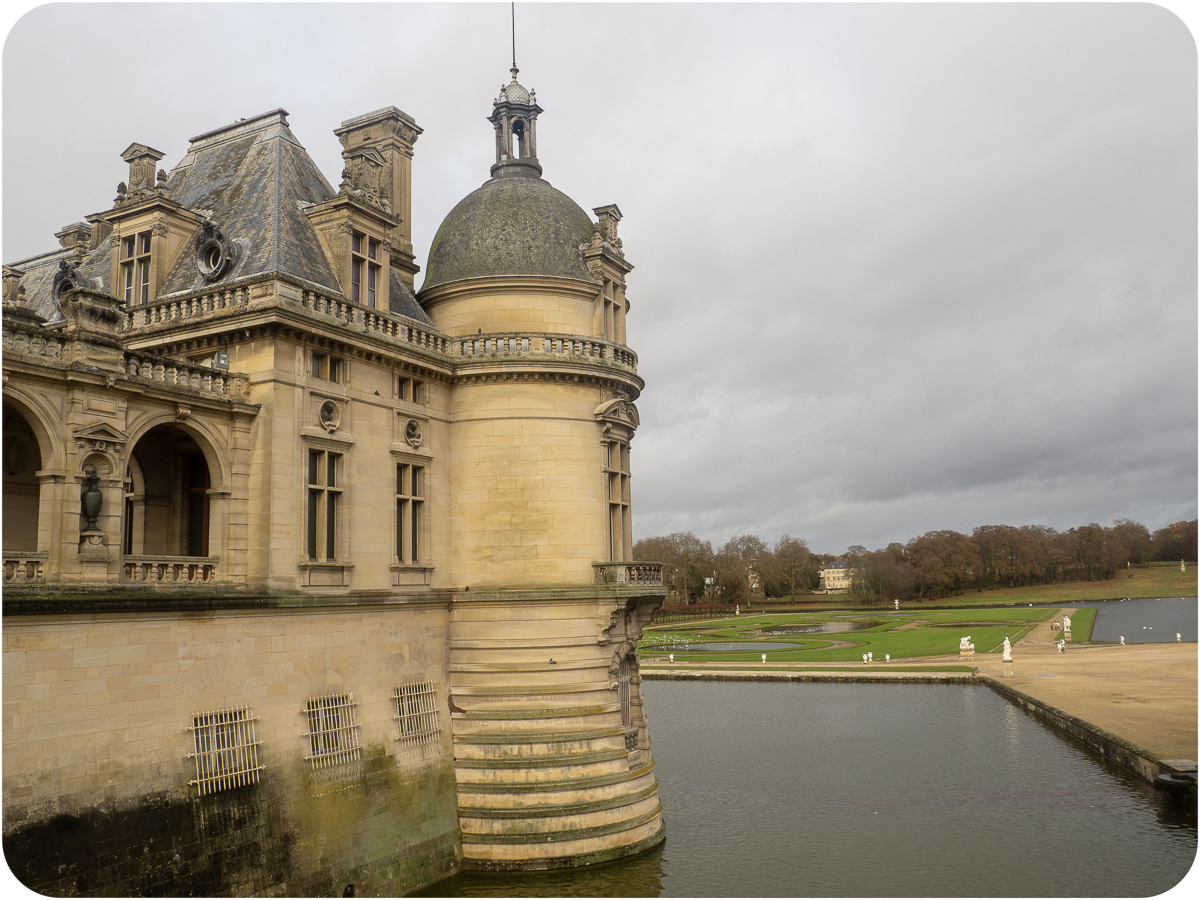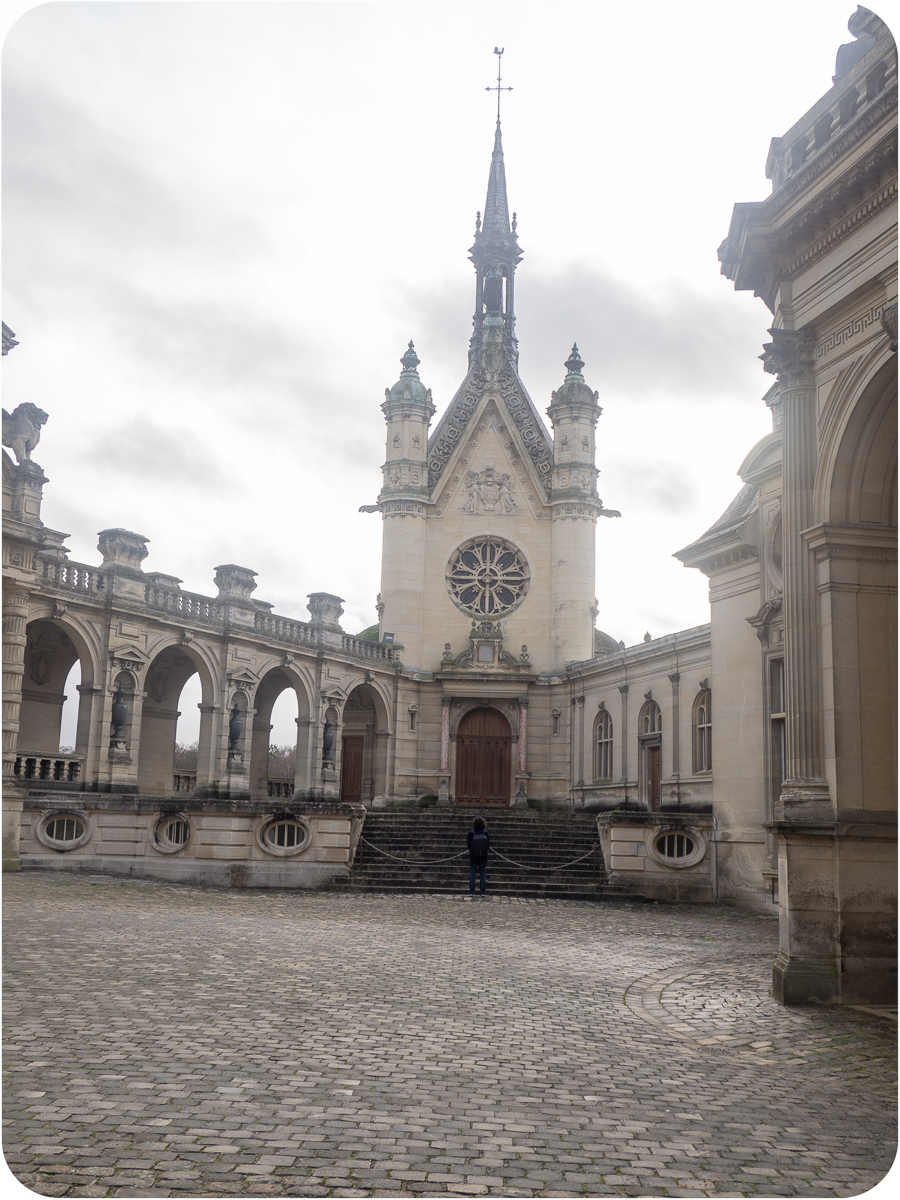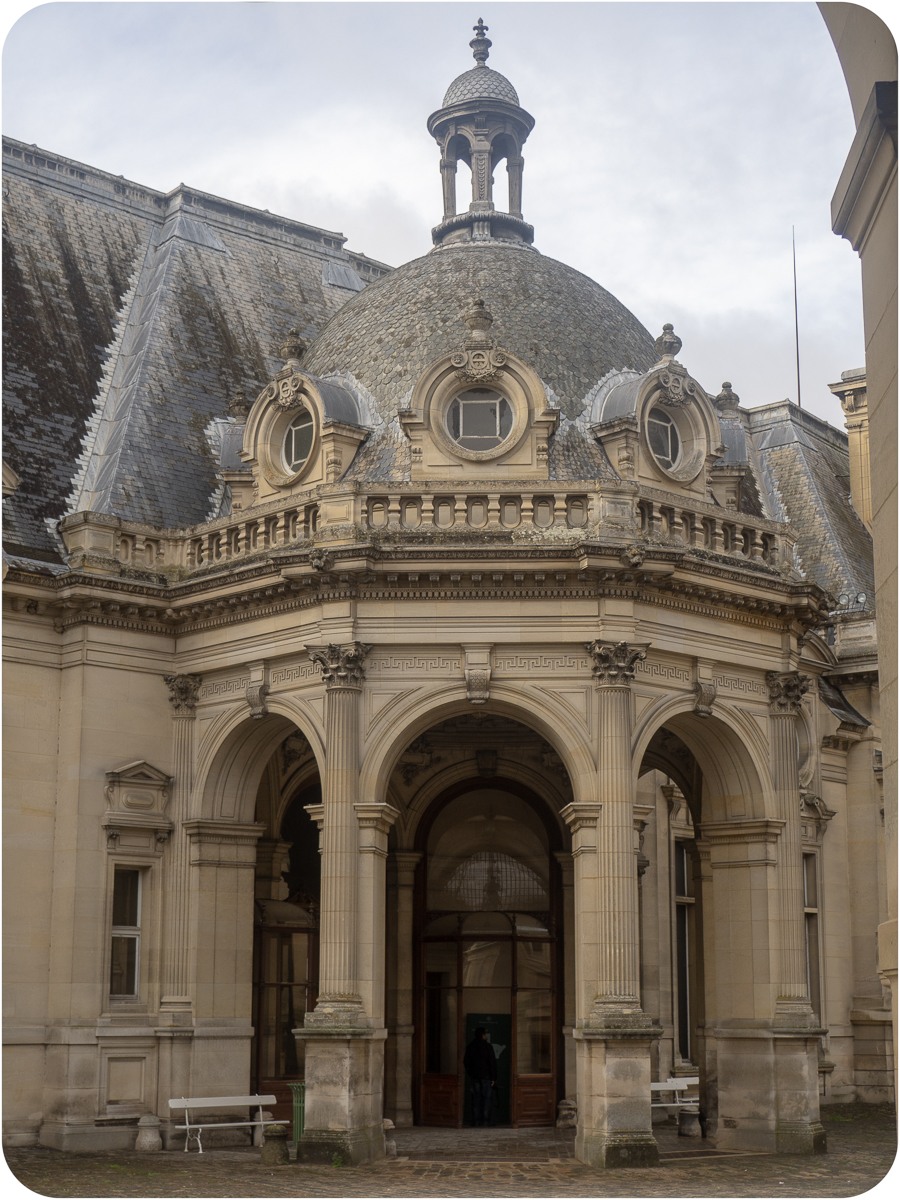 We spent some time admiring the exterior of the château and the grounds near the entryway. The Duke was clearly fond of statuary and ornamentation with a Grecian and Egyptian influence. Stone sphinxes placidly allow visitors to pass. Life size statues of men writhe on either side of the main entrance, their flesh realistically bound by stone wrappings.  Other details stand out: the roof tiles of the château are overlapping scales. Iron winds into curving, pointed shapes that suggest both the natural world and a threat simultaneously. I spent some time imagining how fabulous it would be to sweep through these columned archways en route to a masquerade ball, because thinking about expensive, impractical parties is one of my favorite hobbies.
Ornate does not even begin to describe the interior of the château. It is encrusted with riches the way a ship's bottom gathers barnacles: more upon more. Gilding on top of decorative moulding on top of paintings to fit the little space above doors. Large fireplaces with unique decorative firedogs, gifts and acquisitions from foreign lands, statues and gold and art by masters and so much fine furniture for looking at. The château was criticized by Boni de Castellane as "one of the saddest specimens of the architecture of our era" because the layout is such that one enters on the second floor and descends to the salons. I don't really understand this criticism in terms of how it affects the home's functionality, but I do think I would enjoy spending time snarkily browsing real estate listings with Boni because he is going to have some thoughts on McMansions and I am here for them.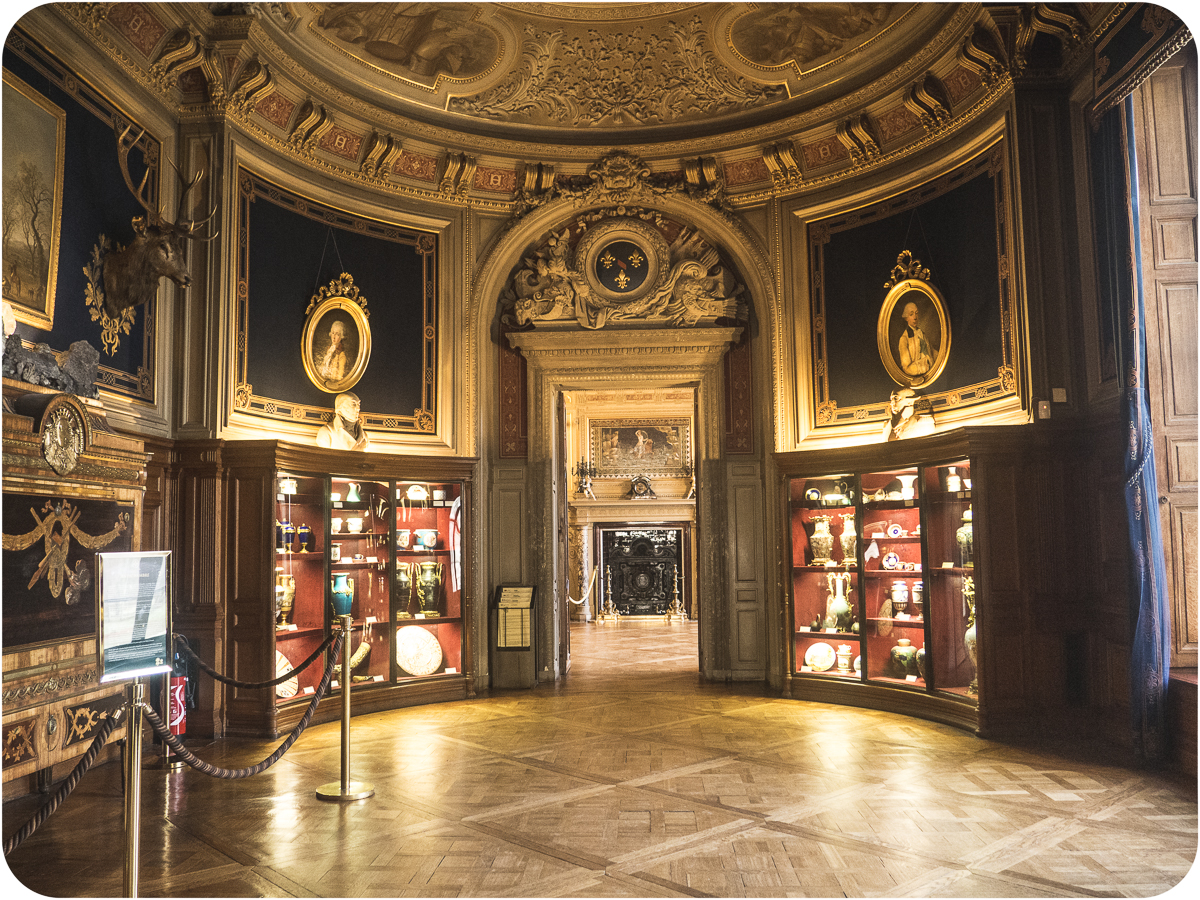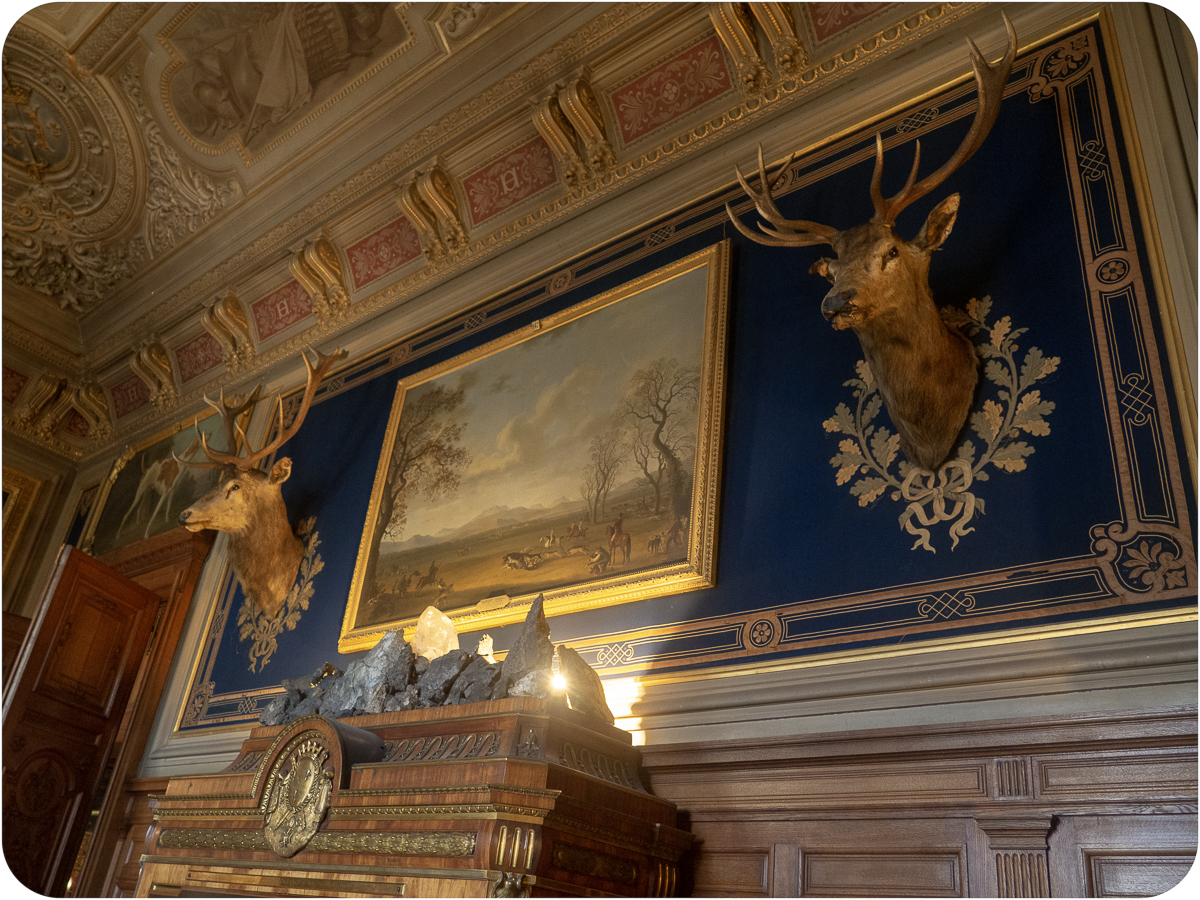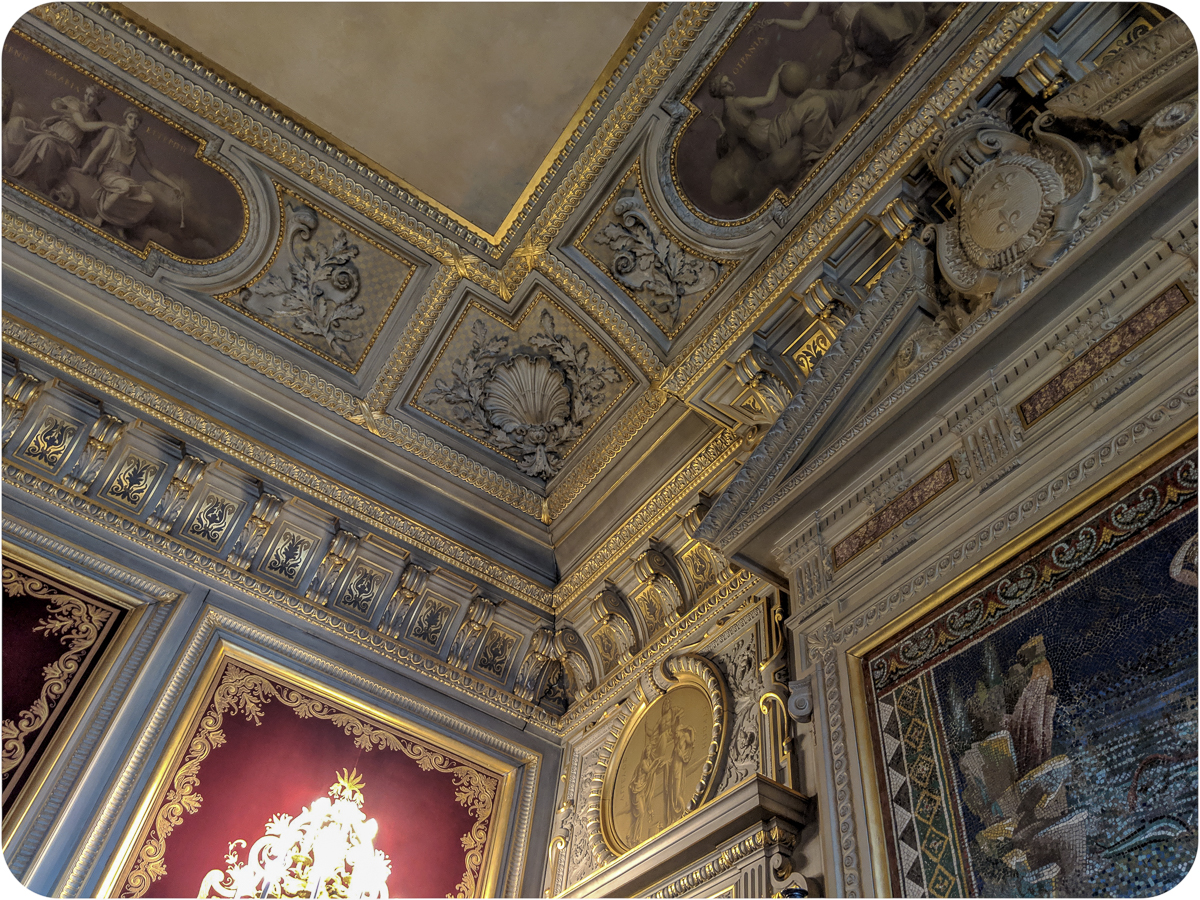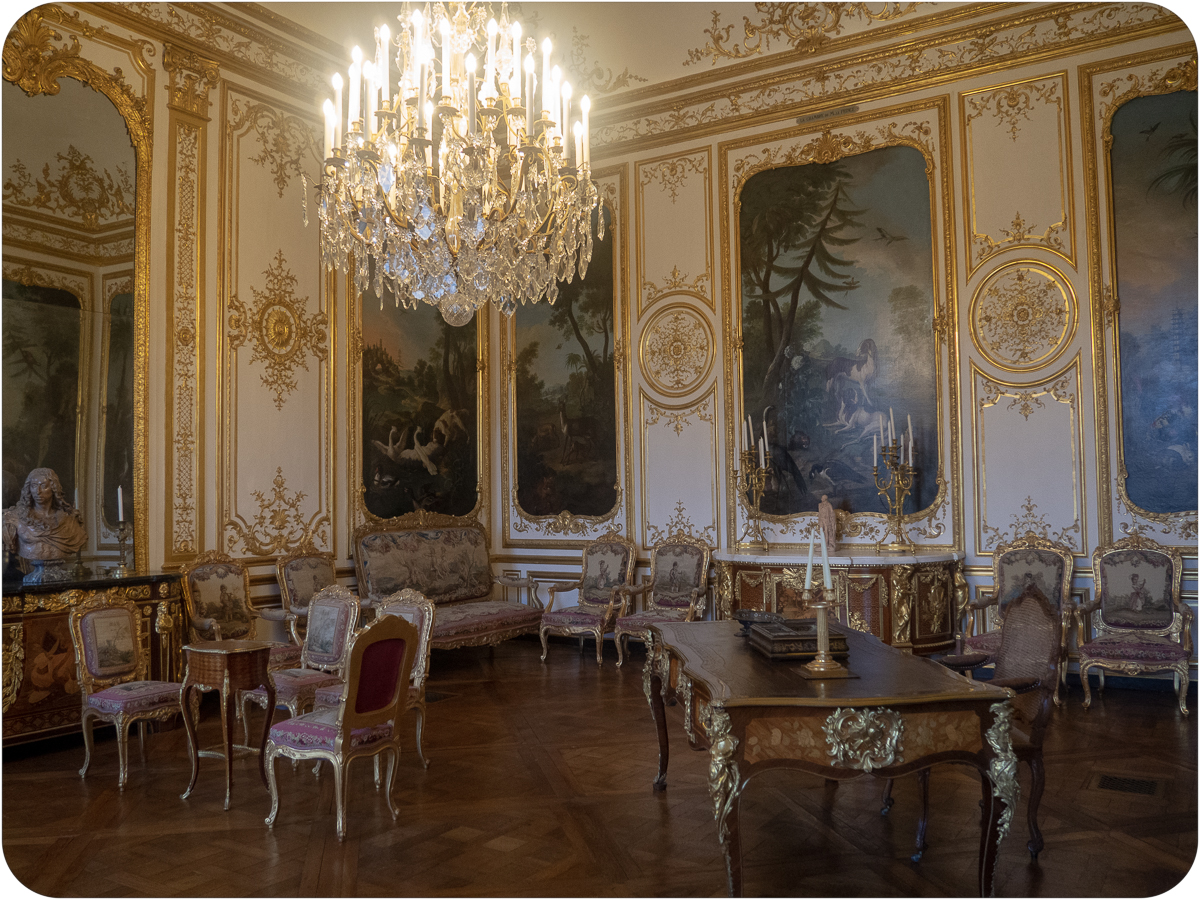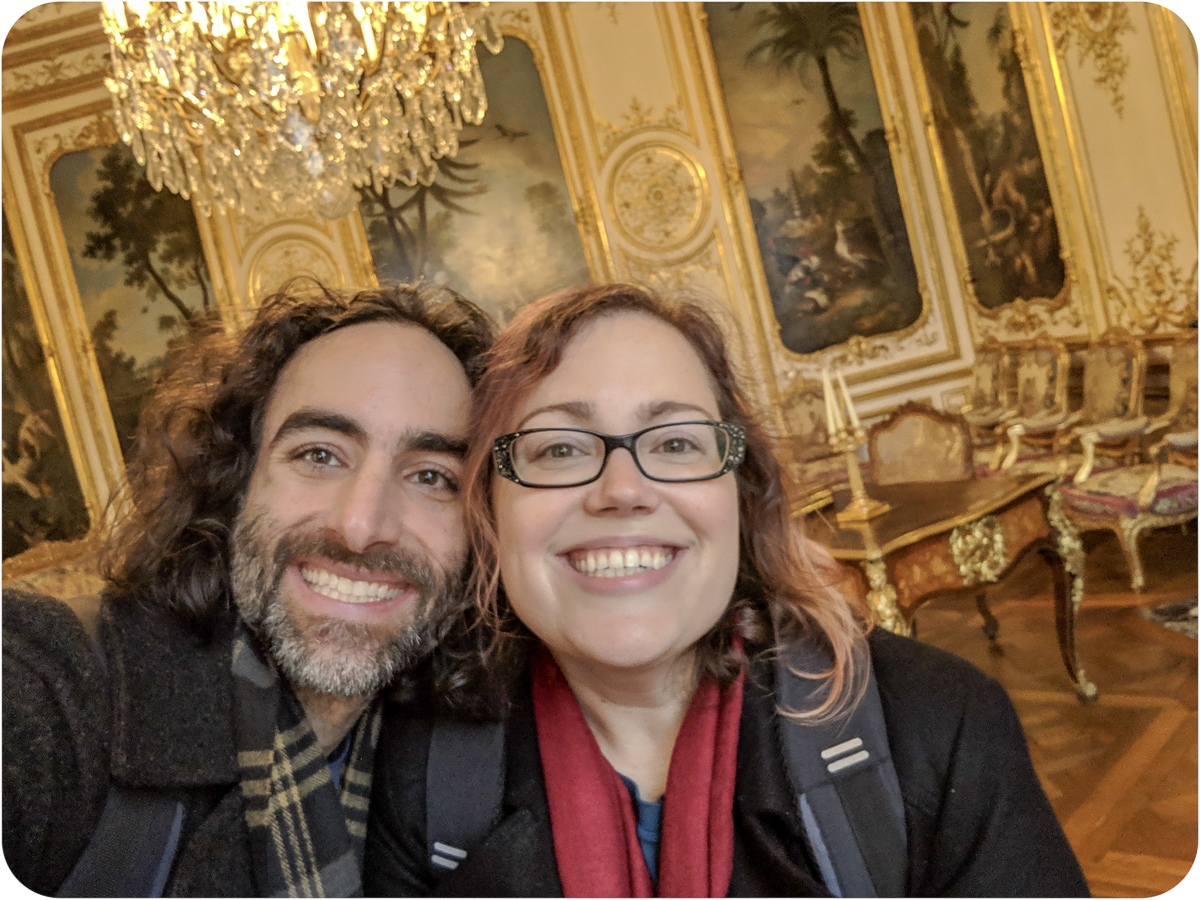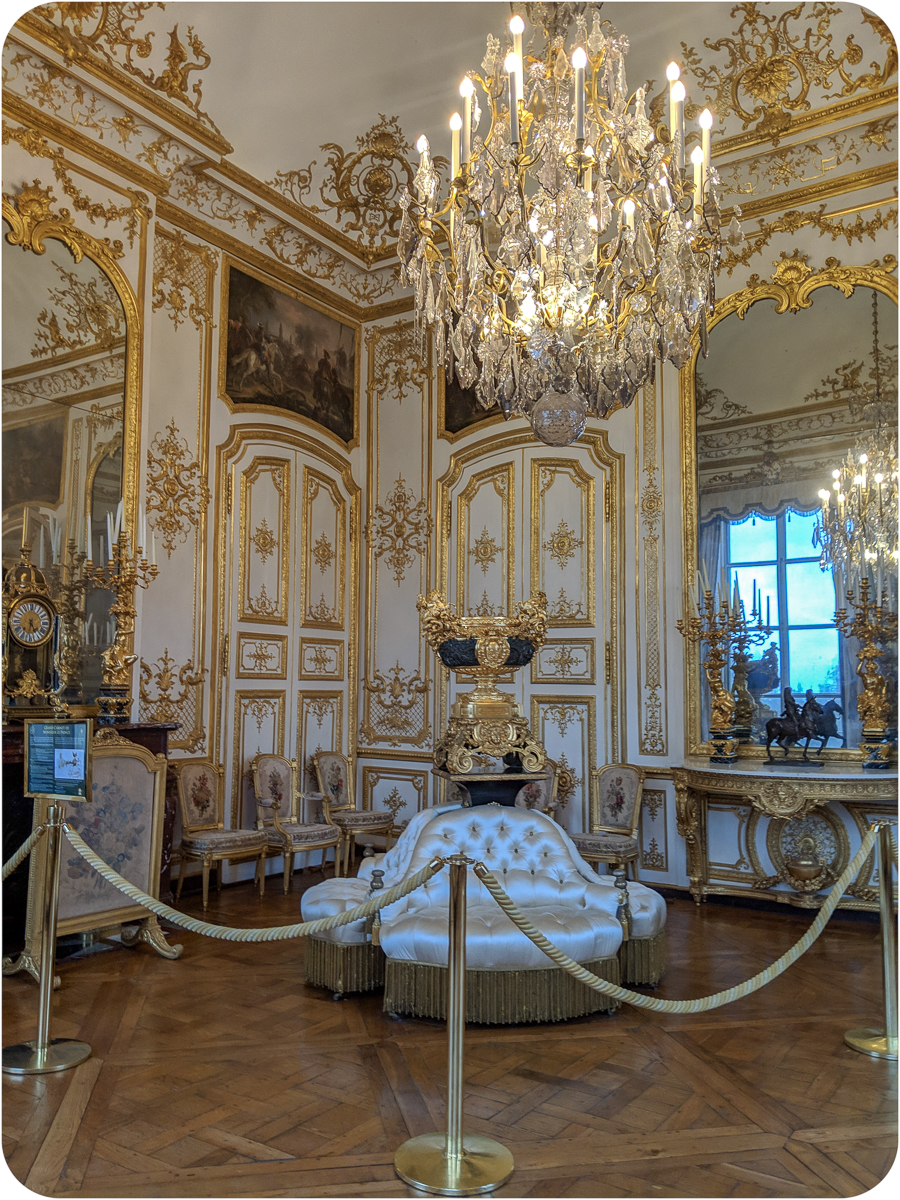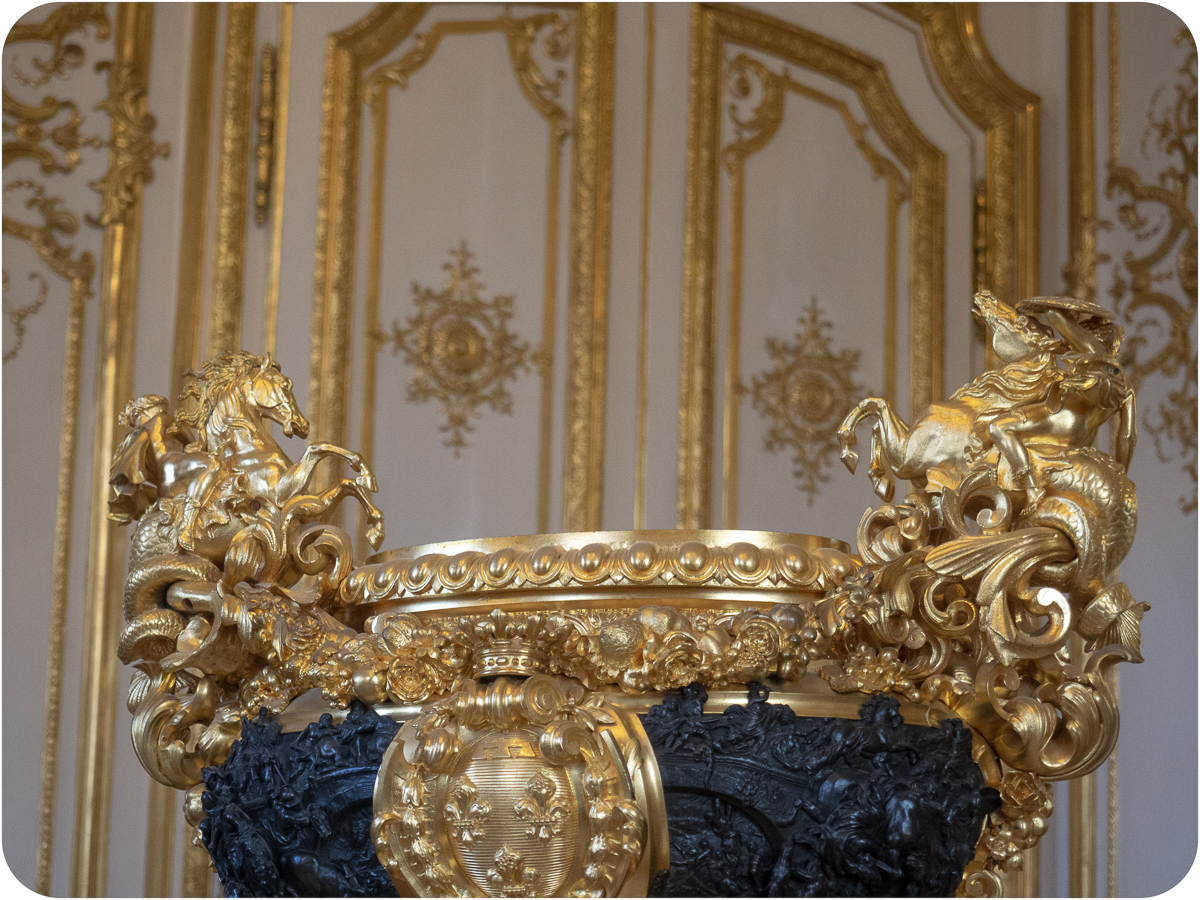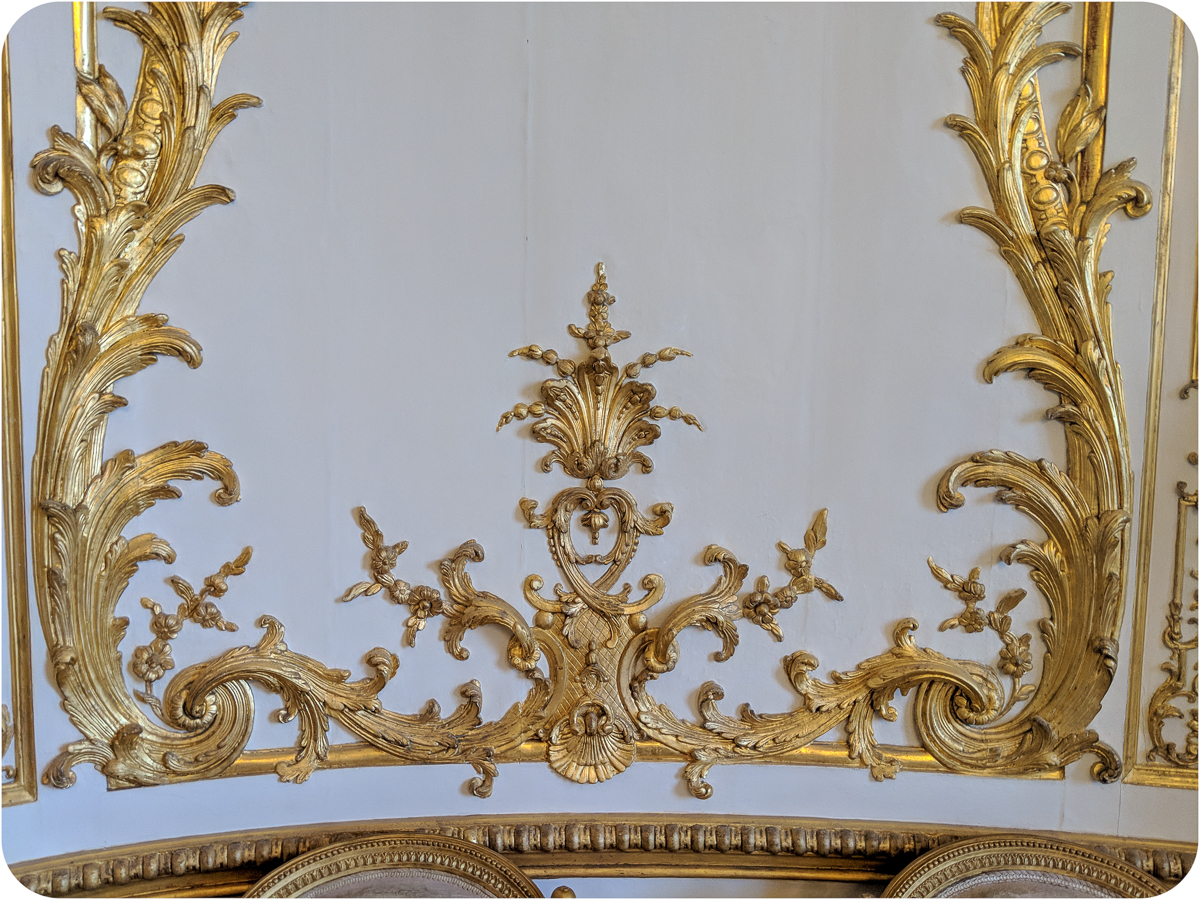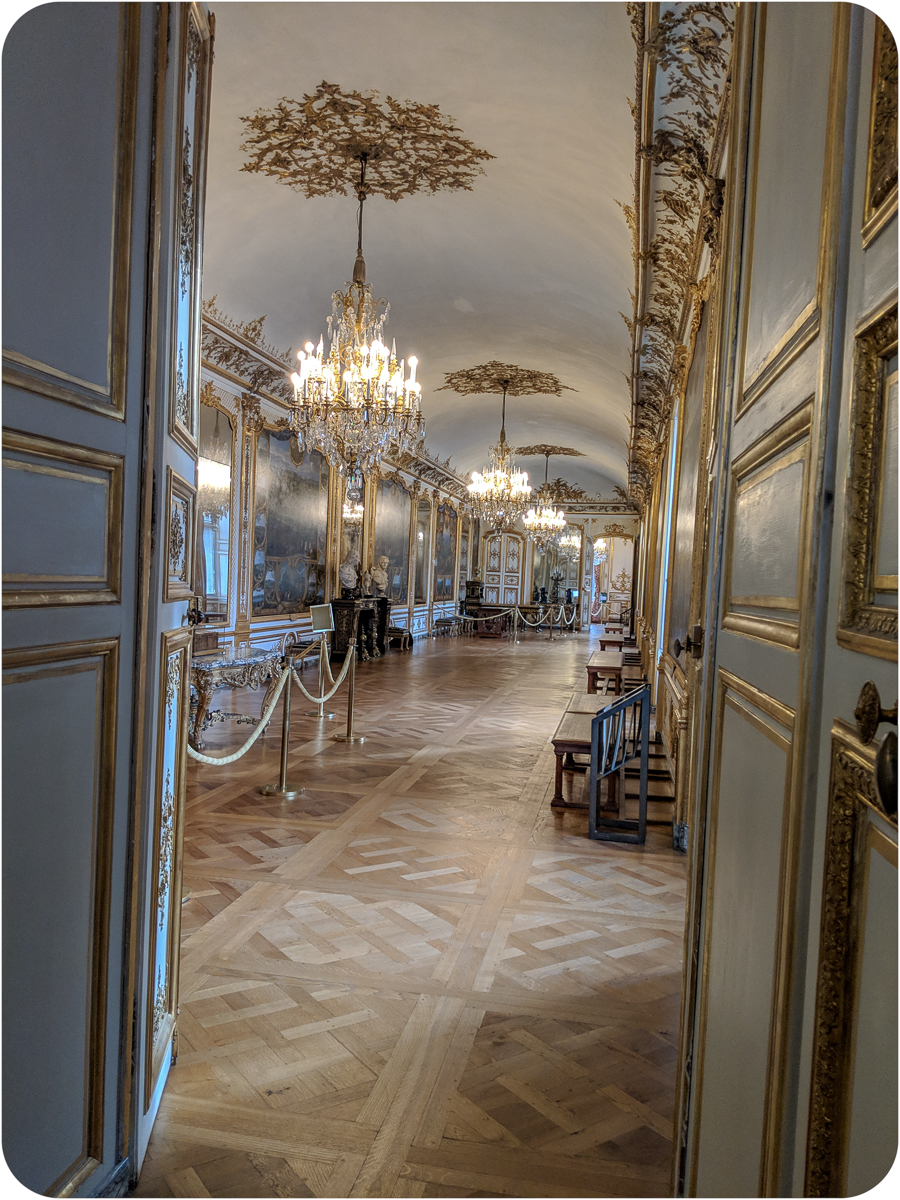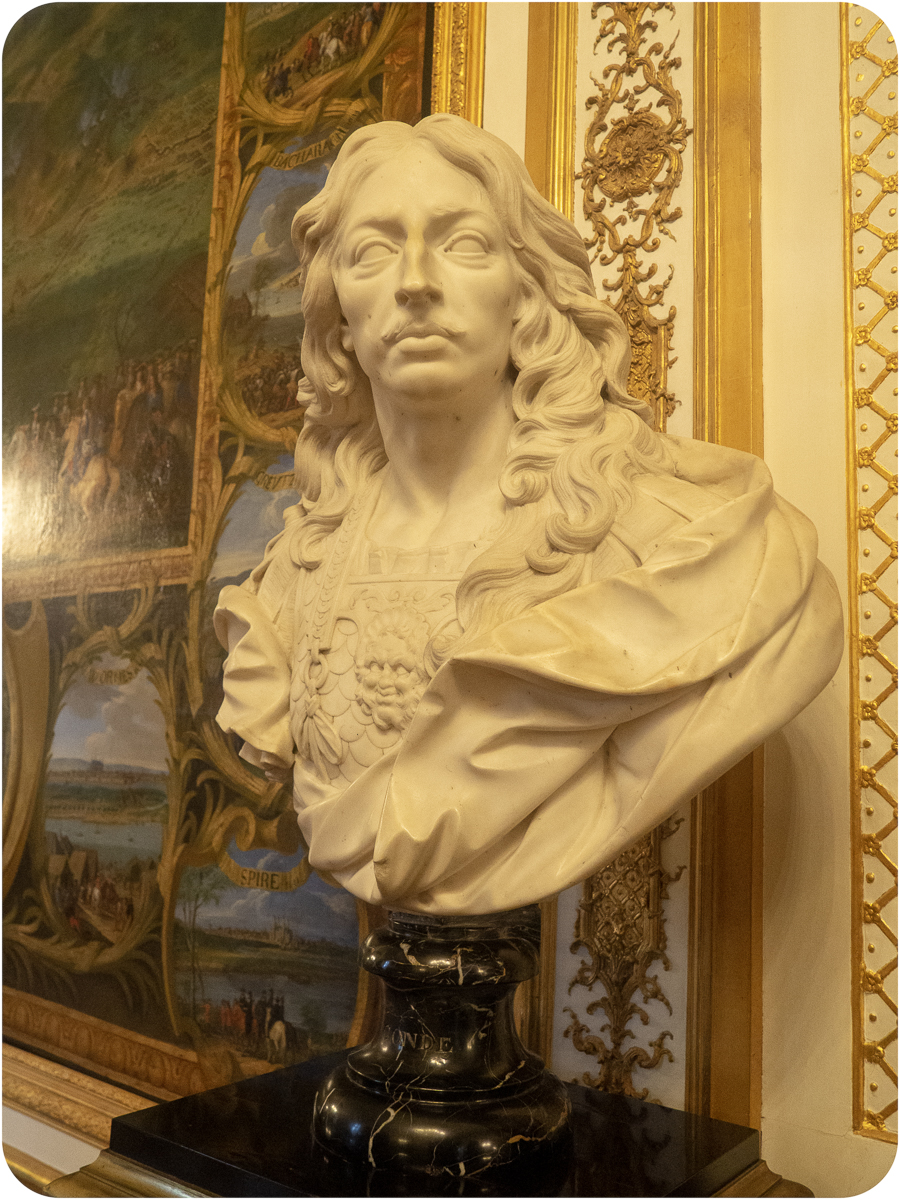 I know I've already admired the Prince of Condé for his outstanding pirate fashion sensibilities, but in these statues, I'm getting more of a hot vampire vibe.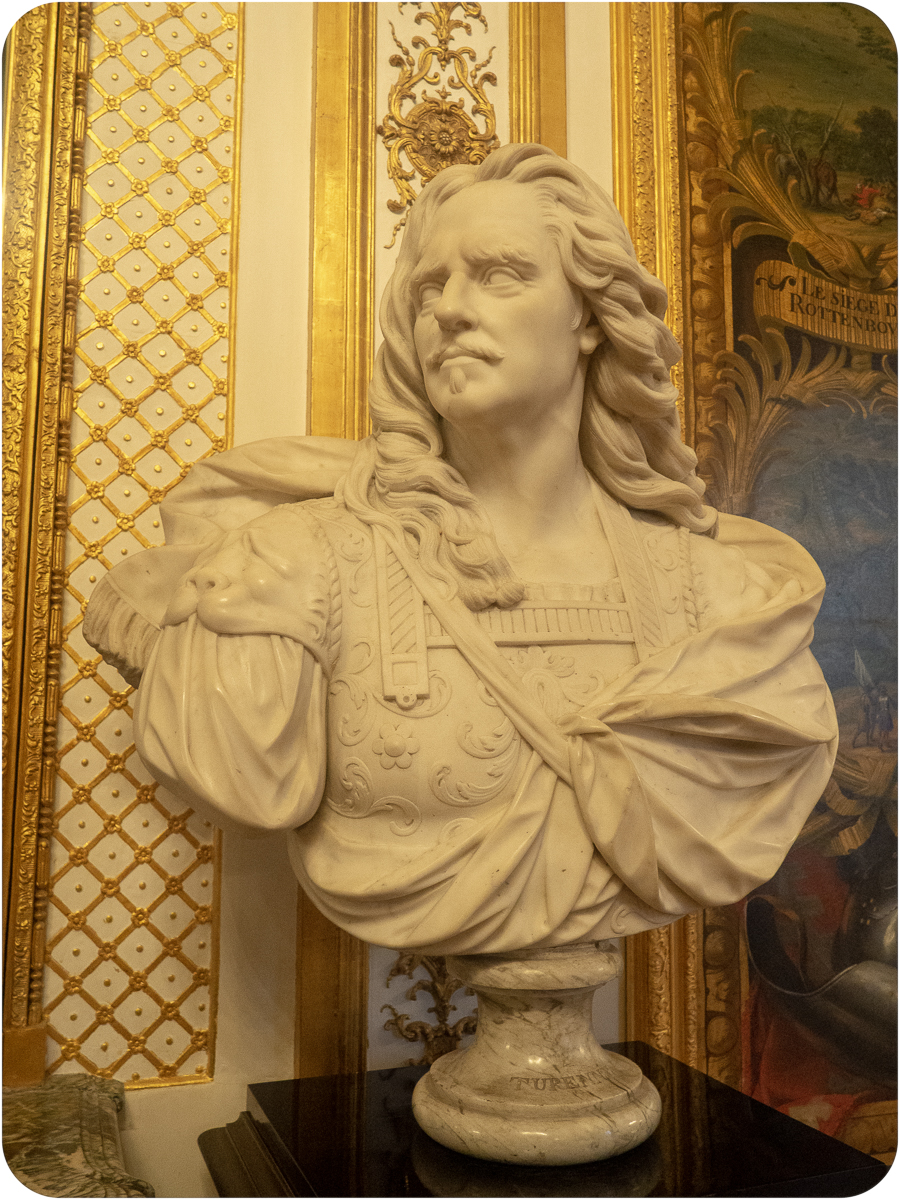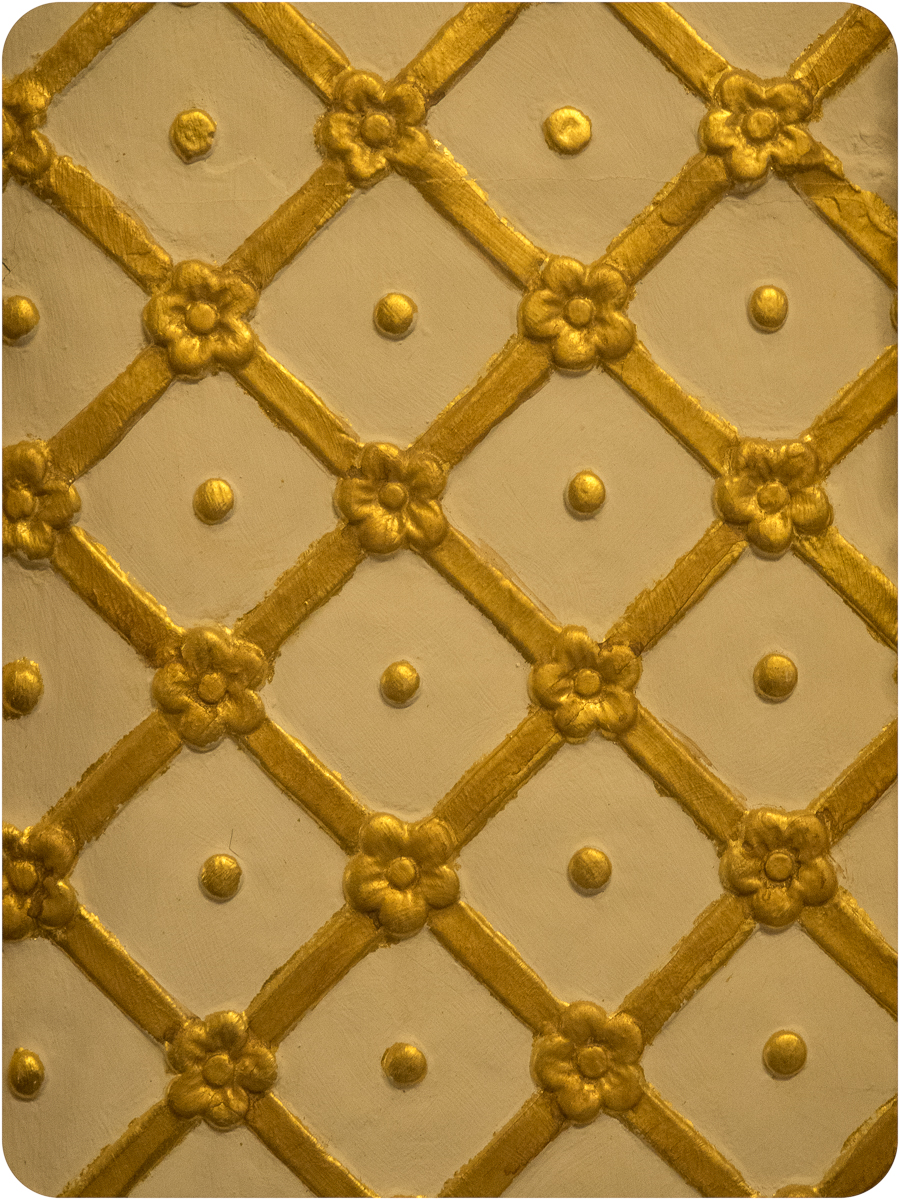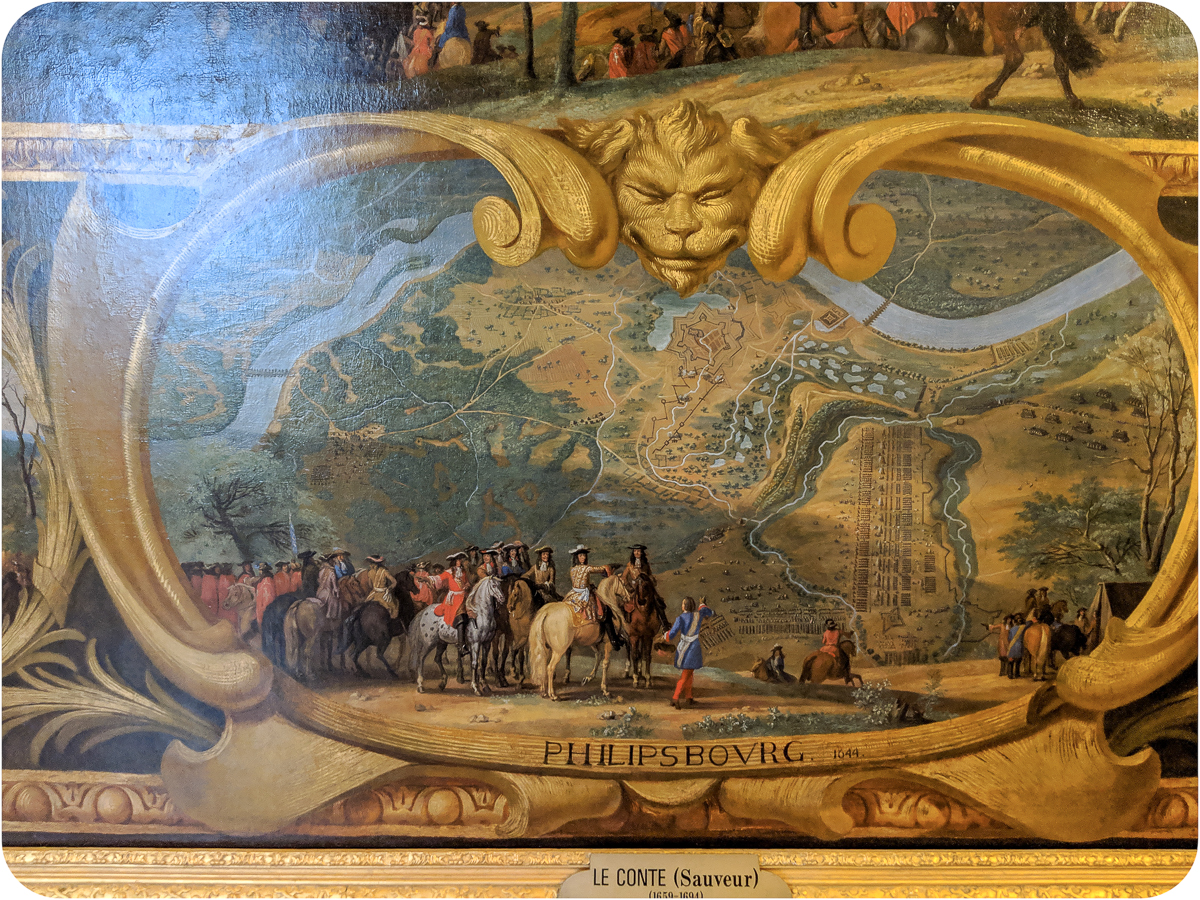 This was in a room of very large murals, subdivided into smaller paintings by these painted gold frames. I love the whimsical lion faces.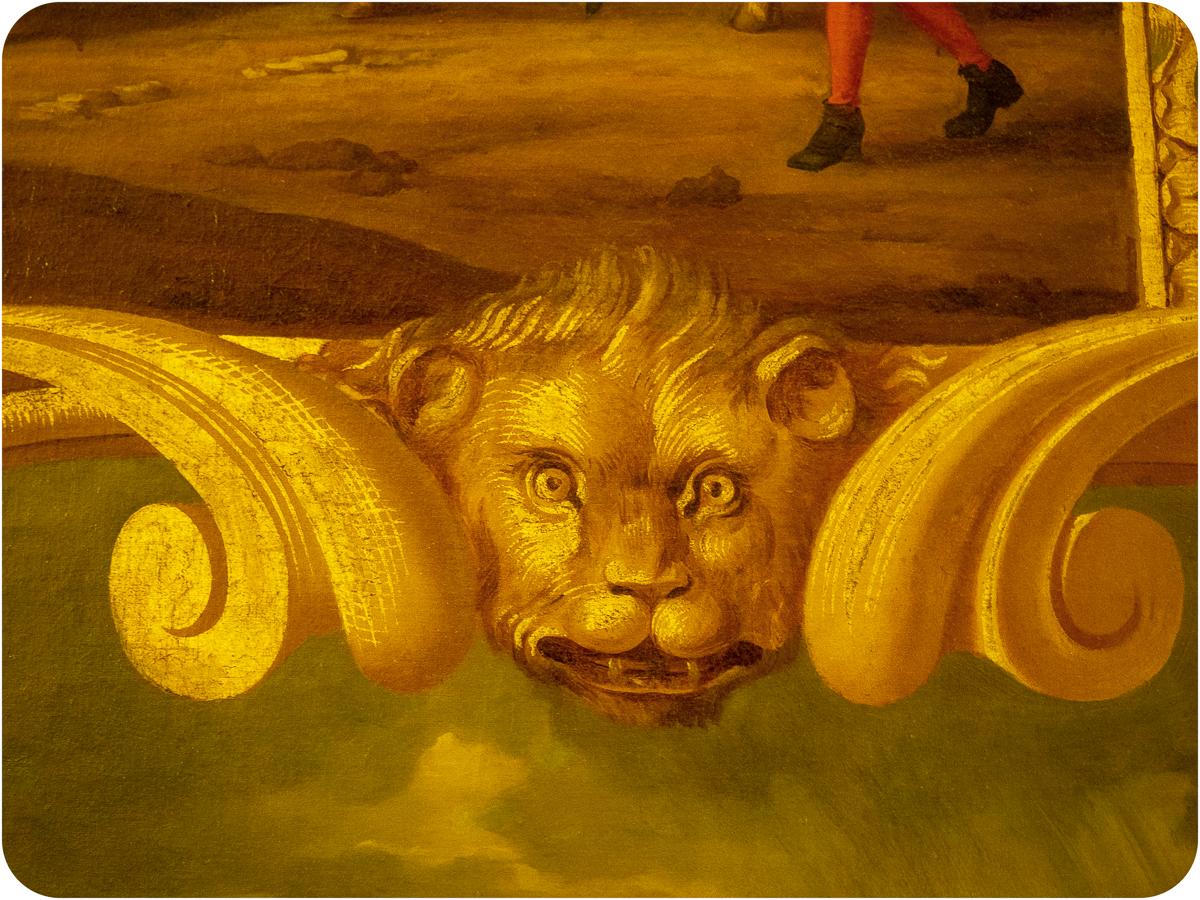 And then there's The Grand Monkey room, an entire room devoted to depicting monkeys engaging in the arts, the sciences, and lighthearted weapon-wielding. This was obviously my favorite room. Dress an animal in people clothes (especially with a wide array of fantastic hats) and you have my attention. Make them specialist academics and experts in arms and your room theme catapults from "cute" to "top ten of all time".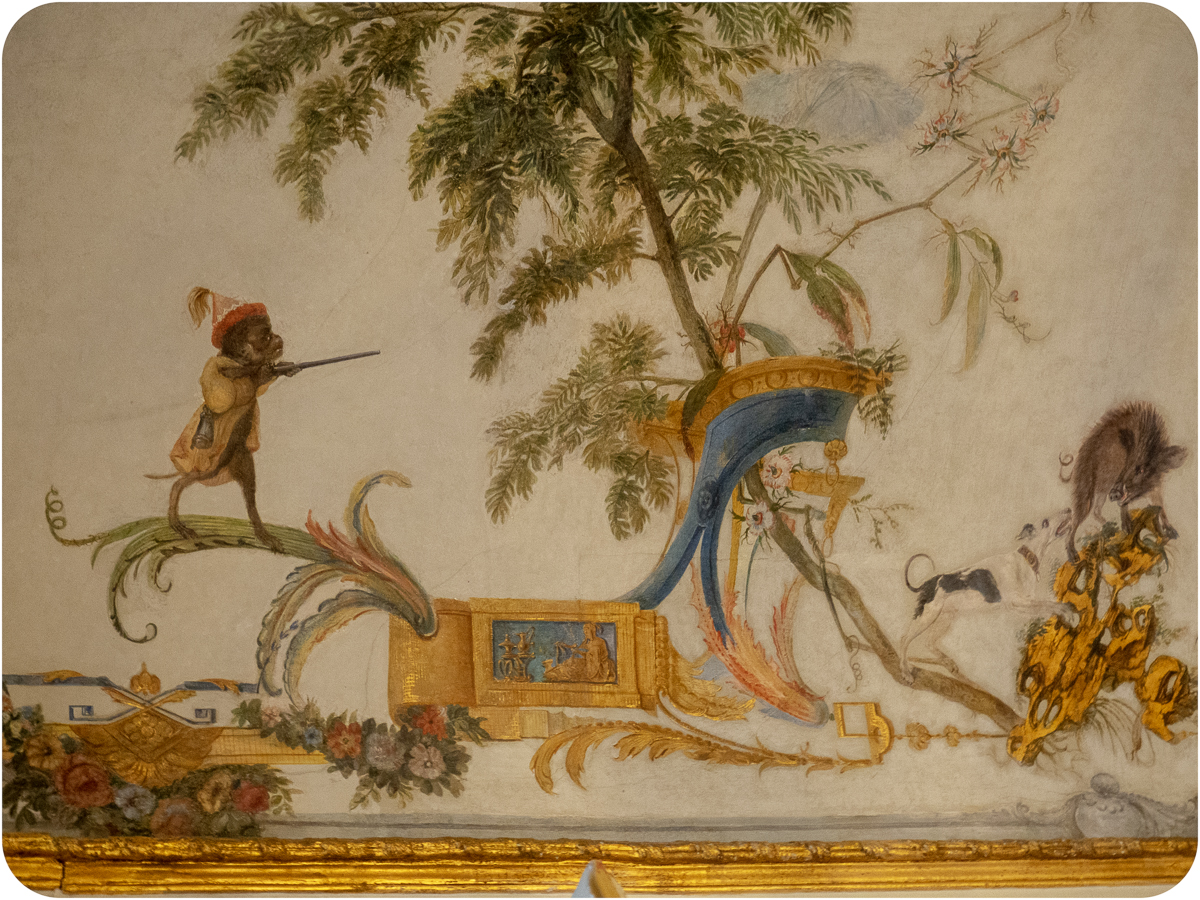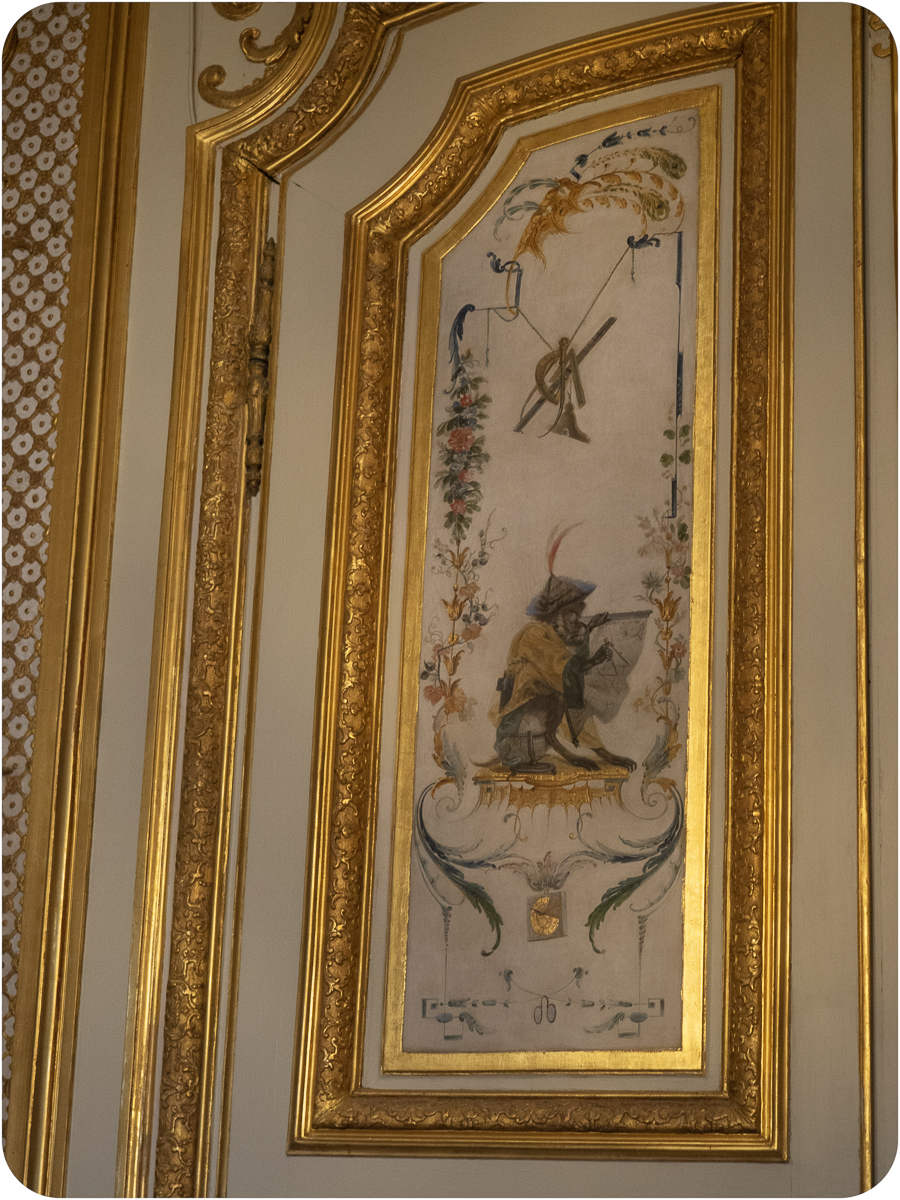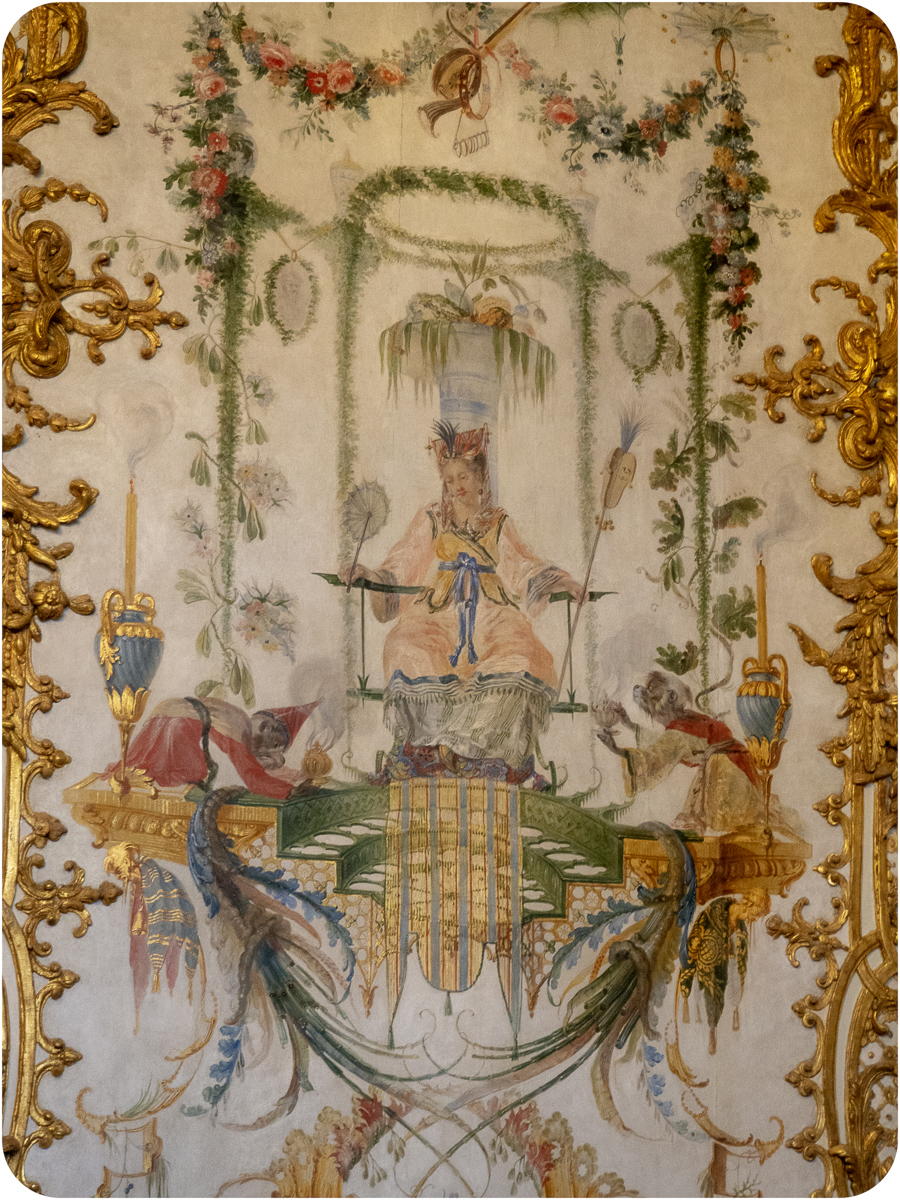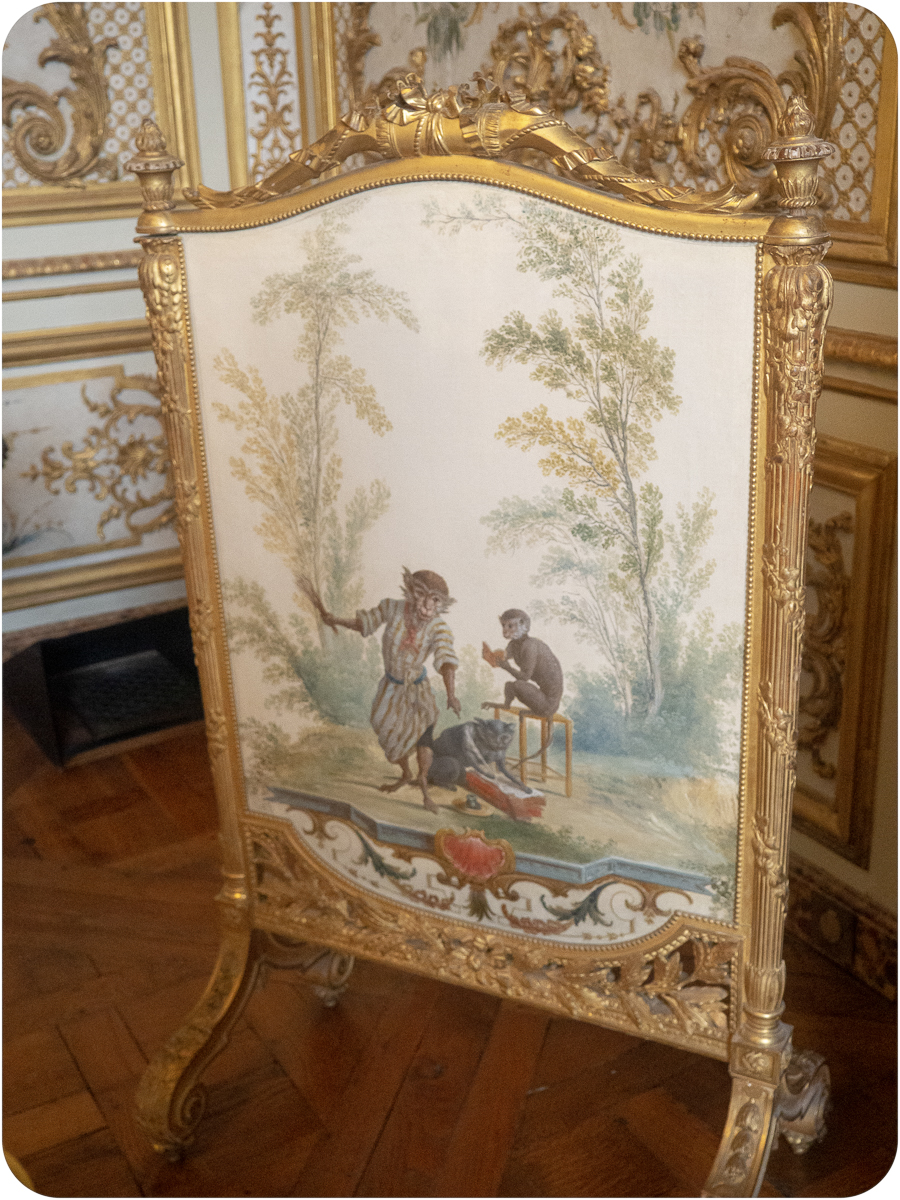 The Duke bought this fireplace screen painted by Christophe Huet at an estate sale to go in the monkey room, where no doubt he felt that whole body thrill you get when you find something that could've been made for you.
The library at Chantilly contains almost 19,000 items, including 300 medieval manuscripts, a small portion of which are on display to the public in glass cases. I wonder who gets to read from this library, if anyone.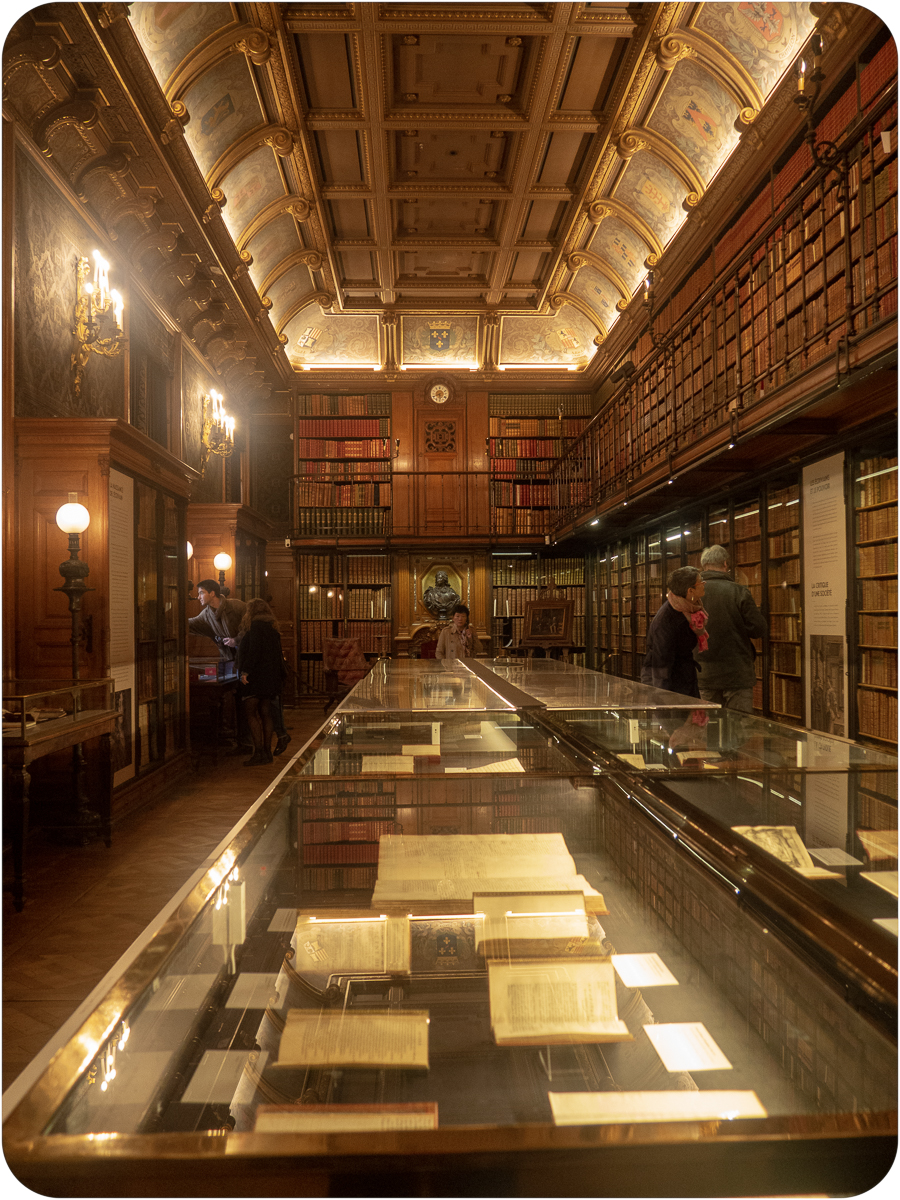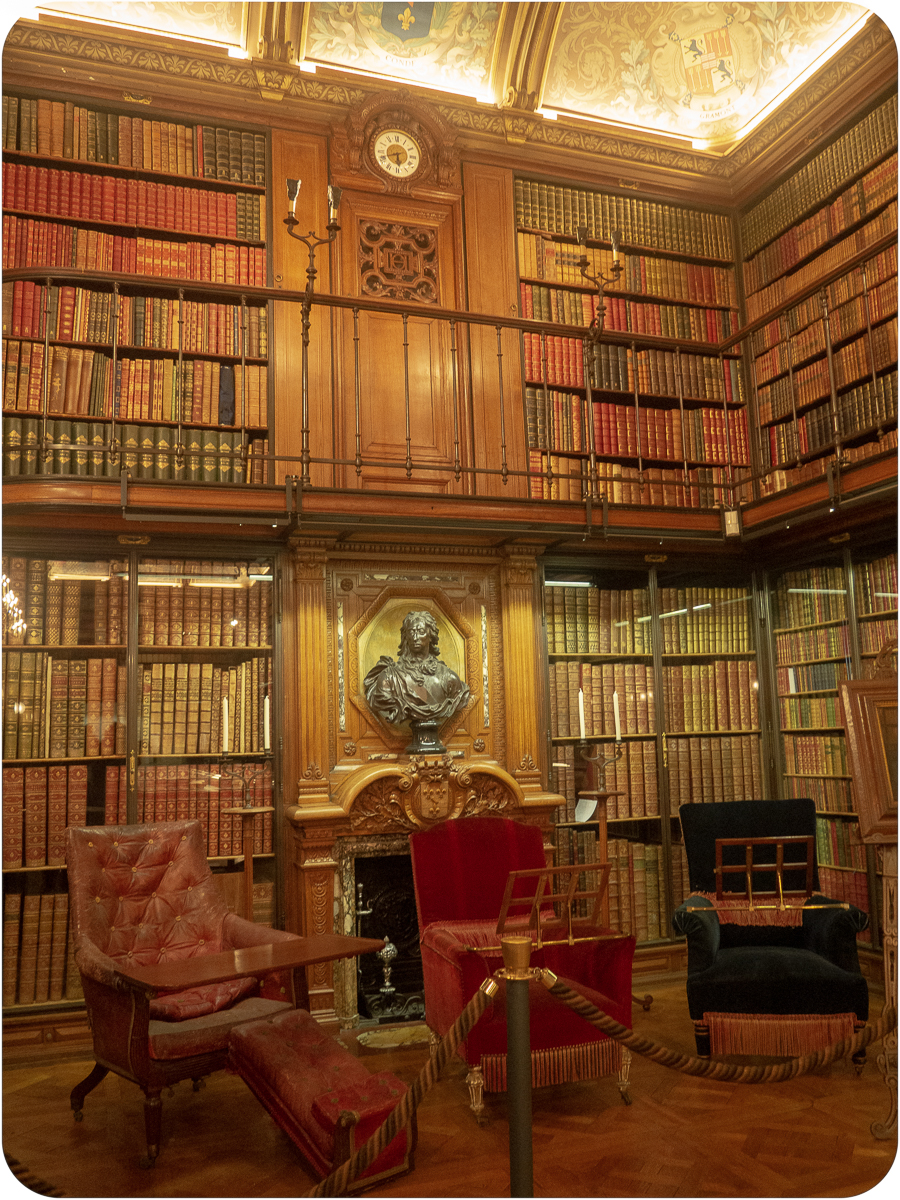 I'm deeply into these reading and writing chairs.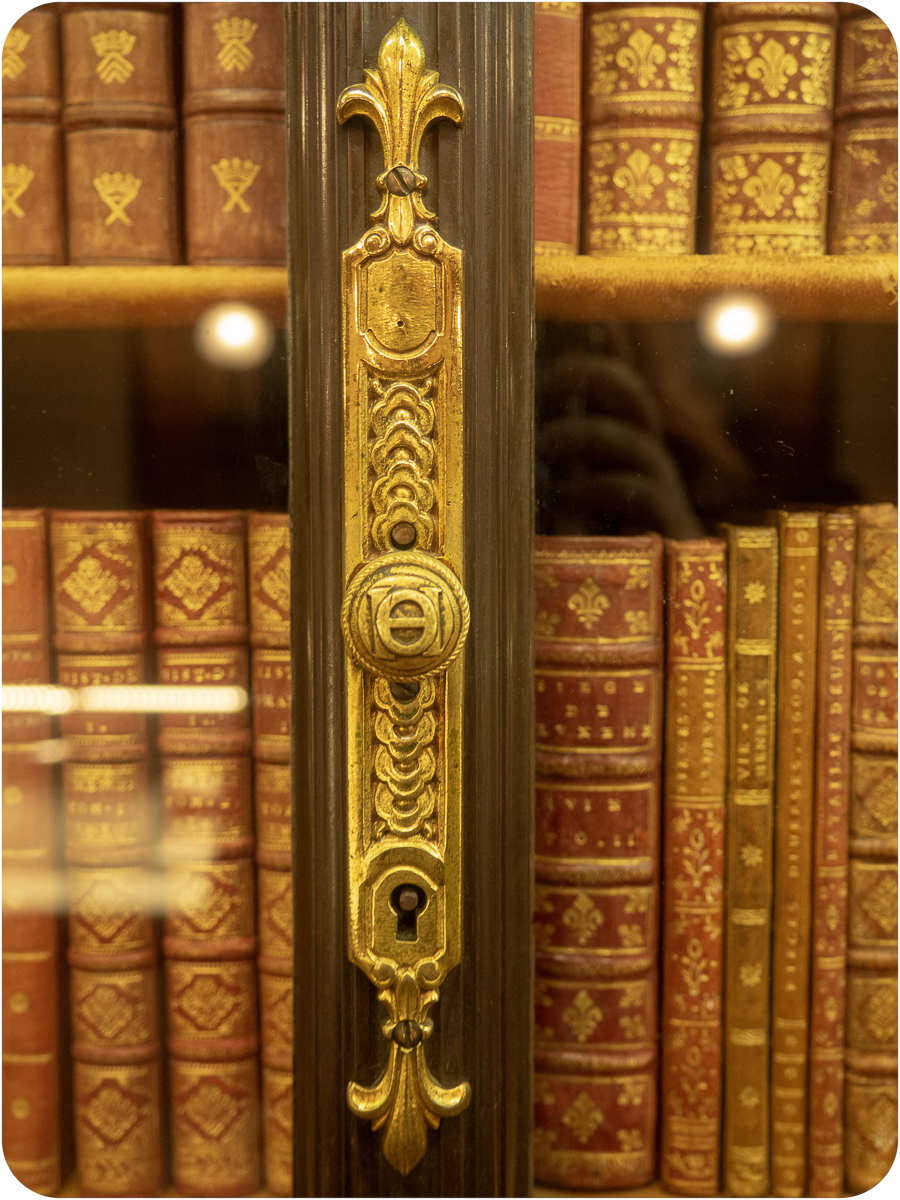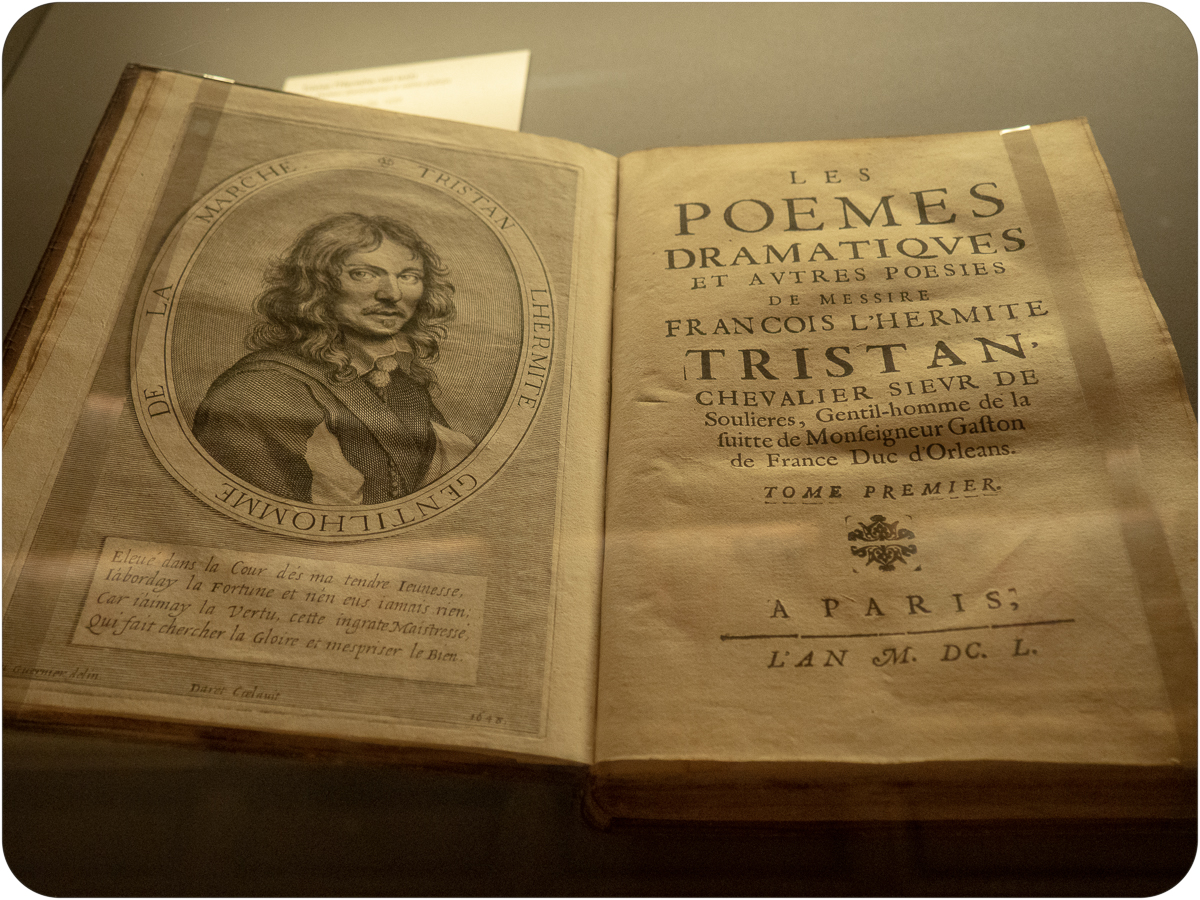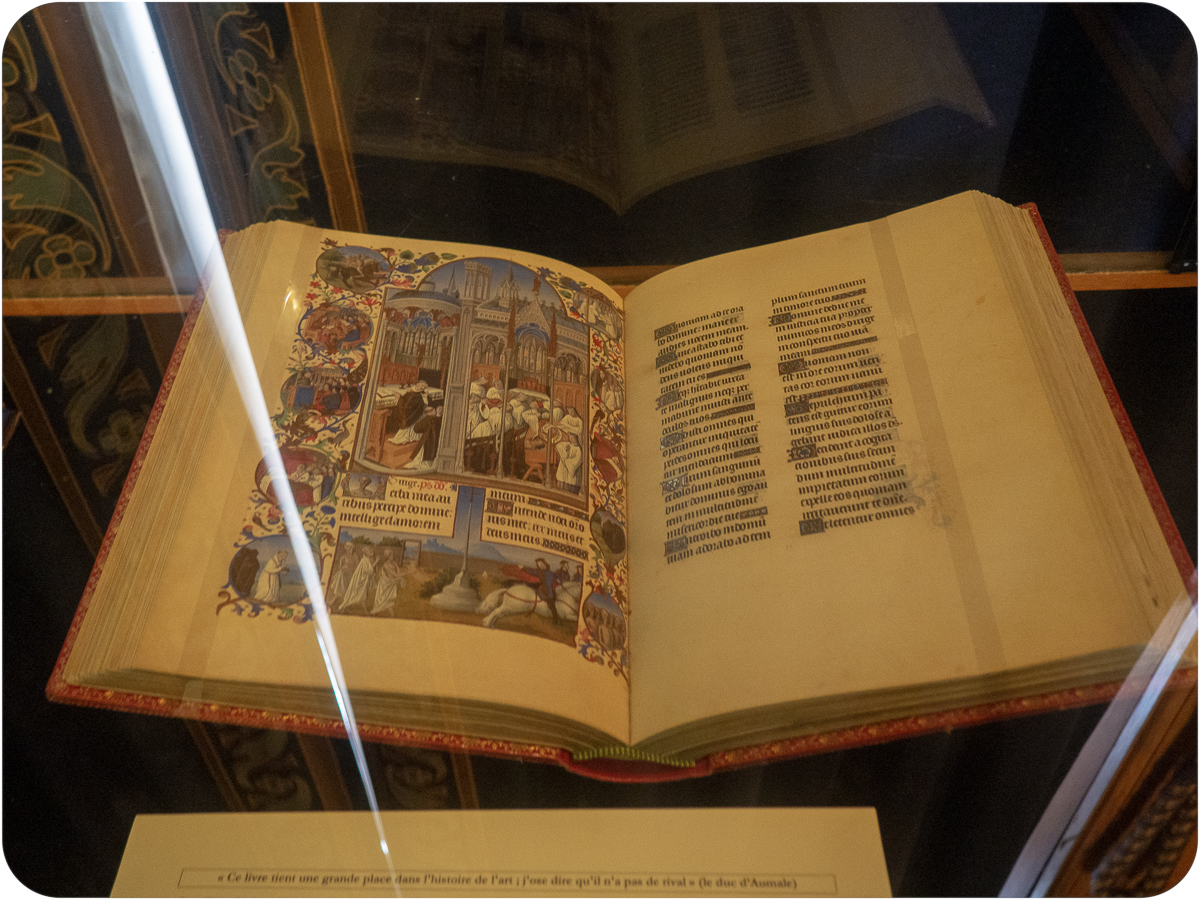 Medieval book, entirely hand lettered, illustrated, and illuminated. My mind boggles contemplating the amount of human labor that is bound into this book.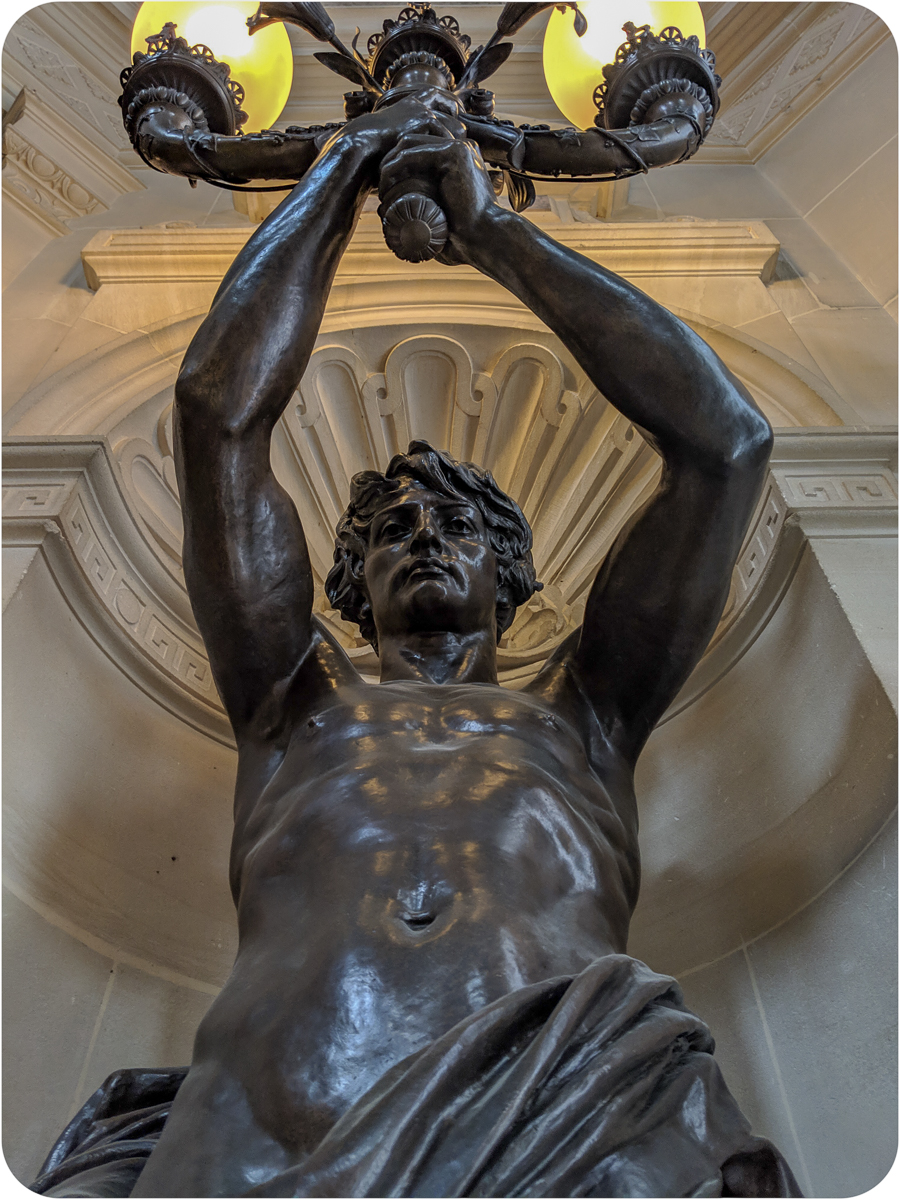 Presumably the last thing you see before you are brained with a lamp by your deadeyed lover.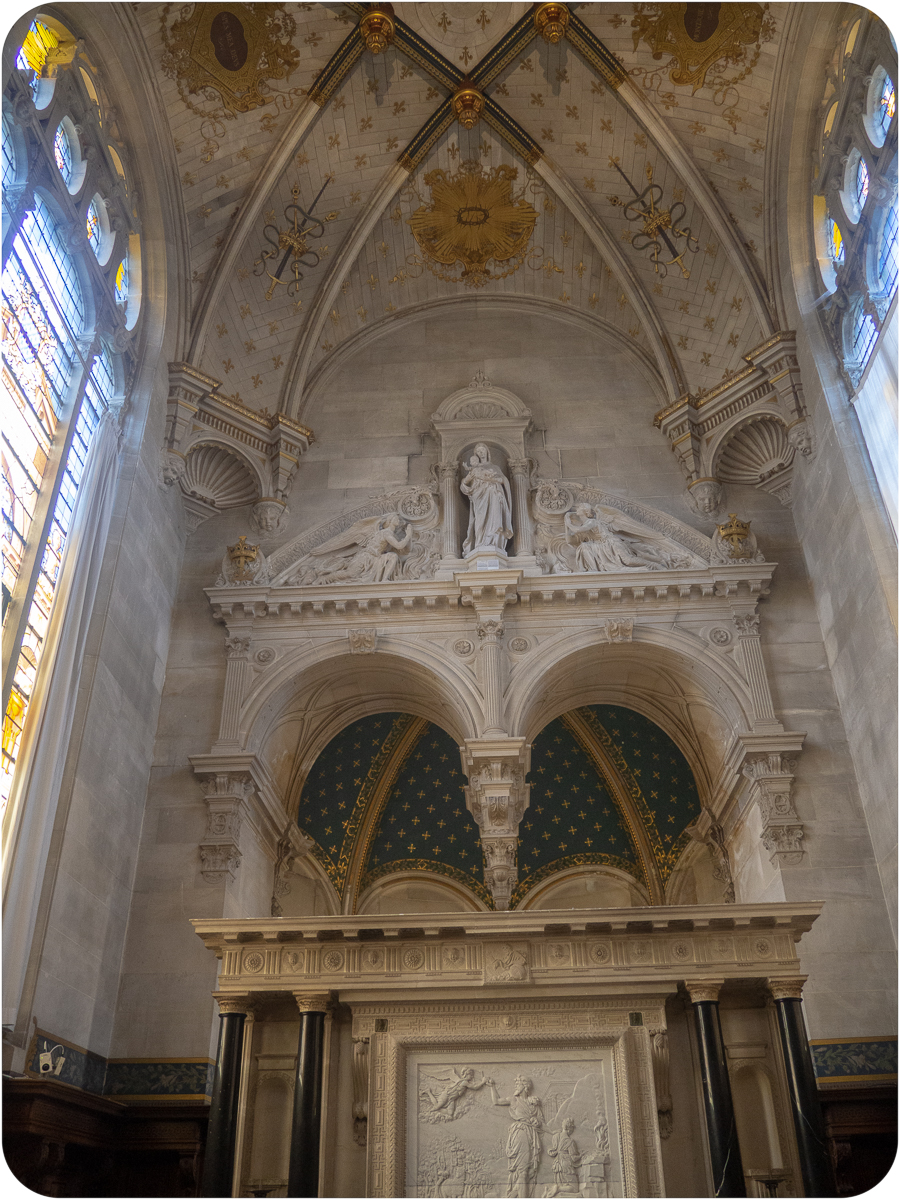 Chapelle des Coeurs des Condé / Chapel of the Hearts of Condé, where the hearts of the family remain in a communal urn.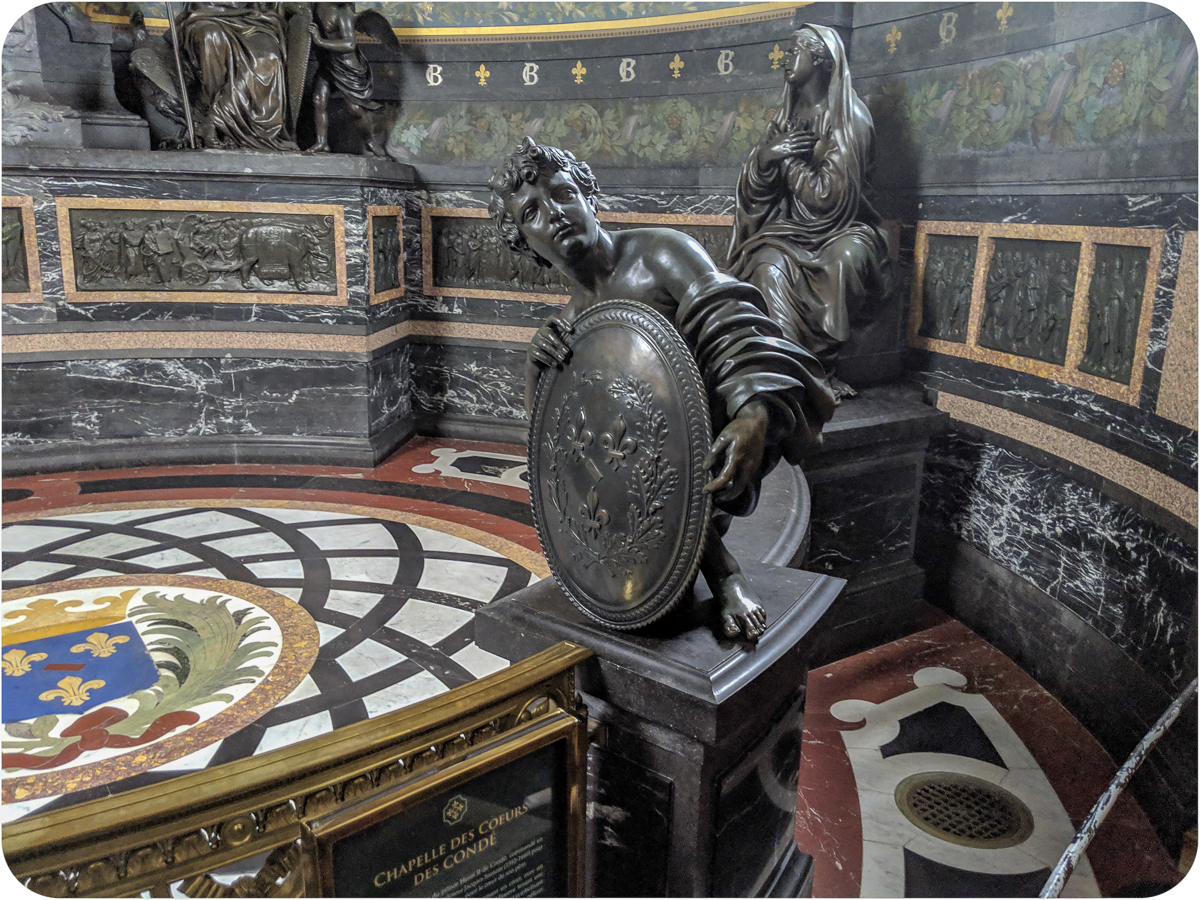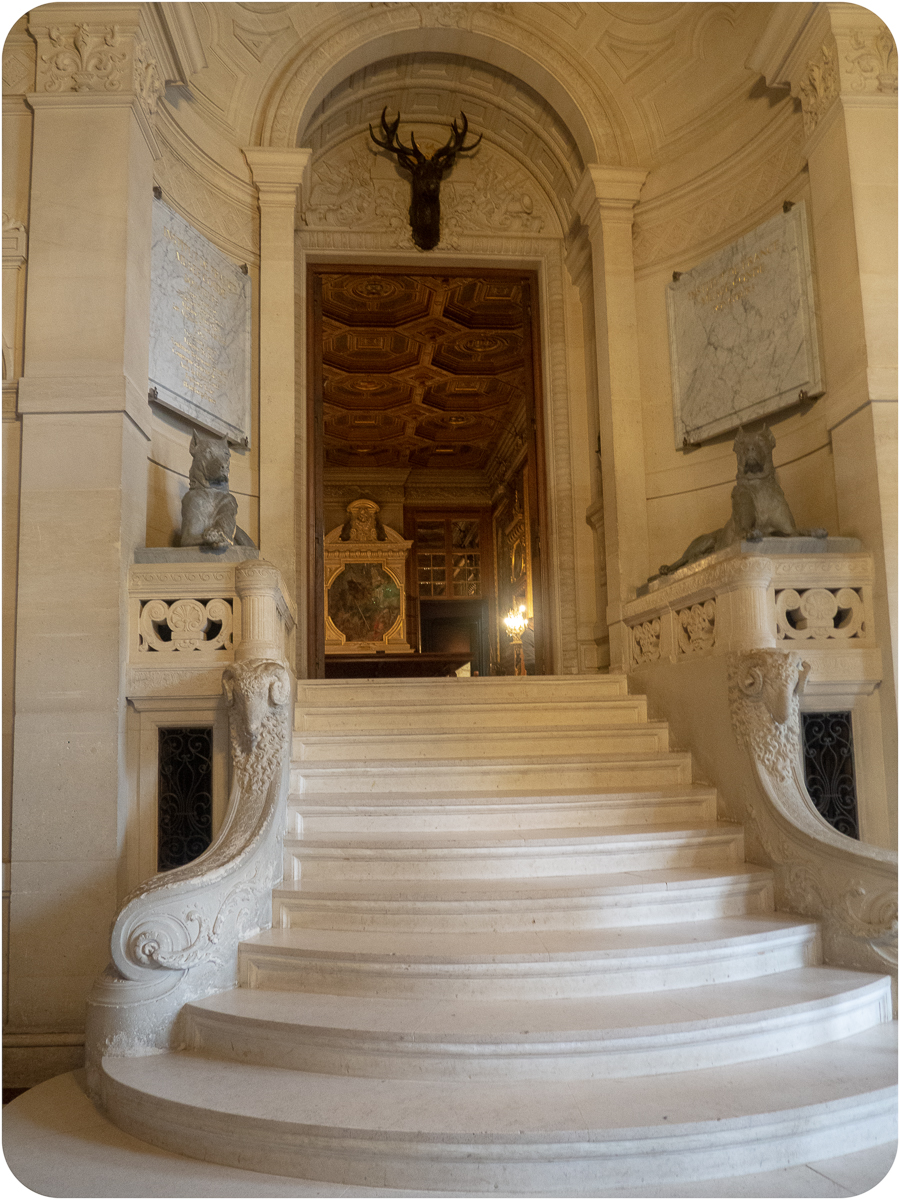 Staircase into The Stag Gallery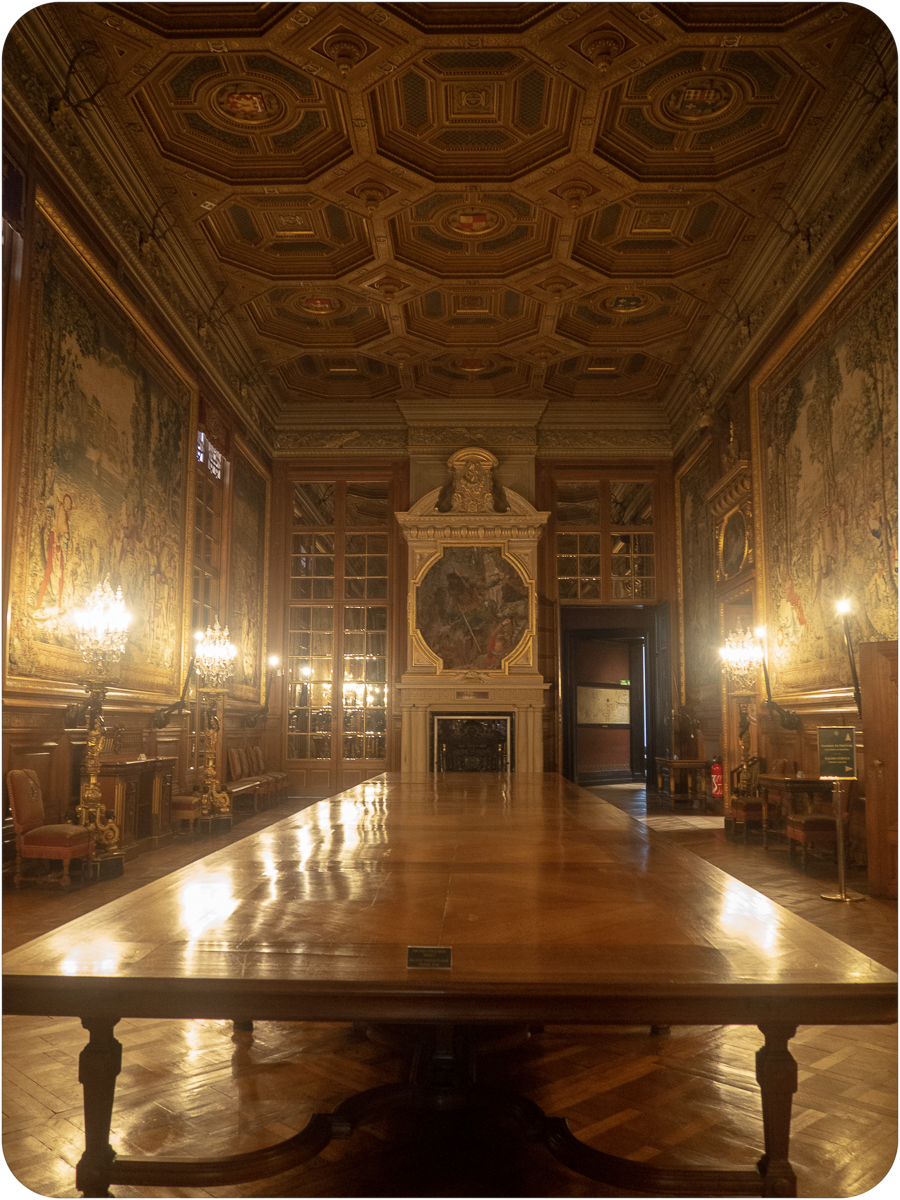 The Stag Gallery. Jason thinks that a table this size would be perfect for miniature wargaming but based on my experience with their catalog, if the Duke had been into Warhammer on this scale, he wouldn't have been able to afford to construct the château. It would have just been the table, a tent, and 50 million francs worth of plastic figures on top of the rubble of the old château.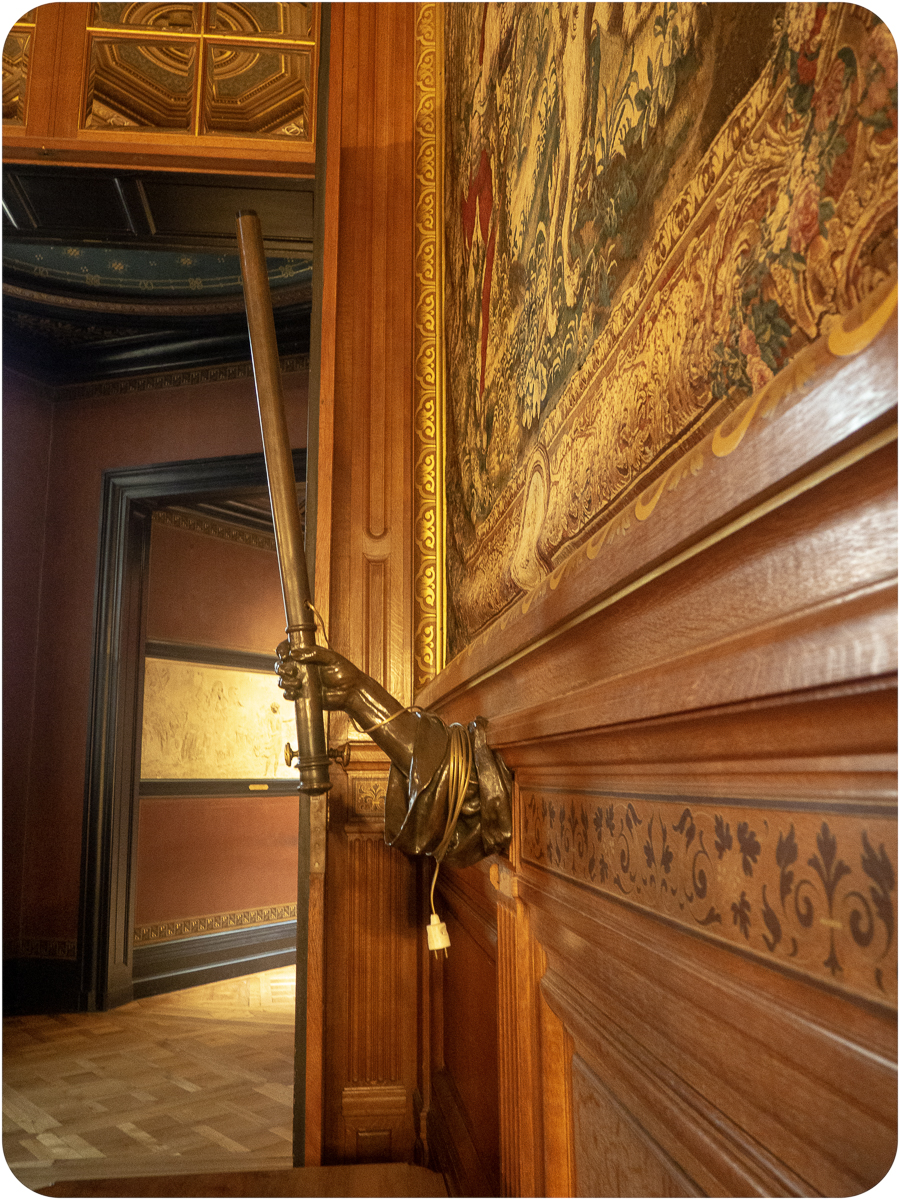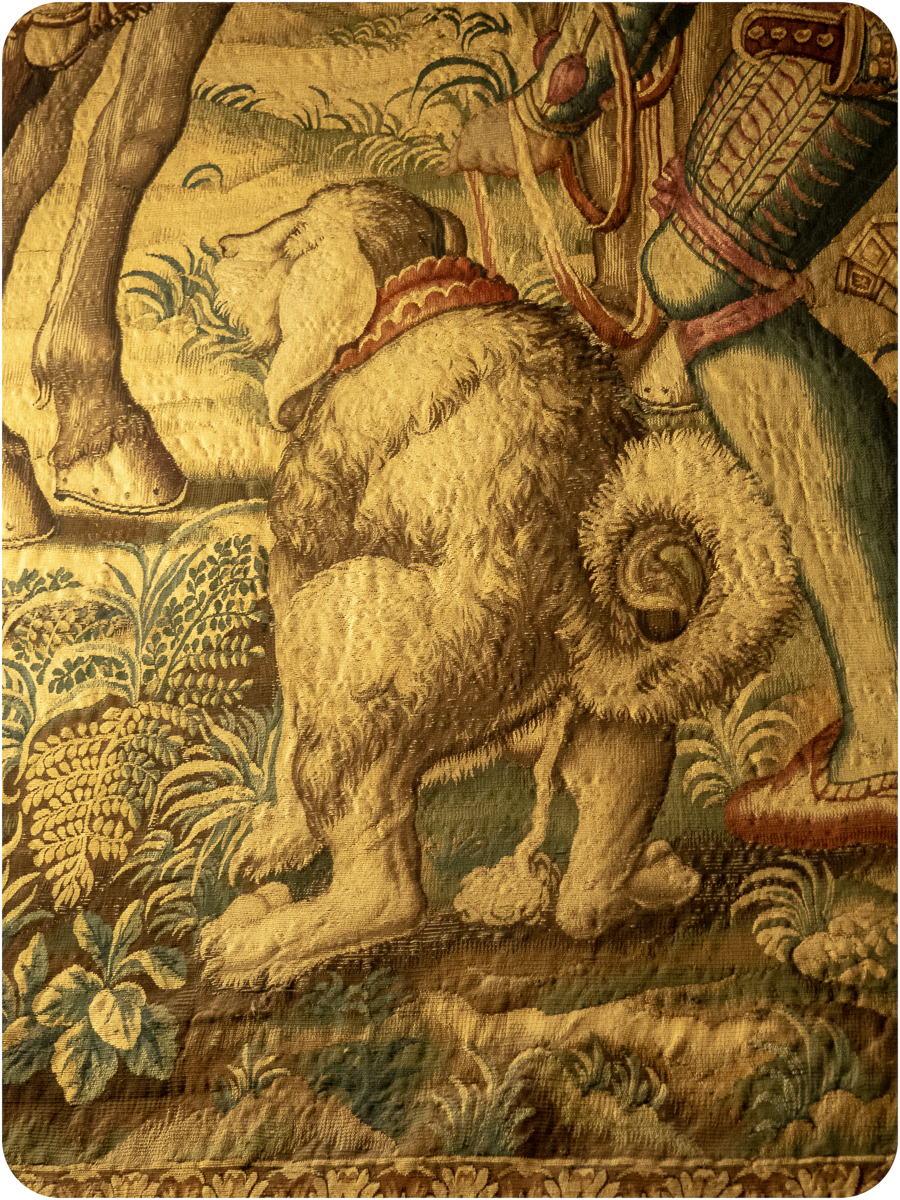 I found the most important part of the tapestry for you to look at. 
When I entered the Domaine, I was entirely unprepared for its art collection, including Raphael's Les Trois Graces. I took a photo of a painting of a horse (because horse) and then realized that it was painted by French master Théodore Géricault. There's so much art everywhere, stacked up the walls in 19th century style as many as three deep in thick, golden frames, room after room filled with master works, an entire museum of art in one wing.
One of the ways the paintings are protected is through constant, vigilant security. On the day I visited, the young man on the job strode purposefully from room to room, his shoes squeaking vigorously with every step. Those squeaks stalked me throughout the château, the volume belying his position at all times. The energetic squeaks grew near, then far, then near again. It seems like knowing roughly how much time you have before the guard squeaks past your location would almost embolden a thief…but I suppose that's when the other guard with silent shoes they never noticed gets them.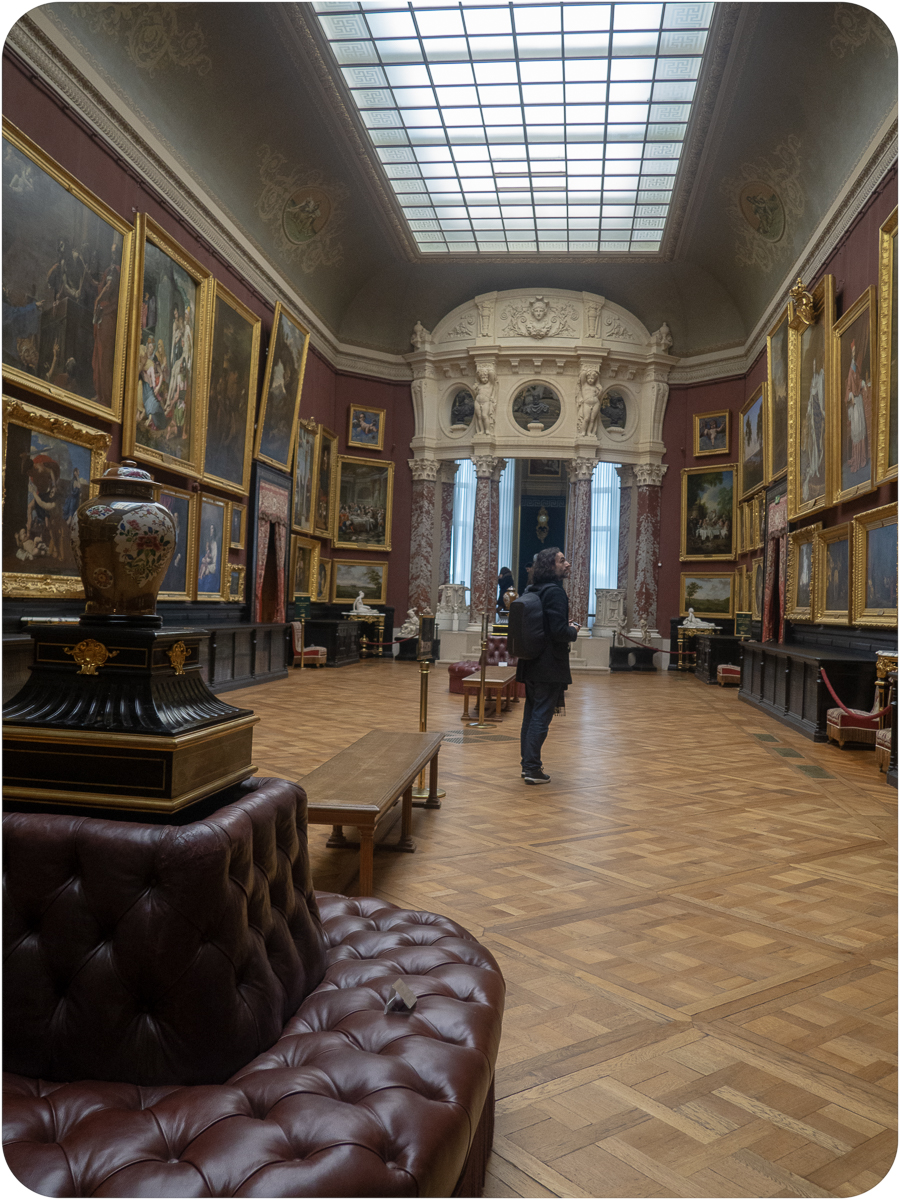 The Gallery of Painting, at the far end of the room, the rotunda.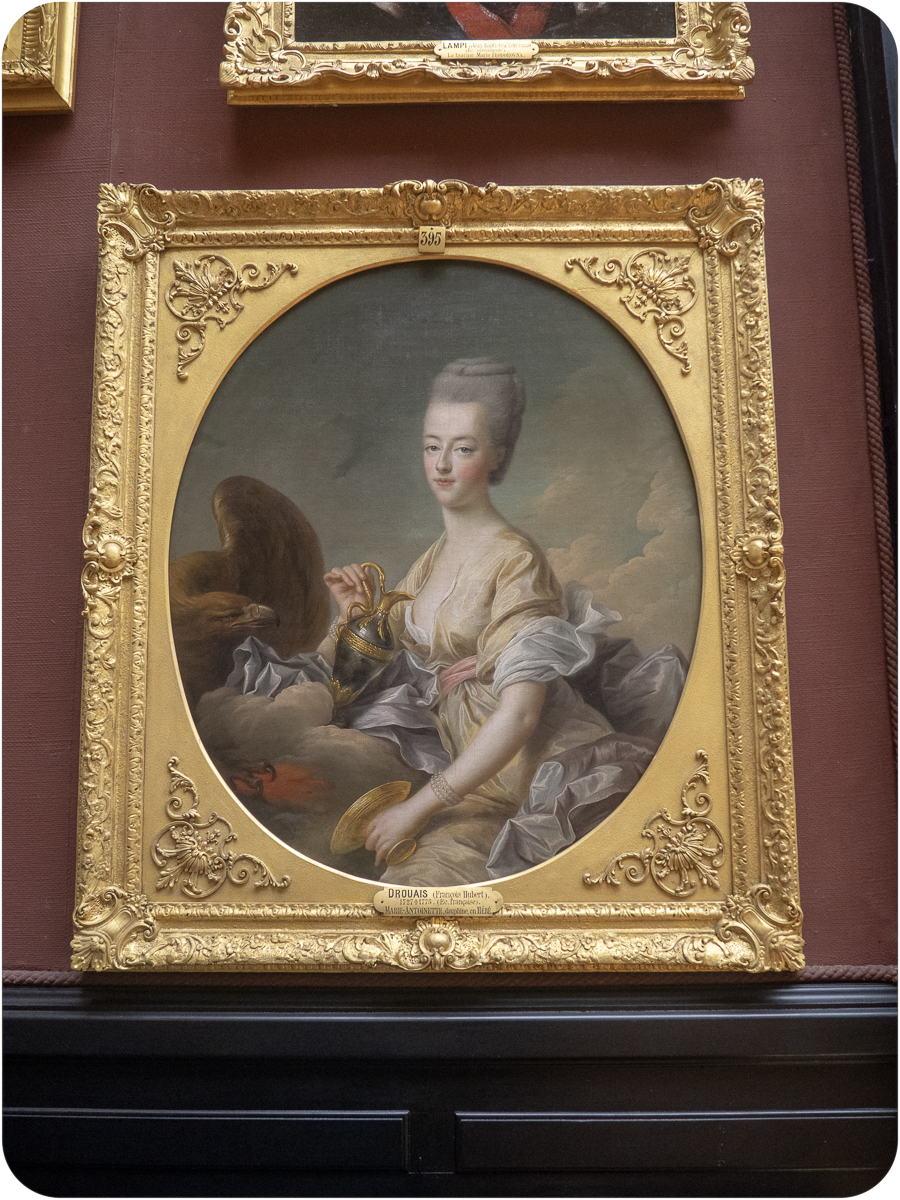 François-Hubert Drouais, Marie Antoinette, 1773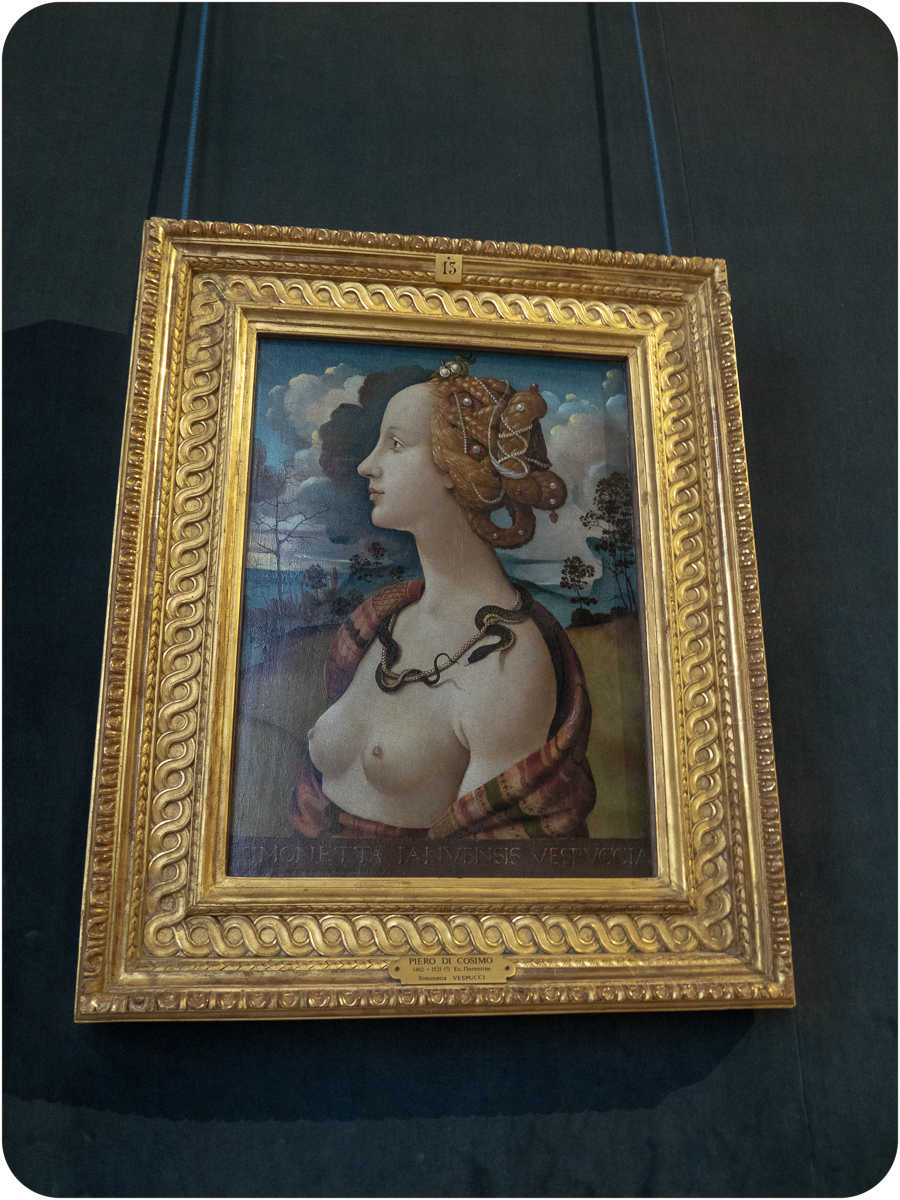 Piero di Cosimo, Ritratto di Simonetta Vespucci come Cleopatra ; I love this painting and I was thrilled to see it in person.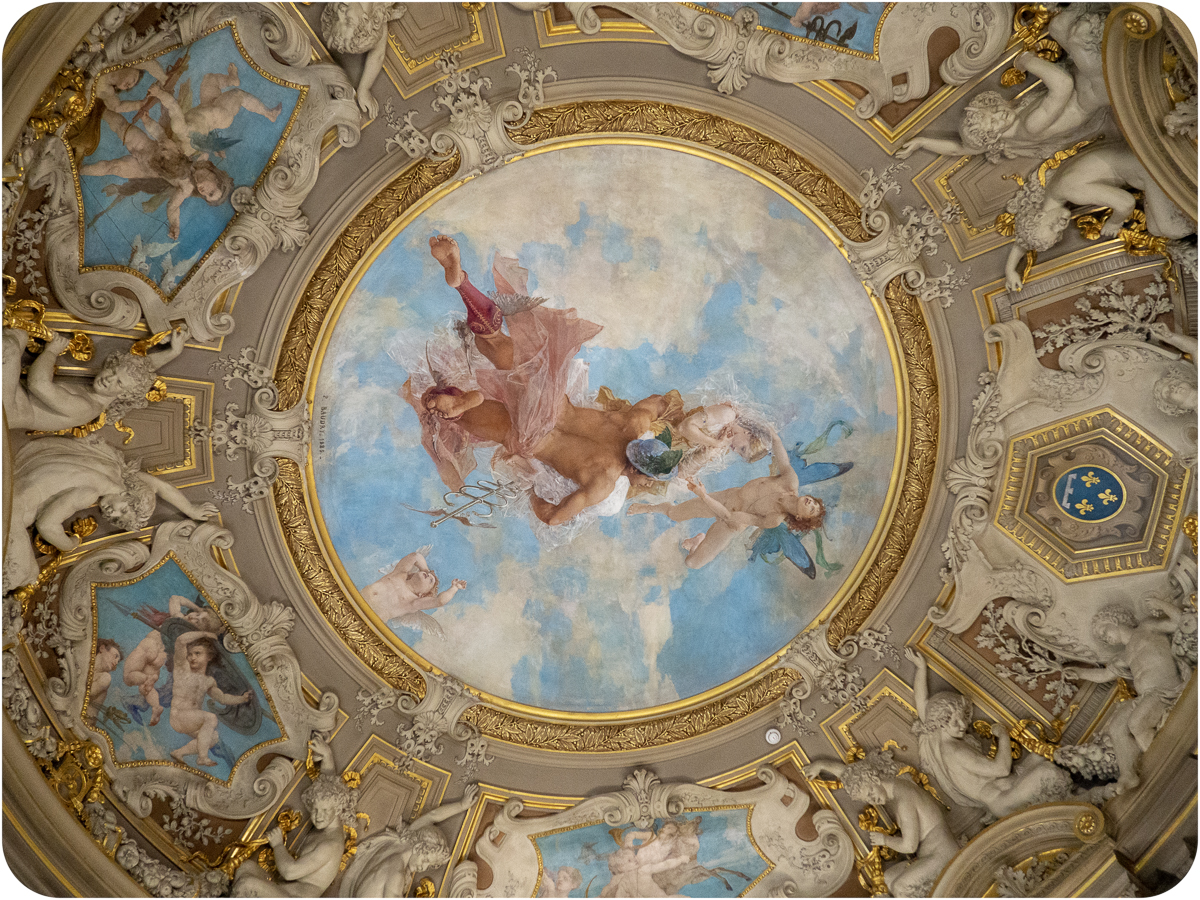 The ceiling of the rotunda. I'm not familiar with this particular escapade of Hermes but that muralbombing cherub seems pretty dismayed.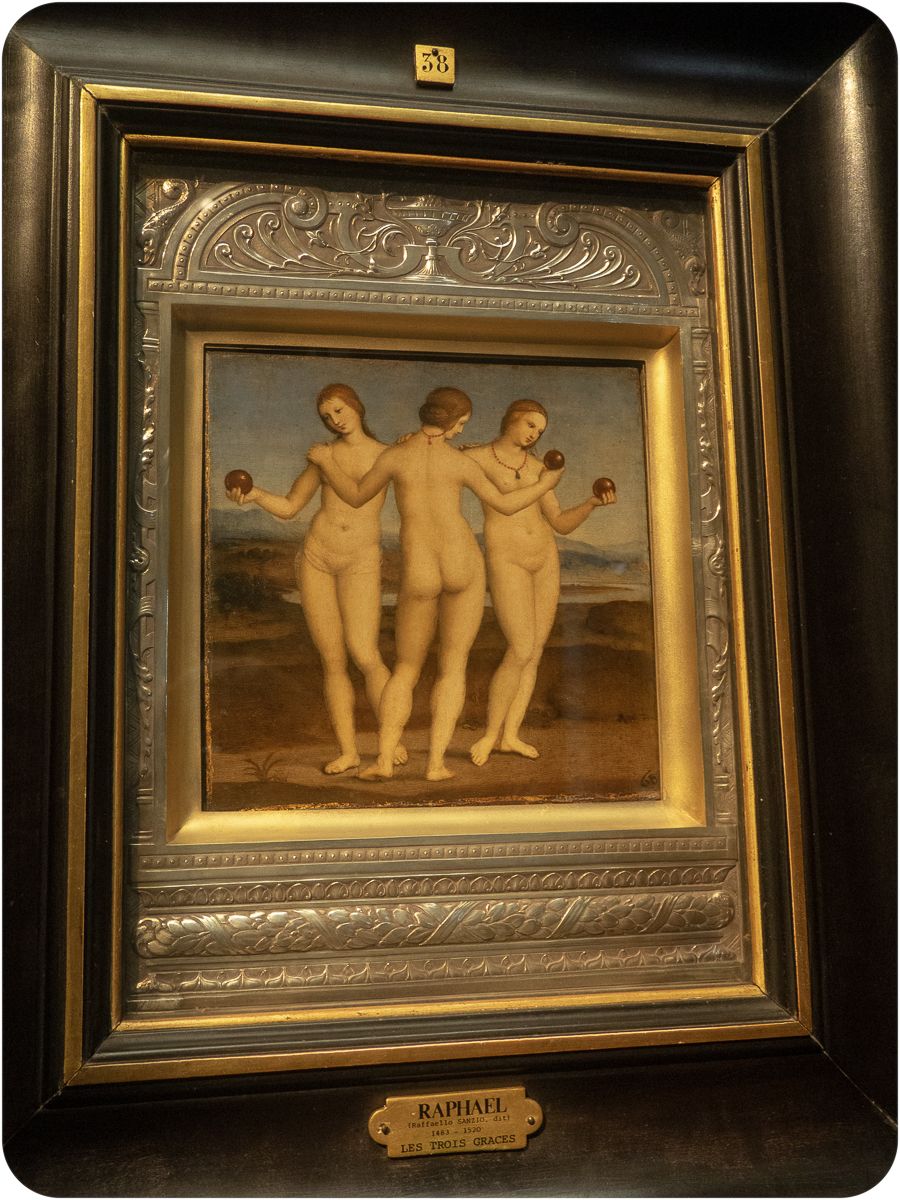 A painting about friendship and fond feelings about apples.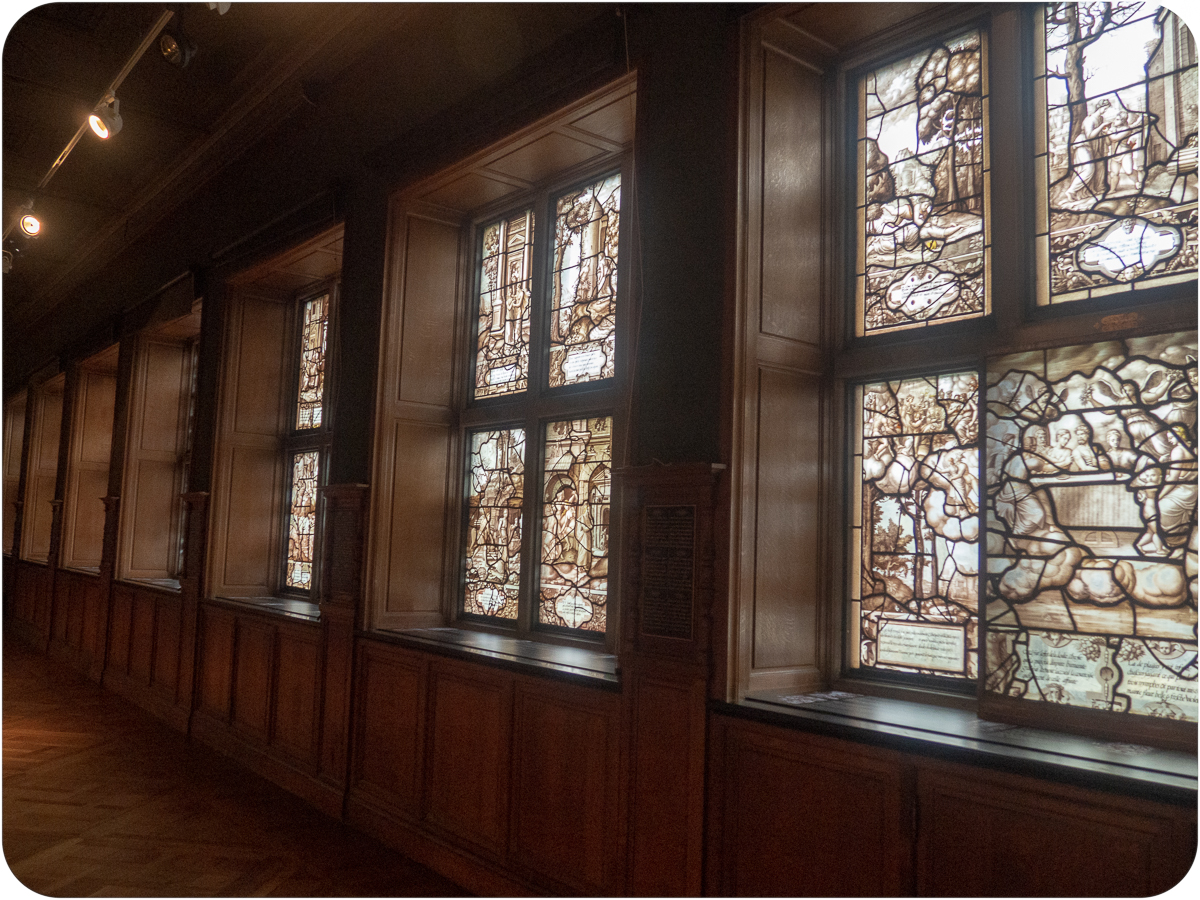 There was an entire wall of sepia-toned stained glass depicting scenes of…I don't know, let's take a look.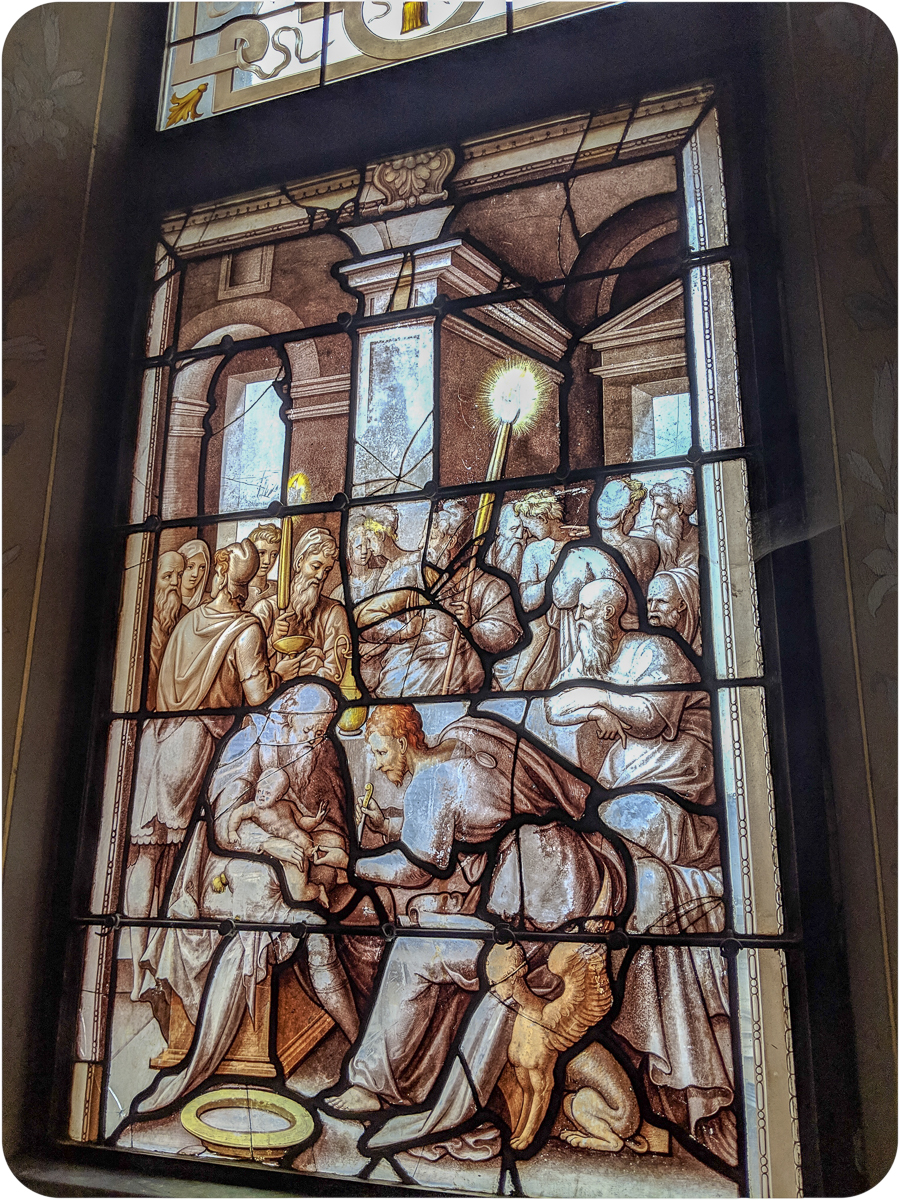 …so here it appears we have a crowd gathered by torchlight to watch a baby get a Prince Albert.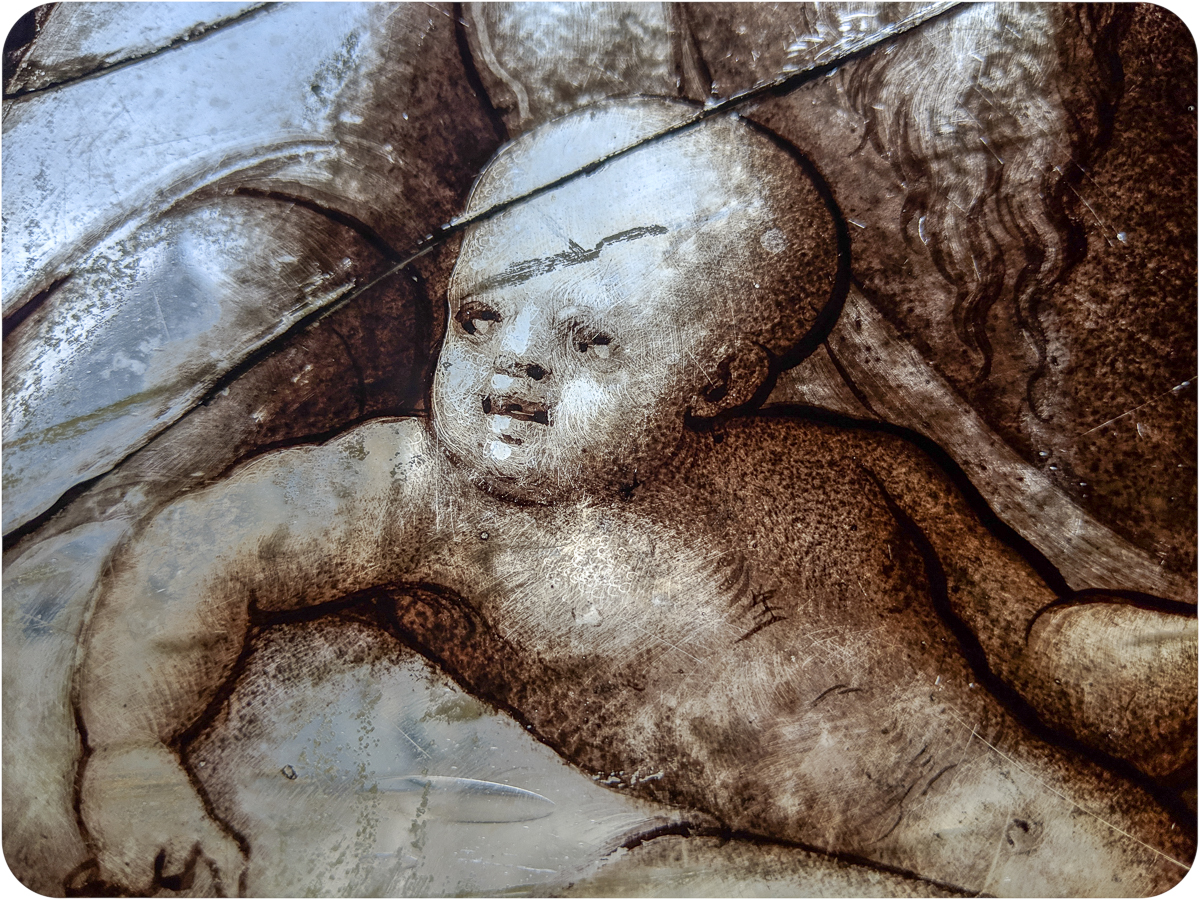 Correction: a very creepy baby.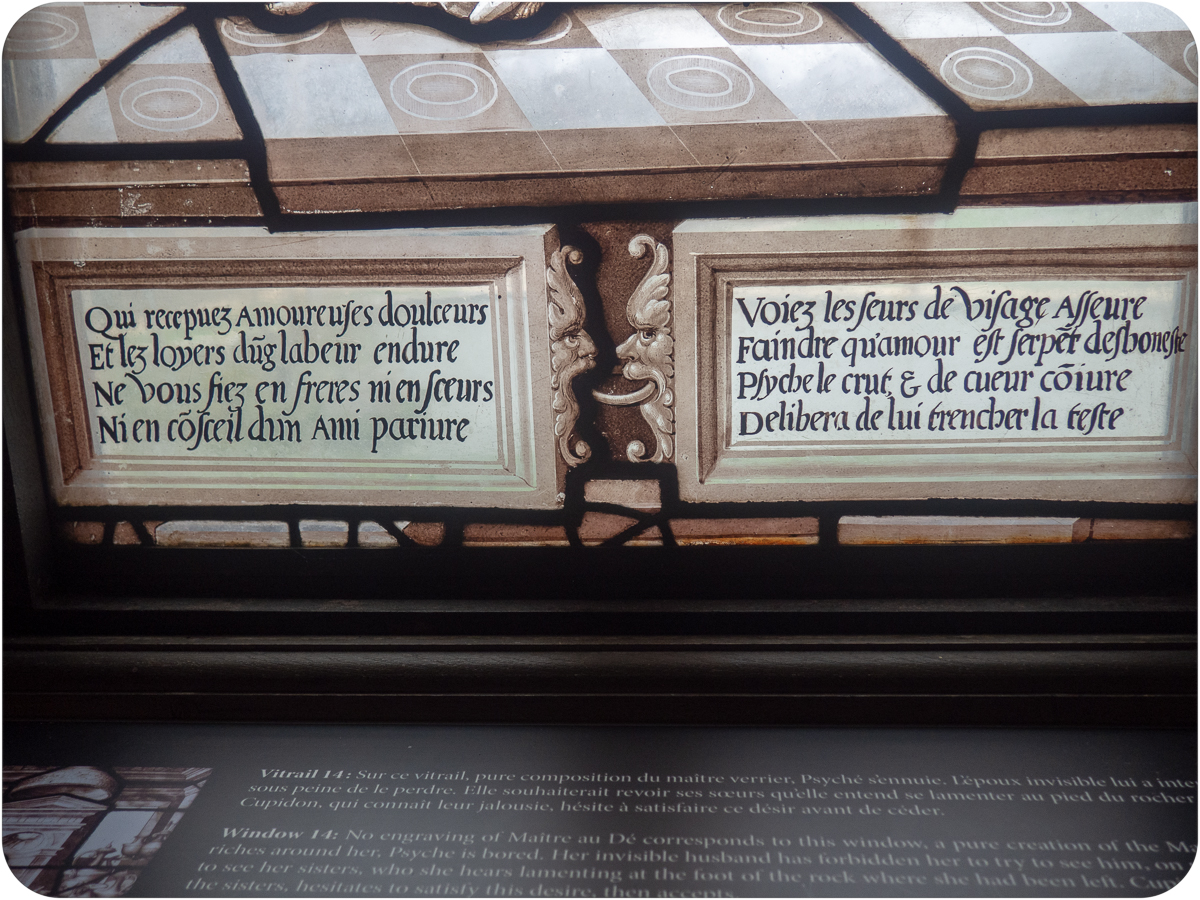 I was particularly fond of the artistic flourishes used around text.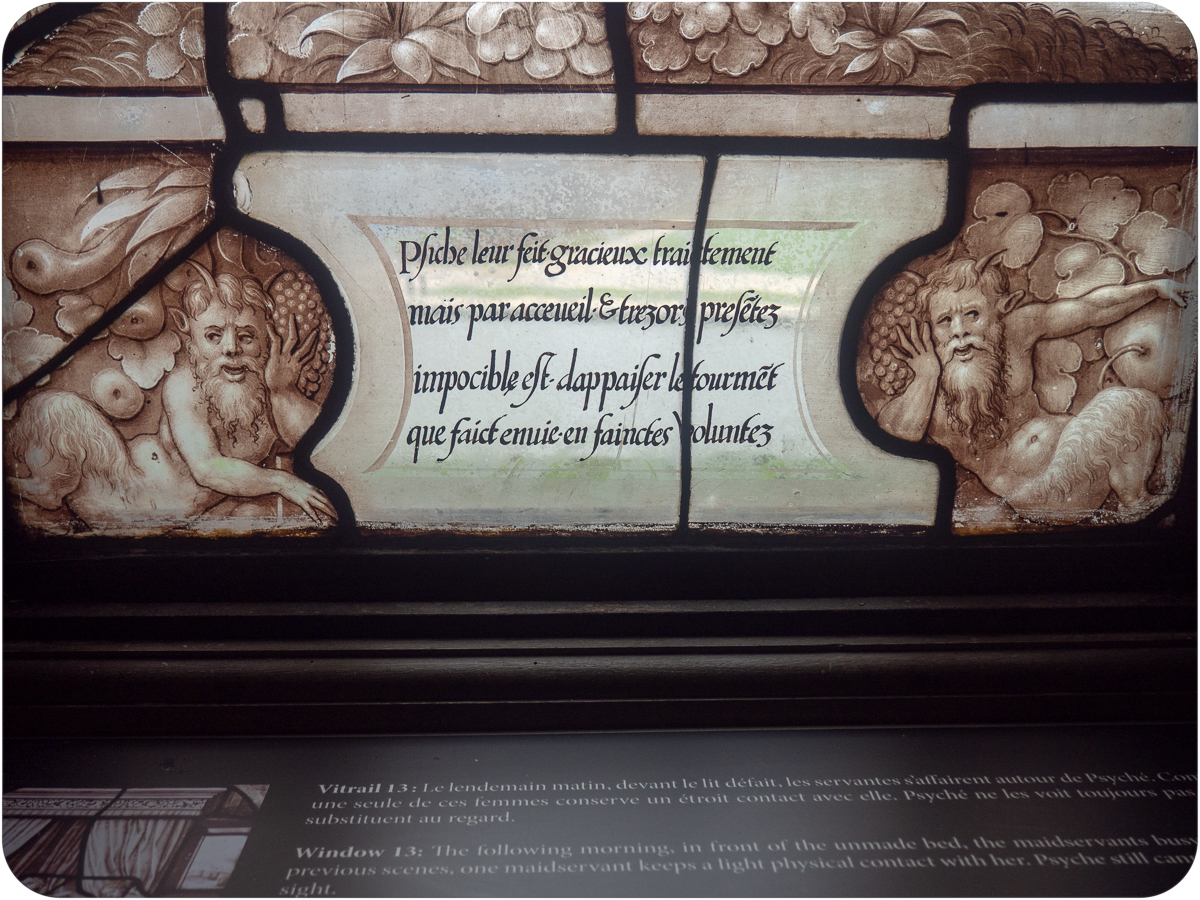 I love the sassy expressions on these satyrs.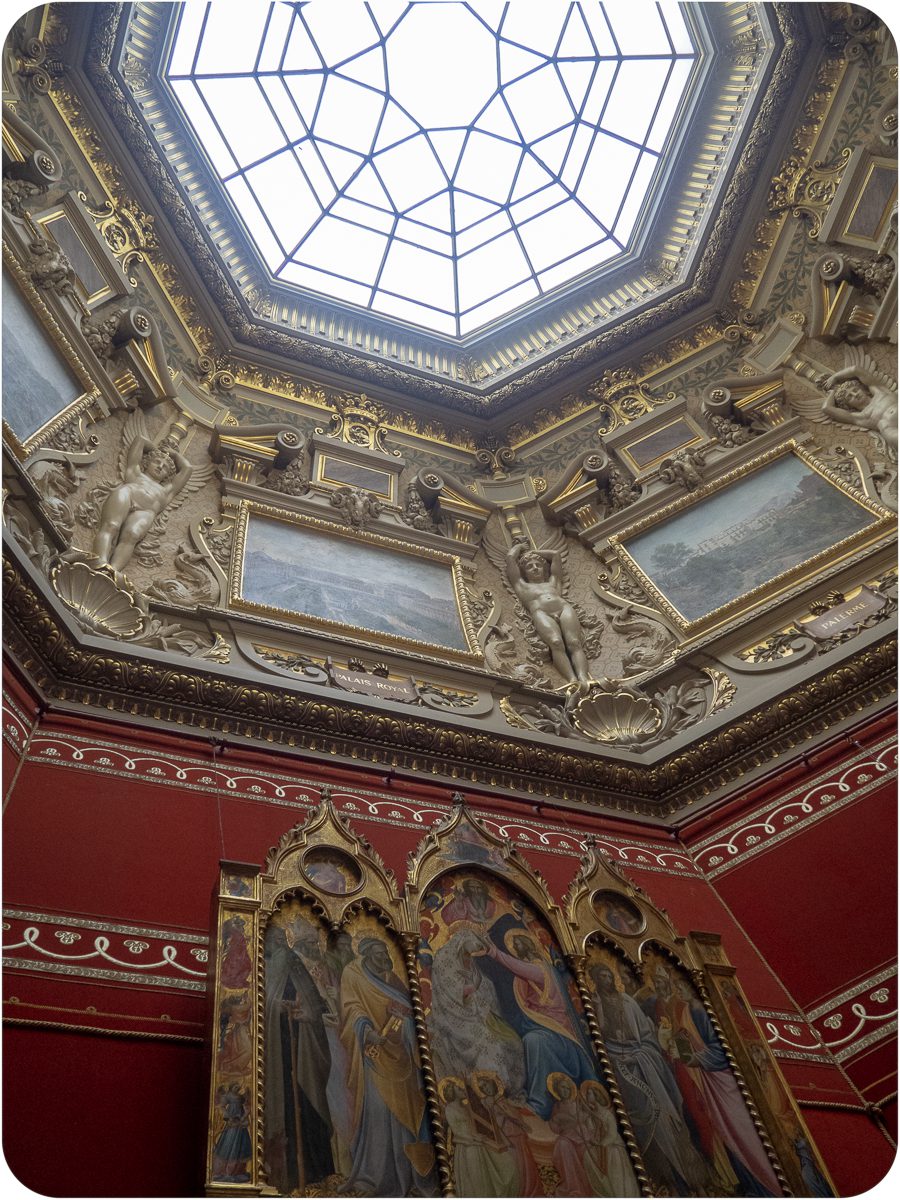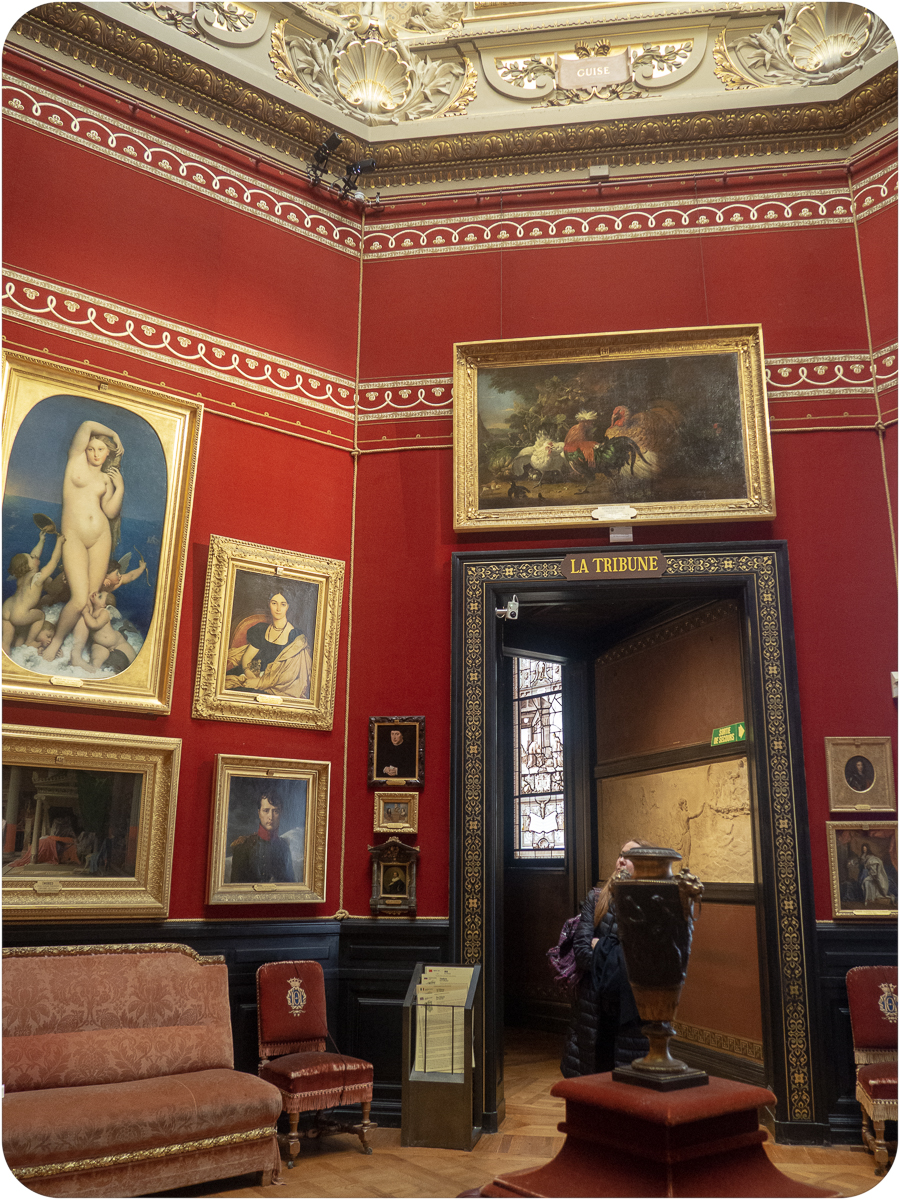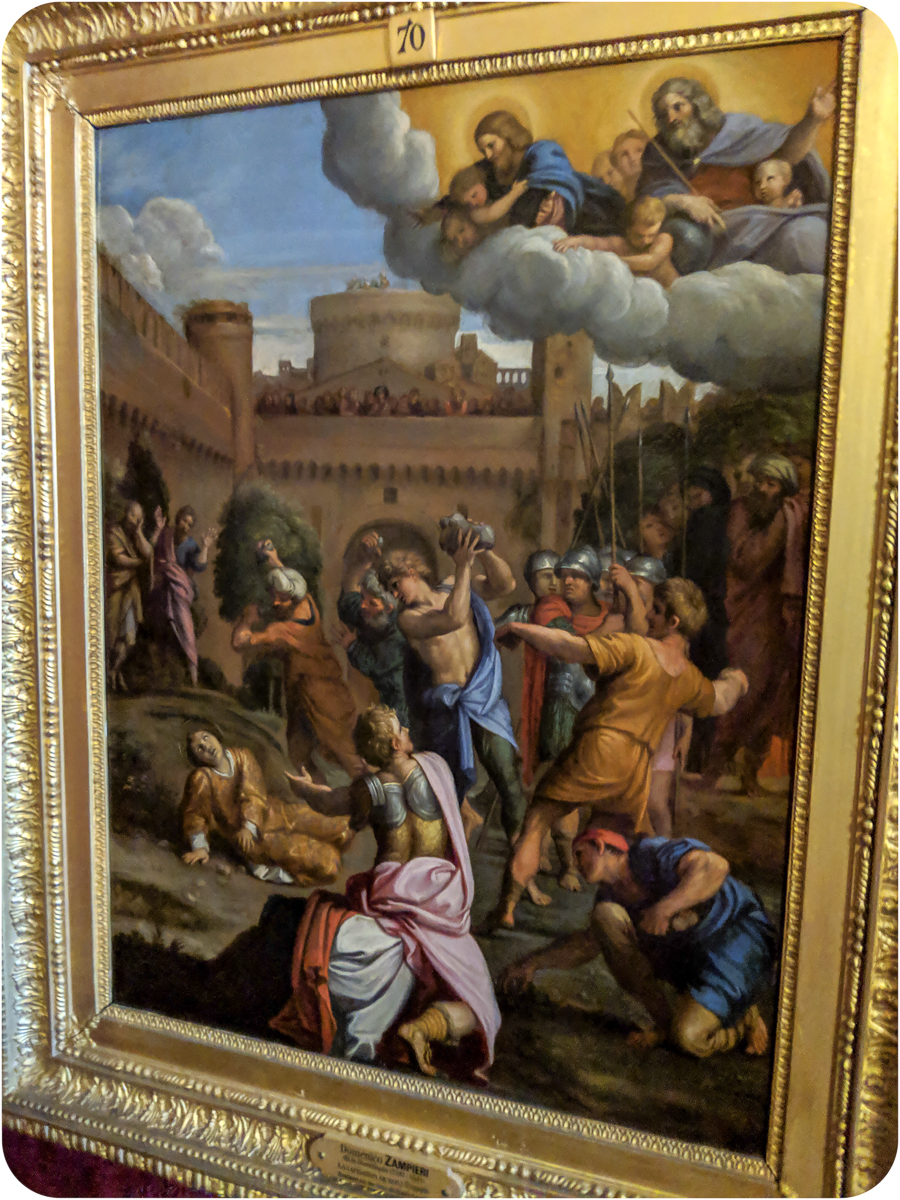 This looks like Jesus got pretty great seats for his friends for the Ultimate Fighting Championship.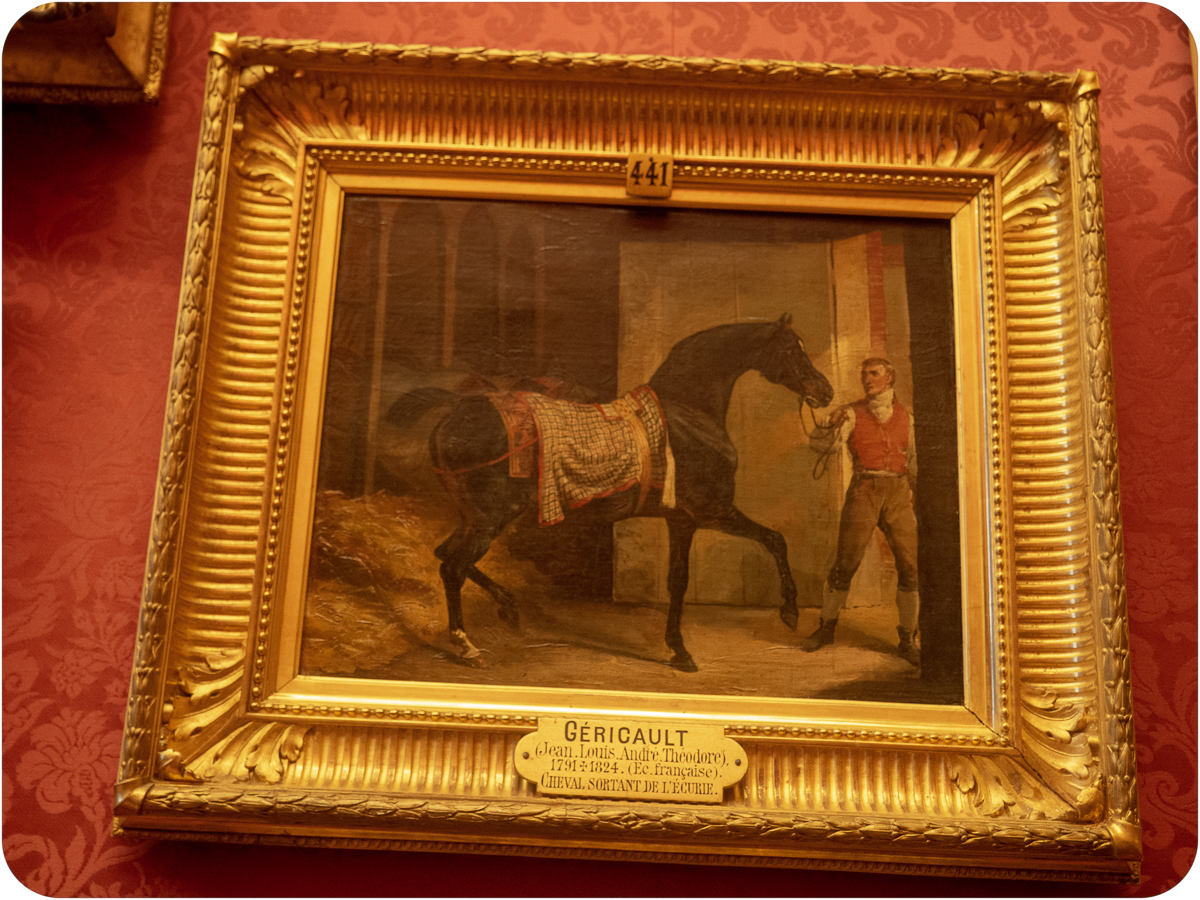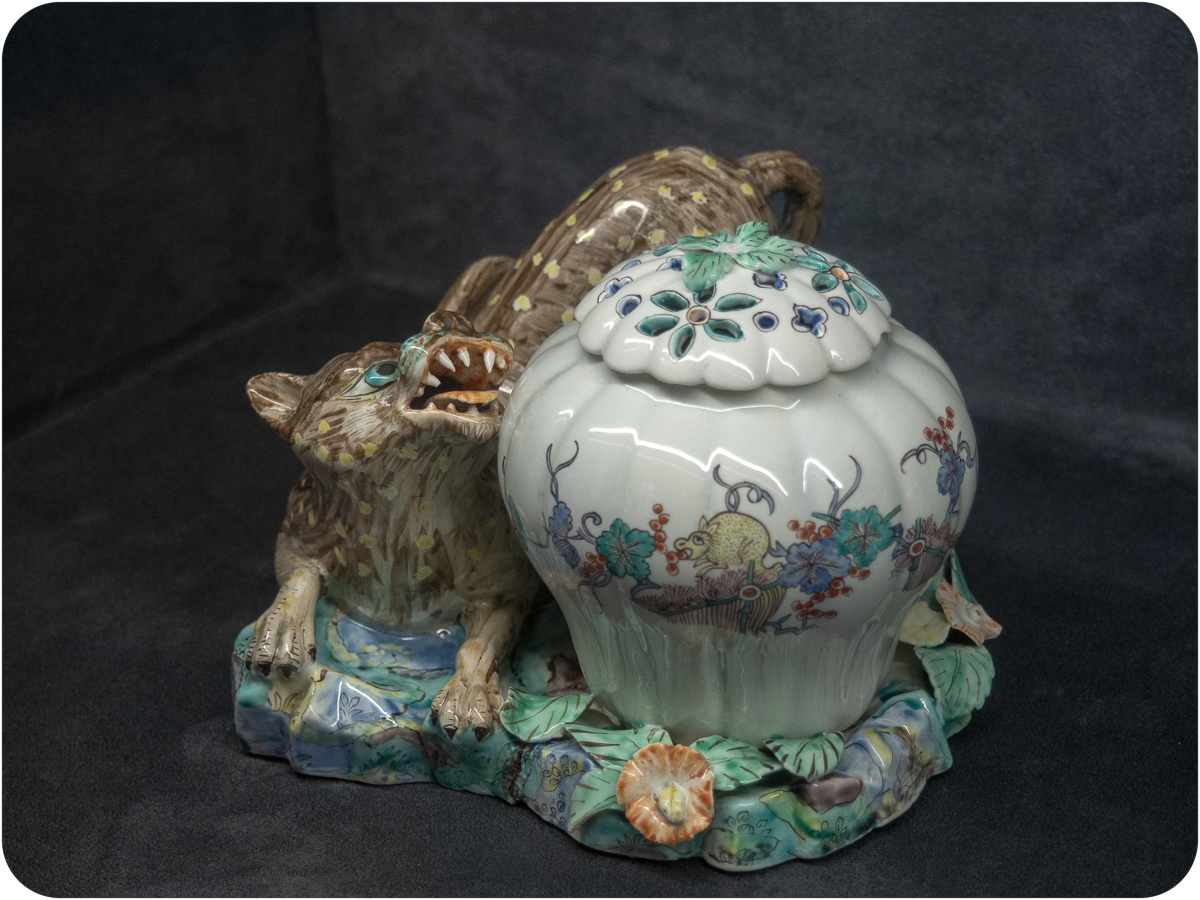 Pottery produced in Chantilly featuring an animal that I'm certain everyone recognizes and immediately pictures whenever someone occasions to say something is "leopard print".  Long scaly fingers tipped with claws, jagged tusks for teeth, wide human eyes and that unmistakable polka dot coat: that's a leopard, all right.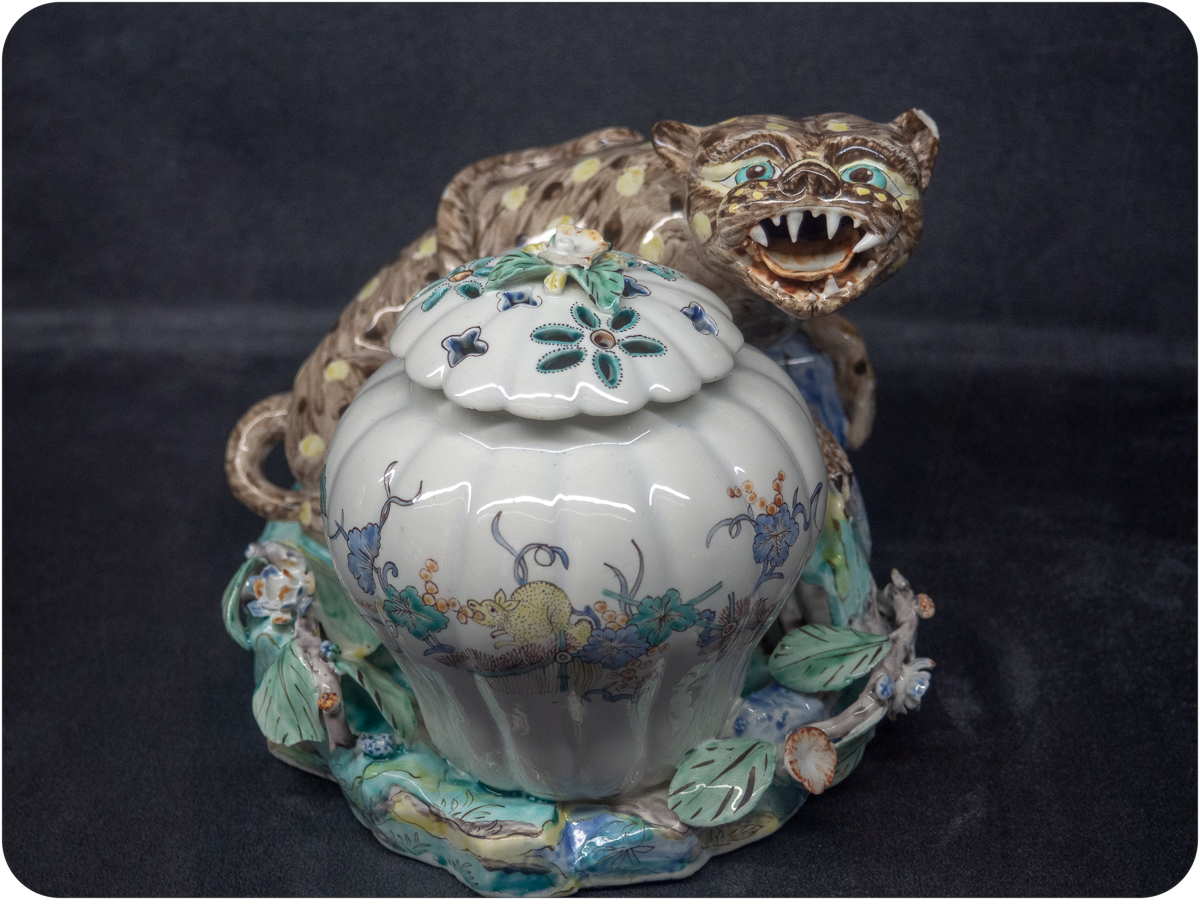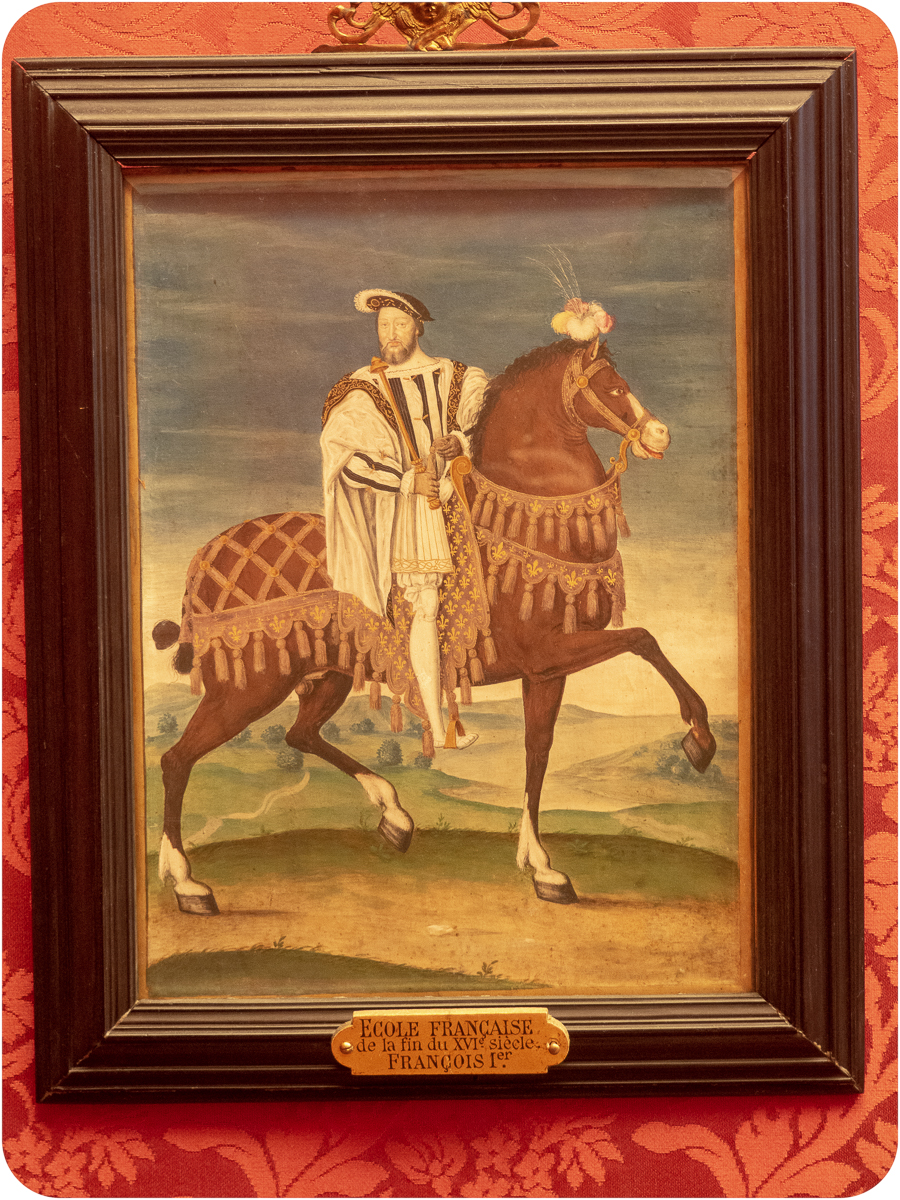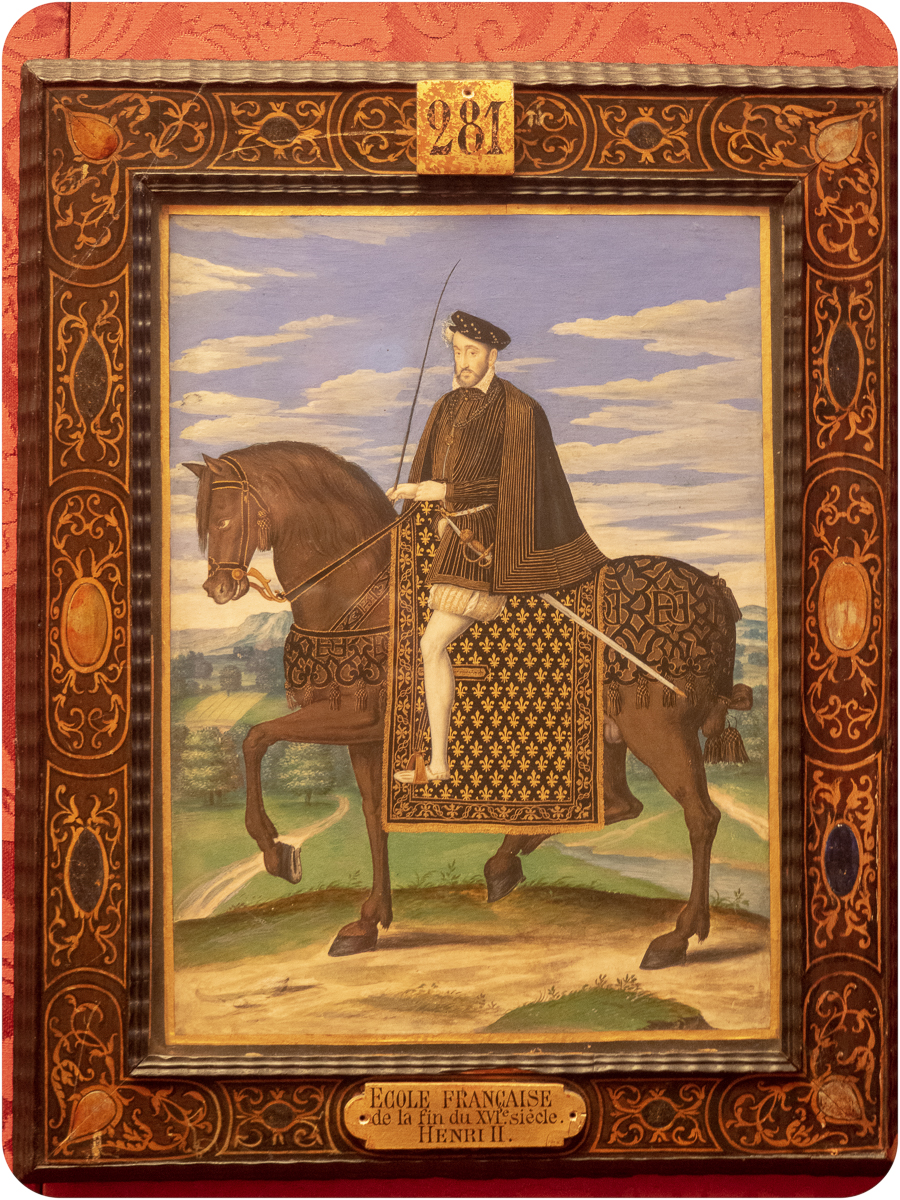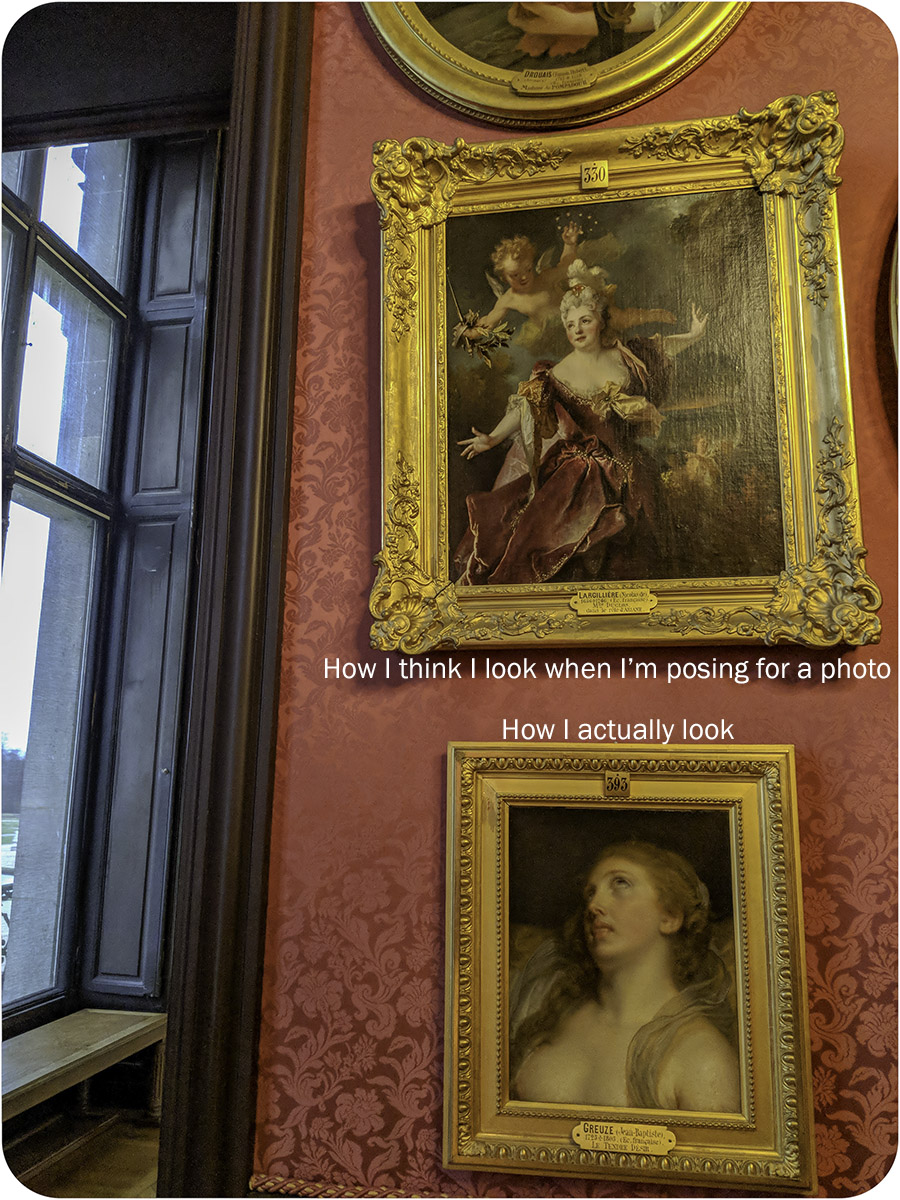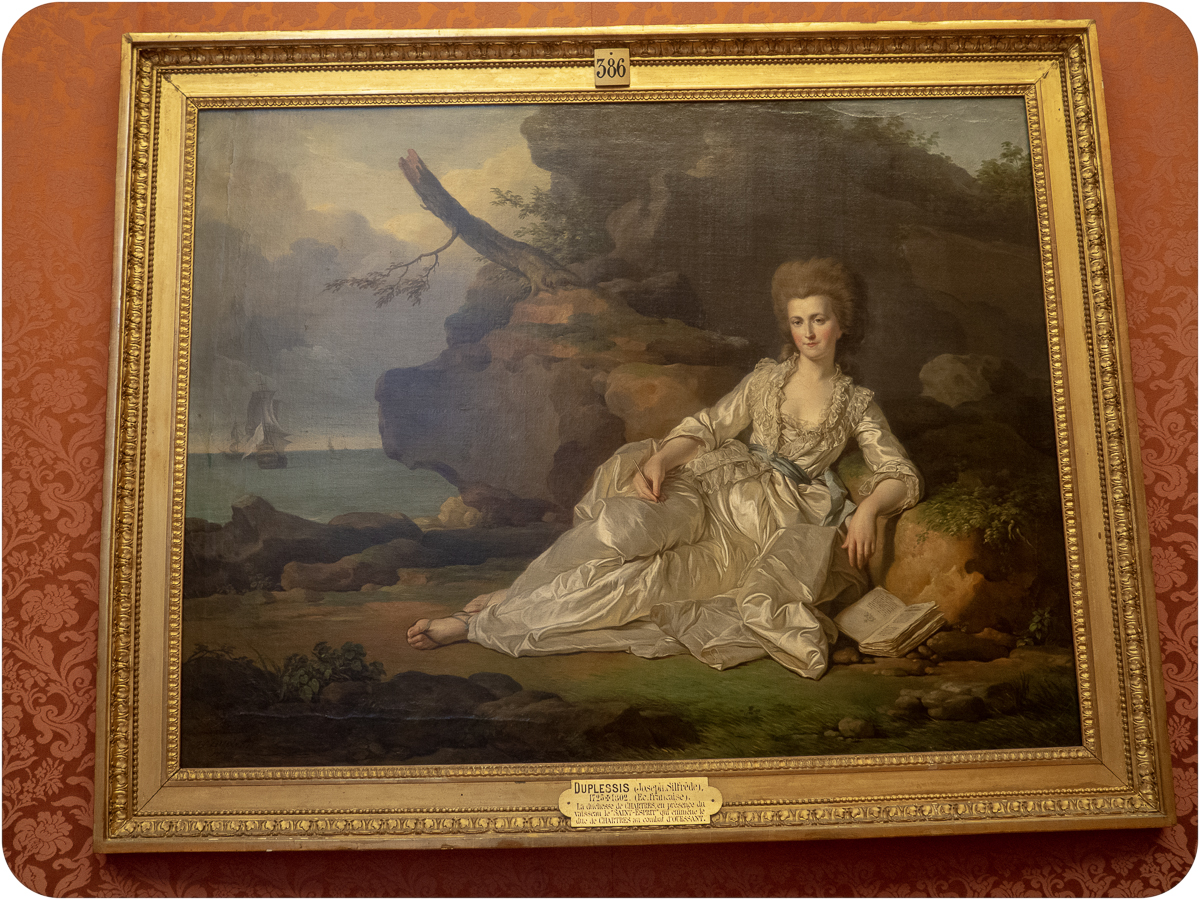 Life goals.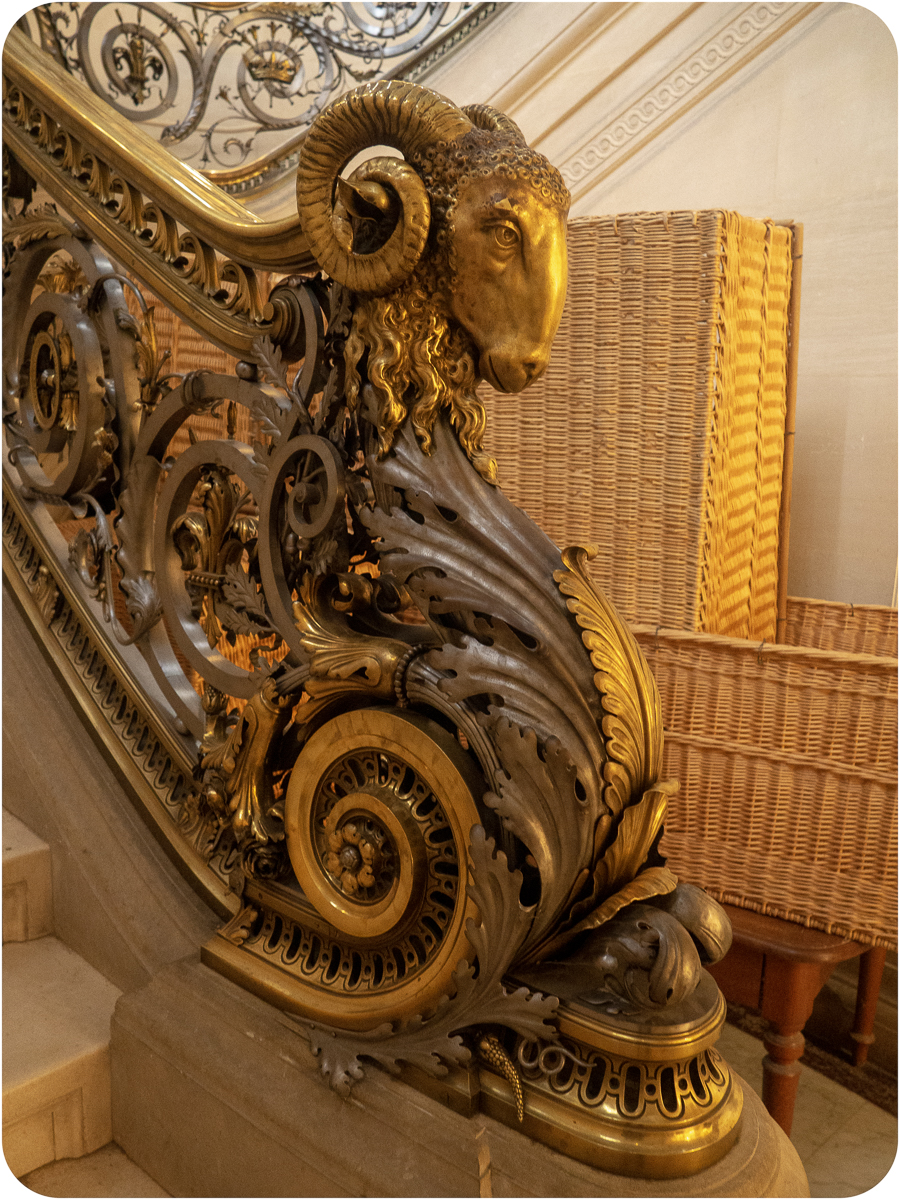 THIS STAIRCASE. Look at that curving, swirling gorgeousness. No one is allowed to touch it but my desire to touch it was so high. Check that little lizard tail poking out! This staircase is so fabulous that everyone who gazes upon it walks with an extra sway in their step for the next fifty yards.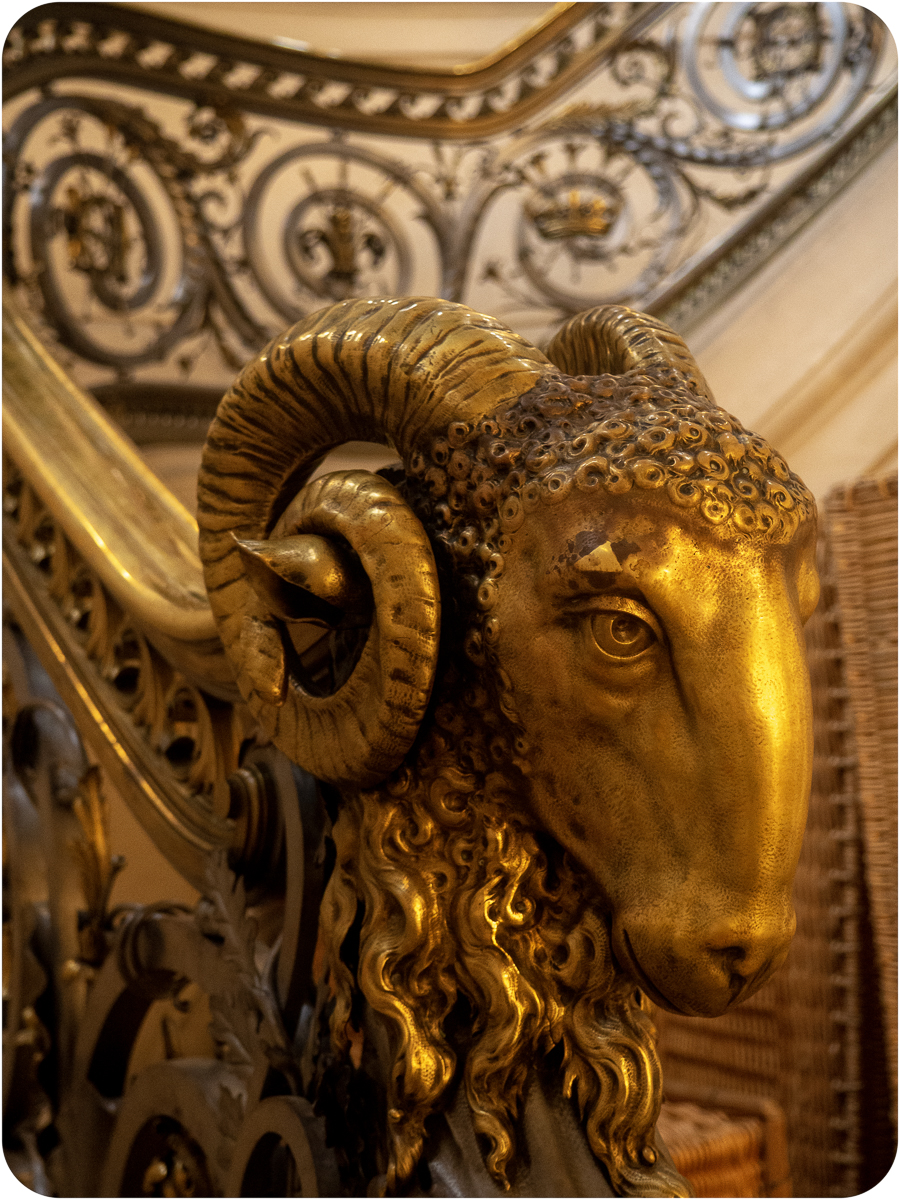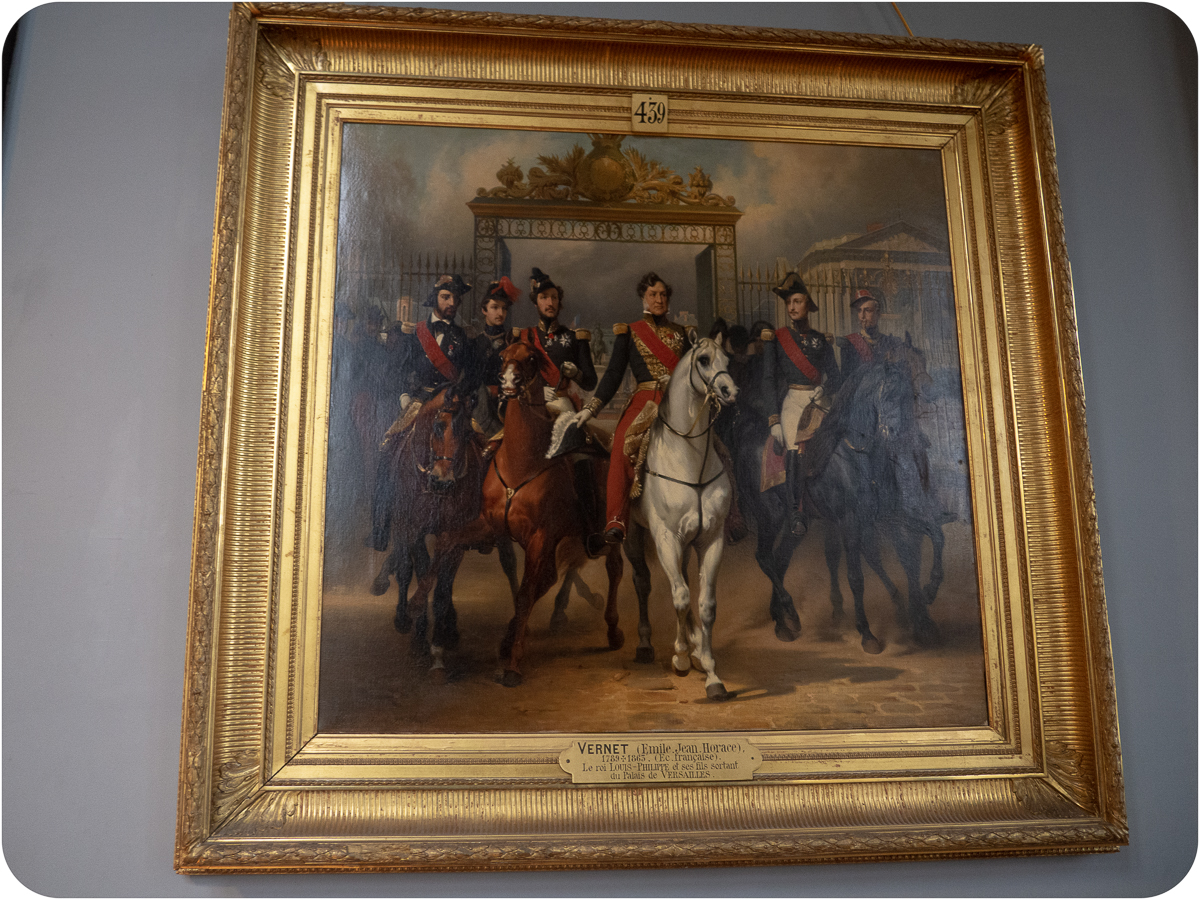 The Palace of Versailles used this painting by Vernet of King Louis-Philippe at Versailles as the cover for their visitor guide for their limited time exhibition on Louis-Phillipe, the king who transformed the palace into a national monument.
Eventually the nonstop squeaking drove us outdoors for another stroll through a portion of the gardens. The sky blustered on and off and a cold wind bit through our jackets so neither of us harbored dreams of walking OR riding the entire estate. We mainly walked around the back of the castle and through one section of the woods, finding a cave that I'm a thousand percent certain is the mossy home of a magical critter that Jason went into and I declined, fearing magical rabies.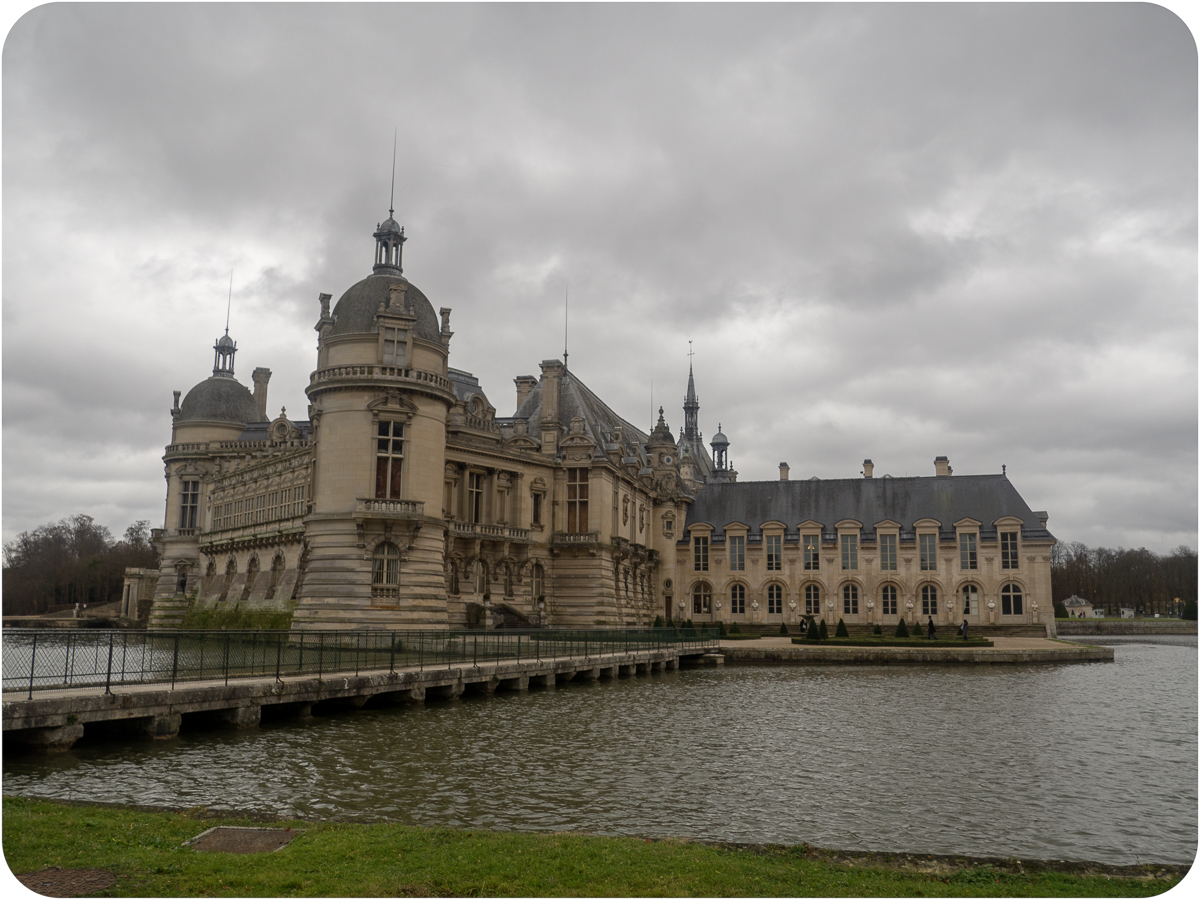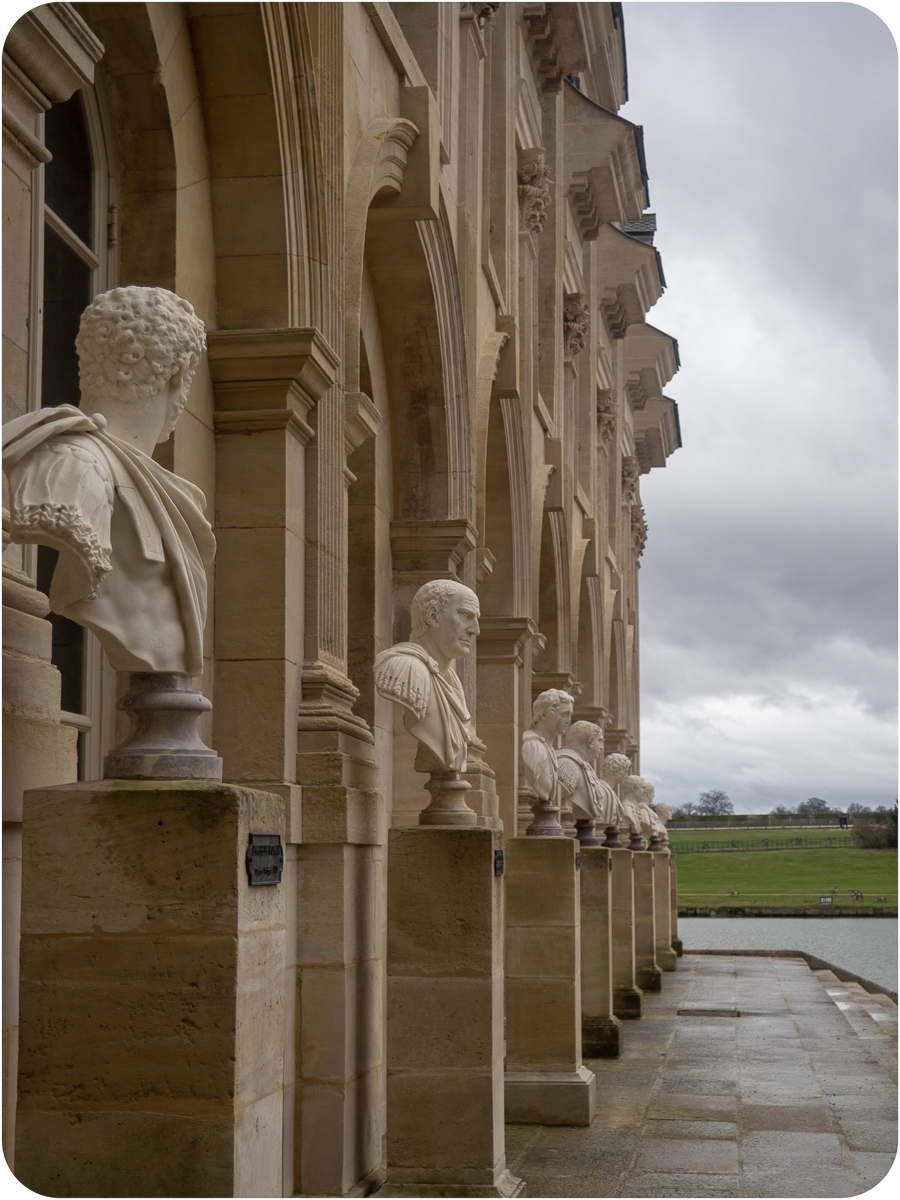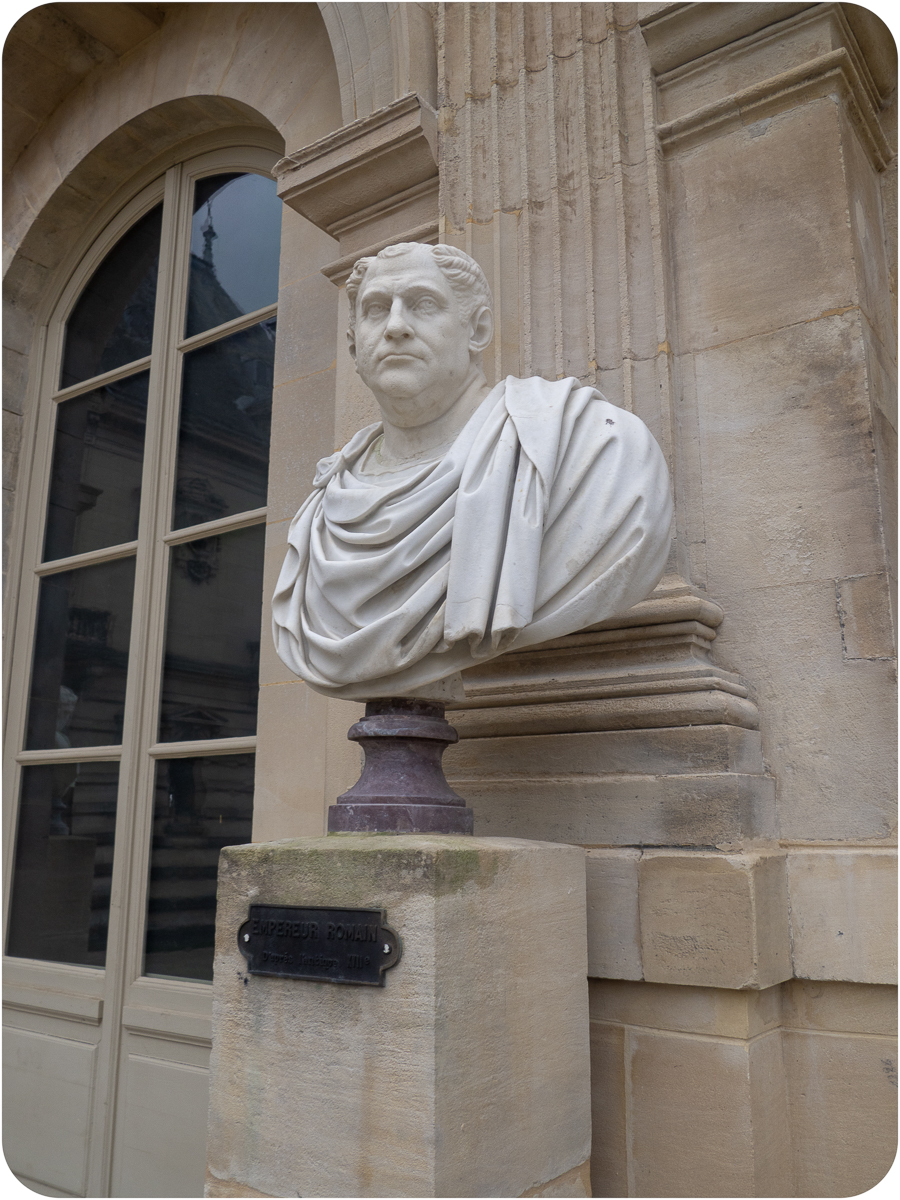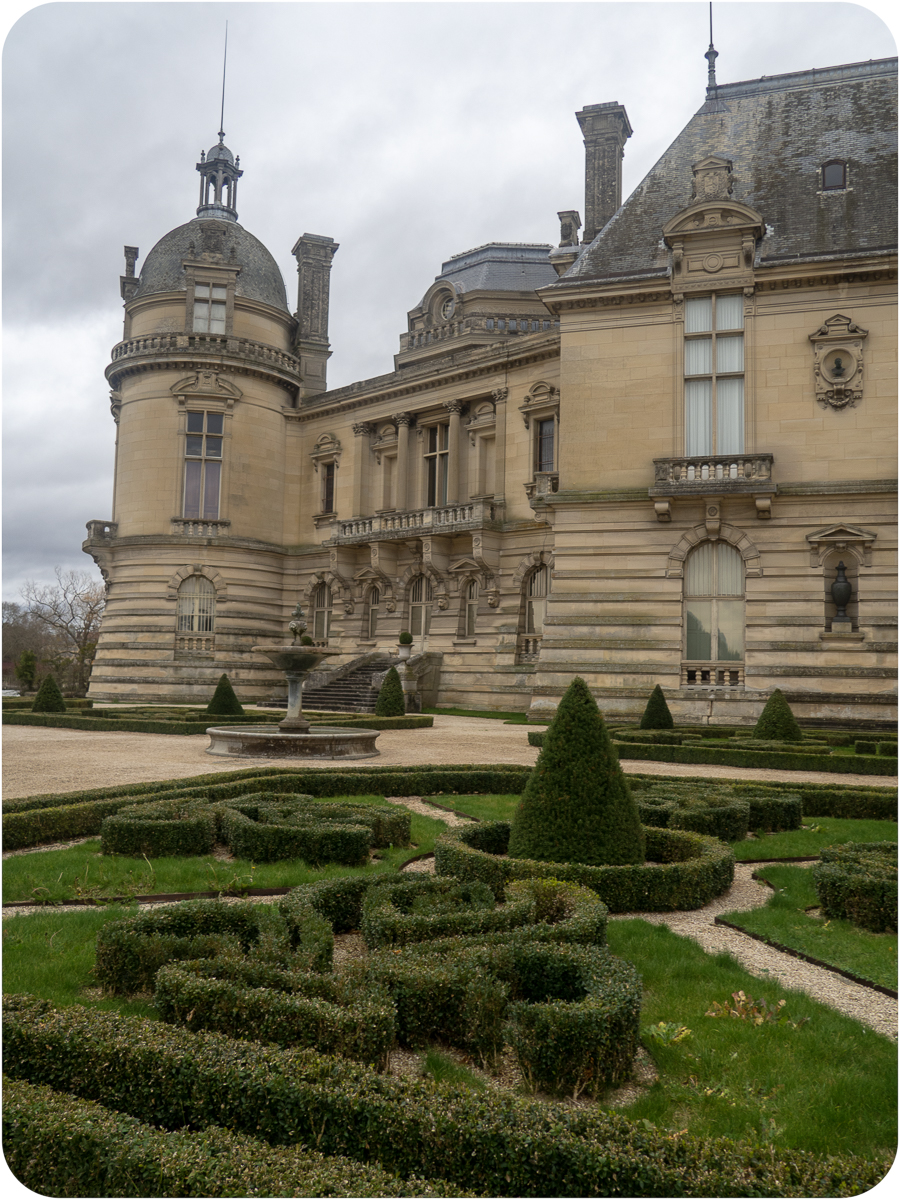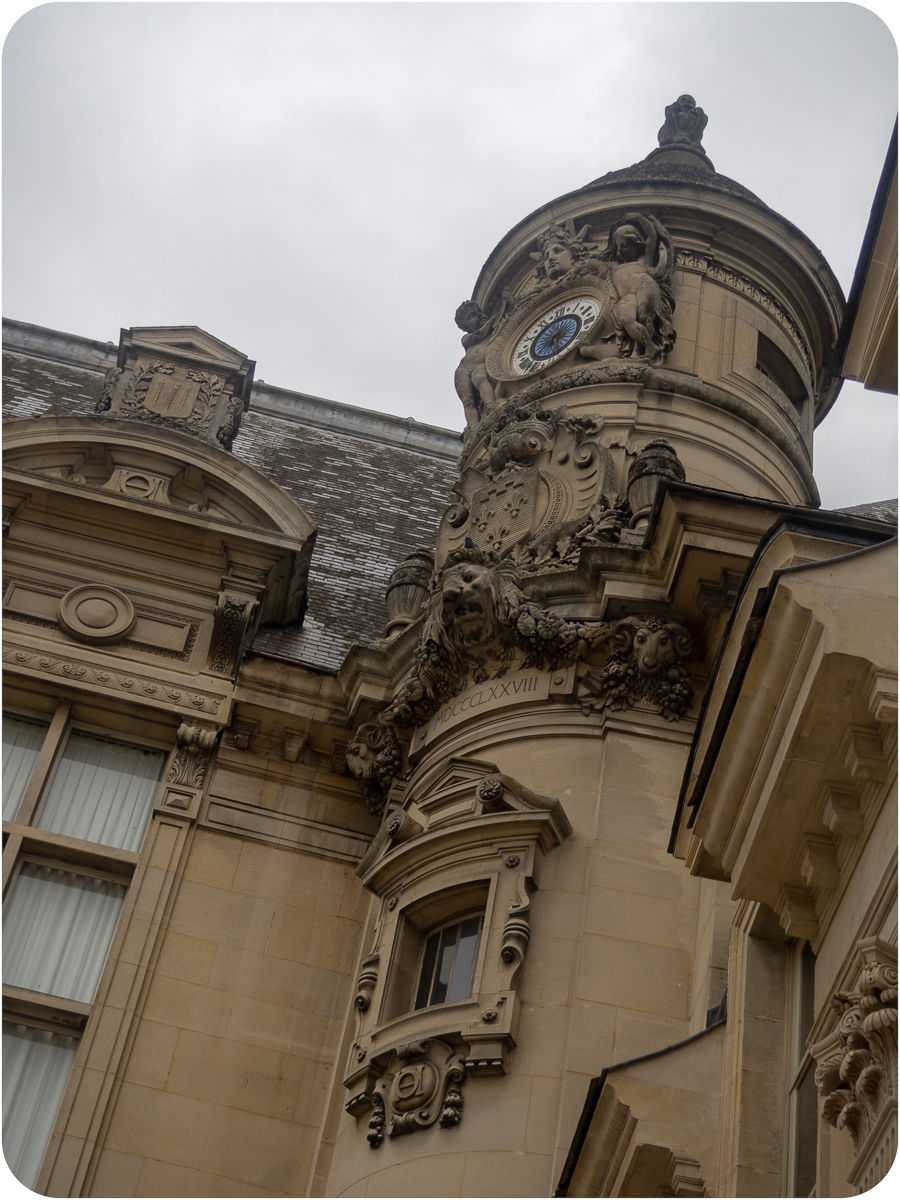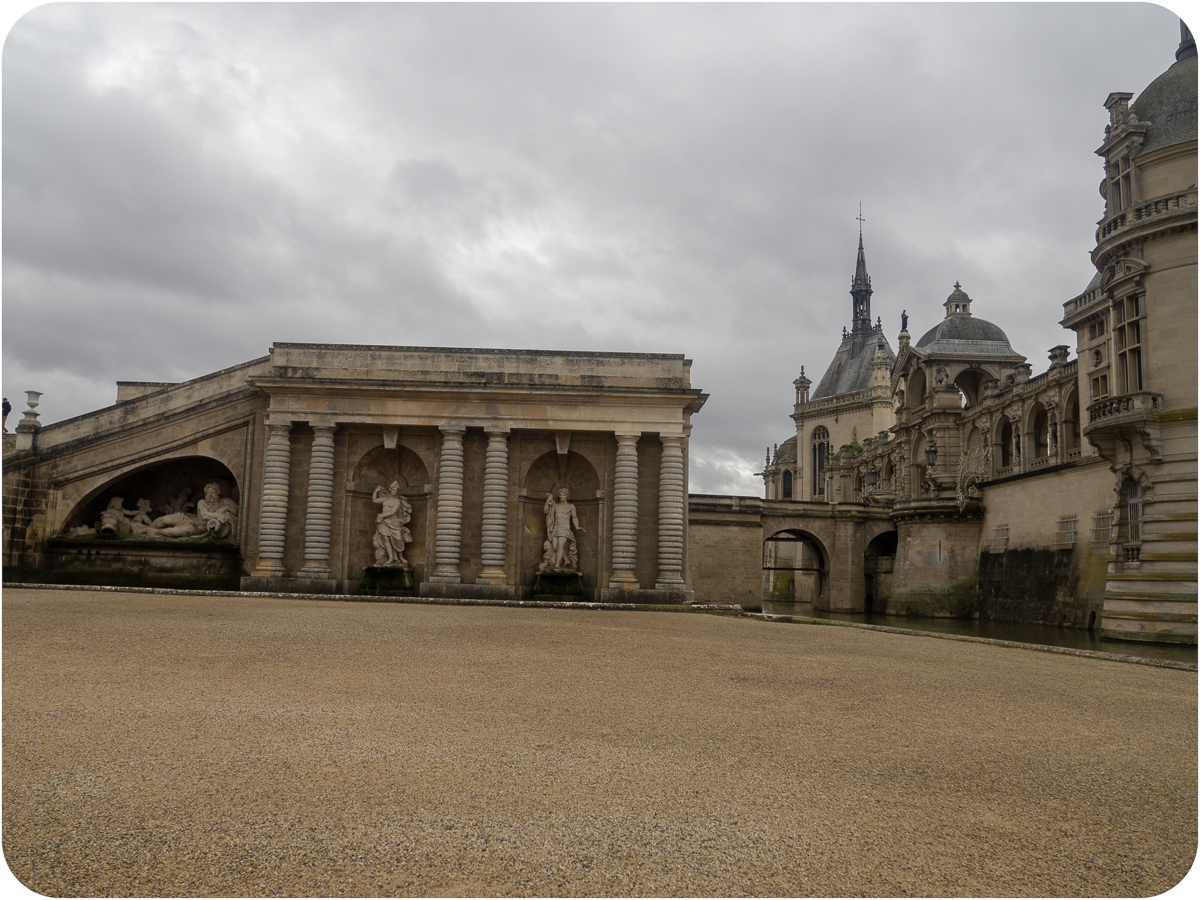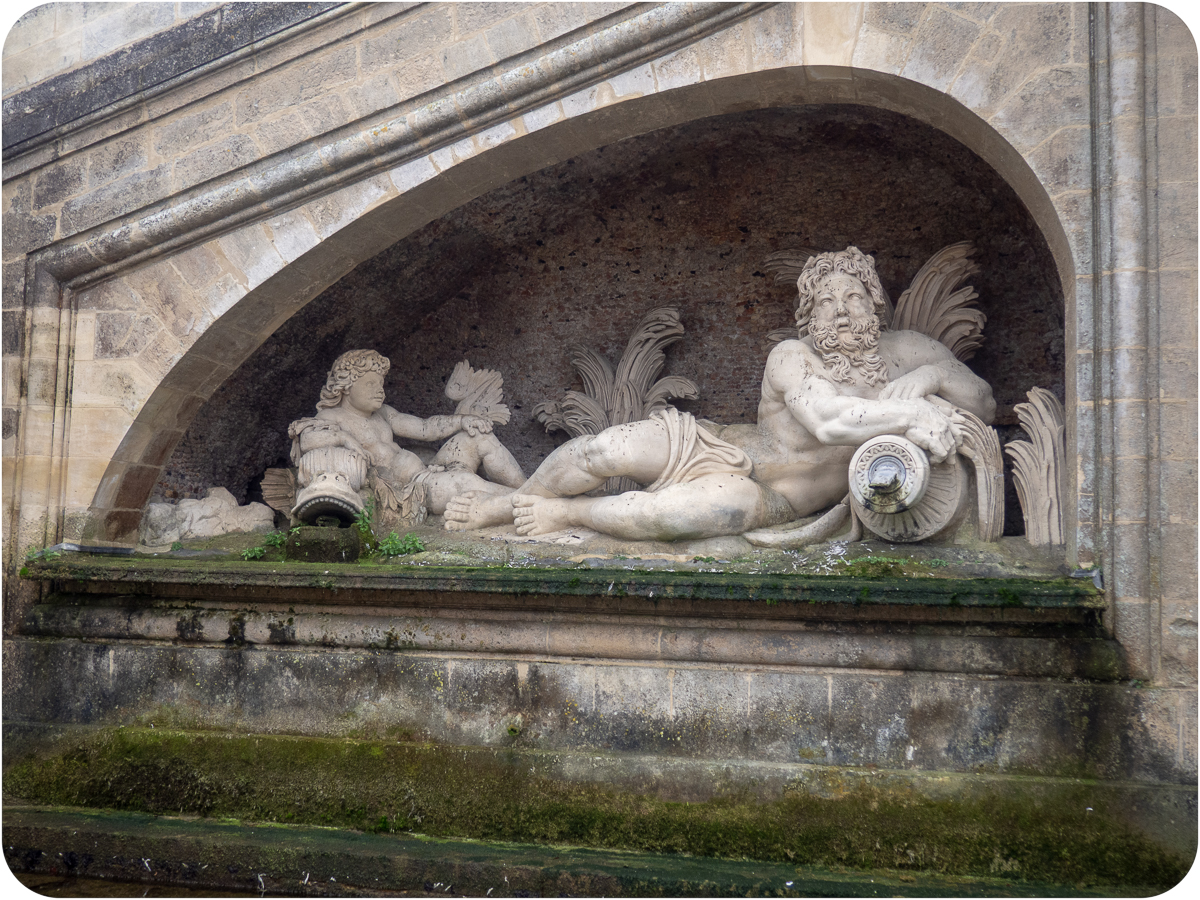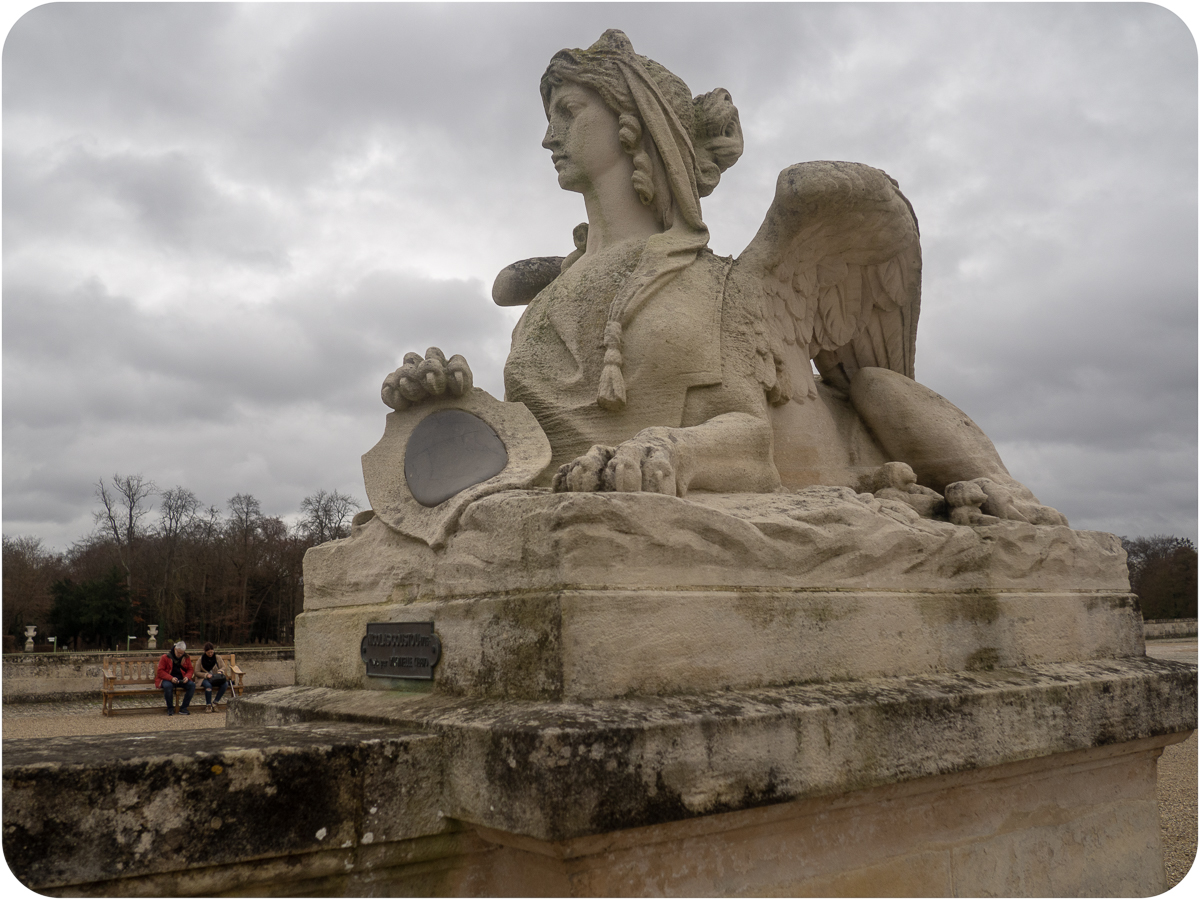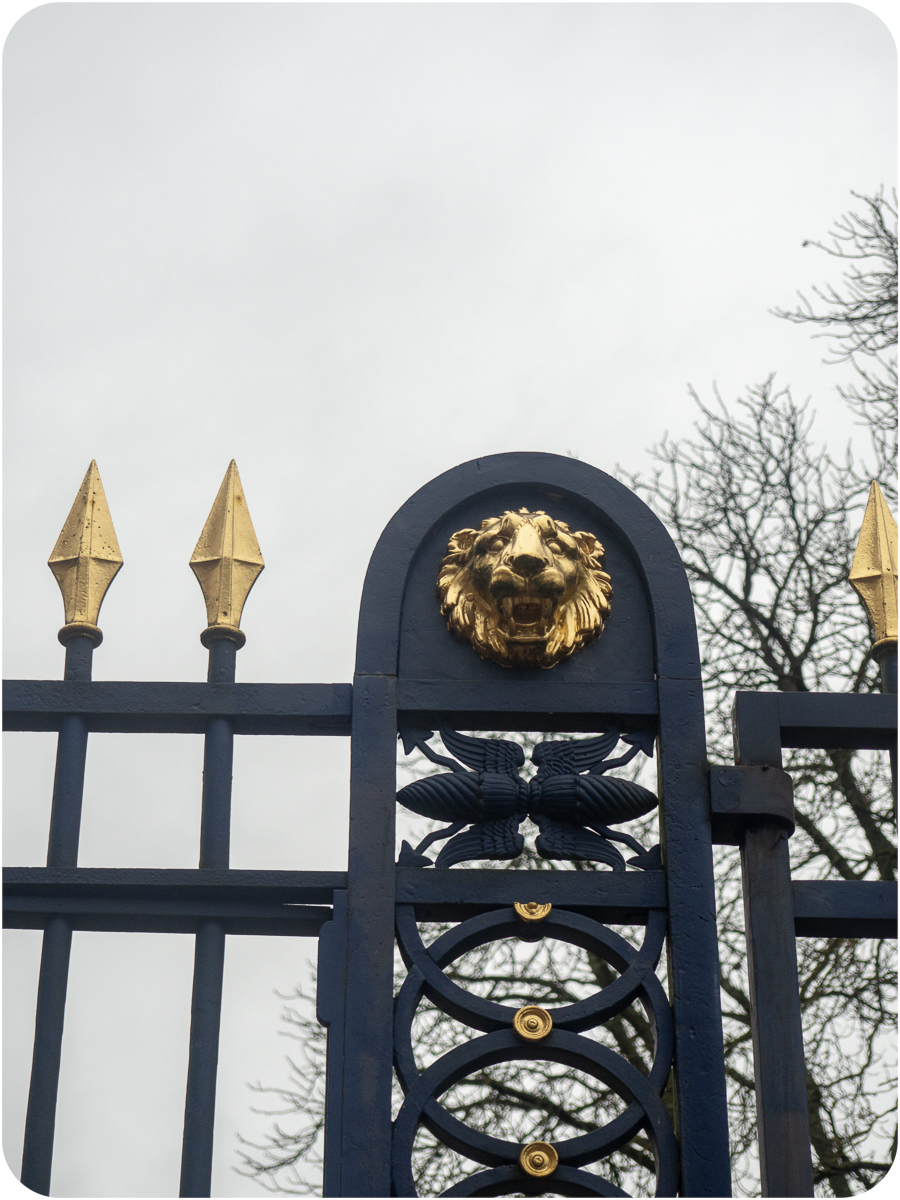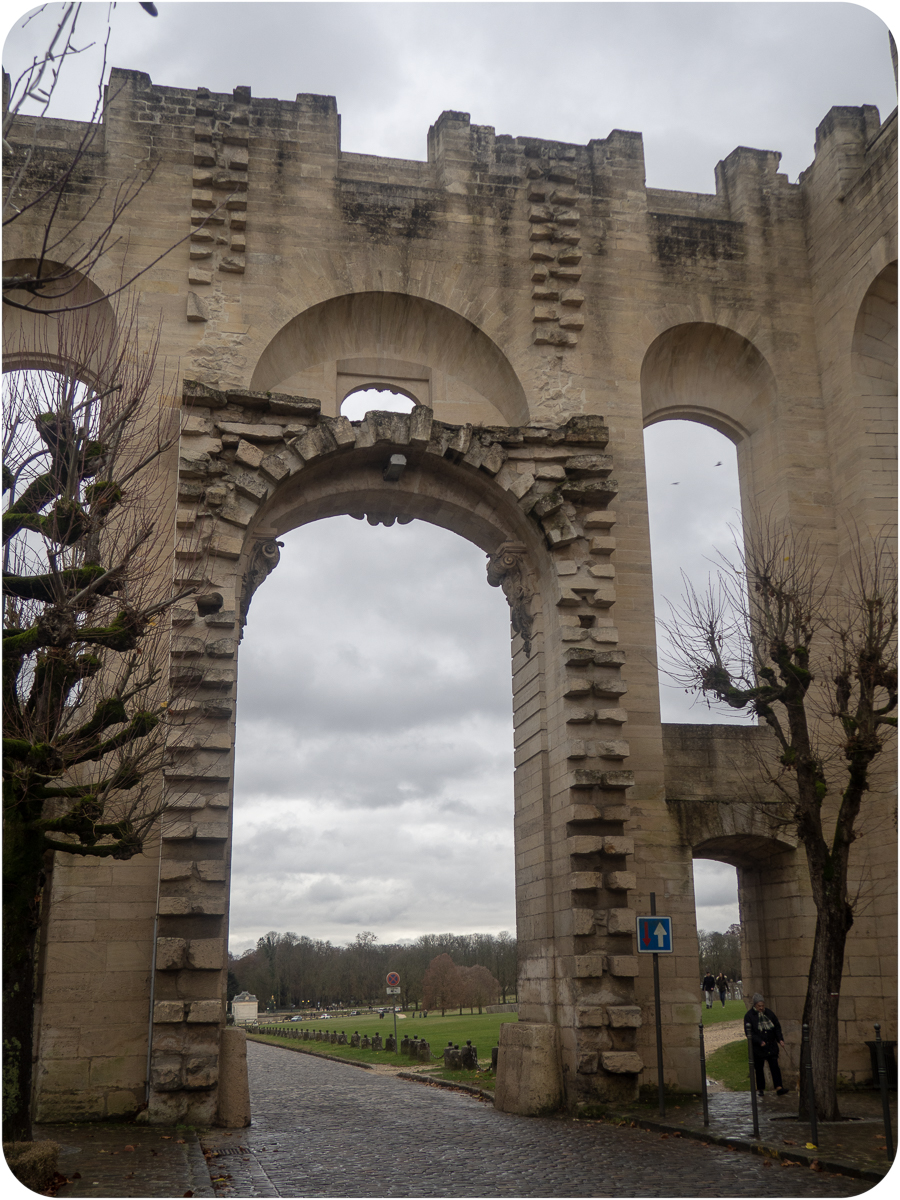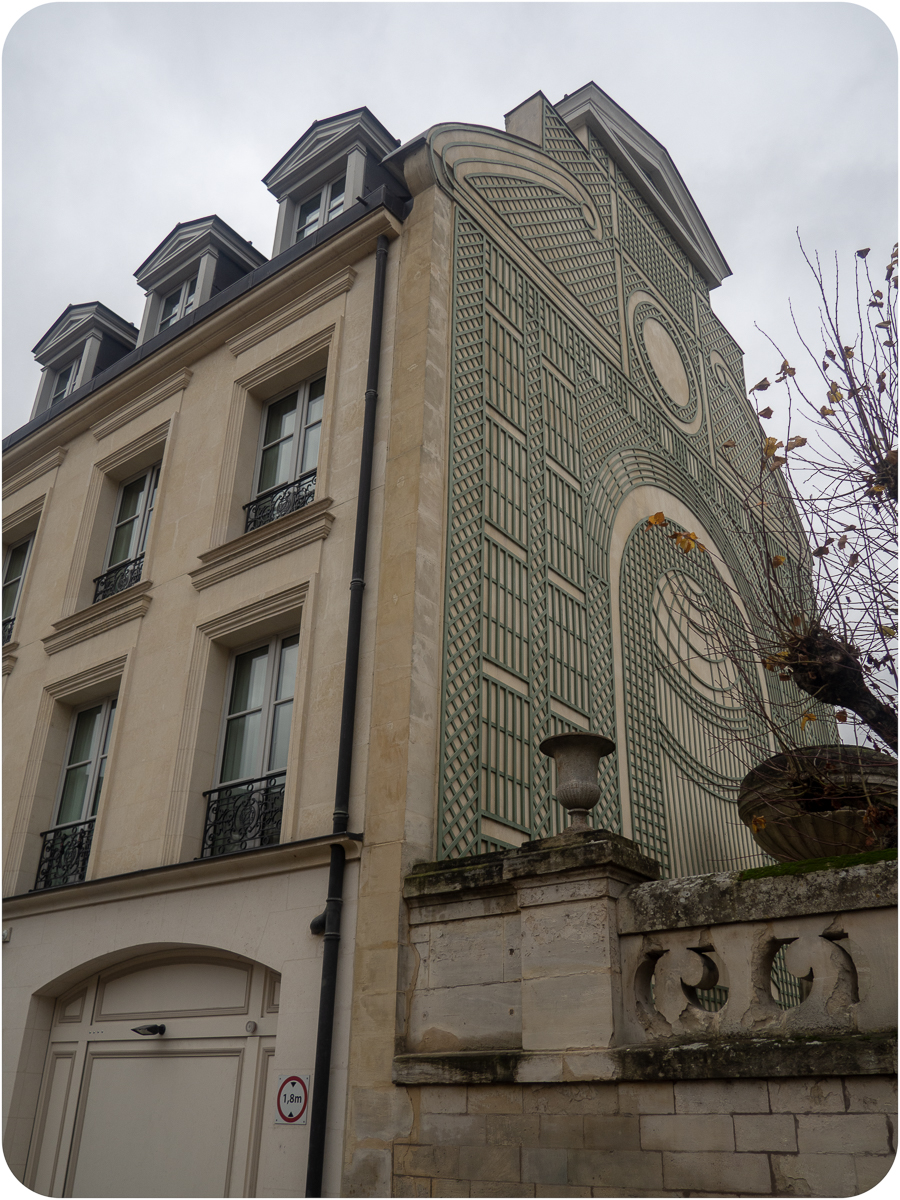 The side of our hotel, the Auberge du Jeu de Paume.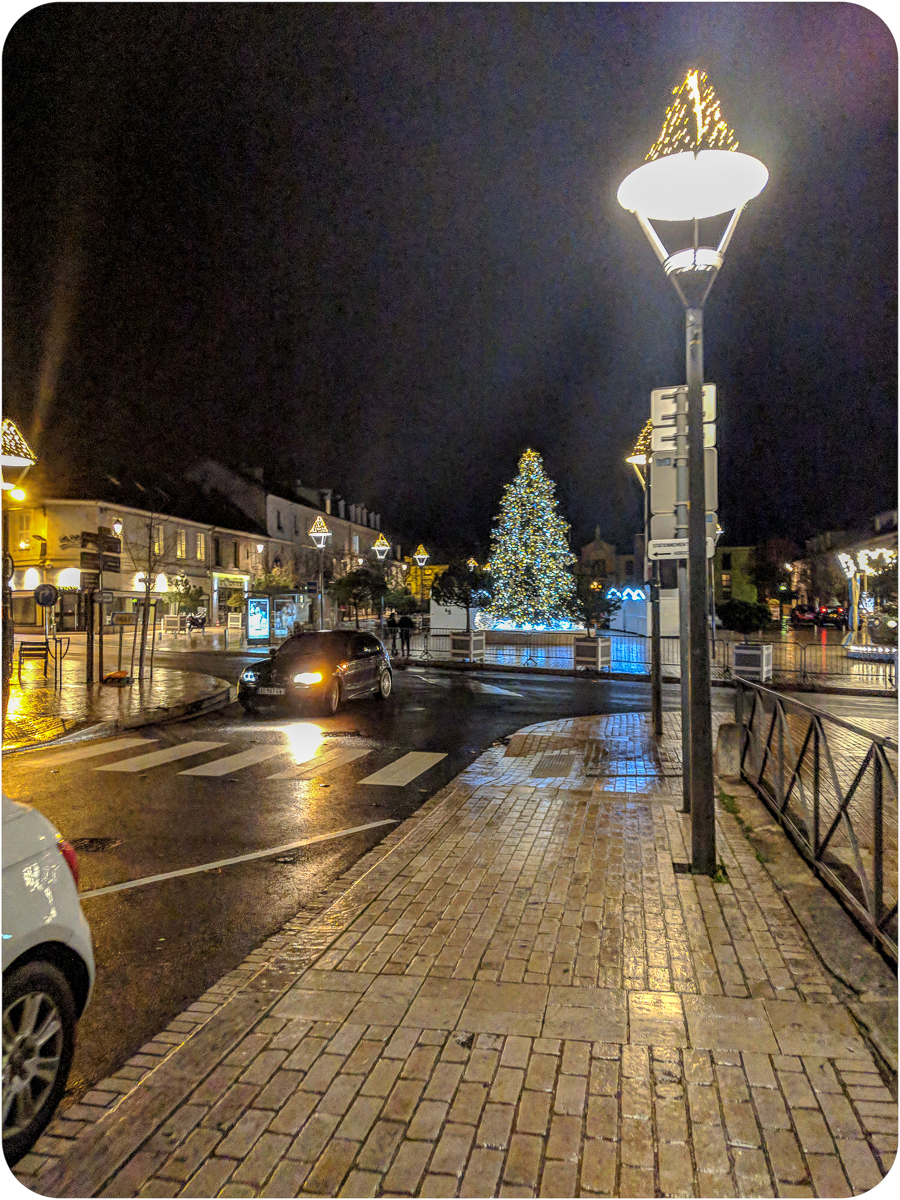 Our time out in the gardens of Chantilly chilled me to the bone, and so we each spent some time luxuriating in a hot bath. I remembered how going out to dinner early in Paris had made us cross paths with closed restaurants and rude waiters, so in Chantilly, we started our search for our first meal of the day a little later, around 7, and that's when I learned that in Chantilly, they roll up the red carpet around 5pm. We bought the dregs of a boulangerie that we caught just before they, too, closed up shop for the day, went back to the hotel room, and ordered five star room service while watching movies on youtube. Their restaurant has a Michelin star, there's a small chance that room service comes out of the same kitchen. It may not have been fine dining, but it was delicious and would've been so even if we both weren't ravenous.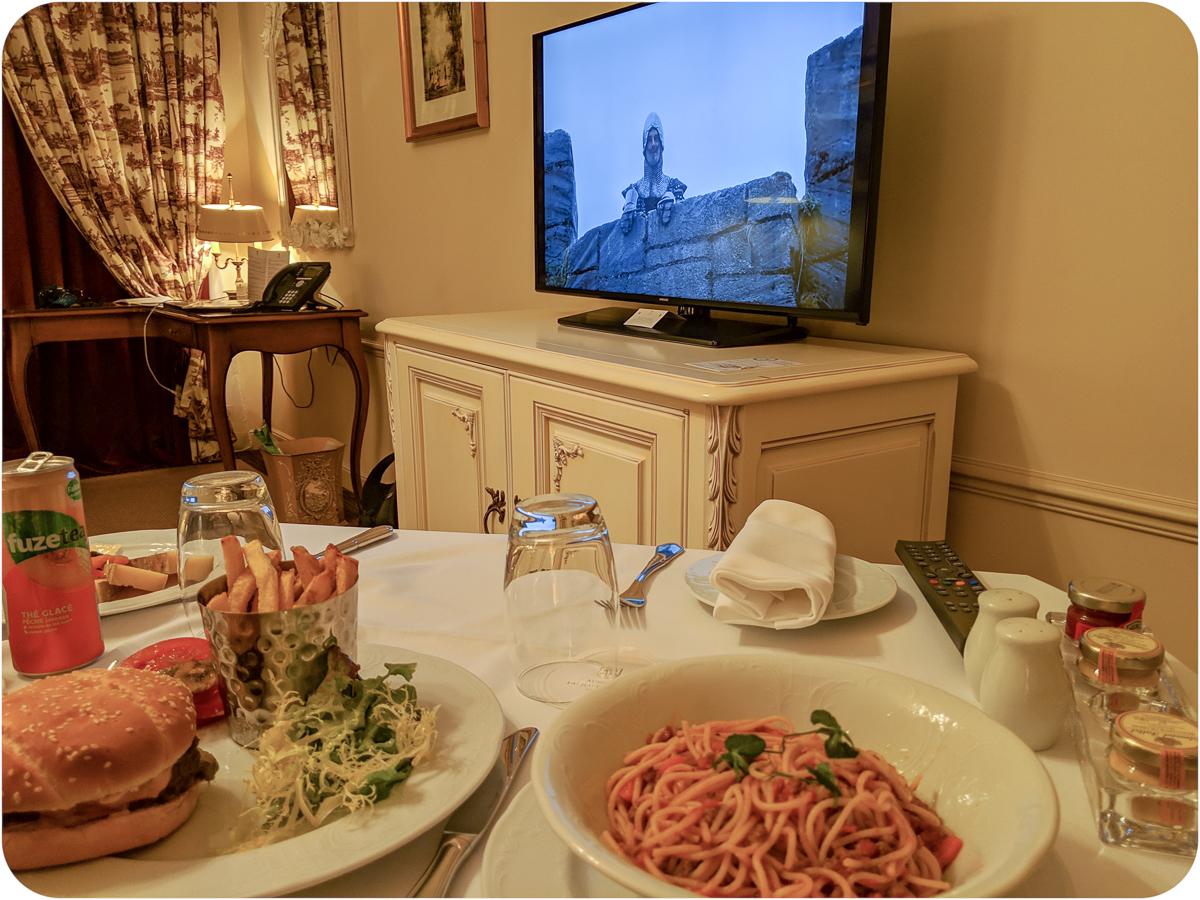 I am beyond glad that the room service did not arrive during the "outrageous French accent" scene.
When we checked in, the clerk emphasized that we could have breakfast served in our room or we could have it at their restaurant. The website even says that breakfast is served in the room so that you can enjoy the view from the window "immediately upon waking". "What a lovely amenity to offer," I thought. "And they're so proud of their high level of service that they want to make certain everyone partakes of the most important meal of the day." Since we had a train to catch back to Paris, I chose to eat in the restaurant, not taking much but delighted by the selection of beautiful French pastries, eggs made to order, rows of cups of vanilla infused creme Chantilly. 
And then I got my bill printout and saw that breakfast was an extra 35 euros apiece and I wished that I had stuffed my backpack full of chocolate croissants instead of just eating one and drinking a cup of tea like a sucker.
The next few days would be Paris alone, and while I would miss this swanky hotel and its flattering mirrors, I was glad to be going to a home base of sorts. I didn't need to worry about which train seats corresponded with my fare on my ride back to Paris: the train was so full everyone's seat was "face in stranger's armpit". A human scent-ipede.