In late September, I knew my time with Napoleon was coming to an end. His dementia was starting to take a toll–he was withdrawing from us, he lost interest in toys and playtime, he would get lost in the house, he would pace the hall at night. It was hard to watch him slipping away from us, and after a lot of talking and crying, we made the decision to euthanize him at home before things progressed to the point where he was having more bad days than good. It was a hard choice, and I questioned my decision nigh-relentlessly. 
But before that, we decided to take him on a weekend trip. He was in heaven the last time we took him to the ocean, so we decided to go to the beach, so we could walk him out on the sand as much as he wanted to.
We stayed at the Hallmark Resort Cannon Beach, because I had a wonderful experience with them last year in Newport, and remembered that they had this second location and were dog-friendly.  We arrived late in the evening on Friday, and this was waiting on check-in: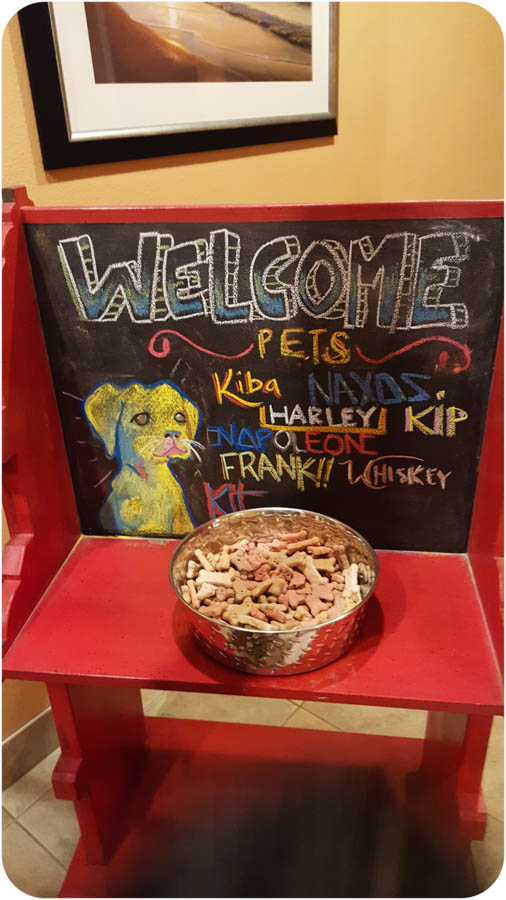 Awwwwww!
Napoleon was a bit agitated that night–it could be that it was an unfamiliar place, it could be the dementia, but I'm pretty sure it was that he knew we were at the flippin' ocean and hadn't gone out to it yet, gigantic staircase and pitch darkness be damned. So we were up at the crack of dawn for our first beach walk.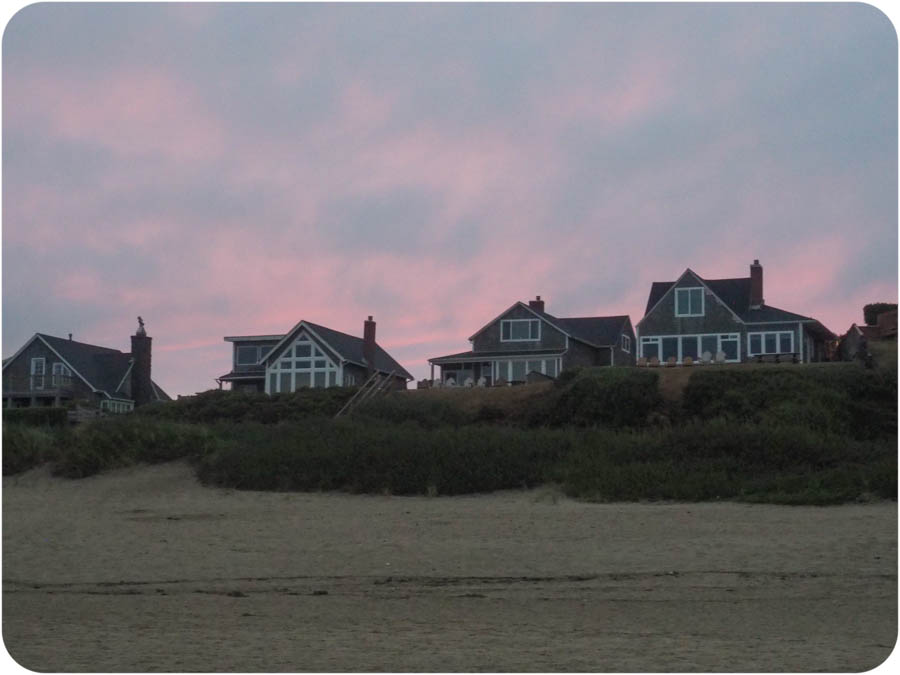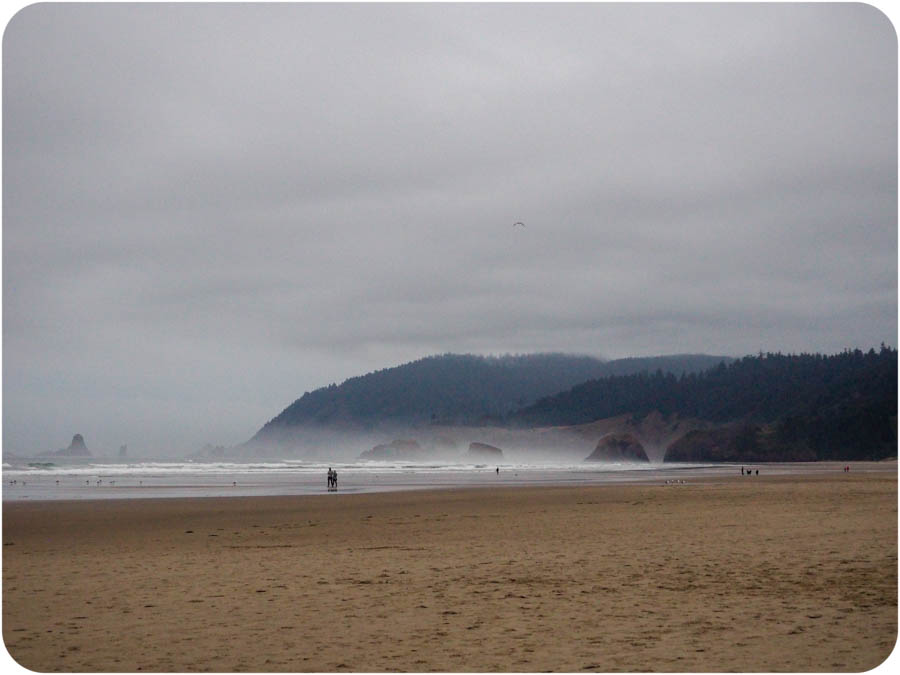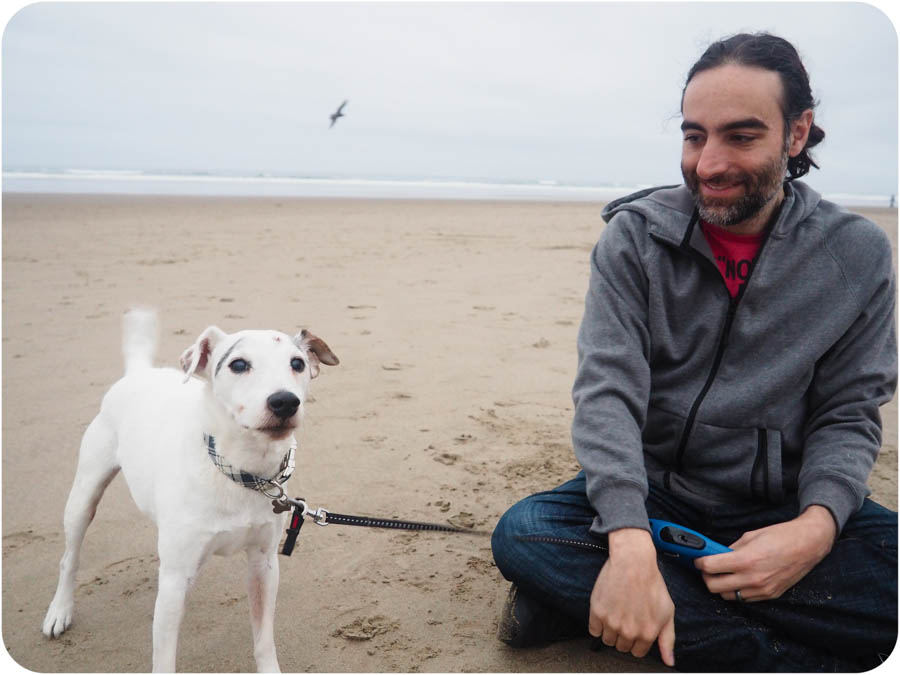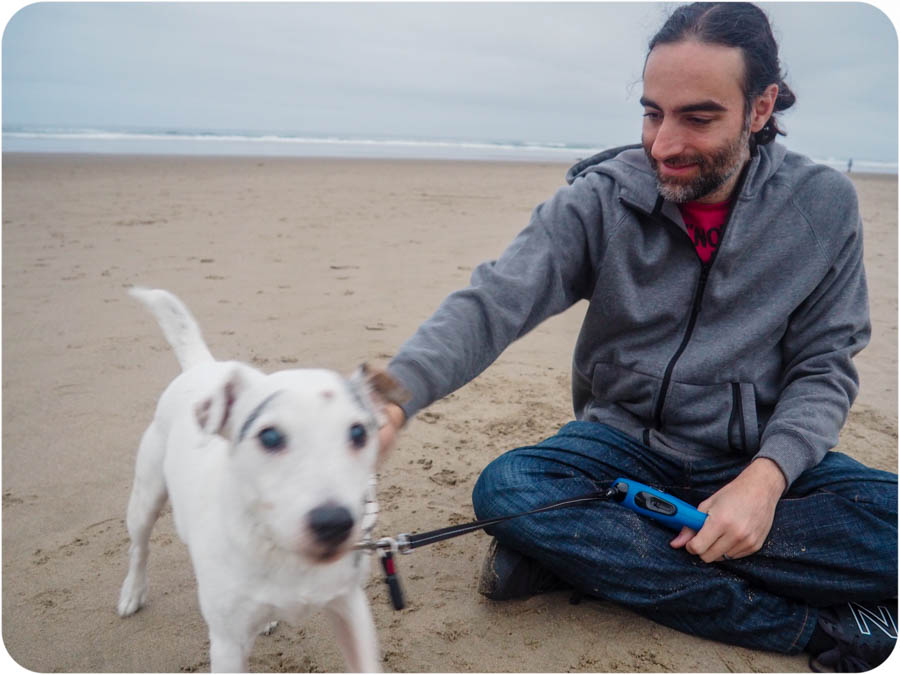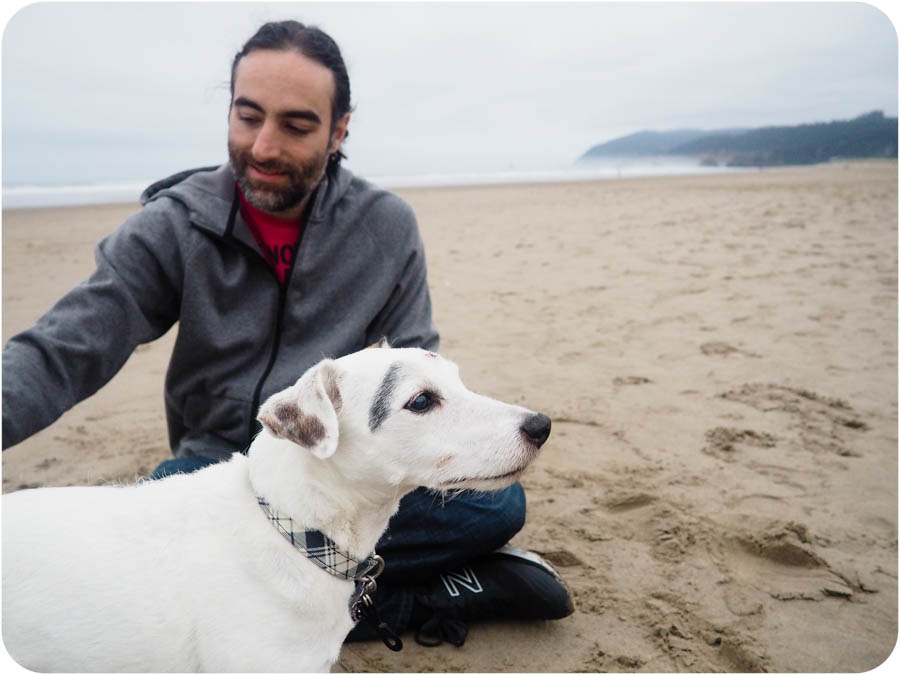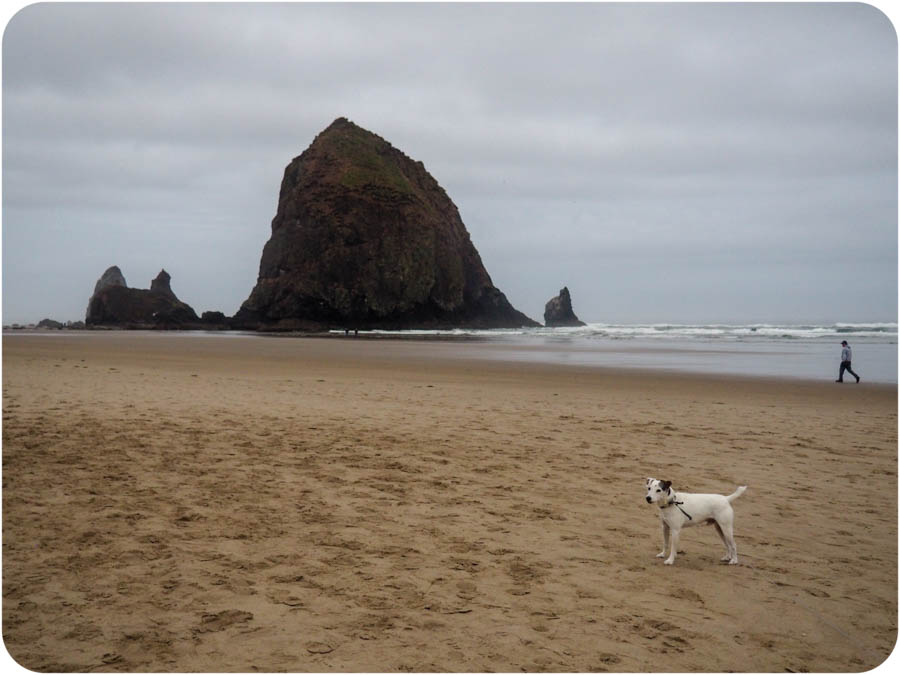 We rushed down the stairs and finally, finally, we were at the beach. Which we immediately charged across to solve The Problem Of A Rock With A Moat Around It, at least until we got distracted by a bird.
I don't believe I was aware that Jason was recording this but now I'm glad he did.
Damn, I love the Oregon coast. 
After we tuckered Napodog out with a morning walk after his all nighter ocean anticipatory vigil, we packed him in the car and headed to Tillamook for a grilled cheese and some ice cream, some of which we shared with the pup and some which we did not, because the goal was to give him an exciting, happy experience, not churn his guts like so much rich creamery butter. He had many admirers on the Tillamook patio seating area, which helped to assuage his sense of hurt justice that somehow his cute face did not warrant an entire grilled cheese sandwich plus everyone else's sandwiches as well.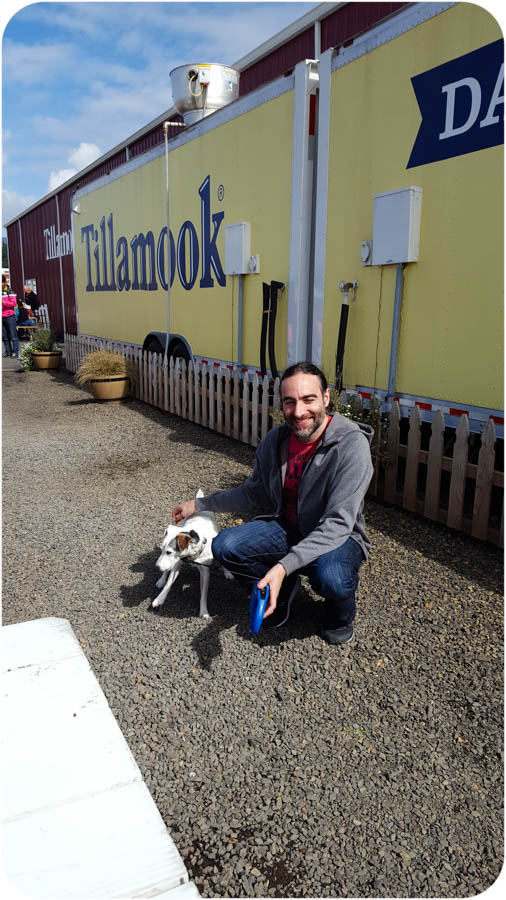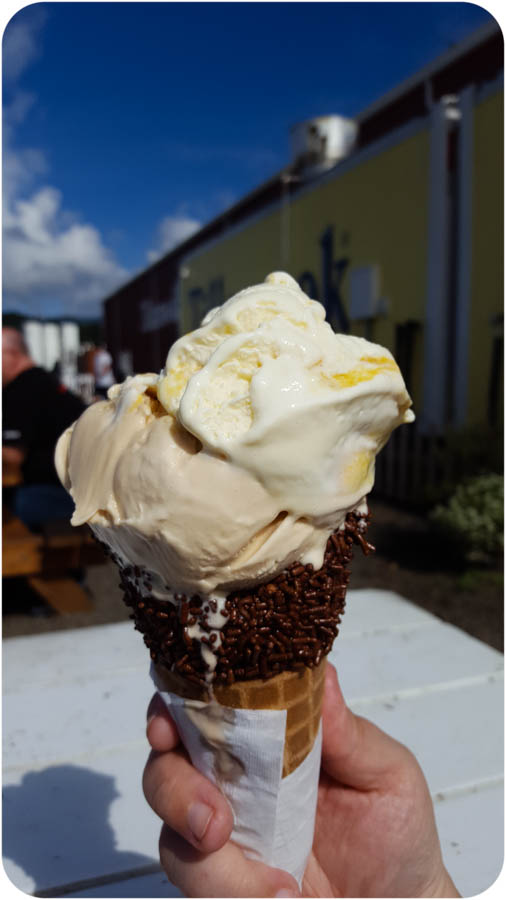 After filling ourselves full-to-bursting, we headed back in the direction of our hotel on a different route, one that went through Rockaway Beach. I remembered from on our previous trip up 101, we were going to route through Rockaway Beach and stop at Pronto Pup, purportedly the inventors of the corn dog. That trip, however, we rerouted to save time after Tillamook since driving on the coast loses its appeal at night, and thus never made it to that stretch of road. This time we were gonna stop, no matter how full. Jason and I rode their mechanical corn dog, and then sat out in the sunshine with our dog, waiting for our other dog to be ready.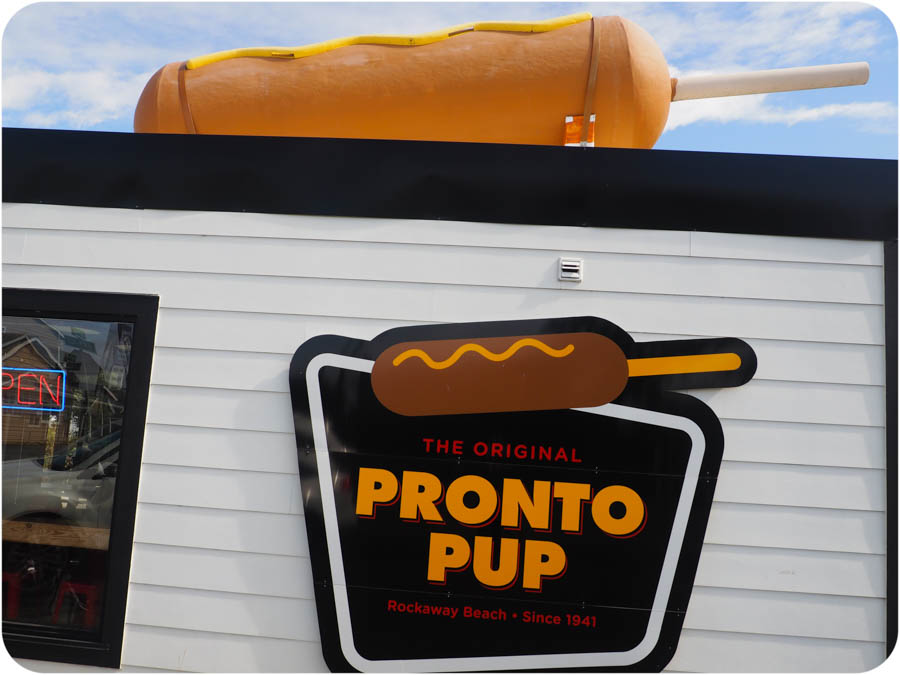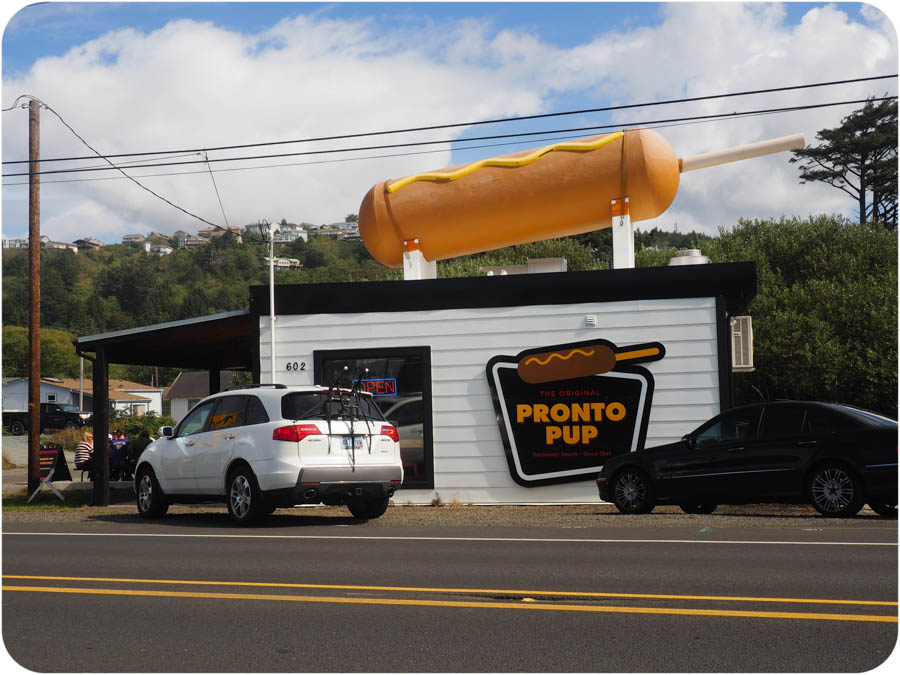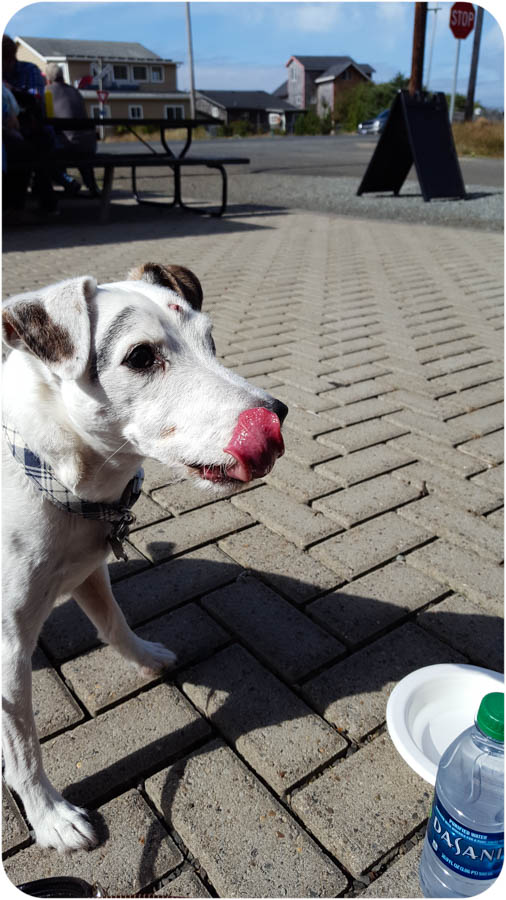 The corn dog was excellent, and I have no problem crowning it as the best corn dog I have ever eaten, and I have eaten many an encased meat that has been battered and then deep fried. Still groaning from too much ice cream, however, a bite was all I tried. Napoleon had no such issues and also found it to be an excellent corn dog, though I'm not personally certain of his ranking system since I once saw this dog poop out an unused tampon and furthermore once engaged in a week long battle to acquire a corn cob he'd stolen from the trash and ate and threw up repeatedly, immediately eating it to begin the cycle again. "Leap towards the vomit with your bare hands" is probably not going to be the party game sensation of 2018, or ever.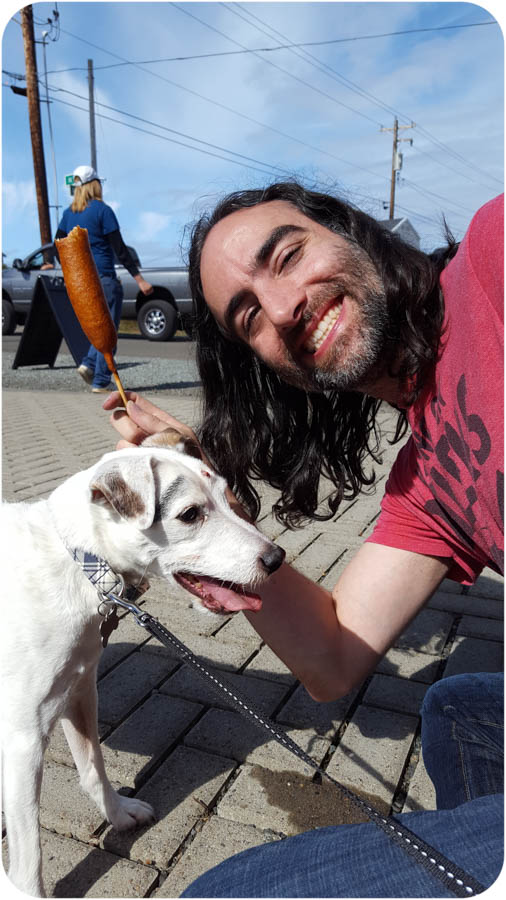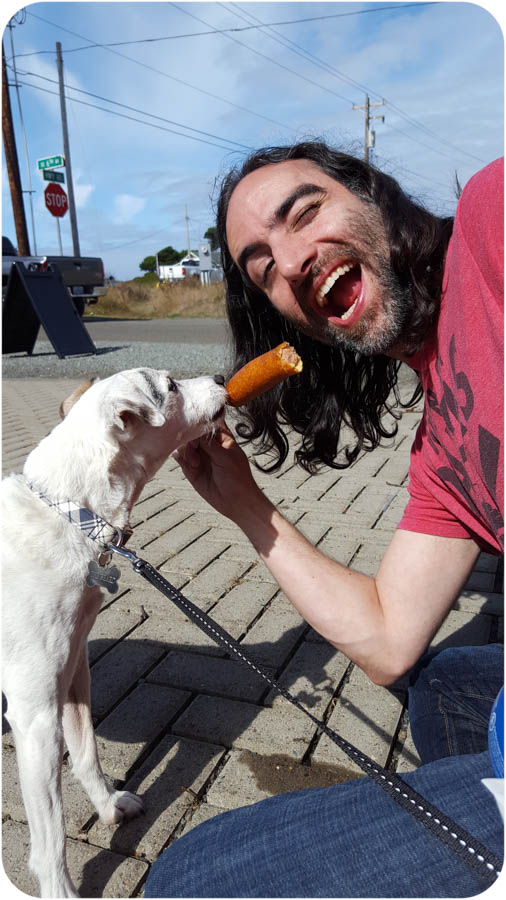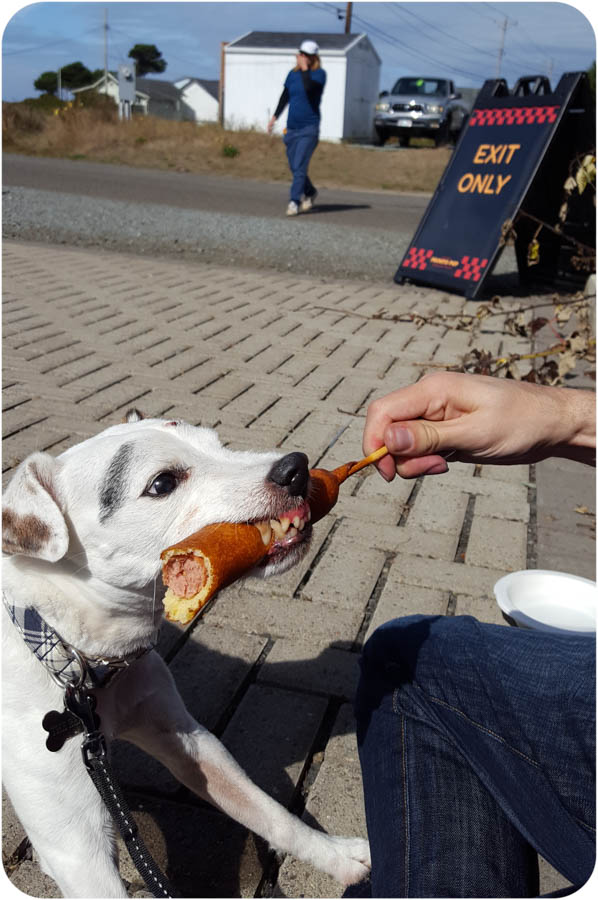 Napoleon also made friends at Pronto Pup, with several people coming by to pet him and tell him what a good boy he was. I was still having some trouble with my decision and was always struck by the weird impulse to tell people that our time with him was ending soon. I honestly can't remember if I told anyone or if I managed to squelch it down to that place where all of my dumb impulses live, but I have to assume that it was coming from a place where I wanted them to appreciate even more what a good boy he was–how soft, how nice, how smart. I do remember that several of the people who approached us and asked to pet him mentioned that they'd lost dogs recently and my heart broke for them*. 
From Rockaway Beach, we drove back to the hotel and walked from there into the cute downtown area of Cannon Beach. We did some window shopping and some actual shopping, and we opted to walk back to the hotel via the beach–the mist had burned off since our morning walk and it had turned into a truly gorgeous day.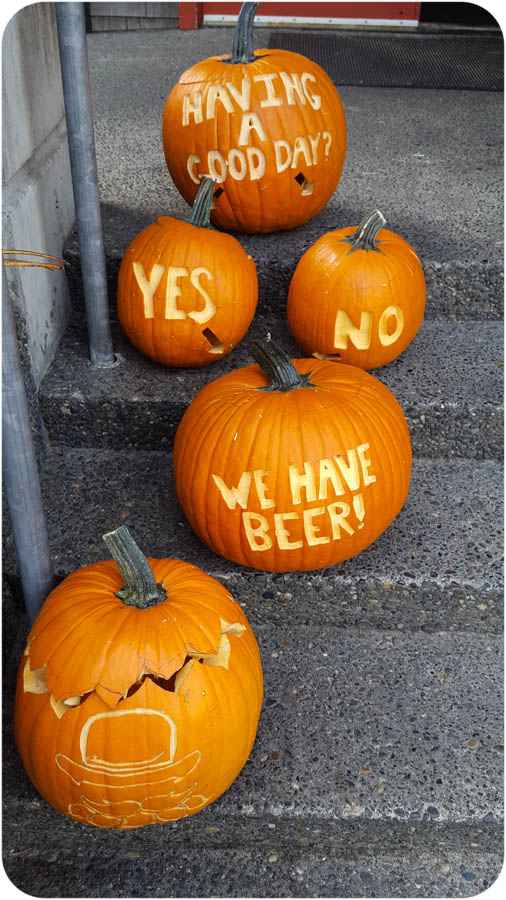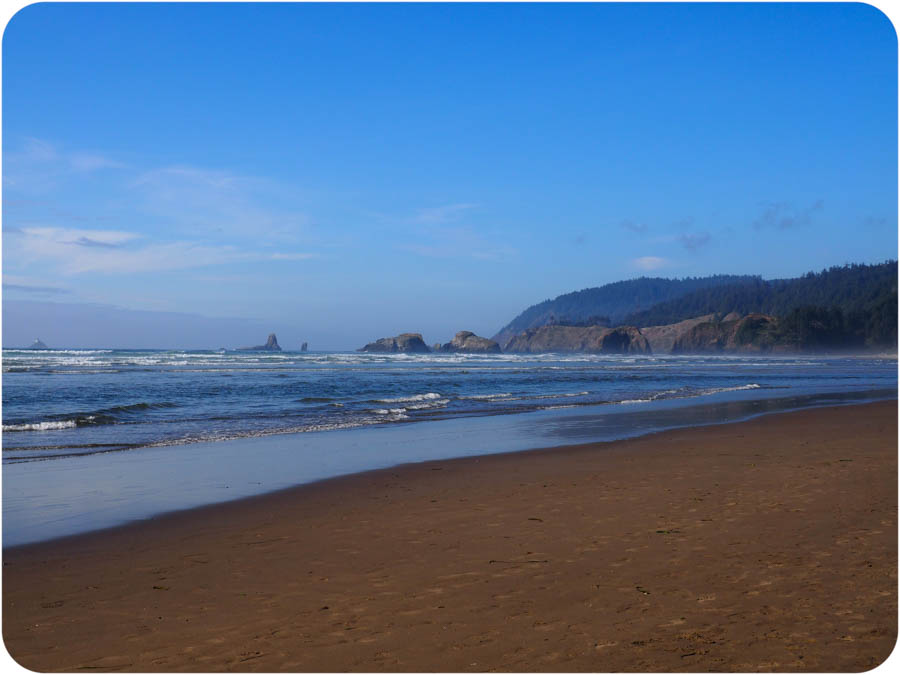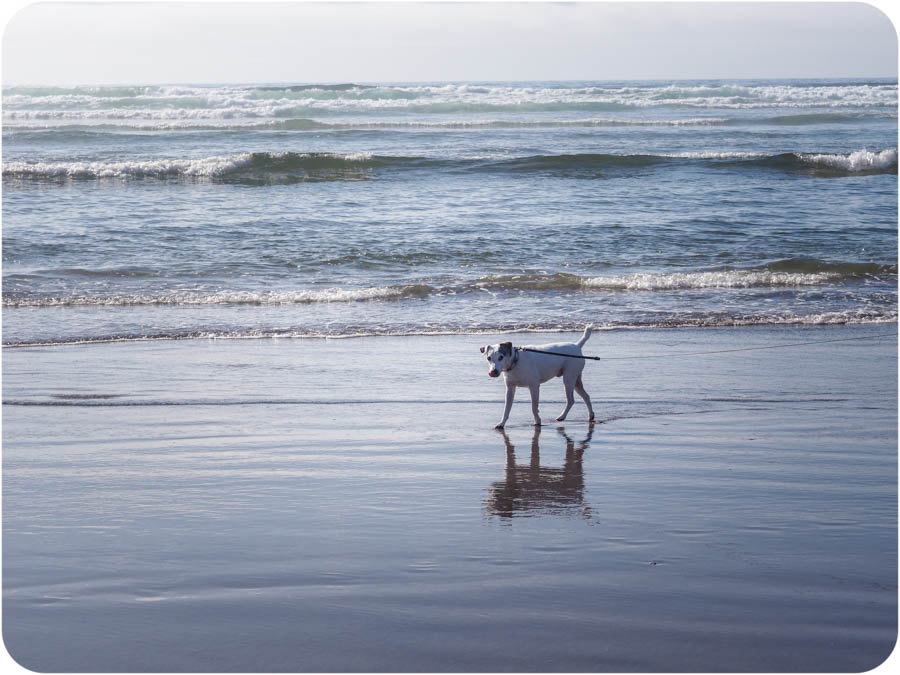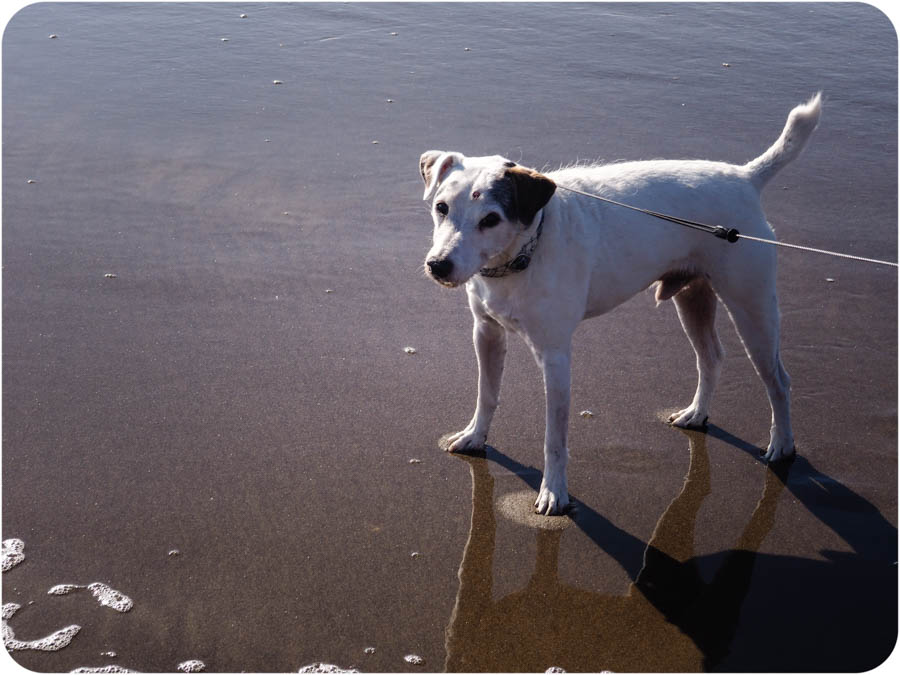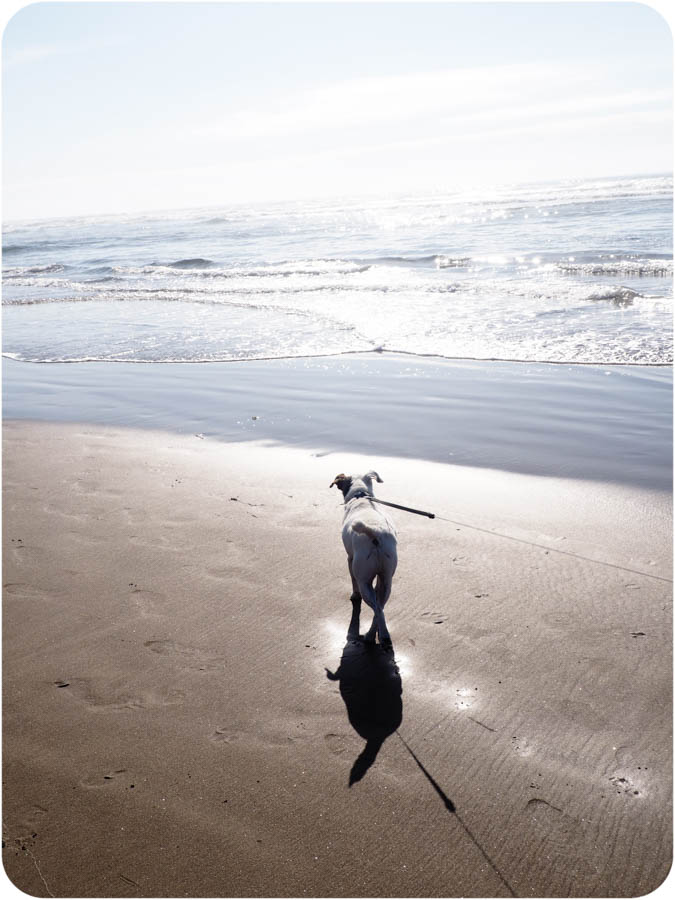 His little paw prints are glowing as he walks toward the light and I definitely cut some onions while going through these photos.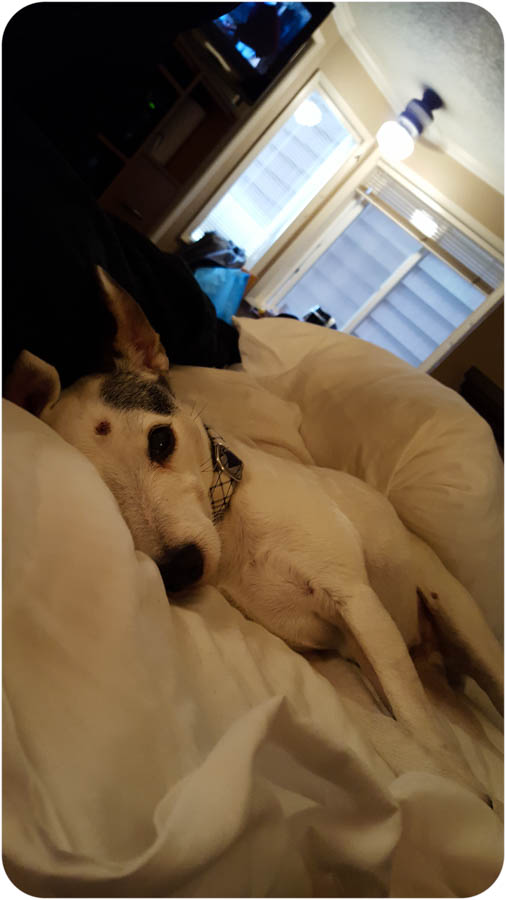 After our walk back, we rested again in the hotel room until closer to sunset, when we headed back down to the beach. (So. many. stairs.) Our hotel was right across the beach from Haystack Rock, and a fair amount of people had gathered to watch the sunset, which is actually pretty special. We live in this world with so much entertainment and yet we gather with strangers to watch something that's happened every single day of our lives and will never stop being beautiful.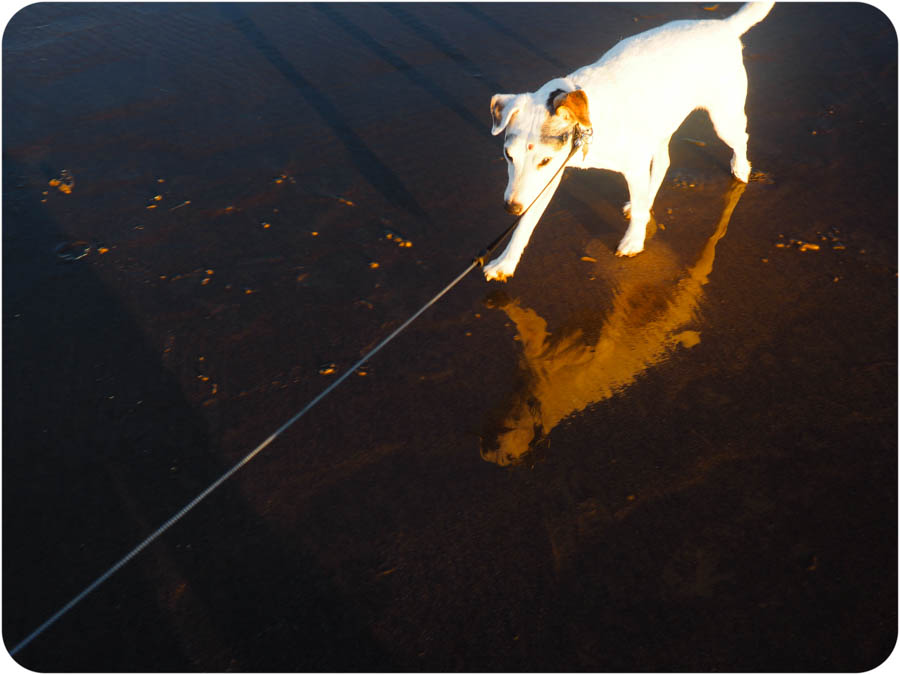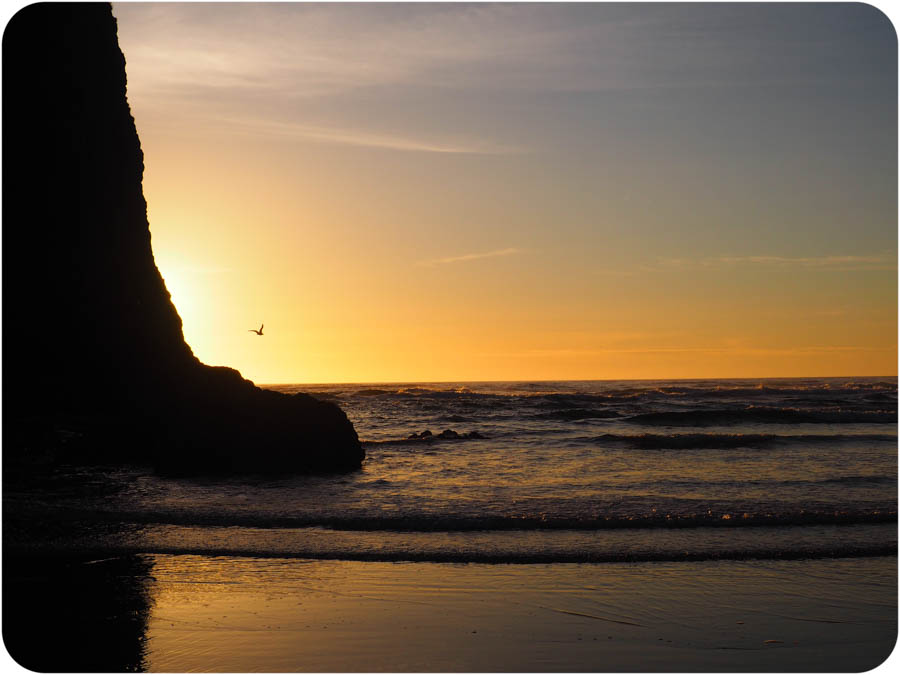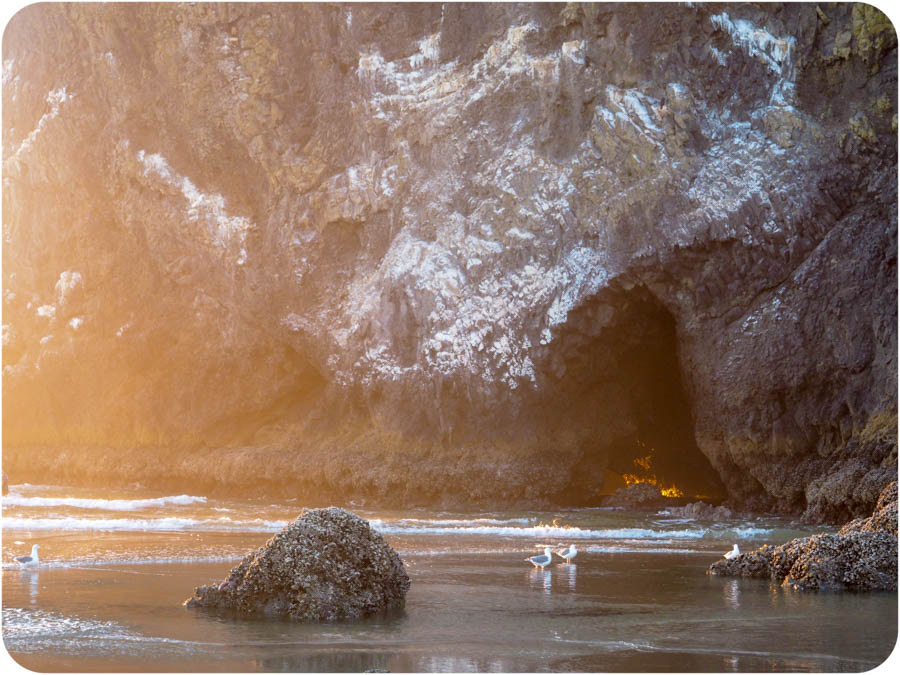 There's this little gap at the base of Haystack rock, and at sunset, the light flashing and flickering inside gives the appearance of the wall being painted in gold. Napoleon, for his part, was way more interested in the activity on the beach than any glowy cave.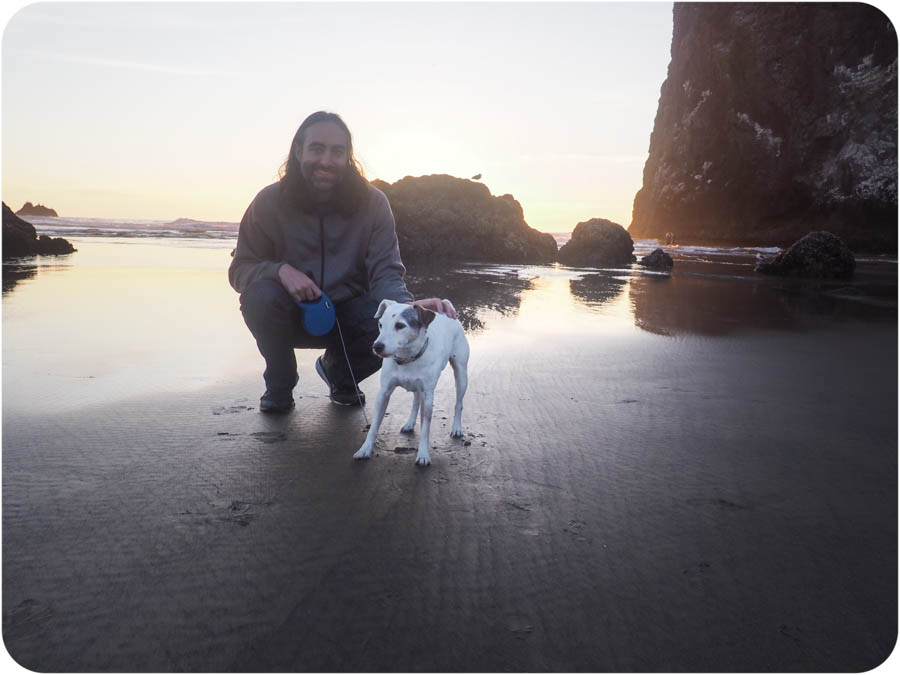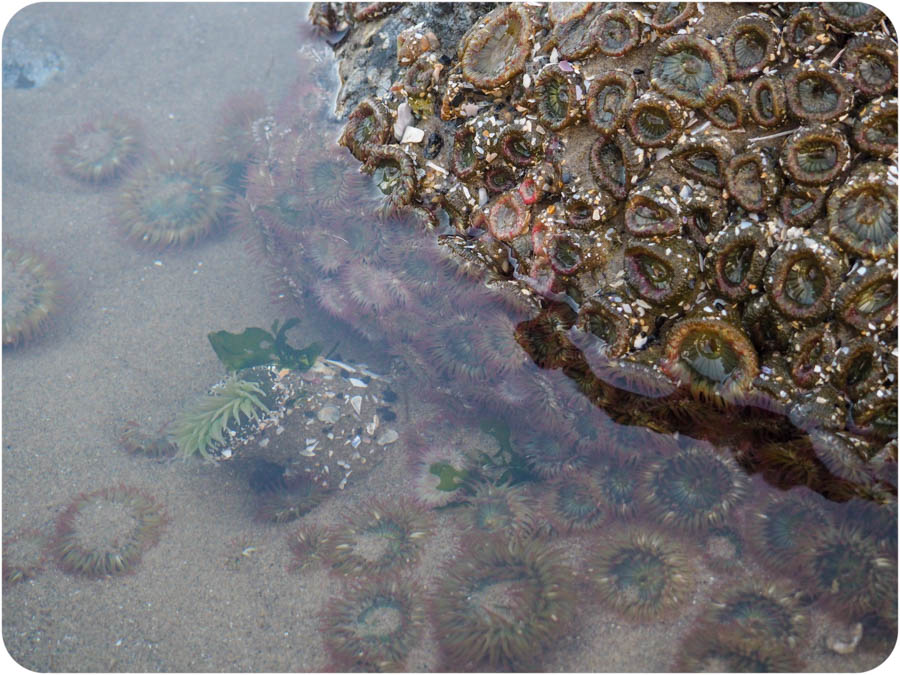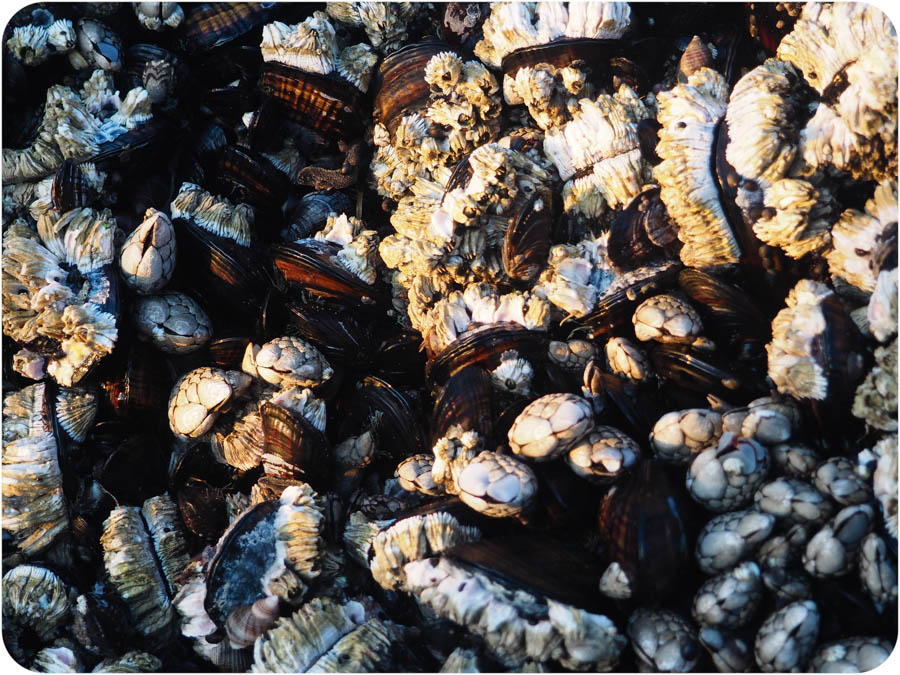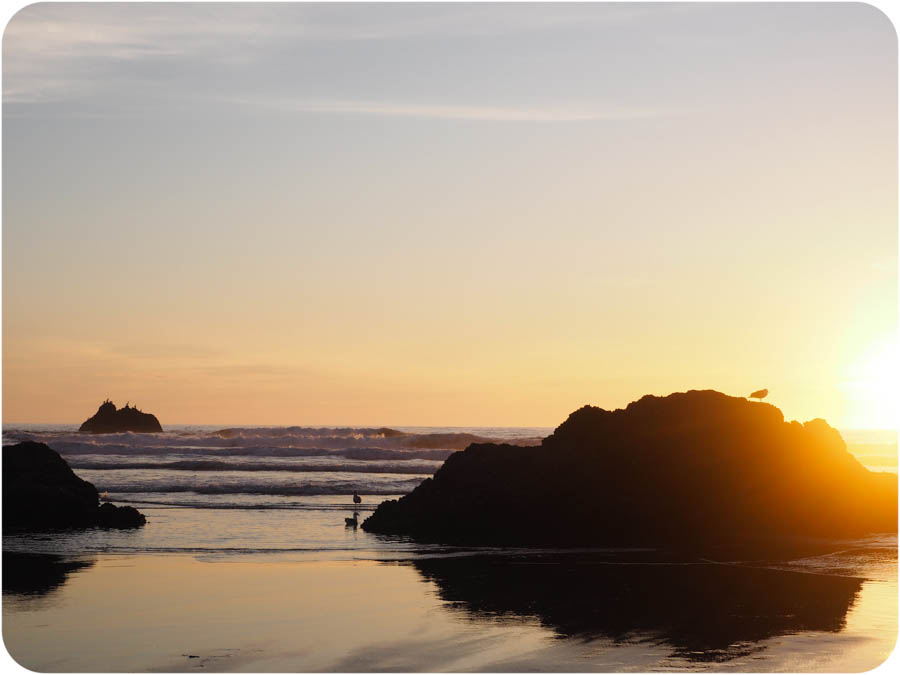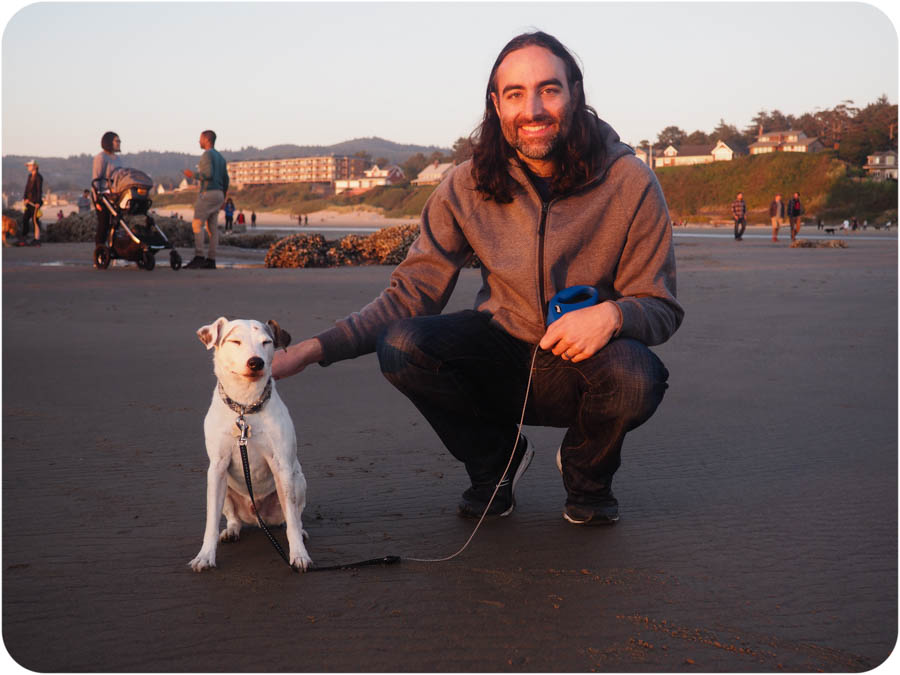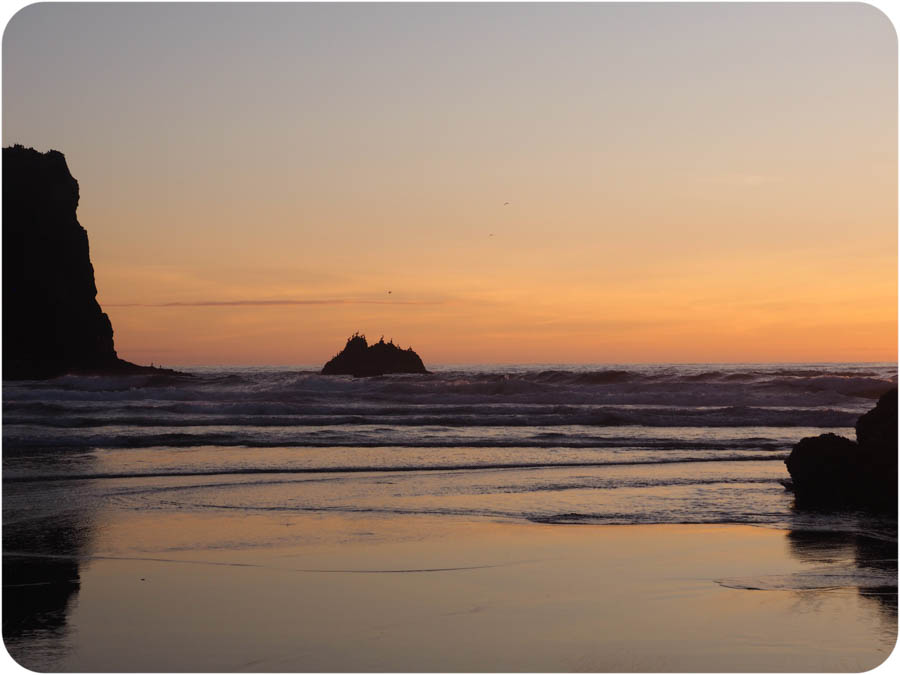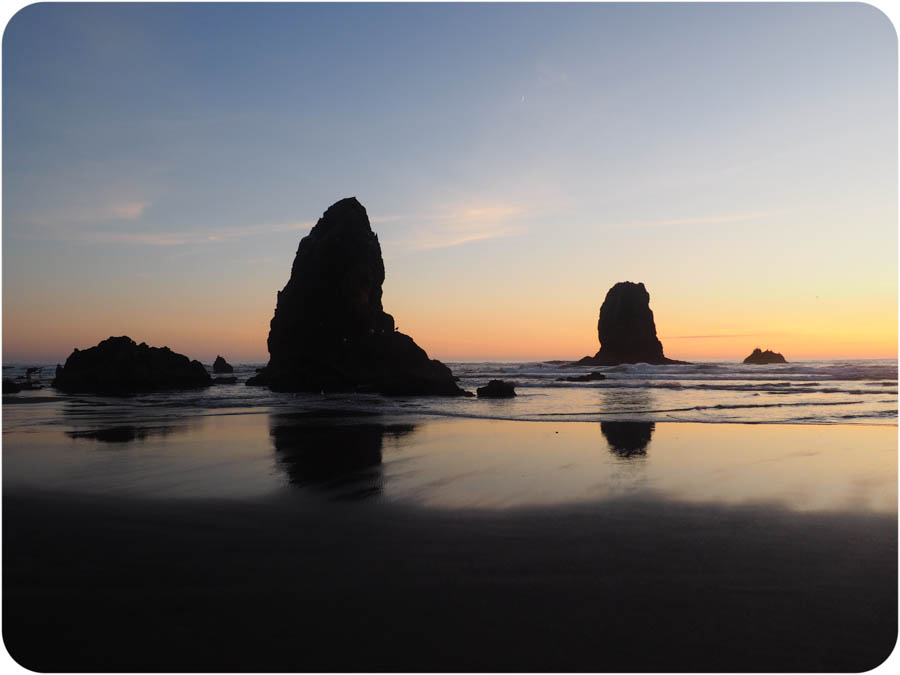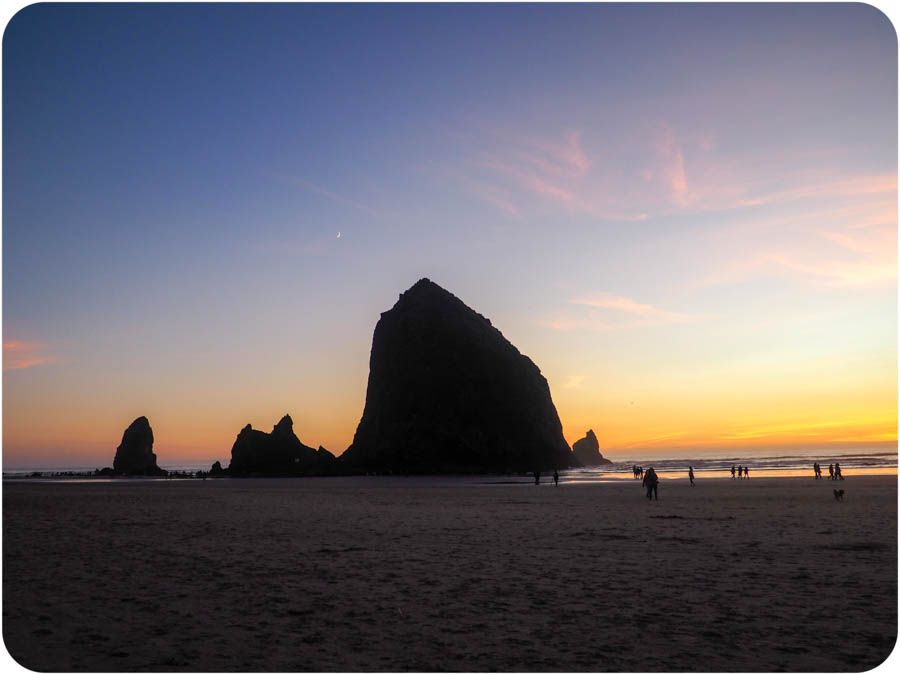 Eventually we retreated to the beach chairs and watched the last of the sun slip over the horizon. Unfortunately, watching that late sunset meant that our options for patio dining (which was a must, given the presence of the pup) were zilch, so I popped over to the local hardware store (no, really) to grab some take out to eat in our room. I was met on my walk back by Jason and Napoleon, who had come out to find me after that little dog bean pitched a fit at not being able to have eyes on both of us at once. We watched a surprising number of movies over the course of our stay: Goonies (of course), Hotel Transylvania 2, and Ratatouille. Stuff that was kind of easy to just chill out and cuddle with one's pup on the bed after a bunch of beach play time. 
The following day was a half beach day/ half drive home day, and we made the most of it, starting with another early morning beach walk to check out the tide pools and enjoy one another's company. The beach cooperated by giving us an absolutely gorgeous morning, bright and cool, and wholly unlike the misty morning previous.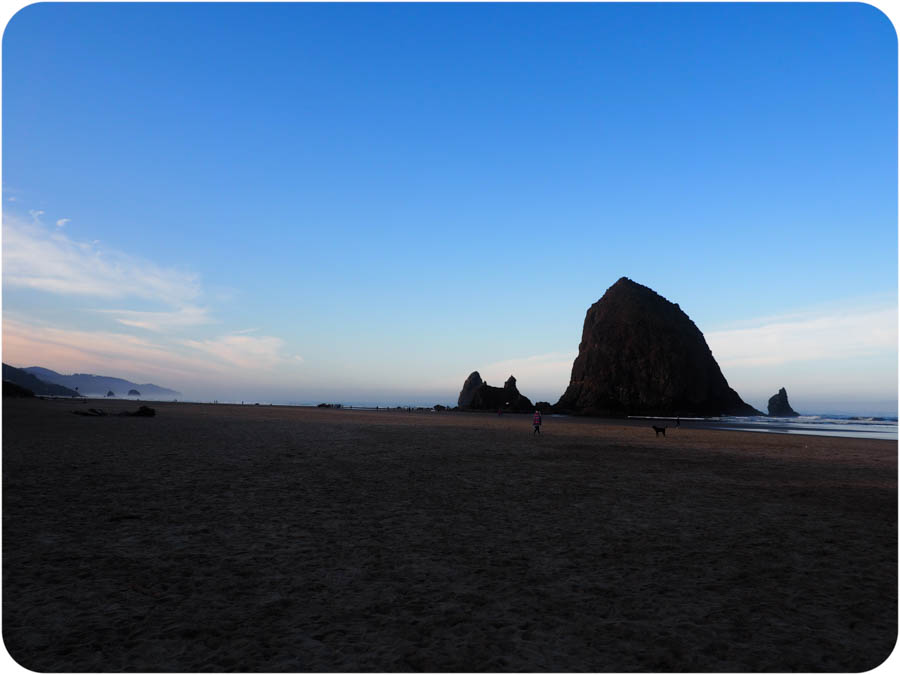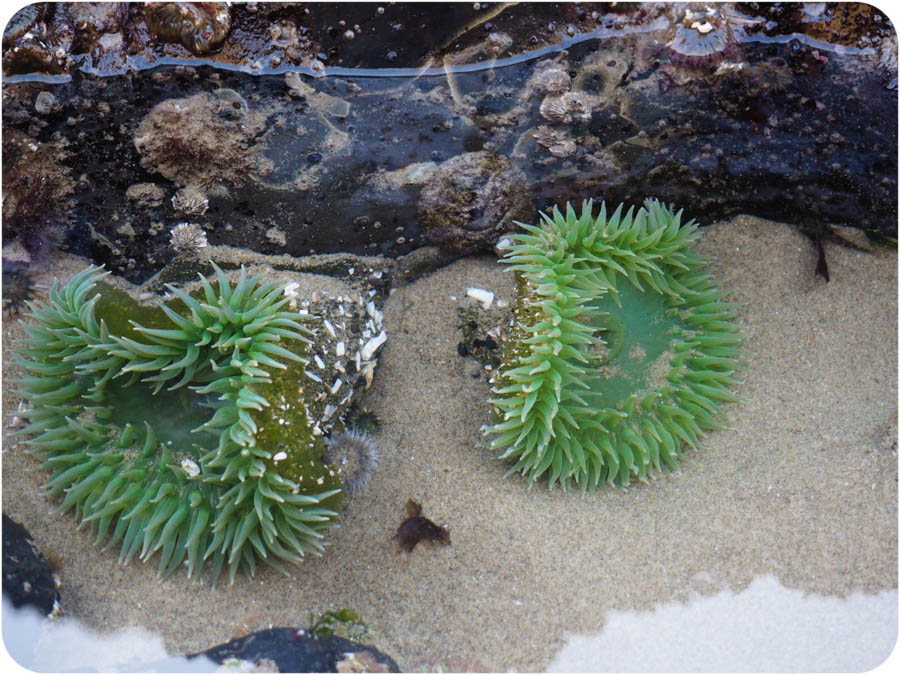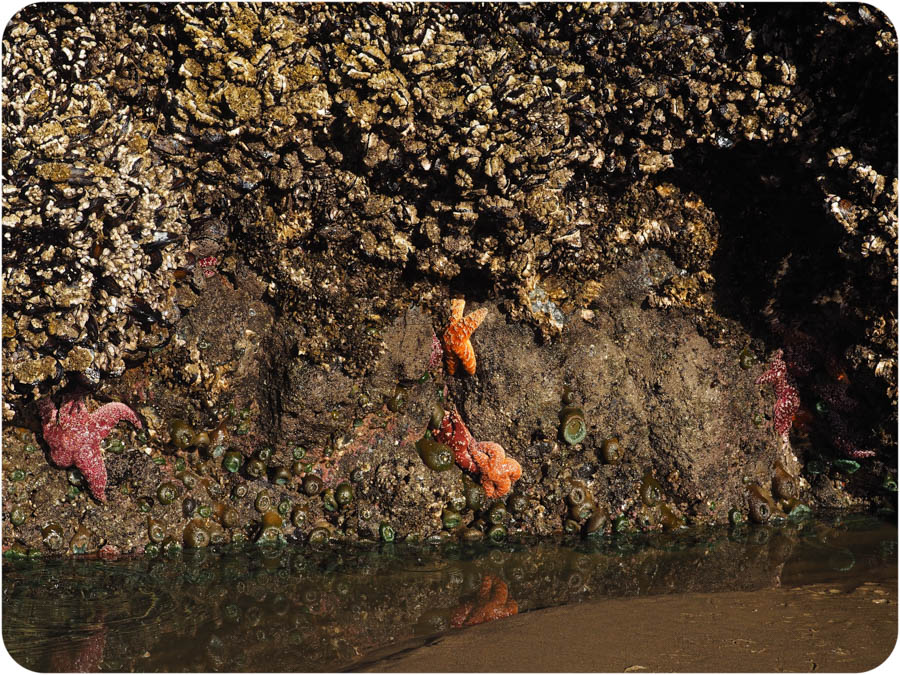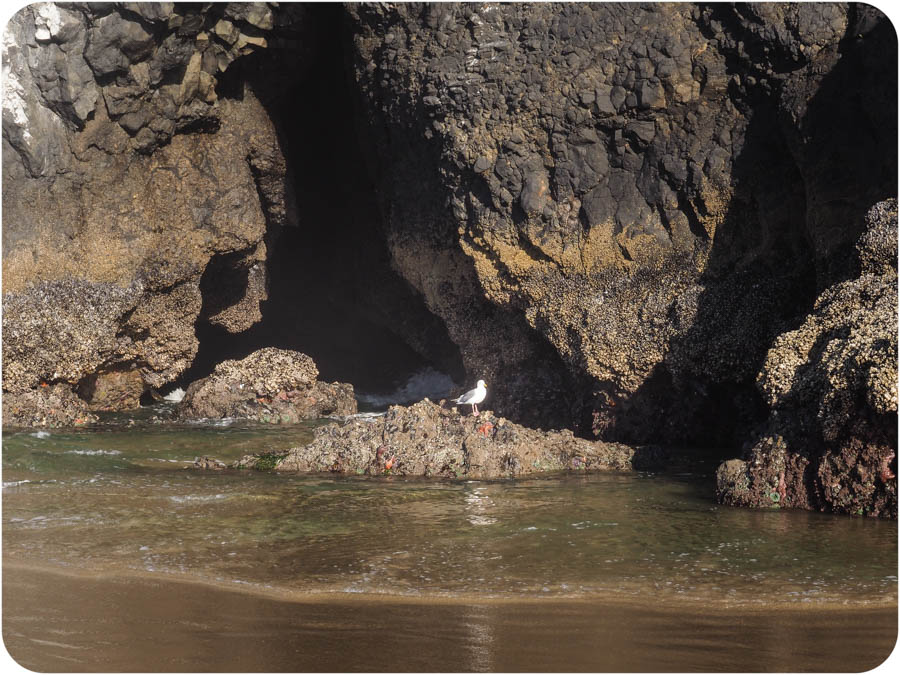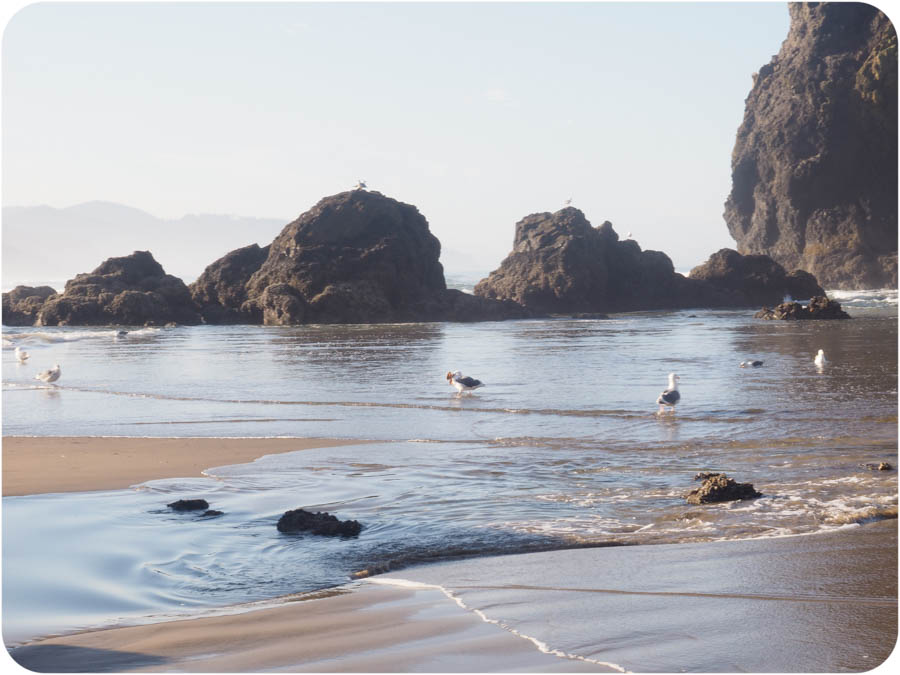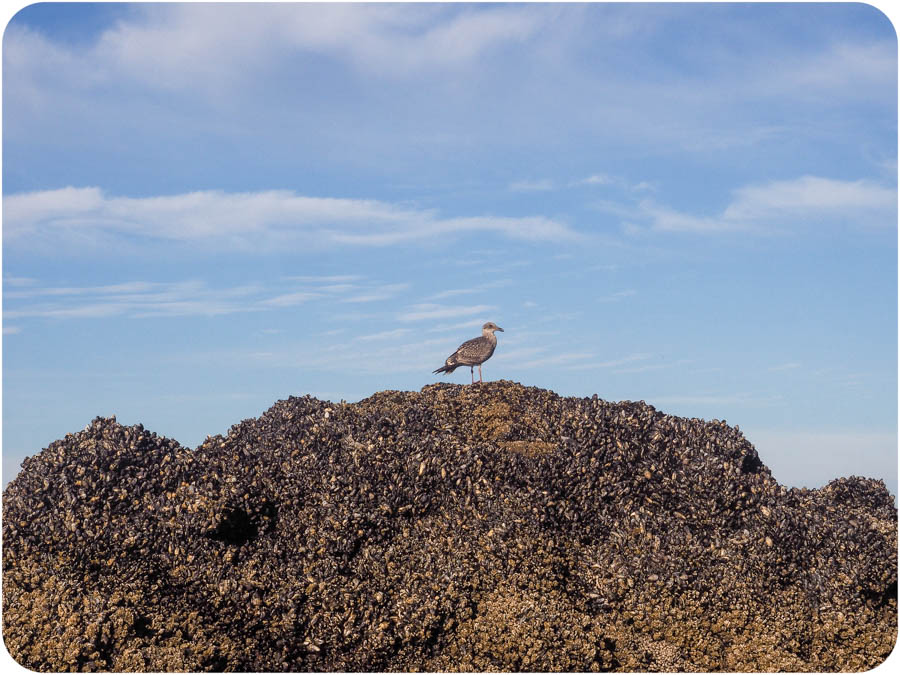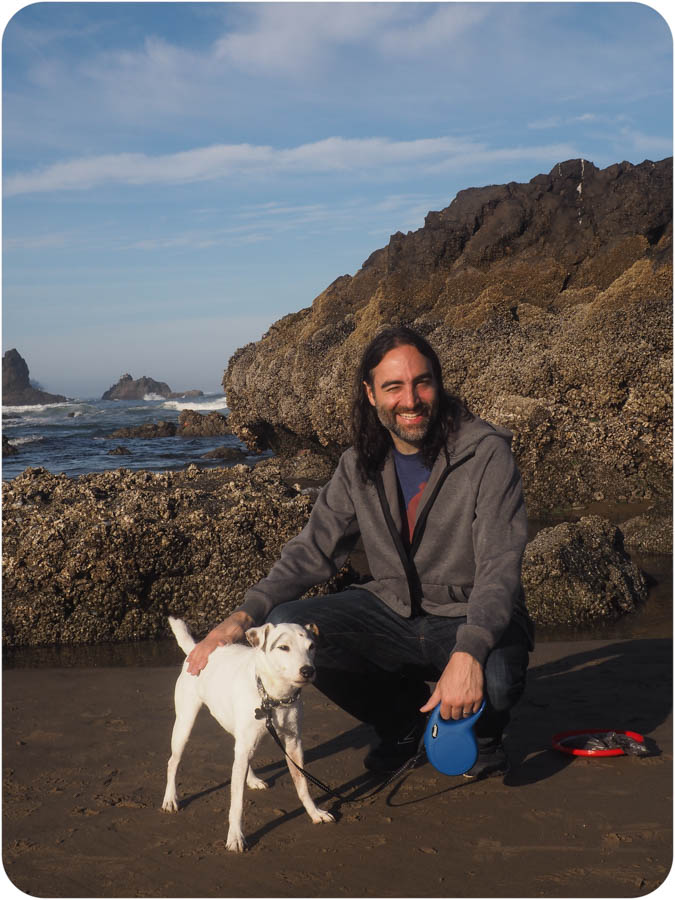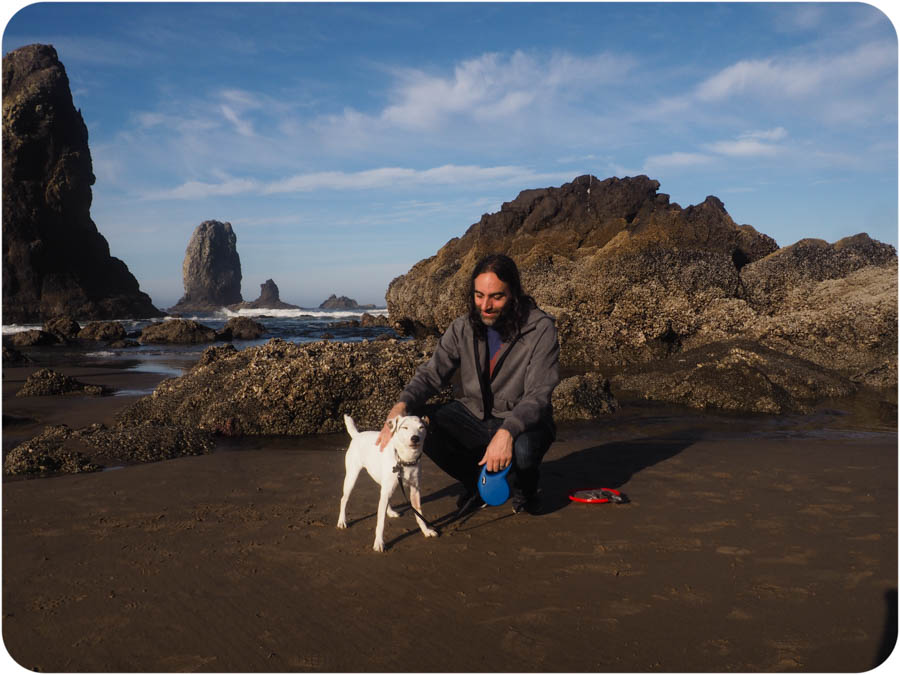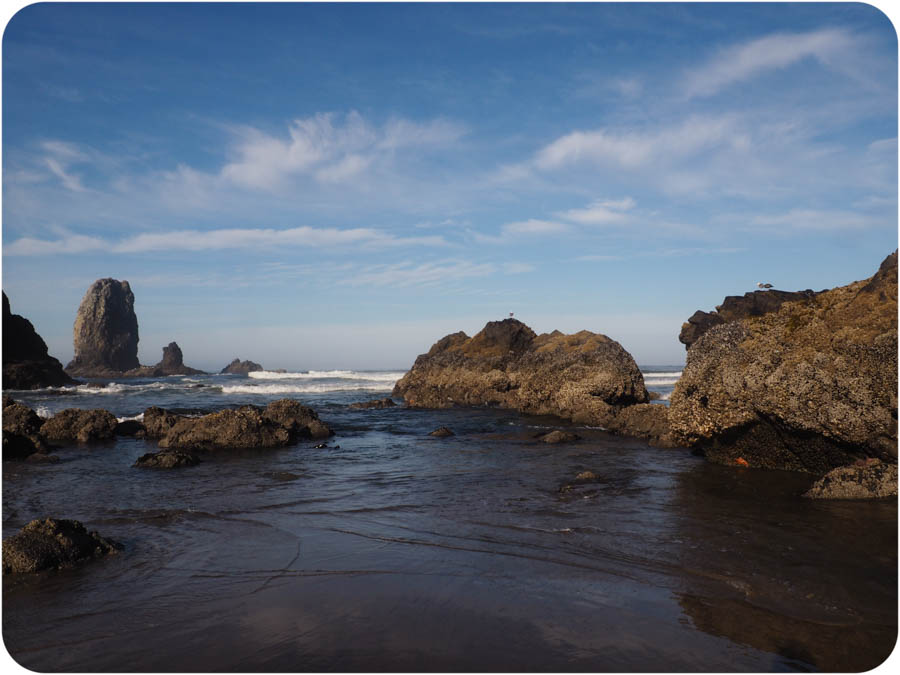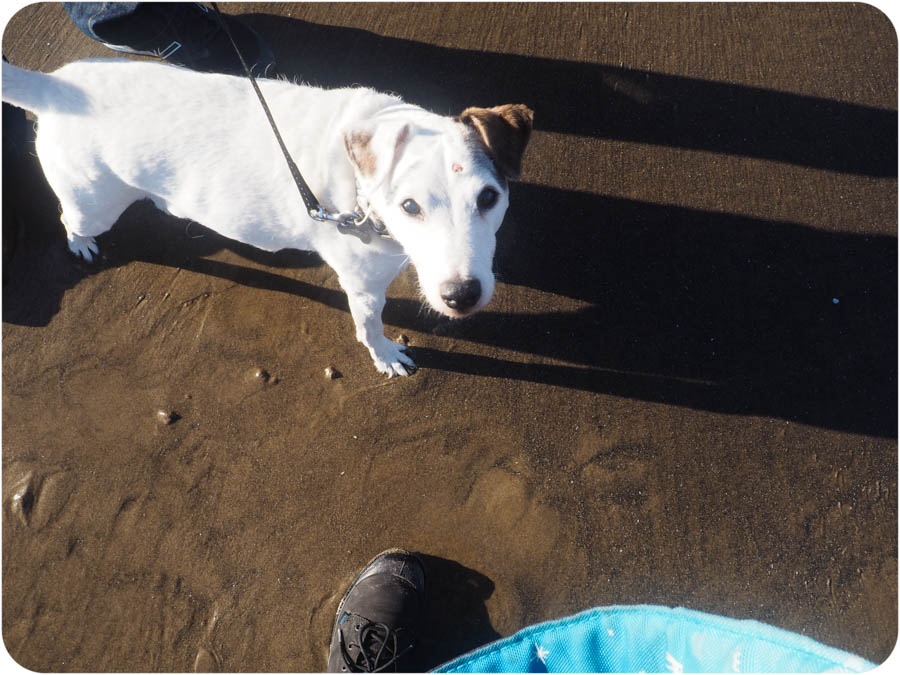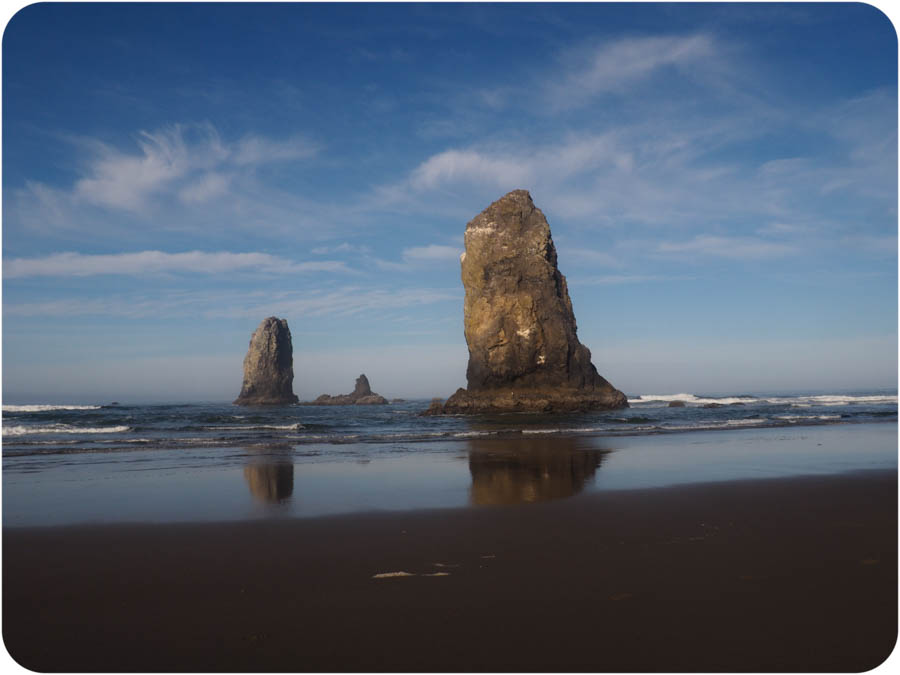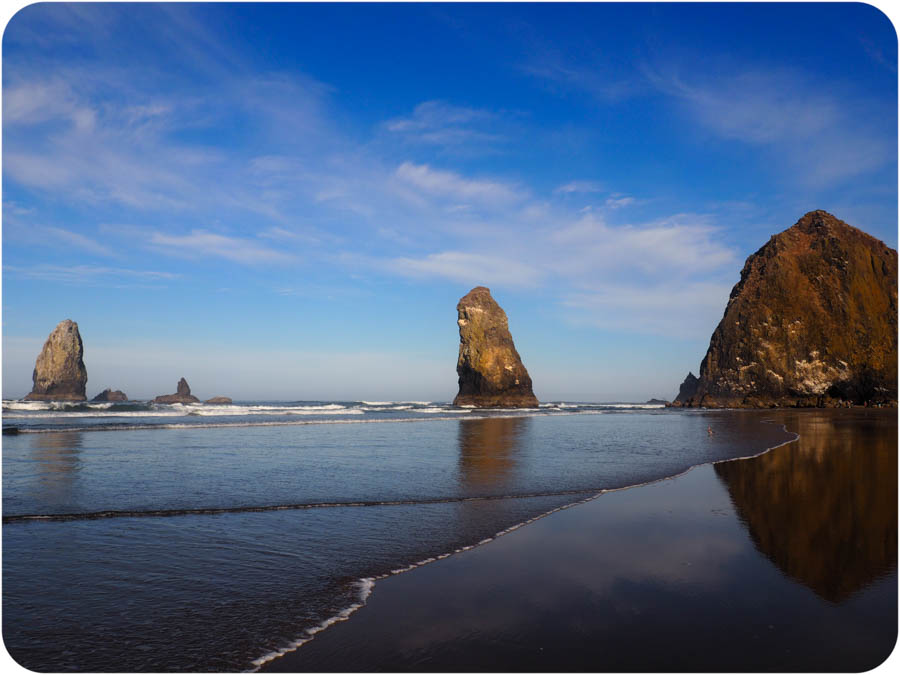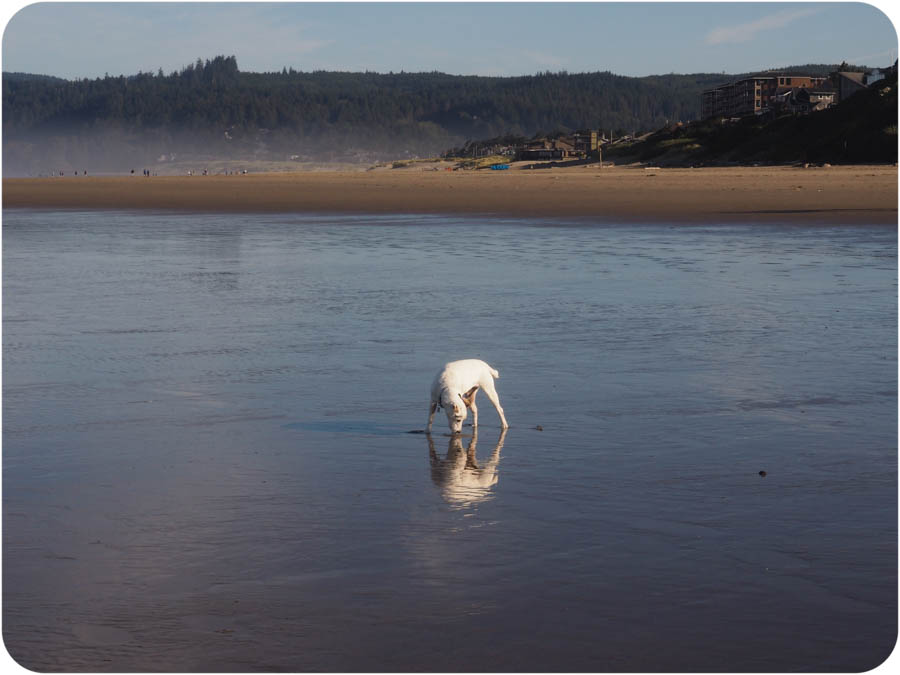 When we decided it was time to wrap up beach time, and headed to Sleepy Monk to grab some coffee and breakfast before we hit the road. The line there is kind of ridiculous–you have to step to the side to wait for your drinks and food, but people just keep cramming into the building, forcing you to interrupt someone's conversation about yoga three times as you elbow your way through to get your goods. Their coffee and pastries are totally great, though, and I dig their druidic vibe. I especially dig the teeny goat on top of their coffee sleeves.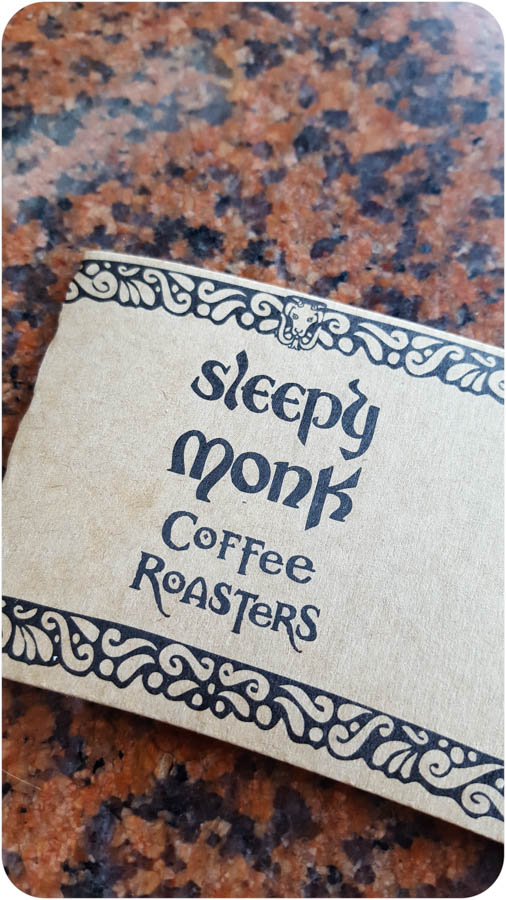 After properly fueling our machines with caffeine, we hopped in the car and promptly saw this Bigfoot themed steakhouse with what appears to be a werewolf with one hooked flipper arm chained up outside. When viewed from the proper angle, it looks like the Bigfoot on the side of the road and the prime rib sign merge to become Bigfoot's, uh, prime rib. If you know what I mean, and if you read this blog, you do.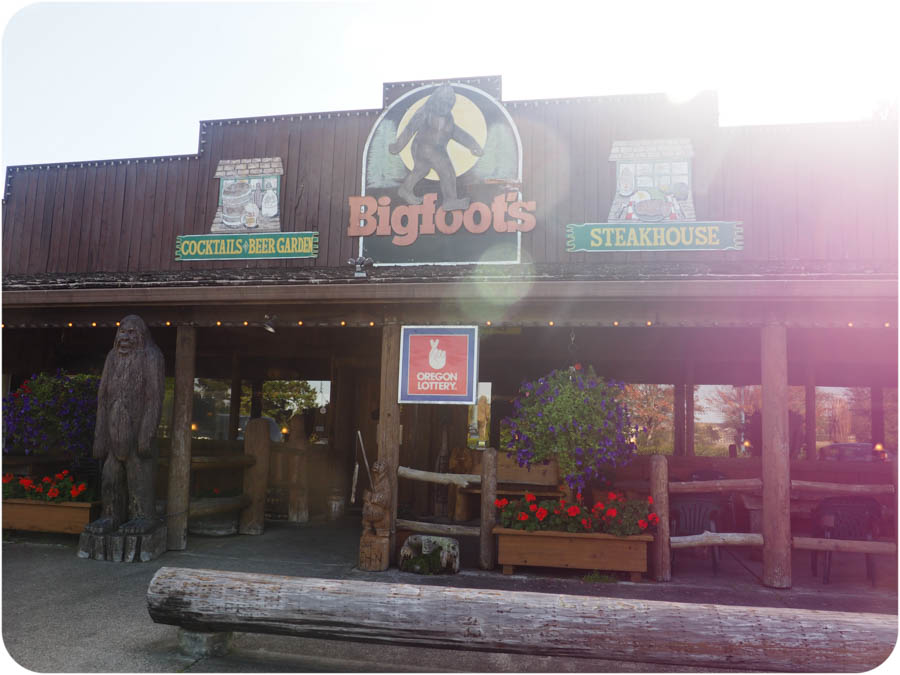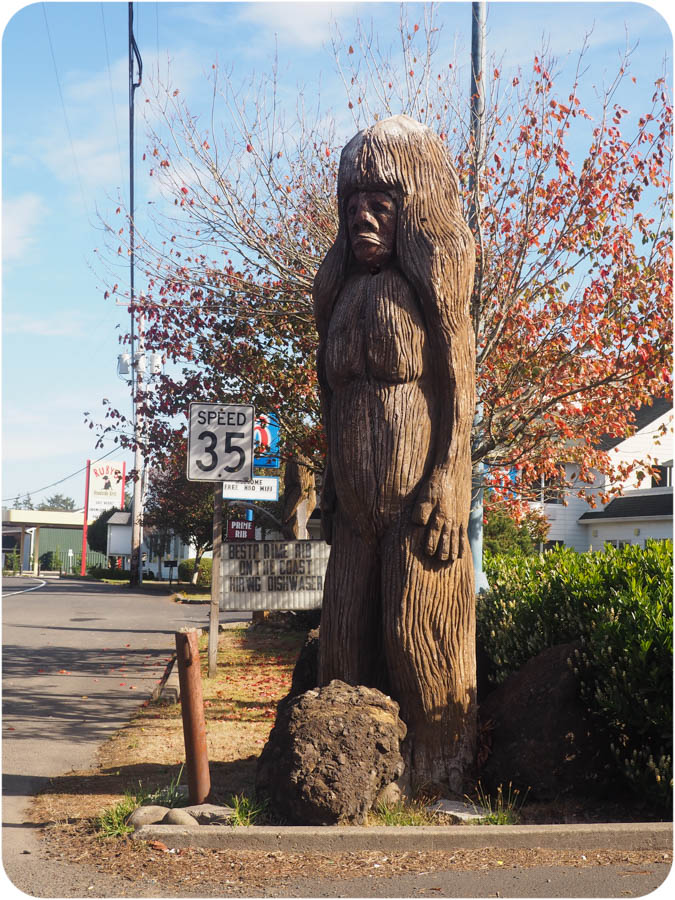 Ostensibly this is a photo of the lady Bigfoot, but look a little more closely at the background to catch a glimpse of Bigfoot's Prime Rib.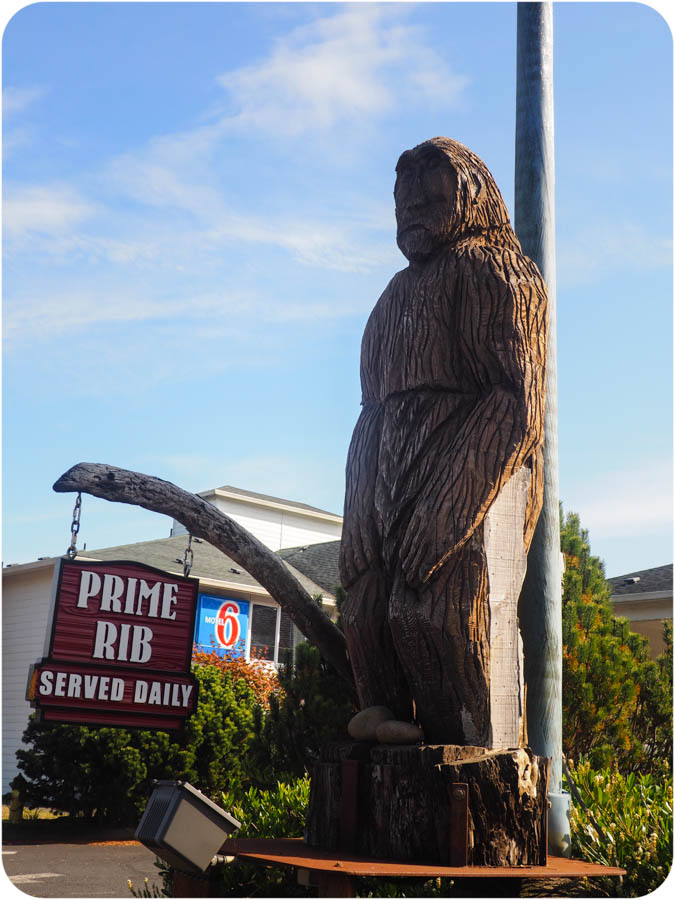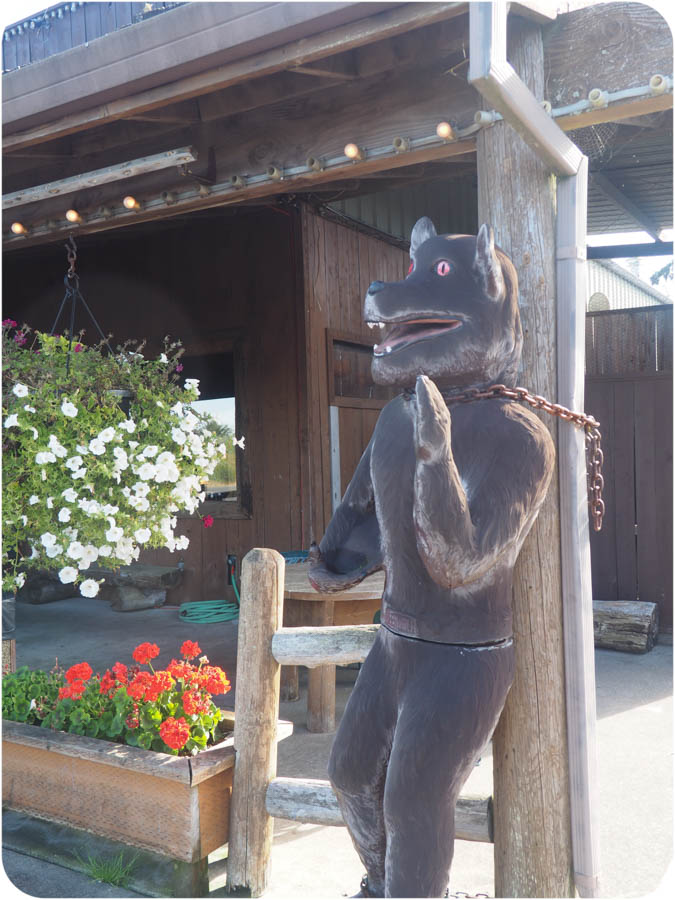 We also found this great big chair in Seaside, Oregon.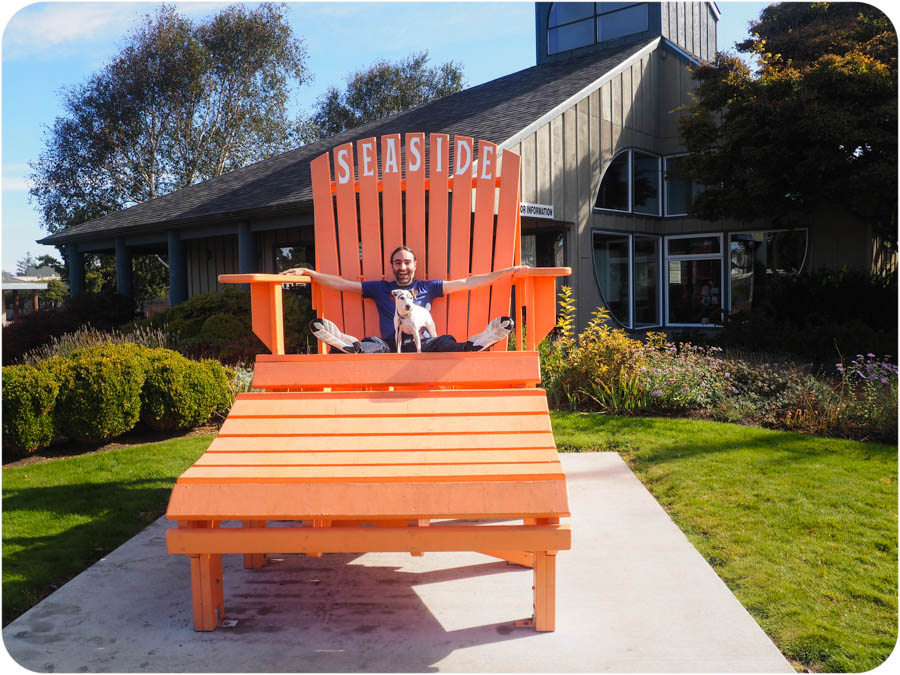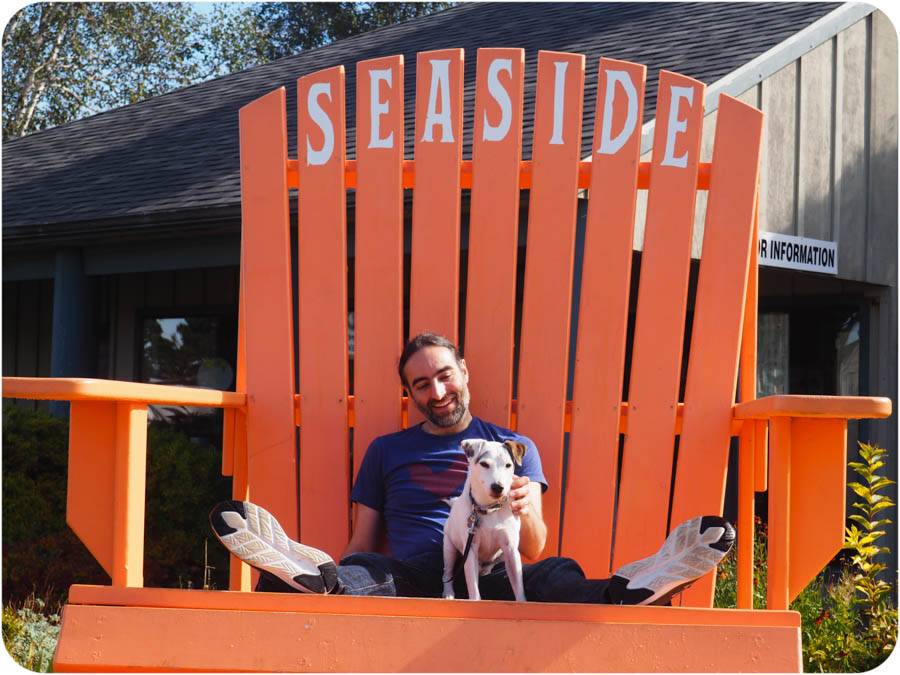 Our route home took us through Astoria so as to visit their Sunday farmer's market. I don't have any pics because walking through a crowded market that's almost universally not looking where they're walking with a small dog, and furthermore not paying attention myself by fiddling with my camera is a great way to get someone's tiny paw stepped on. It hasn't changed a lot since the last time I visited–even if some of the vendors are not the same, there was someone there in that particular category, be they sign makers, leather workers, or popcorn vendors, so the overall flavor remains the same.  Napoleon met his first goat and stepped back in shock, trying to figure out what was going on with this strange dog. The goat didn't have much of an opinion either way.
At some point on the way home, we stopped at a restaurant that advertised their famous pie, because Jason is a legendary pie hound, and while he went inside to buy a slab, I walked around with Napodog outside and saw this bird carving, while so. many. vultures. wheeled around in the sky. I don't know what that's saying about the restaurant's food or their mainly elderly clientele, but I do know that Jason thought their pie was nowhere near as good as mine. I do make a mean slice.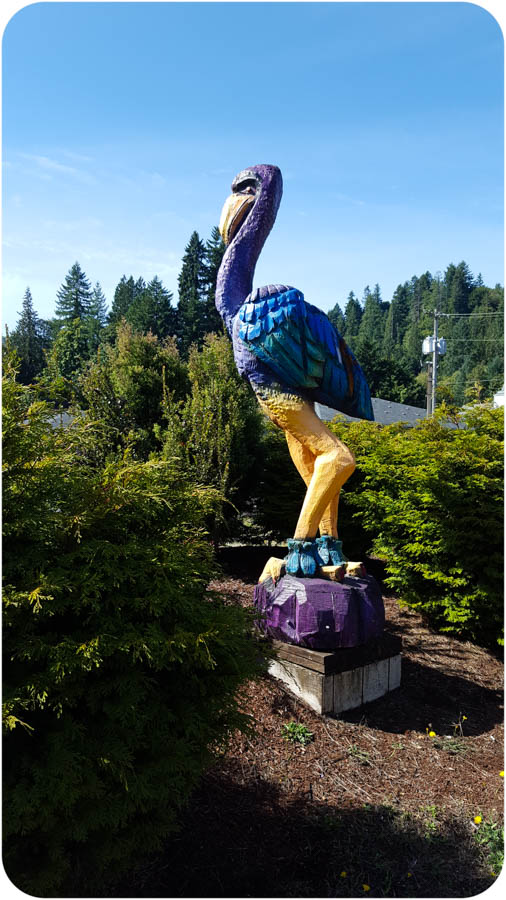 And, since it was such a beautiful day and we had plenty of time to spare, we stopped in Winlock to finally see the world's largest egg, something that I had been driving past in a hurry to something else for the last decade. It was, indeed, a sizeable egg.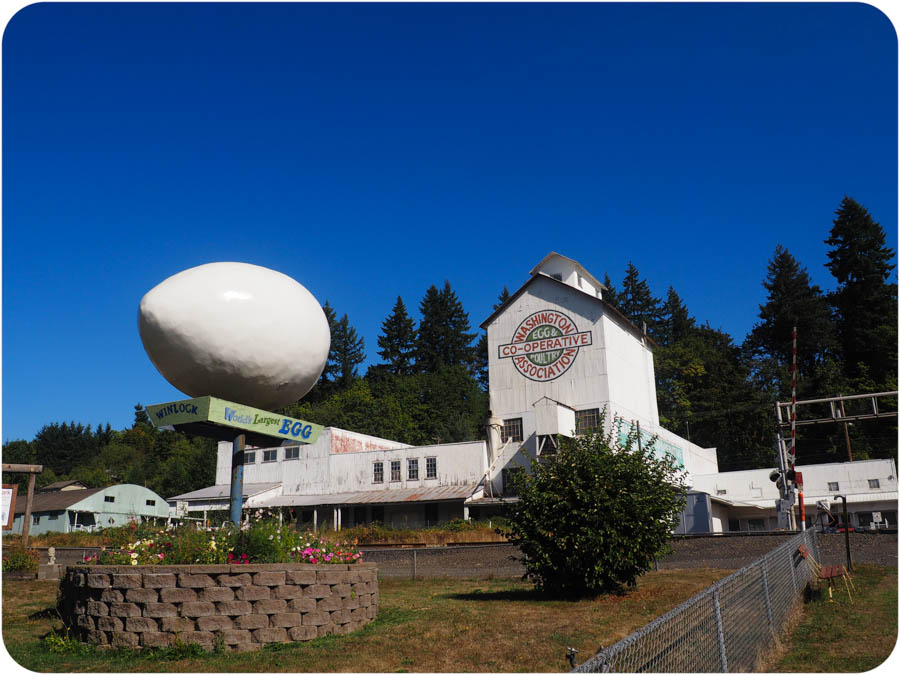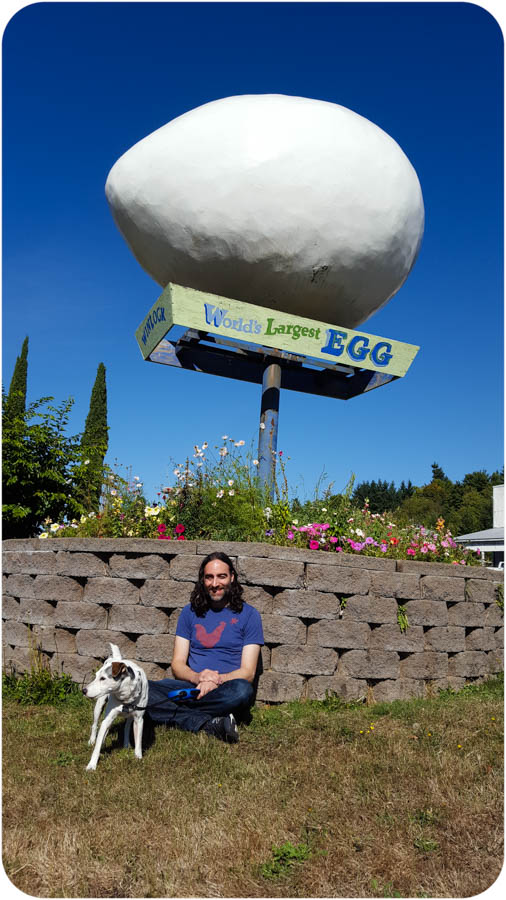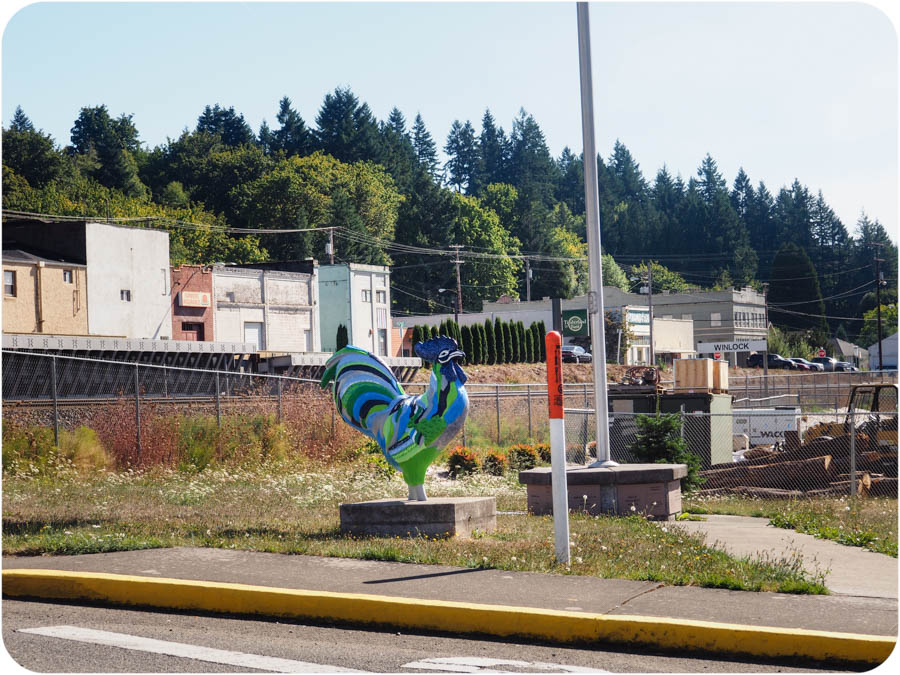 The rooster's not talkin'. 
A special treats and walk filled week later, the veterinarian made the visit to our house, and even though I had been second guessing my decision up until the time she walked in the door, I have no regrets. I called my buddy up onto my lap, and after he was administered the painkillers, it sealed the deal for me. I felt him relax in my arms, pain free, and that was not something I'd felt from him in a long time. It eased some of my hurt to feel him not hurting, and I handed him over to Jason so he could feel the same. He was in Jason's arms when the final shot was administered, and we petted him and told him how much we loved him as he passed. I keep reiterating what a difficult decision it was, because it was difficult to voluntarily part myself from him forever, when he's been the little light of my life for so long, my constant, unquestioning, loving companion. But at the same time, I know it was the right choice. To be at home instead of afraid in the cold, sterile vet's office. To be lavished with love until his very last breath. To still know us, mentally, so that we could comfort him at the end, to keep his last days from being confusing and scary. When I think about it in that way, I know that I made the best choice I could.
That's not to say that the loss of Napoleon hasn't been crushing. It's been months and I still step around the dog dish that isn't there when going to the patio door. I feel happy and then sad whenever something causes his nametag to jingle against his urn, as though he's here for just a second and then gone again. About once a year, I'd get one of those new super soft blankets from costco, and the old one would be given to Napoleon and derisively referred to as "the dog blanket" because no matter how many times I washed it, the smell of dog was just too ground in, so they'd line his beds and make them extra plush and cozy. In the aftermath, we kept some things that belonged to him, and a dog blanket. On days I especially missed him, I'd go and sniff the blanket, and it was like my stinky buddy was back. Recently, I was having a rough day and crept off to the closet and its stinky contents, only to discover that the smell I believed to be permanent entirely gone, and this, too, was like losing a bit of him all over again. I have waves of grief wash over me when I drive past our dog park, when I see those noseprint smudges on my car window that I know I will eventually have to wash away.
I miss my buddy. I'm glad we had this trip together. I hope that if there's an afterlife, it's full of so, so many beach critters to sniff. 
*The first time I pet a dog, post-Napoleon, I almost burst into tears. Thanks to everyone who allows me to pet their dogs for much longer than is socially acceptable for a stranger to do so.