When I take a trip somewhere, if I don't do a day-by-day recounting, there's usually a bunch of tidbits left over that I either couldn't write more than a few sentences about or don't have any photos for or would drag out the series far beyond what any human could be expected to tolerate.  All combined, however, they make for something a little more substantial, so here's yet another one, this time about Ohio. Six weeks of Ohio is long enough, right?
CINCINNATI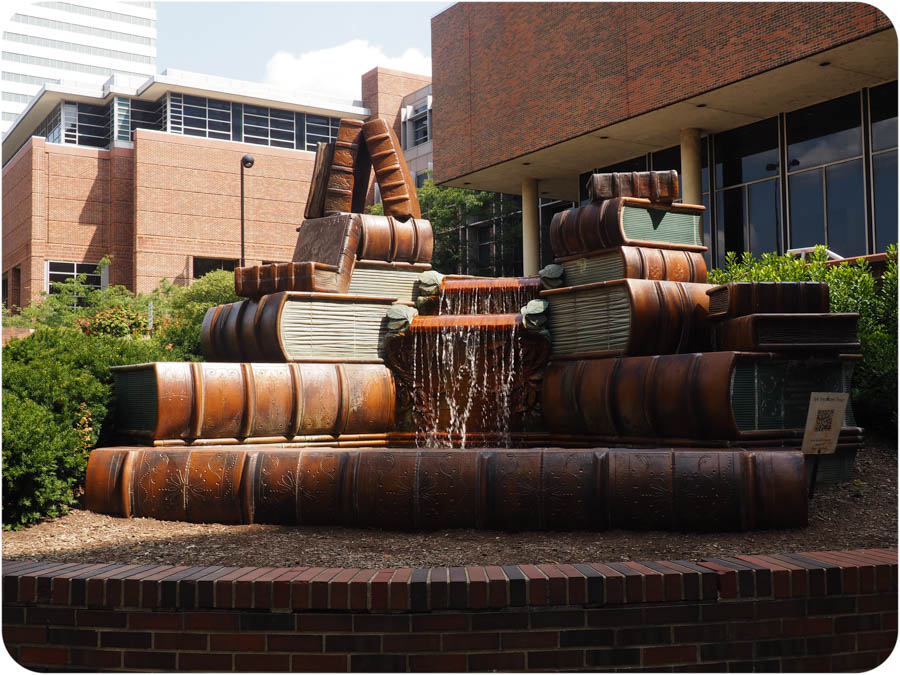 Spotted this cool book fountain outside of Cincinnati's public library, the water flowing over the books symbolizing the free flow of information and ideas thanks to the printed word. Neat, huh?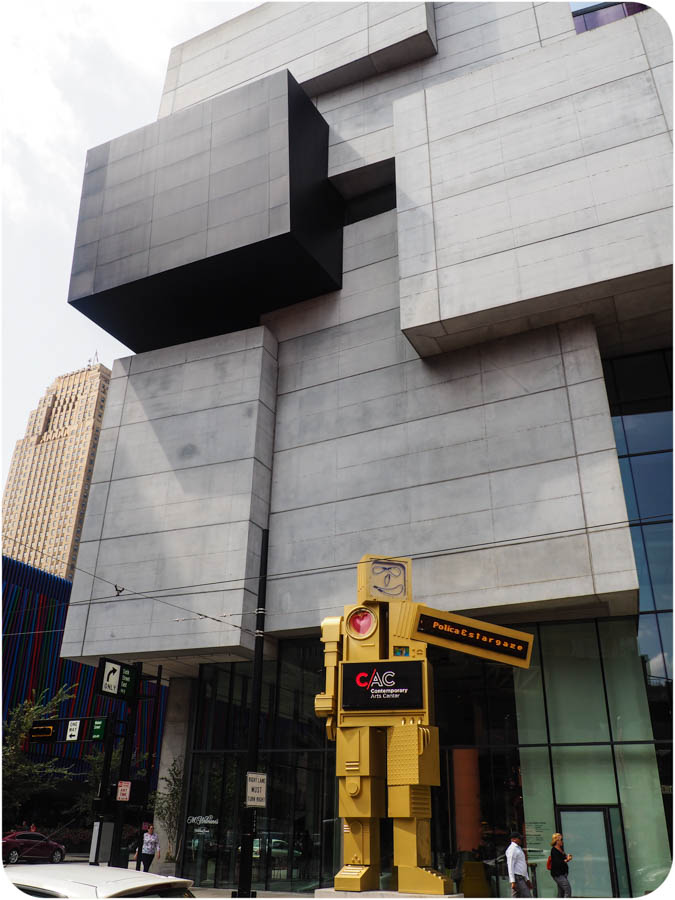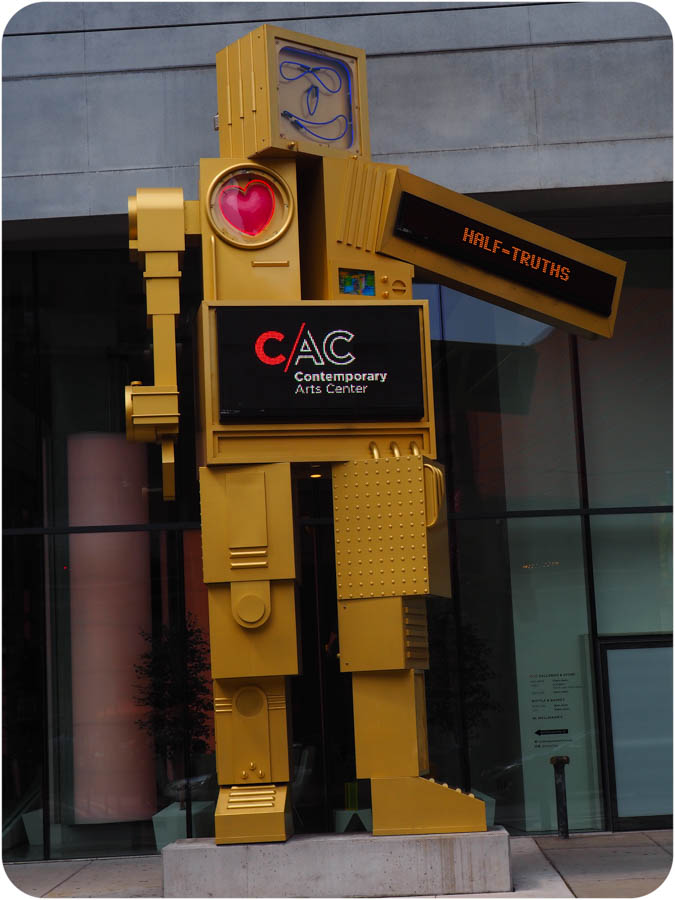 Metrobot is back outside the Contemporary Arts Center after more than a five year absence, during which time it was refinished and beefed up to include a scrolling LED and a tummy screen. Even with the more modern upgrades it still feels charmingly retro, thanks to the 10¢ pay phone embedded in its leg.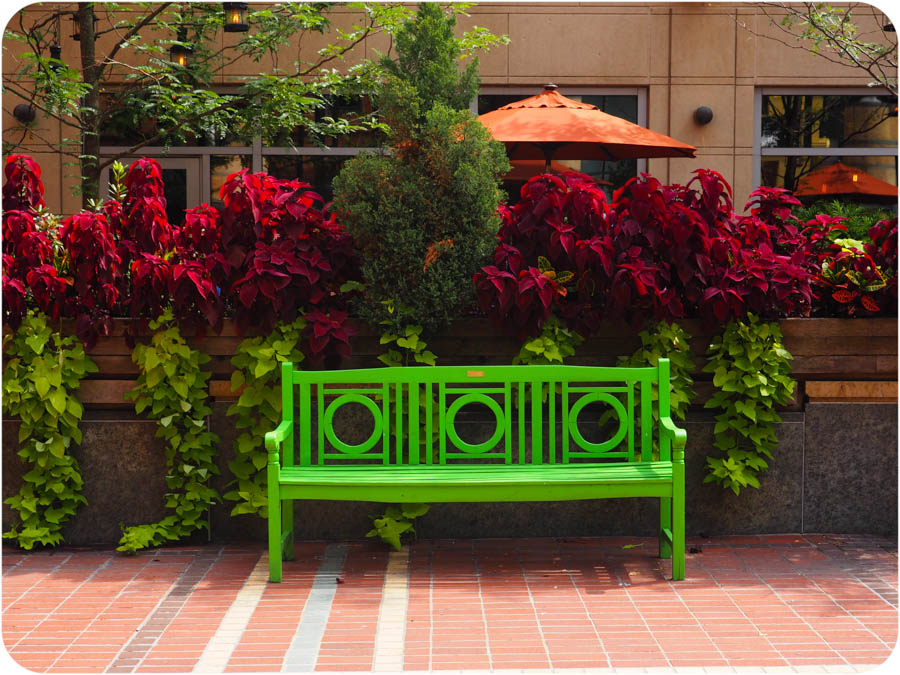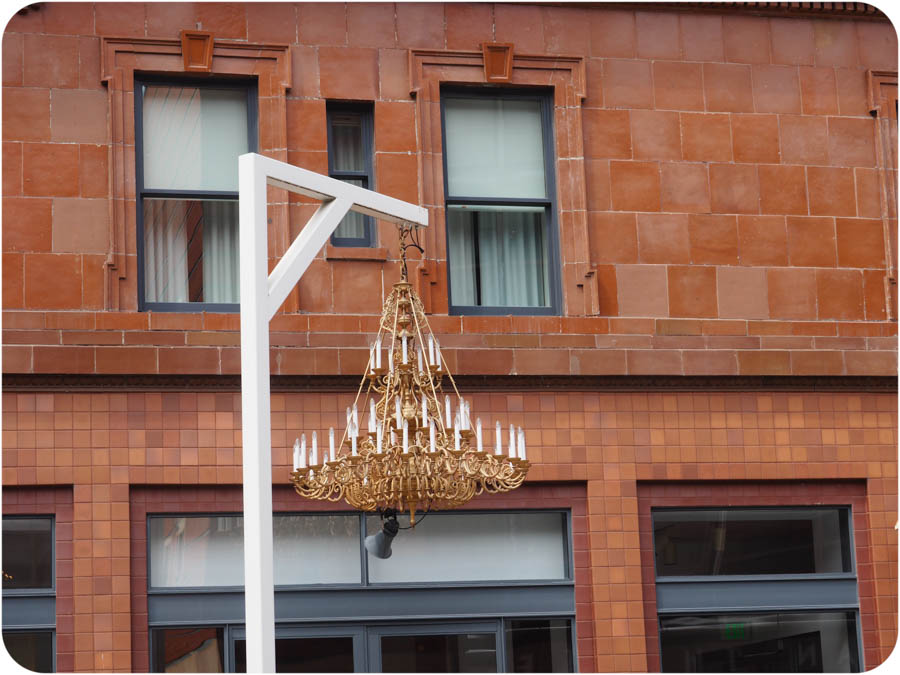 Near the metrobot, Cincinnati also features an outdoor chandelier, which is unfortunately outdone by…
CLEVELAND
Cleveland's outdoor chandelier, which happens to be the largest outdoor chandelier in the world.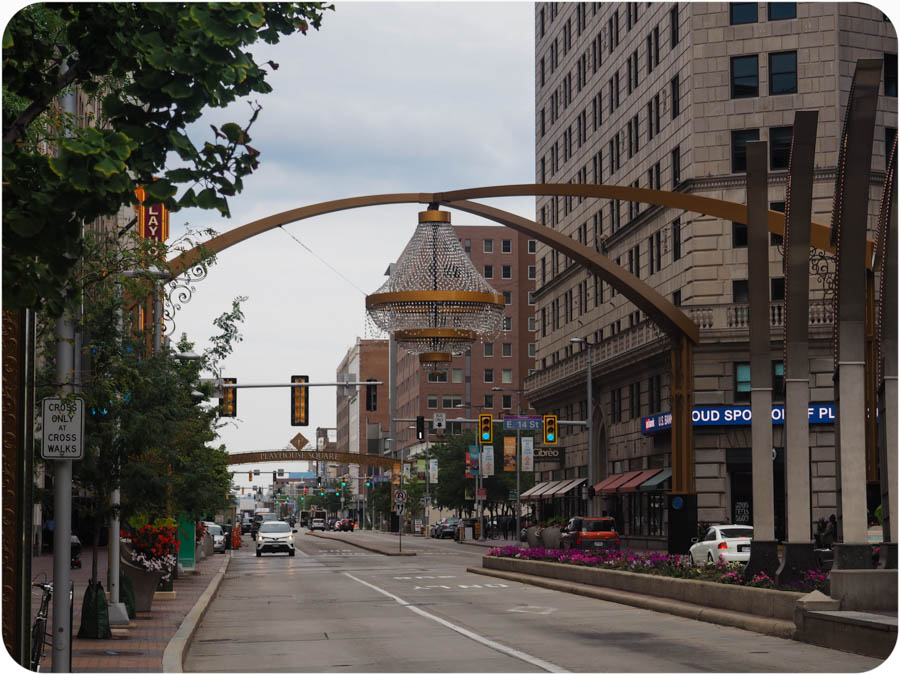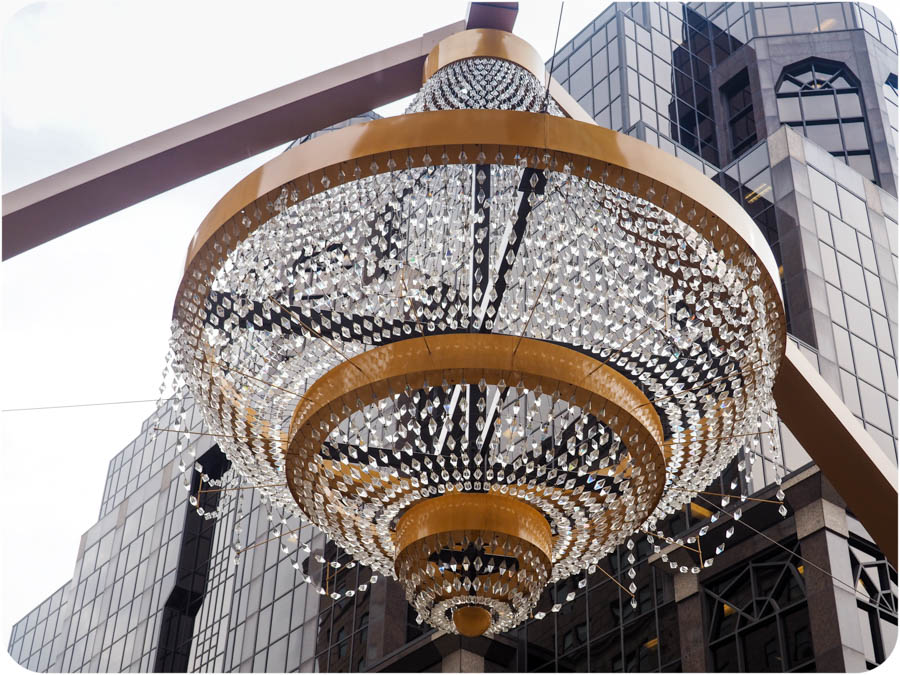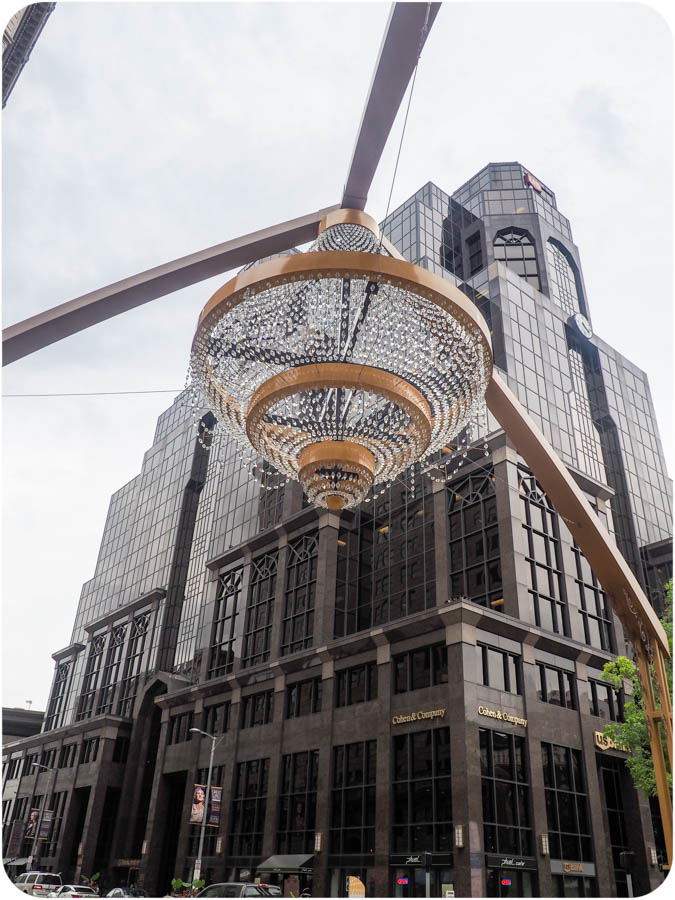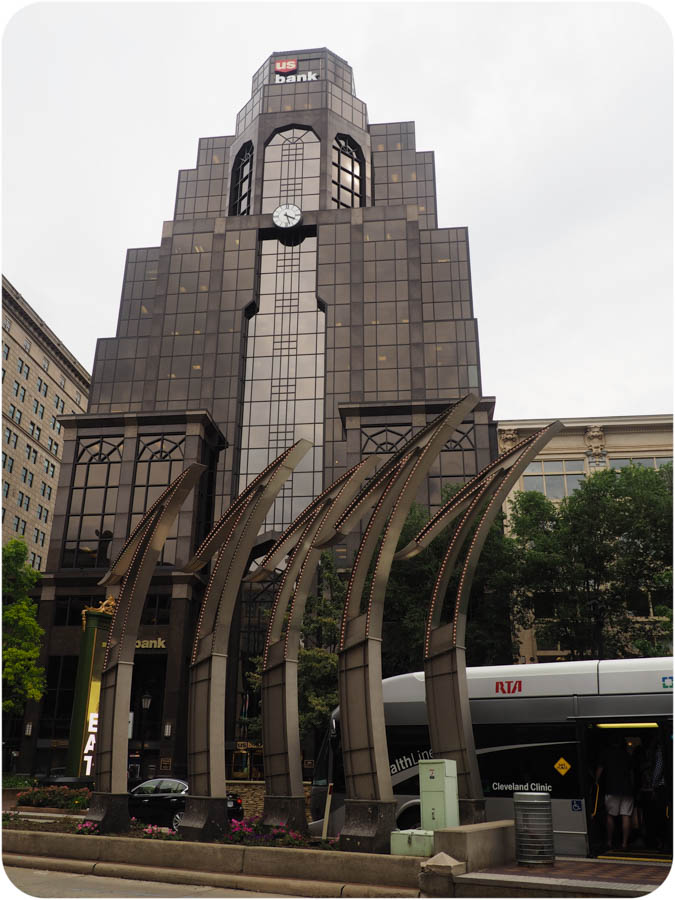 If a city happens to build an even larger outdoor chandelier, Cleveland's can be called The World's Largest Outdoor Chandelier Adjacent To A Building That Looks Like The Headquarters Of A Batman Villain . 
Cleveland also has the world's largest rubber stamp. It has the word "FREE" on it, embodying the desire of anyone in Cleveland. A large desire to be free. Free from this place, free from life, whatever. and it was commissioned  by Standard Oil of Ohio. Between commission and delivery, the company decided that, actually, they didn't want this thing, so they dumped it on the city as a tax deductible gift of public art. The city demurred until the company, now Amoco, agreed to pay for all transportation, installation, and upkeep costs. That is how much they didn't want it. Imagine listing something large and bulky in your home in the Craigslist "free" section and being so desperate to get rid of it that not only do you offer to deliver it, but also to pay for any future maintenance on it, forever. Cleveland knows that free stamps ain't free.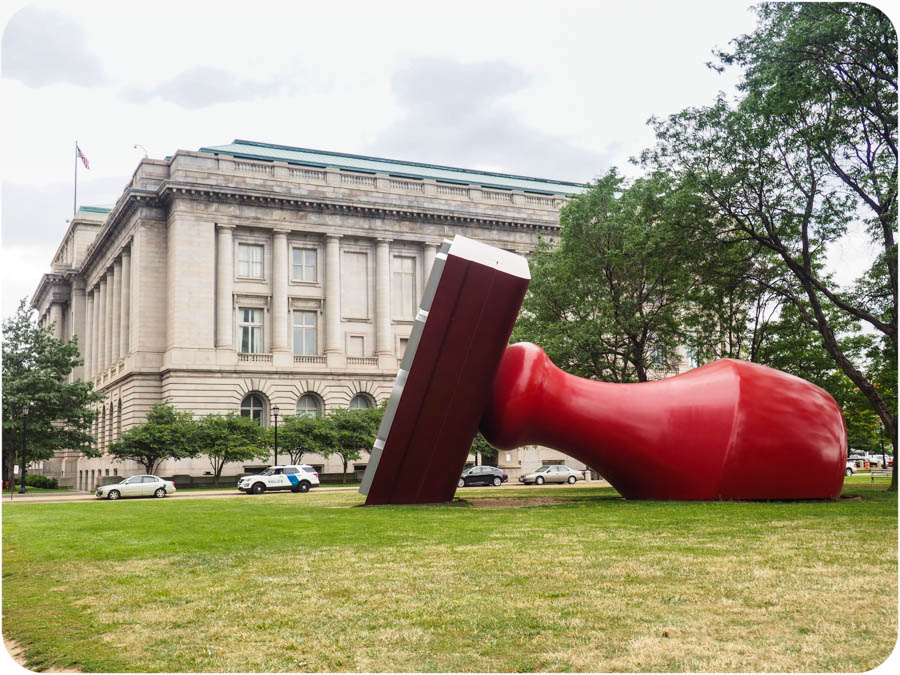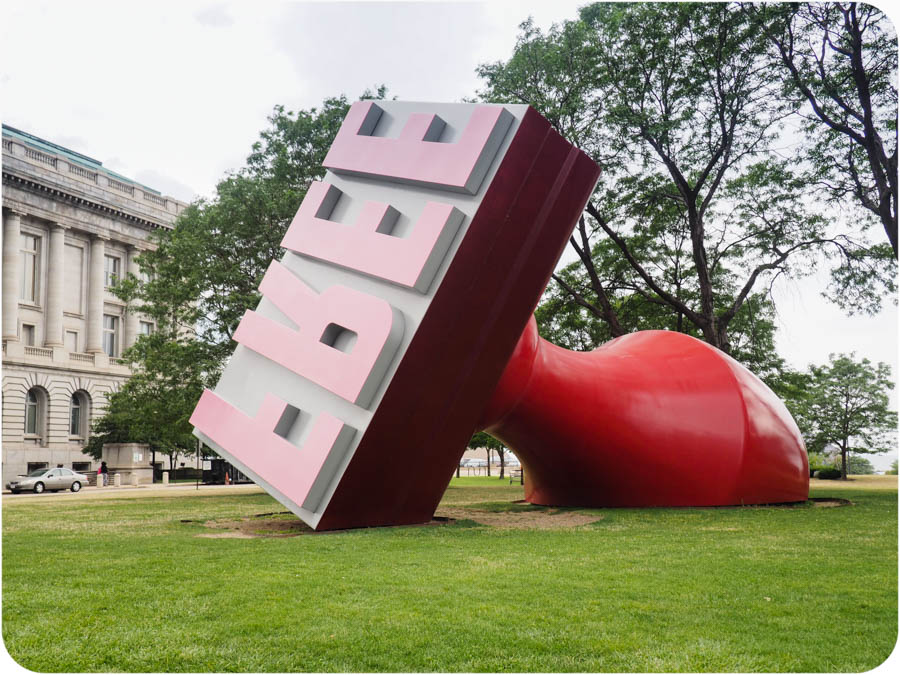 I got hollered at in Cleveland by a driver who told me I was gonna get run over — while I was crossing at a crosswalk with the pedestrian signal lit. Uh, are the laws different there? Or are we just to assume that anyone behind the wheel of a car in Cleveland is going to floor it through intersections and careen around corners regardless of traffic signals due to the sheer desperation of trying to be free of Cleveland? 
COLUMBUS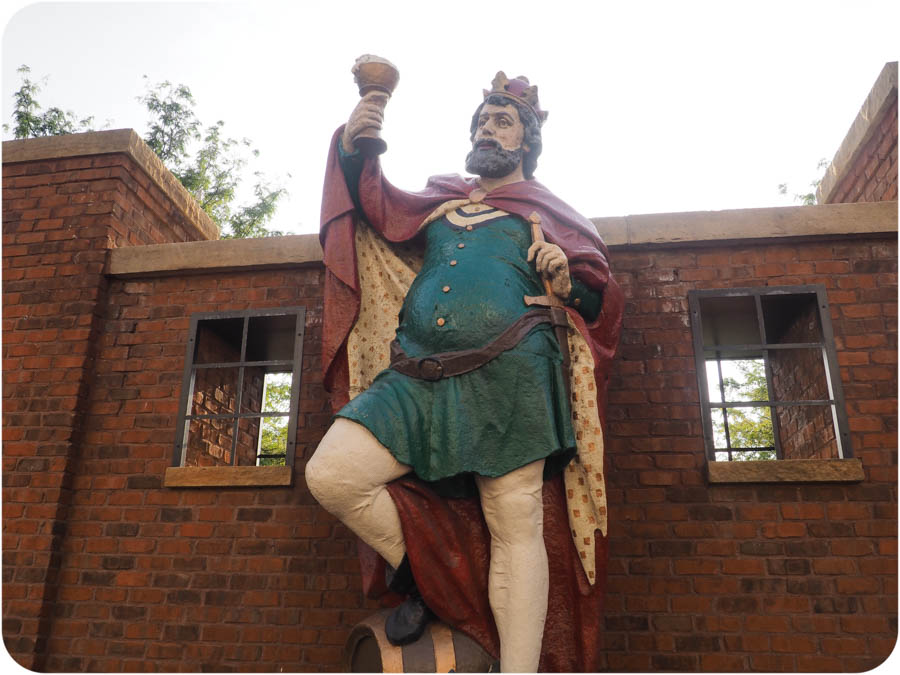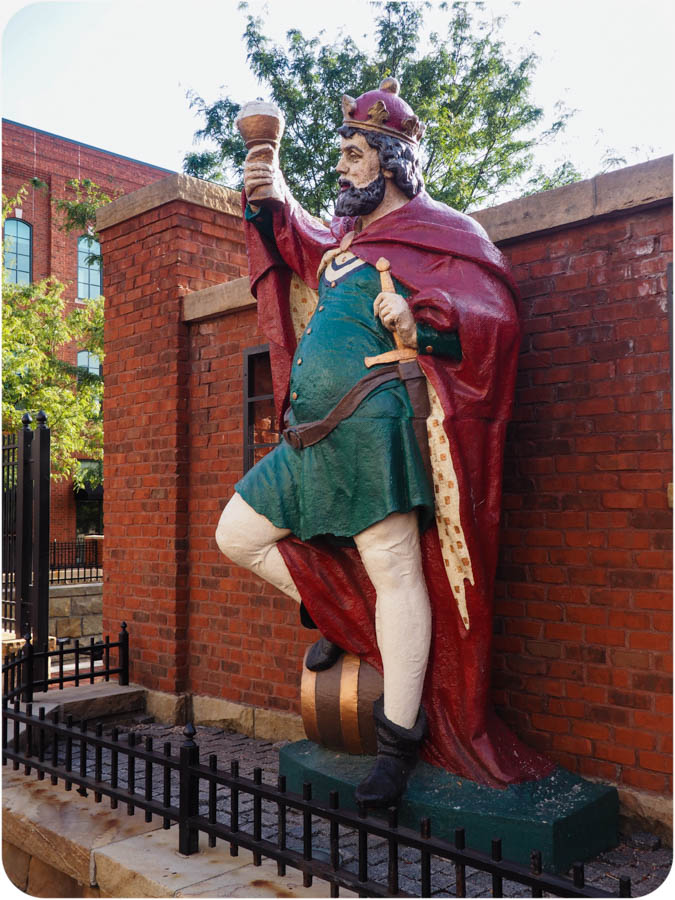 In Columbus' brewery district, there's a large statue of Gambrinus, the mythological king of beer. What I would have never guessed about it is that it's actually been in Columbus for a hundred years. Gambrinus originally stood in front of the August Wagner brewery, and when the brewery closed, the statue was purchased and preserved by the local newspaper, the Columbus Dispatch, and placed in its current location. Gambrinus survived Prohibition, he survived the brewery demolishing, no wonder he raises his glass in a perpetual toast!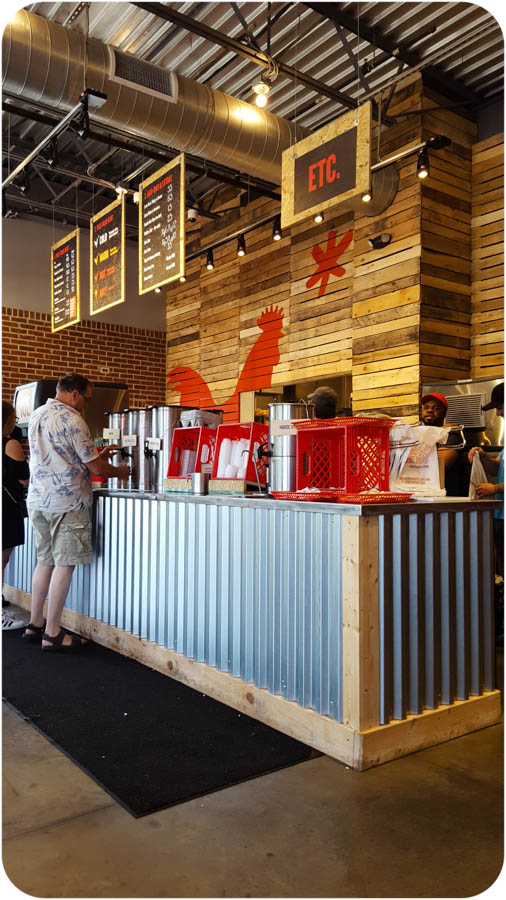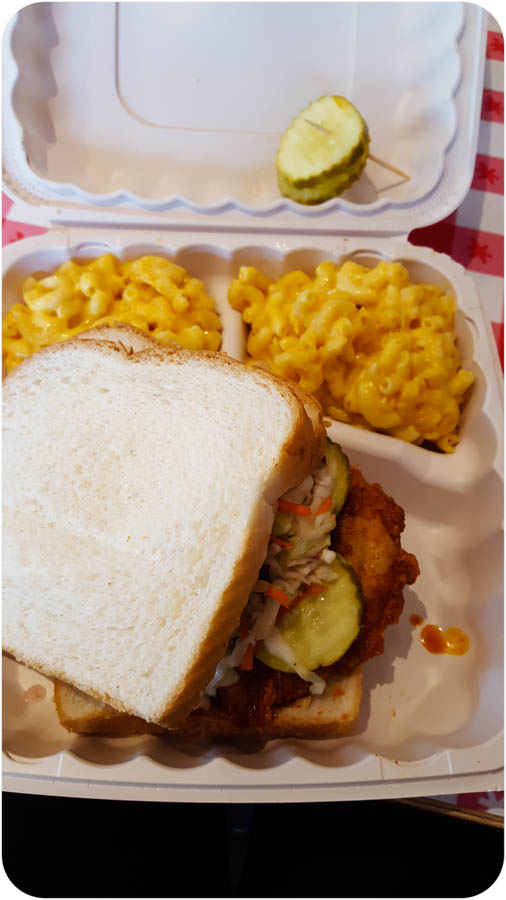 We had lunch at Hot Chicken Takeover and it was great and I loved it. Sweet cheesus, the mac & cheese was awesome, the chicken sandwich made me weep tears of joy and tears of pain, and I couldn't eat it all even though I really, really wanted to. Don't forget to grab your free sweet tea and spice-combatting house made ranch to drizzle on that sandwich! What's also super cool about this place is that they hire job seekers with criminal records, because American society often fails people who have had dealings with the justice system. If there's no legitimate work available for those with criminal records, how can we be shocked by recidivism? I'm glad they're helping give people opportunities to succeed, and this philosophy certainly seems to have not impeded Hot Chicken Takeover in any way, as they've rapidly expanded to three locations. None near me though. Bah!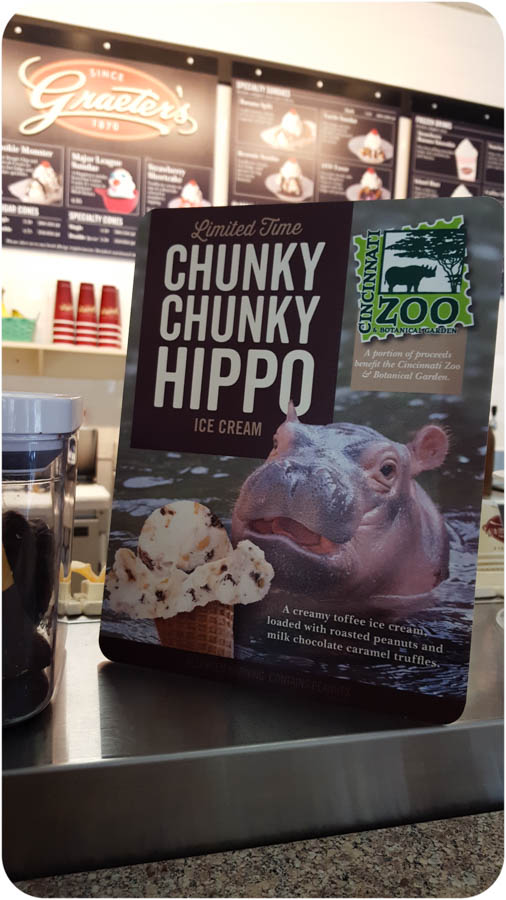 I love Fiona the chunky lil hippo and I will do anything she tells me to, including buying her special limited edition ice cream. In this case, however, I've gotta say that not listening to her is the better option, because the supreme ice cream at Graeter's is their black raspberry chocolate chip, with its thick soft hunks of shaved chocolate rippling through its rich black raspberry ice cream base. Especially in a pretzel cone. Yum. So good I'd consider having a case of it shipped to me but so good that I really, really don't want a case of it shipped to me. I'm better off without the unholy knowledge of how fast I could rip through twelve pints of outstanding ice cream.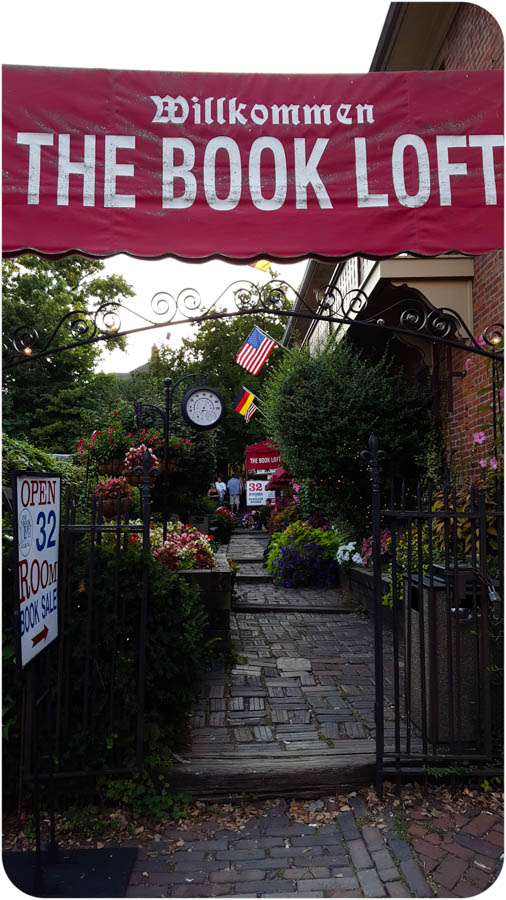 This is the photo I'm going to give to the landscape designer I desperately need to hire this year. If my back patio looked like this, I would spend so many more summer afternoons/evenings out reading. The Book Loft in Columbus is an excellent labyrinthine bookstore–they were having a Bruce Campbell signing the night I visited. I had a good time winding my way through the sections–in one of the rooms, I found a woman sitting on the floor lightheartedly groaning to her friend about how they never should've come because she's going to spend far too much money. I bought a new title and took photos of the ones that I thought might make me face some scrutiny from my shopping companions so I'd remember to look them up later.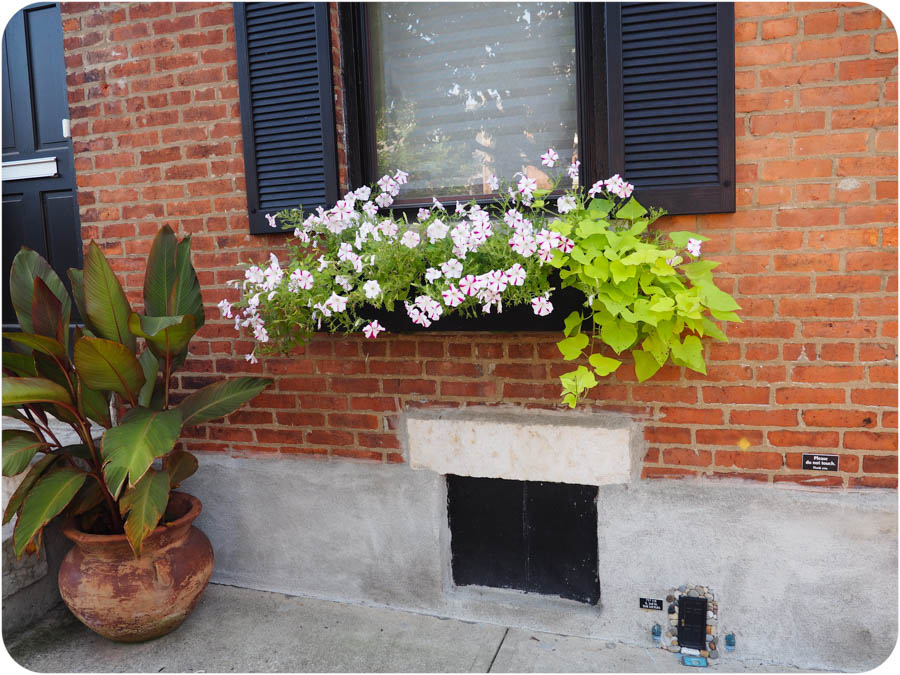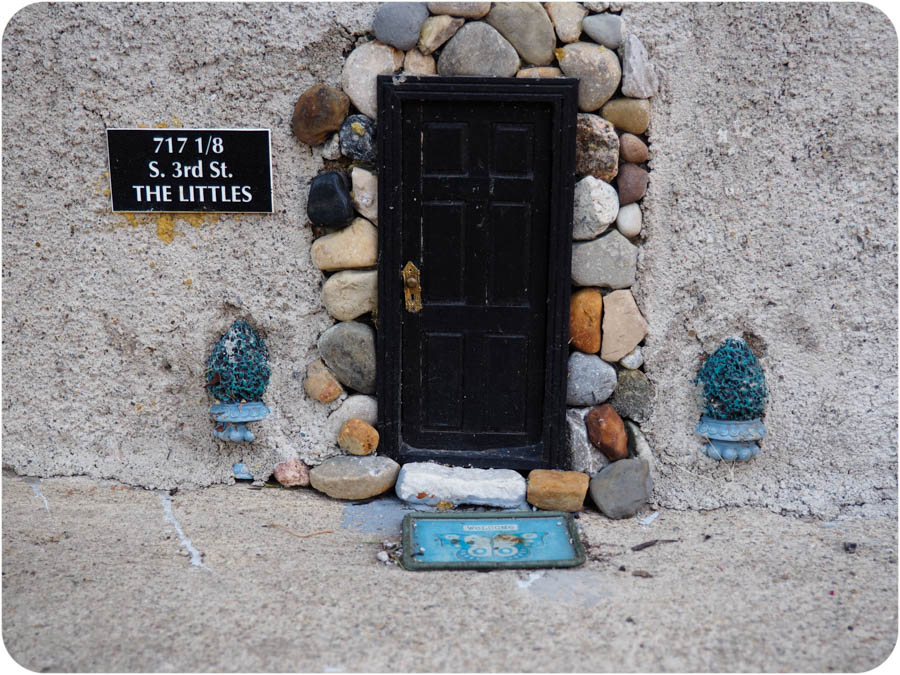 Not far from the Book Loft is this house featuring this teeny tiny door for the Littles family, complete with a doormat and teeny tiny topiaries.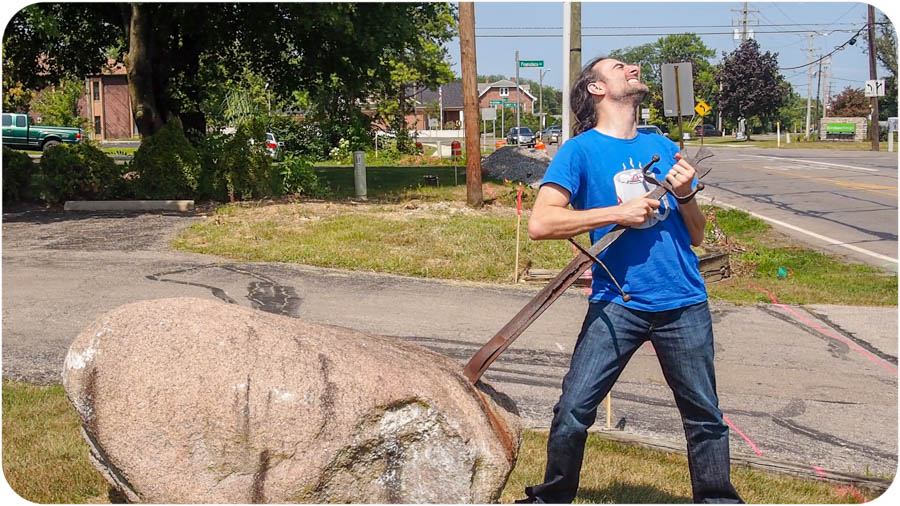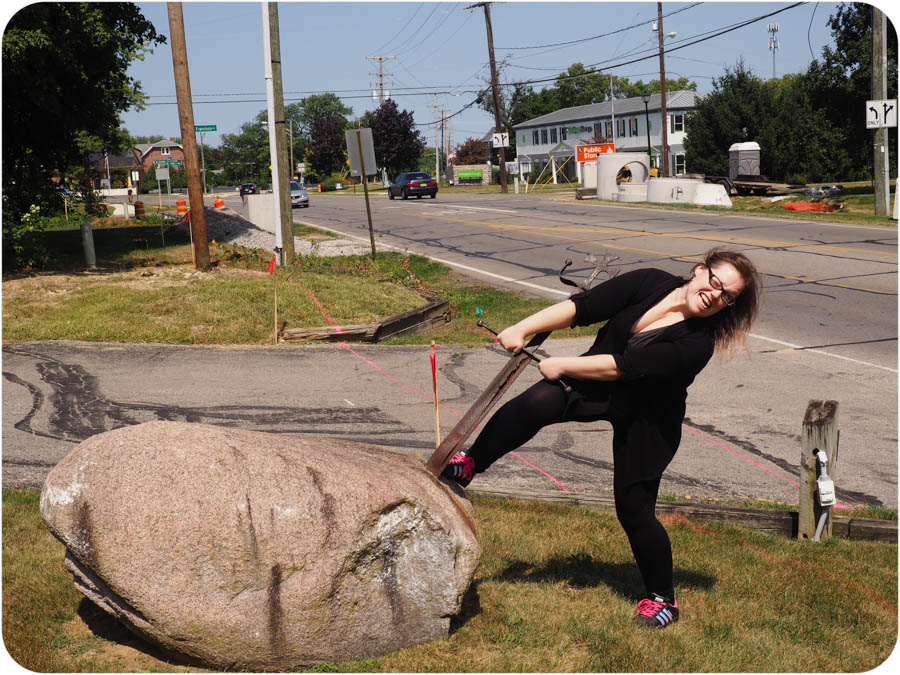 Neither of us were worthy to pull the sword from the stone in front of a dentist's office in Columbus, which is fine, because if I've got to be queen of something, I'd rather it be something more exciting than a dentist's office. Plus no matter how benevolently I ruled, I'd still be portrayed as an evil monarch because of all the black I wear and the fact that dental drills strike fear into the hearts of literally everyone. Nobody is ever going to call the queen of root canals a good gal. You see how much thought I gave this as I was approaching the sword, preparing to give my speech declining the monarchy. Freedom ain't free.
And that's it for Ohio! The stuff that didn't make the cut really didn't deserve its own post.