As I've talked about before, Navani is from Eugene, Oregon, which meant a road trip to meet her to decide if I wanted to buy her and another when it was time to bring her home. Jason had already gone with me on a couple of trips to meet horses I didn't buy, and so he elected not to come this time. I could've done it in a one day there-and-back trip, but I also didn't have the kind of time pressure that would make that exhausting round trip necessary. Instead, I drove to Portland the night before which was its own ordeal (driving Seattle to Portland on a Friday afternoon: just don't do it) and stayed in my favorite hotel for immediate highway access: the Red Lion on the River Jantzen Beach. The hotel itself is fine,  but really it's that ability to immediately launch myself onto the highway from, essentially, the parking lot that makes it my go-to for this kind of waypoint trip. 
I left early enough in the morning to allow for a couple of stops along the way and still be on time, ideally a bit early. One of the horse-buying tips I learned from the more seasoned people in my circle is that you should try to be early enough that the seller can't hide or otherwise mask the horse's behavior. Very high-tempered horses might be worked hard beforehand or even administered a sedative. Horses that are hard to catch in the pasture or are cinchy are already brought in and saddled up. Turning up a little early gives you a better opportunity to observe more about the horse. Hence, blasting straight out of the hotel parking lot onto the highway instead of grabbing breakfast at some amazing Portland restaurant. 
Instead, my first stop was to Sesame Donuts in Sherwood, where I purchased their namesake donut plus a pumpkin spice donut, and a fancy latte that was definitely seasonally flavored, I just cannot remember exactly what those flavors were. The sesame seeds did impart an interesting nuttiness to their cake donut base and really helps fill in that gap in the breakfast spectrum where you aren't in the mood for a bagel but you still want to get a bunch of sesame seeds stuck in your teeth.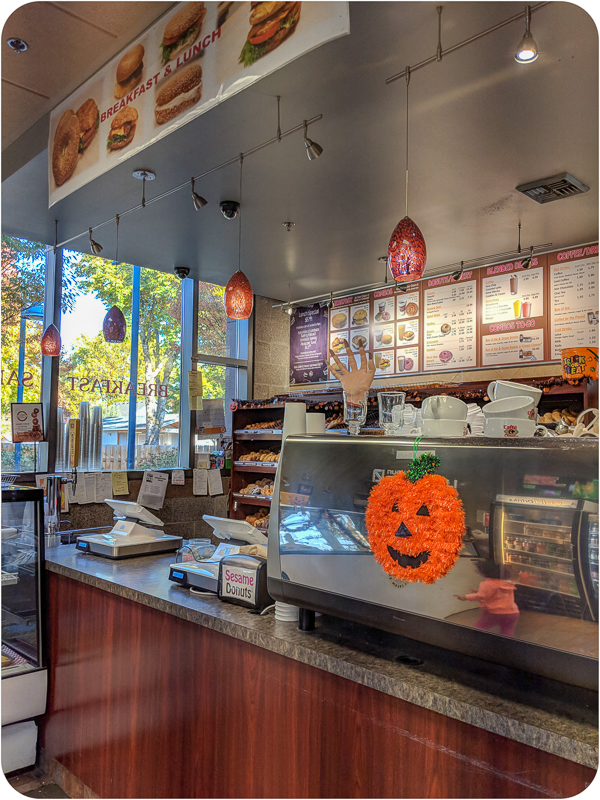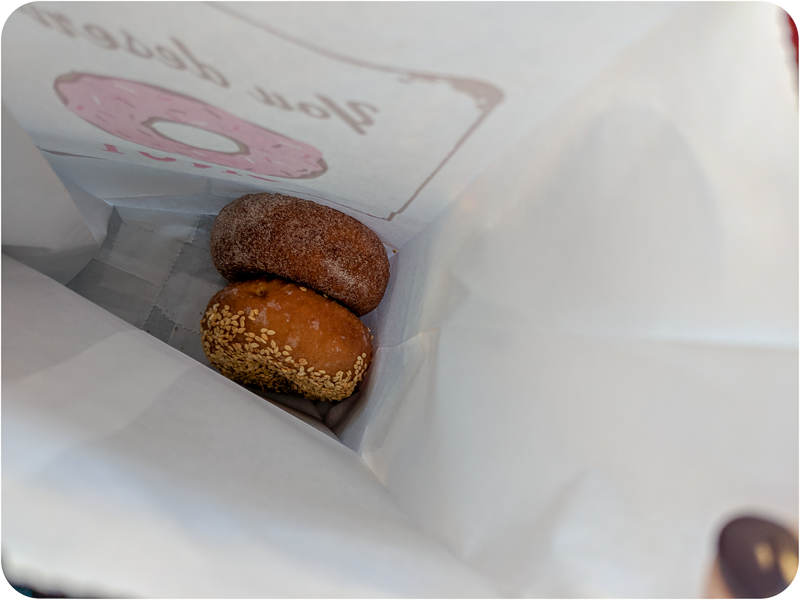 My other pre-Navani stop was at Grove of the States, located off French Prairie Rest area near Wilsonville. Here, they have (or had) the state tree of every tree in the United States along with a plaque featuring the state and the tree name. The grove was initially planted in the mid 1960s to honor Lady Bird Johnson's Highway Beautification Act (which I got to learn a bit more about at the Lady Bird Johnson Wildflower Center when I visited there last spring),  and its creation involved a visit from the attorney general of every state in the nation. Unfortunately, it was planted "in symbolic geographical locations" (I presume in the shape of the United States) without accounting for the long term space and light needs of these non native specimen trees and as a result many of the original plantings have failed over the ensuing fifty years.  
To ensure that the symbolic project lives on for future generations to enjoy, a grove restoration project began in 2016.  Now, new saplings strive upward among the beautiful mature trees of Grove of the States. It's wonderful to have such a fine place to stretch your legs at a rest stop. I hadn't known before that several states share the same tree as their state tree–I don't know why I assumed that each state had to choose a unique state tree and if their favorite was drafted already, too bad, Vermont. Maple is taken.  
I see now that my home state of Wisconsin has taken the initiative of designating a state pastry, which sounds exactly like something my people would do. I can only hope the rest of the states follow suit and then I'll be able to go to Bakery of the States. That's how America is going to achieve unity: every single state pastry mashed together in my stomach like the mighty globe of fat, carbohydrates, and sugar I knew it could be.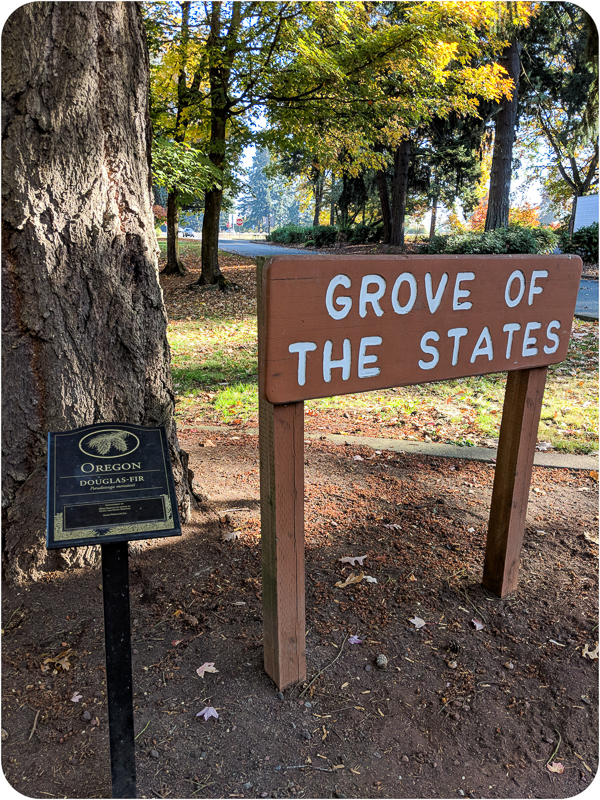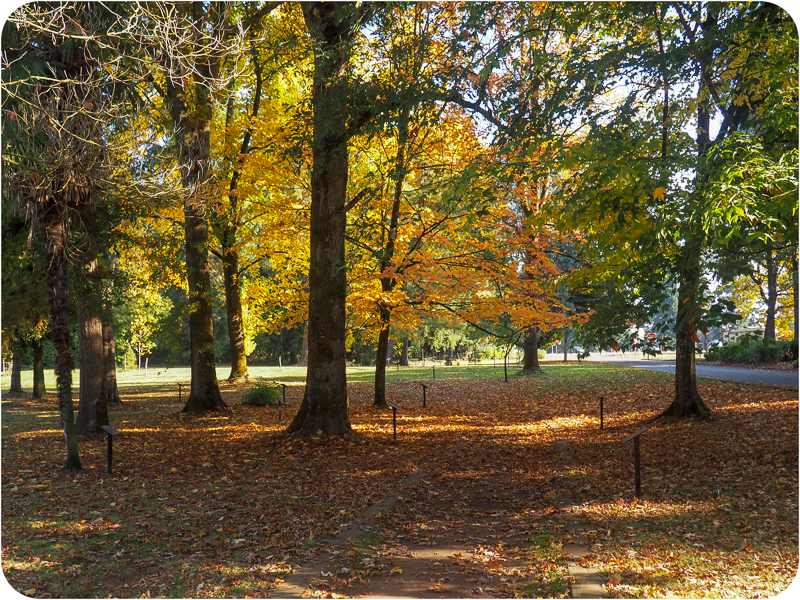 After meeting Navani and calling everyone to tell them about the horse I was going to buy, I was wiped out, so I drove back to my convenient highway side hotel, ate the other half of the sandwich I'd bought on the harrowing drive there the night before, and passed out.  The next morning, I immediately headed over to Ken's Artisan Bakery, where the line was already out the door at 8:30am.
I wasn't bothered by the existence of a line itself but rather people's shocking behavior in the line, specifically the family behind me, the adult members of which said and did nothing when their 6 or 7ish year old son pressed his face and hands against the glass and then smeared himself like human butter across the entirety of the case, in the style of a Japanese novel, right to left, shoving past me and several other people to make certain he got it all, because nothing makes a pastry look more appetizing than through a film of oily secretions. This child then attempted to scale the structure because surely nothing is more loadbearing than the thin glass on the front of a pastry case, it's probably the same kind of glass you can stand out on over the Grand Canyon, or that they use to contain the more venomous snakes. It was at this point the dad took decisive action, by picking up his coughing baby and hoisting her completely over the glass barrier, presumably because the glass was no longer serving its function as a clear window to the food beyond. A little known fact is that this glass performs a secondary sanitary role, acting as a physical barrier between the mouth  of the customer (and/or sack of crap strapped to its waist) and unpackaged food so as to reduce the risk of contamination. It cannot provide this function when you lift your baby over the glass to cough directly on the bread. Why not just cough into my open mouth, save us some time?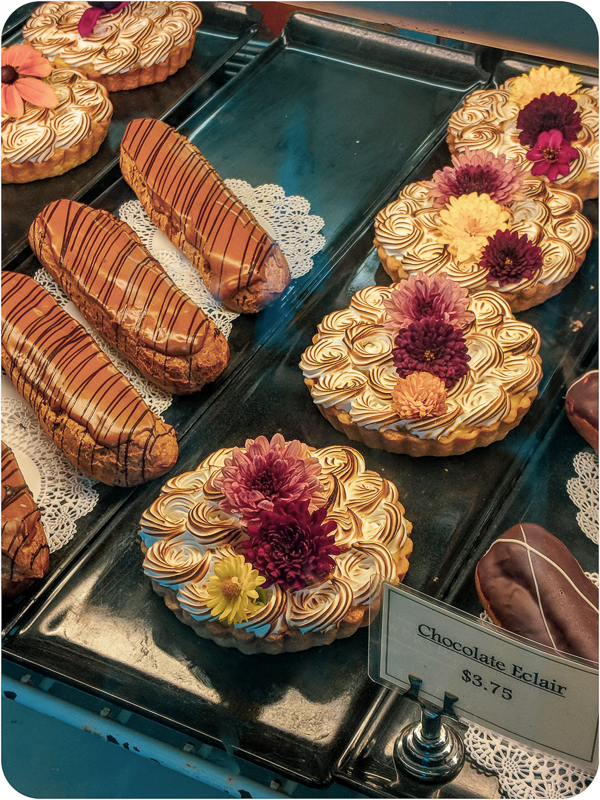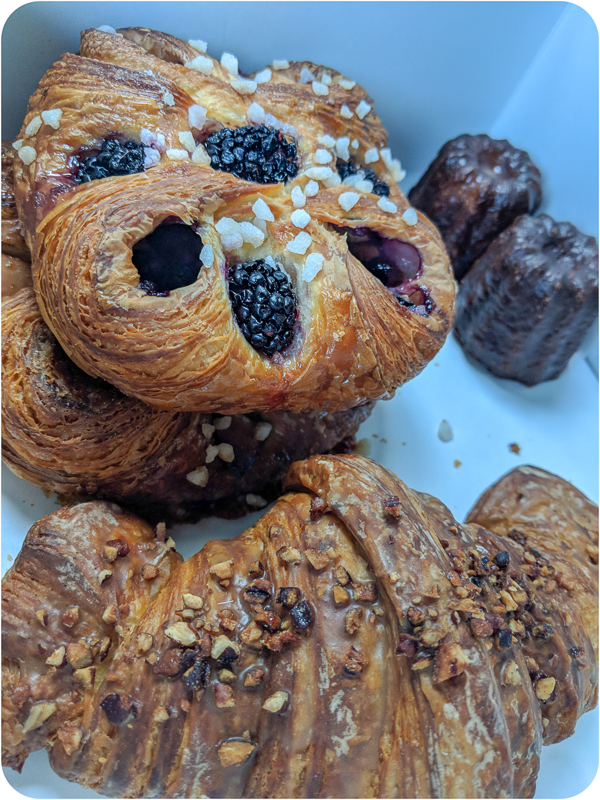 I made my selections away from where the coughing action went down and ended up with a couple of marionberry croissants, a maple pecan croissant, and two canneles, since I knew I'd be home by afternoon to share with Jason. Of those items, the marionberry croissants were a standout, the fat juicy berries studding the flaky pastry and making it a luscious pie-like experience.  Plus anything sprinkled with pearl sugar earns bonus points in my book. 
A thick fog blanketed the road near Sauvie Island  that morning, and when I saw a sign advertising a pumpkin patch, I had to pull off to check out what a field of pumpkins looked like in that much atmosphere.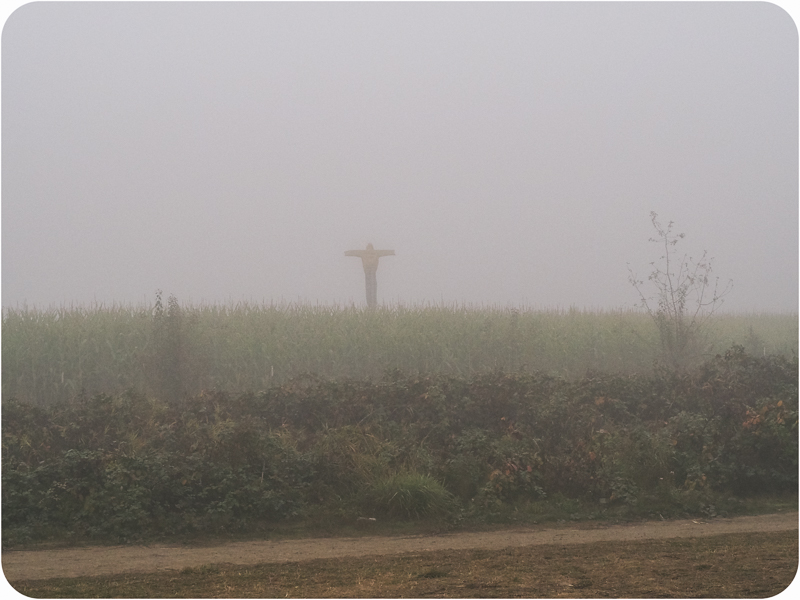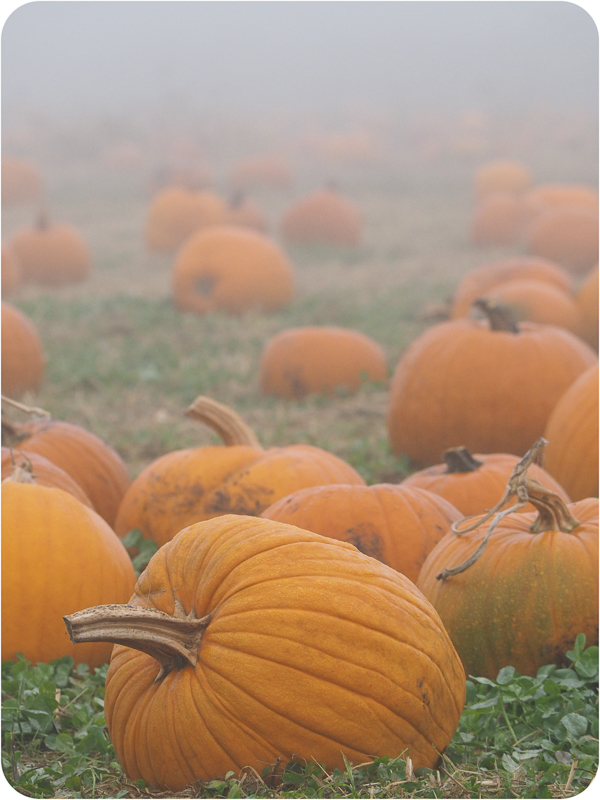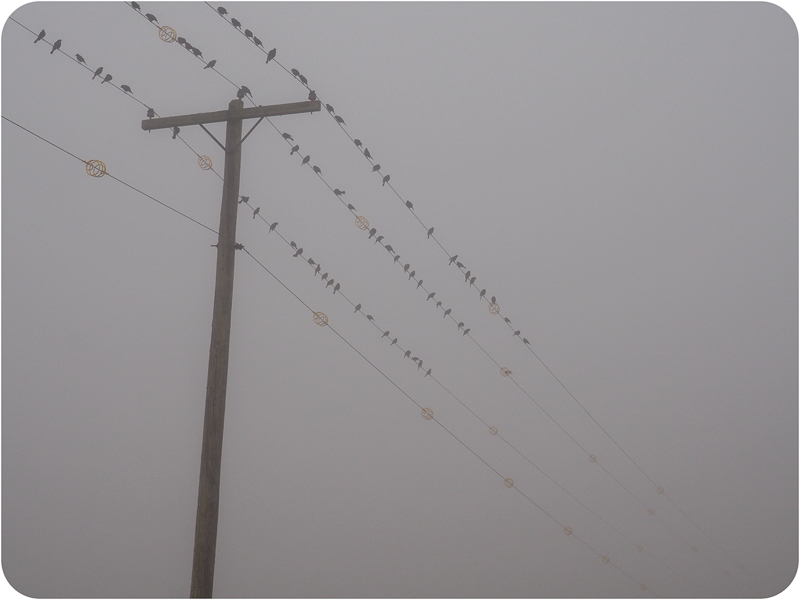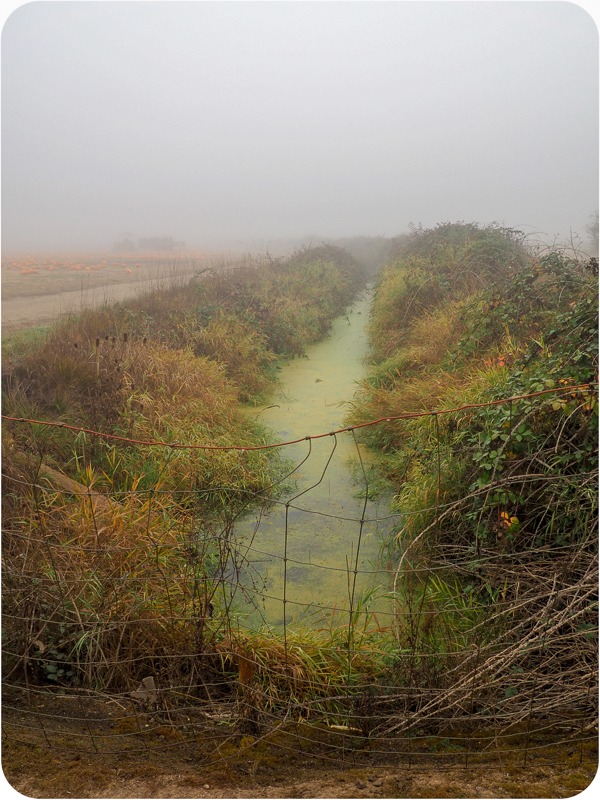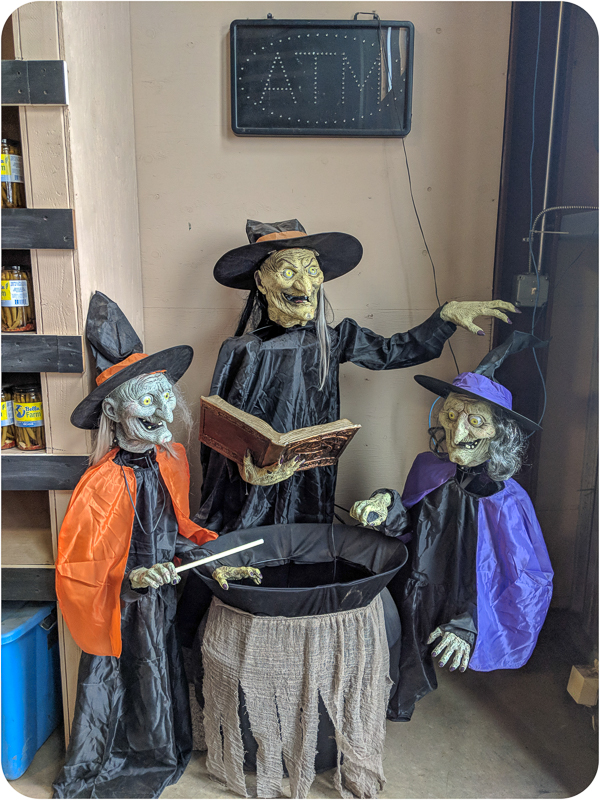 I don't know how this ATM works, I assume you tell the witches your pin number and then money shoots up into the cauldron.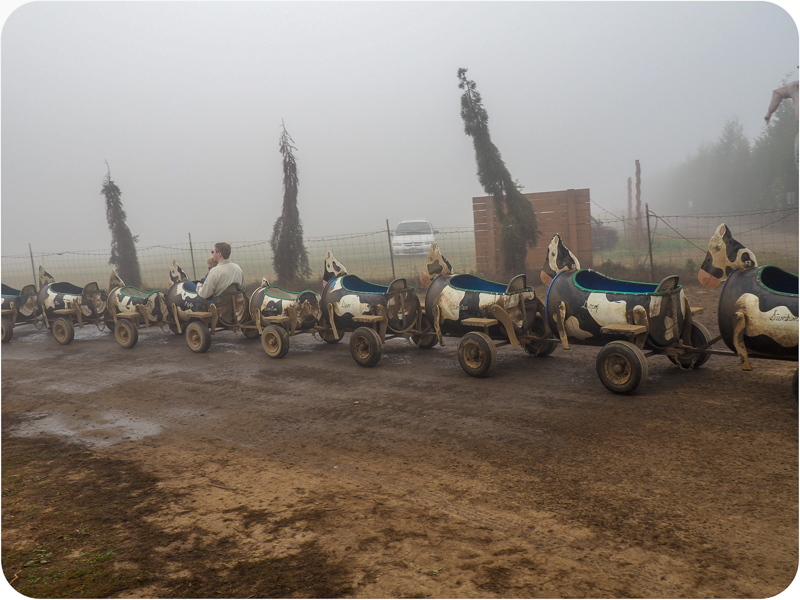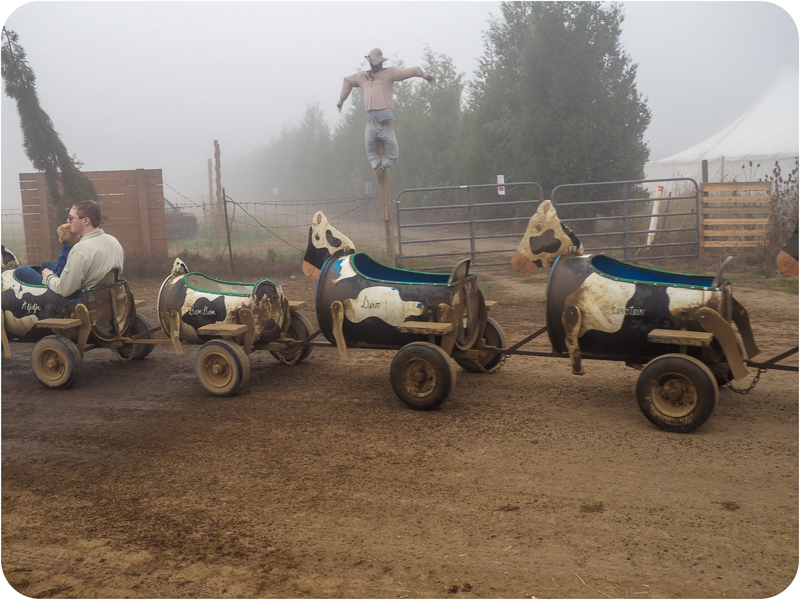 Everything looks super spooky in this much fog. Everything including this cow train, which felt like a Twilight Zone episode where you'd find out that these are the cars the cows, who are now in charge of society, use to cart humans to the abattoir.  Bovine University.
From Sauvie Island, I drove to St Helens, also known as Halloweentown. Halloweentown festivities were in full swing, and I had a blast getting my photo taken in the upside down photo studio, checking out all of the awesome vintage Halloween stuff at the 2CS vendor mall, and catching up with my friend Kat while I went ham buying fancy candles and chocolates at Woodland Cottage Handpicked.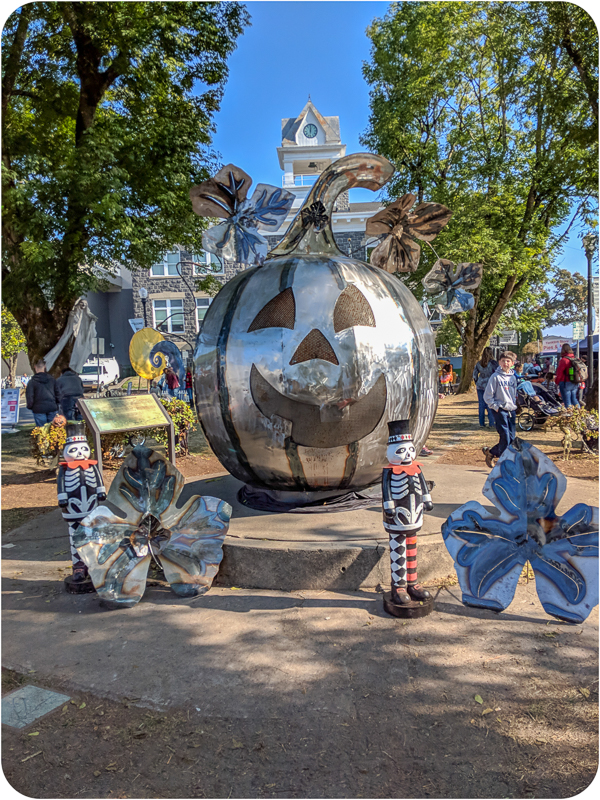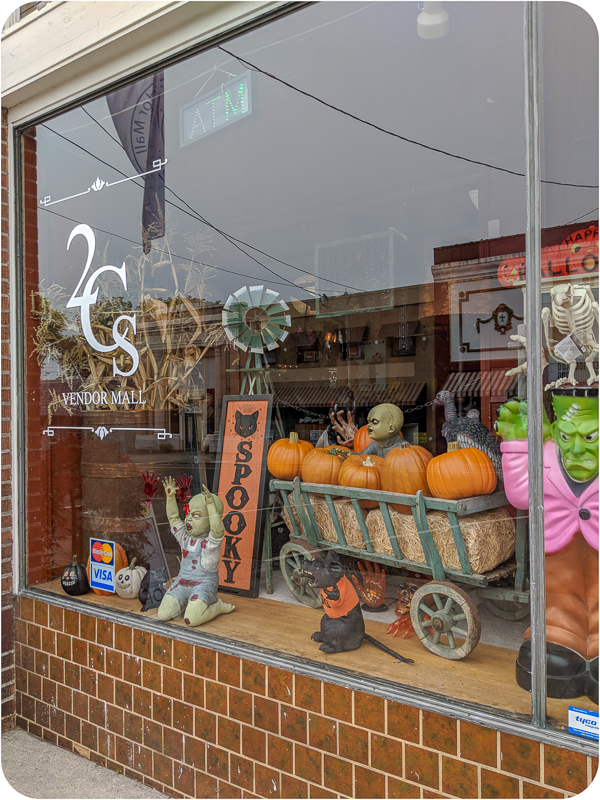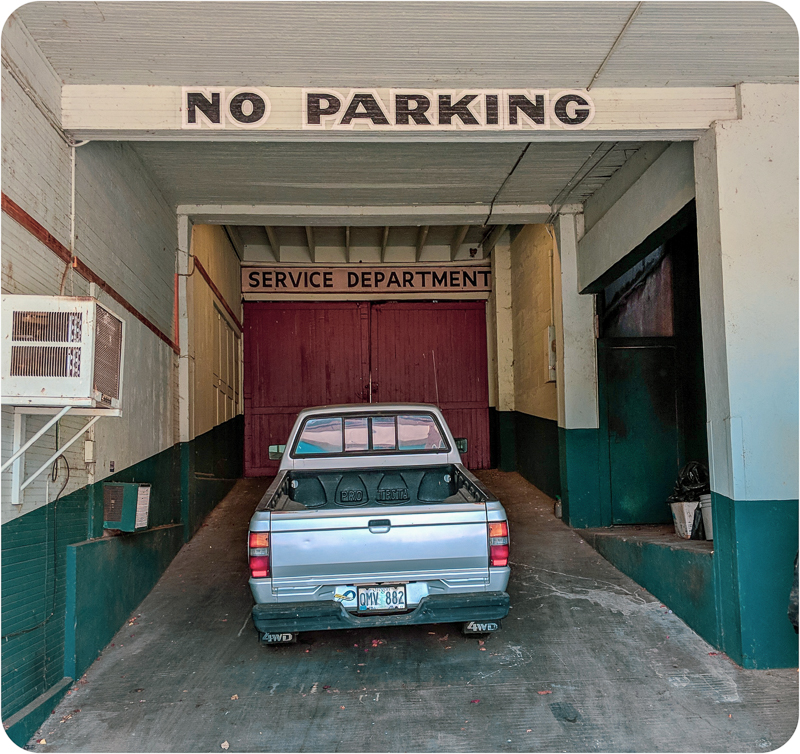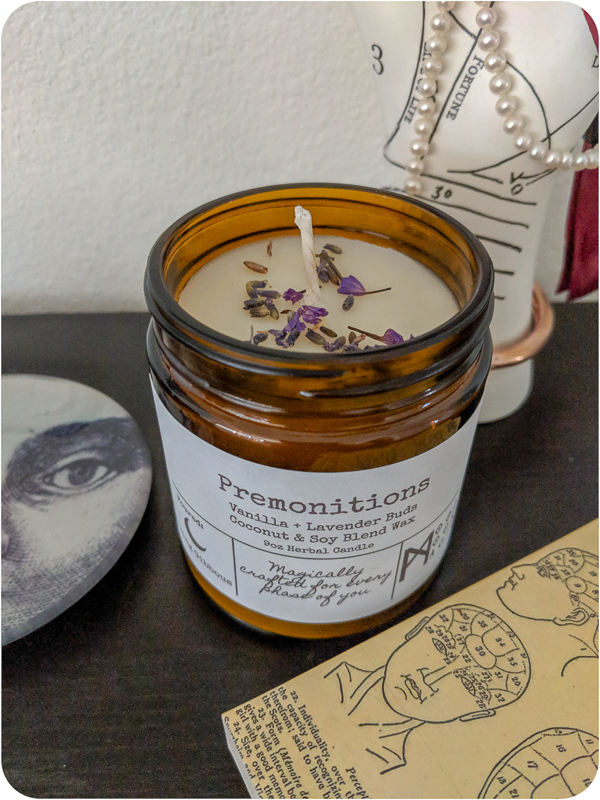 From St. Helens, I drove to Longview, the place where I'd once attempted to eat the largest cinnamon roll in the world (with help!). Longview has a series of squirrel bridges up throughout town  to help prevent car and squirrel related accidents. The first was called the Nutty Narrows and it was installed in 1963 for the cost of a thousand dollars.  Every time I have occasion to come through town, I find my way to at least one squirrel bridge to see if I can observe it in action and each time I have been disappointed by no-show squirrels. What I'd really love to see are some webcams monitoring the comings and goings of the bridge, which seems like it'd be even easier than booking Cherry Poppin' Daddies for their annual SquirrelFest which is in fact a real thing and not something I just made up, where you can "Enjoy: no car/squirrel fatalities!" Thanks, will do!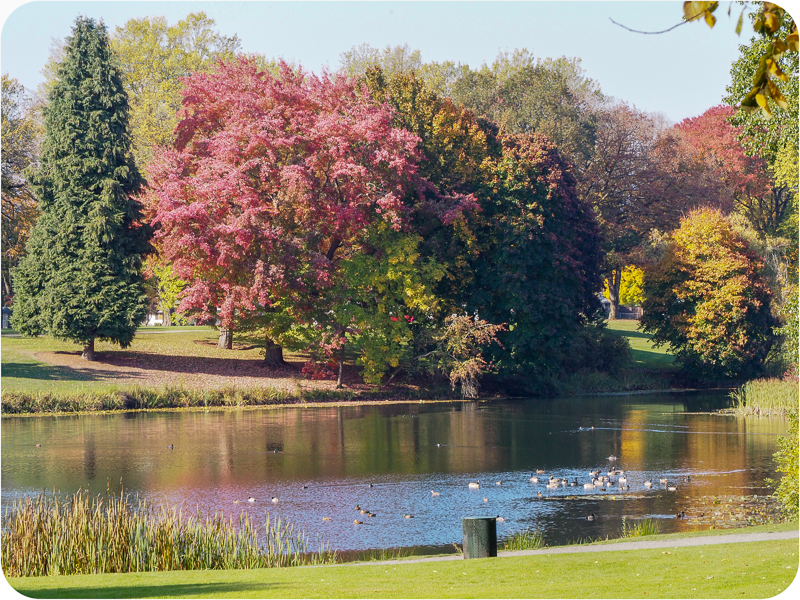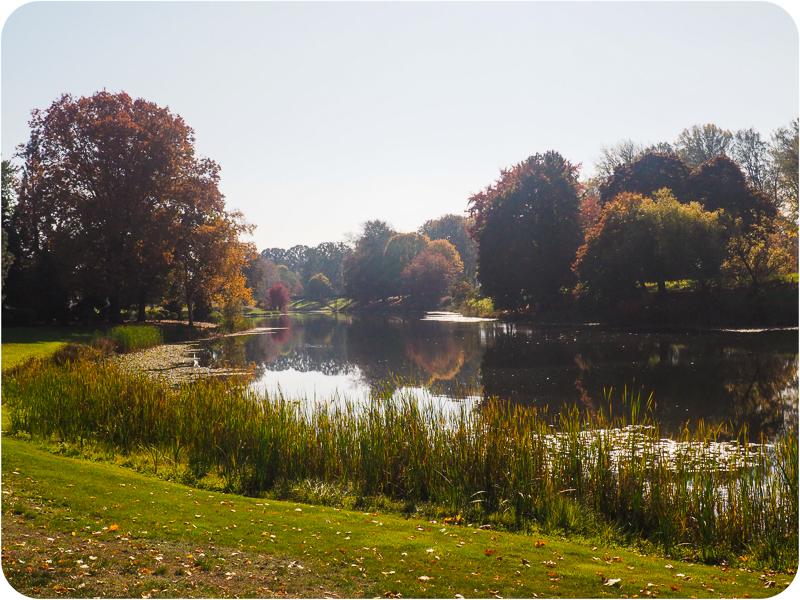 I walked alongside Lake Sacajawea, enjoying the sunshine, petting dogs, and playing Pokemon until my cell phone battery got low enough that it threatened my ability to listen to Spotify the entire way home, as in their wisdom, Google's decision to remove the aux jack and route sound through the USB port means that I cannot charge my phone and listen to music at the same time.  All these phone manufacturers arbitrarily removing the aux jack really jacked up my road trip flow, where I want to use battery-heavy GPS and listen to music or podcasts for hours at a time. I like to keep the phone plugged in to a charging source so that I don't have to worry about the state of the battery and, in the event of some kind of incident, I know that I have a full charge regardless of my location. That's a thing I can't do with my Pixel 2.  I can listen to music in my car now if I have a usb-c to aux adaptor (they're so easy to lose, I asked Santa for three, he brought me one, and I've lost it already) and an aux cable, but now that phone aux jacks are going away, they're going away in newer models of cars, too. The last loaner I had from MINI, I couldn't connect my phone and the car physically at all, and I don't feel great about allowing a rental car access to my phone.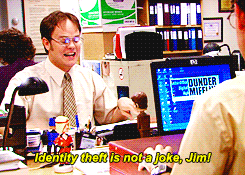 You know what else isn't a joke? Facing a road trip with no music. #bringbacktheauxjack