On our trip to Leavenworth, we passed through Monroe, which I had always assumed was a town of little note. Not so! At one point, Evan looked over and gasped "Reptile zoo!" The two of us chorused louder than any child could manage from the backseat, "REPTILE ZOO!" and demanded that we stop and visit. Emily temporarily halted our pleading by suggesting that we could stop in on the return trip, a compromise to which we were both amenable. I looked up their website on my phone and discovered they had an albino alligator, whose name we decided would be "Chompy". I further decided I wanted to ride him. Unfortunately, by the time we got back from Leavenworth, the Reptile Zoo was closed for the day, and I was a bit too tired to throw the mighty tantrum that sort of disappointment mandates. So, on New Year's Eve, we made a special trip to the Reptile Zoo. I was so excited about this trip, I made up a special song and dance number entitled "Goin' to the Reptile Zoo" which essentially looks like any of my other dances but involves the tuneless singing of "We…are…going to…THE REPTILE ZOO!" over the top, along with some fist-pumping.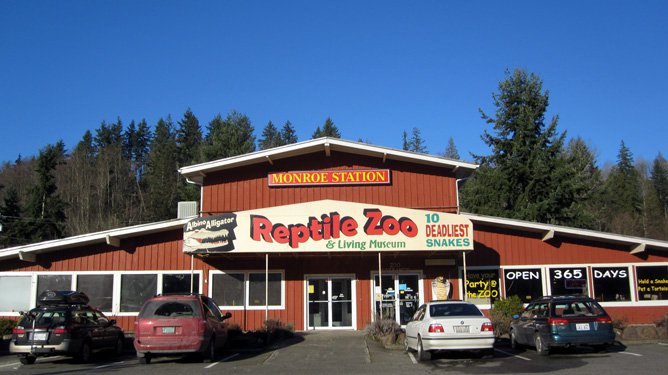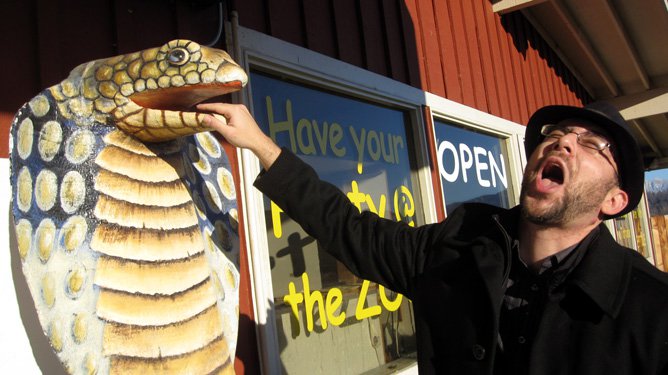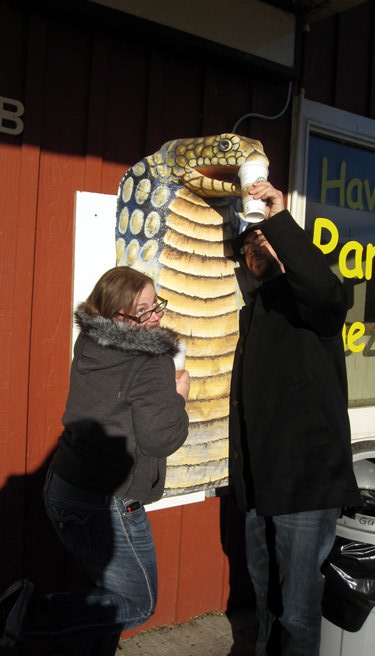 After we finished fooling with the big snake carving out front, I noticed that there were signs everywhere about where one ought to deposit one's gum. The Reptile Zoo, in fact, seemed more concerned about gum than all of my grade school teachers combined. What was the deal with the gum? Is gum inherently the anti-snake? Do iguanas seek out discarded gum when they want to blow bubbles but end up making a mess everywhere? Does someone loathe minty-fresh breath?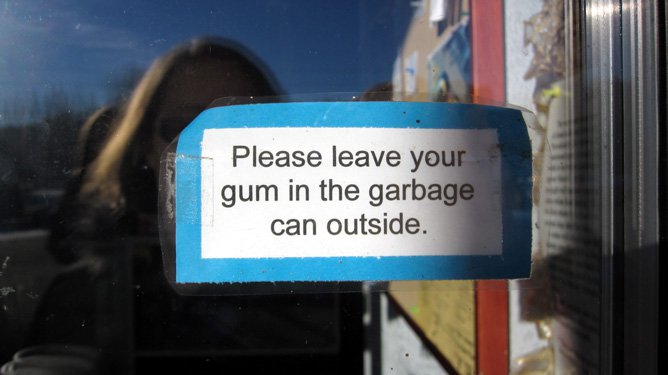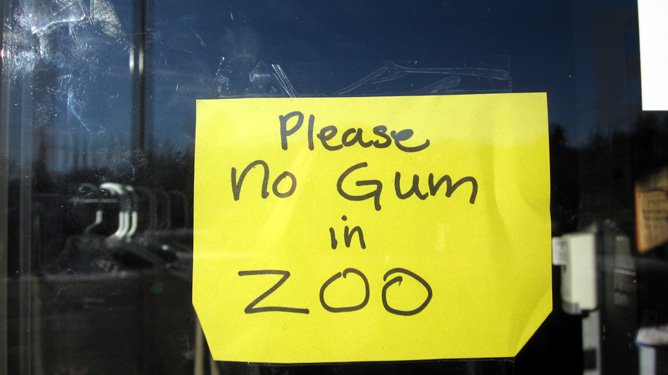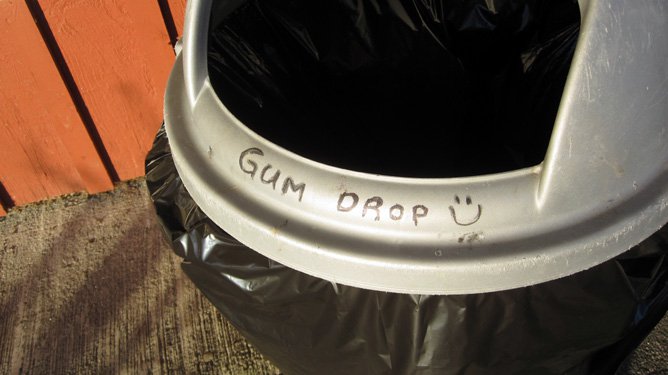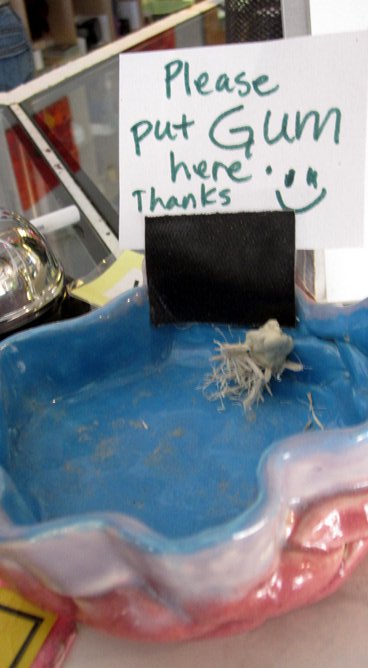 When we got inside and paid our entry fee, I asked the woman what was up with all the gum signs, because clearly there must be a big issue, right? Right? Someone died and gum was involved, right? Wrong. Apparently someone dropped some on the carpet once and it made a stain. I don't know that carpet stains should be among their biggest concerns–after all, they're sharing a room with the WORLD'S TEN DEADLIEST SNAKES!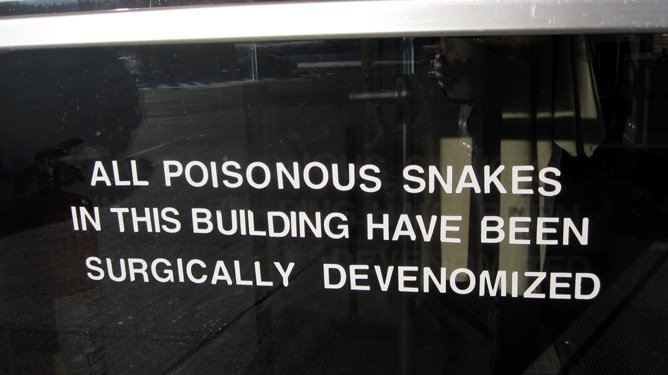 …oh. Actually, devenomization is probably for the best. The owners are apparently a little blase when it comes to fang-based danger as some of the tanks had cracks in the glass or little holes that snakes were furiously poking at with their noses in an effort to wreak bitey havoc. Also, after the camel incident* and the tiger incident** and the goose incident*** and the seagull incident**** and the cat incidents*****…I am far better off when nearby animals are not only behind glass but also deweaponized as much as possible. Nearly all of the animals in open-top enclosures had signs indicating that they either might bite or will bite, and that sort of certainty keeps even me from putting my hands where they don't belong.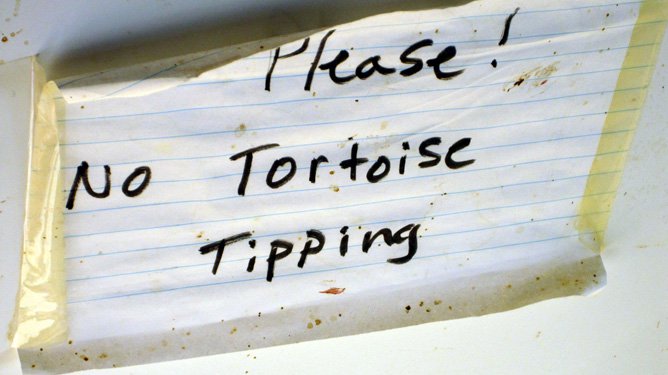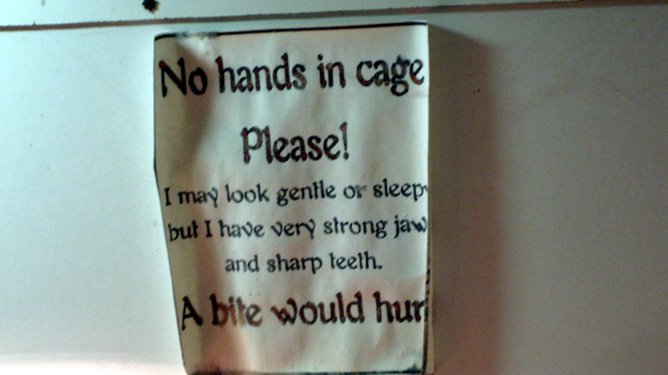 Handwritten signs in marker only add to the feeling of danger. The only writing implement more dangerous-feeling is the crayon, because the crayon says you well and truly just do not give a fuck.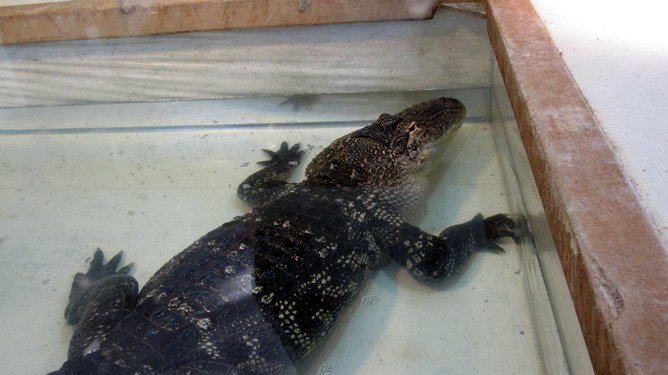 This is Chompy's less-popular relative, Chompy II.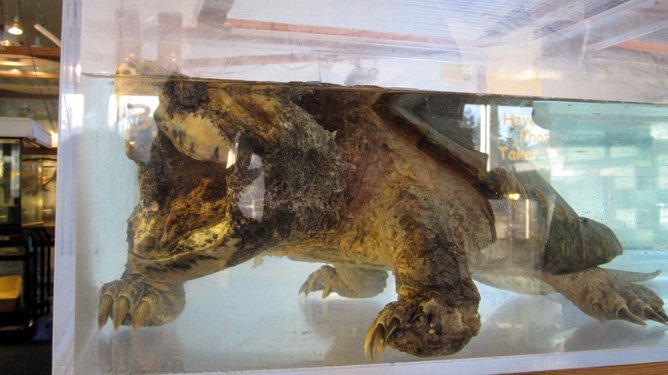 This dude was just hanging out in attack mode. Or he wanted all of us to check out his icky tongue, like the turtle equivalent of a flasher.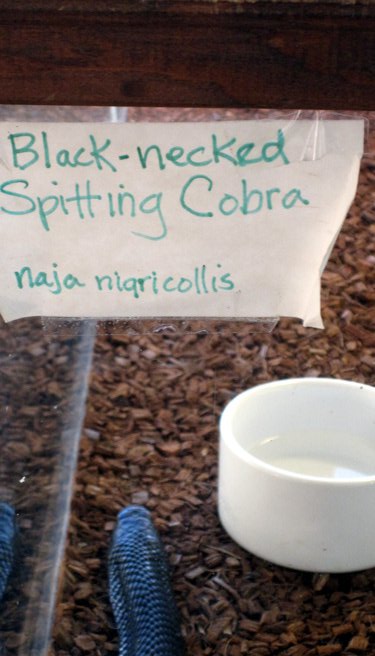 I didn't take a picture of the snake itself as it turns out that when they're all lumped in on themselves, they look like big piles of dangerous dog doodoo.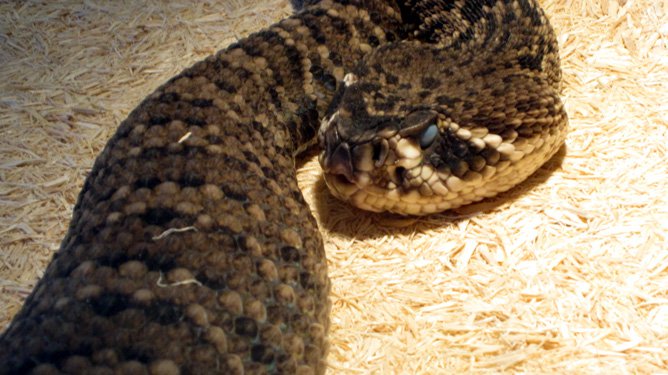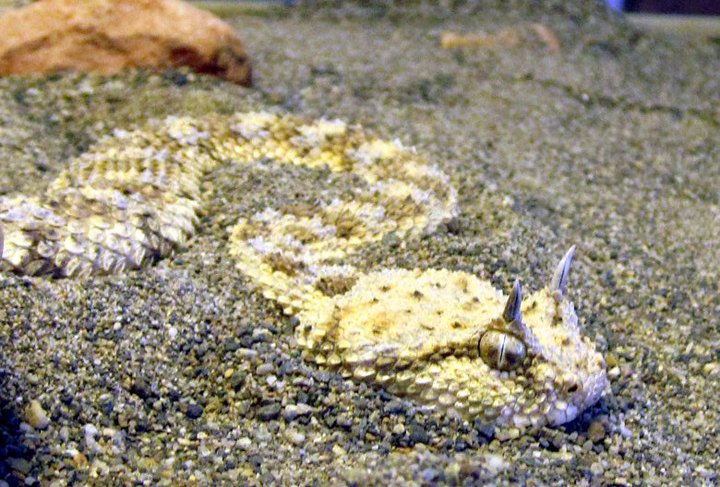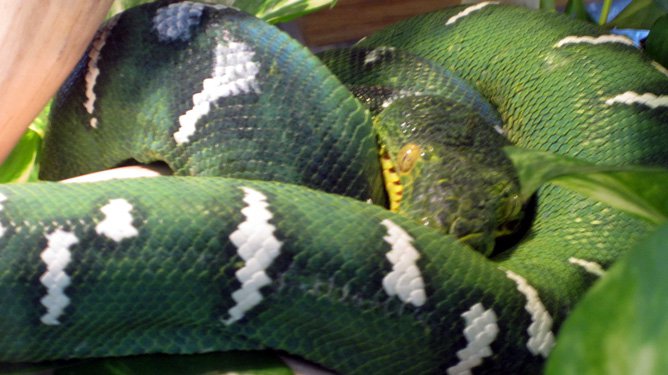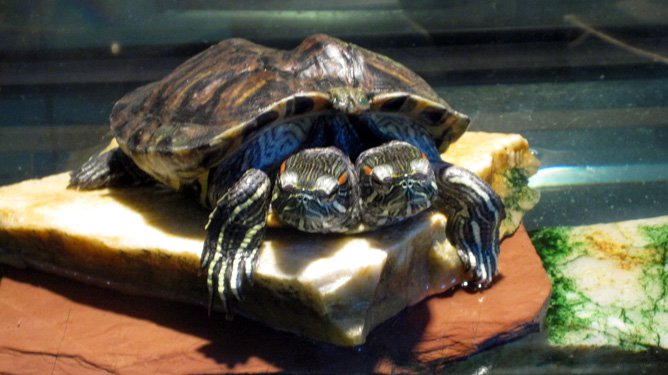 This, my friends, is Chompy the Albino Alligator. I made up a song for him on the spot, which, sung to the tune of "La Cucaracha", goes like this: "My name is Chompy! I am an alligator! Bite bite bite bite bite bite bite!" Look how he's smiling–he likes it! This song can be easily changed to fit other creatures–"My name is Squeezy! I am an anaconda! Hug hug hug hug hug hug hug!" or "My name is Slashy! I am a monitor! *theme from psycho*"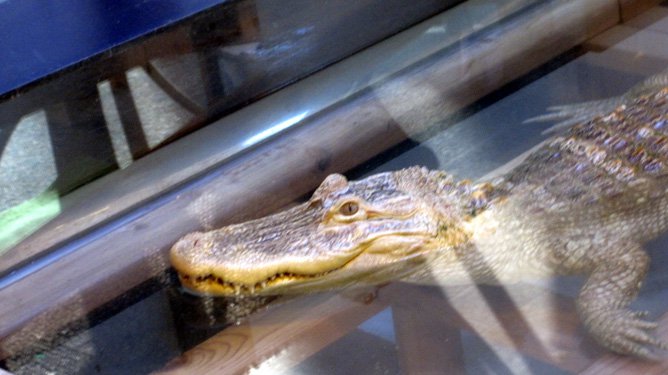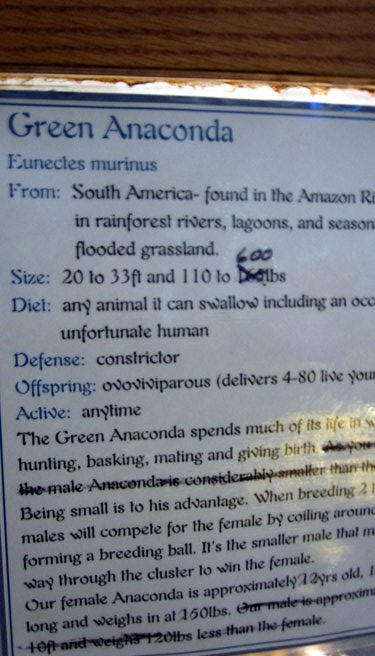 …Uh, apparently the male fell into some misfortune right around the time printer ink got expensive.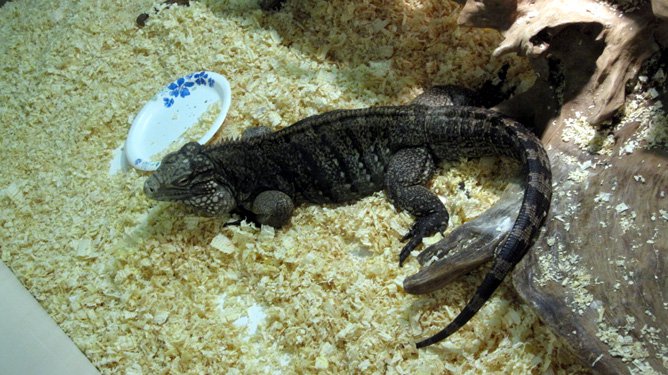 This guy had a sign on his cage warning visitors that he may look gentle and cuddly but in fact could rip your hand off if he so chose with his powerful jaws. Of course, he was in an open enclosure, and immediately after I walked away, some poor illiterate girl wandered over and squealed "OMIGOD he is like so cute, can I pet him?" …and then I waited for the hand-shearing to begin.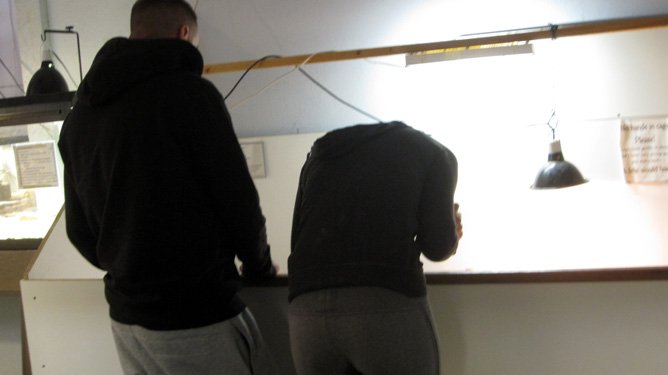 Sadly, her more-literate boyfriend stopped her.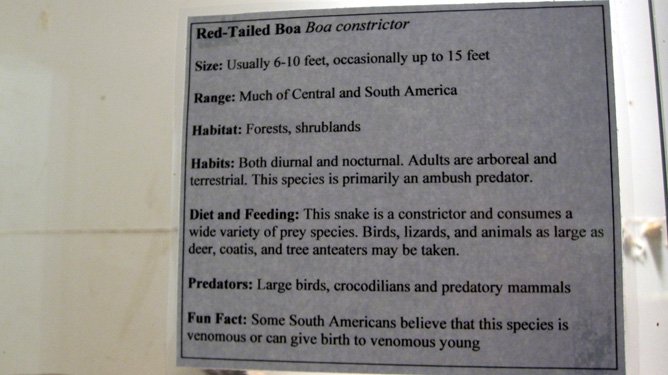 …And some United States of Americans believe that Bigfoot might run off with their wives at any moment. Let's not judge the whole area by one or two idiotic beliefs that consitute 'fun facts', yes?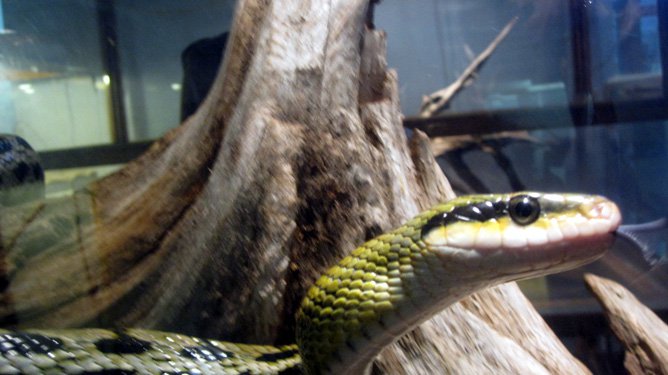 I kept attempting to get the cobras to spread their hoods, by gentle vocal encouragement and also via demonstration by putting my own hood up. They were having none of it. This group of snakes, who previously were all coiled in each other, all started intently staring in the same direction. What held their attention so? I have no idea, but it was pretty cool to see.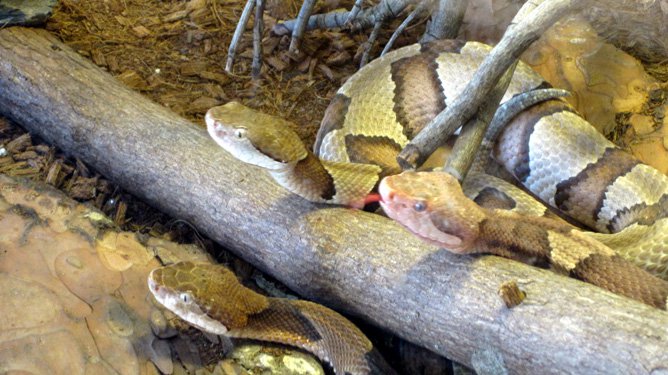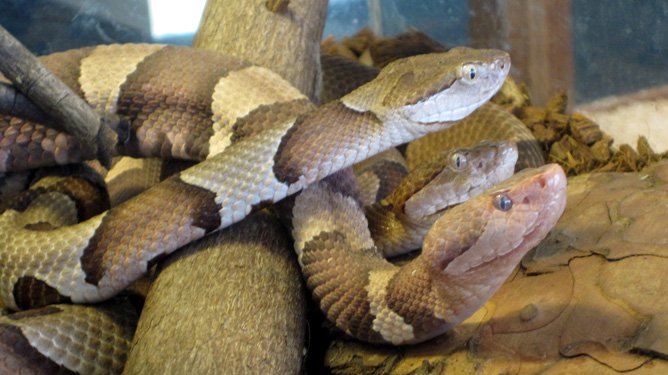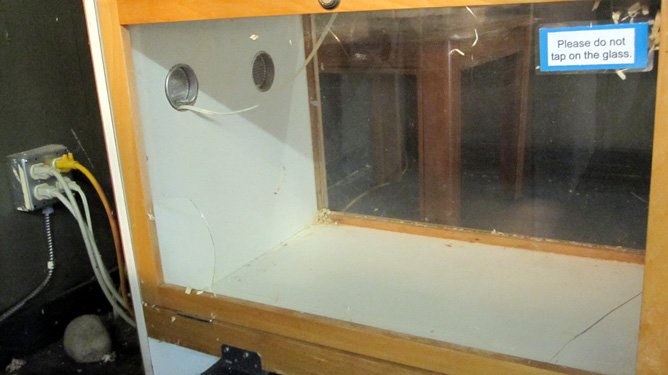 They are fucking serious. Don't tap on the glass, or it will send the animal inside into a Hulk-esque rage and it will break free to attack you.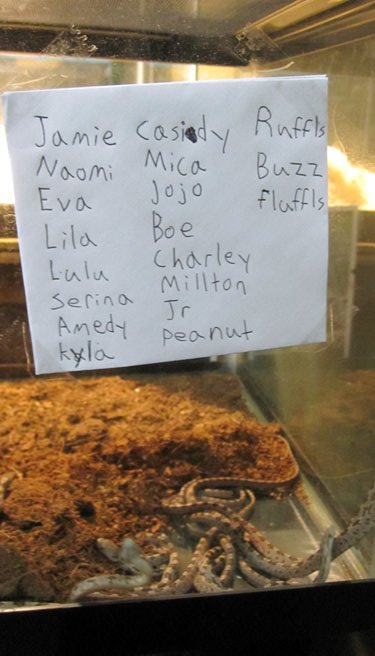 I lobbied pretty hard to bring Fluffls home with us.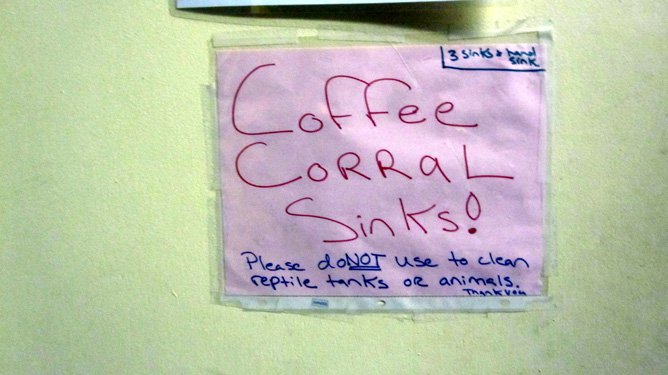 Hands up! Who DOESN'T want coffee at the Coffee Corral now? Yeah, me neither.
Suddenly, one of the animals, realizing I had gone through two entire rooms full of beasts and had yet to experience an incident, tried his best to do his patriotic duty and leaped out of his enclosure toward freedom and mauling!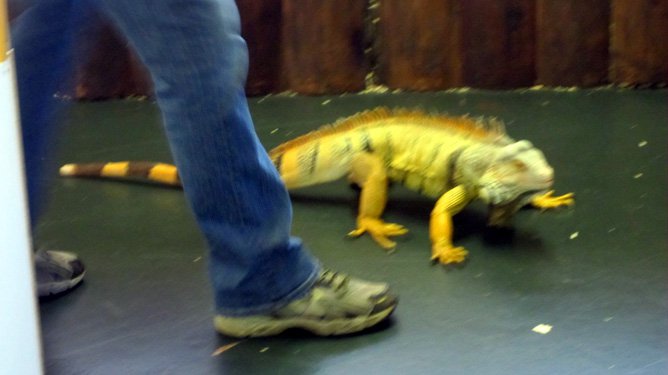 However, he was quickly captured and put back inside to mope and plot. Another day, my friend, another day.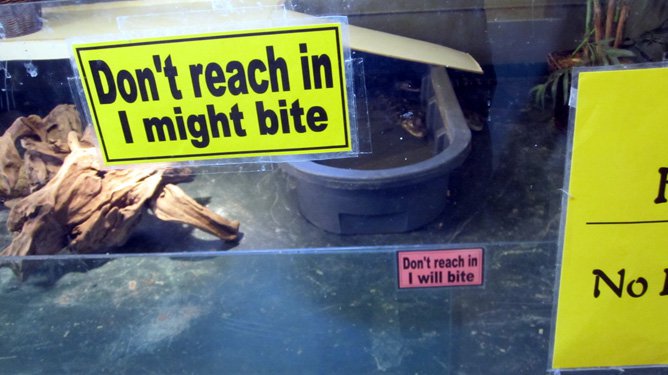 I like the increased certainty of biteyness as you get closer.
Every time we got near the turtles, they tried to demonstrate nature for us by humping. Or at least, the male did. The female was having none of it, and he would chase her around the pen, head bobbing. Each time he'd get close to achieving his aims, she'd turn around or some cockblocking kid would reach his hand in there to touch one or the both of them.
I was inspired by this, and creeped up behind Emily, head bobbing. I'd just gotten my head bobbing over her shoulder when she half-turned, screamed, and nearly jumped out of her shoes, reprimanding me with an "I'm sorry, but that's just a little too earnest of a turtle-fucking face." Evan said that if she'd just turned all the way, she would have been safe, and it became a game for us for the rest of the day.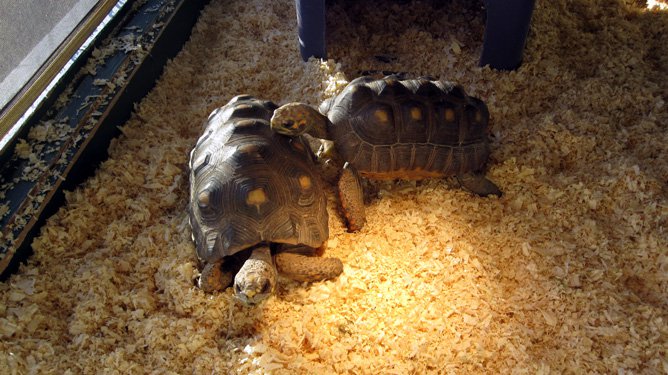 Here comes a head-bobbing toward an unsuspecting victim!
Once we were done at the Reptile Zoo, our adventures were not over by a long shot, as the parking lot contained one of the 27 wonders of the new world–BBQ on a Bus. See, it's BBQ. That you eat, get this, on a school bus! Nary a one of us had cash, and this freewheelin' enterprise only accepted dead presidents, so we actually left and made a special trip to find an ATM so we could experience BBQ on a Bus.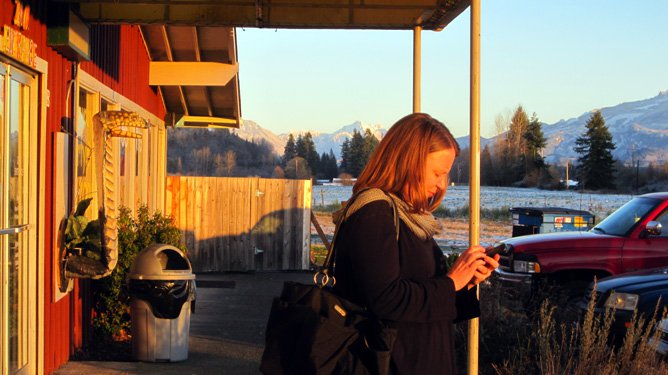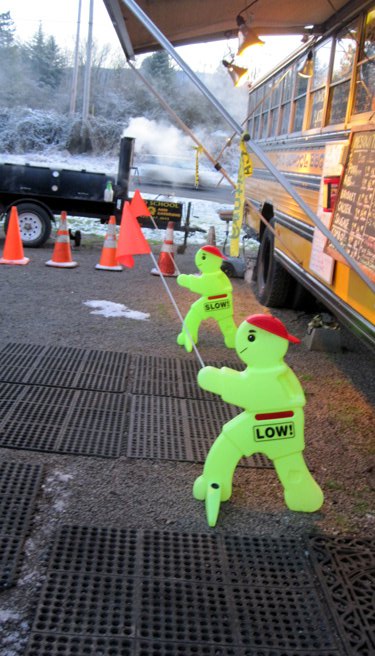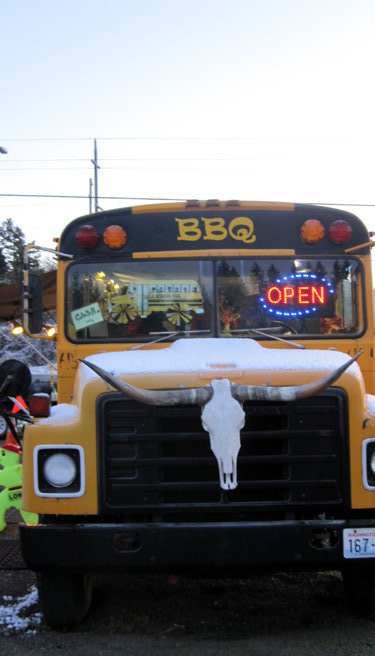 There were no reptiles on the menu that I could see, so I'm not quite certain that there's any connection between the Reptile Zoo and the BBQ Bus other than a stretch of parking lot and the city of Monroe deciding that its trashy roadside establishments should all be contained in one place, like a tiny carnival.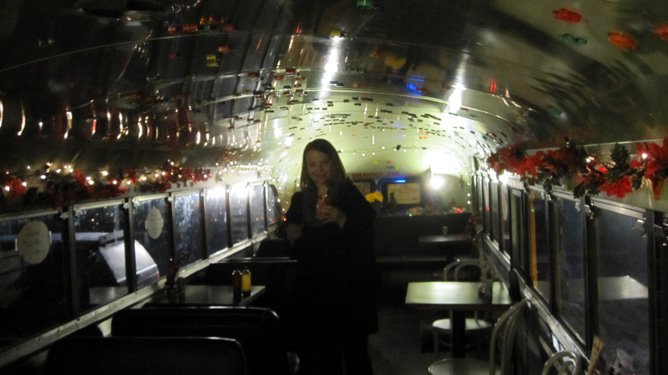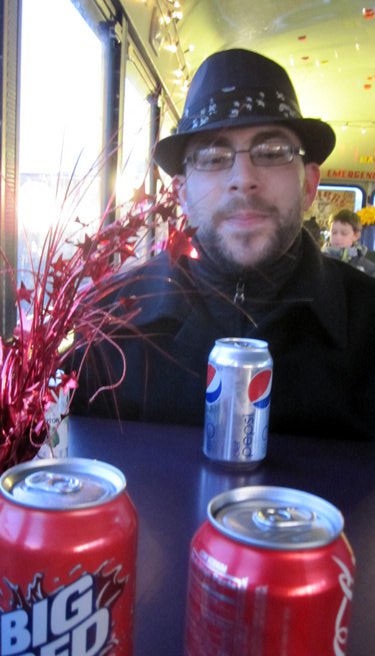 I got a delicious two-meat sandwich and a much-less-than-delicious Big Red soda. I was lured in as the proprietress said it came from Texas and couldn't be described. I've got a description she can use from now on: "It tastes like stale bubblegum and the color red mated and had a horrific flavor baby that oozes over your tongue like a sugar-coated, candy-colored nightmare." If she gave me that description, I would know not to choose that beverage. Maybe it's precisely the sort of refreshment someone else is looking for, but has never been able to find. It's possible! Maybe. Not only could we eat on the bus, but we could also play on the bus with the scads of magnetic letters coating the roof. We furthermore learned that the problem with escapees at the Reptile Zoo was not limited to today–they've had both turtles and snakes wander off into the fields, ne'er to be seen again. Once again, devenomizing was probably the right choice.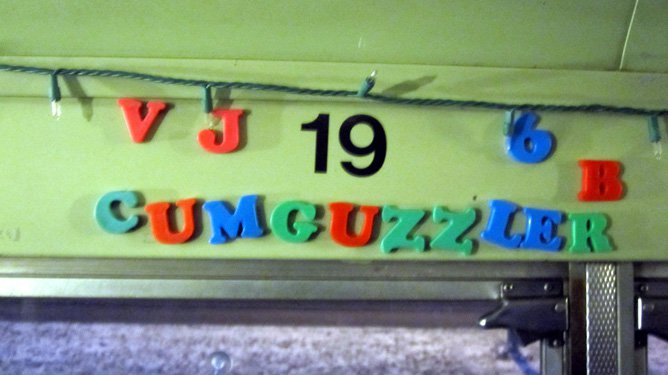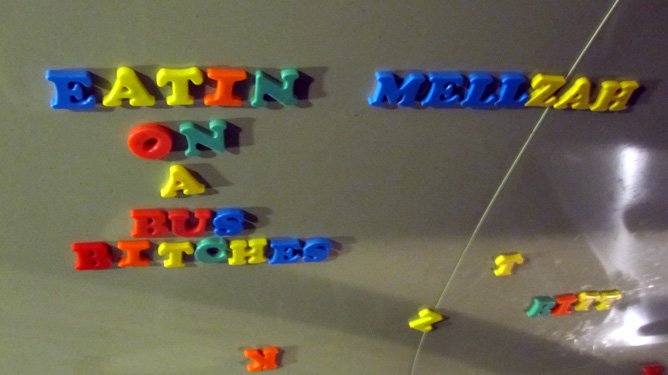 In conclusion, Monroe is a land of many wonders. At least two. *Nipplebiter! **Attempted mauling through glass! ***Attempted de-facing via beak attack! ****Hair pooper! *****Bastards.