I spent New Year's Eve at Tristan's with some of my favorite people on earth. I dressed in as much glitter as I could find because the occasion calls for it, and I also worked up the stones to wear a dress that I bought nearly a year ago that's always been just a bit too daring for me. I also broke out the super fancy manolo blahnik stiletto boots I bought in December 2008 for the VERY FIRST TIME, because one does not often have occasion to wear shoes quite that fancy. Apparently that sort of occasion comes around once every two years for me.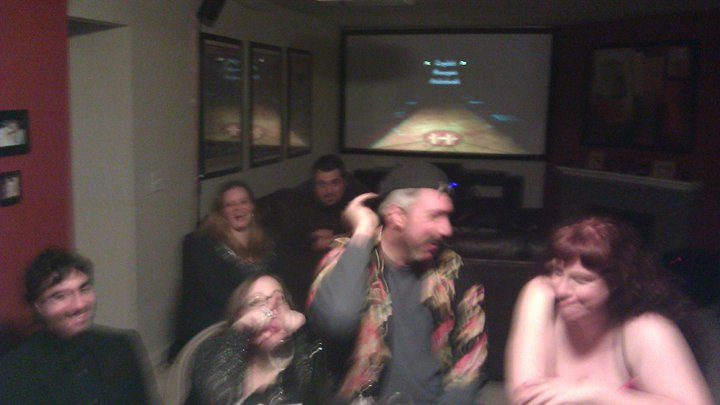 We are all far too fabulous for a camera to focus properly. It's Science!
Things I learned that evening: don't rely on the sandwich from the BBQ bus to hold you through drinking stupid amounts of champagne, the game of things is really the best game ever, I have a spooky mind-meld thing going with Shannon and Mirinda, Emily is not fucking kidding when she says she screams at scary parts in movies, the Star Wars Holiday Special is still pretty well unbearable even when drunk, and the Cooking With Coolio garlic bread is shockingly delicious–my expectations were not high at all, and then I felt a little bad for judging a recipe by its rapper. Although I'm still not quite sure how to measure spices in dimebags. Maybe I should ask my brother.