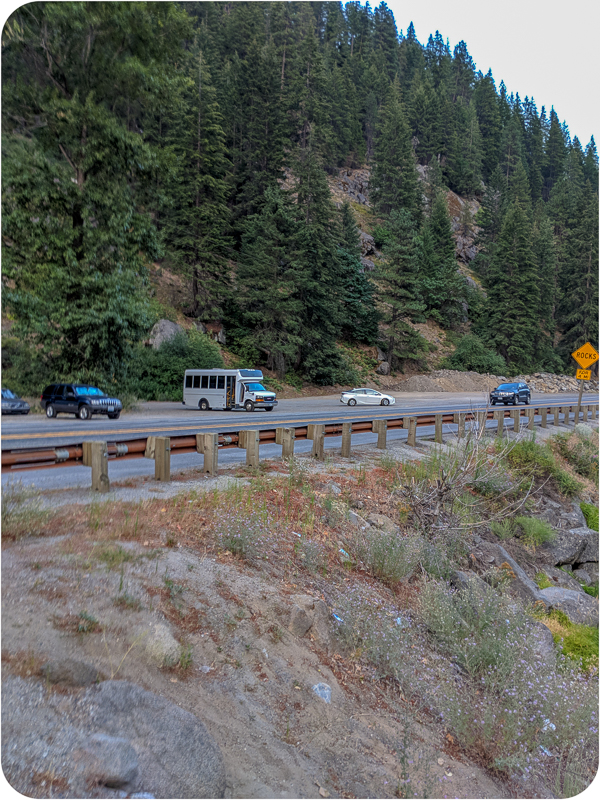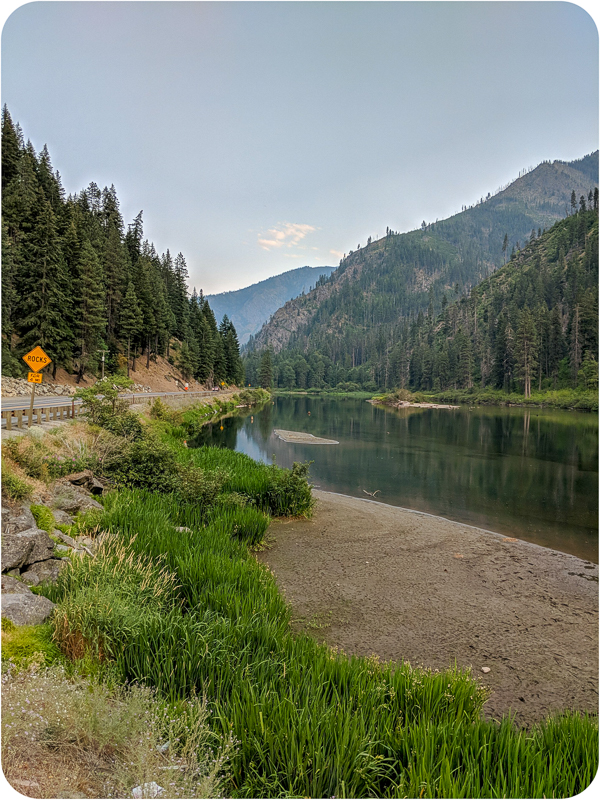 Last summer I finally went river tubing for the first time. A friend rented a bus and a bunch of us went to Leavenworth Outdoor Center to rent tubes and spend a lazy afternoon on the water. It started off…a little sketchy when the driver of our shuttle from the outdoor center to the river almost immediately started making gross sex jokes, which turns out can tend to make a person feel a little vulnerable when they're sitting in the back of a van wearing only a swimsuit.
Things improved when we made it to the Icicle creek and introduced asses to tubes. I was a little nervous about tubing at first as one of my other friends told me about a near-death experience she had river tubing, how fast it happened and how helpless she felt, and all it takes is one story to get my brain spinning. I was seriously analyzing my swimming skills in the days leading up to the event, and when we got to the creek I nearly laughed in relief when I saw we'd be floating in approximately six inches of water. No doubt, people can drown in that amount of water, but it wasn't the mariana trench underneath my tube I'd been envisioning–as long as I could stand up, I'd be fine. We were instructed to each bring "a bucket of sunscreen" so I dutifully slathered up and successfully managed to avoid burns which means that (a) I am finally an adult and (b) being an adult means being vaguely ghostlike and greasy from head to toe. Being an adult doesn't mean that I'm too mature to learn something new: for example, that day I learned that those insulated canteens' greatest purpose is to hold frozen slushy beverages at the perfect temperature for hours. HOURS. The biggest downfall of any frozen drink is how fast it melts and becomes mediocre, and this completely changes the game. Aside from our mobile snack and drink stations (we rented an extra tube just to hold a cooler, being an adult also means that you've learned to keep an appropriate amount of snacks handy), we got to chat and relax and enjoy the scenery on the river, while actively paddling to avoid being clotheslined by tree branches, and at which our group was mostly successful. There are also a lot of people-watching opportunities on the river, with people riding down on pool floaties and air mattresses with their dogs and tinny speakers bumping The Weeknd. As the Icicle merged with the Wenatchee river, the water got wider, swifter, and deeper, and there were a lot more types of river craft to navigate around. The most challenging part of the day was finding a place to change before and after–there's a restroom at the bar next door but they probably aren't thrilled about a line of soggy people waiting for their two stalls. 
After dinner at Munchen Haus (their mustard selection and that vat of apple cider sauerkraut are top notch) we attempted to shop around town, and everything was either closed or about to close…at 6pm at the peak of summer tourist season. I'd say I don't understand how any of these businesses remain in business, but during the four hours a day they deign to sell goods they've got people packed in their shoppes nose to armpit and they have three solid tourist seasons with summer turning to Oktoberfest turning to six month Christmas. They're doing fine, and I'm just bitter that I couldn't get any pear cinnamon caramel from Schocolat.  
On the way back home, we made our mandatory stop at The Alps, a two story candy shop (it's on the outskirts of town, thereby escaping the designation "shoppe"). In addition to every candy you've ever heard of and several you haven't, they sell preserves, hot sauces, unusual sodas, and horse figurines in case you needed something to look at while eating candy. As is usual for me, I go in and have a look around and don't end up buying anything because it's like my hedonism is on a switch and it can't extend to the car ride home from an activity.  
---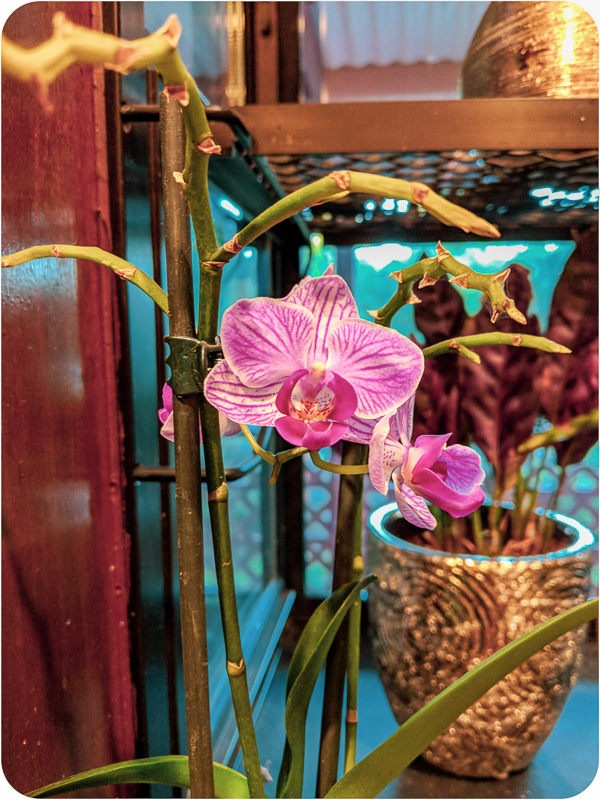 My orchid rebloomed for the first time in spite of me not knowing how to trim them back. I have since trimmed them back and I feel pretty confident that I have, in fact, killed one of the stalks. But the other one is going strong!
---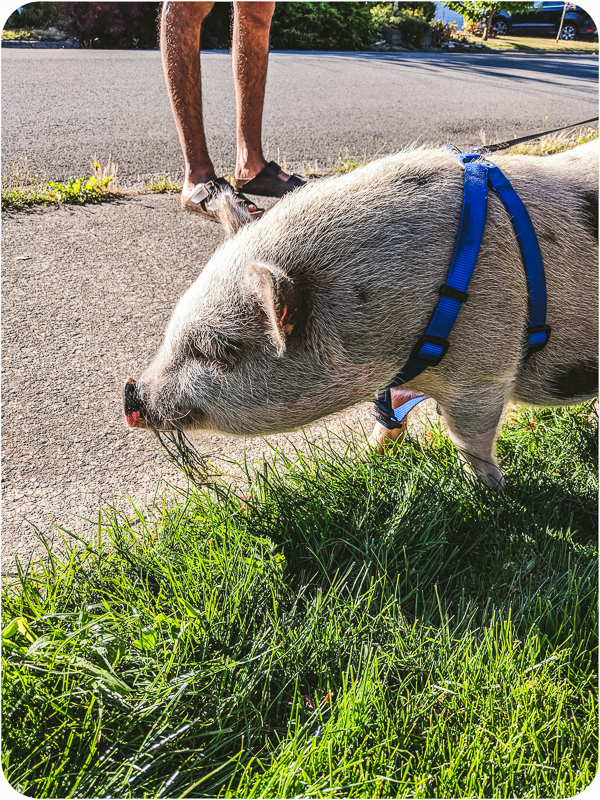 One of my neighbors got a pig. Her name is Lily-June and I've seen her out on walks a couple of times but a sighting is exceedingly rare. I was out pulling weeds from the new grass when she walked by and so I finally got my opportunity to make a proper introduction. She found my new grass very tasty.
---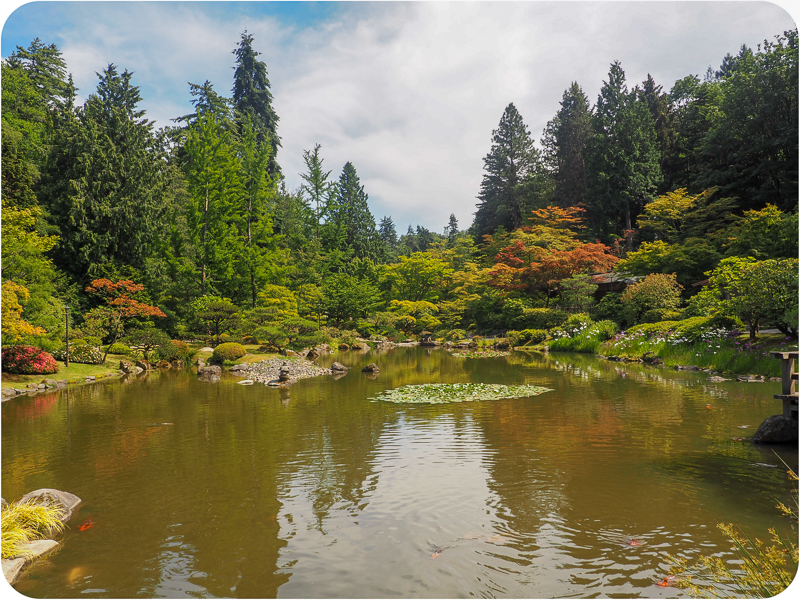 The Japanese garden at the arboretum. My behavior this day was atrocious and now I have this lovely photo to remind me that I can do better. 
---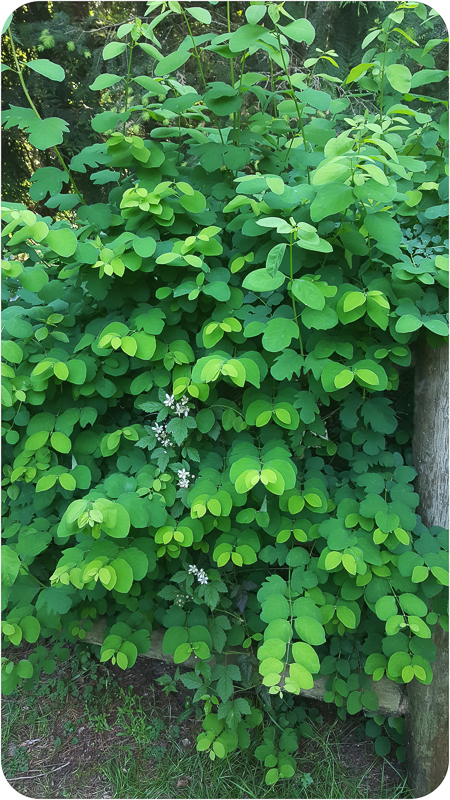 I love the color shifts in these leaves.
---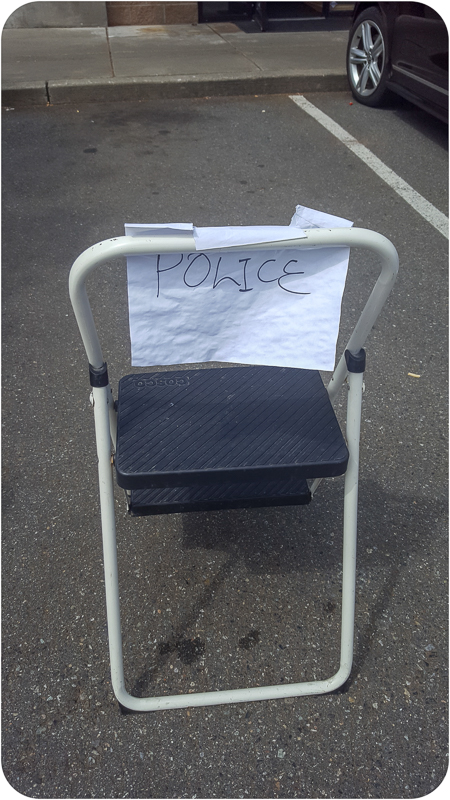 Well? Someone listen to that stepladder and call the police!
---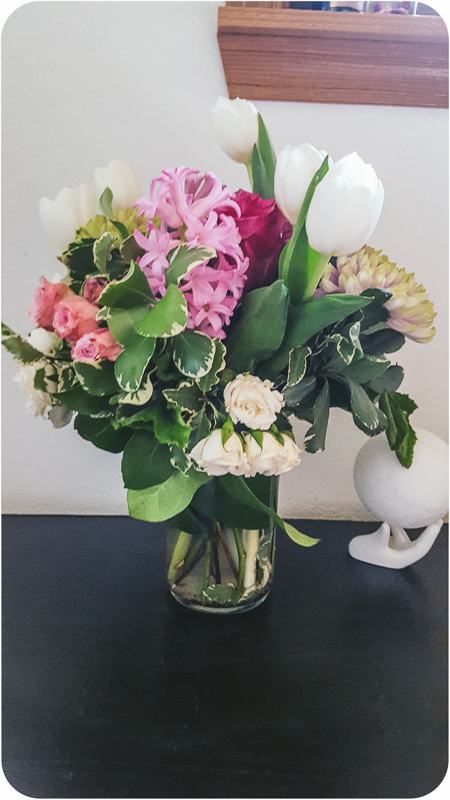 My inlaws sent me the gorgeous bouquet above for my birthday and the gorgeous bouquet below was for our 5th wedding anniversary.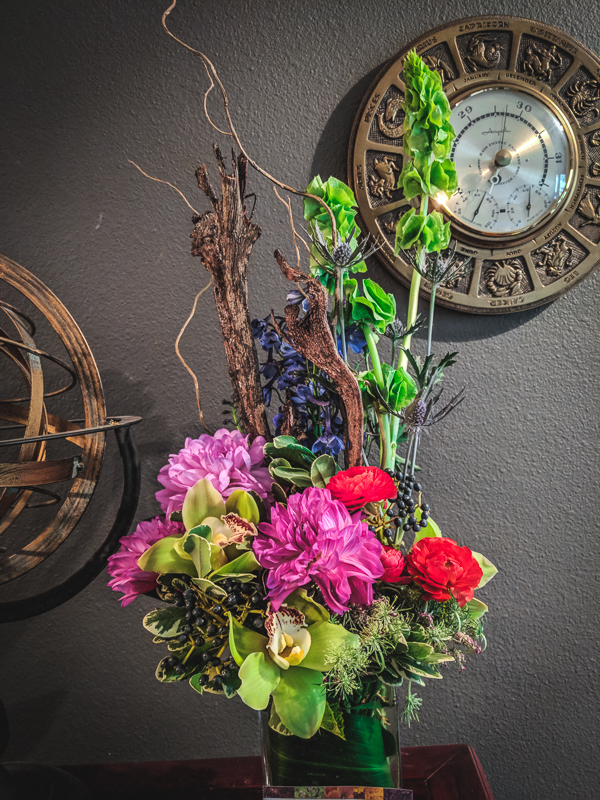 ---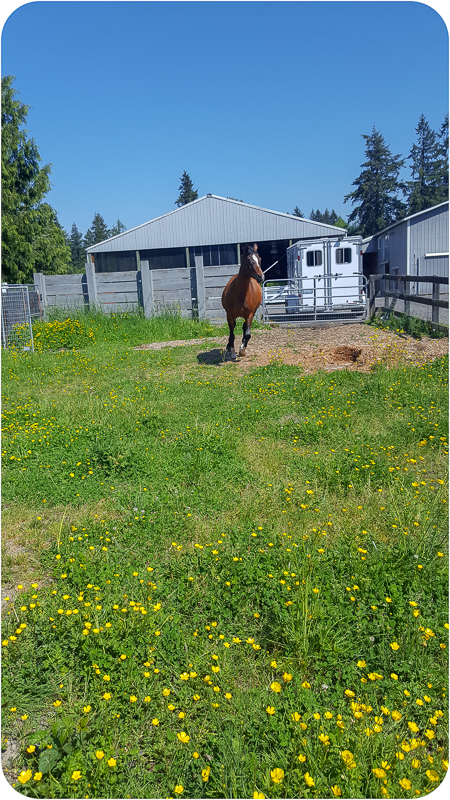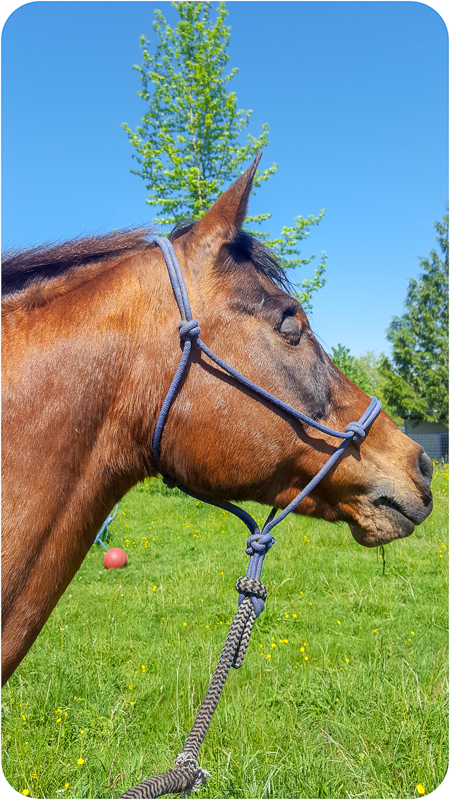 I gave Africa her first-ever allover bath and her coat took on this amazing metallic sheen. Afterward, I took her into the front pasture to graze on the long rich grass there as a reward, and instead of putting her head down and going to town on food like I expected, she got the zoomies and thundered around. Showers make everyone feel good!
---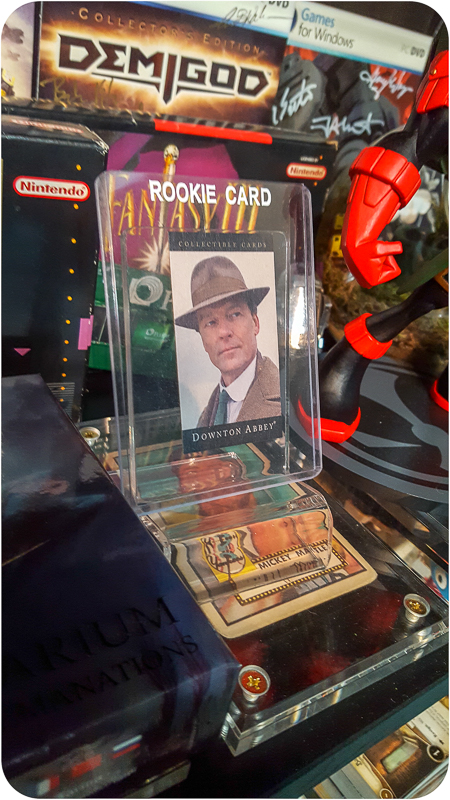 The trading card section proves as enticing to Jason today as it was in his childhood. The selection of cards at Subspace Comics and my love of period dramas has broadened the range of cards he buys, and for a while, he bought a Downton Abbey pack every time we went in to the store. He ended up getting a couple of special cards, one with a swatch of fabric that was used to create one of Cora's dresses, and the other being this small Sir Richard Carlisle on brown cardstock. I wholeheartedly approve of how Jason displays it.
---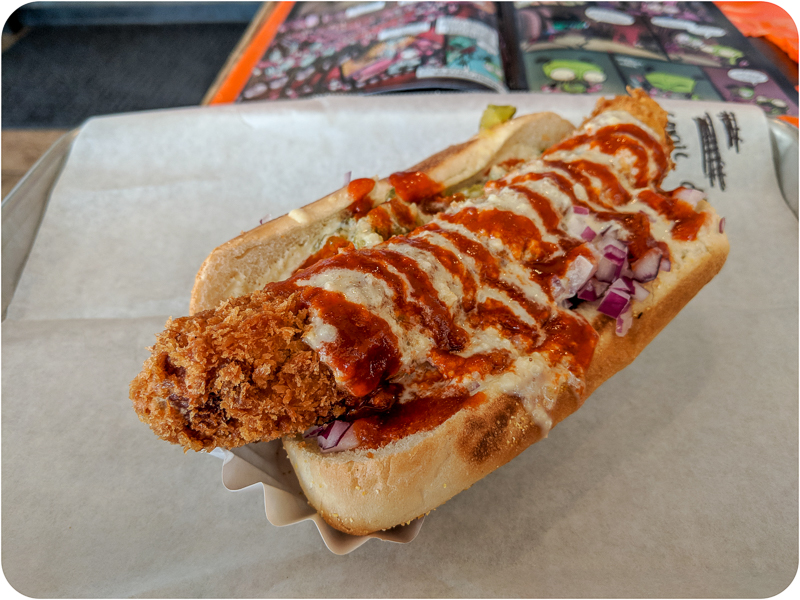 Virtually next door to Subspace Comics is Katsu Burger, another favorite of mine. They introduced a katsu dog and I tried their spicy garlic one, but I was nonplussed about this tube of crusty deep fried meat and elected not to finish it. I had a boss who was nuts for those taco time deep fried meat and bean paste burritos and I bet he would've loved this because it's the same kind of odd crispy-squishy texture. I don't see it on the menu anymore, and I'm not mourning its loss. I am kind of sad they stopped selling the super umami wagyu burger though.
---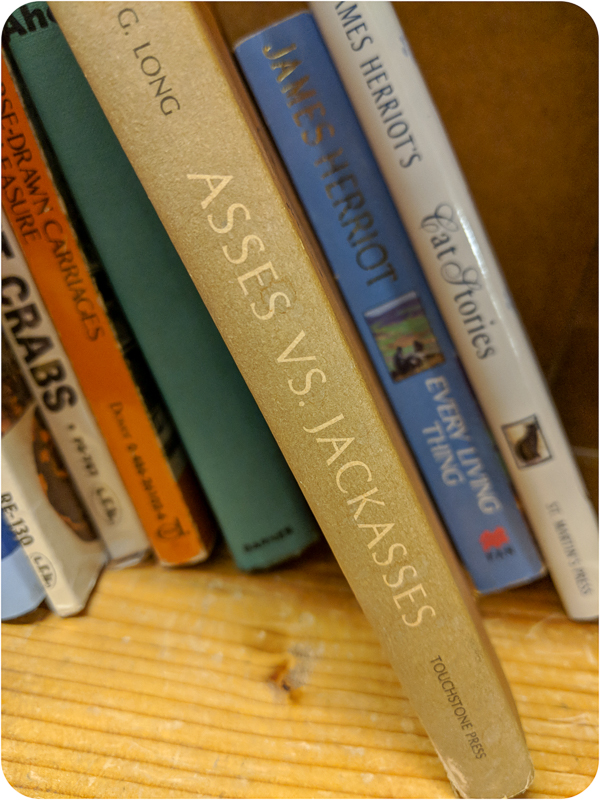 We almost made more trips to Portland this year than into Seattle, and a few of them involved a stop at Powell's books, where I spotted one of the great book titles of all time.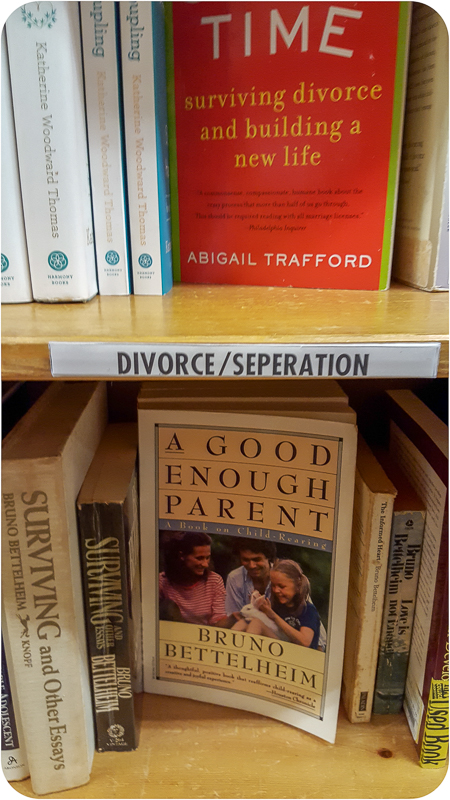 I know going after spelling is nit-picky but this is a bookstore. Also, I was just moving through this section on my way back to the mythology section and the misspelling caught my eye, I'm not getting divorced, separated, or interested in being a good enough parent.
---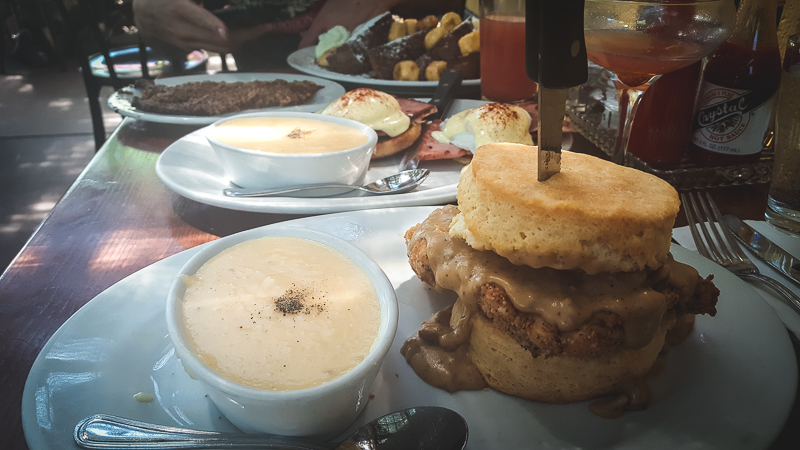 I made it into the Screen Door Cafe three times this year and I still haven't been able to stray from their fried chicken and biscuit sandwich. It's so good that tears spring to my eyes on my first bite, every time. That tender, buttery biscuit! That perfectly fried peppery chicken smothered in even spicier, creamy sausage gravy! It's decadent and always precisely what I need to power my day. The cheddar grits really benefit from a healthy dose of crystal hot sauce, and then I really benefit from an antacid tablet because being an adult also means not being able to eat this much spicy rich food without consequence anymore.
---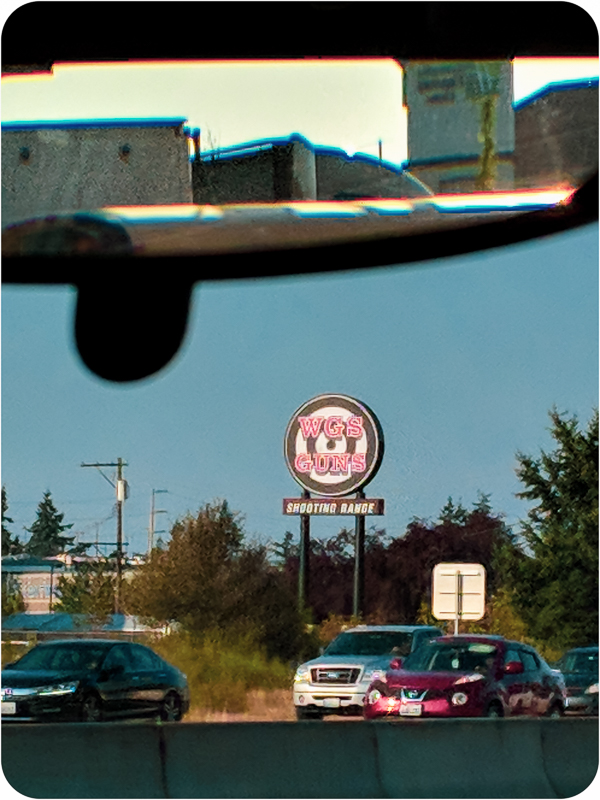 When driving somewhere on I-5, my favorite landmark south of Tacoma was the building with a giant banner proclaiming "$1 Chinese Food". Even my sense of self-preservation is too strong to personally experience the kind of quality you get when you're paying a dollar for your meal but I did enjoy reading the reviews of more foolish people. Whenever  I saw $1 Chinese Food, I knew I was either off on an adventure or I was almost home from one, and when that banner came down, I knew I was going to have to find a new landmark in order to preserve that feeling. Enter WGS Guns, or as Jason and I know it, "Wigs & Guns" because that's what the sign looks like it says when you glance at it from the road. WIGS AND GUNS! Sounds like an event I once planned.