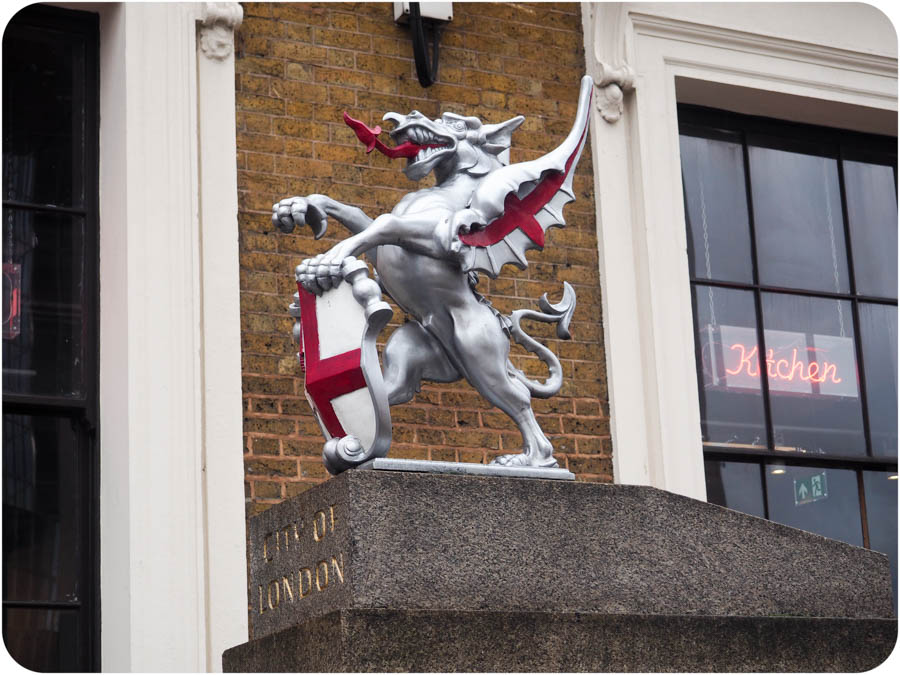 From the Borough Market, we set off across the London Bridge, and I'm happy to report that all those gleeful singsong rumors about the structure's unsturdiness are utterly unfounded. Other rumors about the bridge include the requirement of a human sacrifice in order for it to remain standing, which excavations have proved false. To see a place with a true bloody history, one need only look across the bridge toward the Tower of London.
Constructed in the 1070s by William the Conqueror, the white tower was intended to loom over the city and its denizens. Now the only way it imposes itself on Londoners is when every out of town visitor drags them to go see it, as it is one of the most popular tourist attractions in the city, if not the country. In the intervening millennium, the Tower has been used variously as a stronghold, a menagerie, a prison, the royal mint, home for the crown jewels, and a retirement center for the old James Bonds and Sherlock Holmeses.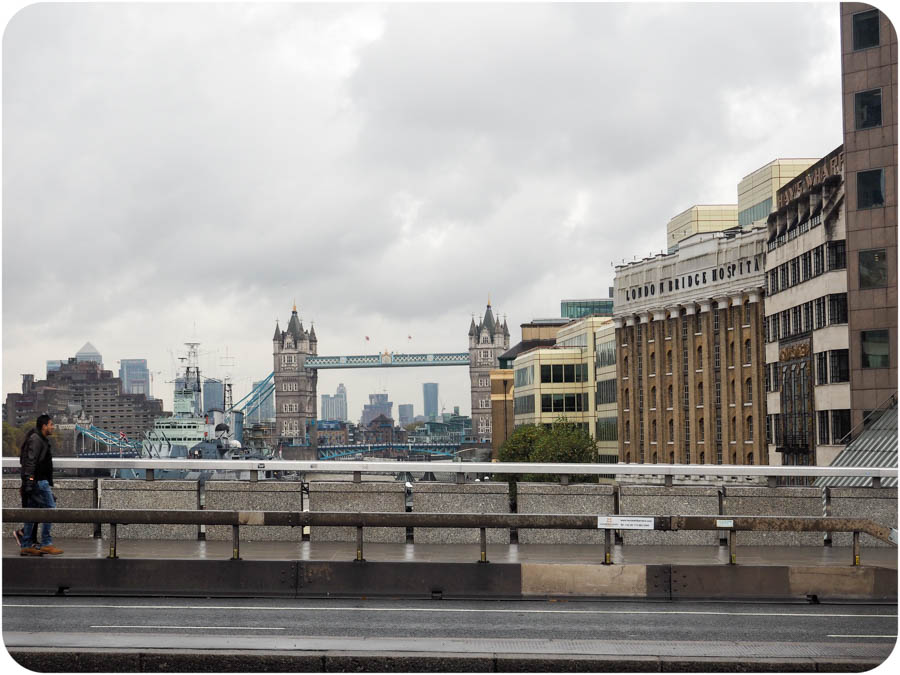 Metaphorically look across the bridge, that is, I don't think you can see the Tower of London from here unless you have x-ray specs. But  it's there. Behind some stuff.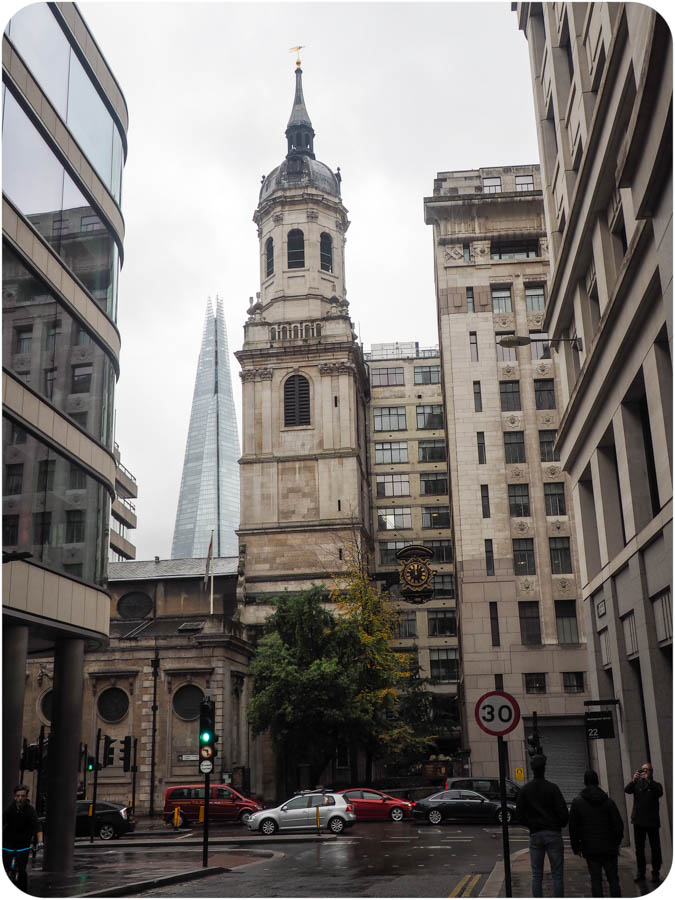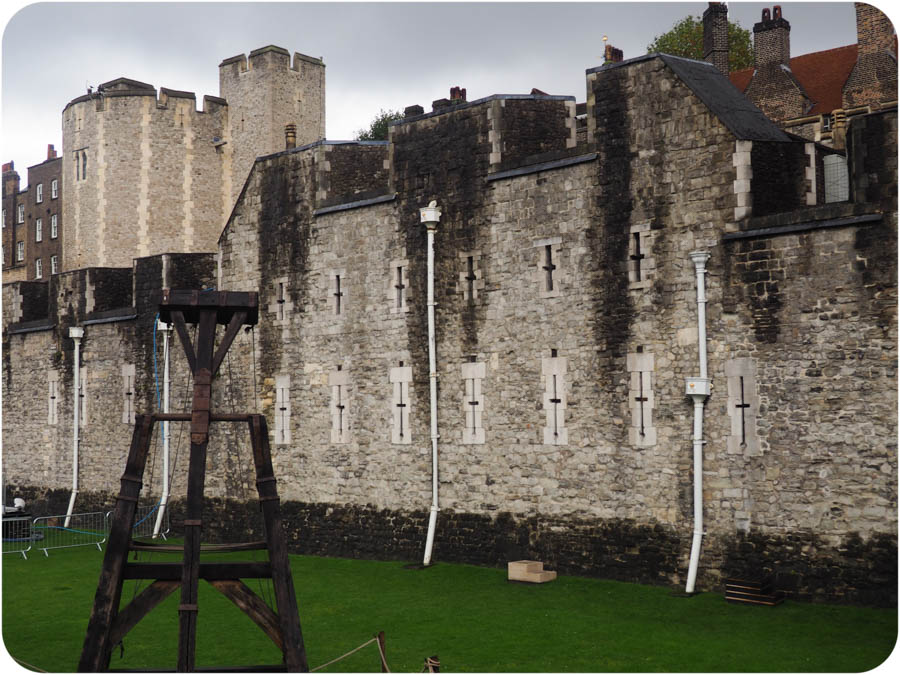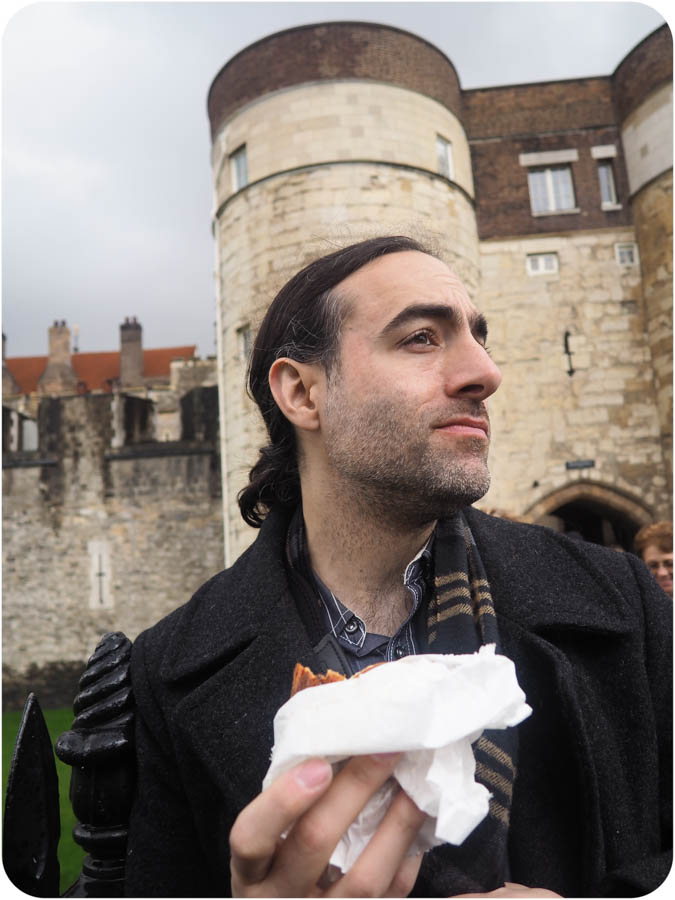 After purchasing our tickets, we milled about the entrance near a free tour sign, waiting for the next one to begin. Luckily, we didn't have to wait long: a cluster formed about a man who began to tell us about the history of the Tower, making meaningful eye contact with me specifically when he said "Excuse me, this is a private tour" and as I shuffled away in embarrassment, he also made a show of apologizing to everyone else in the circle about the "hangers-on". Sir, I didn't mean to absorb any knowledge for free, but perhaps if you didn't organize your paid tour group immediately adjacent to a free tour sign, you might need never refer to a person as though they were an undesirable piece of fecal matter clinging to your proud buttocks. Just a suggestion.
I was so embarrassed that I didn't want to continue to wait for the real tour near the sign, lest the roving eye of the paid tour guide land on me and he assumes I'm still trying to listen, but from ten feet away and thus receive the tutting of a lifetime. I have a delicate constitution; I can't take that kind of criticism.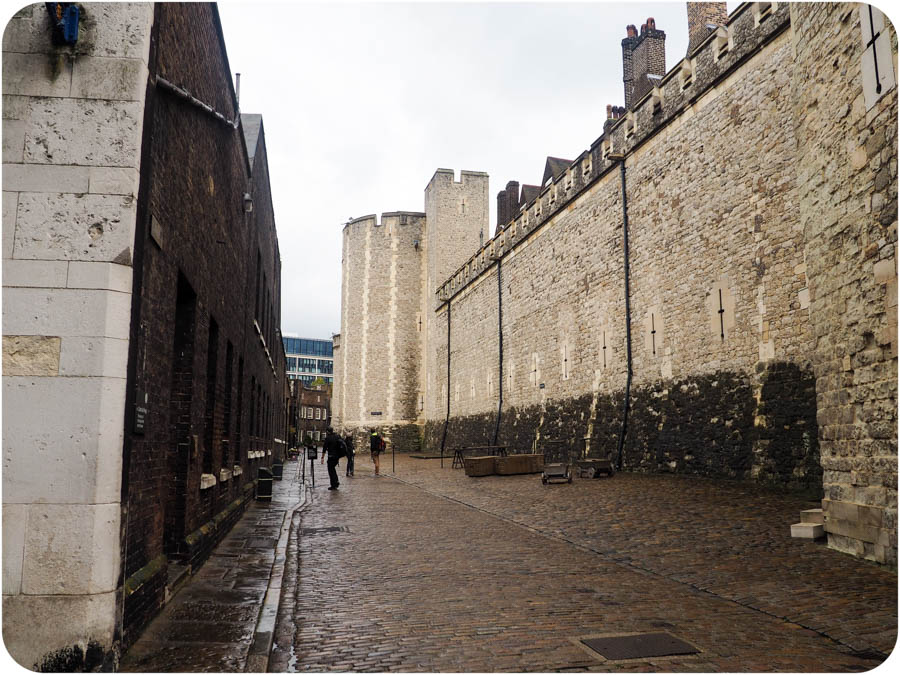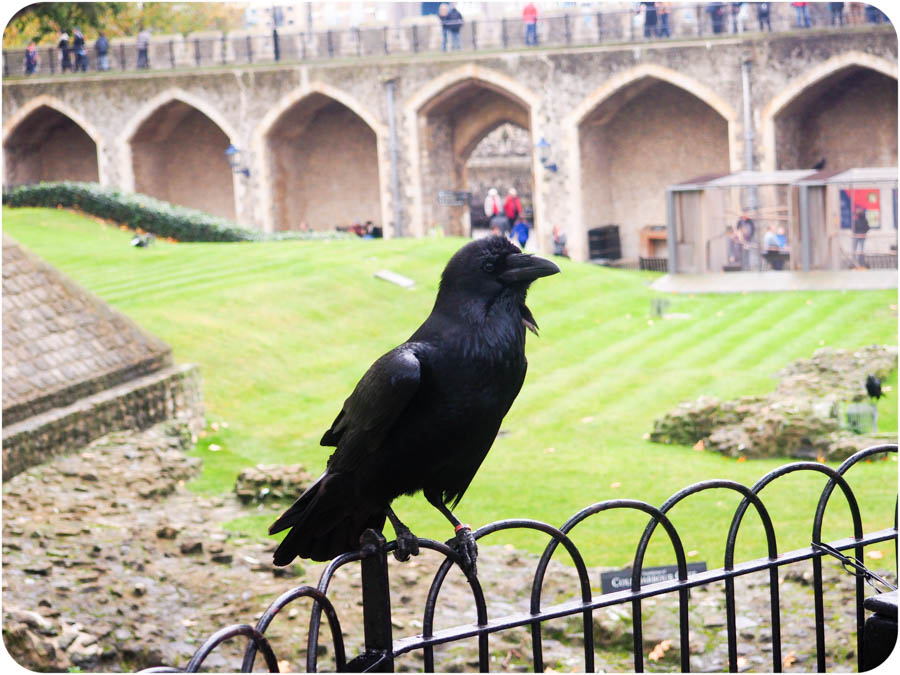 Upon entering, I was excited to almost immediately spot one of the ravens of the Tower. Superstition holds that the ravens are the guardians of the Tower and if they should ever be lost, the country will fall. It is my professional opinion that these ravens are so pampered, fat, and happy, that they're not going anywhere. That doesn't mean they're completely tame, however–a little girl was encouraged to pose next to this raven and got a bite on the arm for her trouble.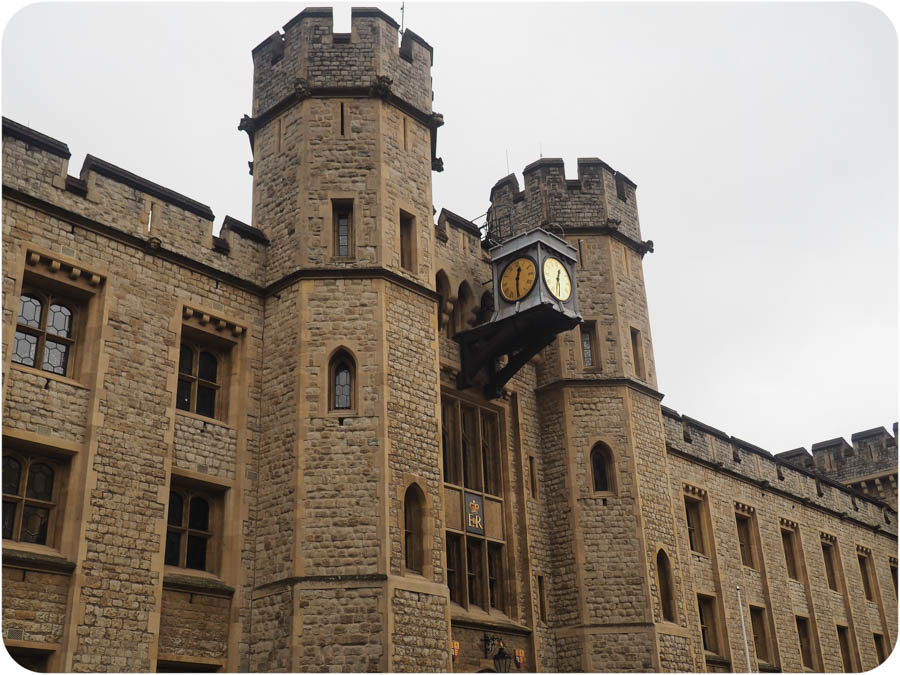 We were both interested in seeing the crown jewels, because if someone is going to put all the symbols of their wealth and power up for close inspection, I'll take a look. It's the same force that drives some people to garage sales and open houses, to get a peek at how someone else lives their lives. Specifically, I learned that royal authority involves a mountain of jewelry. If a king or queen has an appendage, there's a golden something to adorn it that is symbolic beyond merely being a status symbol: spurs of chivalry, bracelets of wisdom, orbs of divine right, rings of commitment, scepters of authority…combine them all and you have Captain Planet a monarch.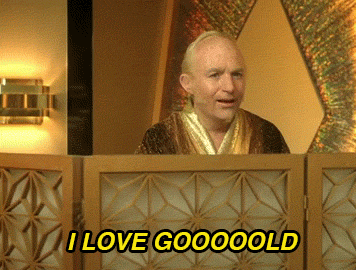 The bulk of the jewels on exhibit are viewed as one is shuttled past on a moving walkway–it's an effective way of moving people past and out of the exhibit, which means never having to deal with someone blocking a view, but at the same time, there's no opportunity to really get in close and appreciate the craftsmanship. The quality of cubic zirconia is so good these days that I probably would not know the difference between the real thing and well-made replicas, especially at the speed at which the walkways move.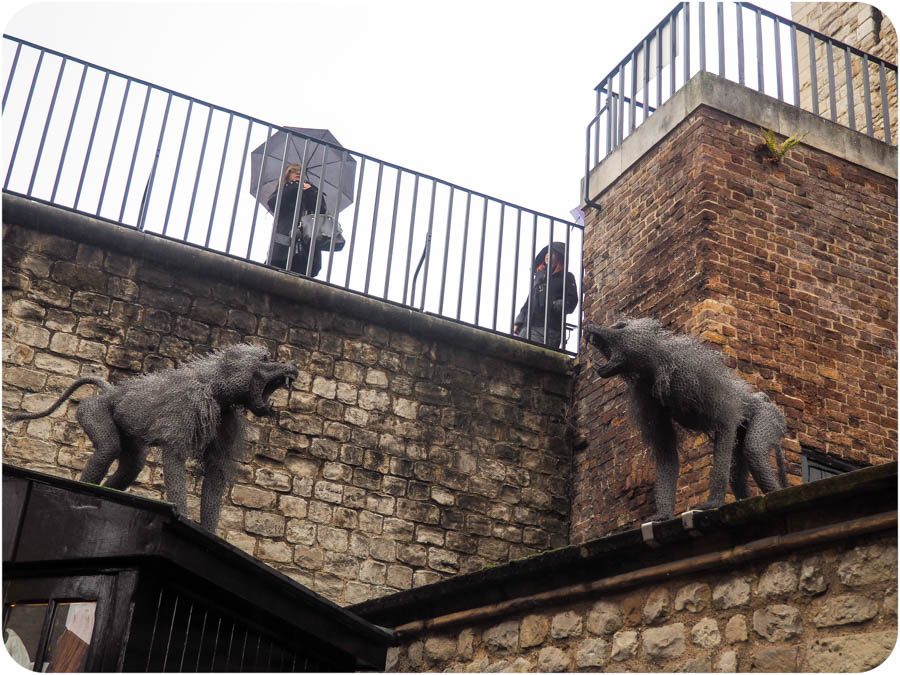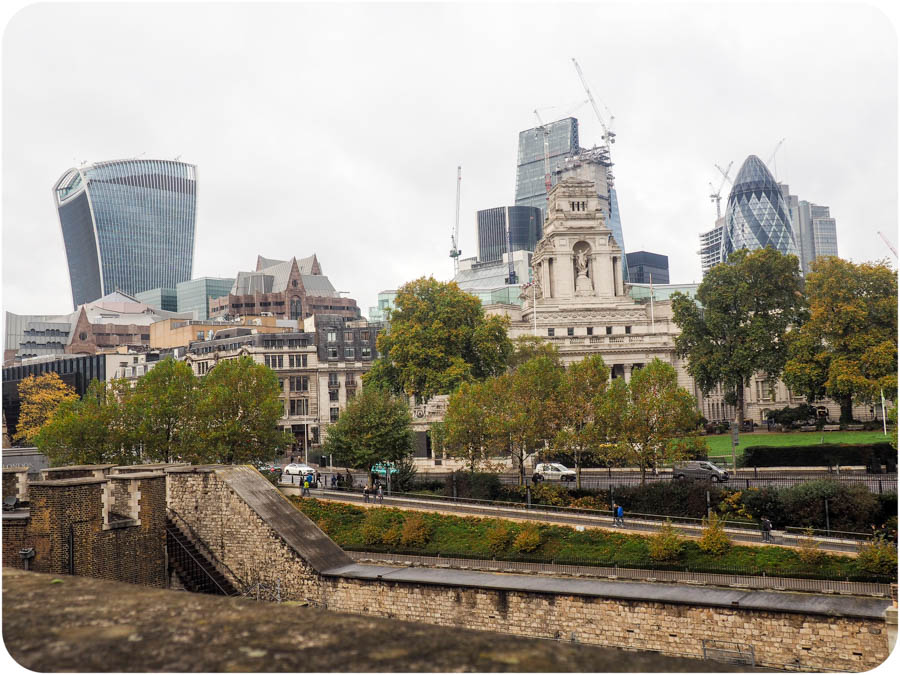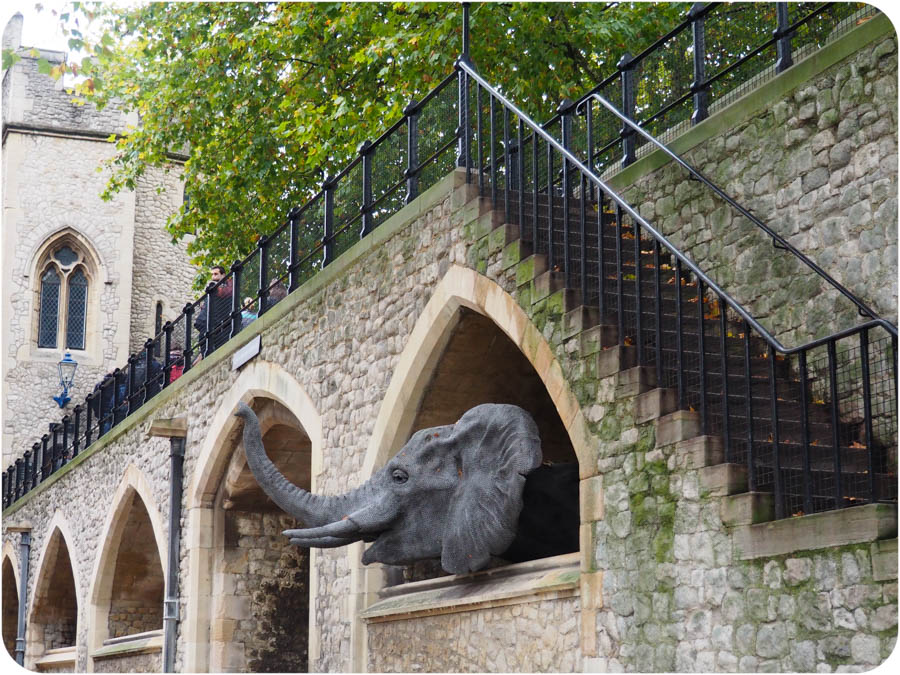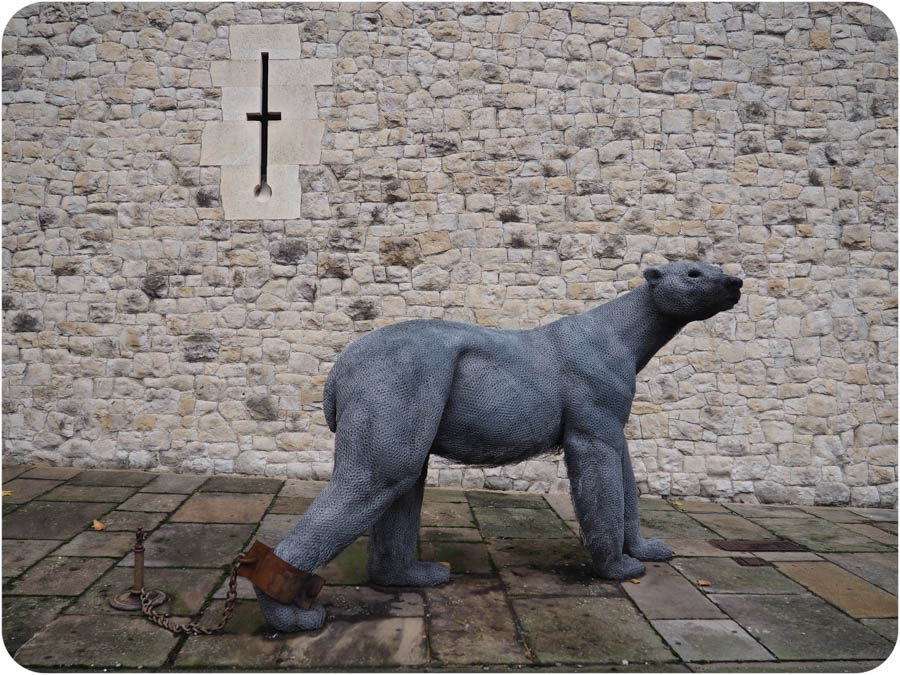 The wire mesh animal sculptures throughout the Tower are placed there as a reminder to the public about the structure's history as a royal menagerie. That the polar bear is chained is significant: the live polar bear, a gift from Norway in 1252, was similarly chained so that it might swim and hunt in the Thames river.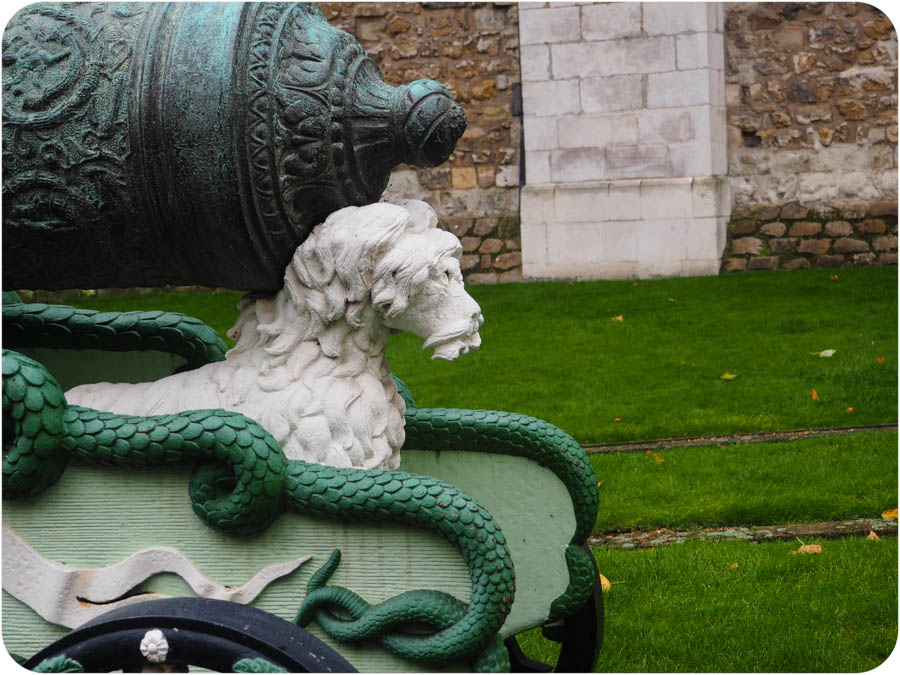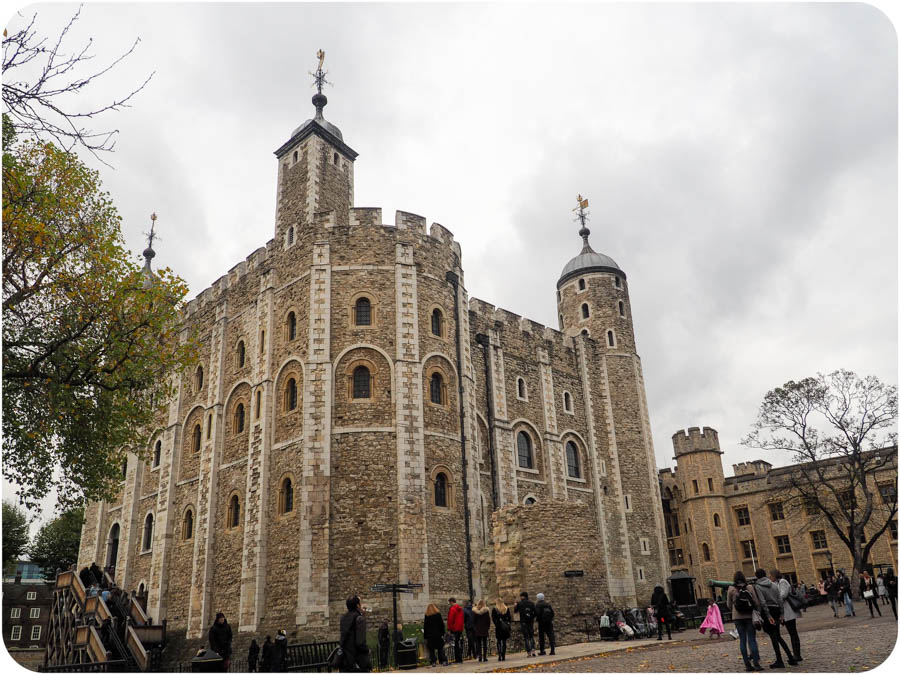 The White Tower is the central keep. The overall grounds are collectively referred to as the Tower of London, but the White Tower is specifically the Tower of London. It's like how Destiny's Child encompassed more people than Beyoncé, but Beyoncé is Destiny's Child. This keep now houses displays of armor, weaponry, and their brother in arms, a chapel. And the items they have on display are impressive: large armor, tiny armor, gilded armor, horse armor, axe pistols, cannons that resemble a lion fellating a pipe. That last must be especially intimidating on the battlefield, if they're such fierce warriors that they can make lions do…that.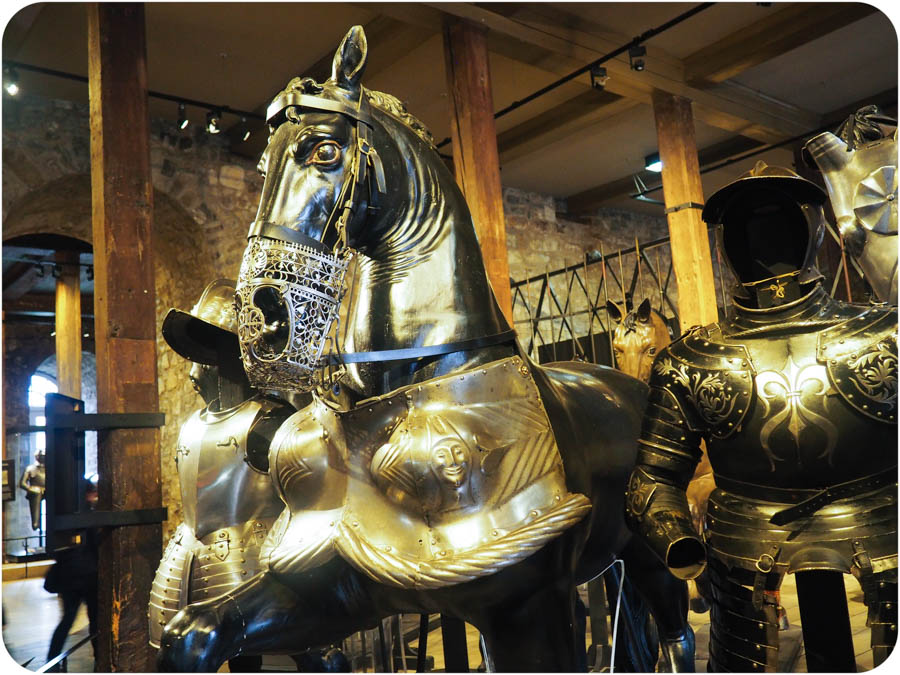 This is two posts within a month of one another that reference horse bosoms. So my blog is on the fast track to be recognized as an authority on that particular topic, which should bring me tens of disappointed readers a year. Tens!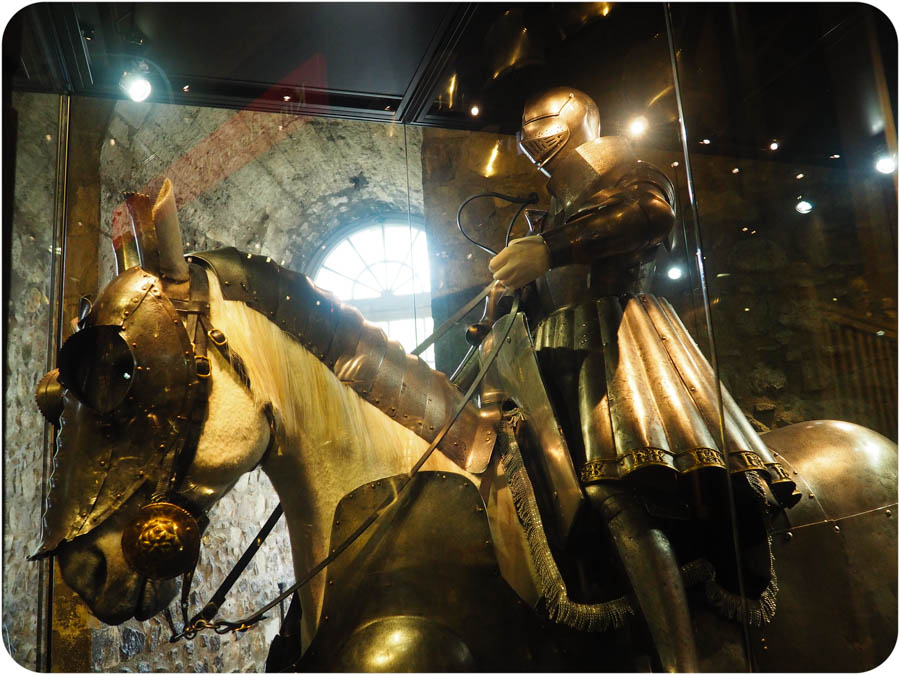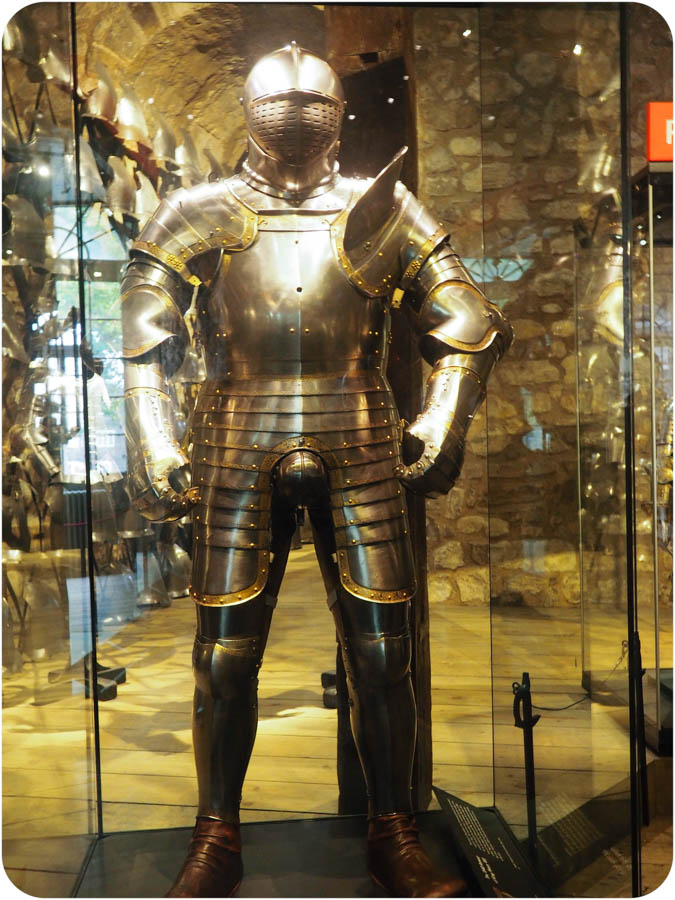 I feel like, and I have no factual basis on which to make this assessment, this is just going with the old gut feeling here, there had to be a vast ideological difference between the king comfortable enough in his masculinity to have a suit of armor fashioned with a frilly skirt and the one who insisted he have a steel plated dong shield.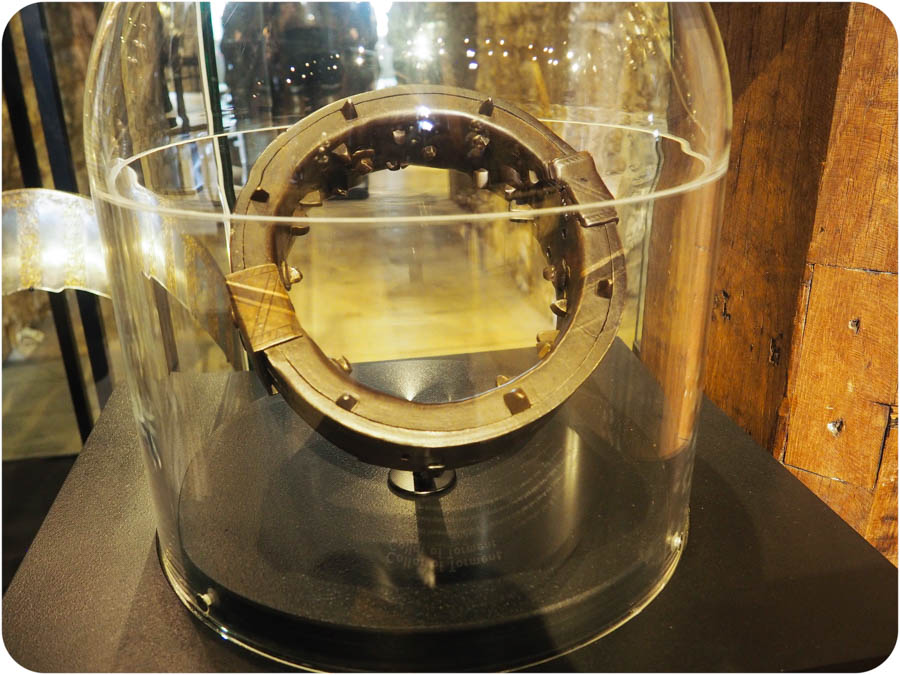 Early Tower guidebooks suggested this neck collar be used on the necks of scolding or wayward wives. Any man who comes at me with one of those had better make sure to get it on the first time because there will be no round two.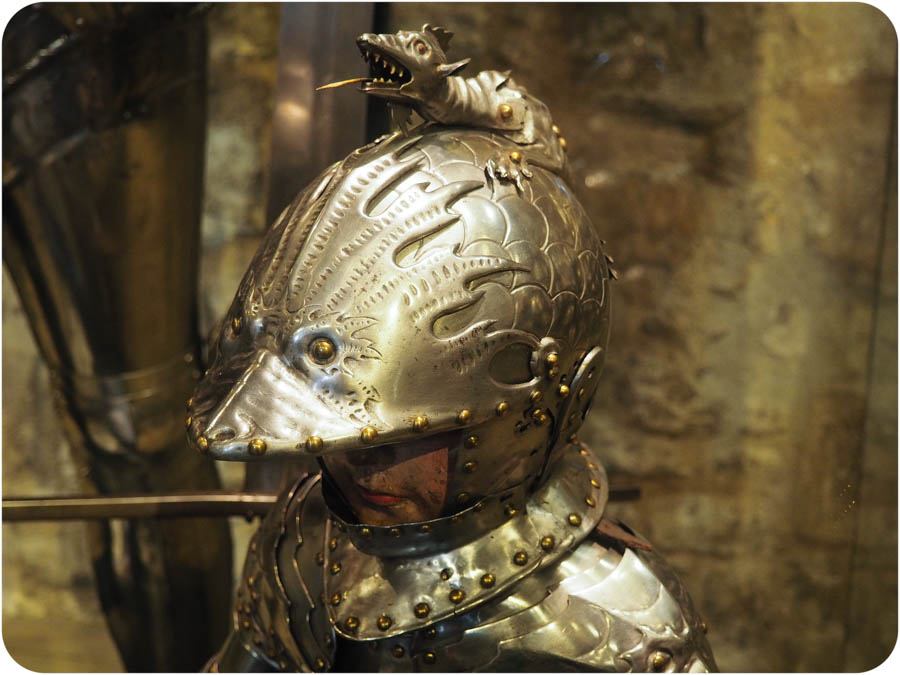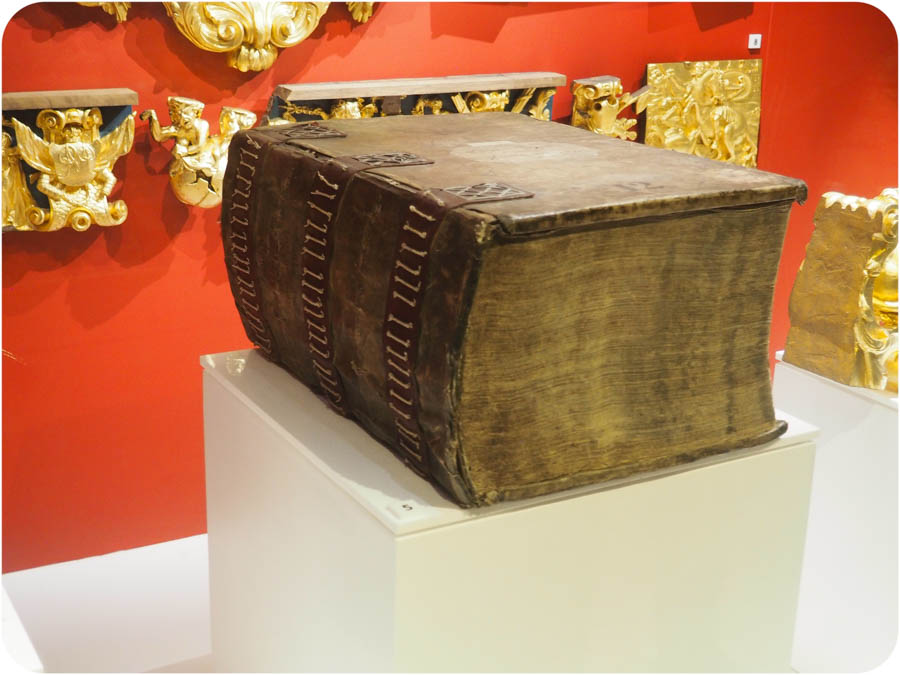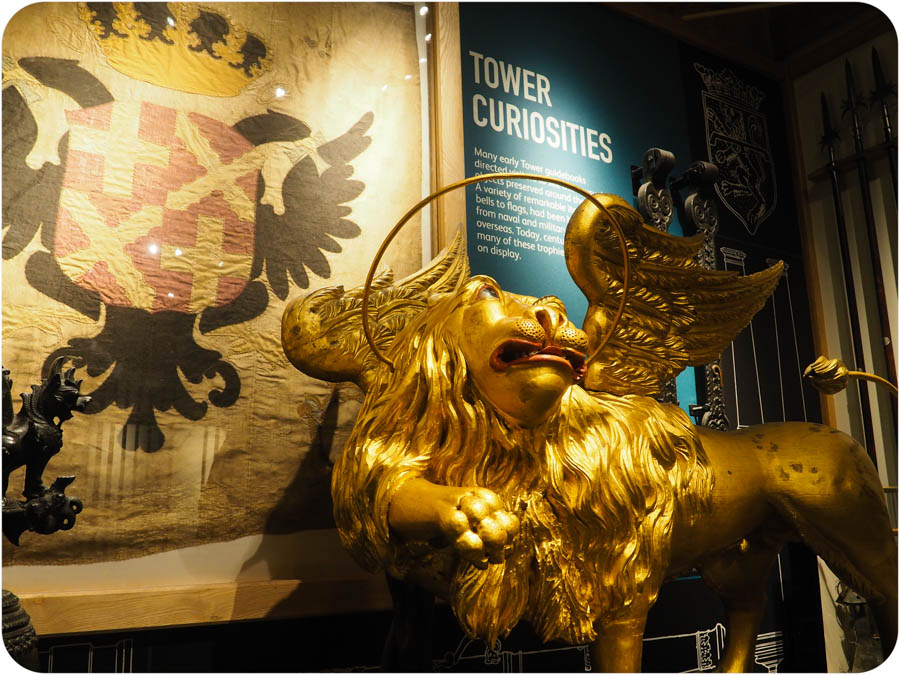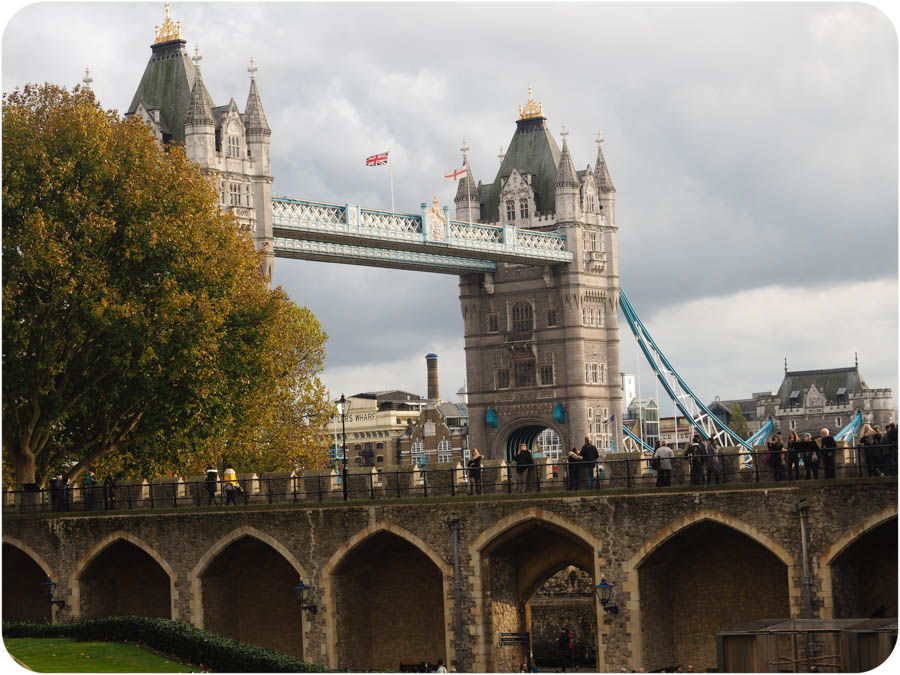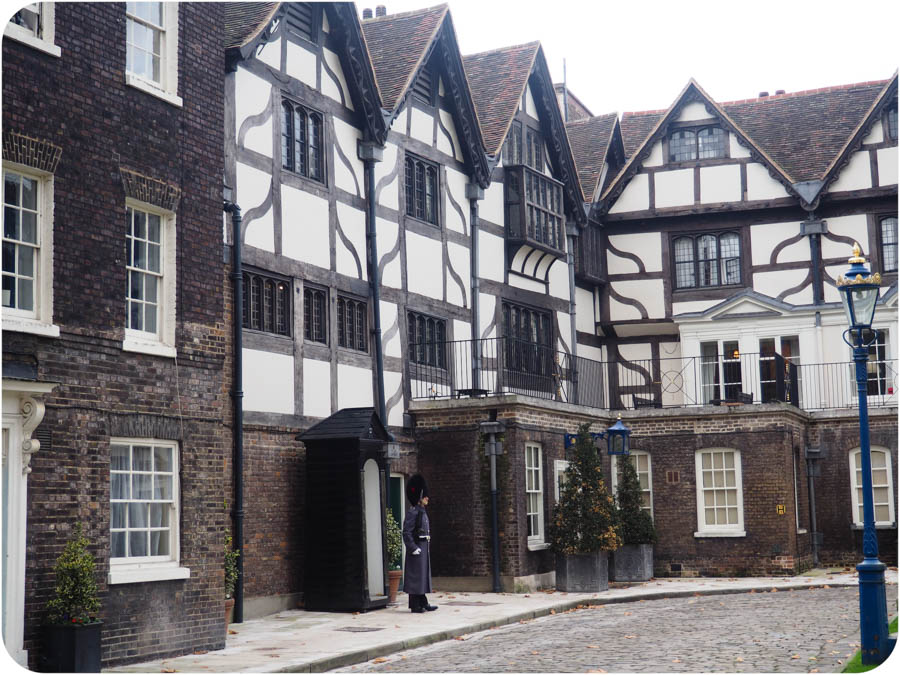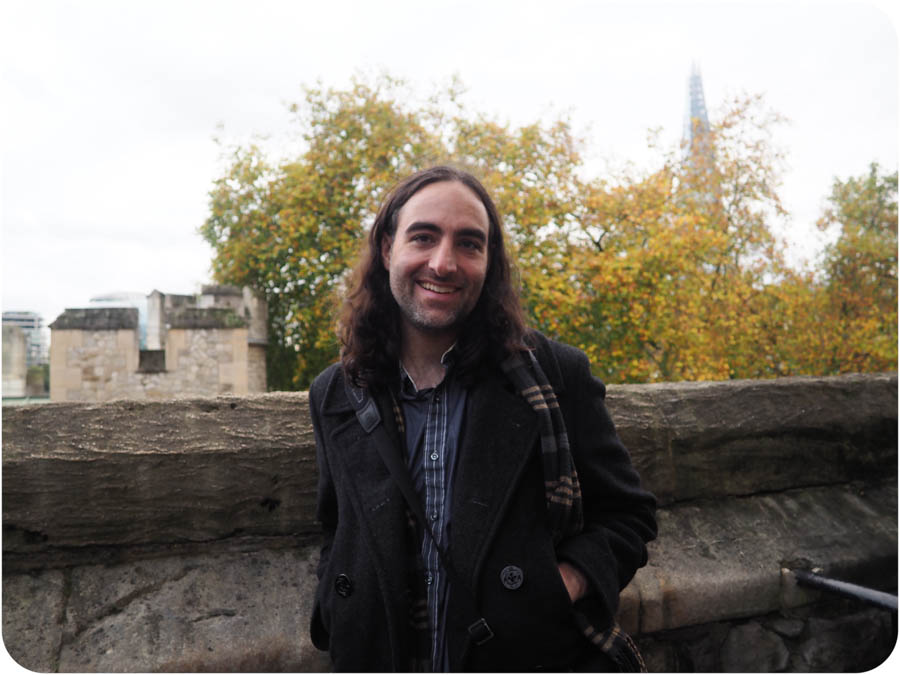 So many important events in English history happened at the Tower: sieges, coronations, imprisonments, executions, murders…a visit can only scratch the surface. Tomes (and a play y'all may have heard of) have been written about this place and its significance in history, but hopefully I've added at least two dirty jokes into that vast lexicon. Horse bosoms.