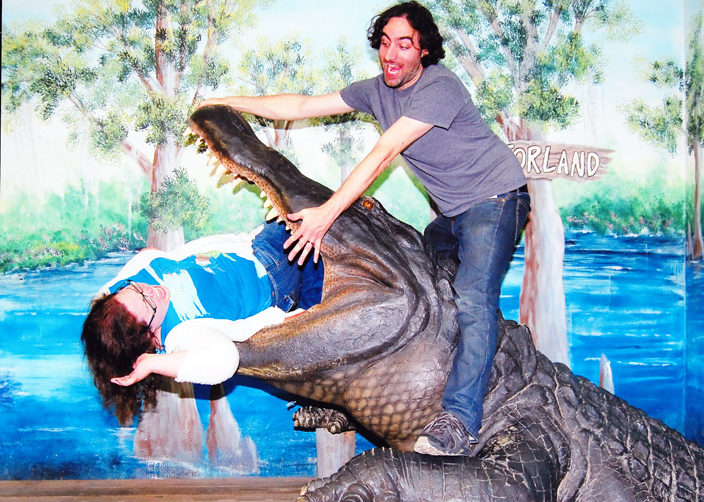 After all of the stress of planning a wedding and dealing with all of the bullshit that goes along with actually HAVING a wedding (expecting someone to check the goddamned schedule we painstakingly made with addresses and directions or even to have a little common sense is like expecting someone to lick used gum: unfathomable.) the last thing we wanted was to deal with international travel, even though there are so many things we want to see and do out in the great wide world. Instead, we decided to pick the most foreign of locations possible within the United States. Someplace where the absurd seems utterly normal. Someplace with a reputation for bizarre behavior. America's weirdest state.
I'm talking, of course, about Orlando, Florida. Home to both high and low-quality theme parks, the choice seemed obvious. On our first day, we went to Gatorland. Gatorland bills itself not only as the alligator capitol of the world, but also as Orlando's best half day attraction: not ready to compete with the big guys who offer an ENTIRE day's worth of entertainment, Gatorland will sell you four hours of entertainment and the ability to zipline over hungry alligators like so much delicious bait. I had hoped that the operators would equip you with a blowdart to shoot at the most delicious-looking gator, which you could then have cooked to your specifications at the restaurant at the end of the series of ziplines, but apparently they don't have anyone working there with my idea power.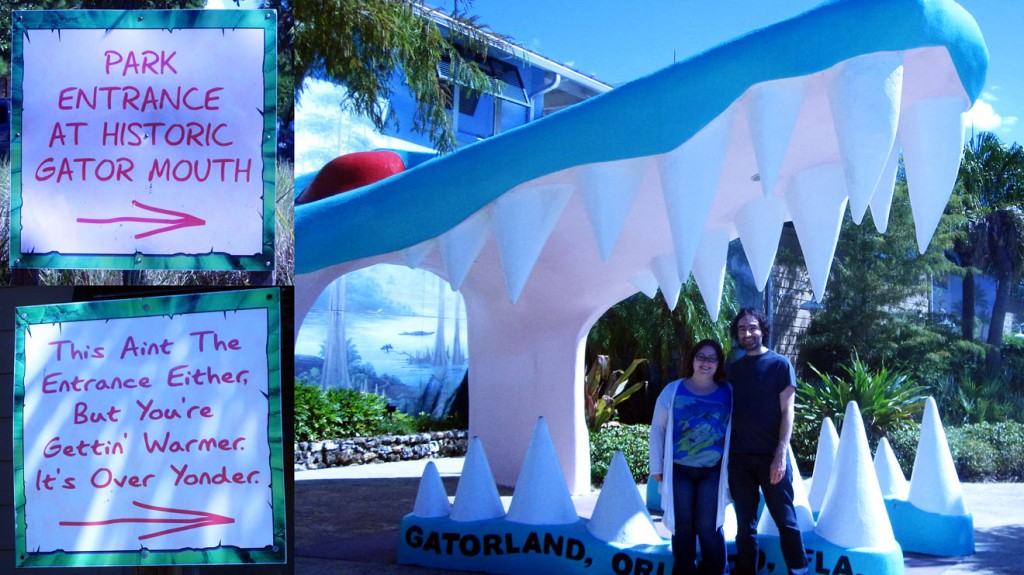 Ultimately, we decided to omit ziplining and make the most of the time we had available.  Upon entering the park, there are several pits filled with young alligators, the obligatory pressed penny machine, and a number of snack bars, one of which serves fried gator nuggets. They say they don't use their own gators, but I'm not entirely certain I believe that. Why go to the store to buy milk when you have entire pits of it at home? Since we arrived midday, we didn't have much time to spend looking around if we wanted to make the last gator wrestling show of the day, so we headed there first. The gator wrestling show was billed as being done in "Florida cracker style" and to this day, I cannot tell you what exactly that might be. An internet search tells me that it might have something to do with turn of the century homes. You tell me!  
After the show, we were given the opportunity to sit on the back of an already-humiliated alligator, and there's very little I enjoy more than photo opportunities AND teasing apex predators, so this was a dream come true.  Someday, I will be savaged by a wild animal, and I will completely and utterly deserve it.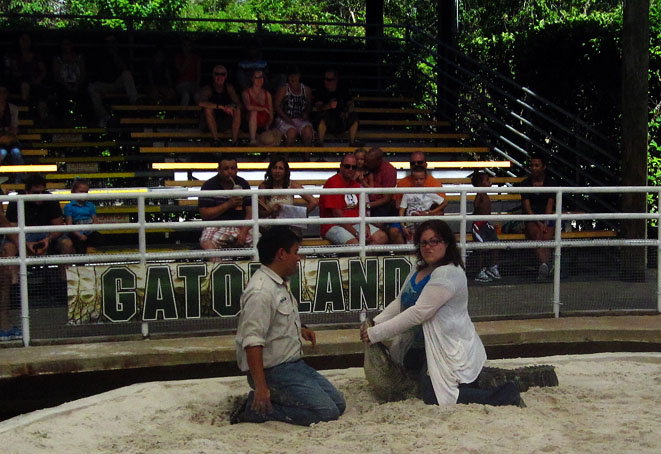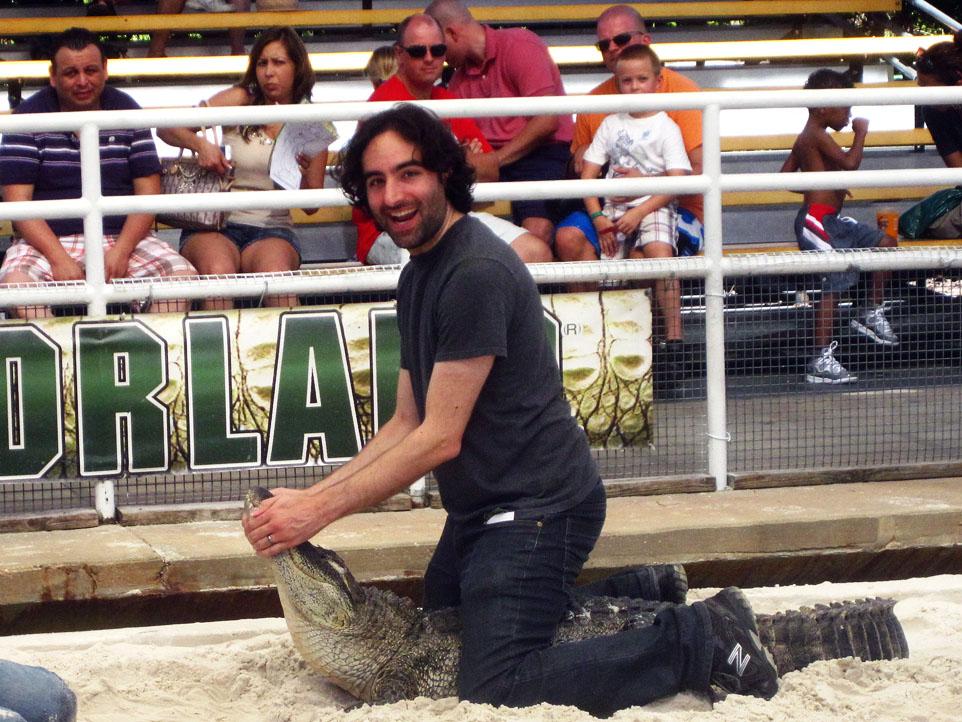 After the gator wrestling show, we had some free time to wander the park before the gator jumparoo show. In addition to american alligators, they also have crocodiles from around the world and a variety of other reptiles, including turtles and snakes, and the occasional non-reptile, like blonde raccoons and owls.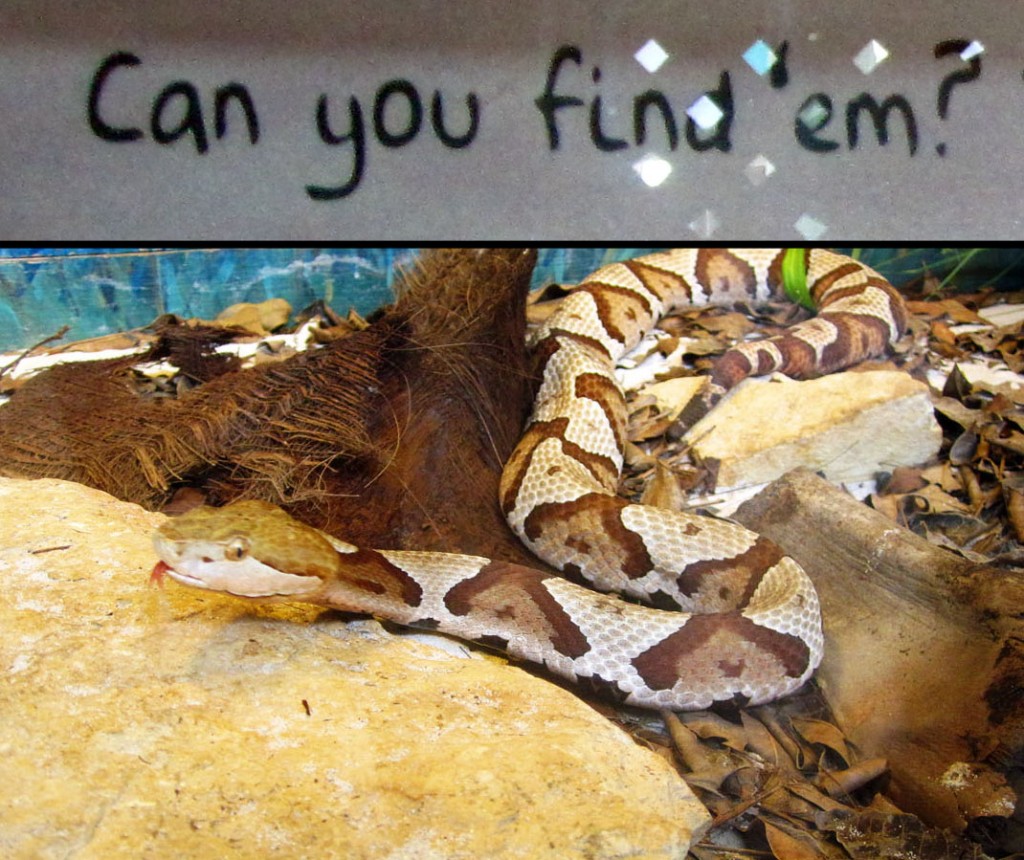 Sorry Mr. Cottonmouth, you are not quite as skilled as Waldo.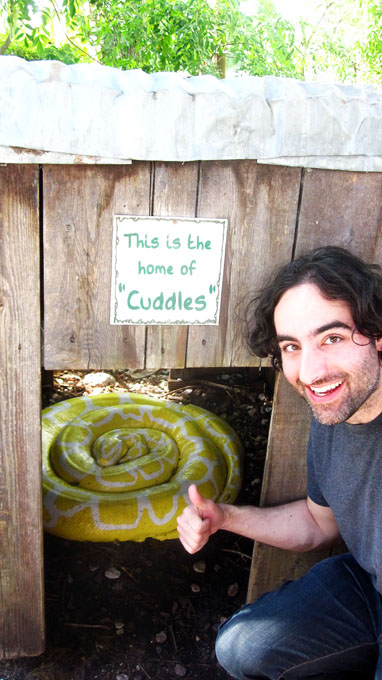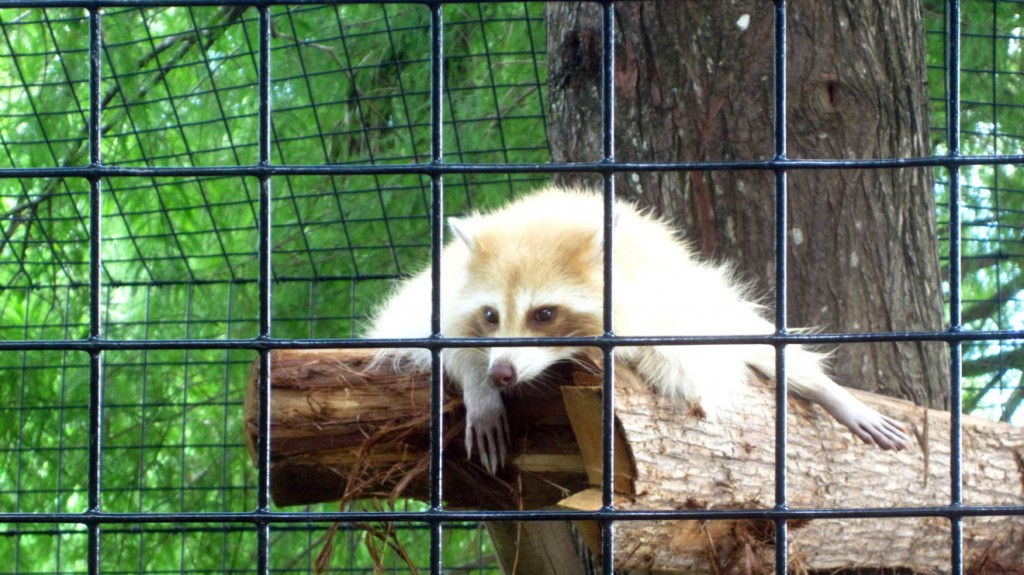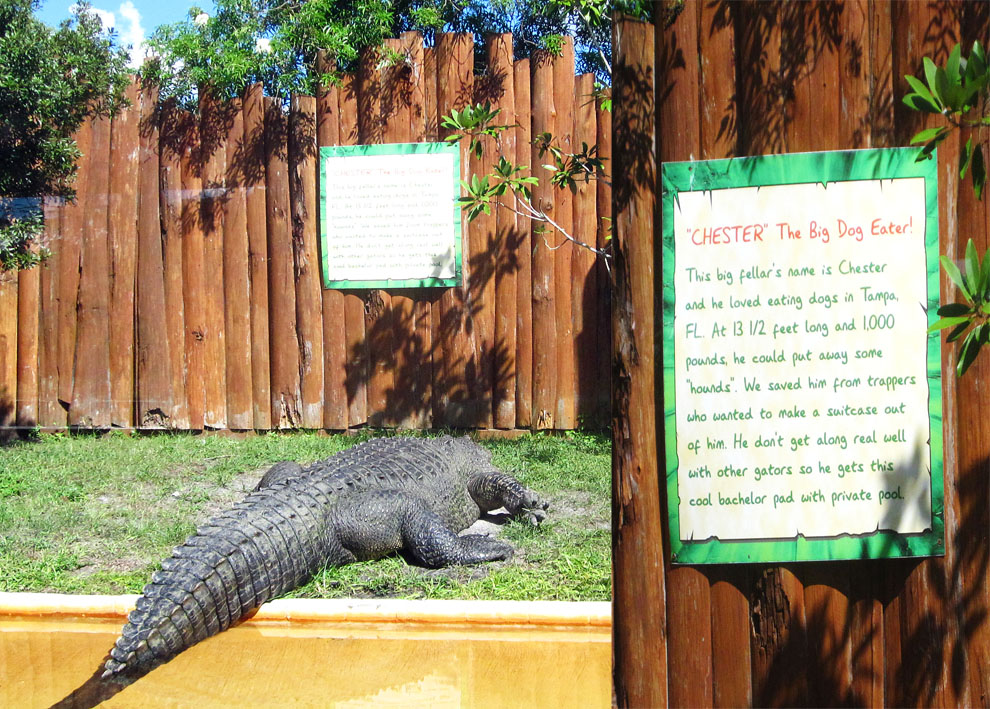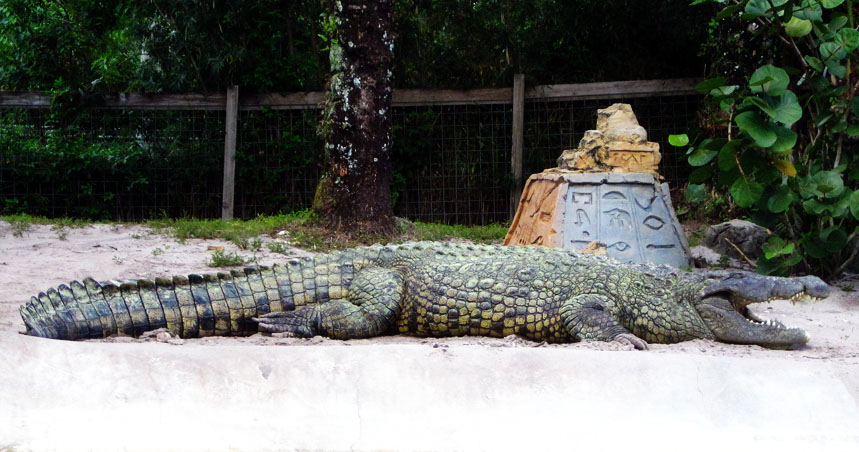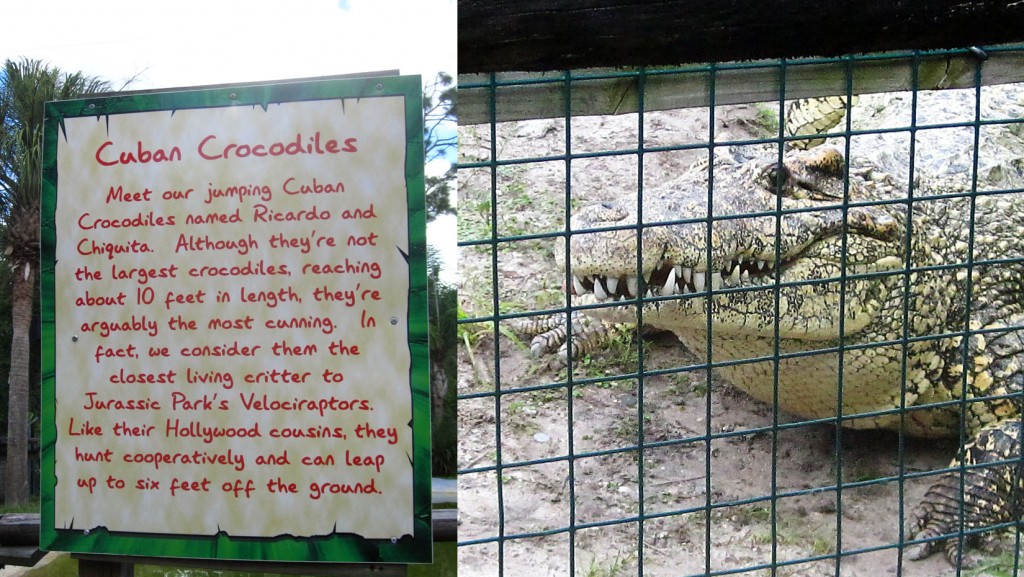 You know, I don't want to tell you how to do your job, but I couldn't help but notice that these crocodiles are famed for being able to jump six feet, and yet their enclosure is less than six feet high. Plus, when they look at you, it's like they're calculating your body fat percentage to determine how tasty you might be. I didn't linger by this pen, is what I'm saying.
Another special interactive feature of Gatorland is the ability to feed these majestic creatures one of their natural staple foods: turkey hot dogs. The woman who sold us our packets told us we could feed any gator in the park that wasn't behind glass. When I expressed my desire to feed the dog-eating gator, she repeated slowly and loudly, "ANY GATOR THAT IS NOT BEHIND GLASS" and drily added "Besides, all of them would eat dogs if they got half a chance. My neighbor found one in her pool eating her poodle." I made a mental note to check the hotel pool before leaping in, and claimed my packet of hot dogs. If there's anything better than throwing a tube of encased meat at a cluster of hungry reptiles and having them swarm to get at it, please tell me about it immediately.
These flocks of jerkass birds hang around, and will not only steal food from your hands, but will also snatch it away from a chomping gator, which is a sort of boldness I don't understand. Are the gators too lazy to teach these bastards a lesson? Are the birds not tasty? Or would they fight harder over all beef kosher dogs, or perhaps the clearly enticing but also taboo dog dog? To close our half-day at Gatorland, we attended the Gator Jumparoo Show, which isn't as impressive as a jumping show at say, Seaworld, but is vastly more dangerous, so it does have that going for it. The grand finale is set to Van Halen's "Jump," and I'm not certain whether it's to inspire the gators to do their best or to whip them into a frothing rage as they can't handle listening to that synth intro even once more. There's definitely a monstrously large gator at 12:34 who has decided he's had enough of being teased with chicken.
All in all, it was indeed a solid half day of entertainment: we fed gators, teased them, sat astride them, held one, tickled its tummy, threatened birds, pressed a penny, and wore a number of amusing gift shop hats. And the trip was just beginning!