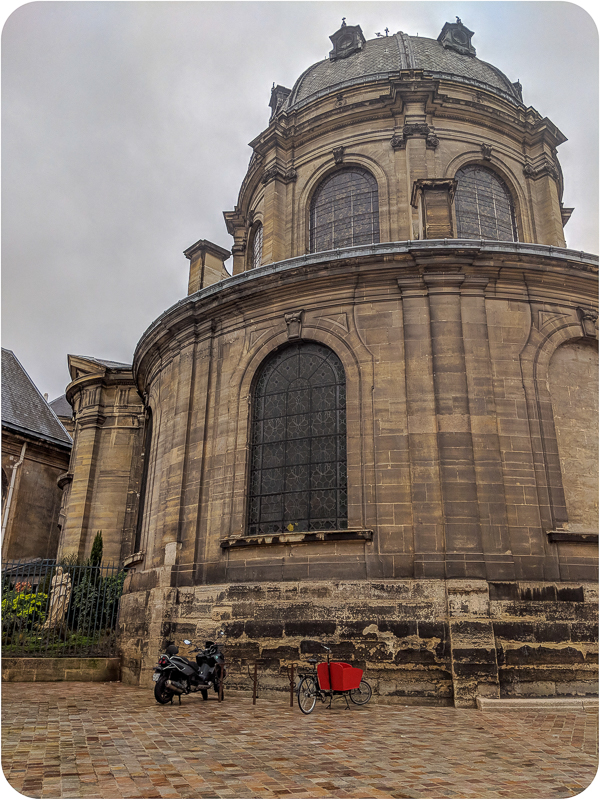 We left the palace of Versailles hungry enough to eat the contents of two boulangeries and inadvertently did, first walking to Boulangerie Guinon and leaving with an assortment of treats and then upon realizing that there was nowhere to consume them, continued on to Juliette where we ordered more and sat gratefully on their aubergine patio chairs, tearing into a baguette and sipping coffee. My apple turnover was deeply restorative, the laminated pocket both flaky and tender and stuffed with gently sweetened apple butter.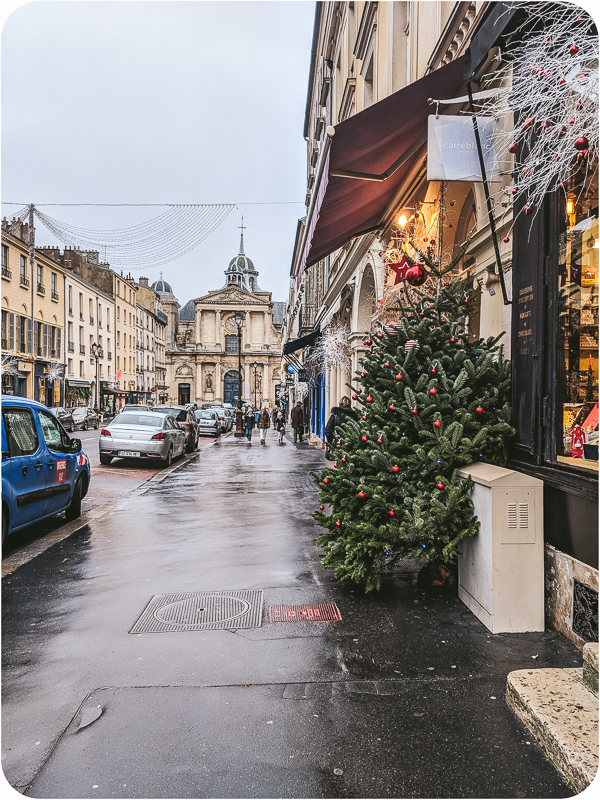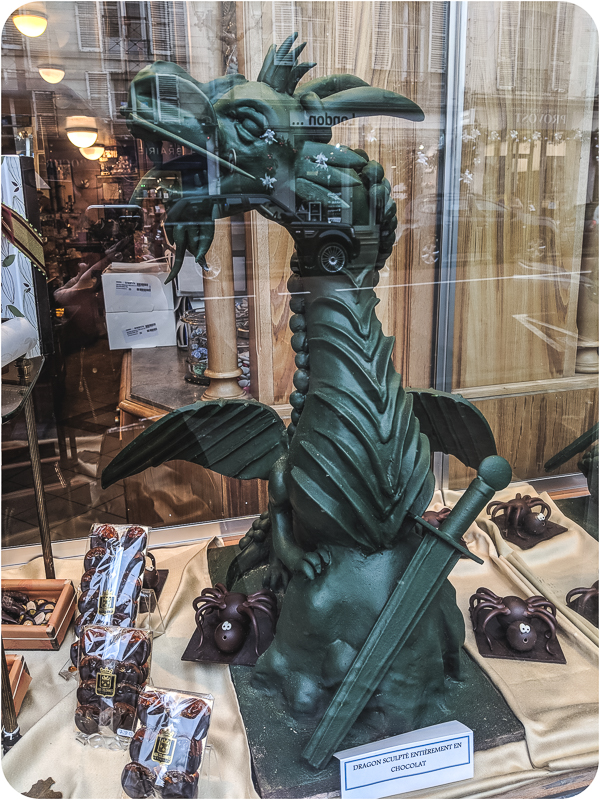 Aux Colonnes, chocolatier. The dragon sculpture and the spiders are entirely chocolate.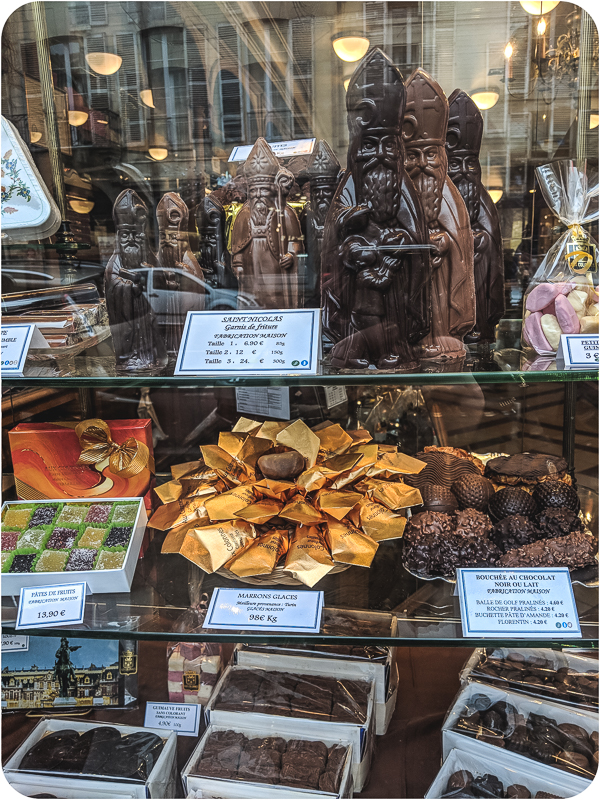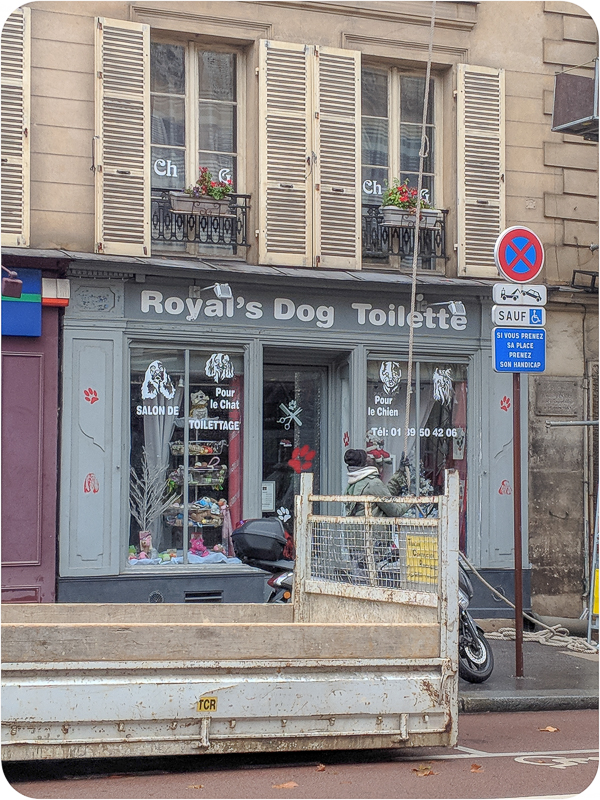 I know it's a pet grooming shop but as an American it is compulsory that I giggle at the word "toilettage" and then spend a brief moment considering what a royal dog toilet might look like; the answer is, of course, exactly like the gardens of Versailles.
After my stomach stopped rumbling, I could hear the complaining in the rest of my body more clearly, and it was telling me to see if our room at the Hotel de France was ready. Blessedly, it was. This goldenrod yellow room boasted a view of the palace of Versailles' parking lot, currently packed with busloads of modern-day courtiers. The bathroom, with its walls of mirrors, is no doubt intended to evoke the hall of mirrors across the street but the effect was a little more "carnival mirror" when I slipped into the bath with too much me in every conceivable direction.  It also came equipped with a "Shaver 2000", a hair dryer that looks like a vacuum cleaner and an old-fashioned telephone had a baby*.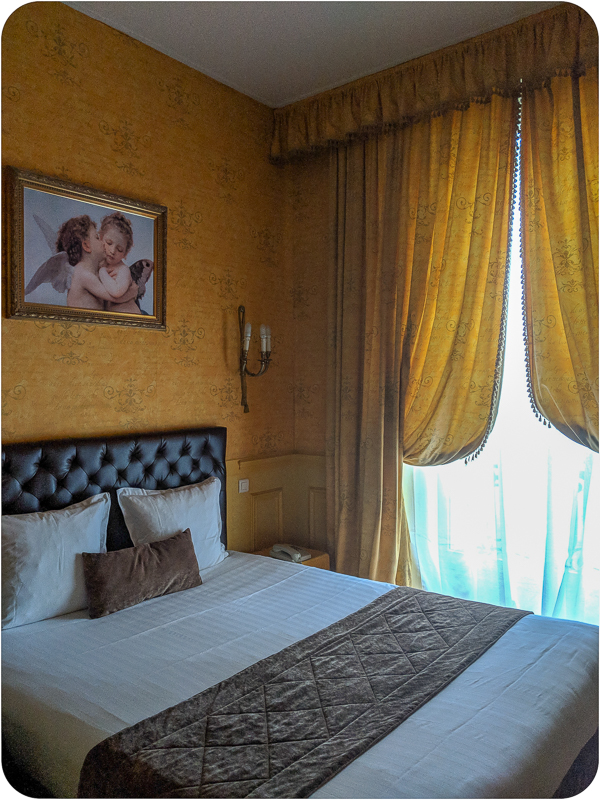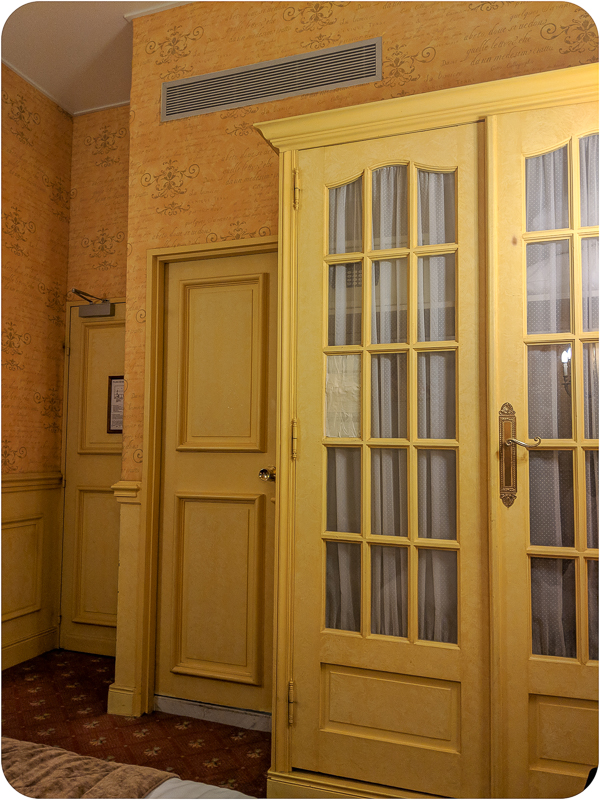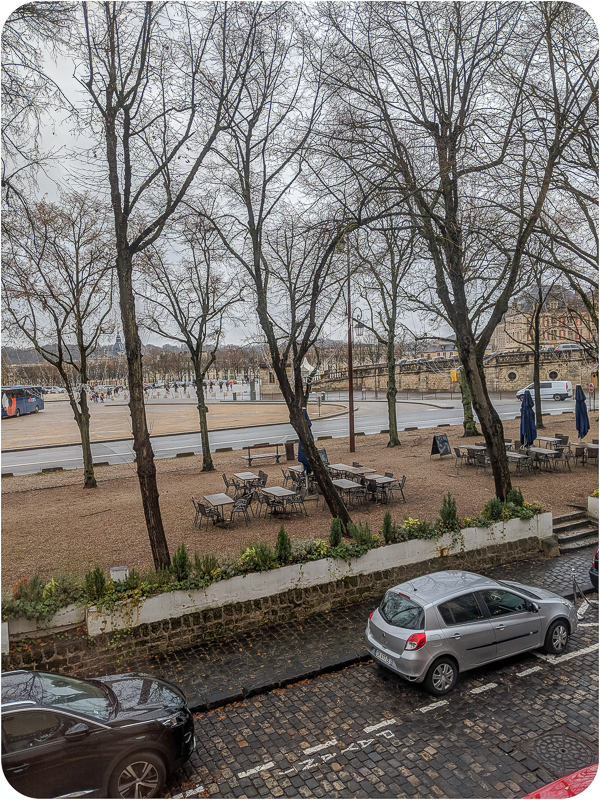 To the right, you can see just a bit of the palace of Versailles, a view you only get in the winter.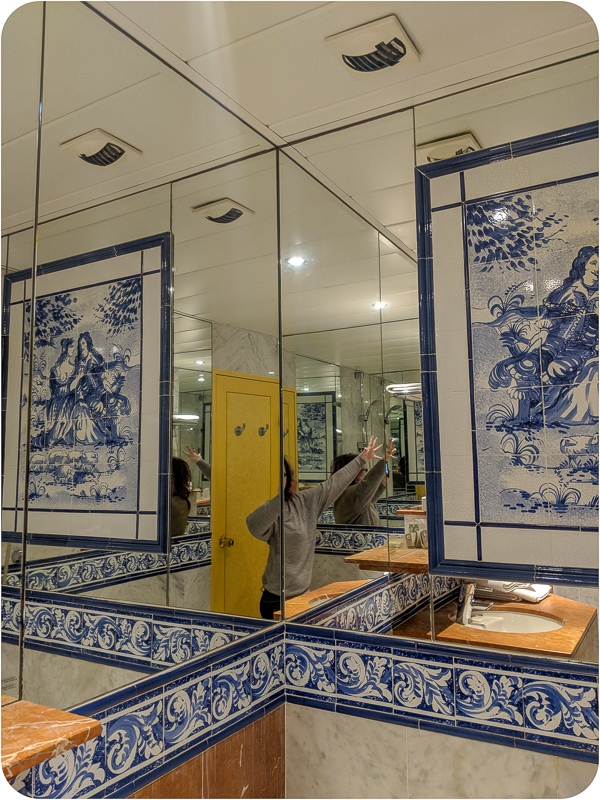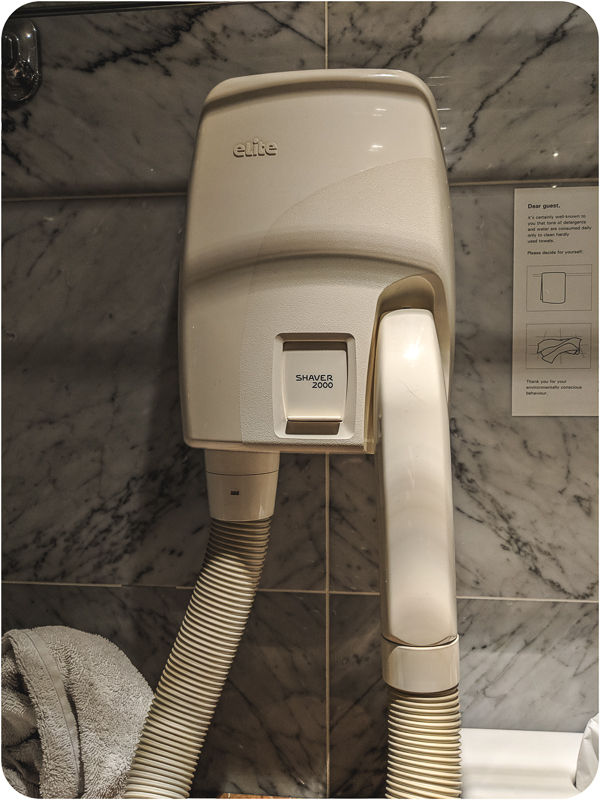 As with every hotel, I took the opportunity to unload anything I wouldn't need to carry with me before venturing back out to the National Equestrian Academy of the Palace of Versailles (Académie Équestre Nationale Du Domaine De Versailles) located within the famed stables of Louis XIV, which finished construction in 1682 and became the center for French dressage until 1830 when the riding school closed. At the time of Louis XIV's death, the king's stock of saddle horses numbered nearly 700 sourced from throughout Europe and beyond for royal use: Spanish, Arabian, and Persian horses for parades and carrousels, English for hunting, Prussian, Polish, and Danish for driving. Louis XV's stables contained 1700 head, and toward the end of Louis XVI's reign, the count topped 2,200, which the horse girl in me says is just about the right number. Today the stable houses 40 horses (judging by appearance, primarily Spanish and Slovenian) and puts on shows by Bartabas the Fierce.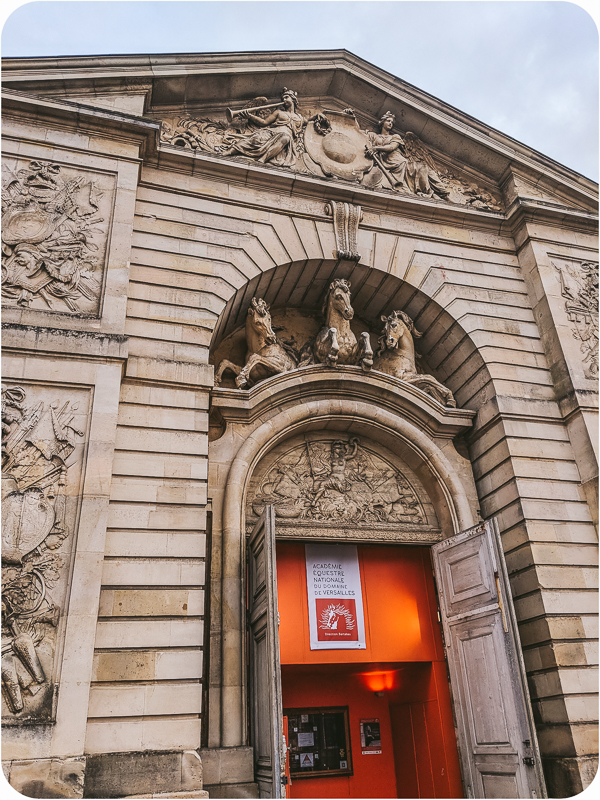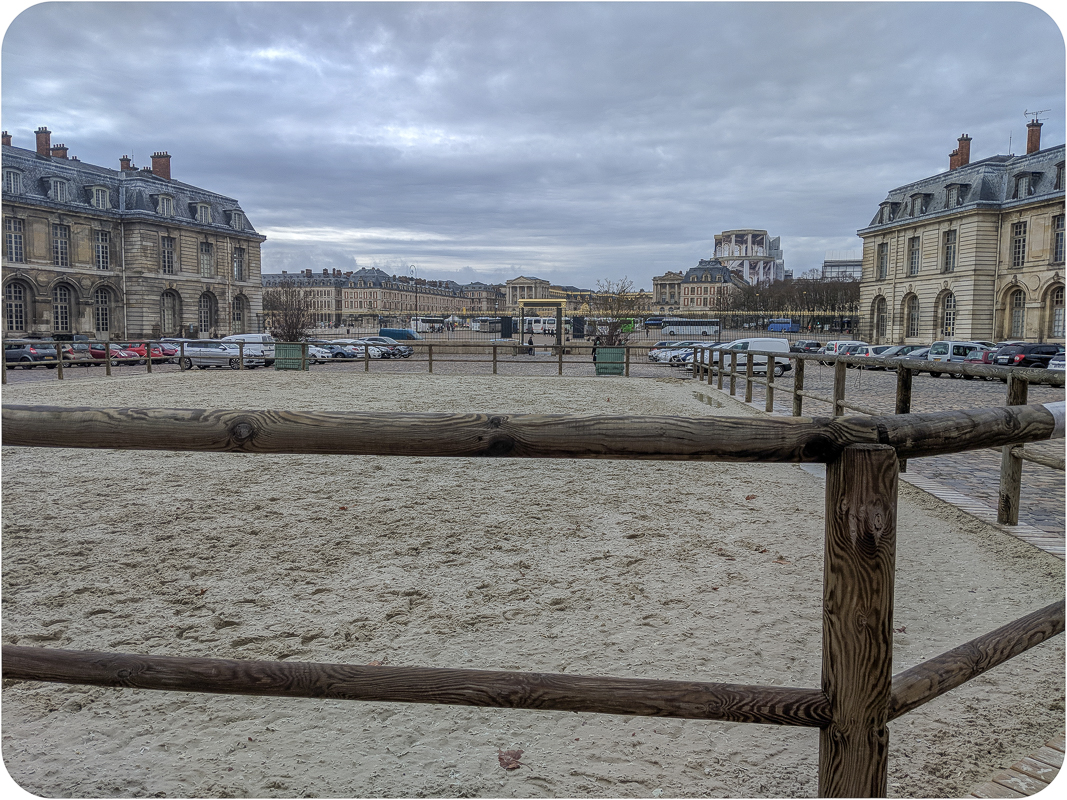 The outdoor riding arena; across the street is the palace of Versailles. Several resources I've read indicate that François-Étienne de la Bigne distinguished himself somehow by galloping from the grand stables to the palace gates in an hour but I feel like I could easily walk that distance in less time than that so there must be some context I'm missing. If I told my horse to gallop for an hour we'd be three zip codes away. And if it's "I got my horse to look like he's galloping but slooooooooooooooow" well congratulations on having the free time it would take to annoy a horse into that kind of pointlessness.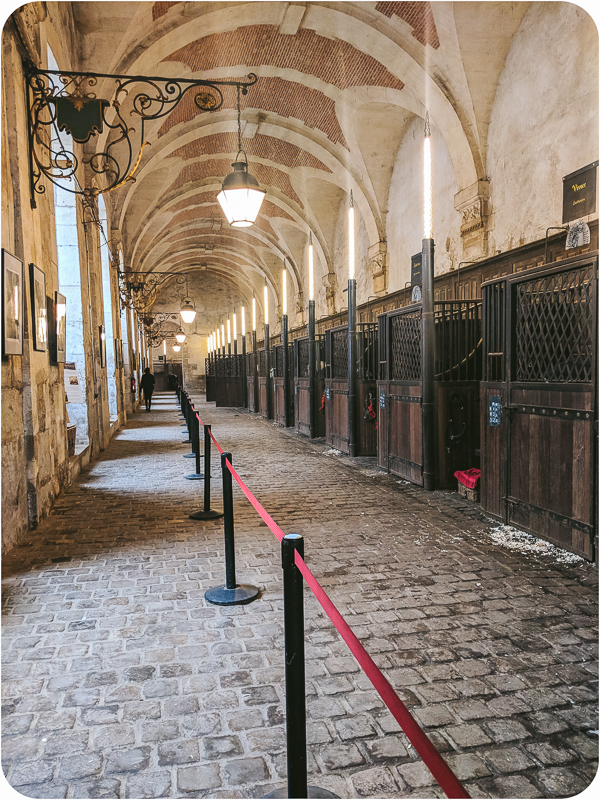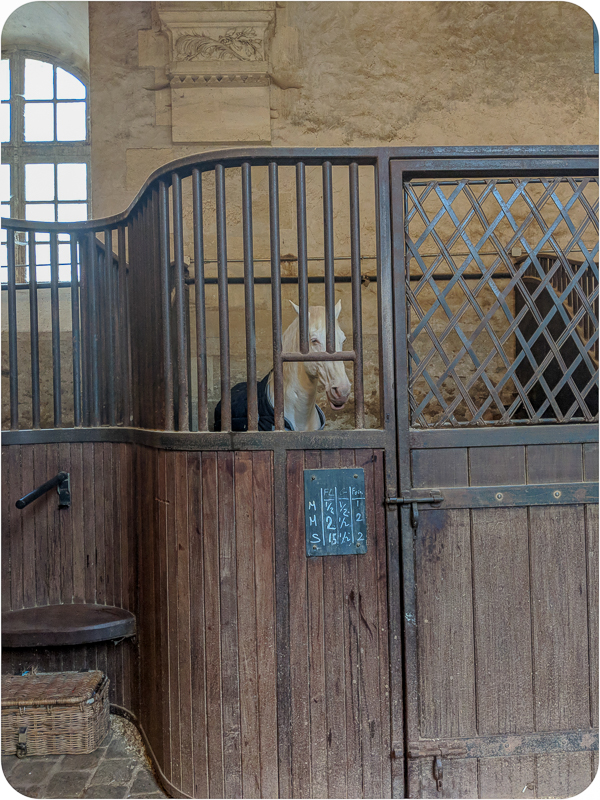 This horse's resting face cracks me up. I also like the saddle stand next to each stall–très pratique!
A long-reining lesson was in progress in their gorgeous indoor arena during my visit. I wasn't allowed to take any photographs so you should definitely click this link to see it because it's basically like Horse Church for equestrians. Honest-to-God chandeliers hang over golden sand footing. The long walls are lined with huge arching mirrors framed in wood. It must be a wonderful place to train and ride, not only due to the beauty, history, and quality of the facility but also because it looks like it would be a low-distraction environment for the horses, due to it being completely enclosed and visitors restricted to one section. Horseback riding is, as best as I can tell, a subtle, constant struggle to capture and keep your horse's attention, so minimizing the comings and goings of people and vehicles and gusts of wind and killer butterflies has to help toward that end a lot.  
The gallery of coaches is also located at the King's Great Stables, and was established by Louis-Phillipe I, King of the French (not King of France, an important distinction), who turned the palace and the stables into a museum dedicated "to all the glories of France" in 1831; they have now been museums longer than they were the possessions of royalty. Coaches were designed to make an impression on the viewer and said much about the status of the persons contained therein. Private coaches were obviously more prestigious than rentals. The only limits on the ornamentation of a private coach were those of the tastes and pocketbook of the purchaser, and, given the importance of status and rank in French court society, always with an eye toward having a finer coach than their lessers. Think carved wheels, decorative sculpture, better upholstery, matched horses outfitted in more elaborate harnesses, gilding, muralwork. Maybe even a more attractive driver? Or maybe just one with a better butt? I don't know, records of that kind of thing are rather sparse.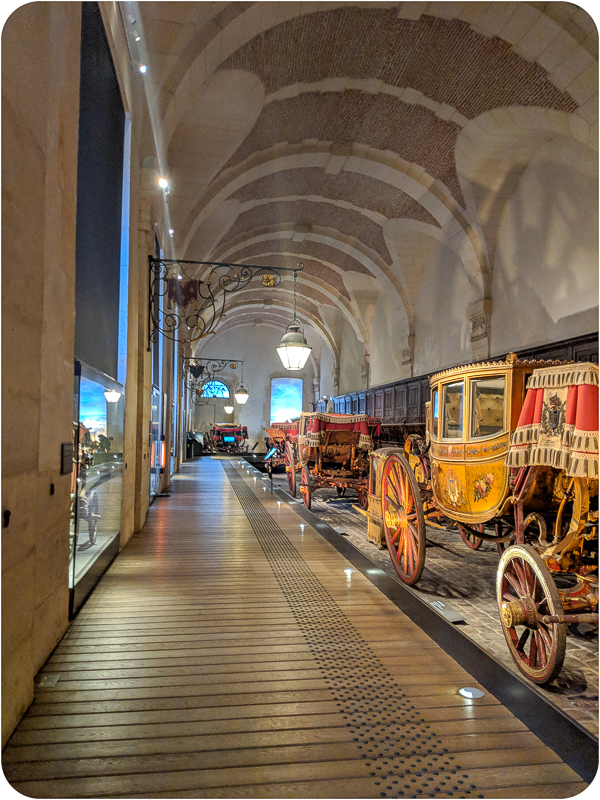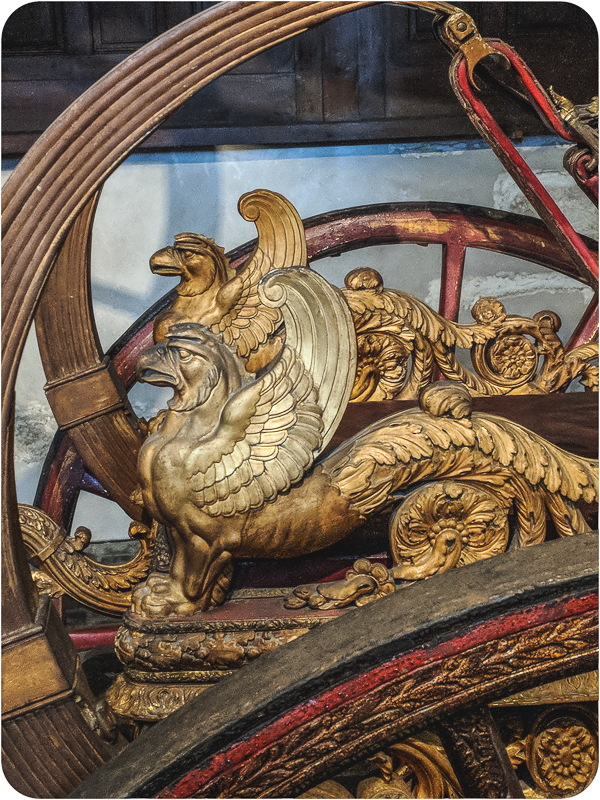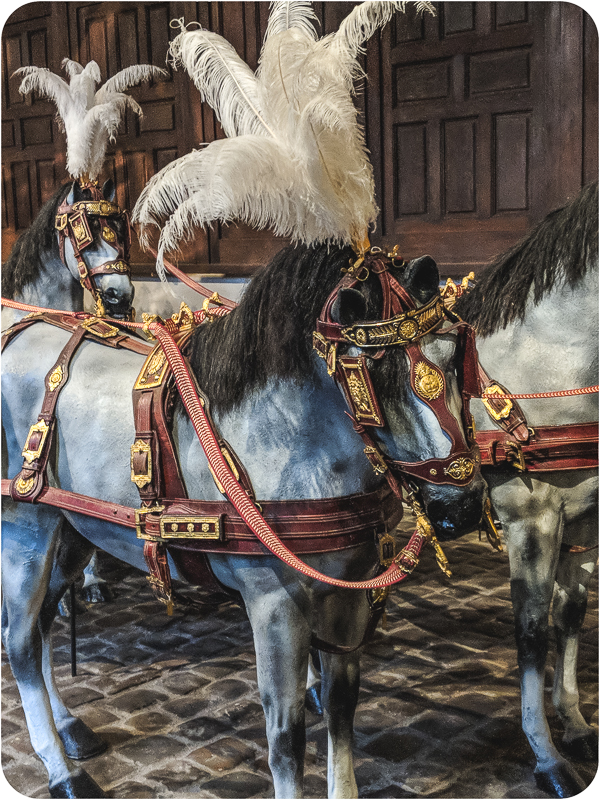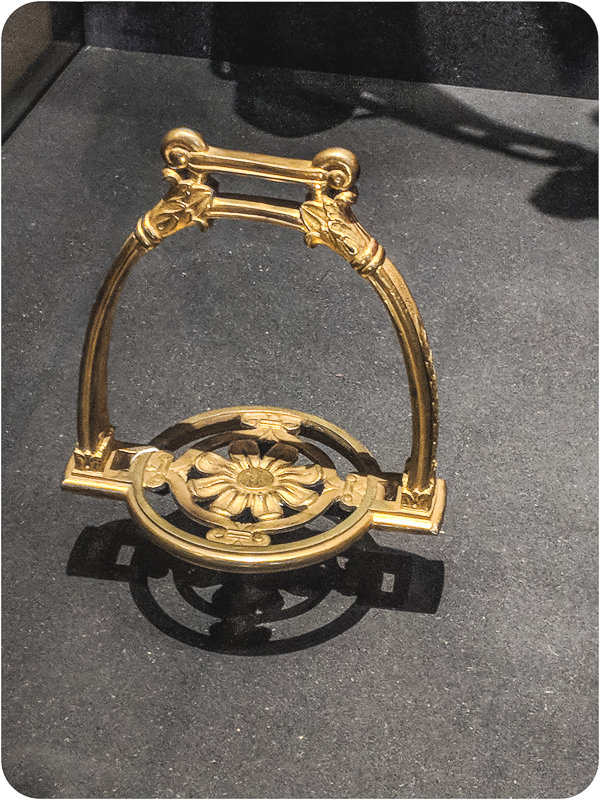 Who is going to make me some reproduction stirrup irons?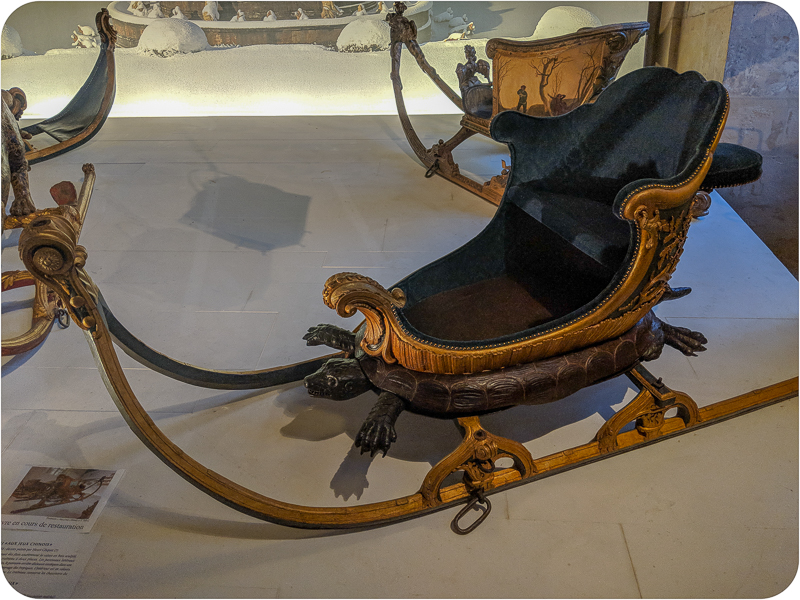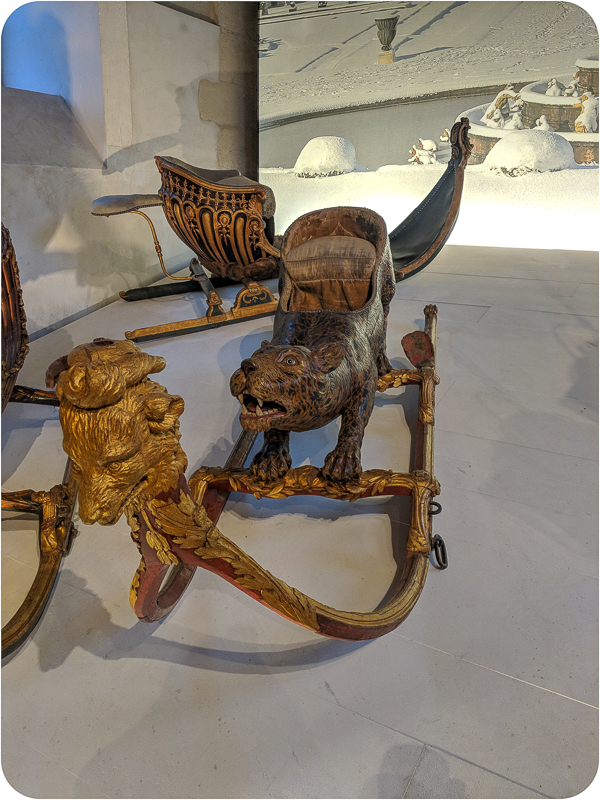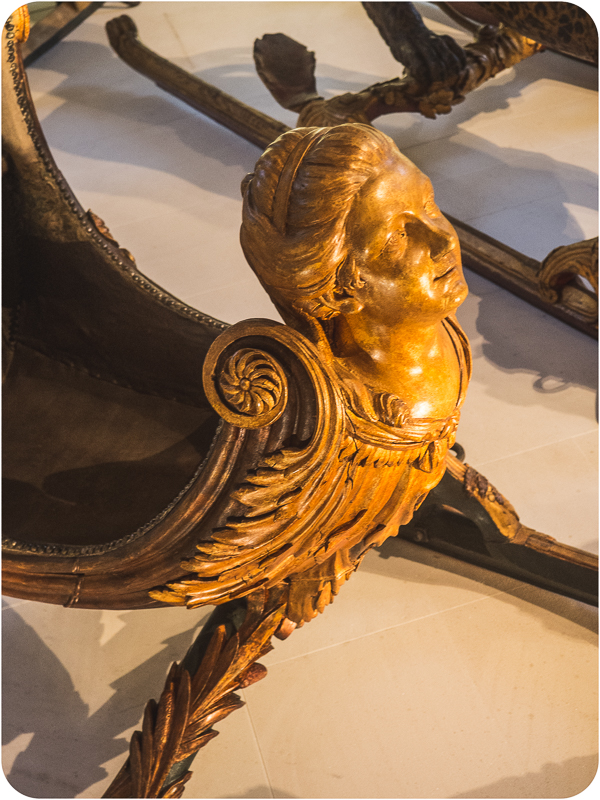 These highly decorative wooden court sleds were drawn by horses wearing studded shoes and harnesses embroidered with silver bells and were enjoyed by all of the Louis of Versailles. Louis XV was particularly noted for how quickly he would race these sleds around the palace grounds and subsequently no one wanted to ride with him which killed the practice until Marie Antoinette had them brought out of storage. The jaguar is my favorite and I'm trying to figure out how to make the concept work for me in a place that is essentially snow-free save for rare occasions when I'd need the sled just to get to my horse.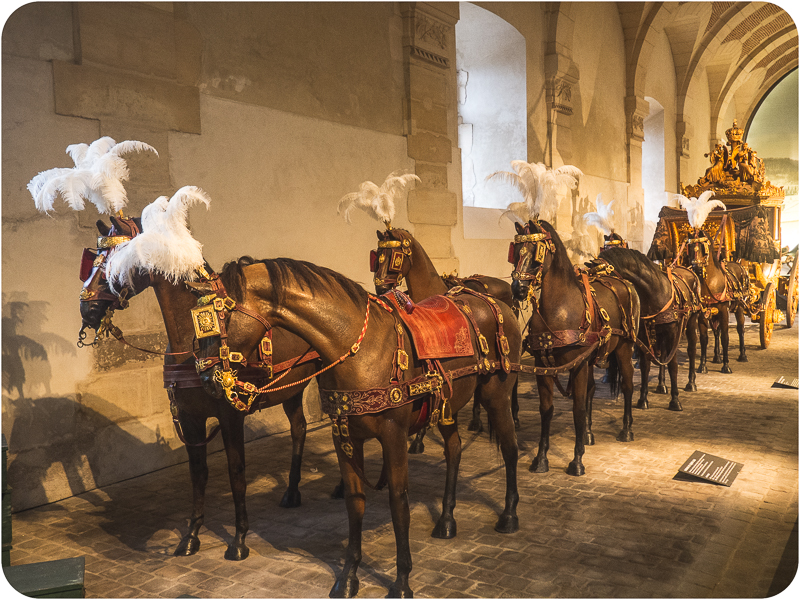 No matter how many horses are in front of the coach, only the two closest to it bear the load; the others are for show: look at all the money I have that I can afford to keep and feed and use this many matched, impeccably groomed and outfitted horses for no reason.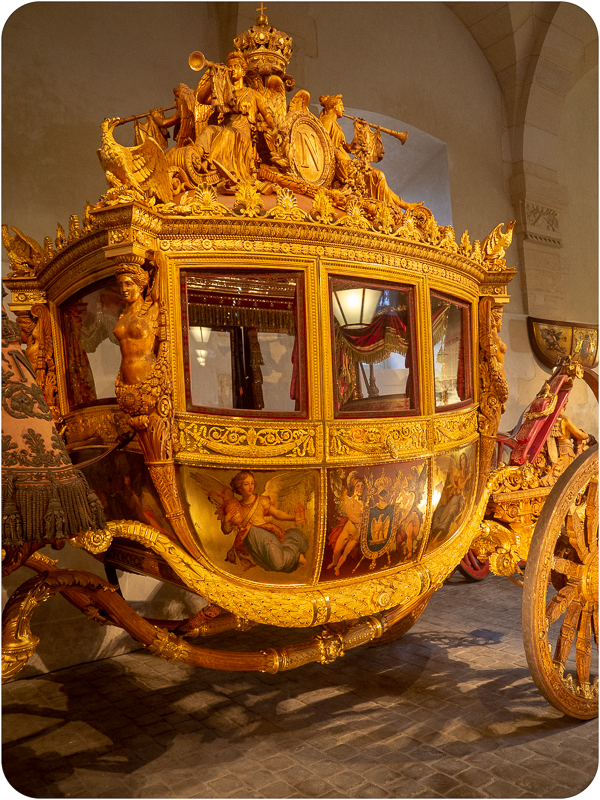 Coronation coach, started by Louis XVIII but abandoned quickly for political reasons. Charles X began the project anew for his coronation in 1825, and as a return to  kingly grandeur post-Revolution. He died in exile.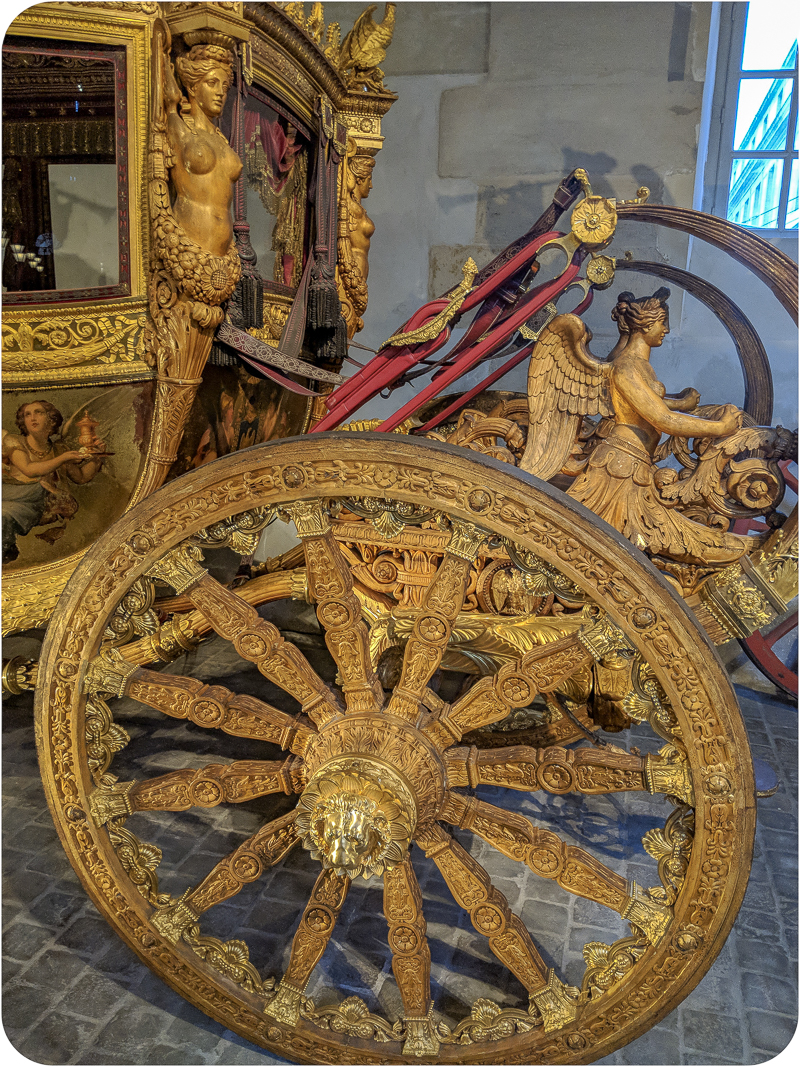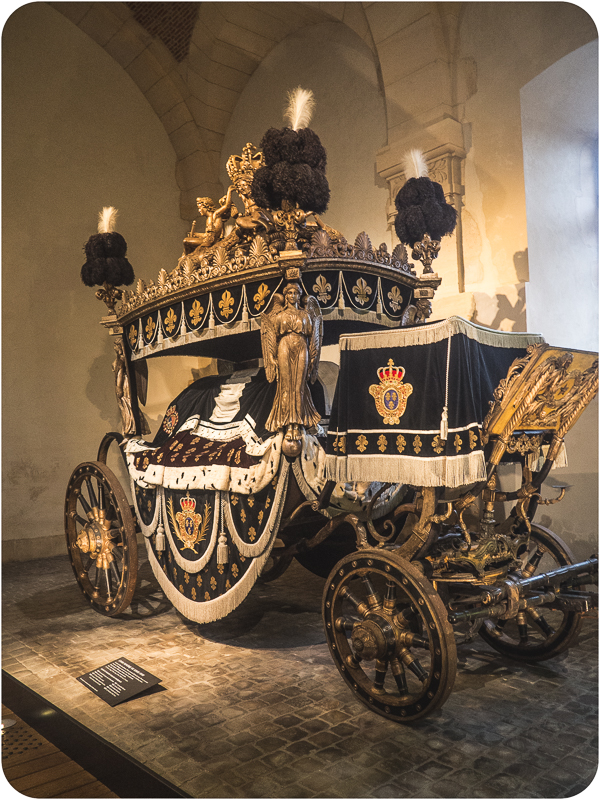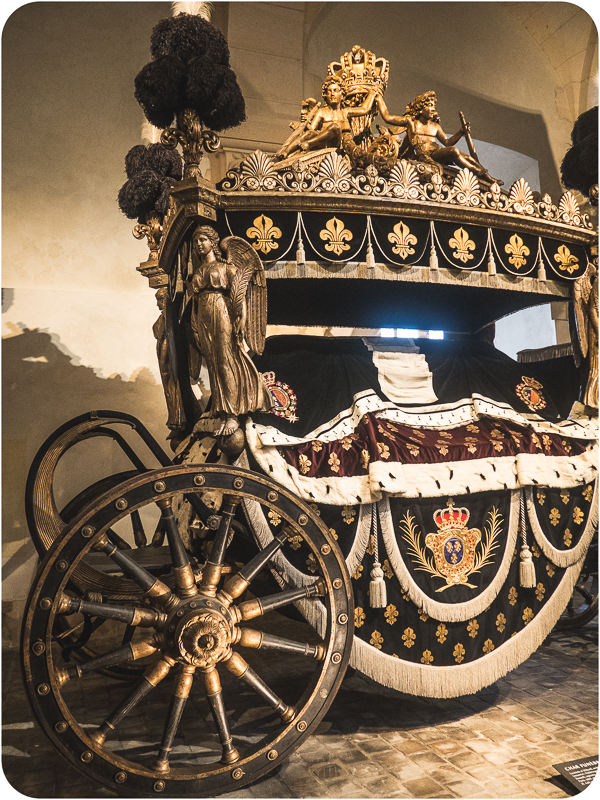 Louis XVIII's funeral hearse. Note the contrast to the coronation coach on the crown: instead of blaring angelic trumpets in celebration, triumph, and pronouncement of royal might,  cherubs bear lowered torches that have extinguished, the gold of the king's reign in the sun given way to the white gold of the moon. The only surviving royal funeral coach, for the last royal funeral in France.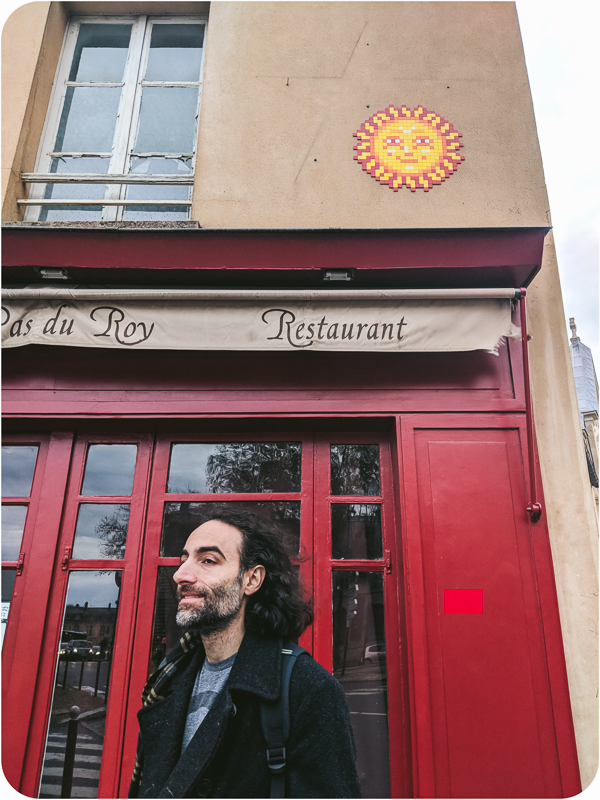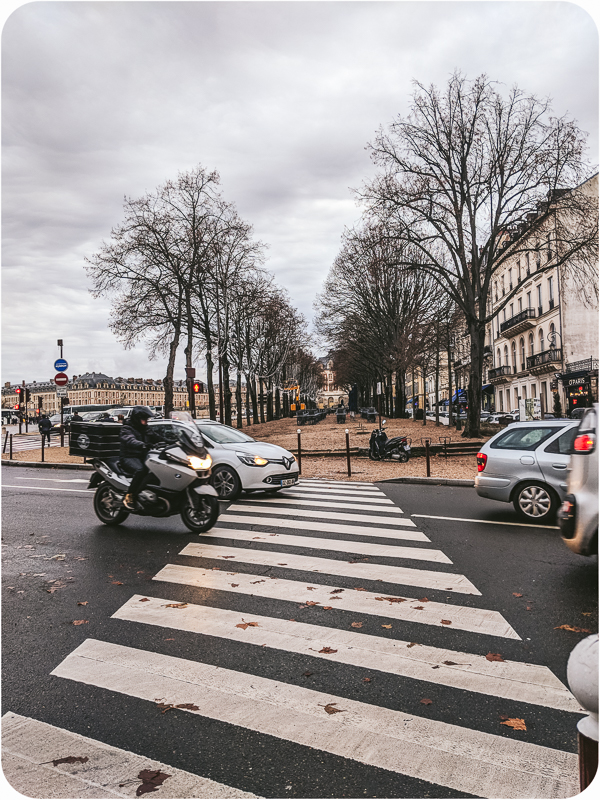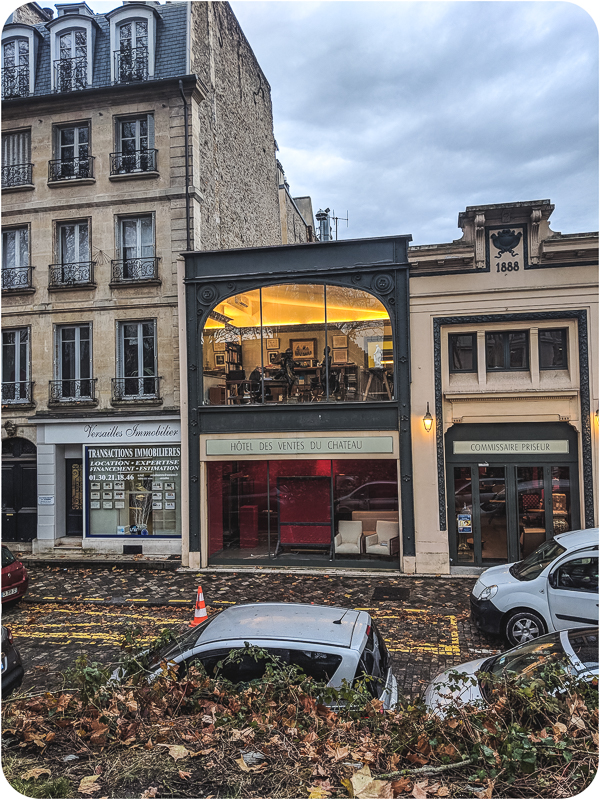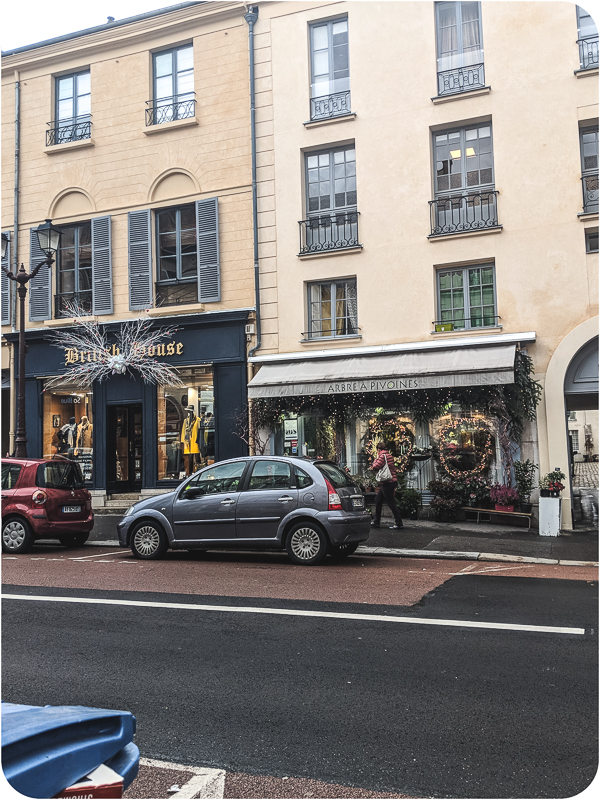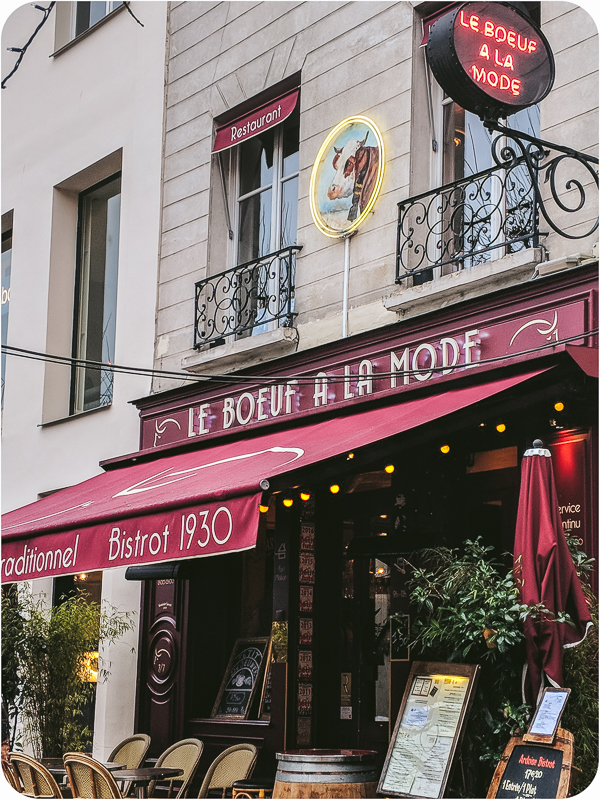 Boeuf a la mode is a French dish made by braising beef with red wine, vegetables, and ice cream
We had seen Le Boeuf A La Mode earlier in the day and returned later in the afternoon for an espresso and a snack but for some reason could not order a snack that had something to do with the incomprehensible hours French people eat, which never seemed to coincide with when I was hungry. From my perspective, the sole employee/proprietor didn't seem to be thrilled to have us there as his sole customers and I felt uncomfortable the entire time. I paid the bill in cash and was shortchanged by several euros and to this day I believe this was done deliberately because this dude knew I wasn't super familiar with the currency and probably wouldn't kick up a fuss even if I was…and he was right, because I left that restaurant without a peep.
However, I discussed this visit with Jason and was surprised to find he had a completely different experience–he didn't feel any "get out" vibe from the server and he chalked up the shortchanging to a mistake or, perhaps, a practical joke. A what?! I had to dig in–what sort of person did he think would deliberately shortchange someone as a joke? "Well, maybe he was waiting for you to say something so he could be like 'You got me!'" which honestly was so outside of the realm of anything I would even remotely consider as likely human behavior that I was temporarily stunned into silence.
It struck me that although we were not currently arguing, there were a few components here of some of the aspects of conversing with my husband which drive me most insane and spiral out into the most arguments–I will want to talk about practicals and probables and he will treat wild possibilities as though they are equally feasible. As someone who is professionally opinionated, I like definitives; Jason lives in a world of ambiguity–if you don't know someone, you cannot ascribe intention to their actions. I'm sure it's one of the things he finds equally confounding about me, my need to circle back around and around and fine-tune what exactly something is. So because that's what I do, I pressed him: out of all of the reasons I could have been shortchanged, which did he feel was the most probable? "I'm thinking 40% mistake, 30% malice, the rest other." If there's even a 10% chance that digging into this ultimately meaningless cafe visit helps us recognize and break out of these argument patterns, being fleeced a few euros, however it happened, was a bargain compared to therapy.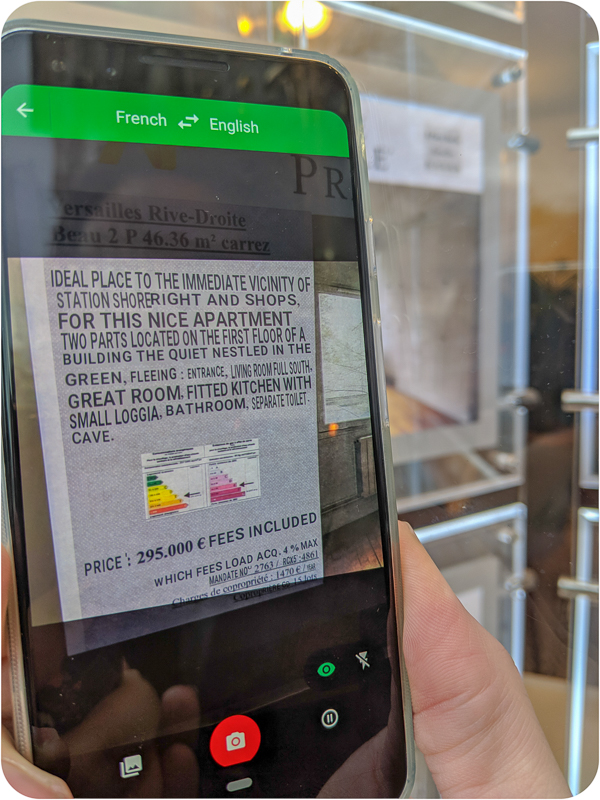 Jason installed this translation app on his phone and the results always look like it took the original text hostage for ransom. iF YoU wanT To sEe yOur ToileT cAVE aGaiN BRiNg 295.000€ to thIS aDDRESs. No POlicE.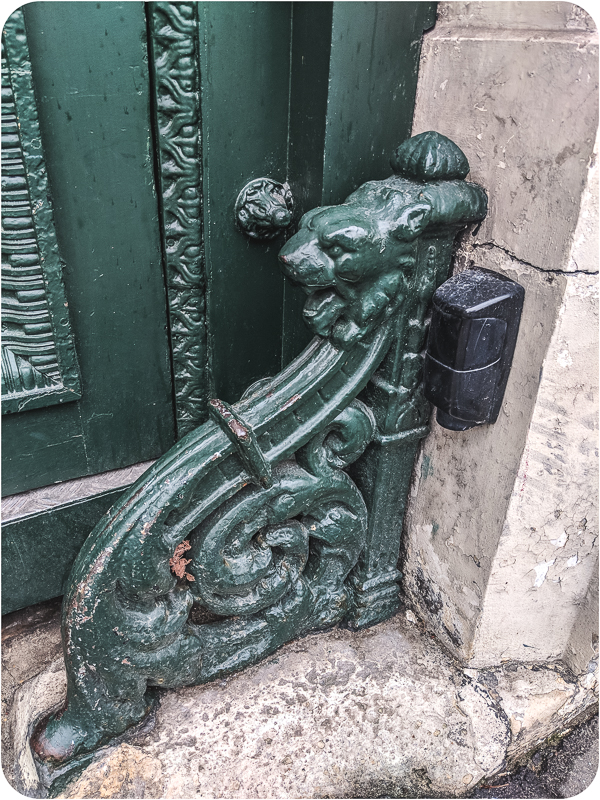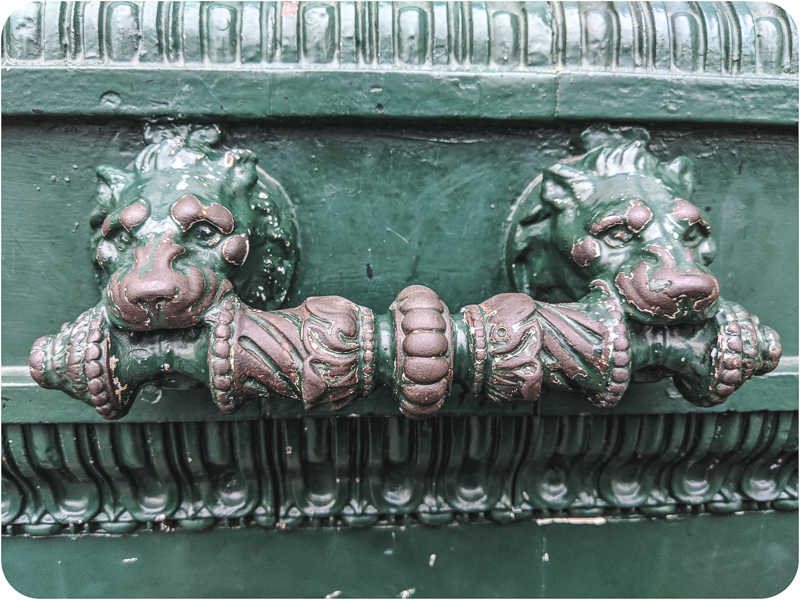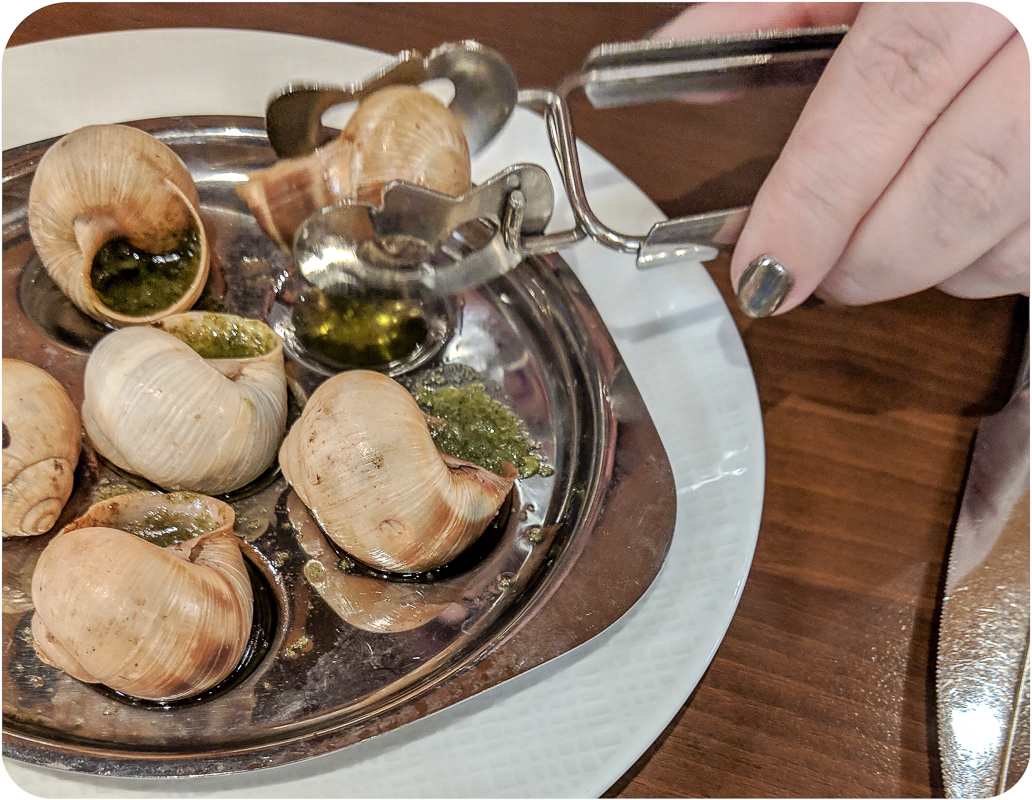 We had dinner at the restaurant most convenient to the hotel, so convenient that there was a passage into it directly from the hotel, the Taverne de Maître Kanter, which has since closed. As they were reputable for traditional food, Jason and I went for it, ordering creamy pâté, rich garlicky escargots, crisp duck confit with potatoes, and steak frites, all washed down with a rich bordeaux. I am not a fan of pâté, but I enjoyed the escargots very much; I enjoy anything that has been drowned in a vat of butter and garlic. I would probably eat and enjoy a rat if it had taken a garlic butter bath first and Alain Ducasse told me it was OK.  
*Electing to backpack meant that trade-offs had to be made to compensate for the amount of space we had versus the amount of things we wanted to bring and take home, and this meant that a few hotel sinks along the way played host to our socks and underwear soaking with a packet of portable detergent. This system turned out to be far from perfect as the "quick dry" socks may have been fast compared to the average sock drying time, but in terms of the time an average person has their socks off in a hotel room, their benefits were indiscernible. I spent many mornings in France using the Shaver 2000 or its equivalent to blow hot air through my unmentionables which left every room smelling like humid underwear. Like I said, trade-offs.