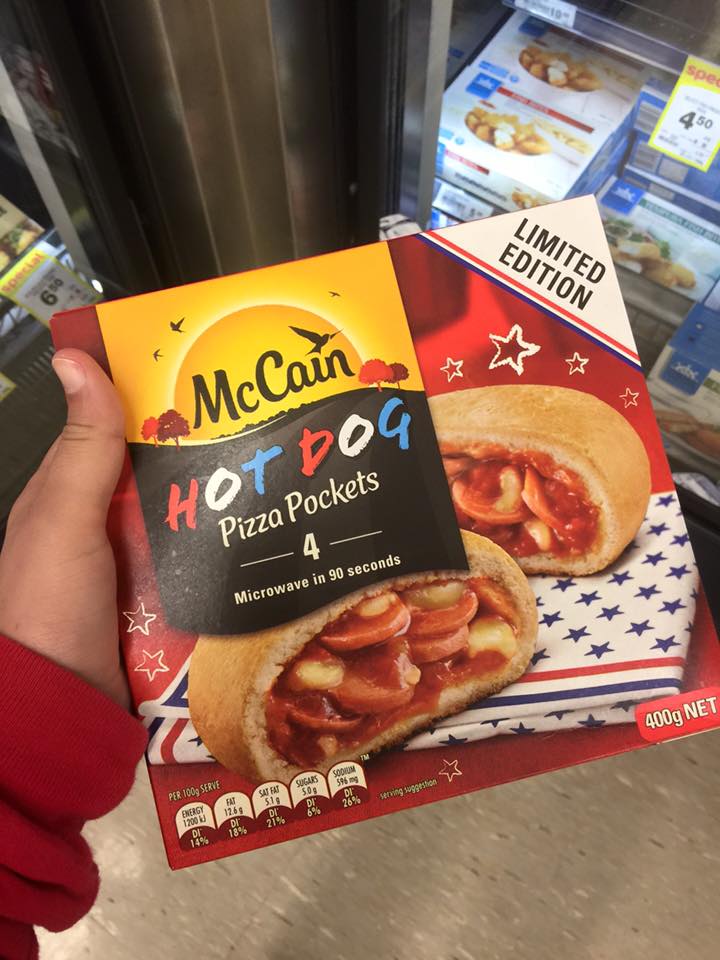 Today's nom or vom item was spotted in the wild by Tara, who has noticed a number of items in New Zealand that are trying to introduce bold new American flavors to the kiwi market. Regardless of where you live, how do you feel about the hot dog pizza pocket?
Pros: The taste of freedom in every bite, continuing the proud tradition of combining pizza and hot dogs, presumably personally approved by John McCain, will make you want to bust out your best red white and blue tableware, the only thing standing between you and dinner is 90 seconds, conveniently portable (would fit snugly in a hobbit's pocket), looks like a chopped up can of cocktail weenies and as we all know you can't go wrong with cocktail weenies
Cons: It looks like someone chewed up a can of cocktail weenies and than spit out the premasticated slop into a cardboard tube, like a hot dog vomit pocket swimming in a ketchup-y cheese gravy, I see the word "pizza" on the box but there is nothing pizza related in there so I don't think it counts as a serving of vegetables, limited edition so often means "We don't think this item has long term appeal so we're banking on your poor impulse buying decisions", to be really American it should come with some kind of frosting or dipping packet and you should maybe hear an eagle scream when you bust open the box otherwise it's just a pale imitation of the real thing

Loading ...