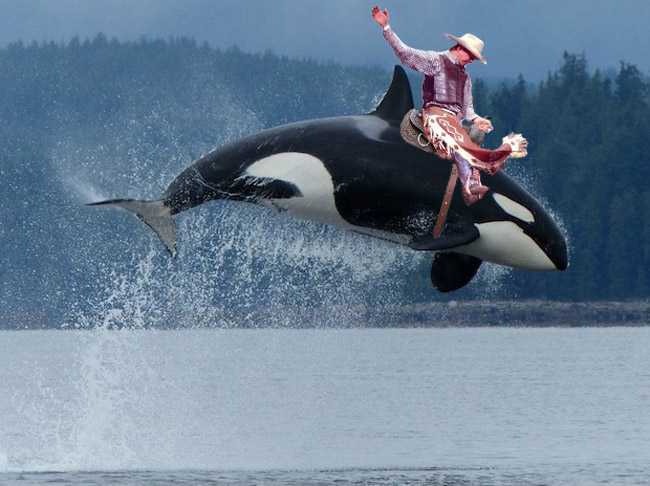 Sadly, no, not horseback riding on orca whales, which is probably a ton more exciting though rife with danger if you're shitty at holding your breath and a wimp about getting hypothermia. Instead, I went horseback riding on Orcas Island, the largest island in the San Juans (though not as populous as San Juan Island, which I visited briefly last year and plan to revisit soon).
Just like San Juan, you can get there by ferry or plane–I elected to take the ferry again, this time taking my car across so I'd have an easier time getting to Moran State Park, where the ride was to be held. In case you would like to do the same thing–learn from my mistake and make ferry reservations. I hadn't even considered that capacity would be an issue, because I was getting to the terminal so early and just figured it would be first come, first served. When I pulled up to the ferry ticket-seller, she scowled and asked if I had a reservation. When I told her that I didn't, she said I'd just have to wait and cross my fingers…uh oh. Luckily, I was able to drive on to the ferry I'd planned on taking, as there are so few ferries that I never would have made my ride time with a later crossing. After the crossing, Jason immediately made reservations for the trip back, and I'm glad he did, as some of the scheduled crossings were already indicated as full and I had no intention of spending the night.
After the ferry docked, I made my way to Moran State Park, which is on the other side of the horseshoe-shaped island (you know, if a horseshoe was sort of mutated and mangled and really nothing like a horseshoe at all), bought a Discovery Pass, and parked. I ended up with a good amount of time to kill, so I took a short hike on the Cascade Lake trail and also started on the trail to the waterfall before second-guessing my ability to get there and back before the ride and doubled back to wait. And wait.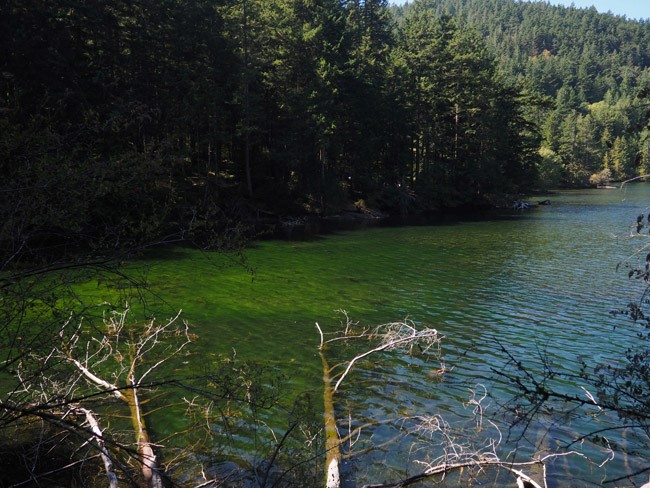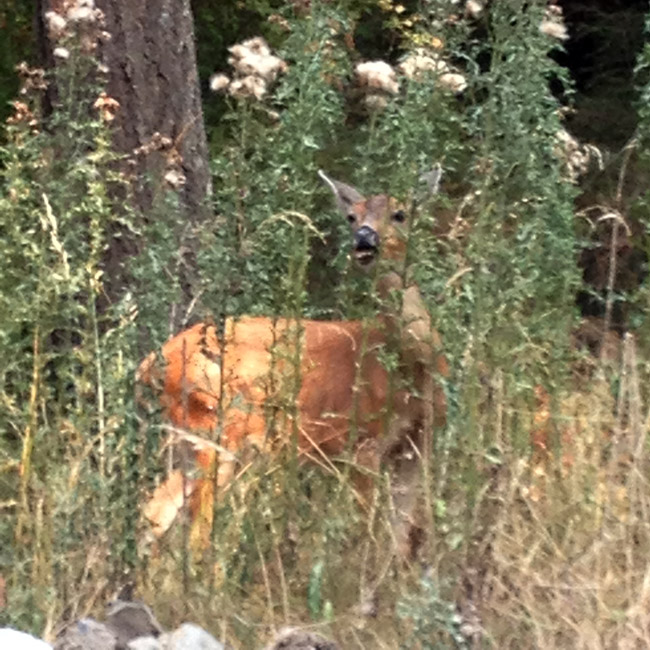 Eventually a big horse trailer pulled up, we filled out some waivers indicating that we would not sue if involved in a horse-related injury, checked off boxes pertaining to our level of horsemanship and whether or not we wanted helmets. As I've fallen off of a horse before (in a lesson that was attempting to teach me to ride at a trot bareback, which I wasn't ready for and promptly went ass-over-teakettle), I definitely wanted a helmet. Not so much to protect my head from impact with the ground, but to protect it from those four skull-crushers that they have the audacity to call hooves while I'm rolling around on the ground like a helpless squishy bug. No one else wanted helmets, but after they saw me strapping one on, they changed their minds. I'd like to think that it's because I make wearing a helmet look cool, but not even I am that self-deluded.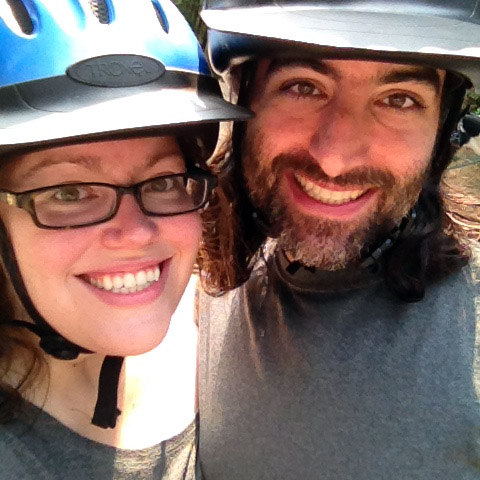 Once we were properly geared, we were assigned horses based on our skill levels. I'd selected that I'd had more than 8 hours of riding under my belt (which is true, I probably have at least a hundred hours, just not, you know, in the most recent twenty years save for a couple of rides at Long Beach), and I was selected to ride Candy. Not because she was particularly difficult or spirited, but because saddles tend to slip on her and they figured I'd be the least freaked out if I started going sideways.  Which didn't end up happening, so hurrah for that!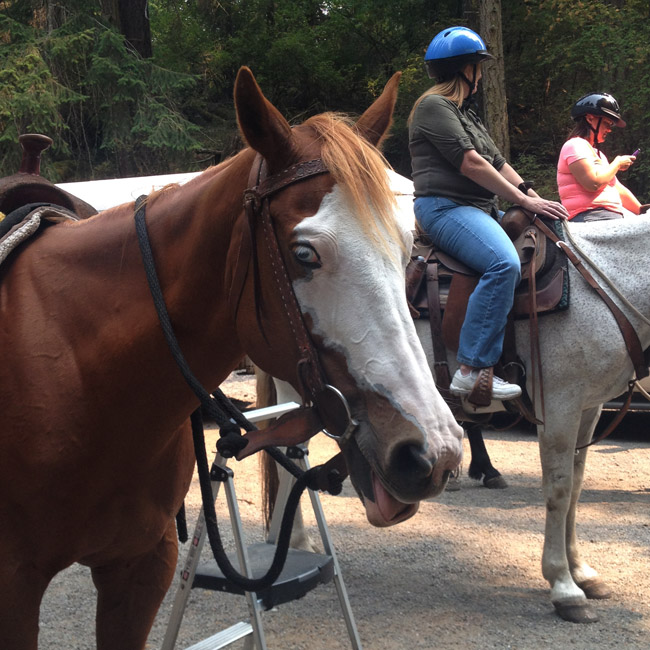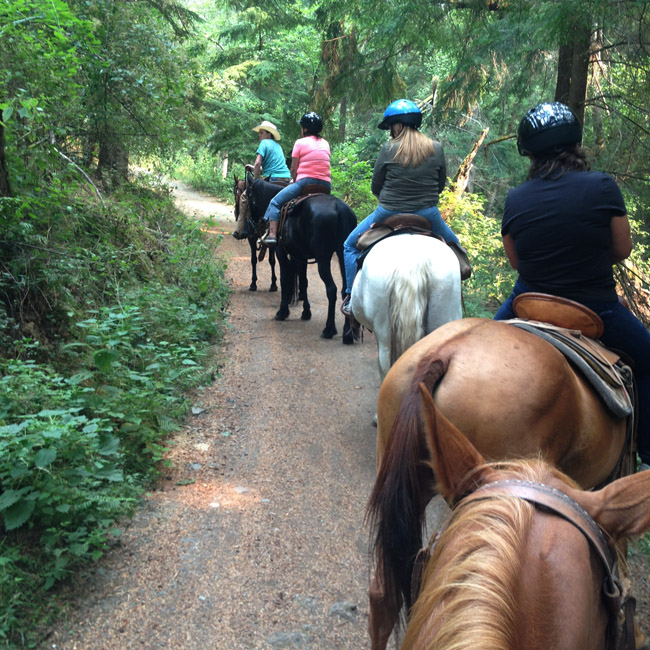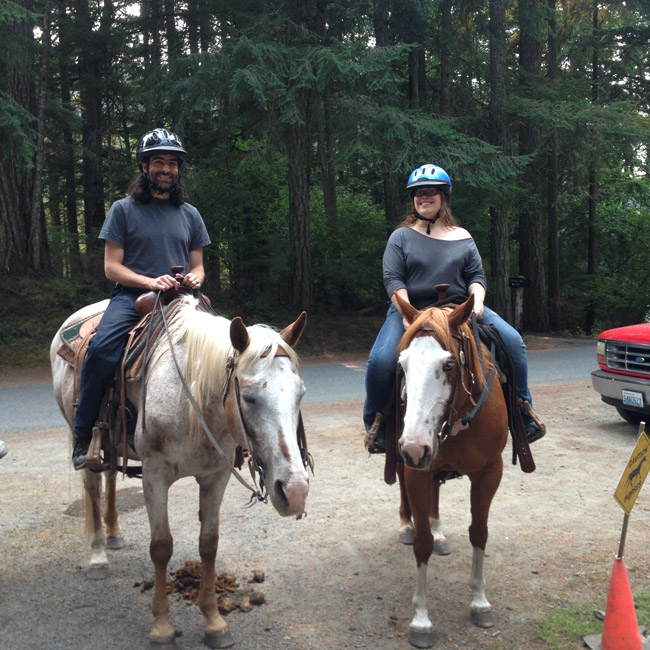 The trail ride was suitably difficult, not the nose-to-tail plod I expect from the majority of rides, but a lot of narrow switchbacks with steep ascents and descents, needing to pick your way through huge roots and other hazards and duck under low hanging branches. On my beach rides, I felt 100% comfortable pulling out and fiddling with my camera, but on this ride, I was able to take a quick shot while we were stopped and immediately put my phone back in my pocket because I needed my concentration elsewhere.  Speaking of stopping–we stopped every single time a horse pooped so one of the company riders could hop off and kick the poop off the trail into the weeds, which meant we stopped a lot. A lot. Sometimes we'd ride ten feet before having to stop again. Candy pooped six times. Multiply six poops by seven horses and we stopped 42 times. I don't think it was quite that many, but it was close. 
Close enough that by the time we made it back to our starting point, it was nearly an hour later than we were supposed to have finished. Which wasn't really a problem for me insofar as the ferry was concerned since I still had nearly five hours before I had to board, but was a problem in that nearly everything else on Orcas was closed. At 4pm.  Someone recommended a pie shop in nearly Olga. Closed. Back near the ferry terminal, the gift shops were closed, the ice cream shops were closed, and the only place that was open, the Orcas Hotel, sold us a sandwich and a drink and then hustled us off their property so our sandwich-eating wouldn't be in the photos of the wedding they were hosting.  So we went back to the car and waited. And waited. And waited. I ended up falling asleep for a while. I actually considered trekking back to Doe Bay and paying for access to their clothing-optional hot tub because trying to avoid looking at hippie schlong would at least be something to do.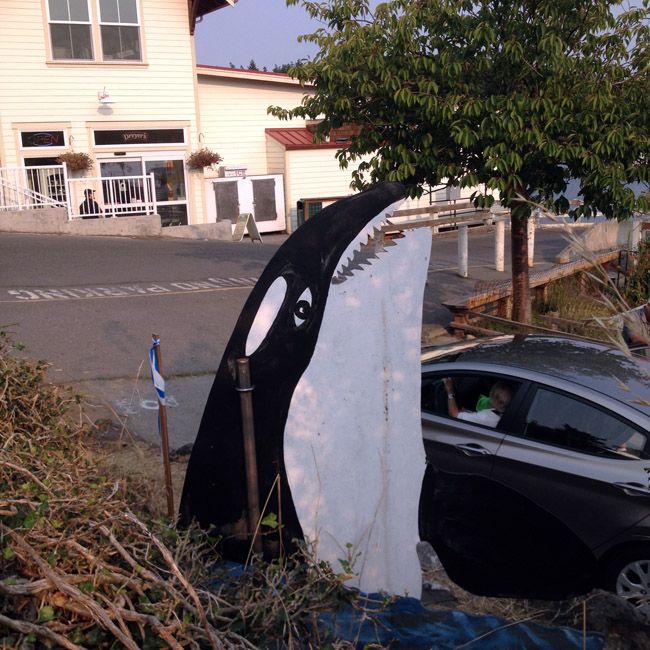 Finally, FINALLY, the ferry arrived and we boarded just in time to catch the tail end of a really pretty sunset.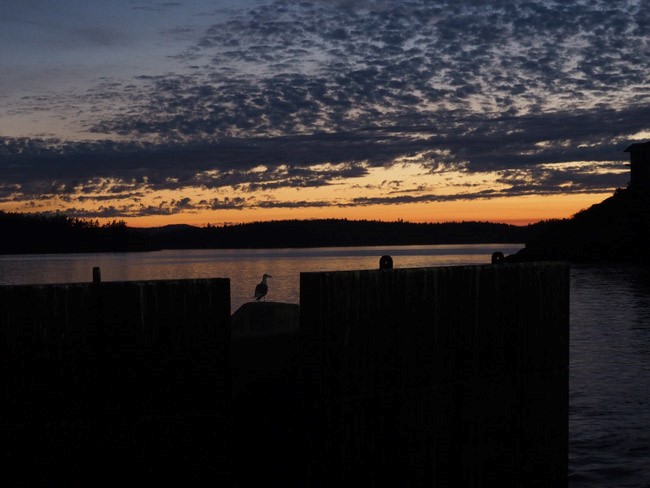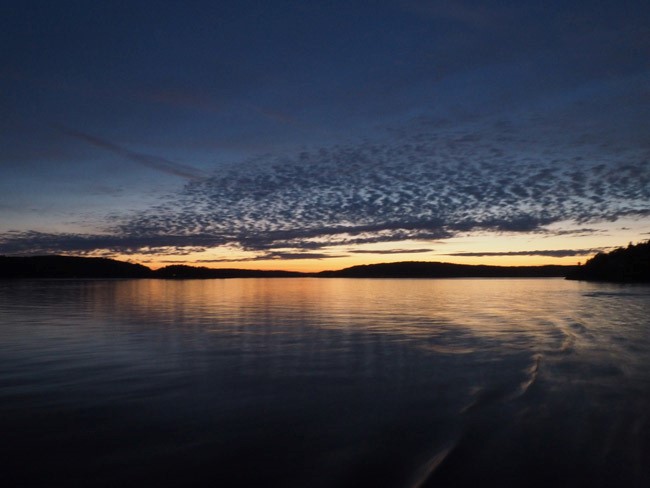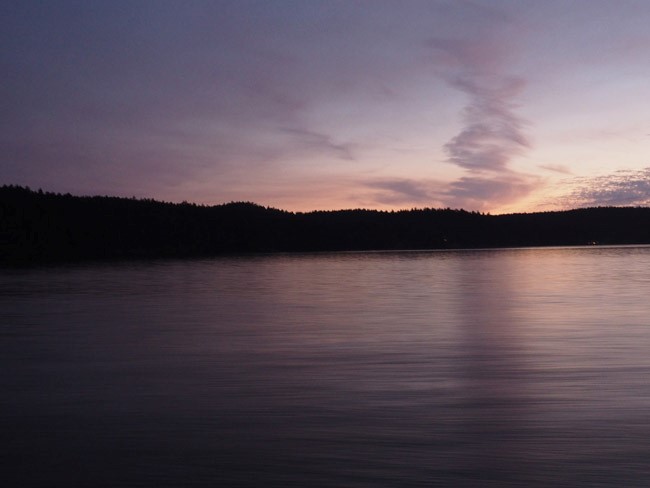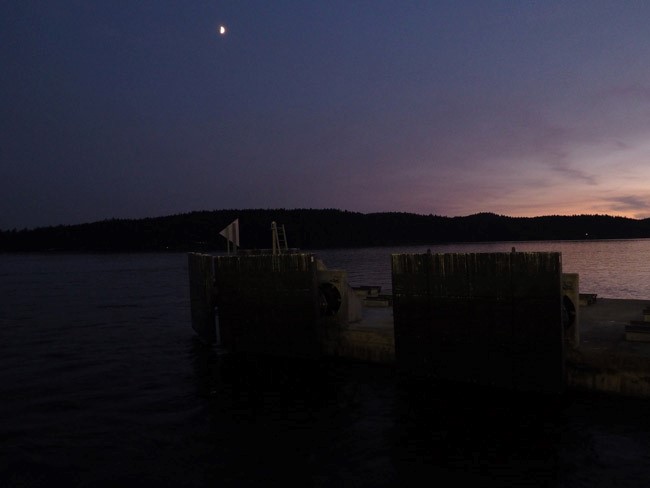 Save