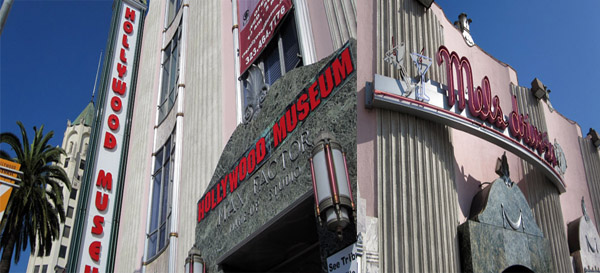 On Saturday morning, we hopped back on the subway toward Hollywood Blvd to have lunch at Mel's Diner and check out the Hollywood Museum, located in the historic Max Factor building: four floors packed full of Hollywood memorabilia. The ground floor was right up my alley and nearly bored Jason to death, as it was almost solely about makeup. They highlighted the differences between makeup applied for black and white films versus technicolor, how Max Factor's innovations revolutionized makeup for film, and how it was eventually introduced for sale to the public as it was being stolen off of the sets by everyone. Max Factor's "pan-cake" makeup was essentially a heavy foundation which, unlike the existing panchromatic makeup, did not reflect surrounding colors. Before the development of pan-cake, actors looked so bad in color that many refused to act in color films.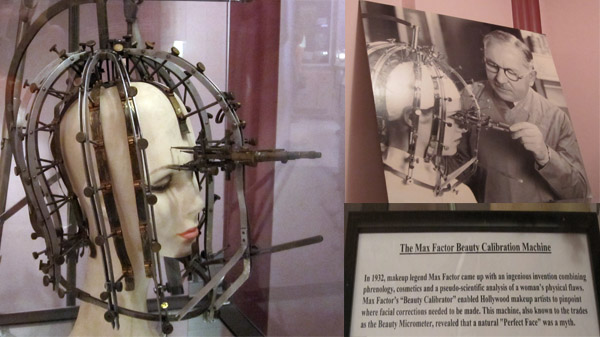 …the things women do to be beautiful.
Celebrities loved Max Factor's makeup so much that they were more than willing to be featured in advertisements for the product. Today, you'd have to pay out the nose to get a celebrity to endorse your product! Celebrities no longer fall over themselves to advertise Max Factor makeup: After Max Factor Jr died, the company went public and then was merged with Norton Simon. Quality went down the tubes, it was turned into a drugstore line, which sold so poorly that it is now no longer even sold in the United States. However, the Factors are still involved in makeup–it's not widely known, but Max Factor's great grandsons are the founders of Smashbox, a higher-end makeup line.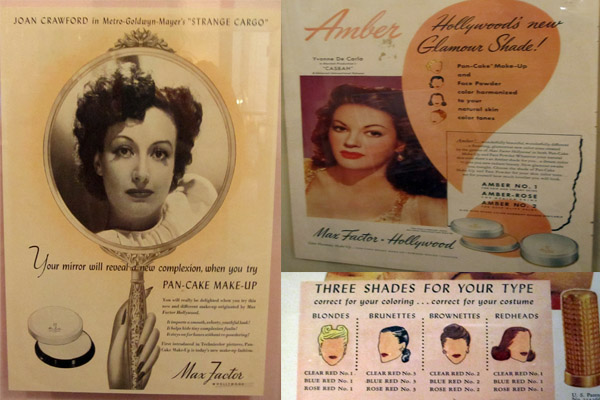 Makeup displays were set up in four different rooms: one for blondes, one for brunettes, one for brownettes, and one for redheads. I'd never heard the term "brownette" before, but it does seem to fill in the spectrum nicely for women who have neither blonde nor dark brown/black hair. The redhead room was painted a pale green, and Max Factor felt that if your skin looked healthy and natural in this room, your tonality was right to become a redhead, which is how he decided that the color would work for Lucille Ball. I now know that redheadedness would not look natural on me, as the room gave my skin a sickly tint.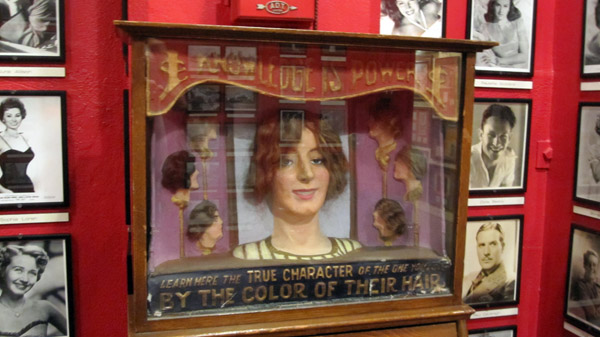 Mine would undoubtedly read "She's a jerk!"
The blonde room was, of course, filled with Marilyn Monroe memorabilia, from some of her personal makeup, to outfits she wore, to some manner of prescription drug bottle. And then there was this: an unlabeled clump of dark blonde/light brown hair emerging from a box. There were quite a few things like this throughout the museum–just there, with no explanation. Was it Marilyn Monroe's hair? Was it collected from her brush? Yanked from her head by the paparazzi? Was it wig hair? What is it doing there?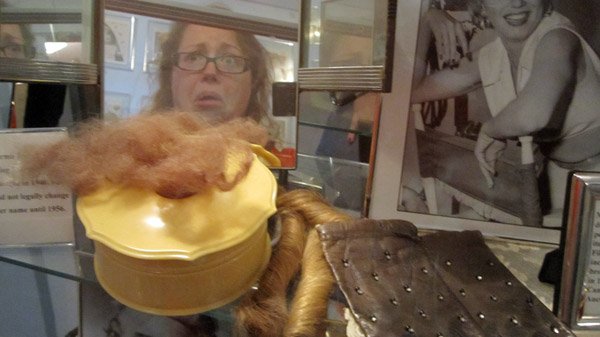 Also on the first floor: Marilyn Monroe's limousine, the eiffel tower prop from Moulin Rouge, and a number of creepy bunny heads on legs from Along Came Polly.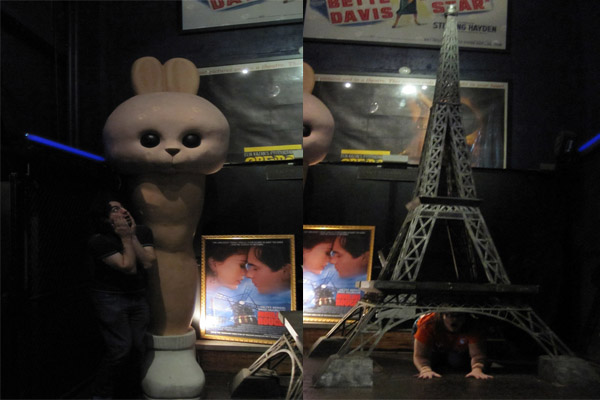 The basement floor, a former speakeasy, was dedicated to horror and sci-fi memorabilia: in addition to props and costumes, they recreated the prison walkway from Silence of the Lambs. They had some of my personal favorites–one of Elvira's costumes, a cryptkeeper puppet, and an entire Stargate costume display. I was sorely tempted to try and take Ra's costume, as it would be much easier than trying to make one of my own for a future Halloween (of course, then I'd need the body of a twelve year old boy, so it's probably for the best that I wasn't able to get at it, rather than bellow in hippo-like dispair as I tried to cram myself into the original), and while I was at it, stick my face in Daniel Jackson's pants since James Spader's butt was in there for a time. (Was that too far? That was too far, I'm sorry.)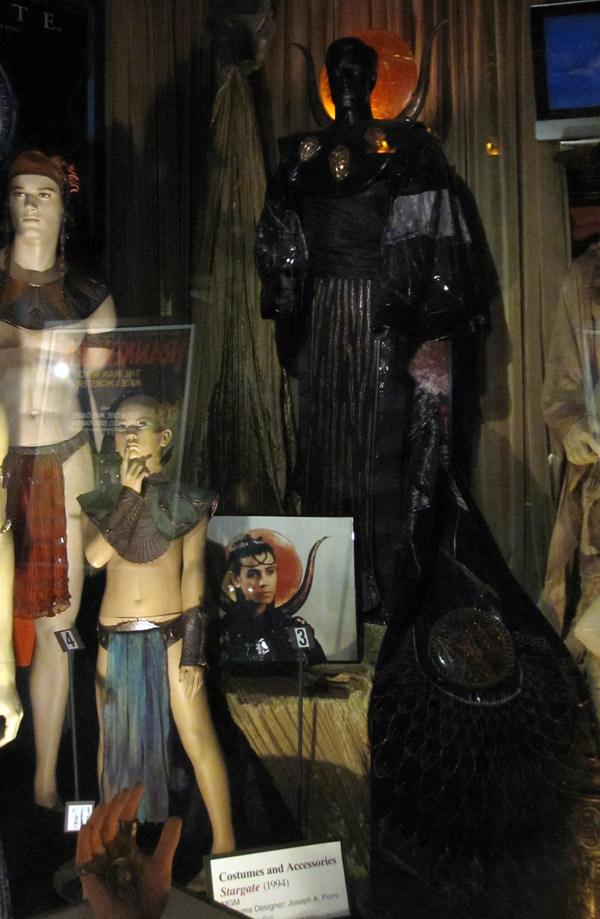 The third floor was also right up my alley, as it was a tribute to Lucille Ball, from her early days in Hollywood through the height of her career, up until her death. They had costumes, outfits worn to events, awards, jewelry, film clips, and more. She is one of my all-time favorite actresses–I watched reruns of "I Love Lucy" incessantly as a child, and I still love them as an adult. She was fierce, and brave, and funny, and an incredible role model for women, and it was very moving for me to be surrounded by evidence of her legacy. The fourth floor was more of a mishmash–a lot of random things from random celebrities and movies: the dog in a cast from There's Something About Mary, Elvis Presley's tattered robe (which they claimed came complete with peanut butter stains, though I could find evidence of no such stain, so it I suspect it was just sensationalism–like The King would have wasted any peanut butter on his robe!), Pee Wee Herman's bicycle, some costumes from Moulin Rouge, and a small display on Michael Jackson, featuring even more random unexplained hair with a lifecast of his face. Two of the pieces appear to be wigs, but there's a long ponytail that could have formerly belonged to Jackson? Maybe?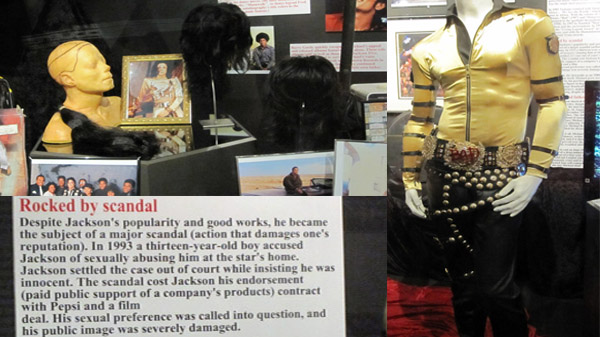 I like that they assumed that their visitors wouldn't know the meaning of the word "scandal".
We ended up spending several hours at the museum, seeing everything there was to see. However, we still had time to visit the Fredericks of Hollywood IN Hollywood (because, c'mon, who doesn't love trashy lingerie?), meet another crazy on the subway, head back to the hotel, AND go swimming before it was time to head to Universal Studios.