Once upon a time, I used to have an off-white couch. Buying a couch in this color was a mistake, but I had a limited budget and was in a hurry to purchase since I'd just discovered that my couch was the jizz couch. It's not that I didn't LIKE off-white, but I have a dog who drags dirt around with him like Pigpen. His deal with the devil is that he stays white so long as he tracks dirt onto everything else. So he would drag his spitty toys up on to the couch, neurotically lick spots of the couch until they were soaking wet, and these wet spots would attract dirt. The couch turned from off-white to the color Gross, and though Ikea sells slipcovers, I was never fond of the way they looked. I also found underwear that was not mine jammed into the cushions once (and don't feel like digging up the entry), so not only was it no longer aesthetically white, its spirit was also tarnished.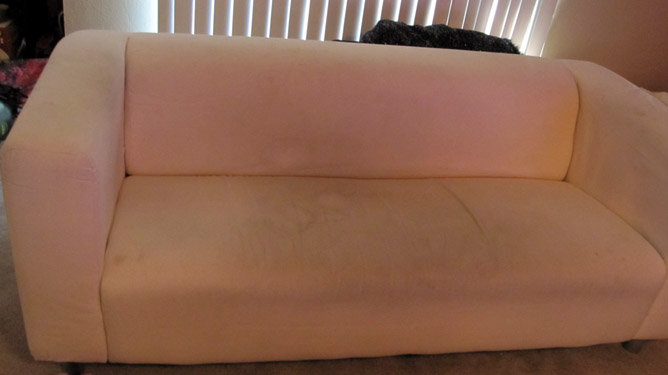 This weekend, I found a large quantity of monster fur I'd purchased for some reason, long forgotten, and as I pondered on it, my gaze fell on said slipcovered couch.
YES.
The monster fur on its own was not nearly enough to reupholster the entire couch, so I walked to Jo-Ann fabrics to pick up some more.
…Unfortunately, this is an item they only carry 'sometimes' and now is not one of those times. However, they DID have black vinyl with silver glitter AND it was on sale for the first time in about a year–I'd been keeping tabs because I'd originally wanted to reupholster the whole couch in glitter vinyl.
The fates came together, fabric and a staple gun came together, my thumbnail and a hammer came together, and this is the result: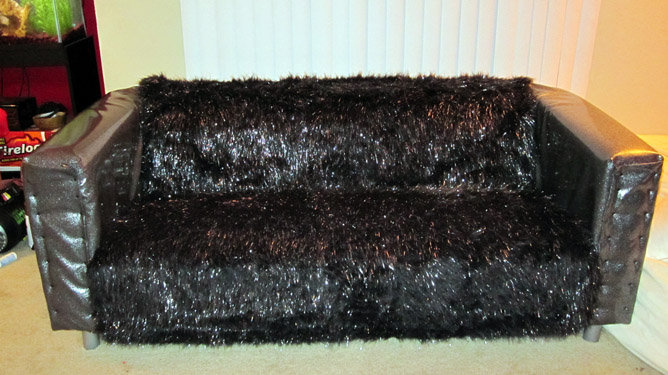 I love it. It's like I skinned a goth muppet and made furniture out of it. It's just tacky enough for someone like me to love. There's one more step I want to take, and that's to cover the nail backs with rhinestones for even MORE fabtacular bling. It's not a forever couch, considering it's from Ikea, I figure I'll be lucky to get a couple more years out of it. But DURING those two years, I will love it to death. And then maybe I'll have won the lottery and can afford THIS couch.
Also, I finally hung the jackalope amazoni got me for my birthday.