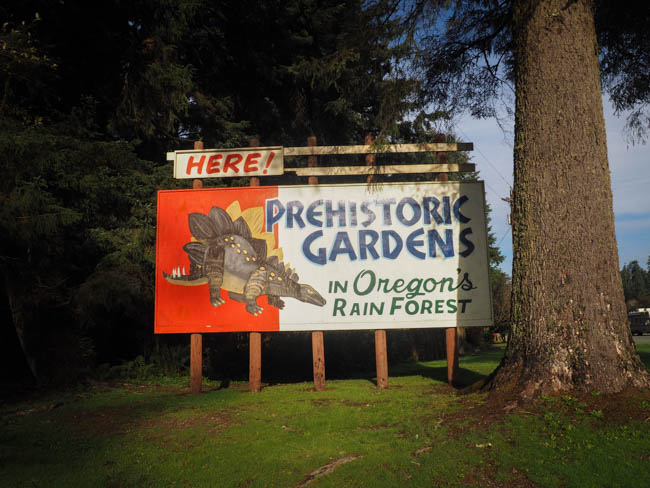 If there is a dinosaur-based attraction anywhere near where I'm traveling, I will find it, like a divining rod for giant lizards. Though, to be fair, I don't know how anyone driving on 101 could miss these particular dinosaurs, given the way they loom over the road. They WANT to be found. And what better place for life size dinosaurs than a section of Oregon temperate rainforest, dripping with moss and ferns? That's what Ernie Nelson thought in 1953, when he began sculpting size-accurate dinosaurs. Two years later, Prehistoric Gardens opened to the public.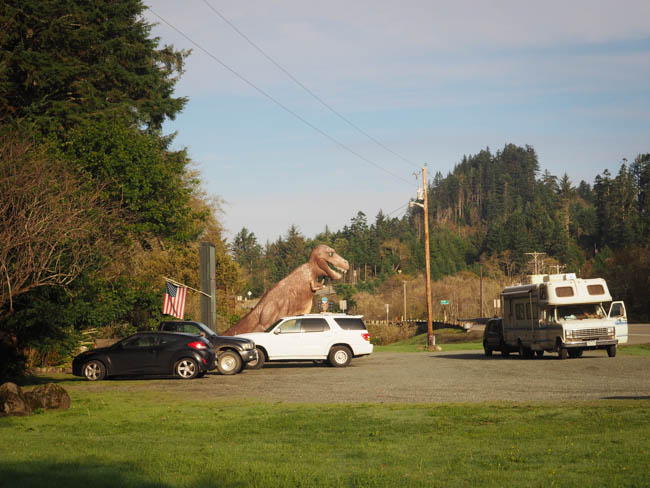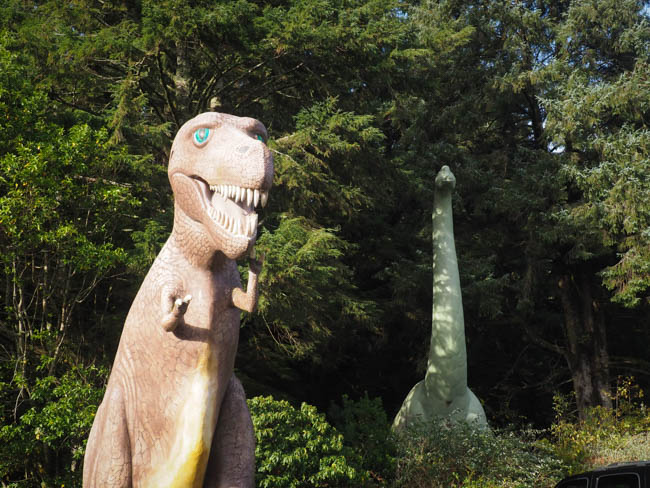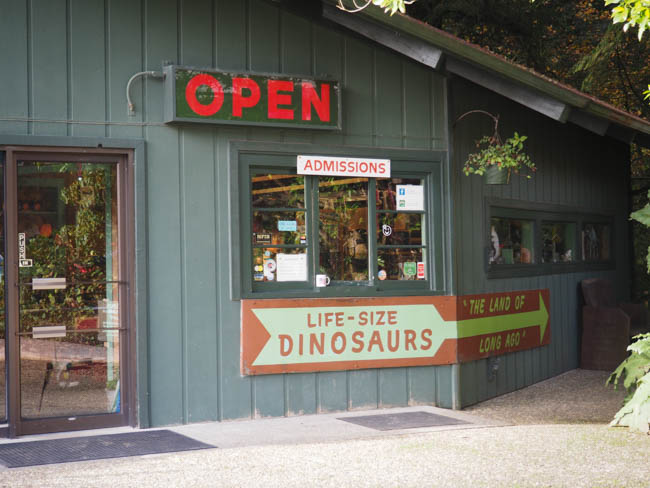 Prehistoric Gardens acts as part dinosaur attraction, part nature preserve, with the sculptures carefully nestled among the trees, and the vegetation allowed to encroach as it pleases–the handrails are really there more for the moss and fungi than human hands.  When I got in close to look at the teeny-tiny mushrooms that had sprouted on the rails, I saw even teeny-tinier spiderwebs attached to them. And looming behind that, of course, a steel and concrete dinosaur.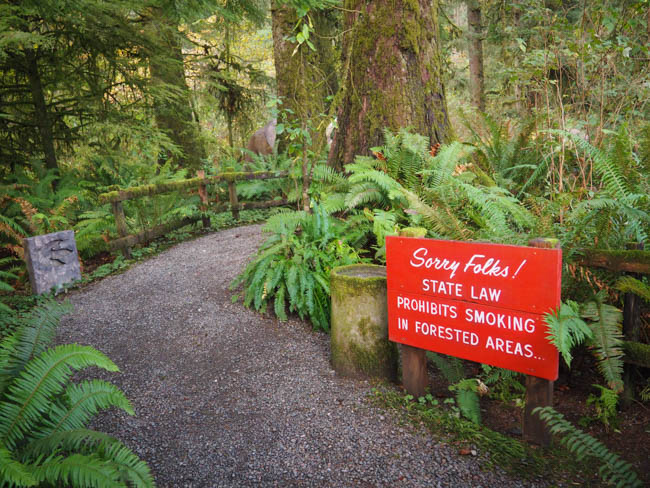 What's up with the ellipsis at the end of the sign? "State law prohibits smoking in forested areas…but we won't tell if you won't"? "…so don't test us!" "…and we have plenty of places to hide the bodies of those who do"?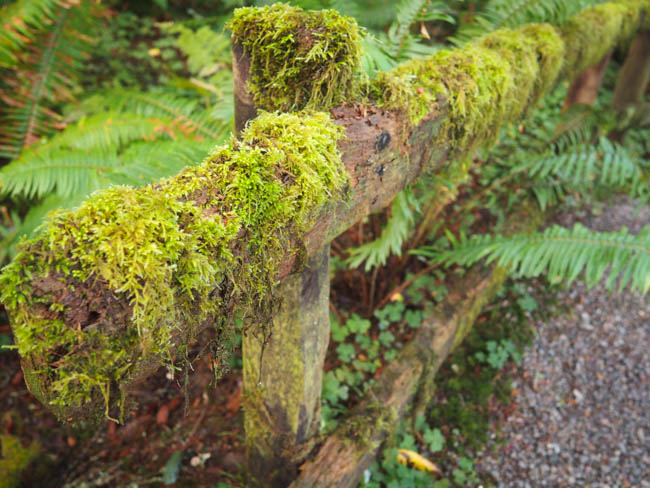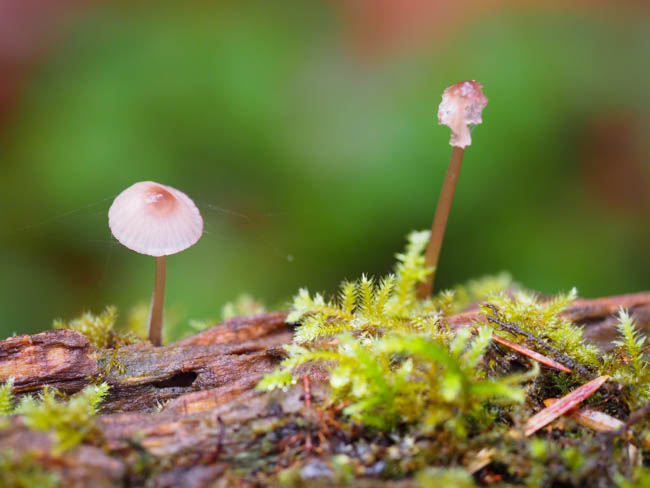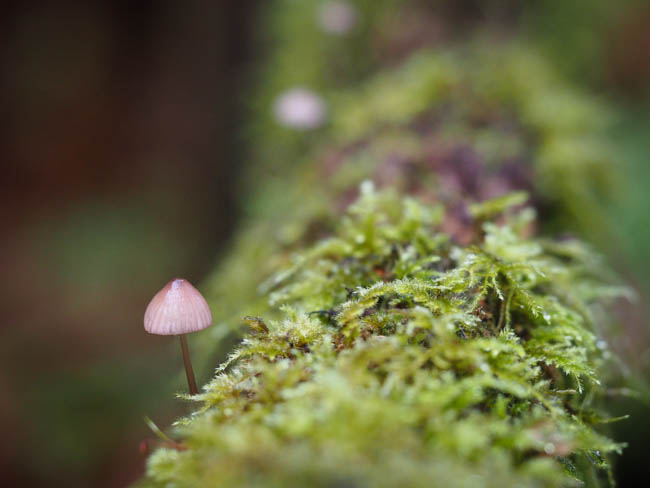 Ernie strove with all of his creations to make them as scientifically accurate as possible (to the standards of the time, of course–you'll see no feathered dinosaurs here). It took him nearly thirty years to complete the twenty-three sculptures on the property, and they've held up remarkably well for their sixty years, with some weathering but otherwise intact. It also features some dinosaurs beyond the well-known favorites, and each exhibit comes complete with a sign containing the name, the meaning of the name, and some factoids about them.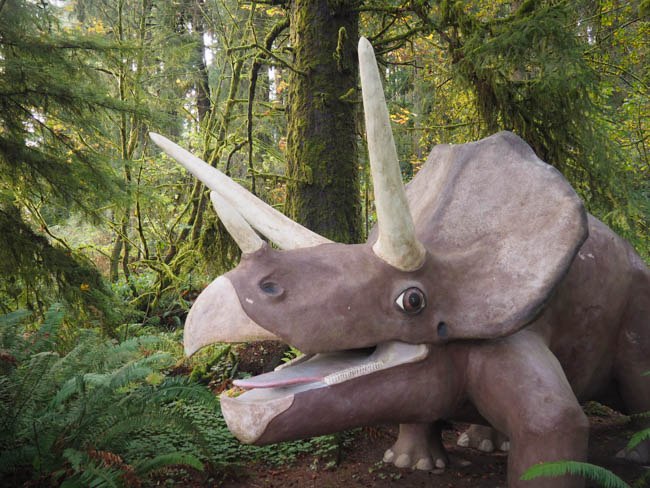 Triceratops' goofy smile? SCIENTIFICALLY CORRECT.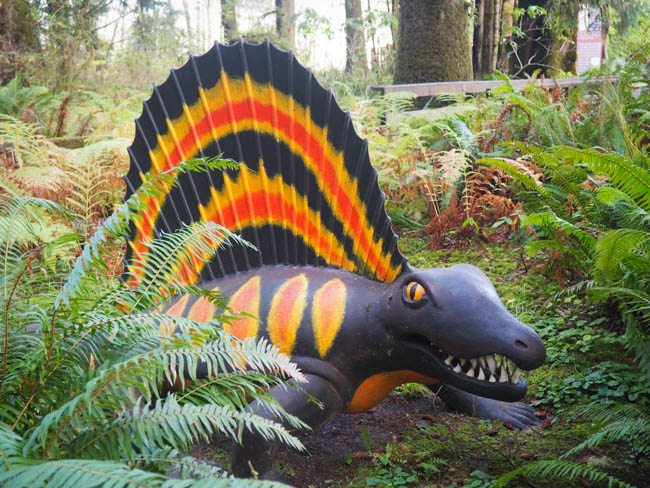 Dimetrodon's halloween coloring? SCIENTIFICALLY CORRECT.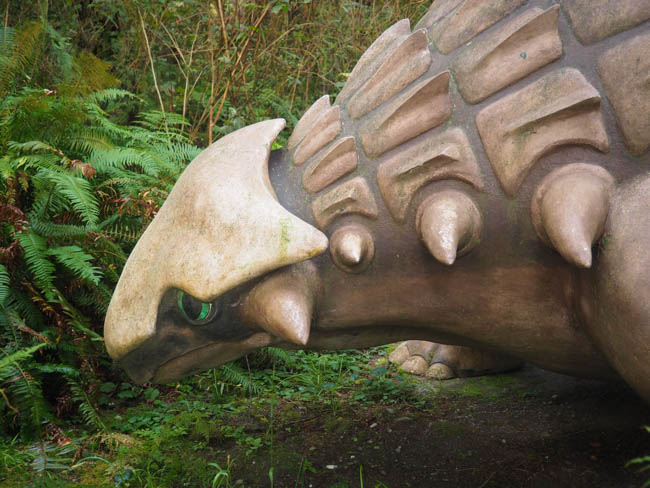 The melancholy of the ankylosaur? SCIENTIFICALLY CORRECT.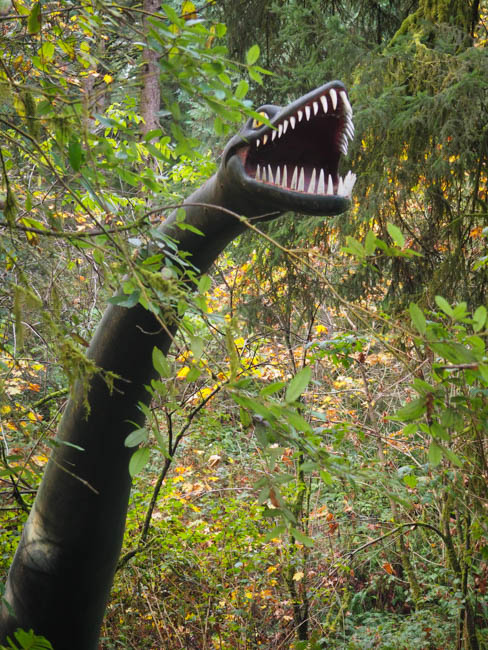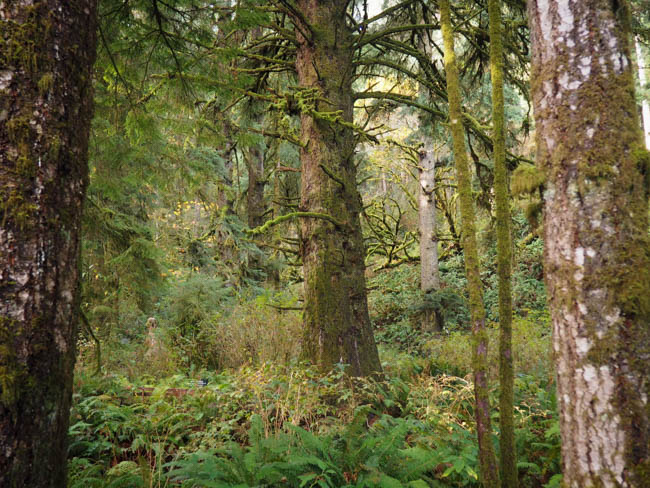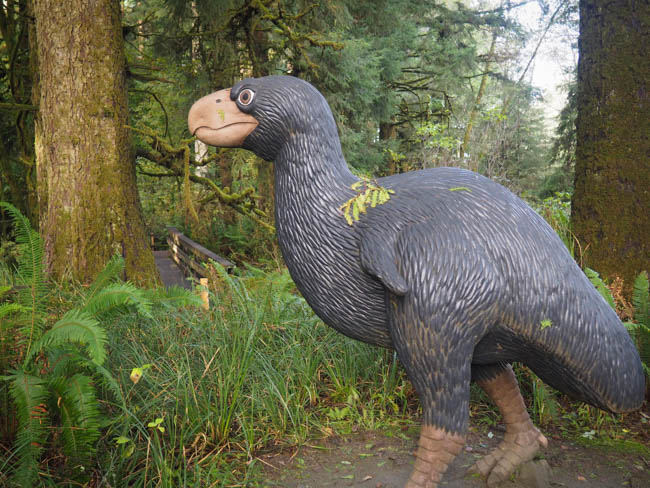 Birds were angry long before 2009.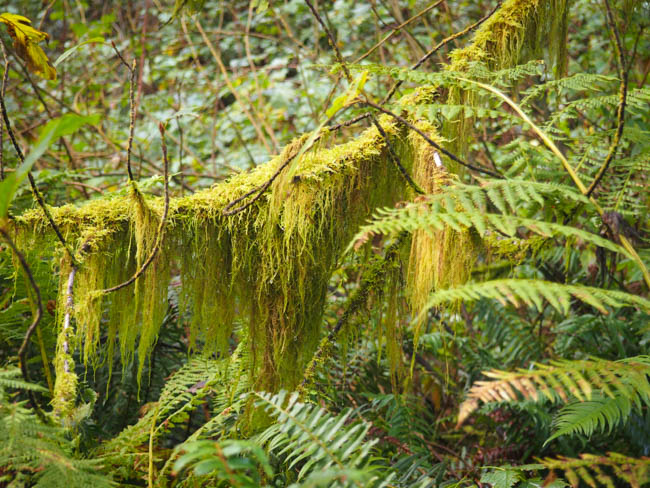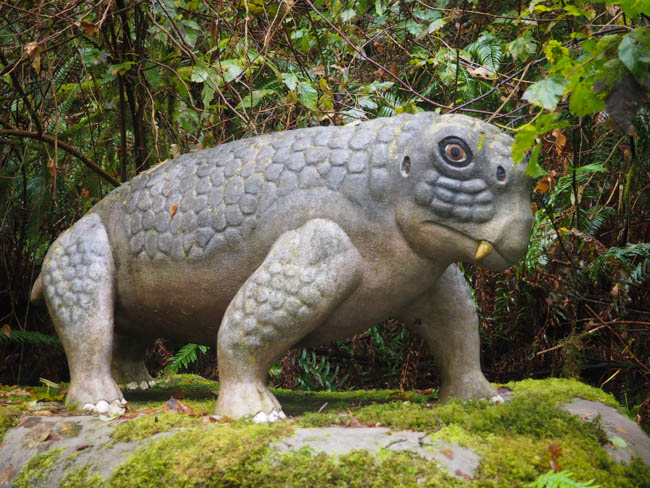 Lystrosaurus, the swamp lizard.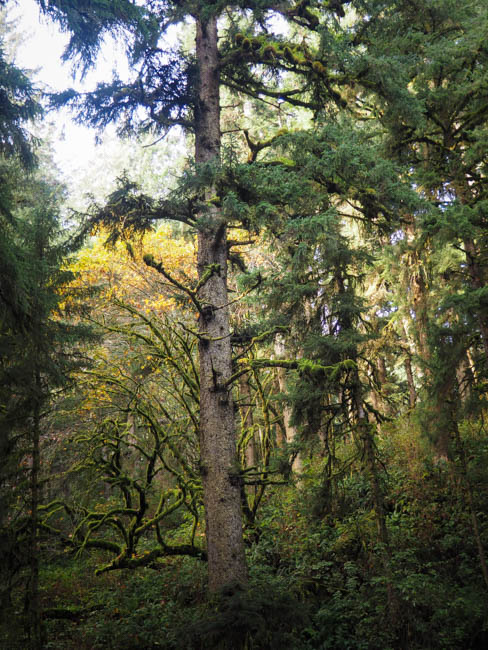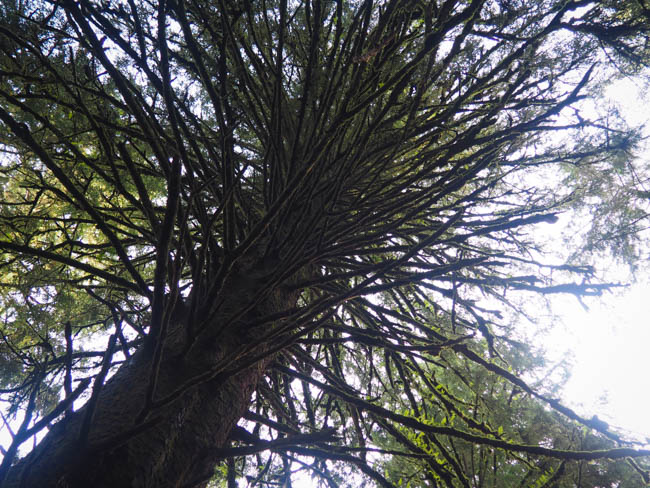 When I looked up to the canopy, I saw that the tree branches were not only covered in moss, but had ferns growing out of them as well.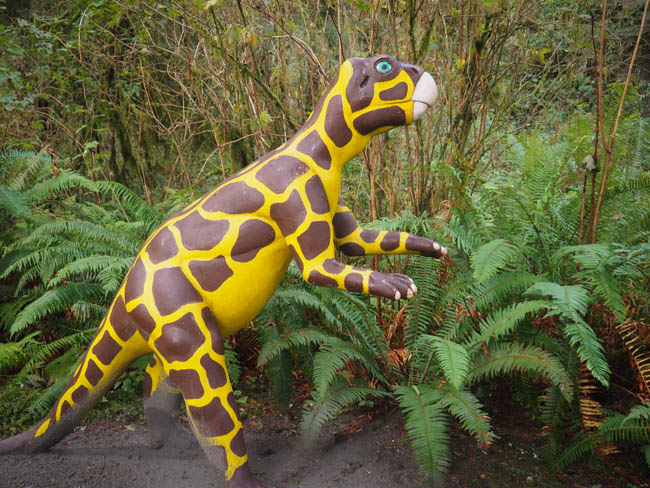 Psittacosaurus, the parrot lizard.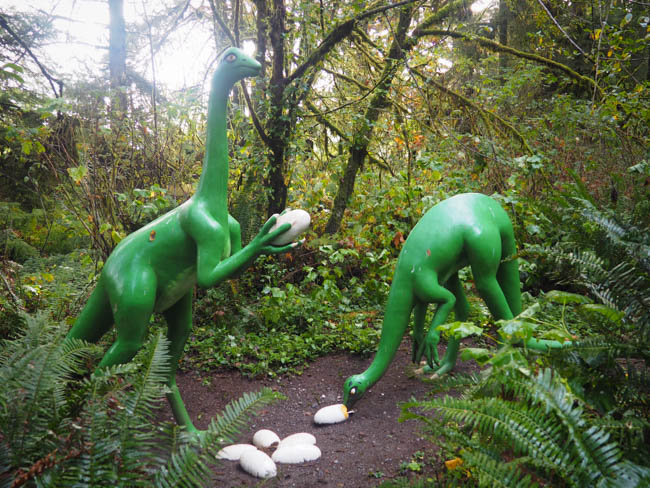 Struthiomimus, the ostrich mimic. Known for the way it struts around like it owns the place*.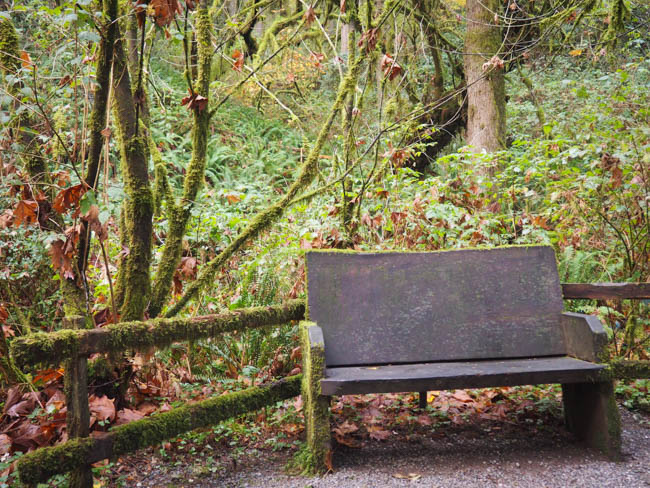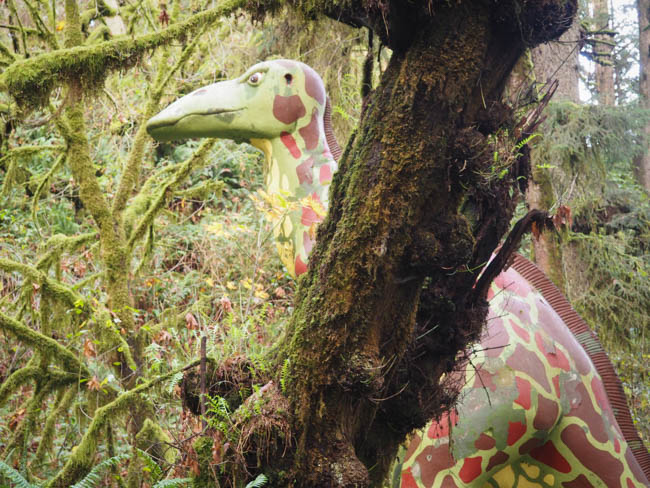 Trachodon, the rough-tooth.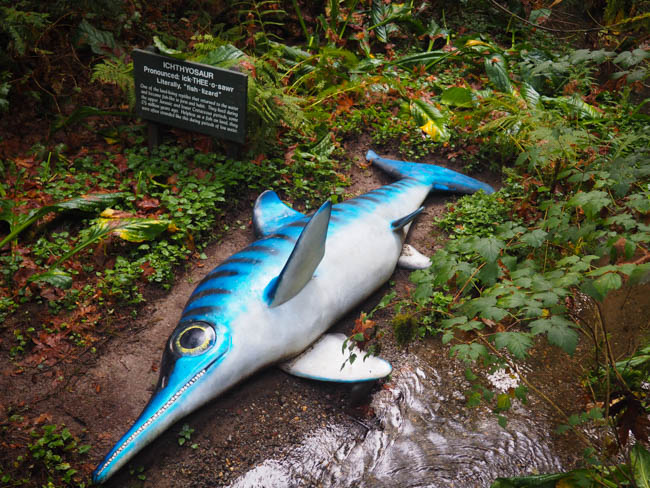 This ichthyosaur doesn't appear to be doing so well.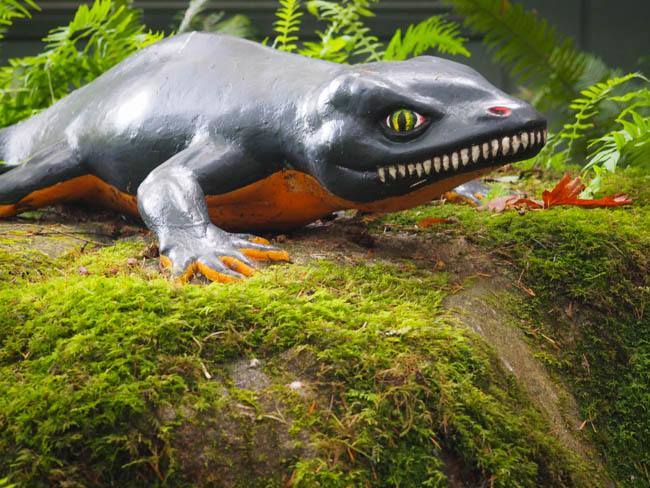 Seymouria, purportedly named for the town where it was discovered, but was actually** named after Jane Seymour, who glared in just such a fashion on the set of Dr. Quinn, Medicine Woman, when her coffee was served with an incorrect ratio of beans to additives.
And now the thing you all came here to see, an impending T-Rex attack on a car: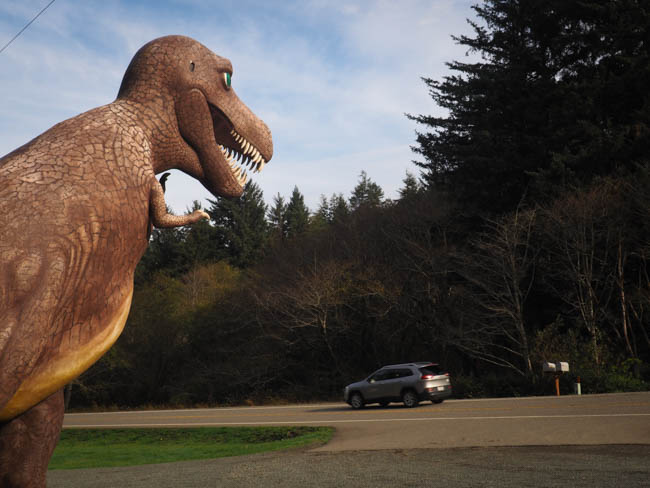 *Well, NOW it's known for that.
**Not actually. It's the town thing.
Save
Save
Save