Last week, I went thrifting with mschilepepper on an important mission. Mission? NOT ACCOMPLISHED. However, we were arguably distracted by an item of incredible awesomeness. When I saw it, I laughed so hard, I nearly fell over, but decided I couldn't justify its purchase as buying something merely to mock it seems like a level of kitsch I'm not yet willing to embrace.
As we were waiting in line with her finds, mschilepepper turned and asked me if I was suuuure I didn't want to buy this item, and that, ladies and gentlemen, was when my freak magnet kicked in. This time, I drew an astonishingly drunk woman into my orbit. Bear in mind, it's 1:30 in the afternoon on a Thursday, so even SORT of drunk would be mildly astonishing. But she was not sort of drunk. She was ragingly drunk, so soused that when she spoke, I felt both sanitized and nearly contact-buzzed. She slurred and asked me to show her this amazing item because 'you can talk 'em down', and when I trotted back, her jaw dropped.
"Thatsh…thatsh a collectorsh item, thatsh…amashing! Thatsh an inveschtment!"
mschilepepper tried to negotiate the price of our investment with the counter lady, but she would have none of it–which is when Drunky McDrunkerson announced that she wanted to be part of this moment and flung money on the counter. After I paid the balance, Drunky McDrunkerson kept rubbing my back and giving me hugs and saying she was SO HAPPY for me and the investment I'd just made, and that she was SO GLAD to be a part of it, and then she stumbled off into the midafternoon sunshine.
But just what the fuck was it that I had bought? This great investment?
Only the most brilliant plate of all time: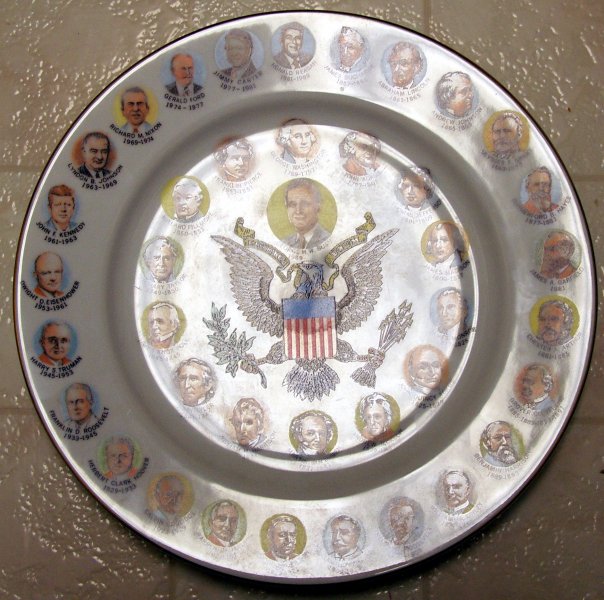 It makes me laugh that these keen platemakers found a way to align George Washington, Ronald Reagan, and George H.W.Bush (because I am SURE it is not a coincidence). It makes me laugh that H.W.'s picture is sooo much larger than all of the rest. I kind of can't wait to serve people cookies on this plate and see their reaction.
I also kind of want to decopauge Obama's face onto the eagle's shield. Or maybe my face, with my dictator moustache. Would that ruin my 'inveschtment', do you think?