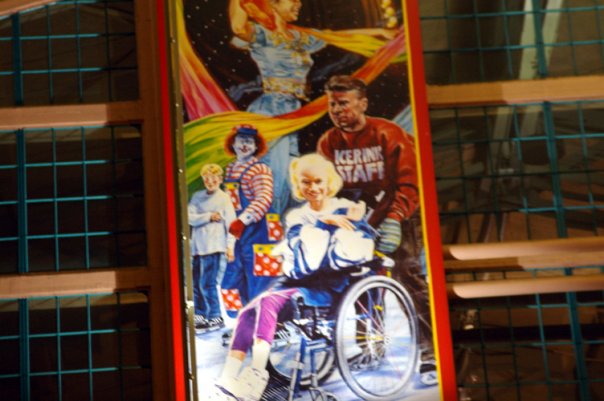 Poll #1335758 Don't Send In The Clowns Open to: All, detailed results viewable to: All, participants: 24
What do you think the clown's intentions are with the young, rosy-cheeked, gimpy-armed boy?
scearley
— He's collecting on a bet the tyke made. Teach that kid to bet on the canadians in Ice Dancing…..
dslartoo
— Three words: John Wayne Gacy.
crazyfaeriegirl — D: I don't even want to know. The thought is terrifying.
apestyle
— Shuffleboard on the poopdeck.
distance_to_sky
— Given the position of that kid's hand, I can only imagine that trans-dimensional clowns are the newest forces of the NAMBLA occupation of America.
watchout5 — Anal Penetration via Full Nelson
penguinet
— He's herding him away because he doesn't look happy enough. Unhappy kids go to the reprogramming area.
beachin
— It can't be good. "Come with me, kid."
faerieburst
— He's checking to make sure sis in the wheelchair is occupied before he drags bro behind a curtain. BAD CLOWN!
mewelke
— a reminder that "fist" can be a verb.
Can you trust a clown that can stand beside you and behind you at the same time?
View Answers
Can you you ever trust a clown?
9
(37.5%)
Just because a grown man wears a death mask made of paint and bends space-time is no reason to not trust him, Mellzah. I'm ashamed of you. 6 (25.0%)
:shudder: Trans-dimensional clowns 9 (37.5%)
THEN. CAME. THE CLOWNS.
View Answers
NO! Not the clowns!
14
(63.6%)
Don't send in those clowns, they always bring me down. 8 (36.4%)