I've never stayed at a bed and breakfast before. I've always been a little leery of them, as I've been under the impression that it's generally all the awkwardness of sex at Grandma's house plus forced socialization with a bunch of strangers who are also trying to have awkward sex at Grandma's house. That they are doilied wallpapered oversized dollhouse behemoths with a bunch of weird rules, weird smells (which turns out to be potpourri stuffed in every drawer), and a weird breakfast when all you want to do is just leave. So it would be safe to conclude that it would take an extraordinary bed and breakfast to get me to break my no B&Bs rule.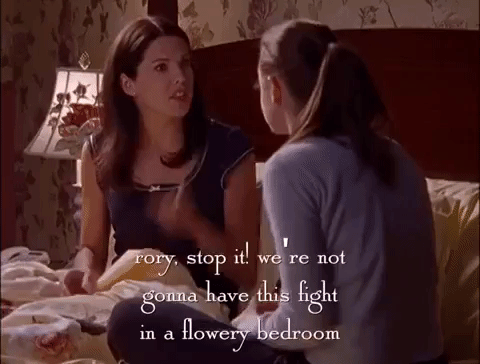 And I found one.
The Victorian Mansion was built in 1864 and moved thirty miles down the coast to its current location in Los Alamos in 1980. From there, it took nearly 200 artists/craftsmen almost ten years to create the six themed suites inside. The current owner had fond memories of staying there and dreams of operating his own B&B based on this one, so when he discovered that the original owner had died and the person who had purchased it had let it fall into a state of disrepair, he bought it in 2007 to restore it to its former glory. It took another full year to make it as grand as he remembered it to be, and he has plans to turn a yawl he has out back into another suite and perhaps even to add a treehouse suite.
This isn't to say that they don't have at least one weird rule–their latest check in time is 6pm, and past 6:30pm, your reservation is canceled. When I made my reservation, I indicated that we would be there before 6 but not much before as we were on a road trip and had stops to make and traffic considerations. Even with that note on file, they called when we were having lunch at 4 to make sure we were still coming, which is why I didn't feel comfortable lingering long in Solvang, lest I linger my ass out of accommodations for the night.
When we arrived, all of my (slight) bitterness about not being able to wander around little Denmark for a while longer disappeared. The staff member greeted us at the gate, told us about the history of the place, and was happy to give us food and entertainment suggestions in the area.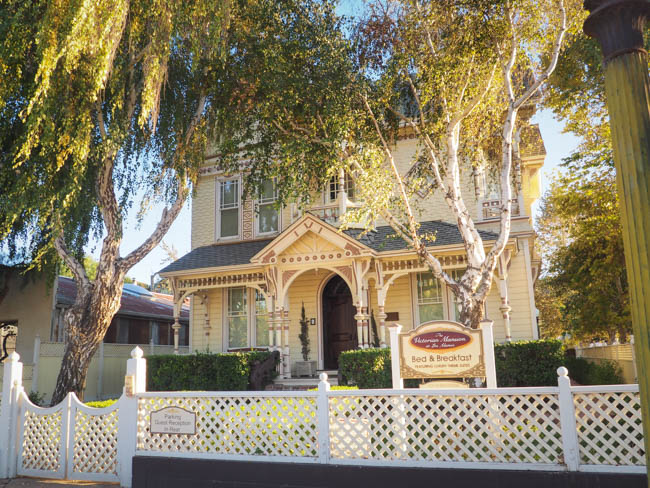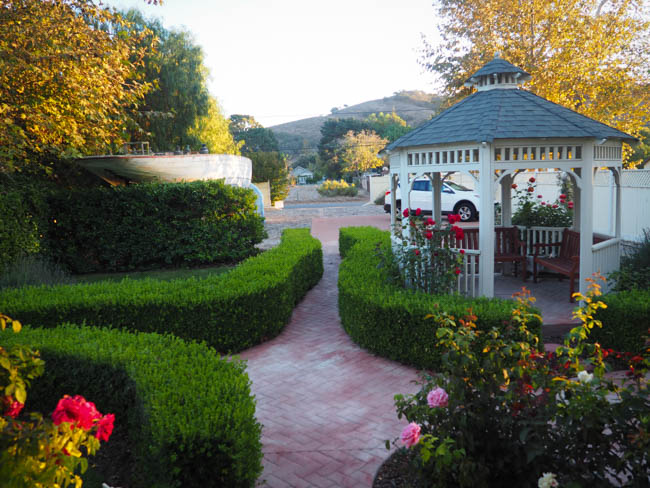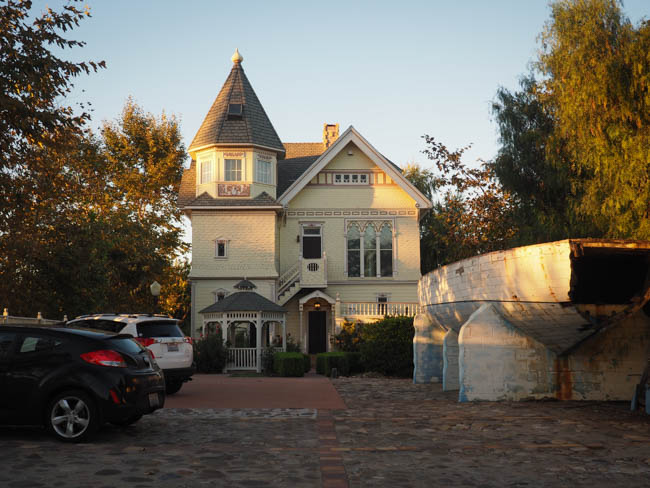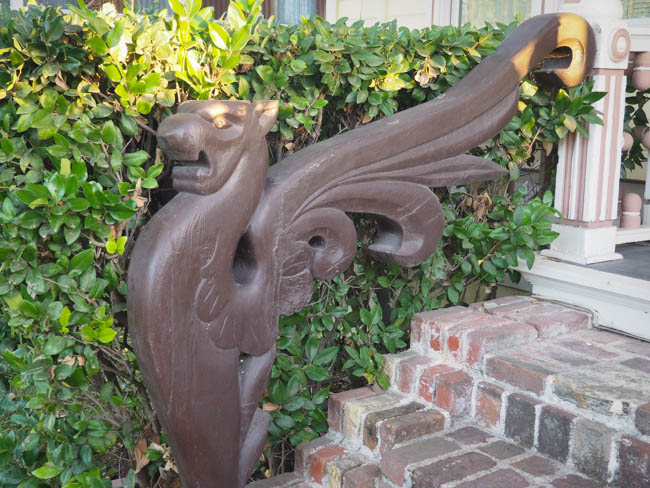 She also gave us a tiny tour of some of the unoccupied rooms which made me even more hyped for my room. Here's the 50s room, where you sleep in a converted Cadillac at a drive-in, dine at a snack bar, and do your makeup at a starlet's dream vanity.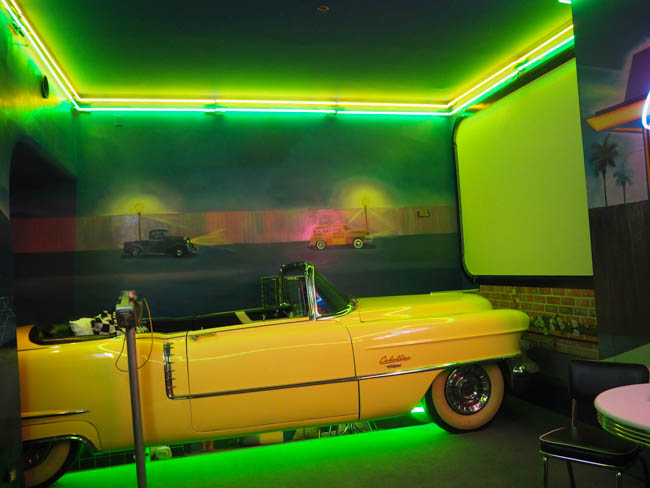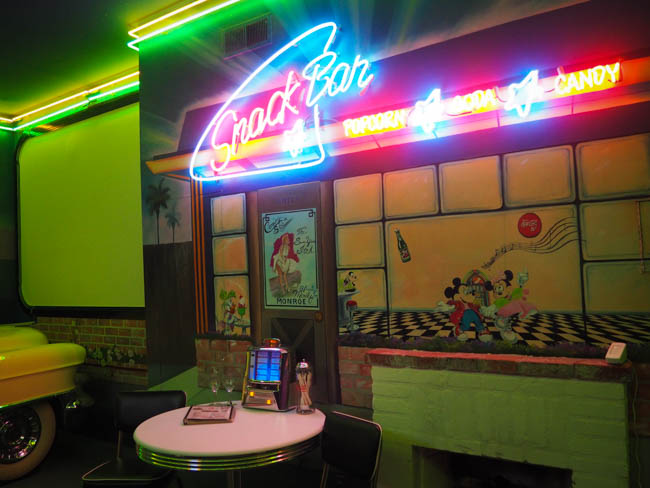 When I booked my room, I agonized between the pirate suite and the Egyptian suite, finally settling on the Egyptian. I'm sure I would have been well-pleased with any of the rooms in the house, but after the staff member showed me all of the various room amenities, I was even more thrilled I'd gone with this room. First off, the door is made of solid stone (1500 pounds worth!) to let you know they mean business.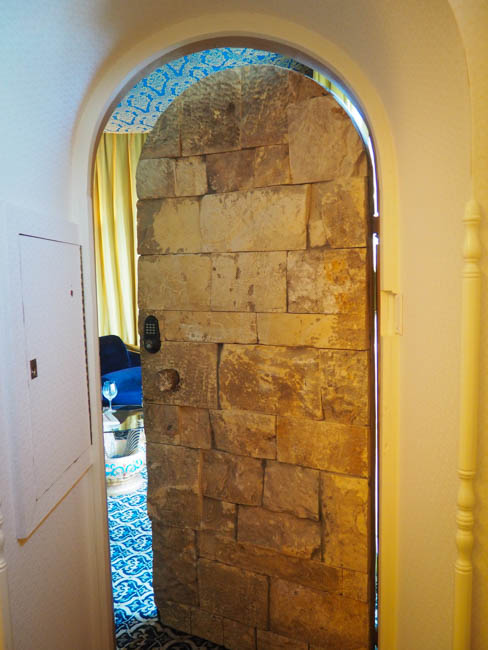 When you enter the room, there's a cool seating area with poufs, an elaborate couch, and beautiful windows to look out over your kingdom and/or make sure you didn't leave your car's lights on. I can tell you from experience that anything eaten while sprawled on that couch makes one feel pretty damn royal. I first tried a date, which was both delicious and theme appropriate, but to really put this theory to the test, I also ate a pop tart. That shitty, dry pastry was somehow transformed in this setting to the food of the gods. All I needed was someone to fan me and the experience would be complete.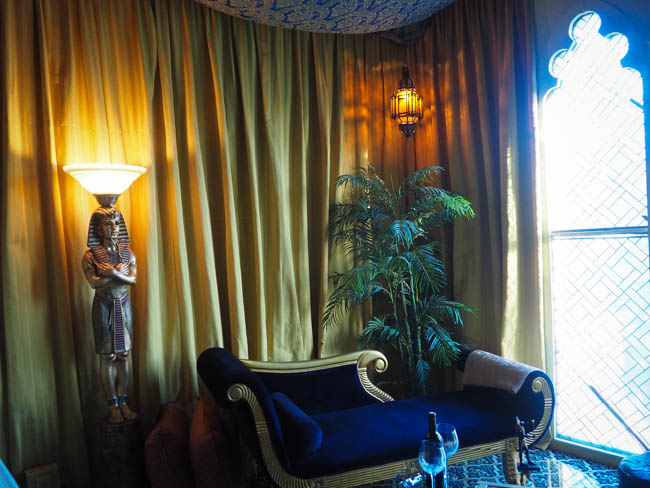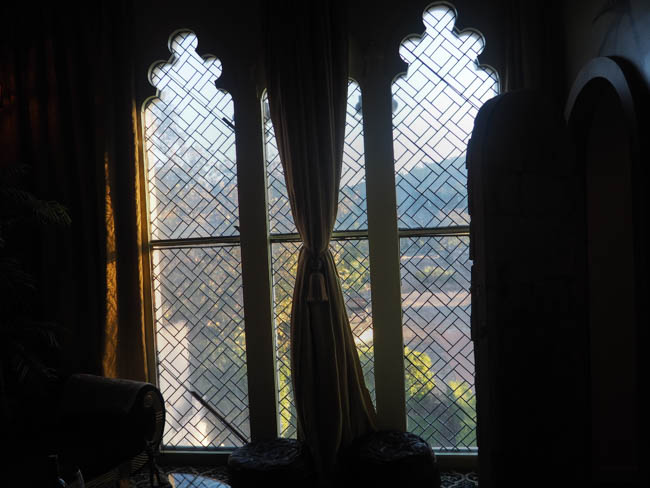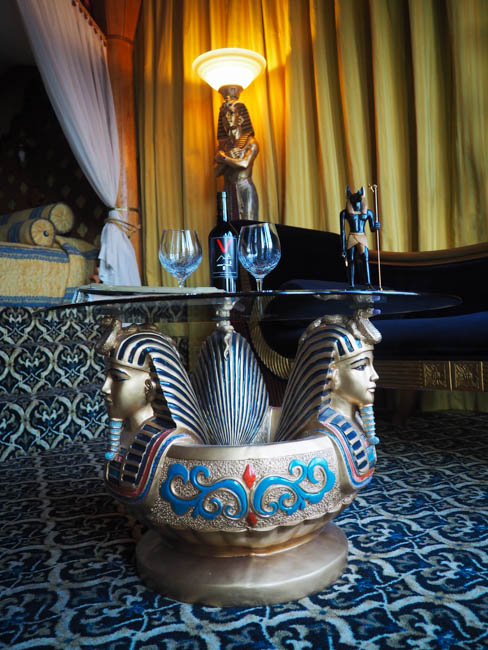 There were a number of hidden panels on the wall, one for breakfast delivery (which we were not partaking in, owing to another early start), one that contained the TV, a large one for a closet with robes and storage for your things,  and another with the AV equipment–theme appropriate DVDs (plus Sideways, which is in all the rooms because it was filmed in the area), a themed game (backgammon) and a mood music cd which is playing when you enter the room. Also on this wall is a gas fireplace and a pillowed reading nook, in case you get tired of this room of luxury and need some escapism into whatever trendy dystopian world the young adults are reading about these days.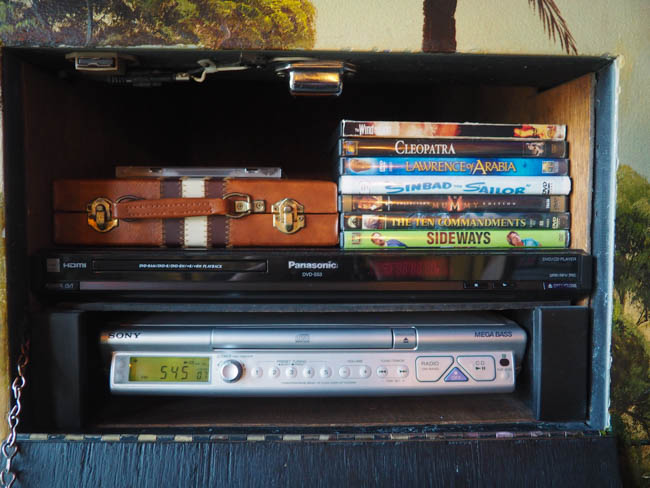 The bed is an elaborate four post uplit affair on a raised platform with stairs, which is super cool and fun right up until the point where you forget about the stairs and try to get off the bed at the foot or stumble down them in the middle of the night, which is why my bed at home remains stairless. Also, my ceilings aren't high enough. At least until I move into a haunted victorian mansion of my very own.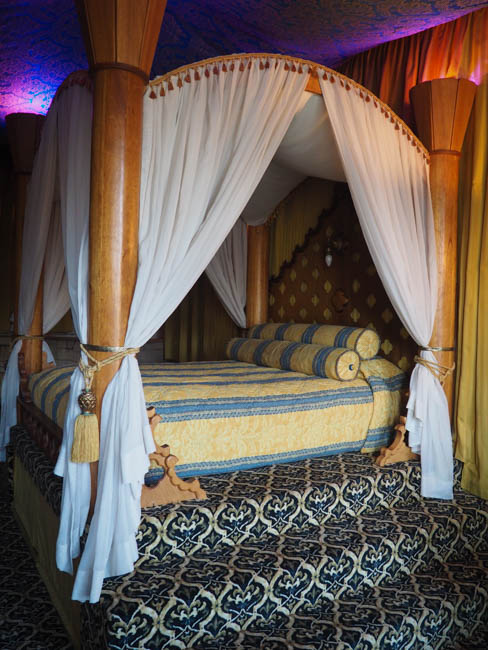 The room also has a hot tub in the corner, which is perfect in this setting (unlike, say, The Love Bunker) because you could choose whether or not to avail yourself of it as there was a proper enclosed shower in the bathroom. They also included a glass decanter of Dr Teal's foaming bath milk, which thrilled me not only because of its theme appropriateness but also because it's one of my favorite at home bath additives.  Speaking of the bathroom, it's hidden behind a golden sarcophagus–to gain entrance to the room, pull on the beard to pull it away from the wall.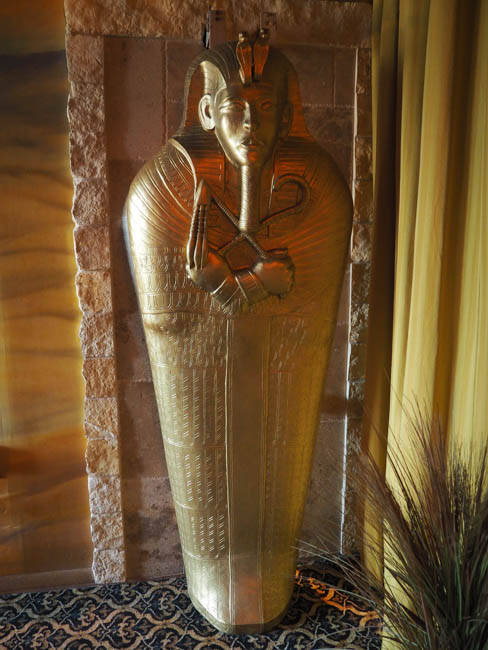 Inside, the room is muraled to within an inch of its life, with every little detail done to perfection from the golden taps to the raised hieroglyphs in the shower to the asp lights. This was it, right? It couldn't get any better from here, right?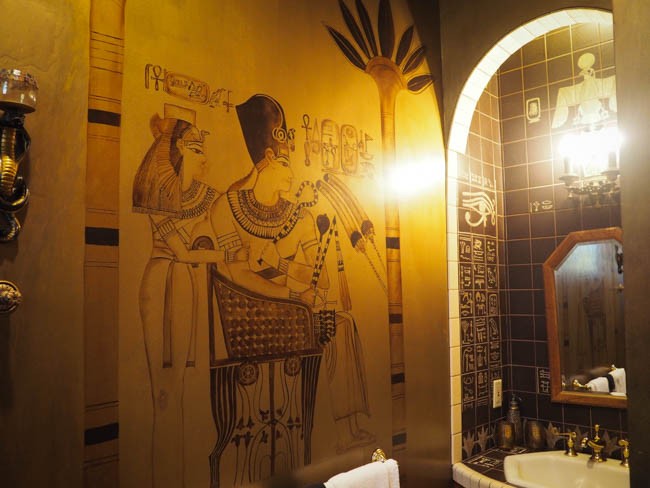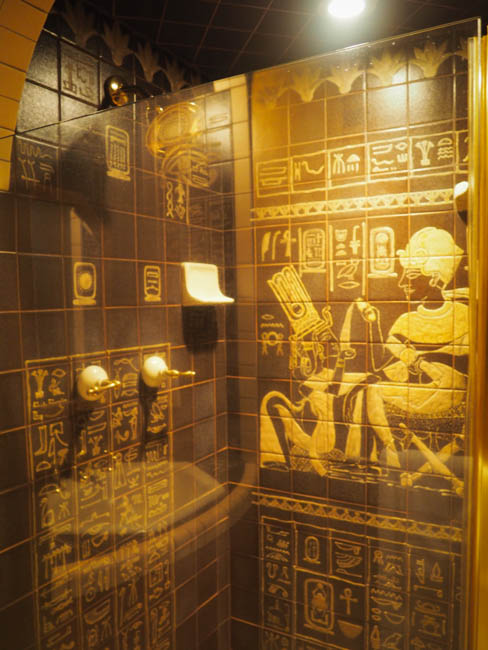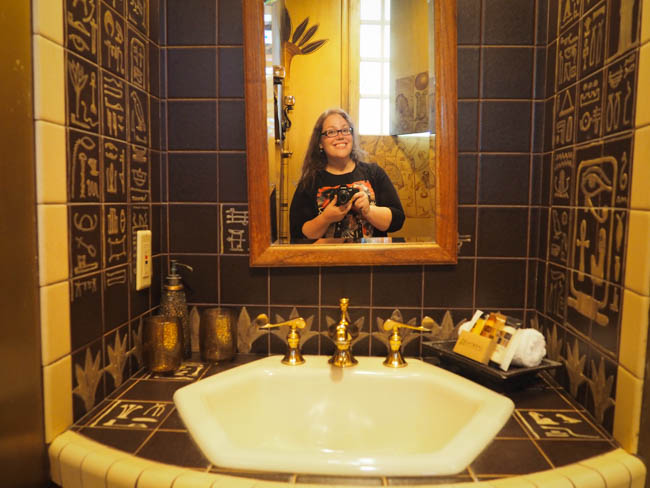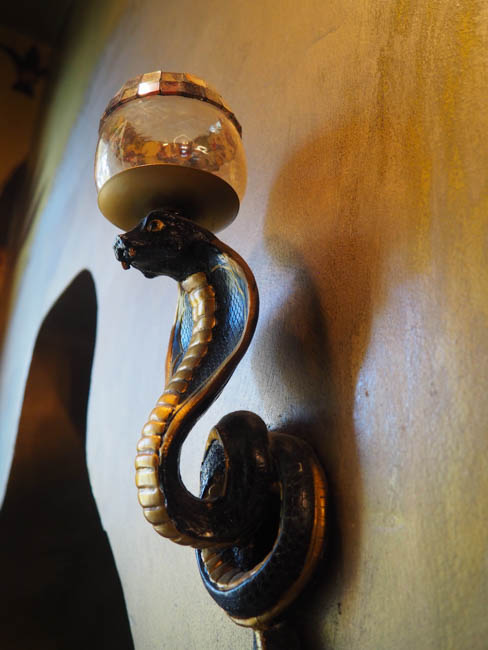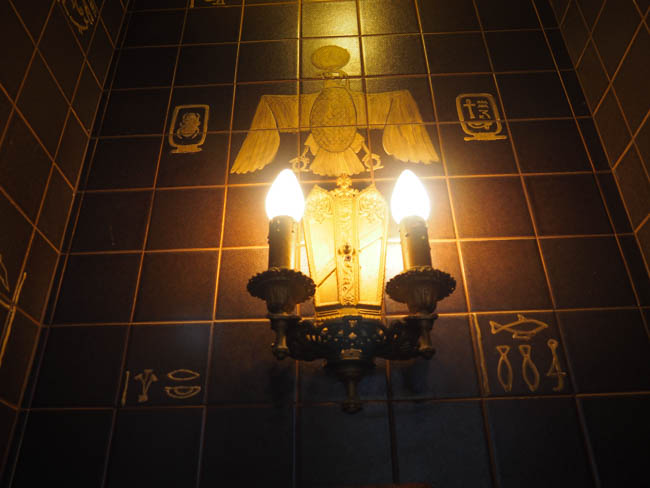 WRONG. There's another hidden panel wall that opens to reveal the room's private balcony. AAAAAH. I was in love. To recap: cool furniture, hot tub, fireplace, fun lighting, and TWO SECRET ROOMS. It's enough to make a girl want to carve out another hidden panel to hide herself and move in permanently.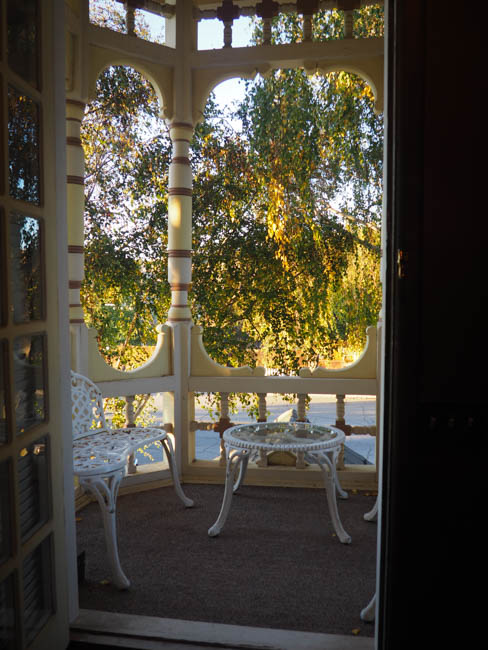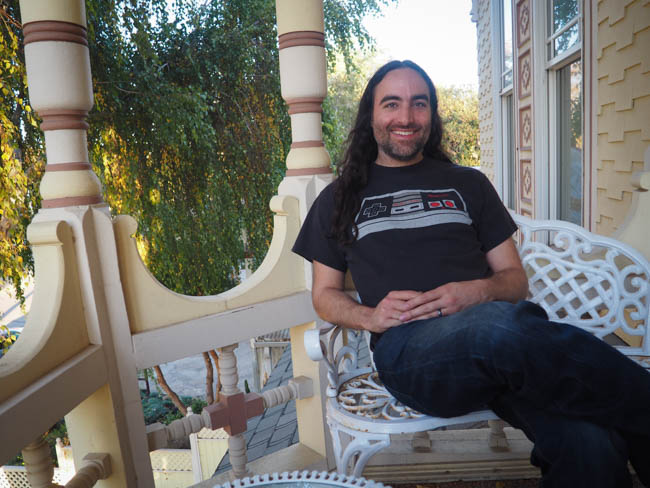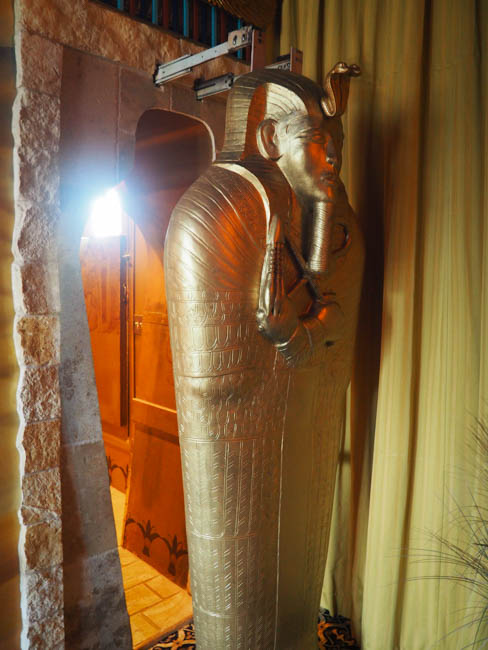 Save
Save
Save
Save