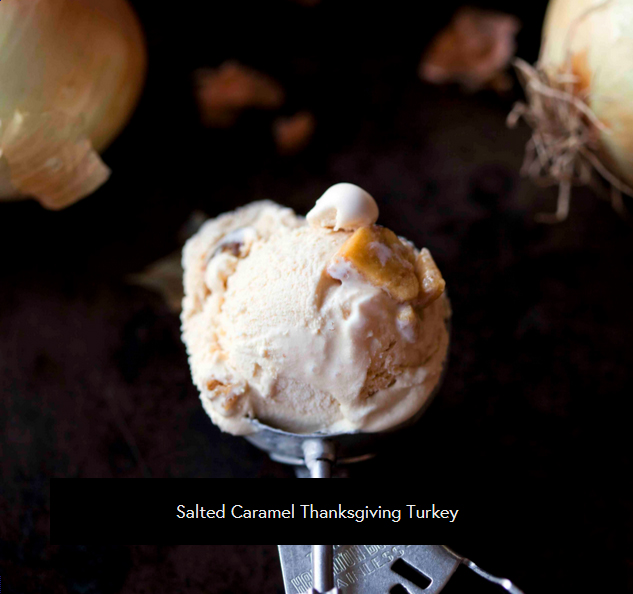 Photo via Salt & Straw
Something to be thankful for this Thanksgiving: someone has finally pushed the envelope and made ice cream for every course of your holiday meal–hazelnut rosemary stuffing, salted caramel thanksgiving turkey, honey bourbon corn pudding, sweet potato casserole with maple pecans, and spiced chevre pumpkin pie. I'm only picking one for today's poll and since we already covered Sweet Corn Ice Cream back in 2009, Salt & Straw describes their Salted Caramel Thanksgiving Turkey flavor thusly: "A head rush of sweet and salty with a pinch of adventure. All the flavors of a roasted turkey, its juices and the caramelized onions underneath, are packed into a turkey fat caramel ice cream, then speckled with handmade fried turkey skin brittle."
Pros: That feeling you get as an adult when you're eating ice cream for dinner, there is absolutely no way this turkey is dry, that feeling you get when you're eating multiple kinds of ice cream for dinner.
Cons:  So, uh, is the creamy part of the ice cream turkey fat, because I don't know how to deal with that, and I also don't know how to feel about fried turkey skin brittle and caramelized onion ice cream, and maybe the Thanksgiving meal flavors are just not meant to be ice creamized, or soda-ized for that matter.

Loading ...
Happy Thanksgiving, friends! Whatever you voted, I hope your meal is delicious and you're surrounded by the best people.