Many thanks to everyone who has reached out to me this week, via text, email, phone call, etc. Everyone's kindness and support has made a difficult week a little easier, and even though I still feel nauseated and scared and my brain keeps whirring about unfairness and things I could have said and didn't, it's not as bad as it could have been, and I thank you all for that. Jason has been a rock for me this week, getting me to eat*, getting me out of bed/out of the house, encouraging me to exercise to keep my spirits up, and being supportive and understanding when simple things frustrate and upset me and push me close to the edge of a screaming, crying, way-overreacting "I'm gonna be homeless" tantrum.
I've been trying to keep myself busy. Friends have tipped me off to some jobs and I've sent out a few resumes, I've boxed up and sent out most of my physical movie media for trade-in at Amazon (something I'd been meaning to do for a while and additionally lessens the load when I decide to/have to move), traded in a big bag of books at half-price books so my bookshelf will stop leaning meanacingly, and have been doing other organization/cleaning tasks around the apartment.
On Tuesday, I took some beautiful thick brocade fabric I'd been saving for over a decade that I bought when I was in Taiwan and reupholstered one of the piano benches I'd bought for a penny from Guitar Center. I'd originally intended to make a top out of it, but a decade had come and gone and the top went unmade and had it been made, it probably would have gone unworn, so it was time to put it to use. I'm also working at getting better about how long I save things for undefined "project" use–if I find myself saving something using the same excuse used by someone on Hoarders, I set a timetable to actually use it, and if doesn't get done, that stuff gets donated or binned, because I don't have unlimited storage space for a lifetime of "someday"s and this has motivated me to start and FINISH doing things that otherwise could have been put off indefinitely.
Before: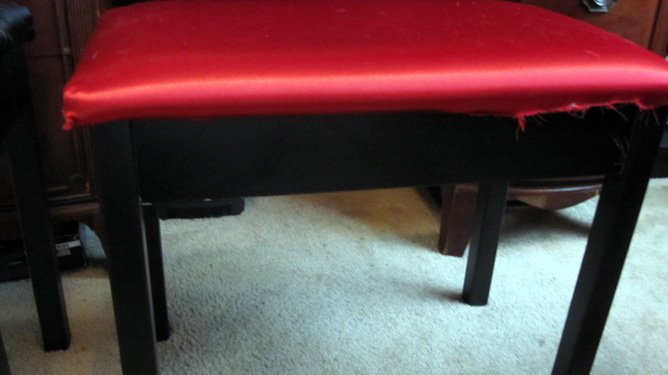 After: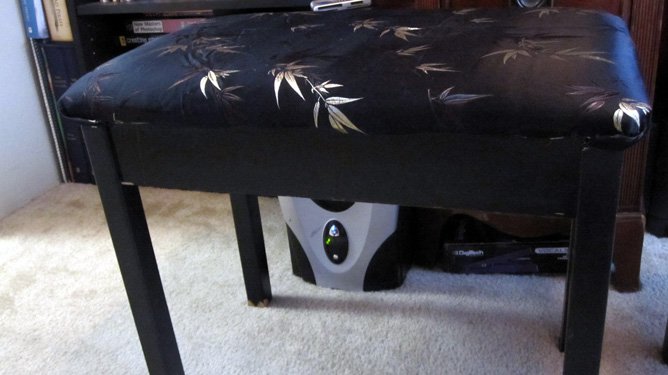 I only wish I had enough fabric to reupholster both benches, but I'm sure I'll find some that I like just as much for the other bench at some point.
*Also his presence keeps me from binging on everything in sight. Hello, eating disorder, I did not miss you.