I'll admit to being out of the loop when it comes to new games being released. Since I quit working at gamestop, I haven't been keeping up with what is coming out, and when.
Imagine my surprise and delight to discover they are releasing a 'Jaws' game. Oh wait, they already DID release a Jaws game. For the NES. But now they're doing it AGAIN. Only better! Just check out these stats!
* Players take control of Jaws the Great White Shark with themes and locations from the original JAWS universe.
Jaws has its own universe now? Also, to be nitpicky, I don't believe the shark itself is named 'Jaws'.
* More than 10 meticulously detailed, destructible environments, each with unique themes and intense action.
OMG 10? That might be too much INTENSE action for me, especially if there's a wet & wild room. (and you know there will be.)
* Unleash real-time damage on intelligent enemies, vehicles and structures.
Since when are vehicles and structures considered to be intelligent?
* Perform a variety of stunning underwater, surface and air attacks via a user friendly combat system.
Ah, yes. I must be forgetting the part of the movie where Bruce the Shark learned to FLY.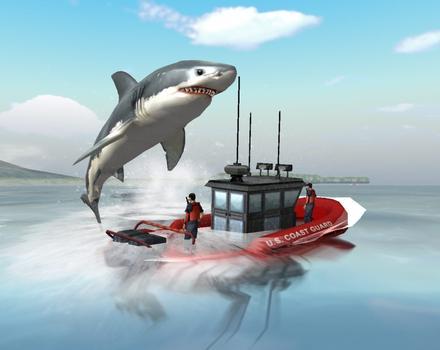 * Dismemberment engine provides 25+ points of disconnection allowing for game characters and objects to be torn apart piece by piece.
I have no snarky remark for this. Oh, wait, I do! It must be based on the Jeffrey Dahmer Engine!
* Follow story based missions or choose to freely roam the island and its surroundings causing havoc.
'So dig this, you guys. It's like….it's like GTA only you're a SHARK, man.'
* Encounter multiple side missions/challenges including timed destruction, stealth, chase and others.
What sort of reward system would someone use for a shark?
* Face fearsome arena bosses including killer whales, powerful boats and more.
Apparently you will be facing these fearsome killer whales in a pool outside of a Hyatt somewhere. Tourists will watch in horror until your FLYING SHARK ATTACK starts dismembering them, as well!
* See your victims before they know you're coming and target lock on enemies from afar with Shark Vision.
Why oh why didn't I ask for Shark Vision for my birthday? :sob:
This game is either going to be terrible or terribly awesome. I vote for multiplayer where you can tag-team giant orcas and or battle each other to the death. THAT would be awesome.