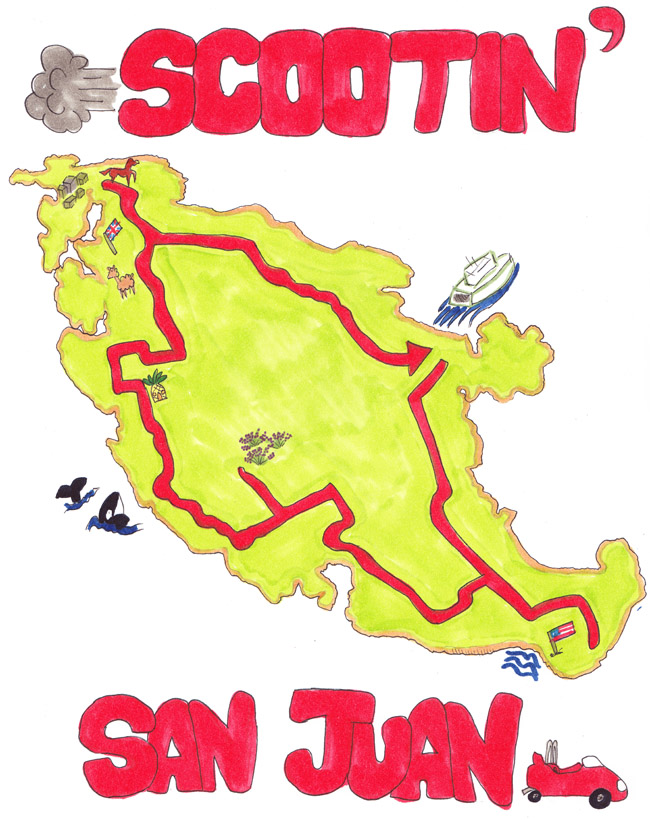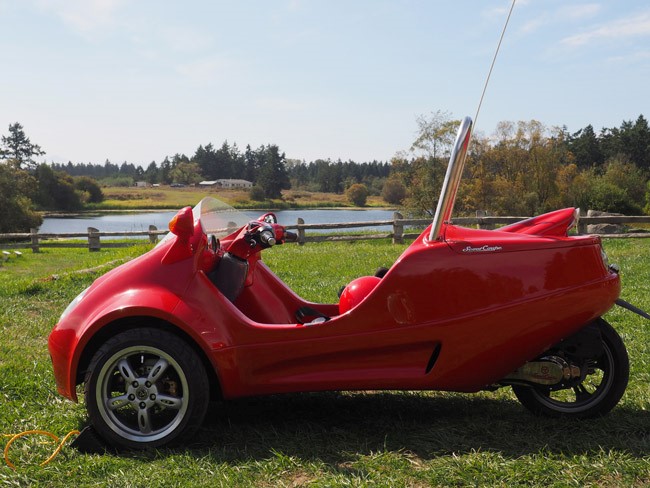 Almost a year to the day from my last visit, I set sail for San Juan Island, this time to explore more of what the island itself had to offer. Rather than take my car across on the ferry, I elected to rent a scoot coupe: a two-seater, three-wheeled moped that tops out around 40 miles per hour. The only thing standing in my way was the fact that my moped experience was limited to riding on the back of my second host father's scooter in Taiwan–I've really always been more of an indoor kind of rebel, saving my leather wear for goth clubs and looking cool rather than for anything that might require that sort of protection.
My rental place did go over the ins and outs of driving a scoot coupe: don't leave one of the buttons pressed in or your battery will drain. You have to manually disengage the turn signal because otherwise it will just keep blinking forever. Always put the wheel chock in front of a tire when parked. Always engage the brake lock when parked because of the inevitable kids playing on and around the coupe and their tendency to dislodge the chock. There is no reverse, one of you will have to get out and push in a reversing situation. Don't go on any road that's not on the provided map. Don't try to u-turn on any of the roads because your turn radius is so enormous you'll end up in a ditch. Speaking of which, pull over when cars are behind you so you don't impede traffic but don't just pull over blindly or you'll probably end up in a ditch (don't end up in a ditch). Got all that? Ok, drive that baby across the parking lot. You now have ten feet of experience and out into traffic you go! Of course, I immediately got flustered and missed the first turn, which meant poor Jason had to figure out the map and shout the new directions out at me because those big ass-helmets they have you wear are not super conducive to hearing. Or my ears clamp shut when I'm in a panic-type situation. Maybe both.
Once I got the hang of things (which actually happened fairly quickly), I had a lot of fun driving the scoot coupe. It felt like I'd somehow escaped a carnival with a souped-up bumper car, and had a great time careening around corners with the wind blowing in my face. It was late in the year, so there wasn't a ton of traffic on the roads save for other scoot coupes, and we always honked and waved, which made me feel like I was part of a tiny adorable gang.
Since you can essentially drive around the island in one big loop, my first stop was at American Camp. As I've briefly talked about in a previous post, San Juan Island was the site of a territory dispute between the United States and England, with the island's strategic position between the United States and Vancouver island, and as a result, both Americans and the English attempted to settle it. One day, an American farmer, Lyman Cutlar, found a pig digging up and eating his potatoes (not for the first time, either), so he shot it. The pig turned out to belong to an Irishman, Charles Griffin. Cutlar offered Griffin $10 for the loss of the pig, Griffin demanded $100, the British threatened to take Cutlar into custody, and in response, the other Americans on the island called for American military protection–thus sparking what is now known as the pig war. There was a lot of saber rattling on both sides, warships circled the tiny island, but ultimately no shots were fired. An American camp was established on the south of the island and an English camp was establish in the north, and eventually outside arbitration from Germany determined that San Juan lay within the boundaries of the United States. AT&T, however, still disputes that notion as I received a text message welcoming me to Canada and helpfully informing me that I'd be charged out the wazoo for data.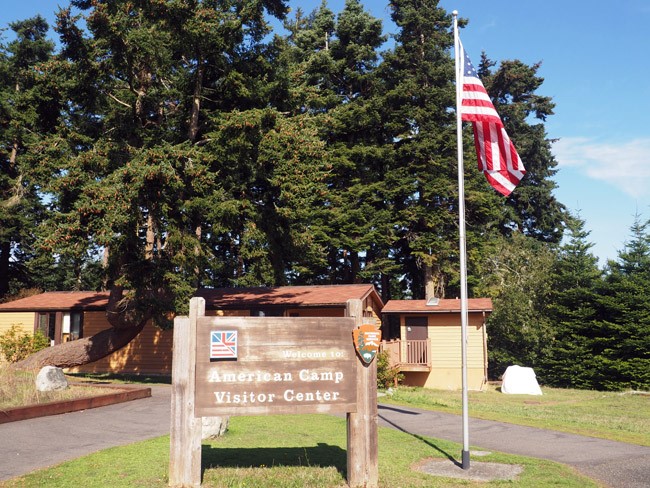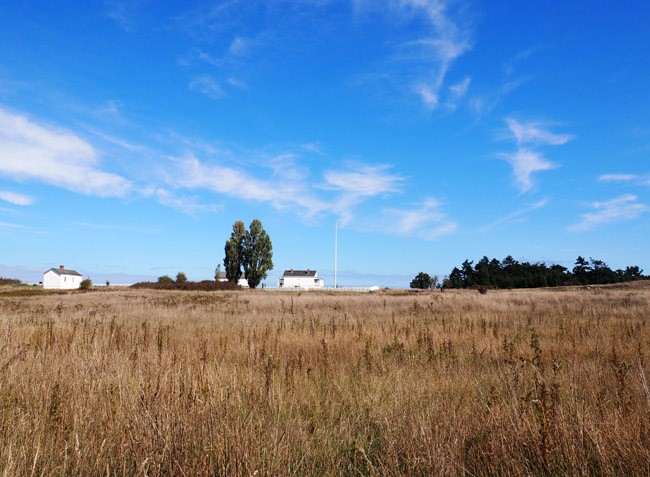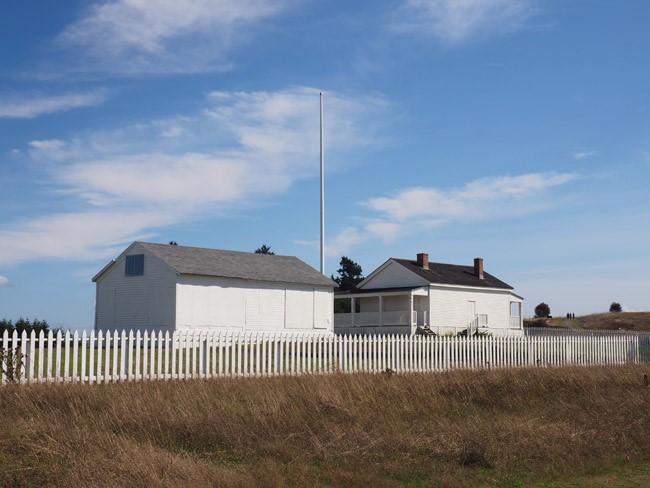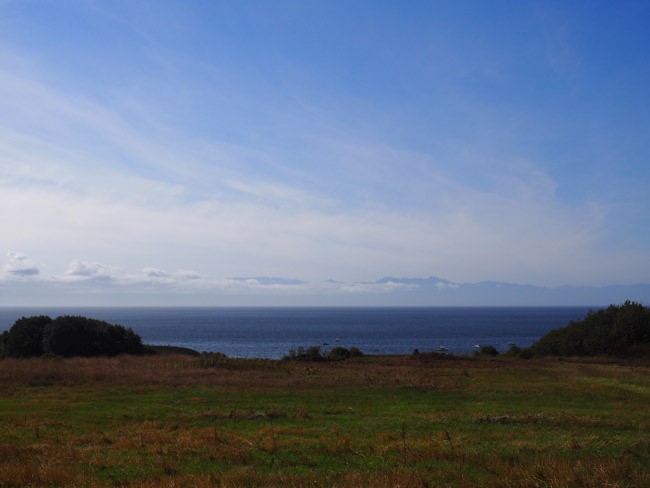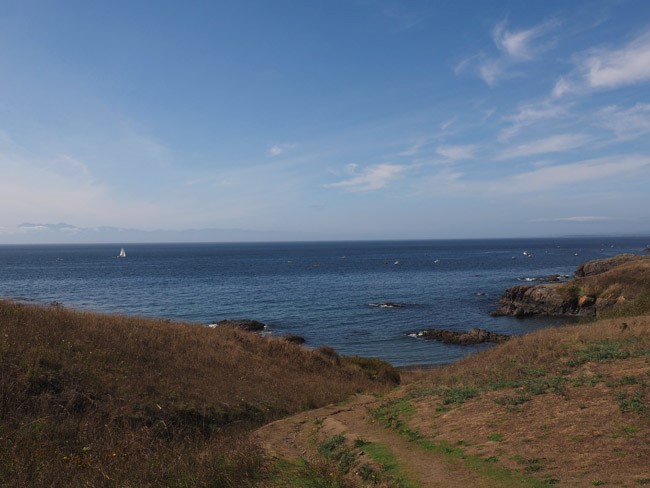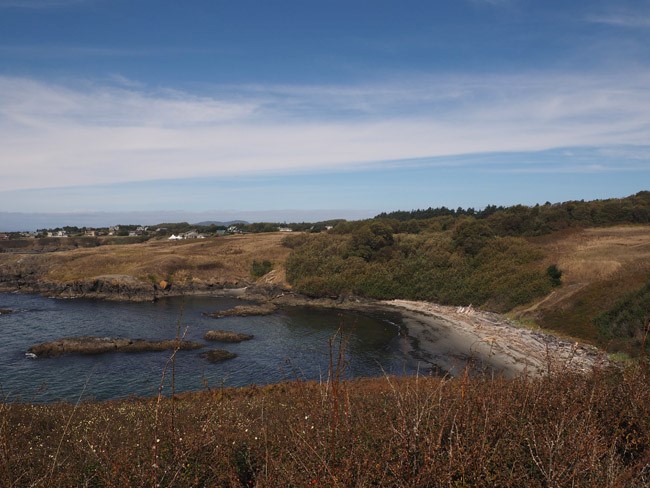 At American Camp,  in addition to the visitor's center and some historical buildings, there are a good number of walking trails that take you down to the various coves and the lighthouse at South Beach. I ended up taking one of the trails to Grandma's Cove after briefly seeing what there was to see in the visitor's center–it was too gorgeous out to stay inside for very long. I didn't end up hiking to the lighthouse because I was concerned about spending too much time in one spot on the loop, so after a bit more time checking out the laundress' and officer's quarters, it was back into the scoot coupe to putt to the next destination: Pelindaba Lavender Farm.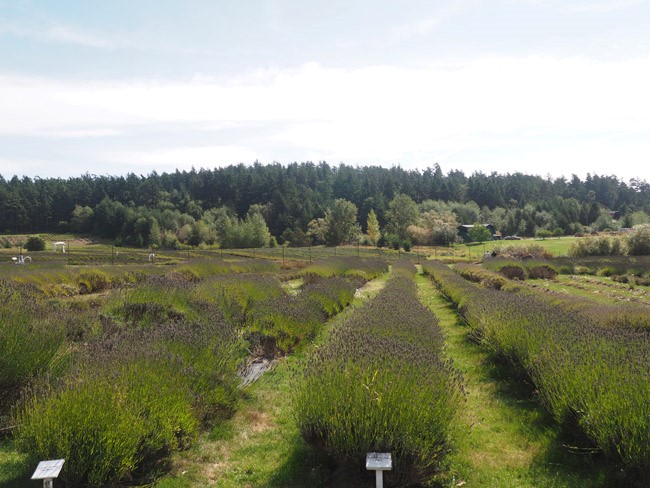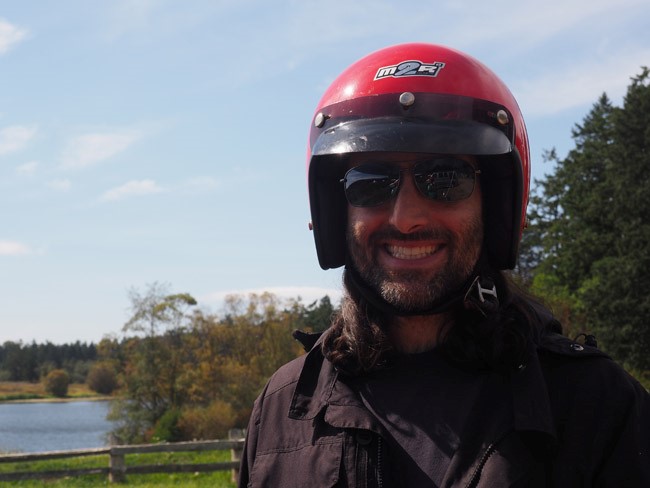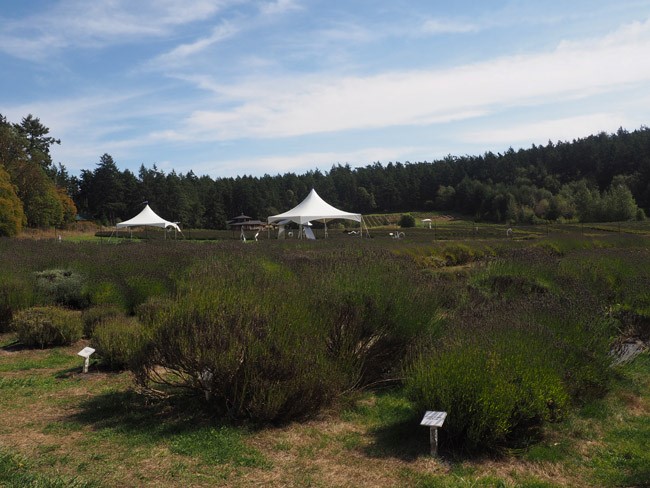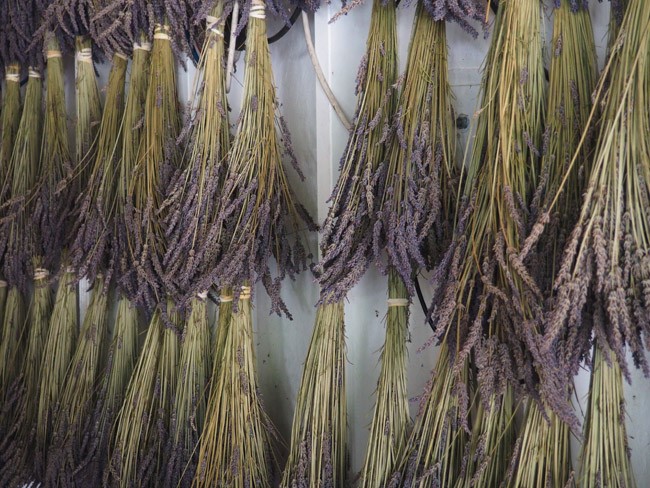 Although the farm was past peak bloom (which runs July-August), there was still plenty to see–you could freely walk through the intoxicating lavender fields (and harvest your own bouquet should you feel so inclined), check out their demonstration garden in which they've planted over 50 different varieties of lavender, learn more about the processing of lavender and the distilling of the essential oil, and browse their shop full of lavender items that have been produced on-site, including a number of lavender ice creams and cookies. Seeing as how I was visiting the island on a non-cheat day diet-wise, I refrained from the goodies and instead contented myself with the memories of all of the delicious lavender things I tried at the Lavender Festival.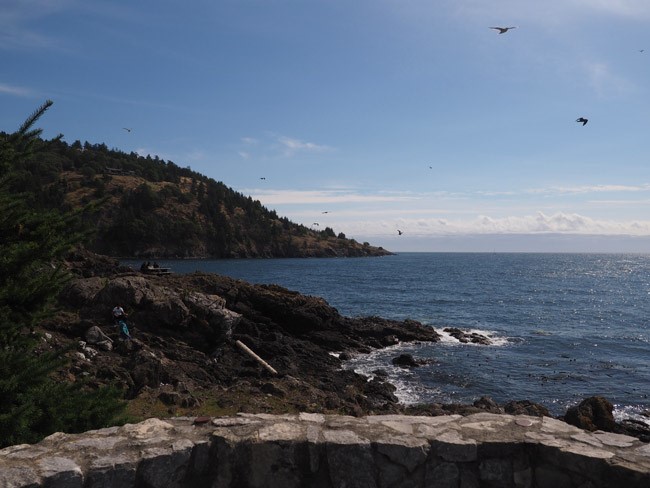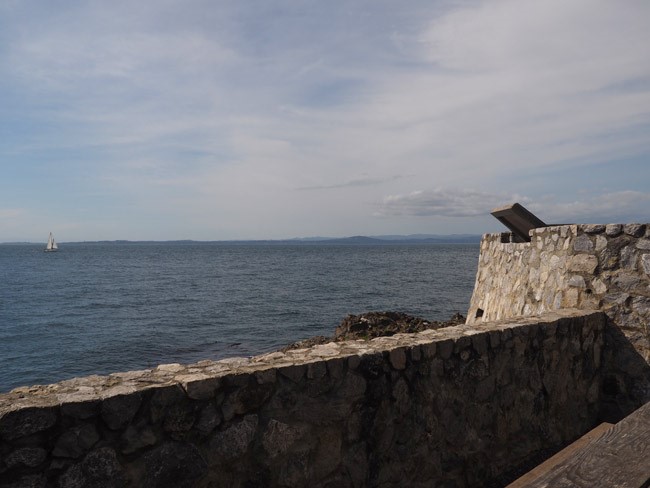 The next stop in the circuit was Lime Kiln State Park. I'd already purchased a Discover Pass this year, so I was a little annoyed that I wasn't able to use it with the scoot coupe and had to pay out of pocket for parking. It isn't a huge deal save for the fact that it's an unmanned cash only pay station, so if you don't have exact change ($10), you could end up paying twice as much for parking than you would otherwise, or if you don't have any cash at all, you could miss one of the better stops on the scoot coupe loop. Why one of the better spots? Well, in addition to the beautiful 1.5 mile hike, historic lime kiln, and century old lighthouse, this is the spot on the island from which to whale watch. It's actually one of the best spots in the entire country to see orcas from land, especially during the summer, as the resident and transient pods move through the Haro Strait. Due to the geography of the island, you can actually see whales as close as twenty feet away, which is much closer than any whale watching tour can take you.  I didn't spot any orcas during my visit, but I swear I saw the fin of a lone minke whale twice as it swam through the strait. The sighting board at the gift shop indicated that others had seen orcas that day, and there was even a humpback sighting!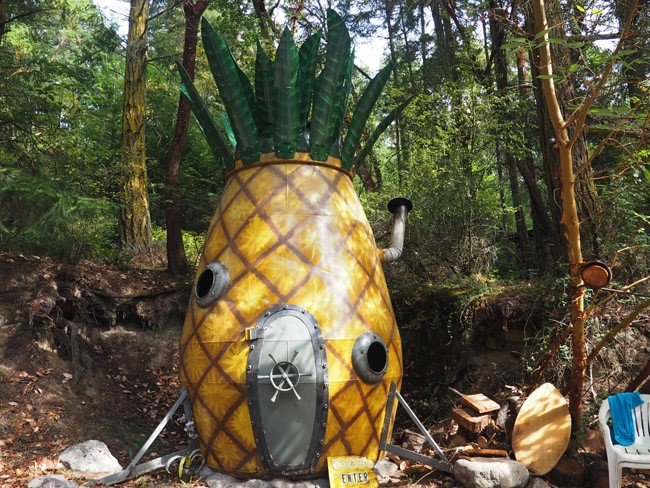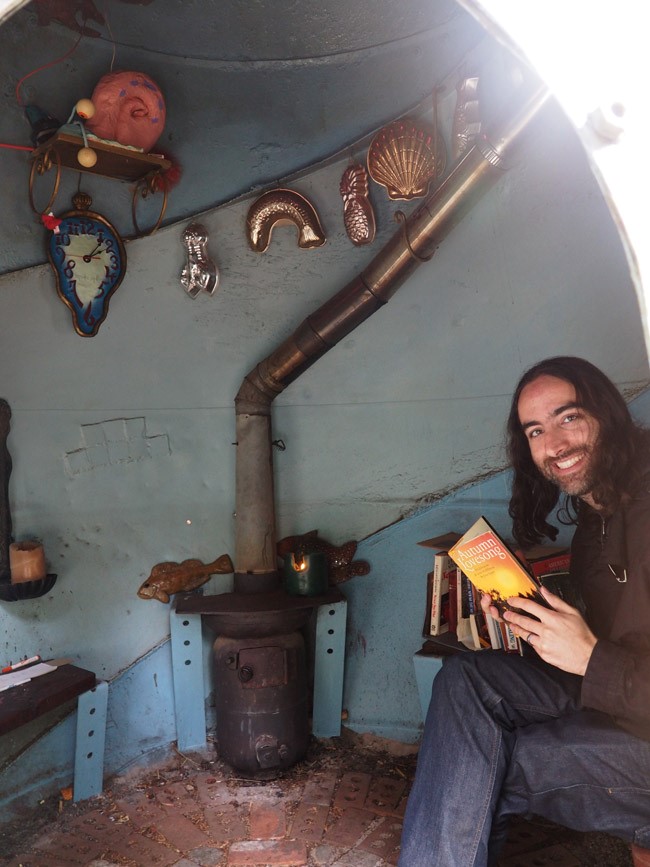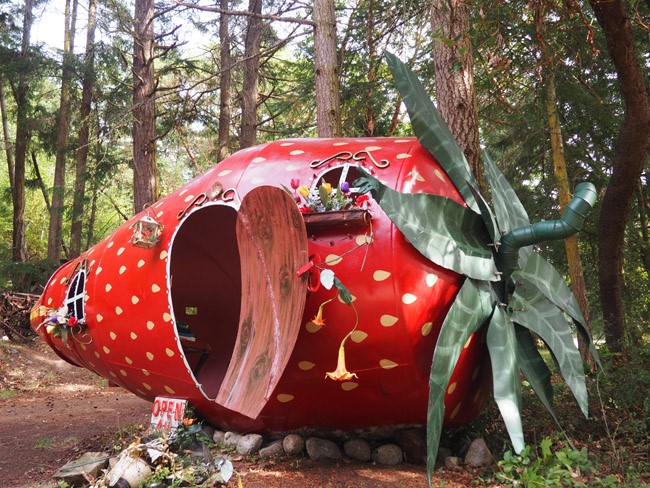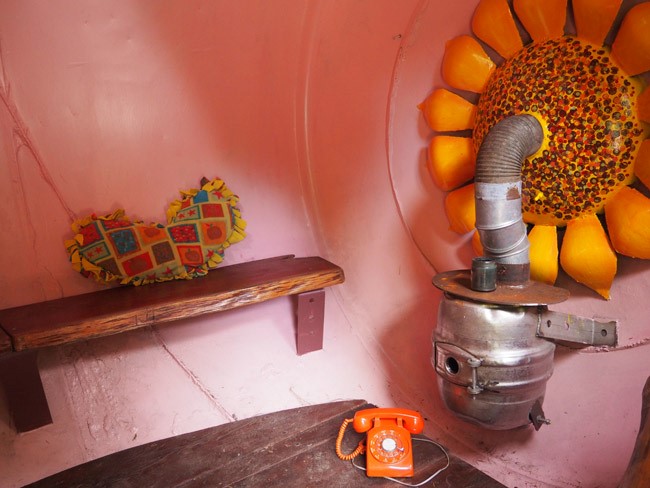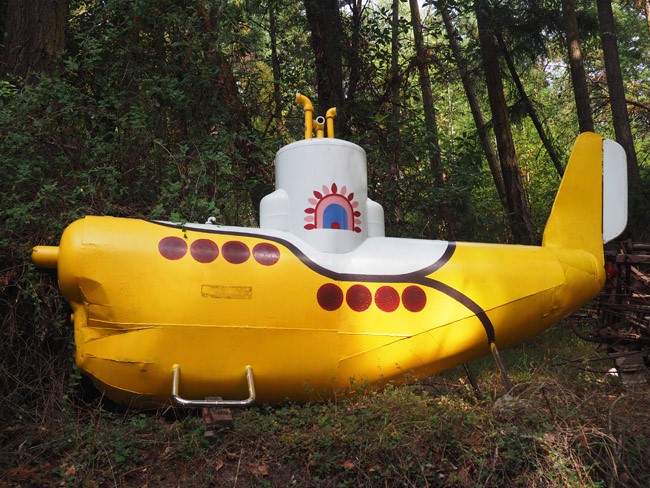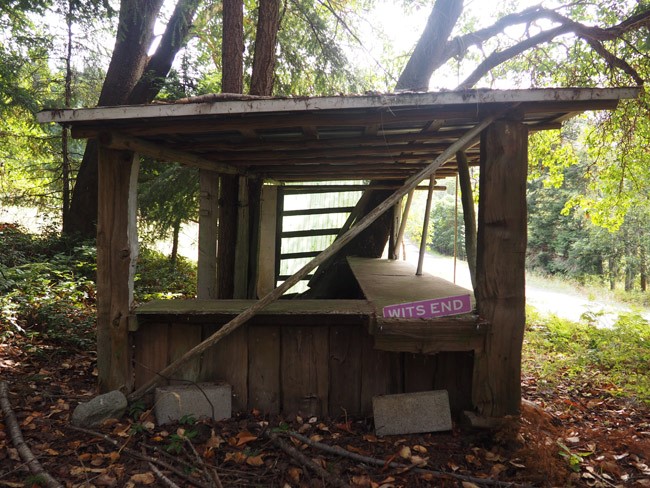 Continuing on West Side Road, you'll eventually pass a number of works of art by found materials artist Kevin Roth–a local welder and fabricator who takes discarded items and turns them into bits of roadside wonder: a pineapple house from a cement truck drum, a yellow submarine from fuel tanks, a strawberry hut from another truck drum. Each art playhouse is open to the public and filled with bits of whimsical ephemera and a free-for-all library, in case you  want to camp out indoors and catch up on your reading.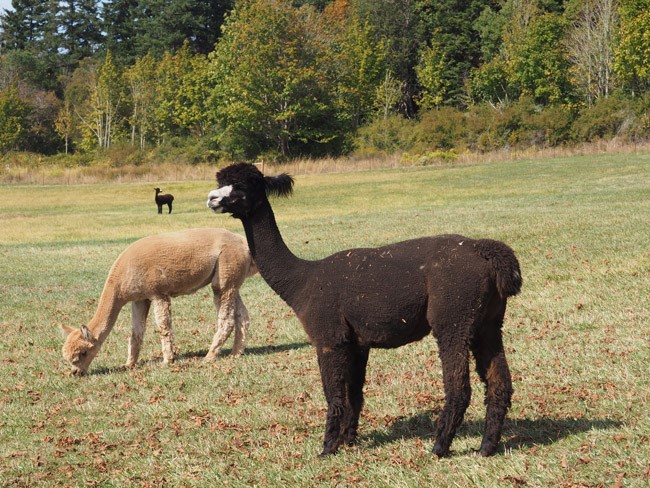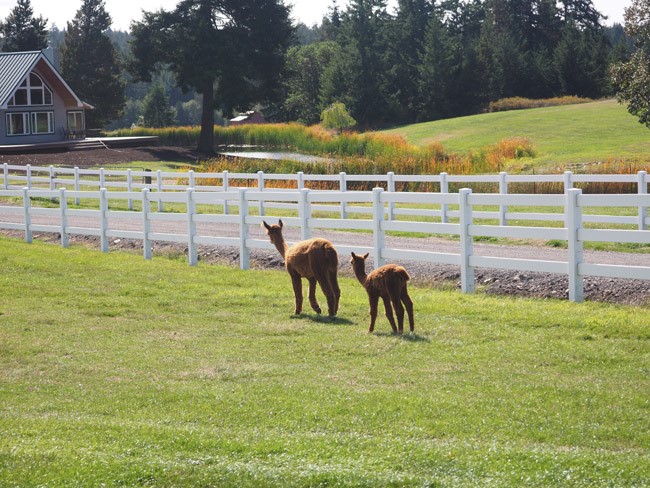 I managed to eventually tear myself away from the SpongeBob house with the promise of baby alpacas just ahead at Krystal Acres Alpaca Farm. Although there was no alpaca petting or alpaca kissing, there was an adorable baby alpaca who wanted nothing to do with me or my high pitched squeals of delight. But its fuzzy wuzzy ears! Its fuzzy wuzzy face! Its fuzzy wuzzy wiggly tail! Alpacas are cute as it is, and in miniature form, even cuter. I also browsed the gift shop, which is full of the softest, most expensive goods that I am in no way qualified to care for properly. Stretching out a sweater is bad enough, but when you've stretched out a $200 sweater, it's time to go boneless in despair at your own incompetence. I also have a dog whose special skill is to act as a hunter-destroyer for expensive knit goods, extending just one ragged claw to unravel the entire thing in ruins with one targeted attack. These are only two of the reasons as to why I cannot yet have nice things.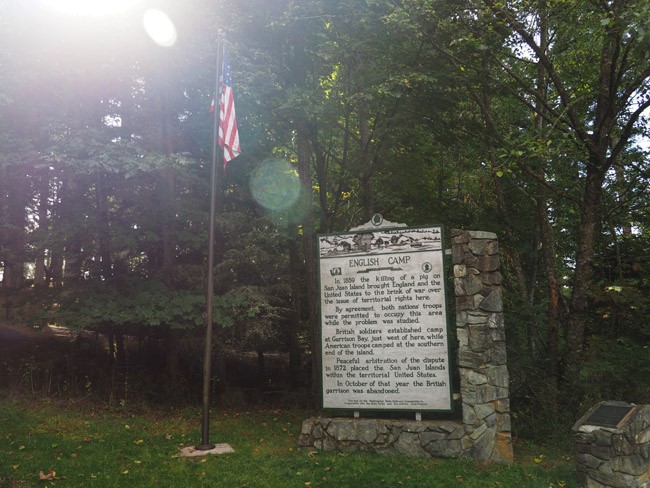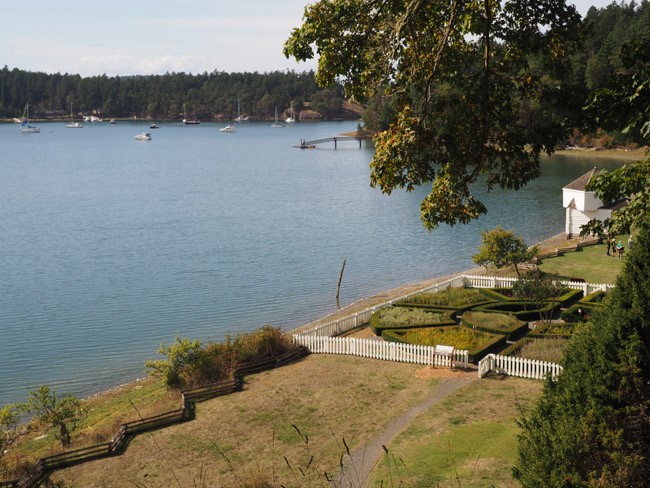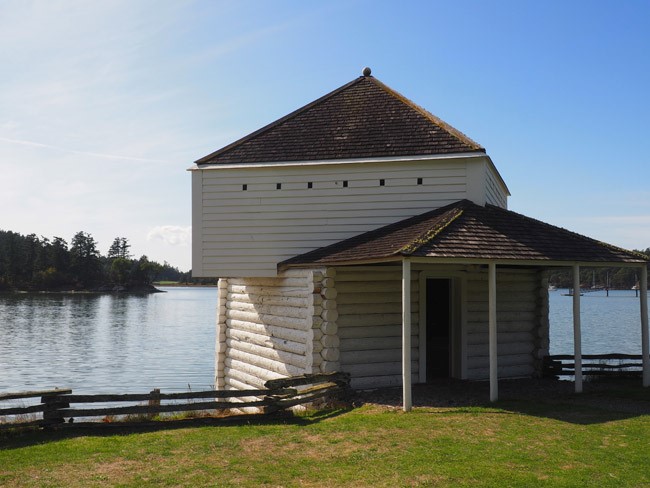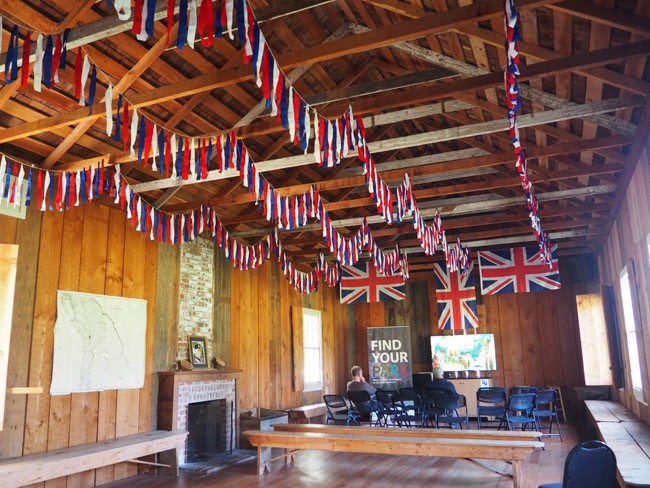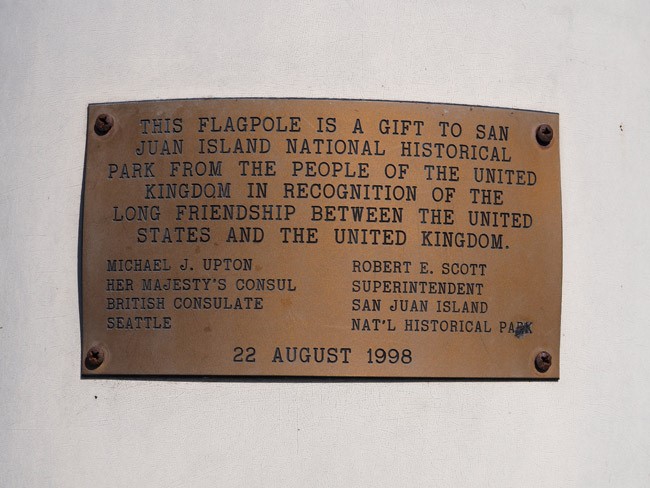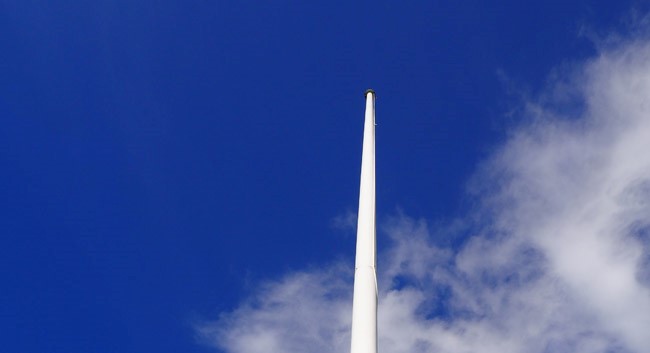 Jason took control of the scoot coupe between Krystal Acres and English camp, one of the shortest (if not the shortest) point to point distances on the entire island circuit, after which he'd had enough and happily ceded the coupe to me. At English camp, there's an opportunity to do a bit more hiking, check out an English garrison, and stroll through their formal garden. Supposedly a union jack flies over the camp in the summer (one of the only places in the United States that flies the flag of another country) but I like to think of the naked flagpole as a bit of a thumbed nose. "You can give us a flagpole but you still can't make us fly a flag, nyah nyah." The park attendant/historian at the camp assured me that it was just that the flags are too expensive to have out and taking damage from the elements during the off-season when fewer visitors are there to appreciate it. Or so he claims.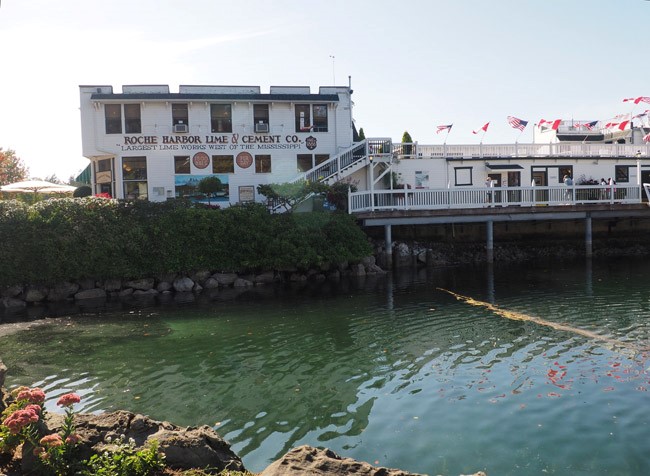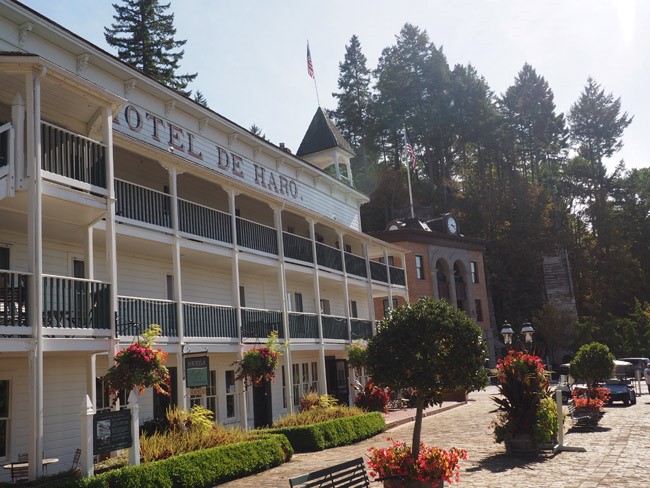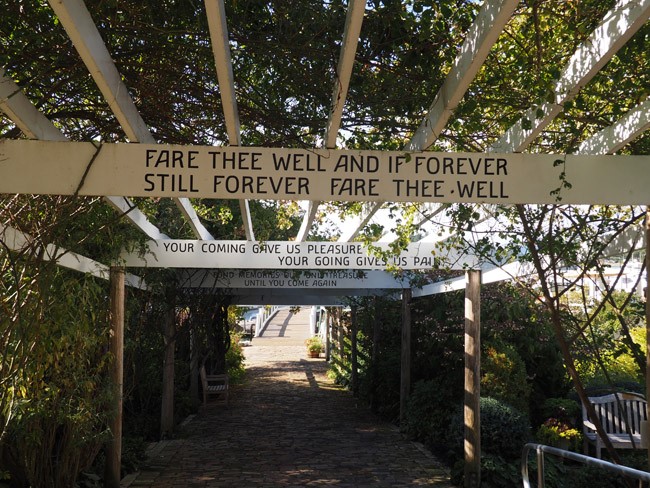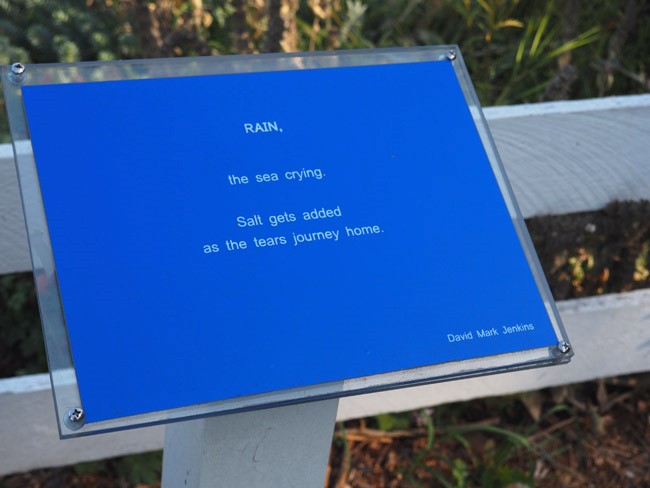 The next stop on the tour is Roche Harbor, home to a tiny airport, some super cute hotels, and the walk to which is bordered with some of the most overwrought angsty teenage poetry you'll ever read. And believe me, I know a thing or two about overwrought angsty teenage poetry, having authored quite a bit of it myself. Fun fact: a collection of one's worst teenage poetry is known as an "embarrassment" of poetry, as in, if anyone were to find and read said poetry, you might die of embarrassment.
I ended up walking the path to Roche Harbor and then turning around and nearly immediately walking back out, owing to the late hour. I was shocked at how quickly the day had passed, and while I'd hoped to have a late lunch at one of the Roche Harbor restaurants (as at that point, it was 4pm, I hadn't eaten, and I was staaaaaaarving), but it was either eat at a restaurant or see the sculpture park as I definitely didn't have time for both. I opted for the sculpture park.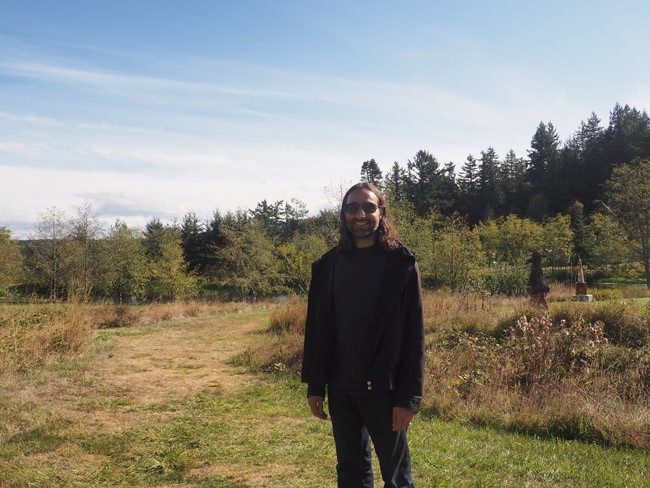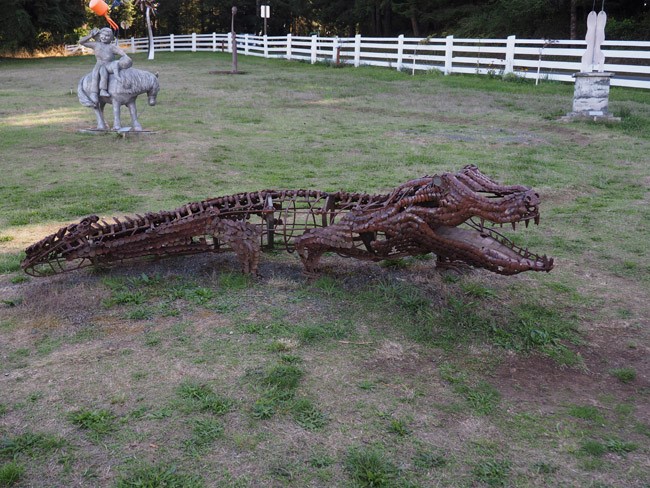 The sculpture in the back is called "pony play" and I laughed and laughed and laughed.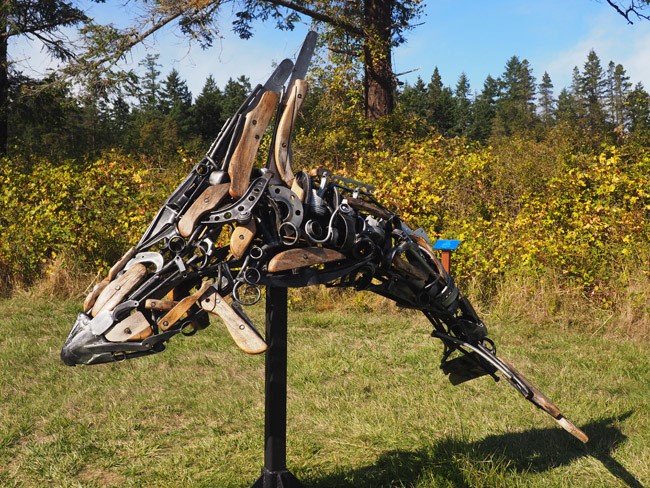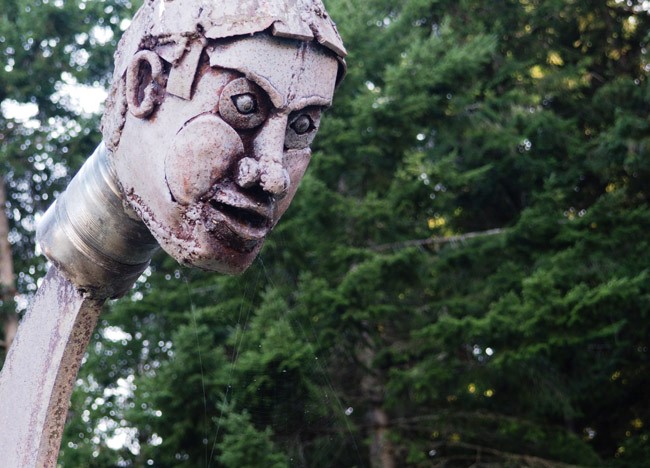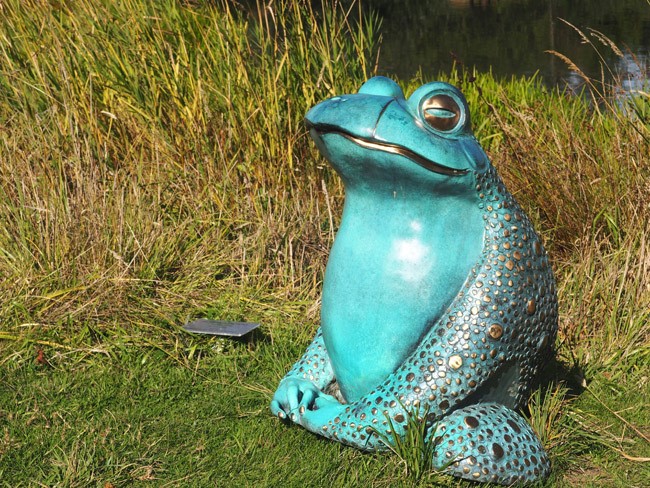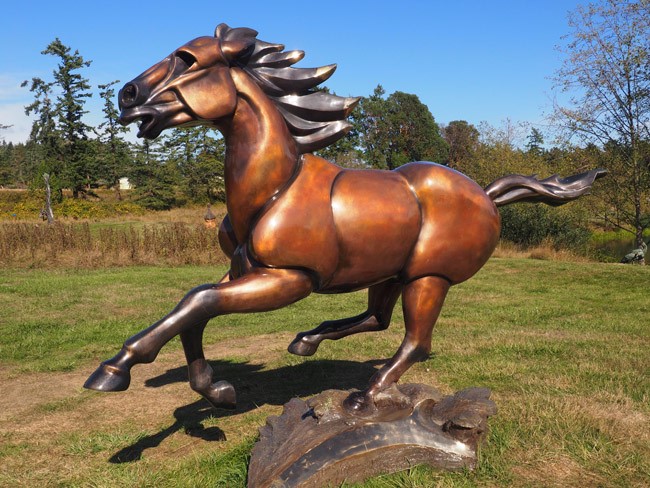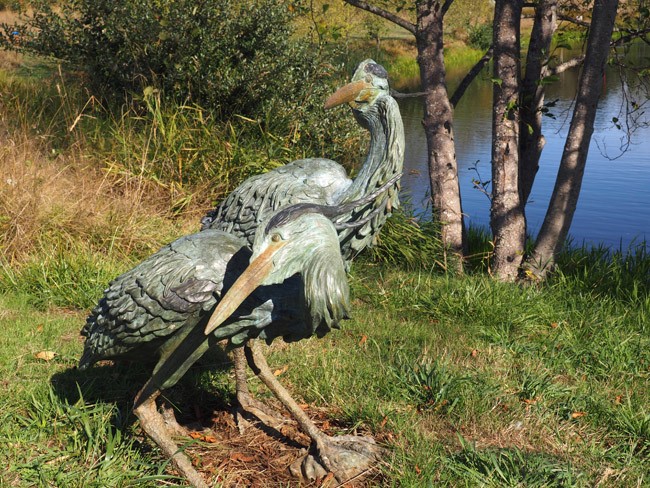 Westcott Bay Sculpture Park is one of the largest sculpture gardens on the west coast, with a rotating selection of around 100 sculptures (as all are available to purchase) sitting on twenty acres of parkland. Visitors are invited to try their hand at sculpting with found beach objects and also to sign the friendship totem, which will be erected in the park when completely full. It was pretty dang full the day I visited, but I managed to cram my name and a wee robot in above a knot in the wood with the provided engraving tool.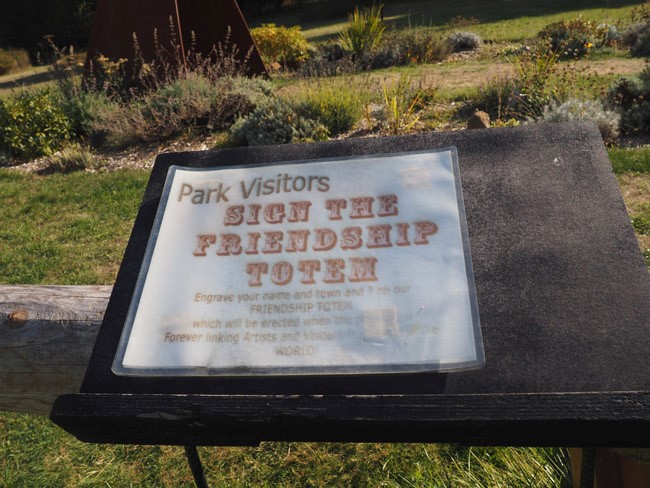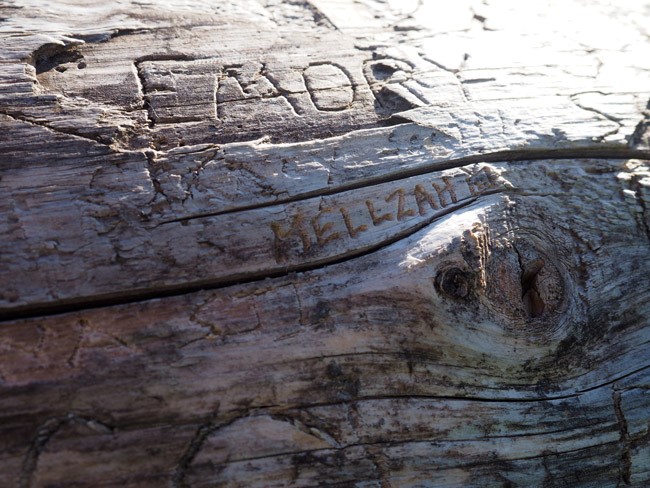 After a quick visit to the sculpture park, I had to get moving to get my coupe back to Friday Harbor on time. There would be no stopping to visit with Mona the Camel, just 50ccs of fury trundling down the road, pulling over approximately every thirty seconds to allow a car to pass. I did have to stop at one point when the wind grabbed the scoot coupe flag and ripped it right out, forcing Jason to go running back after it (no reverse! no u-turns!). We eventually made it back to Friday Harbor in one piece, with enough time left to gas up the coupe and return it to Susie's Mopeds. Then finally, finally it was time to grab some dinner.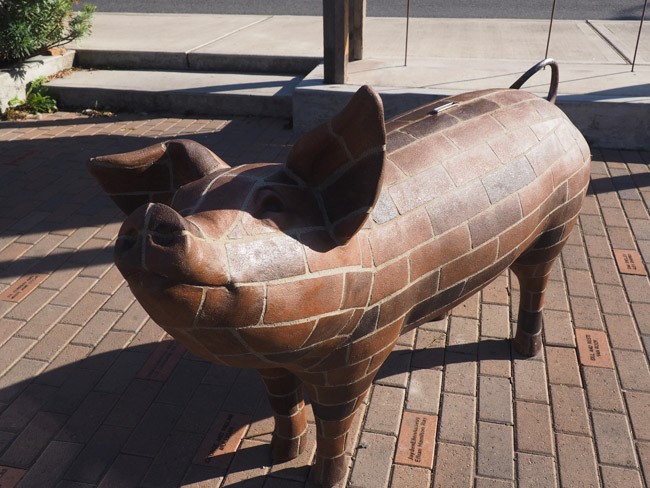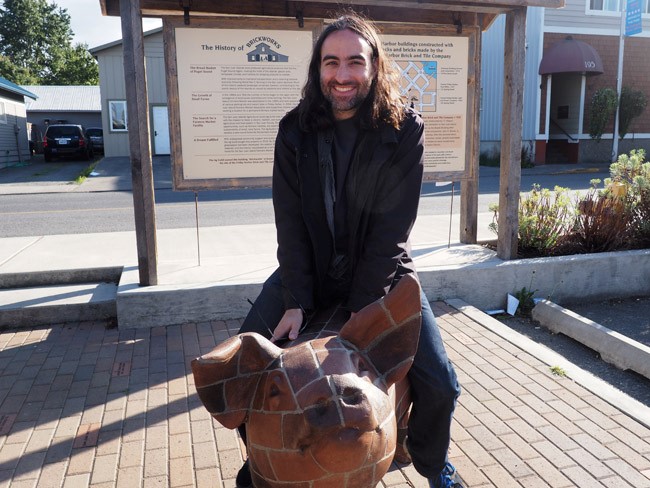 But first, a ride on a brick pig.
If I were going to scoot coupe around San Juan again (and I just might), I'd do a few things differently. First, I'd pack a lunch: there's a wee trunk in the coupe, so there's no reason not to, and there are so many excellent picnic spots around the island. I'd also pick a couple of places to explore more thoroughly rather than try and see a little of everything. More hiking, more whale watching, more eating, less hanger and angst (hangst?). And maybe by the next time I visit, I'll have figured out a way to smuggle a baby alpaca home.
Save
Save