I've done precisely zero research on the matter, but it is my understanding that Transylvania has two main exports: vampires and chimney cakes. I never drink…wine. But I do eat cake. Maybe too much cake, but that's really neither here nor there. So when I happened across a Vancouver bakery specializing in Romanian pastries, including the aforementioned chimney cake (or kürtőskalács), I knew I definitely wanted to incorporate it into my next visit to British Columbia, as a trip to Romania proper is a bit more involved than taking an afternoon jaunt across the border. A chimney cake is made of yeast dough which is wrapped in a spiral around a wooden dowel and baked, similarly to meat on a spit. As it rotates, it's basted with butter until the sugary outside caramelizes into thin, golden, crackle-y perfection, which can be further augmented by rolling it in other toppings like chopped nuts. When it's served hot, steam vents out the top like a little chimney and it's charming as all get out.
There are two (one, two, ah ha ha ha) bakeries in Vancouver that make chimney cakes: Transylvanian Traditions, and The Kürtősh Cafe. Of course, I had to go to both. First up was Transylvanian Traditions. Transylvanian Traditions makes a variety of pastries including the chimney cake, and the chimney cake is offered in only one flavor.  When I arrived, I got one hot and fresh from the oven, steam merrily venting from the top. The cake is a revelation–soft and chewy toward the center, crisp on the outside, tangy with lemon, and light like a raised doughnut.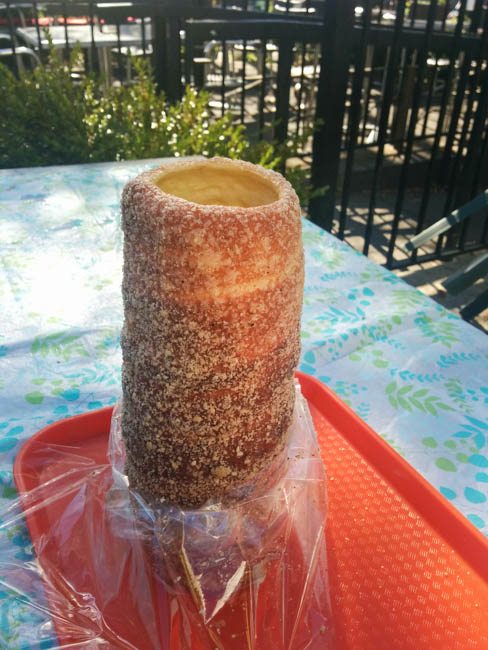 The Kürtősh Cafe is the newer of the two bakeries, and they specialize solely in chimney cakes, offering it in a wide variety of sizes, flavors, and combinations, including savory cakes and cakes smeared with nutella and stuffed with ice cream. Jason got a chimney cake with nutella and almonds, Tristan got a cinnamon sugar chimney cake, and I got a half size coconut matcha chimney cake. The cakes are beautiful and well presented…but just not that good. All three of the cakes were cold, a sign on the cafe's table proclaims that they use no butter in the cake, and between those two things, you end up with a cake where the outside is chewy rather than crispy, more like the outside of a bagel. None of us were really taken by any of them, which was really a disappointment, because I never want to say anything negative about a cake. I'd be open to trying them again closer to when they open in the morning in the hopes of getting a hot cake for a fair comparison.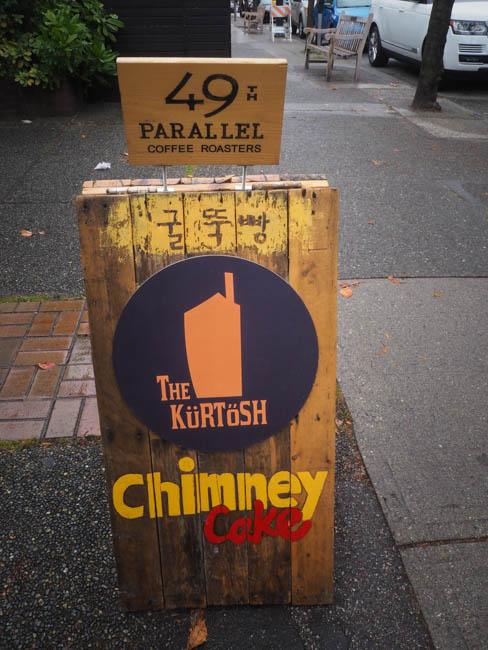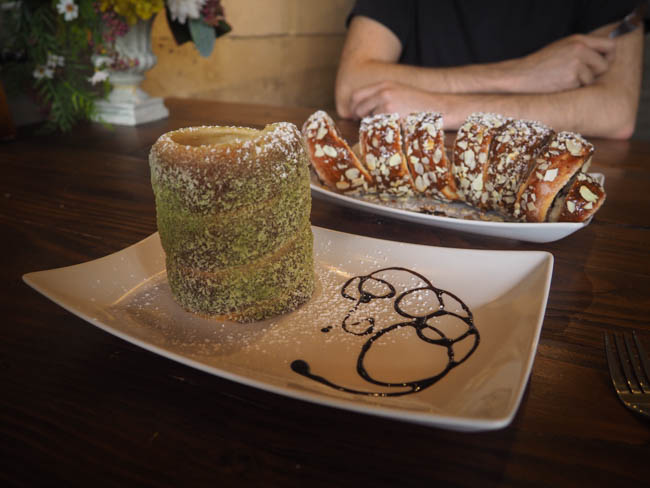 So basically what I'm saying is, like blood, you want it hot and fresh.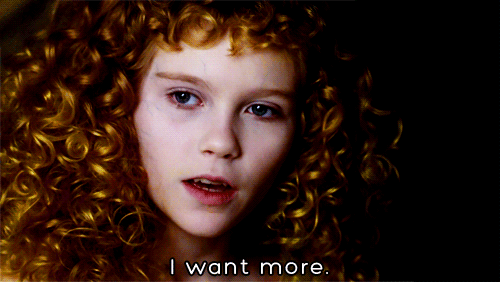 Save