"Holy crap. Holy crap. Holy crap." was about the extent of my thoughts when I first heard there was going to be an exhibit of items from Guillermo del Toro's home, Bleak House, at LACMA. Even though I had just come back from a trip to southern California when the news broke, I knew I'd have to get back down there before the exhibit left. I had to. Truth time: I actually pinned a photo of the interior of del Toro's home to my "dream house" board on Pinterest before I even knew to whom it belonged. How many times in life are you going to get an opportunity to walk through your dream house? Especially if you're like me and your tastes are a little, uh, unconventional? So now you see why I found it imperative to get my butt to Los Angeles.
"Holy crap. Holy crap. Holy crap." was about the extent of my thoughts as I was walking through the exhibit. While there are quite a few things from Guillermo del Toro's movies on exhibit (after all, it's really easy to collect one's own work), this is not a retrospective exhibit in that it mainly focuses on del Toro's inspirations, making the overall effect one of being able to geek out with one of my favorite directors about his favorite things. And, as it turns out, a lot of my favorite things as well.
Guillermo del Toro loves labyrinthine Victorian mansions and Victoriana? Me too!
Guillermo del Toro loves monster makeup and the artists who bring it to life? Me too!
Guillermo del Toro loves the spooky-ass artwork of Stephen Gammell? Me too! In fact, his creepy illustrations for the Scary Stories line of books may well be at the root of my love for all things dark and spooky.
Guillermo del Toro loves fairy tales and folklore? Me too!
Guillermo del Toro loves weird taxidermy? Me too!
Guillermo del Toro loves rainstorms to the point of engineering a room in which it appears to be raining 24 hours a day? We definitely diverge there, I would do nothing in that rain room but sleep.
And this exhibit? I loved it, too. The show itself is labyrinthine, like the old Victorian home styling del Toro admires.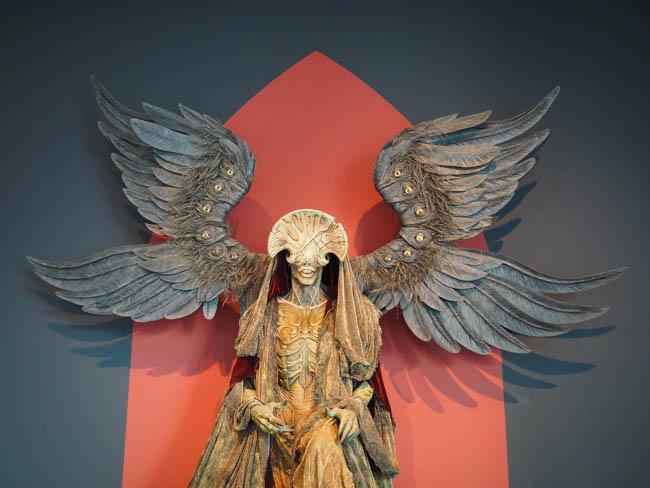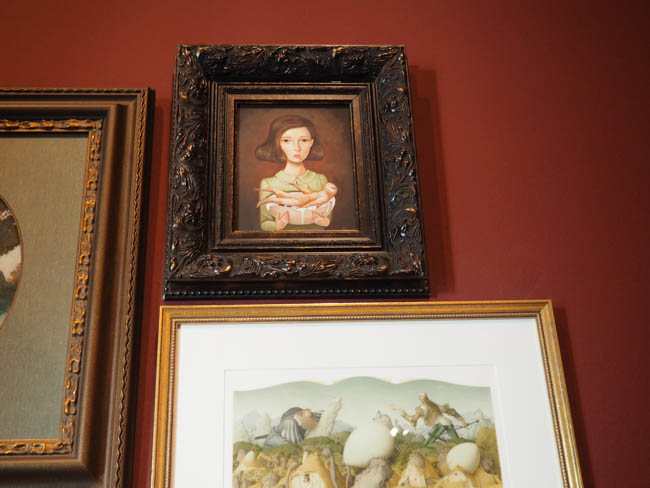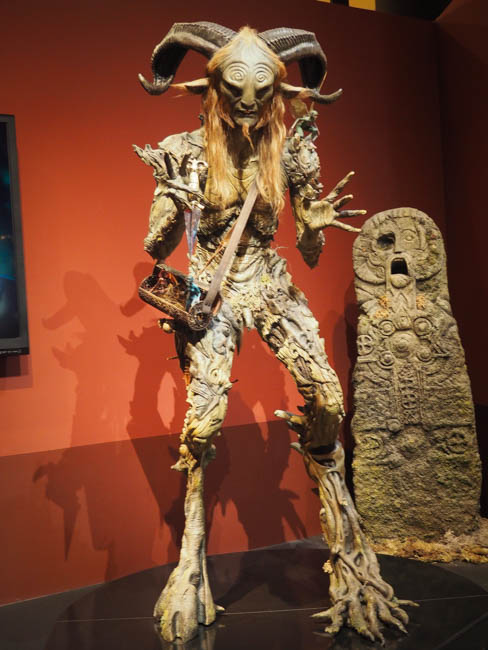 I was so stoked to be able to get up close and personal with the costumes from Crimson Peak. Most exhibits put costume work behind glass, the reflections of which make it very difficult to see detail, especially if it's dimly lit. Here I was able to get up on it, get my face close in and see the stitching and the buttons and everything else that's moving too fast on screen to truly appreciate.  I was especially enthralled with the "mother ghost" costume, with all of the moths and botanicals worked into the the tulle. My blog photos do it absolutely no justice, it was a stunning piece of work.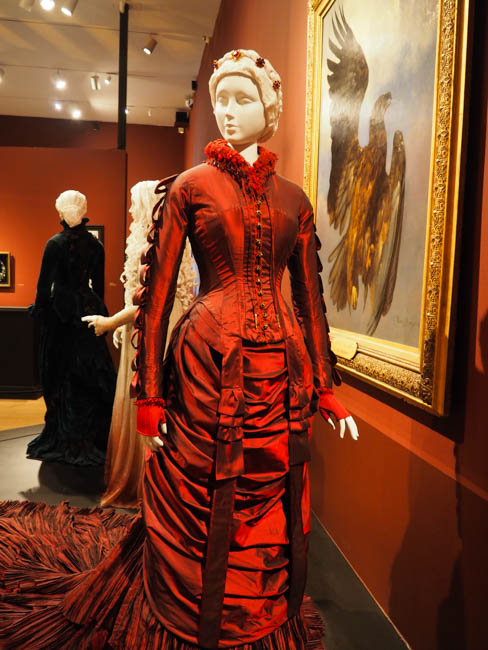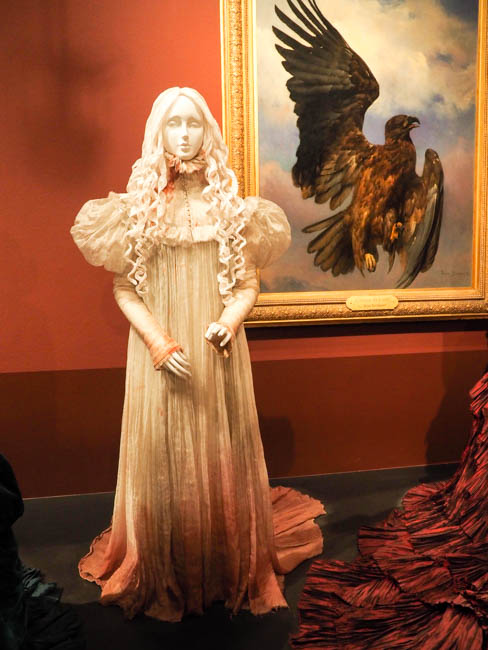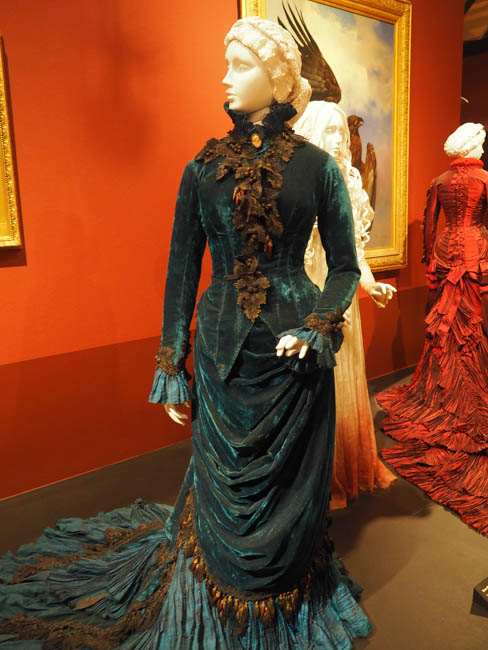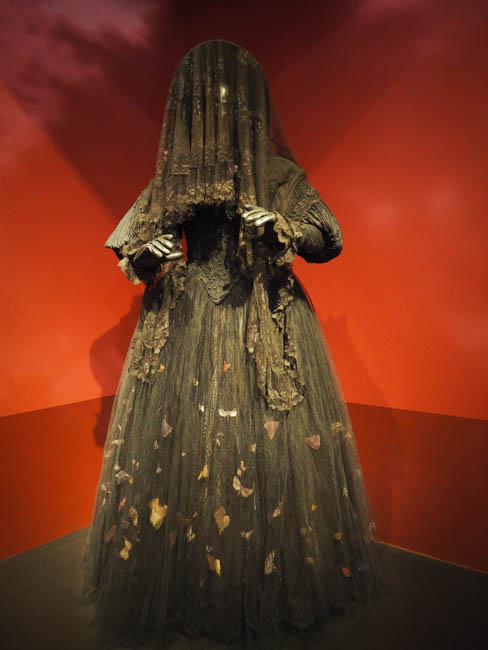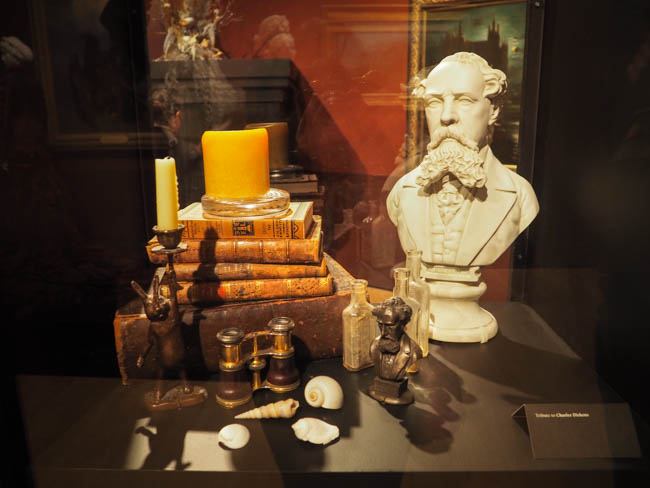 A tableau to Charles Dickens, del Toro's "Bleak House" is in reference to Dickens.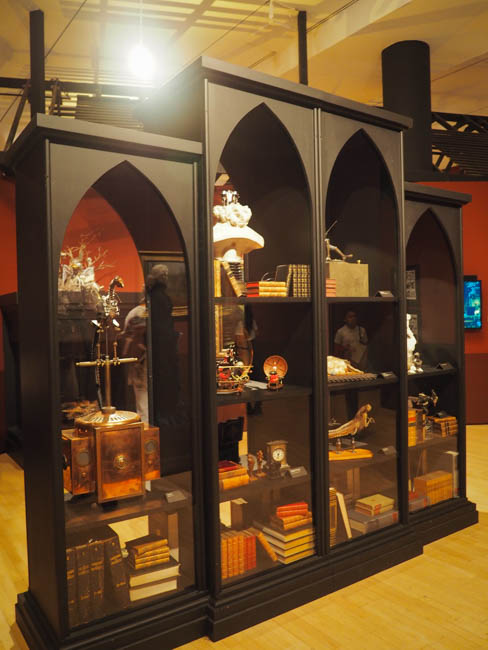 I want shelves like these for my house. SO BADLY.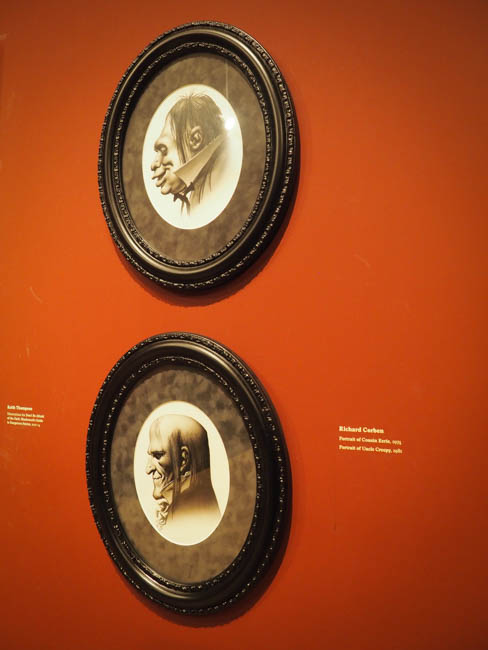 T-B, Portrait of Cousin Eerie, Portrait of Uncle Creepy, Richard Corben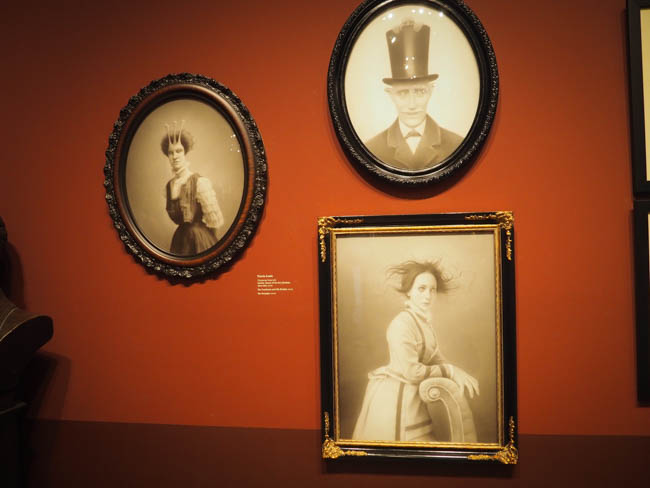 cw from left: Amelia, Queen of the Sea Monkeys, circa 1879, The Coachman and His Brother, The Strangler, Travis Louie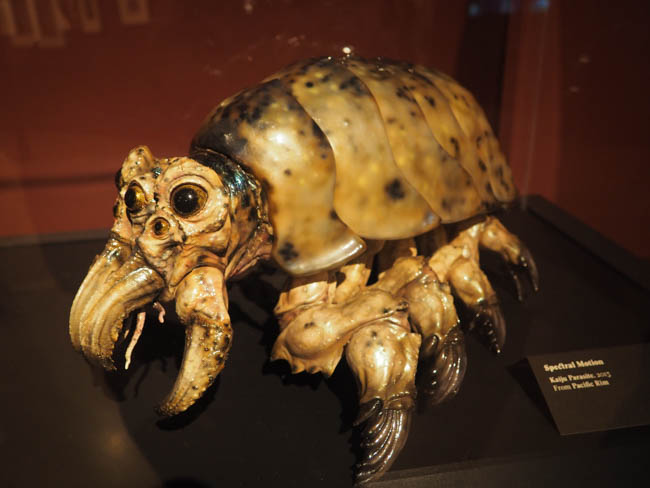 Kaiju parasite from Pacific Rim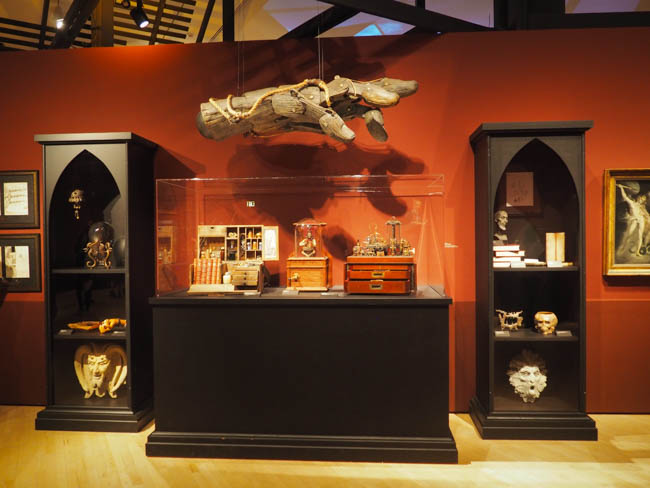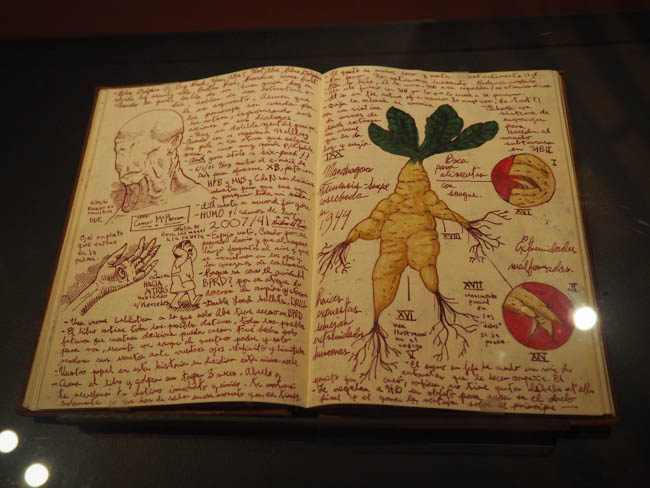 One of del Toro's sketchbooks , used when planning Pan's Labyrinth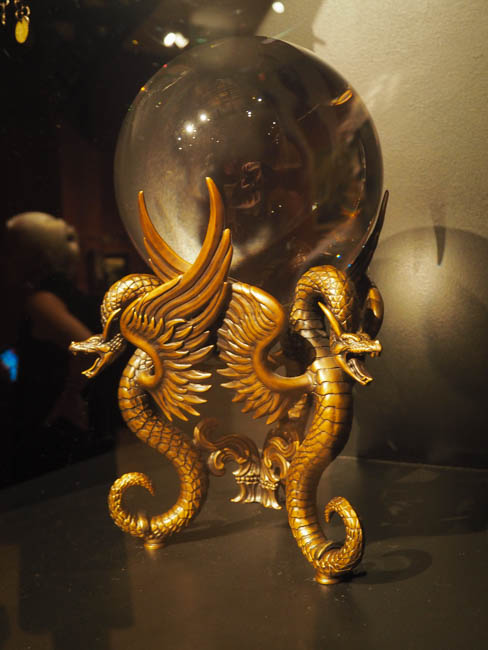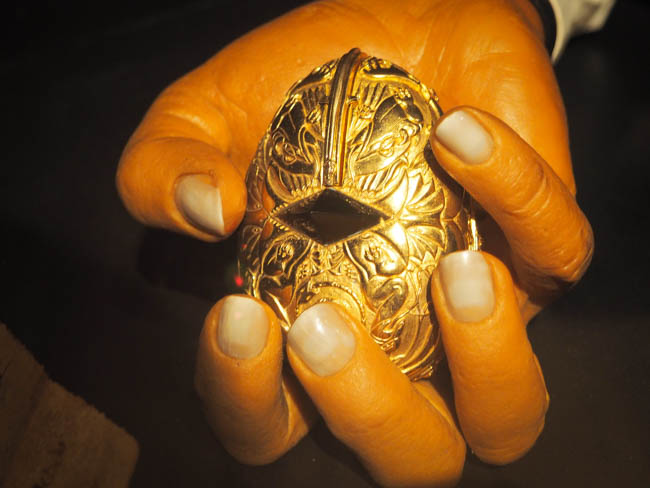 Cronos device from Cronos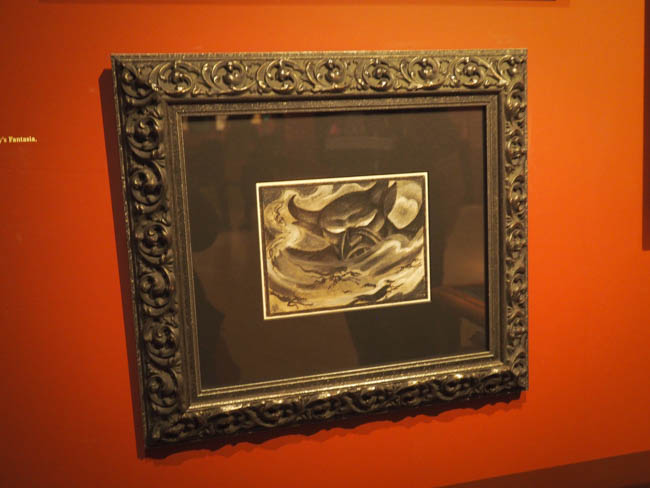 Hey, Night on Bald Mountain was my favorite part of Fantasia, too!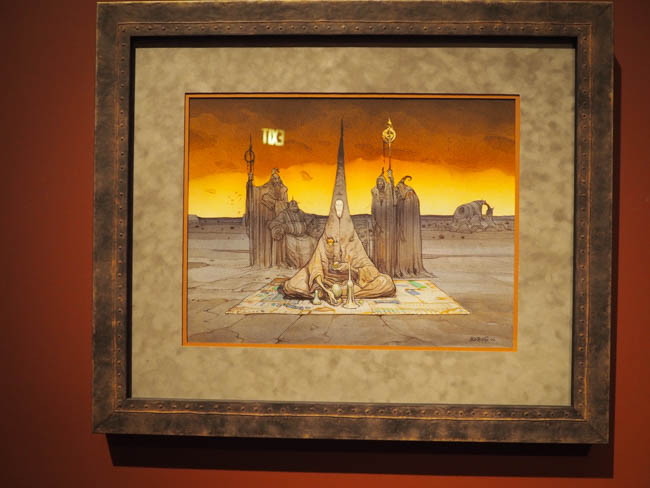 The Great Ancestors, Mœbius (Jean Giraud)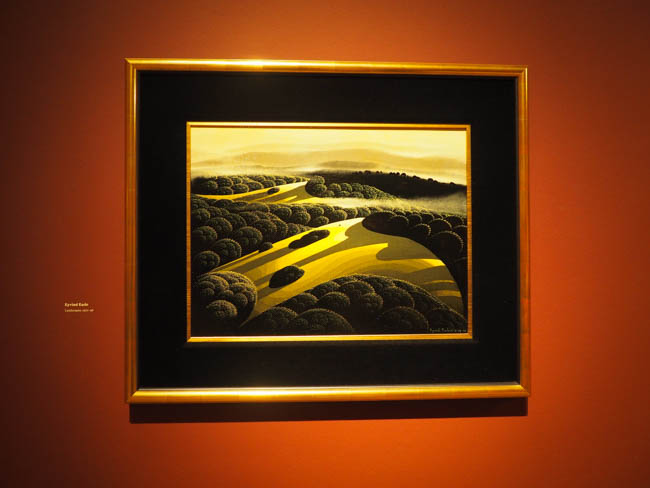 Landscapes, Eyvind Earle
The exhibit also had a number of pieces by Eyvind Earle, most noted for his work as a Disney background artist in the 50s. He did all the styling, background art, and color for Sleeping Beauty, which is actually one of my favorite Disney movies on styling alone. His artwork is gorgeous, but more than anything, I couldn't believe how much the black velvet matting complemented the work, making it stand out in truly extraordinary fashion. I've generally been opposed to matting any artwork I buy, for a bunch of reasons–it'll require a bigger frame which is more expensive, takes more space on the wall, mat board is stupid expensive for what it is, generally I don't think it puts much on the table given its downsides, but primarily, I just plain hate cutting mat board. My high school art projects always had the shabbiest mat job, cutting straight crisp lines is evidently beyond me. But this black velvet is making me reconsider my mat stance, it's that striking.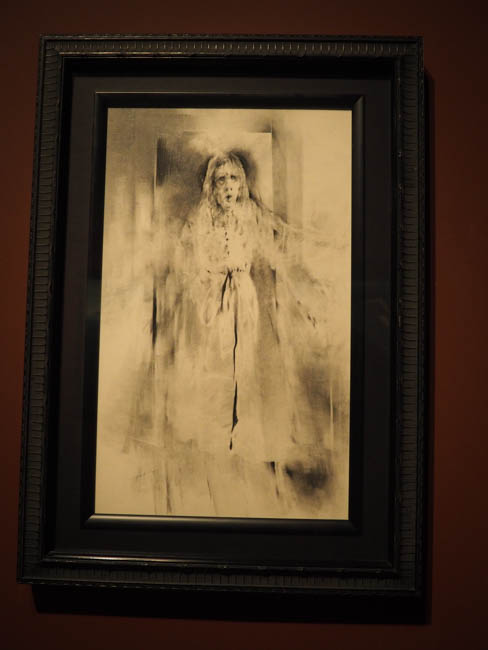 Clinkity-Clink, Stephen Gammell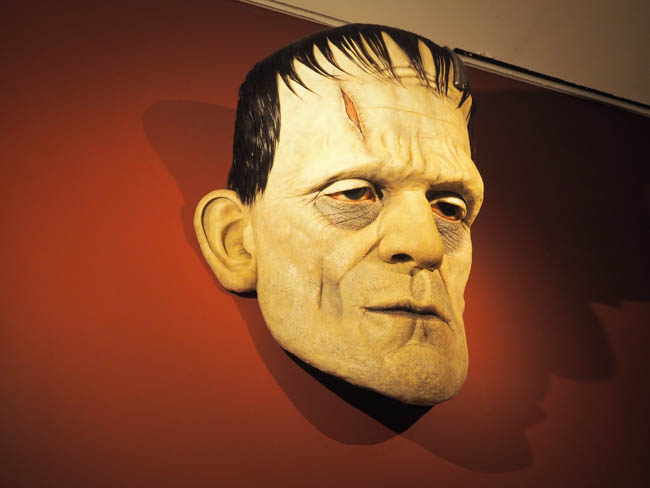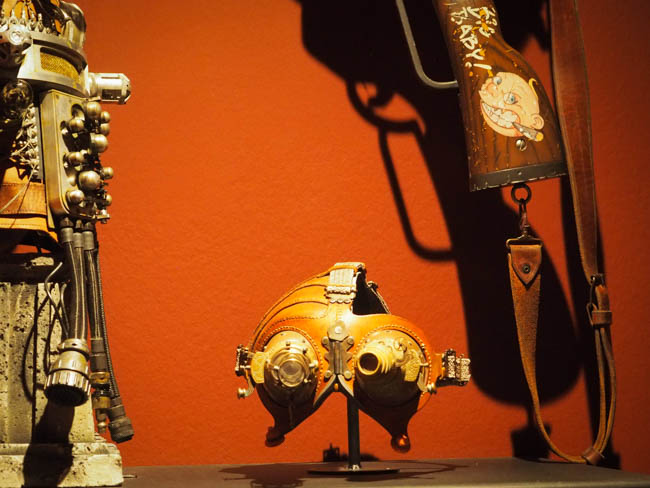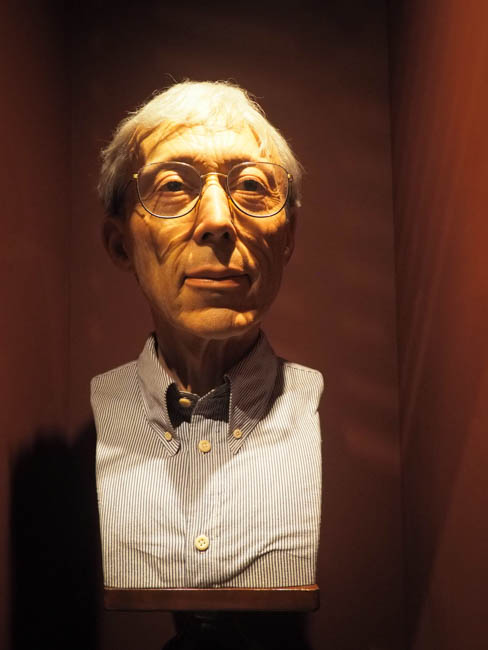 Dick Smith, father of modern makeup effects. Bust by Kazuhiro Tsuji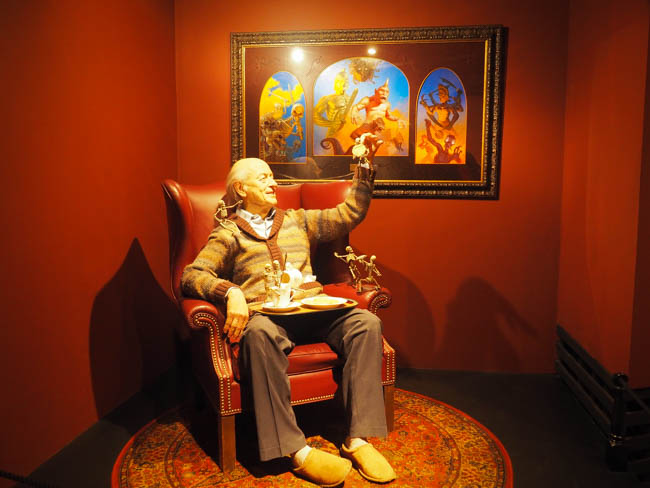 Ray Harryhausen, sculpture by Mike Hill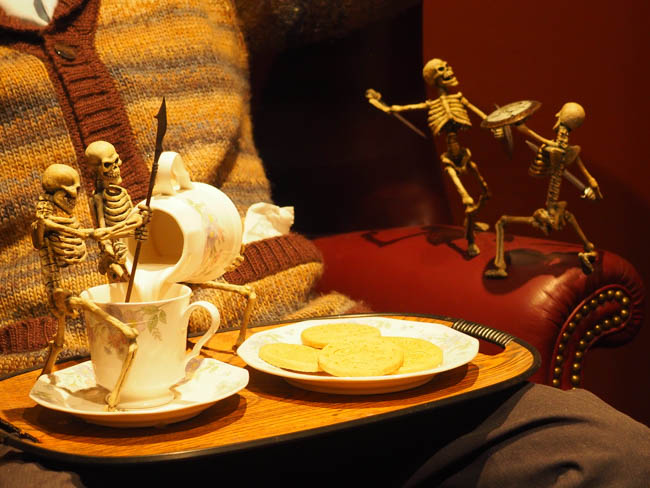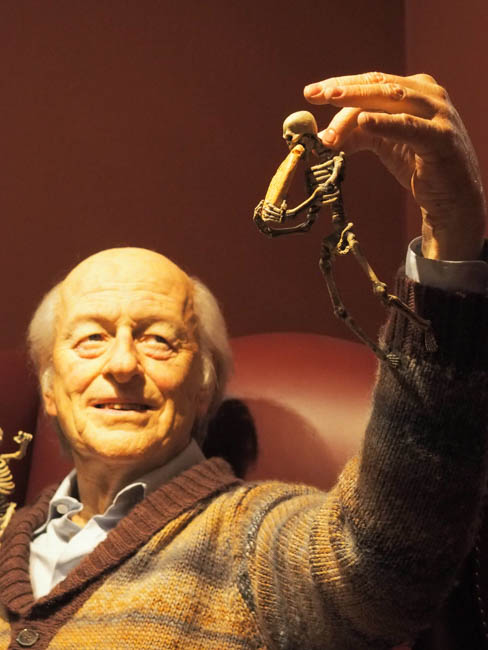 God, I love this cookie-stealing skeleton.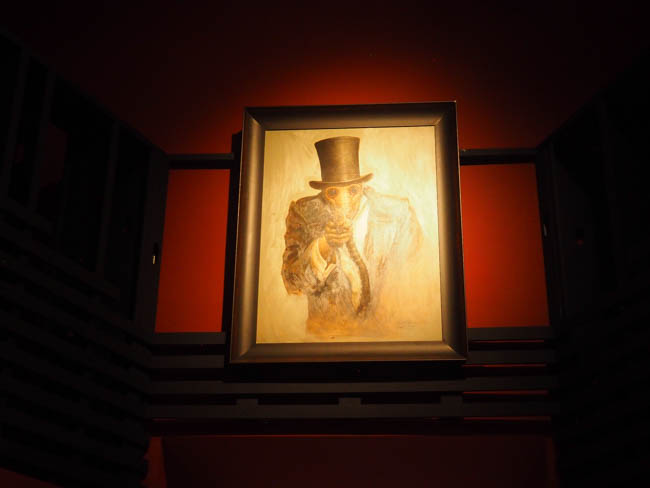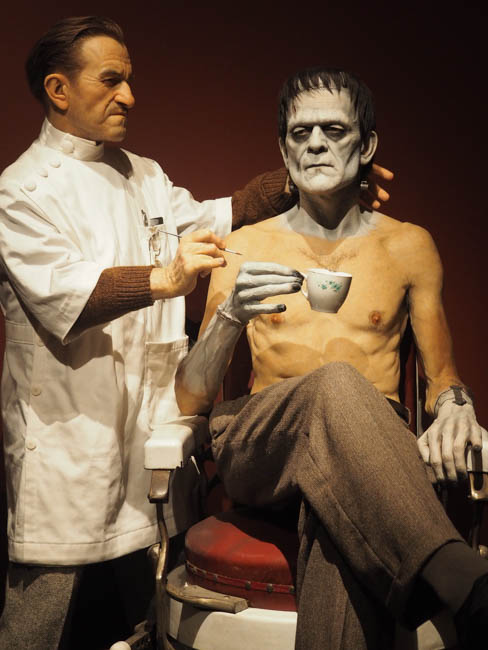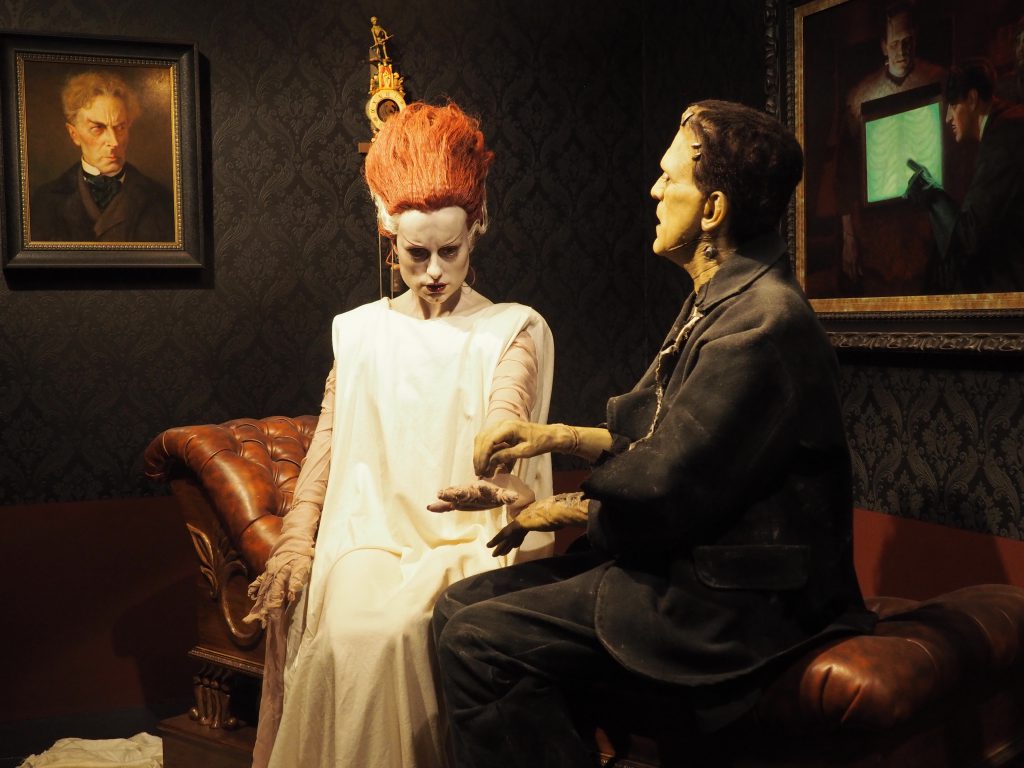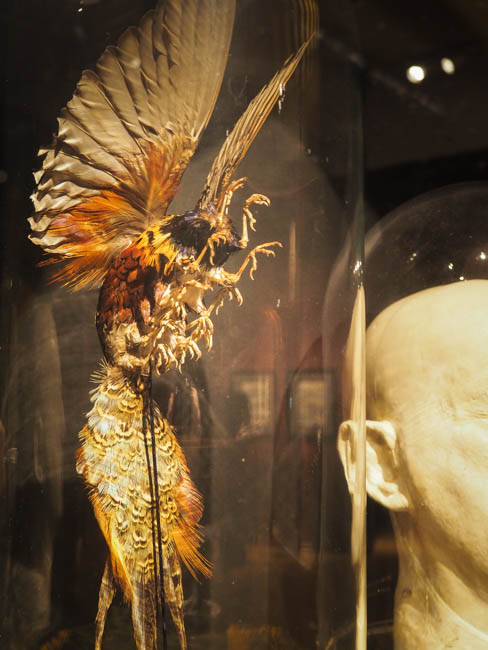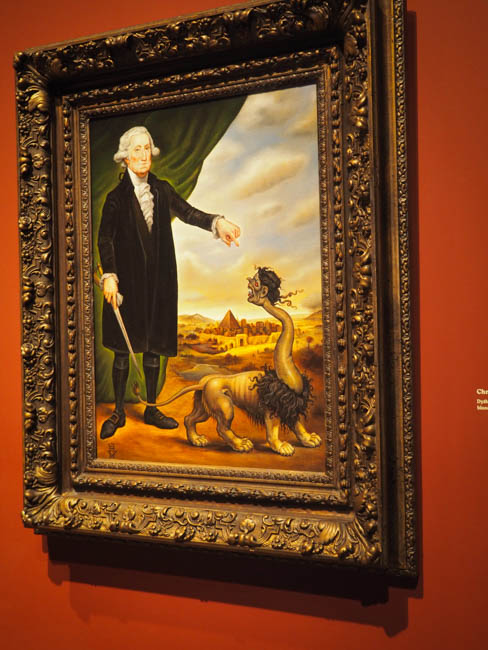 Dystopia! "Feed my beast with your blood", Christopher Ulrich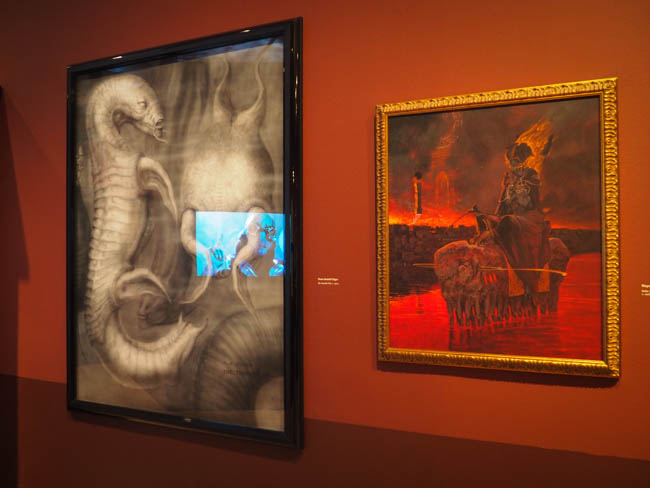 l-r: The Tourist VIII, H R Giger, Duke Agares Seated atop a Shuffler, Wayne Barlowe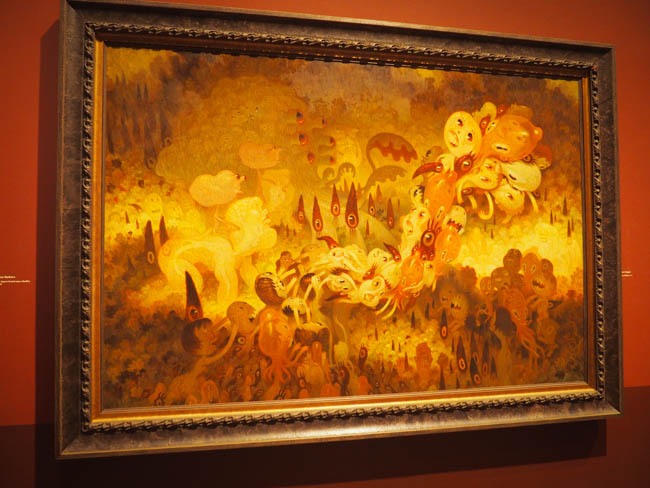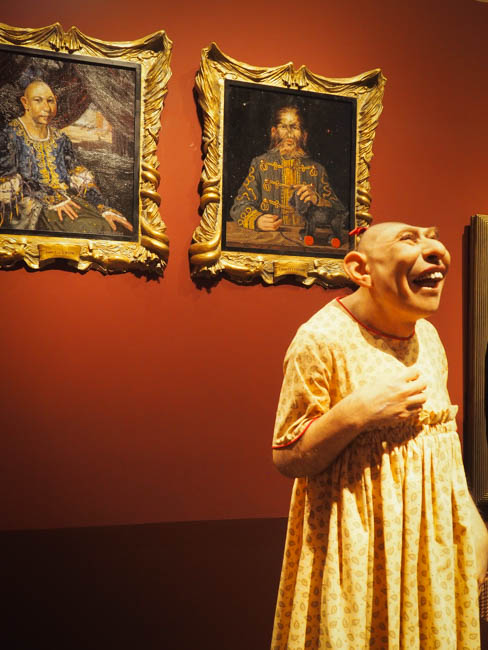 On the wall l-r: Pip and Jo-Jo the Dog-Faced Boy by Gail Potocki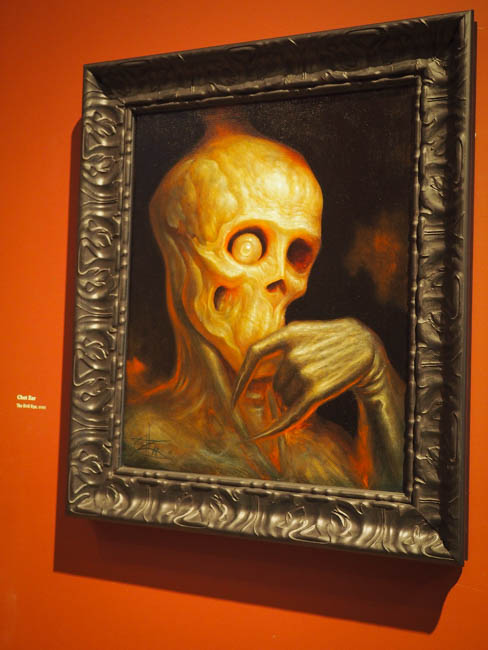 The Evil Eye, Chet Zar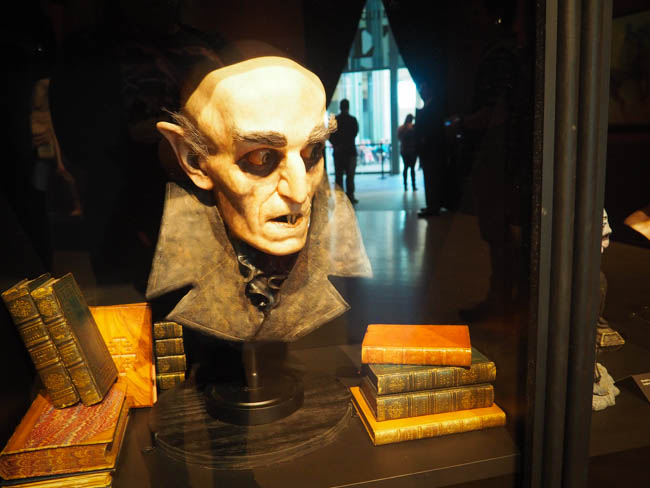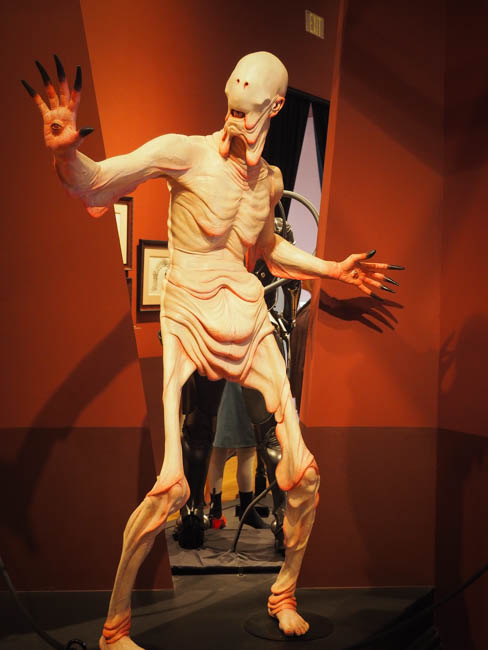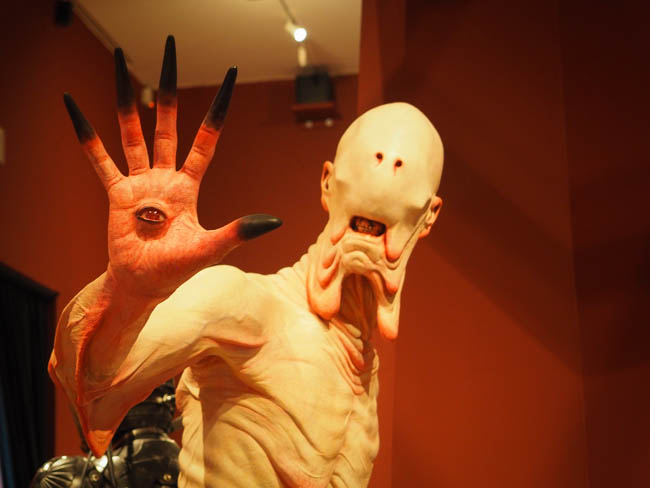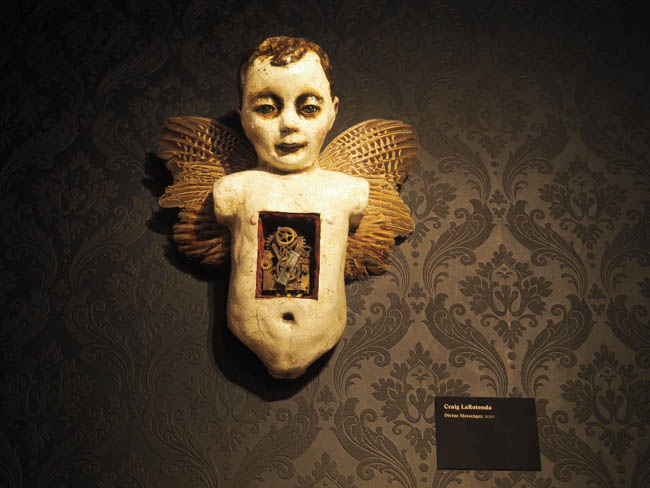 Divine Messenger, Craig LaRotonda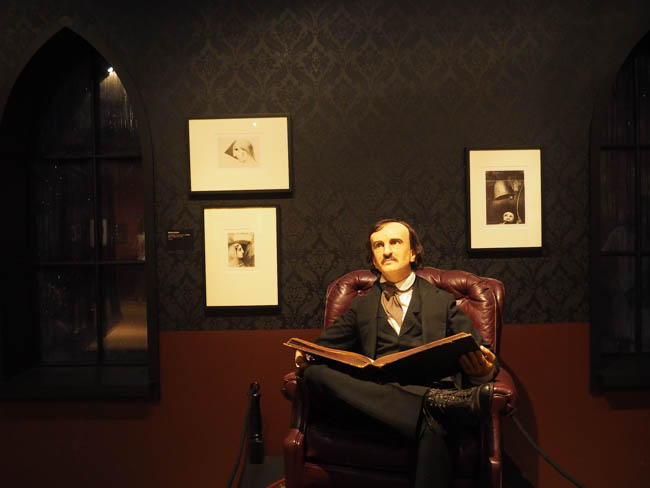 The "rain room". Droplets of silicone are adhered to the outside of the windows to give them a rain streaked appearance, and a projector and sound system handle the rest of the rain effect.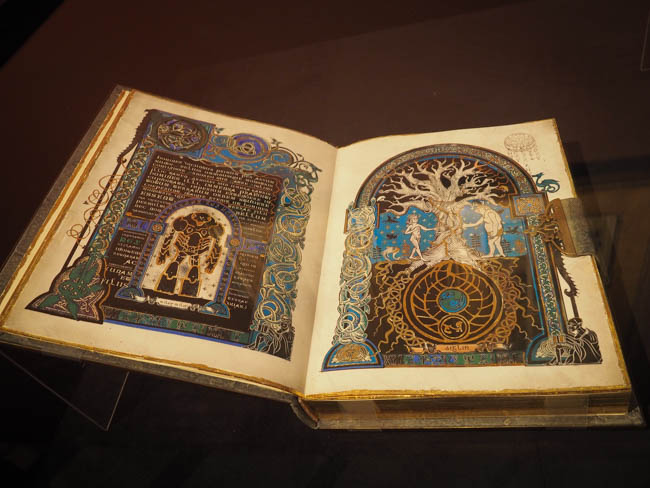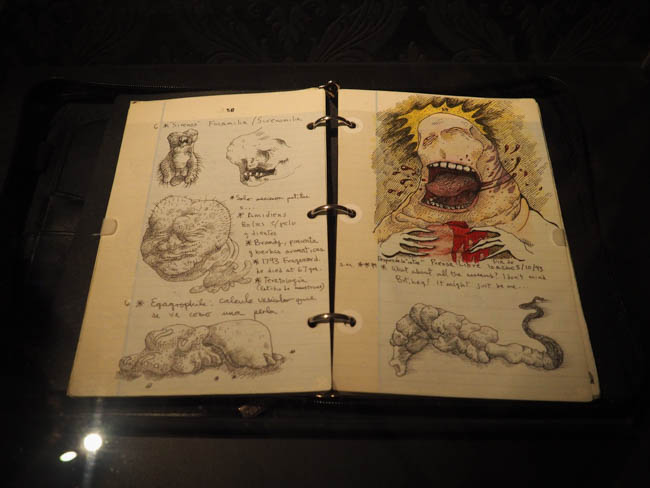 Another of del Toro's sketchbooks
One of the most impactful statements in the exhibit for me was a quote from del Toro: "As a kid," the filmmaker recalls, "I dreamed of having a house with secret passages and a room where it rained twenty-four hours a day. The point of being over forty is to fulfill the desires you've been harboring since you were seven."
If that's what the post-forty life looks like, sign me up. I can't wait until I get my unicorn.
The del Toro exhibit is at LACMA through November 27th, after which it will move to the following cities (dates TBA): Minneapolis, Toronto, Mexico City, Barcelona, Paris, New York City
Save
Save
Save
Save
Save
Save