It's the mooooost wonderfulll tiiiime of the yeeeear
When the store shelves are loaded
with skulls and fake blood and so much pumpkin beeeeeer
It's the mooooost wonderfulll tiiiime of the yeeeear
It's convenient that my two favorite yearly celebrations are nearly exactly six months apart–my birthday and Halloween, which gives me time to get super pumped, make big plans, do something over the top to celebrate, and then recover before getting super pumped again. And, you know, maybe do some other stuff in between if there's time. I will acknowledge that my birthday celebration is a wholly selfish endeavor (me, me, look at meeeeee), but Halloween? Halloween is about sharing my love of the spooky with everyone who will allow it, whether that's organizing a trip to a corn maze, giving out king size candy bars to trick or treaters, or decorating my yard so much that my house is starting to get a reputation. Seriously, this summer when I was out gardening, a woman walked by with her children. As they passed me, one of the kids said something that I didn't understand–the mom explained that he was asking where the spiders were, that every time she walks past our house he asks where the spiders are, and she tells him that I only put them out at Halloween.  I'm pretty stoked to be known as the spider house, not gonna lie. Plus, I'm playing the long game: these kids are going to grow up remembering that my house is the awesome Halloween house, and when they're teenagers, they'll probably pick a different house's fence to pee on or lawn to start on fire with axe body spray.
I will admit I've been stalking retail establishments for Halloween goods since early August, because building a truly spooky home takes passion, commitment, and a willingness to elbow your fellow shopper in the face over the only skull cake stand on the shelves. It also helps build anticipation for the holiday in me, gets me plotting on larger projects to build, and maybe even gets my wheels spinning on a costume. I think my two favorite places for Halloween stuff are Home Goods and Target–both places have stuff that could potentially make it into the year round collection. Home Goods is especially great because they get new, different stuff every week, and it starts rolling out as early as mid-August. Target's stuff can be good, but their stocking is also a little frustrationg: even though everything shows up on their website in August with a bunch of cool things that are store only (which gets me even more pumped), they're easily the last place to get their Halloween stuff out in store (gotta squeeze every last nickel out of back to school), and so after a month of anticipation, I find that the things I was most interested in buying aren't stocked anywhere within 100 miles of me. DAMN YOUUUU!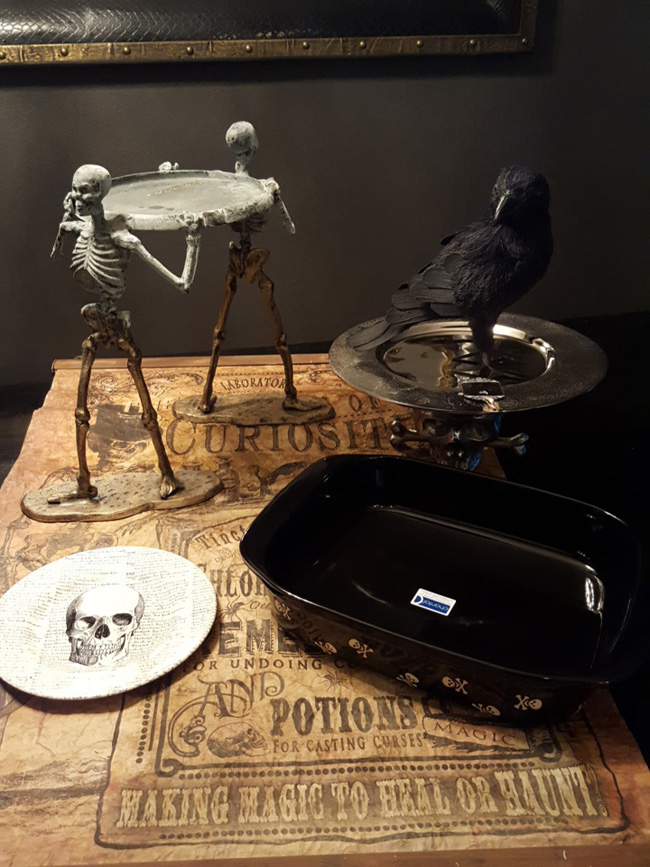 I didn't elbow anyone over this skull cake stand, but it WAS the only one on the shelf, and almost immediately after it was in my basket, someone else came to ogle it and asked where I got it. MINE.

Anyway, after two solid months of getting pumped up, once October finally rolls around, my spirit and enthusiasm for projects I've been working on can start to wane a bit, which is both understandable (it's hard to maintain a manic level of pumpedness for a full quarter of a year) and a little ridiculous (given that it's finally close to the thing that I was so damn pumped about for two months straight already). So each Friday this month, I'm going post about the stuff that I've worked on, stuff I've done in the Halloween spirit, and any macabre media I've been taking in to remember the season and keep it spooky.
When doing my yard decorations, I always try to straddle the line between creepy and fun–I don't want to make anyone pee their pants or give anyone nightmares with over the top gore. It's totally fine by me if that's what other people want to do, but it's not my style. And now that I have the capability to build more sizeable decorations, I don't want to necessarily leap from theme to theme and end up with an entire storage unit's worth of Halloween decorations, only some of which are reused*. And I also didn't want to have to theme my costume to my yard every year, which would be super limiting. AND I didn't want to have to do an insane push to build a whole new yard display every year, so instead, I'm doing a vaguely Tim Burton yard, which I'll add to each year as the mood strikes me to build something. It fits that spooky but not gruesome mold I'm going for, and there's a large library of references to draw from. This year, I'm focusing on The Nightmare Before Christmas**. So far, I've built: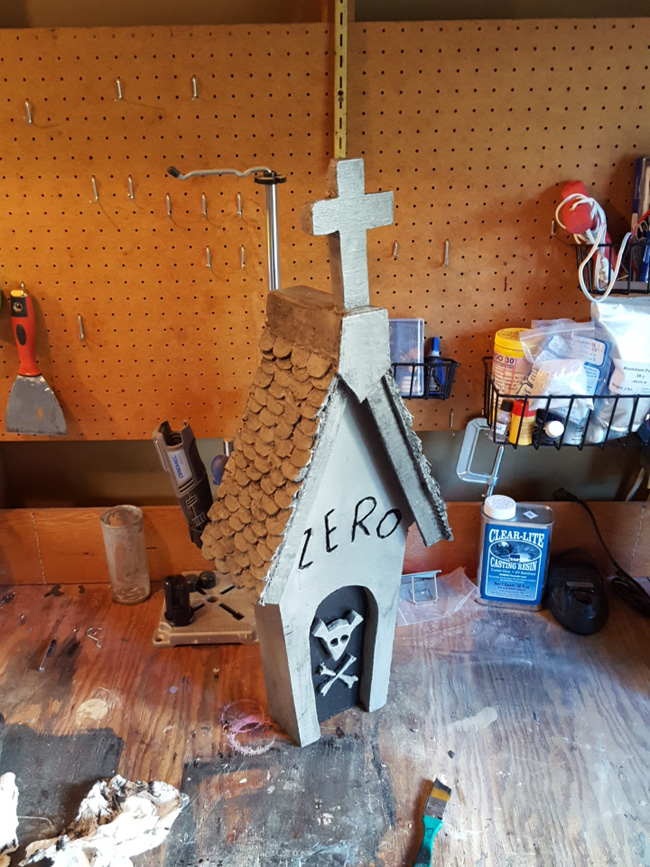 Zero's tombstone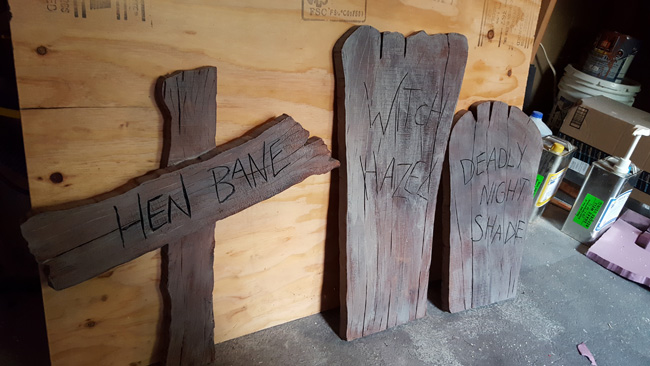 Sally's herb signs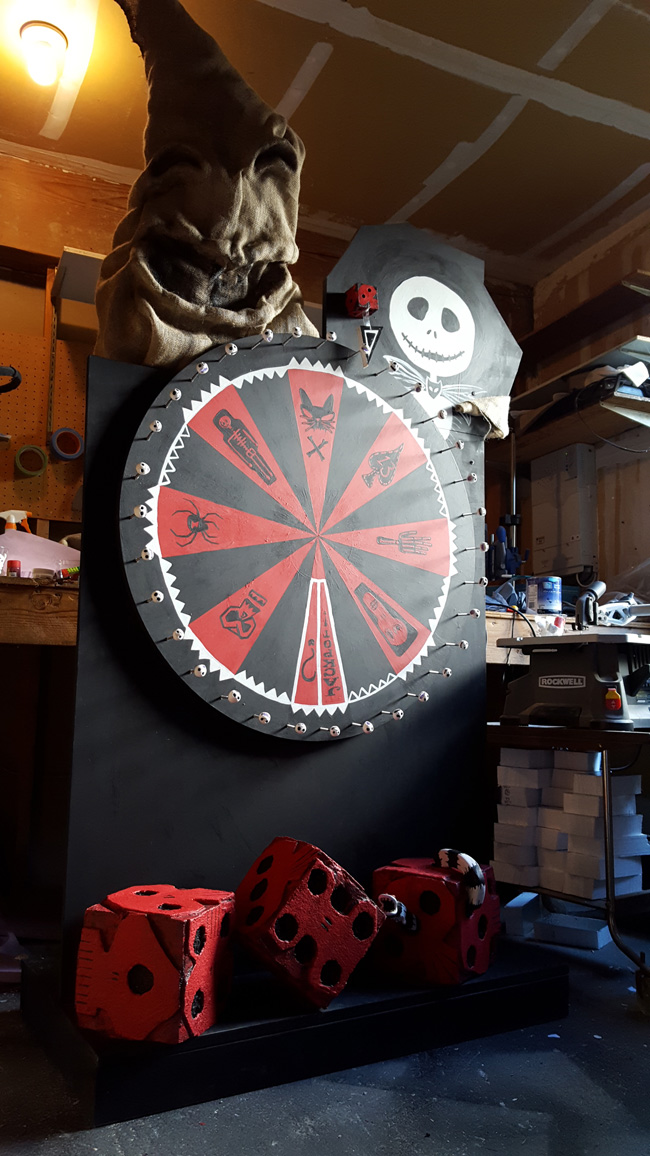 Oogie Boogie's Wheel of Candy
The candy wheel was obviously a lot more involved than the other two. The wheel is hand painted, I sculpted, molded, cast, and painted every single tiny Jack Skellington face on the pegs, I carved and finished the foam dice and black and white newt monster thing, and I made Oogie out of burlap and wire, burning myself pretty well with a glue gun while I was at it. Trick or Treaters are going to spin this baby to determine their candy haul–I still need to attach labels for various candy, but that needs to wait until I've actually bought the bulk of the candy, which I'll do at some point next week. I did take a trip to Vancouver to buy some spooky-themed Canadian candy for the question mark slot, because what's more exciting and mysterious than a whole new kind of candy you've never seen before? I also want to make sure those Skellington faces are firmly attached so they don't go flying off with vigorous spins.
I'm also working on some other yard stuff but none of it looks like anything yet, so it'll be posted if and when I finish it on a future Friday.
I also made, assembled, and delivered invitations for my Halloween game night party this week (all but a couple, which I need to get in the mail ASAP because the doorsteps in question are controlled access so I can't drop them off like I did the others). I bought the coffins premade, which I then disassembled, woodburned, stained, painted, and reassembled. I then made an oogie boogie die from apoxie sculpt and learned to make a two part silicone mold so I could cast it in resin, which was definitely a learning process for me. I ended up having to make two masters and two silicone molds because I hated the way the first one turned out–the first master was, in retrospect, just OK, and the mold wasn't super well done which made an OK sculpt cast even more poorly. Once the dice were cast, they needed to be sanded and airbrushed. The invites themselves are on the face of the skull cards, and I threw in a gold coin because I felt like it needed something else. I was going to customize poker chips but honestly, these were enough work already and it was more important that I get them out in a timely fashion so as not to arrive after people have already accepted other Halloween night invitations.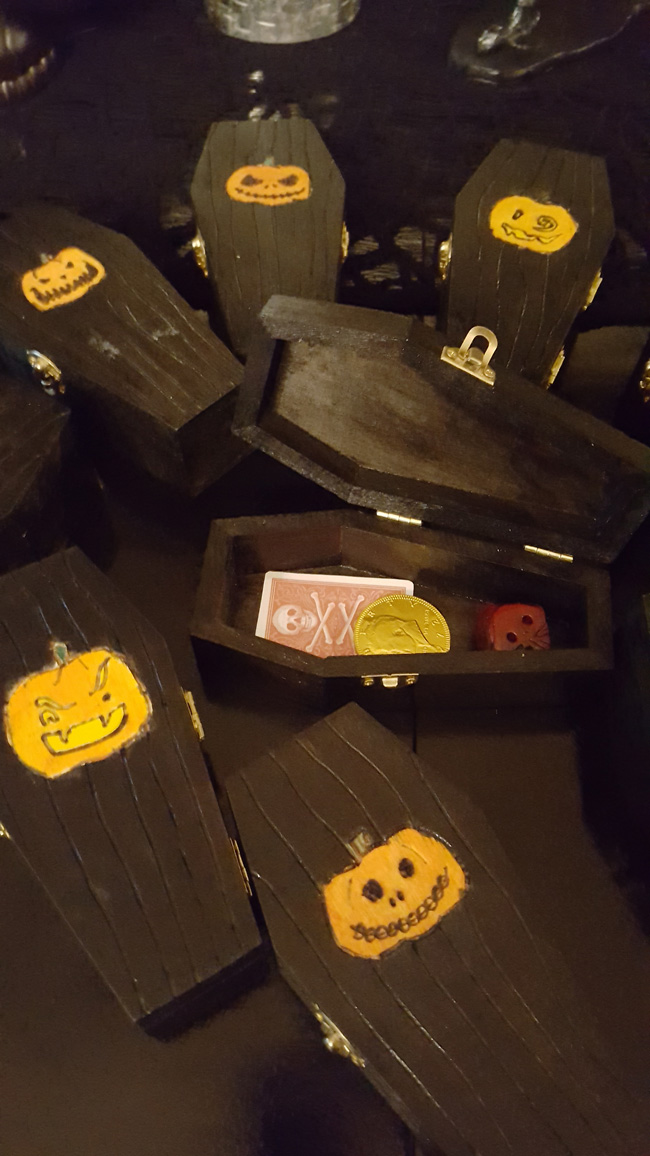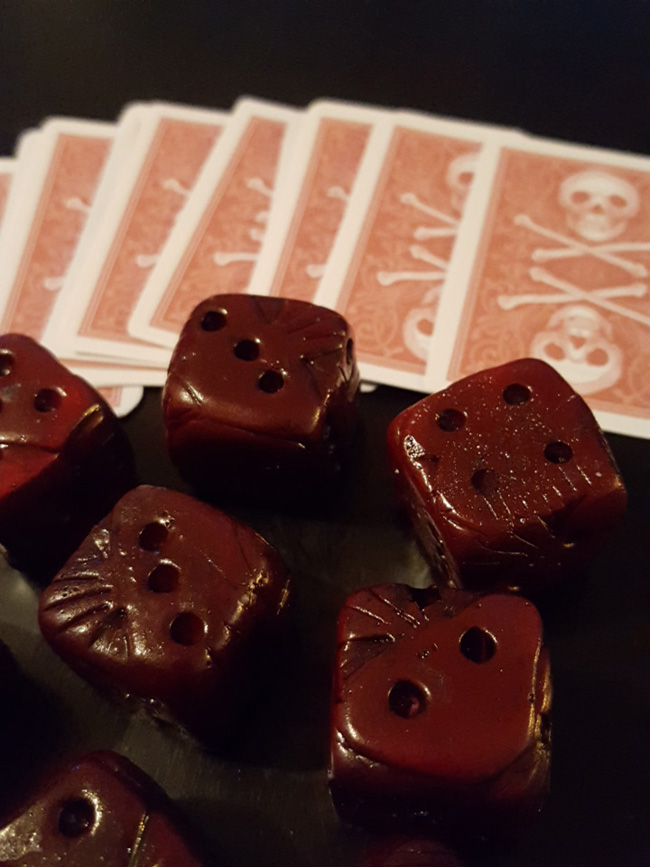 I bought some fabric with skulls and pumpkins that screamed neither skull nor pumpkin(spooky, but somewhat subtlely so) which I used to make pillows for the living room. I had some scrap left over, so I made pillows for Napoleon's bed, which he infrequently uses but I pretend he appreciates anyway.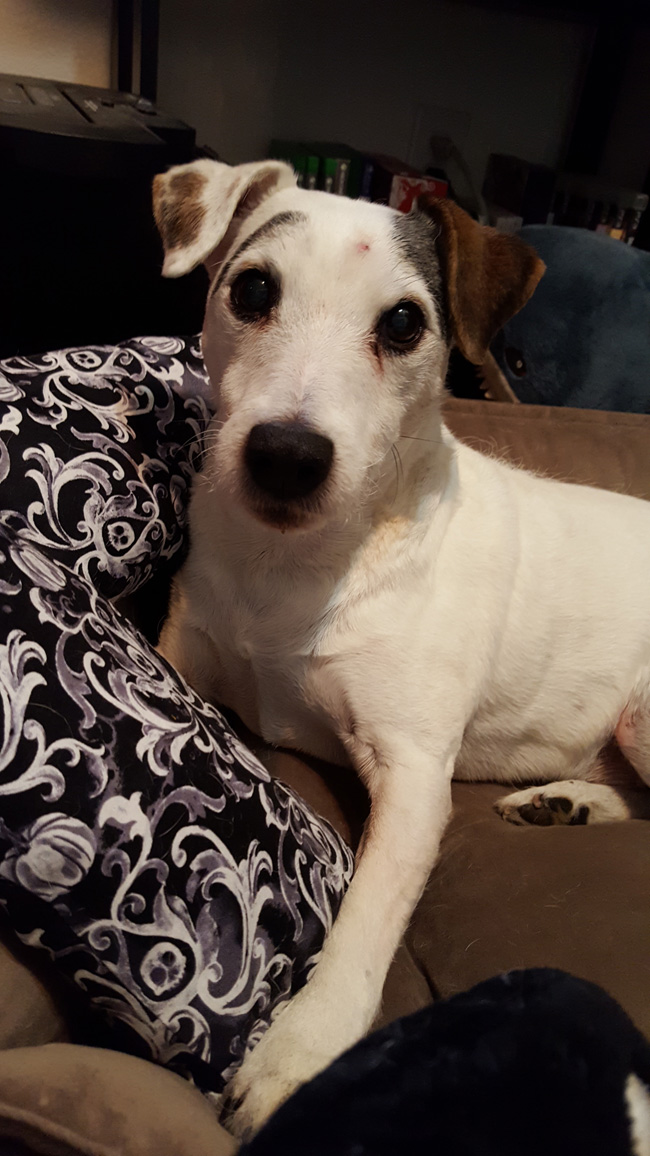 I also decorated the house, and I'm proud of myself for waiting this long to do it. It's been fun turning on all the spooky lights every evening to watch movies/TV. So far, not much spooky media has been happening in this room (I blame Luke Cage) but as I wrapped that up earlier this week, the full supernatural barrage of my regular programming can begin.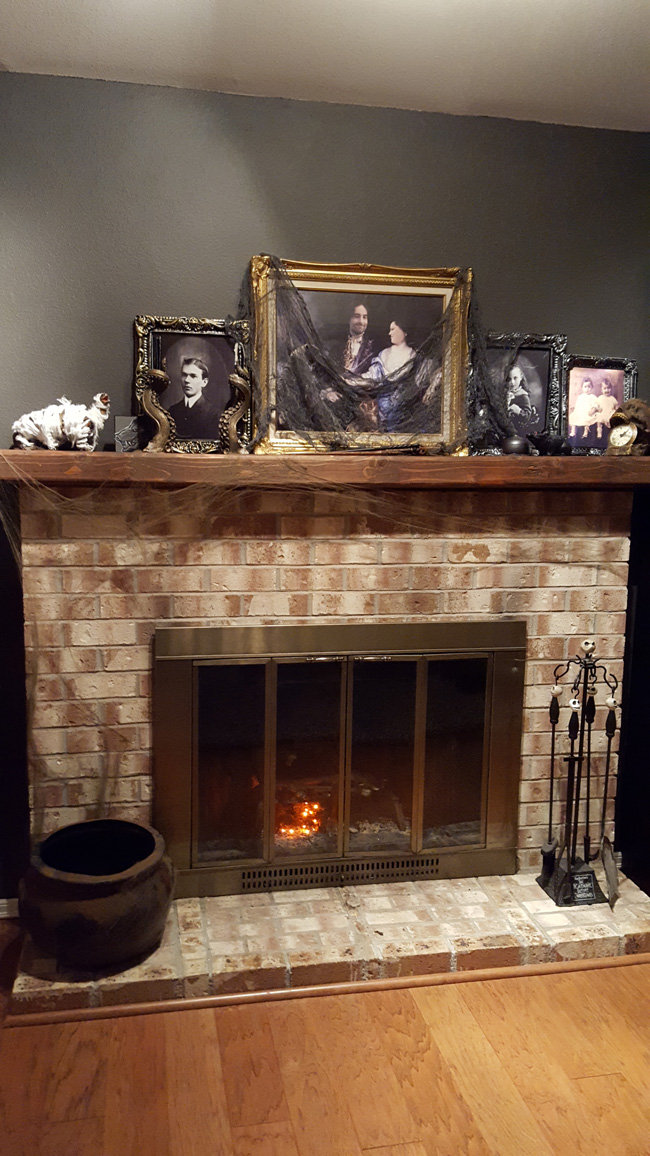 Yes, Gibralter is dressed up as a mummy. T-Rex costume forthcoming.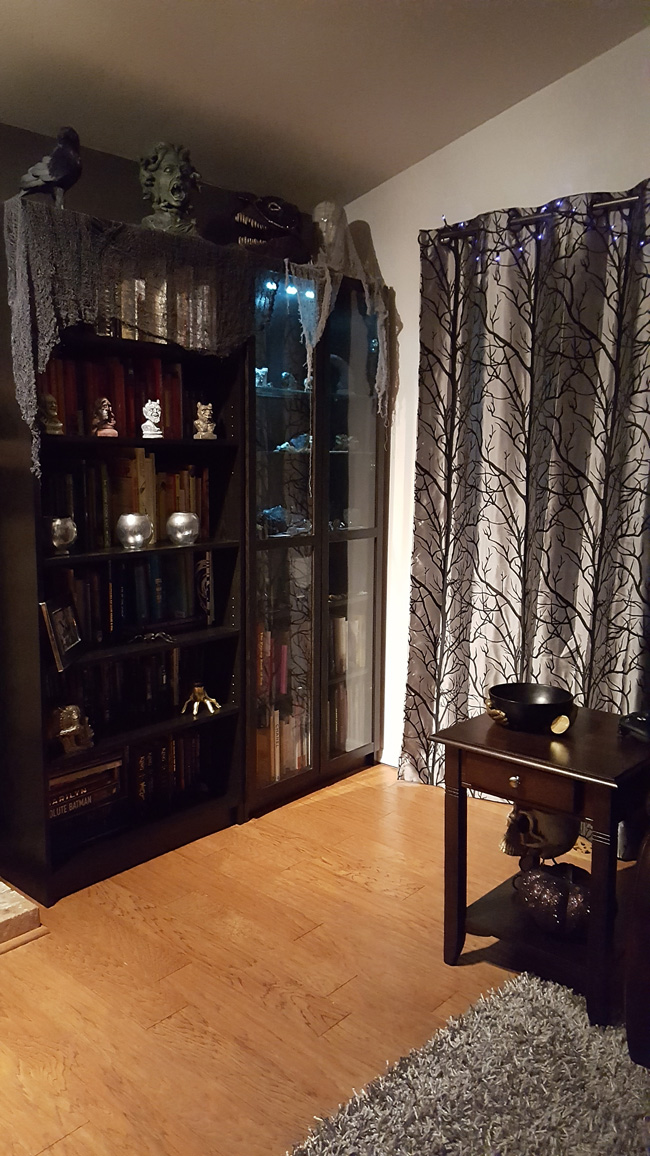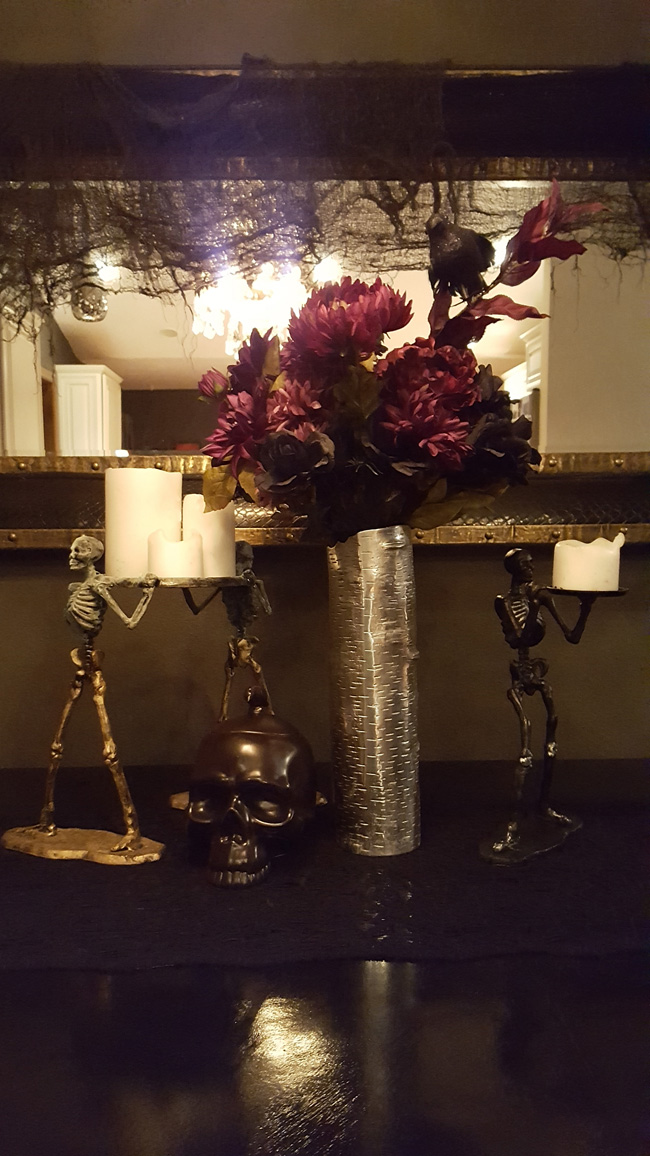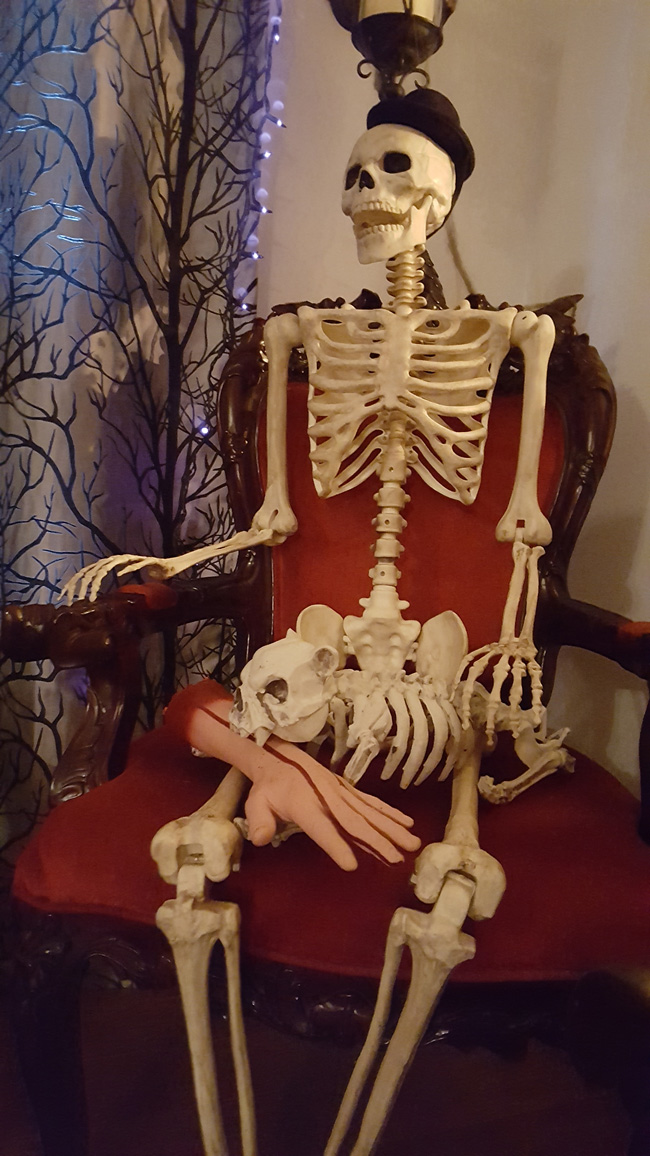 Lord Farnswoggle, Earl of Cumberbunch, and his faithful companion, Nipper. I'm thinking that he still needs a moustache and a monocle.
This coming week, I'm planning on continuing work on both yard stuff and my costume. My costume is almost completed, but I'm definitely at a place of fatigue with it at the moment. Why is it that every idea I've had for costuming lately involves making hundreds of something? I'm hoping to get the yard decorated this weekend. This week I'm also planning on making time to get caught up on the Monstress comics, maybe continue watching Penny Dreadful (I want to like it, but it really has yet to grab me which means it probably never will), and the rest is TBD. Just typing all this out has helped raise my spirits!
*I am fine with filling a shed in the yard with decorations though, and it'll probably come to that so as not to make it impossible to get at non-Halloween stuff like bikes and the recycling bin and the water shut-off.
**Since it's Nightmare Before CHRISTMAS and all, does that mean I can leave it out until January?
Save
Save