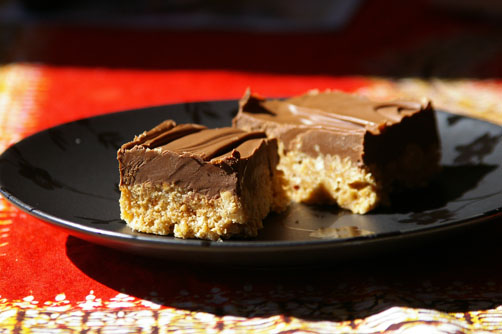 Special K Bars
Aaah, there's nothing like a recipe that involves the addition of premade, processed foods, particularly if it's a "diet" food, because as everyone knows, its inclusion automatically makes the final recipe a diet food. In fact, the massive gutache you get after eating a bunch of these and little else is just the diet working for you. Who wants to cleanse with lemonade if they can do it with chocolate?
1 cup sugar
1 cup light Karo syrup (Light=healthy)
1 cup crunchy peanut butter (The more processed, the better. None of this "natural" peanut butter crap)
1 tsp. salt
1 tsp. vanilla
5-6 cups Special K
1 large package chocolate chips
1 package butterscotch chips
Boil the sugar in the light karo syrup. When the boil begins rolling, stop and mix in the peanut butter, salt, and vanilla. I find it's helpful to have the PB, salt, and vanilla premeasured and set aside so you spend less time dinking over skin-melting levels of hot sugar. Then, mix in the Special K and pat into a 9×13 pan. Melt chips together and pour on top. Make some sort of swirly design on top with a spatula if you want. It's your diet! If you're taking if off very soon to some sort of pot-luck gathering, it can be put into the fridge for a while to set up the chocolate. Otherwise, the chocolate will set up just fine at room temperature. Cut into bars, or eat with a spoon. It is cereal-based, after all.