Last night I made strawberry jam and a strawberry-rhubarb pie. The jam-making went just fine, though with strawberry mixture AND water boiling for a good long while, my apartment felt like a Roman bathhouse. I hadn't quite realized how hot it had gotten in my place–when I opened my freezer, cold air billowed out visibly, which is normal-ish for a freezer. Not so much so for a refrigerator, which also puffed out clouds of cold air.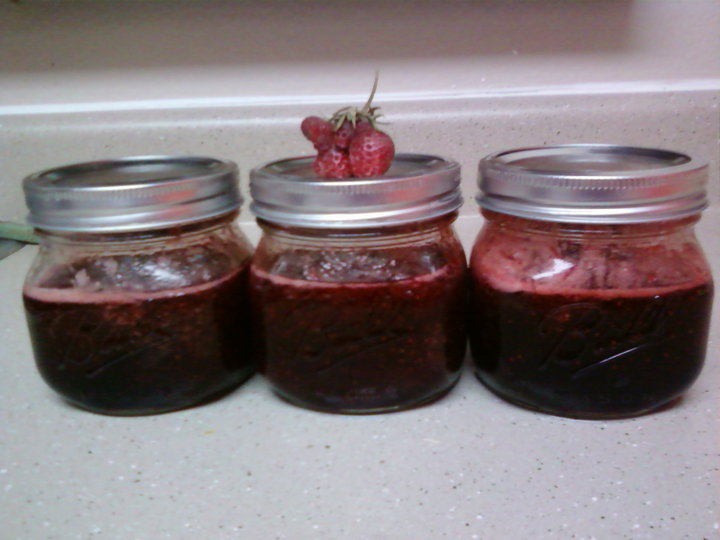 Mmmm, great big widemouth jars of Washington strawberry jam.
By the time I finally got the dough and the filling ready for the pie, it was approaching 11pm. I don't know if it was a failing of the recipe or a failing of my own at that point, but I remember thinking that it seemed like too much filling had been made, and not quite enough crust. The liquid in the filling crept out over the edges, which made me a little concerned, so I used a baster to remove some of the juice. I covered the edges in foil and popped it into the oven. Thirty minutes later, tendrils of smoke started curling out of the oven.
Uh oh.
Maybe a little filling dripped down and it was burning off.
The smoke started becoming heavier and more insistent.
Shit shit shit.
Why oh why doesn't my oven have a peep window so I can see what's going on inside? Oh right, because it was manufactured in the seventies when that icky almond color and faux wood paneling were sooooo chic and window ovens were a dream of the distant future, like sex robots and video games where you could actually tell what the sprites were supposed to be.
Still hovering on the edge of panic, I walked over to the oven and cracked the door to see if perhaps I'd managed to conjure up Satan, and found something MUCH more horrible. The filling had ERUPTED out of this pie. Filling everywhere, rapidly growing in volume like The Blob, wrapping itself around the heating elements and smoking like a prisoner in front of a firing squad. I had two choices…potentially underbake the pie or burn down my apartment.
Hmmm.
Underbake the pie.
Burn down the apartment.
They both had their unique appeal.
Eventually I decided that burning down the apartment could have some consequences I wasn't fully cognizent of at the moment, given the amount of smoke I'd already inhaled, and pulled out the pie.
The foil around the edges did a marvelous job…of pulling off the outer crust.
Shit shit shit.
It might be edible (I haven't tried it yet), but it sure isn't going to win any pie beauty contests; the swimsuit round will kill it.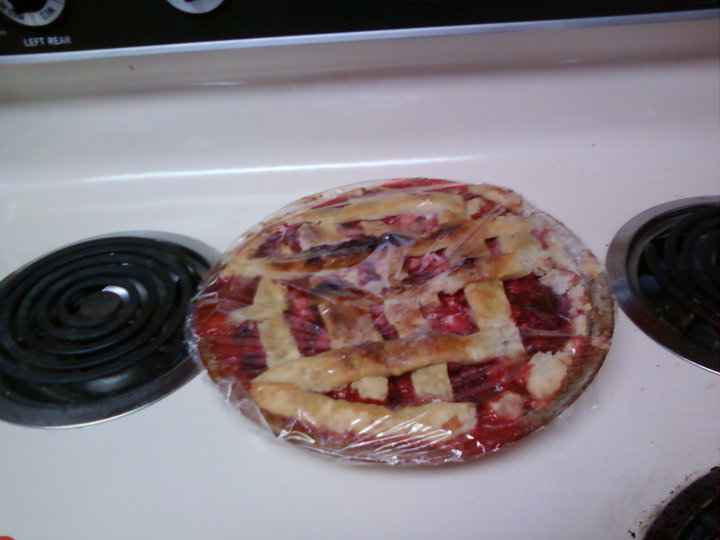 Either way, I know what I'm doing tonight.