On Saturday, Tristan & I went to see That 1 Guy on his 'Mustaches and Laser Beams' tour. Part of why I adore him is that it's evident he just picks out some things he thinks are fun, like fake mustaches and playing with laser beams and doing card tricks, and incorporates all of them into his show–his attempts at breakdancing have now been replaced with a mustache-based quick-change show.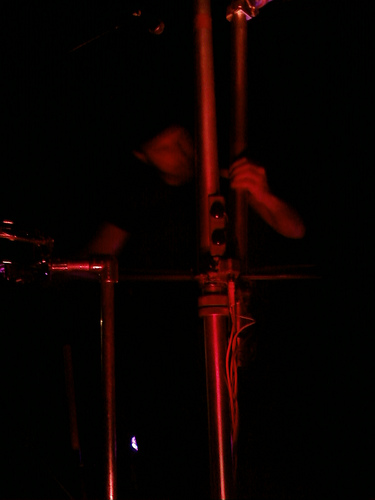 He also stopped in the middle of Weasel Potpie to talk to everyone about his biggest problem with the Star Wars prequels–not that they don't have many problems, but one was glaringly bigger than the rest–so, in the third one, after Yoda is finished fighting alongside the Wookiee army that, y'know, we just found out about, he stops and says "It's been an honor to fight beside you, King Chewbacca." How, exactly, does he go from being king to Han Solo's mechanic? HMM?
Yeah. You chew on that.
Since we both walked around in a bit of a eardrum-damage-induced haze the day after the Electric Six show, Tristan brought us fancy earplugs that still allow us to hear the music without being physically injured by the music, in the hopes that maybe neither one of us will be deaf by 40. The earplugs helped a LOT. It was novel to walk out of a show without my ears ringing, and for those of you who insist that earplugs are totally not punk rock, I will let you in on a secret: neither are hearing aids.
That 1 Guy had a performer who goes by the name Heatbox open for him, and through beatboxing and the help of some looping equipment, he put on a really entertaining show–I'd never heard anyone beatbox the tetris theme before. And when he came back onstage to jam with Mike in the encore, I'd never heard such a funky, rocking version of Hava Nagila before!
Any show that you walk into sans mustache and leave WITH a mustache, ladies and gentlemen, is a good show. Unless it's a dirty sanchez. Fuck those kinds of shows.