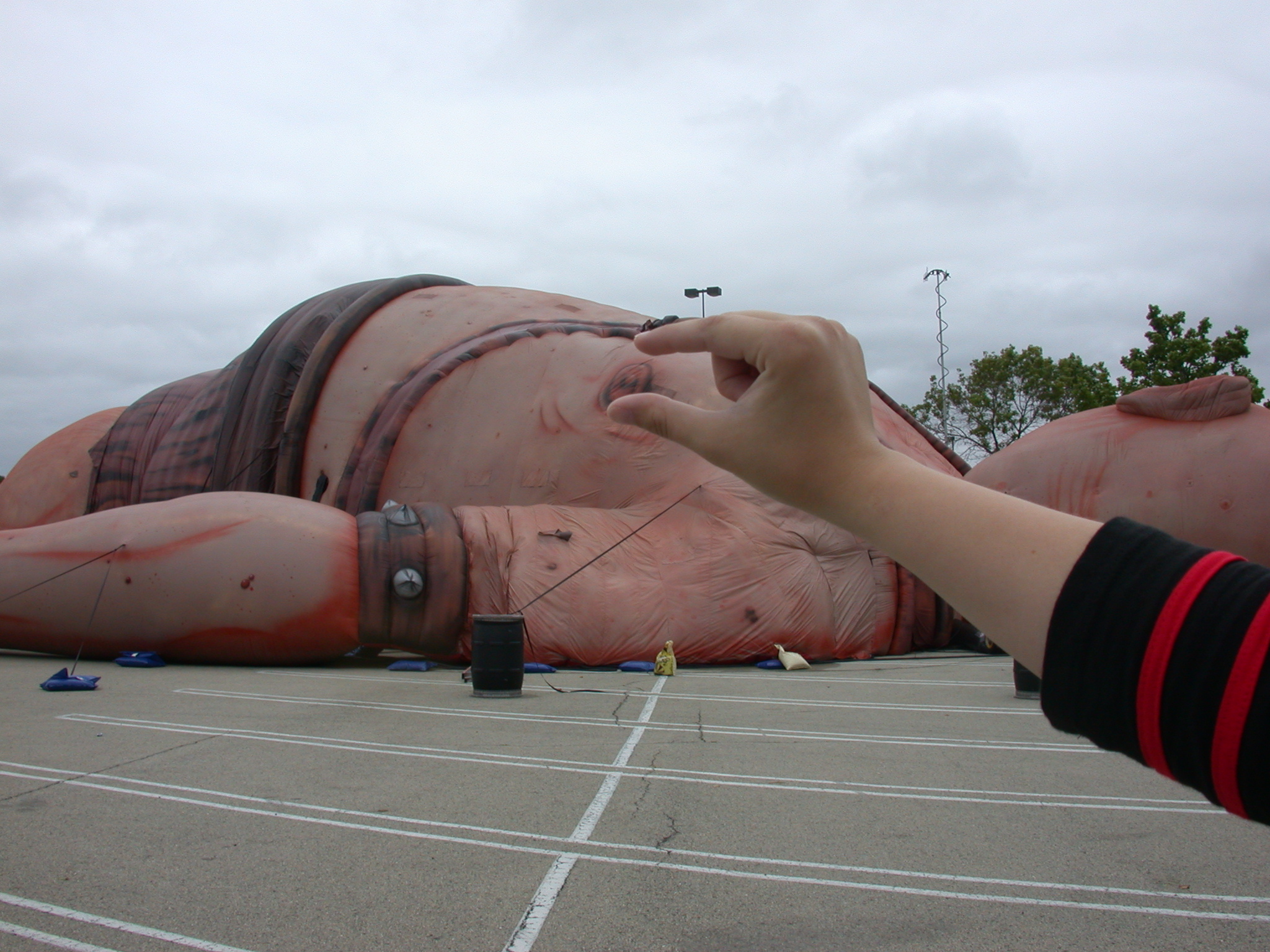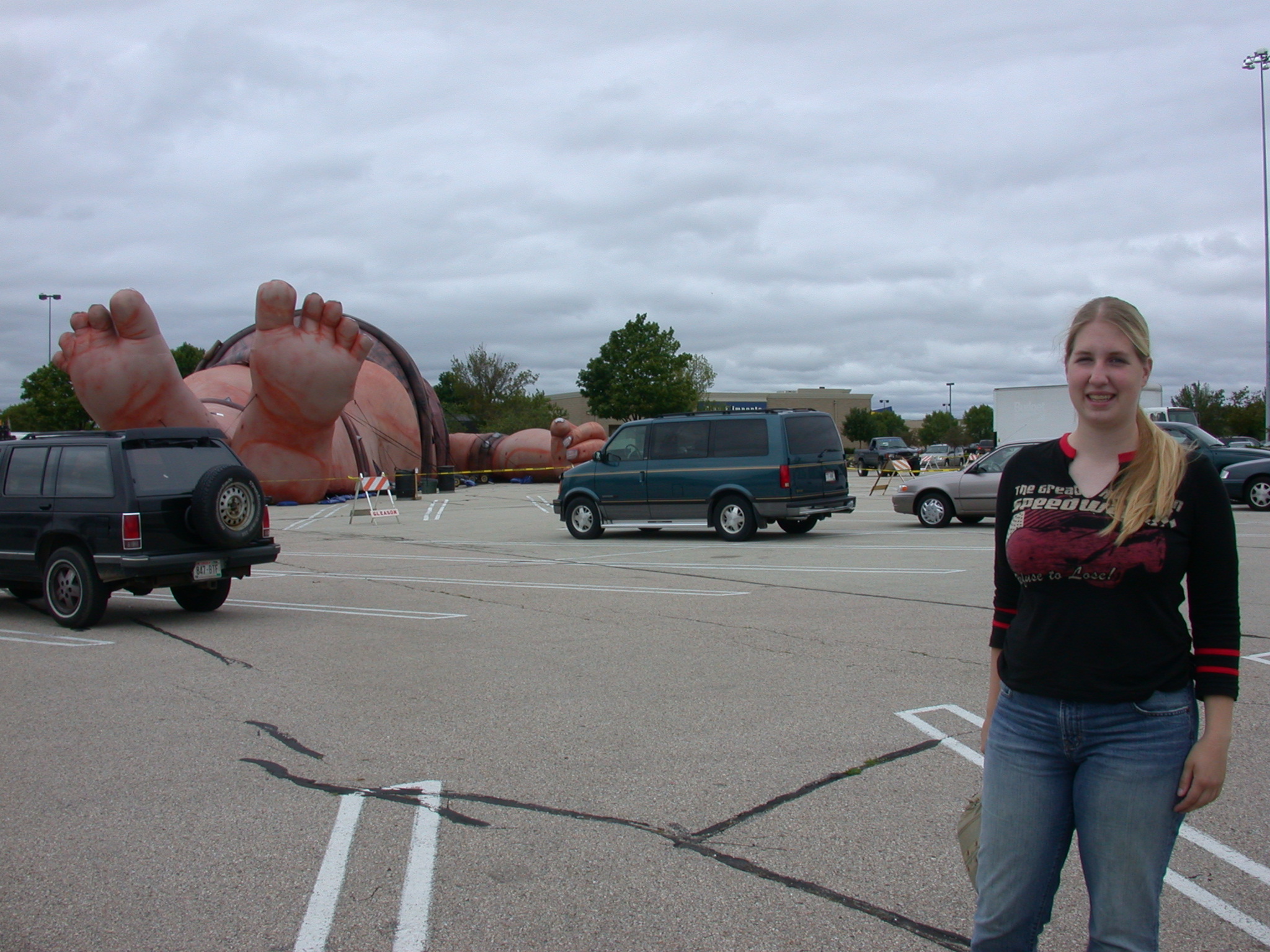 Today Lesley and I went to this thing called the Fallen Giant (http://www.fallengiant.com/) and went there with the understanding that it would either be very very cool, or very very lame. Lesley leaned toward lame. I, an occasional optimist, leaned toward cool. 95 WROCK was there doing promotions, and I finally got to ask them if it was true, if they only have five cds there that they play over and over and over again. Pressured, they spilled the beans–they only have ONE cd. And I believe it.
So it's this huge inflatable giant that you walk around inside of–through the brain and the intestines and whatnot. So it could be lame AND educational, maybe? Only when we got there, there were people all dressed up in various tribal costumes–where do they fit in? Is it supposed to be scary?
A man in a tiki mask introduces himself as our tour guide, (I'm the leader of the group woooo!) leads us inside the brain and promptly shouts at me to try and make me scream. This, friends, is when I knew it was going to be lame, optimism be damned.
He leads us around for a little bit, another tribe-y sort of man tries to scare us, and then leads us around. None of the guys talk very loud, and even though Lesley was right behind me, I think I'm the only one who heard anything they were saying. One of the guides actually told me that "Yeah, you came at the wrong time, it's better at night." Thanks, buddy!
The people behind us were genuinely scared–I'm almost positive they've never left the house before. "We're now going into the depths of his stomach…TERRIBLE HORRORS AWAIT YOU! ..and there is the exit. Have a nice day."
LAME.
Since the giant was such a letdown, we went to the park to play and behave like four-year-olds. Being a chilly day, the park was deserted. Lesley started spinning the spinny-thing around and hopped on. I made a valiant effort, but it was spinning too fast and flew head over heels into the hard-packed sand.
After my spill, Lesley made some sort of mention about how it looked like something that would win the grand prize on America's Funniest Home Videos, I gave her the finger with my mind, stuck out my tongue, and hopped on the bouncy horse.
Lesley went over to the swings, and after a few minutes on the bouncy horse and a trip down the slide, I joined her. She then promptly jumped off to use the see-saw. I was swinging. Very high. Higher than I'd ever swung before. But Lesley wanted to use the see-saw, so I was going to be cool and JUMP off. Because everyone knows I'm cool, including me. Nevermind that this was how I broke my finger many years ago, attempting to perform a flying cannonball leap off of a tire swing. I'm cool. I pushed to get extra height, flew through the air, landed on my feet, before my ankle gave out and put me flat on my back. Oh yes, I'm cool.
So very cool.