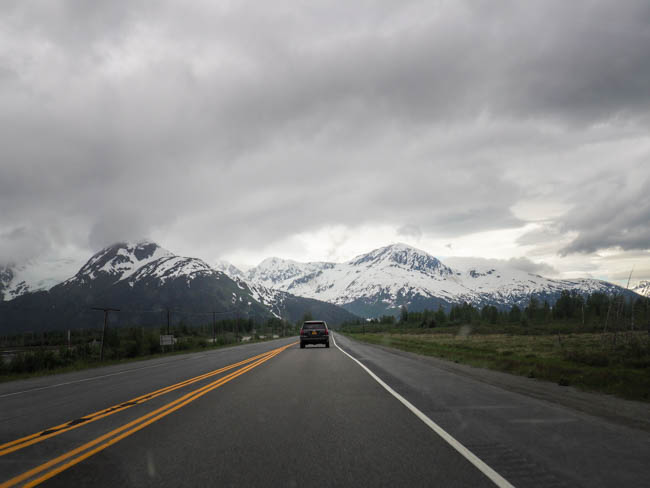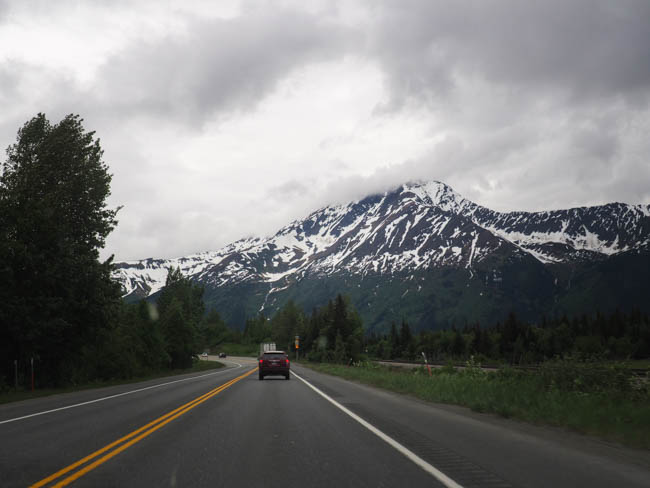 I'd driven the first stretch of the Seward highway on my excursion to Seven Glaciers, and I was delighted to have the opportunity to drive it again the following day on my impromptu road trip to Seward. The views are absolutely stunning–the Seward highway hugs the winding curves of the Turnagain Arm coastline, each curve revealing a new postcard-worthy photo opportunity. Scores of cars lined the numerous pull-out locations, each person striving to commit this rugged beauty to memory.
Each new part of the road was simply achingly beautiful. Roadside jerky stands suddenly looked majestic with snowcapped mountains rising behind them into low clouds. The same goes for a collapsed barn and the knife shop with the Paul Bunyon size knife planted into the ground out front. Waters sparkled impossibly turquoise from glacial sediments. It was like driving in a centerfold in National Geographic magazine that kept unfolding.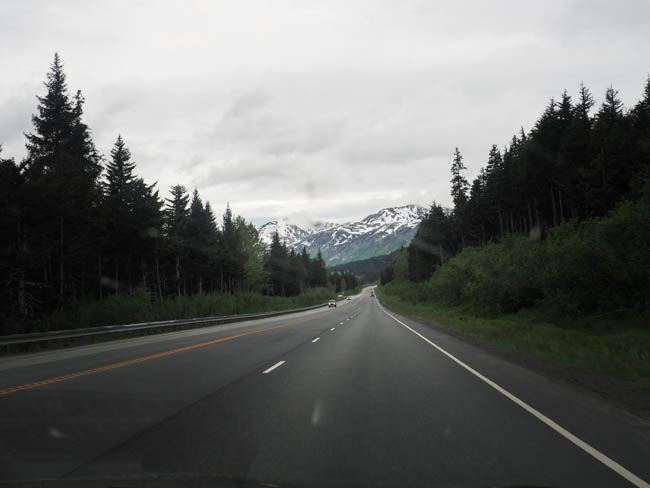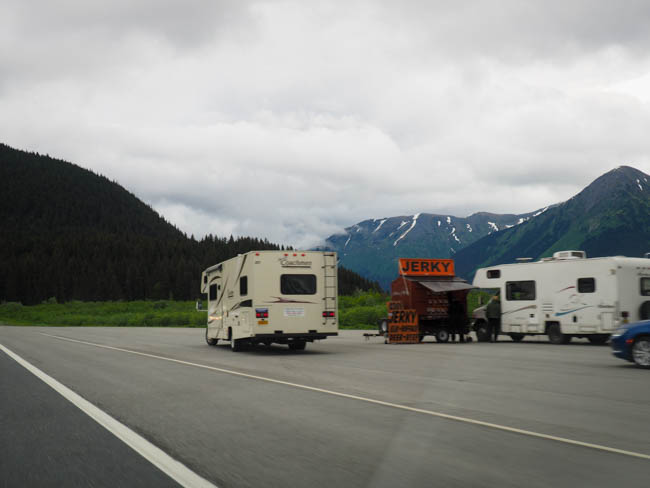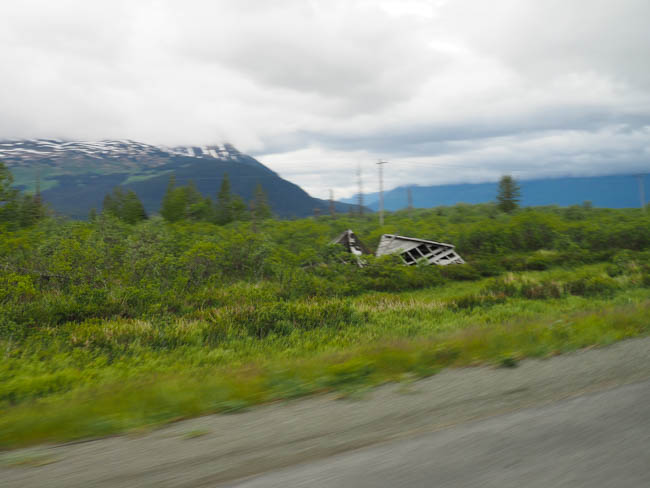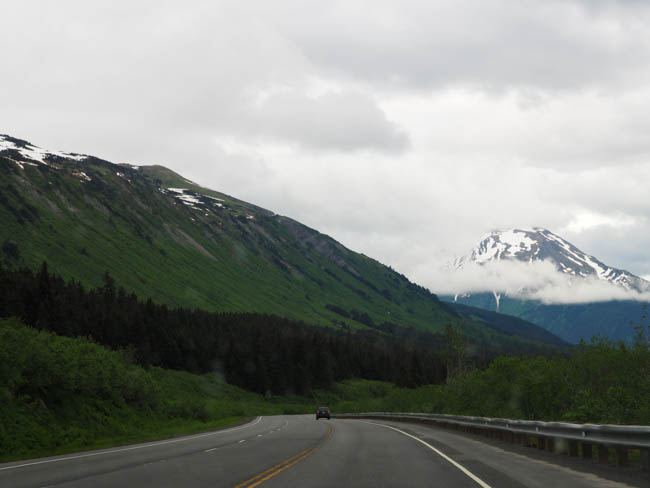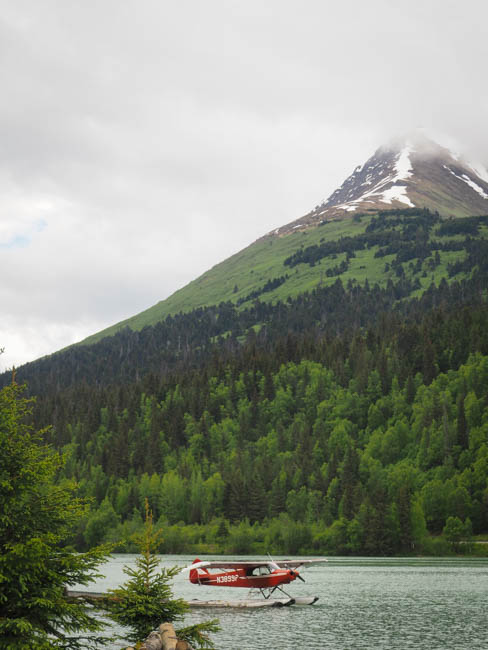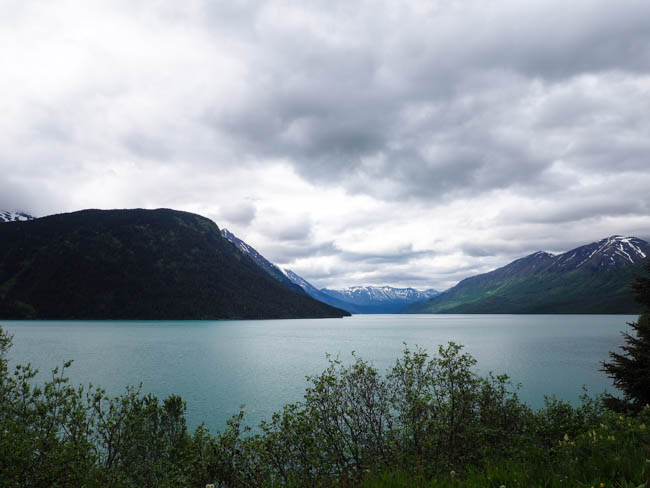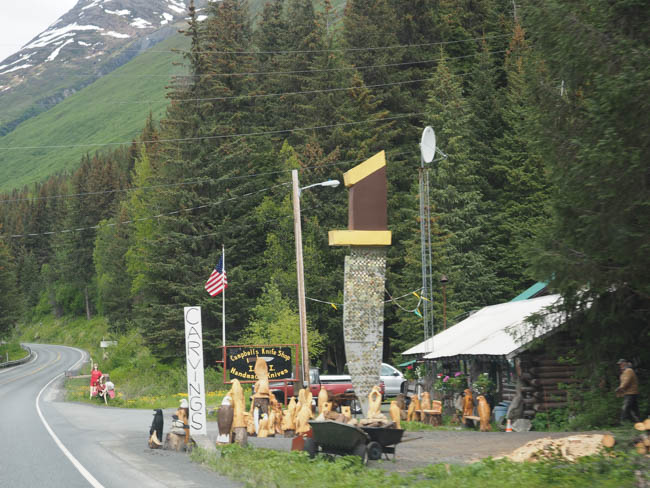 I was excited to see spiky purple lupines studding the sides of the road, and eventually I found a pull off spot where I could examine them more closely and take a few landscape photos. Never have I regretted my lack of photographic skill more than in Alaska. I could only capture a poor shadow of the sweeping vistas, the natural beauty there is simply unbelievable.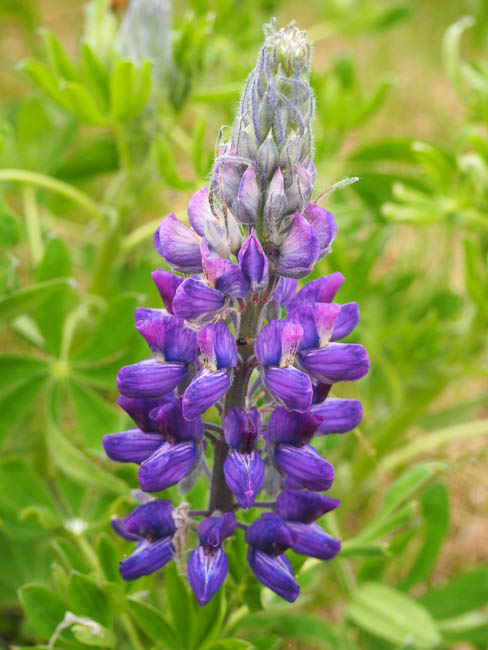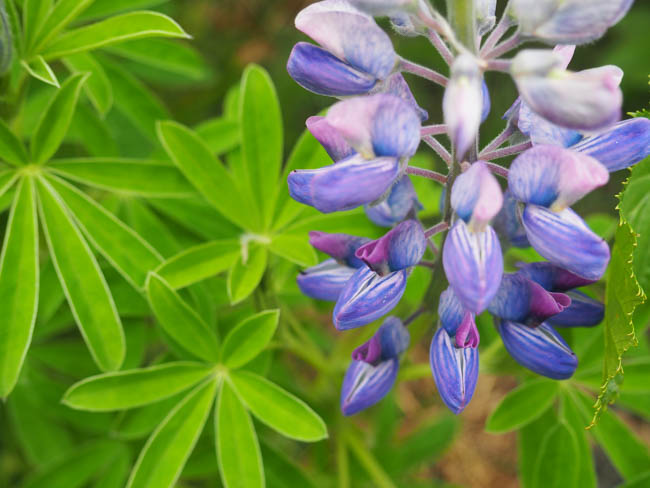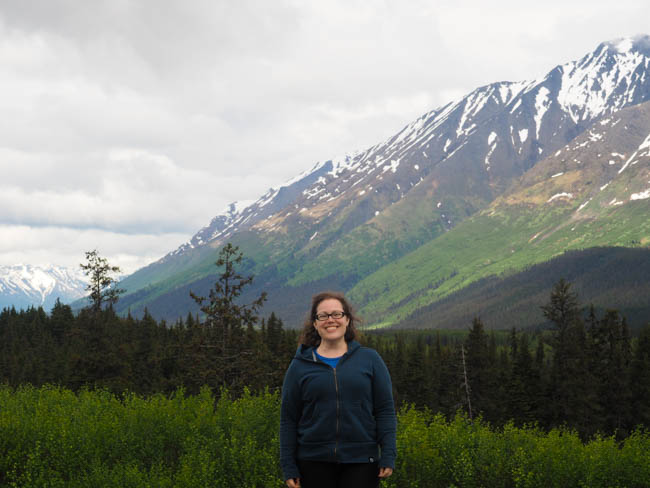 That's entirely too close, zoom out.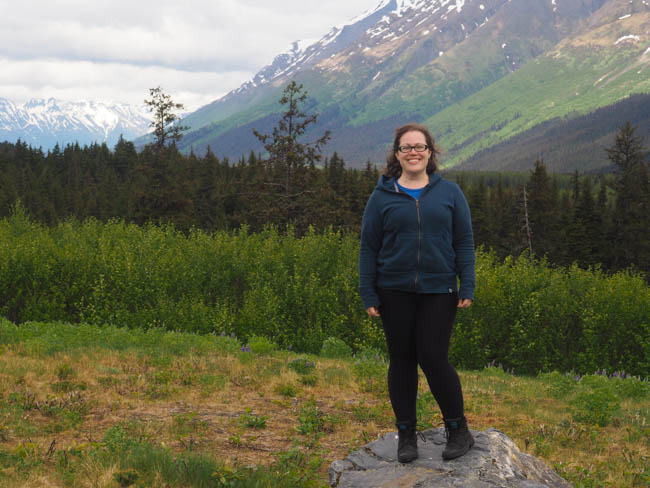 Not far enough, zoom out.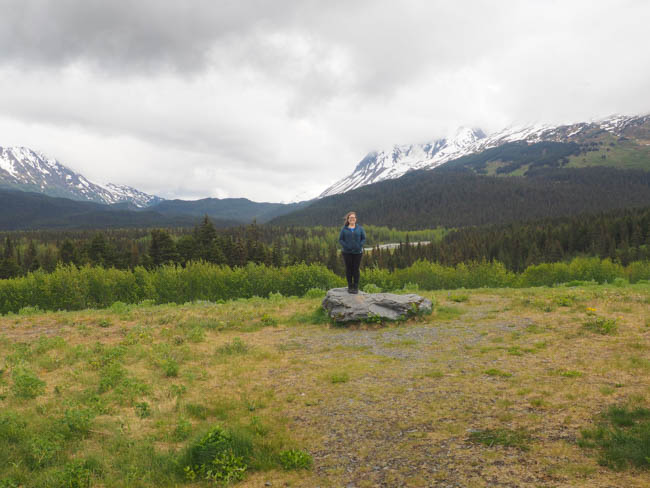 Aaaaah, that's better.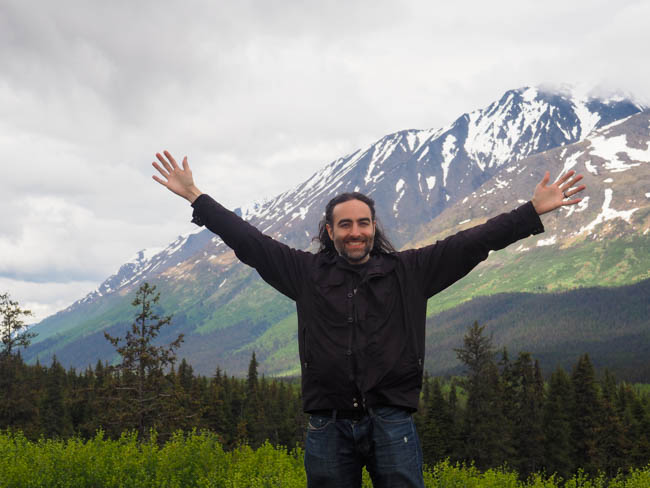 At the end of the Seward highway lies Seward itself, a small port town of just under three thousand residents. For comparison, Seattle's football stadium holds some sixty seven thousand. It seemed evident upon visiting that the main industries are fishing, tourism, and tourism fishing, which is when salty sea captains compete to reel in the whopper with the biggest wallet, tales of which will be told beside a roaring fire over pints.
We wandered into some shops, but neither of us saw anything we needed. There was a shop called Mermaid Co that was super cute, though, and if I'd browsed there longer, I probably would have bought something. If I don't object to the price and I sort of like it, sometimes I will buy something just because I have held it long enough that it feels like it's mine. I have bought a shirt because it circled the whole of Target with me in the cart twice and I couldn't leave it behind, now that we had the survivor's bond and all. This is why the prospect of entering a car dealership is singularly horrifying to me, as I don't know how many minutes it will take for my brain to accept that my butt has sat in the driver's seat long enough for me to feel a sense of obligation to buy it–after all, I've ground my butt into it, it's only polite. Anyhow, Jason dragged me out by the arm just in time as I was evaluating some sort of decorative buoy.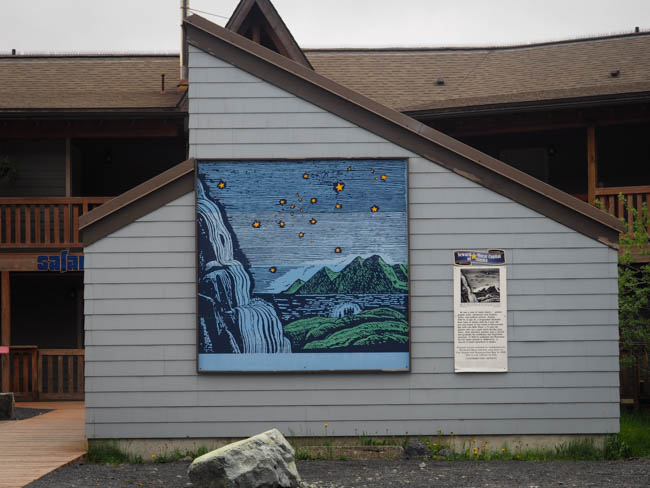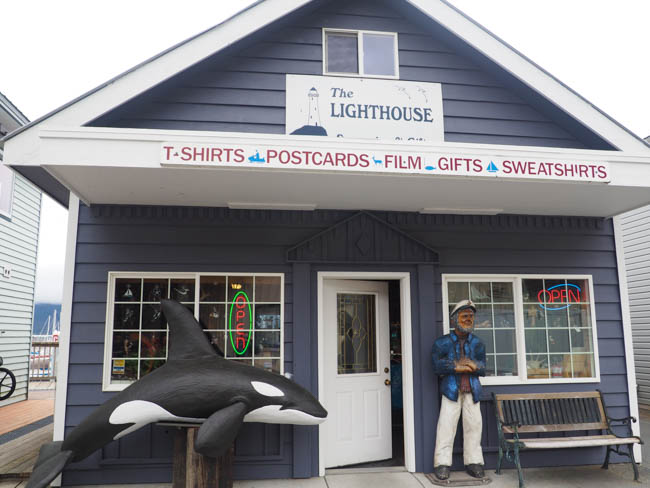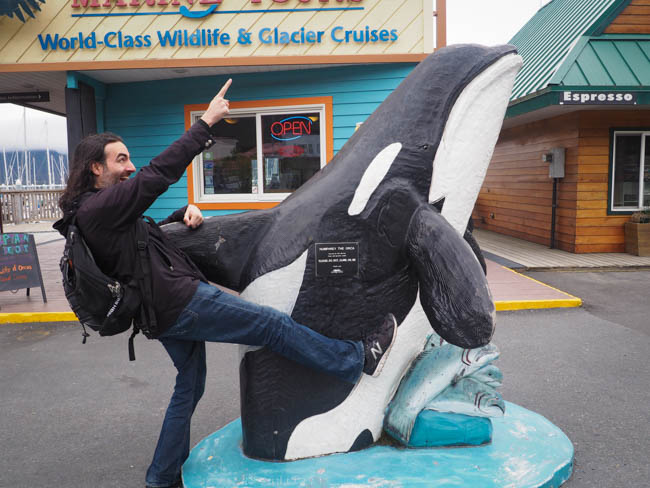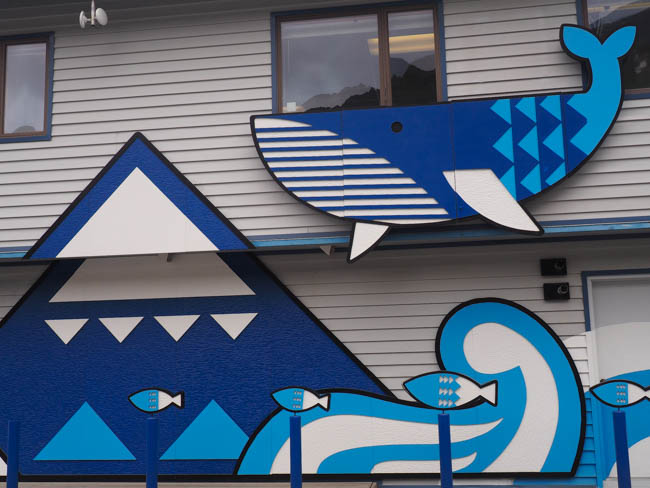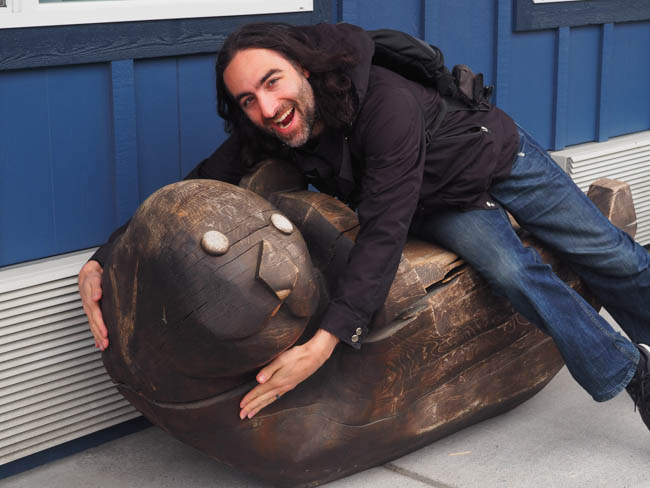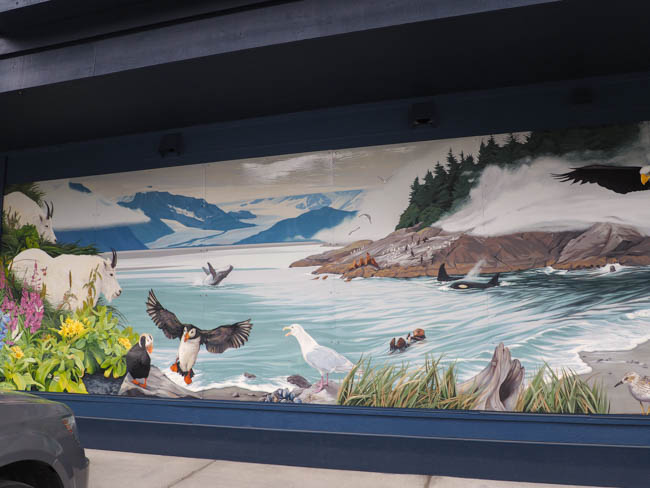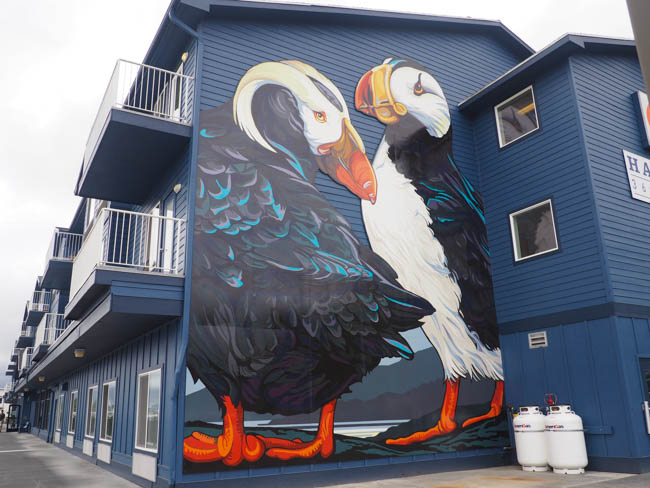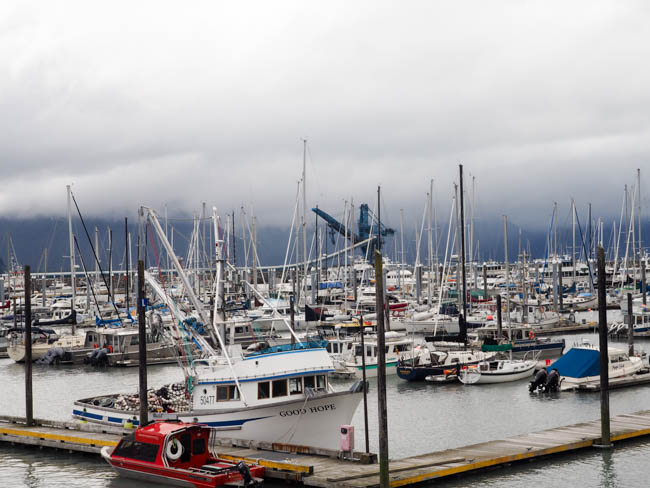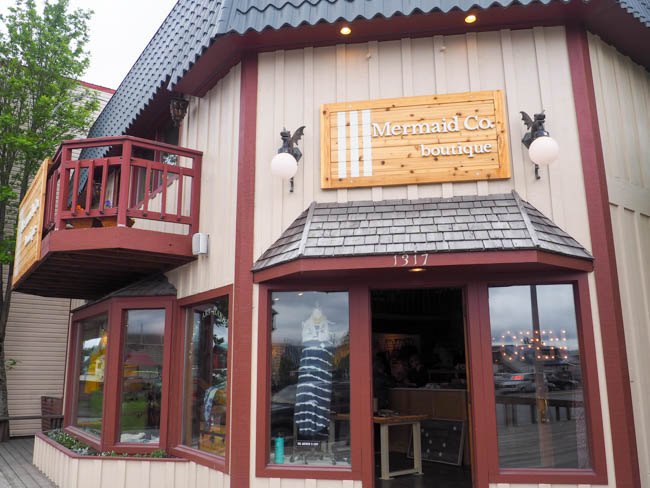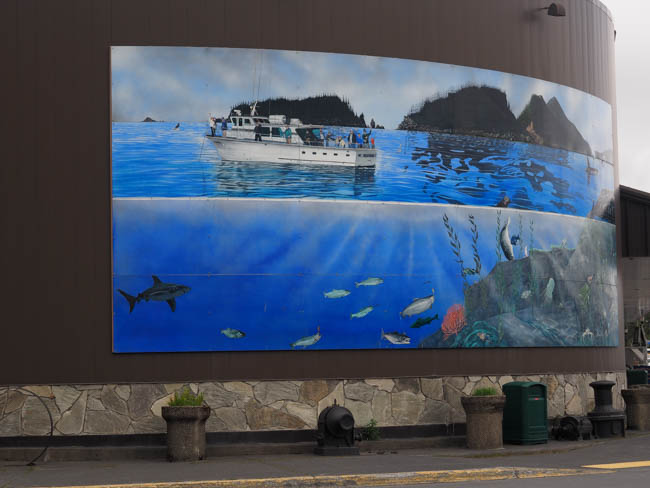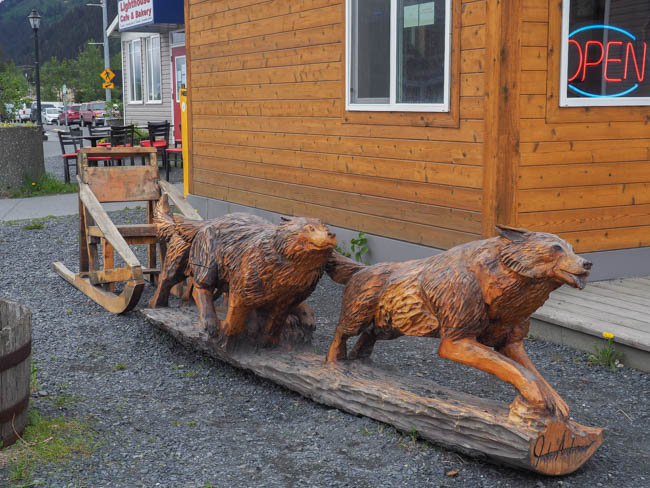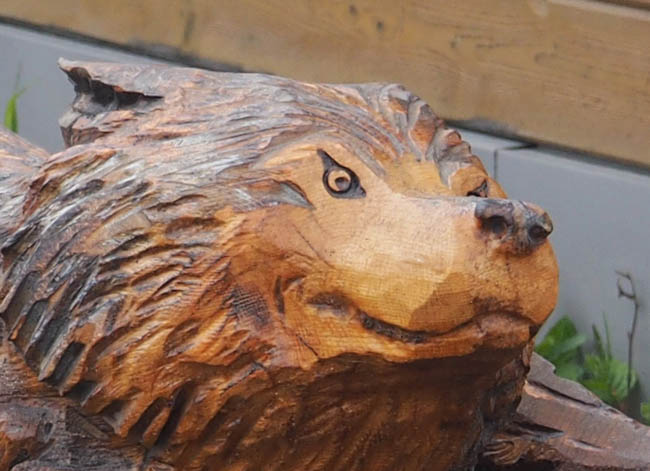 The only thing I can tell you about this dog is that he's unhappy about whatever's going on in front of his nose.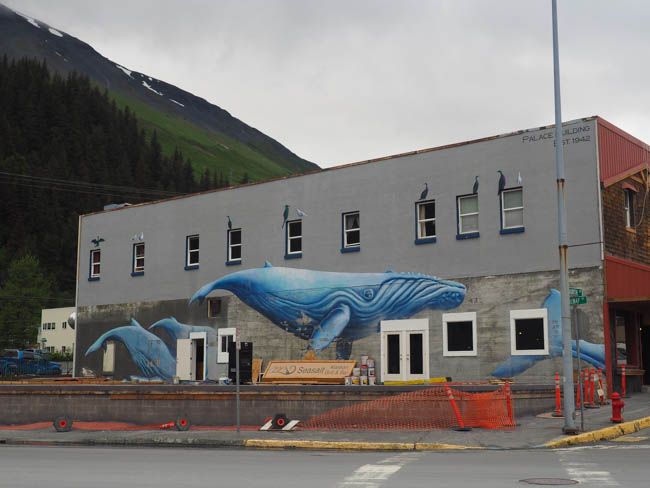 We ended up stopping into the aquarium (more on that later) and buying some coffee and chocolates from Sweet Darlings (a shop visited by the Obamas on their trip to Seward in 2015). We picnicked in the car,  looking out on the steely waters of Resurrection Bay and gnawing on the leftover pork chop from our previous night's dinner with a side of flaming hot cheetos picked up from a gas station. That's all fine dining is ever missing, really, the spicy cheese note. It was particularly fun to eat those notoriously red treats and a pork chop with my bare hands in a brand new car that wasn't mine, full of self satisfaction from a successful adventure. Every decision I'd made led to this greasy, pork choppy moment, in this brand new car, with this amazing view, with my favorite person, and it was perfect in both its deliciousness and ridiculousness.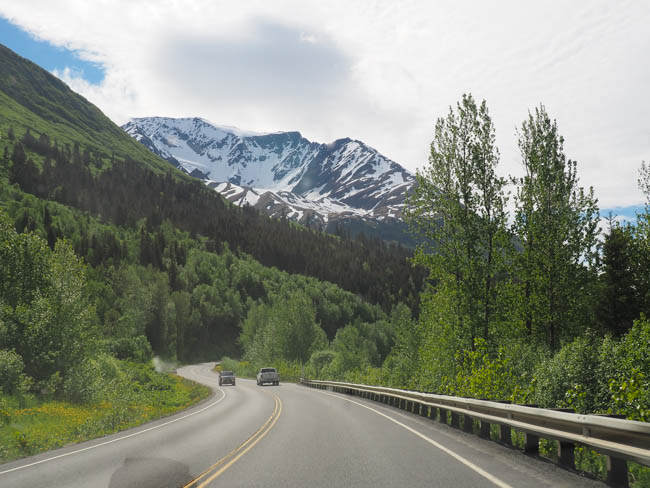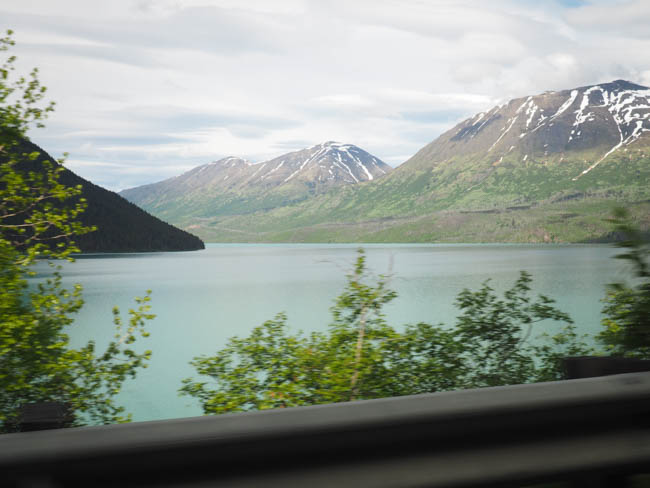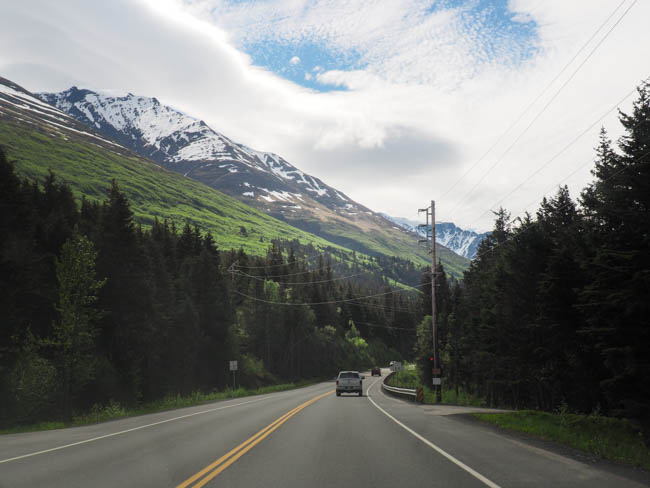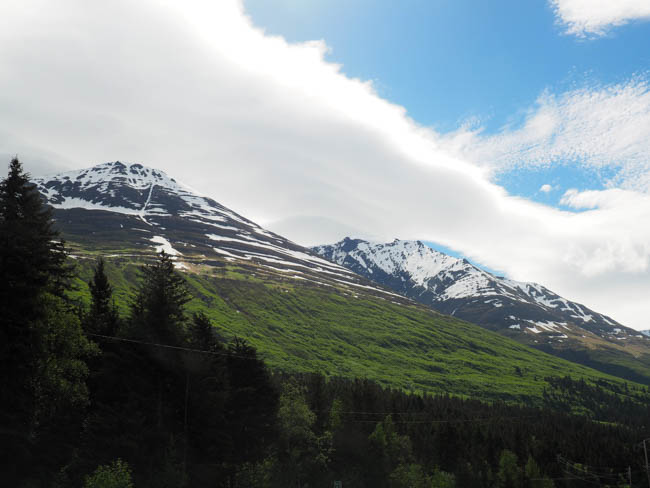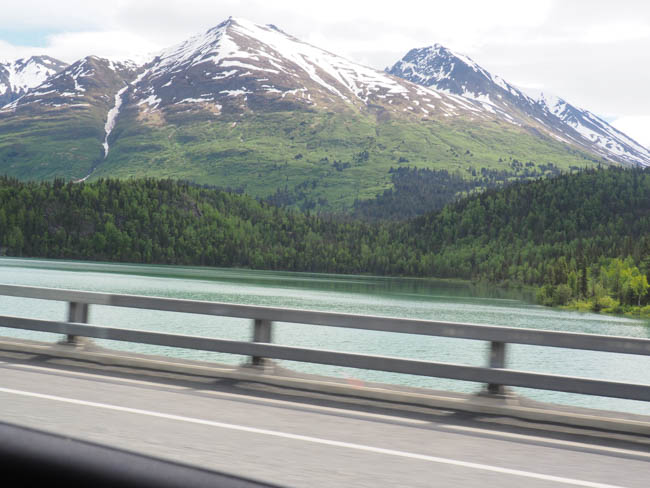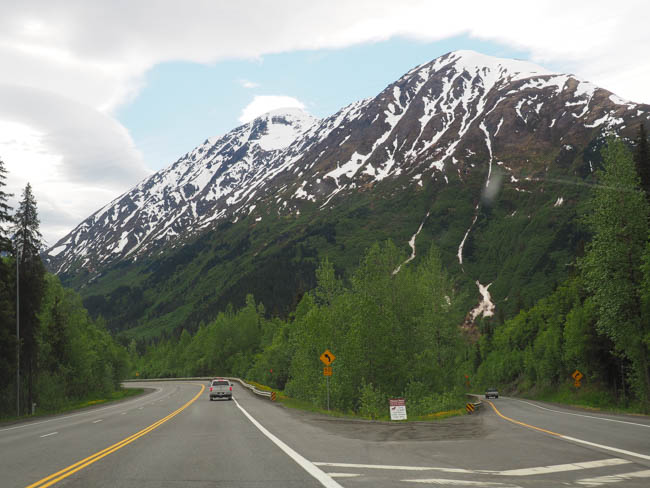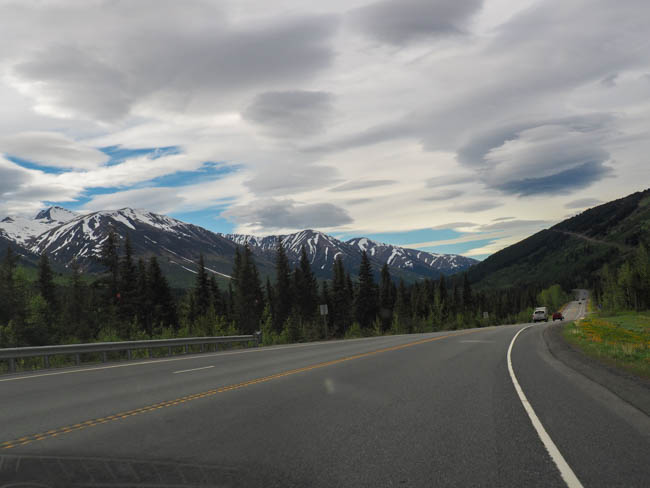 On our way back to Anchorage, I had to stop for photos with this giant eagle because, well, of course I did. If they carve it, I will come. If it's not too far out of the way.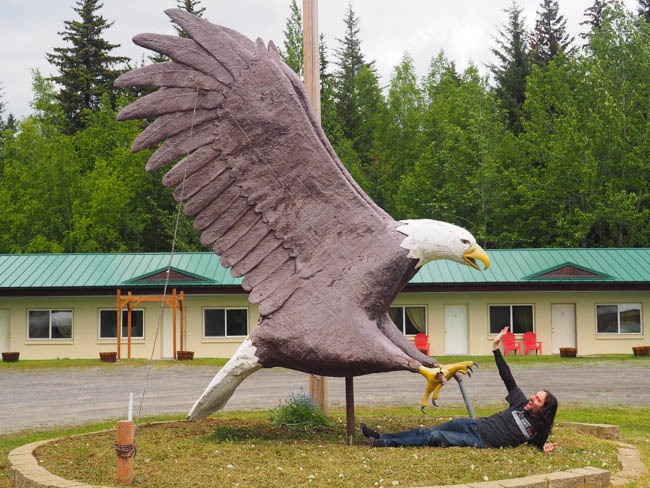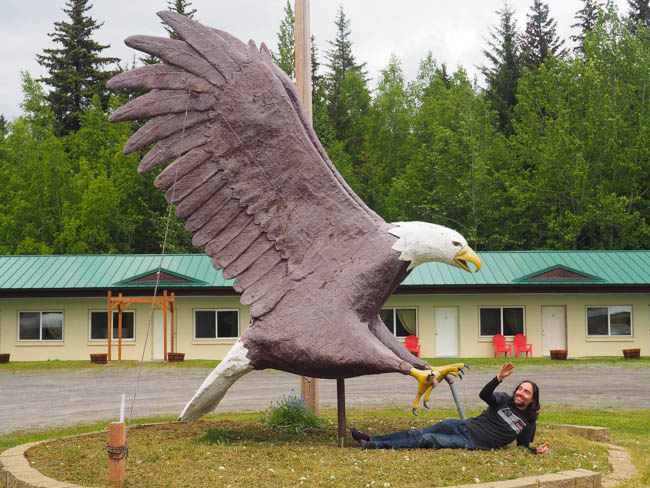 And then, just beyond the eagle, I spotted a moose eating in a field. I set up the moose alarm code we'd established earlier. "MOOSE! MOOSE! MOOOOOOOOOSE!", the two short blasts and one long indicating in primitive moorse code that the moose is female, on the right, and there appears to be parking available. Jason dutifully pulled over and we dashed to the viewing platform. There she was, all knobs and bumps and awkward proportions, picking her way through the field. I still haven't managed to get that toddler size camera lens I yearned for in San Juan and briefly lamented my inability to see her very well with my camera or with my eyes, when I came up with the idea of mashing the binoculars up to my camera lens and seeing if that brought the moose any closer. Surprisingly, it sort of worked!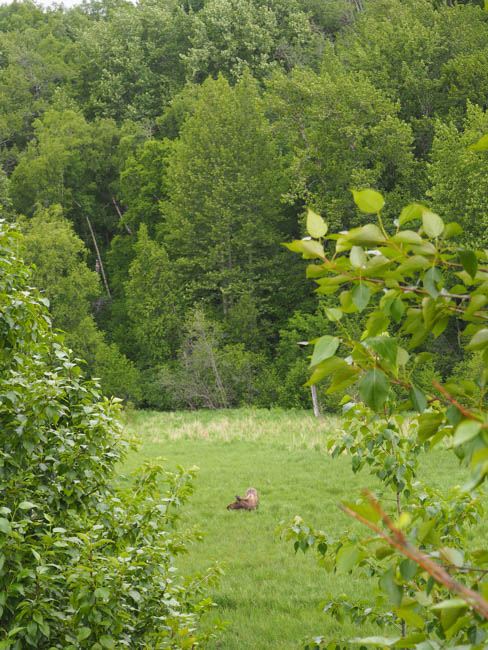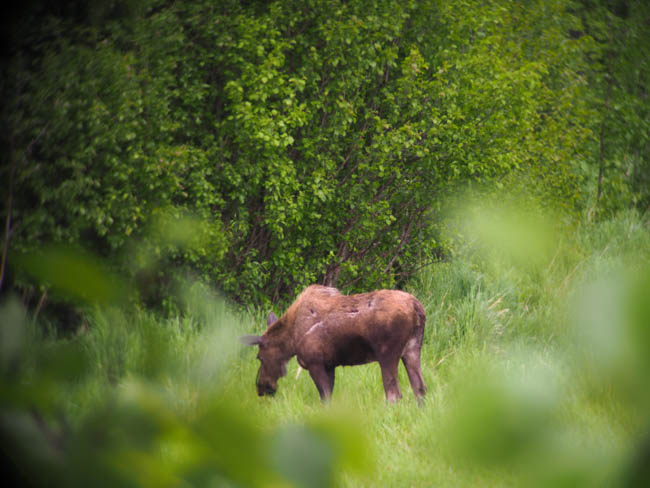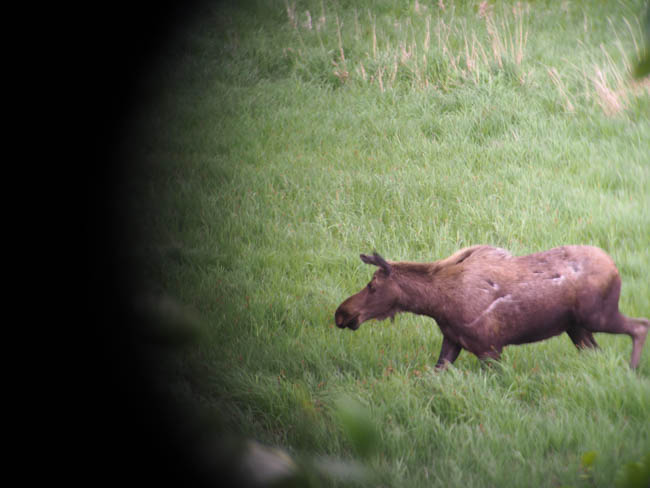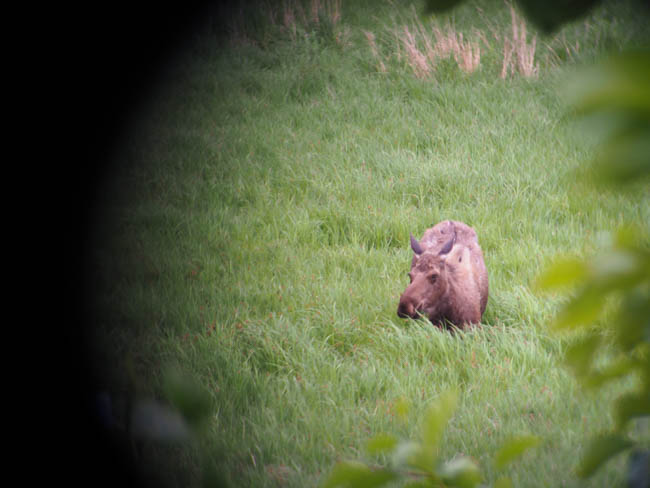 This mini trip really cemented in me the desire to come back to Alaska and see more of the interior of the state, maybe after I've upped my photography skills. Or maybe, just maybe, practicing in Alaska is the only way for me to get good at photographing Alaska. There's really only one way to find out.