Our hotel was essentially right down the street from Downtown Disney, so even though we didn't visit any of the Disney parks on our trip, they still got plenty of our money. Downtown Disney is essentially a Disney-themed mall, with restaurants, shops, an arcade, a theater, and blessedly, free parking. The main impetus behind our first visit to Downtown Disney was one of their themed restaurants, The T-Rex Cafe.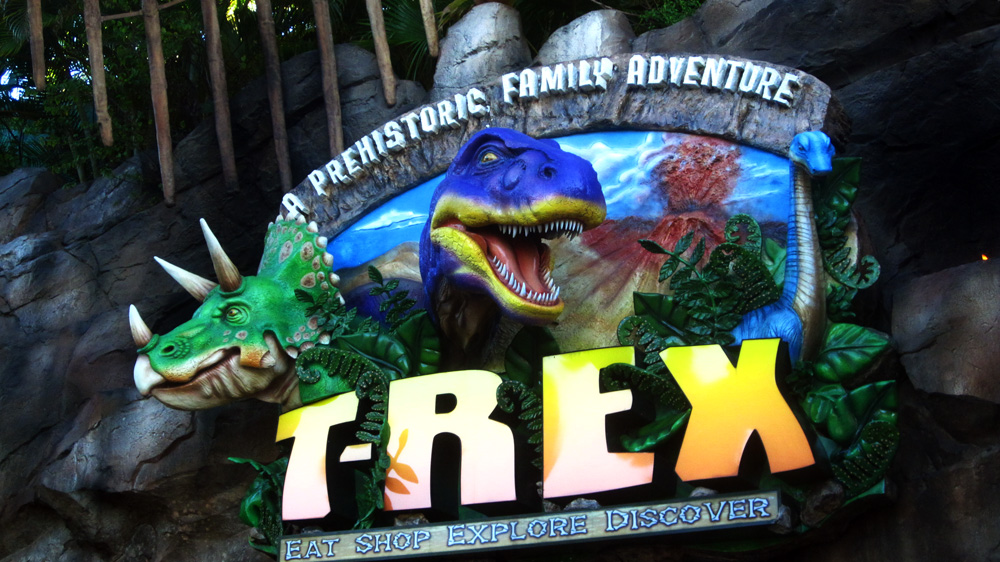 The T-Rex Cafe is operated by the same company that owns The Rainforest Cafe, so if you've been to the latter, you know the schtick, except in this restaurant, they have a bunch of animatronic dinosaurs and there's a meteor shower every twenty minutes instead of a thunderstorm. They also don't seem to operate with the same slogan as The Rainforest Cafe, "Fun until it isn't," because our food was actually pretty damn good, lacked any sort of embedded hair, and they even had cocktails made with cotton candy which made Jason extremely happy. Actually, the restaurant is quite similar to Jurassic Fork; they don't let you order your meat "medium roar" at The T-Rex Cafe, either. Luckily, they also don't have any rules about feeding a hungry animatronic stegosaurus an onion ring so long as no one sees you do it.  
One day, Jason thought it might be nice to see Cloudy with a Chance of Meatballs 2 at Downtown Disney. I don't want to point fingers, but this was, hands down, the worst idea he's ever had. After we paid for our tickets and went into the theater, a herd of the world's noisiest children flooded in and sat directly behind us, kicking our seats, screaming about whether they should get popcorn or nachos, arguing about the trailers, and doing everything in their power to drive me goddamn insane. We didn't even make it to the movie proper before getting up and asking for a refund, which we were given without so much as an "I told you so" from the theater employee.  I was confused at this level of restraint and politeness from a Disney employee; one of the only things I remember from my family's trip to Disney World when I was 11 is an altercation at Epcot Center. We'd stopped in the France Pavillion to split an eclair. All they had to drink was whole milk, and we were used to drinking skim, so my mom asked if they had any skim, to which the employee replied "You're all already fat, what does it matter?" Very few things can put me off an eclair, but that's one of them, even if that surly French teenager had a point.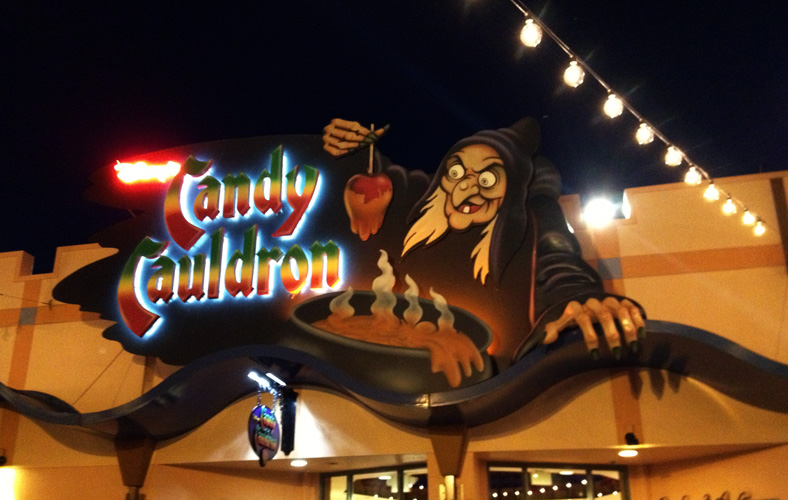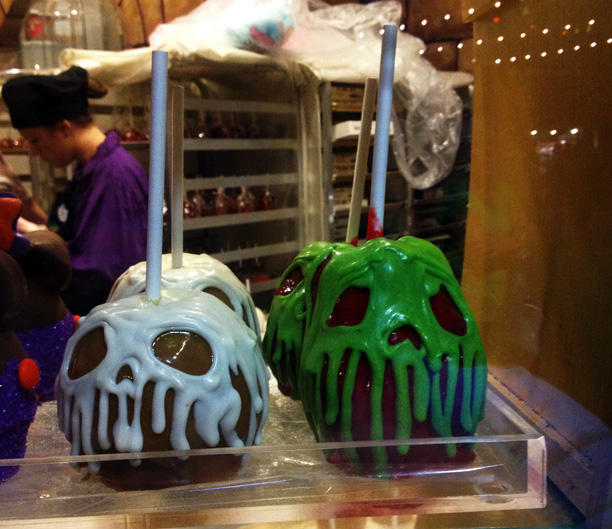 These are some next-level candy apples. I can't even get the caramel to stick to the damn apple!
Every evening we visited Downtown Disney over the course of our stay, they had live music in the streets, which definitely added to the overall festive atmosphere. Among the more entertaining performers was Dominic Gaudious, a guy who plays a double-neck didgeridoo and a double-neck guitar. I'm always impressed by didgeridoos, as my mom used to have one hanging on the wall and about the only thing I ever managed to make it do was slowly dribble my spit out the other end.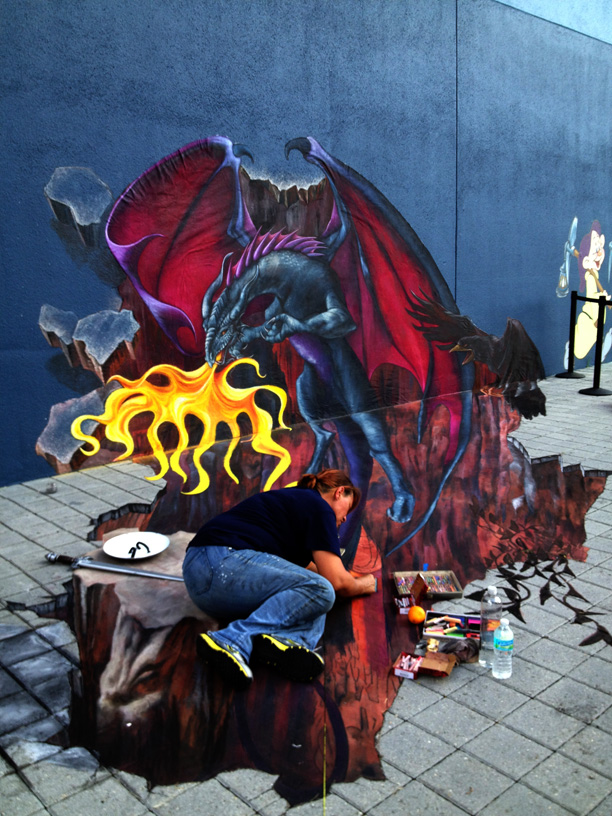 We spent the better part of another day at the DisneyQuest Indoor Interactive Theme Park, relishing in both its air conditioning and the unlimited play games. Their virtual reality games were terrible, with graphics, headsets, and controls straight out of the early 90s, and neither one of us could handle them for more than a minute or two. I made it all the way through Aladdin's Magic Carpet Ride, but Ride The Comix was so horrendous that I ripped off my dorky helmet and walked out in the middle. Sorry teammates, but my laser sword didn't work anyway, so it's not like I could have helped you regardless.   Literally everything else was much more fun. They had a classic games area, a pinball machine room, skeeball, air hockey, a bunch of music game machines, even a bank of playable Fix It Felix from Wreck It Ralph! My personal favorite was a driving game I'd never seen before called "Dirty Drivin'" which involves some of my very favorite things: revenge, explosions, and customization. It would probably lose something in translation from arcade to console game with the loss of the steering wheel/gas pedal/revenge crank controls, but I would still buy it in a second. I would pay full price. What I can't pay is $7700 for an arcade machine. $15,000 if I ever want to play with another human being. Please port it!  
  No, seriously, port it. Or my buddy Ralph and I are going to wreck you.